Big Fish Small Fish has $0.99 pasta promo
Big Fish Small Fish has long been one of my go-to places for fish and chips, as well as their signature fish and crisps—it's said to be Singapore's first eatery to sell this dish. Since their opening, the brand has gained quite the reputation as the place to go for fuss-free, delicious seafood overall. If you're a fan or you're simply looking for a casual seafood restaurant to add to your radar, you'll be happy to know that the brand has recently elevated their menu with all-new pasta dishes and more.
If you've yet to give their pasta a try, you'll be happy to know that from now till 30 November 2022, you can get any of their special menu pastas for only $0.99++ with the purchase of one ala carte main dish. Pick from flavours such as Carbonara, Clam Aglio Olio, Lala Chowder, and Tomato Chicken. This is such a steal, given that their pastas are usually priced around $15++. The promo is valid for both dine-in and takeaway at their Bugis, JCube, and Tampines eateries.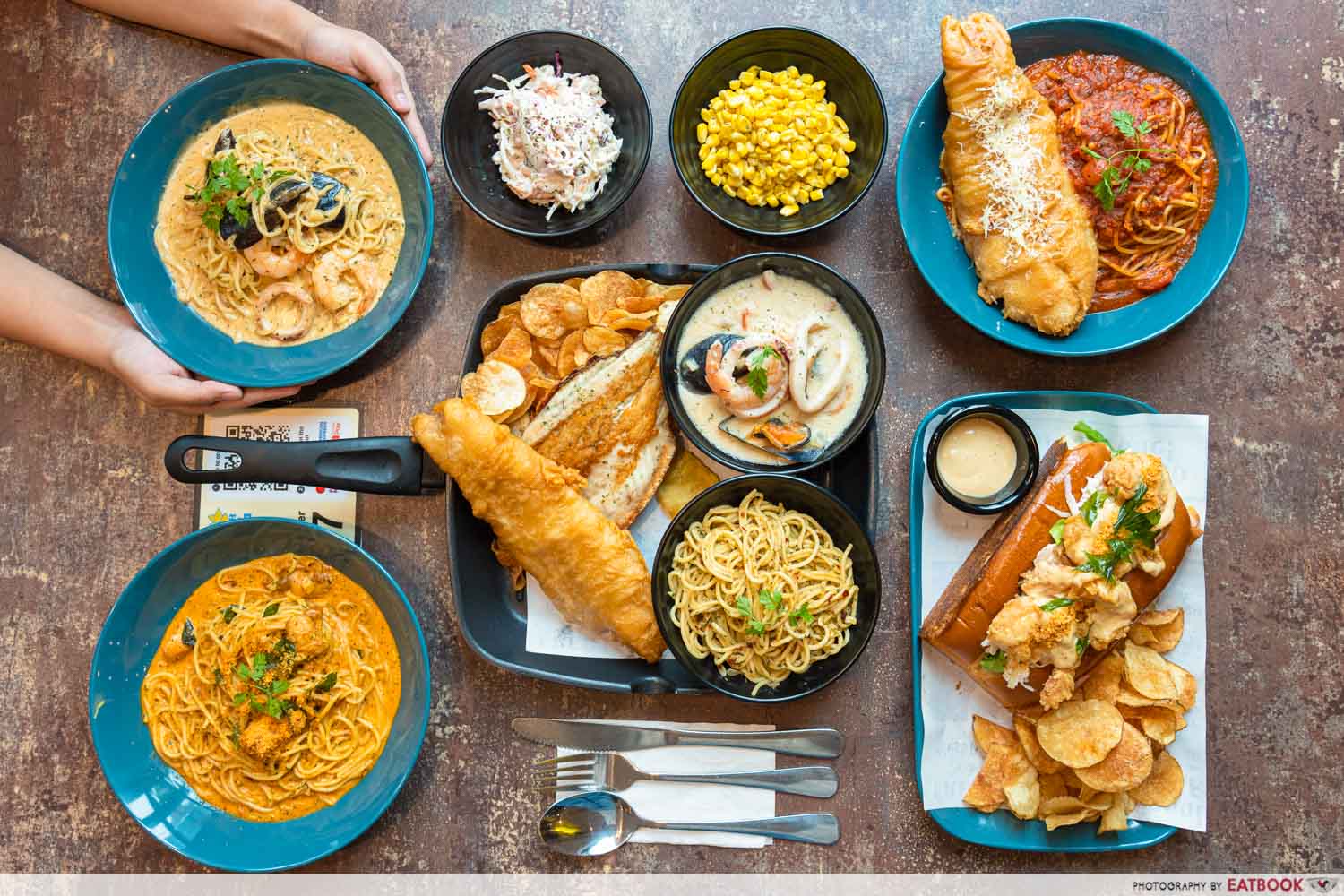 These gourmet plates of pasta comprise fresh fish and premium seafood toppings, al dente noodles, and a variety of sauces to choose from. What's more, you can DIY your pasta order via their Mix & Match menu, available as part of their weekday lunch set at their Bugis restaurant, and all day at their Tampines and JCube eateries. 
Note that no two outlets have the same sauces or toppings, so you'll have something unique to enjoy every time you visit a different Big Fish Small Fish restaurant.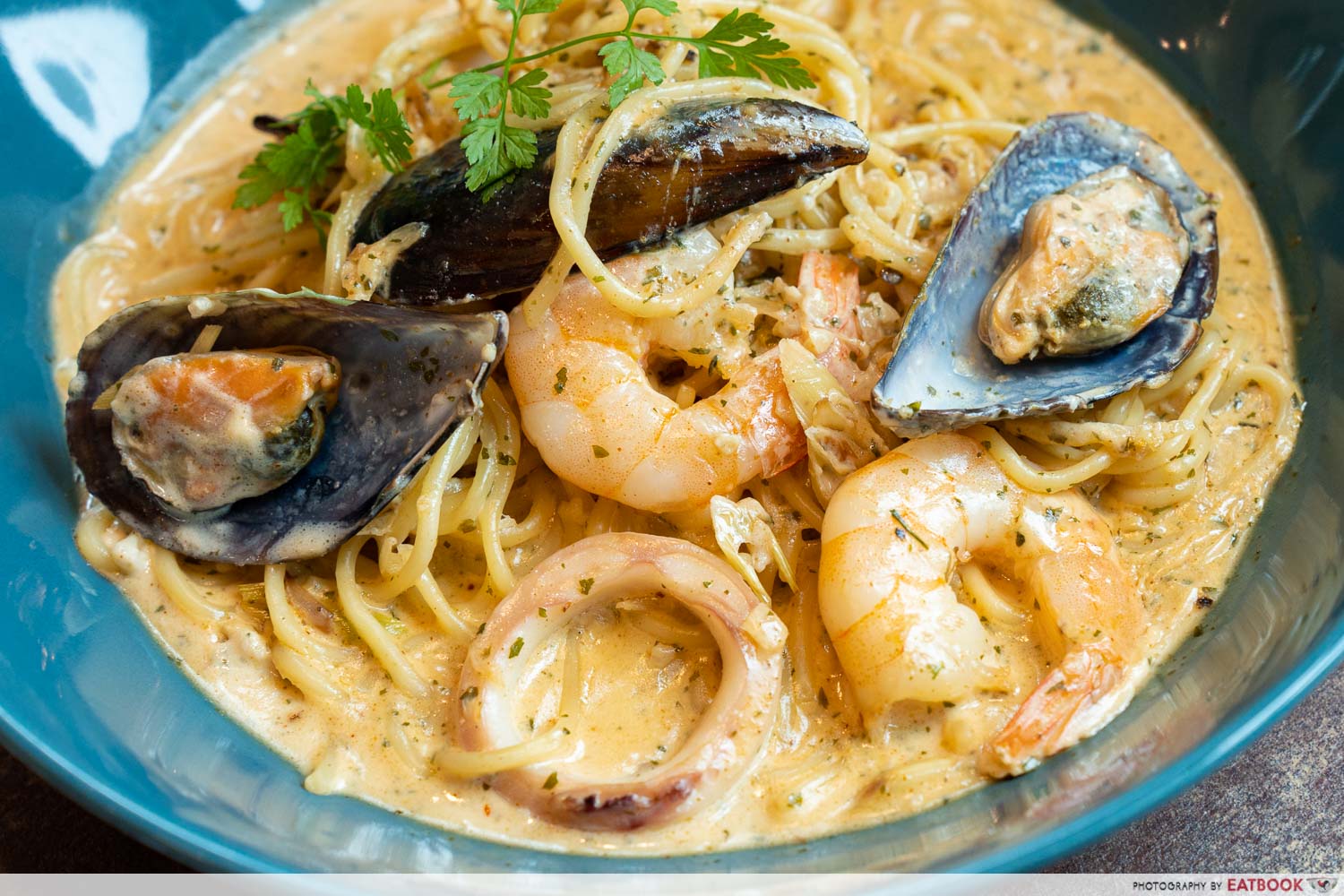 We recently paid a visit to their Bugis eatery to try out their new menu. They've elevated the restaurant's interiors to offer diners a more premium feel, and their food options have expanded in tandem. Their Mix & Match pastas are available only from Monday through Friday, between 11am and 5pm. Prices start at $13.90. 
Diners get to pick one protein, and one type of sauce. For the former, there are battered Dory fish or Chicken (+$2), Hoki (+$2), Sea Bass (+$3), Haddock (+$4), and Seafood (+$3), which comprises a medley of prawns, mussels, and calamari. As for sauces, take your pick of aglio olio, cream, tomato cream, and pomodoro.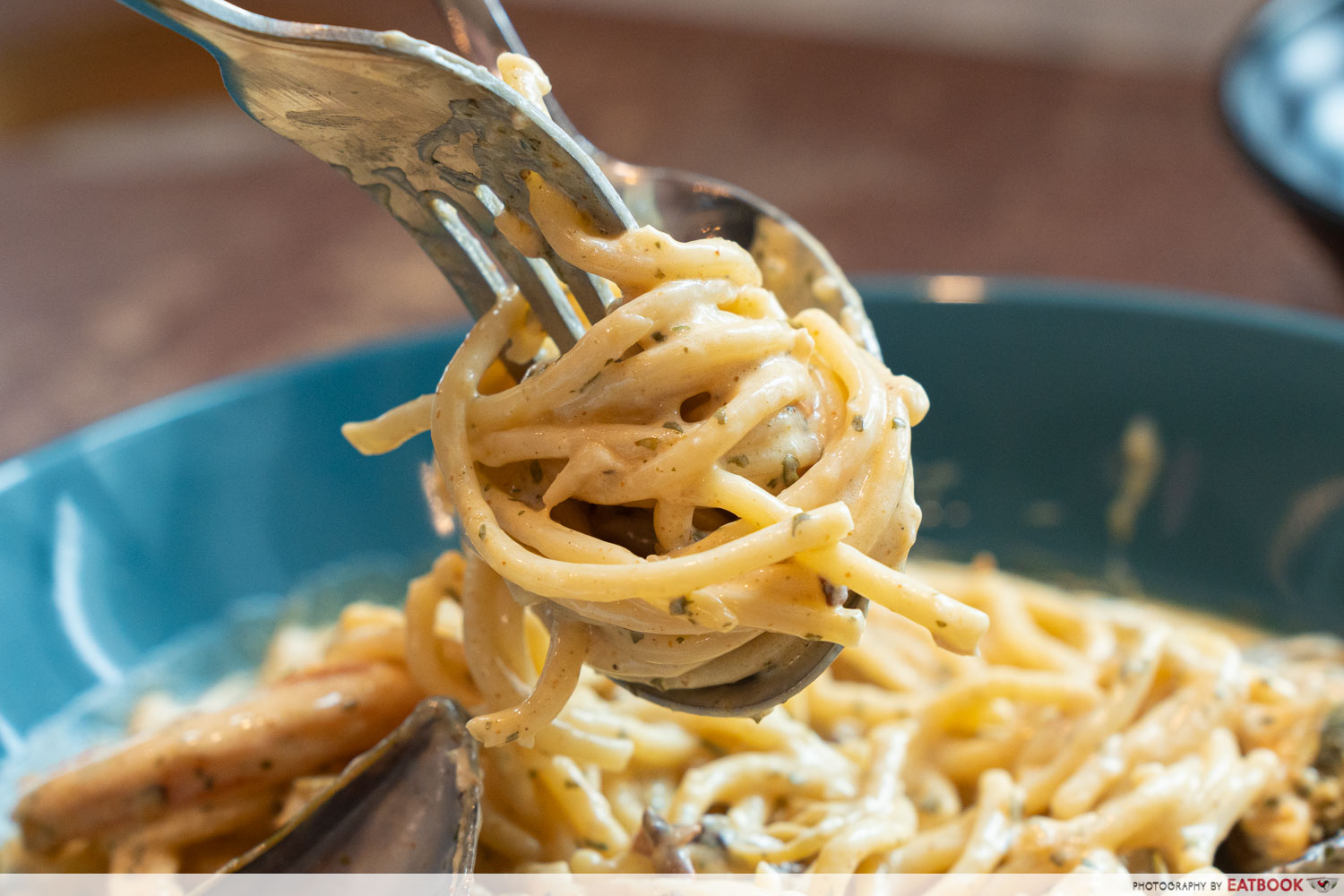 If you're lost for choice, fret not, as the menu has several fixed pairings for you to choose from. Spice enthusiasts should try the Tom Yum Seafood Pasta ($17.90), where firm spaghetti noodles are tossed in a lush, aromatic tom yum sauce, then served with a generous amount of mixed seafood.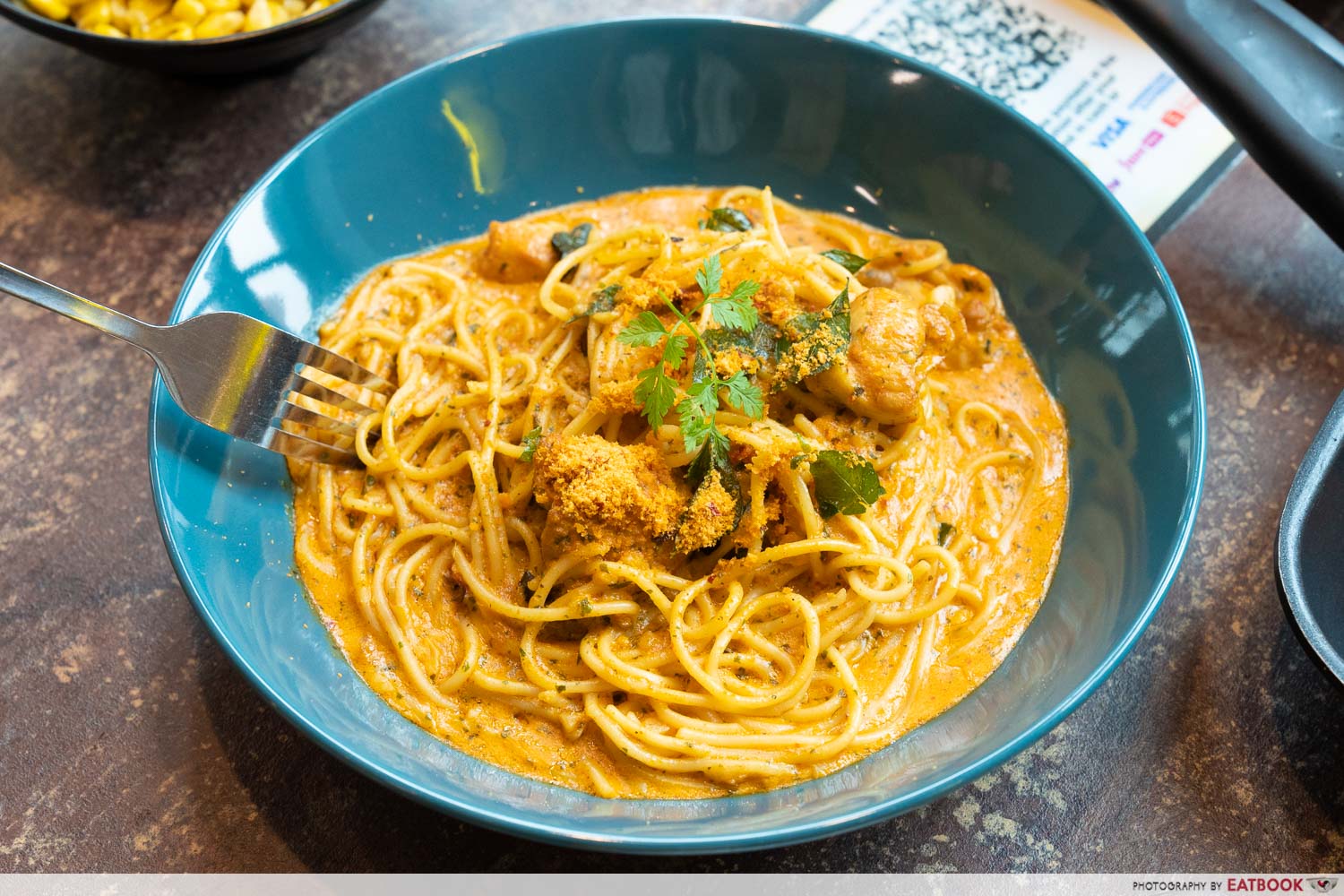 We also loved the richness of their Curry Chicken Pasta ($15.90), a must for fans of the creamy, aromatic curries.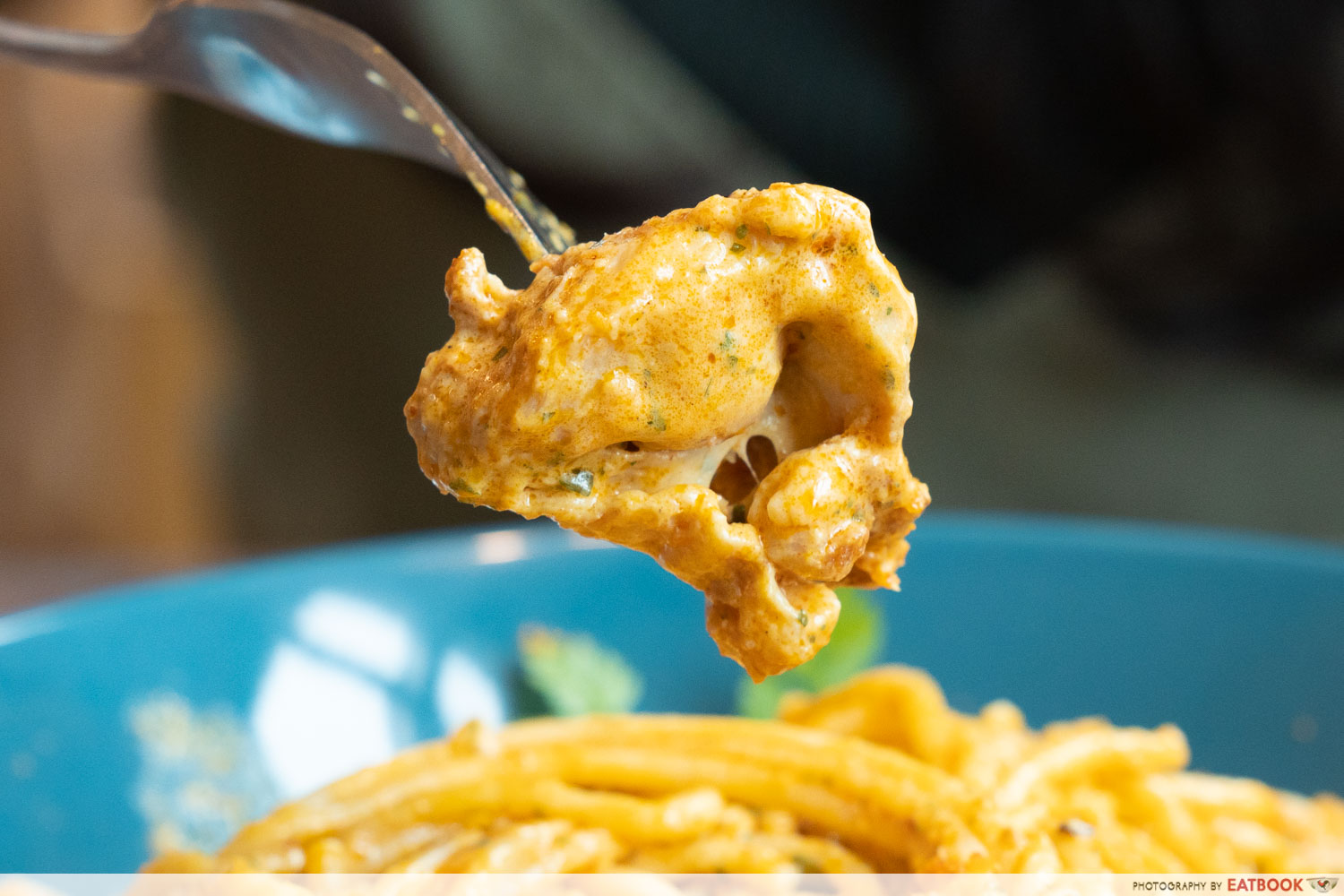 The sauce is luscious and thick enough so it evenly coats both the spaghetti and the tender pieces of chicken, and perfumed with curry spices so you really get a mellow hum of heat with each bite.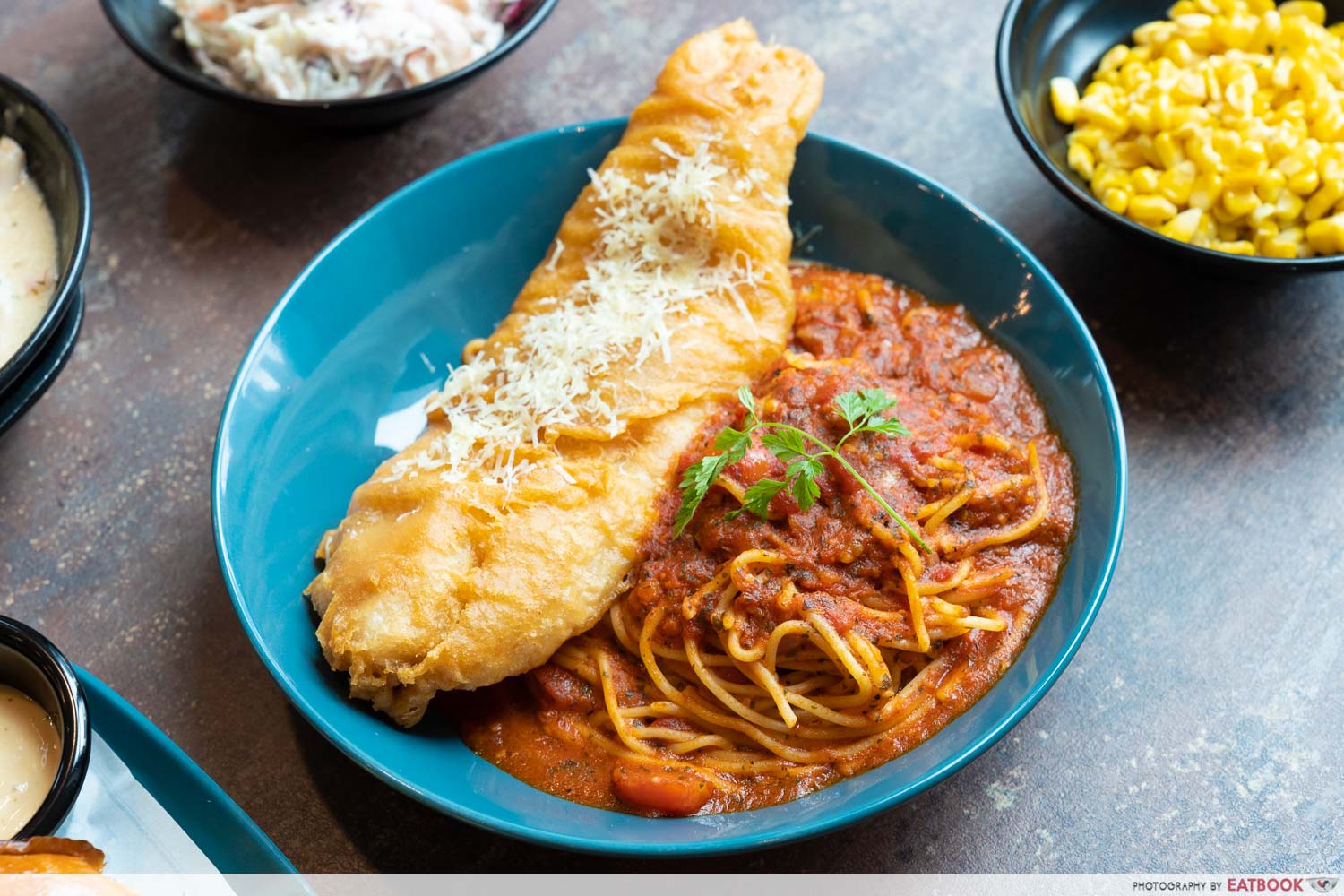 For a classic pasta dish, try the Battered Dory Pomodoro Pasta ($14.90).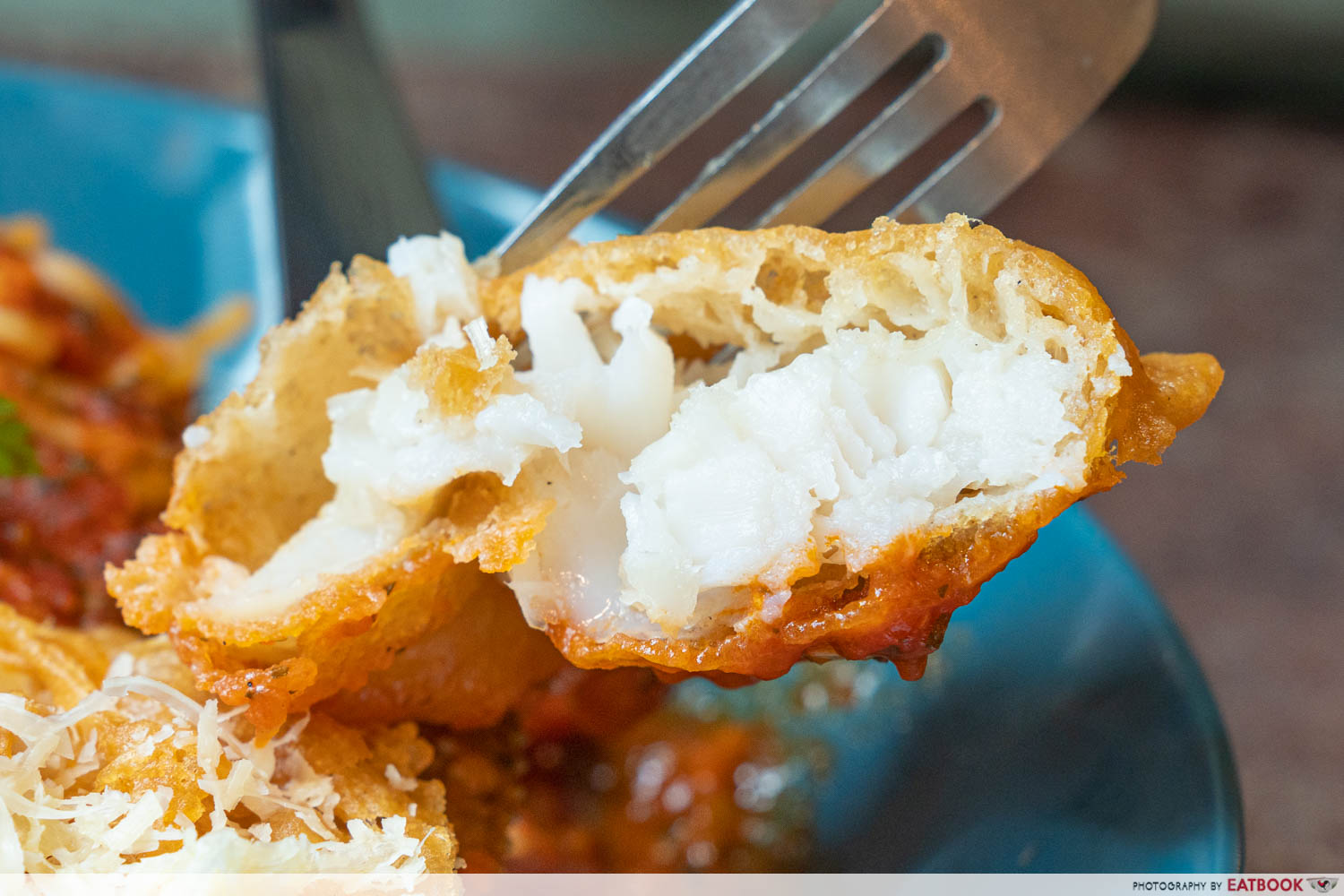 This comes with a fresh, sweet dory fillet that's battered and fried till it has a beautiful golden shell, and served with a summery pomodoro sauce that's well-seasoned.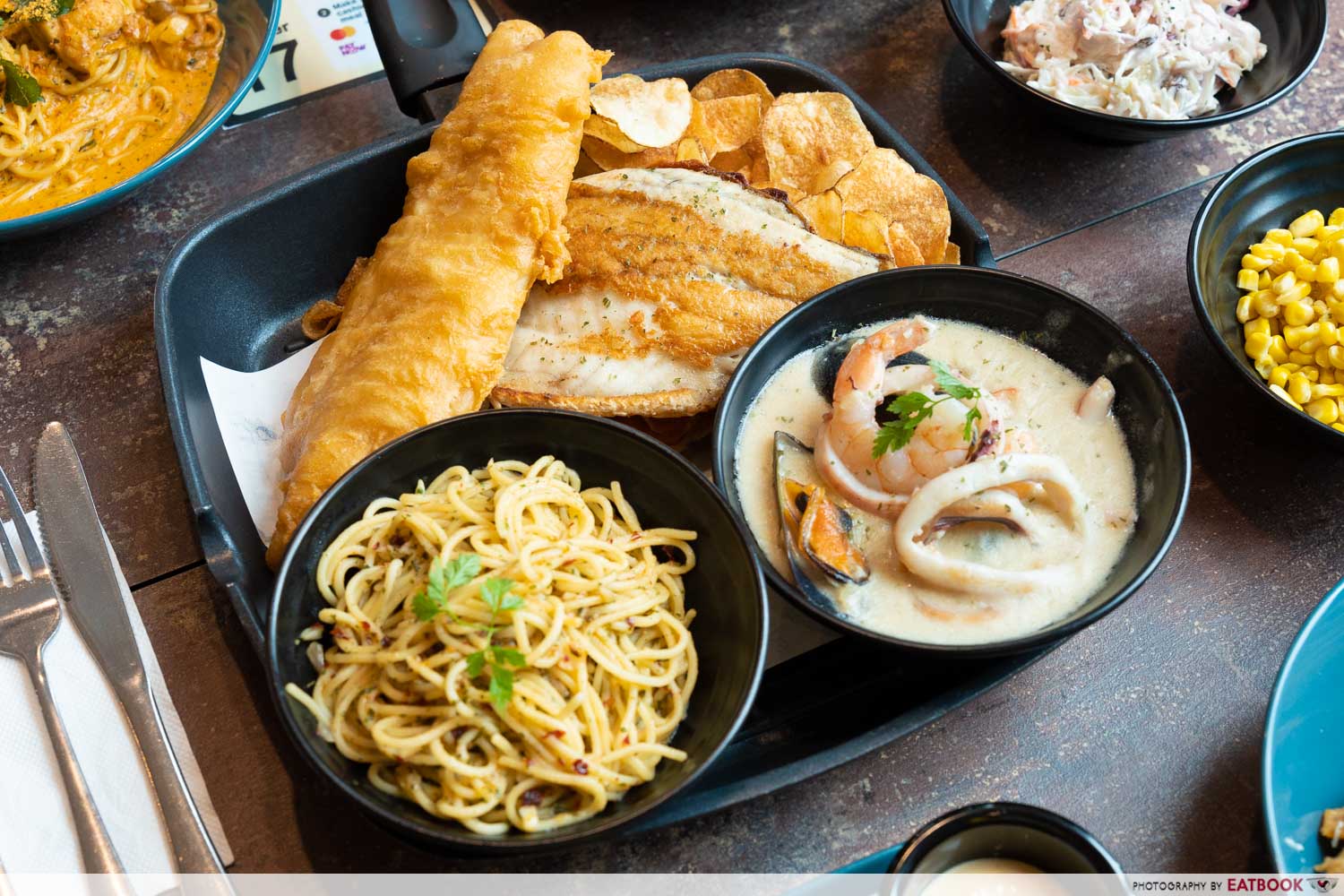 If you're looking to ramp up the seafood you're having, then the Bugis outlet has sharing plates that can feed two to three. The Seafood Mixed Platter ($35.90) comes with battered dory fish, grilled seabass, grilled seafood, crisps, aglio olio, and two sides.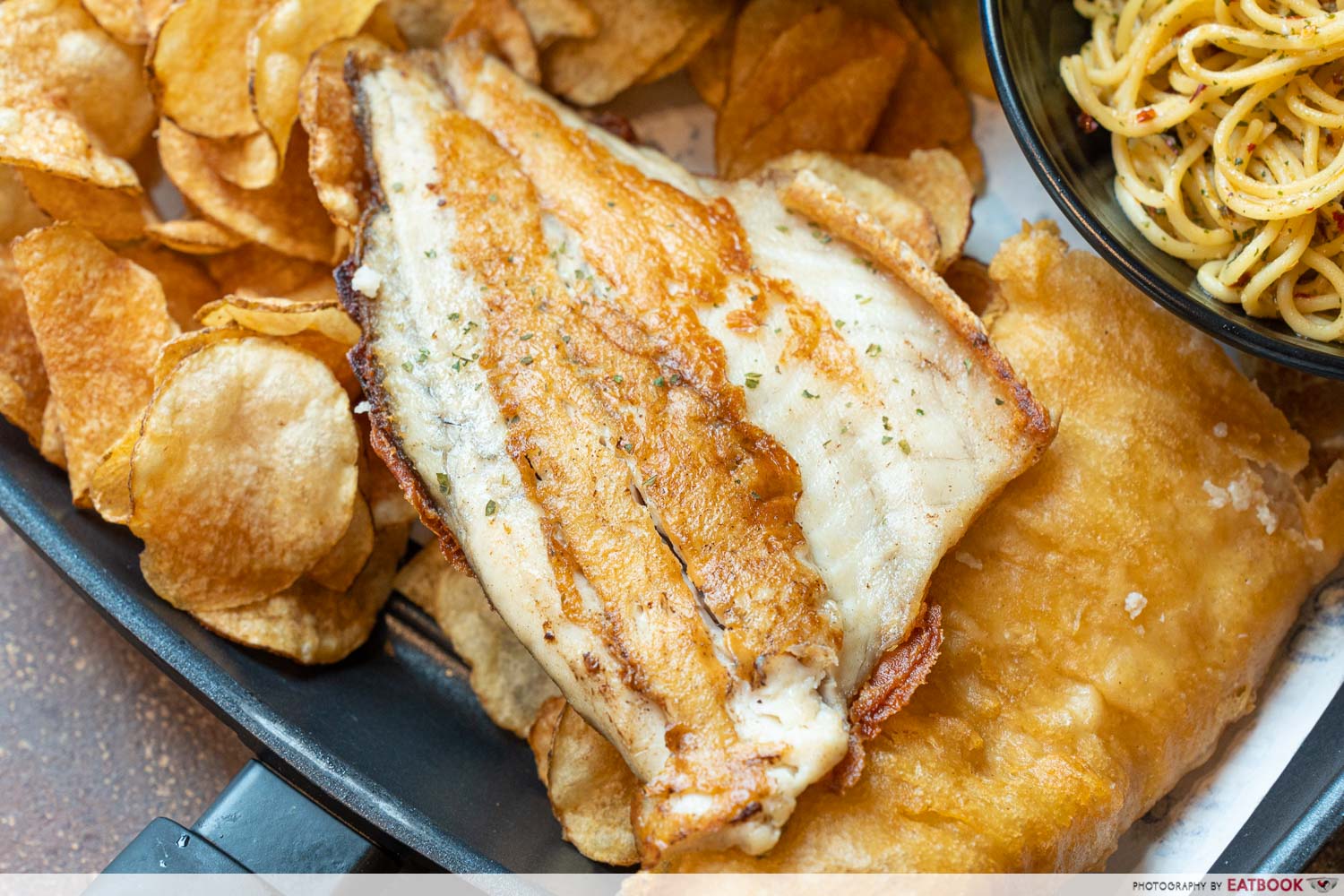 This gives you a little bit of everything when it comes to the eatery's greatest hits.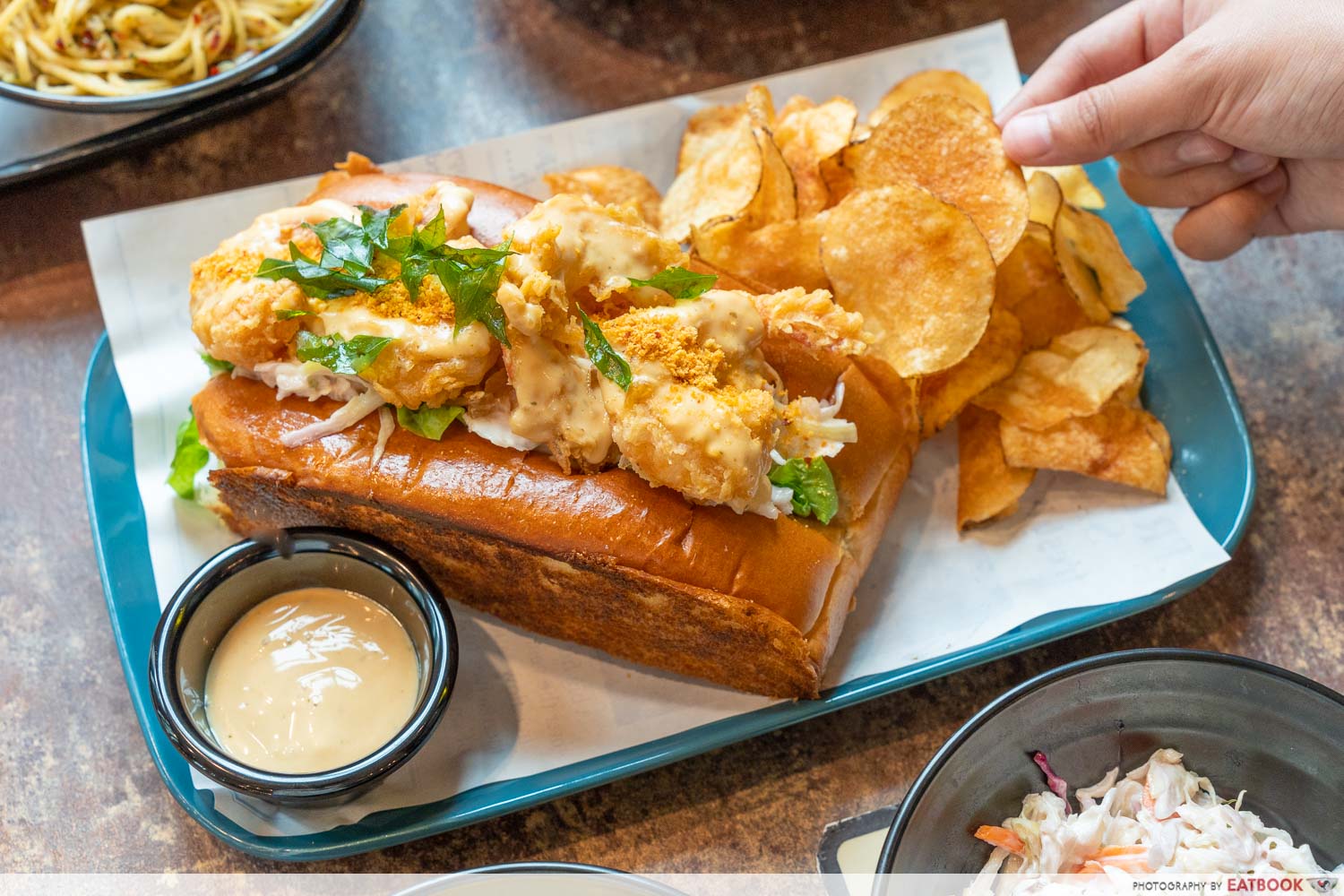 Finally, Bugis also has a number of brioche rolls with seafood and chicken toppings, if you're looking for a sandwich to munch on. We tried the Salted Egg Shrimp Roll ($19.80), where buttery brioche is packed with crispy fried shrimp topped with a silky salted egg sauce and salted breadcrumbs, and a healthy dose of slaw to cut through the fat.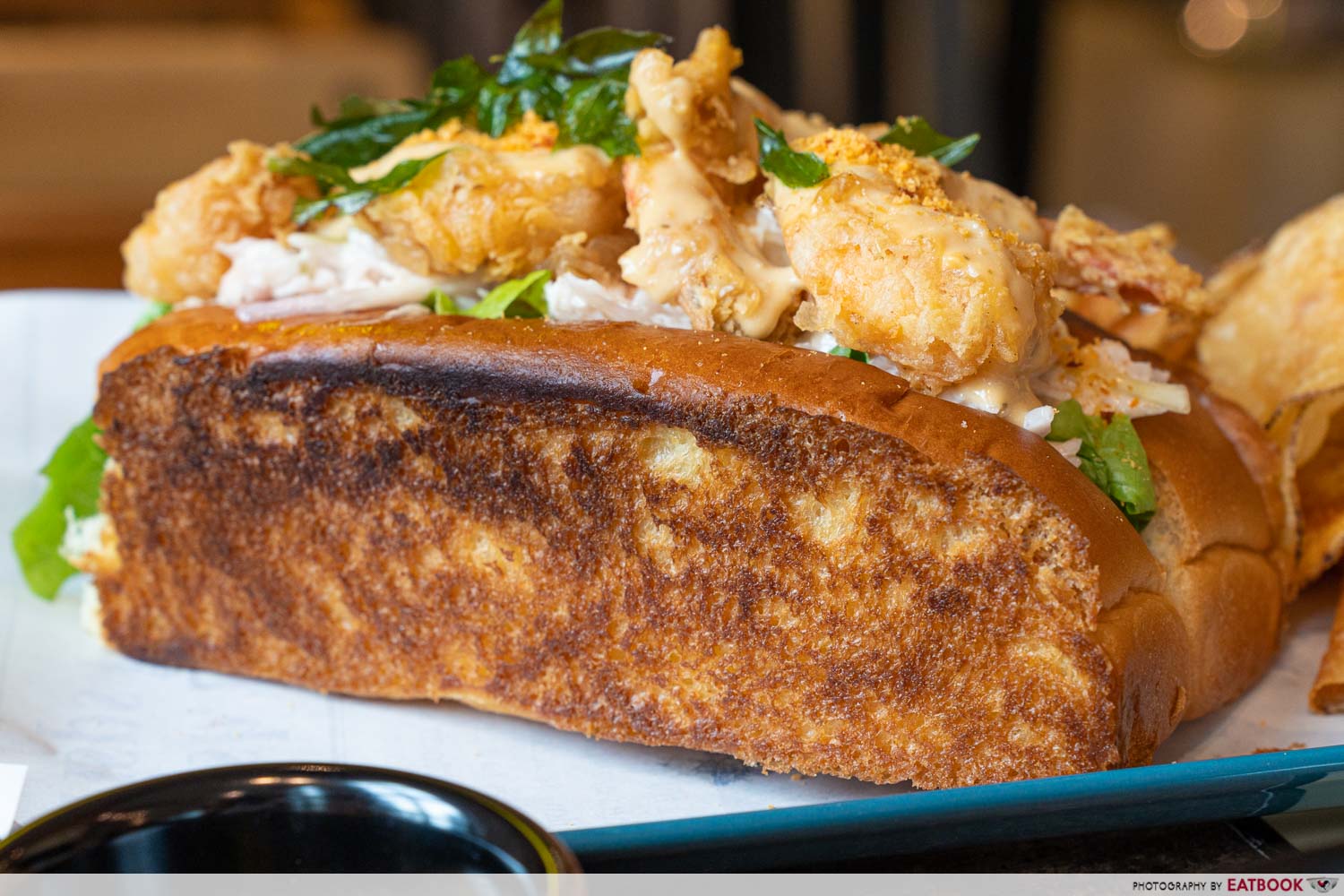 The bun is served with crisps too.
It's well worth nothing, again, that all the outlets have a slightly different menu, and pasta options that may not be the same across the board. You're definitely getting quality, though, and delicious seafood at wallet-friendly prices.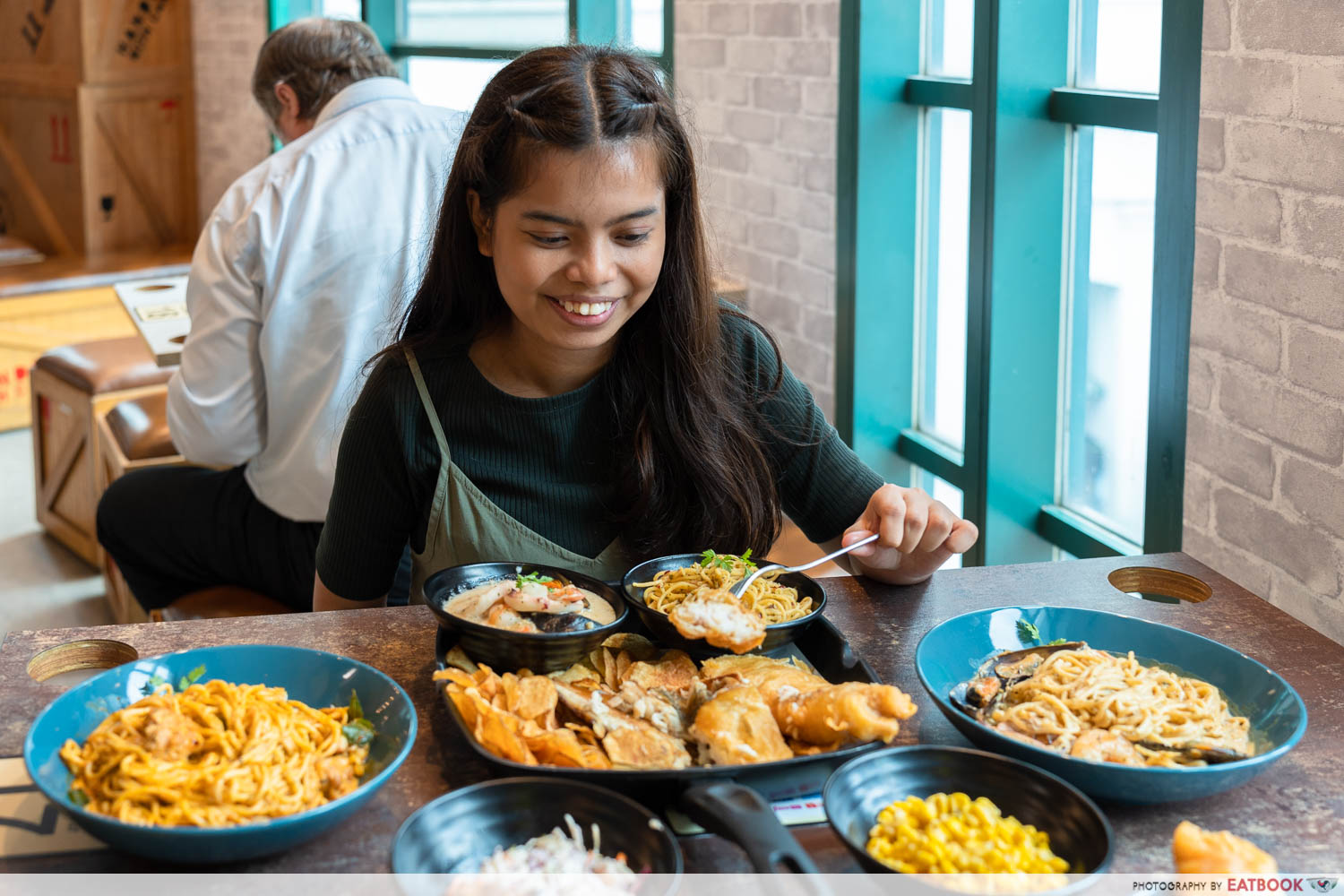 Whether you're dining with friends or your family, Big Fish Small Fish is a great crowd-pleaser of an option, whichever outlet you visit. Plus, they're halal-certified!
If you're planning to head down to Big Fish Small Fish and dine, then take note: Eatbook readers can enjoy one pasta of their choice for free when they purchase any three mains. All you have to do is flash this post when you make your order!
Also, stay tuned to their upcoming outlet in Suntec City, landing this November, with an all-new concept!
Website
Full list of outlets
Big Fish Small Fish is a halal-certified eatery.
Photos taken by Melvin Mak.
This post is brought to you by Big Fish Small Fish.