---
Fish and chips for every occasion
---
Fish and chips is something we all grew up with, and that means cravings for it are going to surface. To help your wallet save some money every time you feel like eating this classic dish, we've compiled 10 restaurants and cafes with fish and chips, and sorted them out according to prices.
There are two types of batters that dominate the fish and chips scene in Singapore. The batter is responsible for protecting the fish as it fries, keeping it moist on the inside and crispy on the outside. Traditional English fish and chips use a beer batter, which gives an incredibly fluffy appearance. Locally, some Western food joints prefer to use a crumb-style batter, which makes the fish extra crispy while sacrificing some of the fish's natural texture.
---
<$10
---
1. 5 Star Corner Western Food
---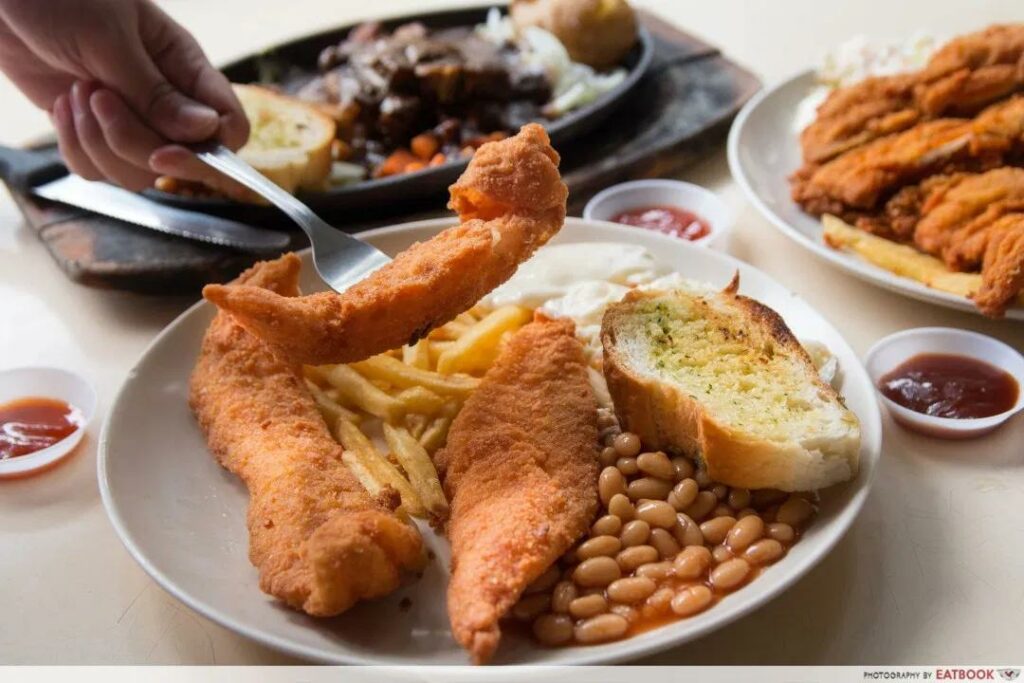 5 Star Corner Western Food is a local-style Western food joint that pushes out comforting fare such as Sirloin Steak ($8), Chicken Cutlet ($6), and Fish and Chips ($6). It's also known by Hougang residents as the Ah Beng Western Food stall, thanks to the group of highly efficient young individuals that man the grill. 
Their Fish and Chips comprises dory fillets that are prepared using a crumb-style batter. It comes in huge portions and is also accompanied by plenty of different sides. The fish and chips here isn't the best in class, but scores high marks for value. It's the type of unpretentious dish that you want to tuck into a group of friends while filling up your belly with tasty grub.
Address: 805 Hougang Central, #01-116, Food Park, Singapore 530805
Opening hours: Daily 11am to 10pm
---
2. Tip Top Western
---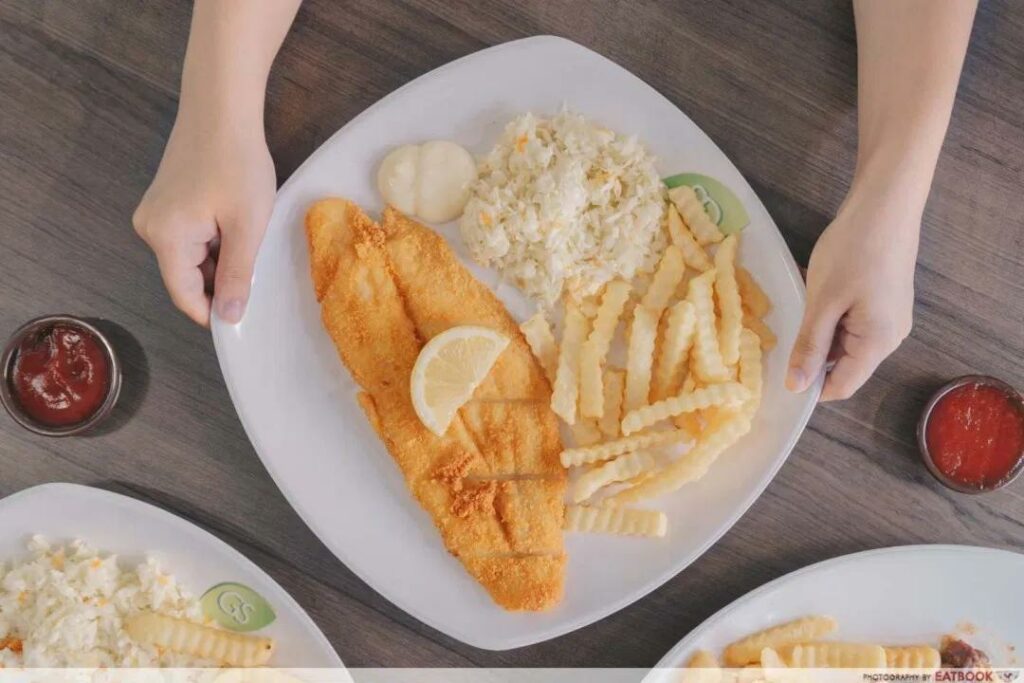 Tip Top Western Food has been around for three generations, and was most recently handed over to 22-year-old culinary school graduate, Darelle Tng, who operates the stall with her fiancé. 
Instead of individual pieces of fish, a single Tilapia fillet is used in their Fish & Chips ($7.50). This keeps the fish from drying out too quickly and gives it a succulent texture. While the standard type of chip served in fish and chips usually consists of thick cuts of potato, crinkle-cut fries are used here instead. These fries are an old-school favourite for those who frequent Western food stalls,  and have large ridges for soaking up sauces.
Address: 84 Marine Parade Central, #01-22, Marine Parade Central Market and Food Centre, Singapore 440084
Opening hours: Daily 10am to 10pm
Website
---
3. Fish Tales
---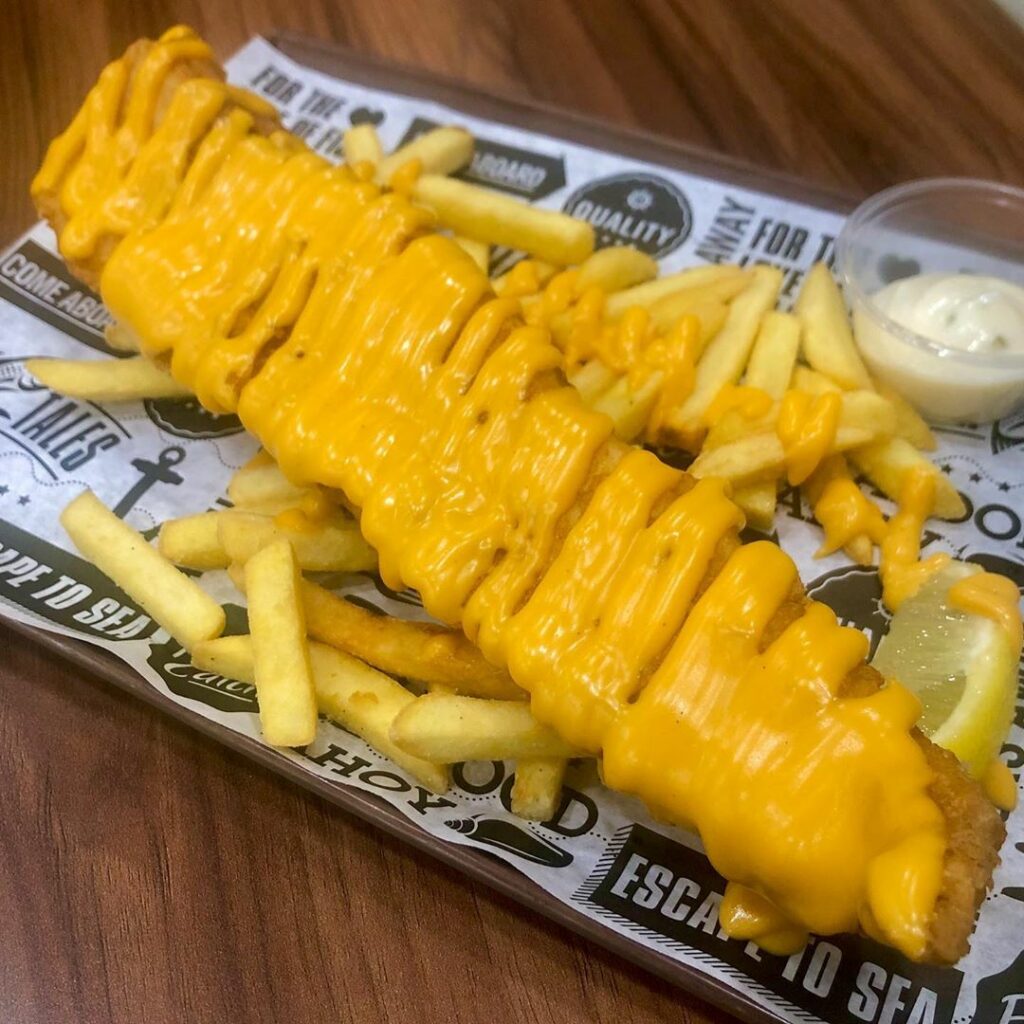 Image credit: @ho_jiak
If you're looking for cheap eats around Orchard Road, Fish Tales could be your best bet. Offering four types of fish and chips, such as Original ($8.90), Beaurre Au Citron ($9.90), Fiery Sambal ($9.90) and Cheesy Affair ($10.90), Fish Tales differentiates itself from other establishments by offering interesting flavours of the classic dish. Cheesy Affair comes with cheese oozing out of the fish and if that's not your thing, there is also a host of pasta offered such as Seafood Carbonara ($12.90) and Tom Yum Seafood ($12.90). Try Fish Tales the next time you're at *SCAPE for flea markets!
Address: 2 Orchard Link, #02-27/02-18B, *SCAPE, Singapore 237978
Opening hours: Daily 12pm to 10pm
Tel: 6636 9960
Website
Menu
---
<$20
---
4. Fish & Chicks
---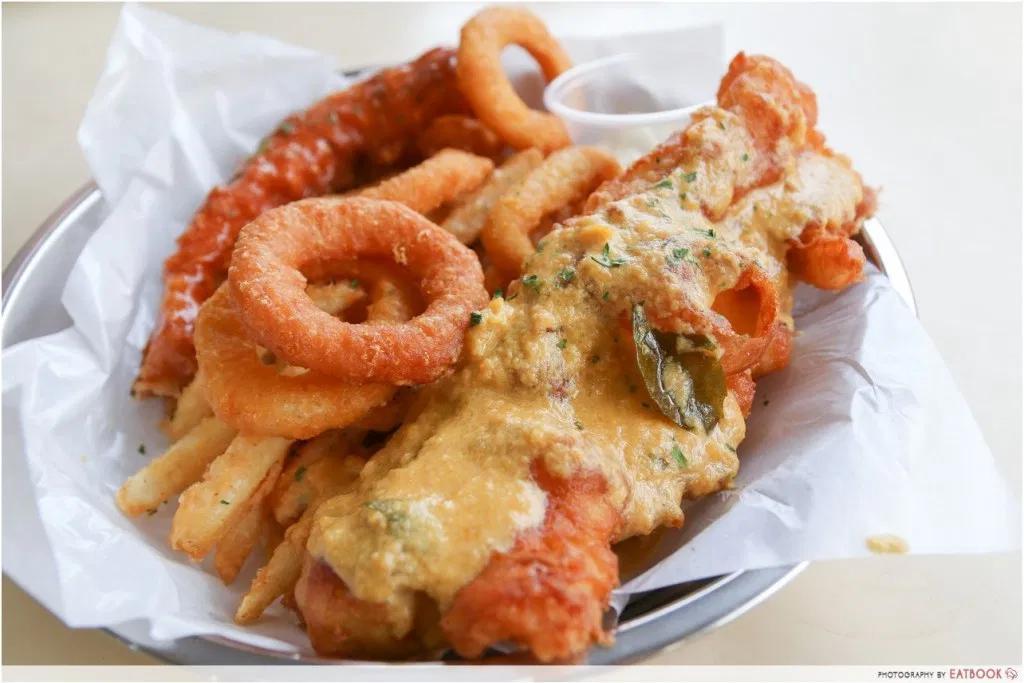 Fish & Chicks started as a small Western stall in 2016. Back then, it created huge waves on Instagram with a crazy combination of deep-fried fish that's blanketed in salted egg and chilli crab sauce.  Fast forward to four years later, and the locally owned brand now has 12 outlets islandwide. 
Their signature item, Best of Both Worlds ($14.80), continues to draw in a crowd. The salted egg and chilli crab ish & chips dish might be a little on the high side for coffee shop fare, but it is a creative dish without being overly gimmicky.  
Address: 531 Ang Mo Kio Ave 10, #01-2429, Happy Hawkers,  Singapore 560531
Opening hours: Daily 11am to 9:30pm
Website
Full list of outlets 
---
5. Big Fish Small Fish
---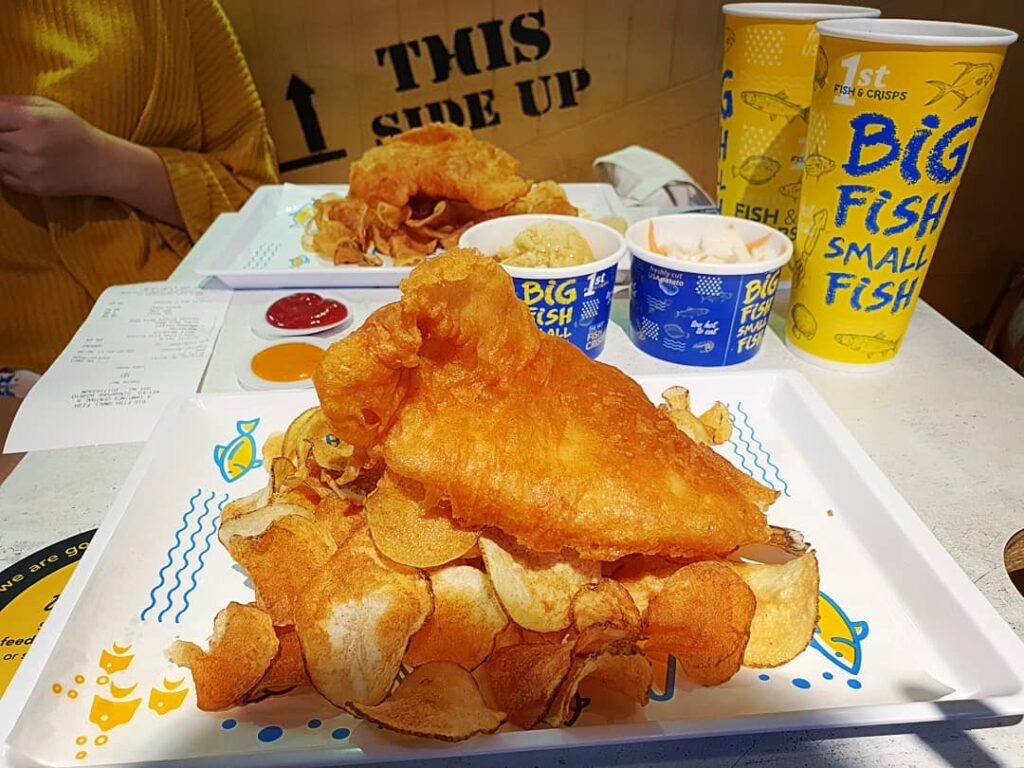 Image credit: @mikelogy
Big Fish Small Fish also started as a small stall, popping up at the hipsterish Punggol Container Park in 2017. The brand has since expanded quickly, with five outlets around Singapore. What I like about this fish and chips specialist is how there's a wide variety of fishes on offer. The cheapest option is Dory ($10.80++), which doesn't have much of a natural flavour.  But, those who are willing to fork out more can fish for the Halibut ($15.60++) and Haddock ($18.80++). Each order is served with skin-on fries, and also comes with two free sides which include the likes of mint mushy peas, bbq beans, and coleslaw. 
Those who visited the stall when it first opened in Punggol might be surprised with how the fish and chips turn out now. It has undergone a major revamp, with popular food blogger Leslie Tay heavily involved in the changes. The batter is now lighter on the palate and less greasy, and also comes with an extra bit of crispiness to it. 
Address: 50 Punggol East, #01-K35, Singapore 828826
Opening hours: Daily 12pm to 9pm
Website
Full list of outlets 
---
6. Lad & Dad
---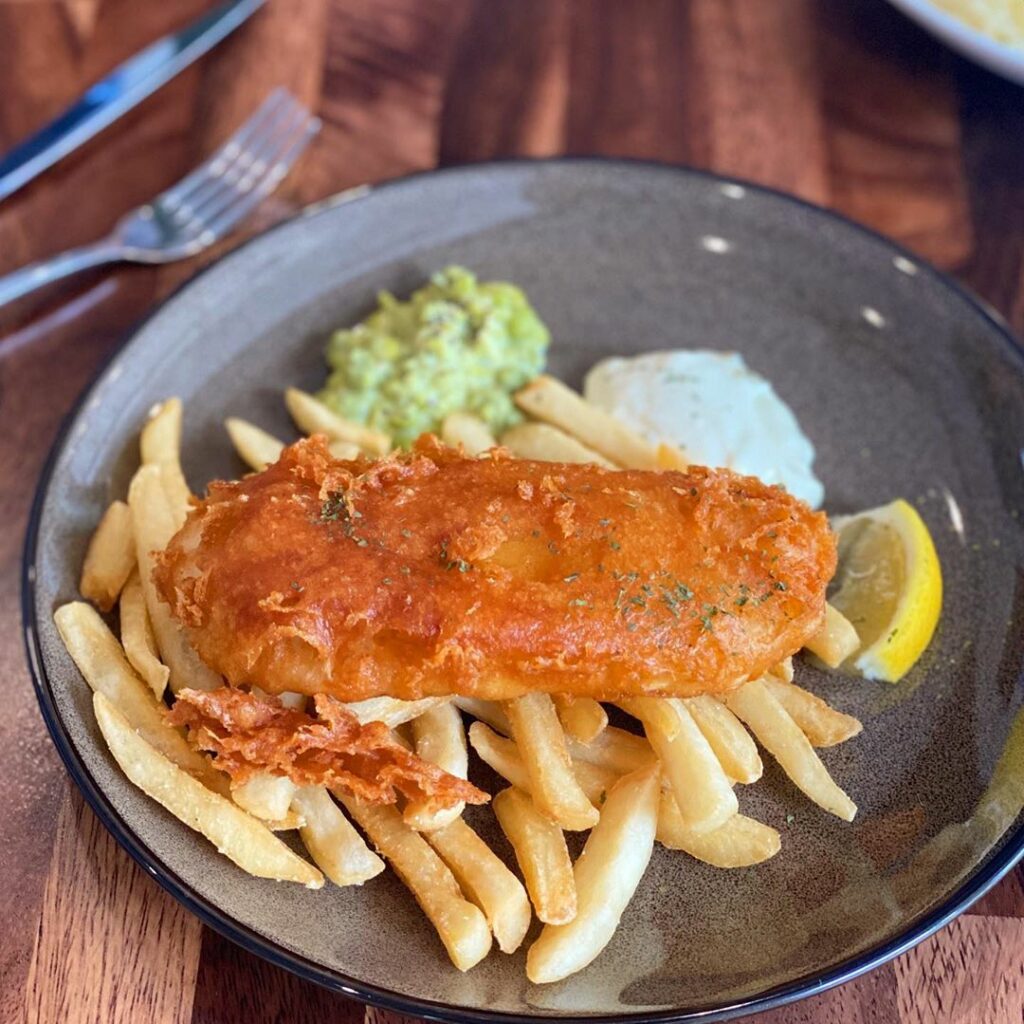 Image credit: @jadey.eats
Lad & Dad is the last stall on this list that has hawker roots. Opened by a father-and-son duo. they were previously located at Serangoon Gardens and Maxwell Food Centre before moving to their current location at Tanjong Pagar Plaza. The new location is a stand-alone restaurant, and features the same British comfort food that the stall is known for. 
Their Fish & Chips ($18/$28) features a large fillet of beer-battered Atlantic haddock, straight-cut fries, mushy peas, and tartar sauce. Considering that quality haddock is used, this is one of the most value-for-money fish and chips out there, The fish has an addictive crispy crunch, and a flaky flesh that's full of flavour. 
Address: 7 Tanjong Pagar Plaza #01-108, Singapore 081007
Opening hours: Tue-Sat 12pm to 9pm
Website
---
7. Greenwood Fish Market
---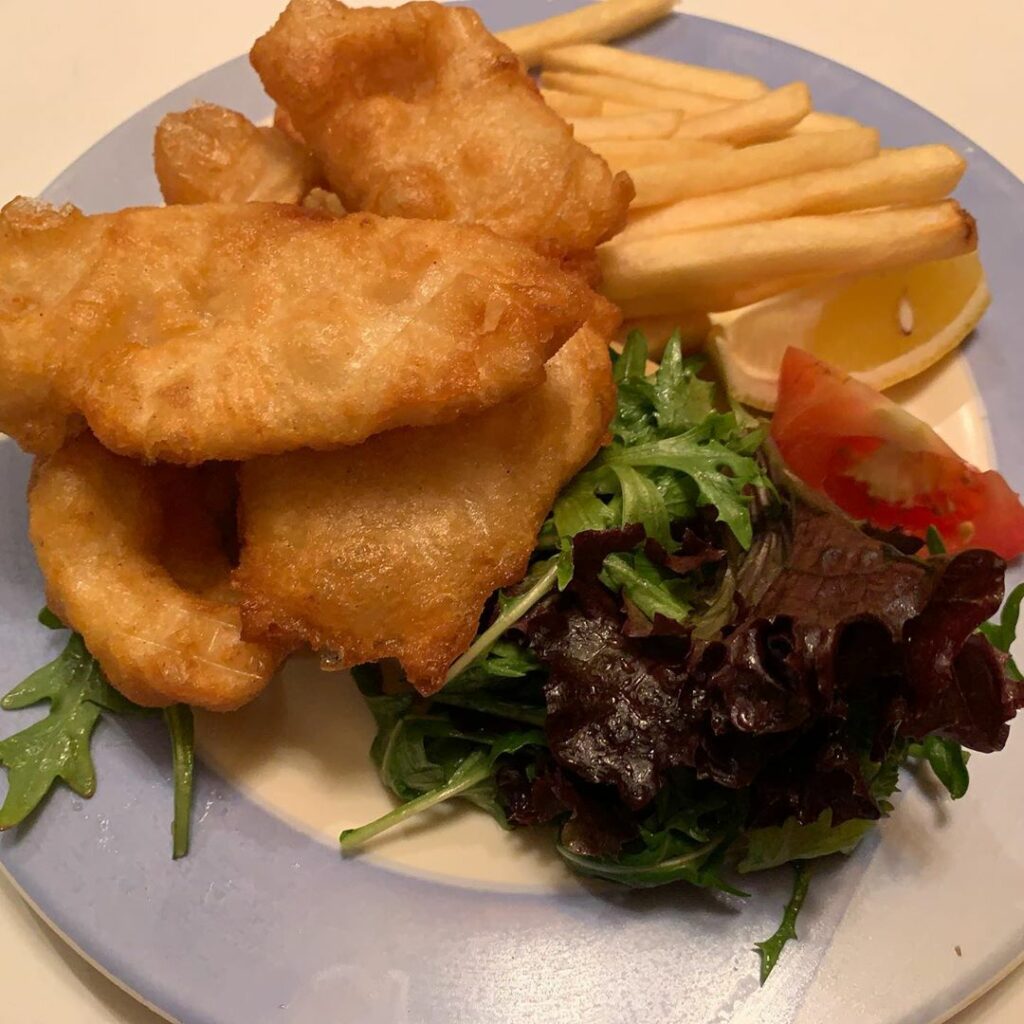 Image credit: @out_ofthe_grey
Greenwood Fish Market is a familiar name for Bukit Timah residents. This exciting concept combines a restaurant and a wholesale seafood market. Only the freshest catch is served every day, with the fish menu rotating daily.
You can choose from a wide selection of fish on offer and get them deep-fried on the spot. These include the likes of Red Snapper ($27.95++) and Boston Haddock ($29.95++). There's also the  House Fish & Chips With Calamansi Vinaigrette Salad ($19.95++), that uses regular dory fish dipped in a beer batter and fried to a golden crisp. 
Address: 34/38 Greenwood Avenue, Singapore 289236
Opening hours: Mon-Fri 11:30am to 10:30pm, Sat 9am to 10:30pm, Sun 12pm to 8pm
Tel:  6467 4950
Website
Menu 
---
<$40
---
8. Smith's Authentic British Fish & Chips
---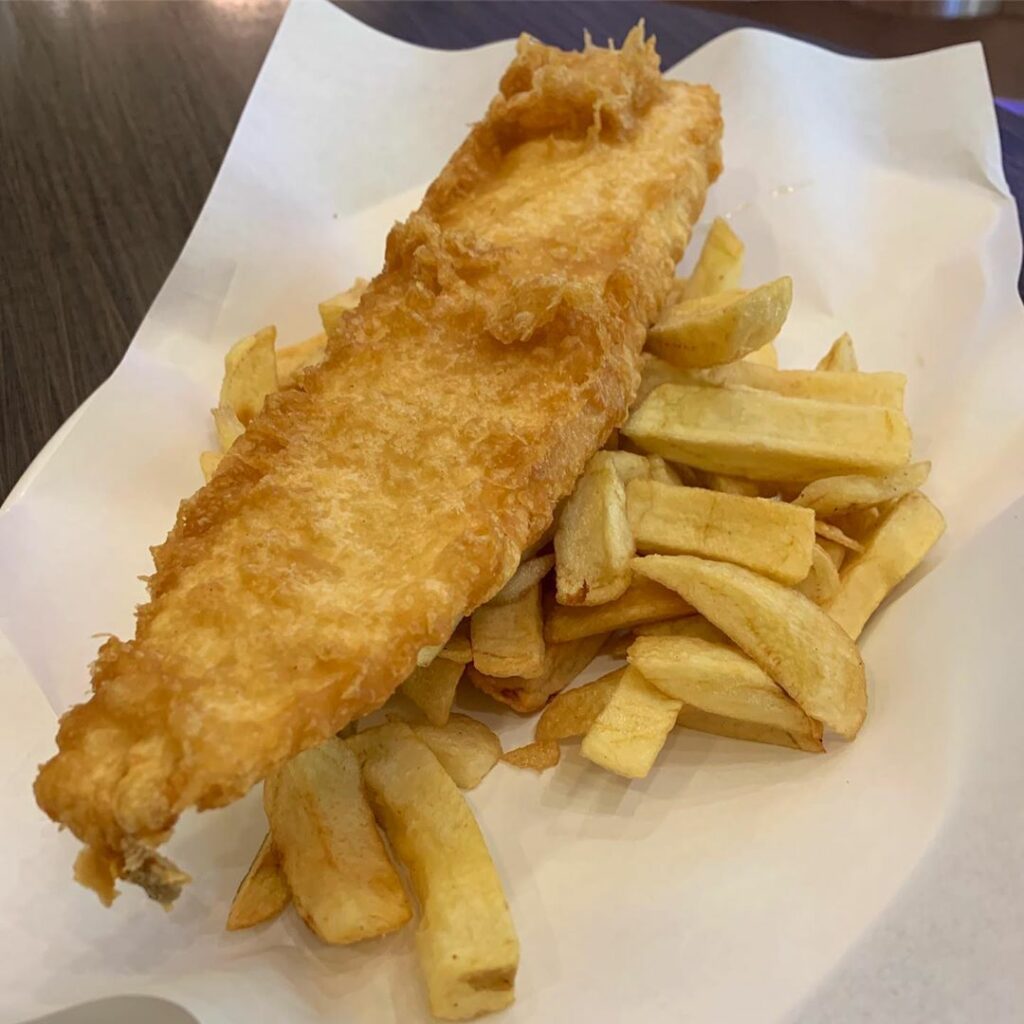 Image credit: @broadben_diet_starts_tomorrow
Some may say that the prices at Smith's Authentic British Fish & Chips can be high, but this is a proper fish and chip shop that specialises solely in the UK's most popular food. The potatoes are peeled and prepared fresh every morning, and in true British-fashion, the fish and chips are wrapped in paper.
The standard order here is the Cod or Haddock and Chips ($23+). Cod and haddock are the two most popular fish for fish and chips and it's easy to see why. Both of these fishes have a gentle flavour profile that complements the fried batter nicely. On top of that, they also have a nice delicate texture to them when expertly fried.  Cod has a much milder flavour than haddock, which has a slight natural sweetness to it. However, haddock doesn't have that signature flaky texture that makes cod such a popular hit among the young and old.  I would recommend going for haddock if you don't know which to decide. 
Address: 271 Bukit Timah Road, #01-02, Balmoral Plaza,  Singapore 259708
Opening hours: Mon-Fri 11:30am to 10:30pm, Sat 9am to 10:30pm, Sun 12pm to 8pm
Website
---
9. Cheek Bistro
---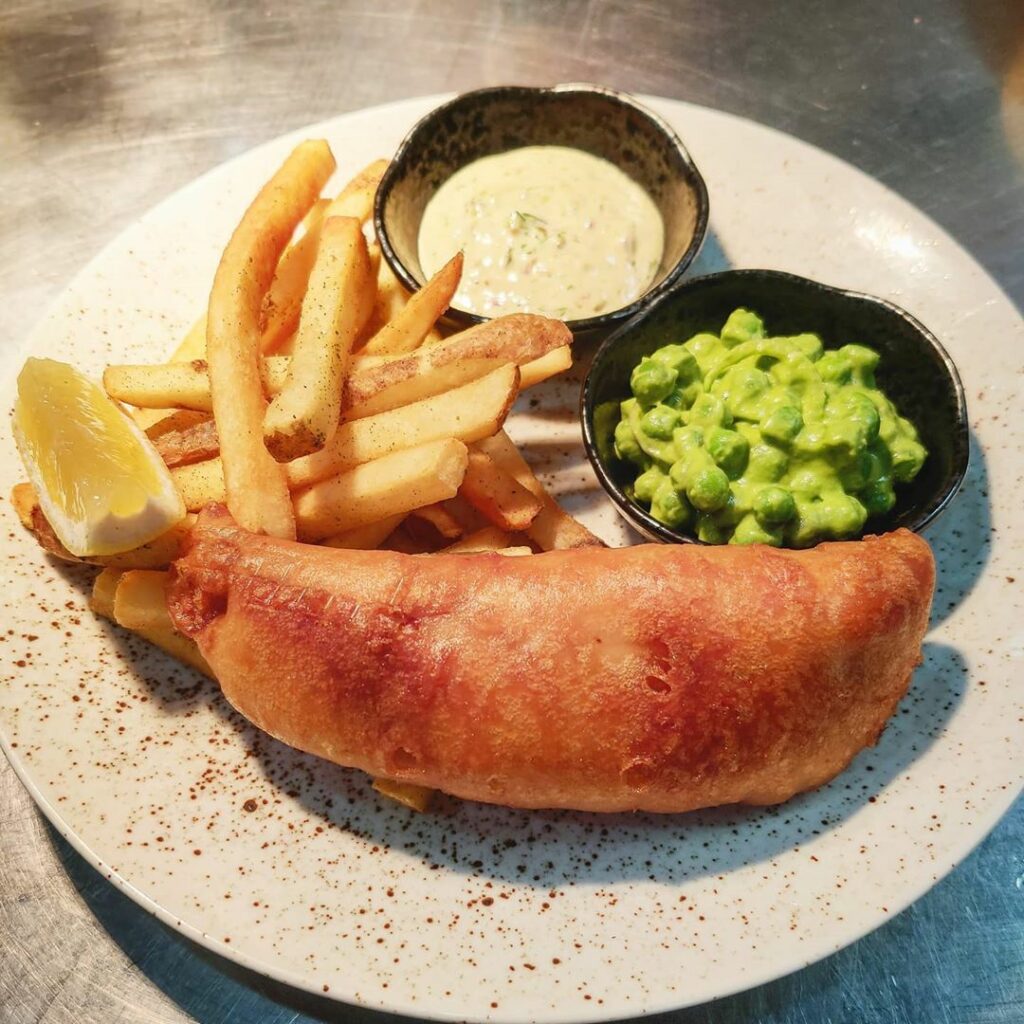 Image credit: @losinghairdiaries
Cheek Bistro is the brainchild of husband-and-wife team, Rishi Naleendra and Manuela Toniolo. The casual Australian bistro was formerly known as Cheek by Jowl, which was a fine dining restaurant that was awarded a Michelin star in the 2017 and 2018 Singapore Michelin guide. 
The Fish & Chips ($34++) comes with a thick piece of fresh red snapper, chips, mushy peas, and house-made tartar sauce.  What's special is the fresh fish used, which gives a firm and flaky texture and a delicate flavour. The light beer batter is light, and most importantly, not too oily.  While Cheek Bistro is not a Michelin-starred restaurant, this is probably the closest it gets to "Michelin-starred" fish and chips in Singapore. 
Address: 21 Boon Tat Street, Singapore 069620
Opening hours: Tue-Thur 6pm to 9:30pm, Fri-Sun 12pm to 2:30pm, 6pm to 9:30pm
Website
Menu

---
10. The English House
---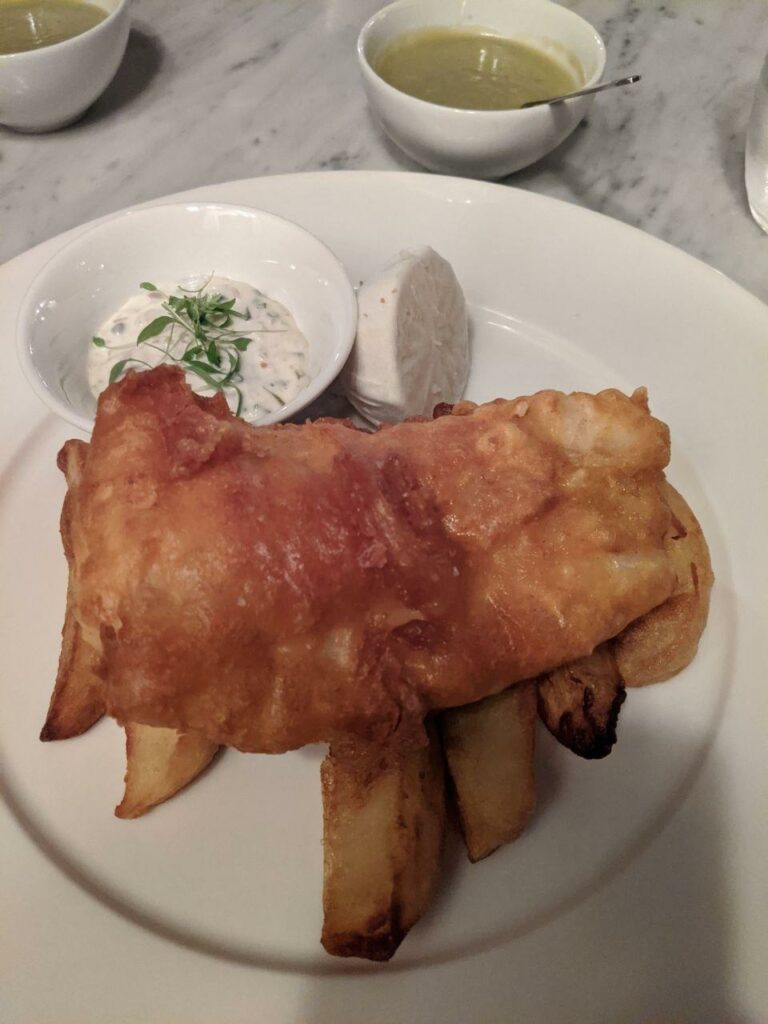 Image credit: Suphon Liao
The English House is started by legendary British chef, Marco Pierre White, who became the youngest individual to be awarded with three Michelin stars when he was 32. This warm and inviting restaurant has a relaxing atmosphere to it, and is great for small group gatherings or intimate dates. 
Beer Battered Haddock Fillet with Triple Cooked Chips ($38++) is understandably pricey. But you get what you pay for here. This is, in my opinion, the best fish and chips in Singapore. 
The fish is always nicely cooked to perfection, and comes with an addictive tartar sauce that binds all the flavours nicely. This is not an every-day kind of fish and chips for me, but it's certainly a quality option for those looking to enjoy a British favourite in true style. 
Address: 28 Mohamed Sultan Road, Singapore 238972
Opening hours: Mon-Fri 11:30am to 3pm, 5:30pm to 10:30pm, Sat 8:30 to 3pm, 5:30pm to 10:30pm, Sun 8:30am to 8pm
Tel:  6545 4055
Website
Menu 
---
Fish and chips for all budgets
---
The next time your friends mention fish and chips, you'll have this list ready to impress. Try them all and let us know which is your favourite! For more food guides, be sure to check out our guide to the best burgers and chicken rice in Singapore! 
10 Best Chicken Rice In Singapore Ranked, Including Tian Tian And Boon Tong Kee
This post was originally published on 12 October 2016, and updated on 26 August 2020.