---
Suntec City food
---
Suntec City, Singapore's first megamall, was a weekend haunt for many back in the day, with throngs lining up for the emblematic Fountain of Wealth, megamart Carrefour, and conventions such as IT and Travel Fairs. 
With other newer megamalls in the scene now, Suntec City is no longer as crowded as it once was, but one thing still remains: its wealth of dining options. To help you make up your mind if you're dining there, here's our round-up of 15 Suntec City food places to have your next meal at.
---
1. Just Dough
---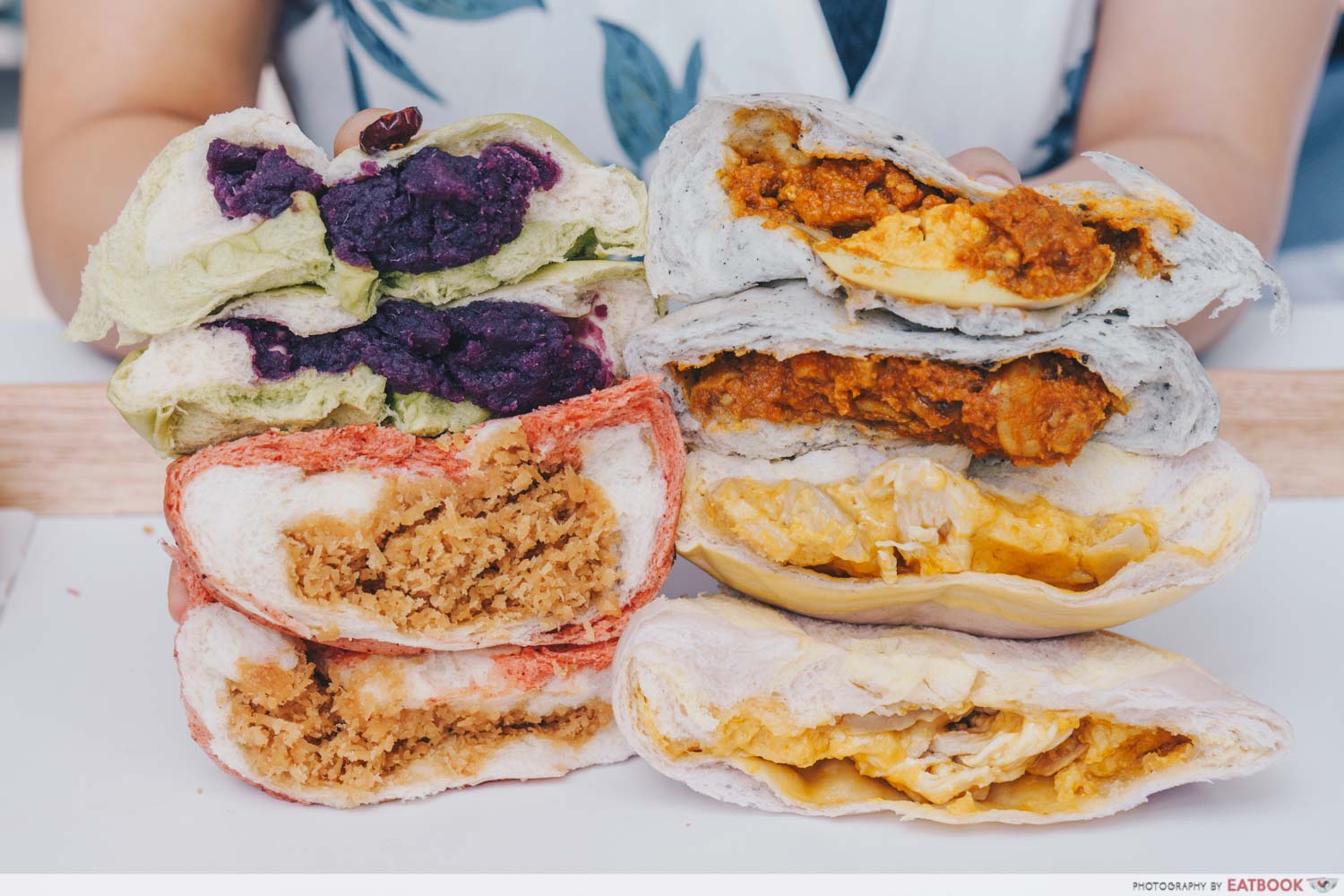 Just Dough isn't your average kopi and toast breakfast spot. This little cafe next to the Fountain of Wealth makes IG-worth steamed buns with a variety of sweet and savoury fillings. All the colourings used in these buns are natural, and the fillings are made with less sugar and oil, and without preservatives.
Prices for each of these handmade steamed buns start from just $1.20, which makes them perfect for a snack at any time of the day! If you prefer to dine in, there are also meal sets (from $7.90) featuring omelettes, salads and French toast.
Read our full review of Just Dough here.
Unit number: #B1-169/170, Fountain Court
Opening hours: Mon-Fri 7:30am to 8pm, Sat-Sun 8:30am to 8pm
Tel: 6337 0188
Website
---
2. SUPER SUB
---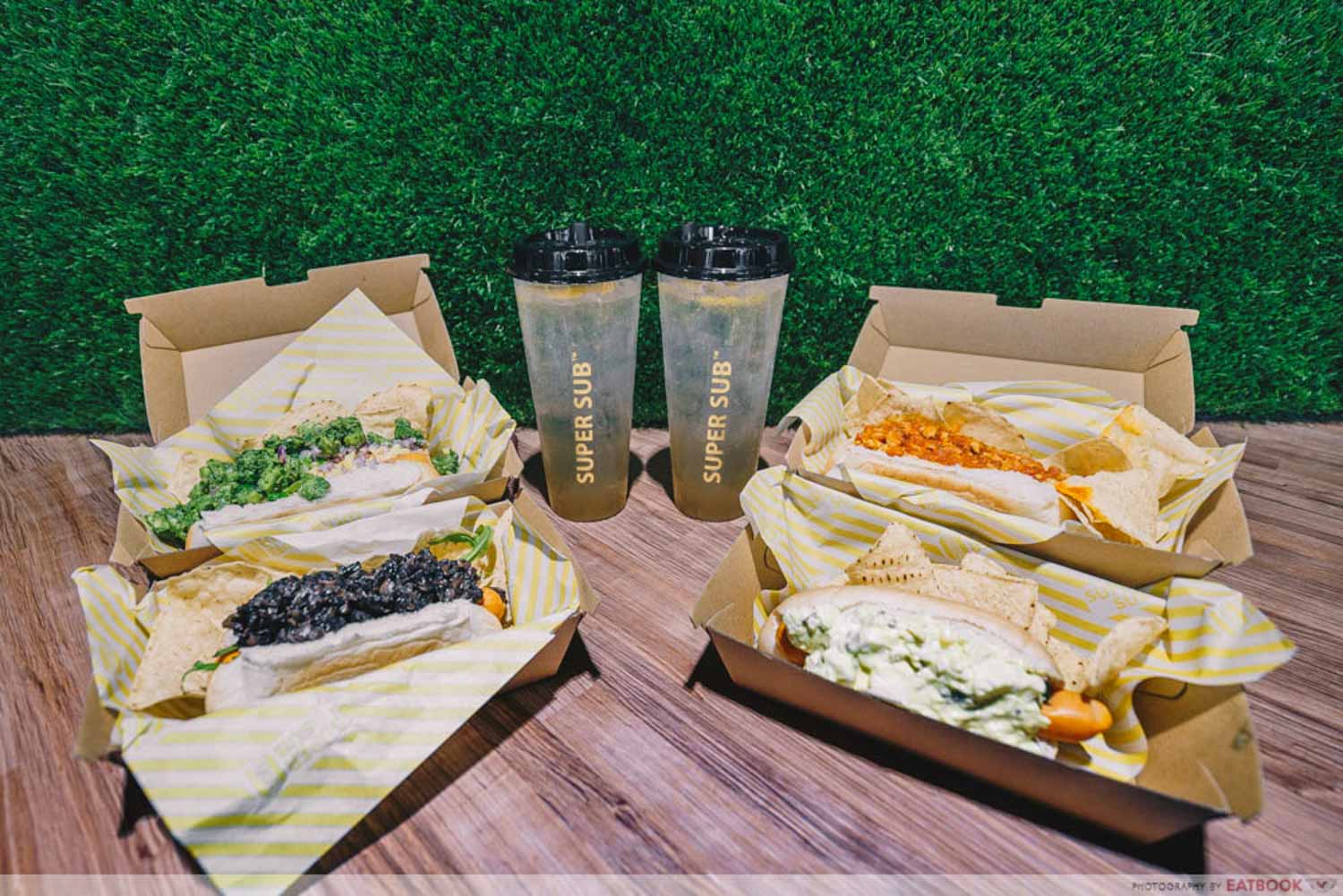 This food kiosk upgrades the hotdog bun with Asian- and Western-inspired fillings, from Spicy Chicken Bolognese with Cheddar ($7.80) to a Heavenly Yuzu Crab ($8.80). SUPER SUB is another grab-and-go option, great for an indulgent lunch on the move.
Read our full review of SUPER SUB here.
Unit number: #B1-K8, West Wing
Opening hours: Mon-Fri 8:30am to 10pm, Sat-Sun 10am to 8:30pm
Website
---
3. White Restaurant
---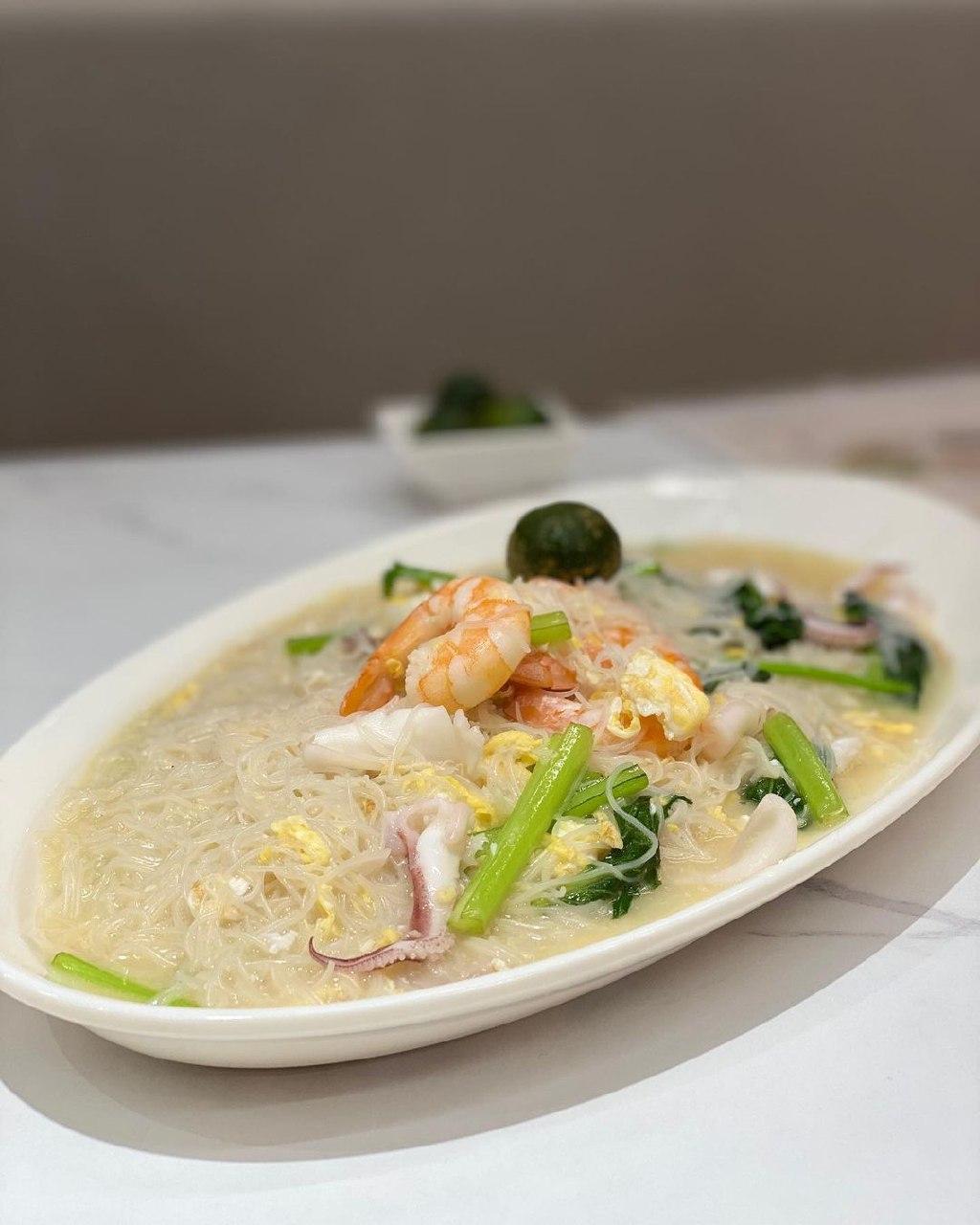 Image credit: @pinggueats
The white bee hoon craze has somewhat subsided, now that it's readily available across the island. If you're looking for a centrally located option, White Restaurant offers zi char and The Original White Beehoon (from $7) in air-conditioned comfort. They've even hopped on the mala bandwagon and introduced a Mala White Beehoon (from $9.80), which is available for a limited time only.
Unit number: #B1-131, Fountain Court
Opening hours: Daily 11am to 9:30pm
Tel: 6255 2002
Website
12 Underrated Curry Puff Stalls Around Singapore That Are As Good As Old Chang Kee
---
4. Wonderful Bapsang
---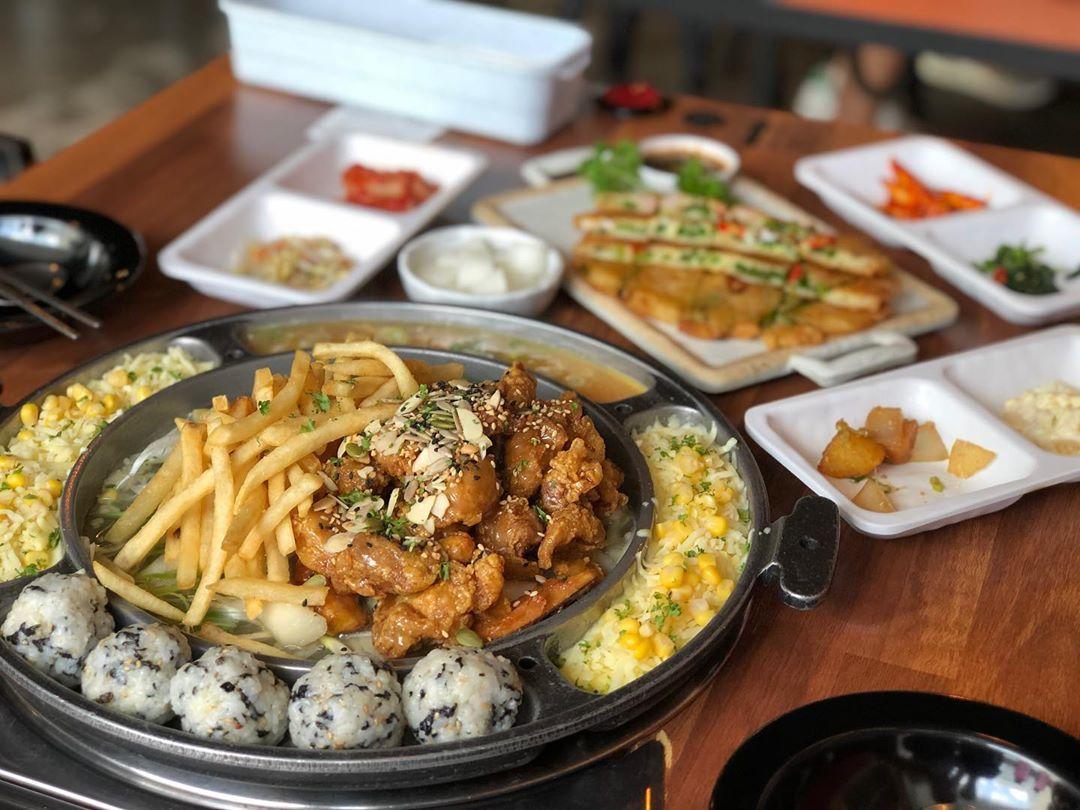 Image credit: @nomdiary_
You wouldn't be wrong if you walked past Wonderful Bapsang without stopping to consider dining there. The restaurant is fronted by a Korean minimart and counter selling assorted Korean street food and banchan. 
The menu here is centred around bunsik─inexpensive Korean dishes with a free flow of rotating banchan. Get a Bibimbap for $14.80, or Gimbap for $9 stuffed with your choice of fillings. New on their menu is the Wang Pan (from $9), a hot plate of chicken, beef or pork galbi with seaweed rice balls, corn with cheese, and soup!
Unit number: #02-609-610, East Wing
Opening hours: Daily 11:30am to 3pm, 5pm to 10pm
Website
Green Chilli Chicken Rice Review: Incredibly Tender Chicken With Handmade Green Chilli Sauce For $4.80
---
5. Jollibee
---
Image credit: @dorimingo813
Jollibee's outlet at Suntec City lets you have your fix of Chickenjoy in between your shopping sprints around the mall. The menu here includes the Nasi Lemak ChickenJoy, which was introduced to Singapore shores earlier this month. 
Unit number: #B1-123/124, West Wing
Opening hours: Mon-Thurs 10am to 8pm, Fri-Sun 10am to 9pm
Website
---
6. Yenly Yours
---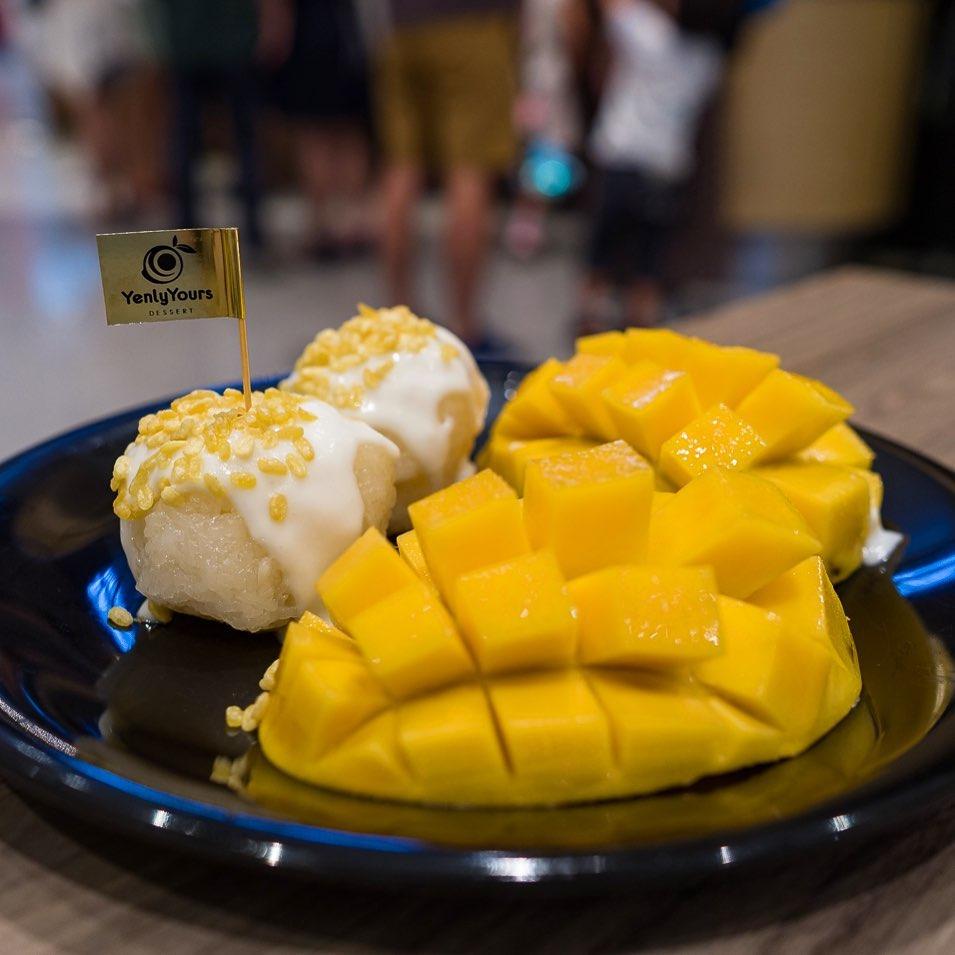 Image credit: @kennethong
Thailand's number one mango cafe, Yenly Yours, has more than 15 outlets in Bangkok. This outlet is their first one overseas, with a predominantly mango-based dessert menu. Go for the Mango and Mango with Mango Jelly (from $7.90), or Your Mango Super Sticky Rice ($10.90) for traditional mango sticky rice with a side of mango pudding and ice cream!
Unit number: #01-K6, East Wing
Opening hours: Daily 11am to 10pm
Website
---
7. Pasarbella
---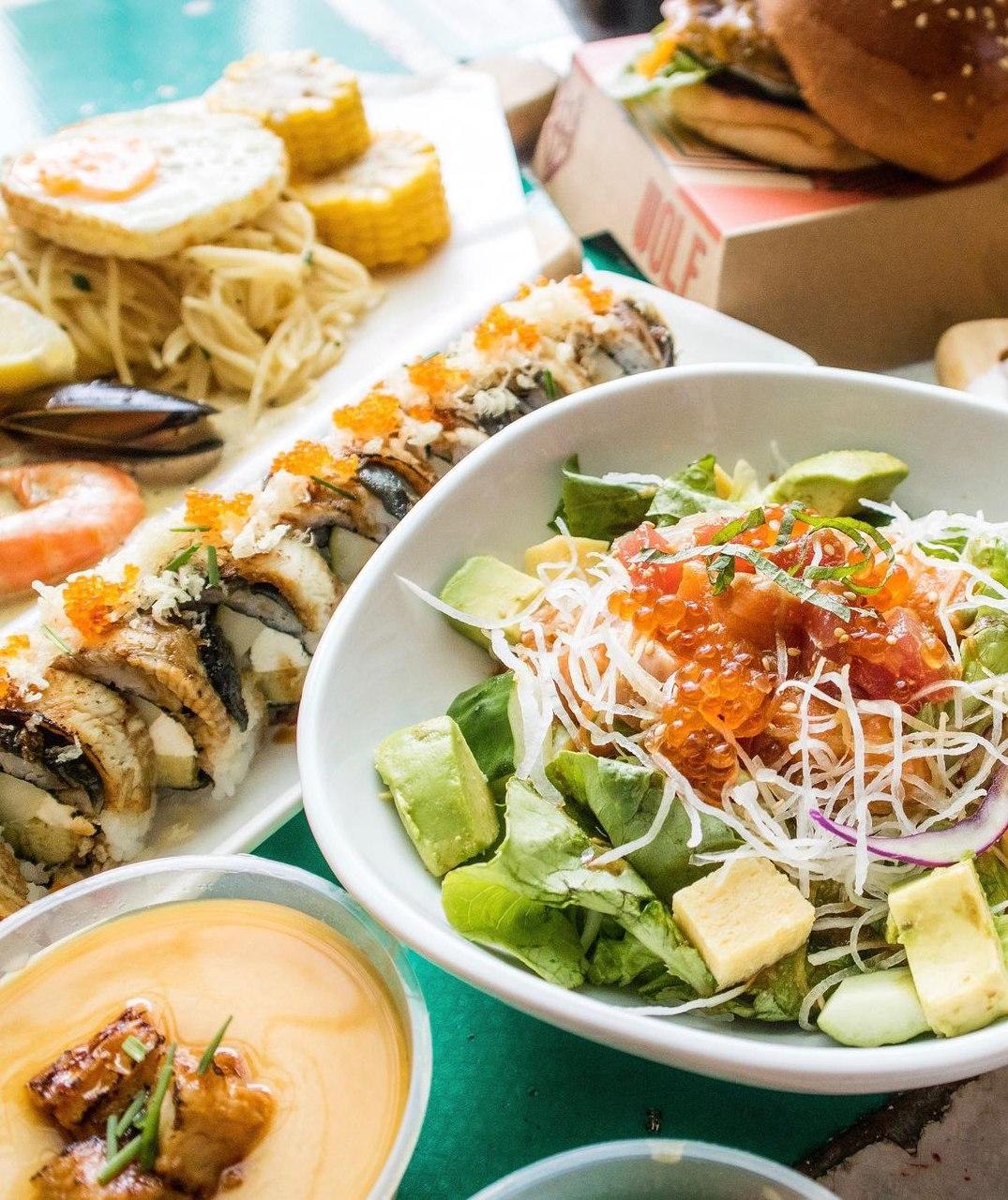 Image credit: @sarahpratomo
Pasarbella is a collection of eateries, much like a food court, but with international street food and food truck favourites. Their Suntec City offshoot, now the only one around, has froyo (Froyolo) and bubble tea (Tiger Sugar), burgers (WOLF Burgers) and Louisiana-style seafood (Cajun on Wheels). Perfect if your friends or family all want to eat different things, and you want something apart from your usual foodcourt options.
Unit number: #01-455, North Wing
Opening hours: Daily 10am to 10pm
Website
French Fold Review: New Bistro Serves French Galettes And Crepes With Gelato In Telok Ayer
---
8. Dookki
---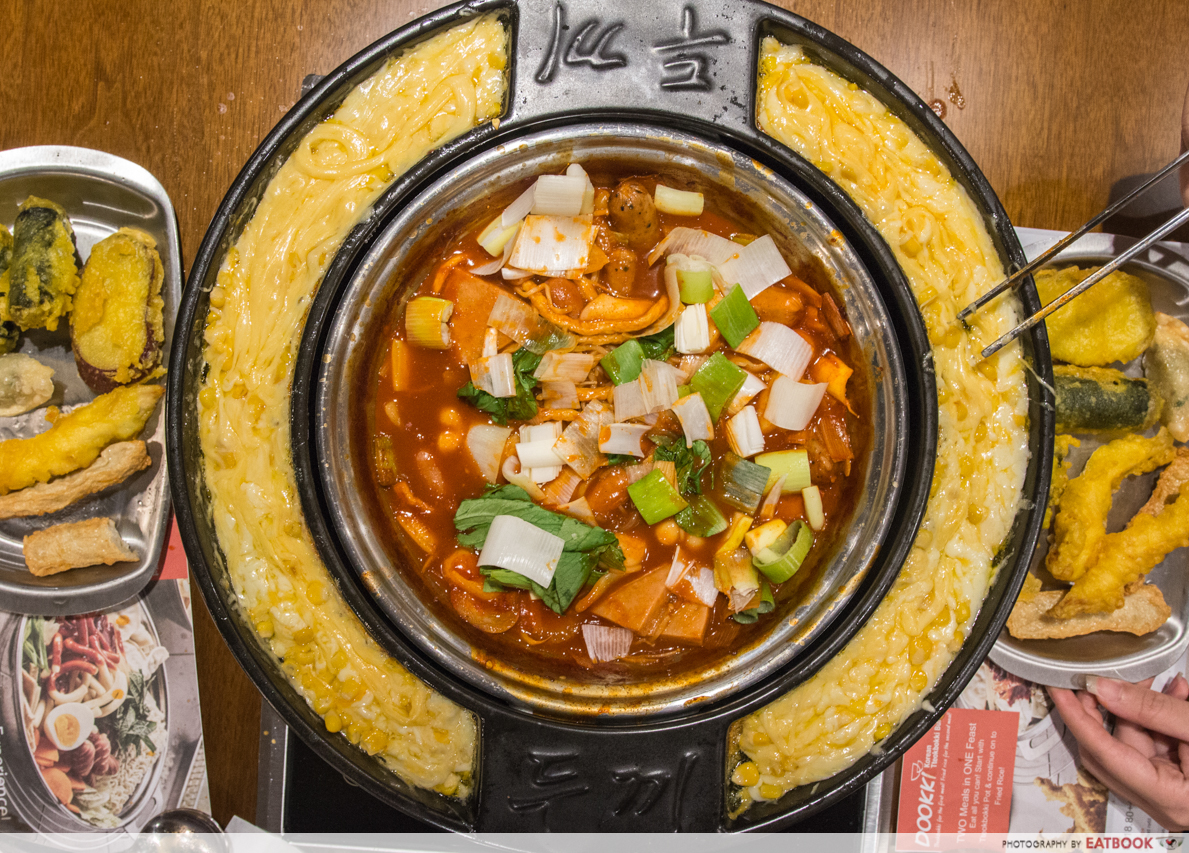 The name Dookki means 'two meals', a concept that sees you have first, a Korean hotpot, and second, a pot of kimchi fried rice made with the leftover tteokbokki sauce, all for the price of $18.80. It's Singapore's first tteokbokki buffet restaurant, an offshoot of a native Korean chain with more than 100 outlets worldwide. Besides the unlimited tteokbokki, the price also features Korean street food, fishcake air-flown from Busan, ramyeon and even Korean fried chicken!
Check out our review of the food at Dookki here.
Unit number: #B1-107, East Wing
Opening hours: Sun-Thurs 11:30am to 10pm, Fri-Sat 11:30am to 10:30pm
Tel: 6266 2425
Website
Dookki Singapore Review: Korean Tteokbokki Buffet With Kimchi Fried Rice At $18.80++
---
9. ASTONS Specialities
---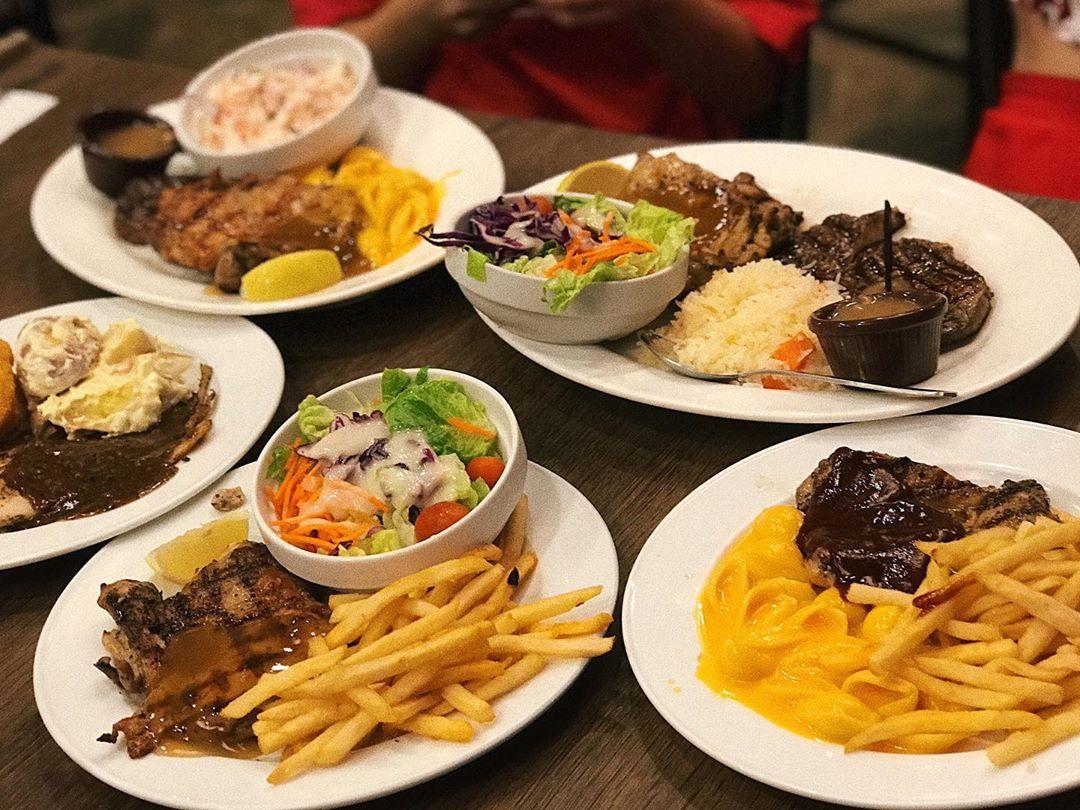 Image credit: @binhdieunguyen
ASTONS is a household name in Singapore, known for their wallet-friendly Western meals, whether you're after steak, fish, burgers or grilled chicken. The menu has now expanded to include a Japanese A3 Wagyu Steak ($43.90), although classic favourites Prime Sirloin ($16.90) and Chargrilled Chicken ($10.90) still remain.
Unit number: #B1-161/162, East Wing
Opening hours: Daily 11:30am to 10pm
Tel: 6337 2468
Website
15 Laksa In Singapore With Lemak Broth, Springy Noodles, And Fresh Prawns
---
10. Din Tai Fung
---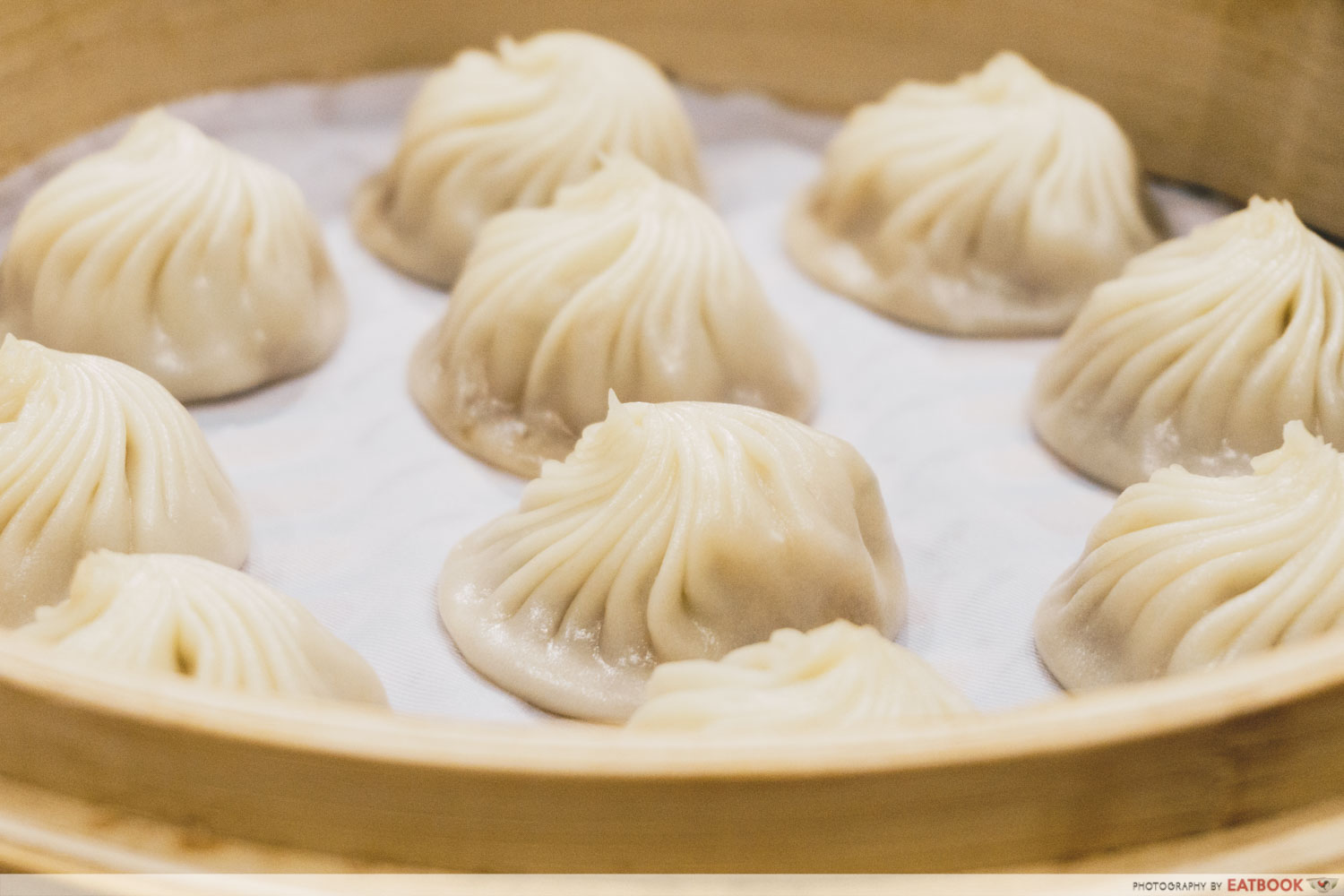 Perennial favourite Din Tai Fung still sees queues today at many of their outlets, spread over the island. Their Steamed Pork Dumplings (from $7.80), or xiao long bao, are little soupy packages stuffed with tasty pork, while the Fried Rice with Pork Chop ($13) has spawned many imitations.
Unit number: #02-302/303/304, West Wing
Opening hours: Mon-Thurs 11:30am to 9pm, Fri-Sat 11am to 10pm, Sun 11:30am to 9:30pm
Tel: 6338 2422
Website
---
11. Olivia & Co.
---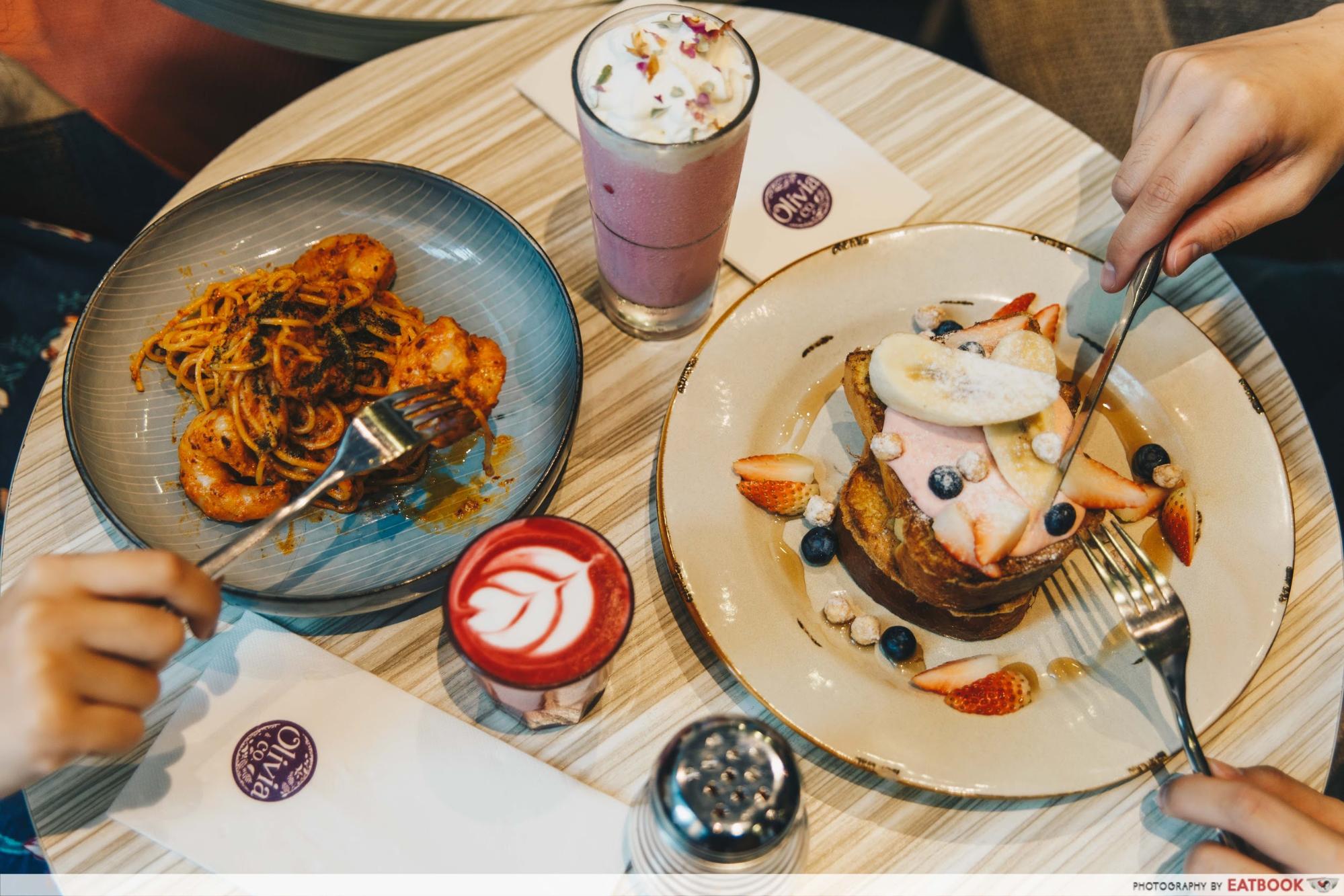 Make your way to Olivia & Co. for a chic retreat in the North Atrium of Suntec City. Come in the day, when it's naturally lit through the skylight above, and grab a comfy seat in one of their many quirky chairs. Prices for pasta here start from $10, while half a roasted chicken is $15 with a salad. They have a selection of cakes ($7.50), craft beers, coffee and tea too!
Unit number: #01-481, North Atrium
Opening hours: Mon-Fri 8am to 8pm, Sat-Sun 9am to 8pm
Tel: 6337 2518
Website
---
12. Shake Shack
---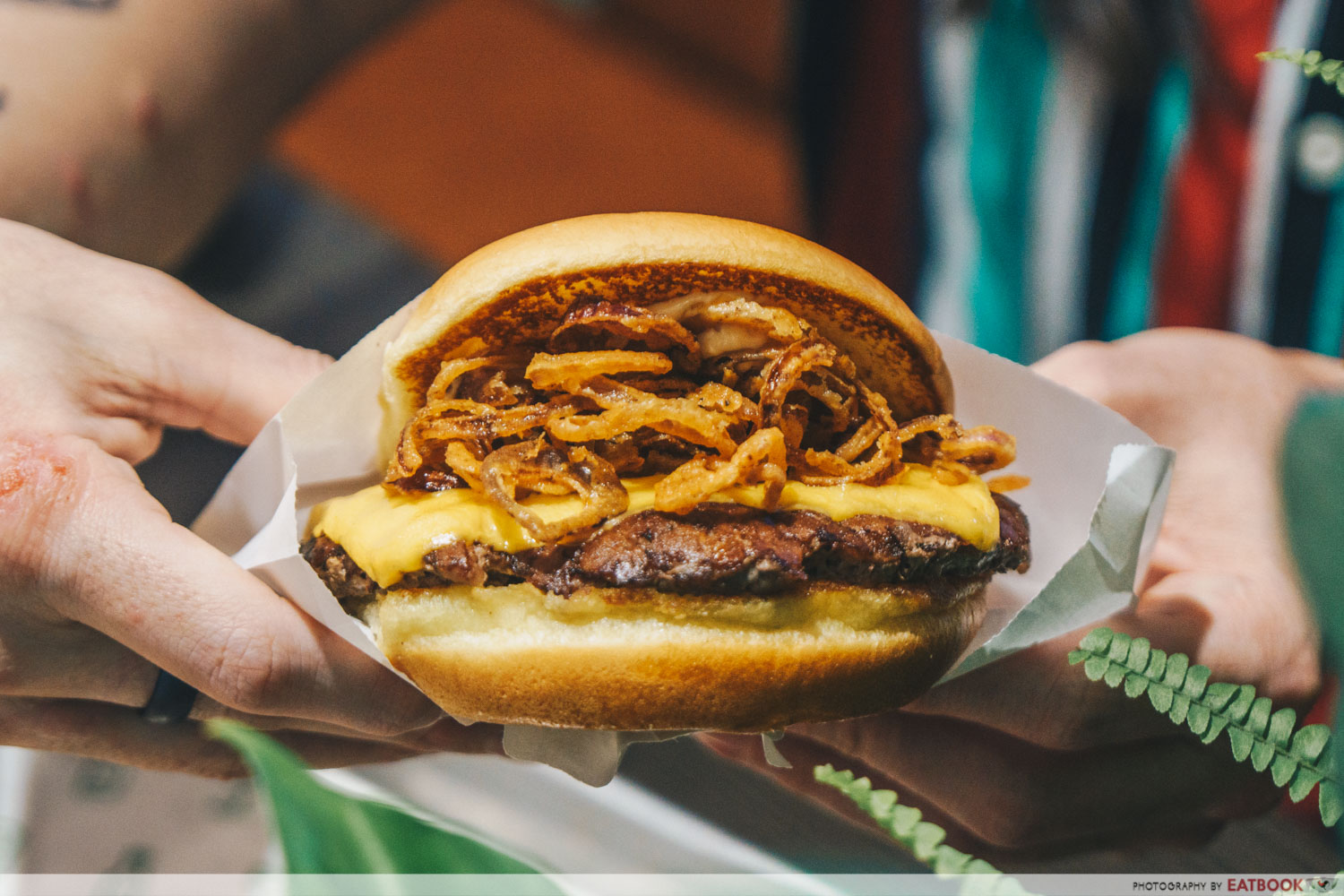 This American burger diner saw snaking queues when their first outlet opened at Jewel Changi Airport last year. In short order, more outlets have sprouted at Neil Road, Orchard Road, Suntec City, and soon, VivoCity. Head down soon to try their limited-edition ShackMeister Burger (from $10.80), which will end its run on 16 November 2020!
Read our full review of Shake Shack here.
Unit number: #01-357, West Wing
Opening hours: Daily 11am to 9:30pm
Website
Tsuta Launches New Menu With Japanese Snow Crab Soba And 1-For-1 Ramen Promotions
---
13. The Salted Plum
---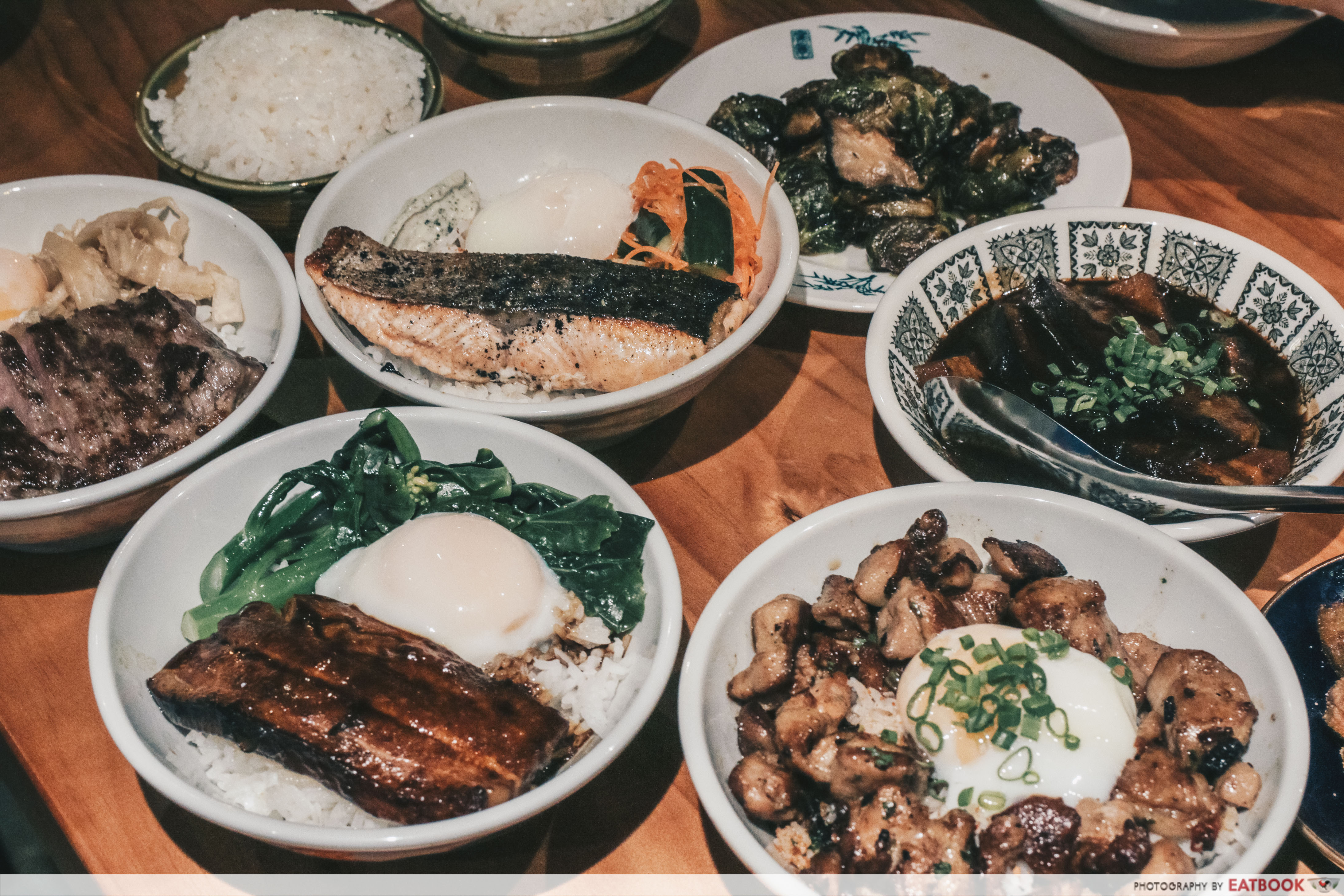 If you have a craving for Taiwanese food, The Salted Plum is the place to go. They've recently launched a new menu of Taiwanese bites, including Braised Spicy Duck Wings ($5) and XL Fried Chicken ($10), while still retaining their classic rice bowls (from $10). 
We reviewed The Salted Plum's menu here.
Unit number: #B1-122A, West Wing
Opening hours: Daily 11am to 8:30pm
Tel: 6721 9398
Website
The Salted Plum Review: Delicious Rice Bowls At $10+ By Five Ten
---
14. Fluff Stack
---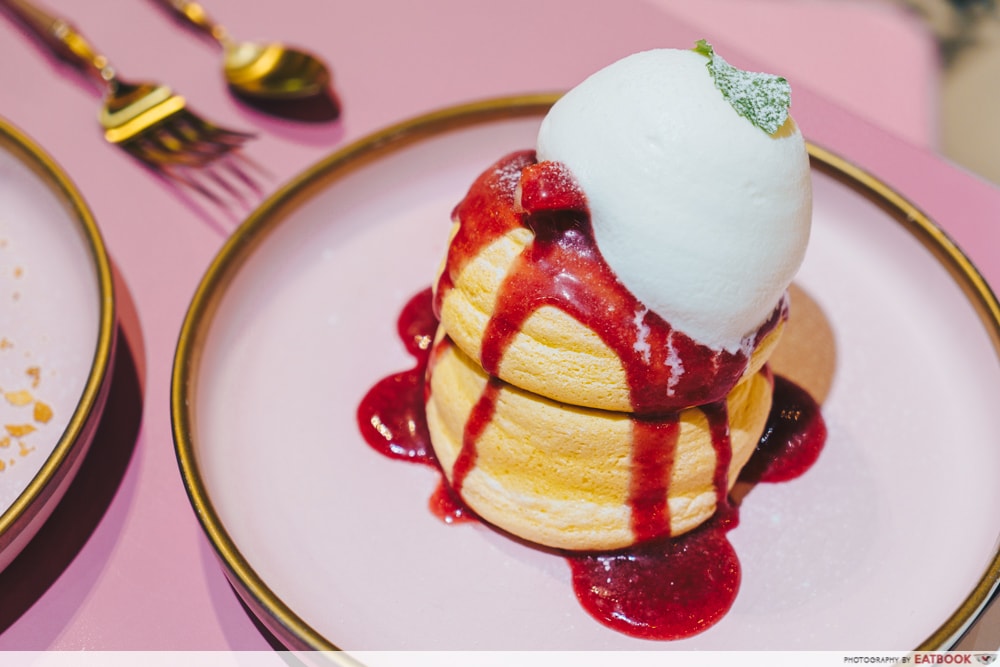 Another dessert option in Suntec City is Fluff Stack, serving souffle pancakes made to order. Prices here start from a reasonable $8.80 for the Classic Souffle Pancakes, which you can customise with assorted toppings.
Read our full review of Fluff Stack here.
Unit number: #B1-K4, West Atrium
Opening hours: Sun-Thurs 11am to 9:30pm, Fri-Sat 11am to 9:45pm
Website
Peng Guan Bak Kwa Now Makes Charcoal Bak Kwa Bao, Sold At Five For $4
---
15. Penang Place
---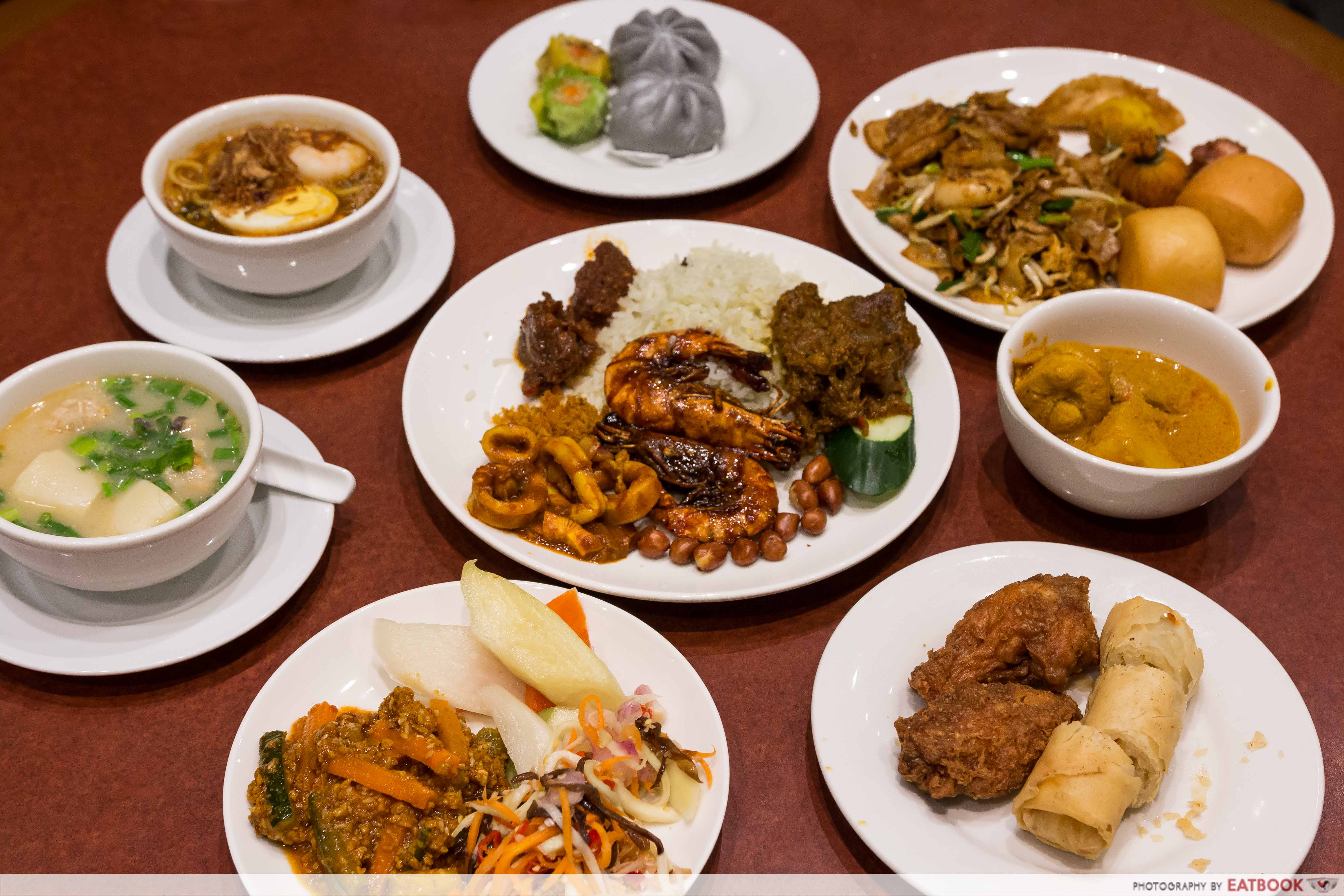 If the tteokbokki buffet wasn't your cup of tea, here's Penang Place, a Malaysian-style buffet where kids aged five to ten dine for $18.90, and adults $32.90. Due to current pandemic restrictions, the buffet is now served a la carte style, which we think is even better!  
Read our review of Penang Place here.
Unit number: #02-314, West Wing
Opening hours: Mon-Fri 11:30am to 2:30pm, 6pm to 9:30pm, Sat-Sun 11:30am to 4pm, 6pm to 9:30pm
Tel: 6467 7003
Website
---
Suntec City food options
---
With so many options to choose from, it can get quite overwhelming when you have to pick one. Whether you're looking for comfort food, dessert or just a snack, there's definitely something in Suntec City for you.
Address: 3 Temasek Boulevard, Singapore 038983
Feature image adapted from @sarahpratomo, @kennethong and @nomdiary_'s posts.