COCA Fine Food & Hotpot 
Mention COCA, and what comes to mind is the heady aroma of their signature chicken hotpot broth wafting throughout the Level Four lobby of Ngee Ann City. The household name has long been known for being a casual Thai Suki hotpot dining option, but I was delighted to find out that the brand, and menu, have undergone a revamp since 2018. As part of this update, COCA Fine Food & Hotpot Suntec City has stepped out of the steamboat comfort zone. This branch now offers Thai-Cantonese fusion zi char fare on weekdays, including a series of XXL dishes, inspired by Thai street food.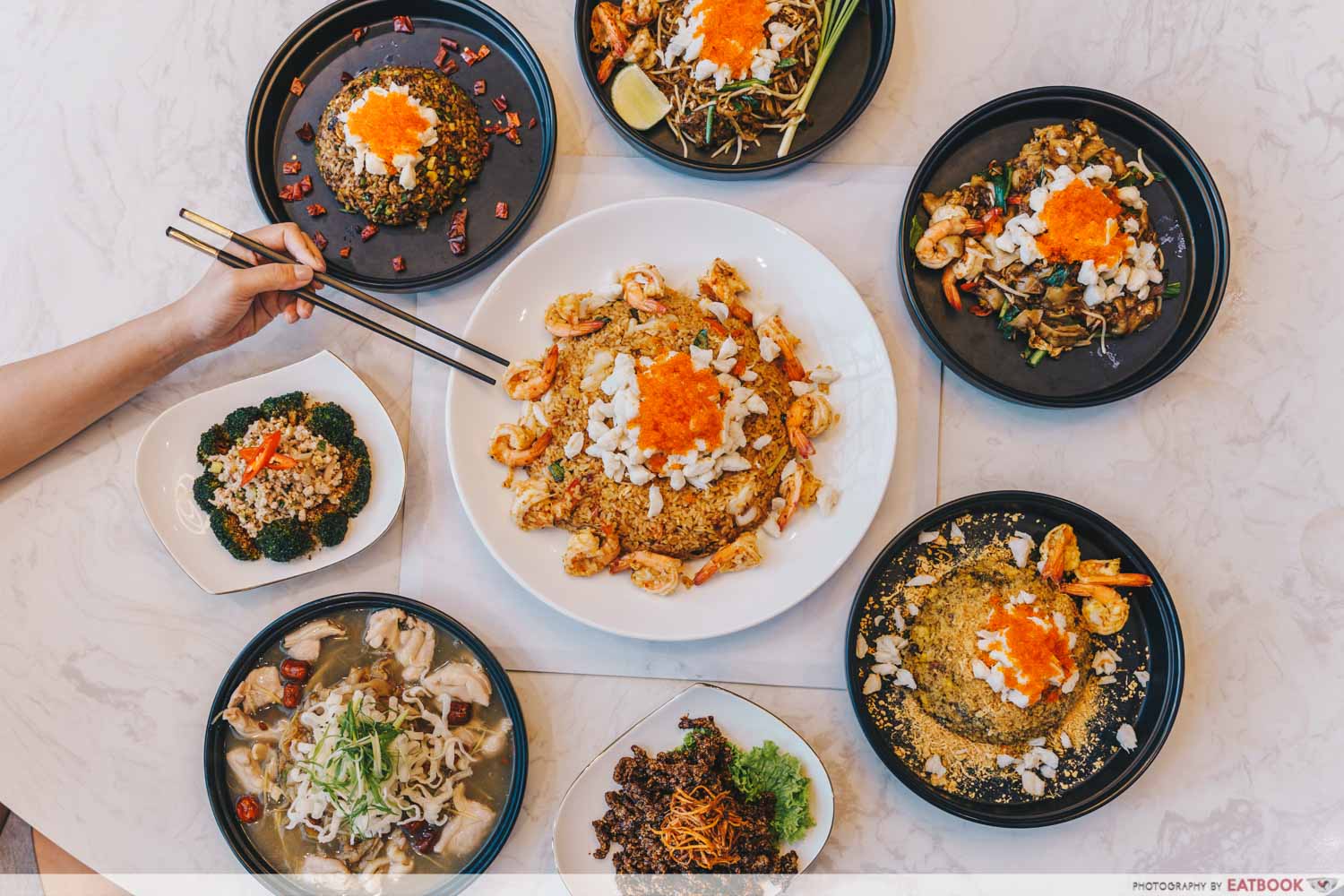 This hotpot institution from Bangkok was founded in 1957 before expanding to Singapore in 1987. Some recipes have remained constant since COCA's beginnings, for example the tom yum soup base in the hotpot. Others, like the chicken broth of my memories, have been adapted to modern diners' tastes.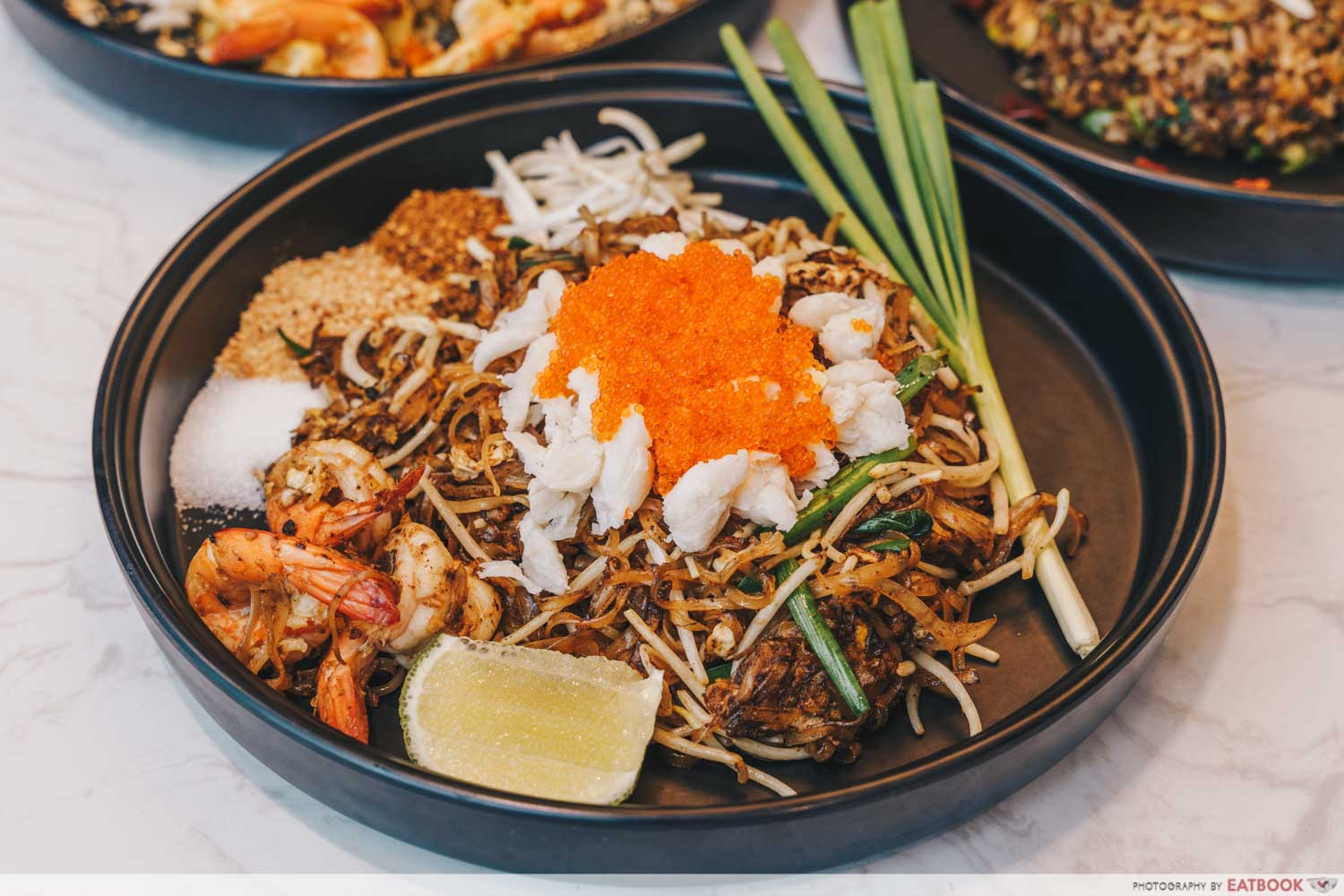 Thai street food stalls have gained social media attention in recent times for their crabmeat-laden dishes. Here at COCA, you can top up $5 to get a heaping mound of crabmeat, and $2 for tobiko (flying fish roe), on your fried rice or noodles, which are priced from $9.80 without the add-ons.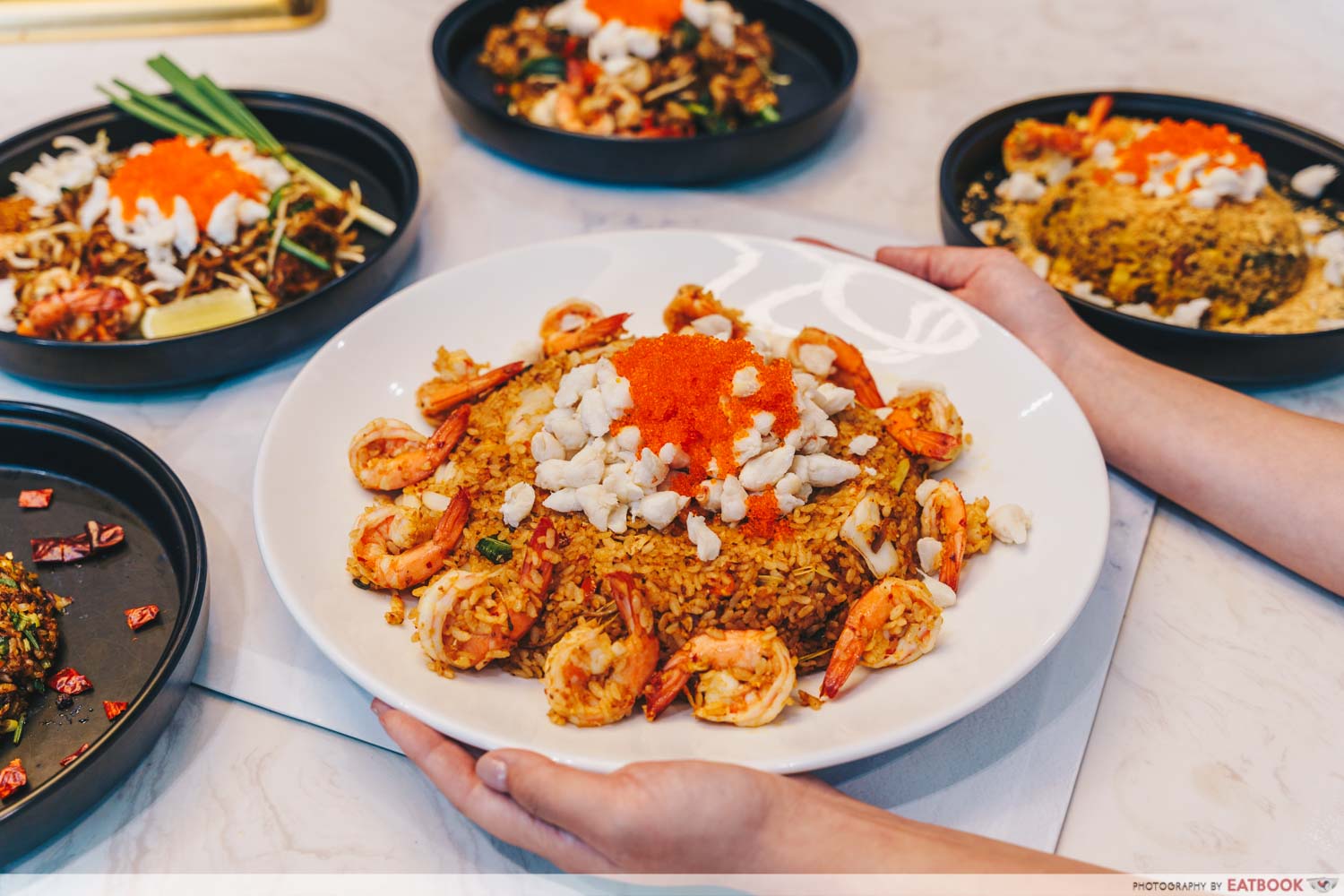 We went straight for the massive Mega Crabmeat with Roe Fried Rice or Noodles ($58) that feeds four to five. It's just the thing for days when everyone at the table agrees on the same order. You can choose from Tom Yum Fried Rice, Pineapple Fried Rice, Mala Fried Rice, Garlic Fried Rice, Pad Thai, Pad Woon Sen or Pad Kee Mao (Drunken Noodles).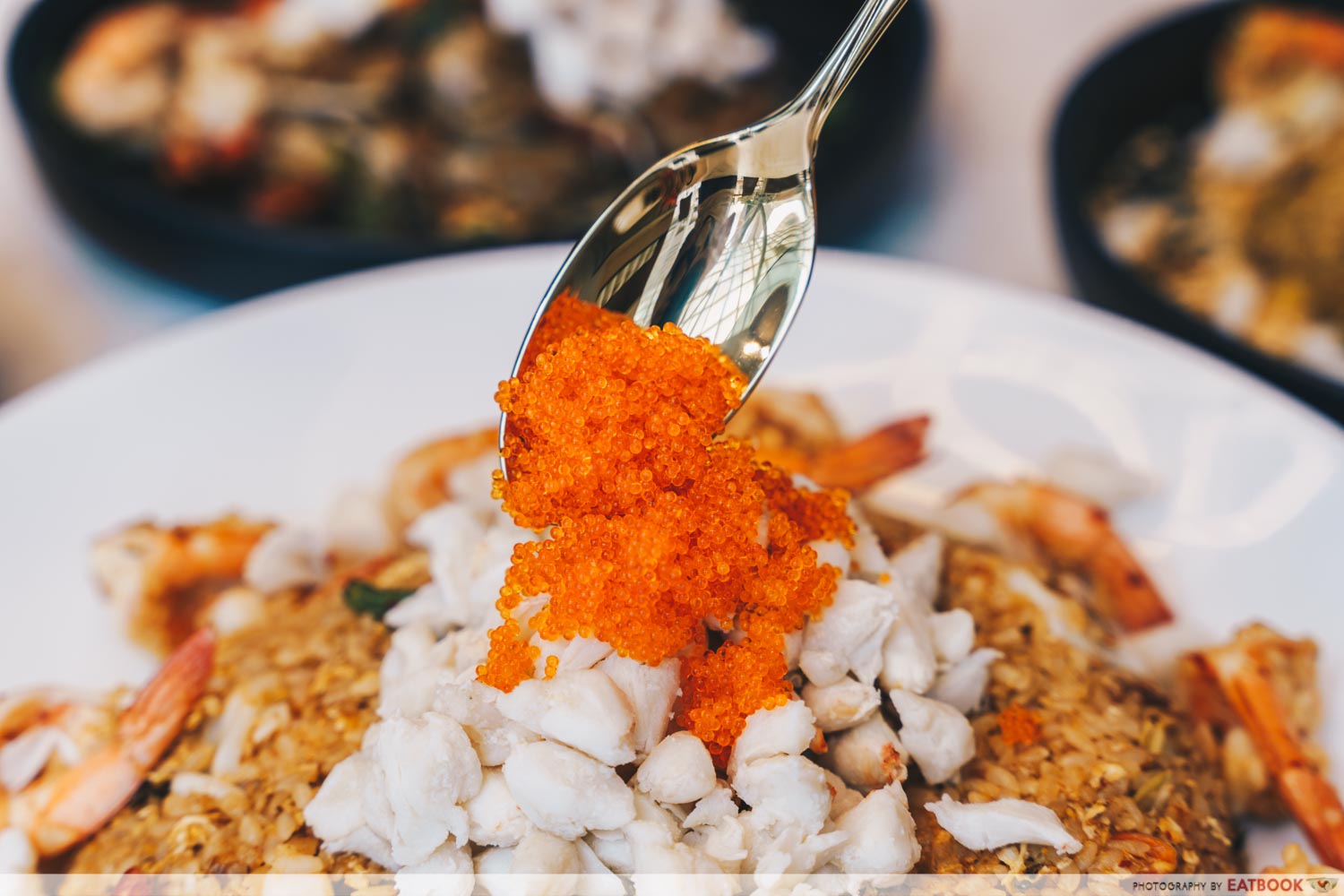 Each Mega platter comes topped with liberal amounts of crabmeat, and we counted four heaping spoons of tobiko. If you do the math, it's truly worth it for everyone to agree on one carb.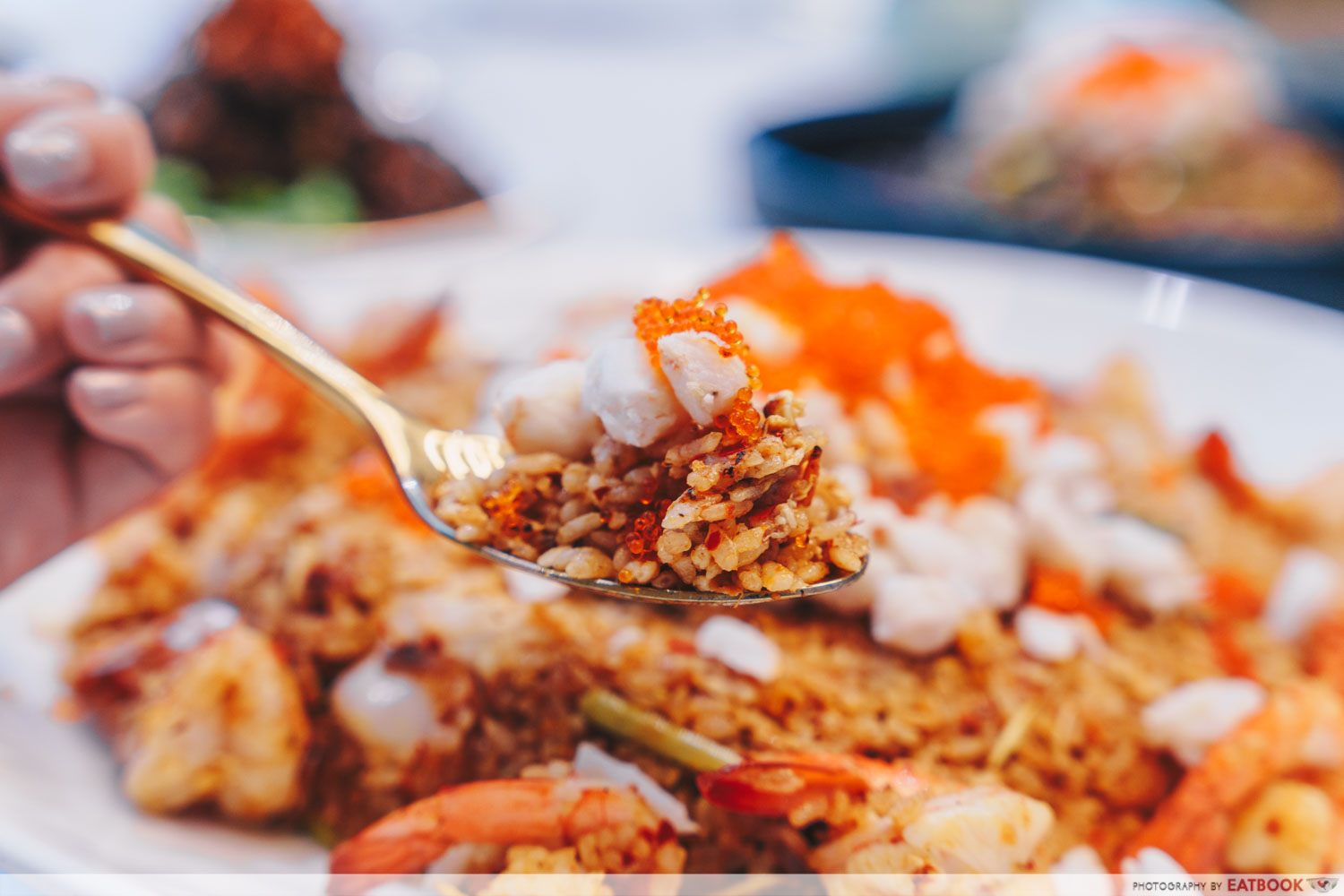 For our XXL platter, we chose the Tom Yum Fried Rice. The tom yum was pleasantly balanced between sour and sweet, fragrant with herbs such as lemongrass and kaffir lime. In spite of the Thai chillies used, it was only mildly spicy, that makes it more palatable for the average diner.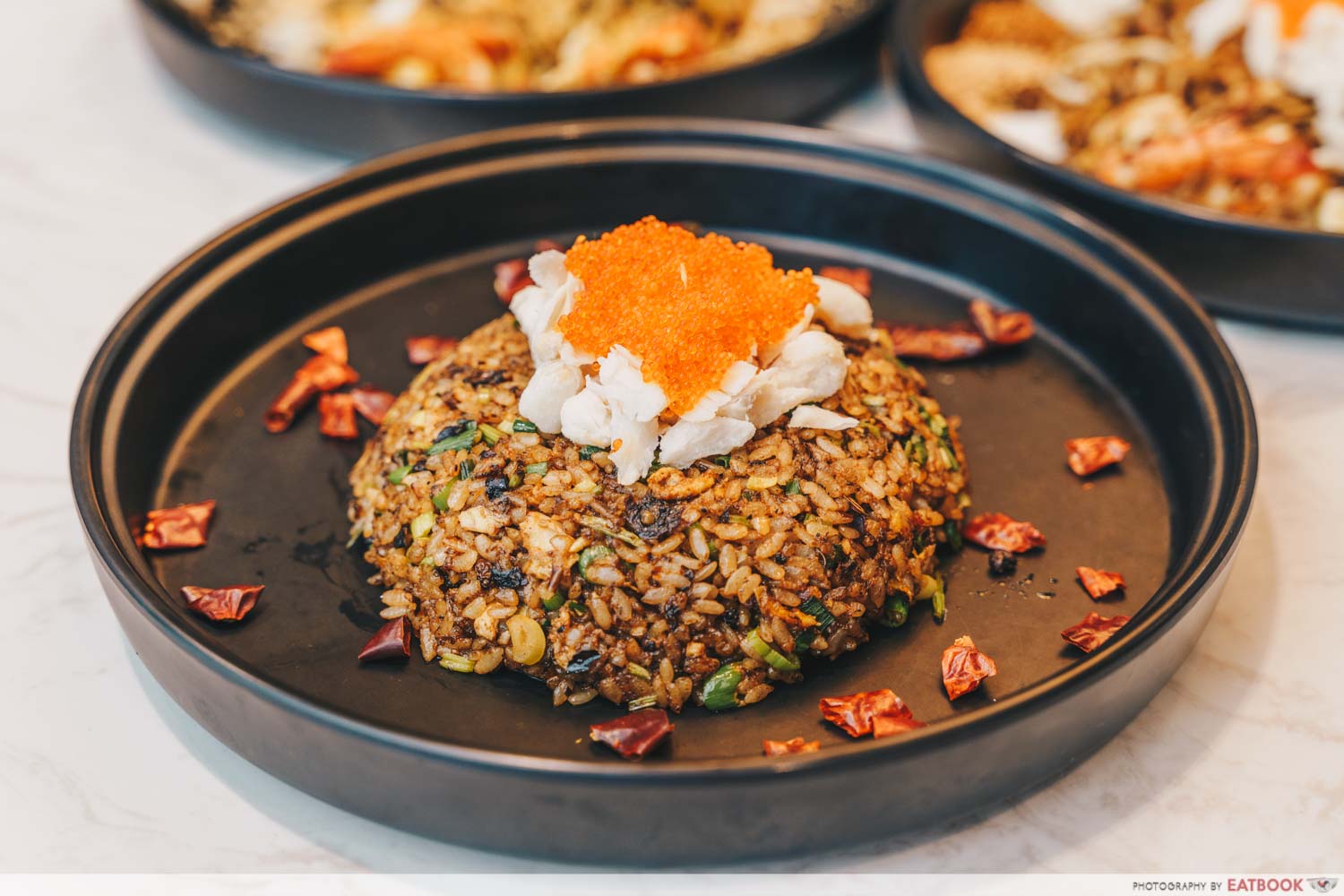 We also tried Mala Fried Rice with Crabmeat and Roe ($16.80), which is a new addition specially created for all mala fans out there. We found this to be around the level of xiao la, but enjoyed the toasted peppercorns in the rice. The addition of crabmeat and tobiko both created textural contrast, especially the tobiko. We loved how they added little pops of brine as we ate.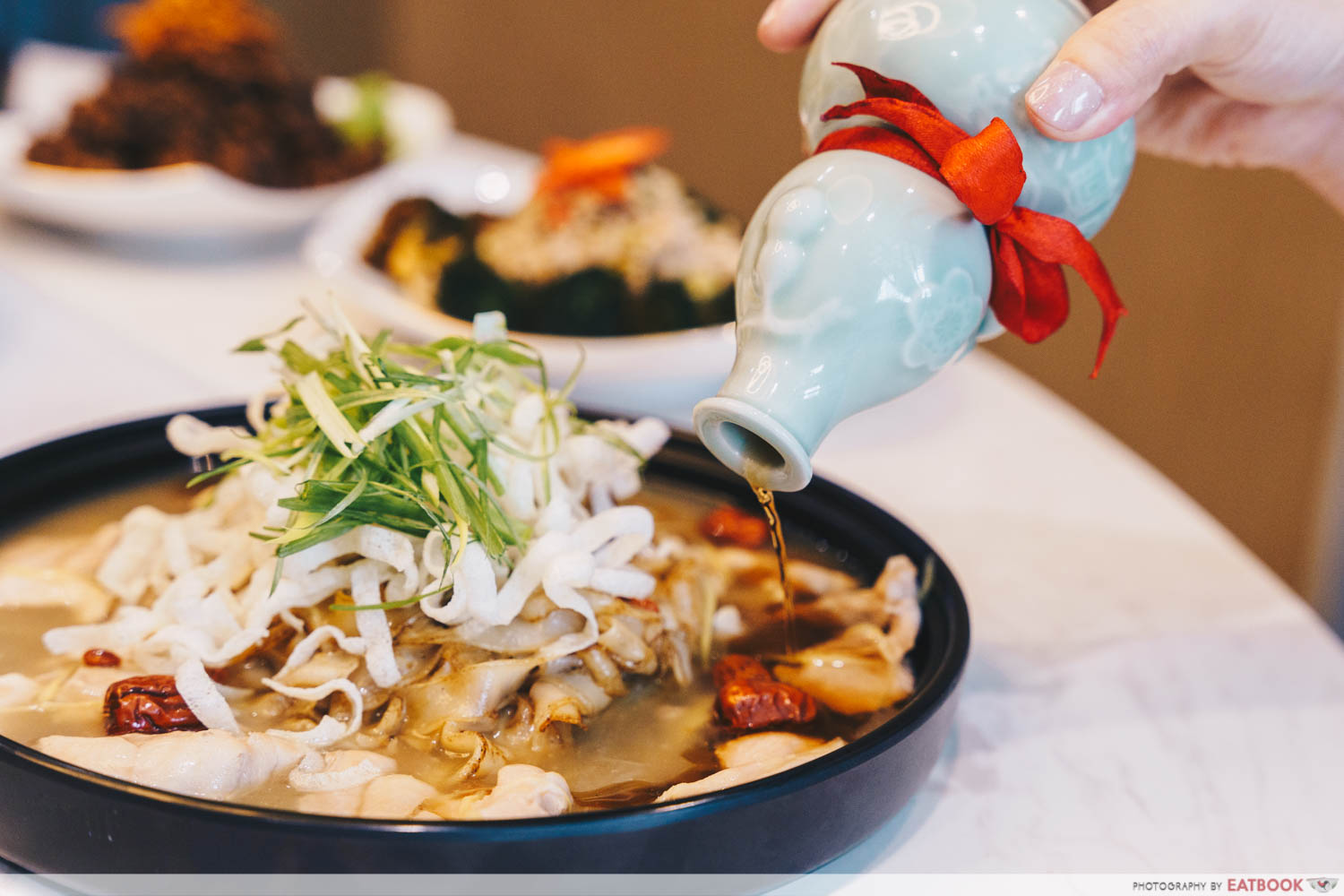 Moving on to other zi char dishes, we then had the Huadiao Chicken Yuan Yang Hor Fun ($15.80). Made using COCA's signature Flaming Huadiao Phoenix Broth, silken wok-fried hor fun is drizzled with Chinese rice wine to serve.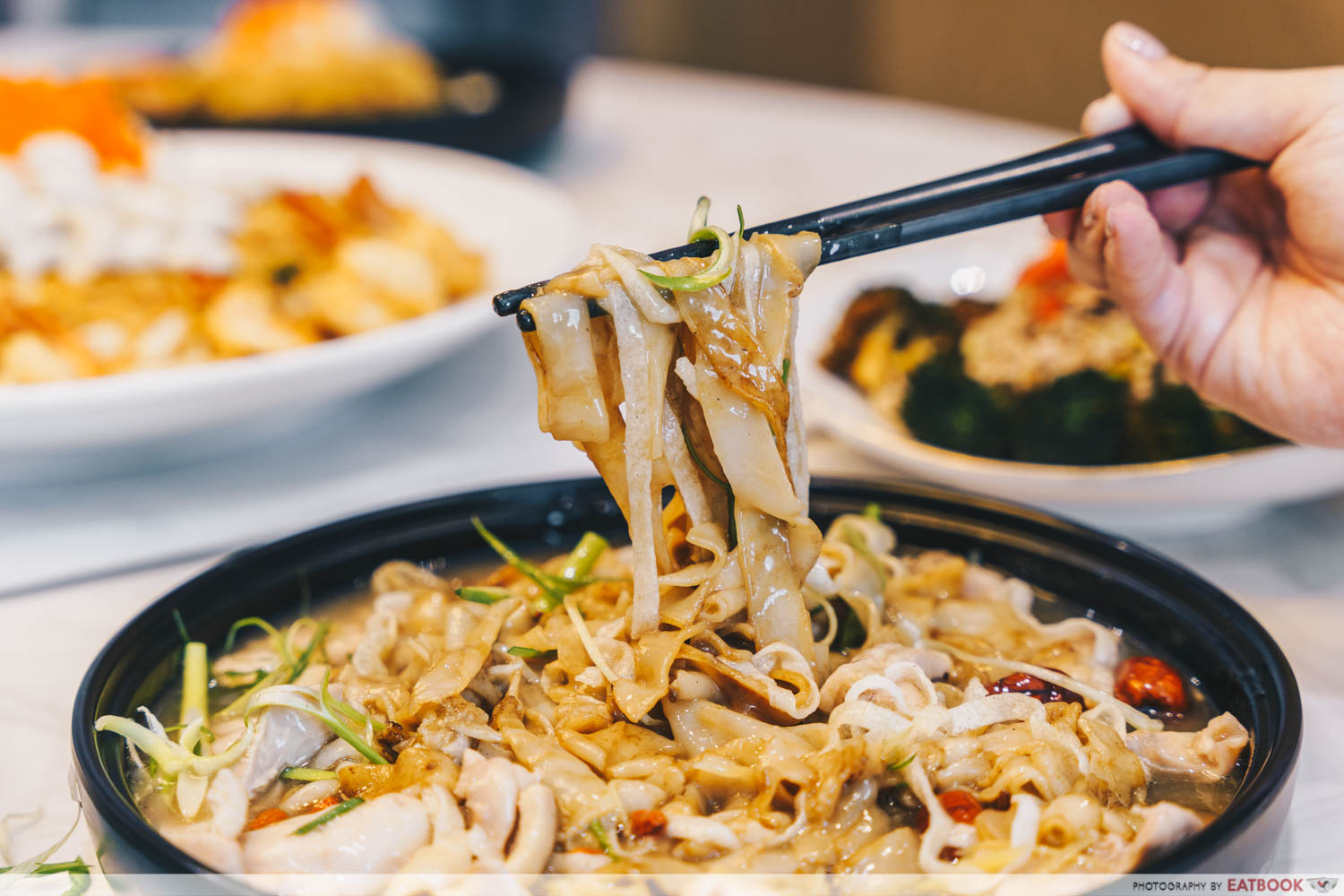 Rather than reeking of the alcohol, the hua diao wine adds a mildly sweet fragrance that complements the smoky wok hei in the hor fun. It's also topped with a thinner hor fun that's deep-fried till crispy, providing textural contrast in each bite.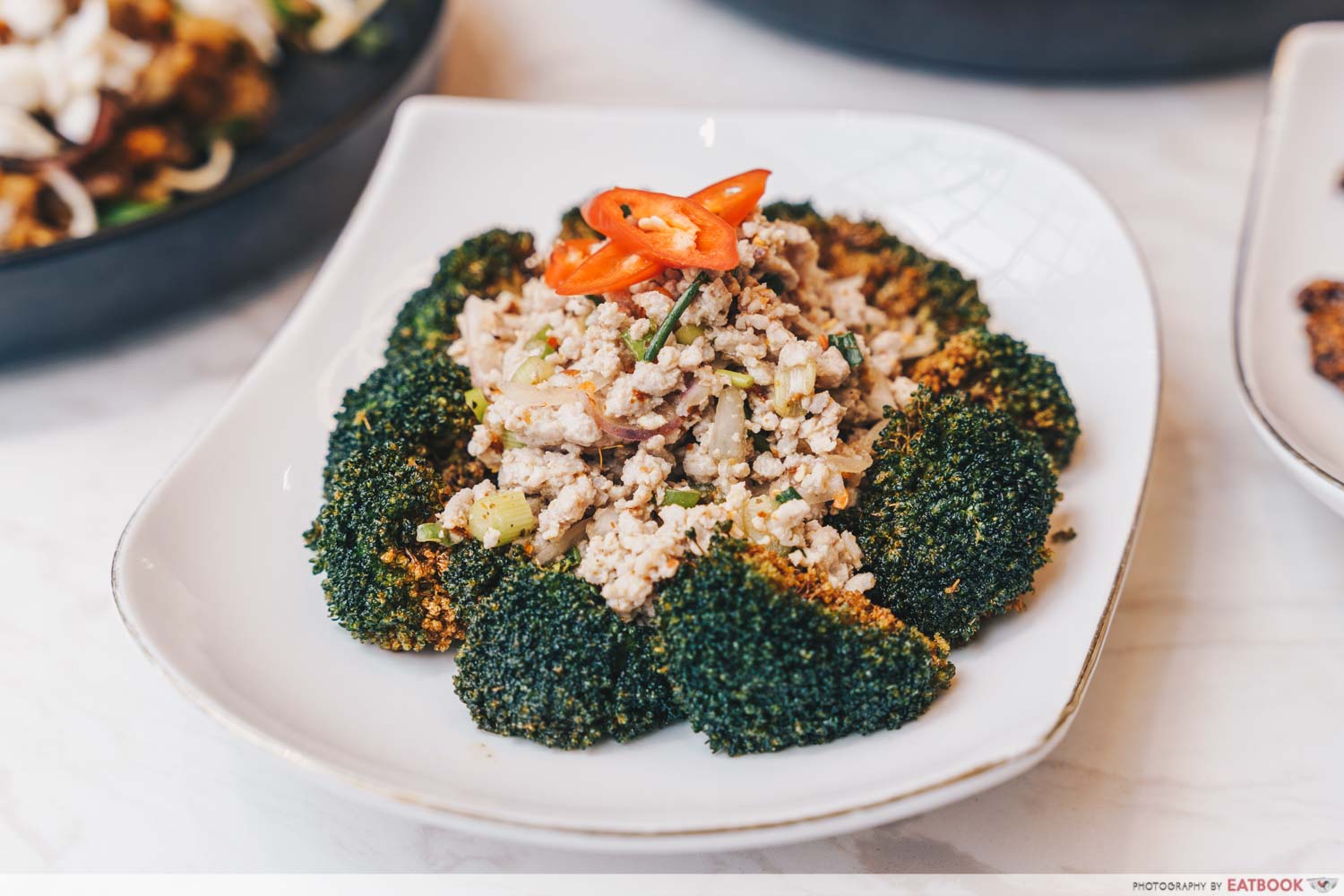 Larb Moo is a traditional minced pork salad native to Northern Thai Isaan cuisine. COCA's Crusty Broccoli with Larb Moo ($10.80) gives the salad a Cantonese twist with deep-fried broccoli, rather than the usual fresh vegetables.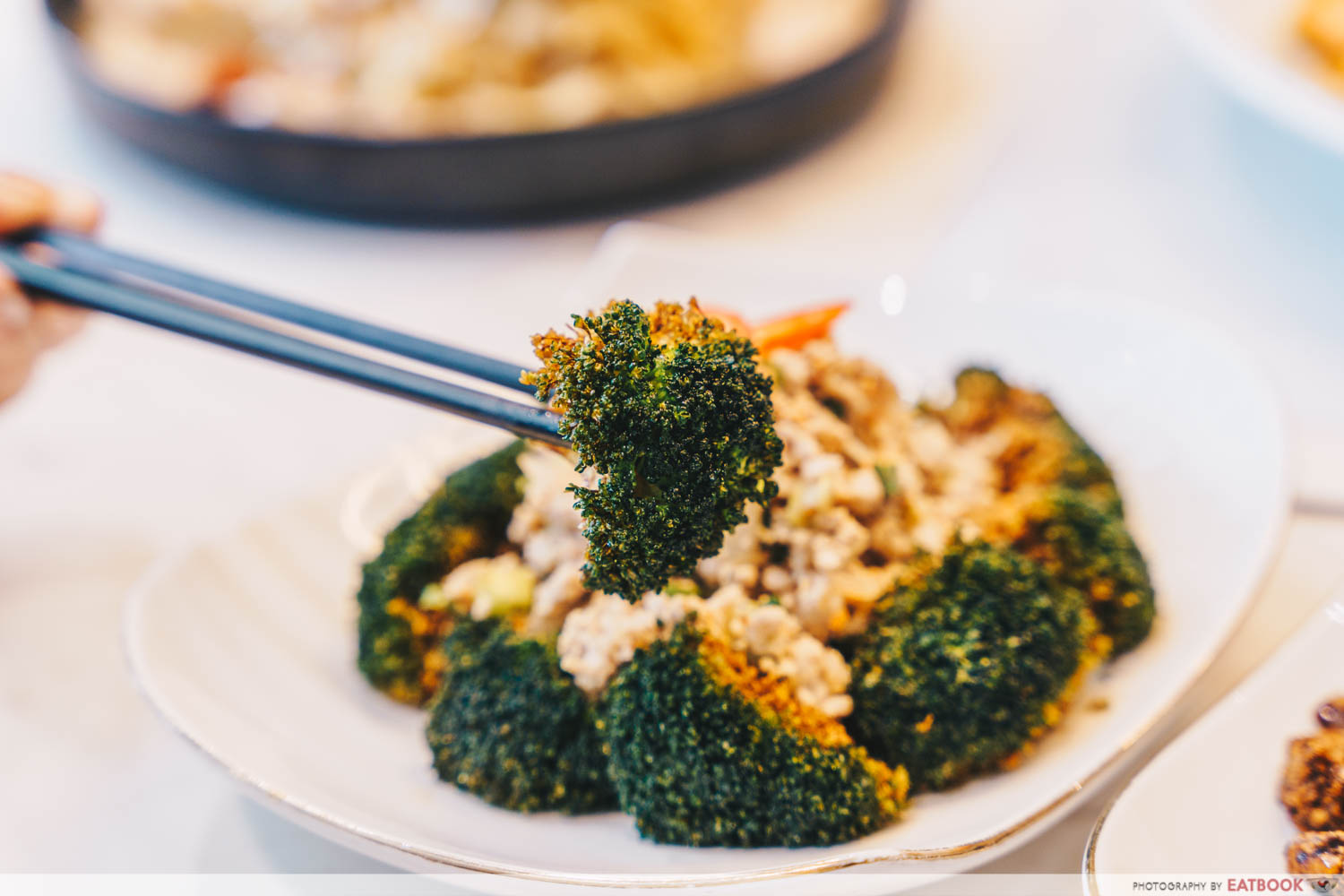 The refreshing, zingy dressing of the meat pairs well with the savoury florets. It provides a palate-cleansing respite from the other dishes. If you've never tried deep-fried broccoli before, this is a game-changer.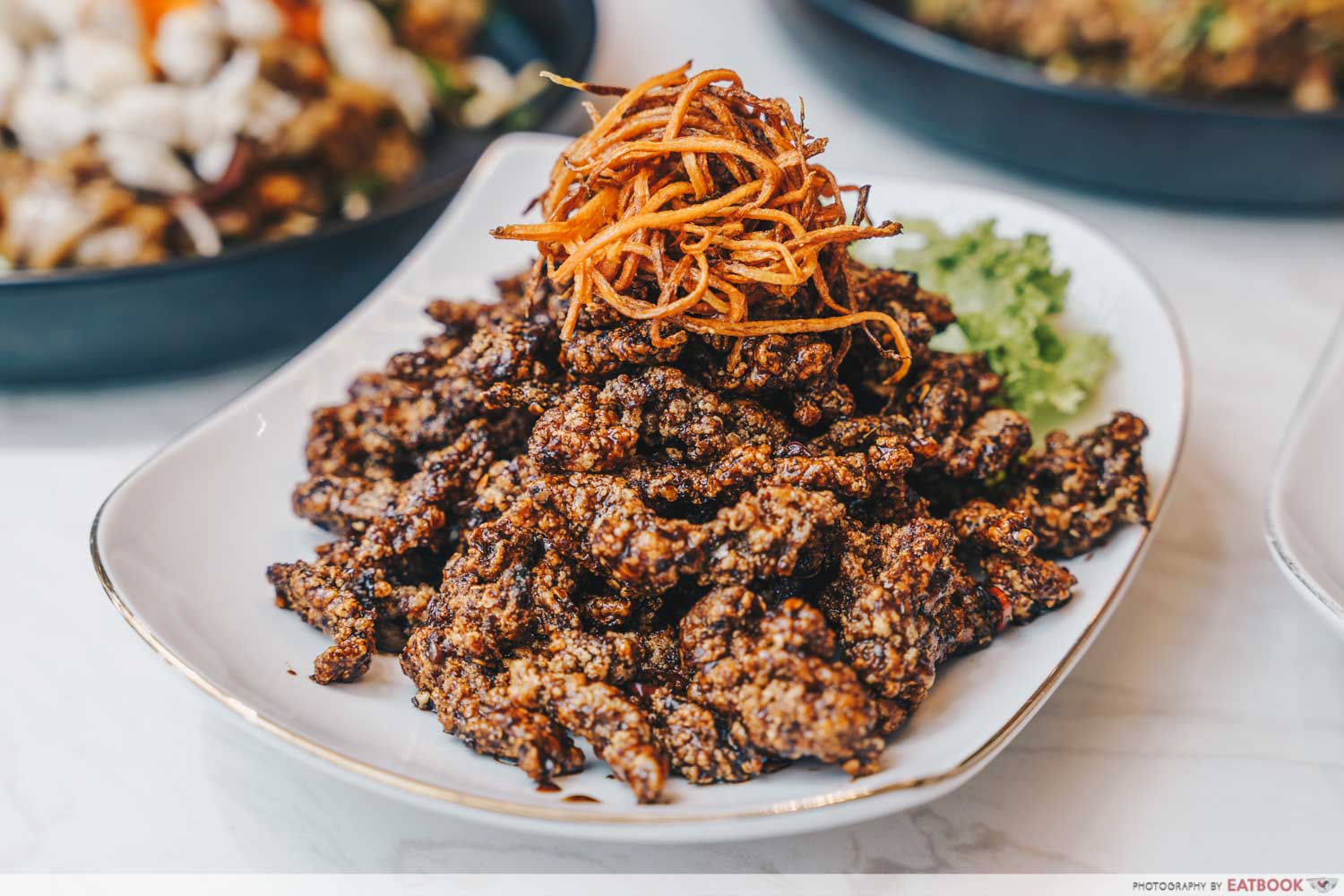 Double-frying gives deep-fried foods a better crunch that remains crisp for longer. Enter the Double-Fried Beef Strips ($12.80), featuring crunchy little bits of beef that are dangerously addictive.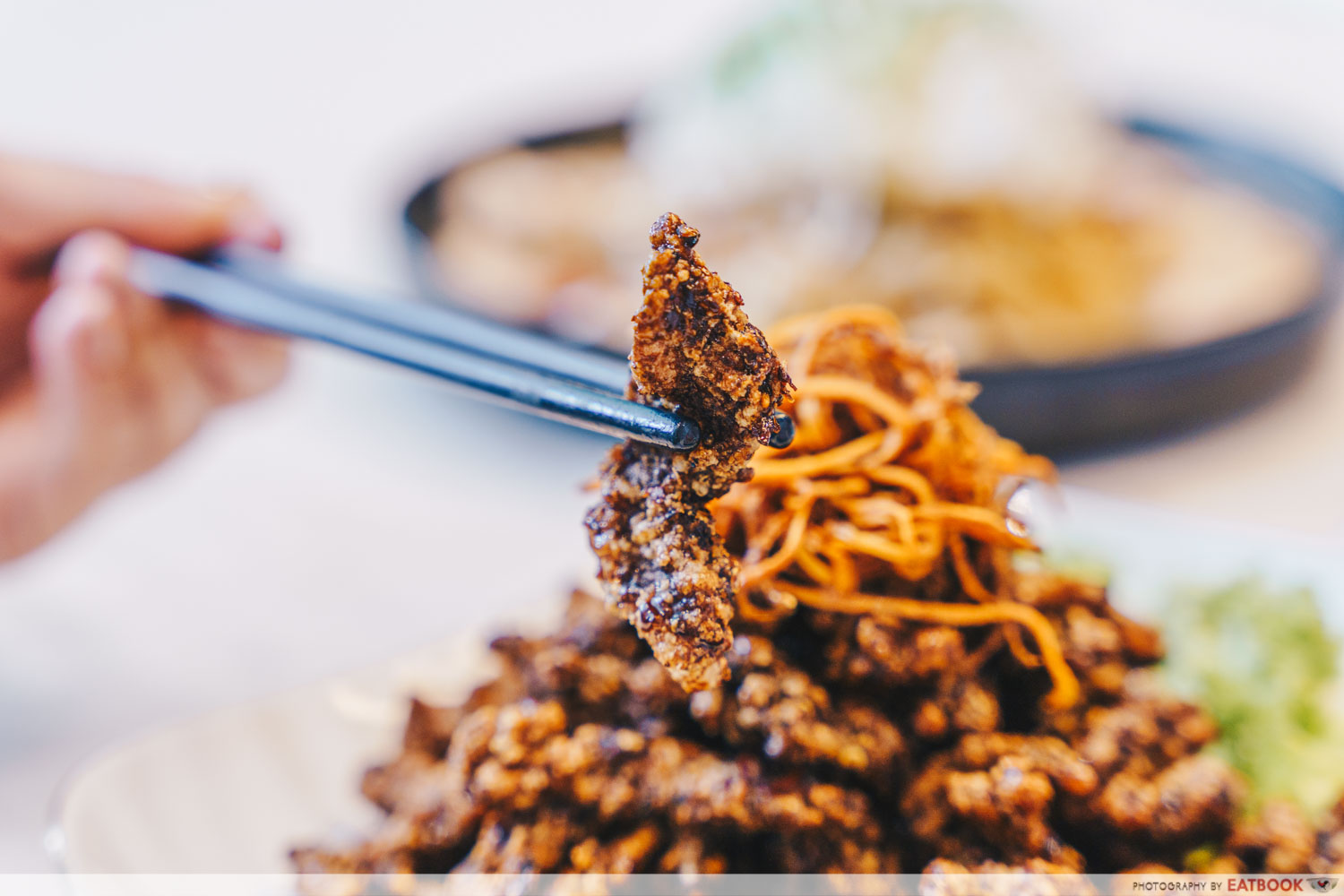 We imagine these would go perfect with an ice cold beer in hand. They're fried to a crisp, and tossed in a savoury-sweet, sticky caramelised sauce made with coconut palm sugar and tamarind paste. You can't tell that it's beef, but if that's not your protein of choice, there's the Caramelised Stir-Fry Pork Strip ($12.80), which is almost the same thing.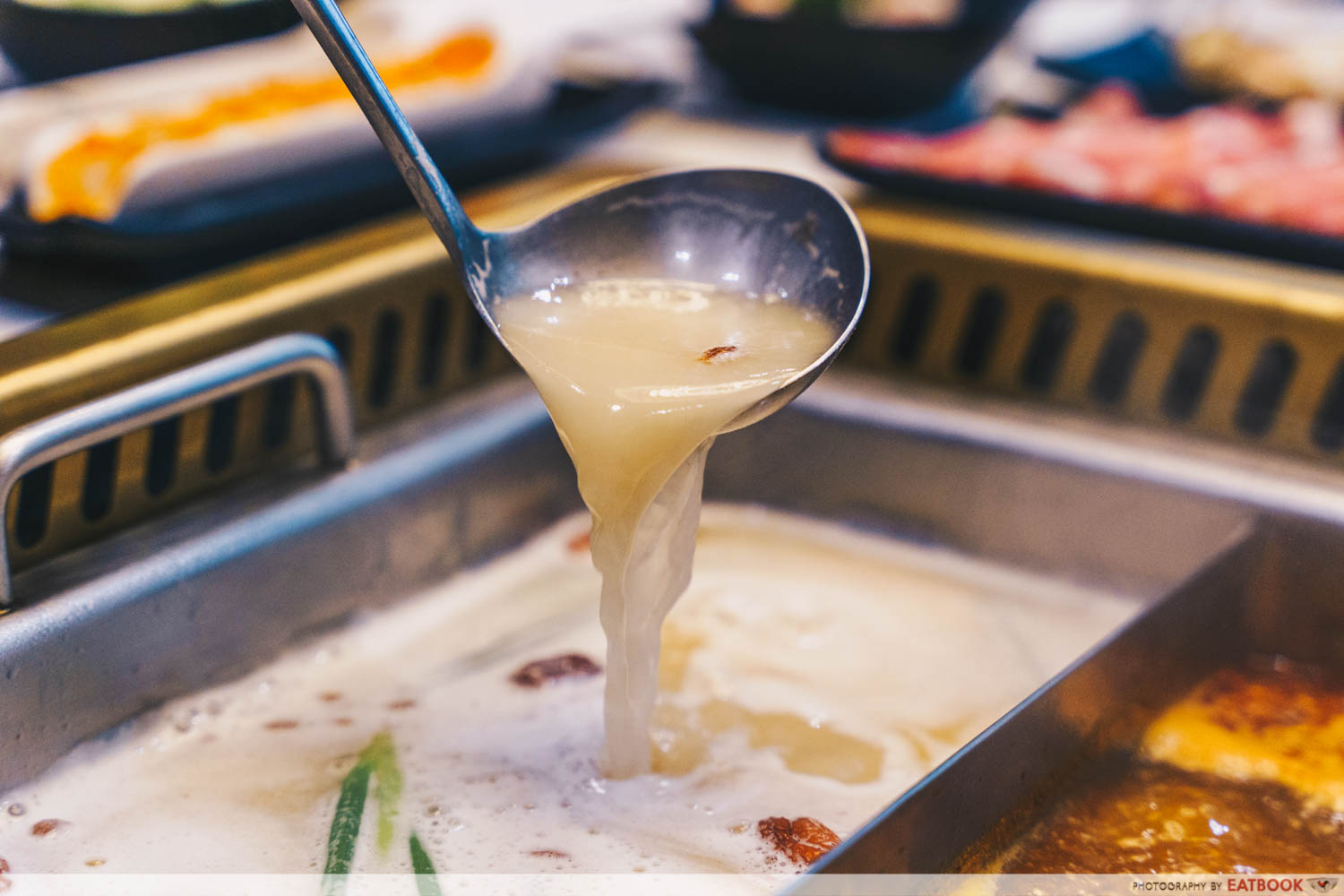 Of course, we couldn't leave without also trying the Flaming Huadiao Phoenix Broth. This update of the old, clear chicken broth is double-boiled for eight hours to achieve its milky richness.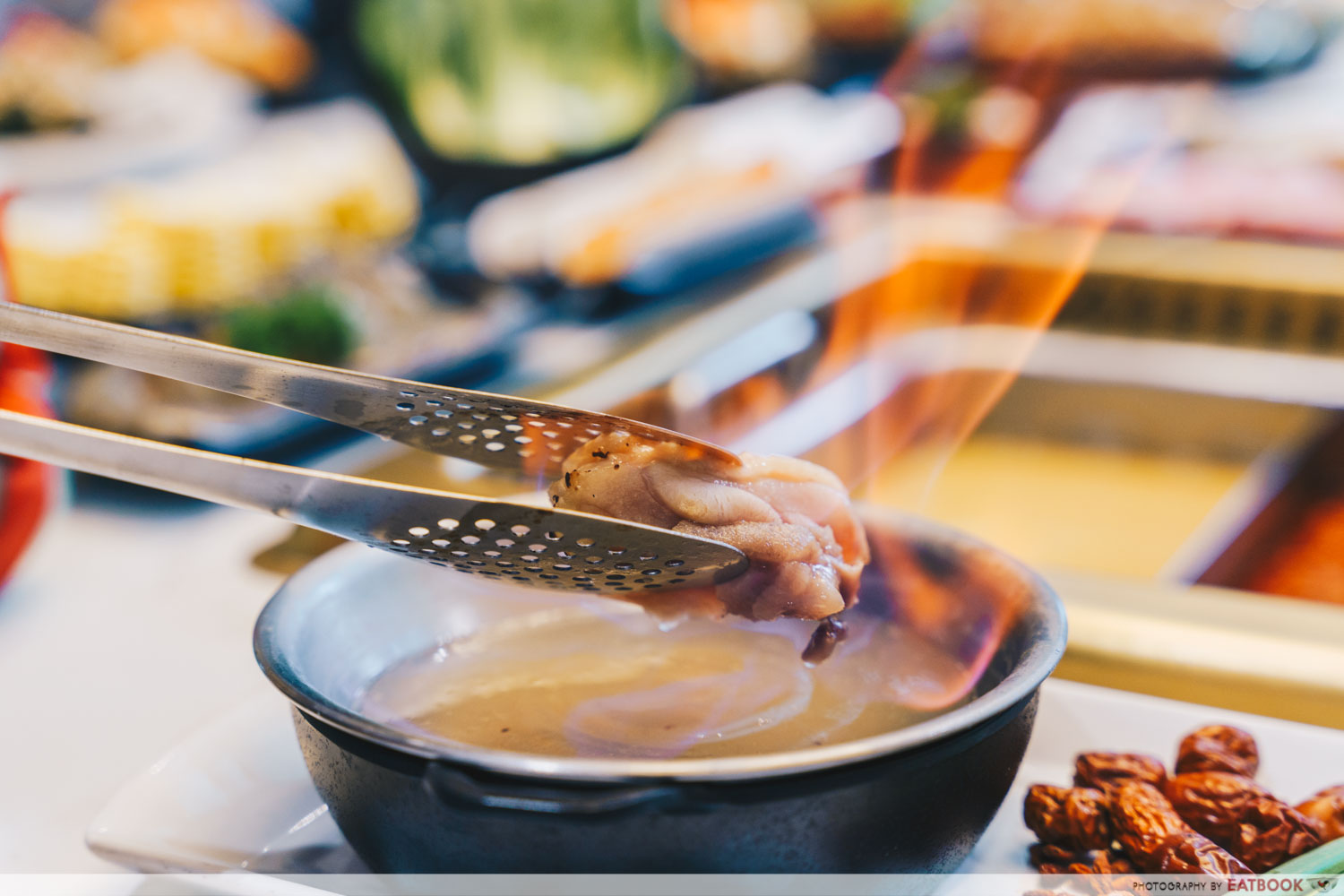 It's full of the nourishing goodness of Chinese herbal soups, without tasting medicinal. Available on its own without the flaming Chinese wine, we recommend going for the add-on, which gives the soup base more body and flavour.
From now till 15 January 2021, enjoy any individual portion of fried rice or noodles, topped with crabmeat and tobiko, at just $5 if you spend a minimum of $20 in a single receipt. To enjoy this promotion, quote Eatbook when you make the reservation. Do note that this menu and promotion is only available at COCA Fine Food & Hotpot Suntec City.
Address: 3 Temasek Boulevard, #02-440, Suntec City, Singapore 038983
Opening hours: Mon-Fri 11:30am to 3pm, 6:30pm to 9:30pm, Sat-Sun 11:30am to 9:30pm
Tel: 62597176
Website
Photos taken by Maverick Chua.
This post was brought to you by COCA.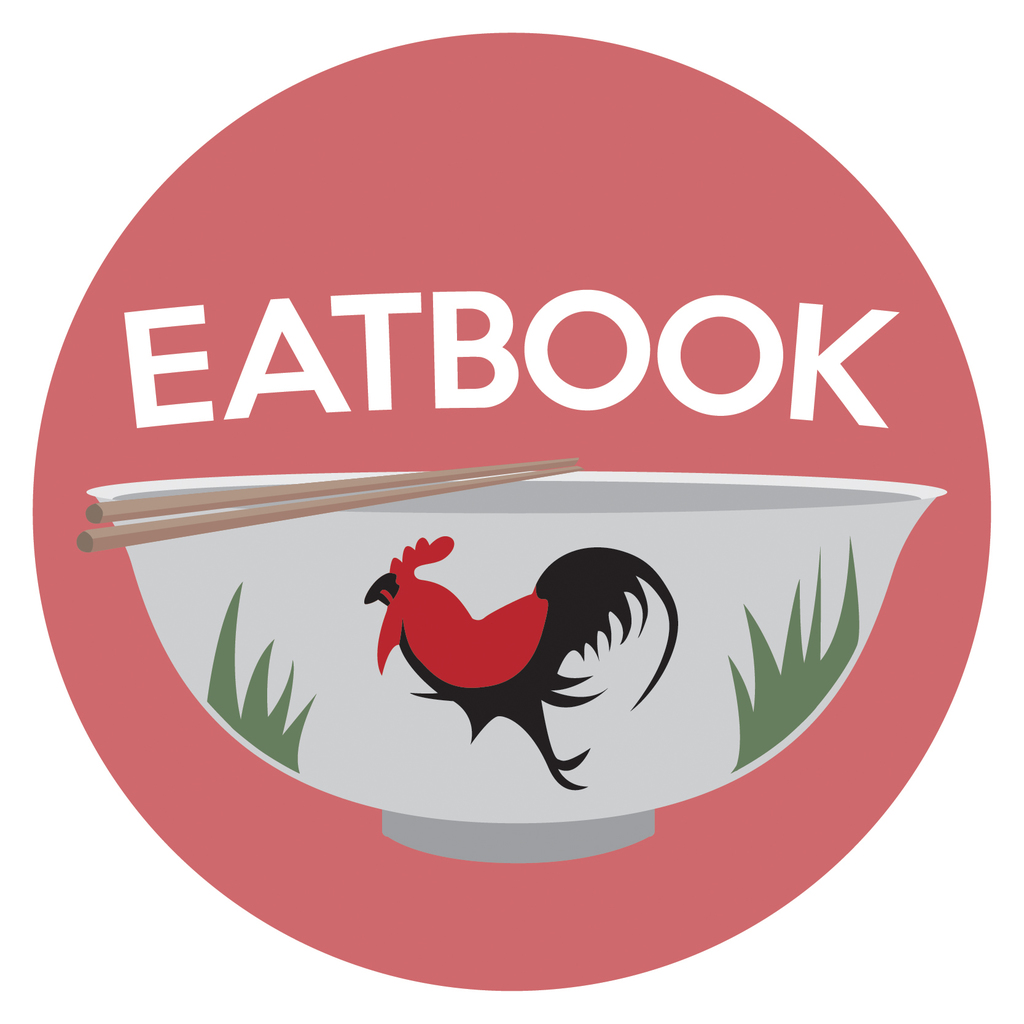 Drop us your email so you won't miss the latest news.