Poke Theory has healthy poke bowls at Telok Ayer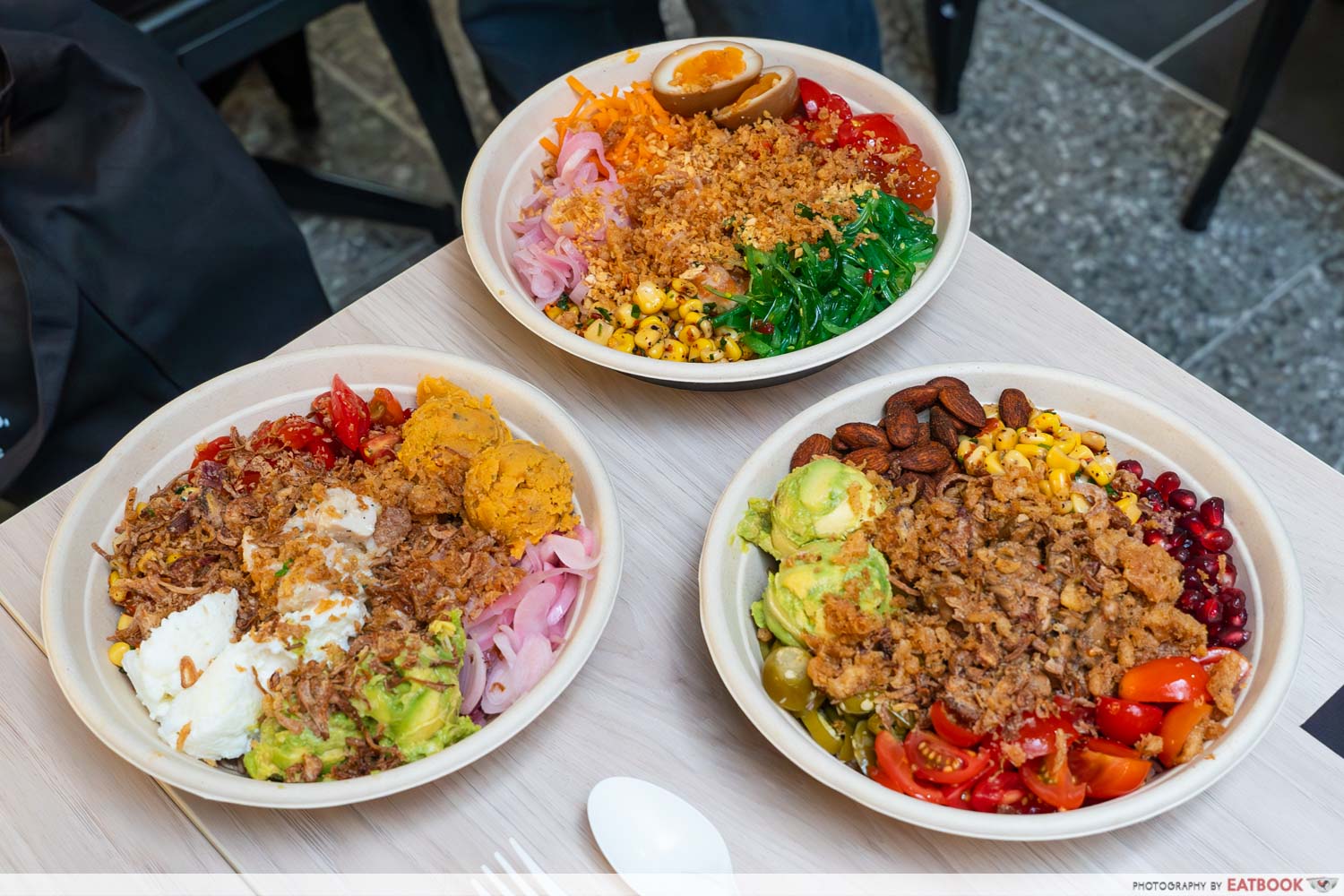 Rice topped with raw fish, vegetables, and flavourful sauces—that's a classic poke bowl, like the ones you'll find at Poke Theory. This franchise is opening is 15th outlet at Telok Ayer on 17 July 2023, which is said to be their largest restaurant yet. Oh, and it has a refreshed menu, too, with new options of signature bowls, proteins, toppings, garnishes, and a renewed salad base.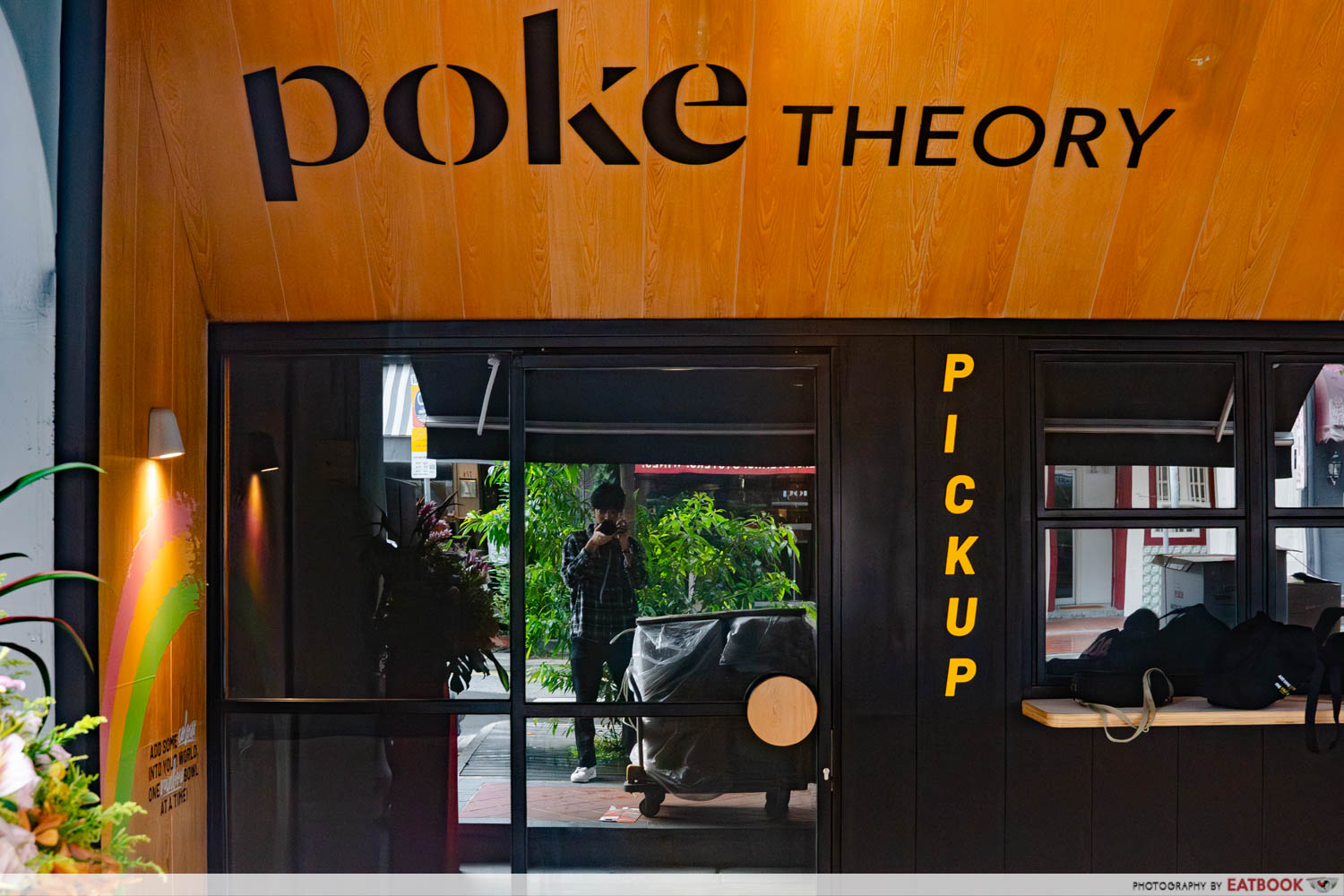 We were invited to try some new offerings and old classics for ourselves, and came away quite impressed.
Food at Poke Theory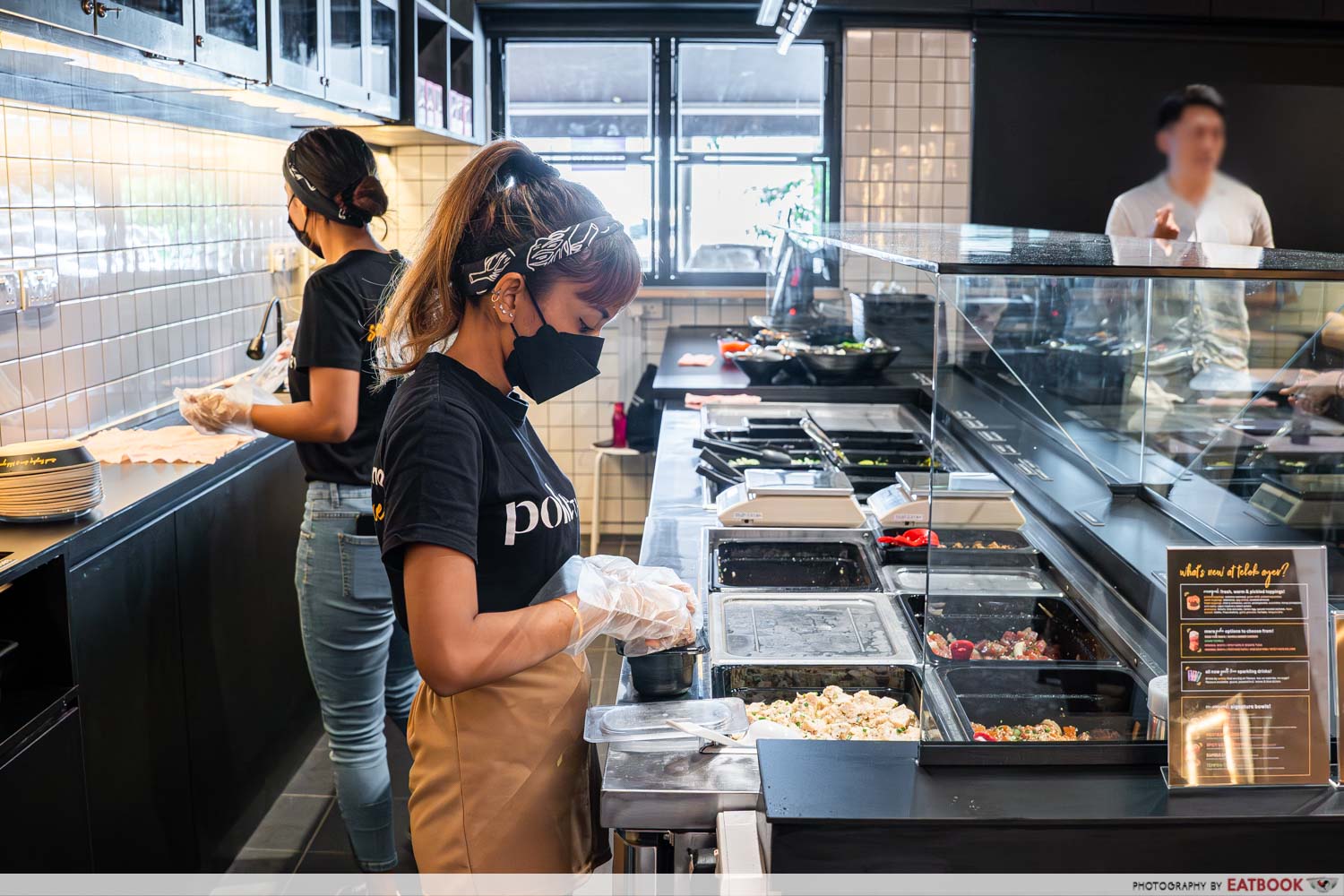 Similar to Subway and other choose-your-own-ingredients joints, Poke Theory lets you construct your bowl from scratch. There are a ton of bases, ingredients, and sauces to choose from, but we decided to go with the signature bowls for convenience's sake.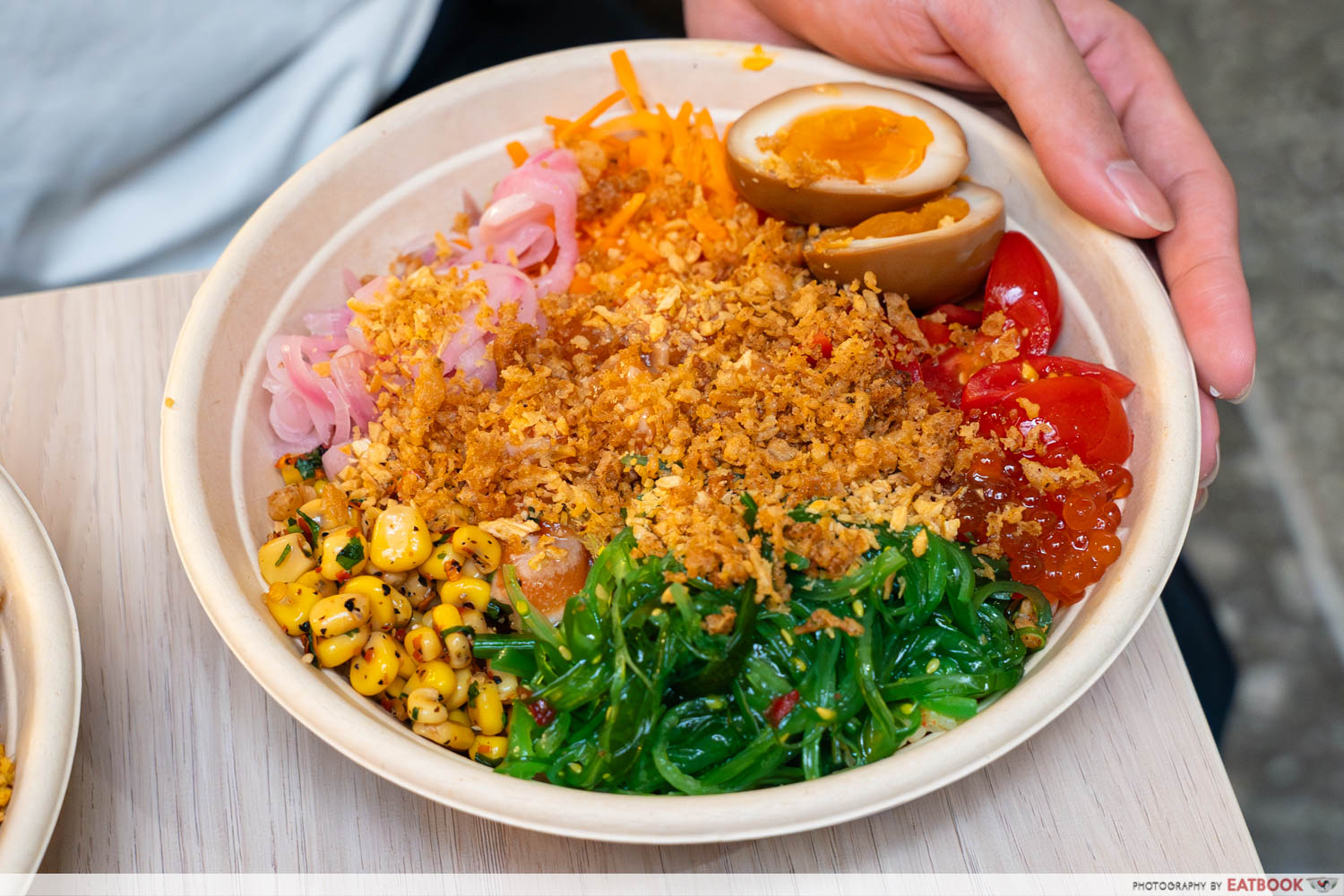 We started with the O.G. Salmon ($14.90), which has fresh salmon as the central ingredient. But of course, it won't be a poke bowl without supporting acts such as corn salsa, cherry tomatoes, carrots, wakame seaweed, pickled onions, ramen egg, and a few toppings—more on that soon. For the base, we got a hearty portion of sushi rice.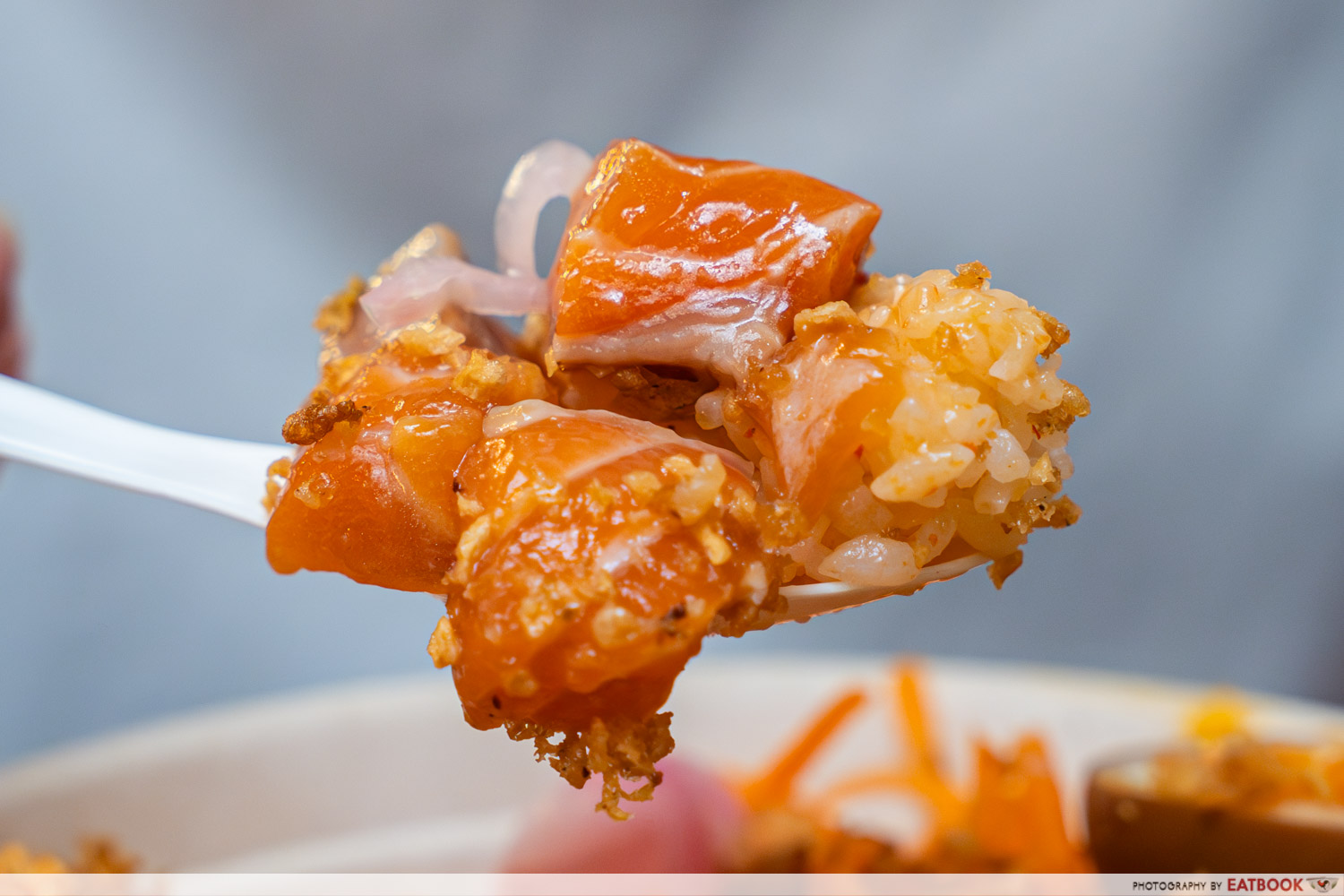 The salmon was indeed fresh and chunky, with umami notes courtesy of its shoyu marination. Having it with the sushi rice was great, but what really elevated it was the toppings—especially the ikura and tempura bits. That crispy tempura crunch, followed by the sweet burst of ikura, really made the salmon-rice combination so much more enjoyable.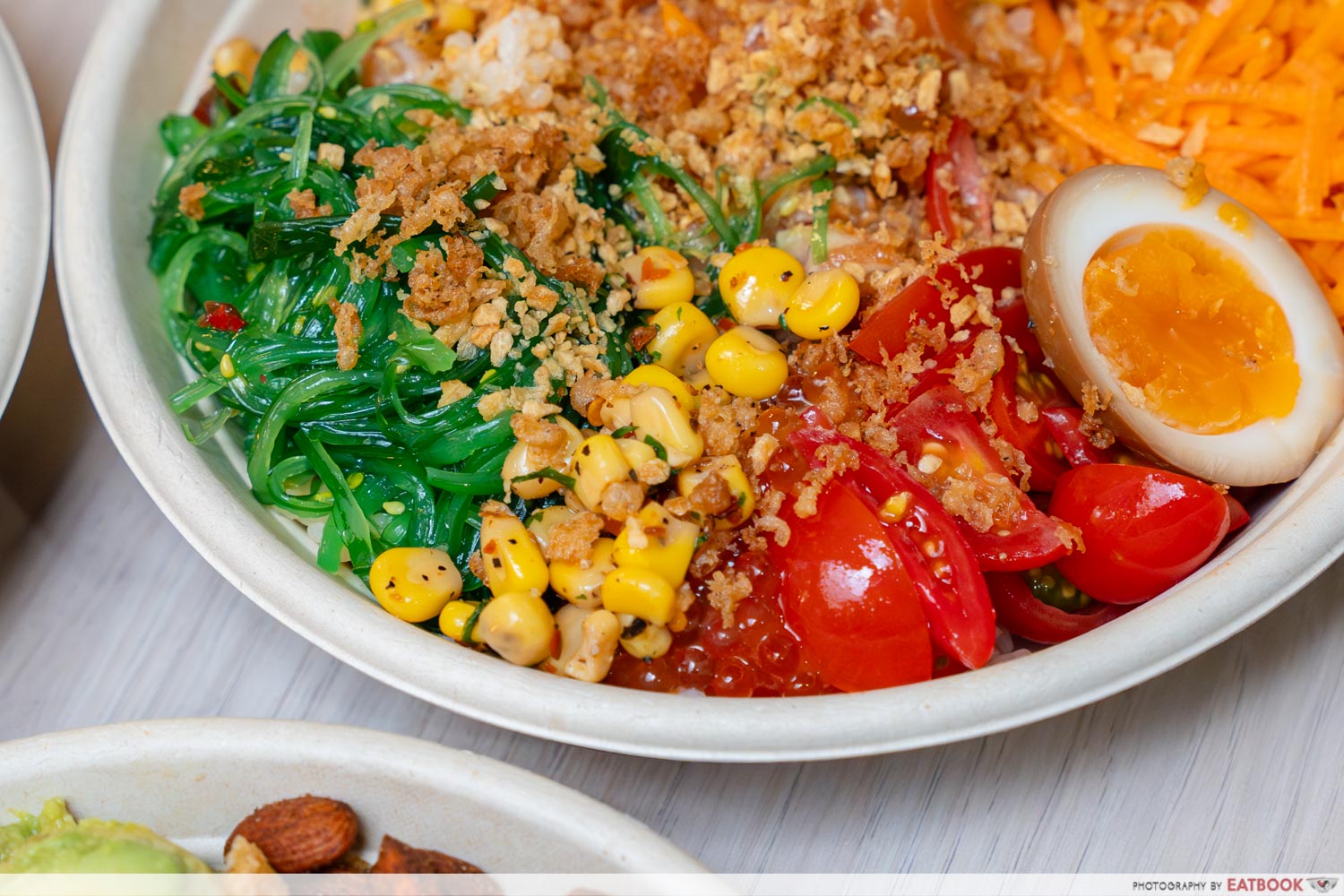 As for the colourful array of vegetables in the bowl, the standouts were the refreshing wakame seaweed and the tangy cherry tomatoes.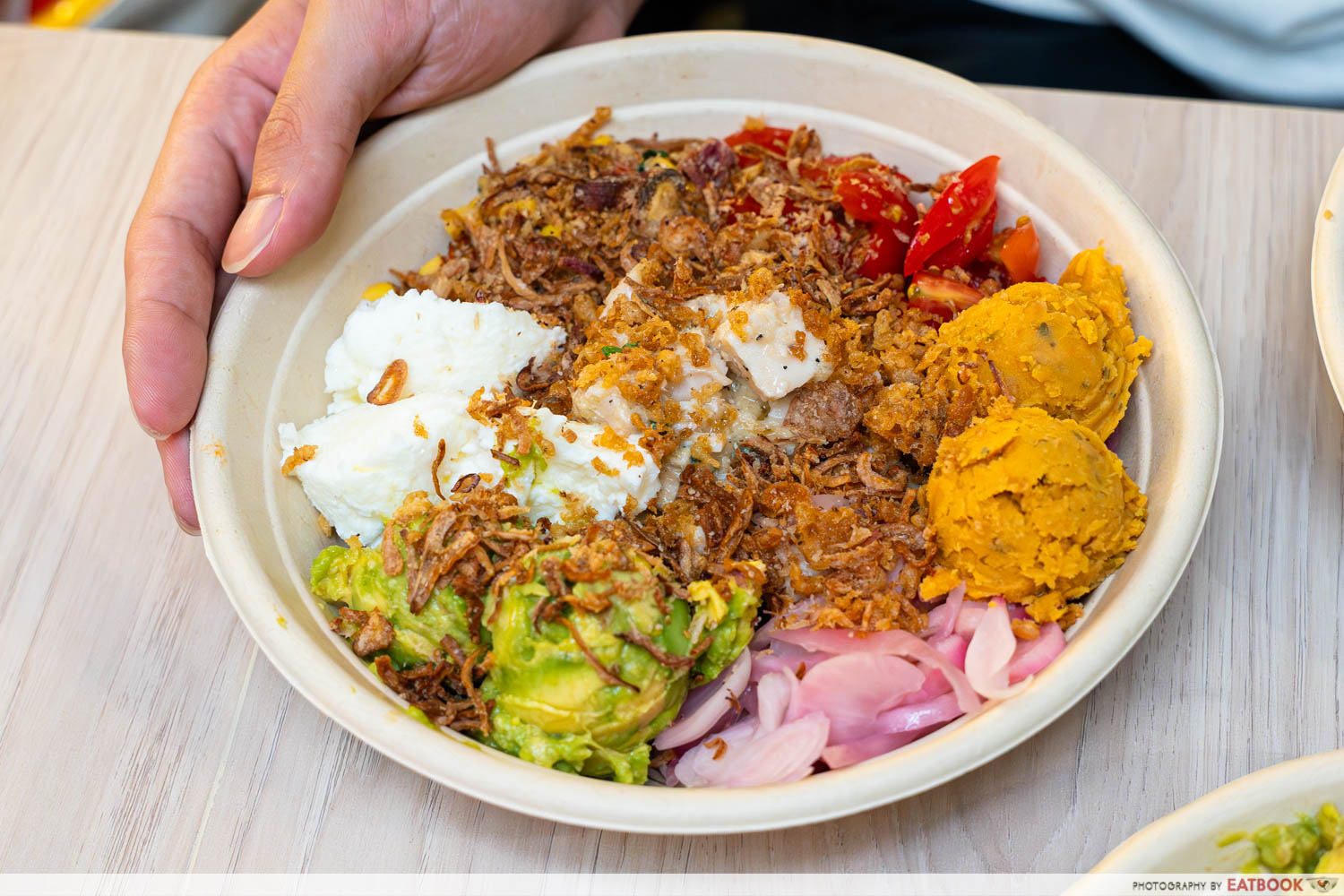 The next two dishes we tried were new creations. The first of these was the Samsui Chica ($11.90), which featured samsui ginger chicken cubes along with pickled onions, egg whites, cherry tomatoes, corn salsa, cajun sweet potato, and lime avocado. Our base of choice here was the soba noodles.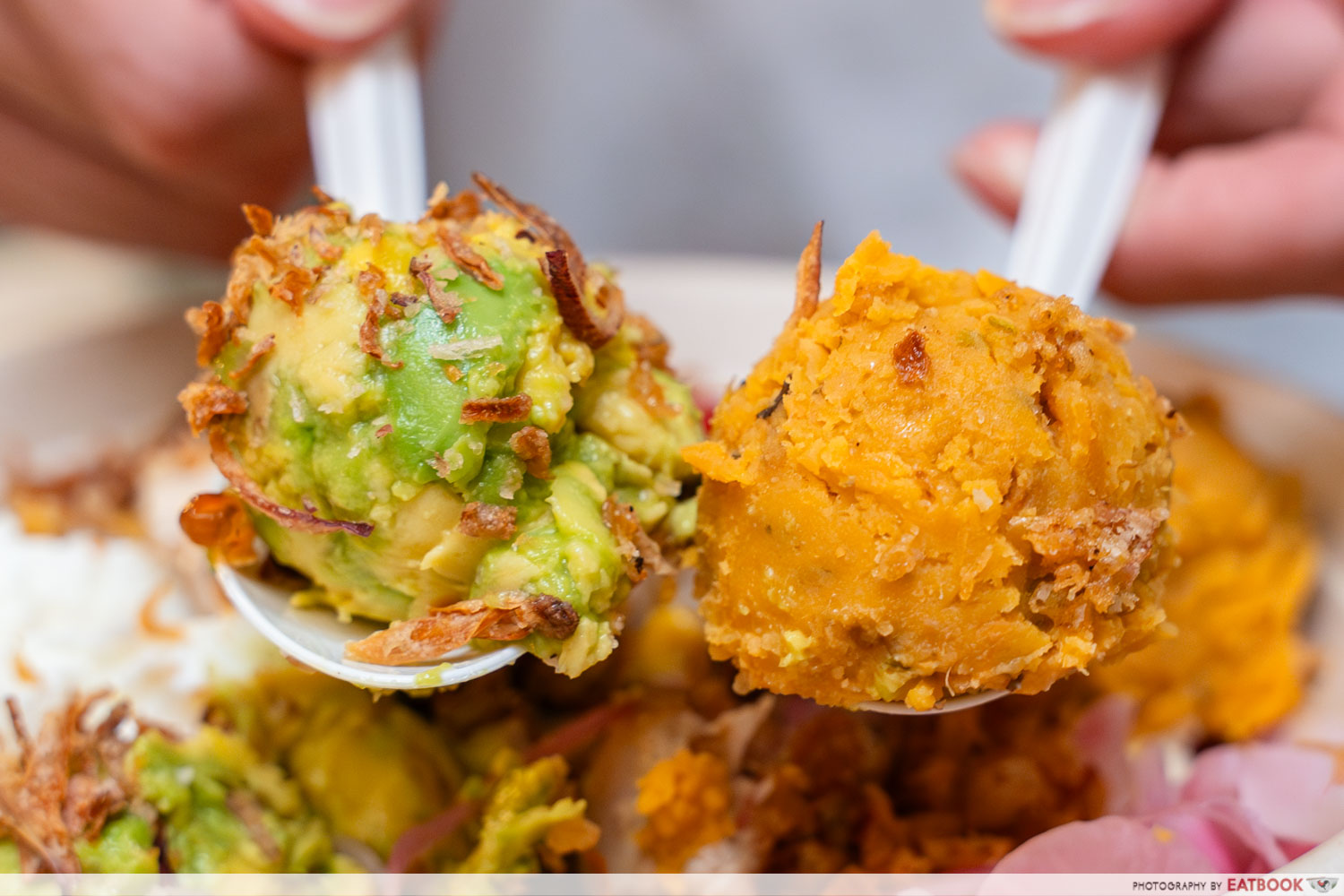 This bowl was a little less impressive than what came before. While it did pack a lot of flavours—ingredients such as lime avocado and cajun sweet potato ensured it was that way—I felt it didn't come together as cohesively as the O.G. Salmon. The two aforementioned ingredients are rich in their own right, and that made the dish a little too overwhelming at times.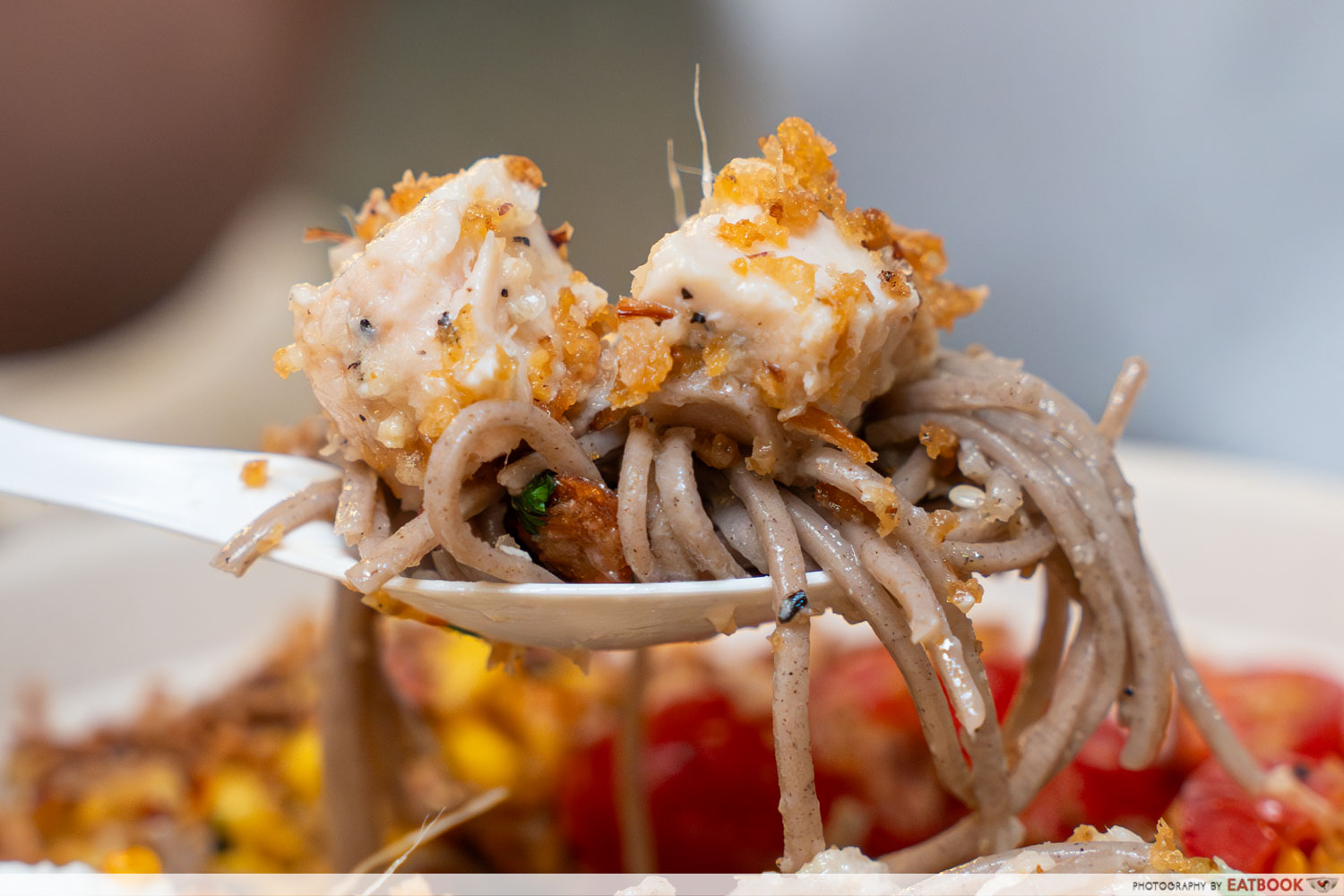 The ginger chicken cubes were just decent. The meat wasn't the most tender or juicy, but at least it was well-marinated and fragrant.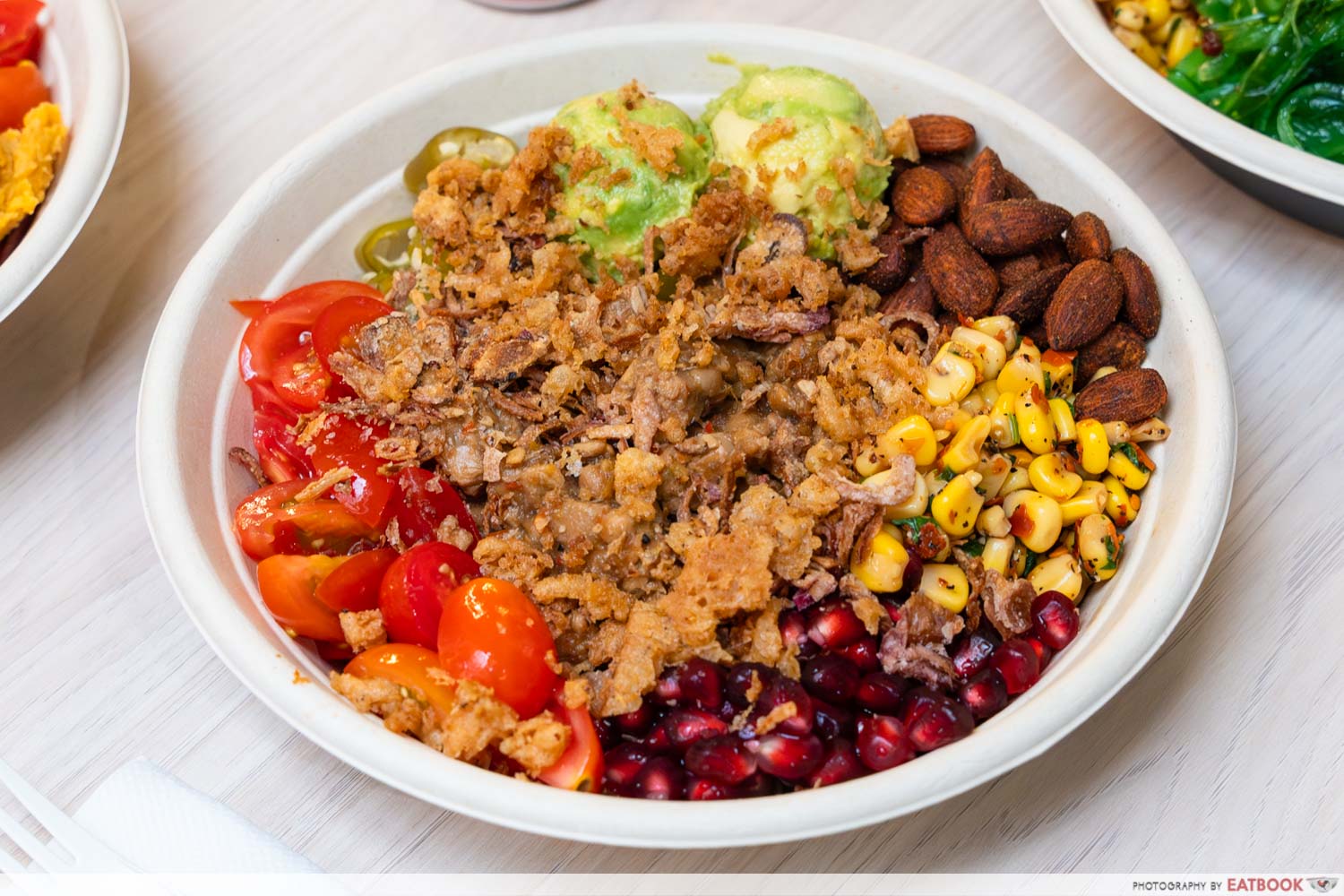 The second new dish we tried was the Tempeh-Tress ($11.90), a vegan-friendly poke bowl with tempeh at its core. It was joined by smoked almonds, pomegranate, cherry tomatoes, corn salsa, lime avocado, and pickled green chillies. The base here was brown rice—perfect for the health-conscious.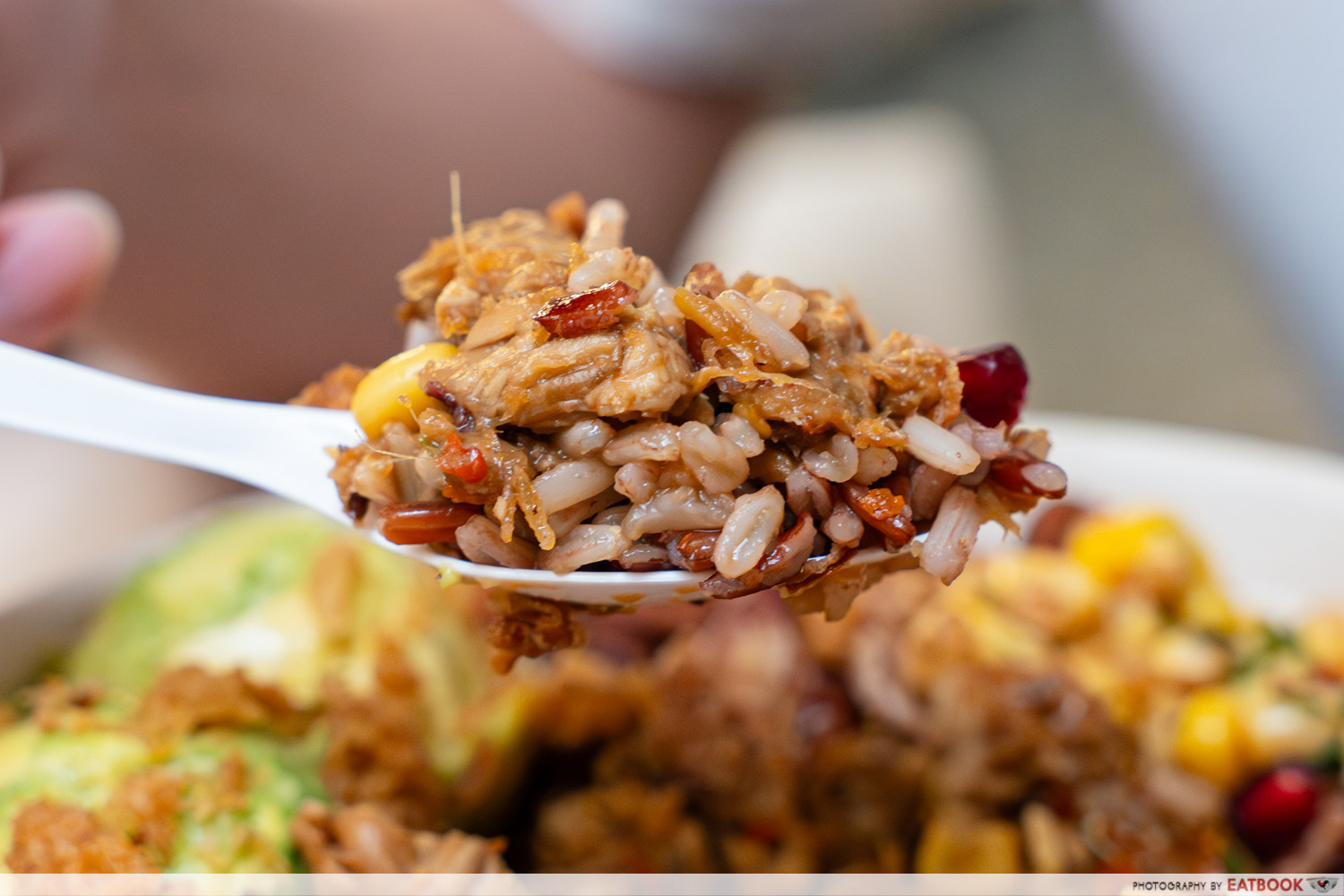 This was another flavourful poke bowl that had many complementary elements. The umami tempeh pieces were the star ingredients, of course, but the combination of the toasty, earthy almonds and tart pomegranate seeds was highly addictive. A touch of spiciness from the green chilli made this an even more exciting bowl to consume.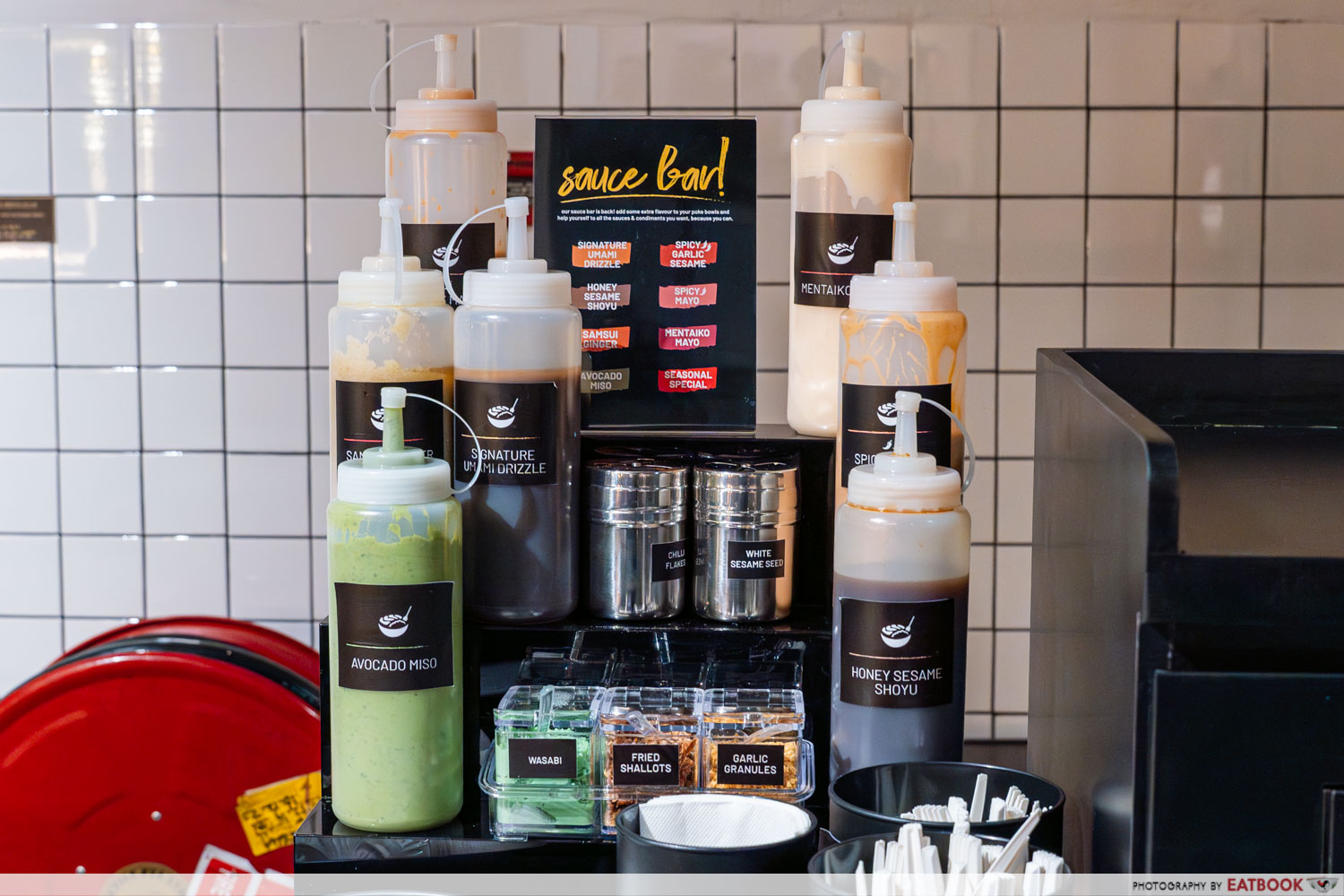 If you'd like even more flavour in your poke bowl, there's a free-flow sauce station in the restaurant, which offers taste enhancers such as avocado miso, honey sesame shoyu, and mentaiko mayo.
Ambience at Poke Theory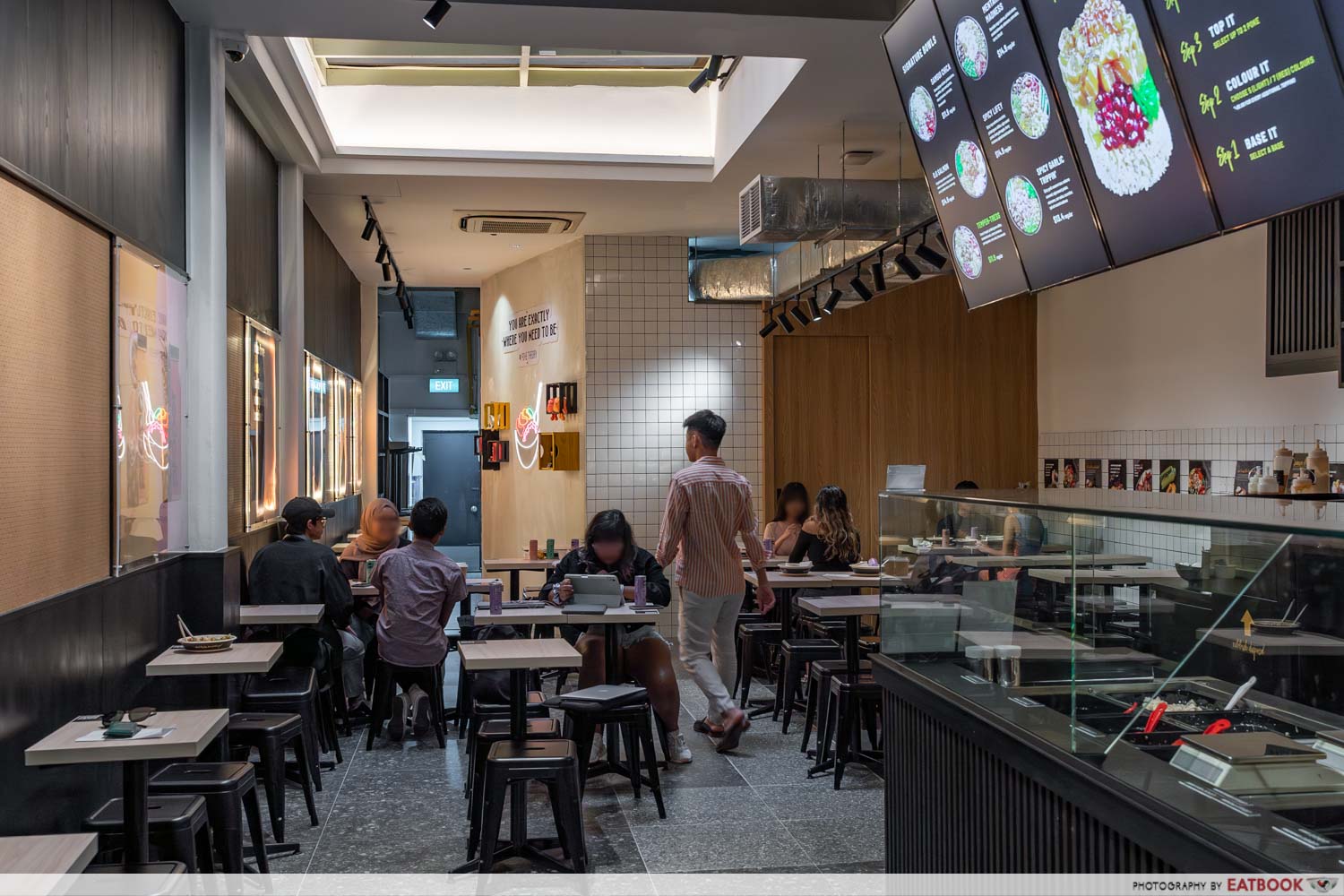 There's a slightly moody and atmospheric vibe at Poke Theory, and that's probably down to the use of dark colours and measured lighting in the restaurant's interior. It's a stylish and reasonably comfortable place to enjoy poke bowls, and also a convenient location for those working in the CBD area.
Poke Theory is a four-minute walk from Telok Ayer MRT Station.
The verdict
Poke Theory does serve up a good poke bowl, and with the many customisable options and signature bowls, you're likely to find a combination that suits your tastes or nutritional needs. The new menu items were quite moreish too, so check those out if you are already a fan of the franchise.
For another good eatery in the Telok Ayer area, check out our Spicy Wife review. If you're a fan of Korean food, read our SODENG Korean Restaurant review.
Address: 179 Telok Ayer Street, Singapore 068627
Opening hours: Mon-Fri 11am to 8pm, Sat 11am to 3pm
Tel: 6322 4030
Website
Poke Theory is a halal-certified eatery.
Spicy Wife Review: Long-Queue Malaysian Nasi Lemak With XXL Fried Chicken In Telok Ayer
Photos taken by Rifdi Syahir.
This was a media tasting at Poke Theory. 
Poke Theory Review: Shoyu Salmon And Tempeh Poke Bowls At New Telok Ayer Outlet
Poke Theory Review: Shoyu Salmon And Tempeh Poke Bowls At New Telok Ayer Outlet -

7.5/10
Summary
Pros
– Flavourful, varied, and nutritious poke bowls
– Unlimited sauces
– Central location
Cons
– The multitude of flavours can make your bowl jelak—choose your ingredients prudently
– Some ingredients, such as the ginger chicken cubes, are rather average
Recommended dishes: O.G. Salmon ($14.90), Samsui Chica ($11.90)
Opening hours: Mon-Fri 11am to 8pm, Sat 11am to 3pm
Address: 179 Telok Ayer Street, Singapore 068627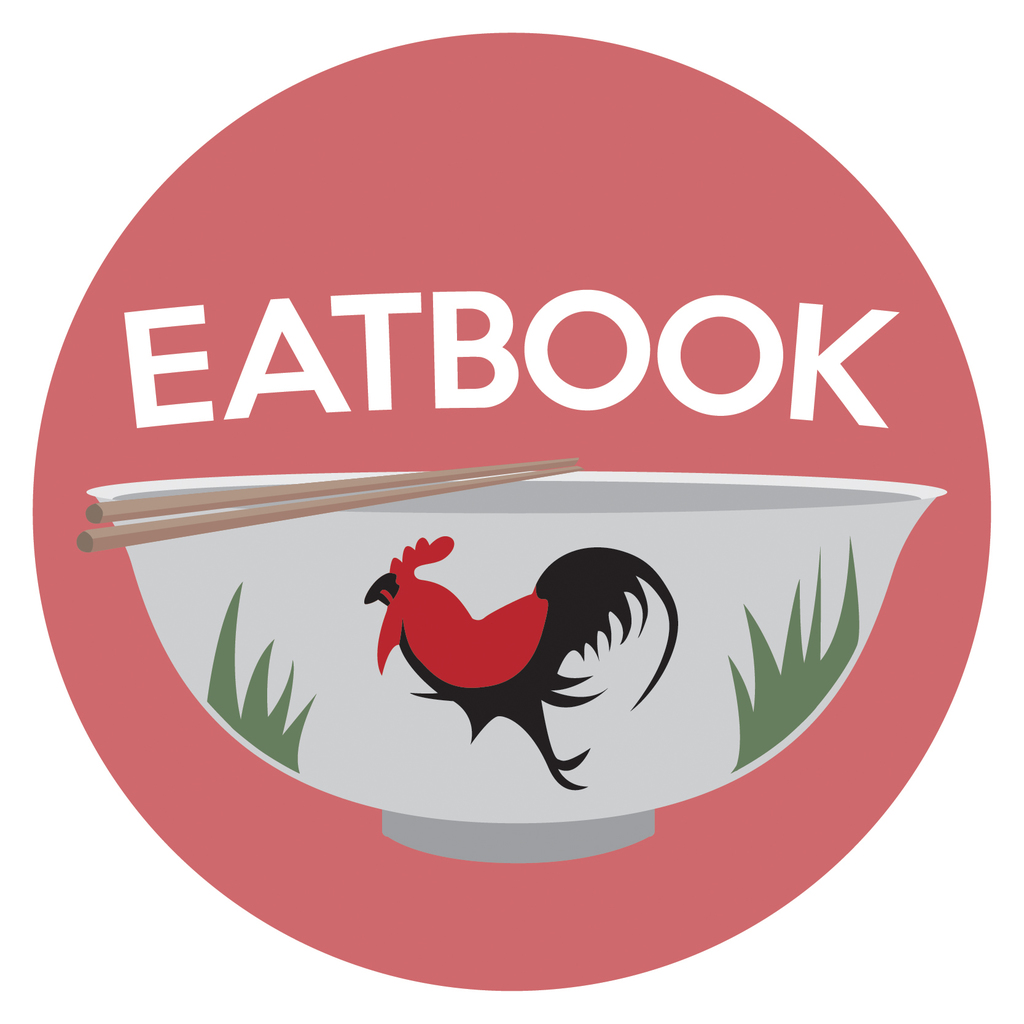 Drop us your email so you won't miss the latest news.