---
Boat noodle in Singapore
---
As travel plans for 2021 remain uncertain, we are grateful for the vibrant food scene in Singapore that can still send our taste buds on a culinary adventure. Here are the top 11 boat noodle places in Singapore that will bring the BKK vibes to you.
---
1. Victory Boat Noodle Cafe
---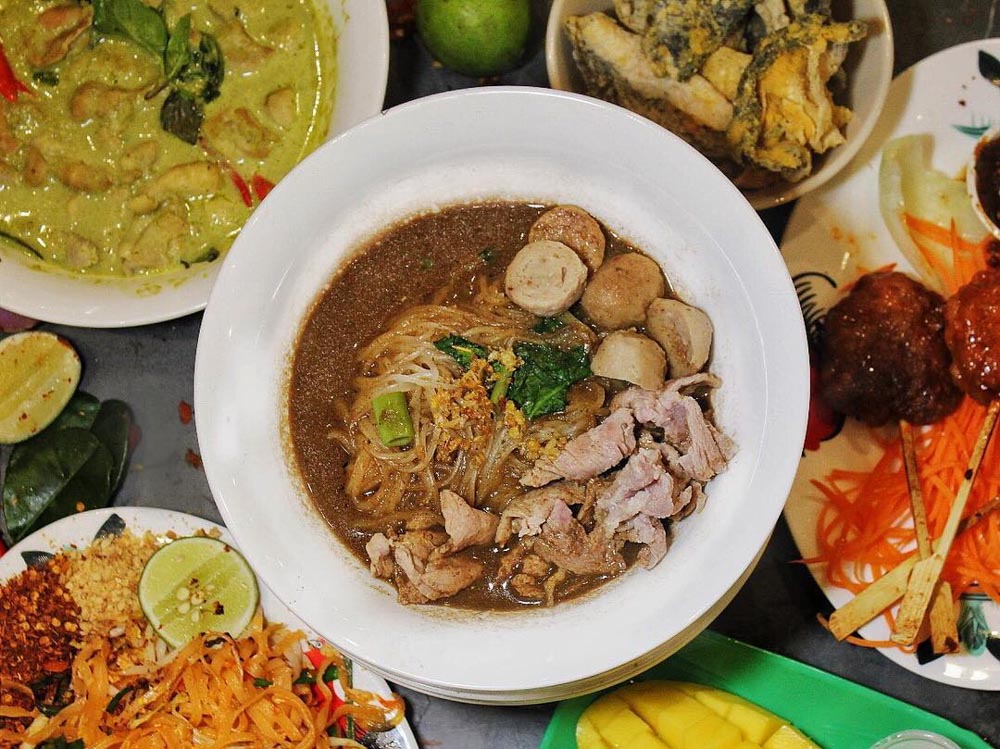 Image credit: @victoryboatnoodlecafe
While Beauty World Centre may be increasingly overshadowed by newer shopping malls, it is the perfect place to nest a hidden gem like Victory Boat Noodle Cafe.
The Boat Noodles ($5) come in regular portions that are enough for a grown adult like myself. If that does not suffice, the stall offers Moo Ping ($5.50), which is typically a meat skewer made with thinly sliced fatty pork butt. Finally, you can end the sinful meal with some healthy and refreshing Thai Mango Salad ($8).
Address: 144 Upper Bukit Timah Road, #01-09, Beauty World Centre, Singapore 588177
Opening hours: Mon-Sat 11:30am to 8:30pm, Sun 11am to 8:30pm
Website
---
2. Orto BKK Bistro Bar 
---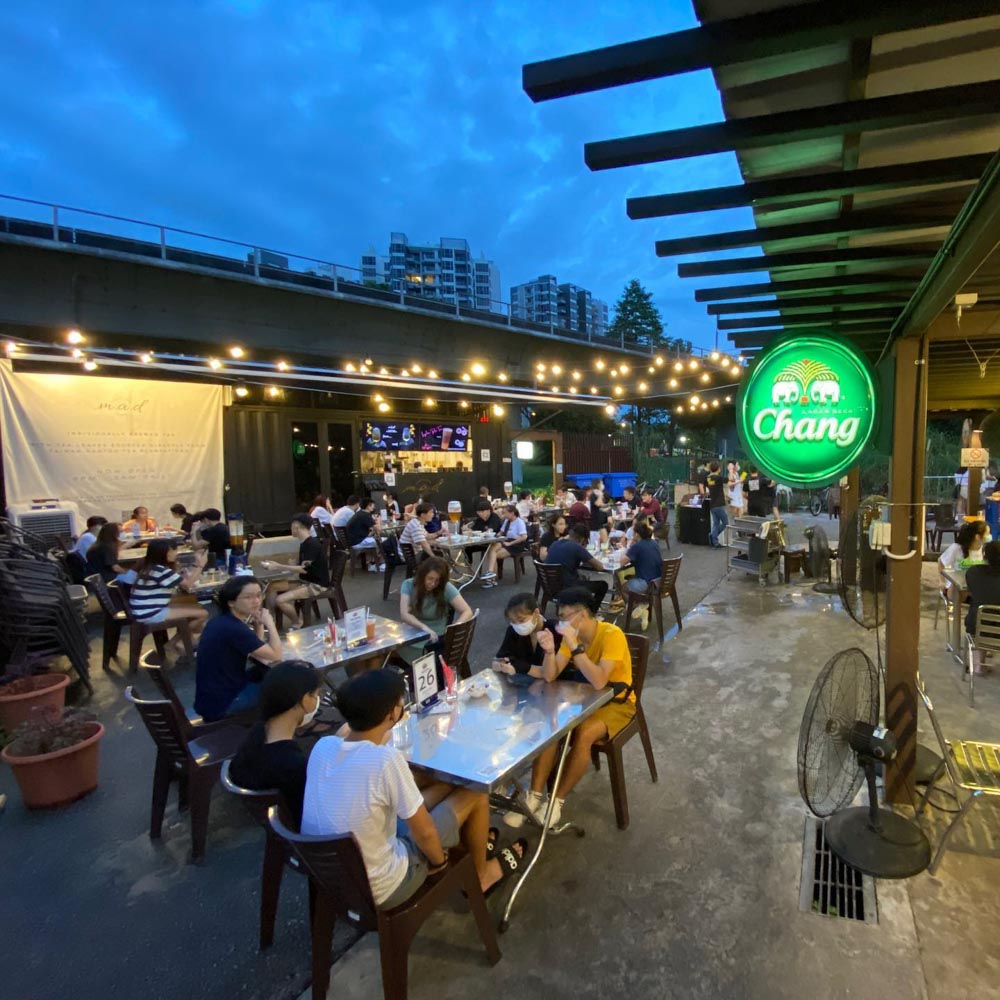 Image credit: BKK Bistro & Bar
Touted as the place serving the "cheapest boat noodles in Singapore", Orto BKK Bistro & Bar is one of the most popular supper spots amongst Northies for its out-of-Singapore experience.
Their menu offers over 20 combinations of boat noodles that begin from $0.80++. For the full Thai sweet and spicy experience, give the Glass Noodle with Red Tom Yum and Beef Slice ($0.80++) a try. If the tiny bowls are not enough for you, their dishes also come in Super Size+ (S$18.80++) with toppings such as prawns, meatballs, pork slices and more.
Address: 81 Lorong Chencharu, #01-09A, Singapore 769198
Opening hours: Daily 5:30pm to 3am
Tel: 6757 3393
Website
---
3. Gu Thai Noodle Café
---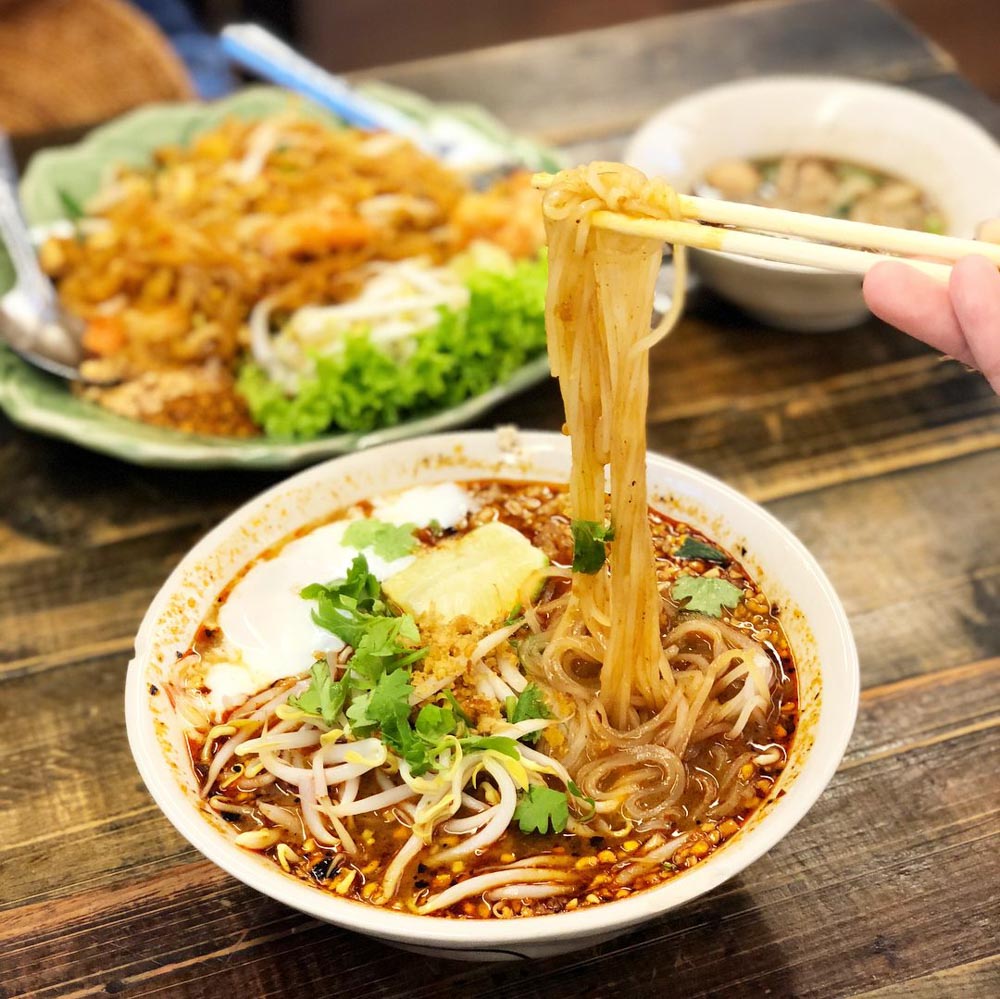 Image credit: @cravenonstop
Expanding from its small corner in Golden Mile Complex, this larger Gu Thai Noodle Cafe outlet also comes with an expanded menu. 
Gather around a sour and spicy Tom Yum Soup Seabass ($28) that is sure to whet your appetite. Follow up with Beef Boat Noodle ($7.50 or $1.90) that comes in two sizes and the standard choices of meat and noodles similar to their previous store. For loyal fans of this chain, they still offer their good ol' Duck Noodle ($8.50) with their savoury broth and pieces of tender duck meat.
Address: 96 Sims Avenue, Singapore 387424
Opening hours: Daily 11am to 4am
Tel: 8801 7822
Website
---
4. Thailicious Boat Noodles 泰好吃
---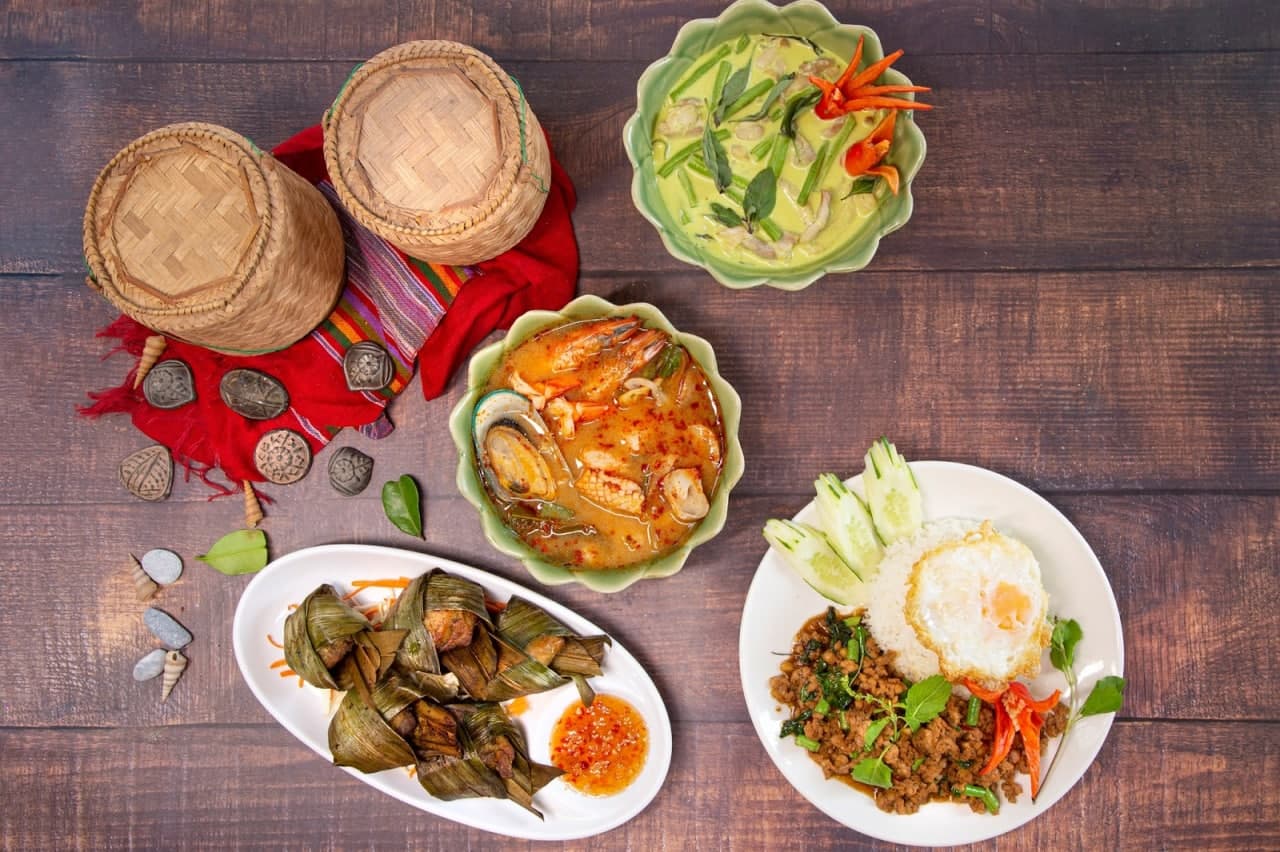 Image credit: Thailicious Boat Noodle 
While the stretch of Liang Seah Street is my usual go-to for Chinese steamboats and skewers, there nestles a small entrance to Thailicious, a Thai restaurant that tries to integrate with it's clever play of its Chinese name but stands out with its Thai dishes
The Pad Thai ($7.50+) here achieves every Singaporean's favourite wok hei taste. For more umami, the stall offers Smoke Duck Breast Slices ($12+) that we often only find in mookata restaurants.
Their Boat Noodles ($2.30 to $8.50+) lean more herbal tasting, if it suits your taste buds. In addition, you can have a competition with your friends as you work through the 10 levels of spices offered here.
Address: 8 Liang Seah Street, #01-01, Singapore 189029
Opening hours: Daily 12pm to 10:30pm
Tel: 6917 9857
Website 
---
5. The Original Boat Noodle
---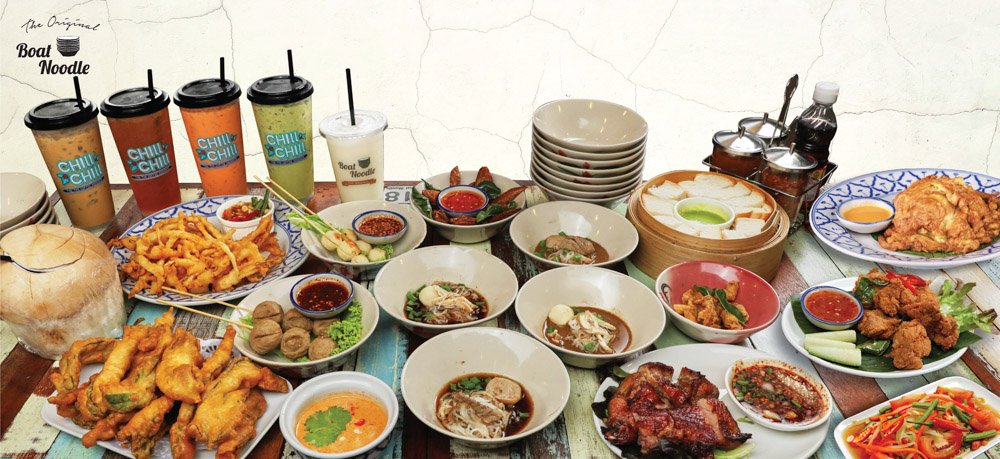 Image credit: The Original Boat Noodle 
With branches in Malaysia and Myanmar, The Original Boat Noodle has brought its regional success into Singapore. Their  halal food menu offers much more than the name of the shop suggests. 
Like other stalls, their Boat Noodles ($1.30+) come in the standard combinations of noodles and meat. The soup choices are Pathumthani, made with dark soya sauce, Ayutthaya, which carries a coconut flavour, and Creamy Tom Yum, their latest option
Check out their Hot Steamy Sangkayaa ($4.90++), a take on kaya toast to end your meal on a sweet note.
Address: 200 Victoria Street, #02-46, Singapore 188021
Opening hours: Daily 11:30am to 9pm
Tel: 6665 0246
Website
---
6. 99 Thai Story Kitchen 
---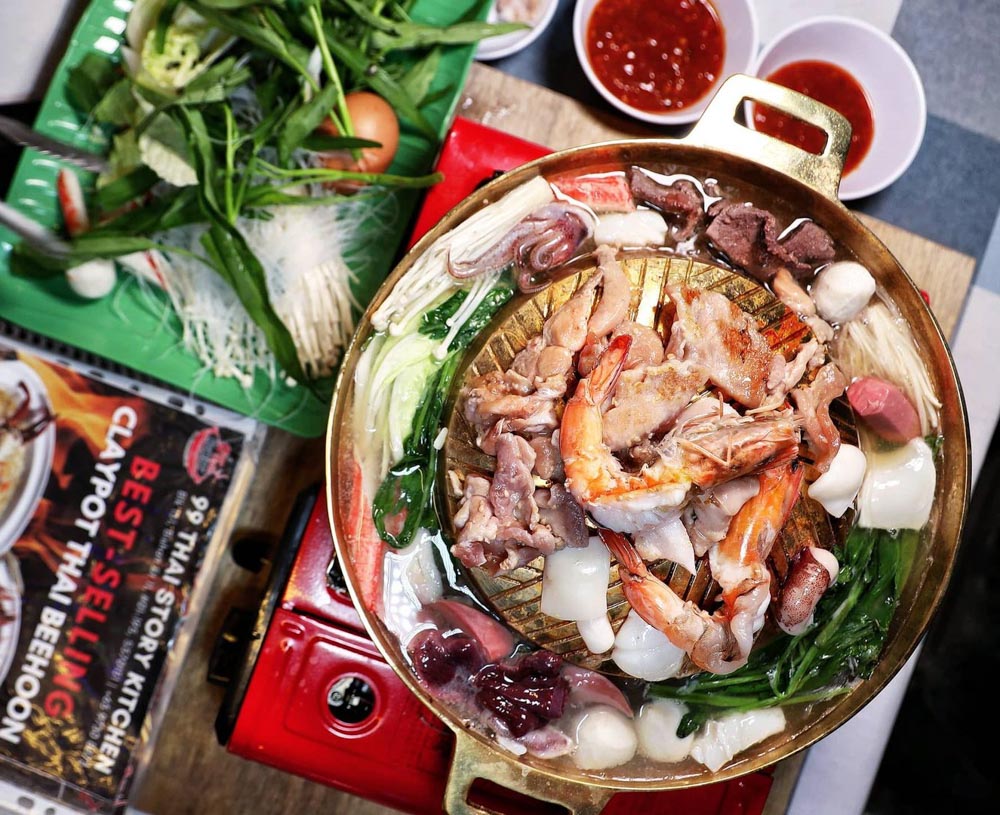 Image credit: @steviefoodaholic
Bring your friends or family along as 99 Thai Story Kitchen serves up dishes suitable for gatherings. Their selection ranges from mookata to various other Thai cuisines including Boat Noodles ($5). Their boat noodles come in only one size with options of either beef or pork. 
Of course, that is not the full story as they have Claypot Prawn Bee Hoon ($16) that is thick and creamy with large tiger prawns. Pair that with some Creamy Butter Chicken ($10) for an added savoury flavour. 
Address: 151 Bishan Street 11, #01-195, Bishan Green, Singapore 570151
Opening hours: Sat-Thurs 11:30am to 2:30pm, 5:30pm to 10:30pm, Fri 11:30am to 2:30am
Tel: 9773 8887
Website
---
7. Tiew Mai Thai Boat Noodle
---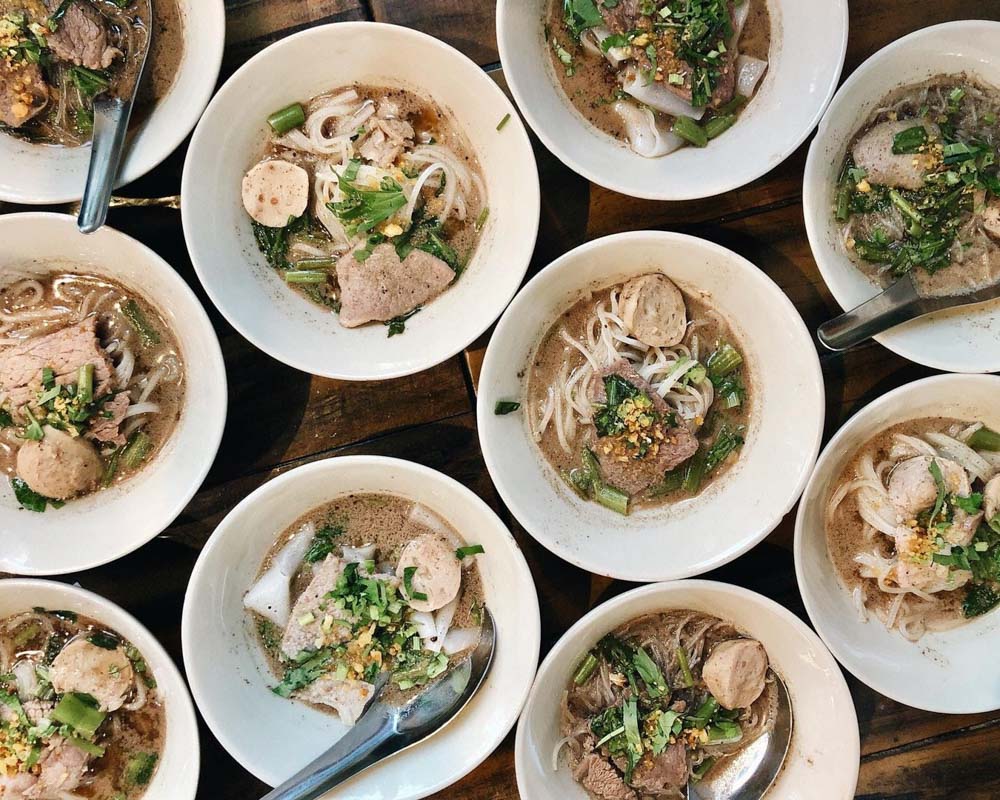 Image credit: @foodiesquared
If you prefer to be cosy and secluded, Tiew Mai Thai is located off-the-radar at Midtown, Hougang, It is easy to miss out this little storefront as the dining area is located upstairs at level two.
Their Boat Noodles ($1.80 or $6.00) come with the standard choices of pork or beef, and a hearty tom yum or regular broth. Also, try out their Tom Yum Boran ($6.50) which is a good mix of prawn, squid and pork collar in tom yum soup which makes for a satisfying savoury meal itself. For those with a sweet tooth, order your meal with Thai Pink Milk ($2.80) which might help you to wash down the fiery tom yum noodles and prepare you for more.
Address: 1187 Upper Serangoon Road, #01-22, The Midtown, Singapore 533971
Opening hours: Tue-Sun 11:30am to 8:30pm
Tel: 6238 0184
Website
---
8. Royal Thai Boat Noodle & Bar
---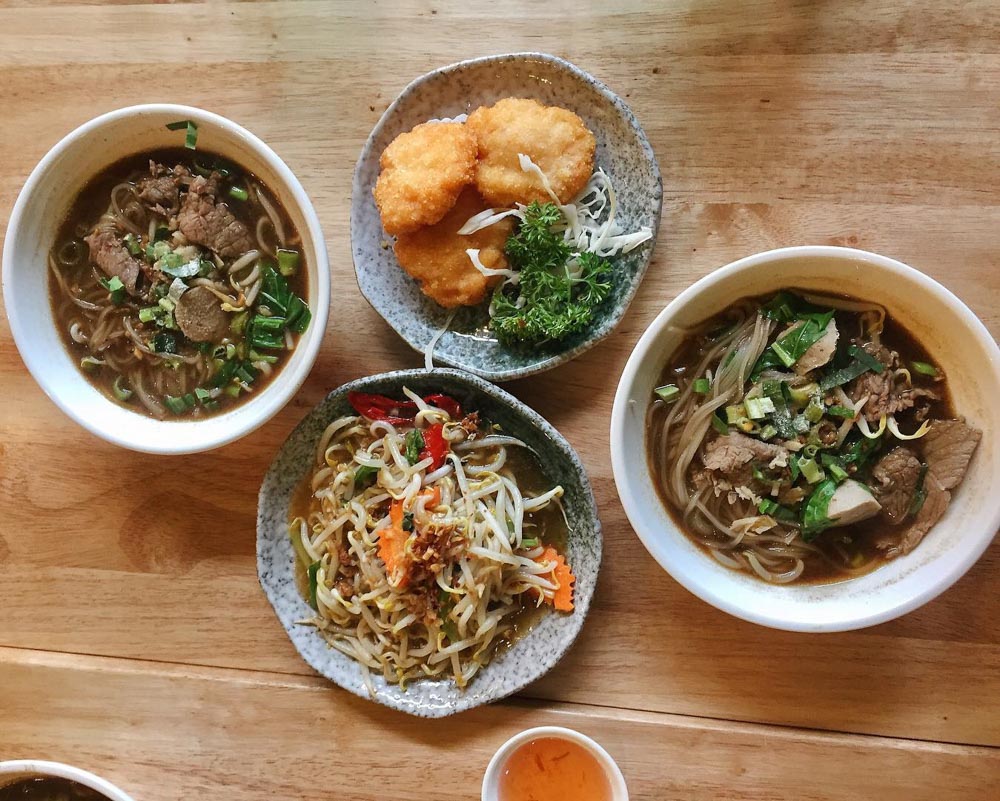 Image credit: @tonguedynsaty
Royal Thai Boat Noodle at King Albert Park lets you slowly savour your noodles away from the hustle and bustle of the city centre.
Open up your appetite with a sour and spicy Tom Yum Seafood Rice Set ($12.50) with a choice of either thick or clear soup. Follow up with their Boat Noodles ($3.90) that come with generous slices of either pork or beef. Regulars also return for their Hot Basil Rice with Pork ($8.50) which is a combination you can't go wrong with.
Address: 9 King Albert Park, #01-01/02, KAP Mall, Singapore 598332
Opening hours: Mon-Fri 11am to 3:30pm, 5pm to 10pm, Sat-Sun 11am to 10pm
Tel: 8698 9258
Website 
---
9. Boat Noodle Express
---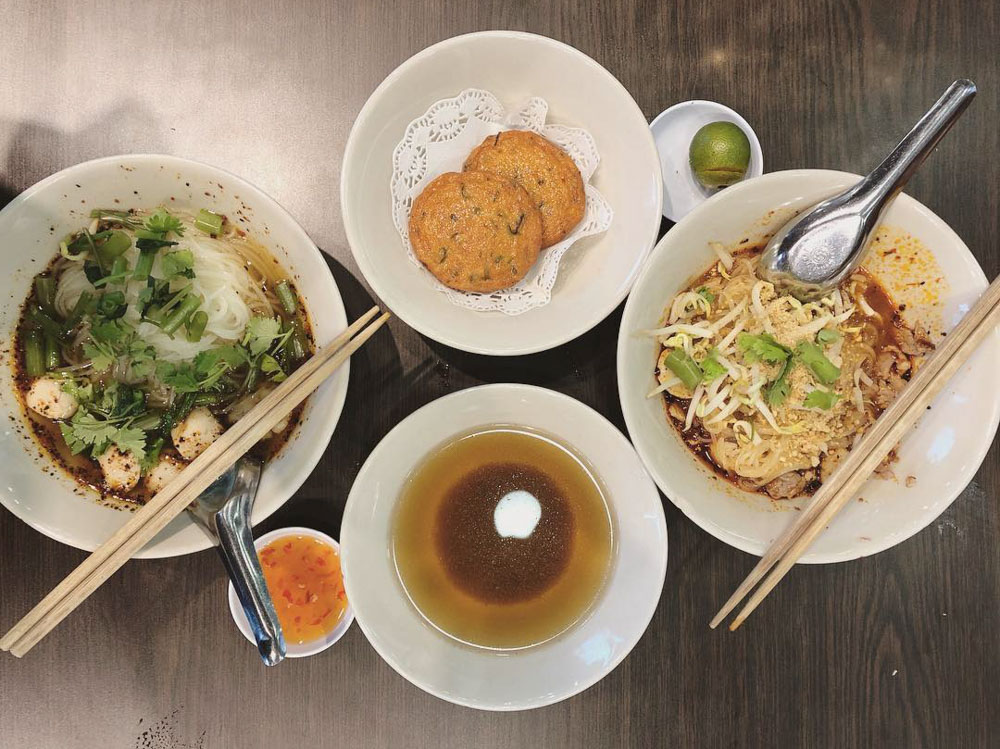 Image Credit: @cheahkaliao.tanchigui
As the name suggests, this small shop front at Sim Lim Square serves small bowls of Boat Noodles ($1+) for a quick fix of your cravings. Unlike most places, all the boat noodles come with springy rice noodles as the only choice.
For a little bit more kick, try Mini Tom Yum ($1.50+), which is nonetheless less spicy than most other places. Also, you won't be getting their Moo Ping ($5+ for 3 sticks) anywhere else, as it's made with their undisclosed secret recipe.
Address:1 Rochor Canal Road, #01-06, Singapore 188504
Opening hours: Daily 11am to 9pm
Tel: 9793 3237
Website 
---
10. Sukhothai Boat Noodles 
---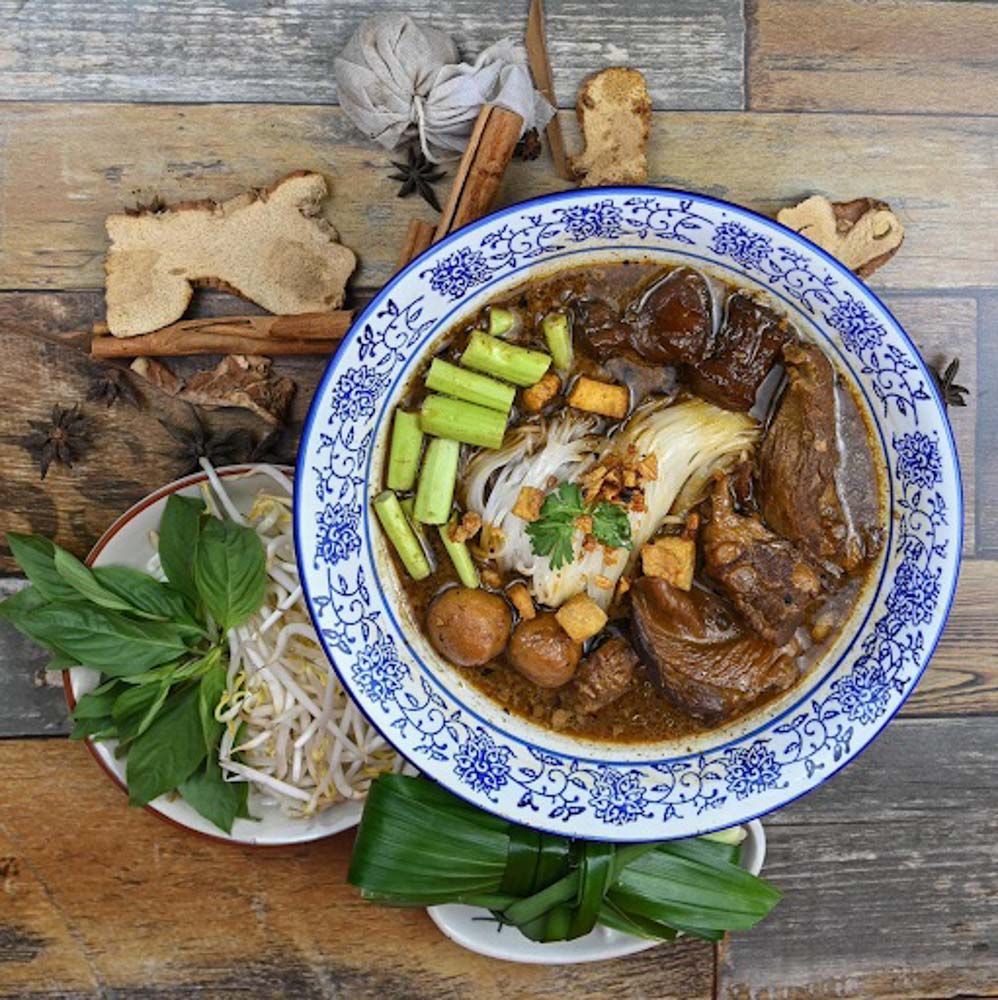 Image credit: Sukhothai Boat Noodle 
The dishes at Sukhothai Boat Noodles come pricier than others but that is for a reason. Situated in Orchid Hotel, their zhnged-up noodles are essentially the hotel restaurant equivalent of your regular boat noodle bowls.
Featuring ingredients not commonly seen in boat noodles, they have Wagyu Boat Noodle ($15), which contains large slices of premium beef. They also have Tom Yum Noodle with Seafood ($15), which gives you ingredients such as mussels, prawn, and squid. 
Address: 1 Tras Link, #01-07, Orchid Hotel, Singapore 078867
Opening hours: Tue-Sun 11am to 10pm
Tel: 8127 3016
---
Where to eat boat noodles in Singapore
---
If you are experiencing taste bud wanderlust, check out our list of Suntec City Japanese food or for other similar adventures, check out our Korean food Guide for Tanjong Pagar and CBD area.
Suntec City Japanese Food Guide: 15 Places For Unagi, Shabu Shabu Buffet And More