Bojio Cafe offers over-the-top Shibuya toasts
Update (4 April 2019): Bojio Cafe has permanently closed.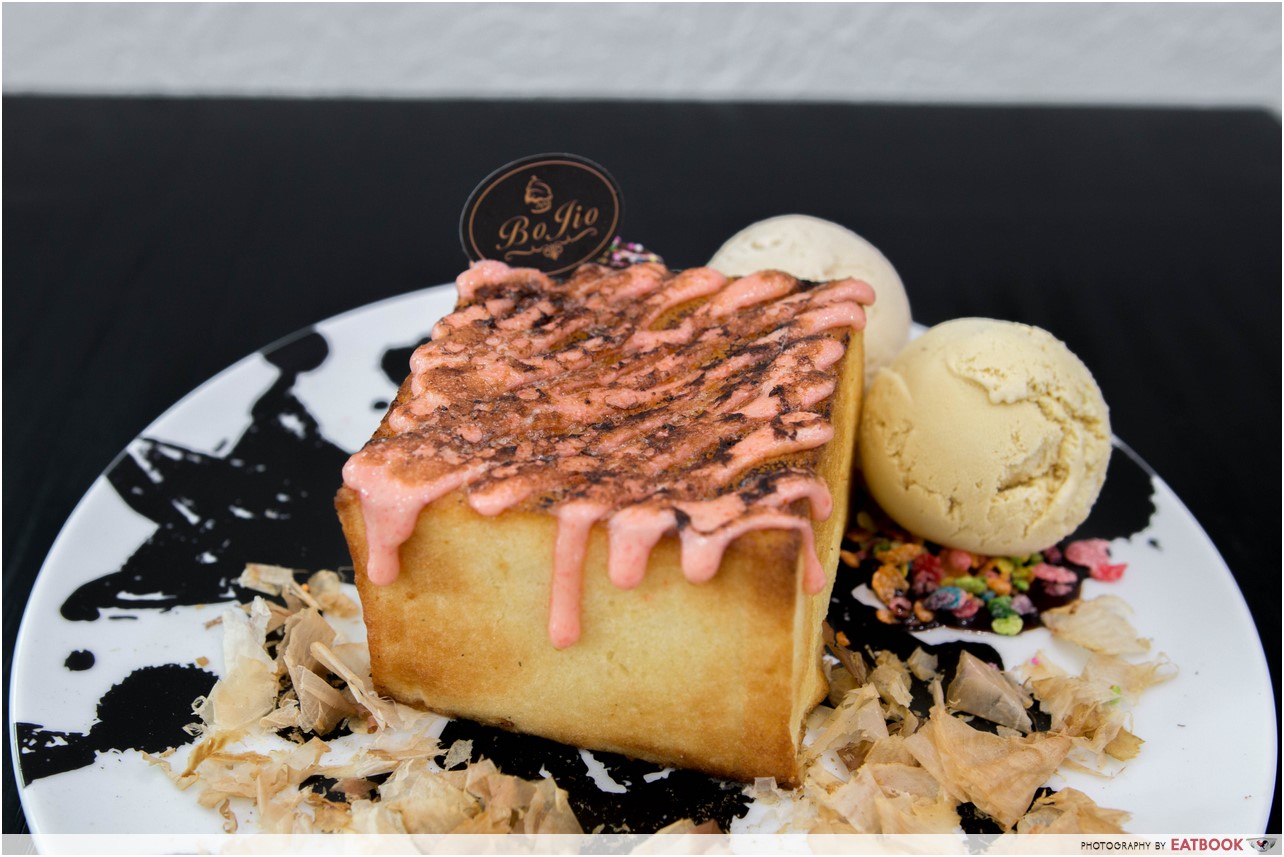 As much as people complain about over-the-top desserts that have been infiltrating the #foodporn scene, I still love them. I'm a sucker for anything colourful, lava, gooey, cheesy, torched… you get the point. And yes, I am also guilty for being one of those who are all about the 'gram. Bojio Cafe gives me exactly what I need by dishing out a variety of colourful waffles, gelato, and OTT Shibuya toasts that come with some ooze-gasmic lava action. 
Food at Bojio Cafe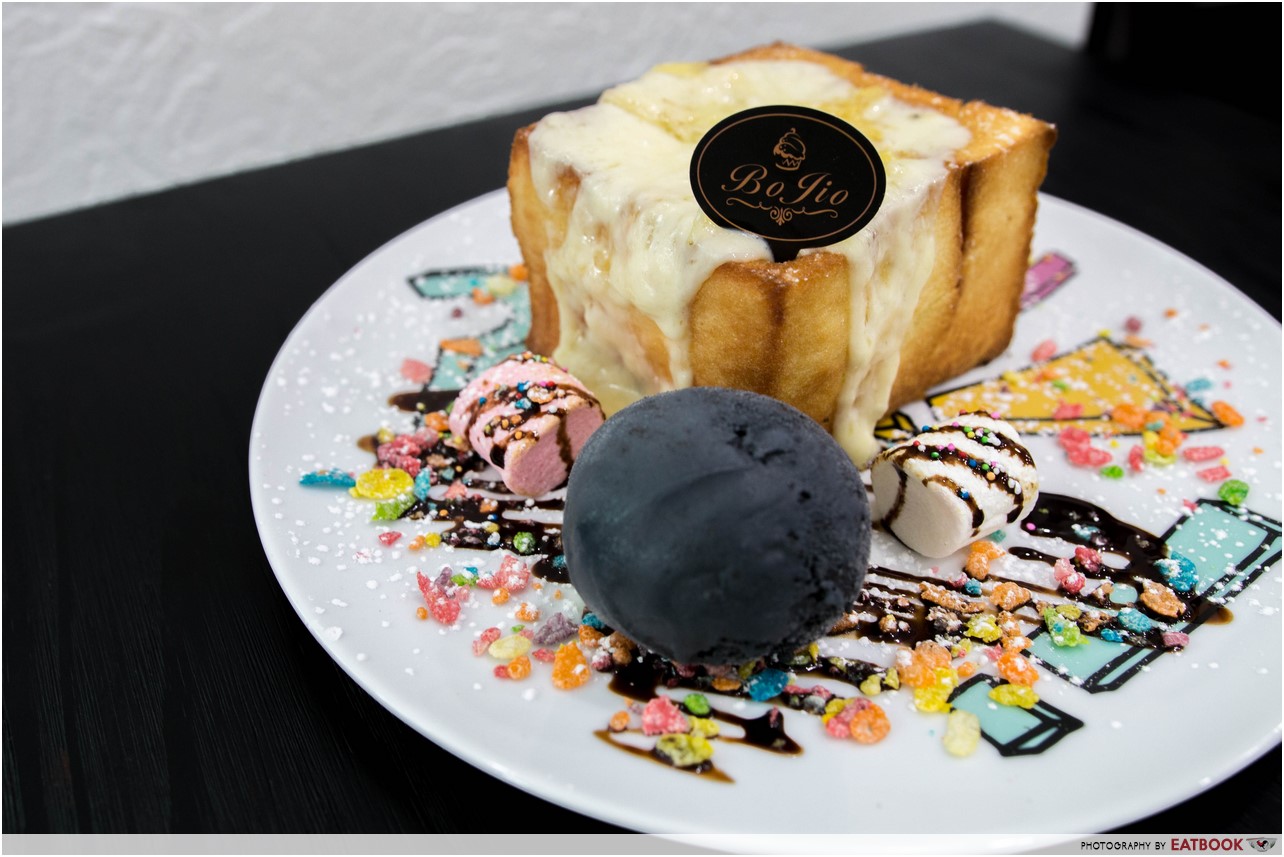 The Shibuya toasts here are grouped into two categories: Melt and Lava. The former has no fillings within the core of the toast, while the latter is the one with a hidden molten surprise. Each toast comes with a scoop of gelato.
Raclette Cheese Toast ($18.90) was the first dish to arrive, and had all of us whipping out our phones to capture the epic cheese-scraping scene.
The result was hot, stretchy cheese pooled in the centre and dripping over the sides of the thick Shibuya toast. Due to the heat from the cheese, the toast became a little soggy, though I didn't mind it since cheese was part of the equation.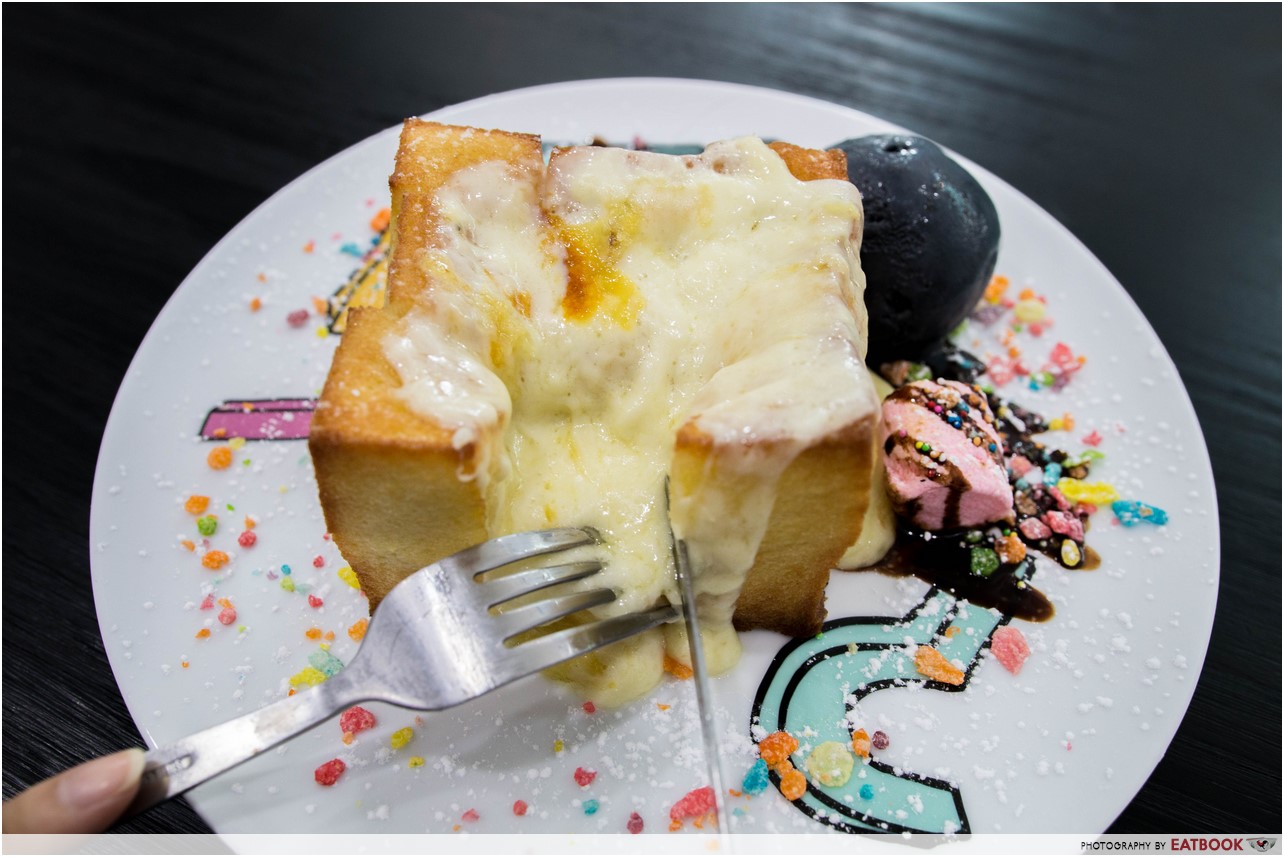 I was expecting some crazy #cheesepull action, but was slightly disappointed when all I managed to get after several attempts were thin strips of cheese that tore easily. The cheese seeped into the cuts of the toast, making every bite salty, hot, and cheesy.
We added $1 because we wanted to try their Black Charcoal Gelato, which is a premium flavour. Although the gelato doesn't have a distinct flavour, it complemented the raclette cheese well by adding some sweetness and earthy taste. However, its texture was slightly icy and it lacked the creaminess that makes a good scoop of gelato.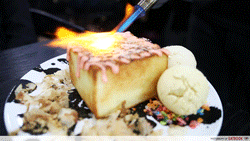 Next, we set things ablaze with an Original Lava Toast ($15.90) with Mentaiko Sauce ($2). The mentaiko sauce was torched in front of us, leaving behind a trail of scorched, bubbling mentaiko sauce. We got Speculoos Gelato and an additional scoop of Sea Salt Gula Melaka Gelato. Both flavours are premium flavours – yes, it was #treatyoself day for us. Adding an extra scoop of ice-cream to a toast costs $2.60.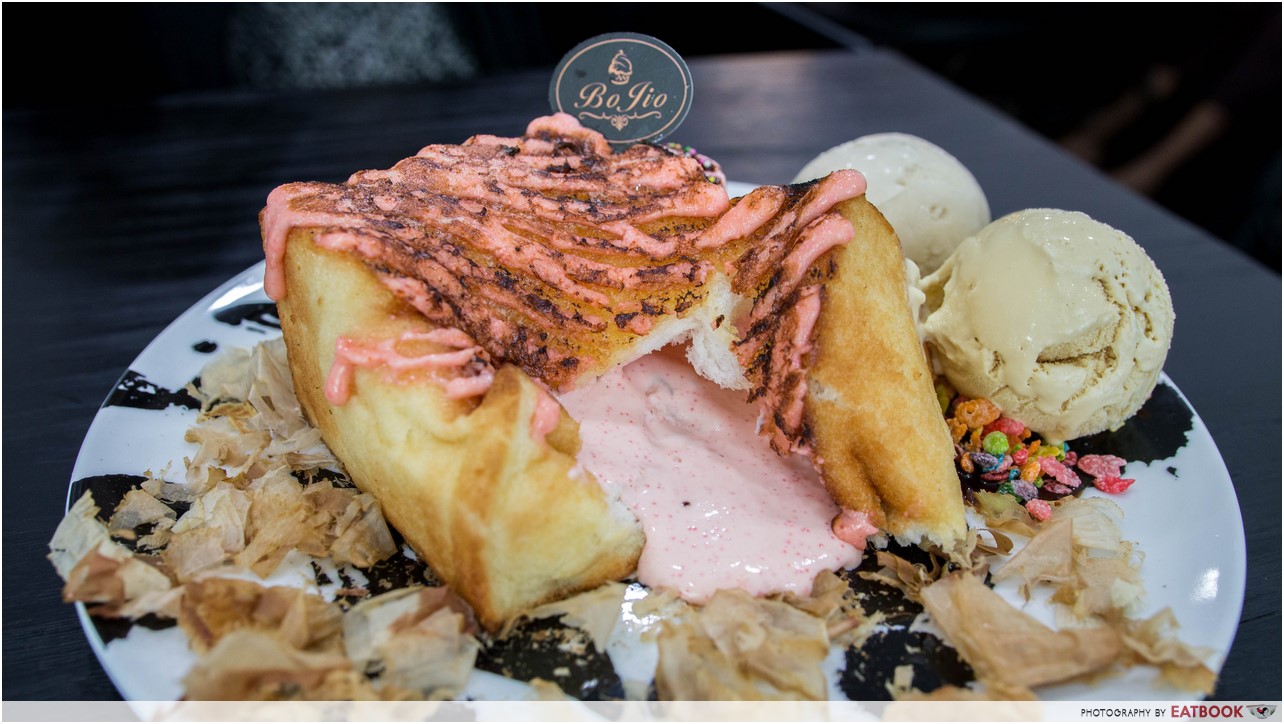 I pressed my knife and fork lightly into the crusty toast, and rich mentaiko sauce studded with specks of orange roe seeped out. The mentaiko sauce inside the toast was different from that drizzled on top of it. The former took on a creamier and richer texture, while the latter had a smoky, charred flavour. Nonetheless, both sauces, combined with bonito flakes, made this dessert exceptionally savoury, so we were glad we got an extra scoop of ice-cream to cut through all that umami.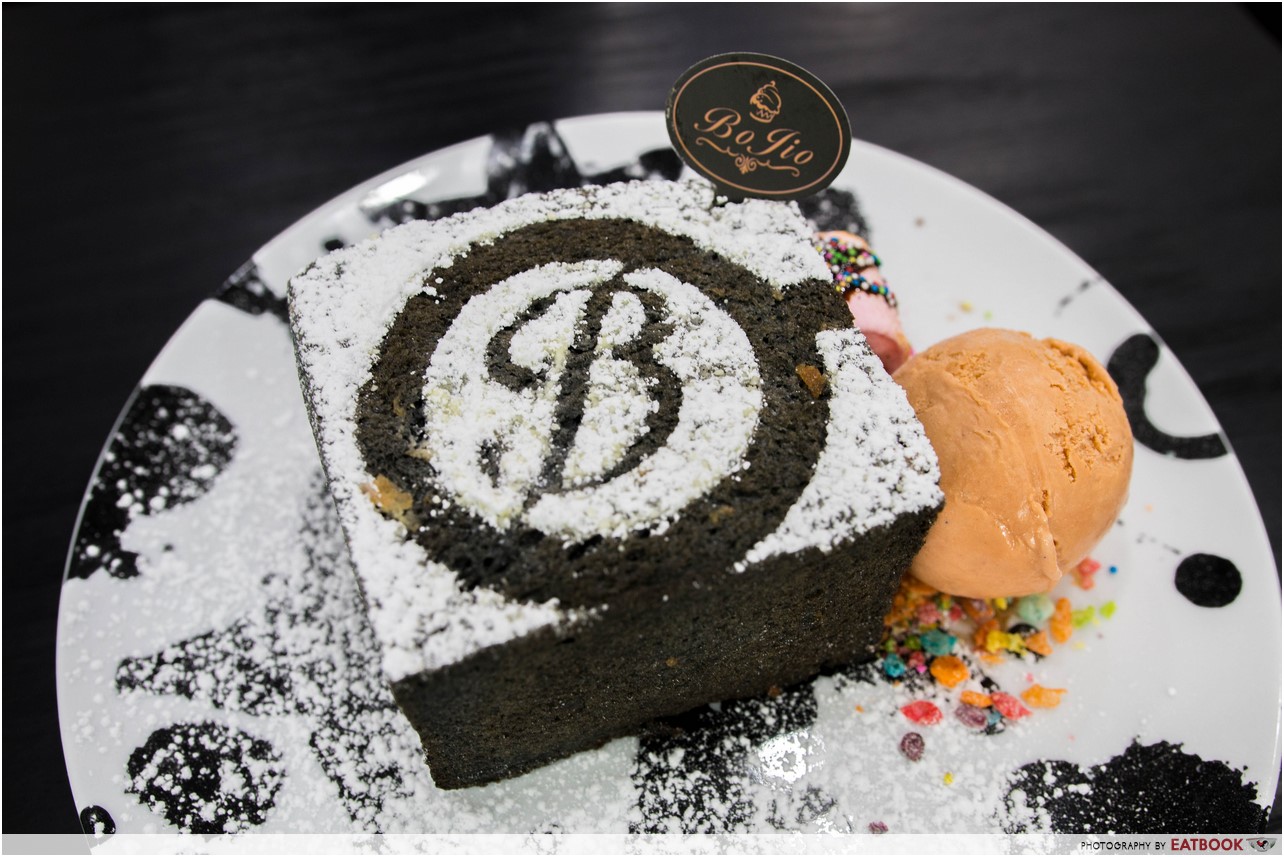 The final dish we got, Charcoal Lava Toast ($16.90) with Cookie Monster Sauce (no additional cost), was completely sweet.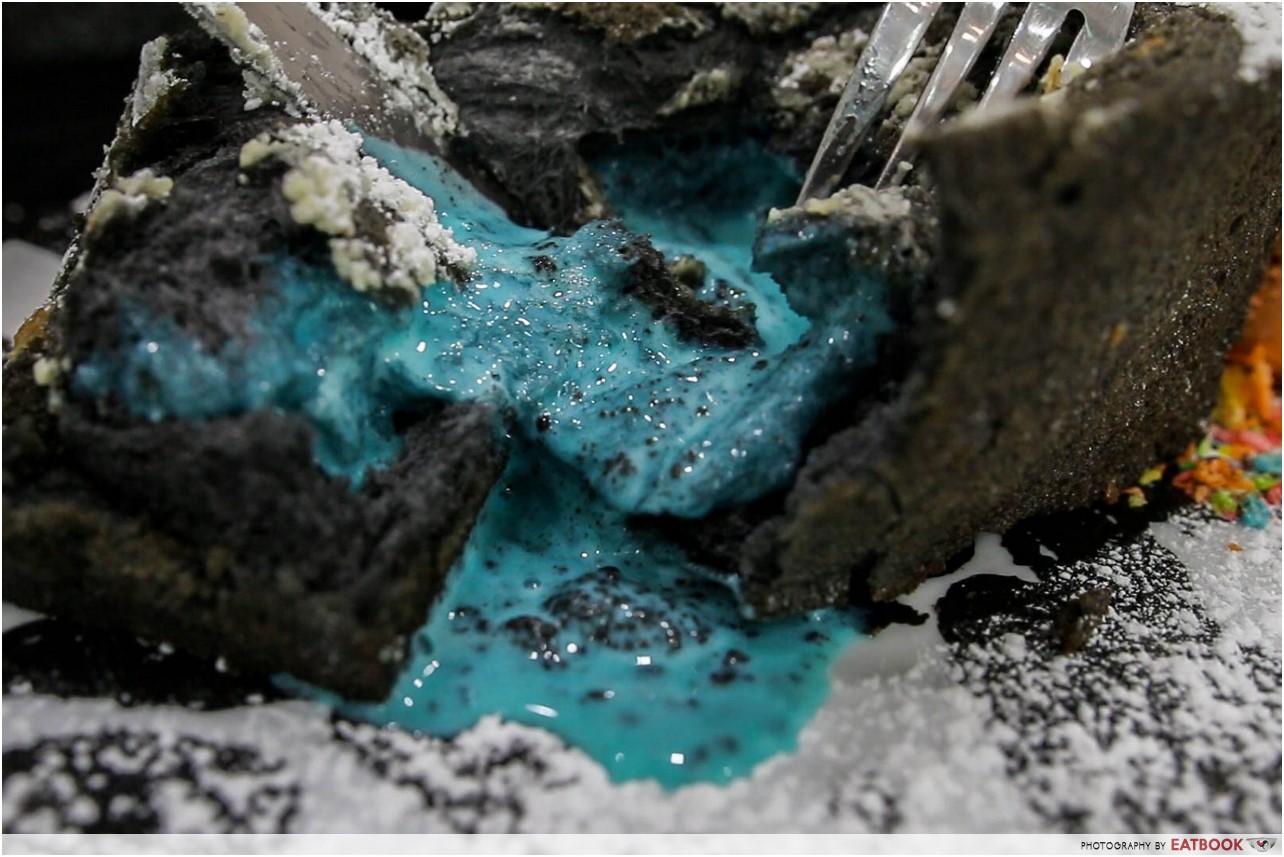 Their vibrant cookie monster sauce is made of melted white chocolate that has been dyed blue, and it created a striking visual contrast against the black charcoal toast. On the flip side, it lacked the dramatic flow factor, perhaps due to its viscosity.
Unlike the other two toasts that had extra ingredients on top, this was only dusted with icing sugar. Hence, the toast felt thicker, even though it was probably the same size as the ones before.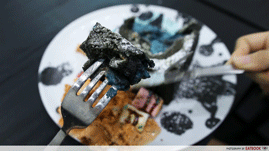 Considering that everything on this plate was sweet, the toast itself could afford to be more heavily buttered to complement its components. Among all the scoops of ice-cream we ordered, my favourite was the Thai milk tea flavour that we got with this toast. This premium flavour was smooth and the taste of Thai milk tea was strong, with just the right amount of sweetness. I particularly enjoyed smearing chunks of the gelato on the plain charcoal toast to get that hot and cold combi, as well as a good contrast in textures from the crusty toast and creamy ice-cream.   
Ambience at Bojio Cafe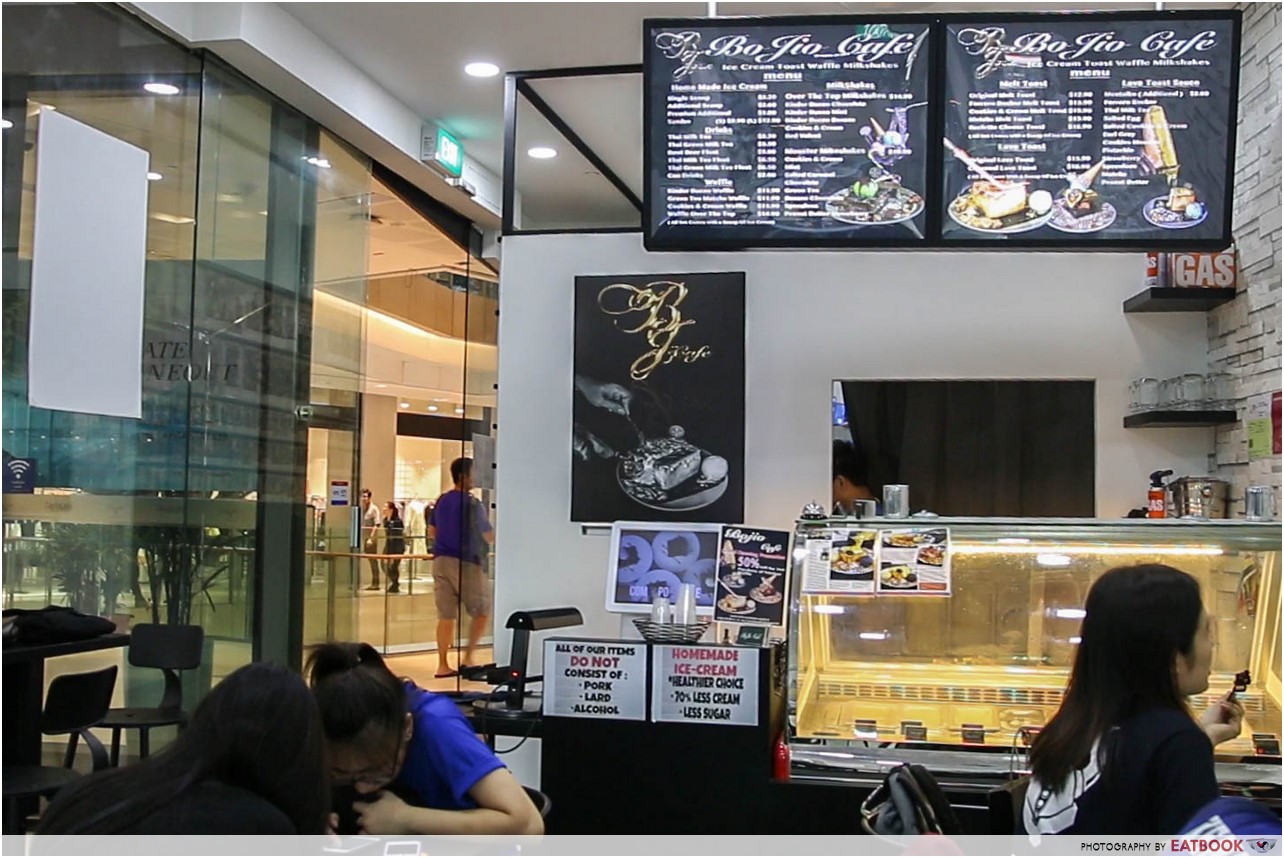 Occupying a tiny space in Westgate Shopping Mall, the cafe has a monochrome theme. Be prepared to squeeze with other customers when peak period strikes. The owner, Wybron, was very friendly to his customers, and went around asking for feedback from everyone.
Like most ice-cream places, Bojio Cafe lets you sample various gelato flavours to help you reach a decision on which to get, so don't feel paiseh and just point out the flavour you'd like to try!
The verdict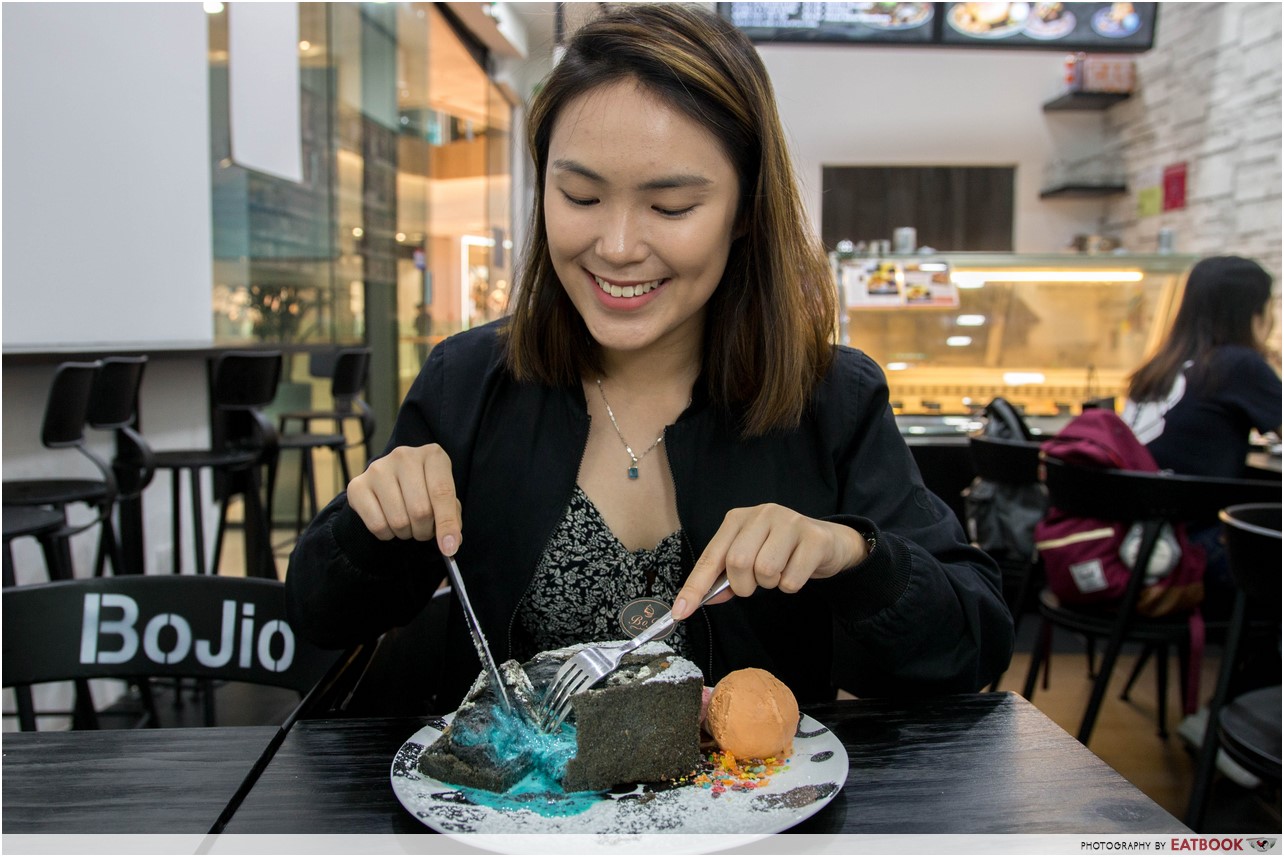 The toasts here managed to hit all the right spots. I definitely will jio my friends down, as it is relatively unknown now, which also means there is still time for you and your clique to enjoy some alone time with your desserts before the crowd rushes down. For more desserts in Westgate, check out Lab Made for liquid nitrogen ice-cream!
Address: 3 Gateway Drive, #02-28, Westgate, Singapore 608532
Opening hours: Daily 11:30am to 9:30pm
Tel: 8742 1688
Website
Bojio Cafe does not use pork , lard or alcohol in their desserts, but it is not halal-certified.
This is an independent review by Eatbook.sg.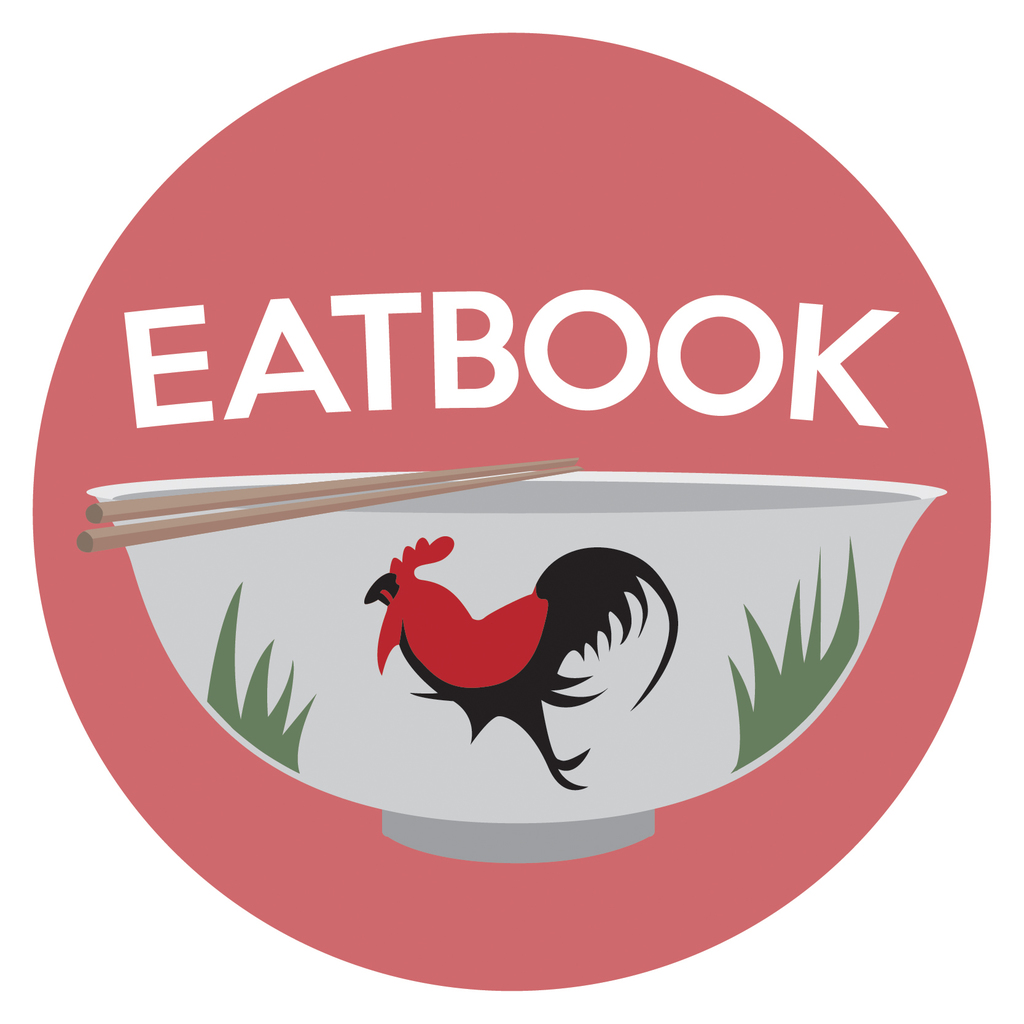 Drop us your email so you won't miss the latest news.