Burger King has 1-for-1 promotions
This month is packed with fast food promotions, and Burger King has now tossed its hat in the ring to keep you spoiled for choice. From now till 19 October, the fast-food chain will be running 1-for-1 promotions on popular menu items, redeemable via coupons on its mobile app.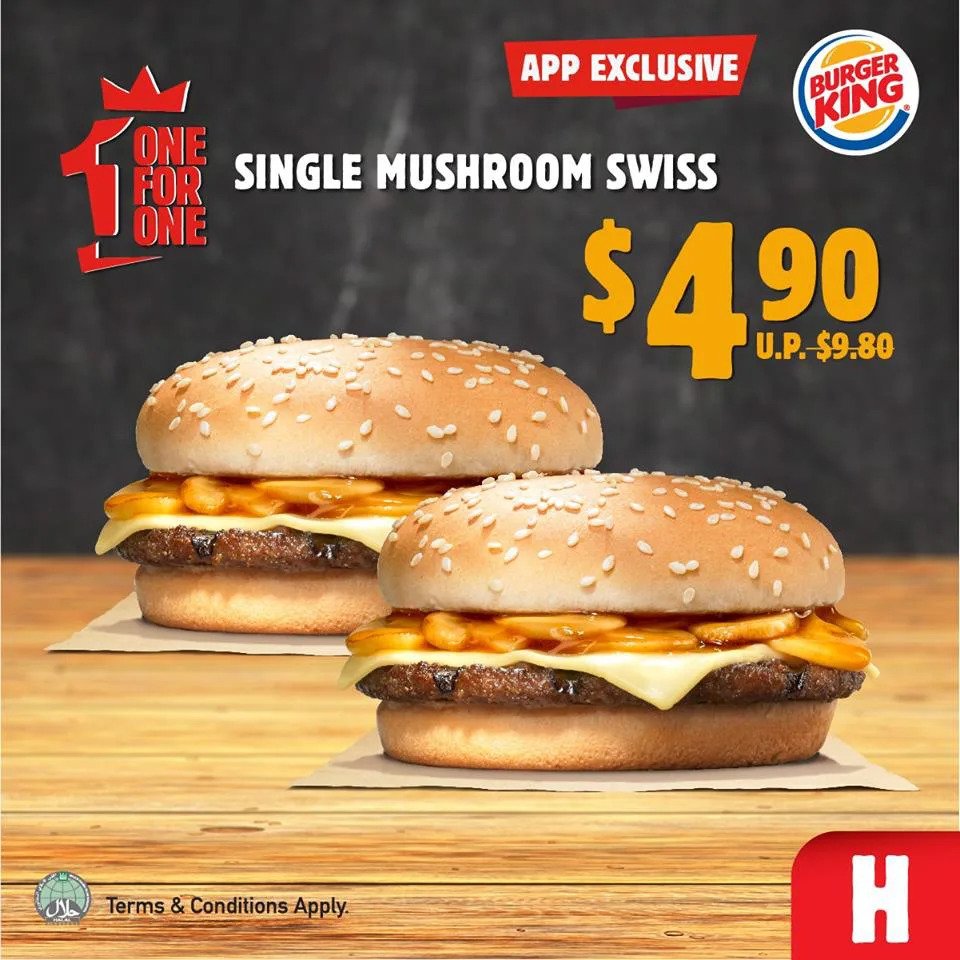 Image credit: Burger King Singapore
Choose from eight different menu items to snag a 1-for-1 deal on. These include the ever-popular Single Mushroom Swiss Burger, now priced at $4.90 for two instead of $9.80, Small Onion Rings at $2.40 for two instead of $4.80, and two Double Cheeseburgers for $5.80, normally priced at $11.60.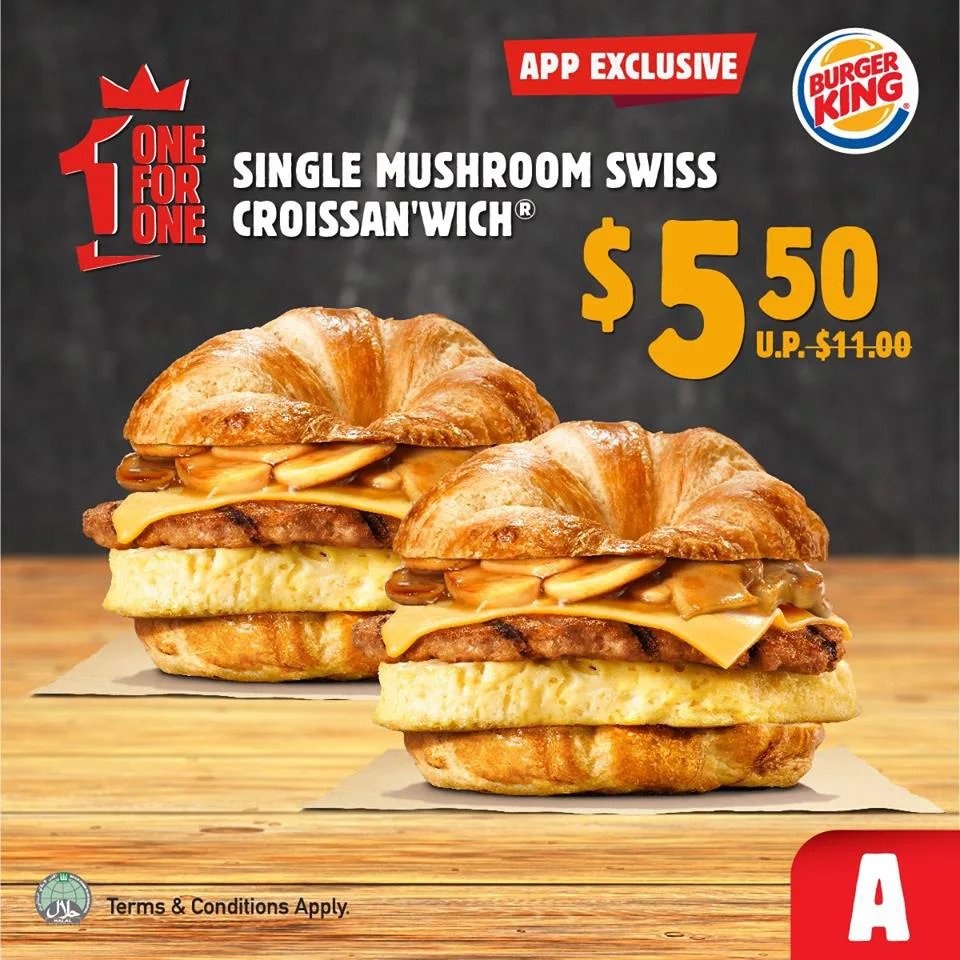 Image credit: Burger King Singapore
Breakfast items are also applicable for discounts. The Single Mushroom Croissan'wich duo is a mere $5.50 with the coupon when usually, it'll set you back $11. For vegetarians or those seeking a plant-based option, two BK Veggi Croissan'wich burgers will cost $4, not $8.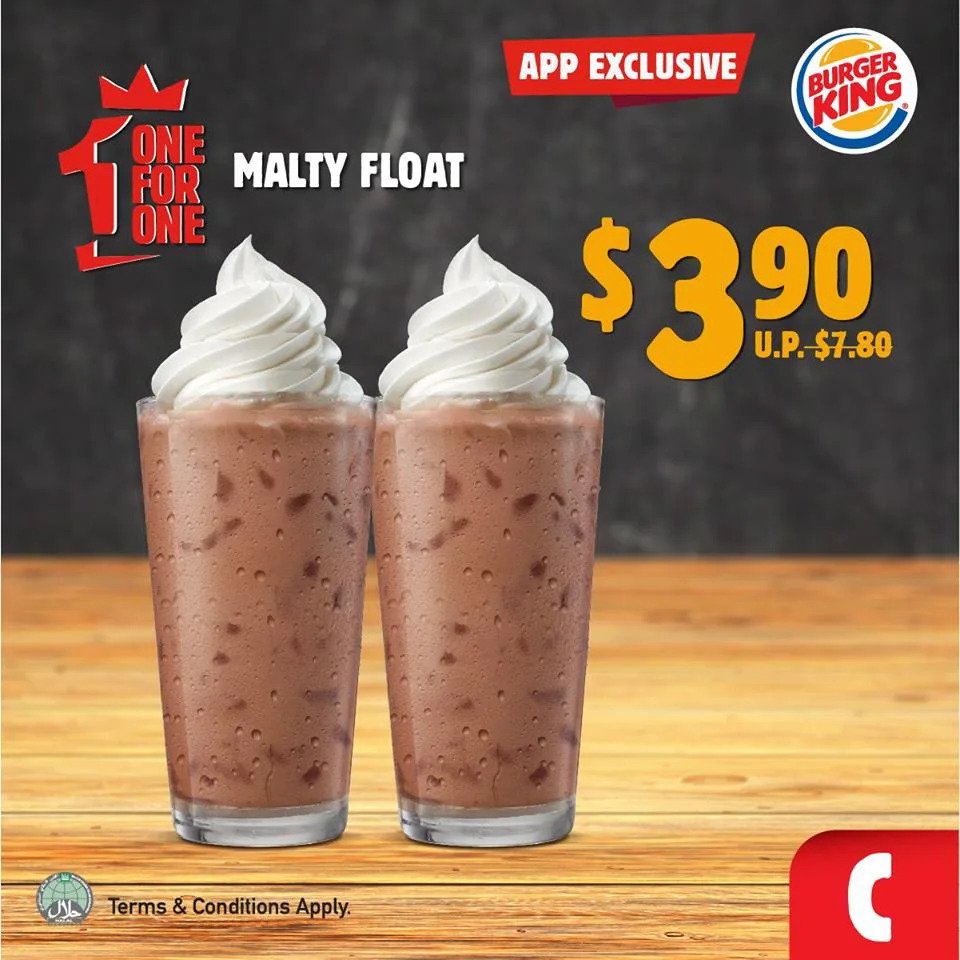 Image credit: Burger King Singapore
Drinks such as the Minute Maid Float and Malty Shake are also on discount.
All you need to do to claim these are the following:
Download or open your Burger King app
Go to the Promotions page
Click on Coupons and find the one you'd like to claim
Show it to the counter staff the next time you're dining at Burger King
If you don't yet have the app, you can download it for iOS and Android.
Note that these promotions are not available at Burger King's airport outlets, or with any other promotion, discount, or for delivery.
KFC Hot Devil Drumlets Are Finally Coming Back This September 2020
For more fast food deals, McDonald's has slashed the price of its popular Spicy McNuggets Extra Value Meal for September, and introduced a McNuggets body pillow. KFC has also brought their Hot Devil Drumlets back for a limited time period.
McDonald's Now Has Nugget Pillow, Lets You Snuggle With Your Favourite Snacc
If you'd prefer your burgers a touch more gourmet, then check out our full review of Wagyu Bites, a new affordable wagyu burger concept by Aburiya, a yakiniku along Boat Quay.