---
Quick recipes using canned food
---
While it's easy to reach out to my phone for food delivery, gone are the days where I've mindlessly splashed my cash on food delivery apps for lunch at home. Thanks to the current work-from-home arrangement, I find myself reaching for canned food recipes more and more, to whip up some quick, tasty, and affordable meals that easily fit into the one-hour lunch window.
Here are three easy and convenient canned food recipes to give you enough time to cook, clean, and still enjoy lunchtime at home!
---
1. Mala Fried Rice with Fried Dace
---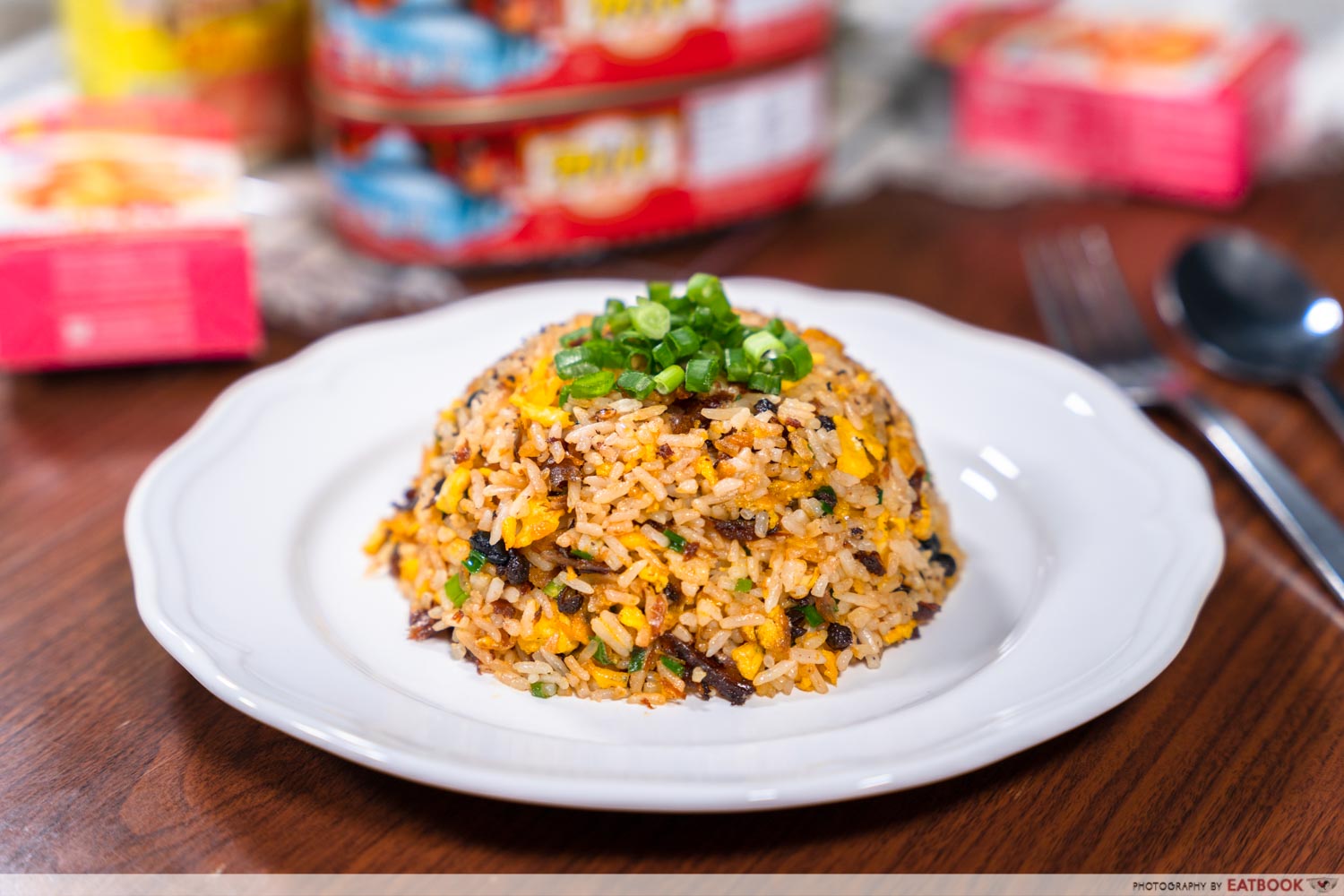 This simple mala fried rice only needs three ingredients: overnight rice, egg, and Mili's new Mala Fried Dace. The can of fried dace is the main reason why little ingredients are needed. Each can provides a wealth of flavours and textures from salted black beans, mouth-tingling peppercorns, and mildly spicy dried chilli.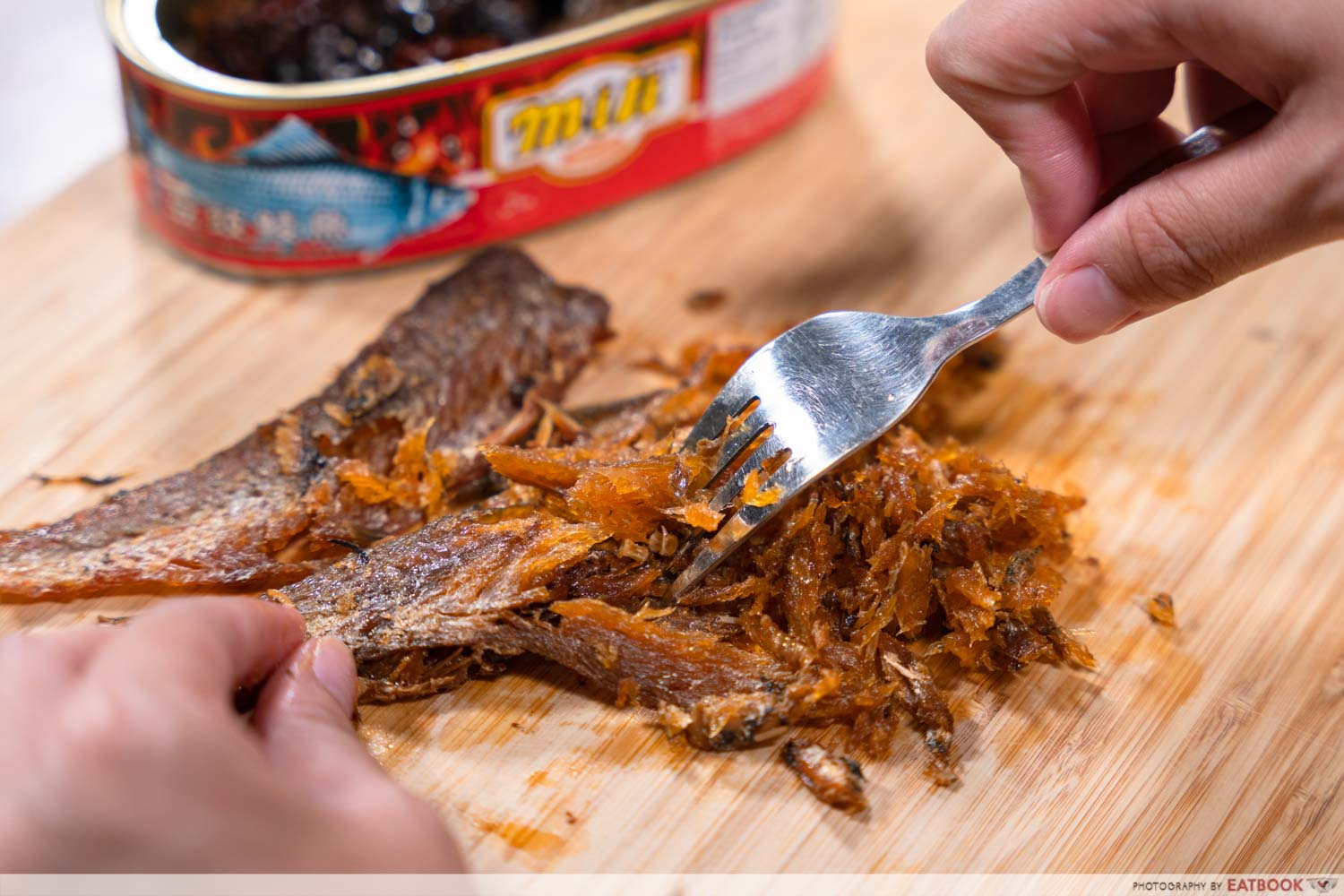 Start by removing the fried dace from the can and roughly pulling it apart into small bits. You can simply use your fingers or a fork. The great thing about canned fried dace is that the bones are tiny, chewy, and entirely edible, so there's no need to go through the hassle of deboning the fish at all.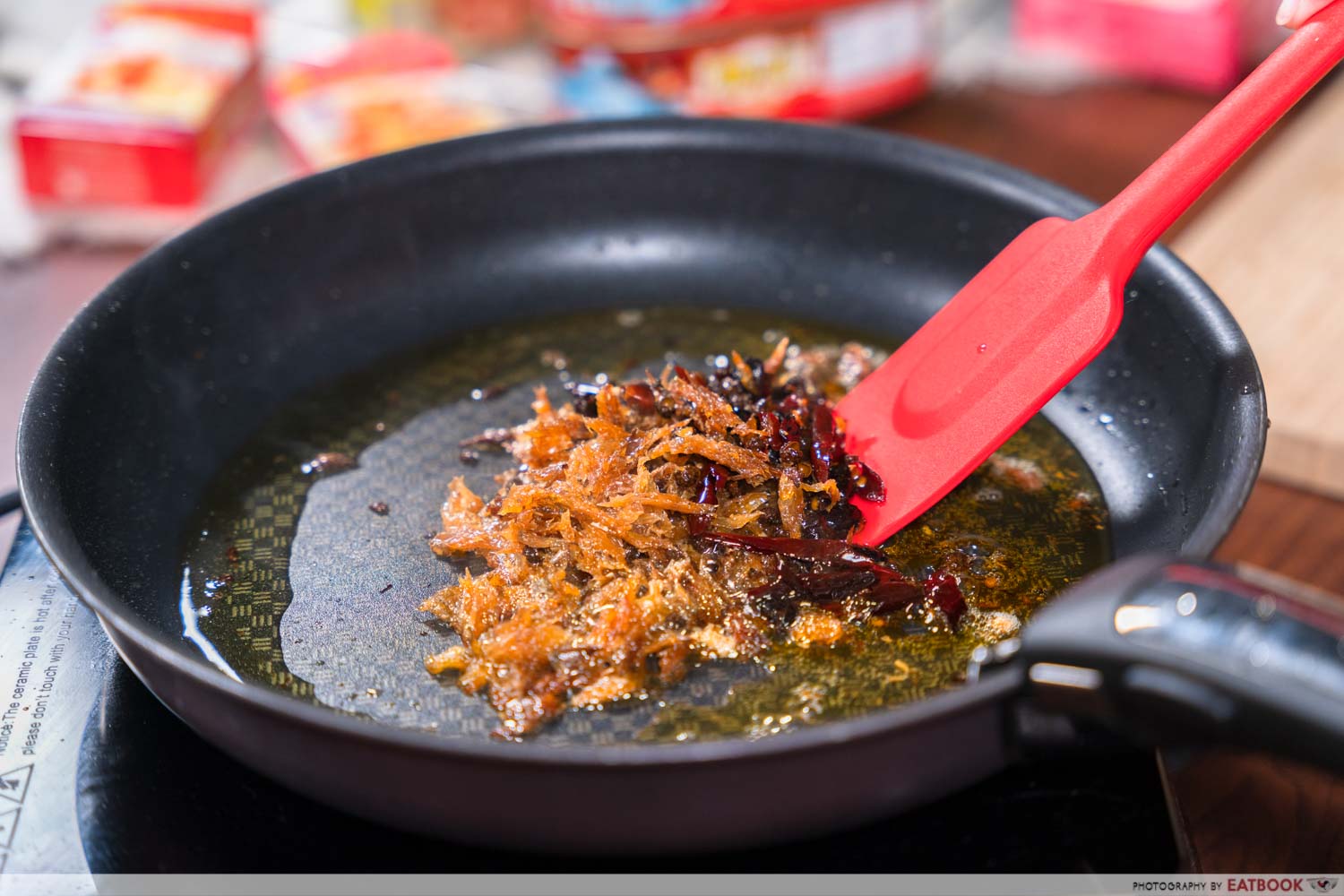 Using the mala oil from the can, lightly fry the fried dace bits, salted black beans, peppercorn, and dried chilli over medium heat. Not only will this add flavour, it will also add a delicious crunch to your fried rice at every spoonful. Remove them from the pan and use the same fragrant oil to fry up the egg and rice. 
Spoon the fried dace, salted beans, peppercorn, and chilli back onto the pan, and give it all a good toss. For an added pop of colour, feel free to throw in some chopped spring onions into the mix. Don't forget to season to taste with fish sauce or salt!
Yield: Serves 2
Cooking time: 10 minutes
Ingredients:
1 can Mili Mala Fried Dace
2 cups overnight rice
2 eggs
Fish sauce to taste
Spring onion (optional)
Directions:
Roughly pull apart canned fried dace into small pieces.

Heat the pan on medium heat and coat it with oil from the can of Mili Fried Dace. Fry the dace bits, salted black beans, peppercorn, and dried chilli that are found inside the can for 1 minute. Sieve them out and transfer onto a separate bowl, leaving only the oil in the pan.

Lightly beat two eggs and pour them back into the same pan. When the egg is slightly cooked, throw in the rice and mix well, cutting up the egg with your spatula.

Add the dace bits, salted black beans, peppercorn, and dried chilli back onto the pan and stir-fry till well-combined.

Season with fish sauce to taste, and garnish with spring onion. Serve immediately.
---
2. Spicy Aglio Olio with Clams
---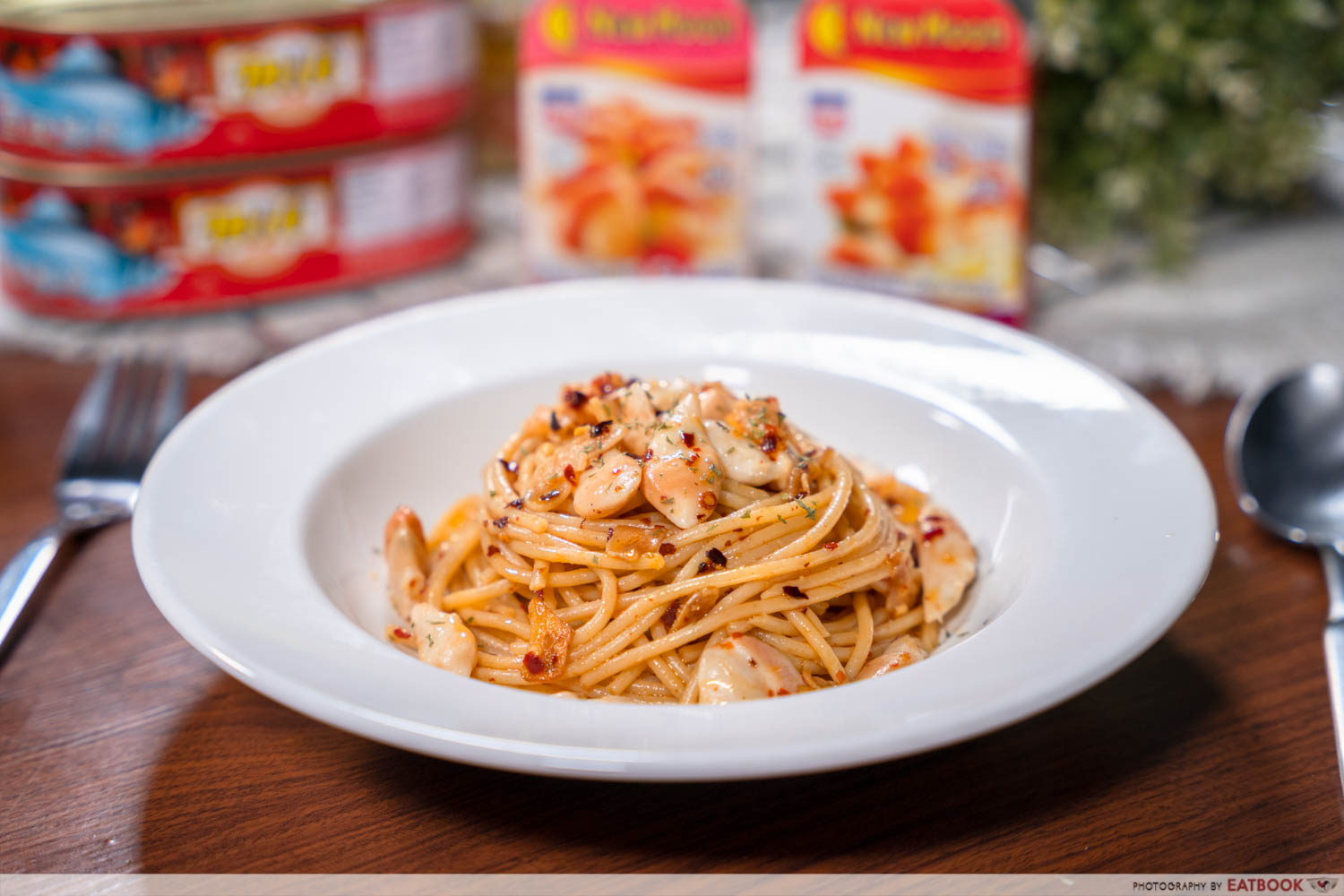 New Moon has a range of canned wild-caught Chilean razor and pacific clams that are packed in convenient, single-serving portions. Along with spaghetti, sliced garlic, chilli flakes, and good olive oil, these are enough for you to whip up a plate of Spicy Aglio Olio with Clams in 10 minutes.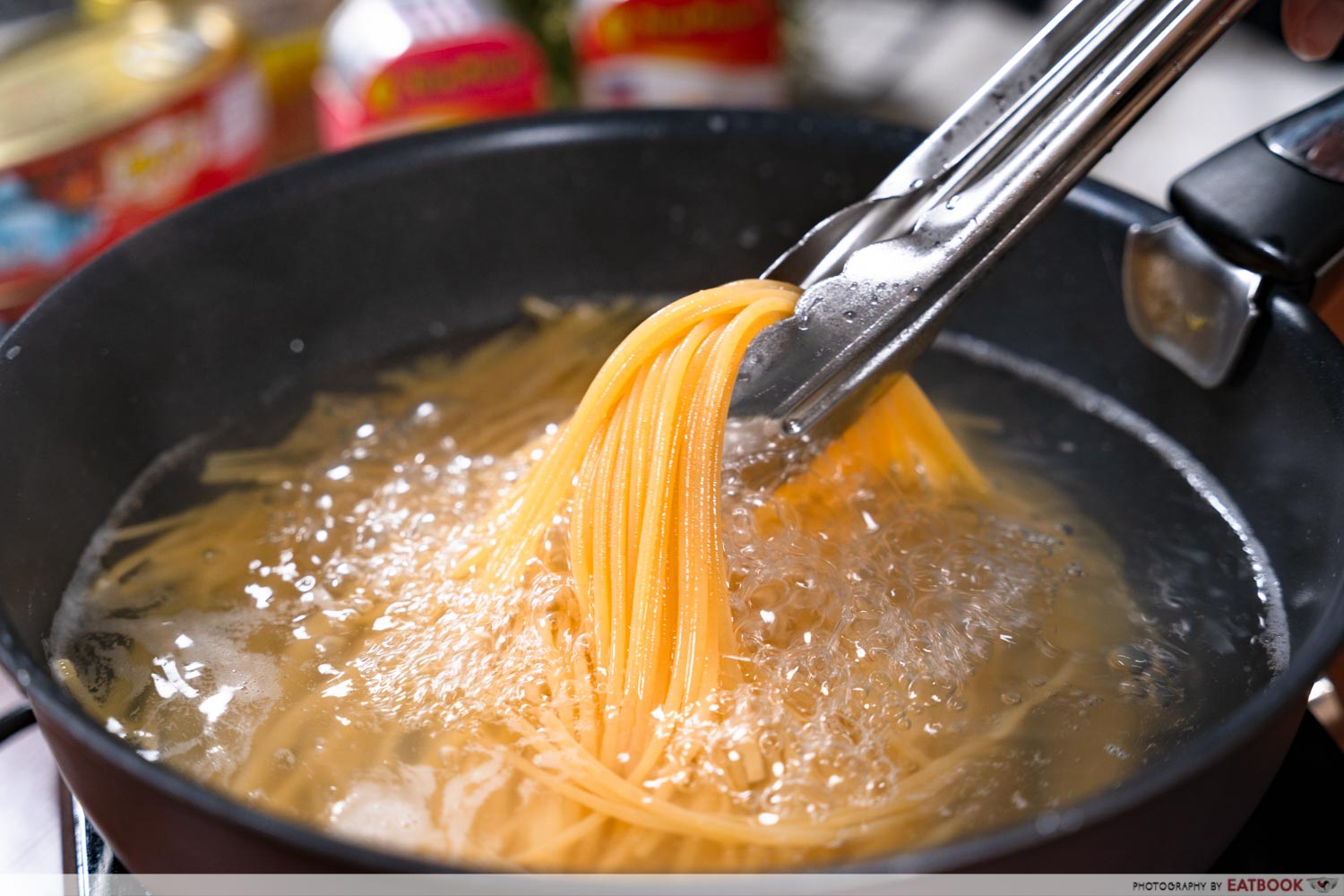 Start by bringing one litre of water to a boil in a pot. Season the water liberally with salt and pop your favourite pasta into the pot. When it is just shy of al dente, take the pot off the heat.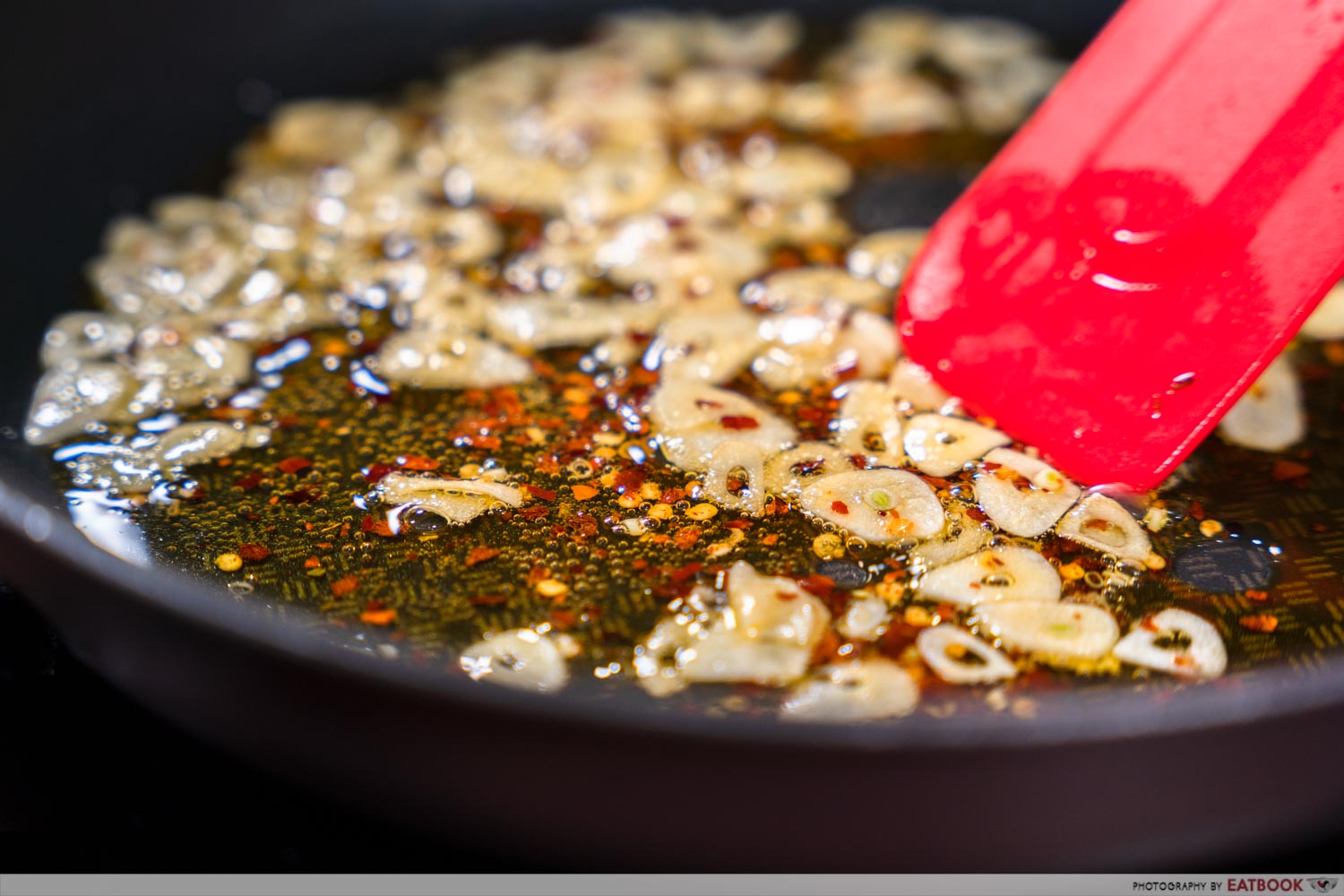 Next, pour olive oil in a cold pan and gently cook a generous amount of sliced garlic on low heat. Starting with a cold pan will soften the garlic instead of frying it, allowing the flavours of the garlic and olive oil to infuse and mingle. As I like my pasta spicy, I also add more than just a pinch of chilli flakes into the oil.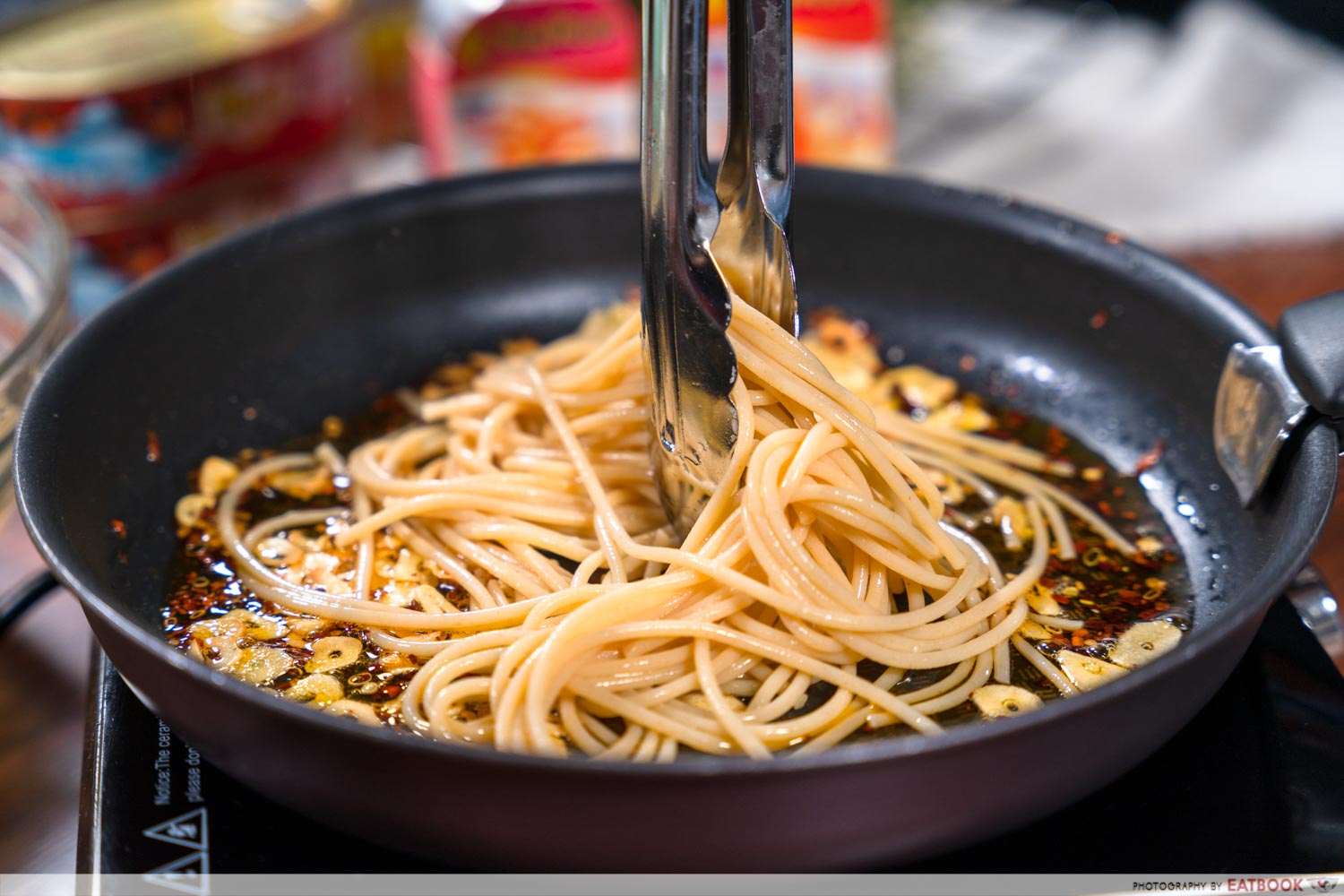 Transfer the pasta into the pan when the garlic turns very lightly golden brown. Add around four tablespoons of pasta water and crank the heat up to medium.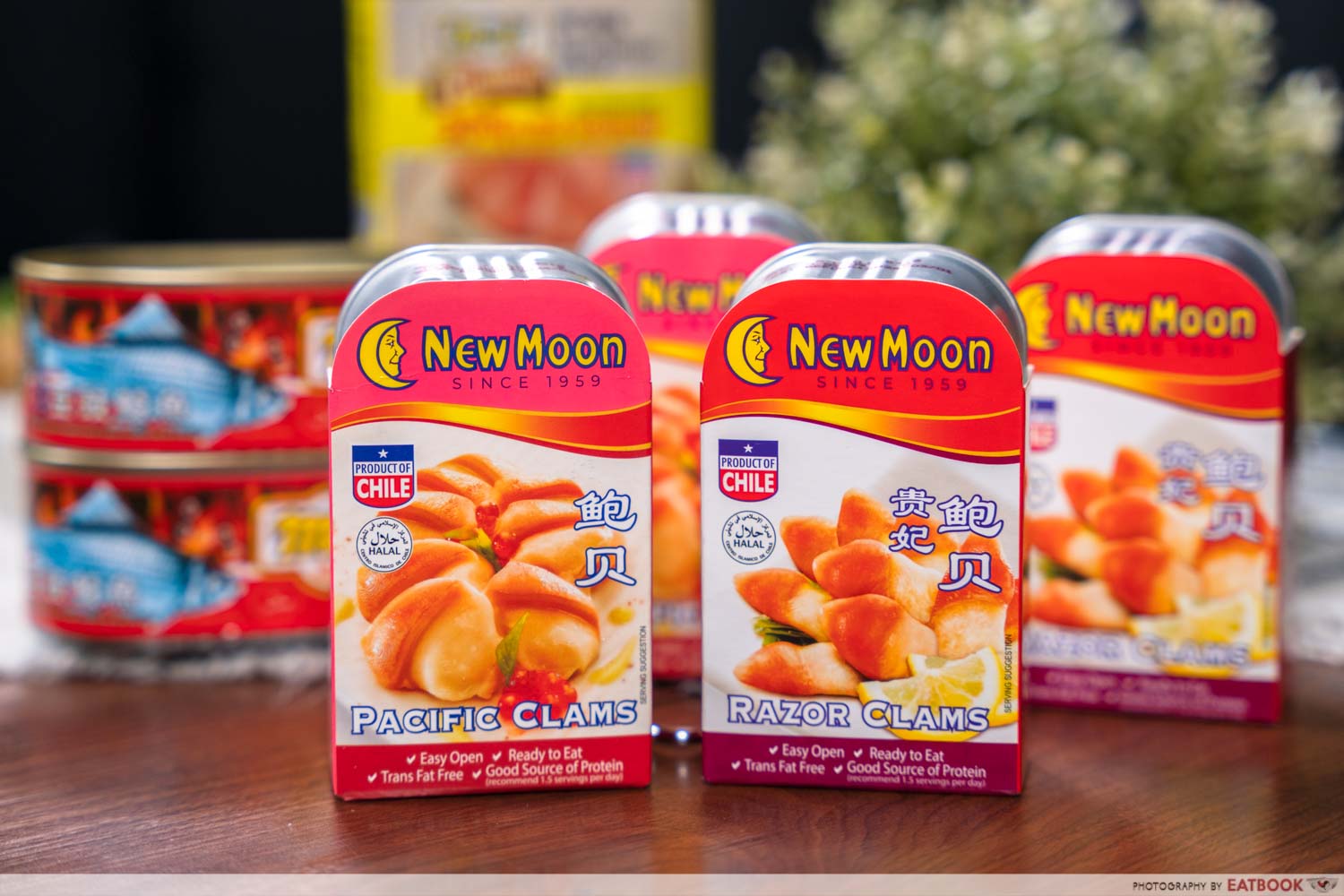 Open up a can of New Moon's canned clams and add the clams into the pan.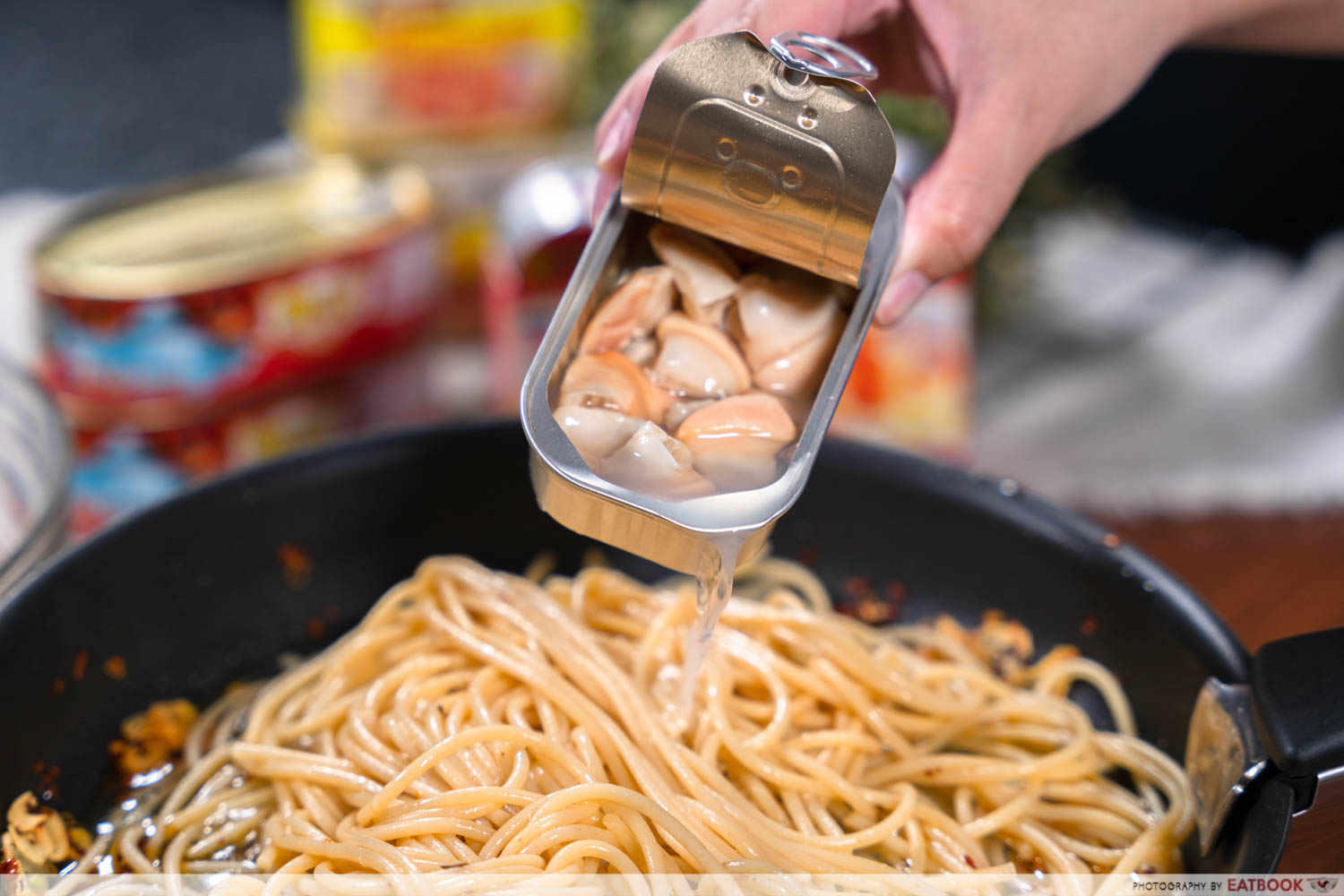 For added flavour, you can choose to pour just a dash of the liquid into the pan as well. This gives a nice subtle sweetness to the pasta. At this point, make sure to toss the pasta consistently to emulsify both the oil and water together.
When plating, feel free to add some minced parsley or even more chilli flakes for a good kick of heat.
Yield: Serves 2
Cooking time: 10 minutes
Ingredients:
1 can New Moon Razor Clams
1 can New Moon Pacific Clams
200g spaghetti
¼ cup olive oil
¼ cup garlic, sliced
½ tablespoon chilli flakes
Salt to season
Directions:
Bring a pot of water to a boil and season liberally with salt. Add the pasta in and cook till it is shy of al dente. 

Using a cold pan, combine olive oil and sliced garlic and turn the heat up to low. As the garlic softens, add chilli flakes into the pan. 

When the garlic turns light brown, transfer the pasta into the pan and turn the heat up to medium. Add some pasta water, as well as New Moon's razor and pacific clams into the pan. Toss well until the sauce is reduced and everything is well-incorporated.

Garnish with parsley and chilli flakes, and season with salt to taste. Serve.
---
3. Luncheon Meat Katsu
---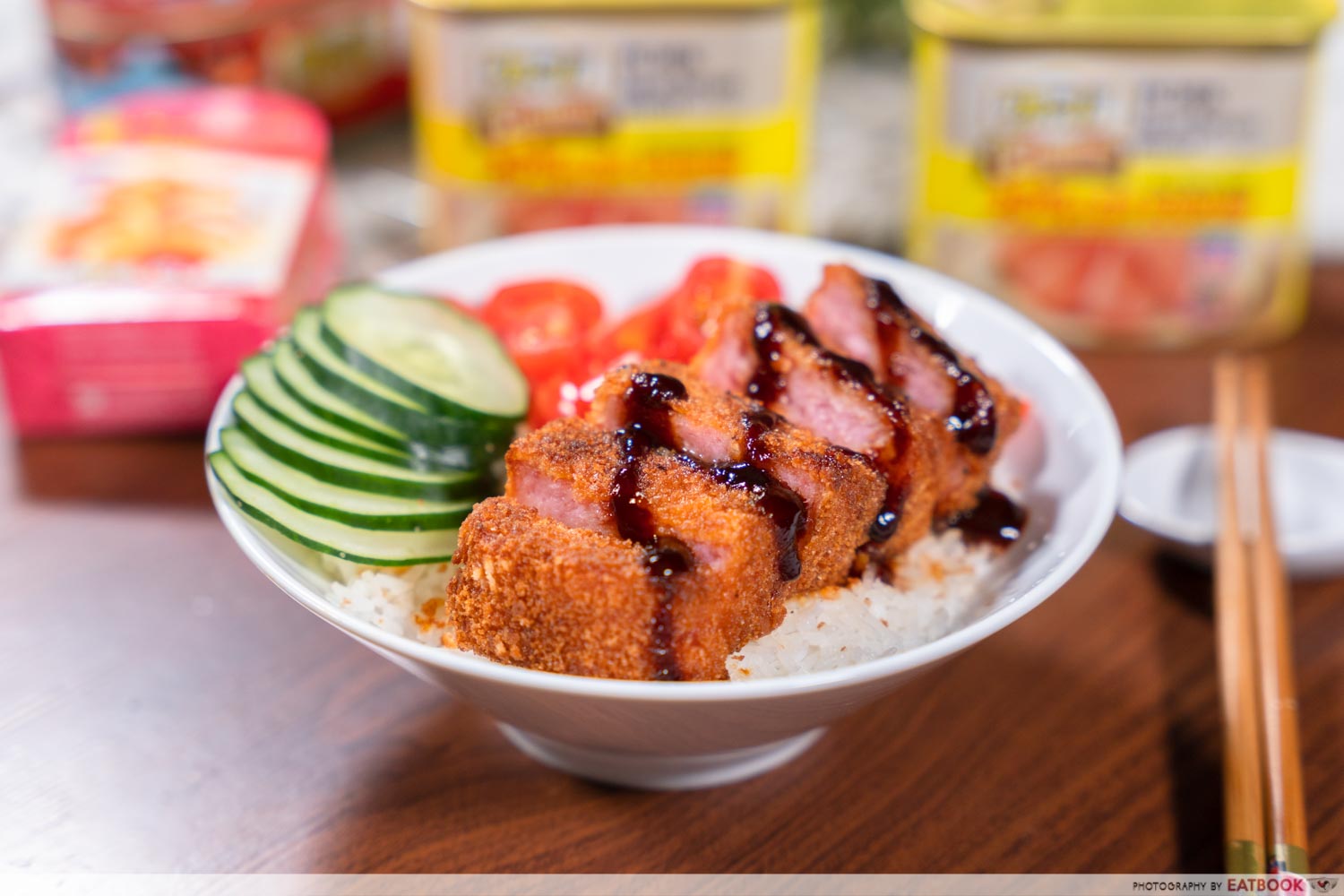 Here's a special working-from-home hack: secretly set an alarm 30 minutes before lunchtime. This gives you just enough time to quickly cook up some rice in preparation for a comforting bowl of homemade luncheon meat katsu don when the clock strikes 12. This easy peasy "katsu" cooks up in mere minutes and requires only pantry ingredients such as panko breadcrumbs, flour, and eggs.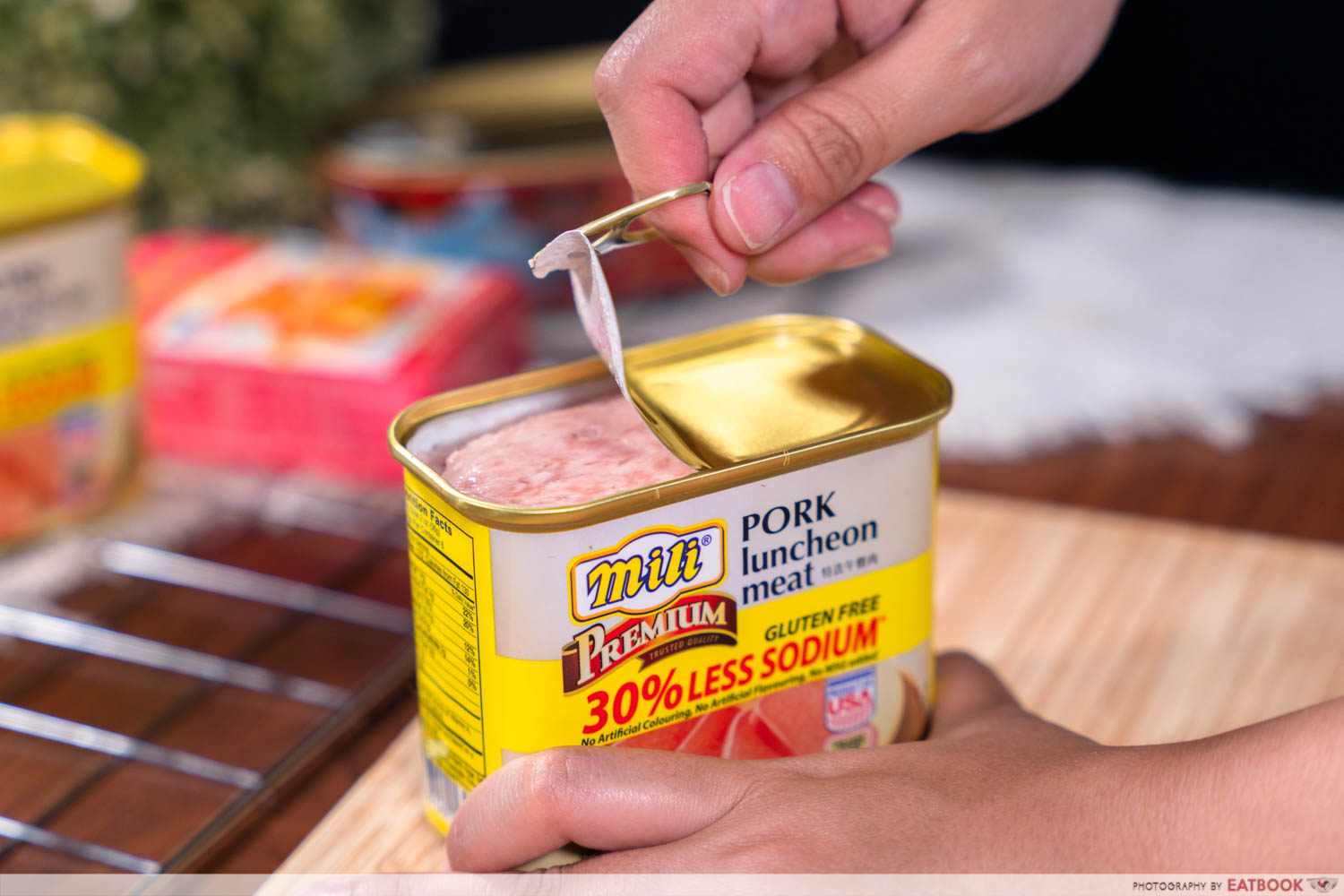 Mili's Premium Pork Luncheon Meat is made in the USA and is a good choice for those who are allergic to gluten or those who want to cut down on their daily salt intake. Thanks to the higher quality of meat used, the luncheon meat has a delicate but still firm bite, making them great for deep frying.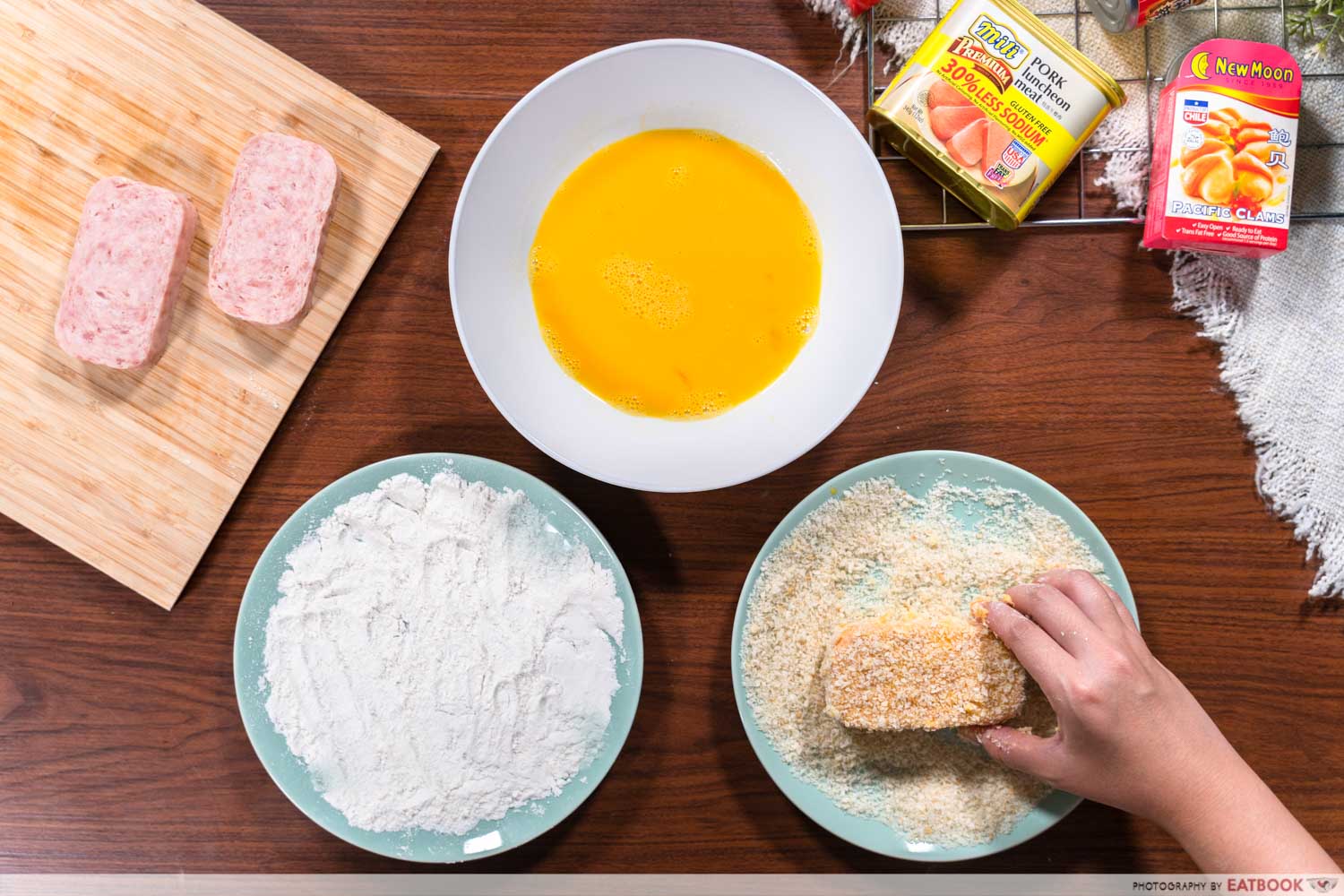 Trying to emulate the luscious thick slices of katsu, I sliced the luncheon meat into three slices lengthwise, each around an inch thick. Prepare the frying trinity of all-purpose flour, egg, and panko breadcrumbs in shallow dishes.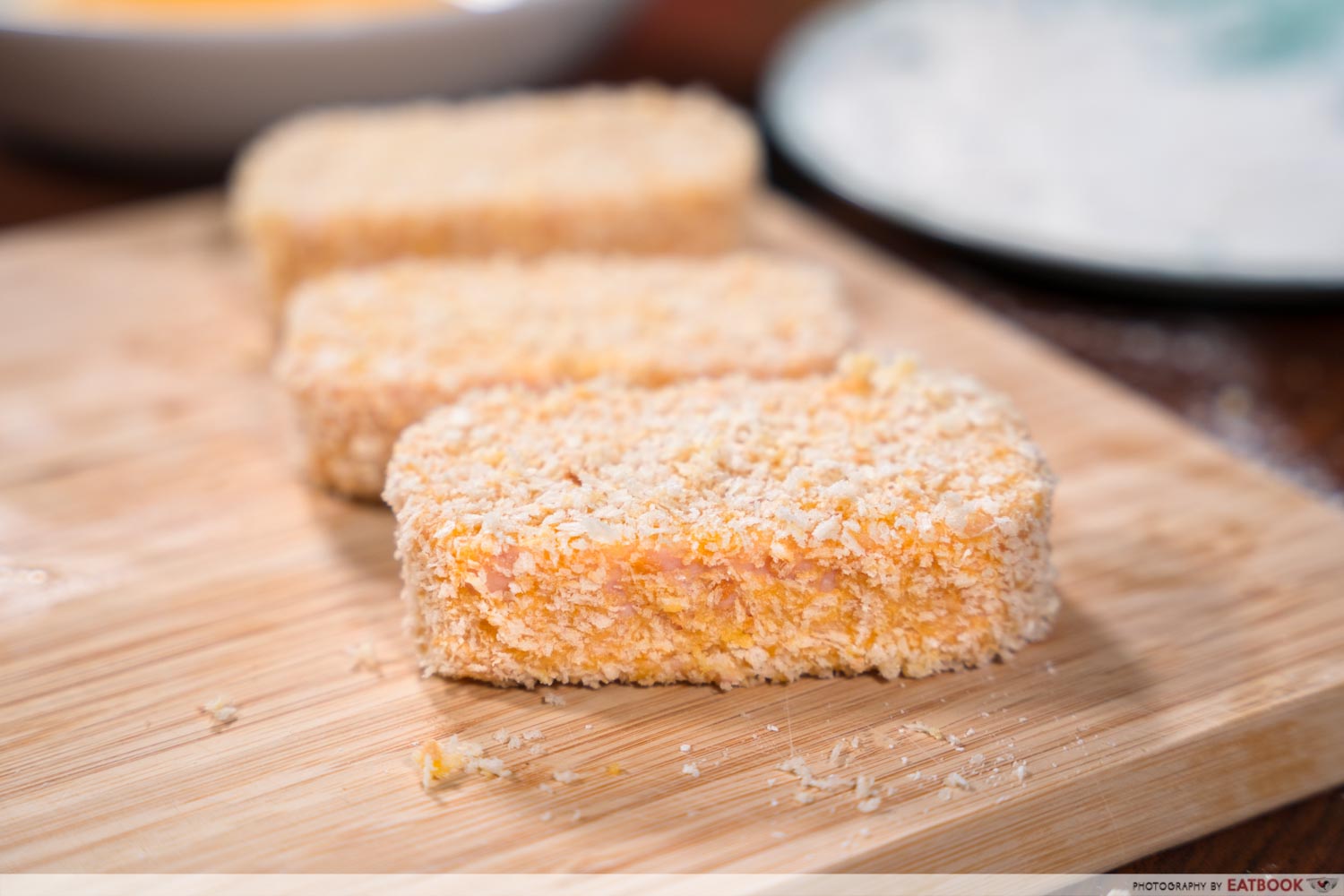 Coat each slab evenly at all corners, starting with the flour, followed by the egg, and lastly, the breadcrumbs.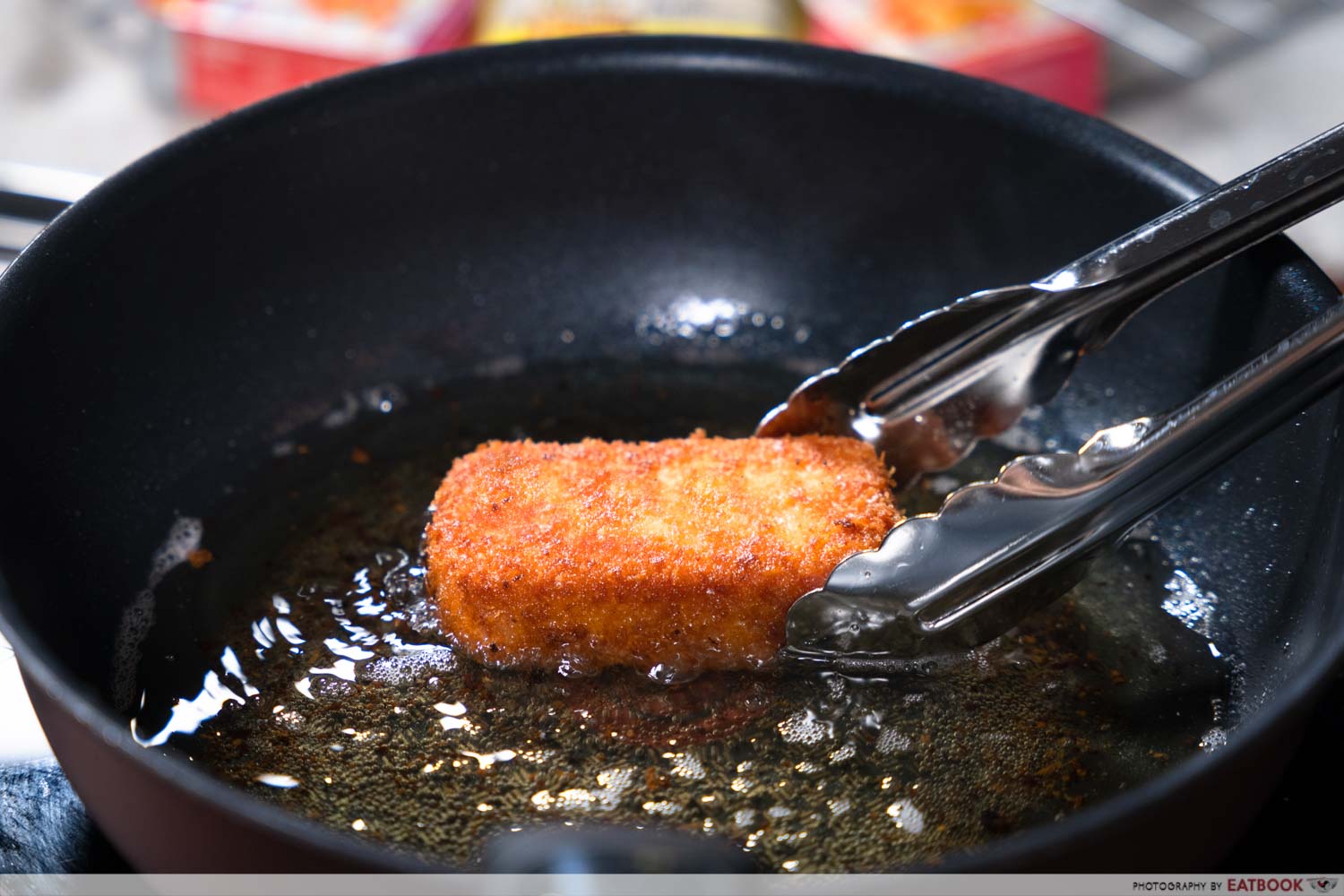 Heat around half an inch of New Moon Premium Grade Vegetable Oil in a frying pan over medium heat. To check if the oil is hot enough, drop a ball of crumb into the pan and see if bubbles form around it. If you see the bubbles, the oil is ready for frying. Fry the luncheon meat for three to five minutes or until they turn golden brown.
Yield: Serves 3
Cooking time: 10 minutes
Ingredients:
1 can Mili Premium Pork Luncheon Meat Less Sodium
40g all-purpose flour
2 eggs, beaten
40g panko breadcrumbs
Vegetable oil for frying
Directions:

Slice luncheon meat lengthwise into three pieces, each around one inch thick.
Prepare the luncheon meat for deep frying by coating each slice evenly with flour, egg wash, and panko breadcrumbs.
Heat half an inch of oil in a frying pan over medium heat and fry the luncheon meat for three to five minutes or until it turns golden brown.
Serve with rice and a side of vegetables.

---
Quick meals with New Moon and Mili's canned food
---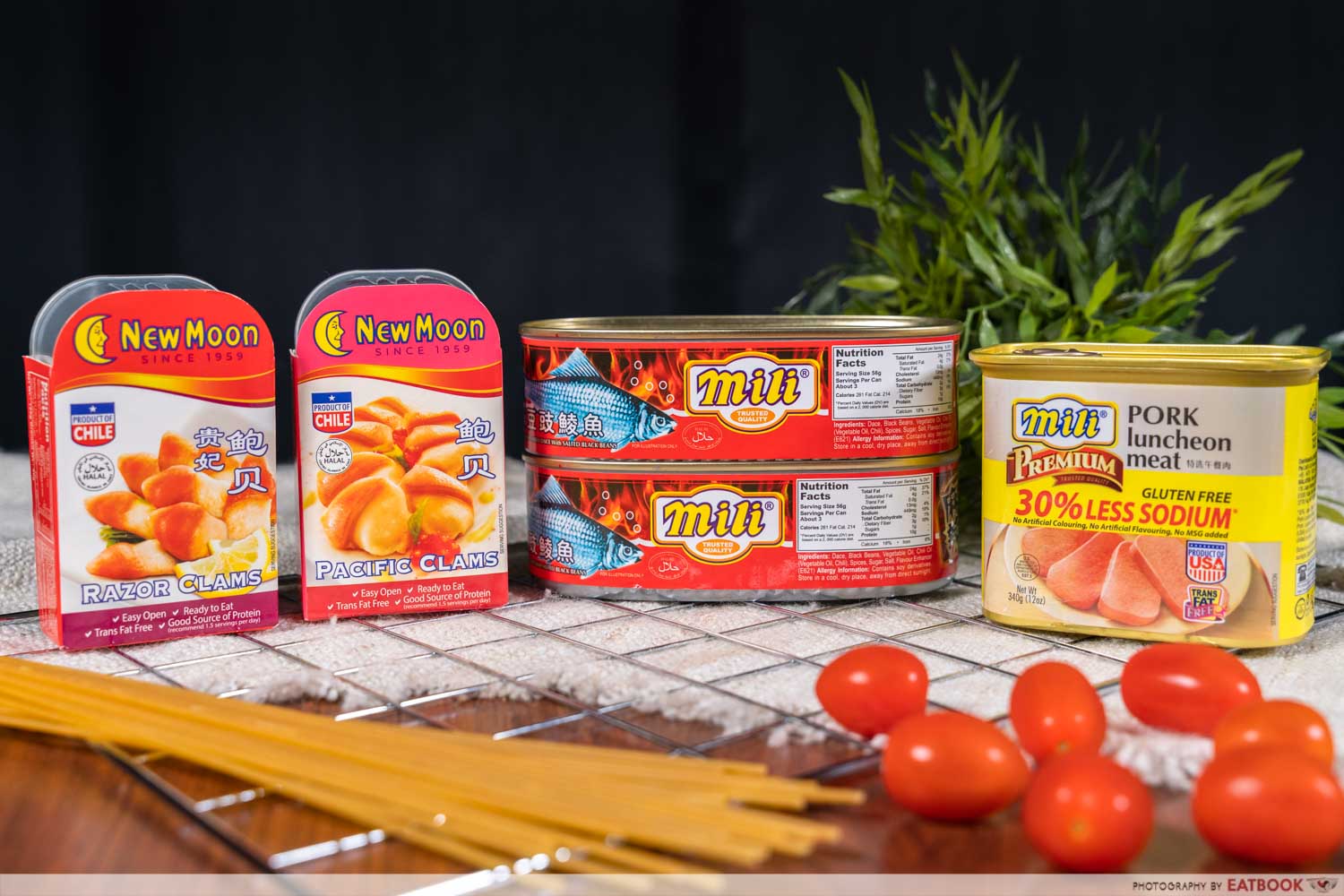 Incorporating canned food into your meals is great as not only do they make quick and delicious meals, they're also easy to store as pantry staples. 
Mili's Mala Fried Dace ($2.90) and Premium Pork Luncheon Meat ($4.25), as well as New Moon's Razor ($3.80) and Pacific Clams ($4.80) can all be found at major supermarkets such as FairPrice, Cold Storage, and Giant, as well as online sites like Redmart, Lazada, Shopee, and Qoo10.
From now till 30 September 2020, New Moon will be having a promotion on its canned clams! Get your hands on two cans of Razor Clams at $5.95 and two cans of Pacific Clams at $7.95, which will be available at Fairprice stores islandwide.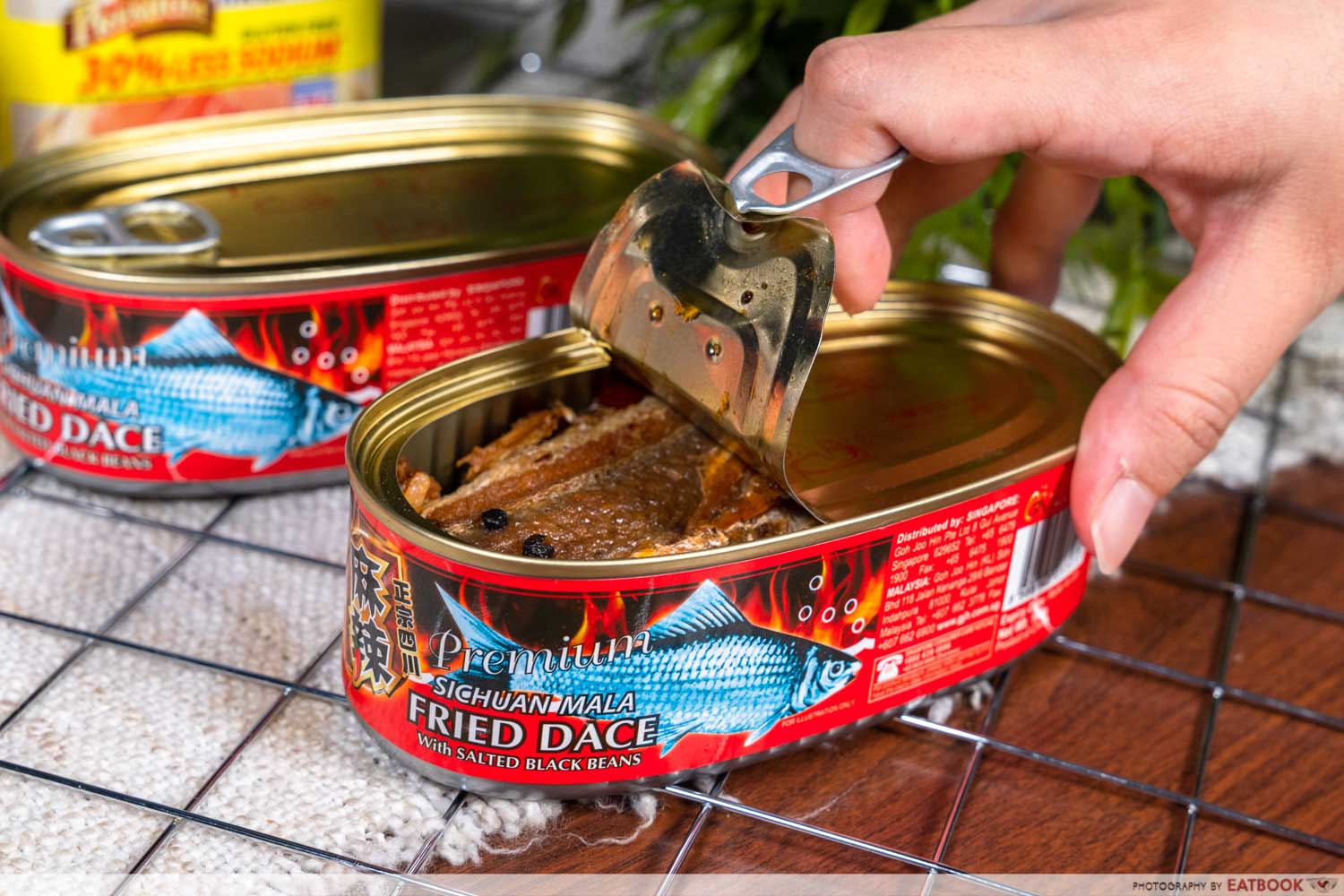 Other than the convenience of well-portioned ingredients in each can, the easy pull-tabs also means there is no need to keep the rusty can-opener around anymore. More haste means less speed in the kitchen the next time you're rushing to cook a simple lunch. 
They are packed with loads of flavours and the only thing we are left to do is to make use of a variety of cooking methods to introduce different textures into our dish. Be it frying or breading, there are countless canned food recipes to experiment with these canned foods.
If you're looking for easy dessert recipes to end your meal on a sweet note, check out these microwavable mug cake recipes!
Photos taken by Lim An.
This post is brought to you by New Moon.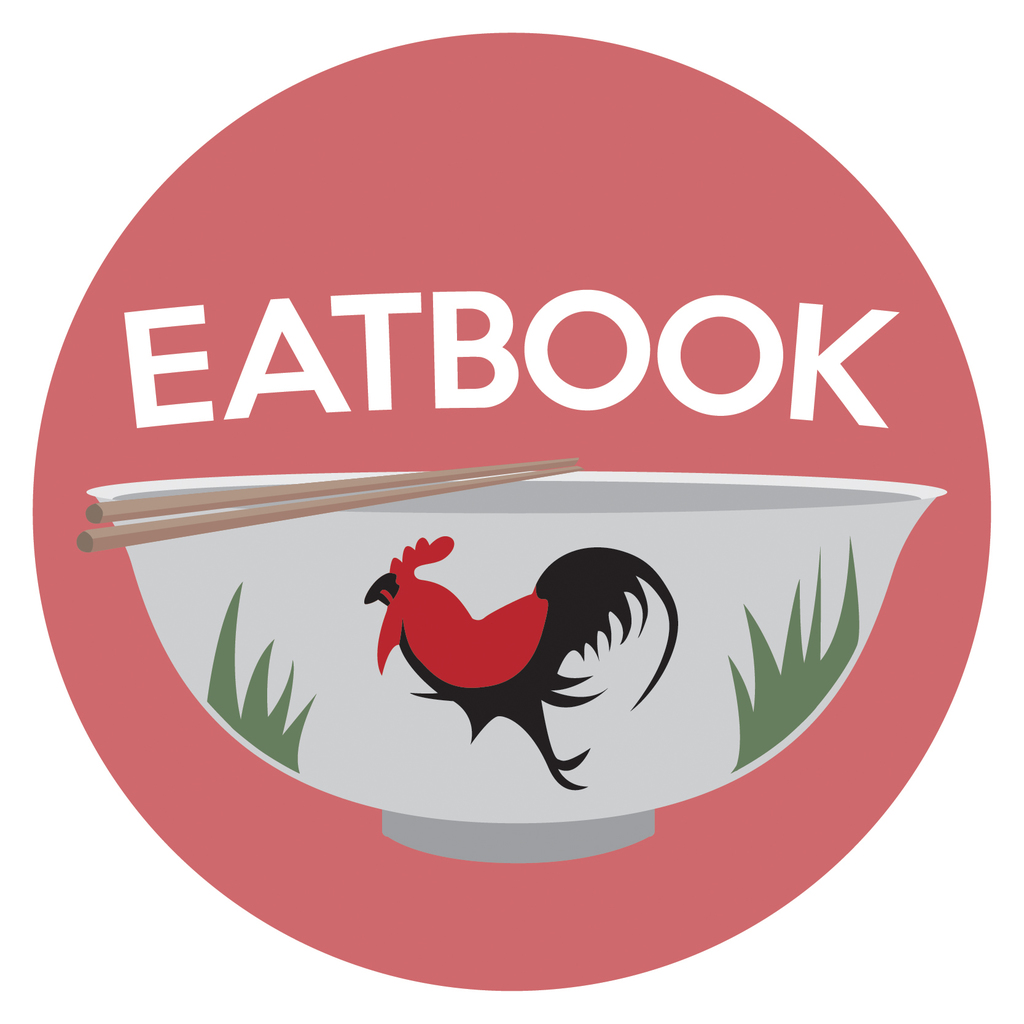 Drop us your email so you won't miss the latest news.