---
Best food places in Chiang Mai Thailand
---
If you're bored of the usual Bangkok haunts, take a different route the next time you visit the Land of Smiles. Consider Chiang Mai, the largest city in Northern Thailand with a rich history and an extensive list of mountains to discover. This up-and-coming travel destination is also known for its dynamic food culture, ranging from cheap and yummy khao soi AKA curry noodles to aesthetic brunch cafes with a view. Here are some of the best food places in Chiang Mai that I've had the chance to visit recently!
---
1. Khao Soi Mae Sai
---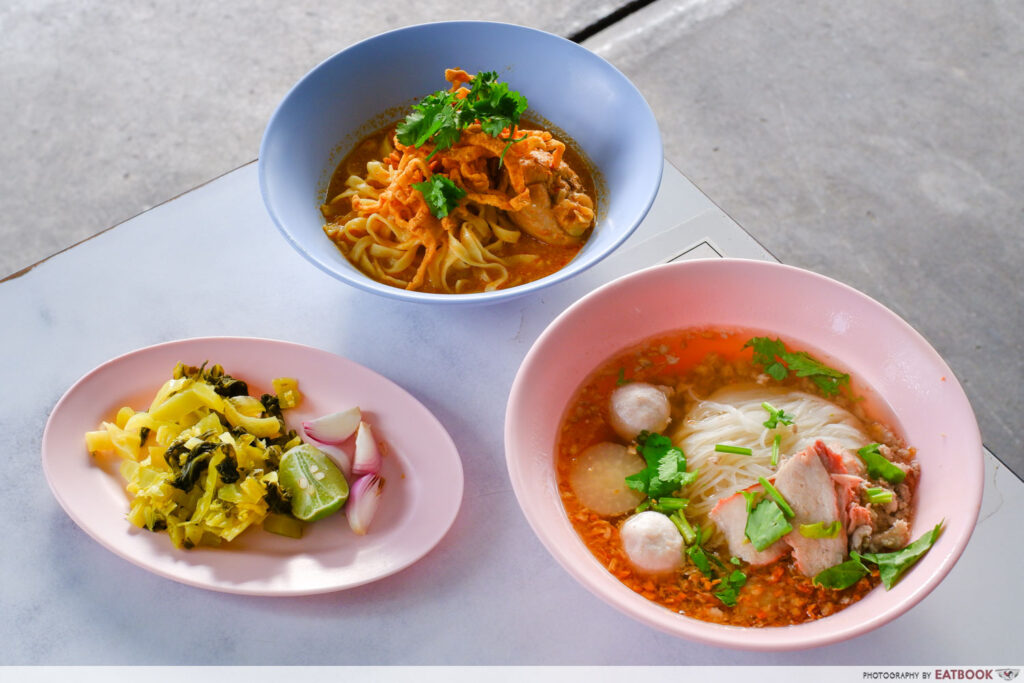 Khao soi, or khao soy, is an iconic Northern Thai dish that's garnered somewhat of a cult following, which I'm unashamedly a part of. It's a simple yet satisfying noodle dish with strong Burmese influences; you get a rich coconut gravy spiced up with herbs and aromatics, poured over egg noodles, and topped with crispy noodle shreds, pickled mustard greens and more.
There are countless khao soi stalls in Chiang Mai, with a few noteworthy mentions that have won awards. Khao Soi Mae Sai is one such stall, having the Michelin Guide's stamp of approval—it was most recently crowned a Bib Gourmand eatery in 2023.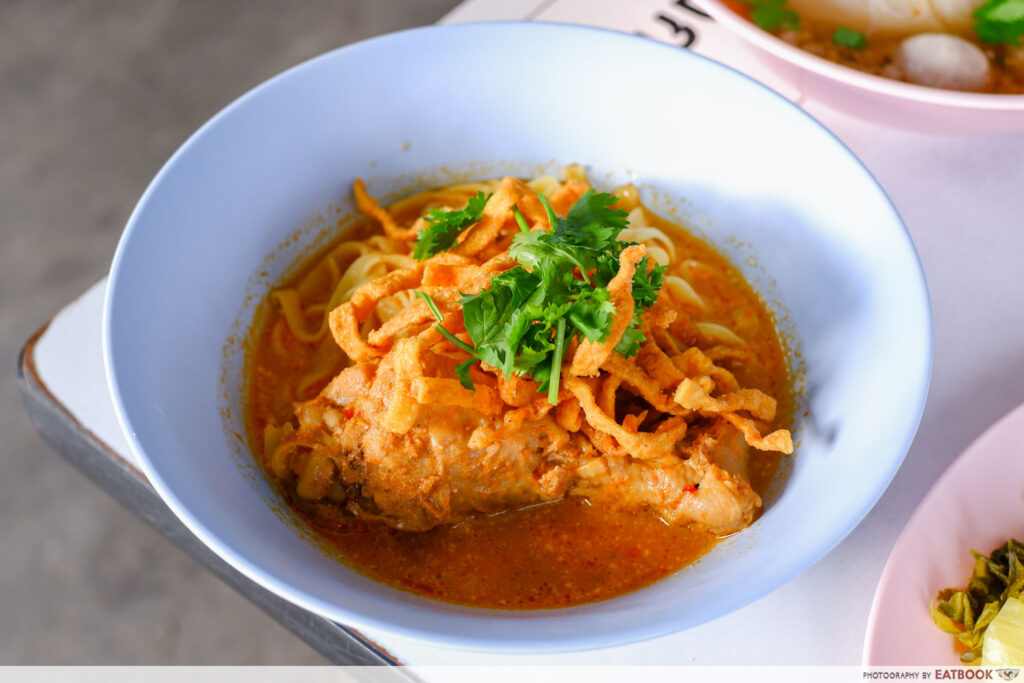 With a 4.5-star rating and over 2,500 reviews on Google, this stall is said to serve some of the best khao soi in Chiang Mai. Their Khao Soy with Chicken (฿50/~S$2) comes with a whole drumstick over egg noodles and a sweet, coconutty broth with just the right amount of spice. Crispy noodle bits, preserved veggies, raw onions, and a lime wedge are the finishing touches to this award-winning dish.
Take note: visit as early as 8am when they open to beat the lunchtime crowd!
Address: 29, 1 Ratchaphuek Alley, Tambon Chang Phueak, Chiang Mai 50300, Thailand
Opening hours: Mon-Sat 8am to 4pm
Tel: +66 53 213 284
Website
Khao Soi Mae Sai is not a halal-certified eatery.
---
2. Busarin
---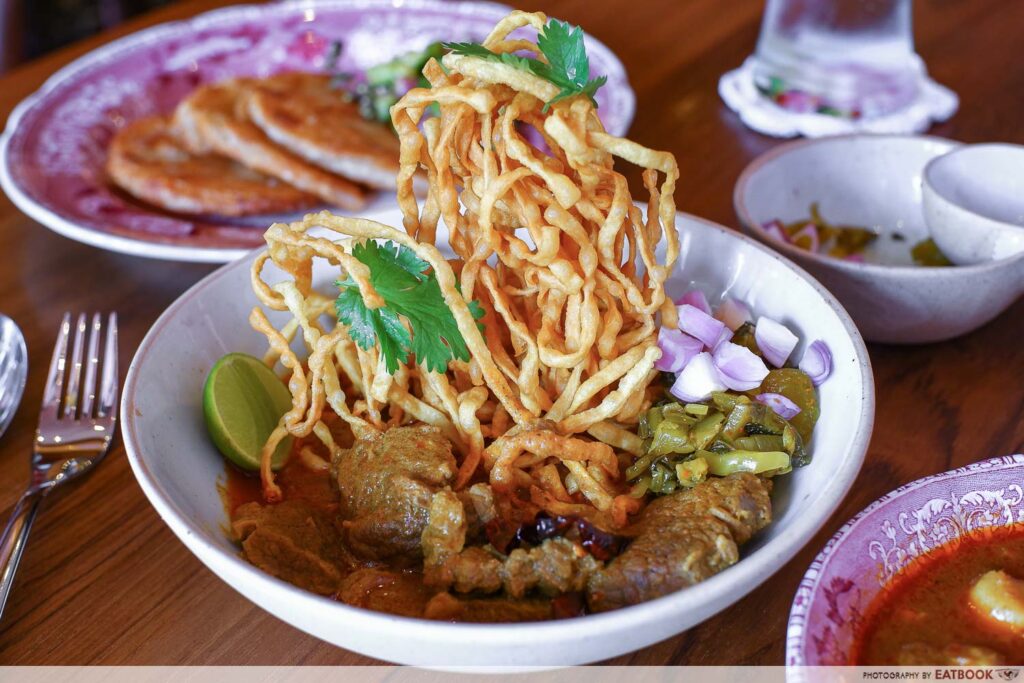 If budget is not a concern, splurge on the Beef Khao Soi (฿250/~S$9.90) at Michelin Bib Gourmand restaurant Busarin. The hole-in-the-wall eatery was started by the same chef behind Magnolia Cafe, another Michelin-minted, home-style Thai restaurant just next door.
Here, the khao soi gravy boasts a rich and thick consistency with bold, concentrated flavours. You also get lots of crispy noodle strands to enjoy alongside the uber-tender beef chunks.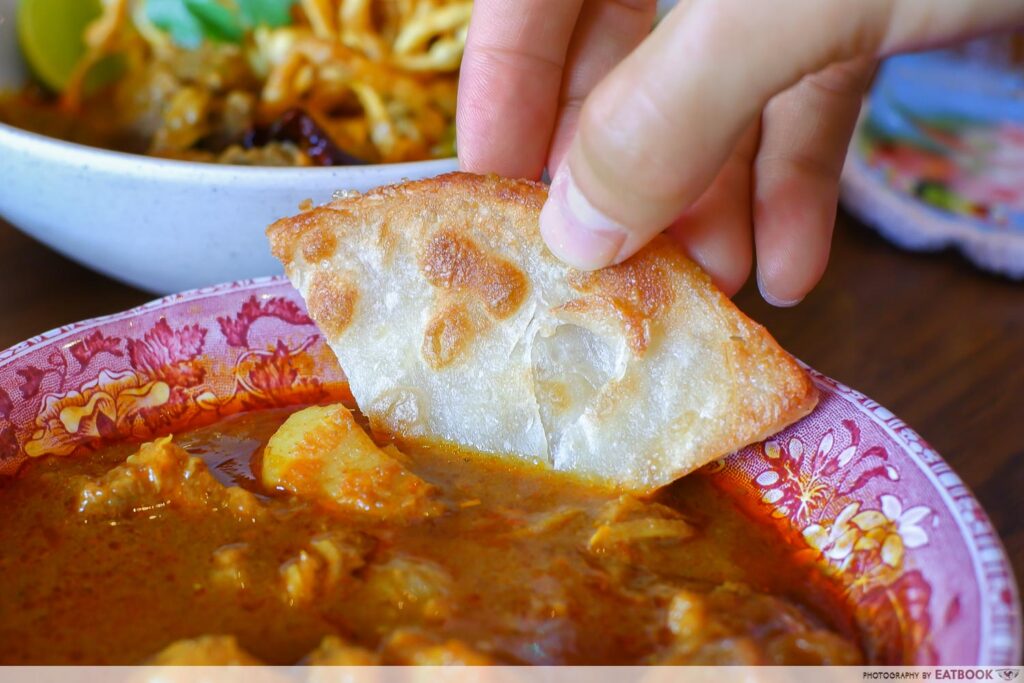 Northern Thai cuisine is heavily influenced by Burmese cuisine, so you should definitely order their "Hunglay" Curry with Pork in Burmese Hinlay Spices (฿250/~S$9.90), too. A side of crispy roti slices is served on the side to mop up the saucy goodness of this hearty, two-day streaky pork curry. I'll definitely be back just for this dish.
Do note that Busarin opens for lunch only.
Address: 133 Rattanakosin Road, Chang Moi, Chiang Mai 50300, Thailand
Opening hours: Mon-Sat 11am to 3pm
Tel: +66 81 671 2846
Website
Busarin is not a halal-certified eatery.
---
3. Mitte Mitte
---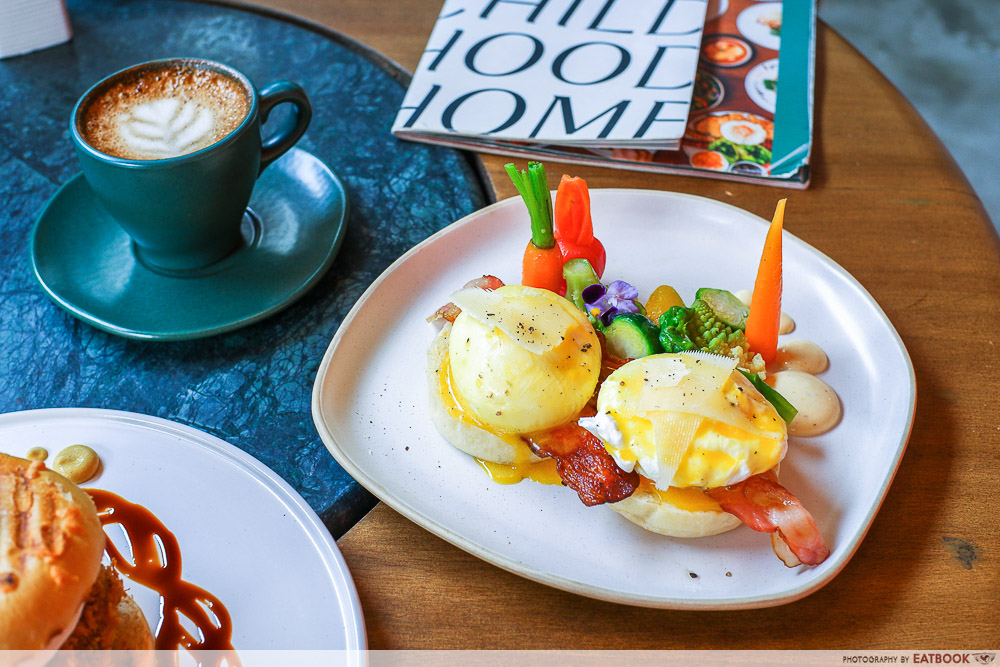 Cafe-hopping in Singapore is an expensive business. That's rarely the case in Chiang Mai, though. At Mitte Mitte, a double-storey brunch spot in the Chang Moi district, my total bill for two mains and two drinks came up to under S$30. Set in a restored house, this beautiful cafe serves all-day brunch items, including house-made bagels and sandwiches.
The Eggs Bae (฿195/~S$8) is a popular pick; you get two house-made English muffins topped with perfectly poached eggs, smoked bacon, and spicy mayo, complete with a tasteful arrangement of grilled veggies on the side.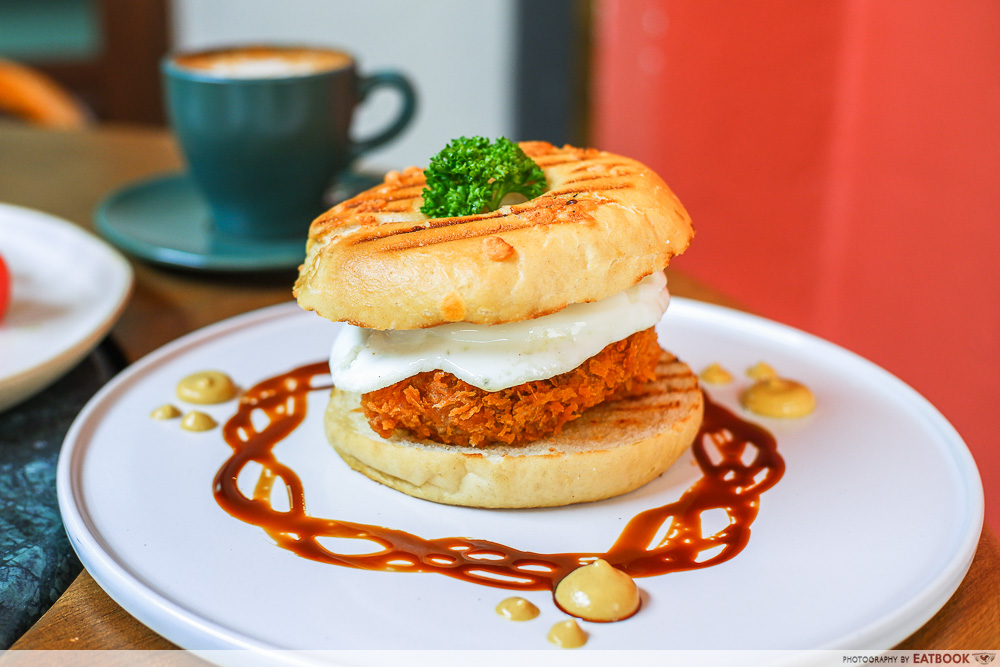 The Chang Moi – Katsu Bagel (฿220/~S$9) deserves a shoutout, too. This hearty bagelwich comprises a freshly baked bagel stacked with a deep-fried Northern Thai sausage, topped with a fried egg and creamy Béchamel mustard sauce. The result is a satisfying mix of crispy, chewy, savoury, and spicy—all in one bite.
Address: 64, 1 Sithiwongse Road, Chang Moi, Chiang Mai 50300, Thailand
Opening hours: Daily 8am to 4pm
Tel: +66 65 625 4952
Website
Mitte Mitte is not a halal-certified eatery.
---
4. Fern Forest Cafe
---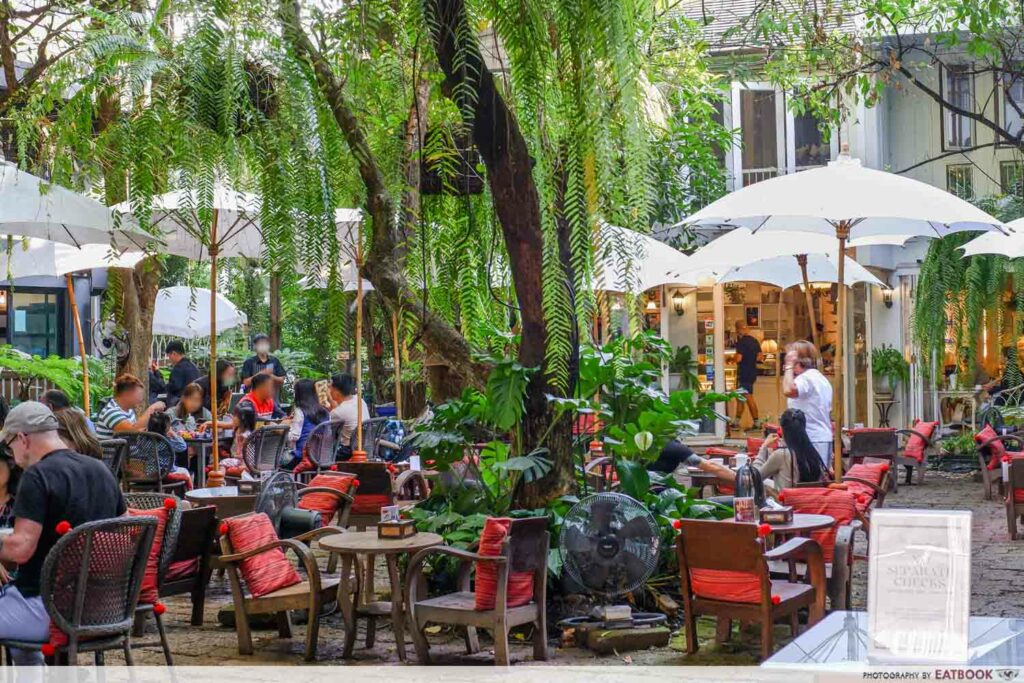 No Chiang Mai cafe guide is complete without a mention of Fern Forest Cafe, a super popular brunch and coffee spot located in the city. Frequented by tourists and locals alike, this gorgeous cafe has both outdoor and indoor seating, the latter being the more popular option for cool mornings.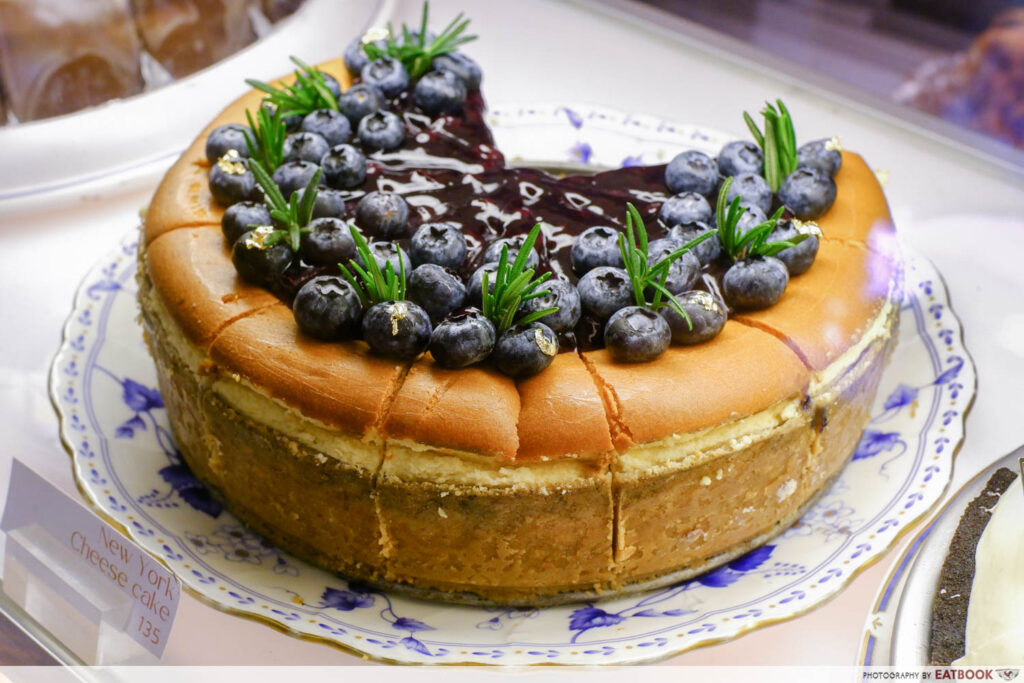 Food-wise, be spoilt for choice with the array of freshly baked pies and cakes on display. There are classics such as New York Cheese Cake (฿135/~S$5.40) and Strawberry Tart (฿135/~S$5.40), but most diners go for the Coconut Cream Pie (฿125/~S$5) instead, a signature dessert comprising light coconut mousse and sweet coconut pulp.
Those who want something more substantial can also check out the brunch mains, including the BLT Sandwich (฿225/~S$8.90), pancakes, and savoury bagels on offer.
Do make sure you reserve in advance or visit during off-peak hours as seats get filled up fast.
Address: 54, 1 Singharat Road, Si Phum Sub-district, Chiang Mai 50200, Thailand
Opening hours: Daily 8:30am to 6:15pm
Tel: +66 84 616 1144
Website
Fern Forest Cafe is not a halal-certified eatery.
---
5. Akha Ama Phrasingh

---
Akha Ama Phrasingh is a chic, two-storey coffee house right next to the famous Wat Phra Singh temple. It's also located in the Old City, so you can pop by for a quick caffeine boost before checking out the other attractions within the vicinity.
The menu is coffee-focused, with classic options including Piccolo Latte (฿60/~S$2.40) and Caramel Latte (฿65/~S$2.60). You'll get to choose from the medium or strong roast for espresso-based drinks. Alternatively, try something different instead: Manee Mana (฿90/~S$3.60), which comprises espresso, honey, and orange peel, is a refreshing concoction for a hot day.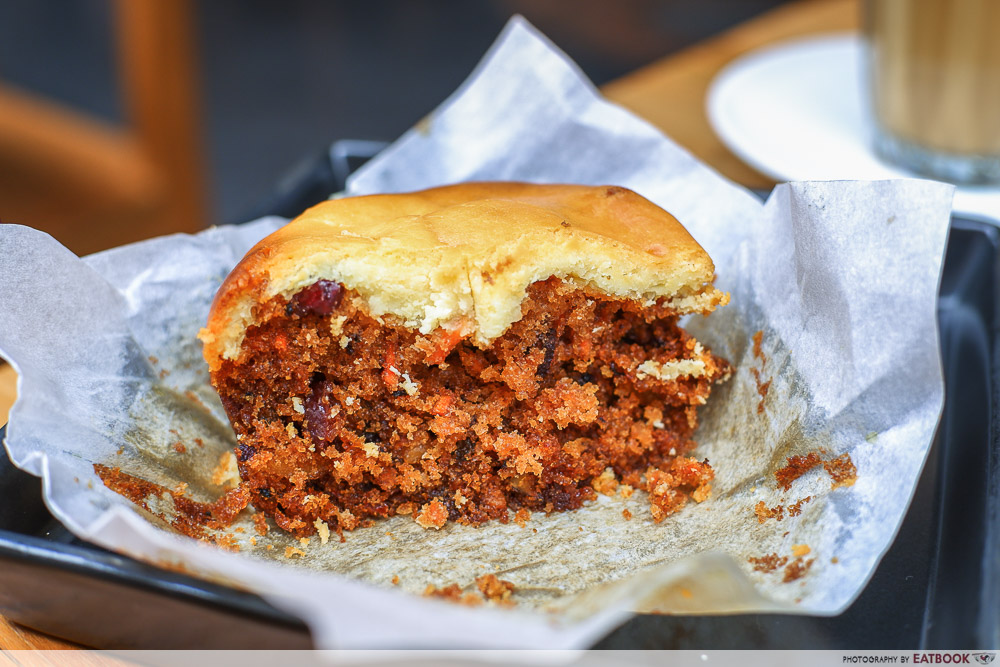 If you're feeling peckish, there's a small selection of cakes at the counter. The Carrot Cheese Cake (฿75/~S$3), a sweet treat of lightly spiced carrot cake with a baked cheesecake topping, is a must-try.
Fun fact: Akha Ama has two other outlets in Chiang Mai, and another one in Tokyo!
Address: 175, 2 Rachadamnoen Road, Tambon Si Phum, Chiang Mai 50200, Thailand
Opening hours: Daily 8am to 5:30pm
Tel: +66 88 267 8014
Website
Akha Ama is not a halal-certified eatery.
---
6. Fleur Cafe & Eatery
---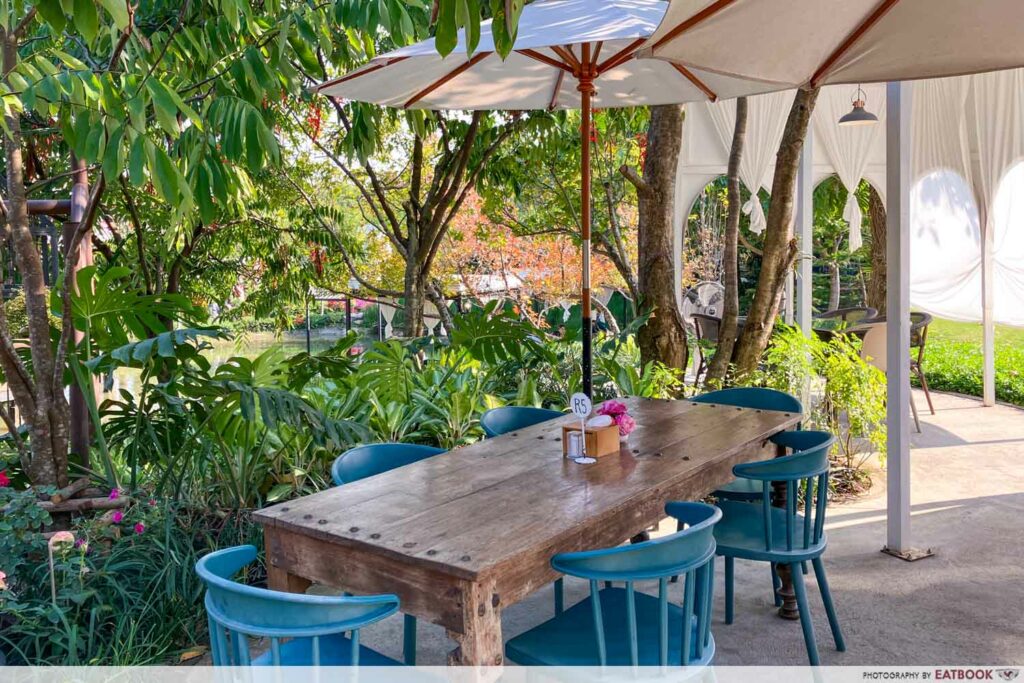 Should you wish to venture a little further, head up north to Mae Rim, around 40 minutes by car from Chiang Mai city. The sprawling Fleur Cafe & Eatery is probably one of, if not, the most photogenic cafes I've visited in Chiang Mai. There are various seating arrangements for dining in, suited for both large groups and smaller date-like settings. The tables at the outdoor gardens are the most popular, though the restaurant's high ceiling and tastefully decorated interiors make for an experience that's no less special.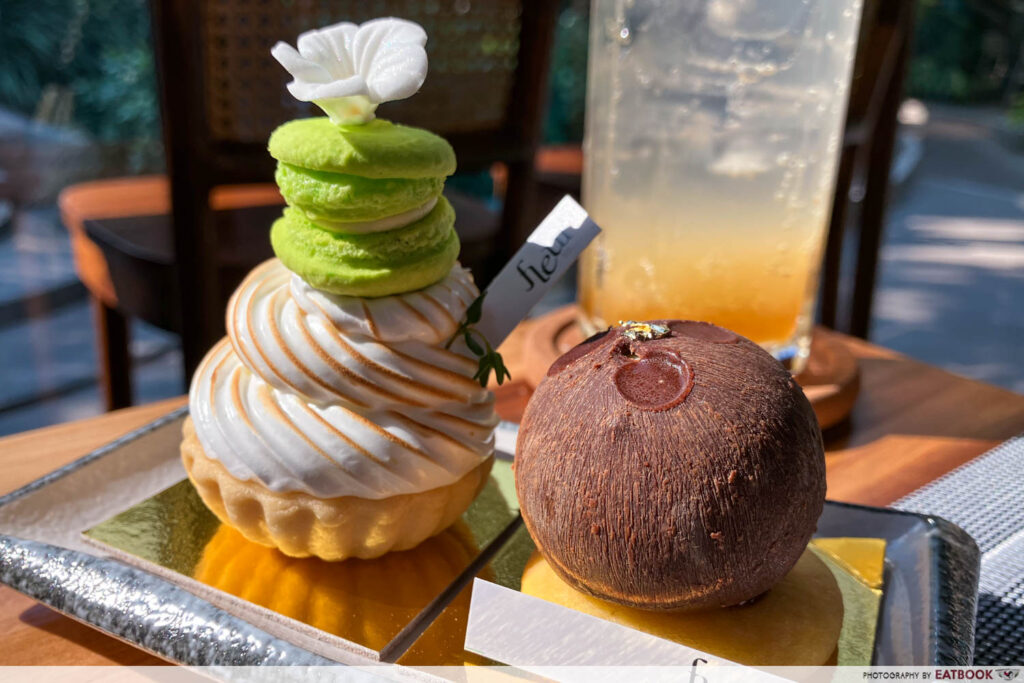 The menu is very extensive, with everything from Western mains to Thai-fusion dishes. If you're visiting for tea, take your pick from their array of dainty pastries. Get the Thai Young Coconut Cake (฿75/~S$3), a cute chocolate-coated dessert with a creamy, fragrant coconut mousse hidden within. Otherwise, the tangy Lemon Meringue Tart (฿90/~S$3.60) is great if you love citrus-based sweets.
Address: Tung Lung Soi 4, Mae Raem, Mae Rim District, Chiang Mai 50180, Thailand
Opening hours: Daily 9am to 6pm
Tel: +66 91 078 7104
Website
Fleur Cafe & Eatery is not a halal-certified eatery.
---
7. The Ironwood
---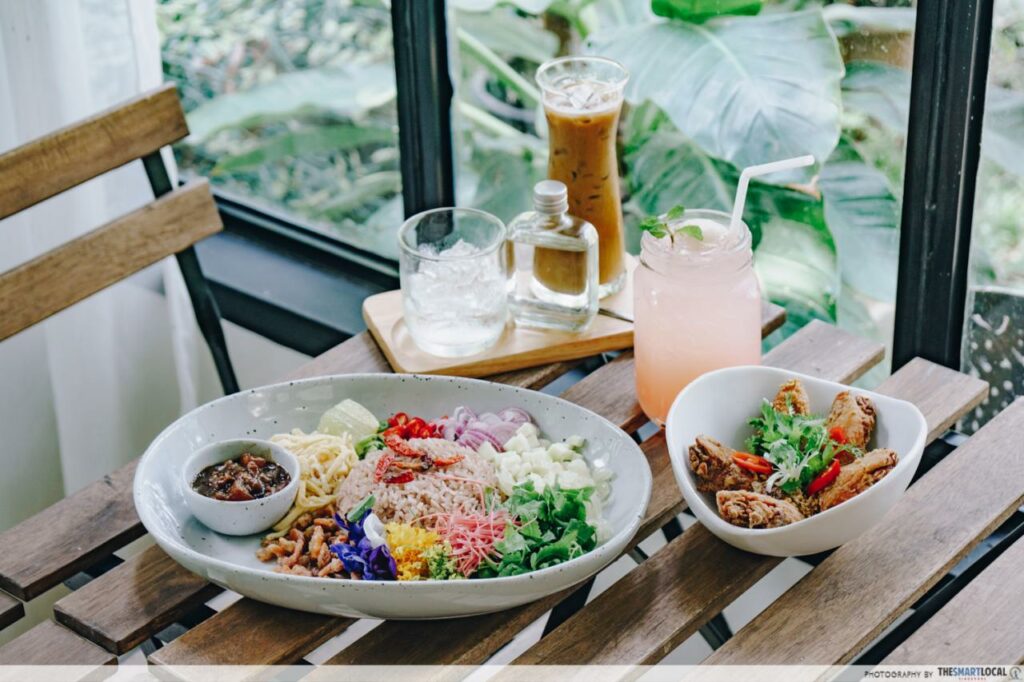 Another hidden gem in Mae Rim is The Ironwood, a stunning country house-meets-industrial restaurant with impeccable vibes. Most choose to dine outdoors in the gardens that are slightly shaded by the trees, but head inside and you'll be wowed by a delightful mish-mash of vintage, eclectic decor that makes the space oh-so-charming.
Food-wise, tuck into the likes of fusion bites including the Shrimp Tom Yum Spaghetti (฿300/~S$11.90), along with Thai stir-fries such as Chicken Green Curry Fried Rice (฿170/~S$6.80) and Shrimp Paste Fried Rice with Local Flowers (฿200/~S$7.90).
Coffee and pastries are served here, too. Espresso or Americano is priced at ฿80/~S$3.20, or you can try the unique Americano Sugarcane (฿110/~S$4.40) if you're feeling adventurous.
Don't leave without popping by the aesthetic-looking greenhouse too!
Address: 592/1, Mae Rim-Sameung Road, Mae Raem, Mae Rim 50180, Thailand
Opening hours: Daily 9am to 5pm
Tel: +66 81 831 1000
Website
The Ironwood is not a halal-certified eatery.
This Rustic Two-Storey JB Cafe Has A Huge Outdoor Garden, Serves House-Smoked Beef Benedict And More
---
8. Khao Soi Lung Prakit Kaat Gorm

---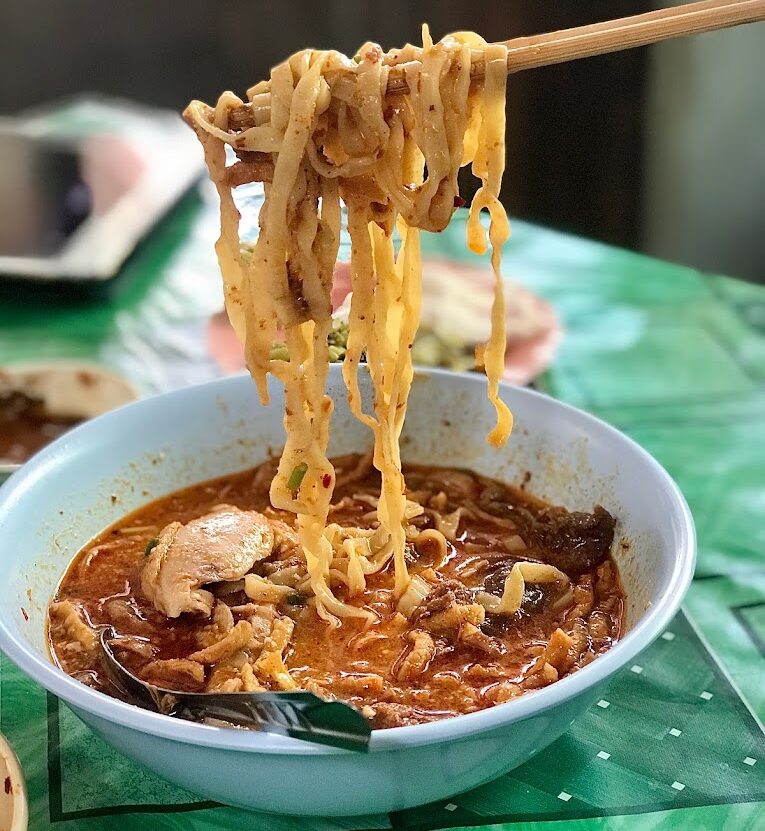 Image credit: Saruda Setthabunnatat
Khao Soi Lung Prakit Kaat Gorm has been around for over 40 years, but they're most famous for being featured on the popular Netflix food series, "Somebody Feed Phil". The highly raved khao soi stall is also crowned "Khao Soi Netflix" because of its appearance in the food show. Because of this, the queues are often long throughout the day, but fans tout their rendition to be well worth the wait.
The Khao Soi Gai (฿50/~S$2) AKA khao soi with chicken is a favourite; each bowl comes with a good portion of egg noodles topped with a whole chicken drumstick, complete with thin and crispy noodle shreds. The soup is said to be fragrant and spicy yet creamy from the coconut milk, with pickled veggies on the side to cut through the richness. There's also a beef version at (฿60/~S$2.40) that's equally popular.
Address: 53 Suriyawong 5 Road, Hai Ya, Chiang Mai, 50100, Thailand
Opening hours: Daily 9:30am to 4:30pm
Tel: +66 83 209 9441
Khao Soi Lung Prakit Kaat Gorm is not a halal-certified eatery.
---
9. Rote Yiam Beef Noodle
---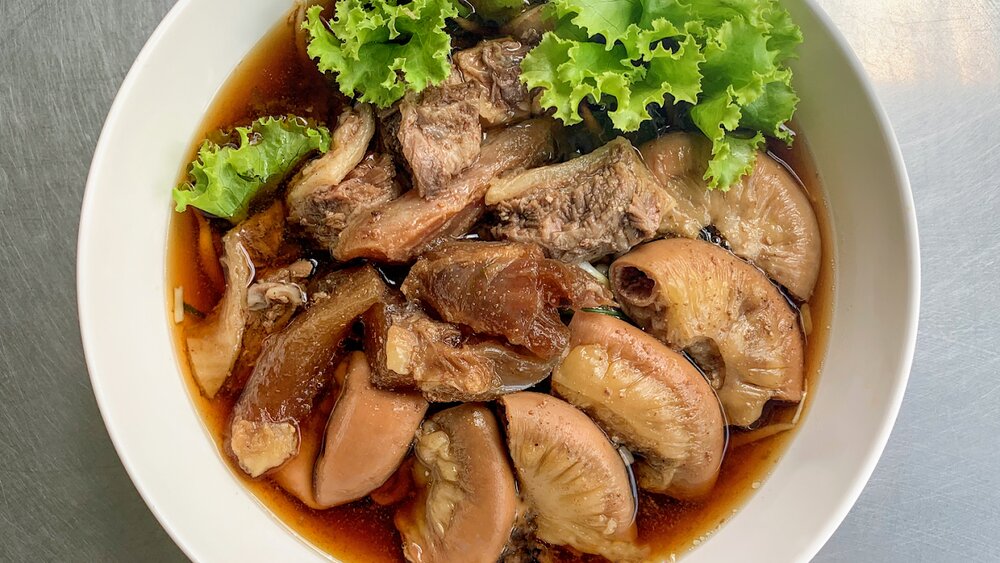 Image credit: Rote Yiam Beef Noodle
Michelin-recommended Rote Yiam Beef Noodle has been around for over 30 years, selling some of the best Chinese-style beef noodles with house-made meatballs. Prices start from ฿50/~S$2 for a good portion of beef noodles with one topping, but you can also get the larger bowl (฿100/~S$4) that comes with more toppings if you're extra hungry.
You'll get to pick your noodle: flat rice noodles, thin rice noodles, or rice vermicelli. Then, choose to have it with soup or without, though most opt for the former as the broth is said to be rich and full of flavour. Go ham with an assortment of toppings, which include bouncy beef balls, sliced beef, beef tendons, stewed beef, and beef tongue. You can even top up ฿10/~S$0.40 for extra soup!
Address: 164, 48 Changklan Road, Tambon Chang Khlan, Chiang Mai 50100, Thailand
Opening hours: Daily 8am to 9pm
Tel: +66 53 272 422
Rote Yiam Beef Noodle is not a halal-certified eatery.
---
10. Aquila
---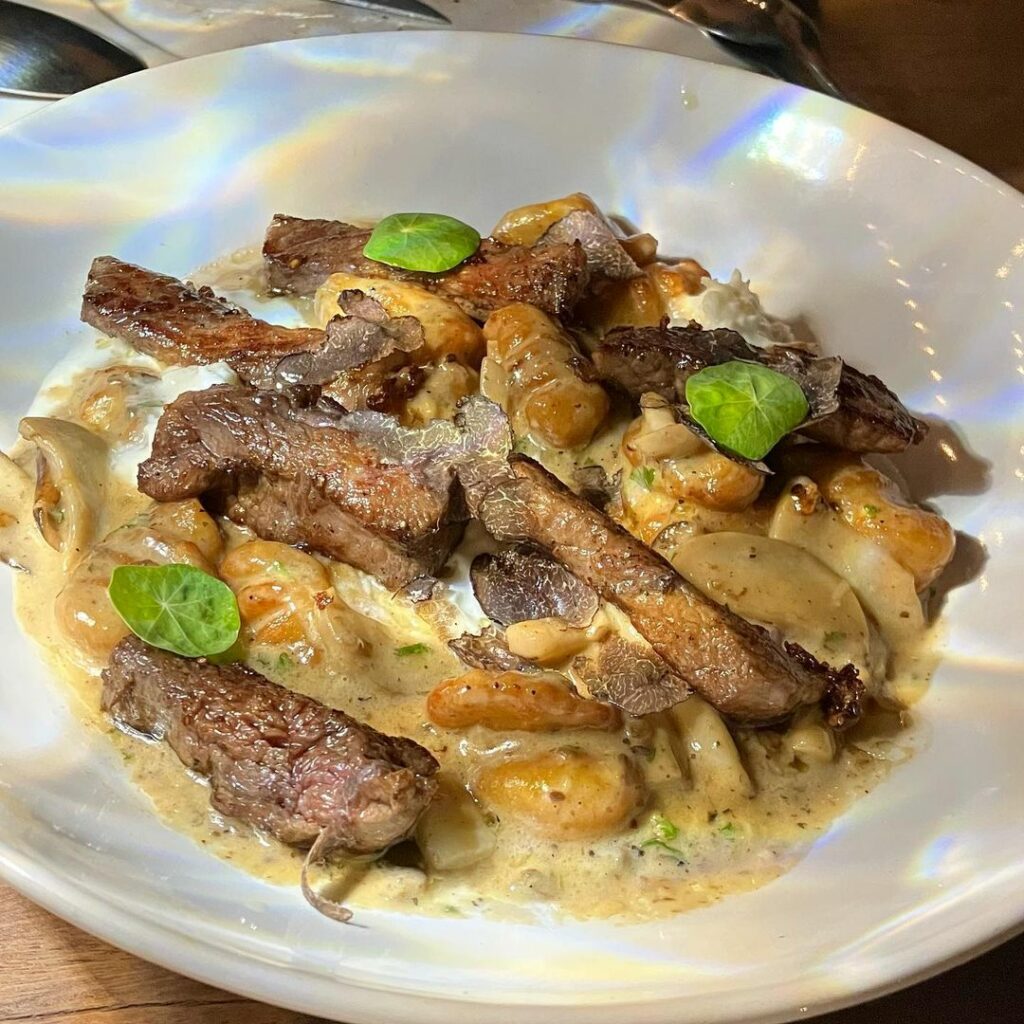 Image credit: @helloanthia
Saving the best for the last, Michelin-recommended Aquila was the highlight of my trip. This Italian-inspired restaurant is slightly off-the-beaten-track, though that also adds to its charm. You get a whopping total of 16 pasta dishes to choose from, including East-meets-West iterations such as Unagi & Hotate Risotto (฿690++/~S$27.20++) and Spicy Prawn Pesto (฿350++/~S$13.90++).
If you only have room for one thing, do yourself a favour and order the Truffle, Wagyu, Burrata, and Gnocchi (฿590++/~S$23.30++). It's exactly as its name suggests—handmade potato dumplings are seared to crisp ends, tossed in a creamy sauce, and combined with a magical mix of burrata, tender Wagyu slices, and freshly shaved black truffle for oomph. It's to die for.
Address: 226/4 Soi Surapol 1, Tha Sala, Chiang Mai, 50000, Thailand
Opening hours: Daily 12 to 2:30pm, 5pm to 9pm
Tel: +66 90 236 3845
Website
Aquila is not a halal-certified eatery.
---
Chiang Mai Thailand food guide
---
Move aside, Bangkok—Chiang Mai is a new contender for all you foodies to check out. Bookmark this list of recommended food places in Chiang Mai the next time you're planning a trip to Thailand!
If you're heading to London anytime soon, read our London food guide, which includes more than just fish and chips. Otherwise, for something closer to home, check out JB cafe guide for aesthetic cafes that serve brunch, coffee and more!
London Food Guide: 11 Must-Eat Places That Aren't Your Usual Tourist Spots
Photos taken by Anthia Chng.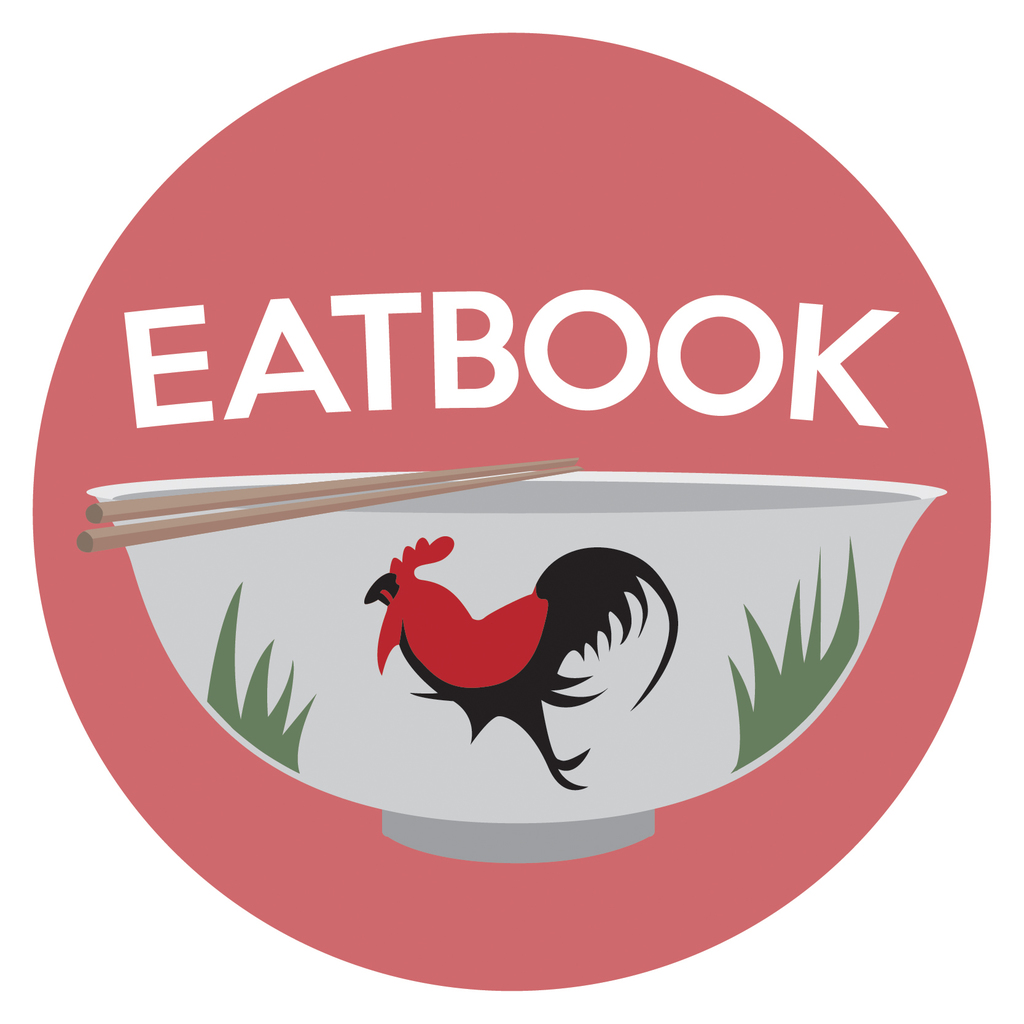 Drop us your email so you won't miss the latest news.