---
London food guide
---
Now that global travel is back on track, it's time to check some destinations off your bucket list. If you've never been to London, now's as good a time as any. There are plenty of food guides out on the web that'll point you to the same couple of places, read: Padella, Dishoom, Sketch and more. But if you're thinking of venturing off the beaten path, here are 11 must-eat food places in London that prove the UK's not all about fish and chips, and pie.
---
1. Hoppers
---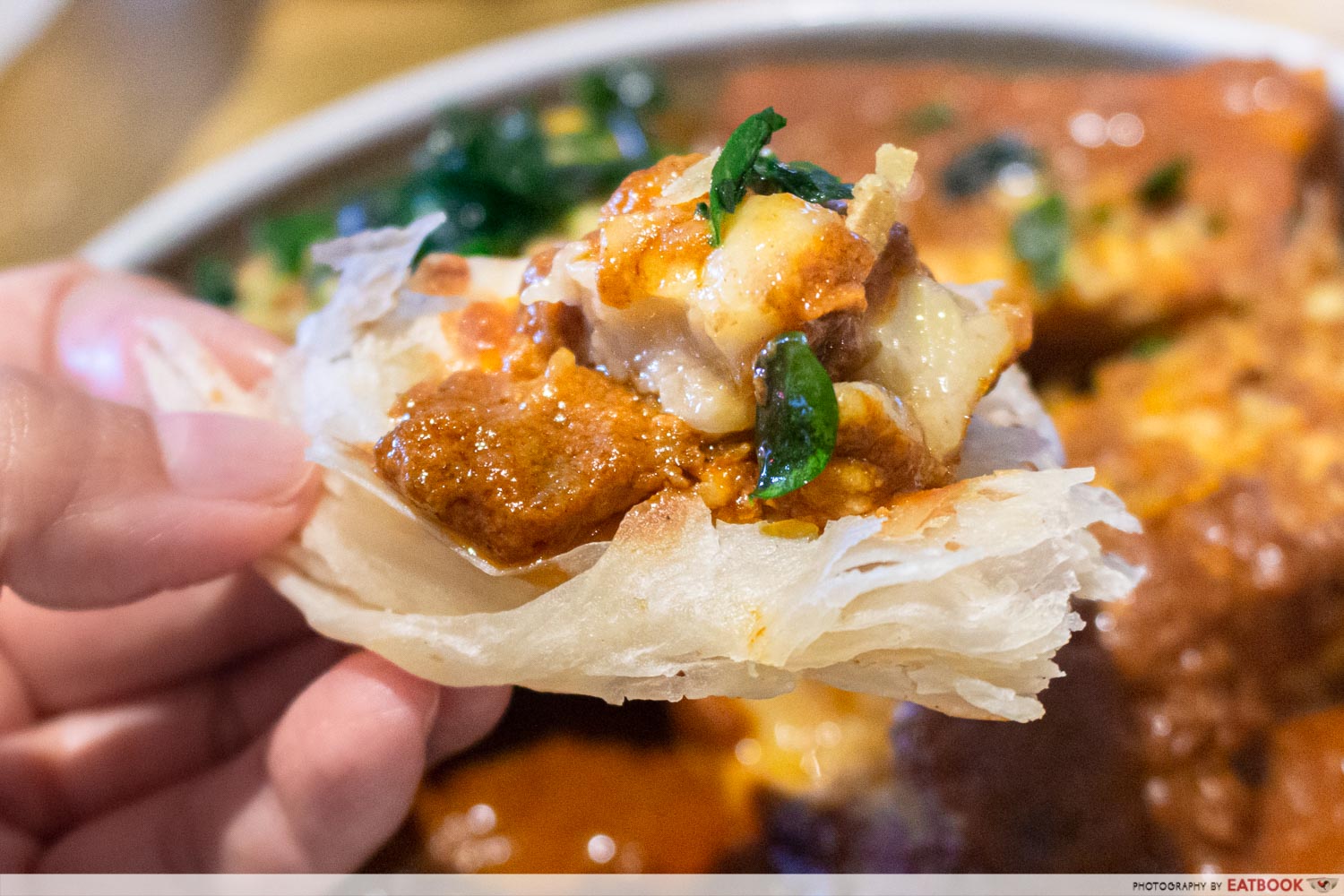 Fast casual Indian diner Dishoom is on every London guide, and for good reason. They're open breakfast to dinner, and have a super extensive menu to boot. But make a reservation instead at Hoppers for Sri Lankan and South Indian fare,  and definitely order a Hopper (£5.50, ~S$9.30), AKA appam, which might just be the crispiest, lightest version of the pancake you'll ever have tried.
Pair your appam with their selection of Kari: the Black Pork Kari (£11, ~S$18.60) comes in what looks like a small bowl, but is full of fork-tender meat chunks draped in aromatic curry. There's also Bone Marrow Varuval + Roti (£13.50, ~S$22.90), and Lamb Kothu Roti (£15, ~S$25.40), the latter of which is like a lamb char kway teow, but with shredded prata instead of noodles. 
Website
Full list of locations
Hoppers is not a halal-certified eatery
---
2. Dim Sum Duck
---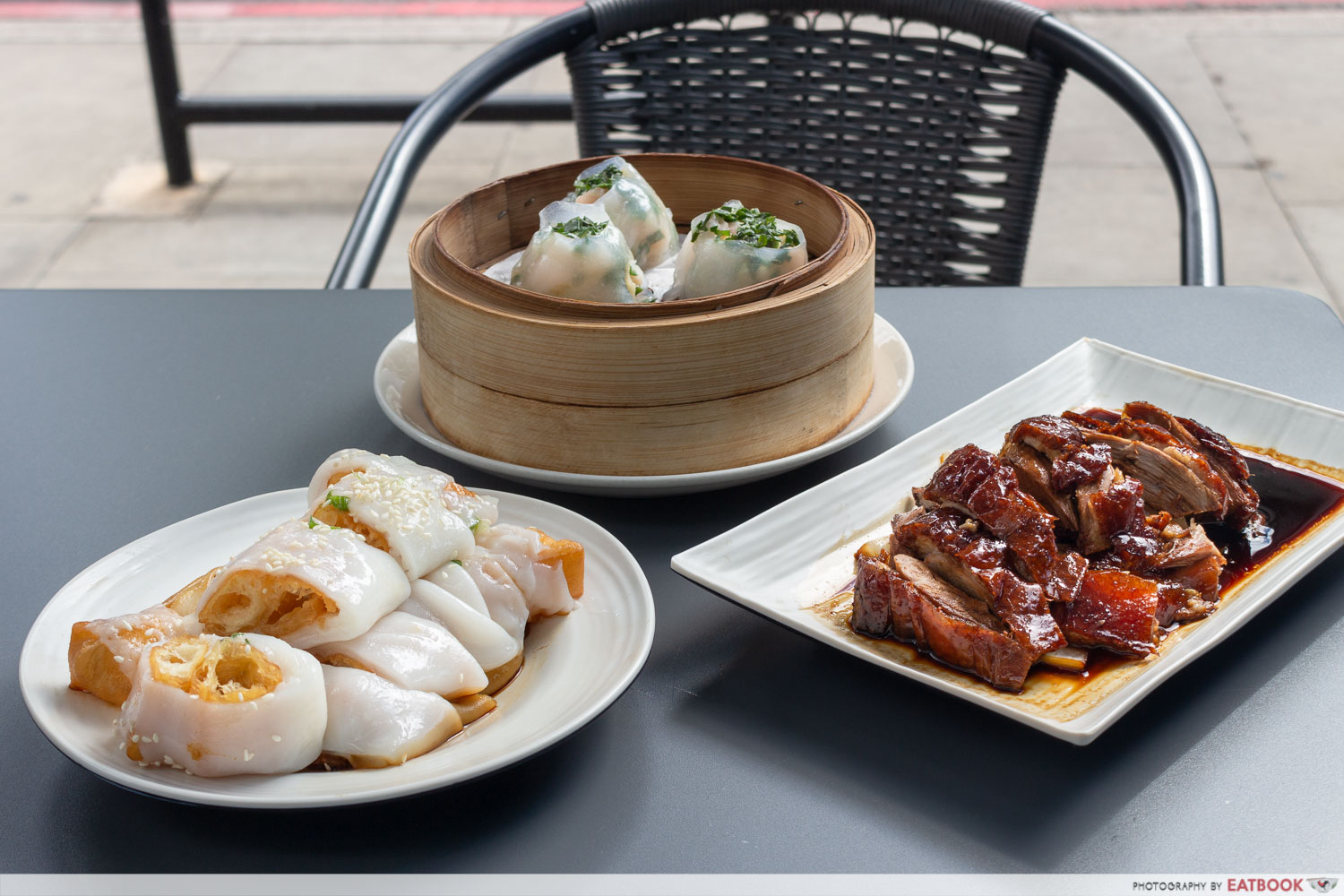 It used to be that everyone who visited London had to head to Bayswater for roast duck at Gold Mine, Four Seasons, or New Fortune Cookie. These days, Dim Sum Duck, a little hole-in-the-wall spot near the busy King's Cross Station, is drawing the crowds. Their chef is said to be a Hong Kong native with more than 30 years of culinary experience, and the proof is in the pudding.
Go for Prawn with Chives Dumpling (£5.30, ~S$9), which gets you three large ones with smooth crystal skin. Another familiar steamed dish is Deep Fried Dough Stick Cheung Fun (£5.60, ~S$9.50). If you're looking for something novel, try the Bean Curd Skin Cheung Fun (£7.20, ~S$12.20)—their Seafood Bean Curd Skin Roll (£5.60, ~S$9.50) wrapped in silky cheong fun. Then of course there's the BBQ Roast Duck (from £9.80, ~S$16.60), drenched in a super savoury sauce.
Address: 124 King's Cross Road, London WC1X 9DS, United Kingdom
Opening hours: Daily 12pm to 5pm, 6pm to 10pm
Tel: +44 20 7278 8878
Website
Dim Sum Duck is not a halal-certified eatery
---
3. Humble Crumble
---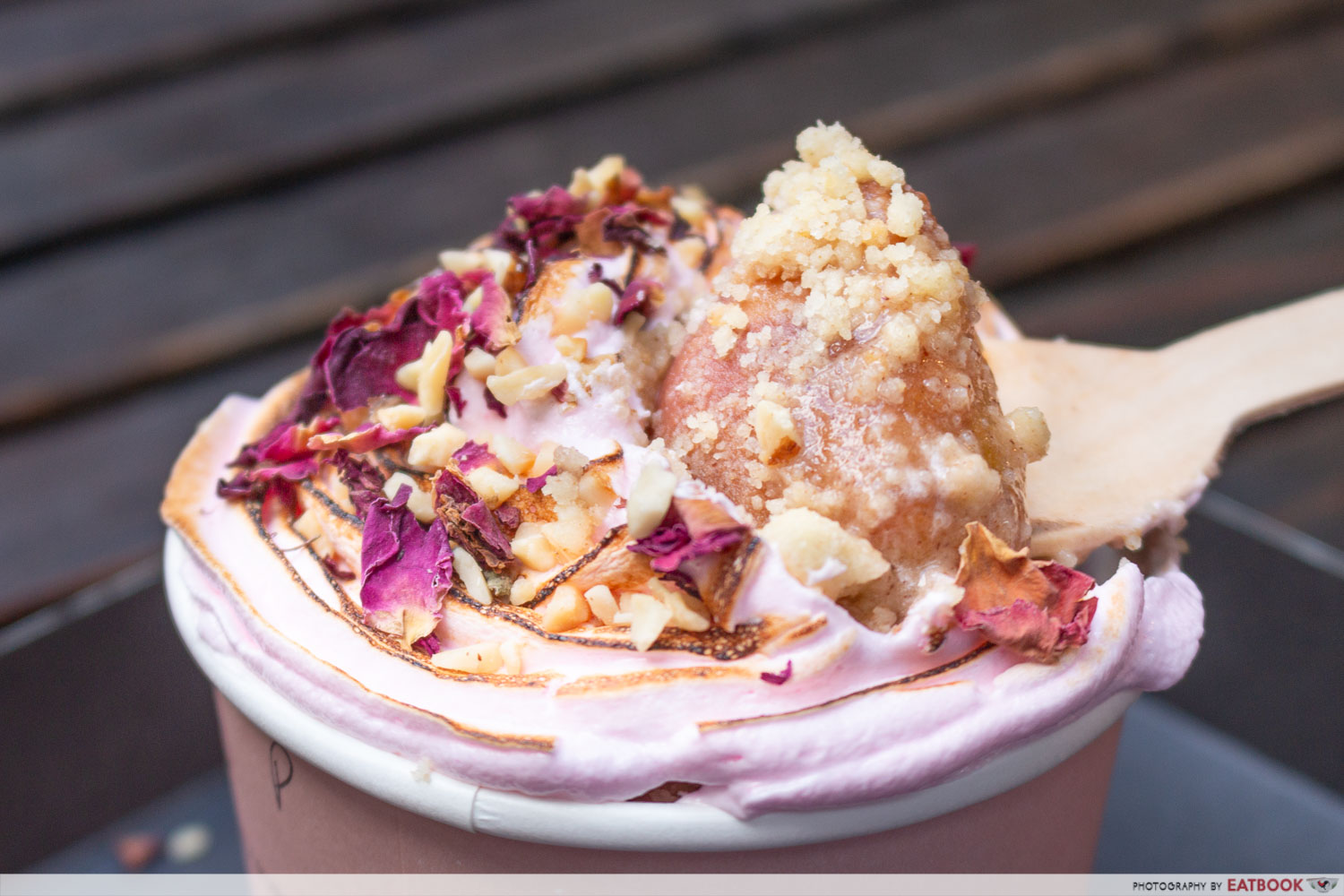 Look no further than Humble Crumble if you're into Instagrammable nosh. Not only do their crumble pots look good, they taste great too. They also proclaim themselves to be the world's first crumble bar, where each bowl is customised and prepared to order.
A Regular-sized crumble pot is priced at £6.50 (~S$11), while a Large is £8 (~S$13.60). You start by choosing your stewed fruit base, prepared with fresh fruit handpicked from the market each morning. The classic choice is Apple, but we had an Iced Peach summer special.
Then, you pick a crumble, with options including Classic Shortbread, and Superfood Granola, which requires a top-up of (£0.50, ~S$0.90). Finally, finish the pot with Pure Vanilla Custard, Frozen Vanilla Custard, Blowtorched Marshmallow, or even Dark Chocolate Drizzle, amongst others. One topping is included, and every additional choice is charged at £0.50 (~S$0.90).
Website
Full list of locations
Humble Crumble is not a halal-certified eatery, but does not serve pork or lard
---
4. Bleecker Burger
---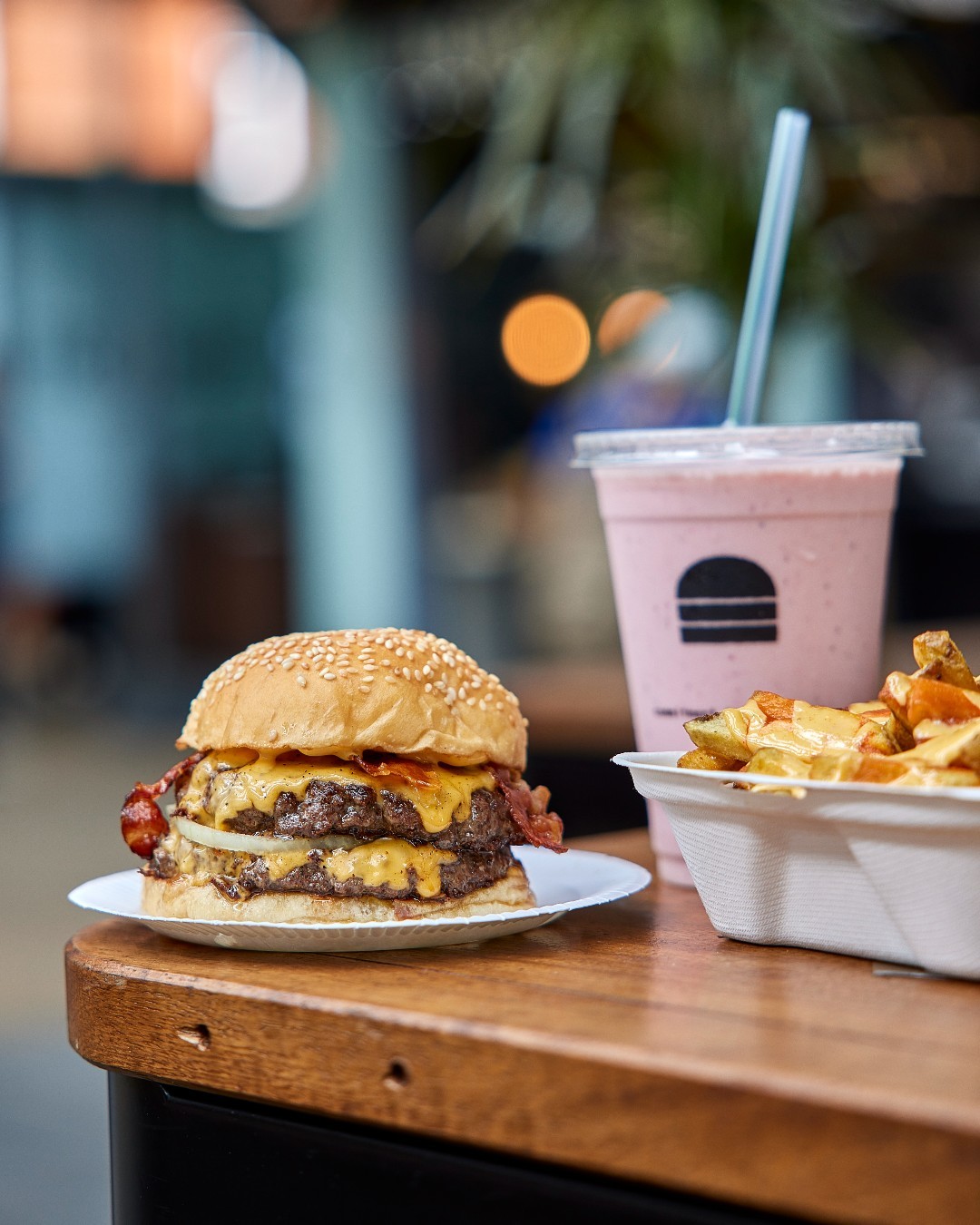 Image credit: @bleeckerburger
For some reason, visitors to the capital city still head to Shake Shack, even when it's readily available back home. Change that up and try Bleecker Burger instead. They've been named Best Burger In London multiple times, and their Double Cheeseburger (£11.50, ~S$19.50) took top place at the National Burger Awards in 2020. 
Each smashed beef patty is made with an exact recipe of different rare-breed, grass-fed beef cuts. The beef is all aged on the bone by their butcher, and served with a house-made sauce, in sesame buns that are specially baked each day for Bleecker Burger. Get the zhnged-up Bacon (from £8.75, ~S$14.80) version, and pair it with their hand-cut, double-fried Fries (£4, ~S$6.80). They even make the ice cream for their Shakes (£5.25, ~S$8.90) in-house daily!
Website
Full list of locations
Bleecker Burger is not a halal-certified eatery
---
5. Flour & Grape
---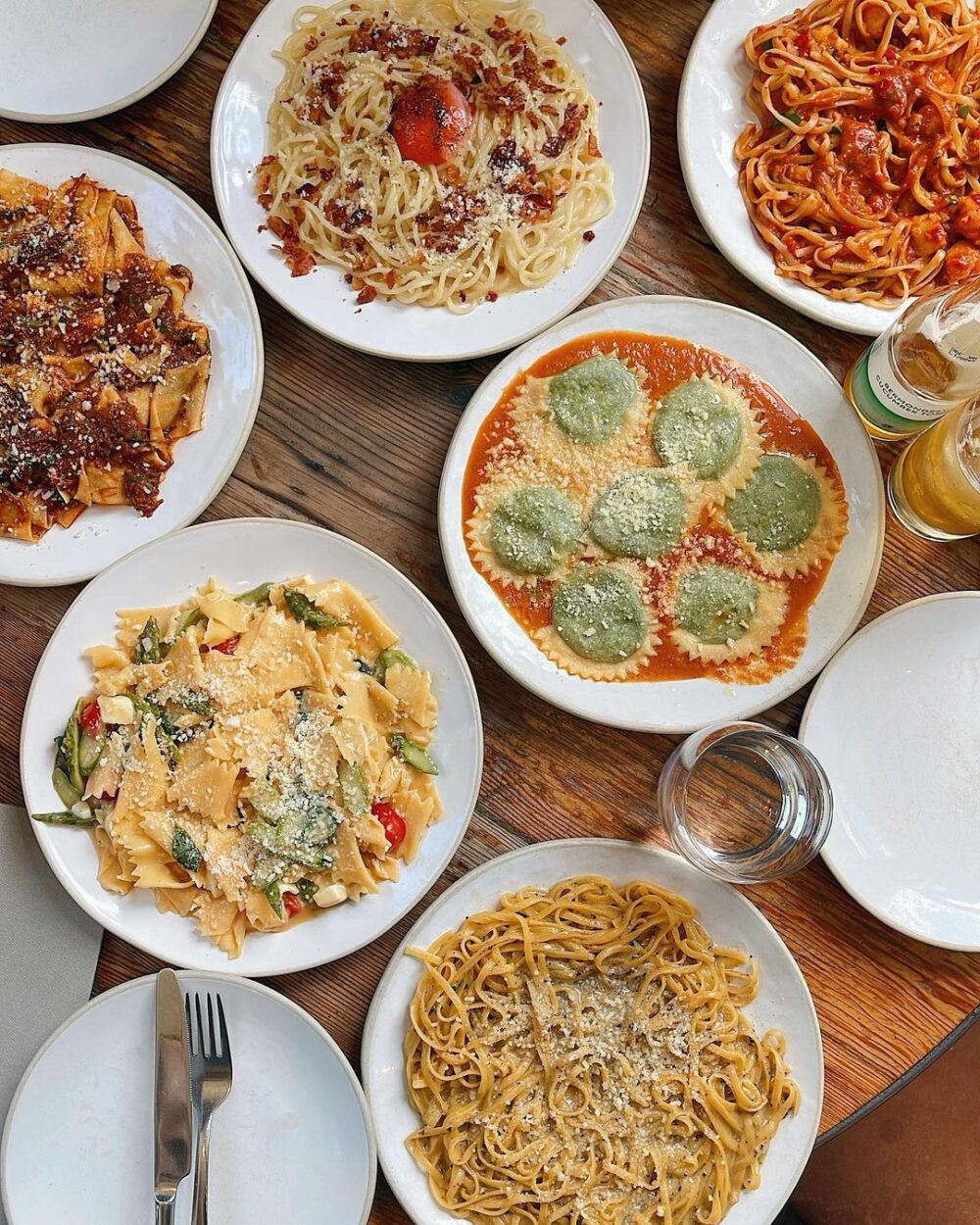 Image credit: @lavie_kerxuk
Padella is a Borough Market institution, known for their affordable fresh pasta dishes. But they don't take reservations, and the queue is easily an hour long at least. Just a 13-minute walk away is casual Italian diner Flour & Grape, which also serves handmade pasta at similar prices!
A star dish that you'll see on almost every table is truffle Taglierini (£14, ~S$23.70), made with preserved truffle, a butter emulsion, and parmesan. There's also Tortellini (£10.50, ~S$17.80) stuffed with roasted pork shoulder and served with sage butter, and Spaghetti (£11.50, ~S$19.50) carbonara, done the classic way with guanciale and parmesan, and topped with a confit yolk.
Address: 214 Bermondsey Street, London SE1 3TQ, United Kingdom
Opening hours: Mon 5:30pm to 10pm, Tue-Sun 12pm to 3pm, 5:30pm to 10pm
Tel: +44 20 7407 4682
Website
Flour & Grape is not a halal-certified eatery
---
6. Buns From Home
---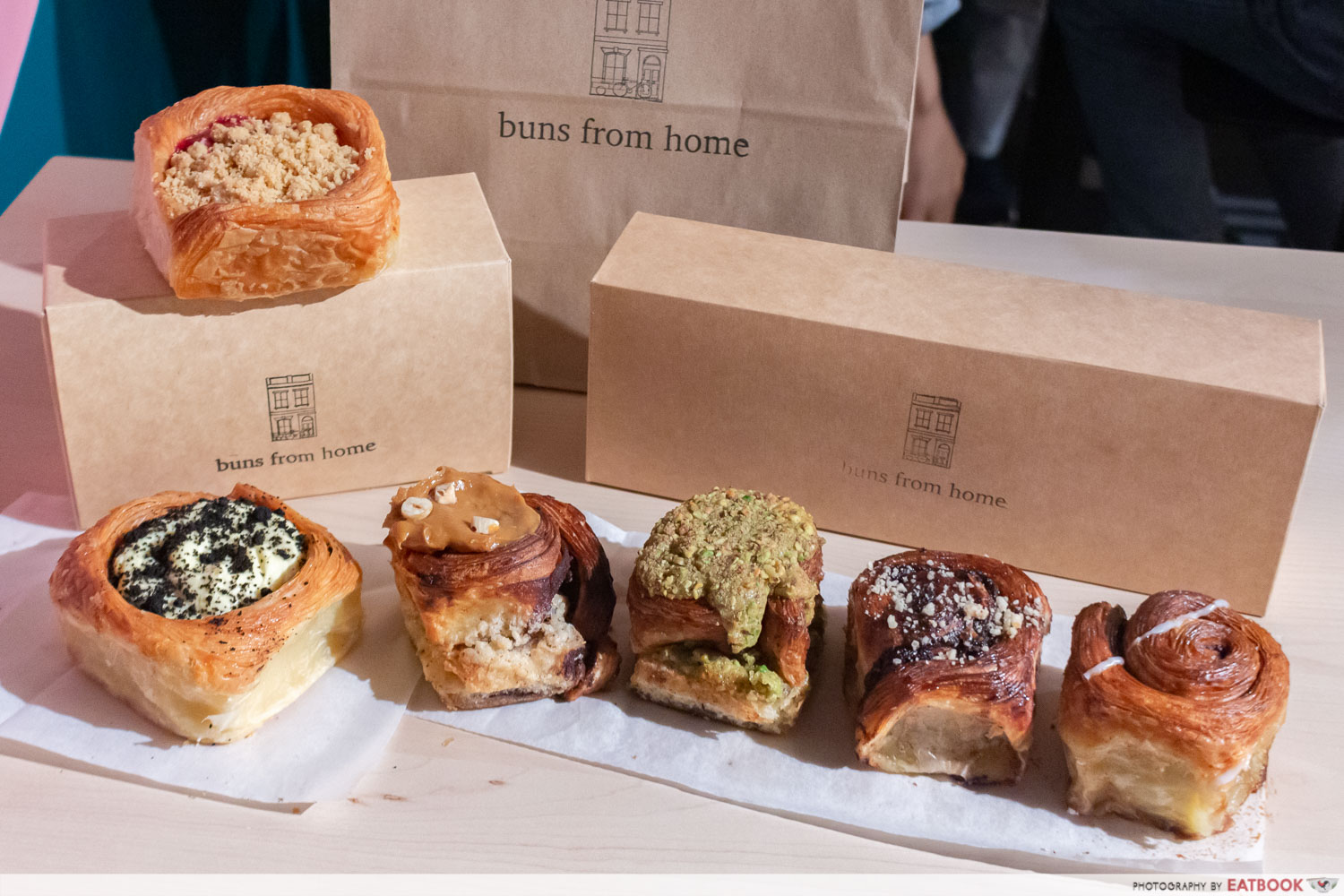 The COVID-19 lockdowns were not kind to many, but Buns From Home is something great that came out of it. What started as a fellow on furlough baking out of his mum's kitchen took London by storm, and now has five locations around the city.
The buns on sale aren't any ordinary buns—they're made with croissant dough, giving them their unmistakable appearance. The classic buns include Cinnamon, Choc Hazelnut, and Cardamom, each priced at £3.50 (~S$6). Similarly priced are the twice-baked buns, including the Pistachio, Dulce de Leche, and Banana Bread, but the dessert buns with generous molten centres are the ones that you'll whip your camera out for. Priced at £4.50 (~S$7.60) each, there's Vanilla Custard, Cheesecake, and Tiramisu.
It's not all sweets, because there are a small number of savoury buns too, and each weekend, they also whip up a different special bun, which you'd have to check out their Instagram page for.
Website
Full list of locations
Buns From Home is not a halal-certified eatery
---
7. Blacklock
---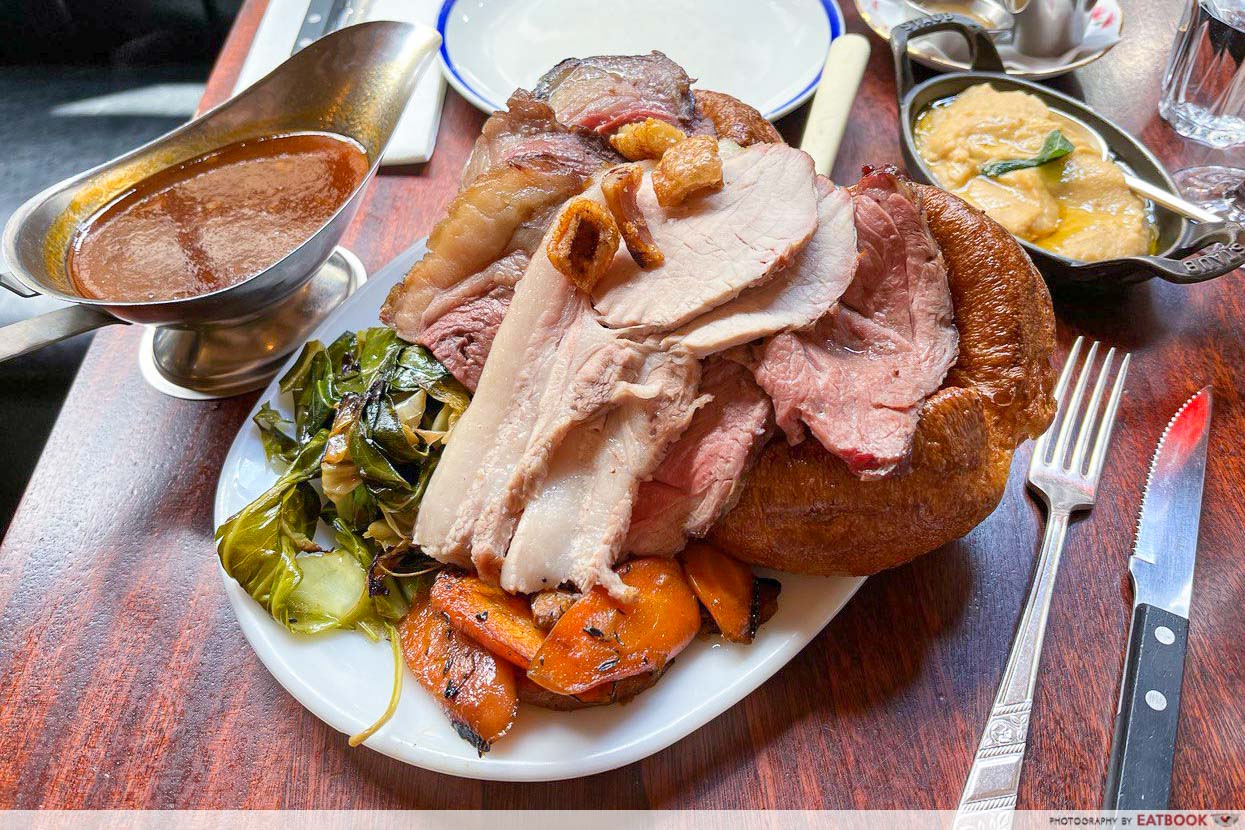 Mention steak and two names inevitably pop up: Flat Iron, and Hawksmoor. The first is known for their £12 (~S$20.30) flat iron steaks, while the latter is a more upmarket steakhouse that's inspired all these more affordable options, including Blacklock. Fun fact: the Hawksmoor founders are also investors here, and the team is headed by ex-Hawksmoor staff too!
In case you were wondering what British grub is, Sunday roast is one such traditional dish. At Blacklock, you get to choose from 21 Day Aged Pork Loin (£19, ~S$32.20), 28 Day Aged Lamb Leg (£21, ~S$35.50), or 55 Day Aged Beef Rump (£22, ~S$37.20), all of which they claim is "almost as good as mum's". Or you could get it All In (£24, ~S$40.60), though there's a minimum of two diners for this option.
Whichever you choose, they're roasted over open coals and English oak and served with the typical fixings: Yorkshire pudding, duck fat roasted potatoes, and Blacklock gravy. If you've still got room, add on a Celariac Mash (£4.50, ~S$7.60) if you spy it on the menu.
Website | Full list of locations
Blacklock is not a halal-certified eatery
---
8. Norman's Cafe
---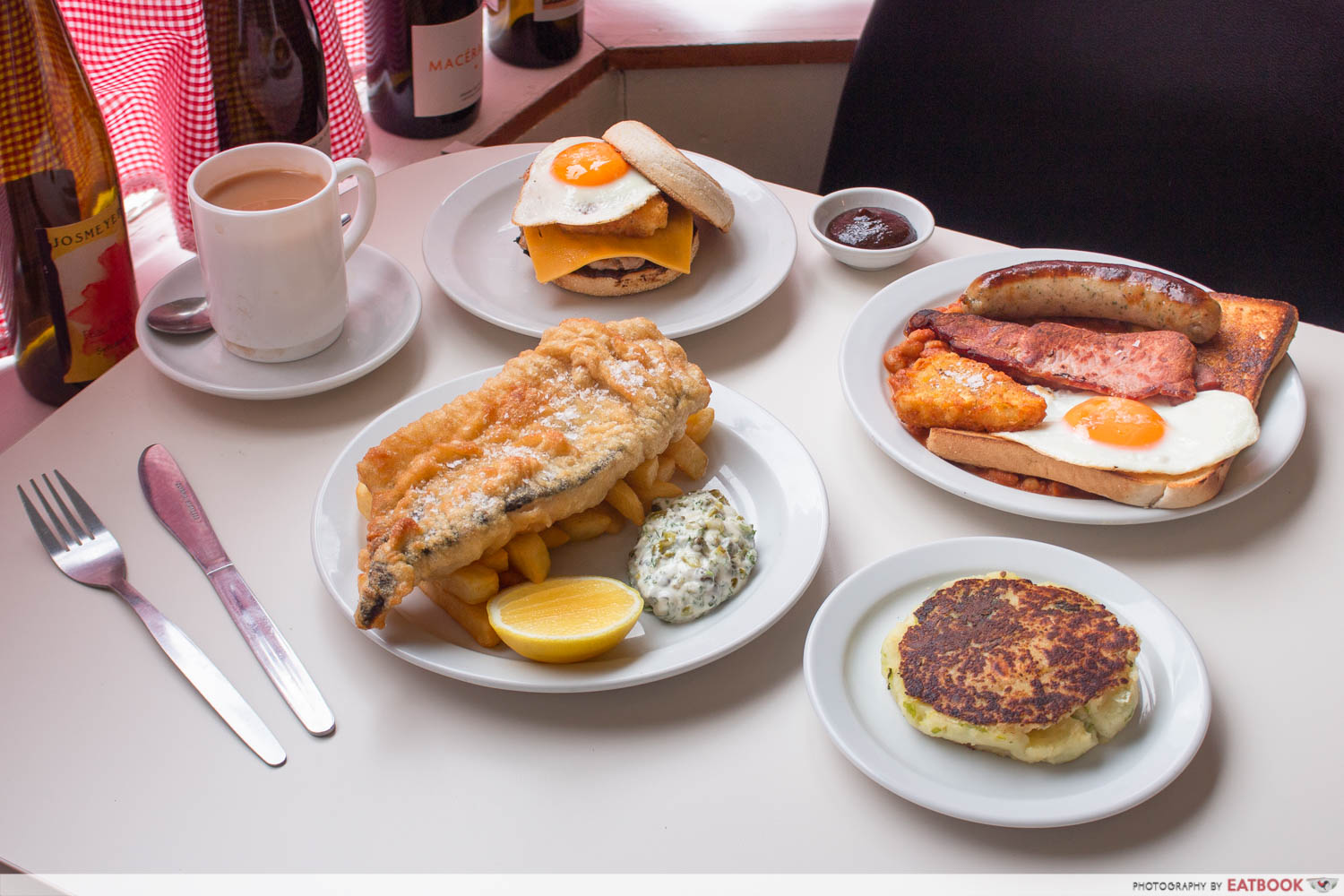 Norman's Cafe is a little joint that's slightly outside of touristy central London, but it's worth a jaunt down to check out. In the same way that you get ex-restaurant chefs striking out on their own to preserve our heritage hawker dishes, the founders of Norman's are bringing back the caff, AKA a greasy spoon, or "small, cheap eatery typically specialising in fried foods or home-cooked meals".
The classic diner meals here are mostly sub-£10 (~S$16.90), but are prepared with quality produce, and house-made to a large extent. Bubble & Squeak (£3, ~S$5.10) is a quintessentially British dish that you could add to a breakfast set (from £8, ~S$13.60), which comes with tea or coffee. The English Muffin (from £8, ~S$13.60) with its house-made sausage will spoil you for McMuffins forever, and on the lunch menu, you'd even get Fish & Chips (£12, ~S$20.30), made with fresh, sustainably-sourced haddock. 
Address: 167 Junction Road, Archway, London N19 5PZ, United Kingdom
Opening hours: Wed-Sun 10am to 3pm
Website
Norman's Cafe is not a halal-certified eatery
15 Johor Bahru Cafes Near Customs, Including A Concrete Cafe And A Hidden Glasshouse Dessert Spot
---
9. Boolay Crepes
---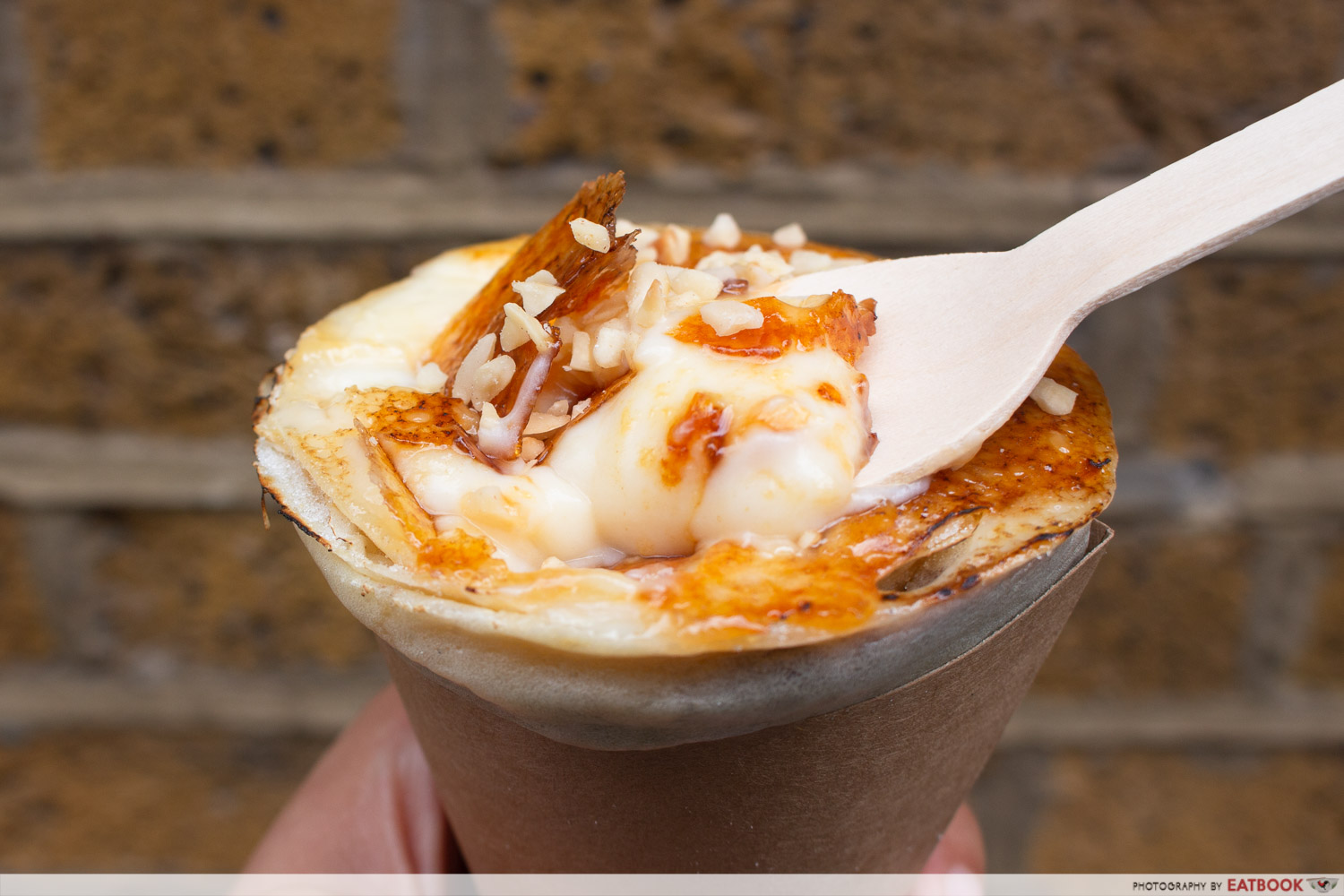 A recent opening just minutes away from Covent Garden is Boolay, a takeaway kiosk that sells IG-worthy creme brulee crepes. Their crepe cones have gone viral for the decadent creme patisserie filling within, and the glossy caramelised sugar lid that you crack into.
Be prepared to wait for your order, because each crepe is made fresh, and piped full of the house-made cream, before it's sprinkled with sugar and torched to finish. There are two mainstays on the menu: Original (£5.50, ~S$9.30) and Hazelnut (£6.50, ~S$11), where the crepe is spread with Nutella before it's folded into a cone. The updated version of this treat features hazelnut creme patisserie, layered with feuilletine flakes. 
Other than these, there are also seasonal specials such as a pandan-flavoured cone, and more recently, an Eton Mess-inspired version.
Address: 35 Earlham Street, Cucumber Alley, Seven Dials Market, London WC2H 9LD, United Kingdom
Opening hours: Mon-Fri 12pm to 10pm, Sat 11am to 10pm, Sun 11am to 9pm
Tel:
Website
Boolay Crepes is not a halal-certified eatery
---
10. The Windmill
---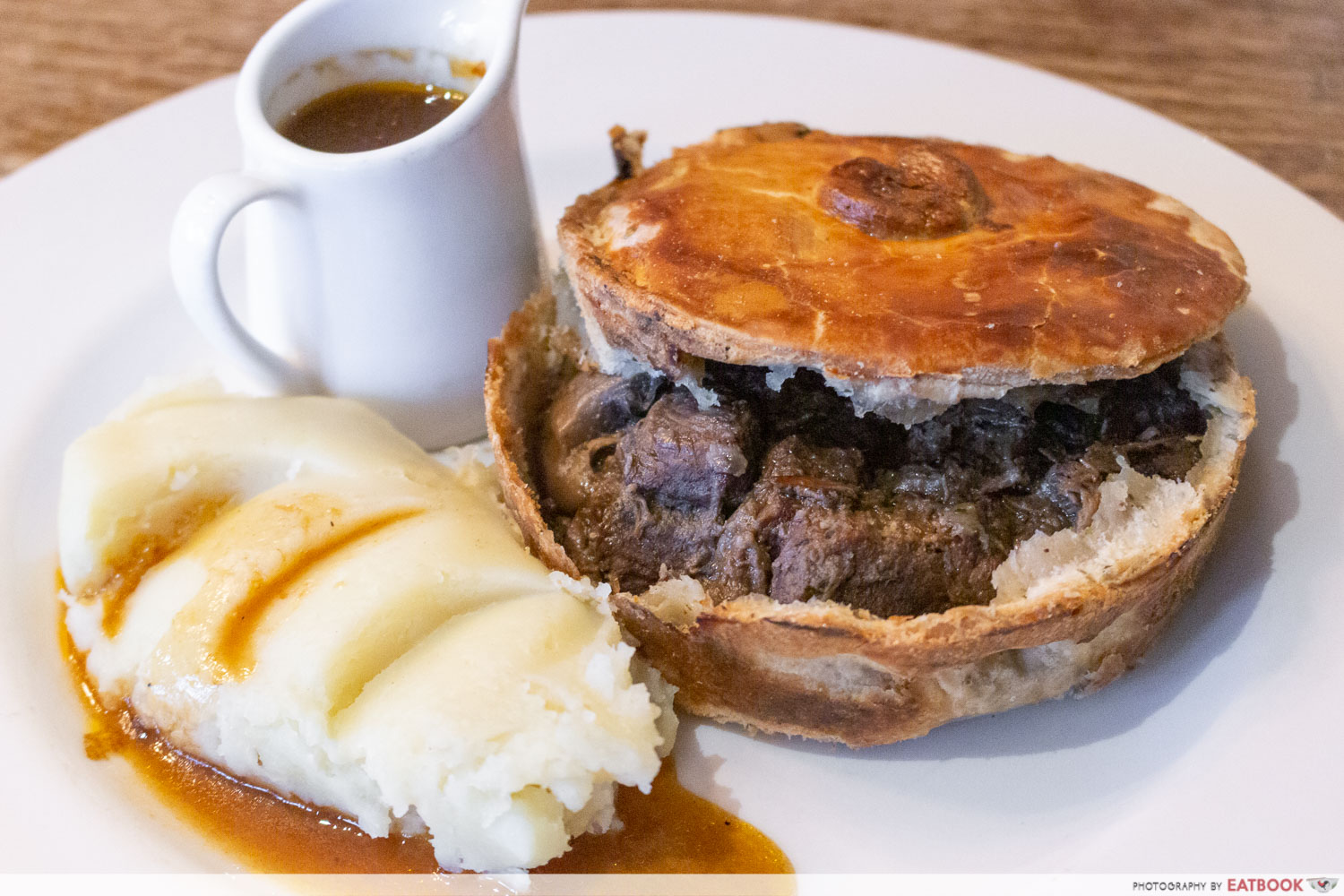 The Windmill in Mayfair is the place to visit if you're on the hunt for pies, a dish that's been recorded in England from as early as the 14th century. While The Windmill isn't historic in its own accord, the chef heading the kitchen is previously of The Guinea Grill, which stands at seventh place in the UK's top gastropubs.
What's more, there's a greater selection of lower-priced pies here. They're all house-made, and feature a classic thin suet crust—suet being beef fat obtained from around the cow's kidneys, which produces a flaky, crisp crust. The Steak, Kidney & Mushroom Pie (£19, ~S$32.20) is a three-time champ at the British Pie Awards, though their other pies are also award-winning. You can also get it sans kidney, or go for the Chicken, Bacon & Leek Pie (£18, ~S$30.50). Whichever you order, you get a choice of hand-cut chips or house-made mash, and lots of gravy.
Address: 6-8 Mill Street, London W1S 2AZ, United Kingdom
Opening hours: Mon-Sat 11am to 11pm, Sun 12pm to 6pm
Tel: +44 20 7491 8050
Website
The Windmills is not a halal-certified eatery
---
11. Fortnum & Mason
---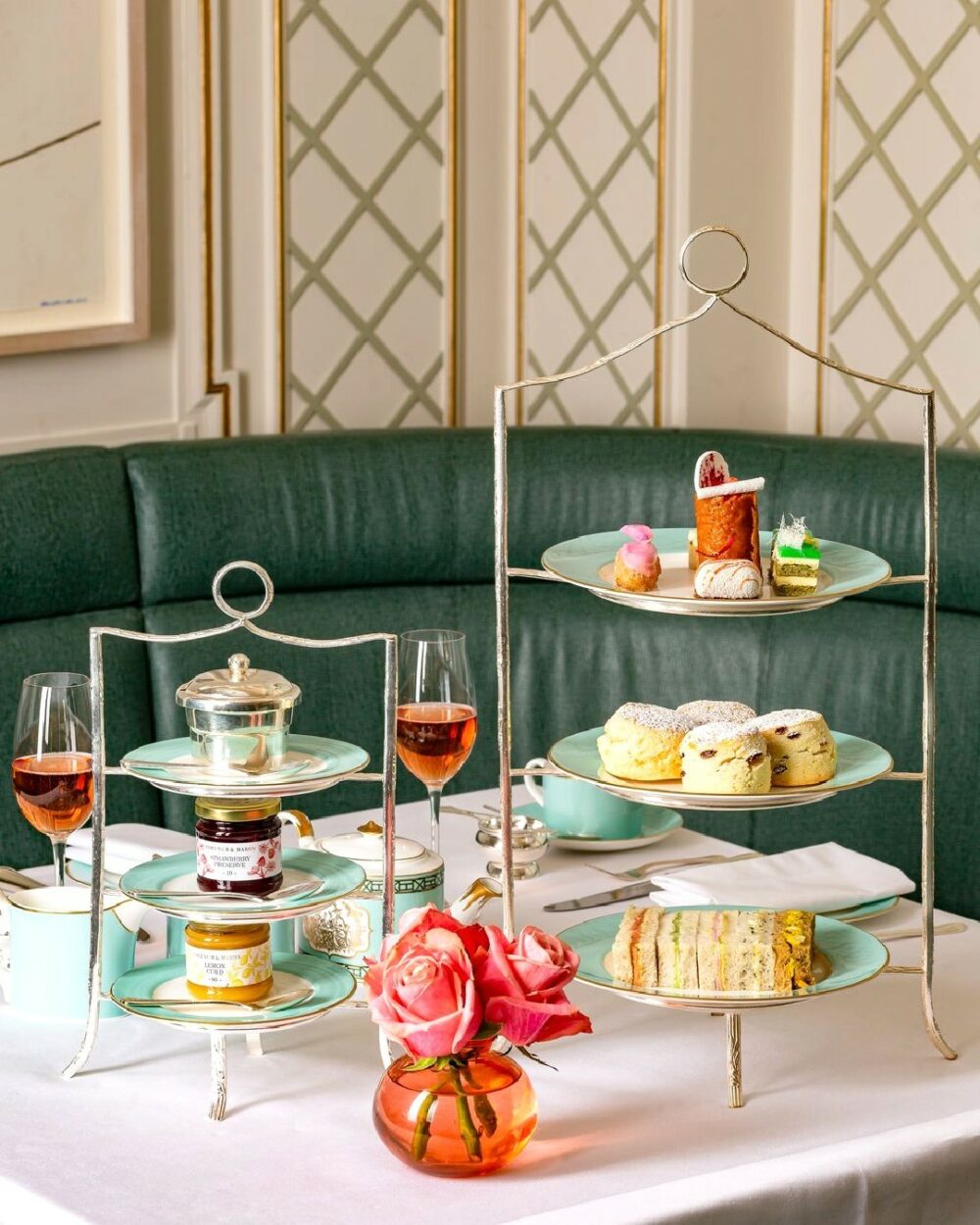 Image credit: @diamondjubileeteasalon
Afternoon tea is a British tradition, founded back in the 19th century by a duchess who would feel peckish in the late afternoon, and needed a small bite to tide her through to dinner. These days, it's no longer a small snack, and there's nowhere better than Fortnum & Mason to treat yourself at. After all, they hold Royal Warrants for supplying their goods to the Queen and her household! They're touristy, but you can't go wrong here.
At their Piccadilly store, which has stood since 1707, head up to the Diamond Jubilee Tea Salon for Afternoon Tea (£70, ~S$118.30), or go for the Savoury (£72.50, ~S$122.60) option. Both come with their famous scones! If you're just looking to have some scones, you can get some in the basement Food Hall, where they're sold individually from £1+ (~S$1.70+)—you'll just have to heat them up and purchase your own clotted cream and jam.
Address: 181 Piccadilly, St. James's, London W1A 1ER, United Kingdom
Opening hours: Mon-Sat 10am to 8pm, Sun 11:30am to 6pm (11:30am to 12pm is browsing only)
Tel: +44 020 7734 8040
Website
Fortnum & Mason is not a halal-certified eatery
---
Where to eat in London
---
London is a melting pot of cultures and cuisines with tens of thousands of restaurants in the city. You could eat somewhere new every day, and never run out of places to try. For somewhere closer to home, we've also got you covered with our JB cafe guide, and JB hawker guide.
Photos by Michelle P and Melvin Mak
This was an independent article by Eatbook.SG
18 Johor Bahru Hawker Food Stalls To Eat At During Your JB Getaway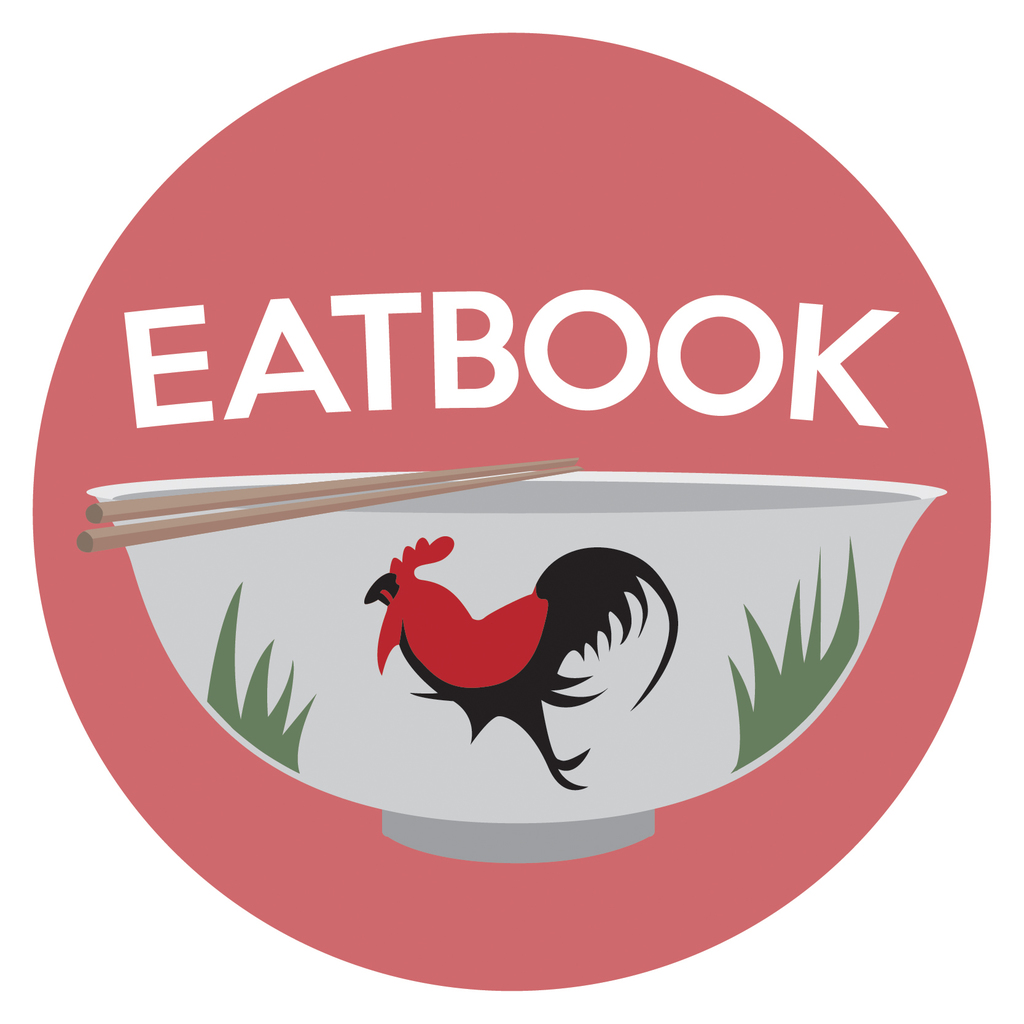 Drop us your email so you won't miss the latest news.