Chicken Box sells huge fried spring chickens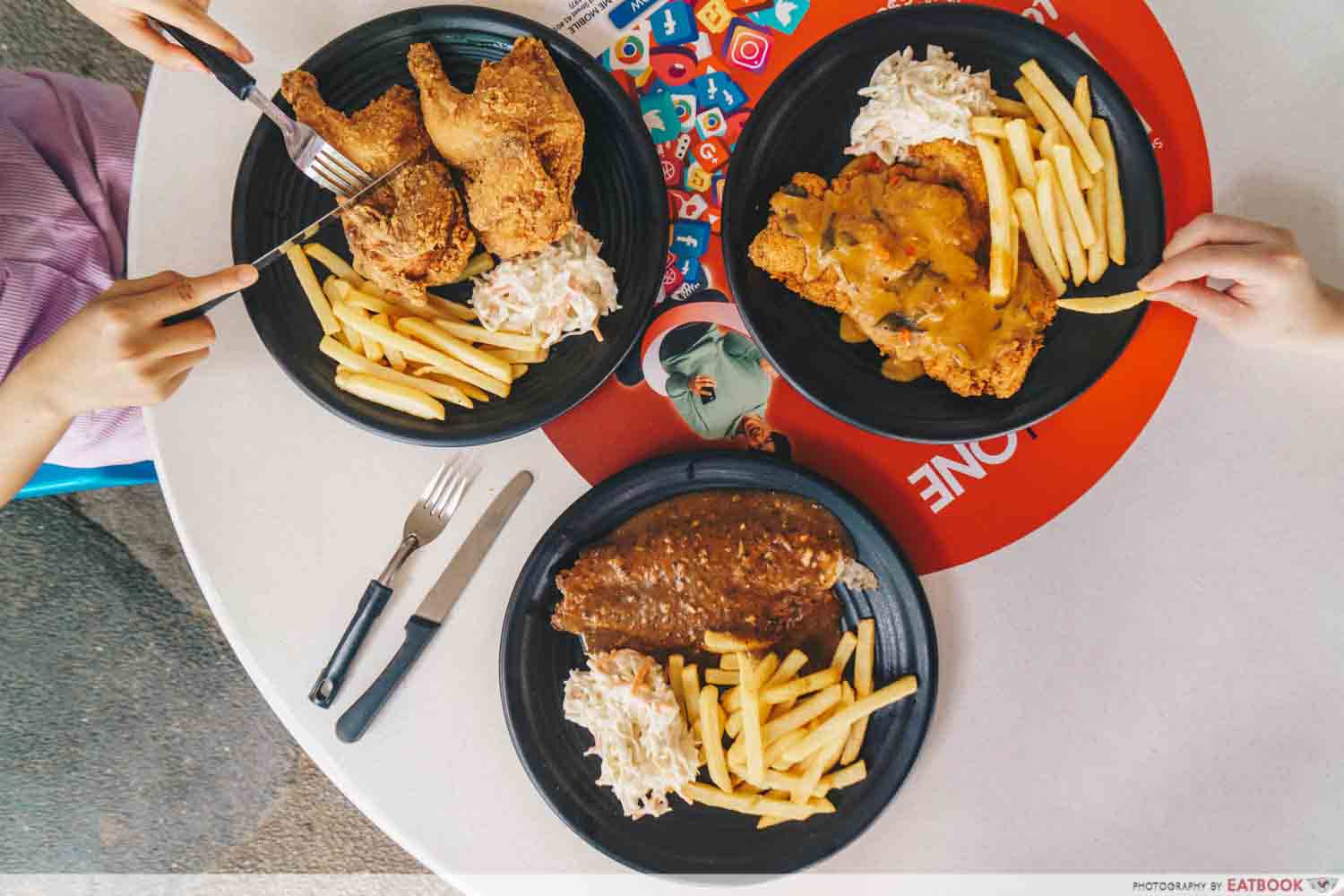 Fried chicken has always been an instant choice for me when it comes to hawker centre Western food. So when I learnt that Chicken Box sold extra huge spring chickens and golden cutlets, I was excited to give them a taste.
Food at Chicken Box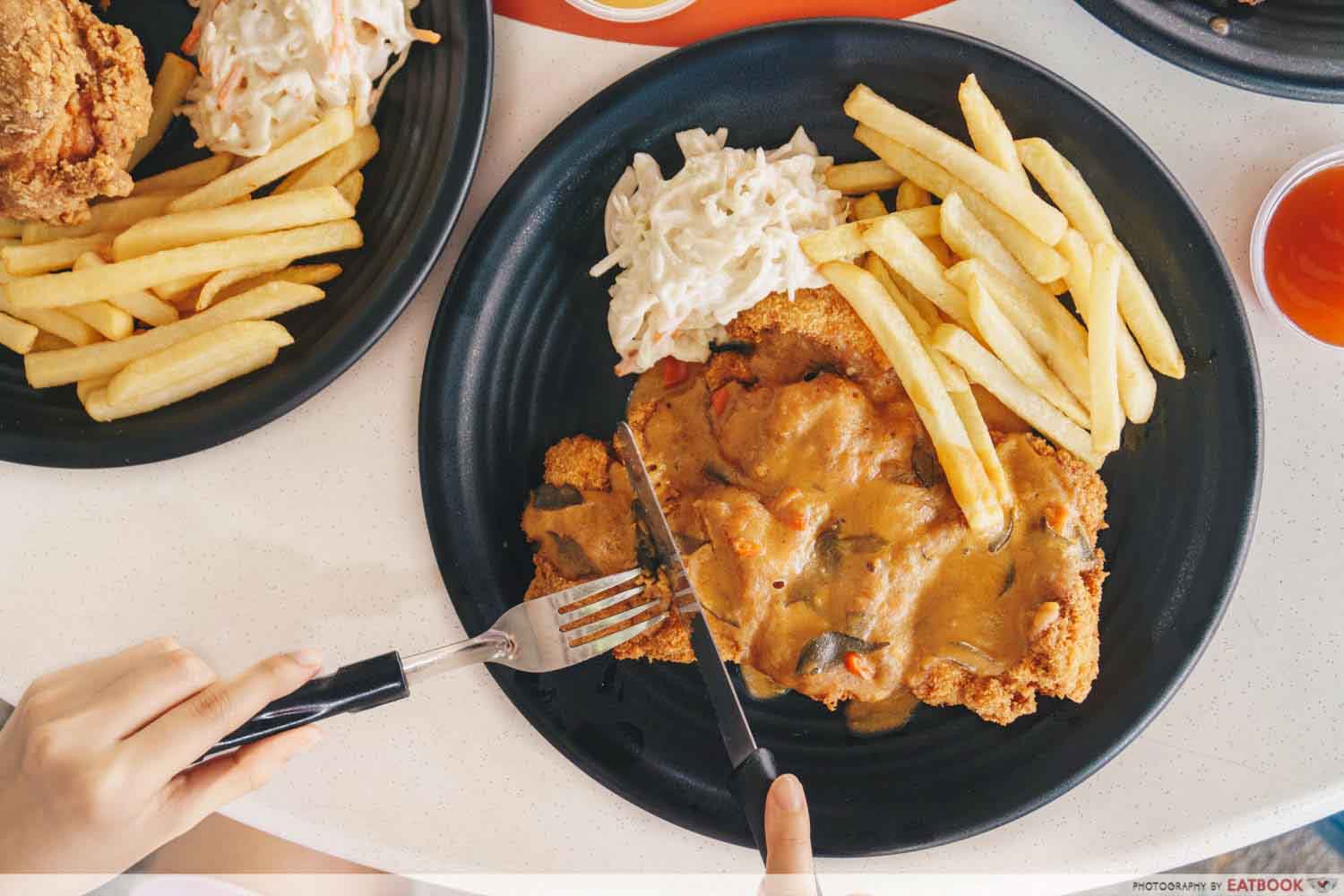 The first item that we tried was none other than the 24K Golden Crispy Chicken ($7.80). The 24K gold in the dish's name referred to its sauce which was made with real salted egg. Its fancy name sure raised our expectations. However, we were slightly disappointed to find the chicken caked with a thick and dull-looking sauce.
The sauce had a powdery texture and cakey consistency, similar to that of actual salted egg. In fact, it gave off a mouthfeel similar to mushy, hard-boiled yolk. Personally, I would have preferred a more creamy sauce, so this dish would be better recommended for those who greatly appreciate real salted egg.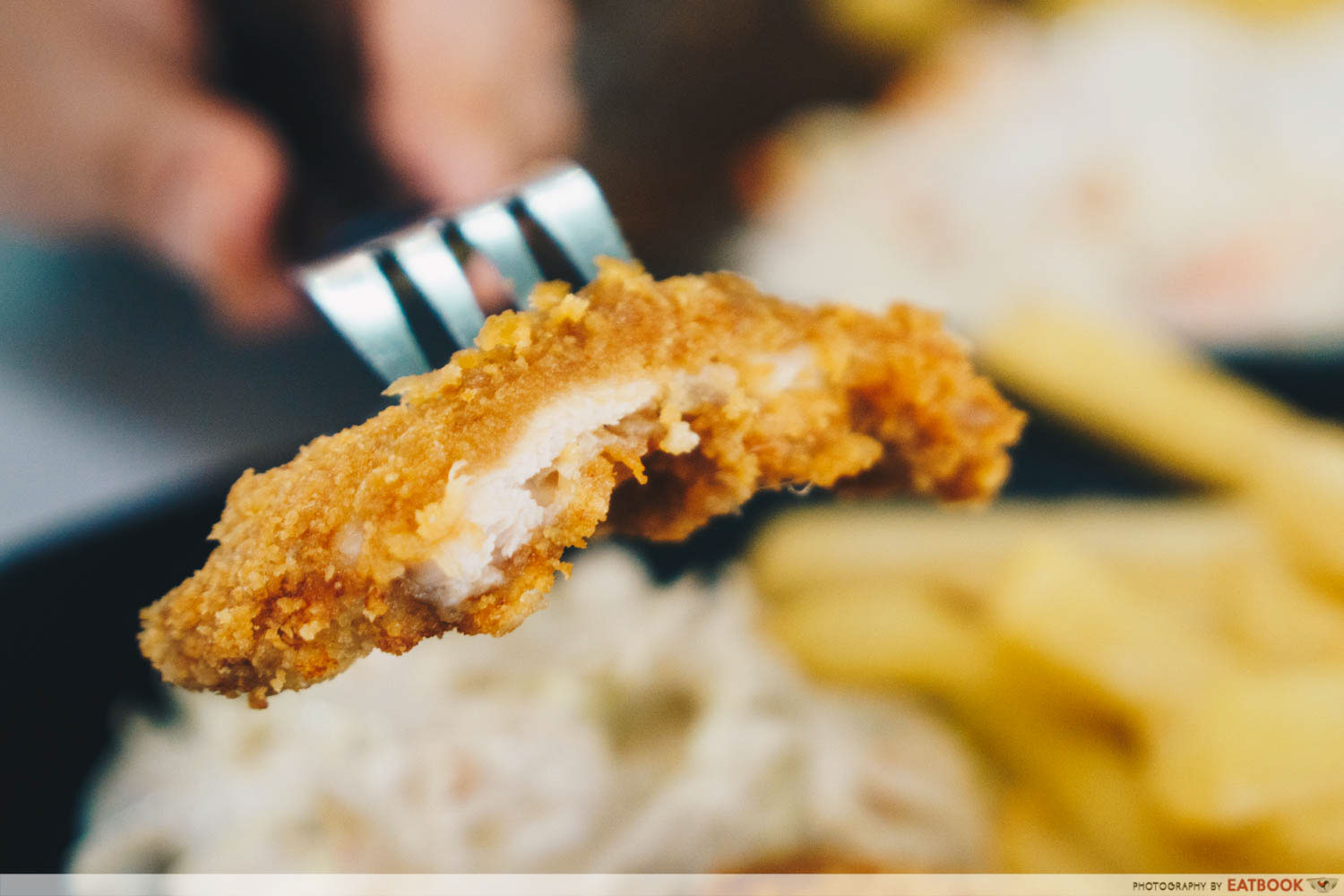 As we tore the large cutlet apart, we found a thin slab of meat encased in the crispy and golden brown skin. The cutlet had a crisp exterior which provided nice crunches. However, there was an uneven ratio of batter to meat, which leaned heavily towards thicker skin. As such, the saltiness from the skin was overpowering.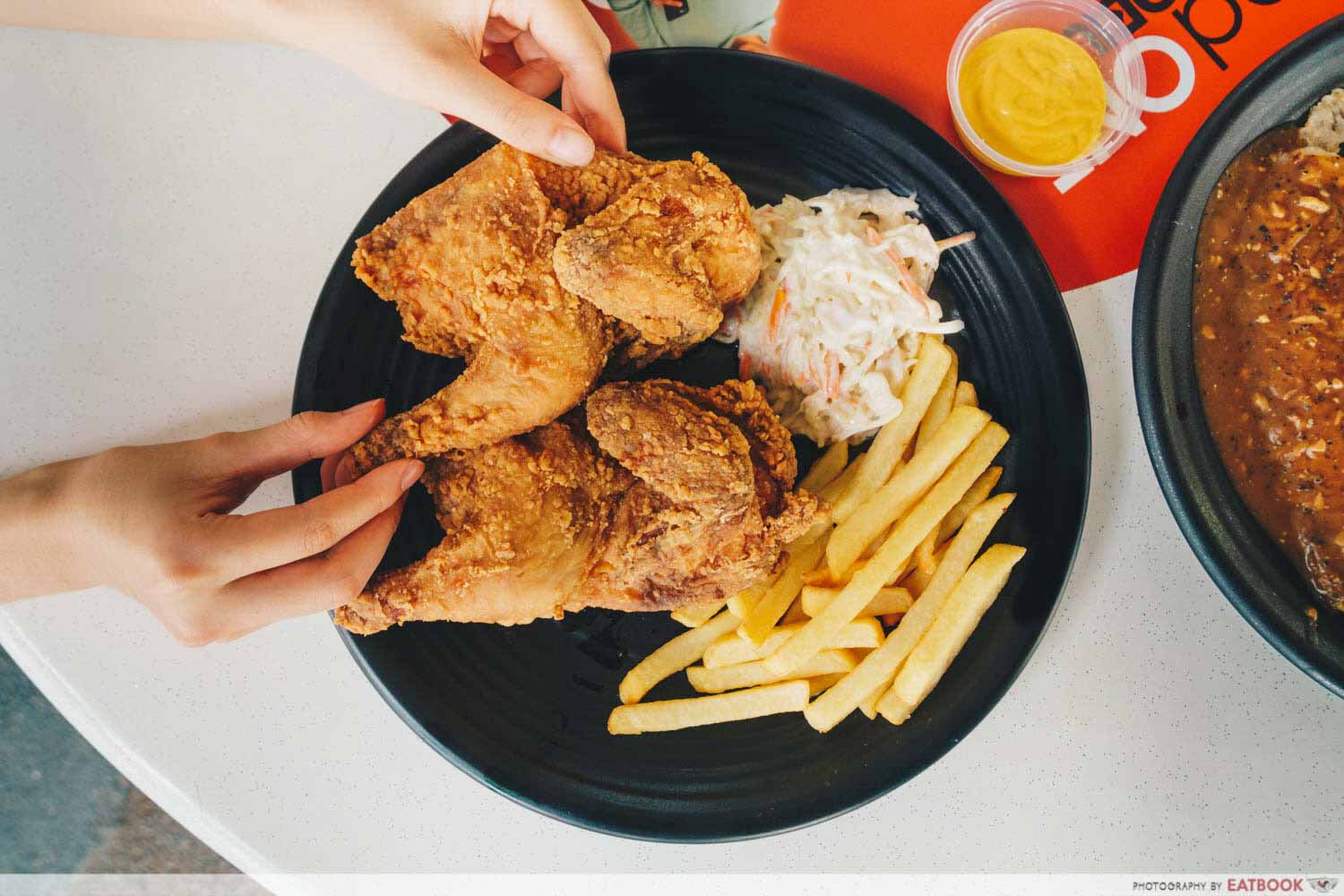 We tried the Whole Spring Chicken ($11.80) next, which looked huge and delectable with an inviting sheen of oil over its golden brown skin. To my pleasant surprise, I found the spring chicken observably larger than those from other Western stalls.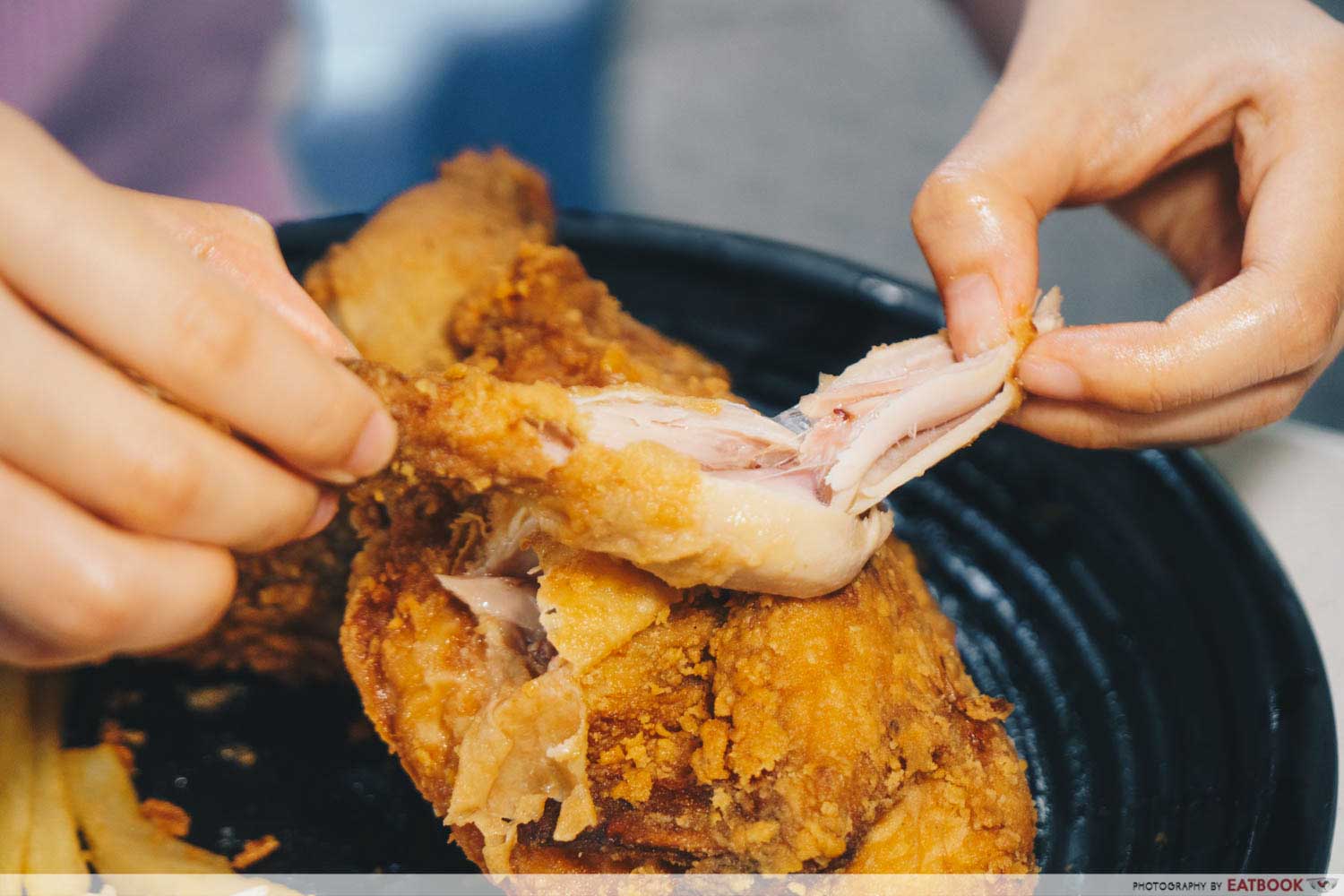 As I tore the chicken apart easily, oil oozed out and the appetising aroma of the fried chicken was practically making us drool! The meat was soft and succulent; its luscious oil giving an extra burst of savouriness.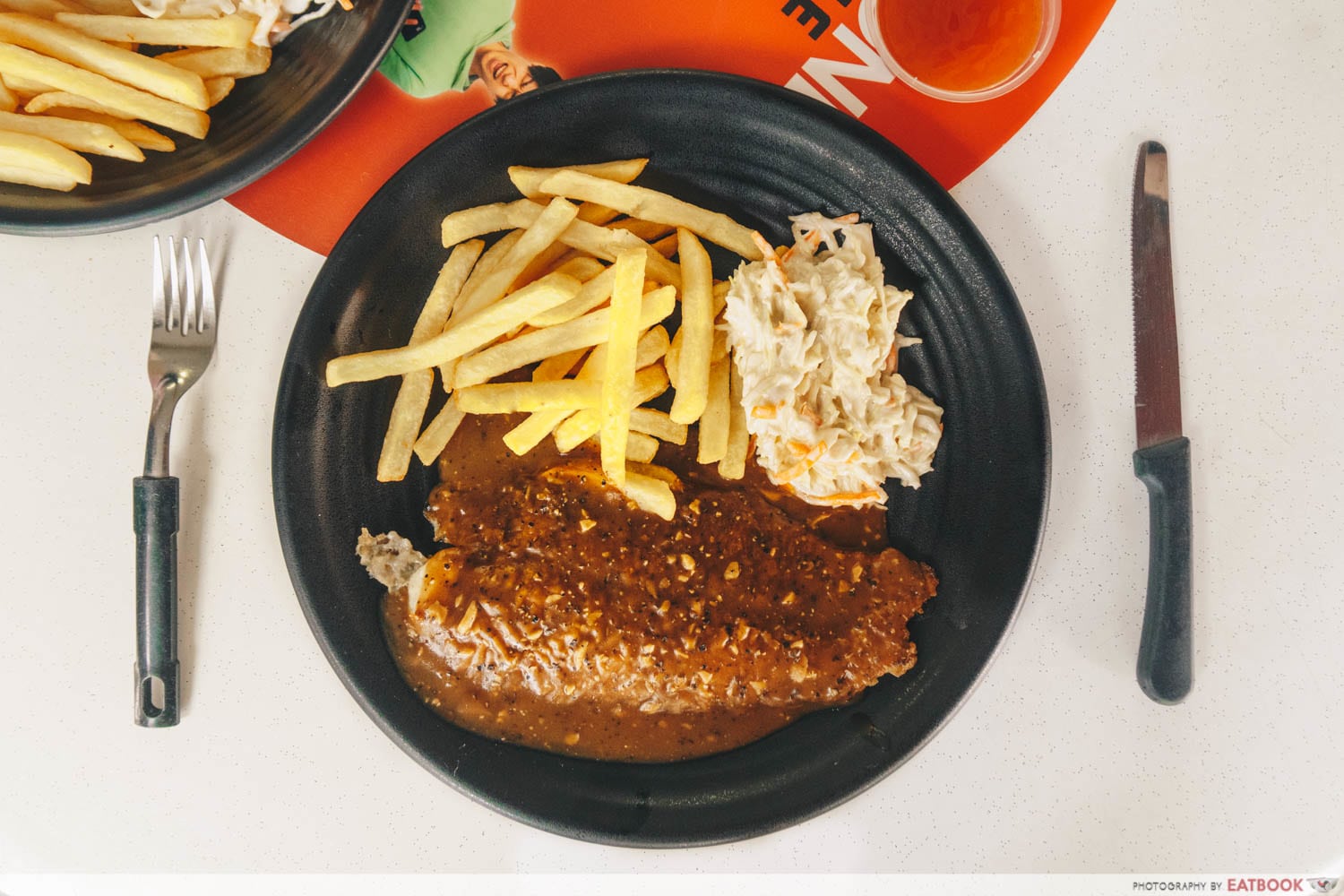 Apart from chicken, Chicken Box has other types of meat available. Craving a little heat to spice things up, we ordered the Grilled Fish Black Pepper ($7.50).
We were offered a fillet drenched with glossy black pepper sauce. The sauce had a slightly gelatinous texture and was velvety smooth, giving off a pleasant pepperiness that paired well with the fish.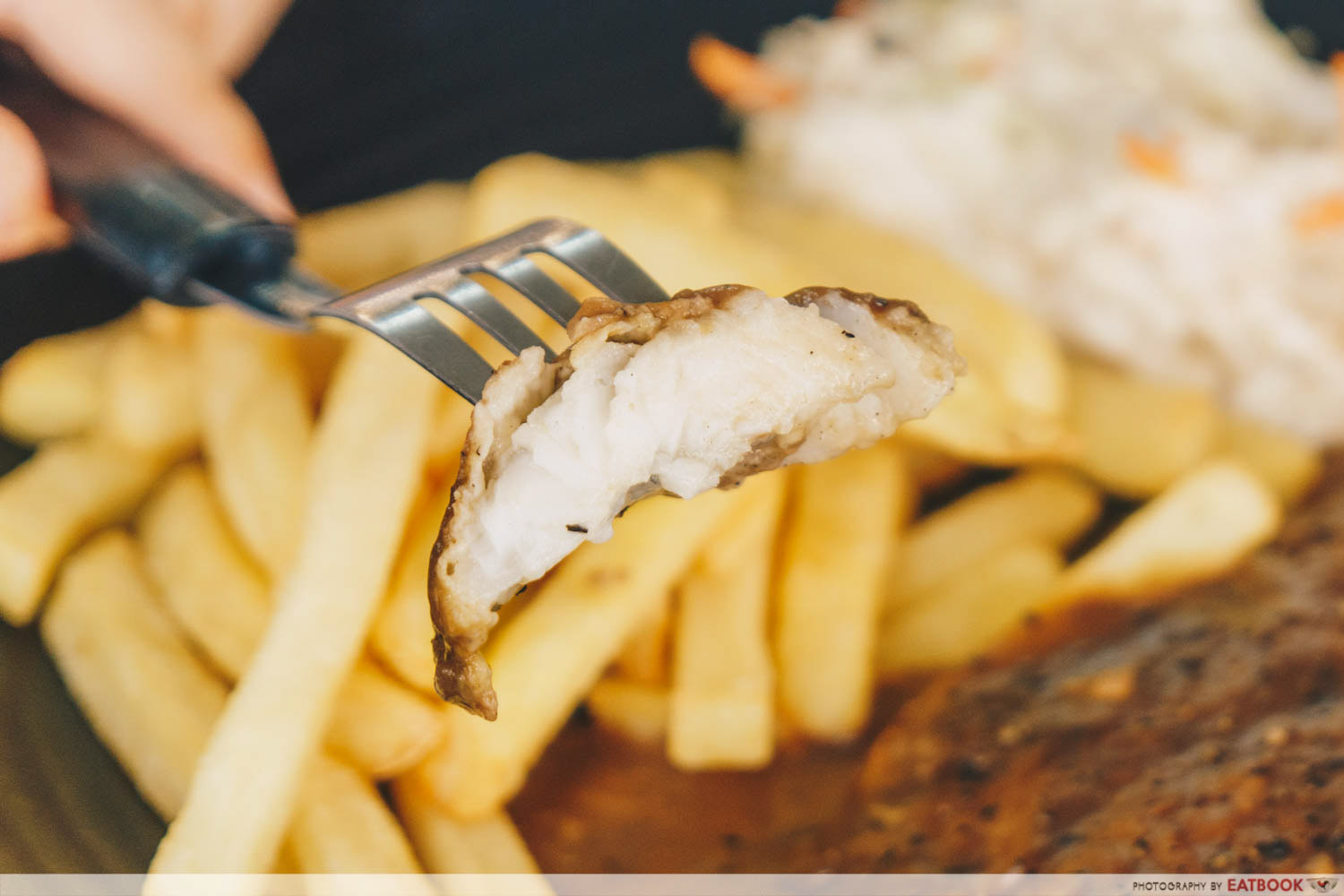 The fillet tore apart easily to reveal moist, soft meat which tasted fresh and tender. We finished this dish quickly, because of how easily eaten it was.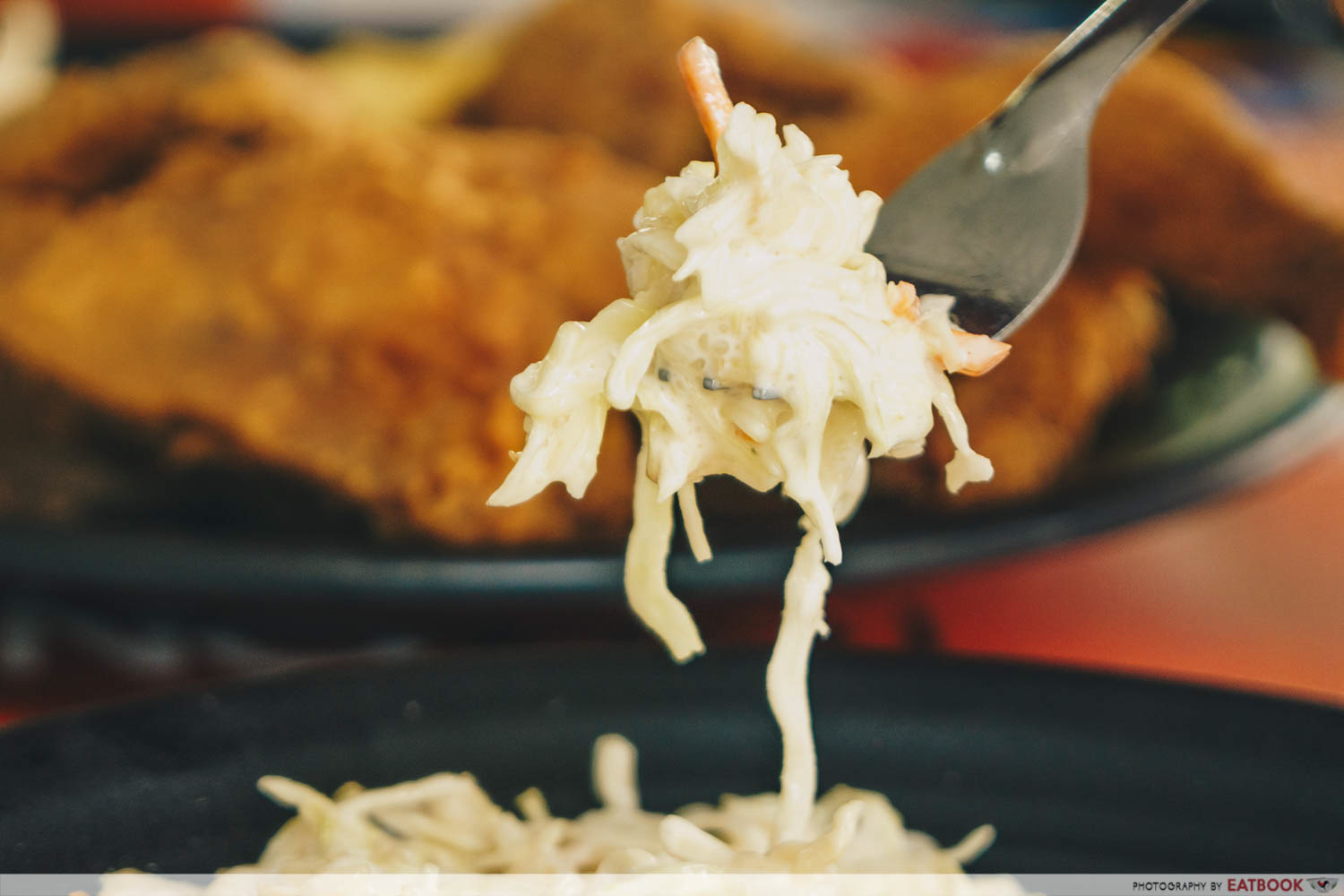 All three mains came with a side of coleslaw which served as a sweet and fresh complement to the saltier mains.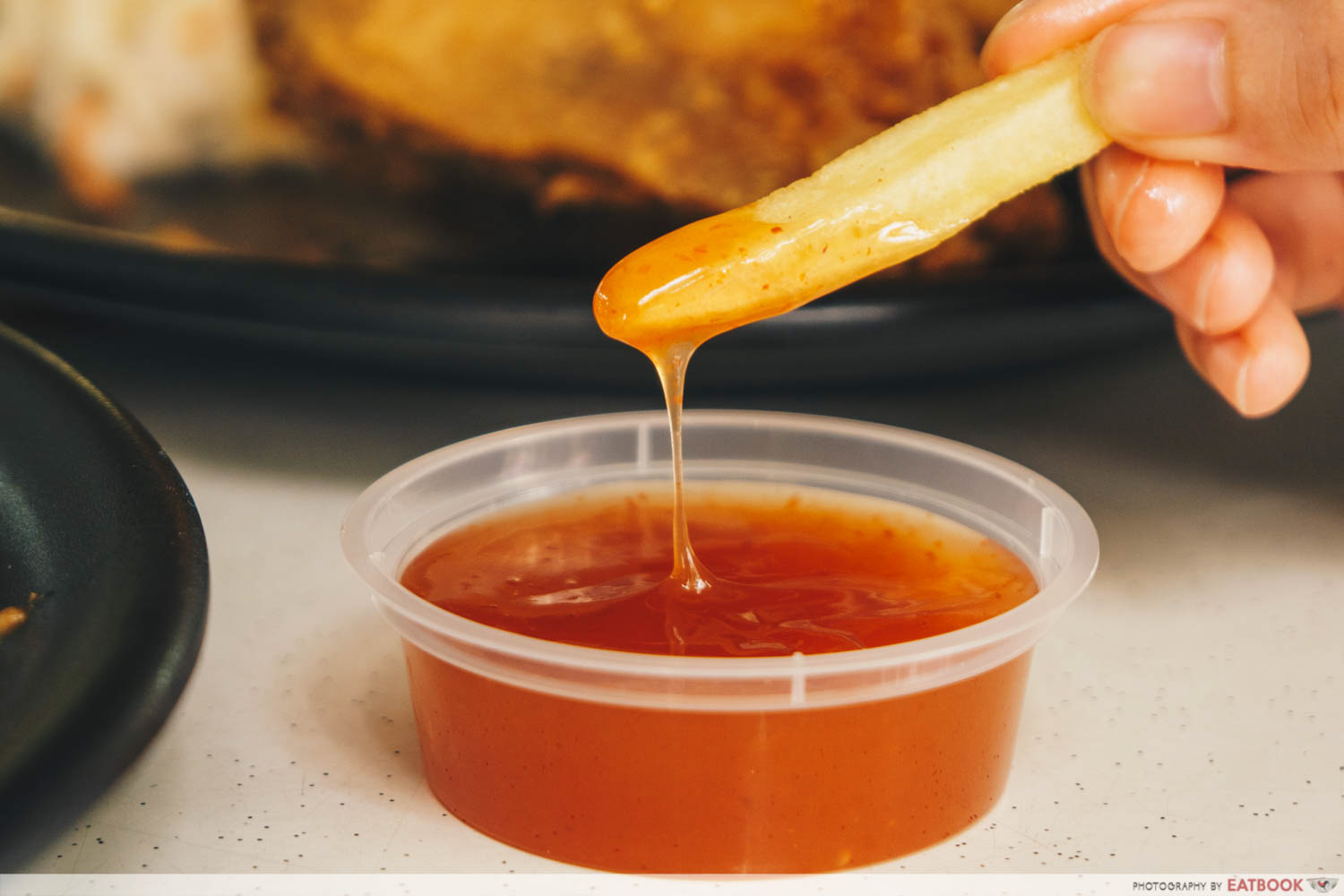 We enjoyed the steak cut fries with the chilli sauce, which was slightly different from what we usually got from other Western hawker stalls. Instead of simply being sweet, this sauce was additionally tangy and offered more heat. It paired well with the thick and large fries, as well as the meat of the spring chicken.
Ambience at Chicken Box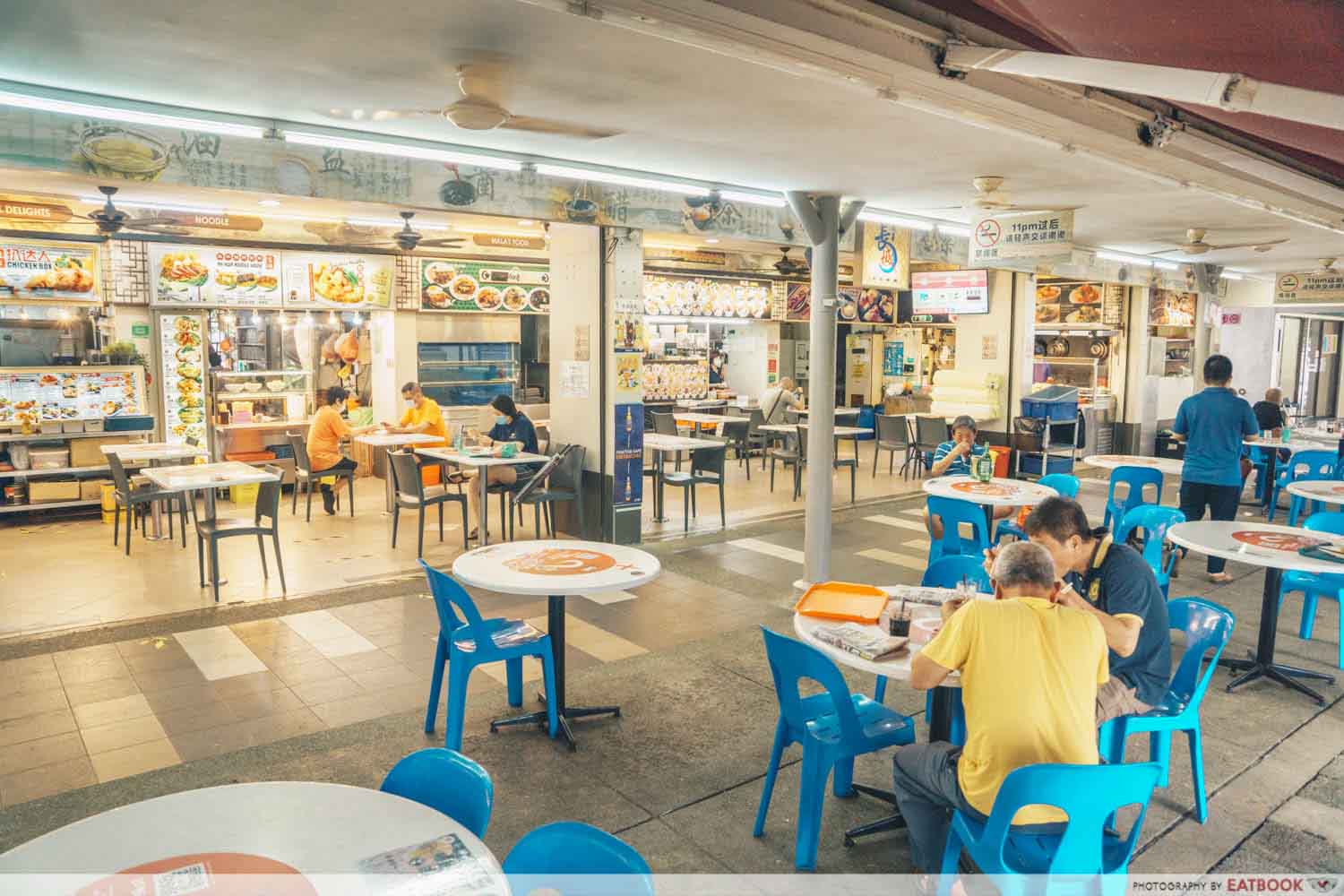 A 10-minute walk from Lakeside MRT Station, this Chicken Box branch might be less accessible for non-Westies. Being well-ventilated, it is a great place to enjoy a meal, even in Singapore's sweltering hot weather. However, there were way too many flies ready to snatch our food, and we had to constantly swat them away.
The verdict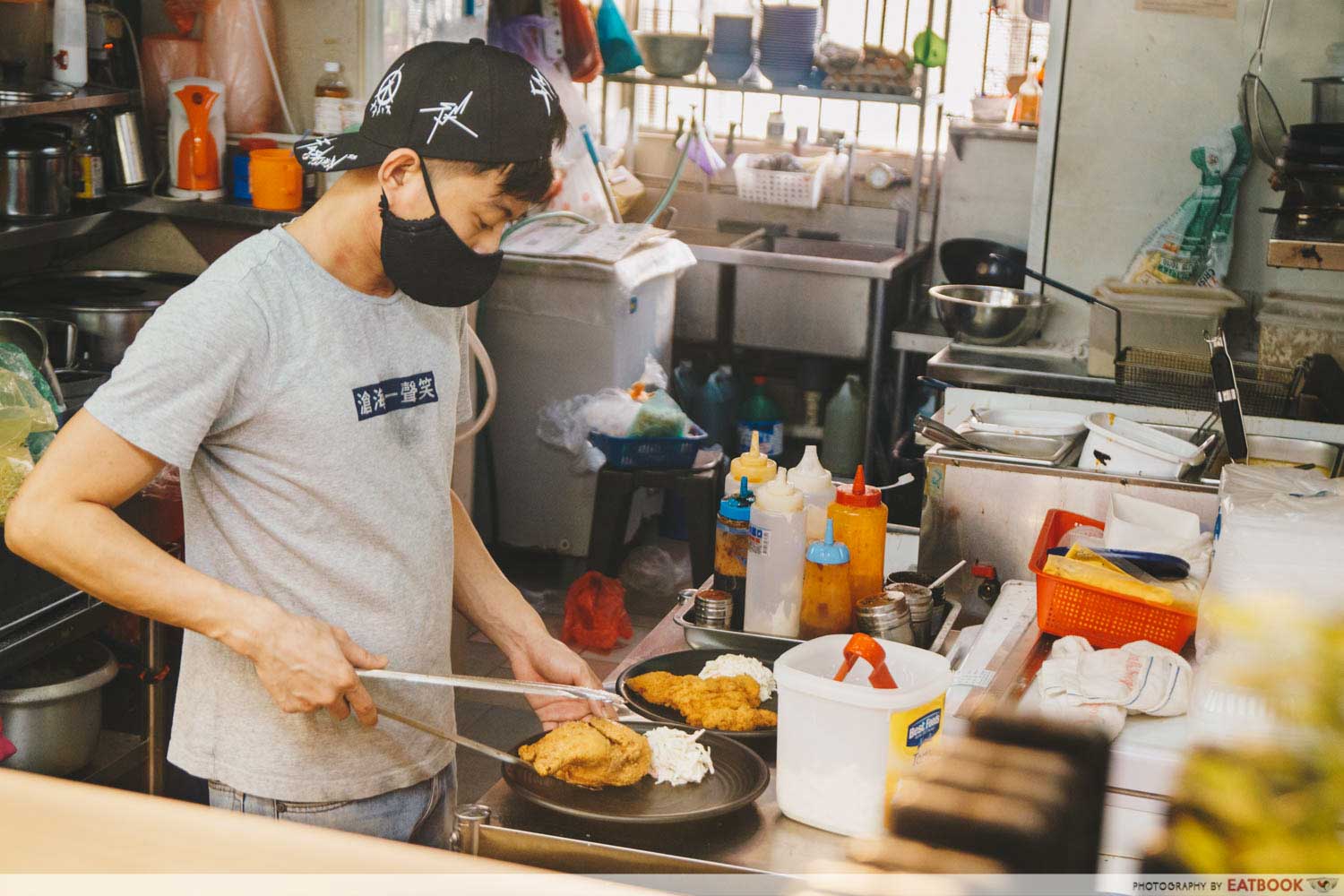 Overall, the food at Chicken Box was fairly affordable. While the 24K golden crispy chicken was disappointing, the spring chicken was stellar in both size and taste. Lying in the middle of the spectrum, the grilled fish was average but still provided a tasty, hearty main.
Though the food is slightly pricier for hawker food, the large portions of most of the dishes justified that. In fact, they might just be my next go-to when I'm craving for fried spring chicken.
If you're seeking other options nearby to satisfy your chicken cravings, do check out Chicken Supremo and Qi Lin Xuan Chicken Rice.
Address: 498 Jurong West Street 41, Chang Cheng Coffeeshop, Singapore 640498
Opening hours: Daily 11am to 9:30pm
Tel: 9387 8801
Website
Chicken Box is not a halal-certified eatery.
Photos taken by Muhammad Hafiq.
This is an independent review by Eatbook.sg.
Chicken Supremo Review: Huge And Crispy Chicken Cutlet At $4.80 In Jurong!
Summary
Pros
– Generous portions
– Huge spring chicken
Cons
– Salted egg sauce was dry
– Pricey
Recommended dishes: Whole Spring Chicken ($11.80)
Opening hours: Daily 11am to 9:30pm
Address: 498 Jurong West Street 41, Chang Cheng Coffeeshop, Singapore 640498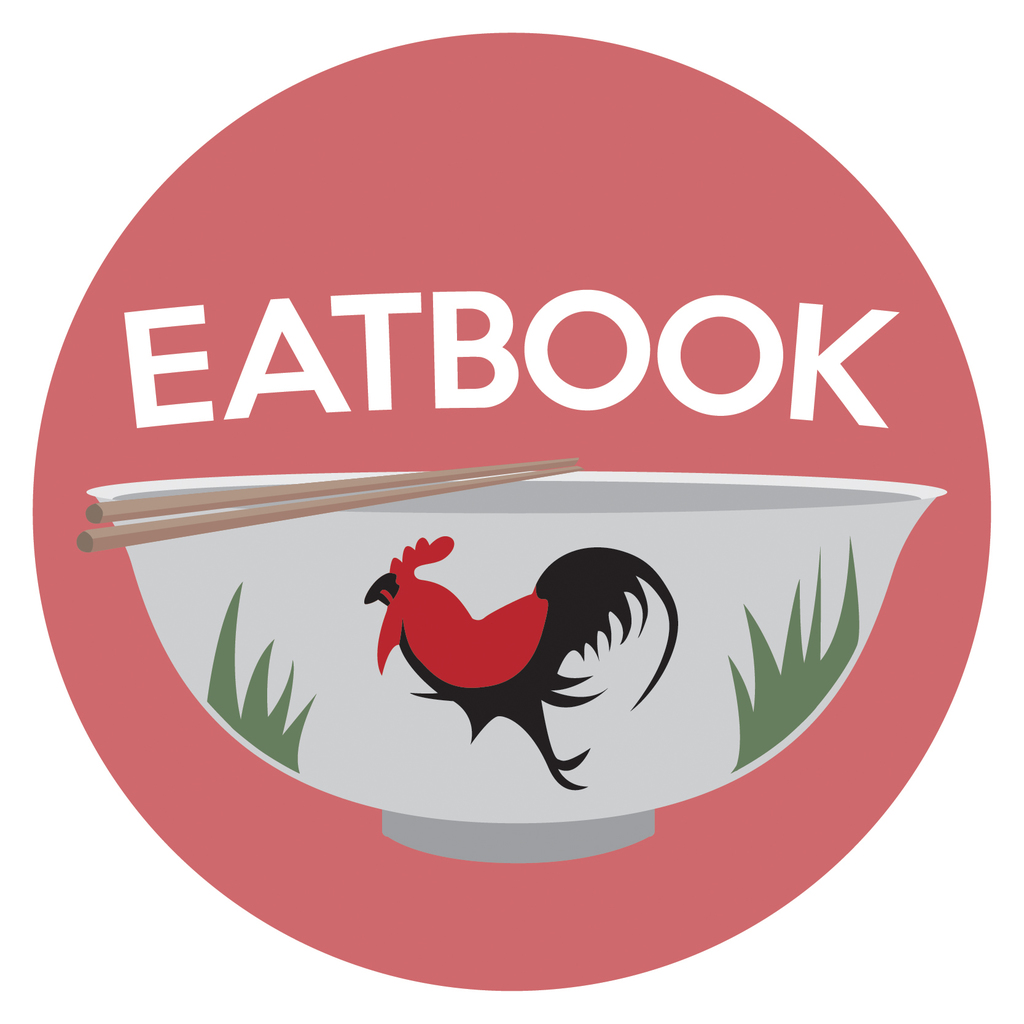 Drop us your email so you won't miss the latest news.