Qi Lin Xuan Chicken Rice Balls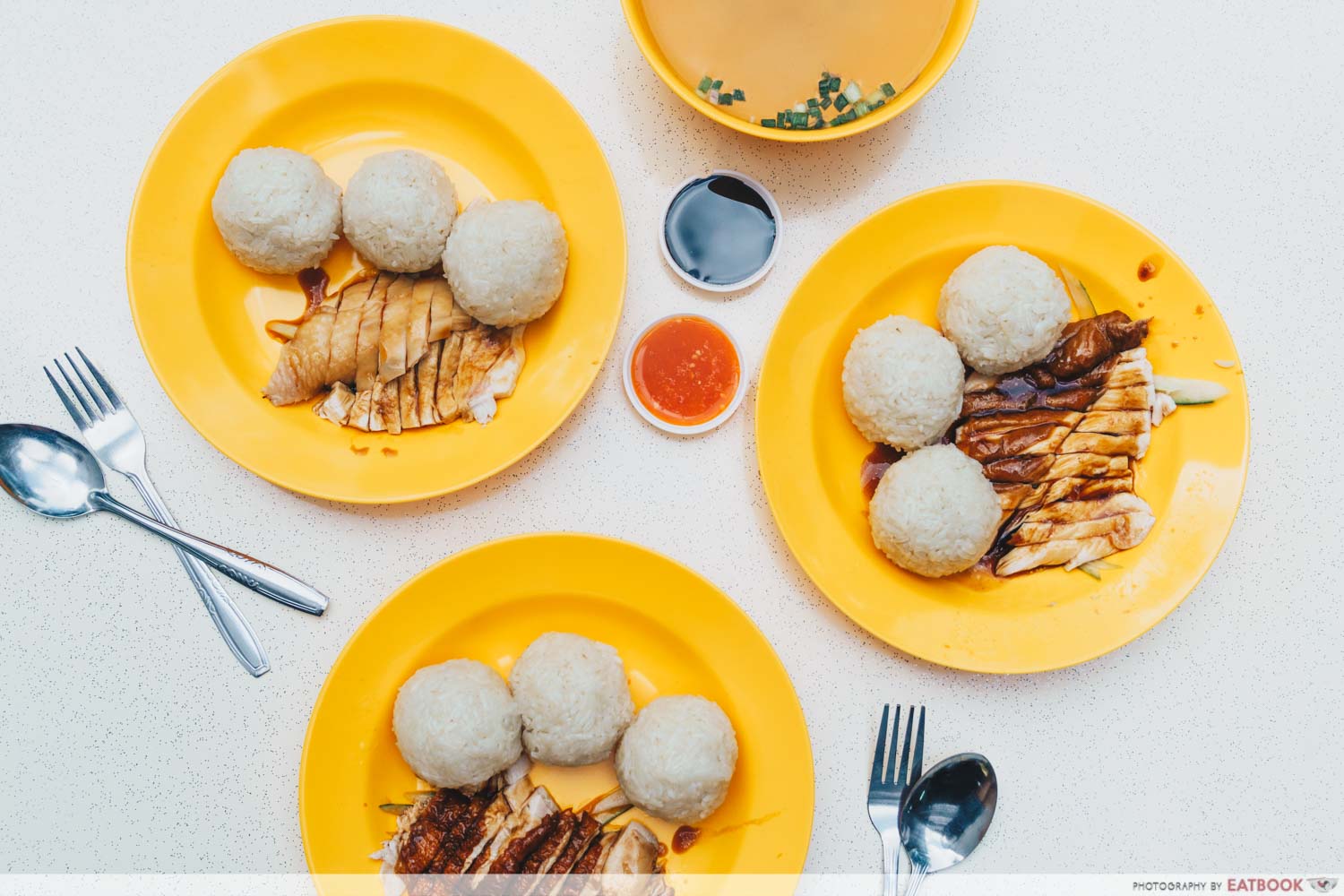 My quest to catch the sunrise at the newly opened Jurong Lake Gardens brought me to Qi Lin Xuan Chicken Rice. It was only 4:30 am, but I already found a few youthful men slogging away at this hawker stall. Fragrant rice for the rice balls had been steamed and the chickens already poached. Every step looked incredibly laborious, with each element industriously executed.
By the break of light, a long queue formed across their stall. Yet, the cooks did not waver. It was like clockwork in the kitchen. Everybody worked as a seamless cog in a well-oiled machine. An order would be hollered by the cashier, chased with a frantic cleaving of meats and hurried moulding of rice balls.
Food at Qi Lin Xuan Chicken Rice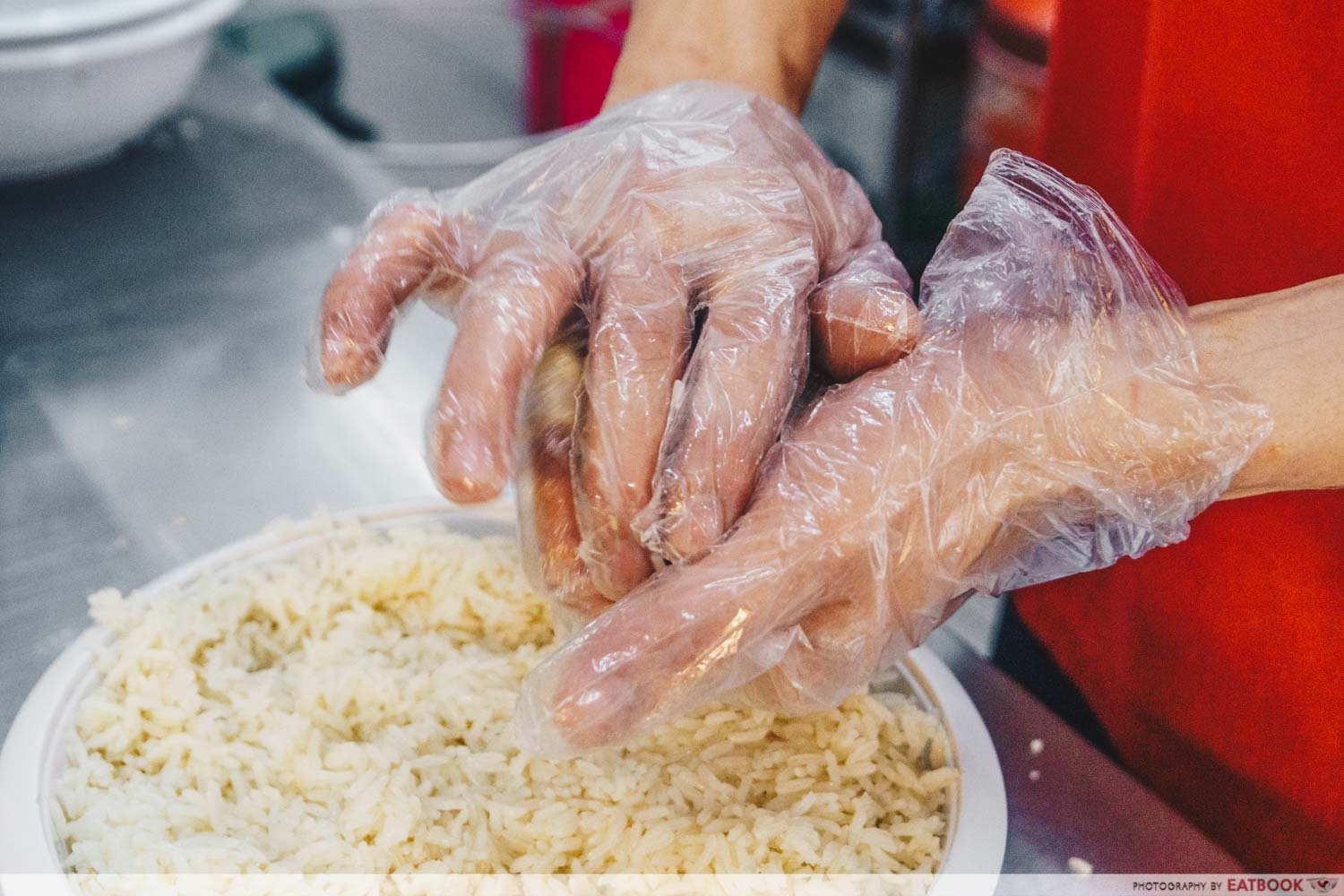 The rice, though seemingly loosely measured, always yielded uniformy shaped balls. A few deft movements later, 24 ivory-white spheres had been churned out for a family of four.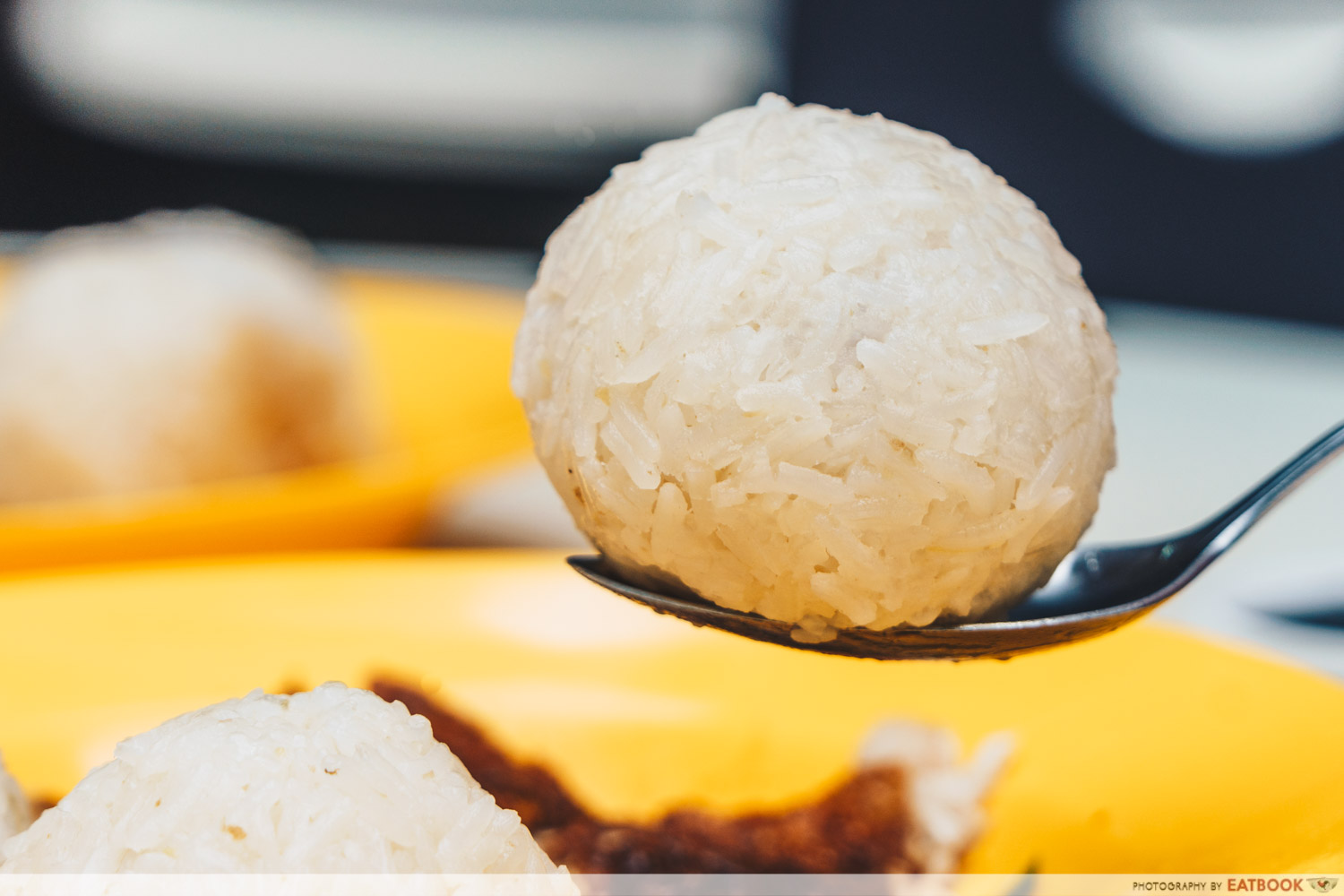 The freshly sculpted rice balls were large and hefty, emanating a sweet perfume of ginger and chicken.
Its taste was concentrated—almost like Tian Tian's, but even more fragrant. I was told that a more liberal amount of ginger, spices, and chicken oil were added as compared to the norm.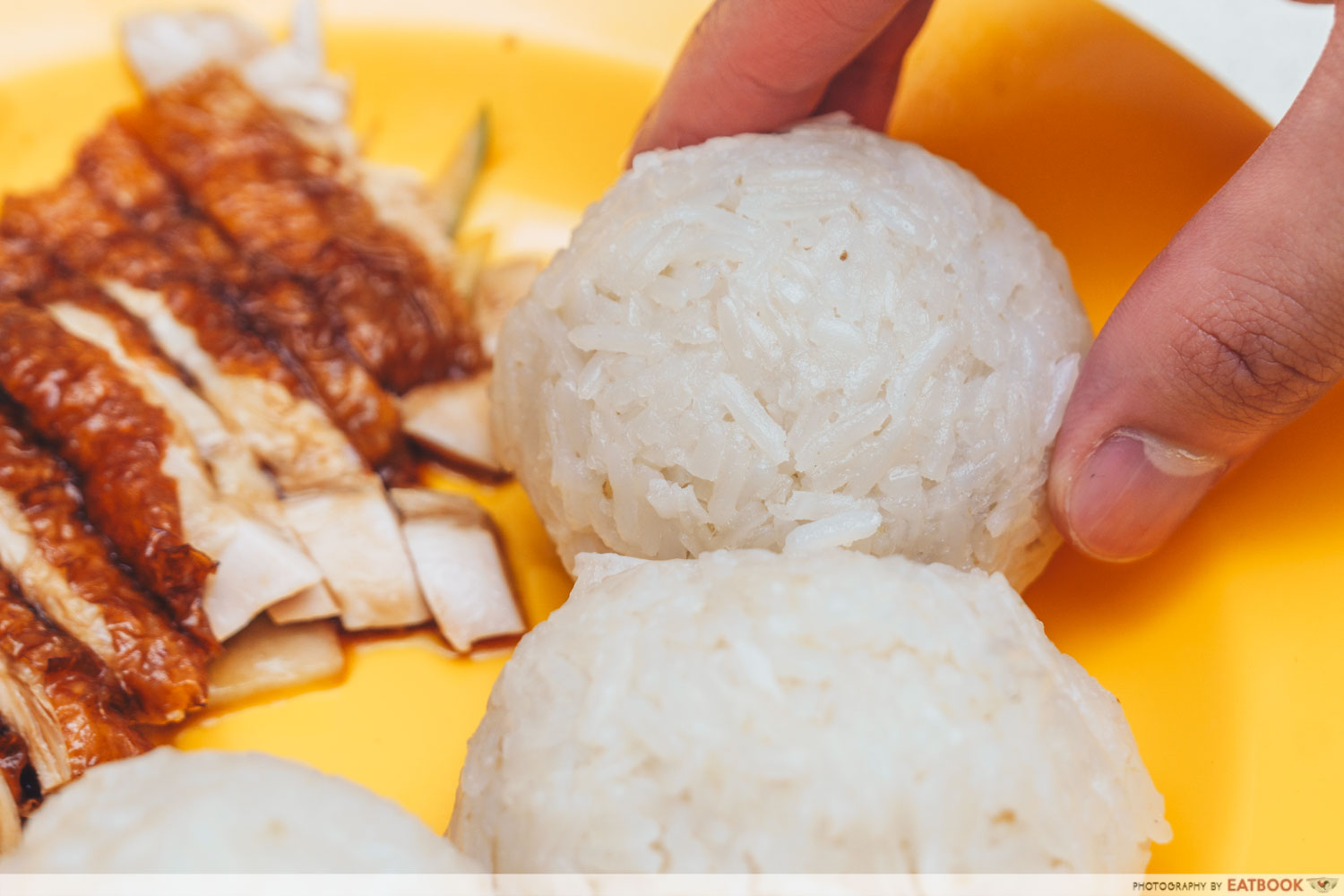 Using my hands to take a bite at the rice ball felt more delightful than having it in a bowl. The compacted rice grains were coated in a sheen of oil, and there was a slight stickiness of starch holding everything together.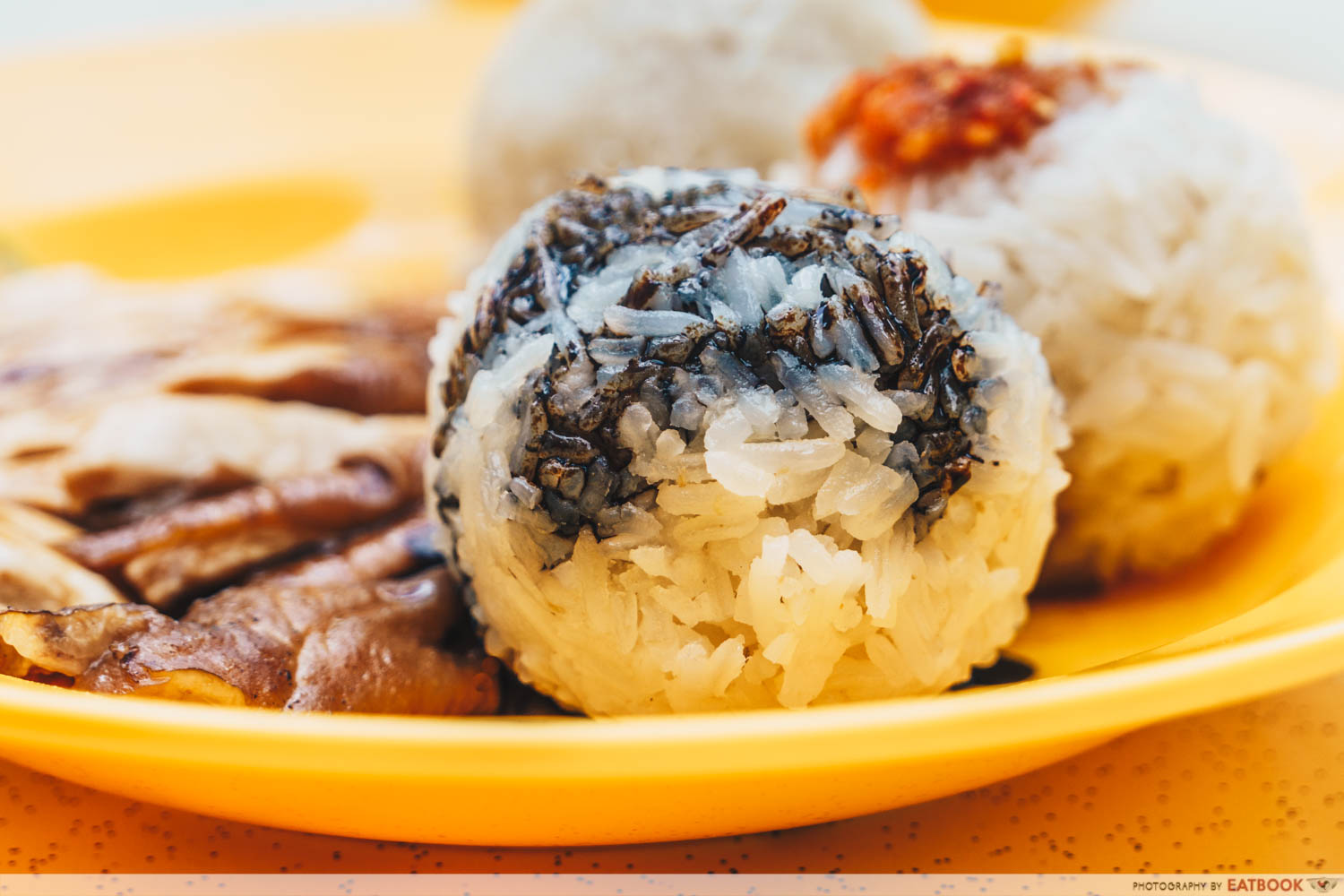 Eating them with chilli and dark soy sauce elevated the experience. The dark soy sauce layered a gentle sweetness, while the slightly tarter and garlicky chilli provided a salivating kick.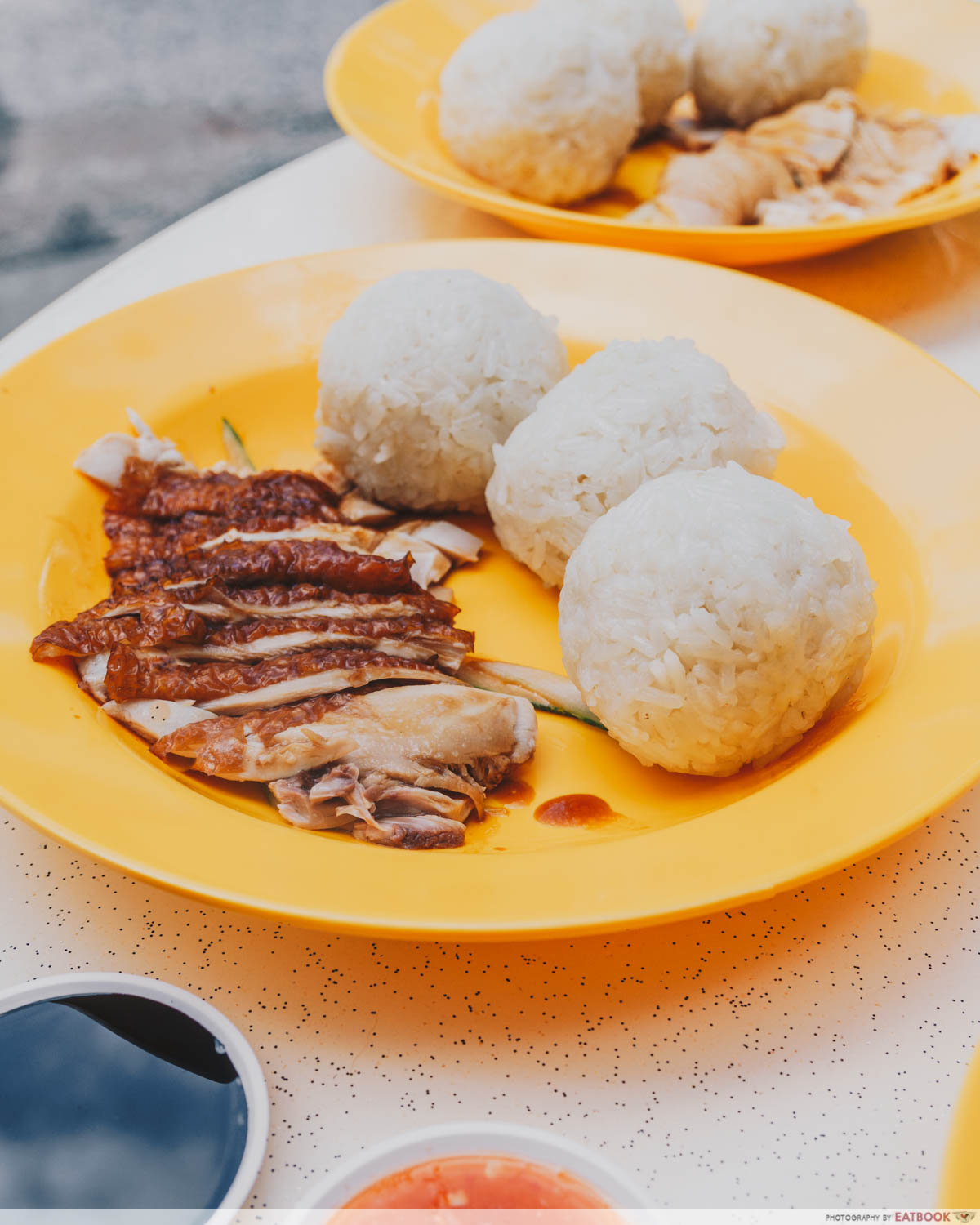 Like the Roasted Chicken Rice ($3.50), all meals come with three chicken rice balls. I would suggest getting a few more at $0.40 each—simply because they're so good.
Equally remarkable were the slivers of roasted chicken. The skin was broiled to a dark brown; darkened by its marinade and pimped up by a nice caramelisation.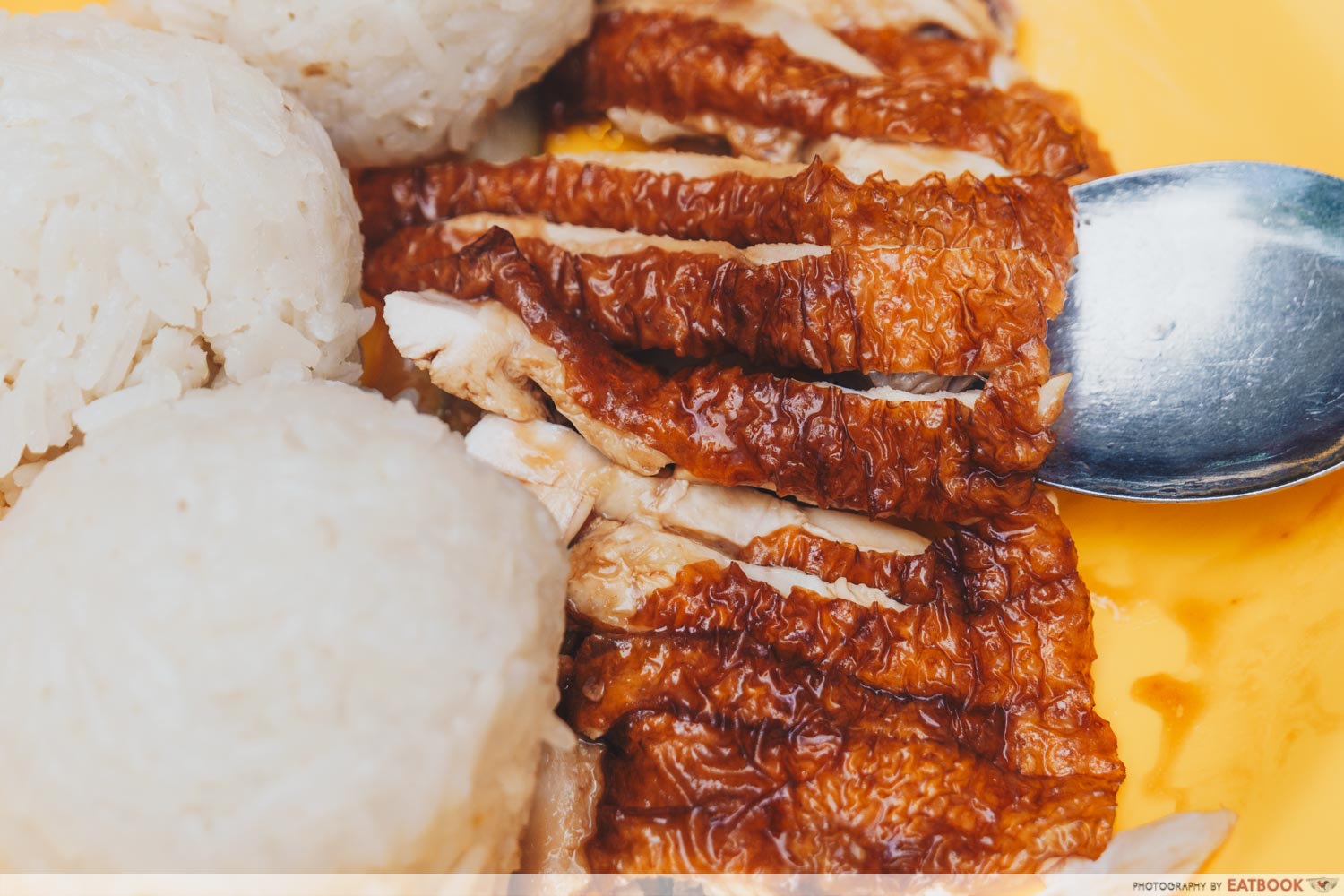 All that roasting also conferred a certain nuttiness, and every morsel of meat was infused with a subtle smokiness.

Chewing into the chicken fats released a film of chicken oils that enveloped my tongue. And because of how saturated the flavours were, the profoundly meaty taste lingered in my mouth.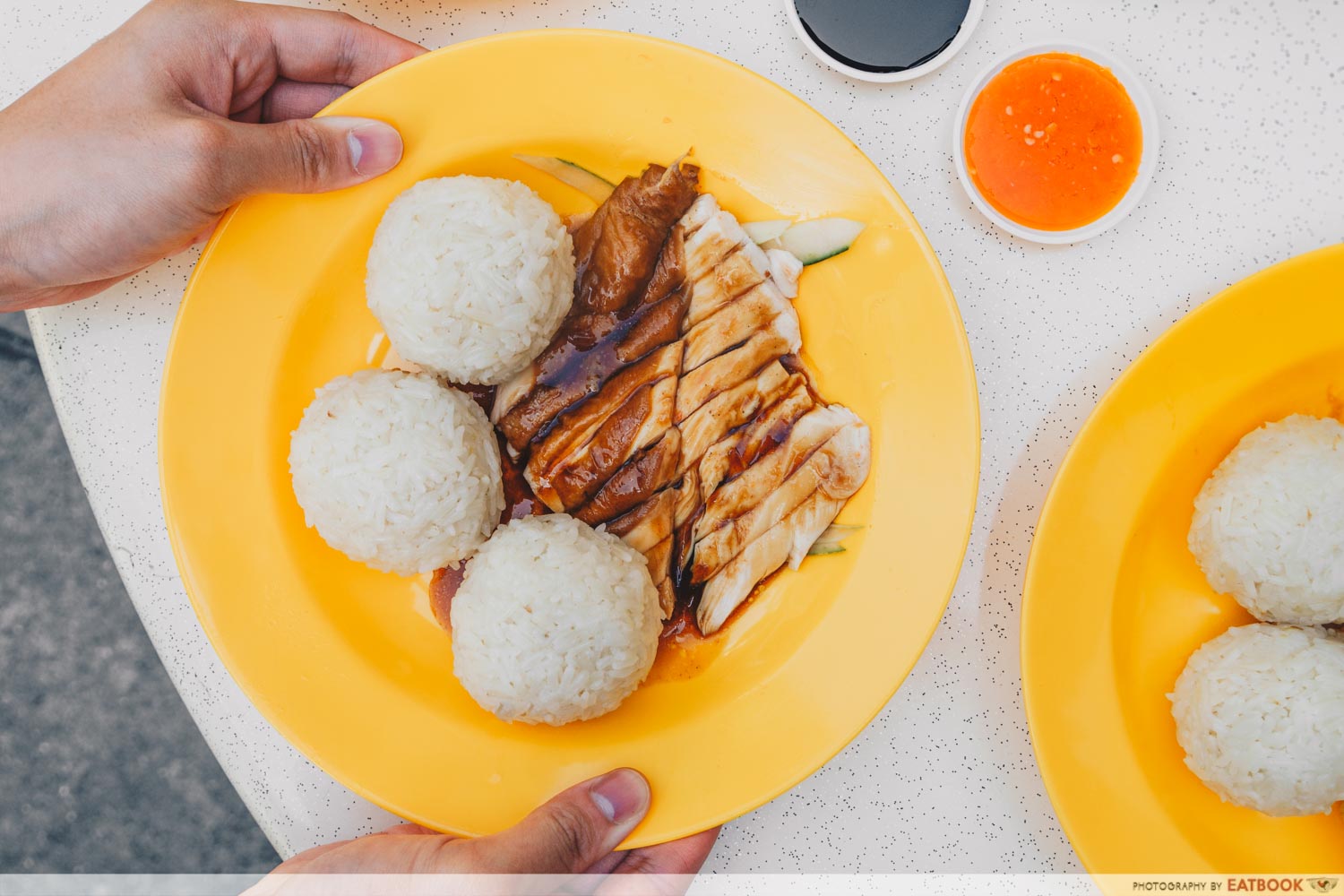 The Soya Sauce Chicken Rice ($3.50) was excellent as well. Think umami-laden soy sauce slathered onto plump pieces of gently braised chicken.
It promises the qualities of both poached and roasted chicken: smooth and succulent yet steeped in meaty flavours.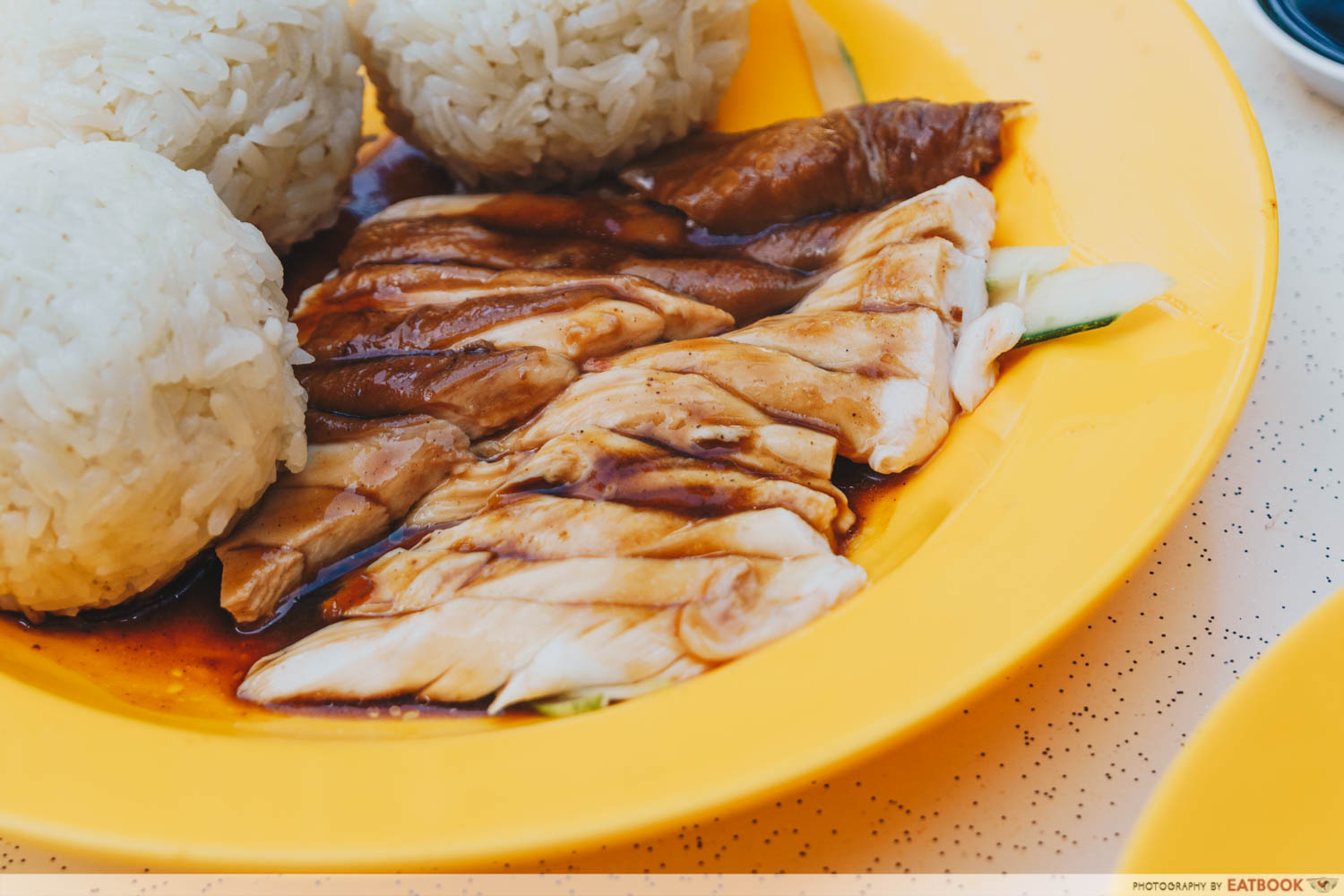 As you would expect, the thick braising gravy penetrated into every nook and cranny. Every bite was a lovely accompaniment of sauce and chicken, culminating in a bouquet of Chinese spices.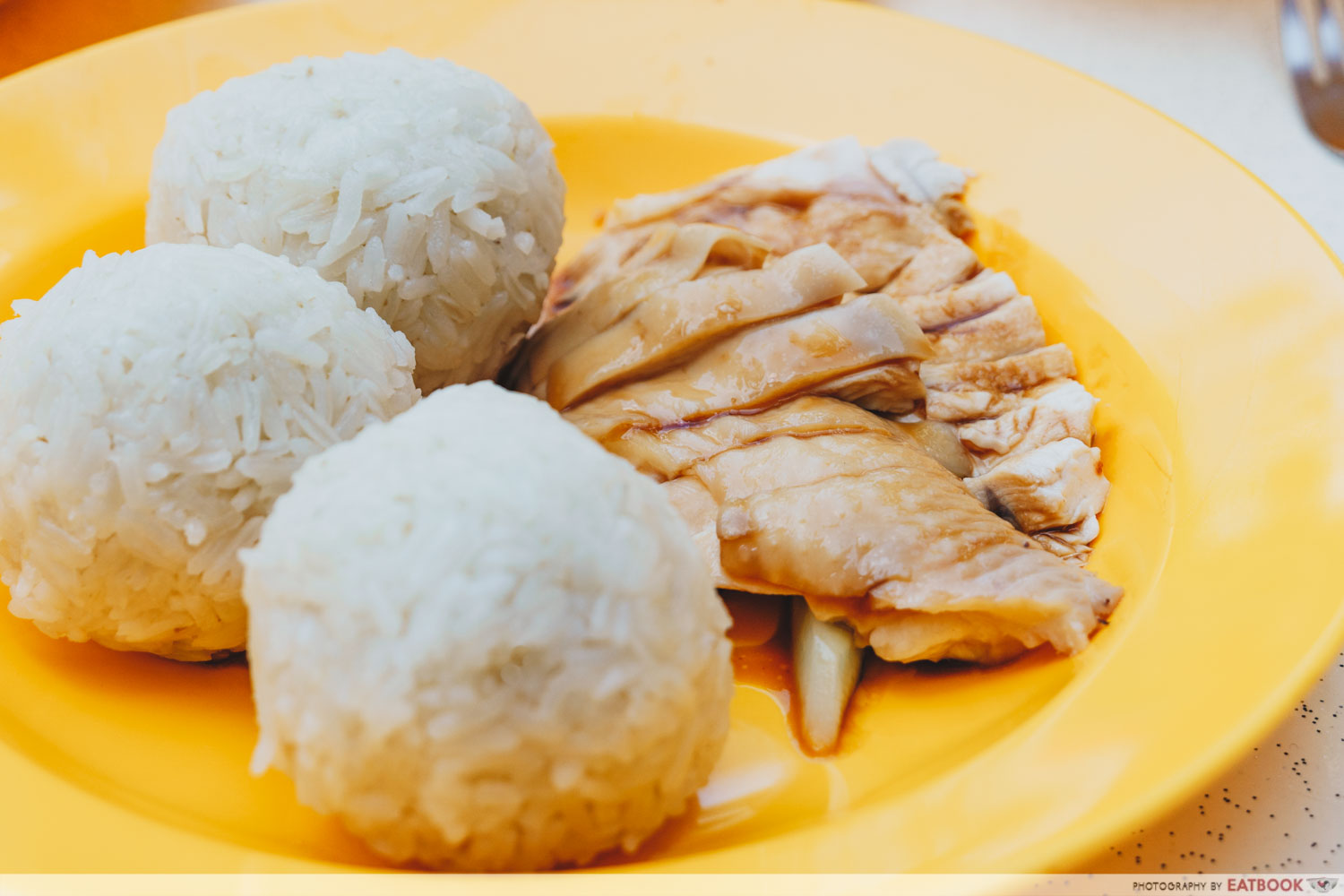 Sadly, the Steamed Chicken Rice ($3.50) was disappointing. This style of chicken, characterised by its smoothness, was not as succulent as I had hoped. In my opinion, one should be able to slurp them up.
And while it was swimming in a pool of soy marinade, it was jarringly tasteless. I would've personally enjoyed them with more flavour to complement the stronger tasting rice.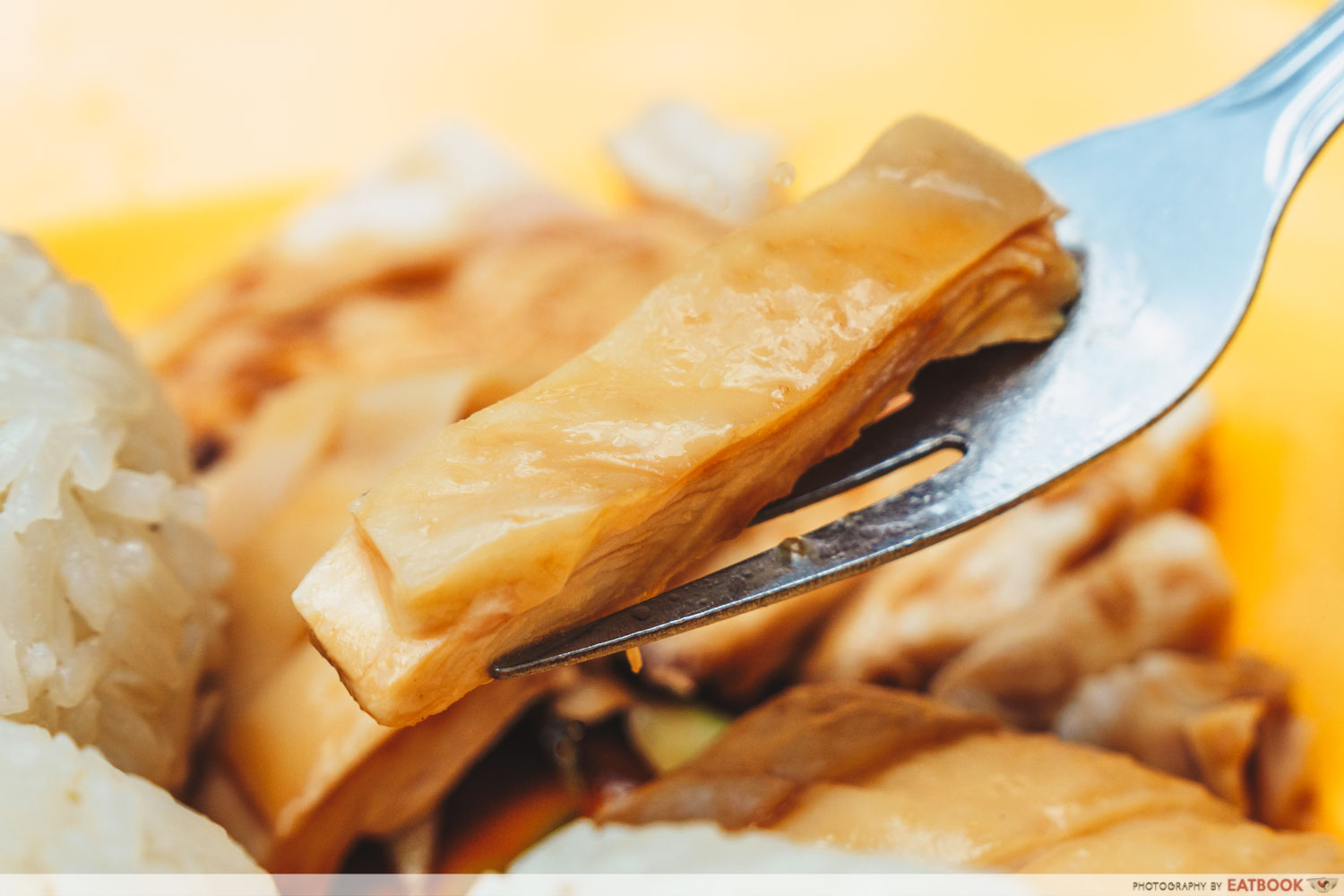 Its saving grace came in the layer of jelly-like gelatin beneath the skin—a hallmark of any respectable poached chicken.
The firm yet supple gelatinous film gave added layers of texture to the otherwise boring piece of protein.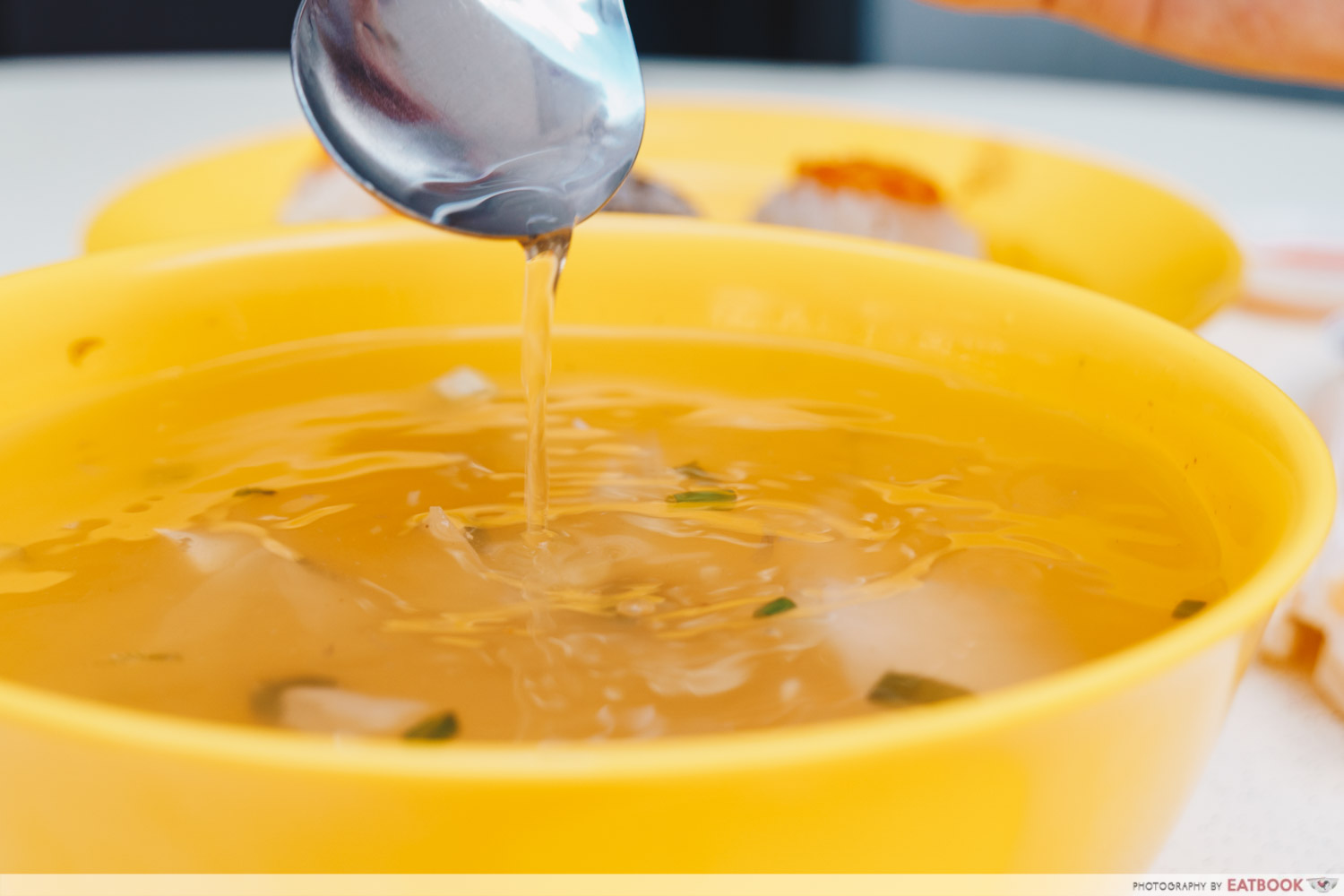 We were offered a huge bowl of soup to complete our meal. Various chicken parts were strewn into the soup pot to give a strong essence of chicken.
There was also a natural sweetness which seemed to accentuate all its flavours.
Ambience at Qi Lin Xuan Chicken Rice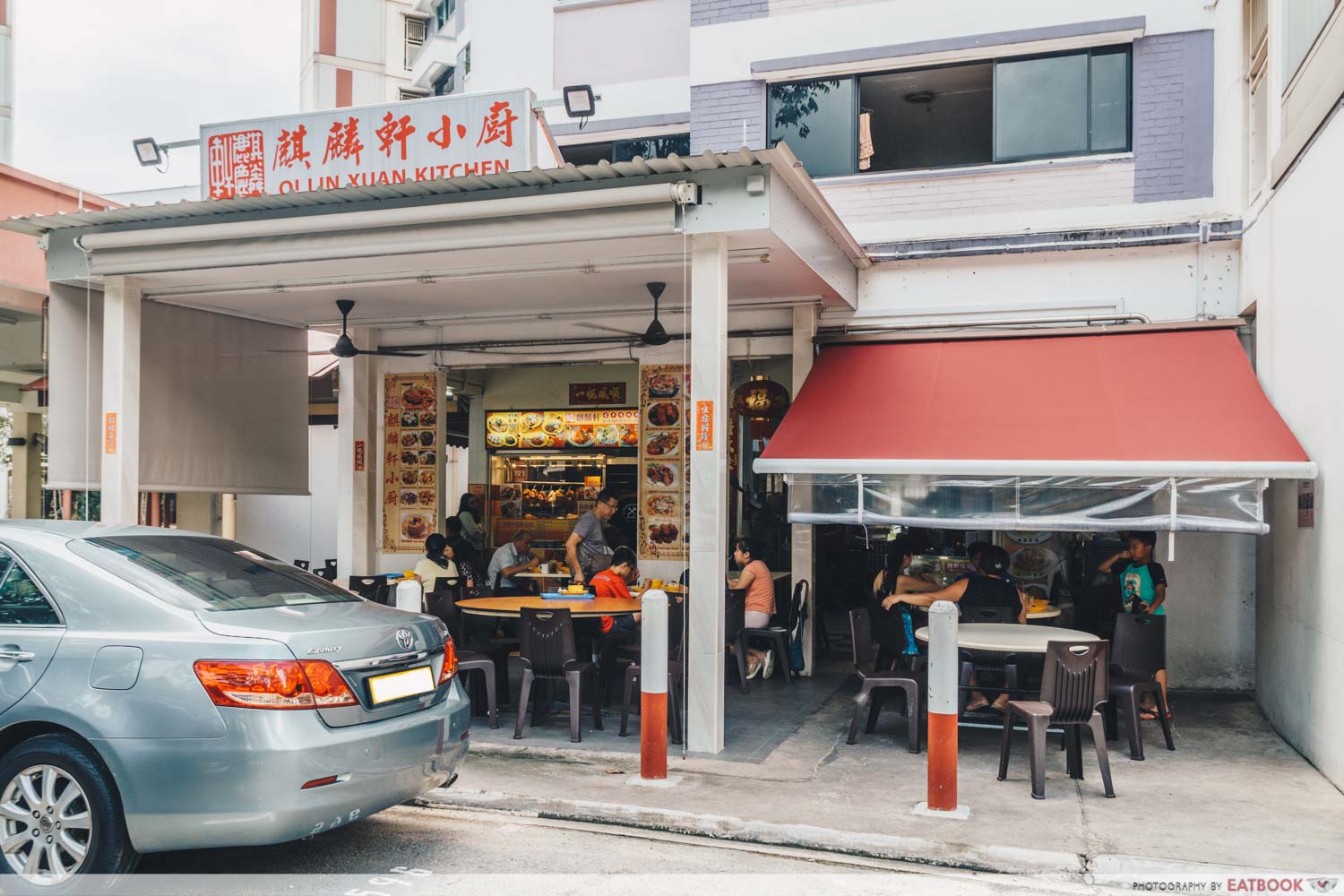 This nondescript Lakeside chicken rice stall is part of the zi char chain, Qi Lin Xuan Kitchen. They're housed right under a void deck, outfitted with a few rounded tables. And while service here is fast-paced, the staff may also be rather curt and loud.
15 Lakeside Food Spots To Fuel Up At After Exploring The New Lakeside Garden
The verdict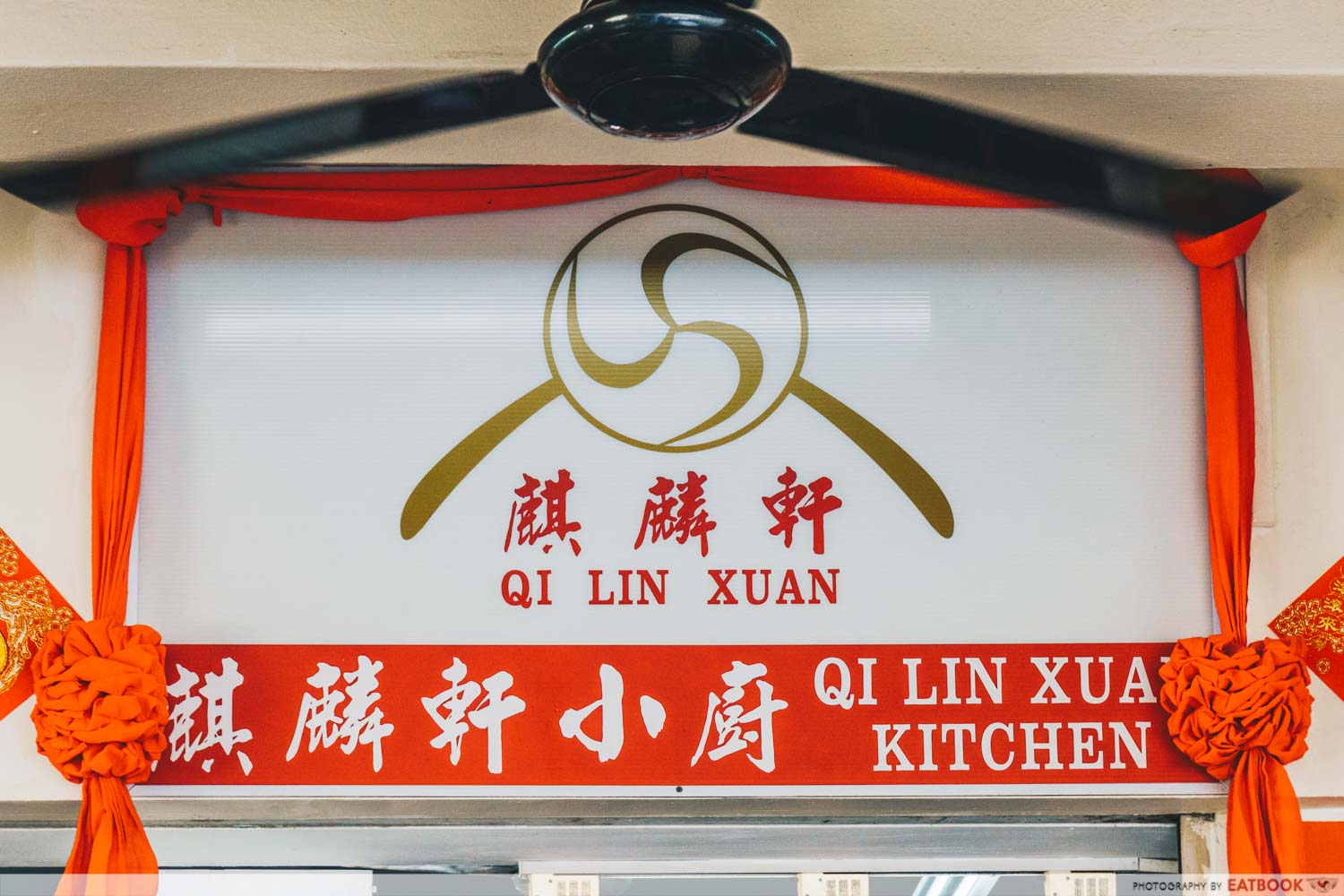 As I inhaled my last rice ball, it occurred to me how much effort went into every plate served here. From the drudgery of an early morning prep to the seemingly banal shaping of these spheres, every step had been rehearsed and mastered.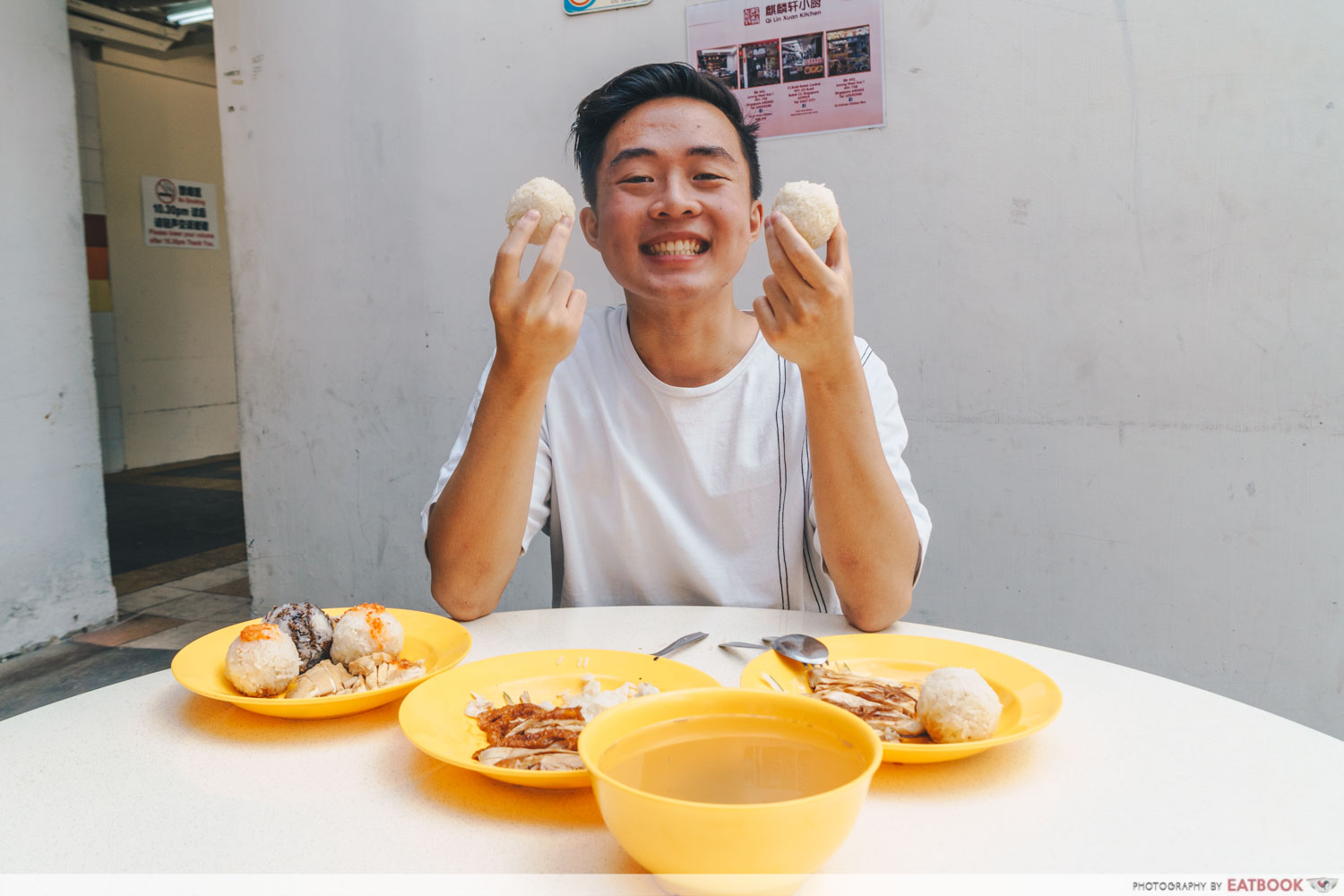 Pricing each ball at $0.40 felt like a gross discredit to their hard work. Every plate felt so artful; every plate was so good. Heck, I've not felt like I had underpaid for food so badly in my life.
Hainan Chicken Rice Ball Review: Old-School Chicken Rice Ball Stall Opposite Sim Lim Tower
Address: Block 442 Jurong West Avenue 1, #01-758, Singapore 640442
Opening hours: Daily 6am to 4pm
Website
Qi Lin Xuan is not a halal-certified eatery.
Photos taken by Leong Kit Shan.
This is an independent review by Eatbook.sg
Summary
Pros
– Cheap rice balls
– Great quality of food
– Good portions
Cons
– Inaccessible location
– Some staff were curt
Recommended dishes:  Roasted Chicken Rice ($3.50), Soya Sauce Chicken Rice ($3.50)
Opening hours: Block 442 Jurong West Avenue 1, #01-758, Singapore 640442
Address: Block 442 Jurong West Avenue 1, #01-758, Singapore 640442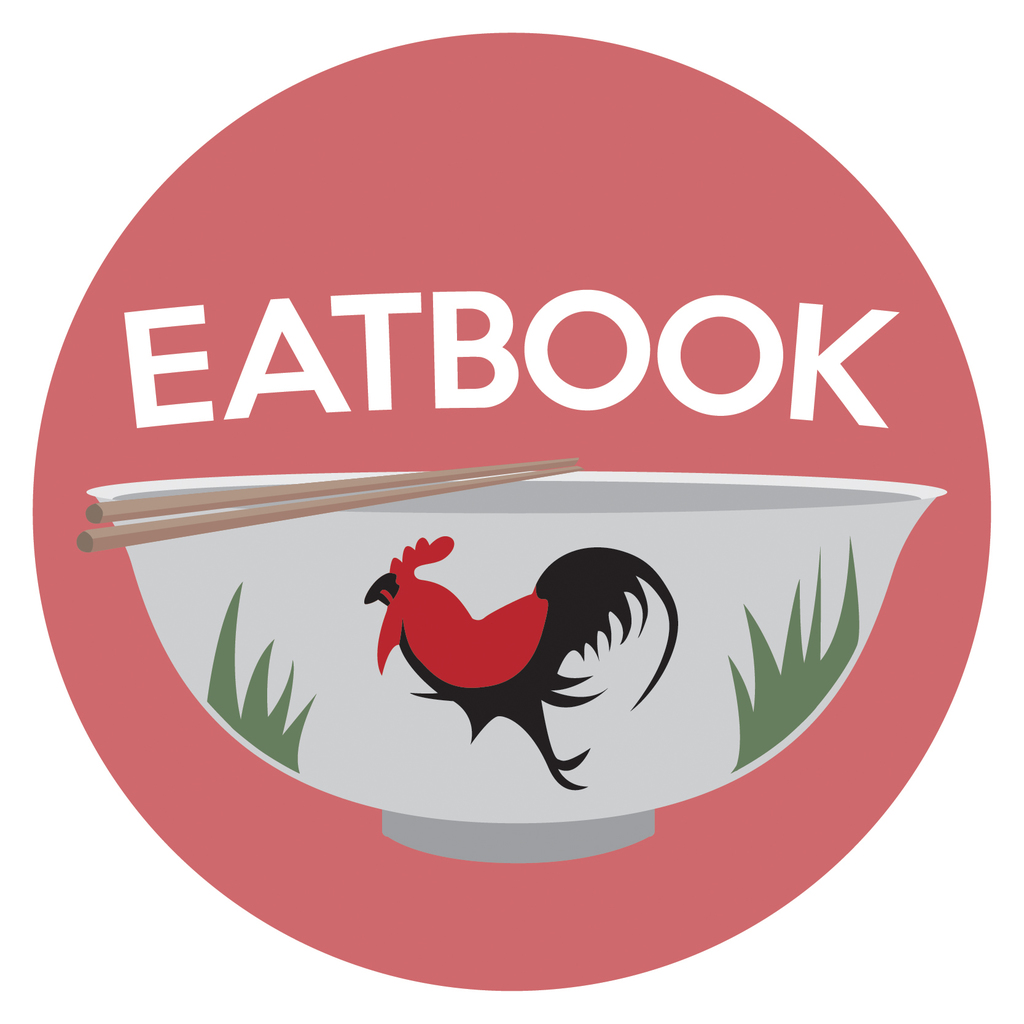 Drop us your email so you won't miss the latest news.