Chopstix & Rice has famous nasi padang at Suntec City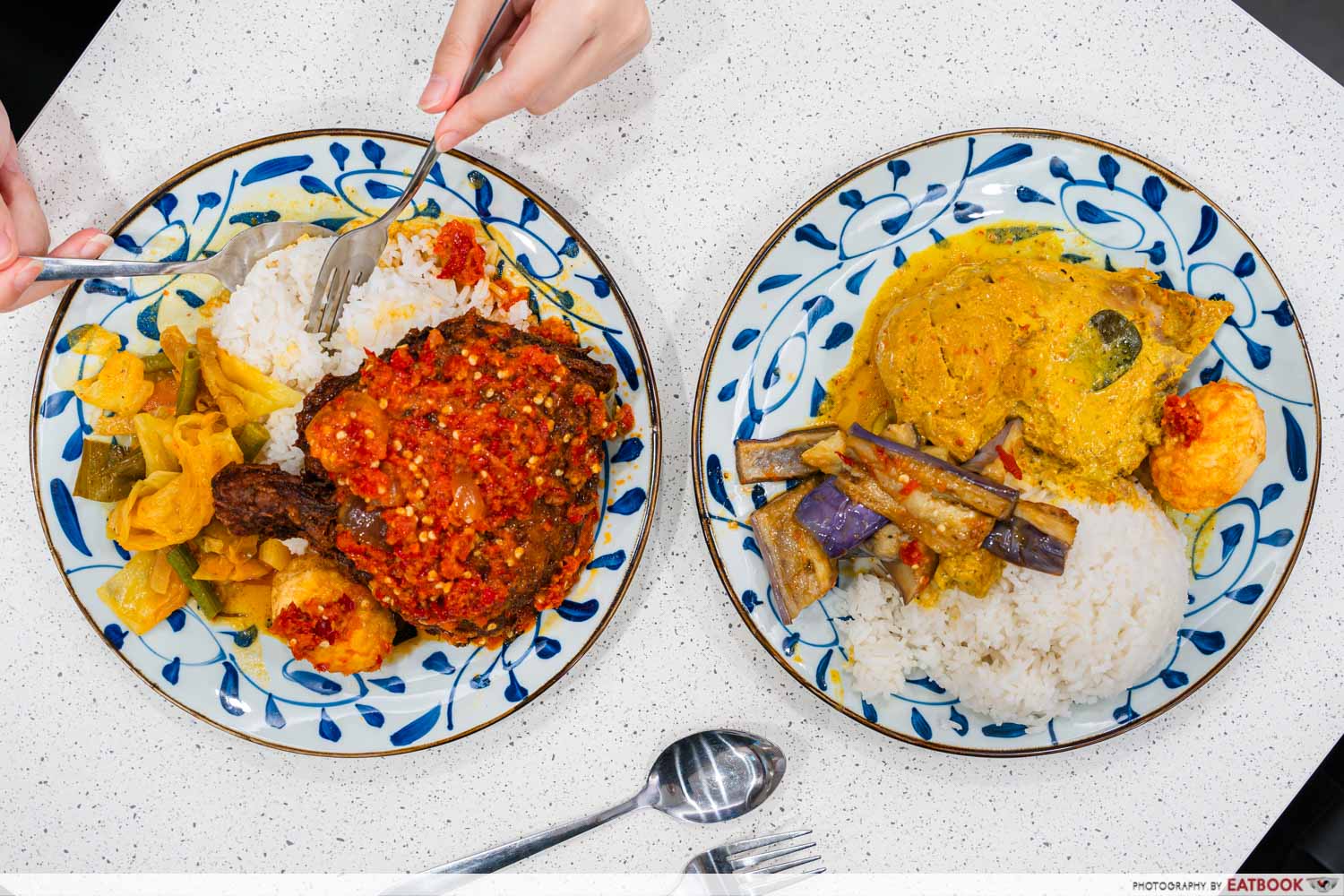 If you haven't heard the news, famous nasi padang joint Chopstix & Rice has recently relocated to Suntec City after many long years in Orchard Towers! It's been a while since I had some properly spicy food, so down I went to see what the hype was all about.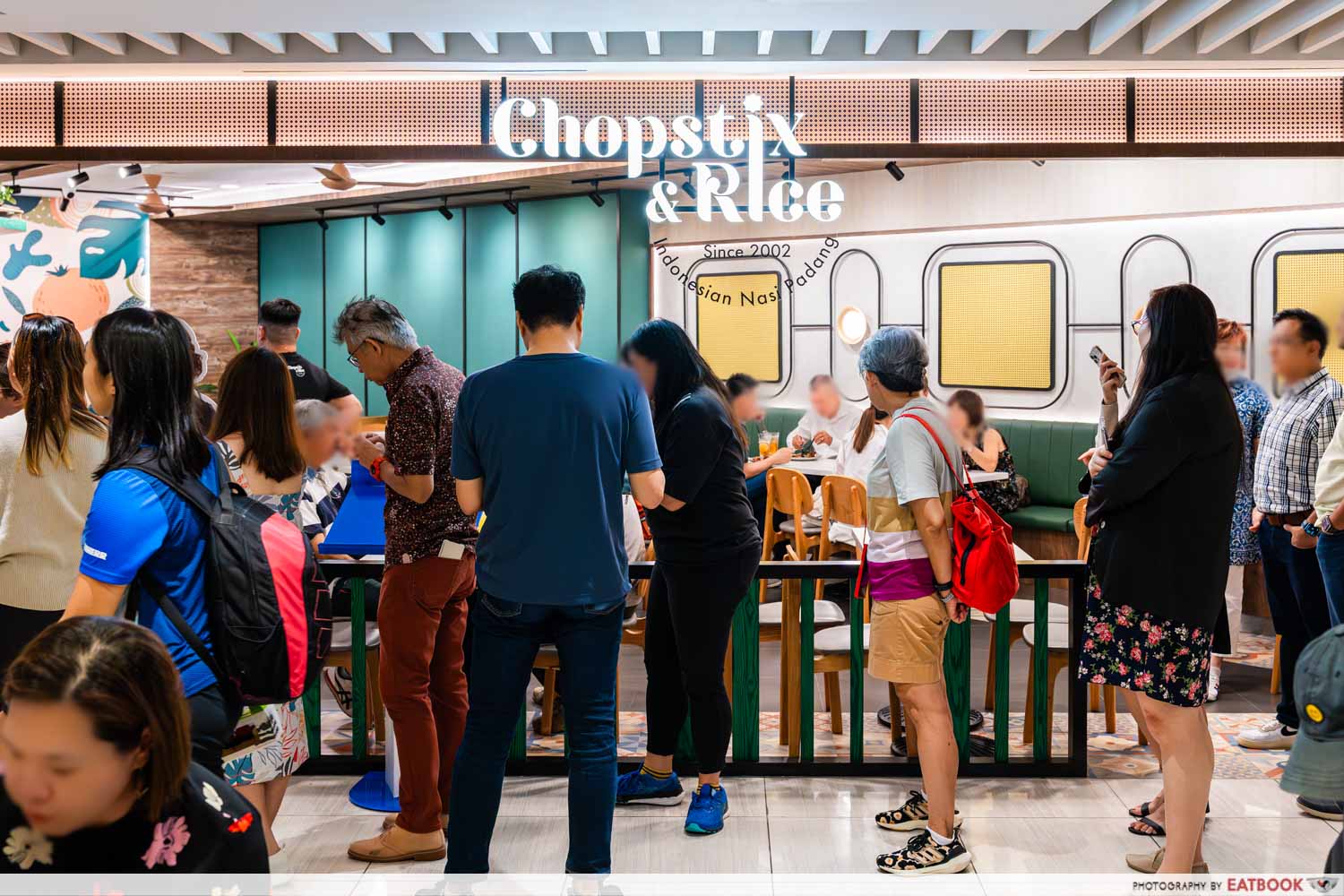 Started from the ground up in 2002 by founder Madam Loij, Chopstix & Rice is known for offering legit and affordable Indonesian fare favoured by a slew of local celebrities. Aside from the likes of Fann Wong and Romeo Tan, you'd also find Madam Loij herself hanging around to make sure everything is up to snuff, so don't be surprised if you see her and her son Wilson at Suntec greeting you with a friendly smile!
10 Best Nasi Padang In Singapore, Including Michelin-Approved And Late-Night Supper Stalls
Food at Chopstix & Rice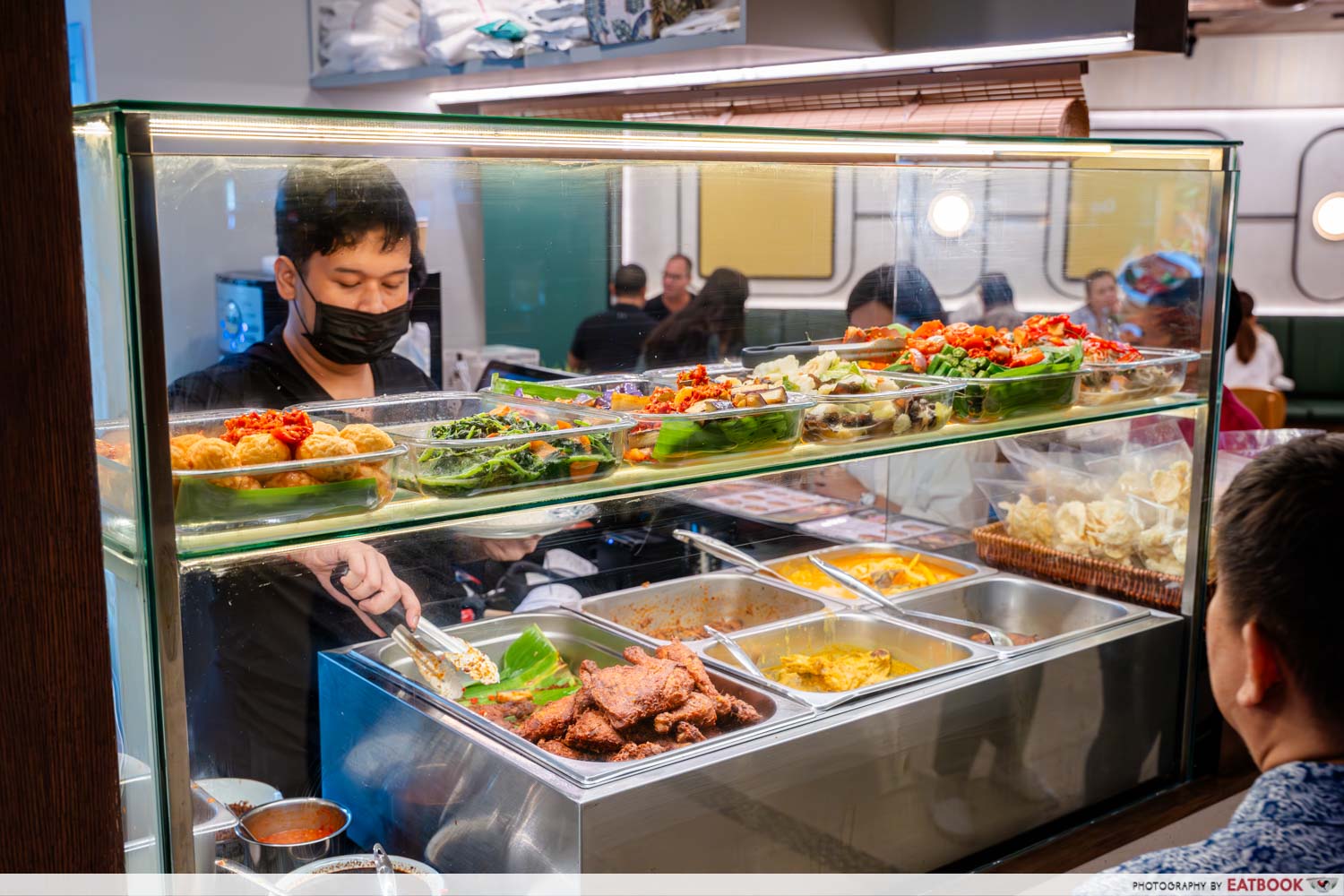 While the stall carried a wide variety of Indonesian dishes back in Orchard Towers, don't expect as huge of a variety of options in Suntec for now, though you'll still be able to choose from a selection of Madame Loij's signature dishes and fan favourites. If you're stopping by for lunch, they offer nasi padang sets, which come with rice, an egg, and your choice of protein and vegetable.  
Despite the scaled-down menu, the food all looked so good that we were at a loss about what to order. Eventually, we went with the chef-recommended Ayam Belado Set ($10.90), a hefty fried chicken liberally coated in house-made sambal balado, and chose their award-winning sayur lodeh as the veggie side.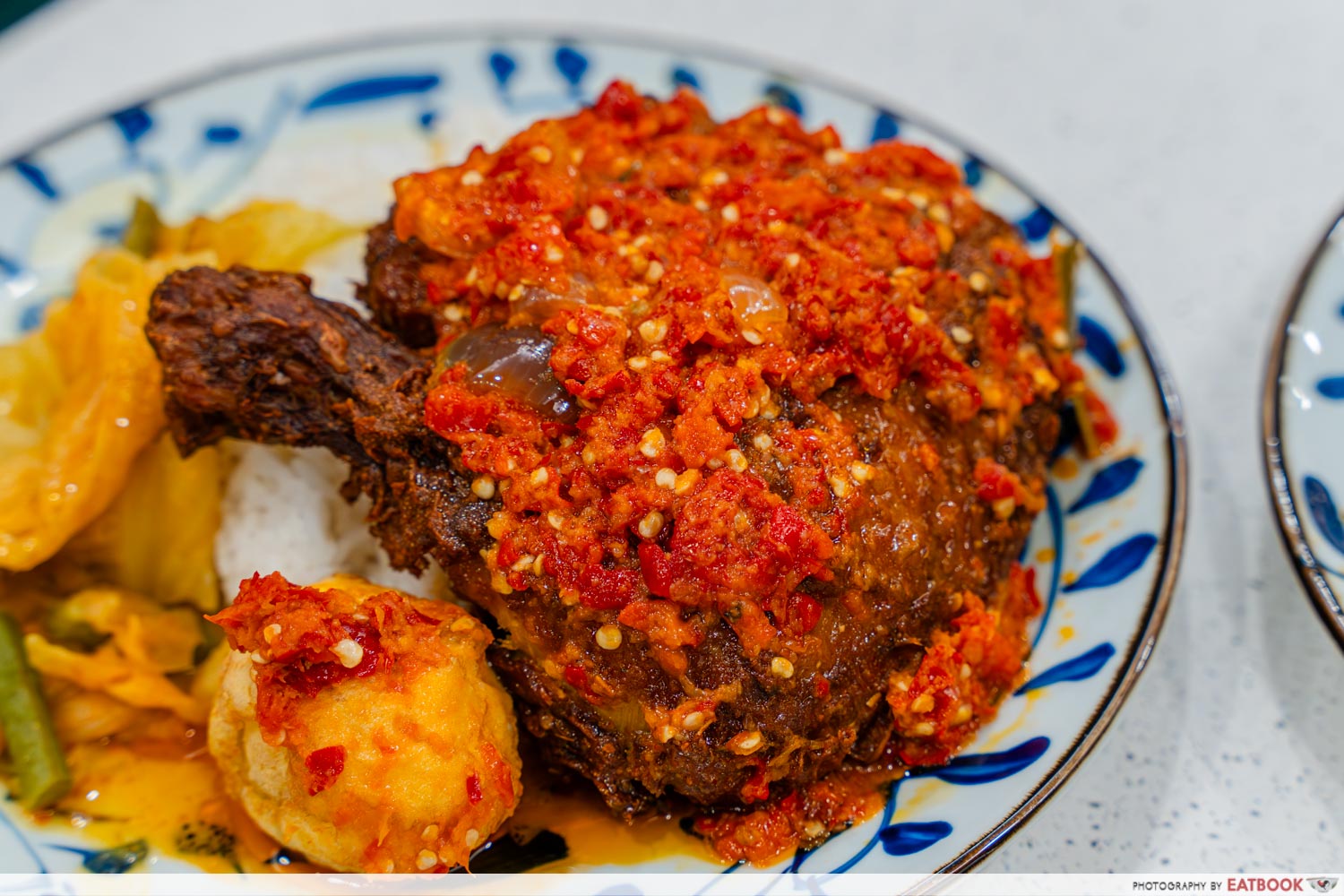 The best kind of spicy food in my opinion is the kind that is so shiok, you can't stop eating it even if you know you'll be running to the toilet soon after. I couldn't get enough of the sambal balado, which was a little sweet, a little savoury, a tiny bit tangy, and very, very spicy. The texture was also similar to chai poh, giving it a great mouthfeel.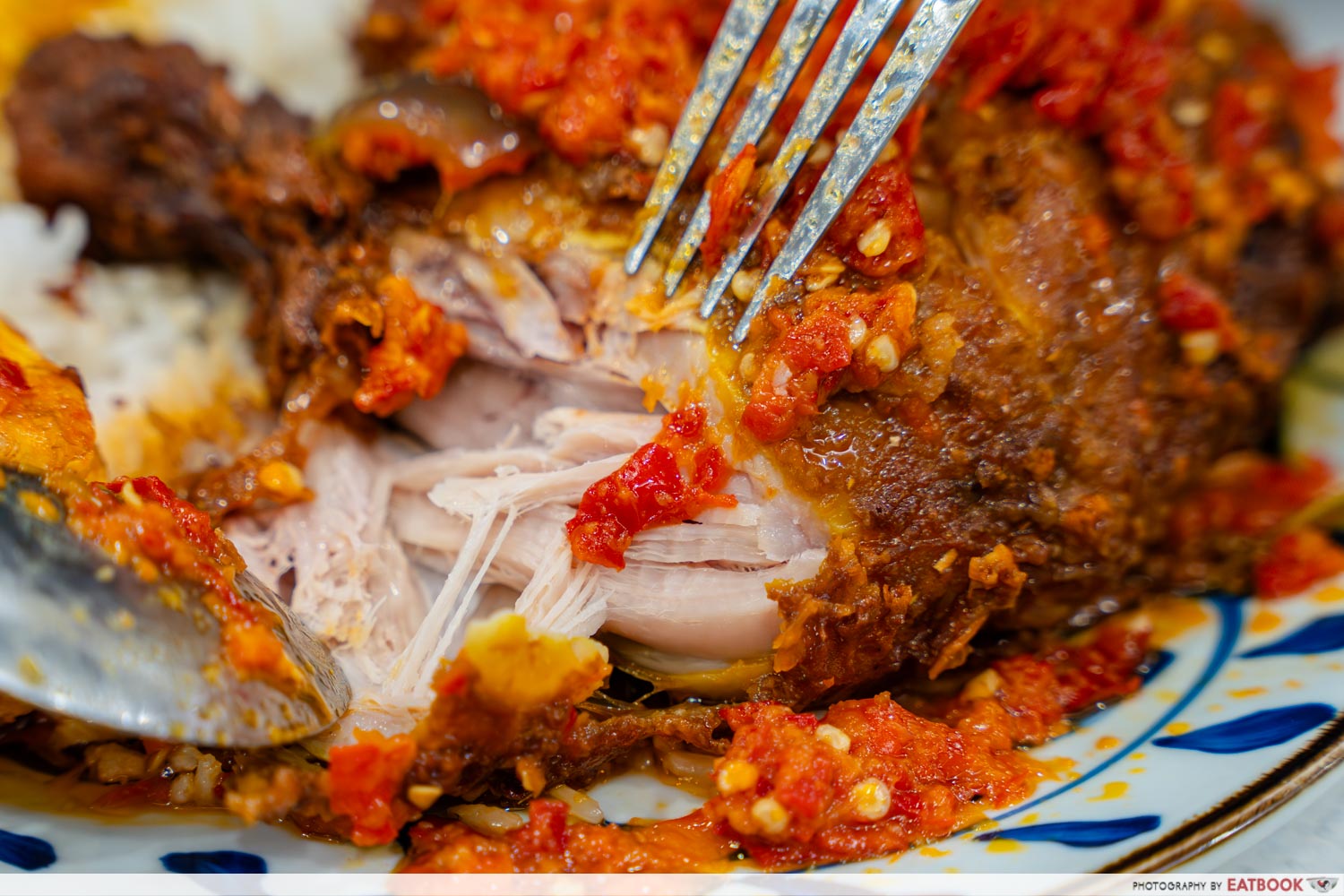 The piquant spice definitely elevated the fried chicken, which I found a little more lacklustre. While it was juicy on the inside, it wasn't particularly tender and lacked a crispy skin, though that may be due to having soaked up the moisture of the sambal balado.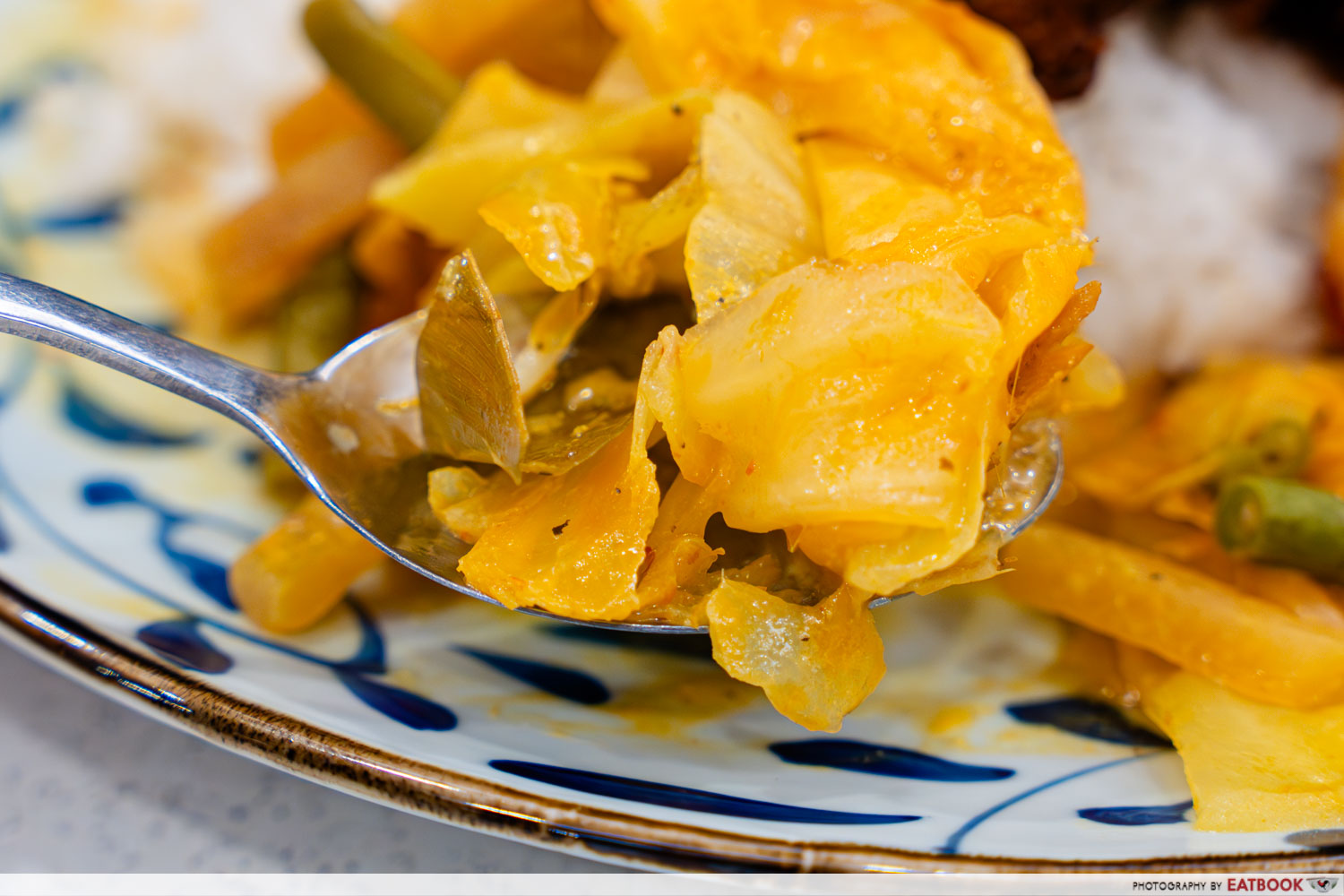 The Sayur Lodeh, while simple, was seasoned nicely with a subtler heat compared to the sambal. I liked that the vegetables were soft in texture but not soggy, though I wished it had been served with more of the curry gravy.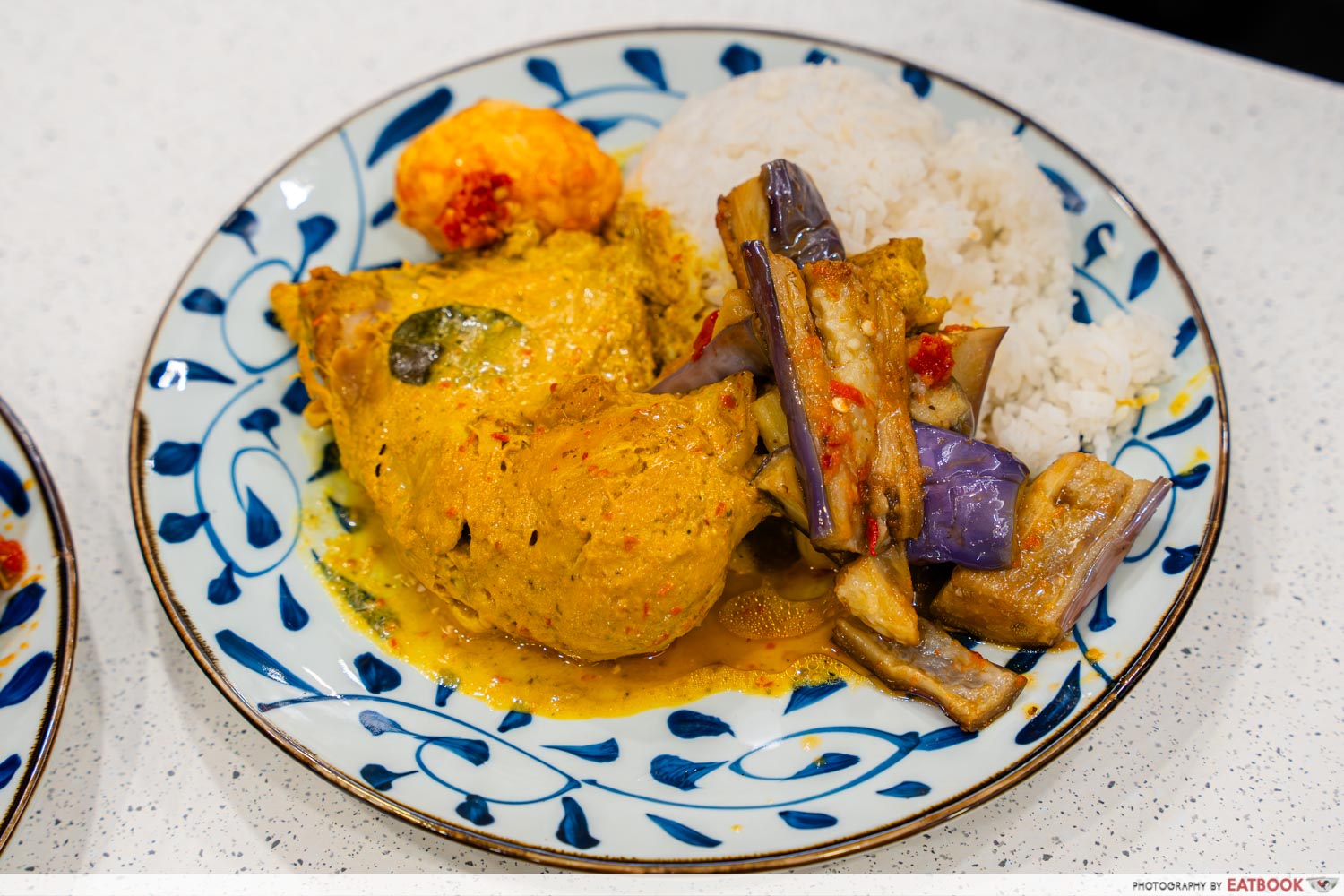 While I was a fan of the ayam balado, my colleague preferred the spice and taste of the popular Ayam Lemak Set ($10.90). Unlike the fried chicken, this chicken was simmered in a spicy golden curry instead. For vegetables, the counter staff suggested that we paired this dish with the Egg Plant Belado.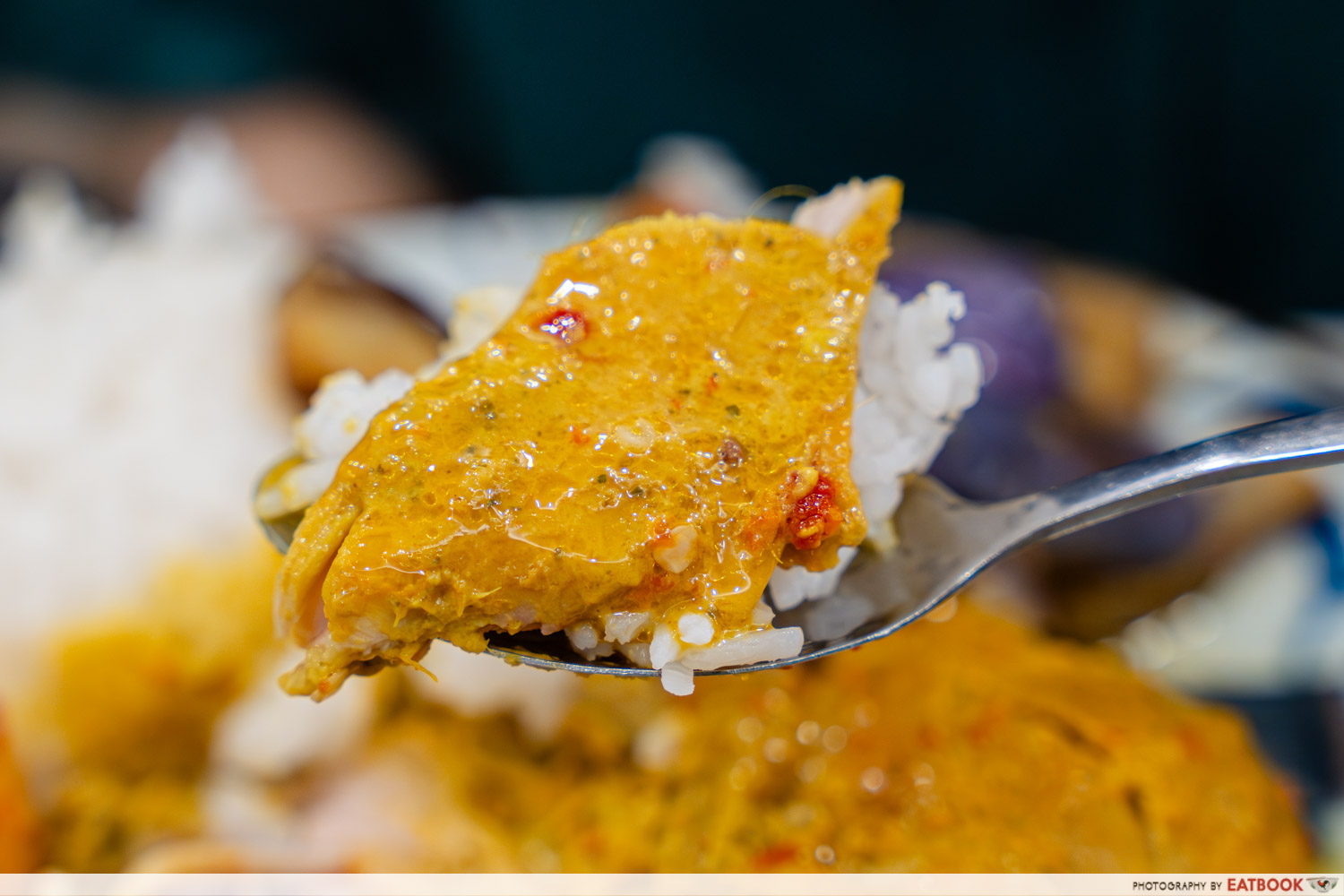 The heat of the creamy curry sauce is not as in-your-face compared to the sambal belado, but it  still left us sweating as we tucked in. Despite how this chicken looked on the plate, the curry had only soaked skin deep into the meat, resulting in the chicken being tender, but dryer than the fried chicken from before.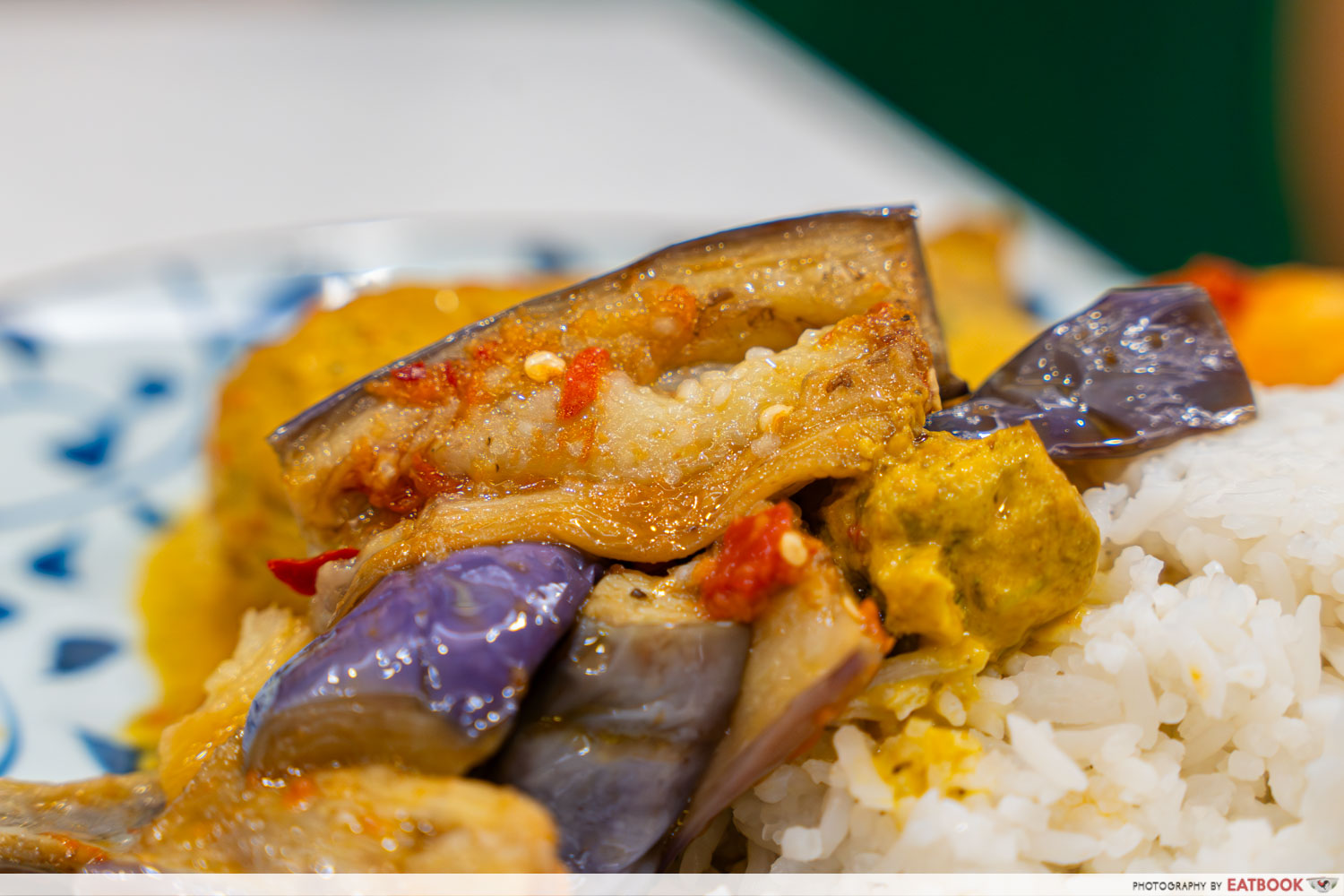 Stewed eggplant has never made it onto my regular cai png order, but Chopstix & Rice's version was soft and sweet. It's something I would consider ordering again in the future.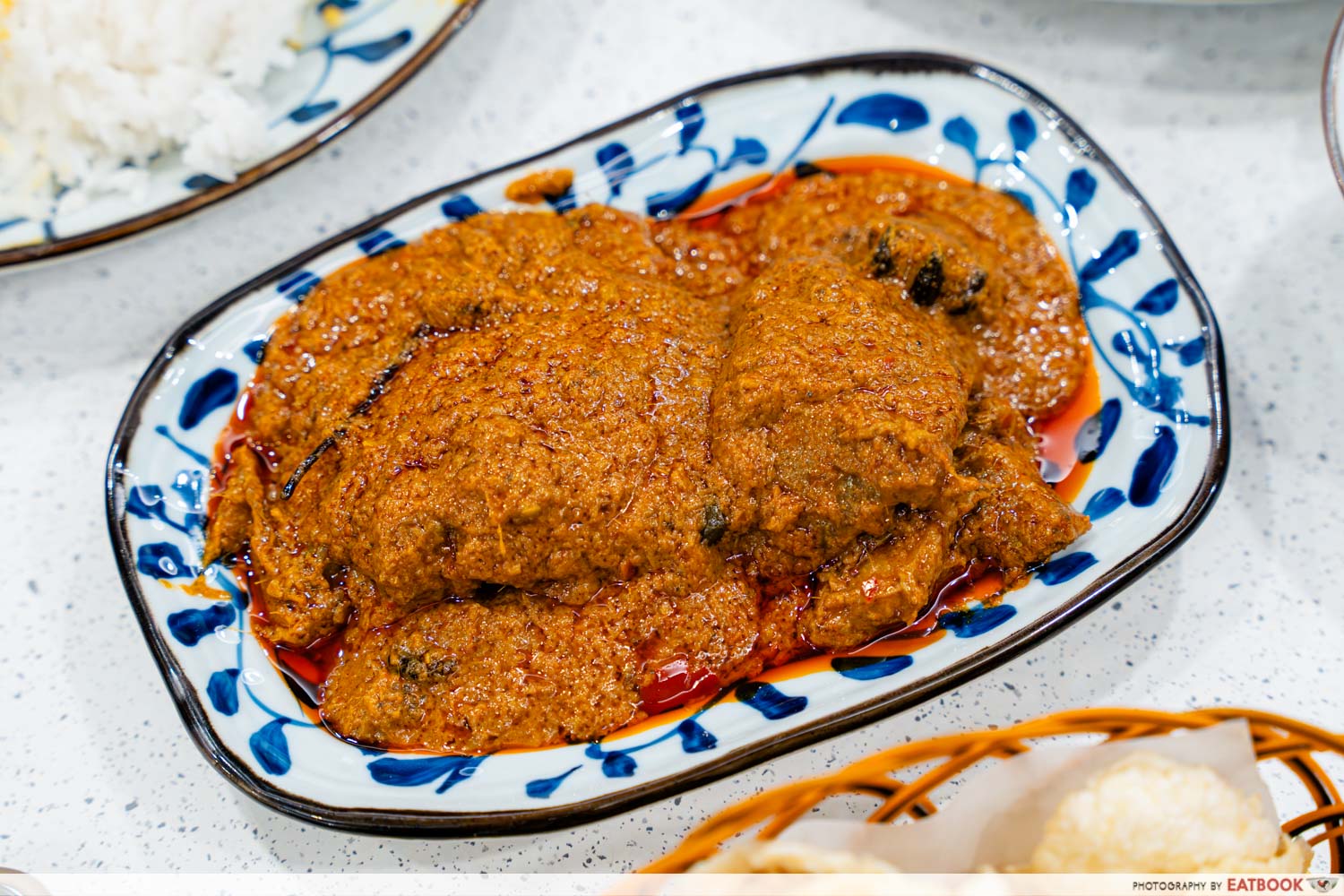 We couldn't leave without trying Madame Loij's award winning Beef Rendang ($14.90), which featured lob-cut beef coated in a dizzyingly mouthwatering blend of chilli and spices– a secret family recipe!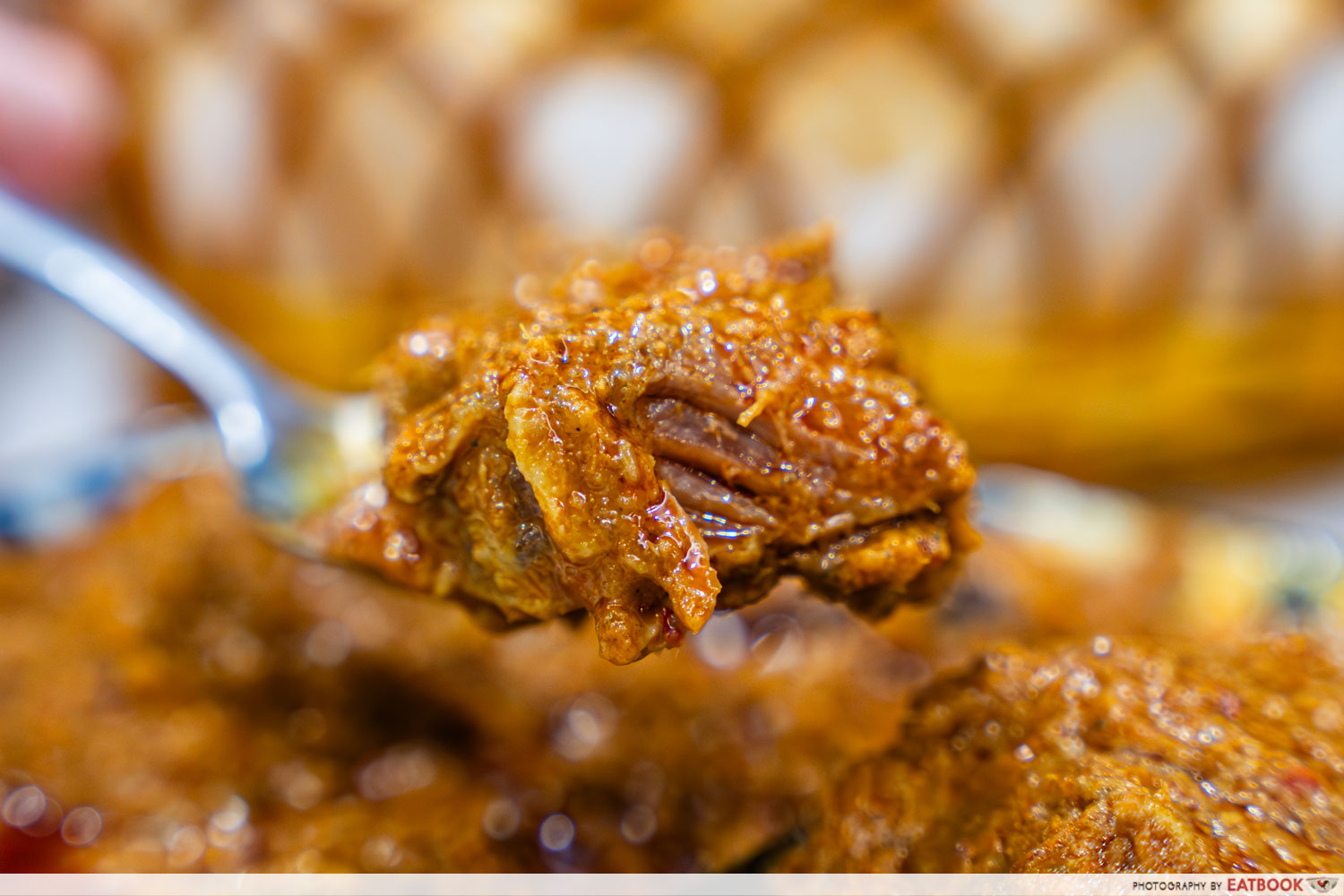 The beef came apart easily under our fork and was not gamey at all, with the flavours of the rendang, especially lemongrass, doing an incredible job in giving this dish an unforgettable taste and aroma.
Ambience at Chopstix & Rice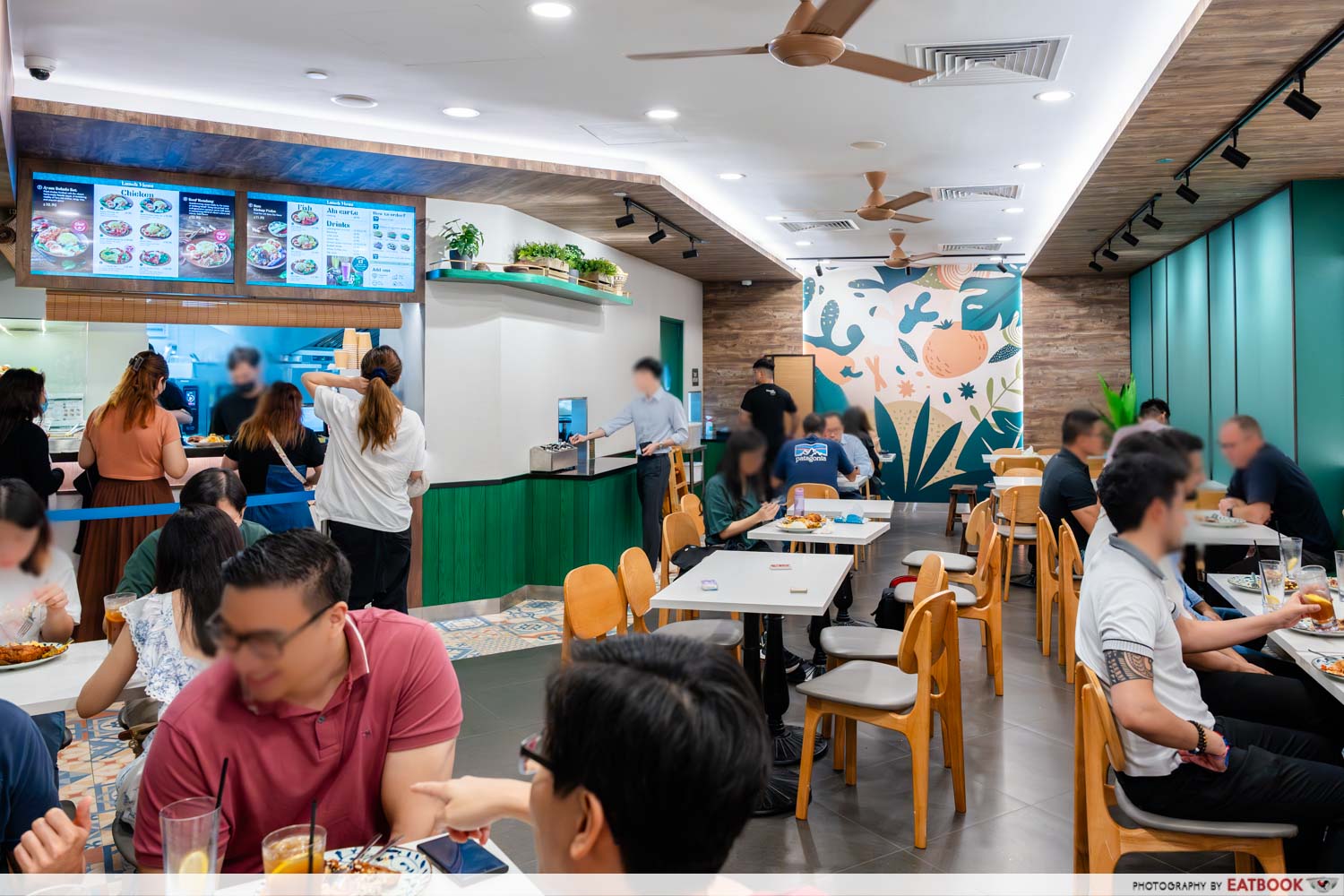 Chopstix & Rice's new space is modern and well-lit, making for a nice ambience that is both classy and comfortable. It is located in the basement level of Suntec's tower four, meaning that it's just a quick four-minute walk from Promenade MRT Station. 
When we dropped by, the medium-sized eatery was absolutely swamped by the office crowd. We were told that there was an unusually high volume of customers that day, but considering that they're located in Suntec, it's best to stop by early or outside of peak hours on any given day if you don't want to wait too long for food. 
The verdict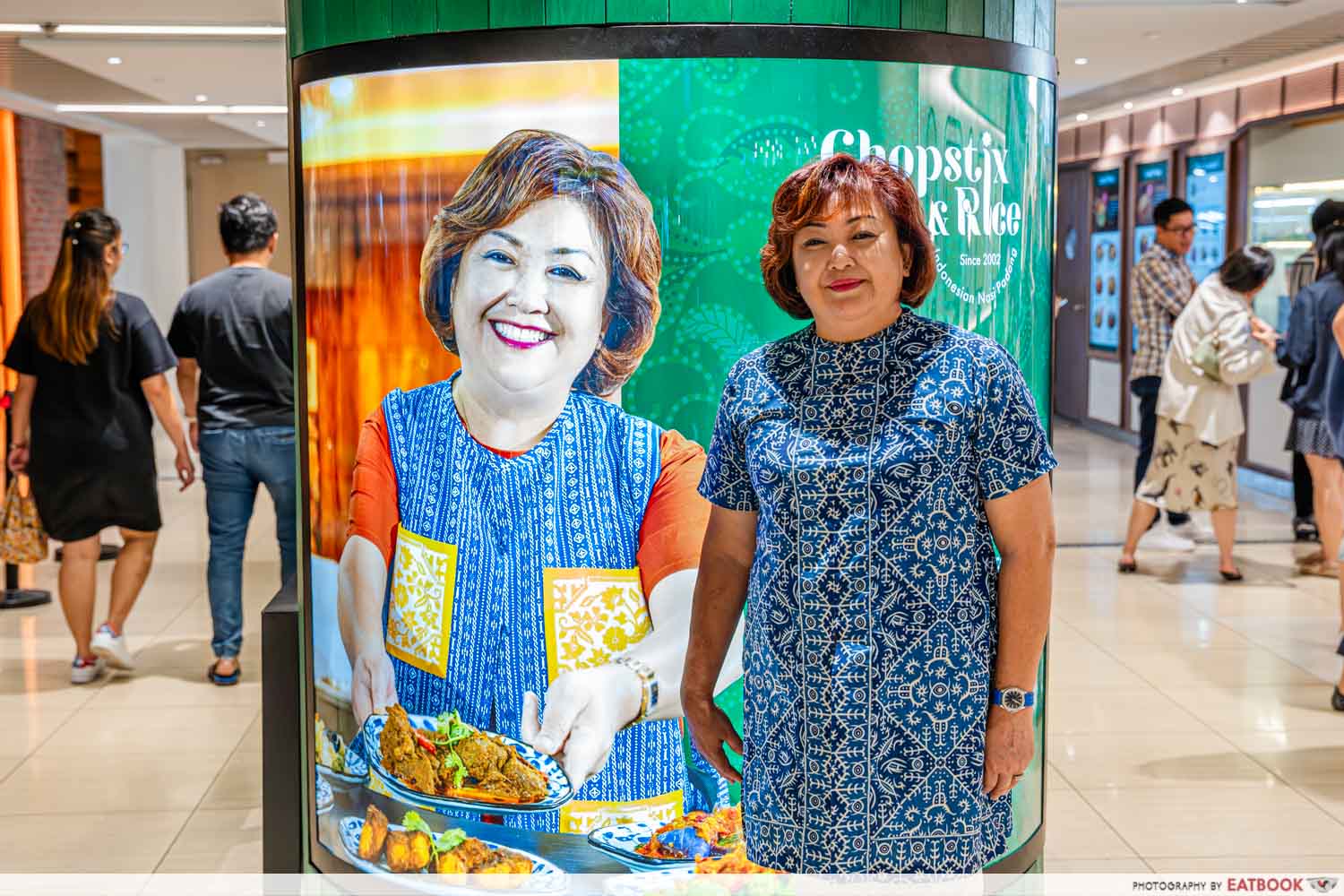 Despite the hectic lunch rush, Madame Loij, Wilson, and their staff did their utmost to provide a comfortable dining experience and food that was worth the long queue and wait. I was especially impressed by the housemade sambal which hit all the right spots in terms of flavour, texture, and spiciness, elevating our simple chicken dishes into something that would have me coming back for more. 
For more places to get your nasi padang fix, read our Nasi Padang guide, or check out Cumi Bali for more legit Indonesian food that's earnt them Michelin Bib Gourmand recognition.
Address: 3 Temasek Boulevard, #B1-100/101, Suntec City Mall Tower 4, East Wing, Singapore 038983
Opening hours: Daily 11am to 9pm
Tel: 6208 2082
Website
Chopstix & Rice is currently in the process of being halal-certified. 
Cumi Bali Review: Michelin Bib Gourmand Indonesian Restaurant With Grilled Seafood And Legit Chendol
Photos taken by Melvin Mak and edited by Rifdi Syahir.
This was an independent visit by Eatbook.sg
Chopstix & Rice Review: Famous Nasi Padang Joint With Award-Winning Beef Rendang Now In Suntec City
Chopstix & Rice Review: Famous Nasi Padang With Award-Winning Beef Rendang Now In Suntec -

7.5/10
Summary
Pros
–  Incredible sambal
– Convenient location
– Good portion sizes for the nasi padang sets' prices
Cons
 – Chicken needed to be a bit more tender
– Would have preferred more curry sauce for sayur lodeh and chicken curry
– Lunch crowd is massive
Recommended dishes: Ayam Balado Set ($10.90), Beef Rendang ($14.90)
Opening hours: Daily 11am to 9pm
Address: 3 Temasek Boulevard, #B1-100/101, Suntec City Mall Tower 4, East Wing, Singapore 038983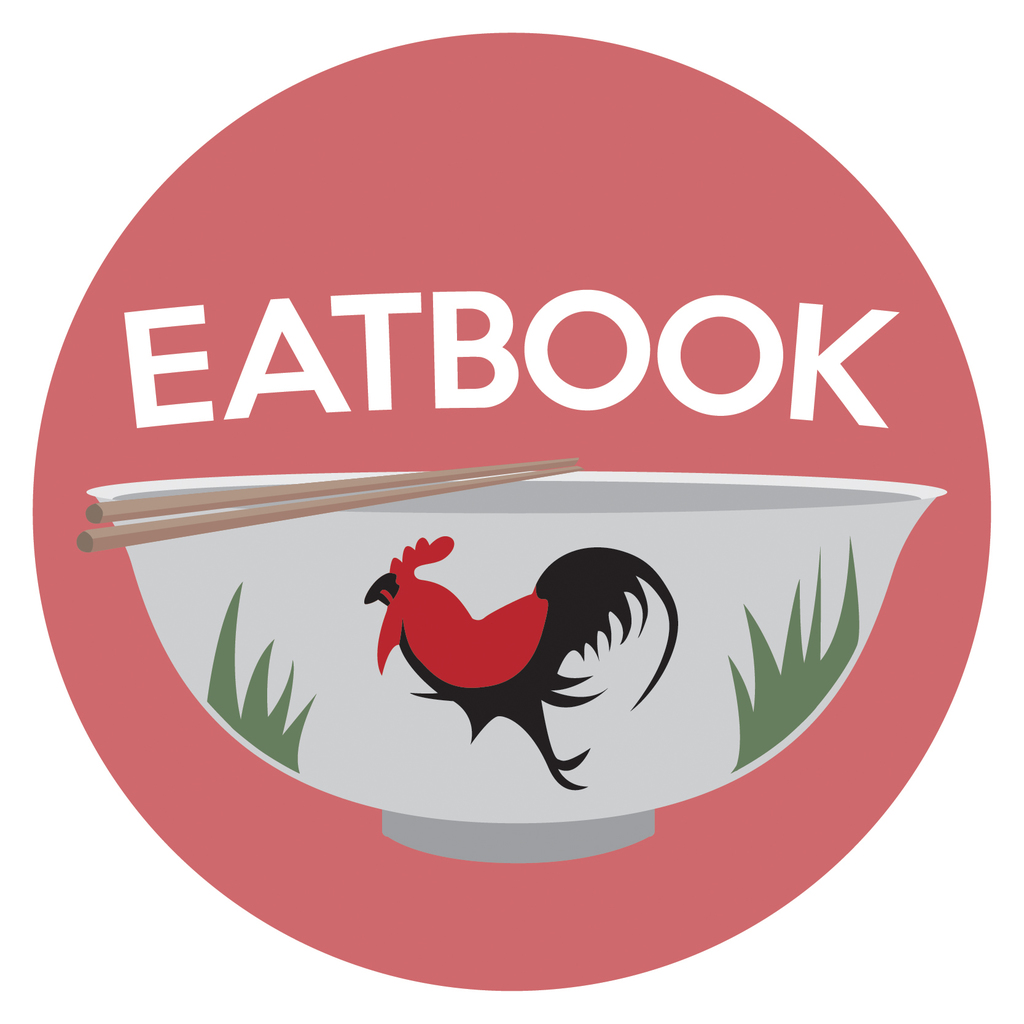 Drop us your email so you won't miss the latest news.