Cumi Bali is a Michelin-approved Indonesian restaurant in Tanjong Pagar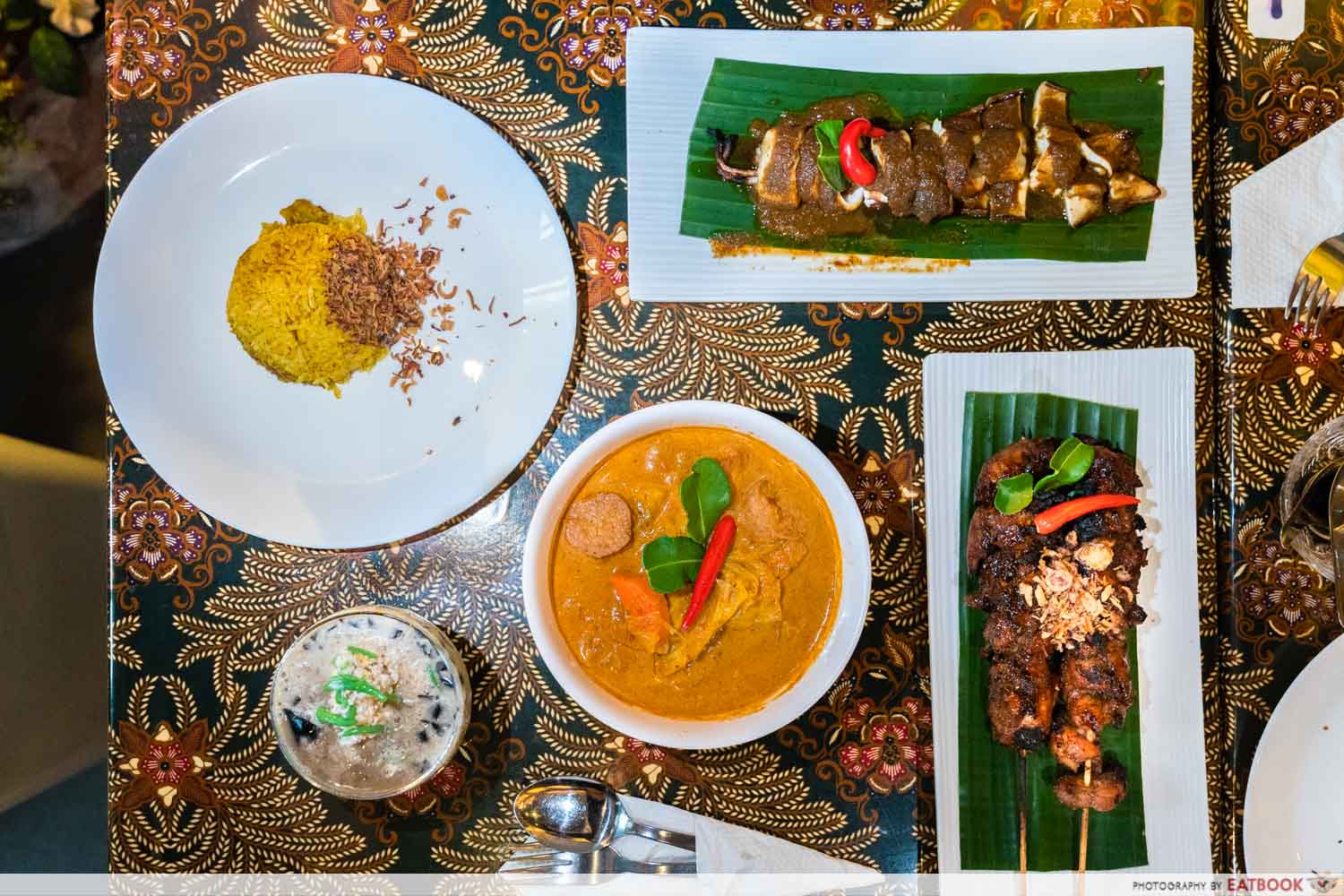 Tanjong Pagar houses many eateries that I enjoy dining at, including Ipoh Zai Prawn Noodles, O.BBa Jjajang and more. My latest assignment to the area was Cumi Bali, a Michelin-approved Indonesian restaurant, which I was pretty stoked to check out, after seeing my colleagues' recent posts about their trip to Bali. 
Established in 1986, Cumi Bali has actually relocated twice from Duxton Hill and Tanjong Pagar, before settling down at their current location in 2021. If you're new to Indonesian food, there's one word for the cuisine: flavourful. It's often prepared with bumbu, an Indonesian blend of spices or paste made from these spices, which boasts a myriad of flavours━something I appreciate, since I gravitate towards strong flavours. 
I Am Geprek Bensu: Popular Indonesian Geprek Joint Now At Lucky Plaza
Food at Cumi Bali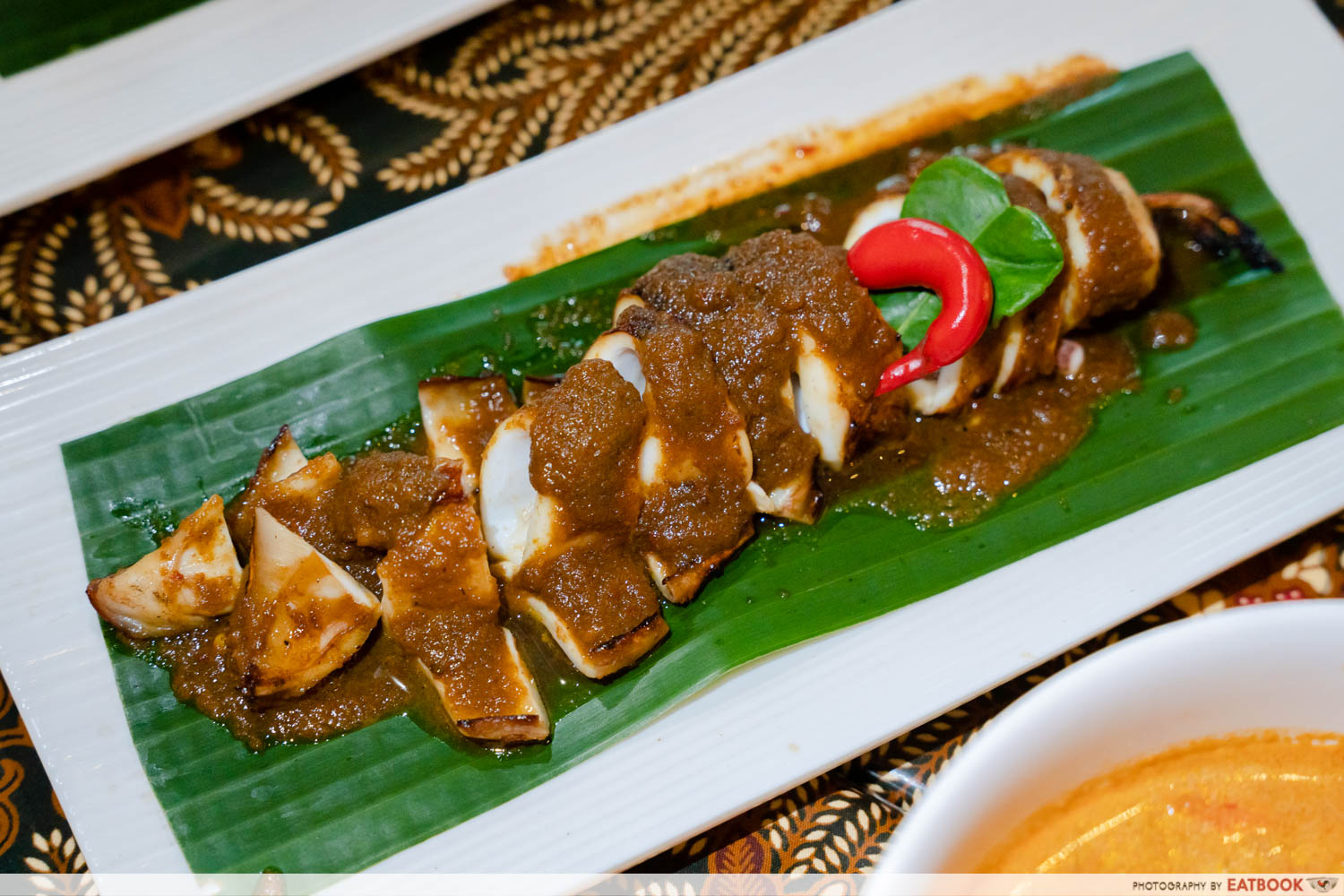 We started with the very dish that inspired the restaurant's name: Cumi Bali ($38+). If you've ever been to Indonesia, you'll recognise this squid dish, a common street food, that people love for its predominantly sweet and spicy notes. The squid is typically marinated with a cooked spiced paste, before it's charcoal-grilled.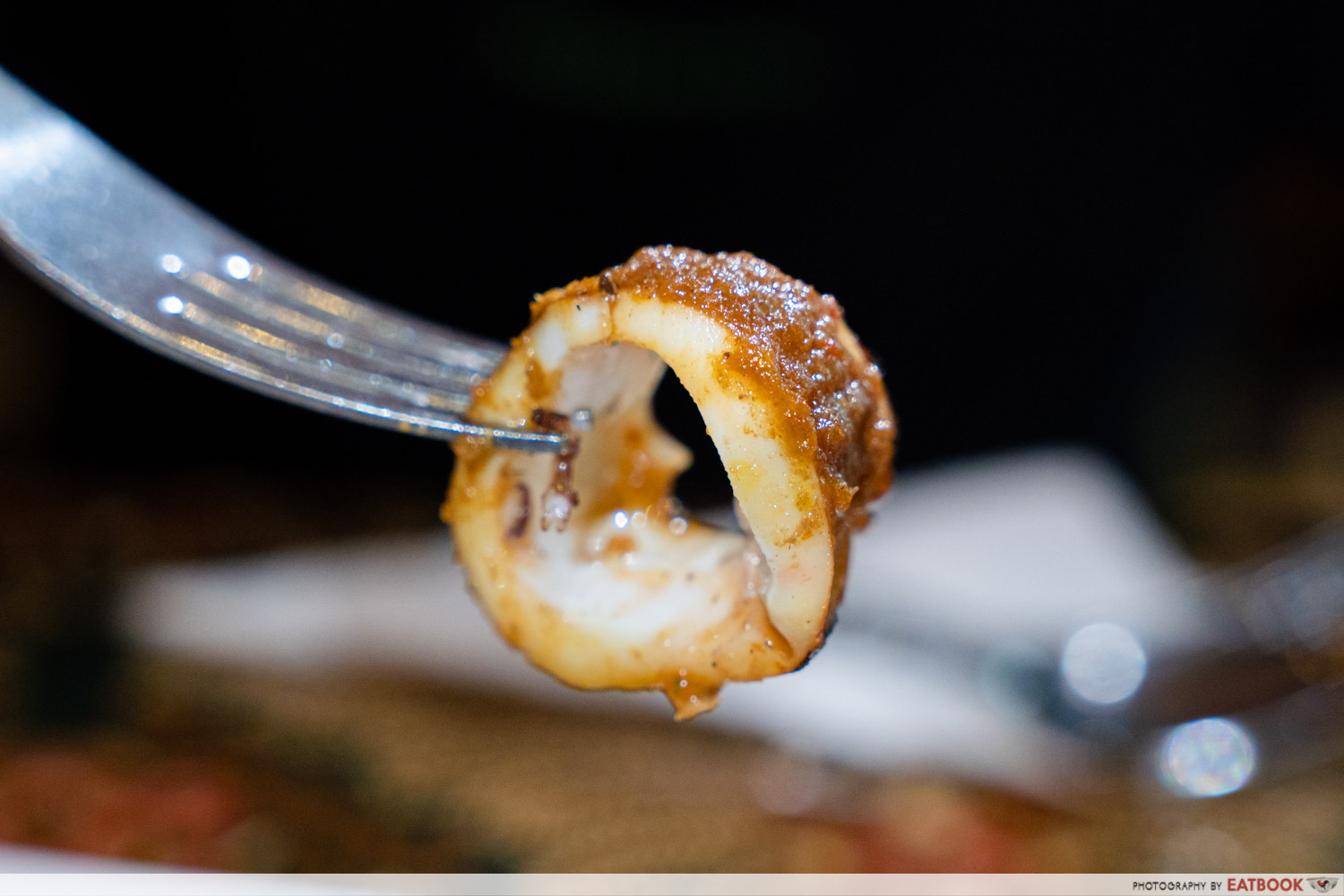 For its price point, I thought the portion was a bit small. Nonetheless, once you taste it, you might even find that it's worth the splurge. I found that the sweet-savoury rich marinade, with a hint of nuttiness and smokiness, quite addictive. This paired so well with the well-cooked squid that held a satisfying, slight chew. The squid was also smooth, which I liked, and fresh-tasting without being fishy.  
We didn't find this spicy at all, but that might just make the dish more palatable for everyone. Although we didn't order it, you can get a side of Sambal Belacha ($0.80+) to add a spicy kick to the dish.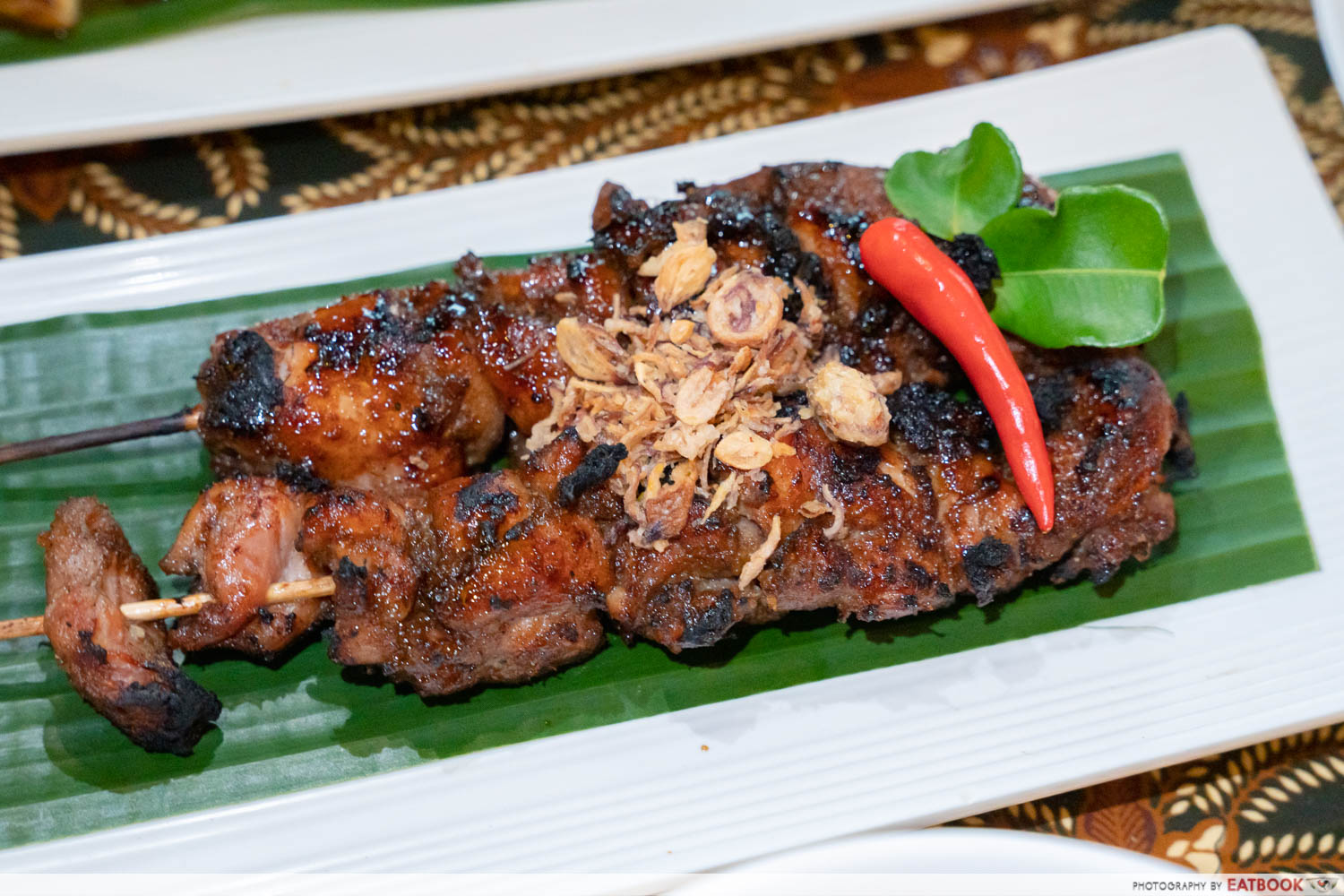 Next, we tried the Ayam Sate Madura ($20+), AKA Balinese satay. It comes in much chunkier, whole pieces of meat than what we typically get in our local hawker centre versions, and are served without peanut sauce.
Rather, these skewers were topped off with crunchy, aromatic fried shallots, and trust me when I say you won't miss the satay sauce with this dish.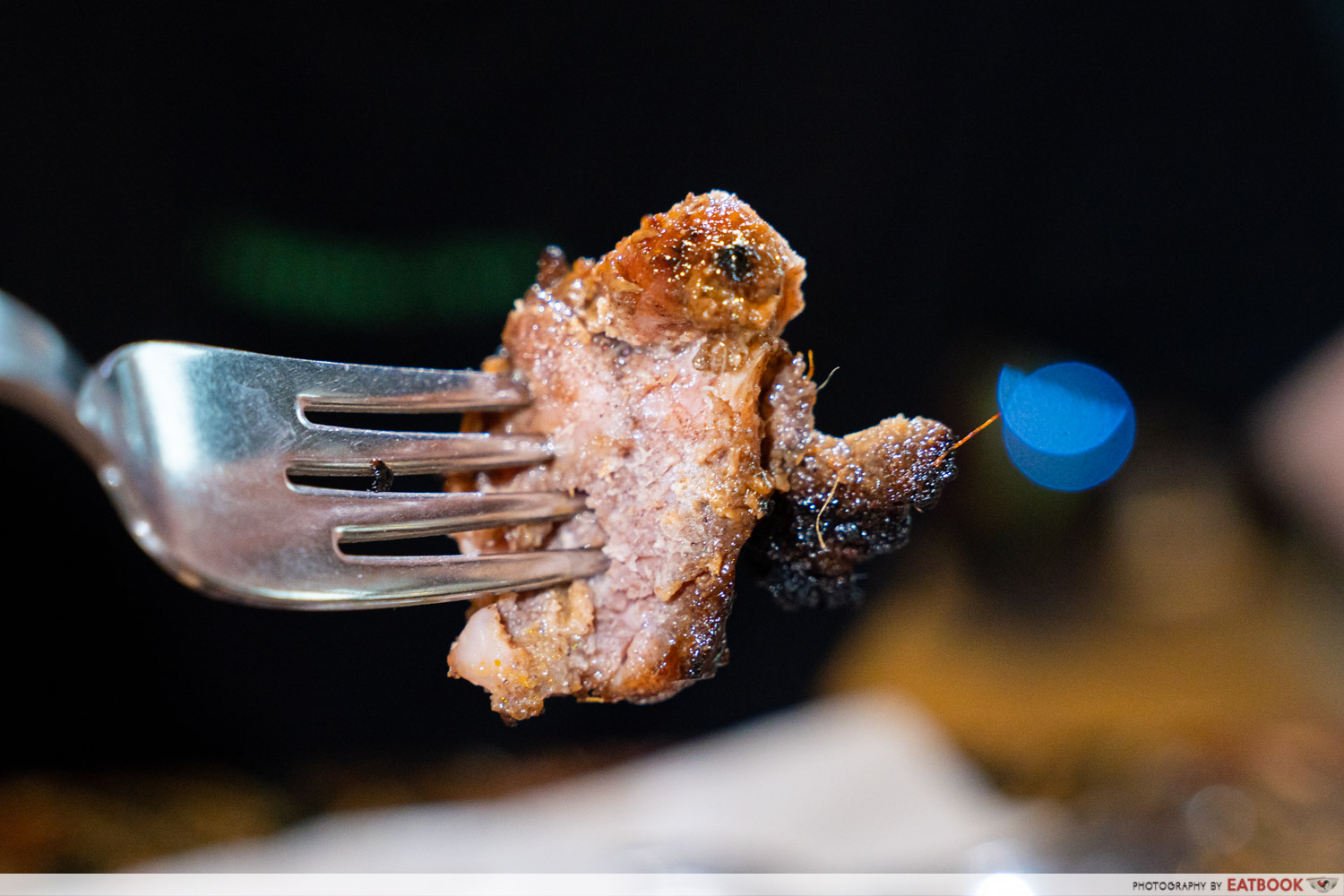 I liked that I could easily remove the meat, which was tender and not dry at all, from the stick. Taste-wise, the meat was well-marinated, with every bite being full of flavour, laced with sweetness and a hint of smokiness. The shallots also added extra flavour to the meat, making it even more appetising—I wouldn't have minded if the whole satay was covered in the fried shallots, as the textual variance was quite enjoyable.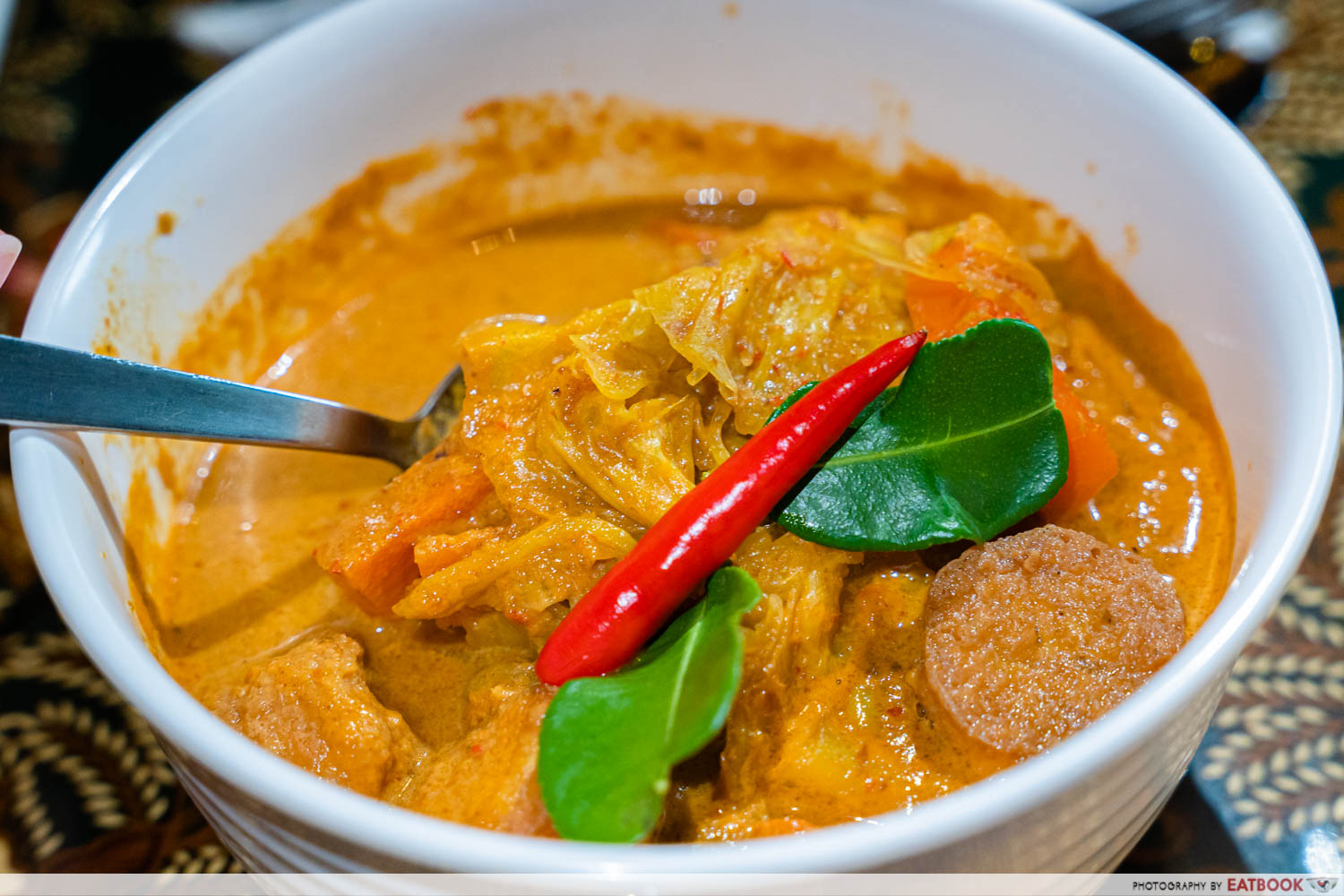 To change things up, we opted for a vegetable stew: Sayur Lodeh ($20+). This curried vegetable dish was full of cabbage and carrot slices, along with pieces of fried egg tofu. 
My colleague remarked that compared to other sayur lodeh dishes he's tried, this tasted quite unique. Sweet-tasting, slightly spicy, and much richer than your usual lodeh, I actually let out a gasp when I slurped up this tasty gravy. As dramatic as that sounds, I genuinely found the stew quite moreish.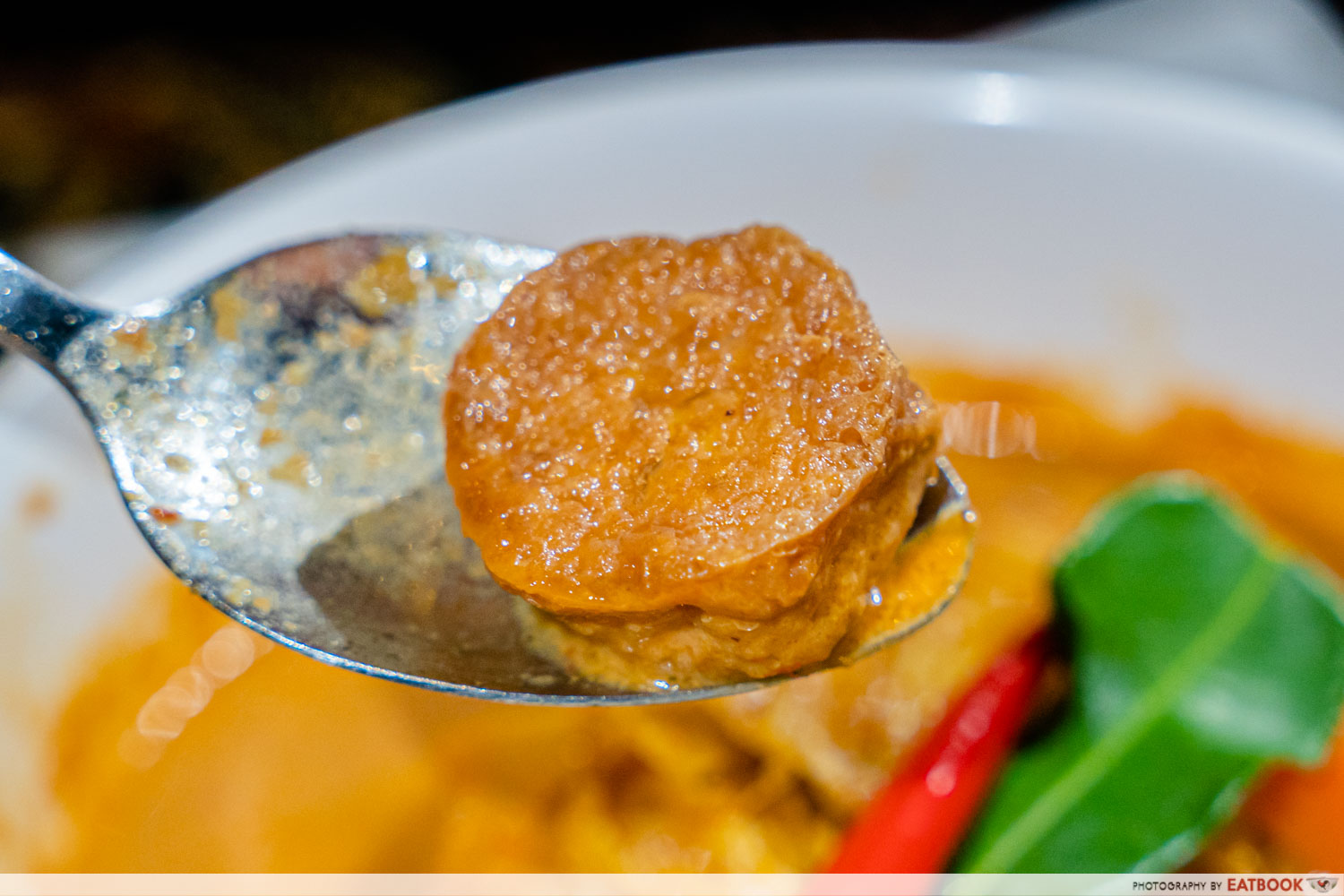 Special mention goes to the fried egg tofu, whose plain, eggy flavour complemented the curry well.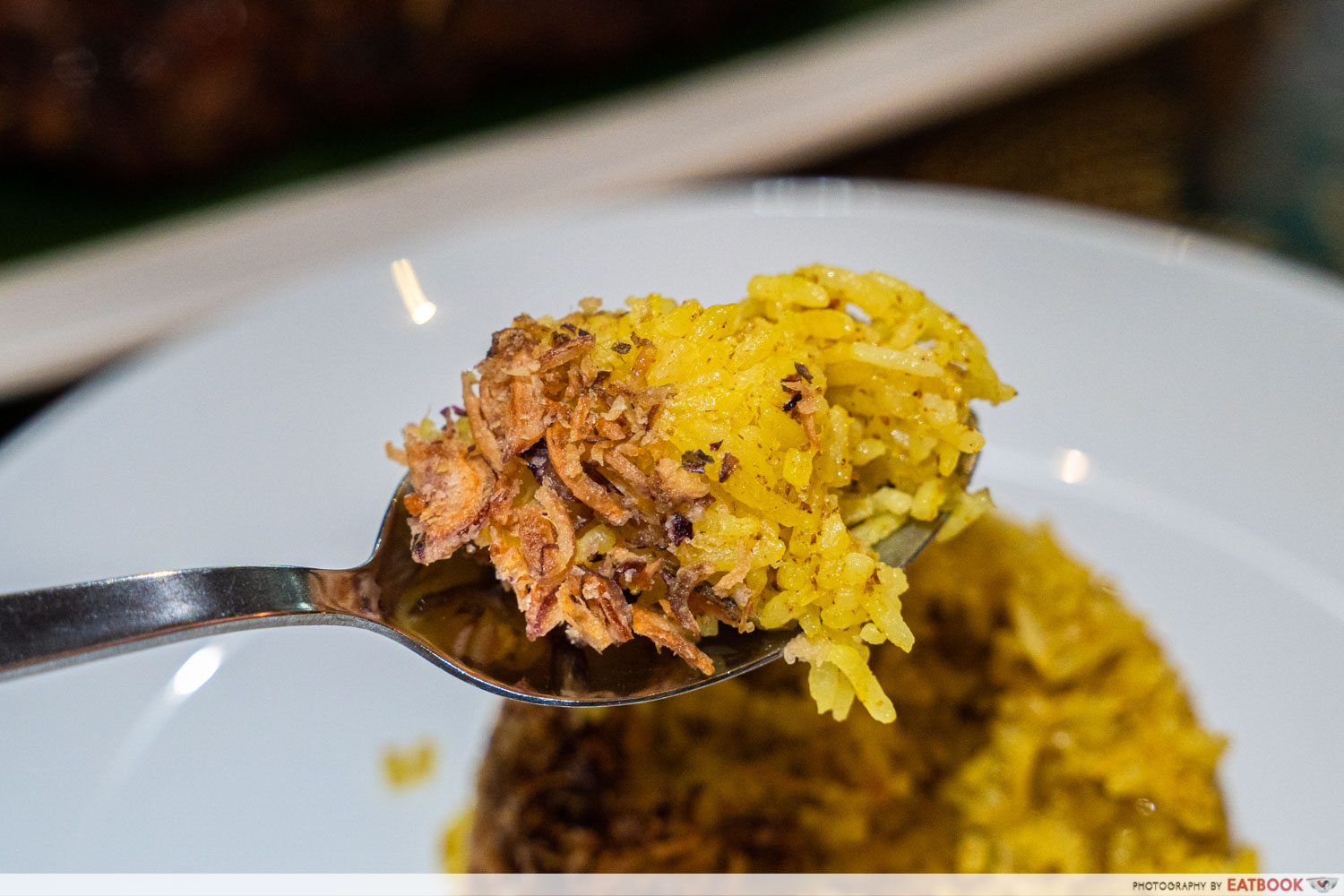 On the side, we also got plates of Nasi Kunyit ($2+), which is prepared with 11 types of spices including turmeric, cinnamon, and pandan leaves, making for fragrant and flavourful rice. This was fluffy and tasty, pairing well with the savouriness of the fried shallots, which the rice came topped generously with.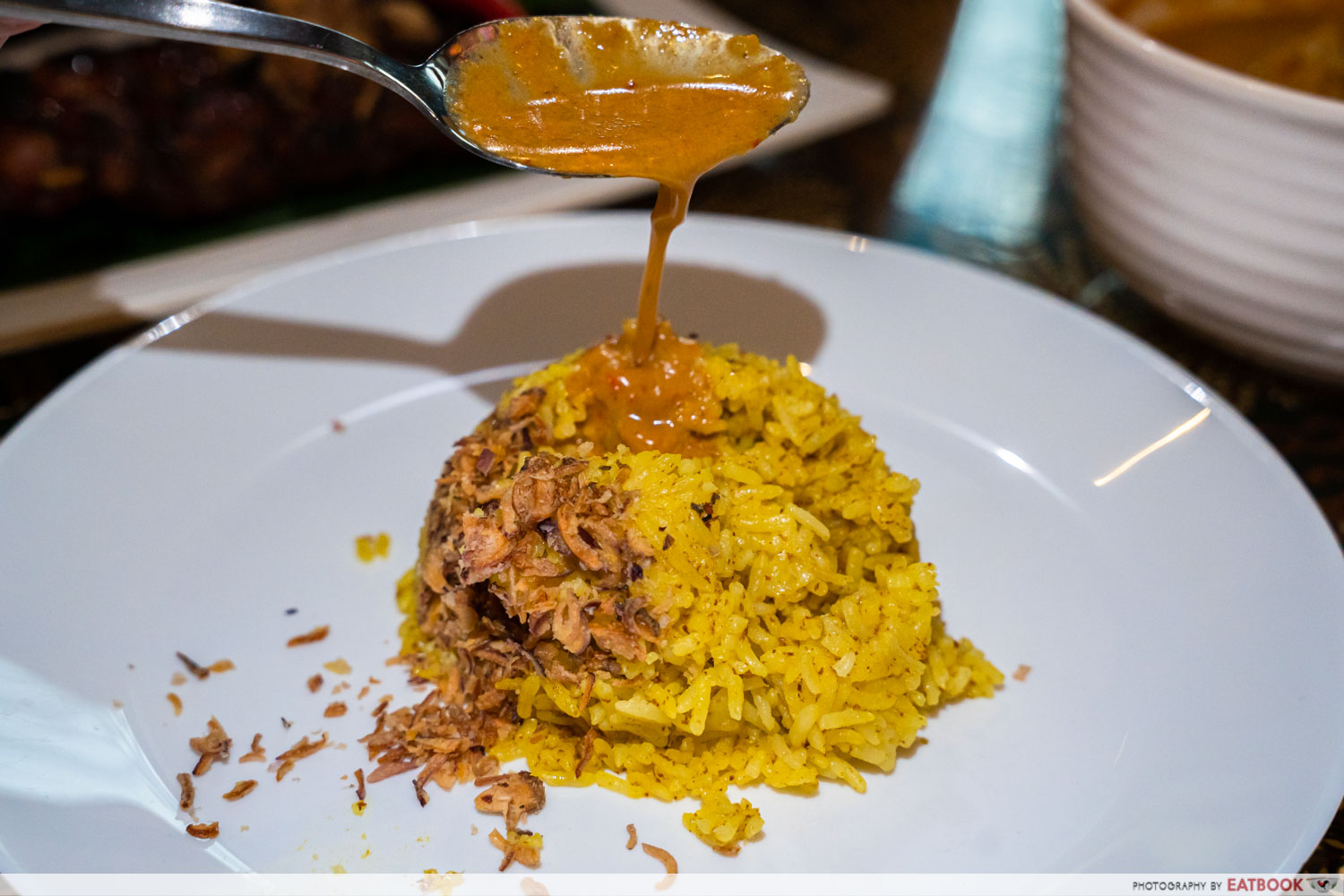 We also tried the rice with the sayur lodeh and all of the meats, which made for quite a substantial meal. If you think it's a flavour overload, go for the plain rice instead.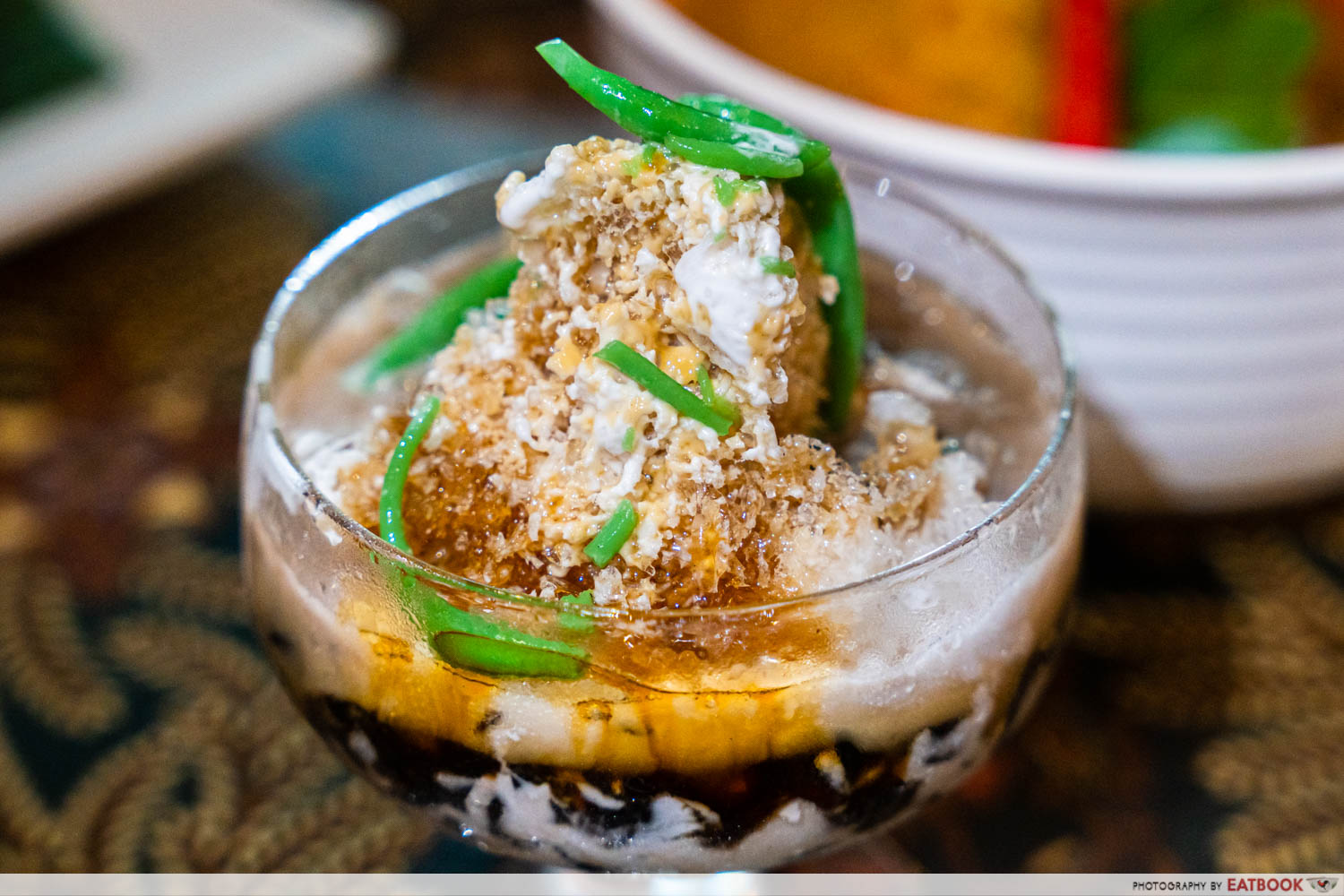 We ended the meal with Cumi Bali Es Cendol ($5.50+). This dessert is quite familiar to Singaporeans, but it is actually also commonly found across Southeast Asian countries such as Indonesia. 
Here, it sees a simple make up of shaved ice, thin green rice-flour jelly, and grass jelly blocks atop a gula java syrup, AKA palm sugar. Compared to gula melaka, gula java is less cloyingly sweet or coconutty. I actually much prefer this to our local iteration, since it skips the sweet corn and attap chee that I usually request to have excluded from my chendol.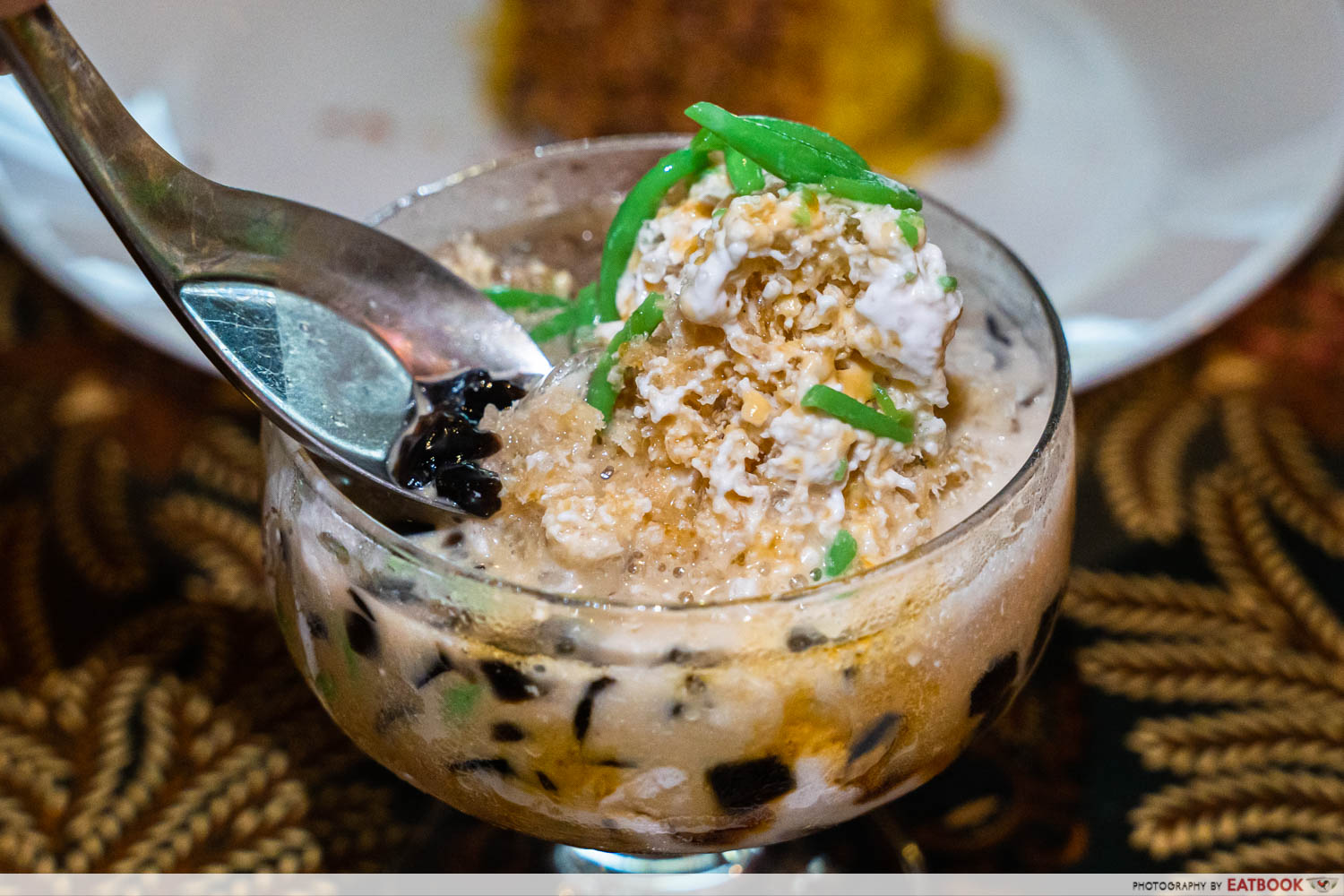 The flavours were well-balanced: a pleasant creaminess from coconut, with rich caramel notes from the syrup. The light herbaceous flavour from the grass jelly and distinct pandan flavour from the green jelly are also iconic components of the dessert. We also loved the sweet-tasting and particularly huge red beans. My only gripe was that the serving portion is slightly small for its price. 
Mutiara Seafood Review: Jumbo Group's First Halal Restaurant Has Indonesian Grilled Seafood And More
Ambience at Cumi Bali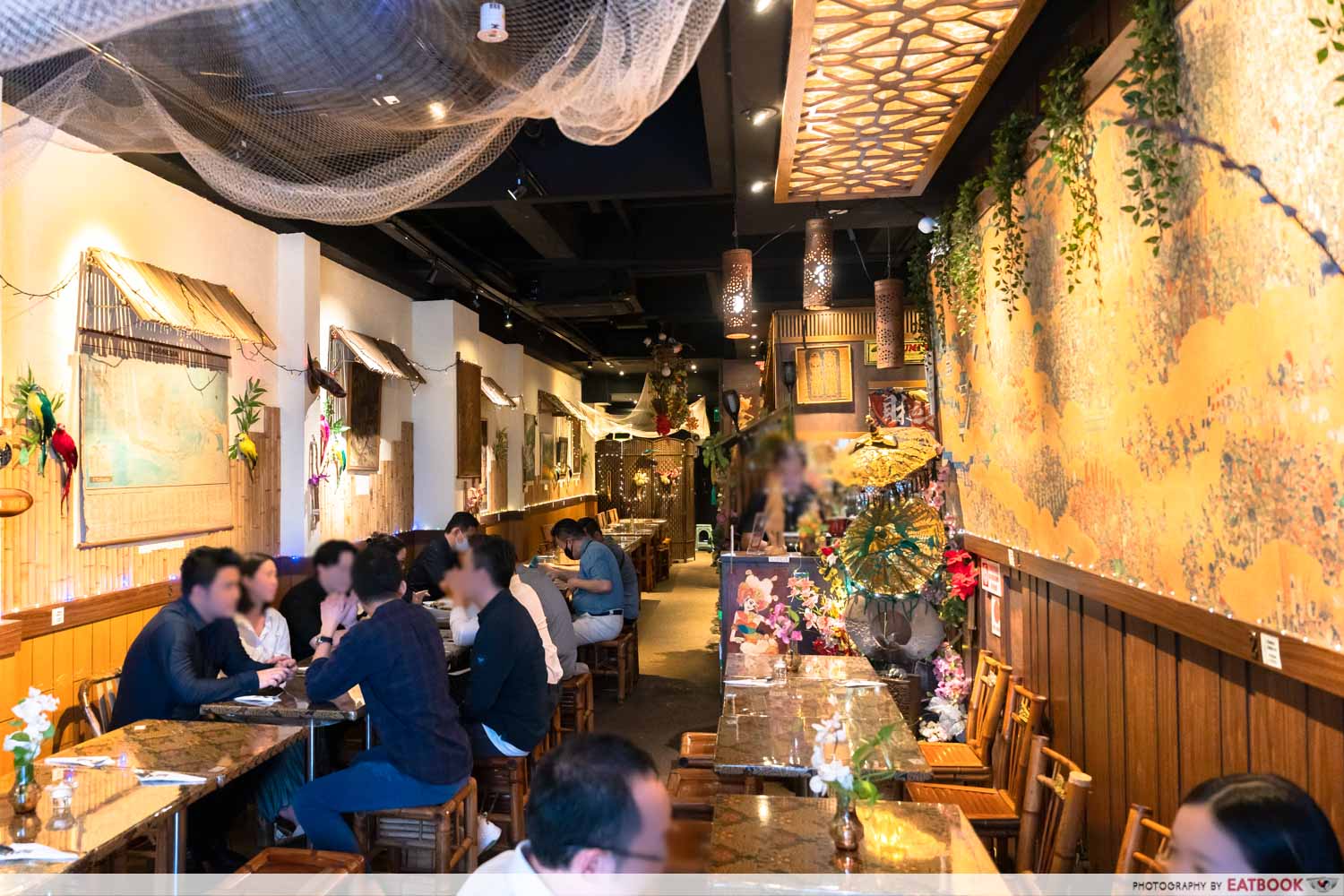 Cumi Bali is a short two-minute walk from Tanjong Pagar MRT Station. The restaurant is decked out in warm lighting, and graced with wooden accents and vibrant Indonesian decoration. I even momentarily thought that I was on a holiday in Bali! The cosy atmosphere definitely helped us to relax and enjoy our time here, even though we were really here for a work shoot. 
We arrived at 11:30am, and even then, there were already a few people waiting around to dine in as well. When it got to lunchtime, more people started to stroll in, so I'd definitely recommend that you get reservations prior to your visit. Even though there seemed to be limited manpower on our day of visit, the staff here were still friendly and helpful with our orders, which I appreciated. 
The verdict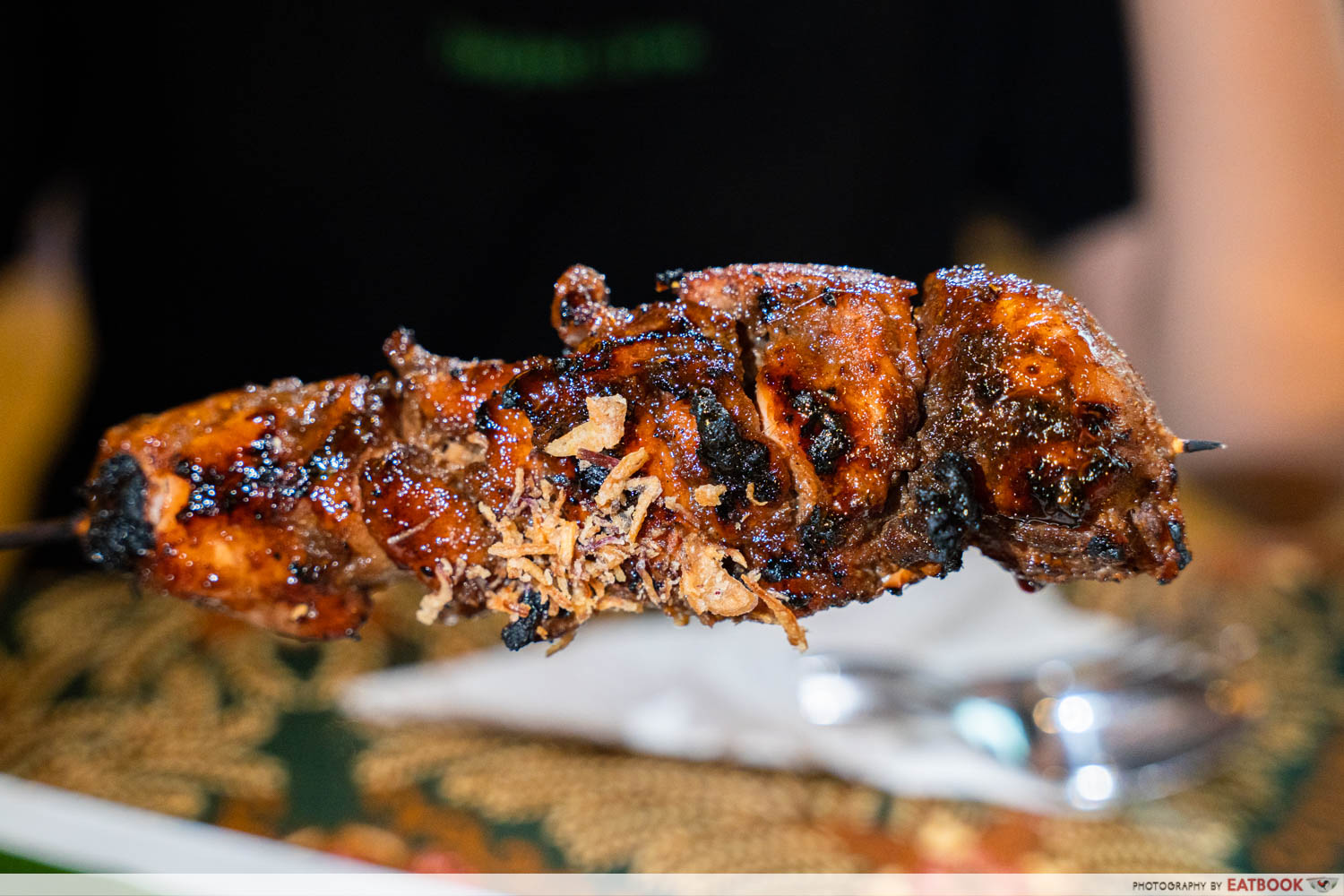 The meal here might actually be one of the best ones I've had during my time here in Eatbook. All of the flavours were on point and the portions were reasonable for my colleague and me. I like to dine comfortably, so the ambience of the restaurant was also a big plus point for me. I'd definitely recommend this place for special occasions. 
For more tasty food in Tanjong Pagar, check out our Elijah Pies review for popular pies and coffee. Otherwise, read our guide on the best Indonesian restaurants in Singapore!
Address: 50 Tras Street, Singapore 078989
Opening hours: Daily 11:30am to 2:30pm, 6pm to 9:30pm
Tel: 6220 6619
Website
Cumi Bali is a halal-certified eatery. 
8 Best Indonesian Restaurants In Singapore For Legit Bebek Goreng, Bakmi And More
Photos taken by Rifdi Syahir.
This was an independent review by Eatbook.sg
Cumi Bali Review: Michelin-Approved Indonesian Grilled Sotong, Chendol And More
Cumi Bali Review: Michelin-Approved Indonesian Grilled Sotong, Chendol And More -

8.5/10
Summary
Pros
– All of the dishes were flavourful and delicious
– Comfortable dining spot
– Convenient location
Cons
– Limited service staff on our day of visit
– Dishes are on the pricier side
Recommended dishes: Ayam Sate Madura ($20+), Cumi Bali ($38+), Sayur Lodeh ($20+)

Opening hours: Daily 11:30am to 2:30pm, 6pm to 9:30pm

Address: 50 Tras Street, Singapore 078989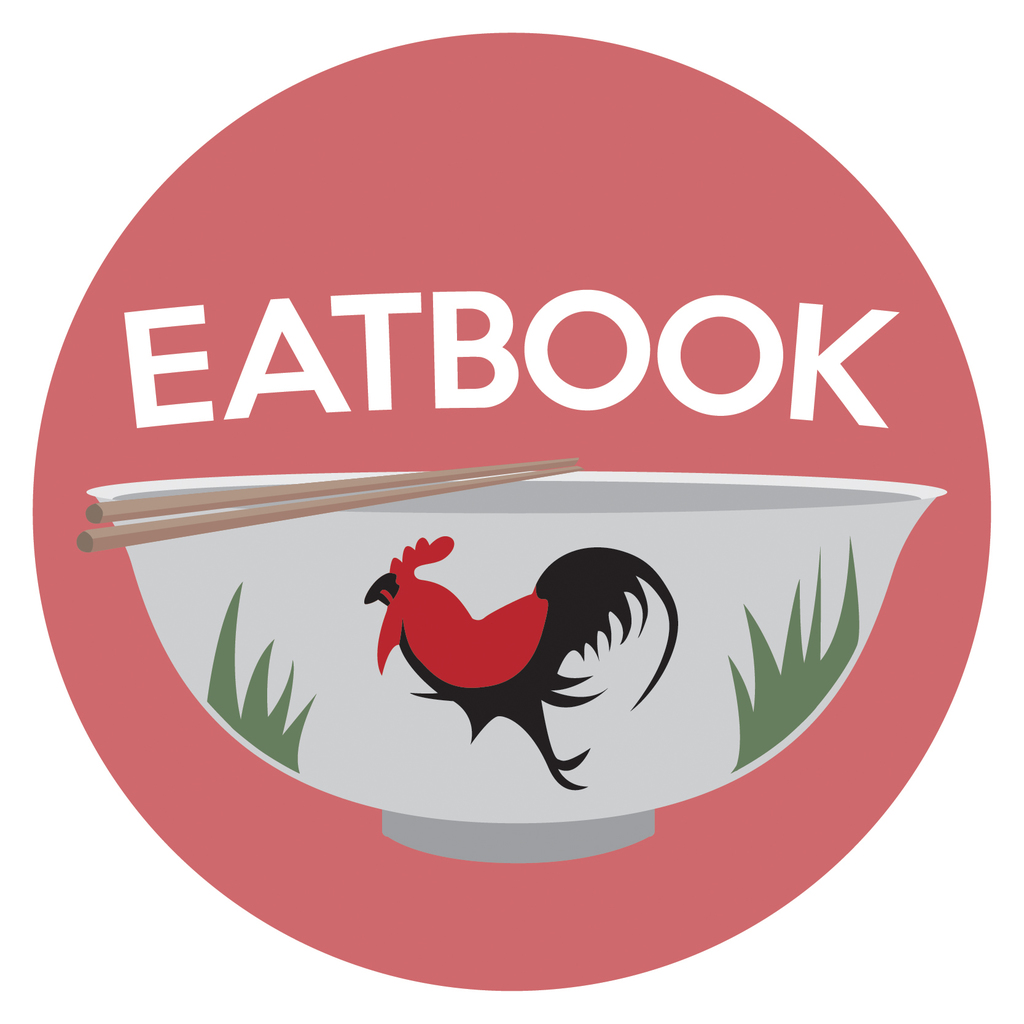 Drop us your email so you won't miss the latest news.