Mutiara Seafood is Jumbo's first halal-certifed restaurant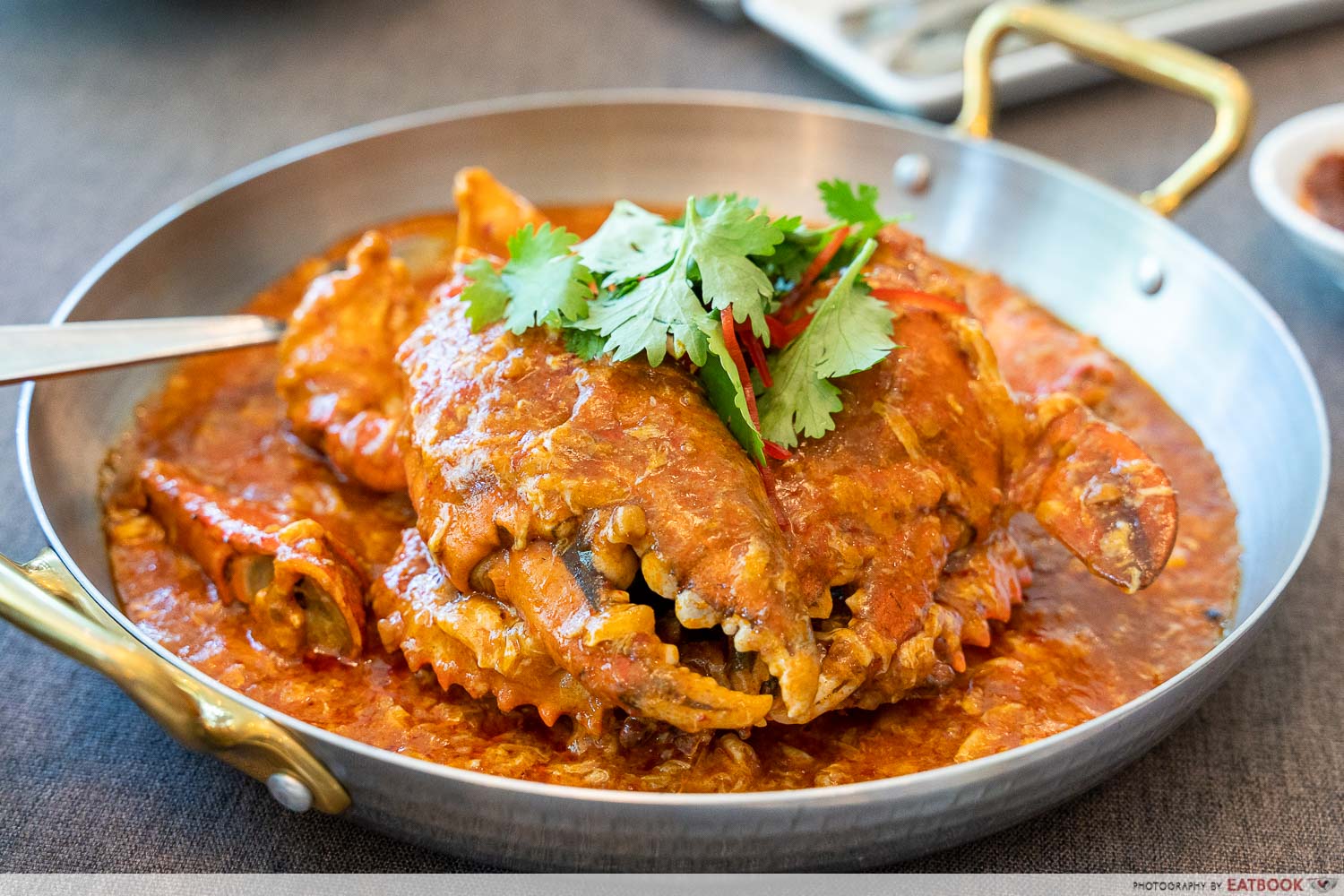 Jumbo Seafood has for a long time been my family's go-to for crab and mee goreng—we like the mee goreng so much, we sometimes drop by to dabao a portion just to satisfy the craving. My family doesn't lose out on Jumbo not being halal-certified, but plenty of others do, so their decision to launch halal-certified Mutiara Seafood must be a welcome one to many.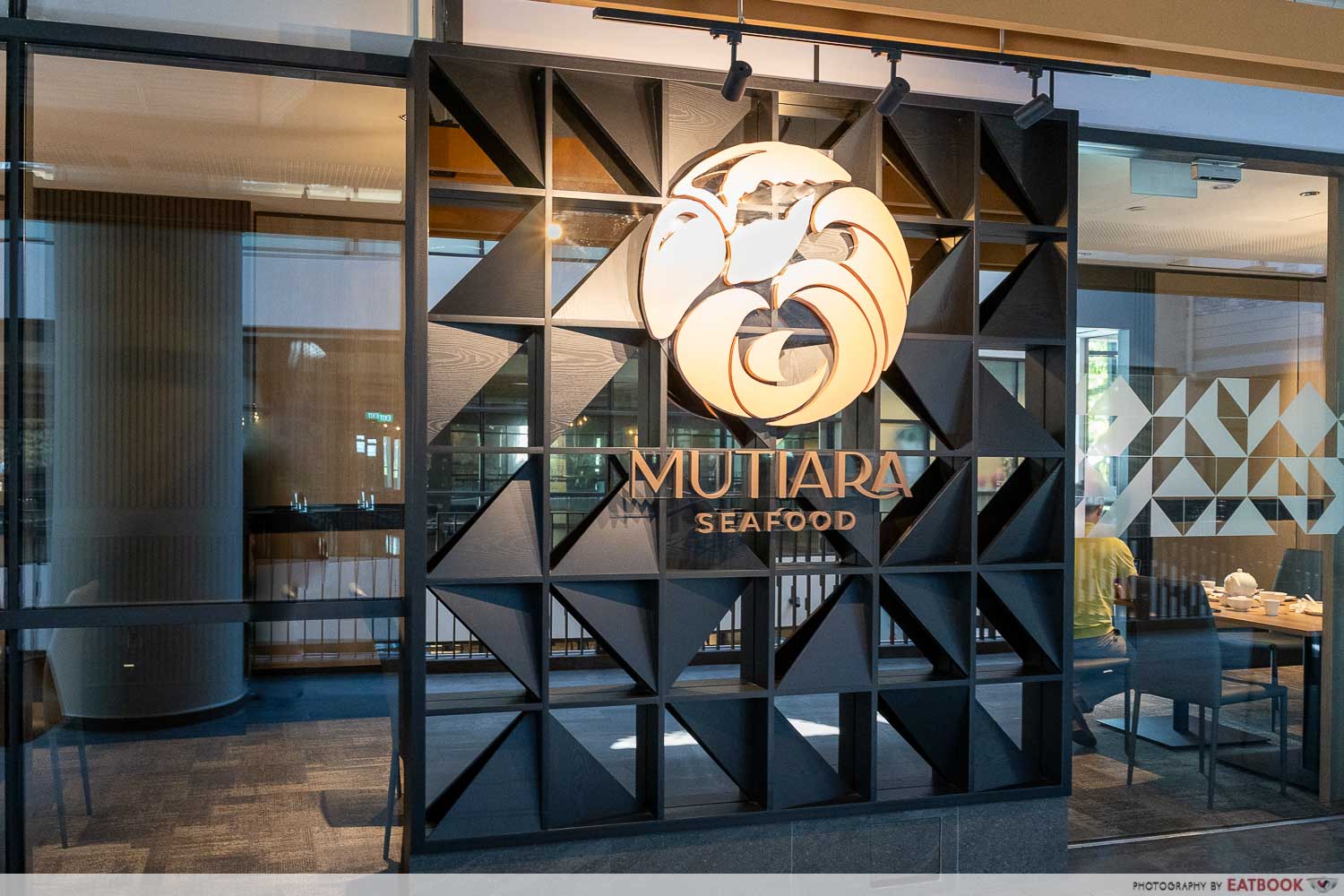 That's not to say that Mutiara Seafood is an exact replica of the many Jumbo Seafood outlets across the island—this restaurant is the only one that offers a selection of Indonesian-style grilled, or panggang, dishes.
Al Mahboob Rojak Review: Indian Rojak Stall In Tampines With More Than 30 Ingredients
Food at Mutiara Seafood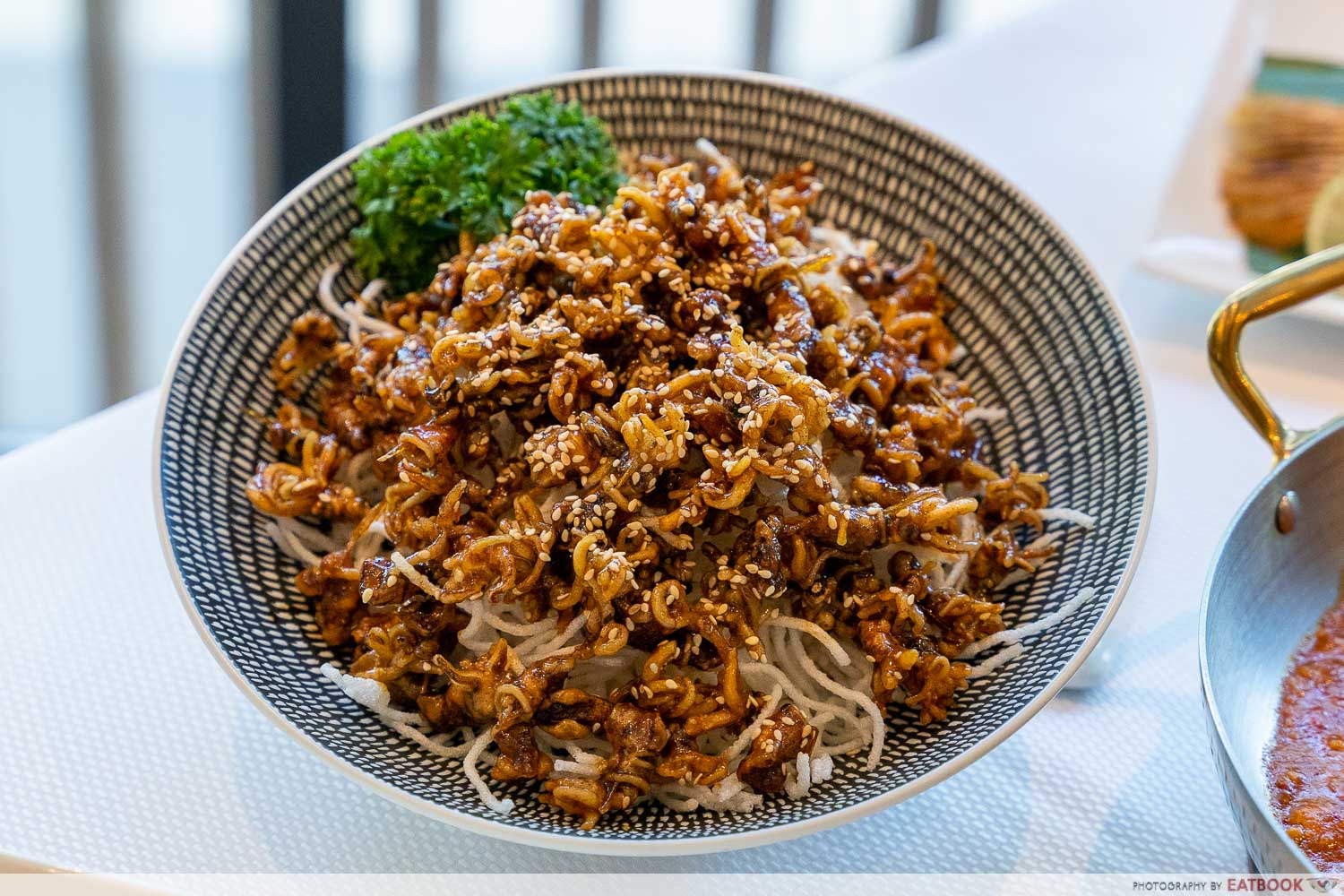 Fans of Jumbo will recognise the Cumi Goreng Garing ($16++) on this menu, also known as Crispy Fried Baby Squid.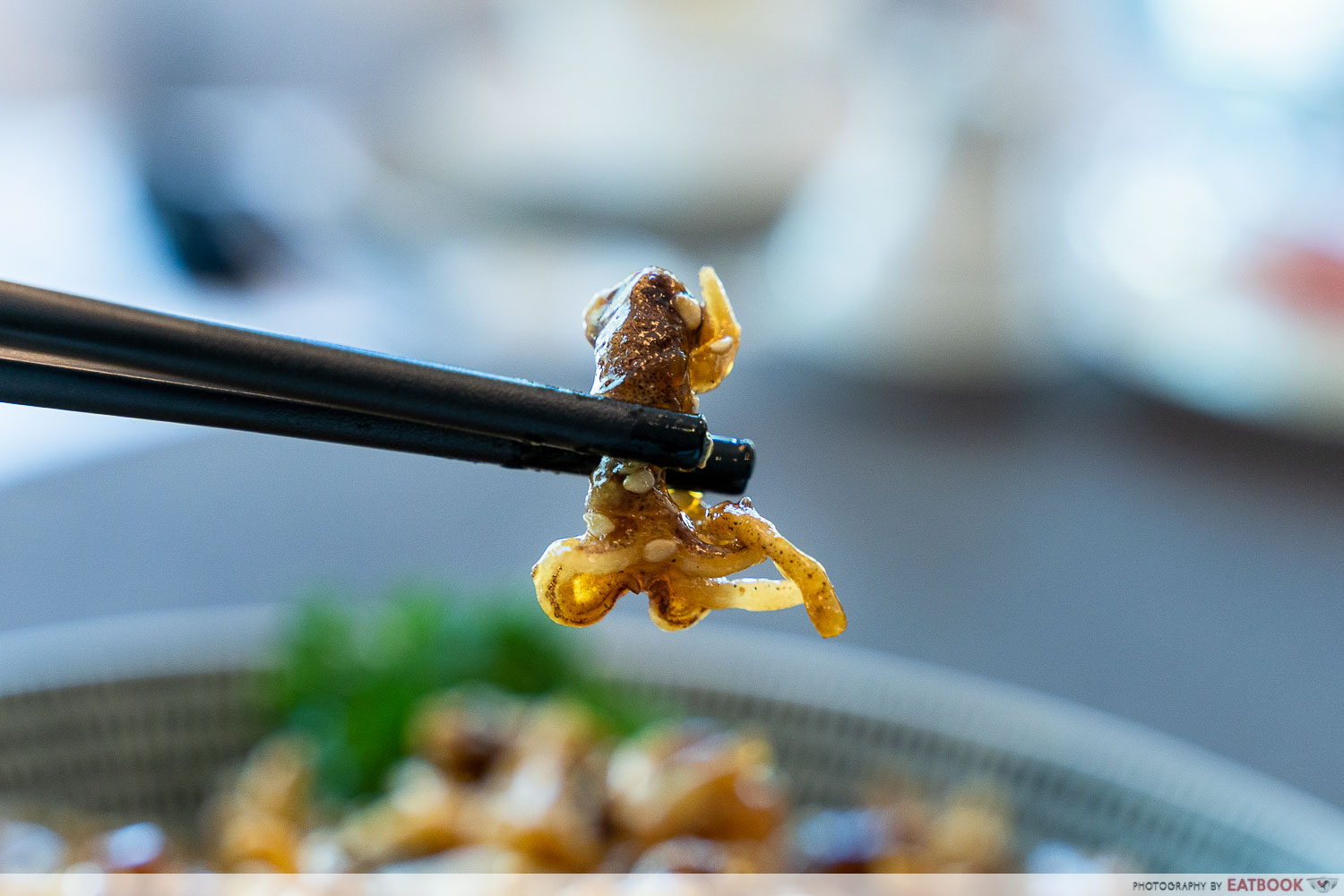 Honestly, I'm not a fan of these little things, just like how I veer away from hotaru-ika for their little beady eyes staring at me. The only time I make an exception is when they're fried till super crisp, so I picked one up to try when I heard the ASMR-worthy crunches coming from my fellow tablemates.
They're tossed in a dark, moreish glaze that has a touch of sweetness, and manage to retain that crunch long after they've been served. I tried one just before desserts came on, and am happy to report that they weren't any bit less crispy.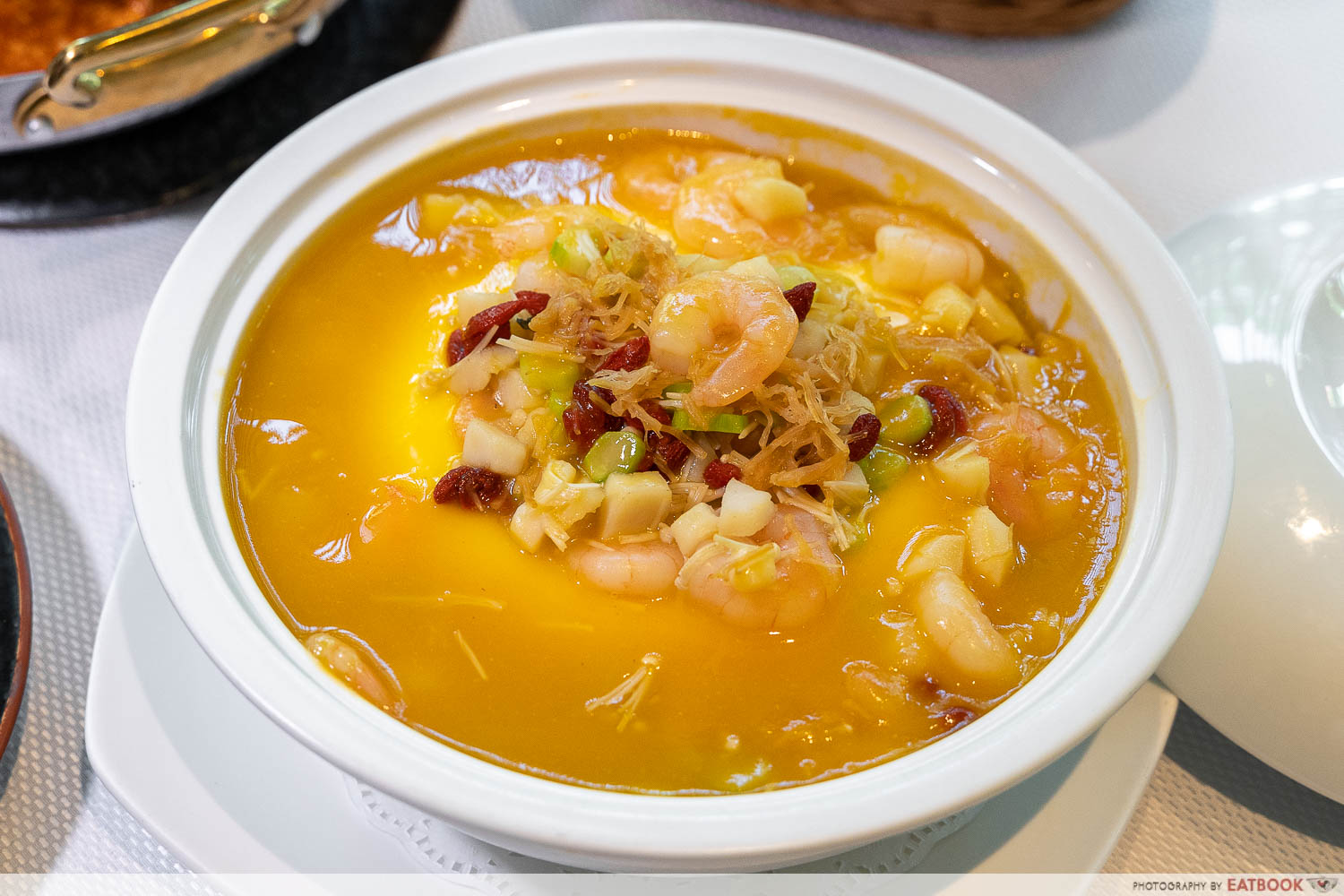 Following this starter was Sup Labu Kuning dan Seafood ($32++/$48++/$64++), or Seafood Pumpkin Soup. The scents that wafted off this tureen hinted strongly at a base of superior stock, the broth coloured a pleasant golden-orange from pumpkin.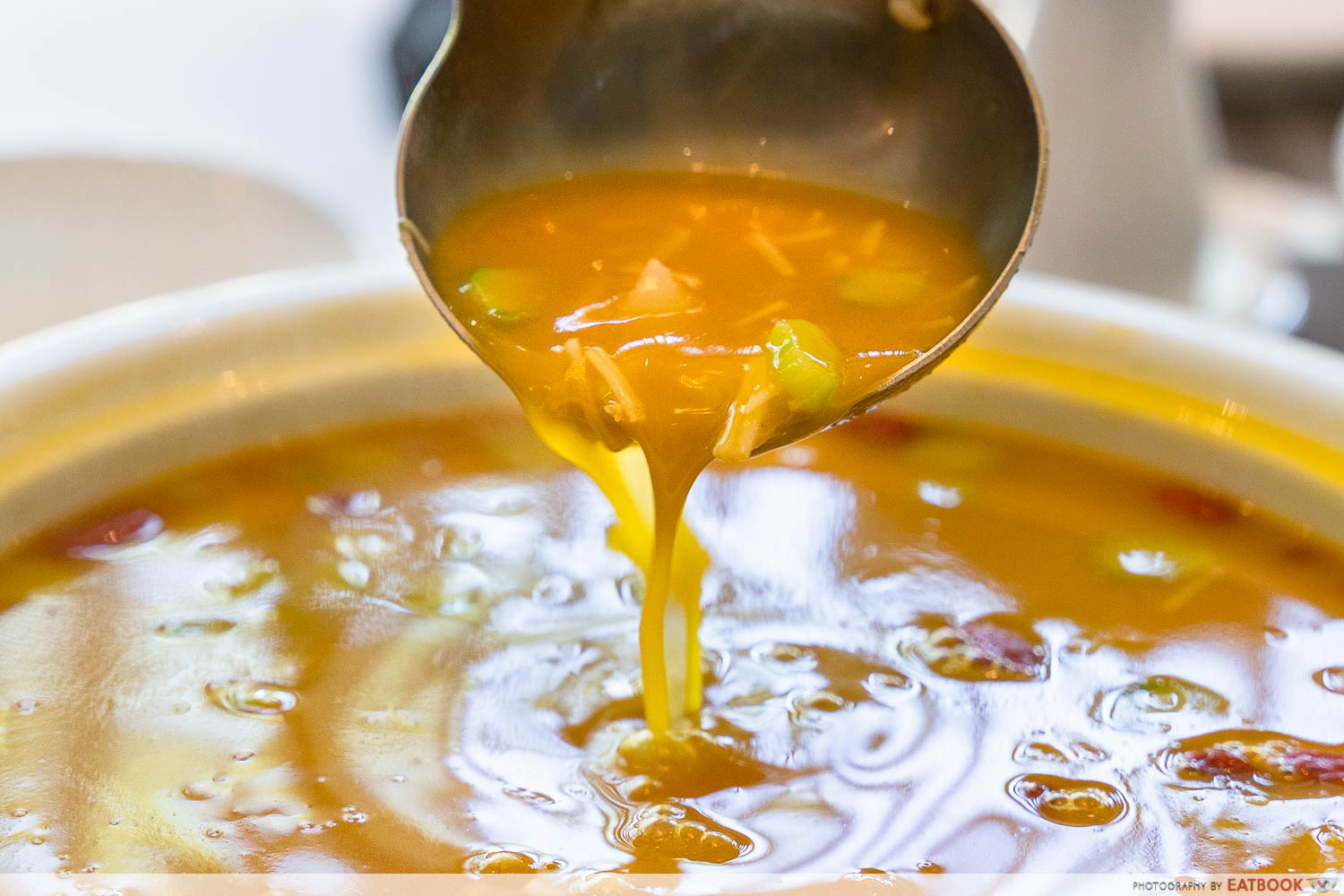 Of course, ingredient substitutions have to be made since Mutiara Seafood is a Muslim-friendly concept, but the flavours were no less on point.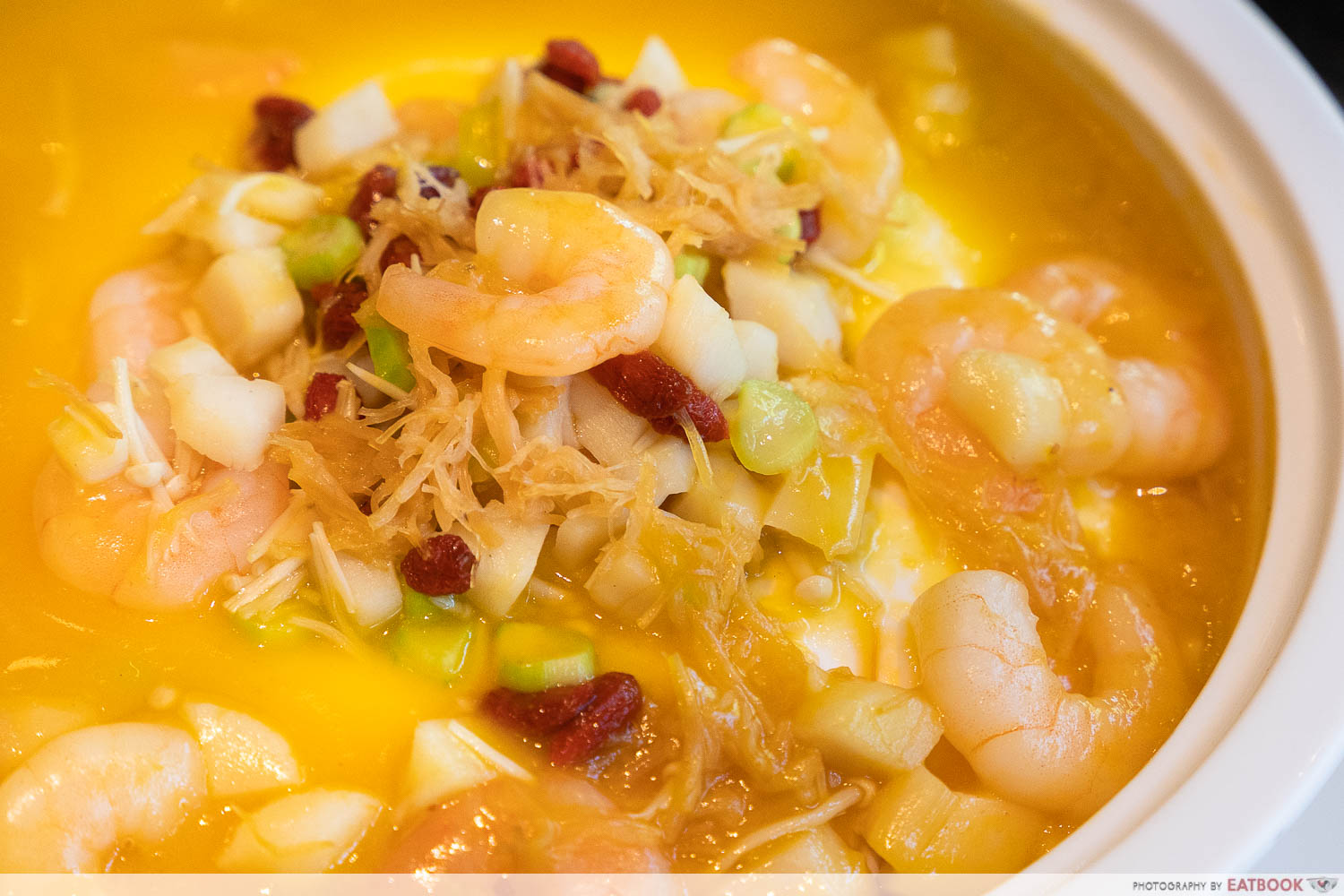 With copious amounts of shredded conpoy in this, plus fresh scallops, prawns, goji berries, and bits of diced kailan stem, I ended up indulging in not one or two, but three full bowls of soup. Oops.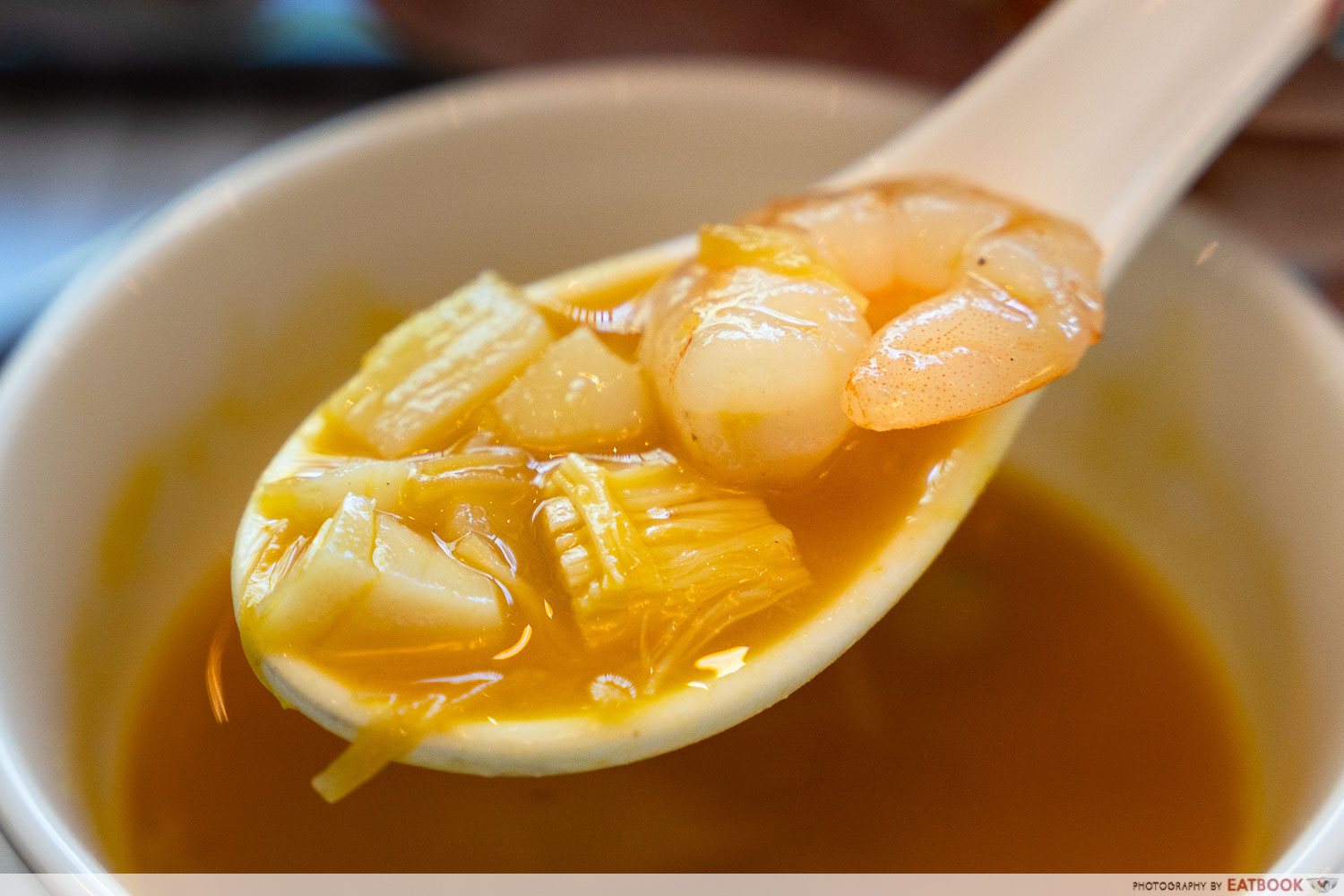 My dining companion did wish it was more savoury, but you might add a dash of the provided black vinegar, white pepper, or light soya sauce to adjust it to your preference.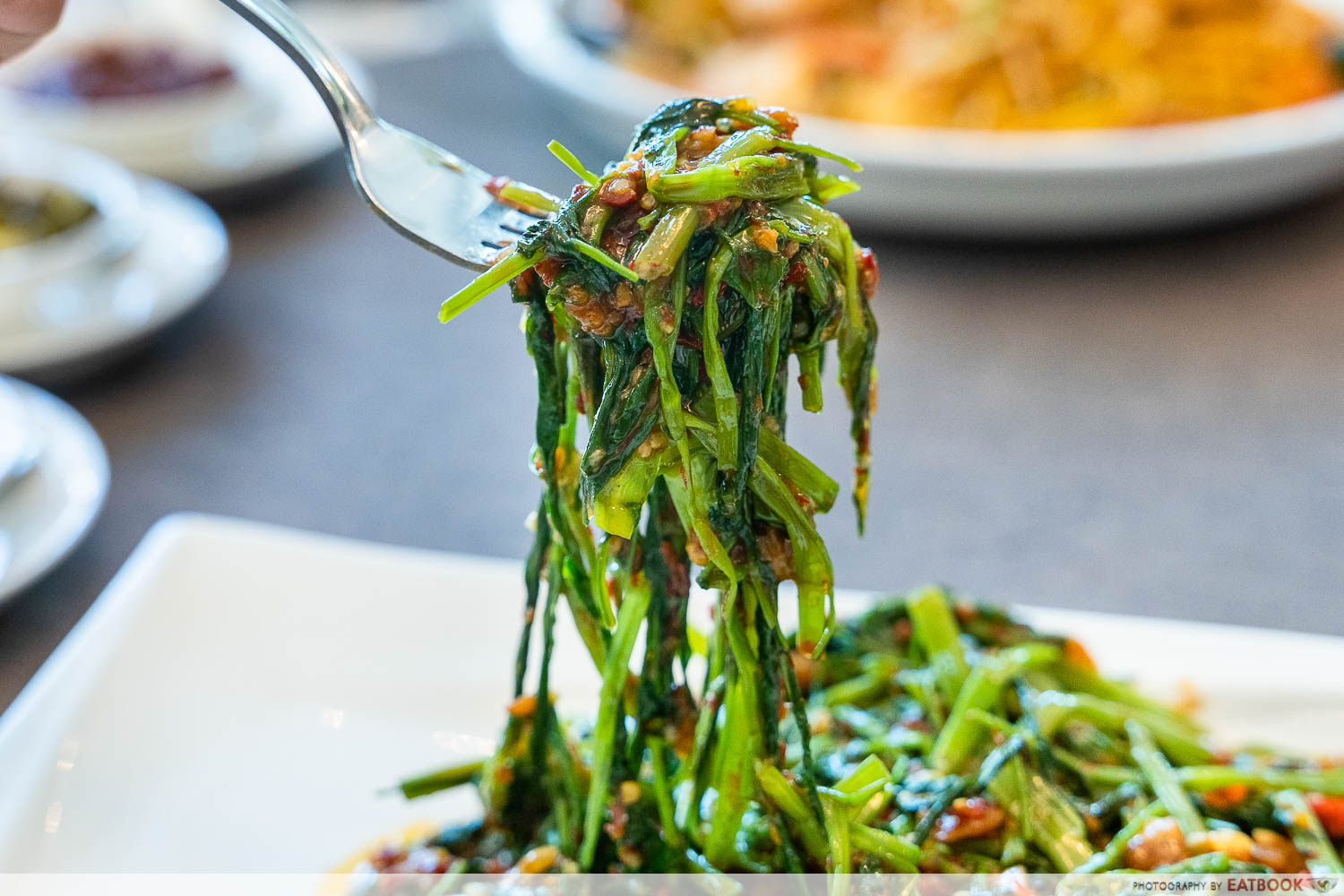 Don't miss the Kang Kong ditumis dengan Sambal ($14++/$21++/$28++) for this version is full of fragrant hei bee. All the sambal and pastes used here, by the way, are house-made specially for Mutiara, since they had to rejig the recipes from the ones used at Jumbo Seafood.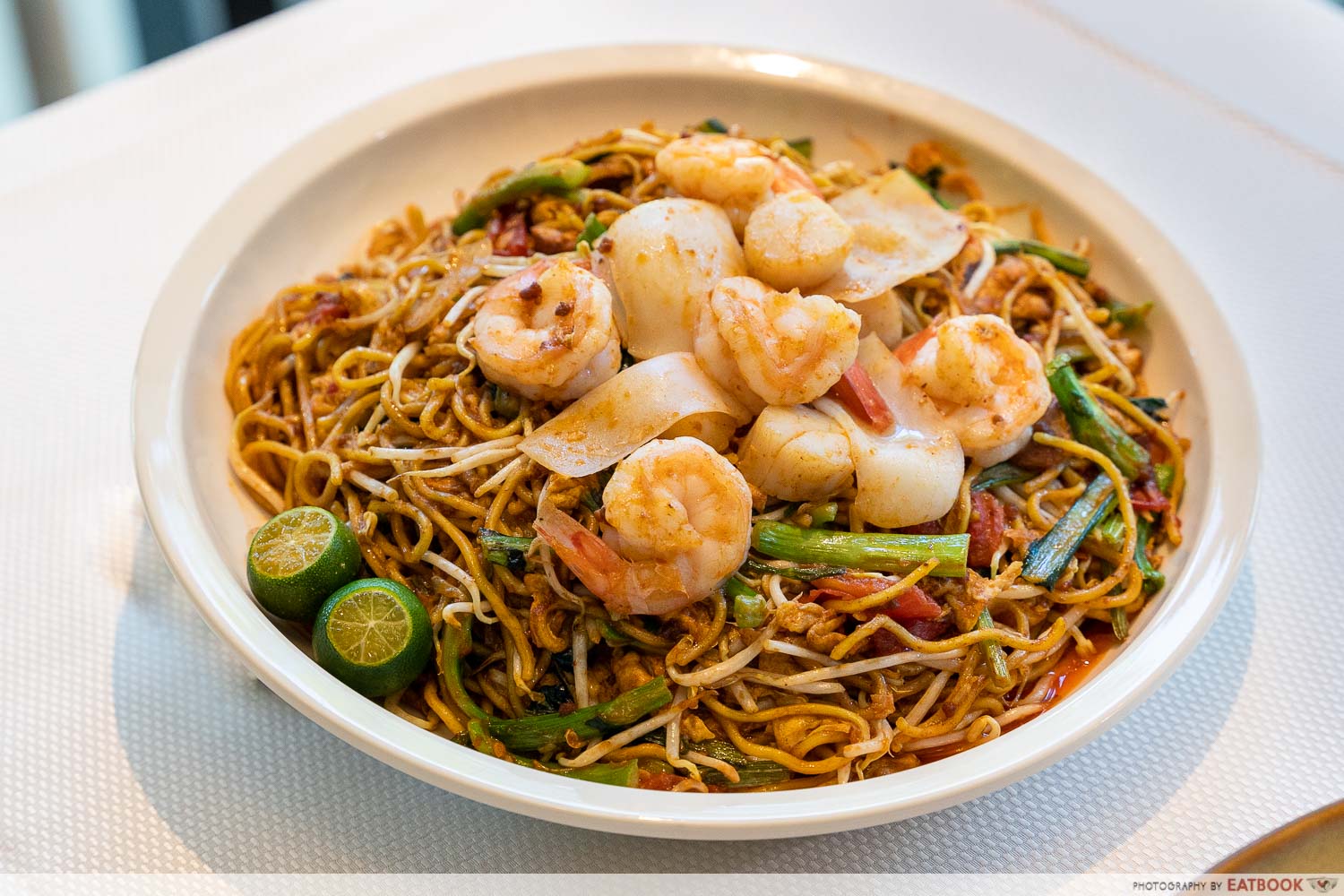 The same goes for Mee Goreng Gaya 'Melayu' ($20++/$30++/$40++), my all-time favourite Jumbo, and now Mutiara Seafood, dish.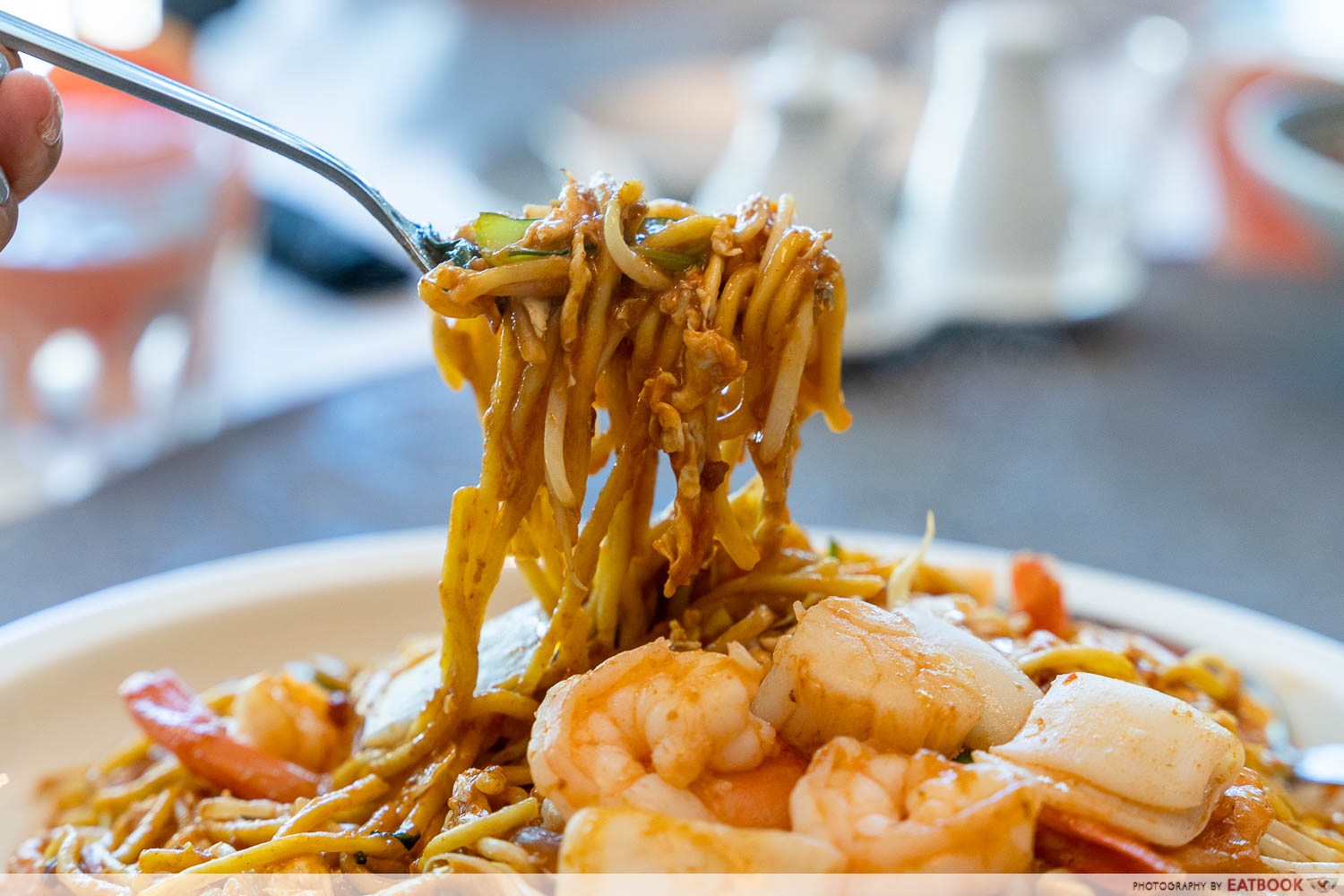 I personally felt the flavours in this mee goreng were the slightest bit muted as compared to Jumbo, and a little bit wetter on this occasion, but really, it was no less tasty. If not for the fact that I'd had three bowls of soup and was less than halfway through the meal, I would have gone for seconds.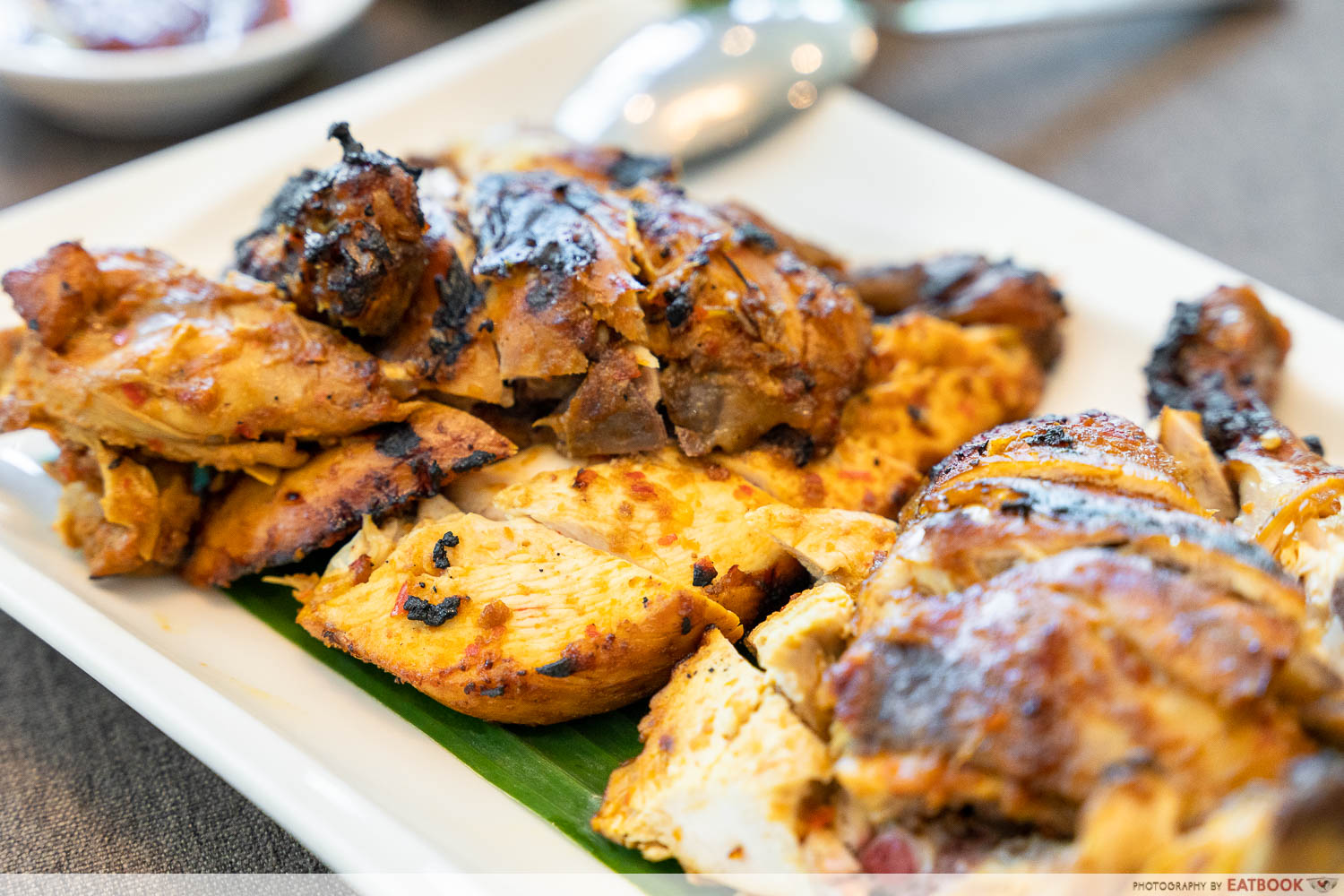 We then moved on to a selection of their exclusive grilled dishes, starting with Ayam Panggang Kecap ($20++ for half a chicken/$36++ for a whole chicken). At first glance, it looked kind of dry, so I admittedly didn't have high hopes for this.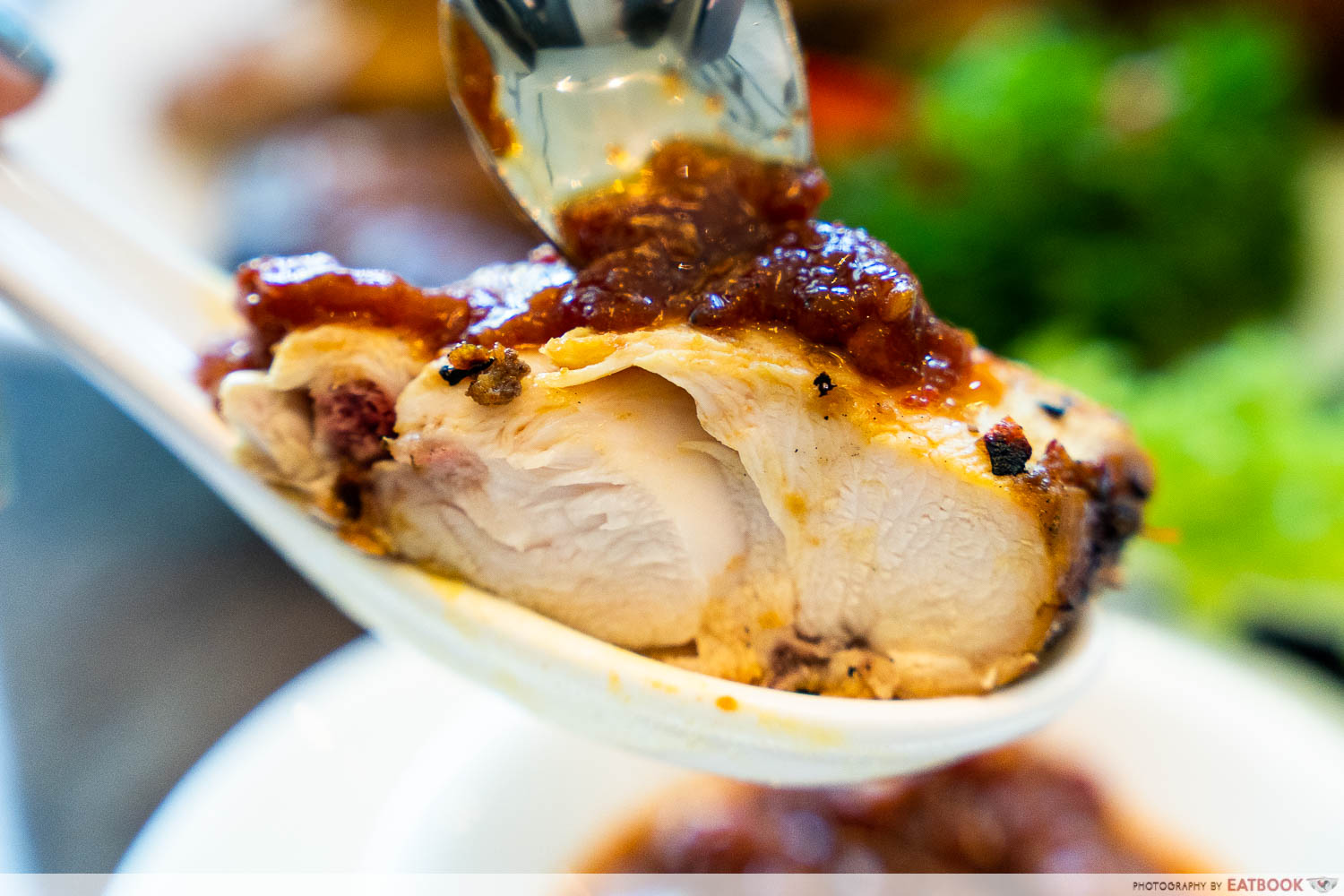 I picked up a piece of breast meat, doused it with some of their scrummy house-made sambal, and promptly ate my initial thoughts along with it. My dining companion was equally shook that the breast meat had retained a moist tenderness.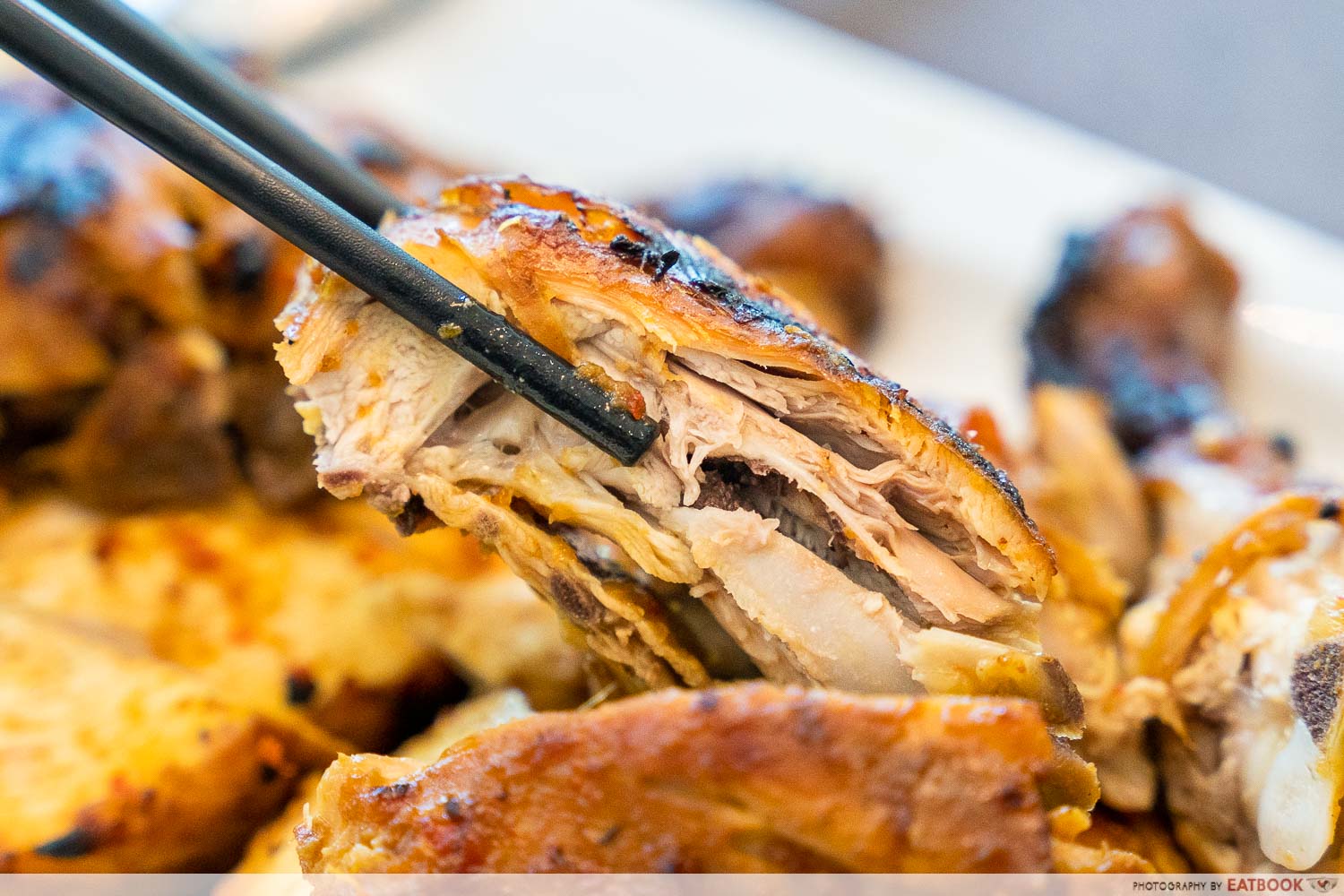 This chicken was kissed with smoke from the grill, not slathered in too much sweet sauce, and nicely marinated, so you could even do without the sambal.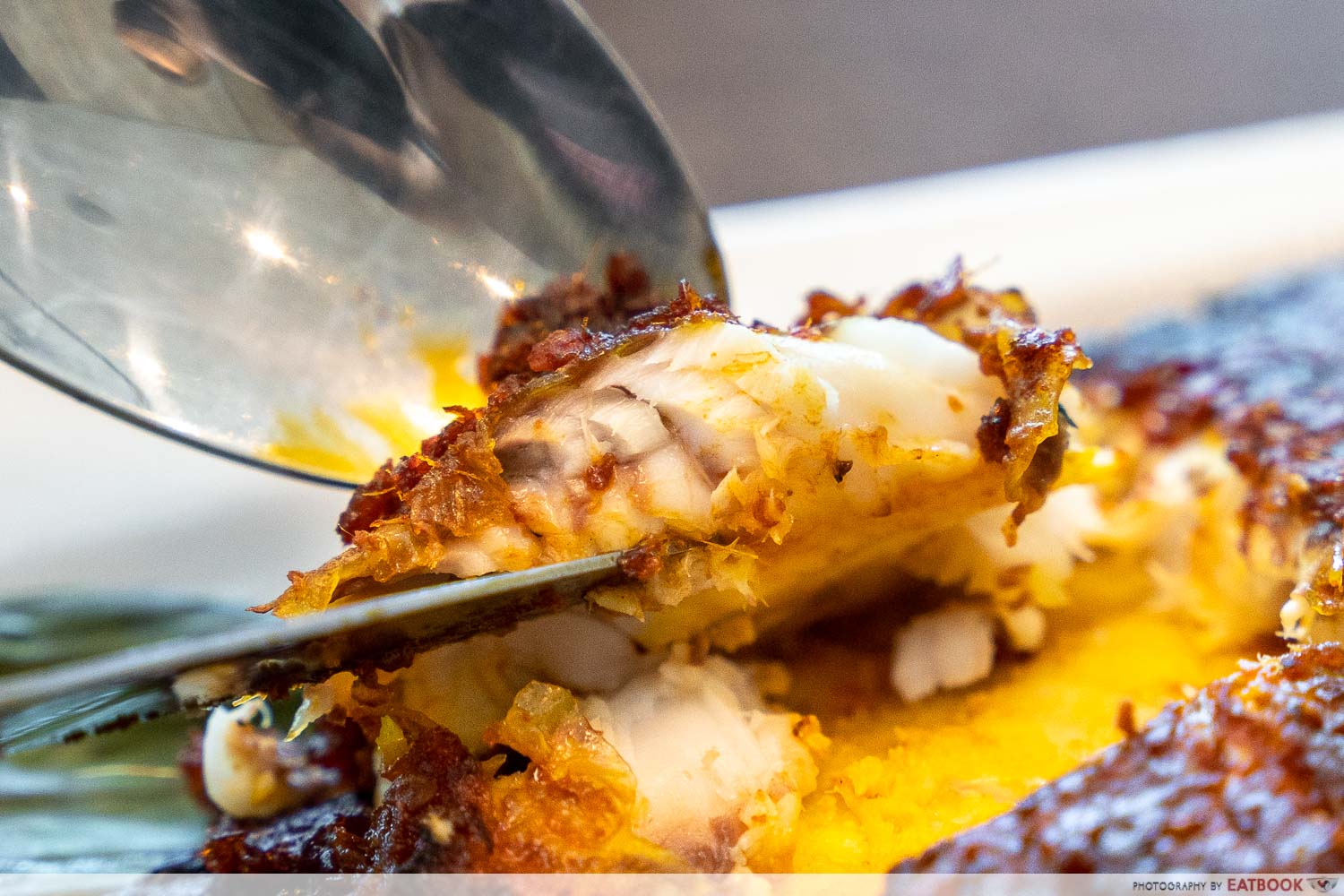 Our table was split on the Ikan Tilapia Merah Bakar dengan Sambal ($40++), AKA Grilled Red Tilapia Fish with Sambal. I enjoyed the sambal and grill, but not so much the fish, but that's purely a personal dislike for tilapia—sadly they're not able to serve this dish using any of the other live fish on the menu.
Some found the sambal too spicy, while others loved the dish, wanting to plan a follow-up visit just for this grilled fish.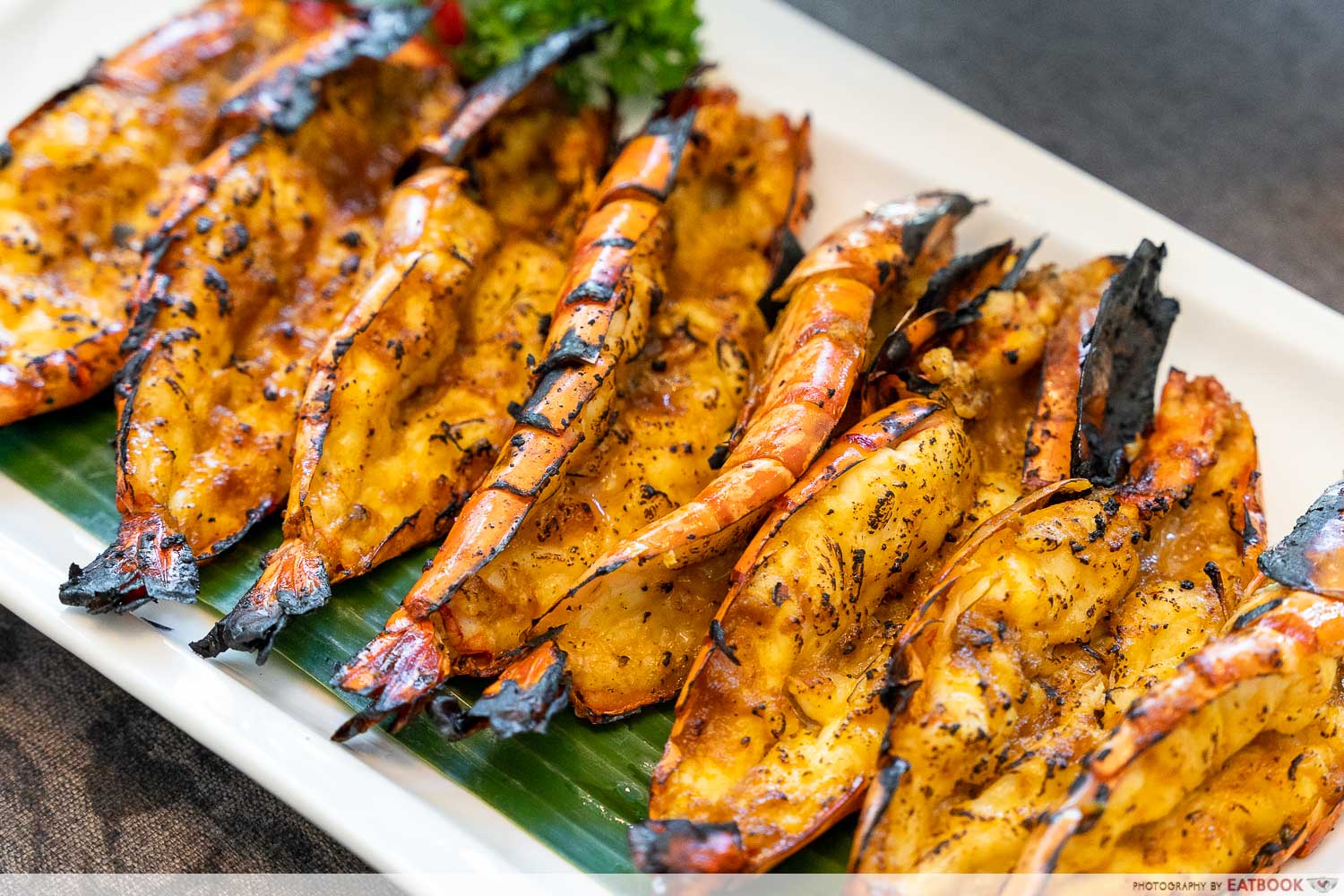 Unanimously, though, we all agreed that Udang Bakar Jimbaran ($28++ for four prawns) was the best of the three grilled dishes we had.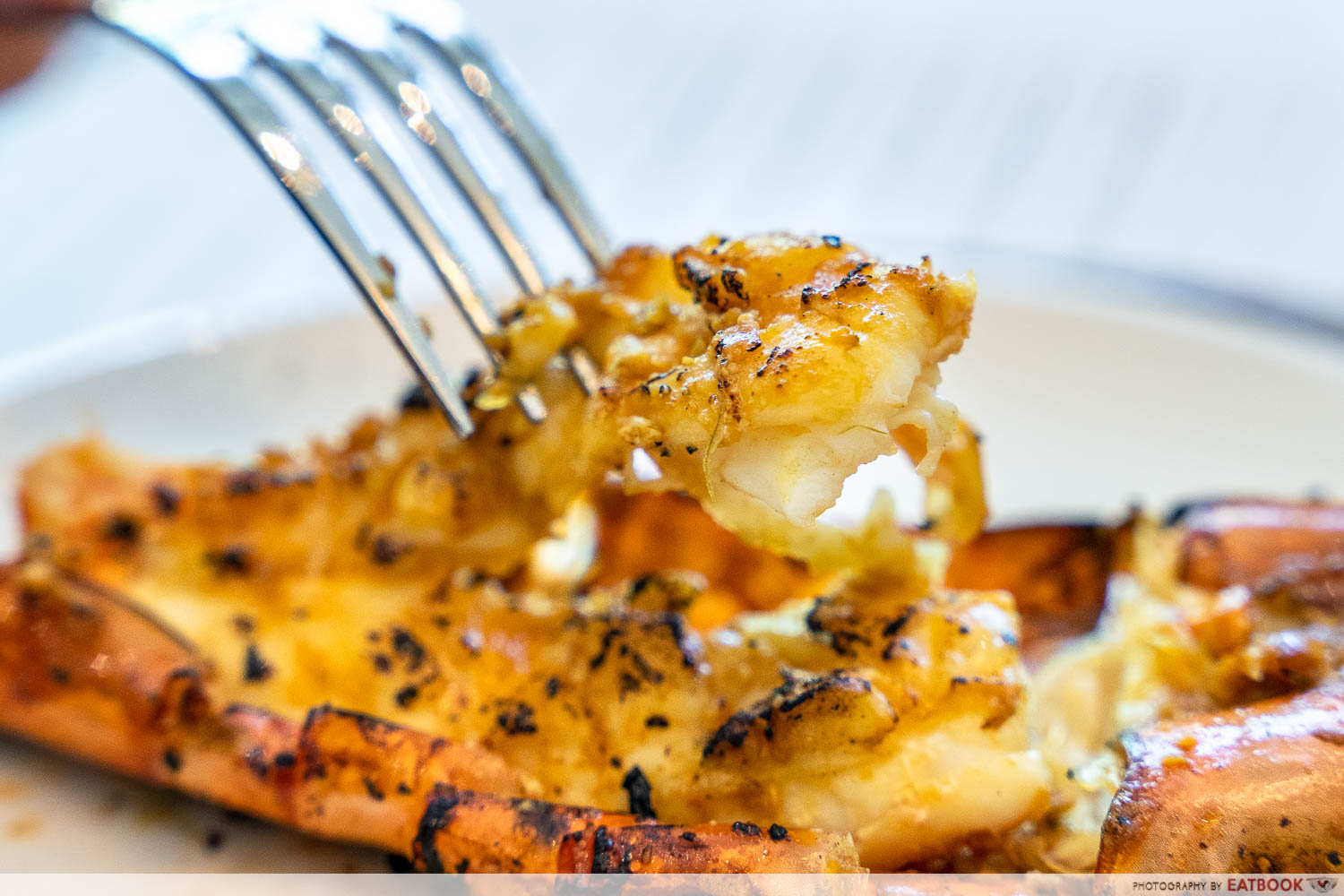 Bonus points go to how they're butterflied so there's more of the even charring along each of the whole, meaty prawns.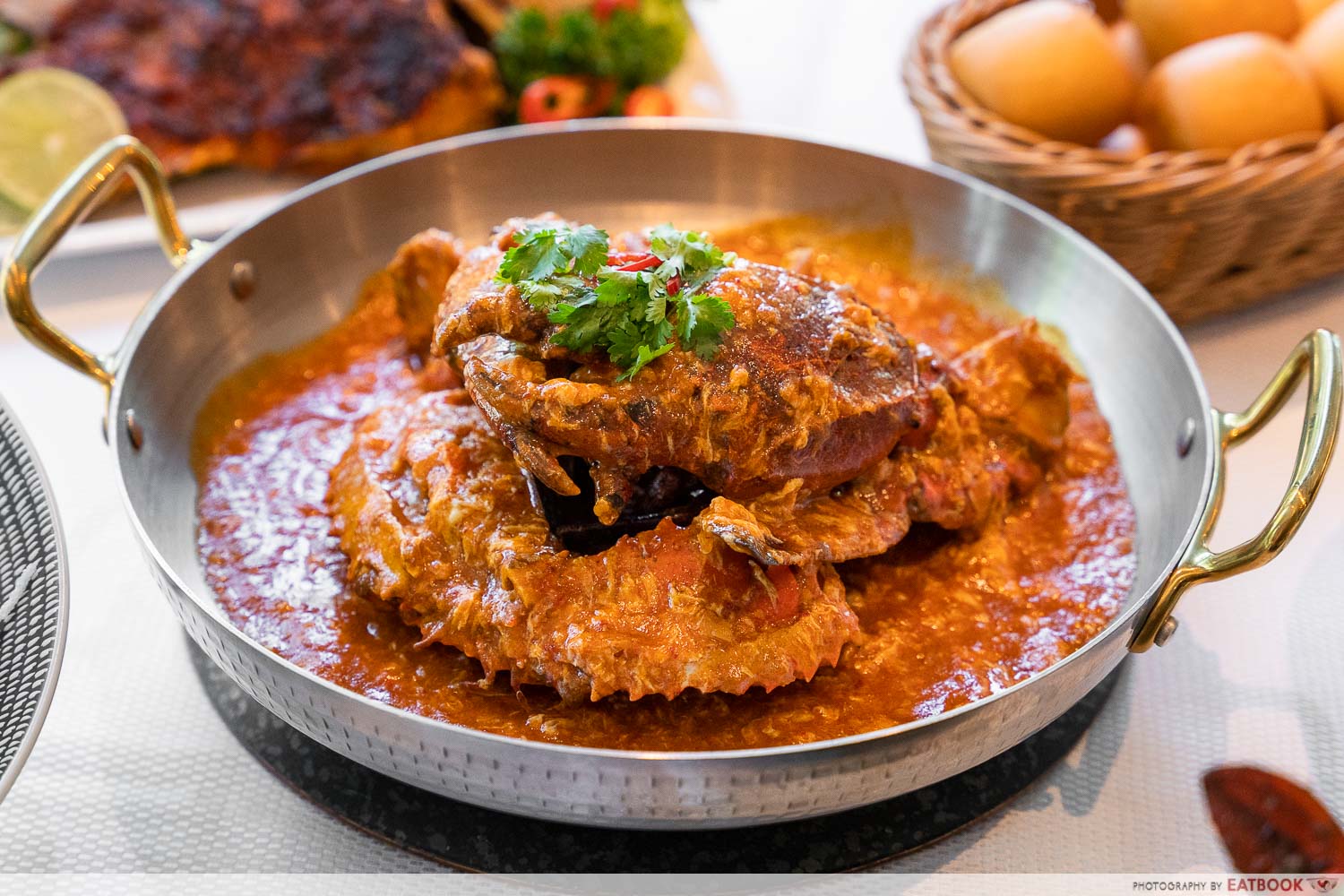 You can't really claim to be a Jumbo Seafood outlet if there's no Signature Chilli Crab (market price) or Signature Black Pepper Crab (market price) on the menu. Known respectively as Ketam Cili Sajian Ciri Khas Kami and Ketam Lada Hitam Sajian Ciri Khas Kami, these recipes have also been tweaked for Mutiara Seafood.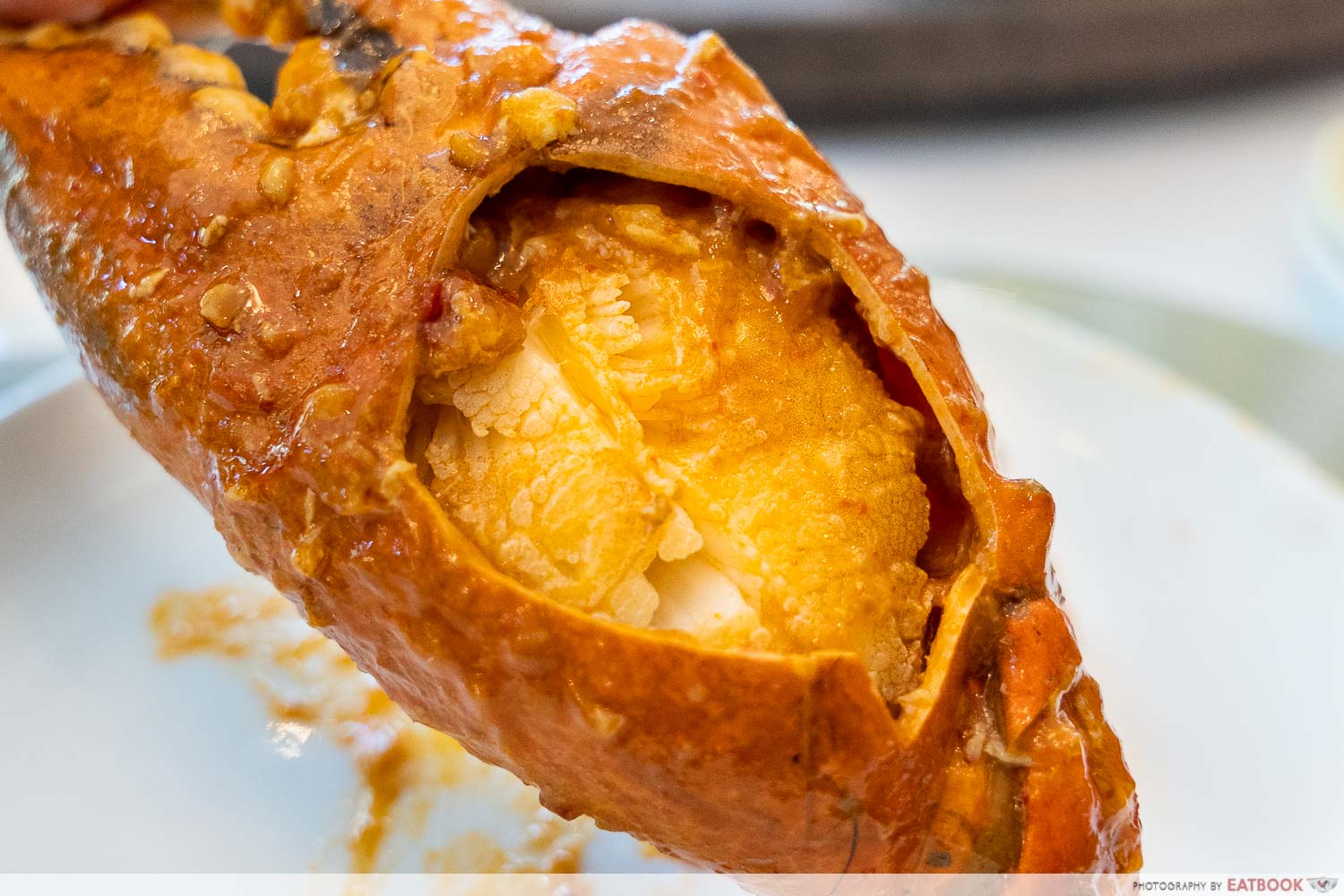 Rest assured that these are still prepared with live crabs, and the tastes are almost identical to that at Jumbo.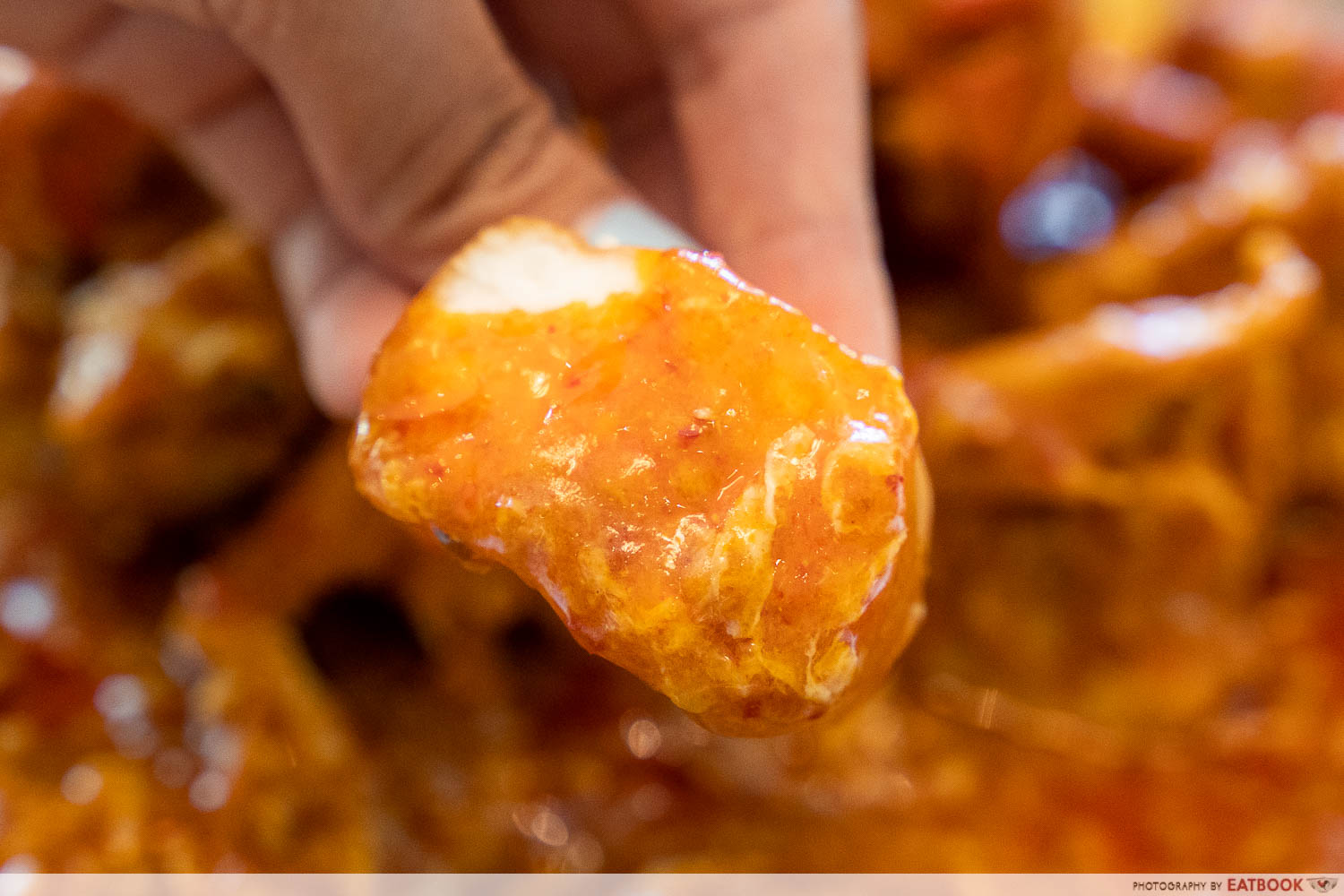 You'll also still be able to order mantou alongside the chilli crab too. We found the chilli crab sauce to be less sweet, and slightly more garlicky, than our impression of the Jumbo version.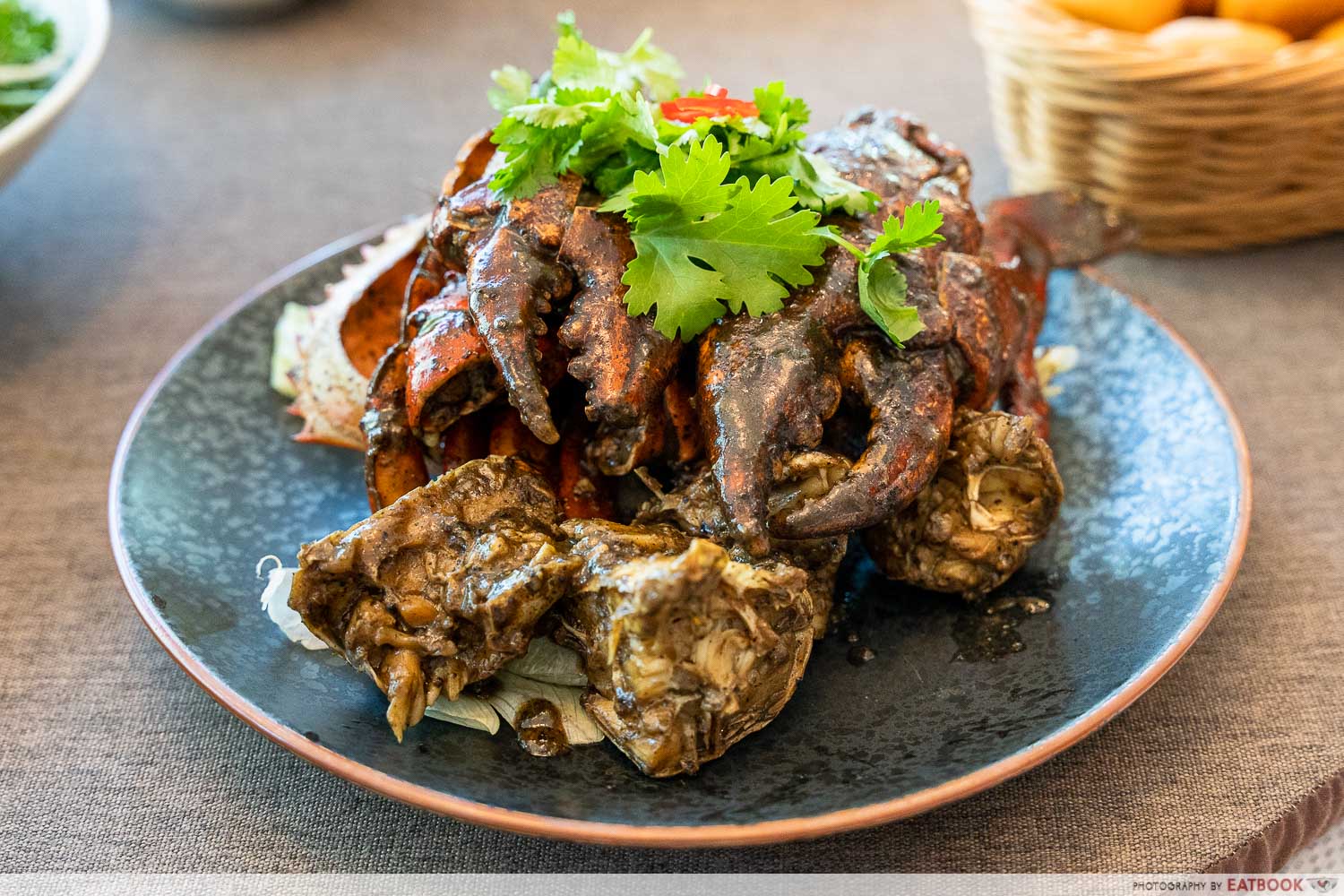 As for the black pepper crab, I thought it was less buttery than I recalled it being.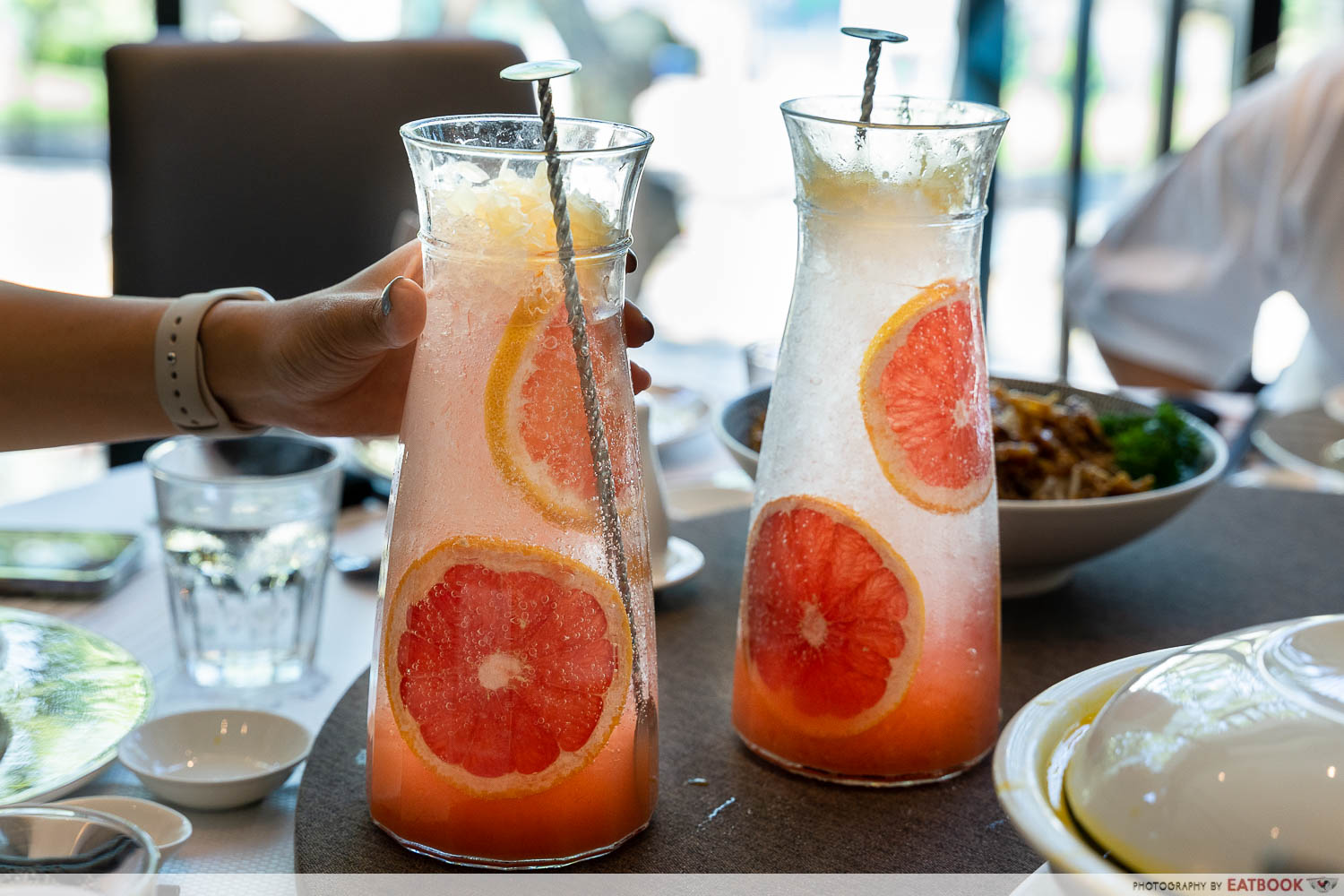 There's also line-up of three craft coolers and a selection of desserts on the menu here: we had Grapefruit Pomelo Twist ($18++ a jug) and Mango Pudding ($5++).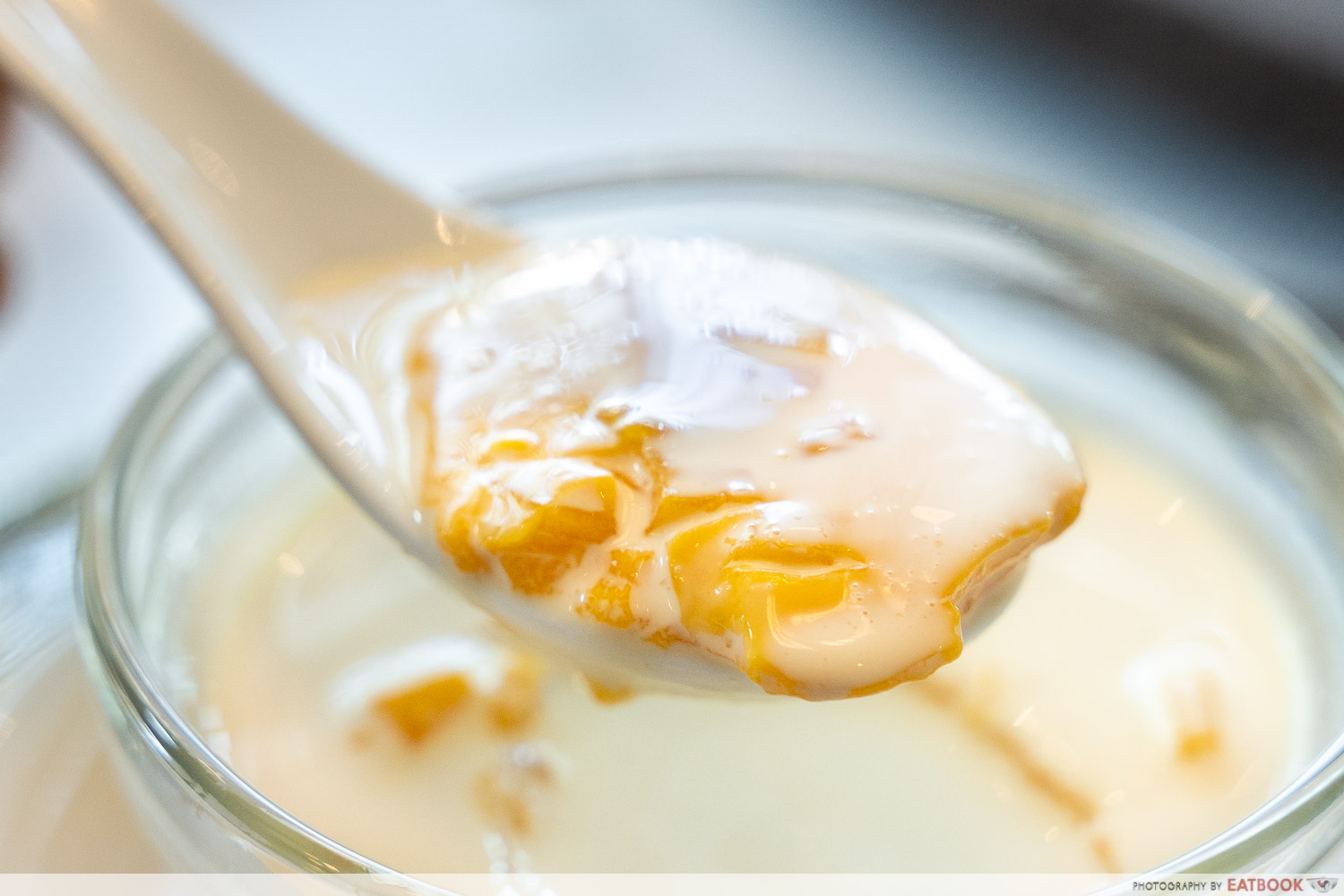 It may be a run-of-the-mill dessert, but this mango pudding gained quite a number of oohs and aahs, especially since it wasn't too sweet, or too heavy on the mango flavouring.
Old Lai Huat: Old School Seafood Zi Char With Famous Sambal Belacan Fish
Ambience at Mutiara Seafood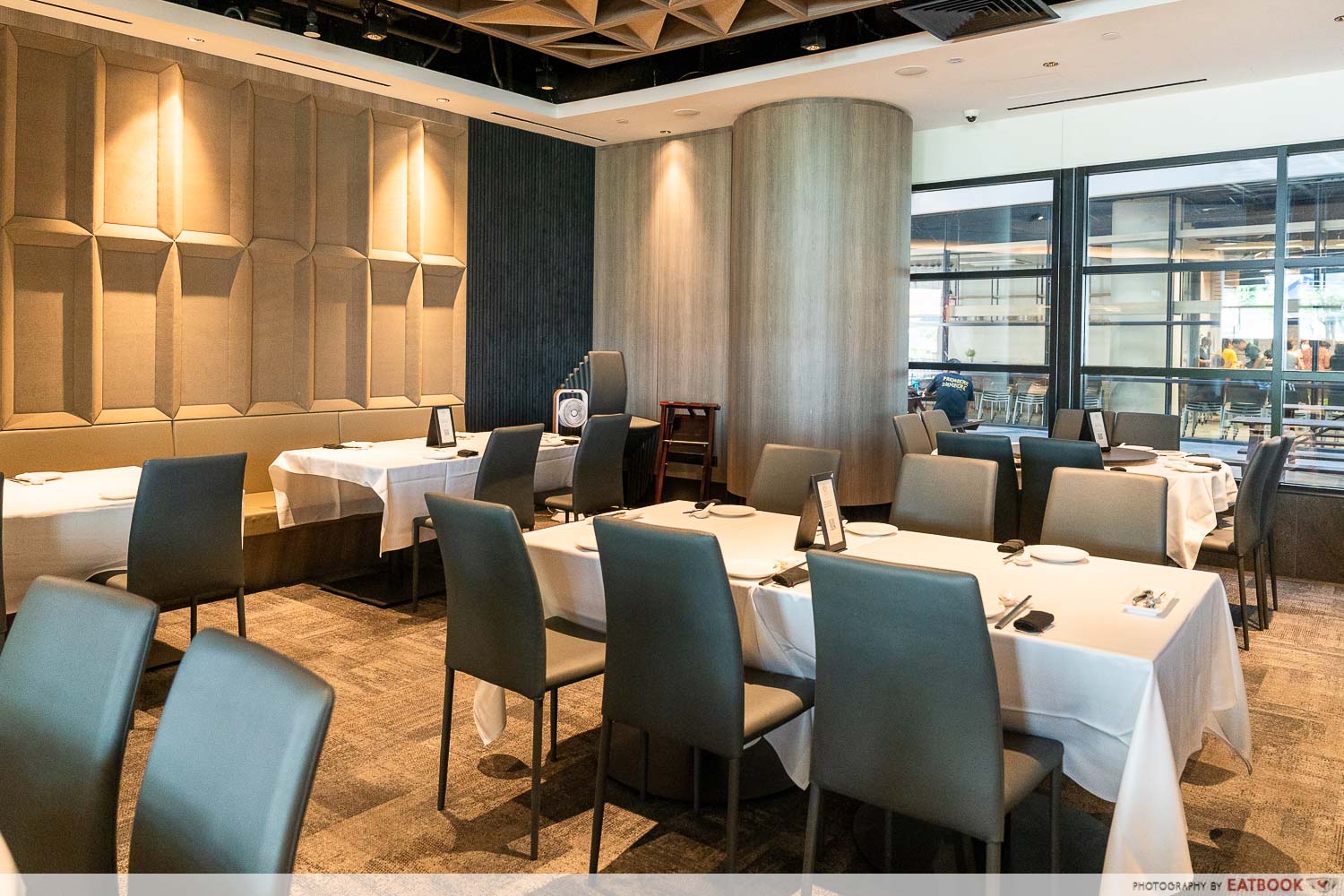 Just an eight-minute walk from Paya Lebar MRT Station, Mutiara Seafood is located in Wisma Geylang Serai, Singapore's first-ever cultural heritage integrated hub.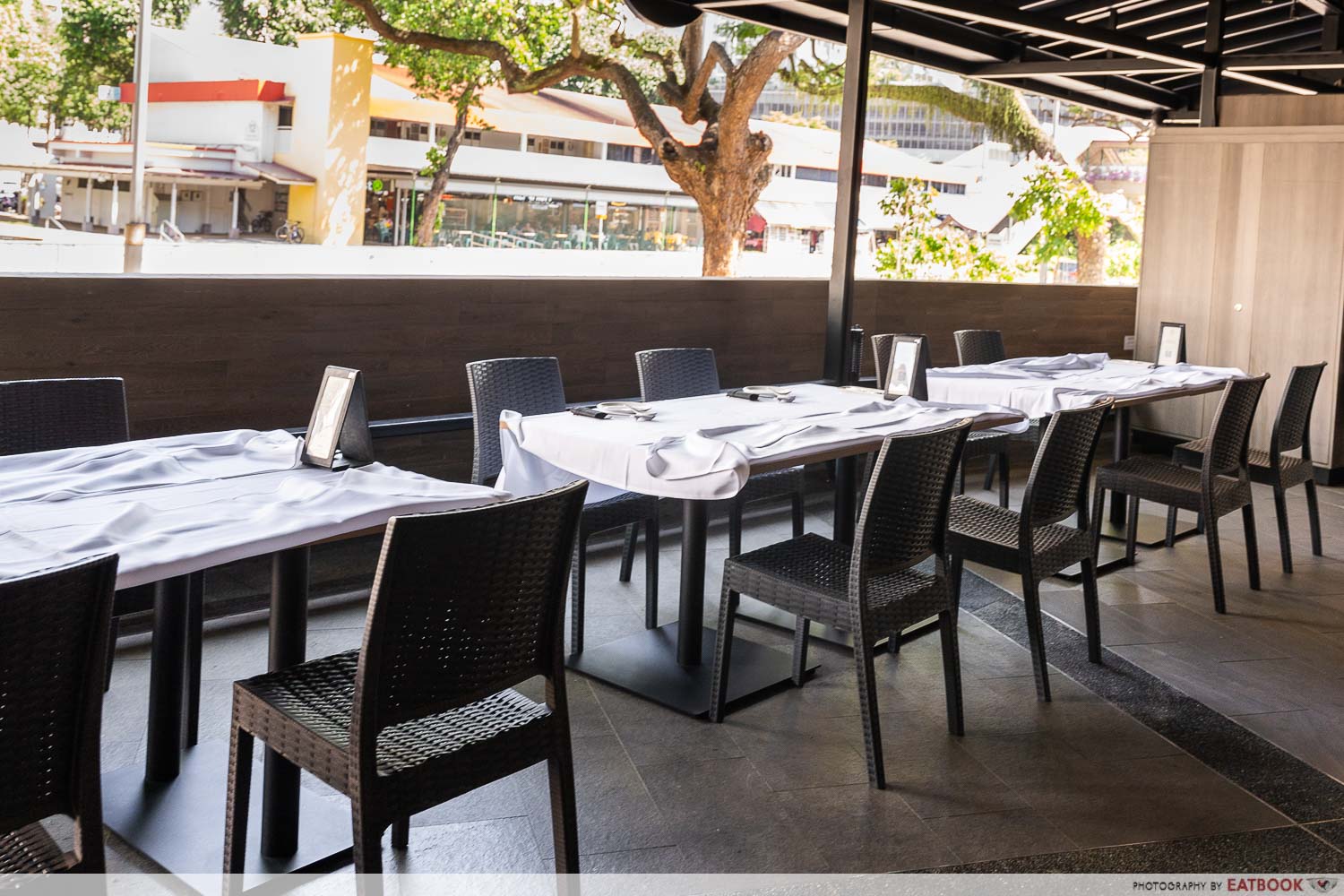 The restaurant spans two floors, with a smaller indoor seating area and 75 seats on the patio. On the second floor, you'll find private dining rooms which can be combined to form a large event hall.
The verdict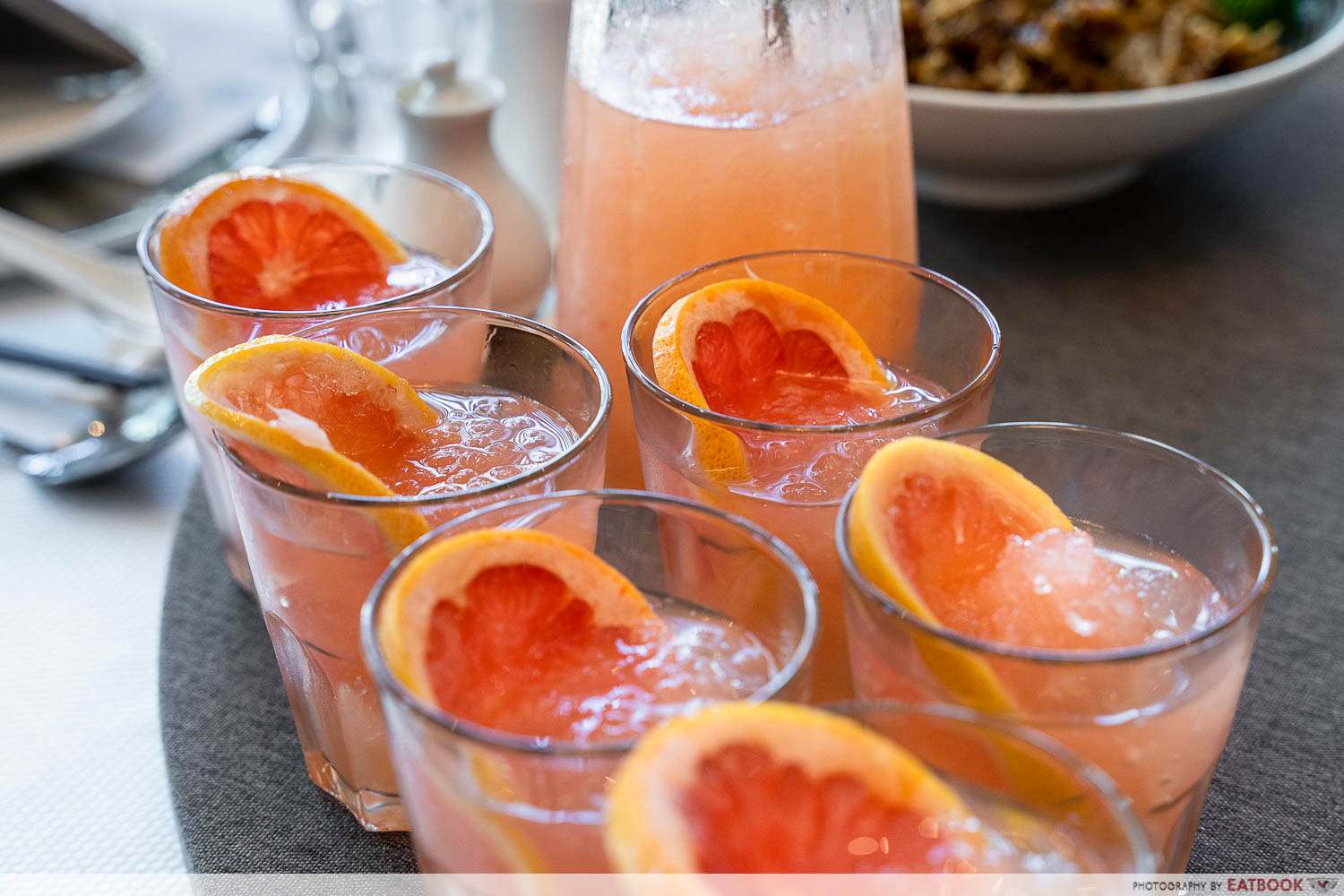 Price-wise, you're looking at the same cost-per-person bracket as at Jumbo Seafood—that is, on the higher side. But, the portions we had were generous, the seafood was unquestionably fresh, and the food tasted great.
They've even got a chicken version of the Mocha Pork Ribs that people frequently order at Jumbo. I personally think it's a timely addition to Jumbo Group's restaurants, and makes for a superb option when you've got a meal to arrange for with Muslim friends. In fact, the exclusive Indonesian grill dishes make Mutiara an option to consider even for everyone else.
If you're a seafood lover, check out One Prawn & Co's 12-course omakase dinner. Otherwise, there's Old Lai Huat, an old-school seafood zi char place that's been around since 1963, and is famous for their sambal belacan fish.
Address: 1 Engku Aman Turn, #01-02 & #02-02/03, Wisma Geylang Serai, Singapore 408528
Opening hours: Daily 11:30am to 3pm, 5pm to 10pm
Tel: 6816 3030
Website
Mutiara Seafood is a halal-certified eatery
One Prawn & Co Has New 12-Course Menu With Japanese Oyster, Abalone Pao Fan And Free-Flow Sake
Photos taken by Tanya Tham.
This was a media tasting at Mutiara Seafood.
Mutiara Seafood Review: Jumbo Seafood's First Halal-Certified Restaurant With Indonesian Grilled Seafood And More
Mutiara Seafood Review: Jumbo Seafood's First Halal-Certified Restaurant With Indonesian Grilled Seafood And More -

8/10
Summary
Pros
– New Indonesian grill dishes
– Jumbo Seafood's signature dishes now halal-certified
Cons
– Prices are on the high side
Recommended dishes: Indonesian Grilled Chicken ($20++/$36++), Jimbaran Grilled Prawns ($28++), Crispy Fried Baby Squid ($16++)
Opening hours: Daily 11:30am to 3pm, 5pm to 10pm
Address: 1 Engku Aman Turn, #01-02 & #02-02/03, Wisma Geylang Serai, Singapore 408528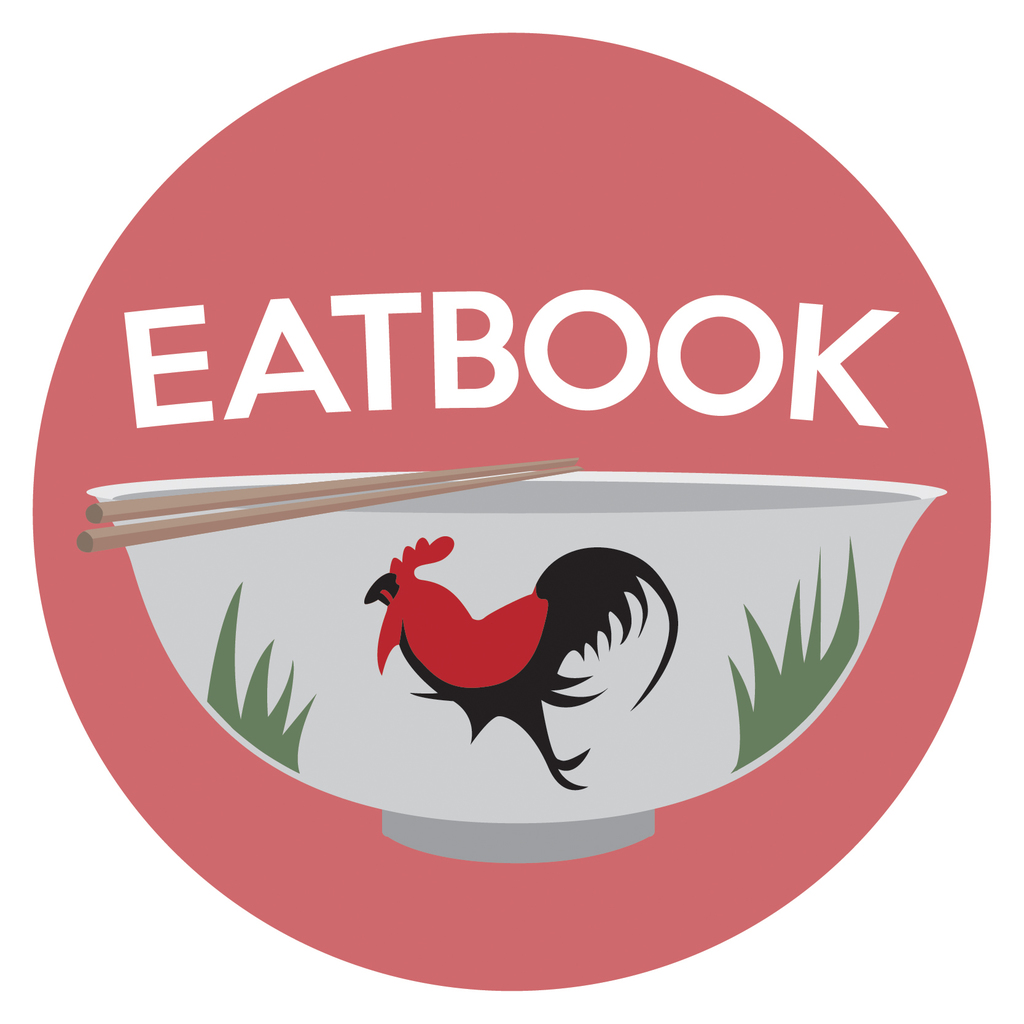 Drop us your email so you won't miss the latest news.