One Prawn & Co has a new 12-Course Seafood Dinner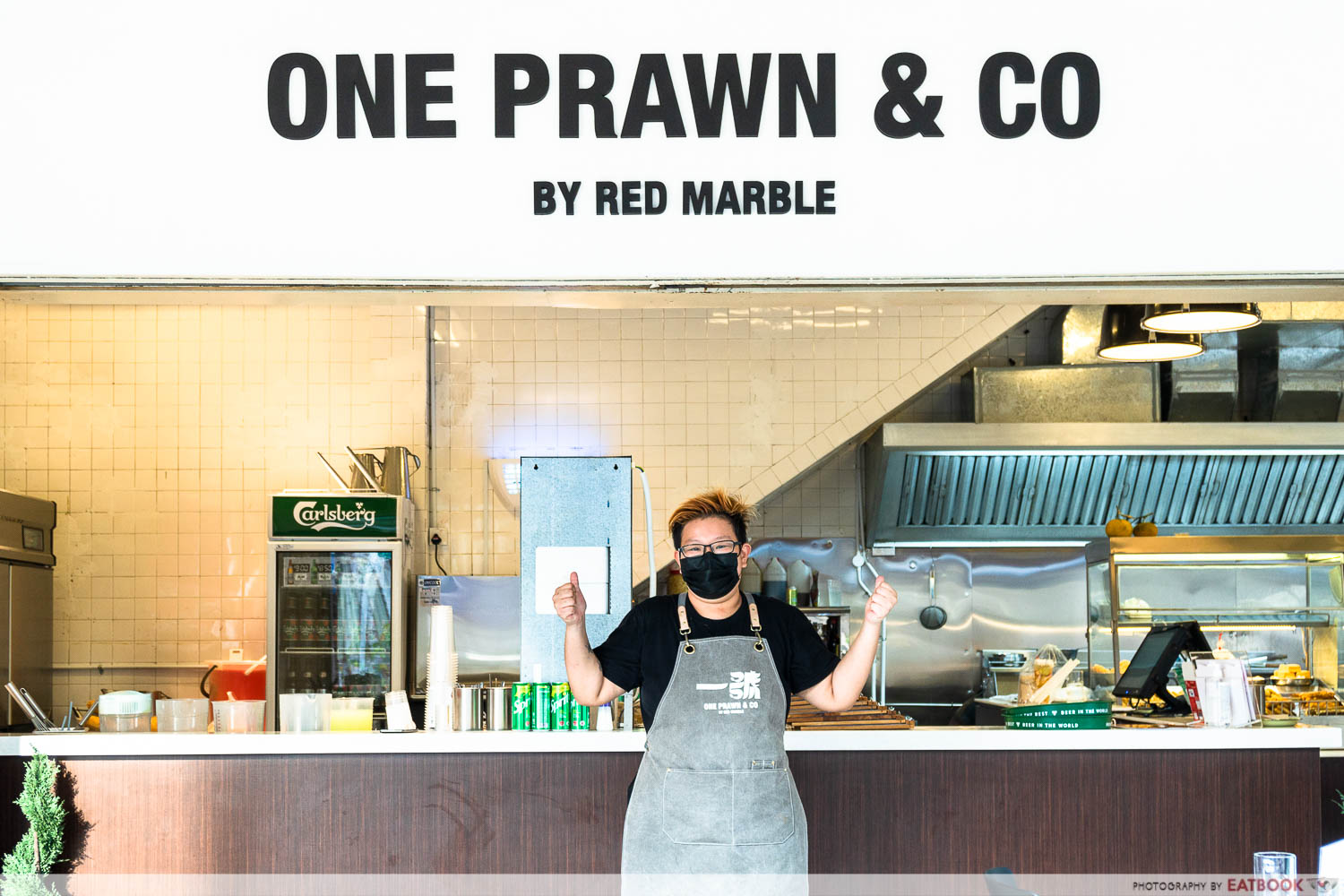 One Prawn & Co is best known for their prawn mee, but now, it also wants to be remembered as the place that gave you the seafood dinner of a lifetime. Their new 12-course dinner concept harks back to chef Gwyneth Ang's fine dining roots with Michelin-Starred Australian BBQ restaurant Burnt Ends, but without the stiffness of formal dinners.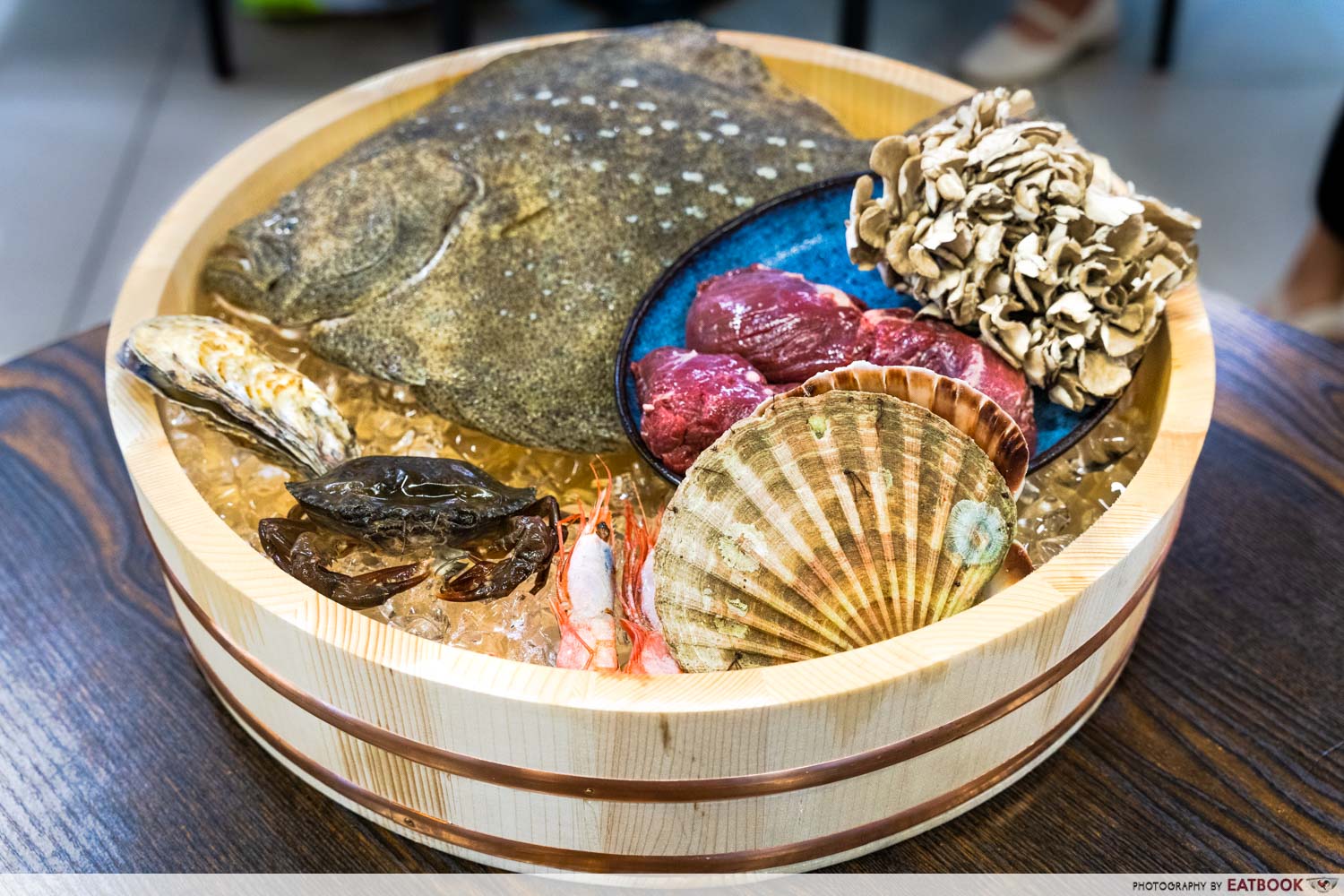 Fine dining in a non-air conditioned, casual kopitiam setup might raise some eyebrows, but the work of the friendly, passionate team behind dinner has made it impossible not to be swept away by the great vibes all around. Plus, location is secondary when it comes to good food, and you'd better believe that One Prawn & Co's place on the Michelin Bib Gourmand list is no fluke.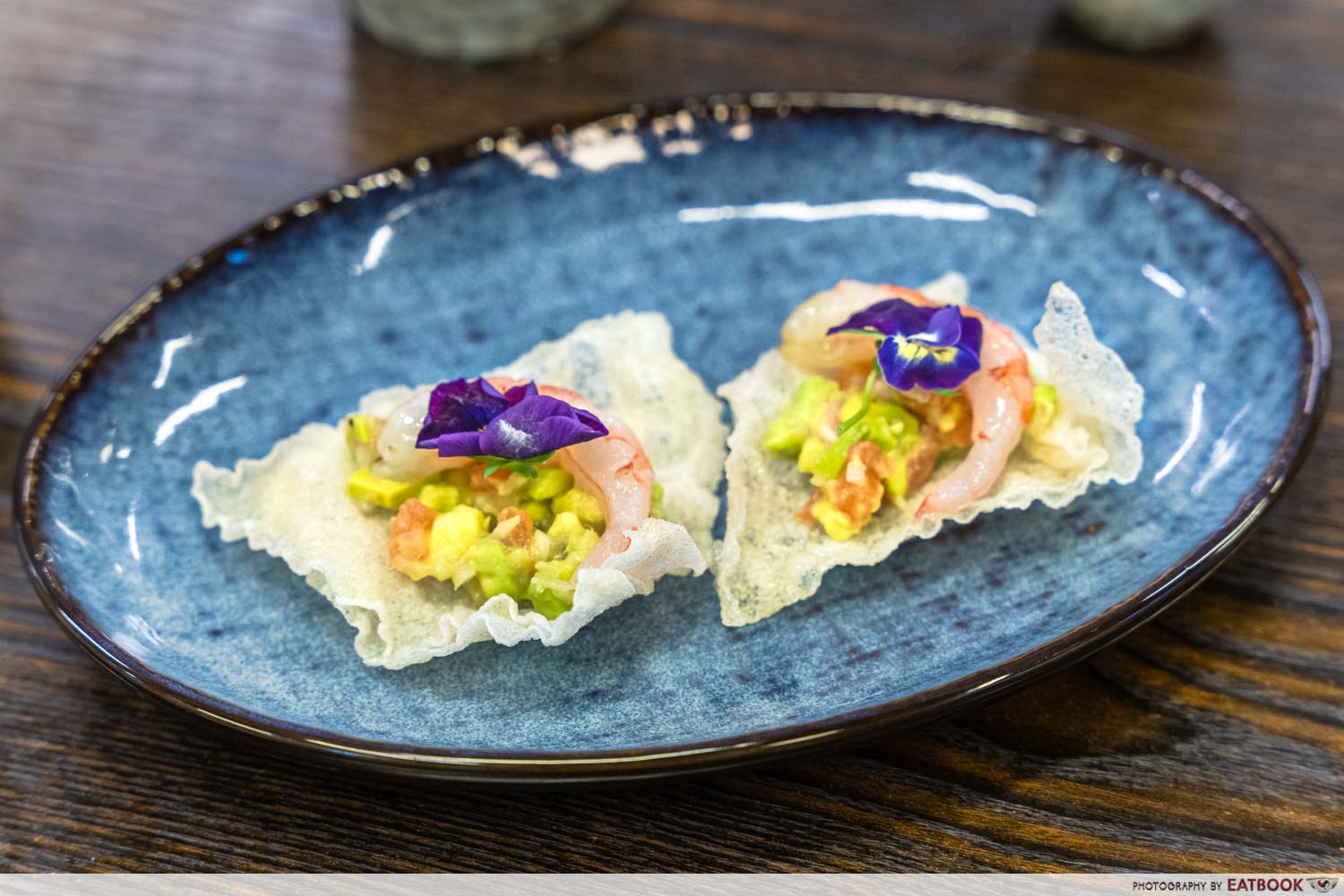 After months of trial and error, their dinner menu features carefully constructed dishes made with quality ingredients. Their first dish, Amaebi, features Japanese prawn sashimi, Vietnamese rice cracker, and a Mexican-inspired tomato and avocado salsa.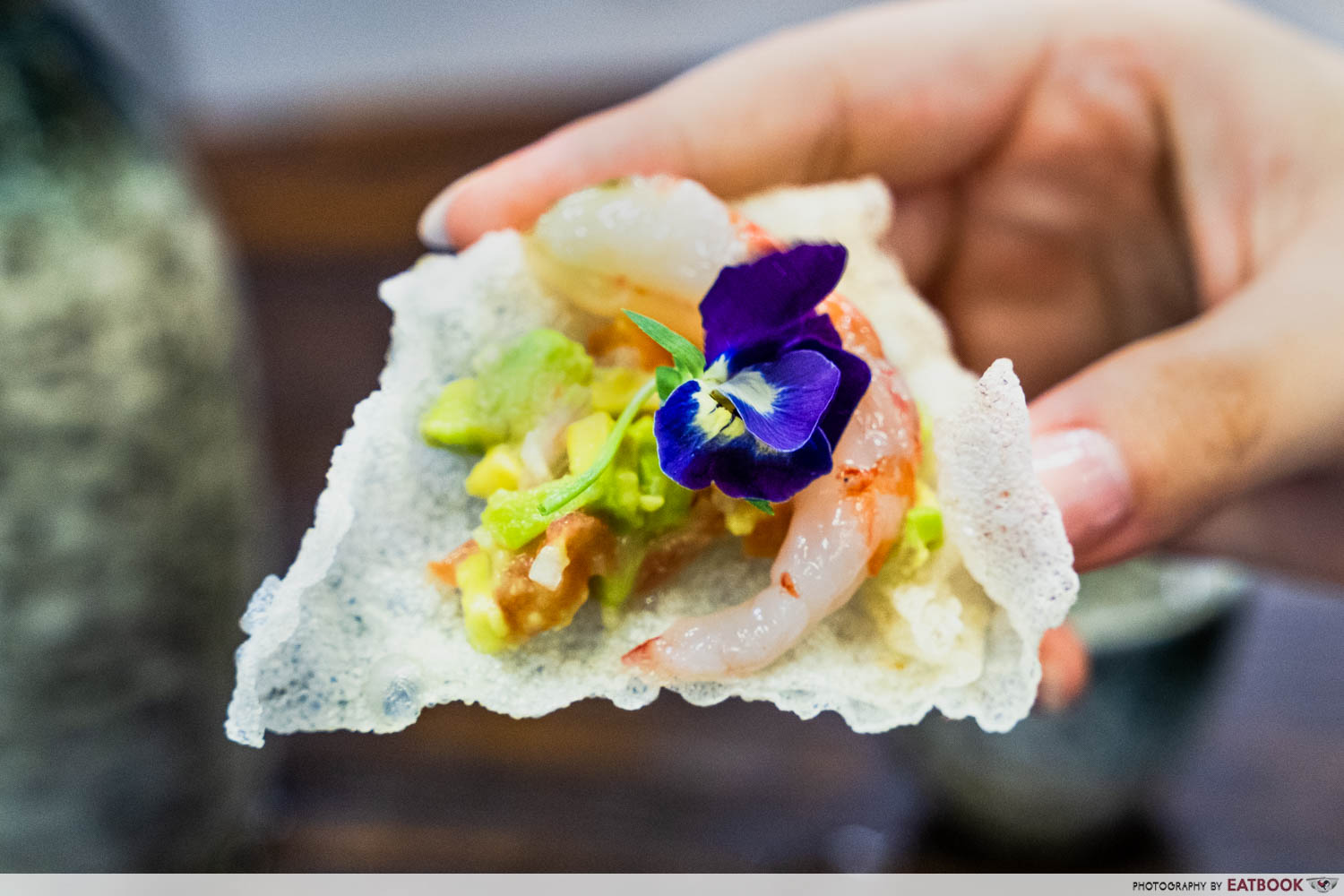 Even the portion sizes of the dishes have been given serious thought by the team. The fusion of soft, sweet prawn, refreshingly tangy salsa, and crunchy cracker is designed to be finished in four bites. 
One Prawn & Co Review: Claypot Prawn Mee With Extra-Gao Soup By Ex-Burnt Ends Chef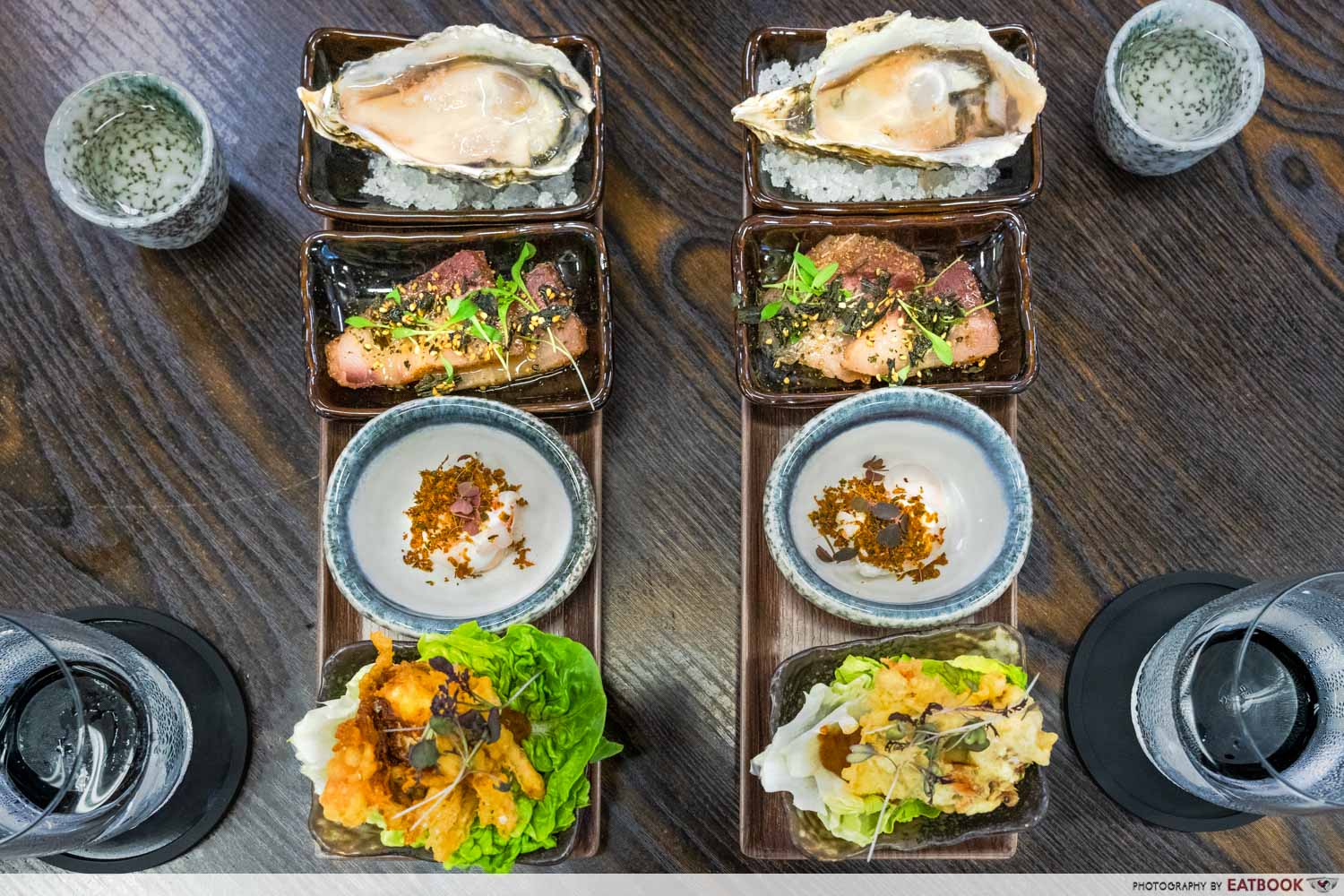 Afterwards, you get a beautiful platter with Hyogo Oyster, Amberjack, White Shrimp, and Soft Shell Crab. Be sure to try them from right to left! Each dish has its own harmony, but are also arranged in a specific order to complement the dishes before and after it.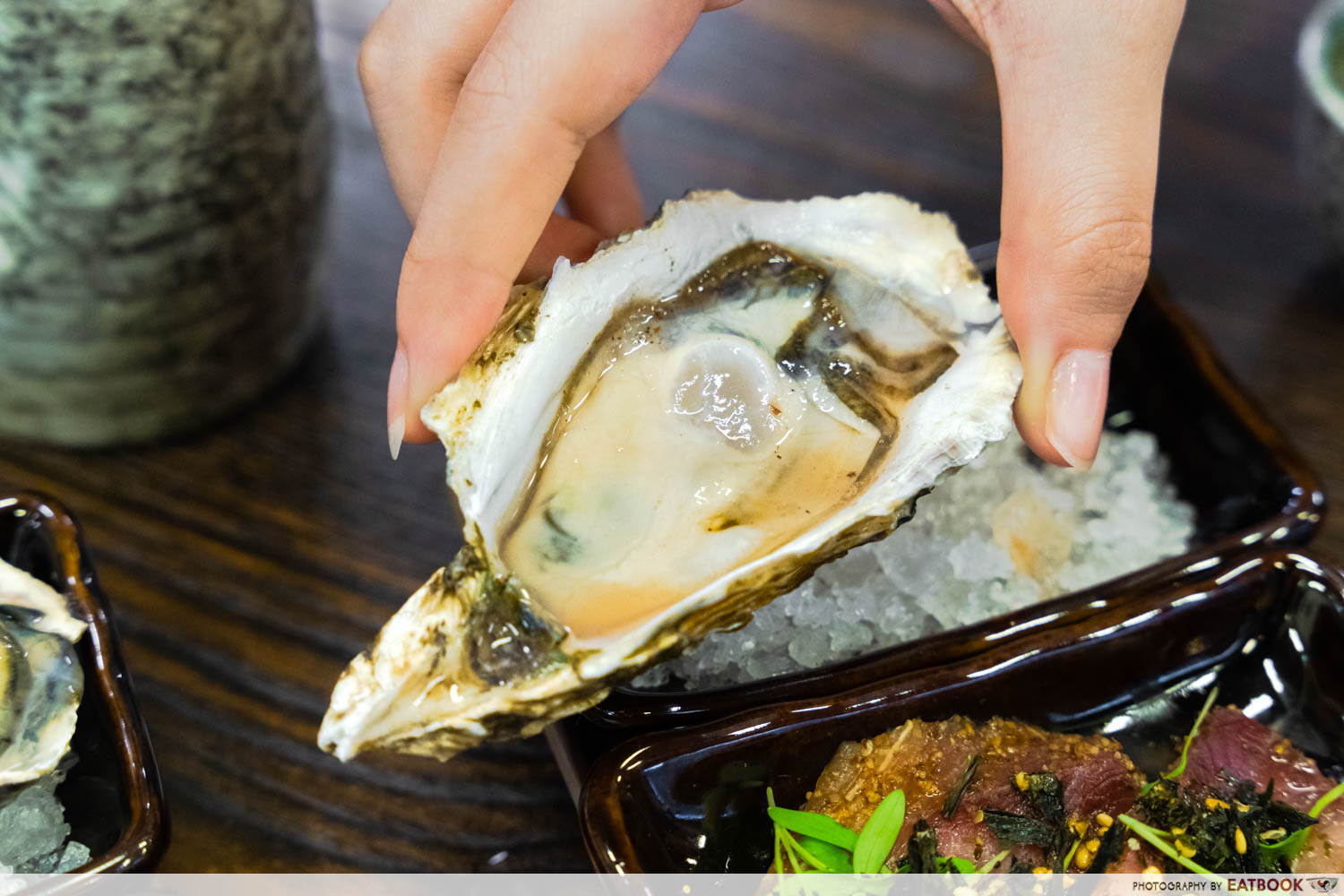 The plump, fresh Japanese oyster over ice is simply bursting with briny flavour, accompanied by the piquant, sharp tones of Mignonette sauce, a shallot-based French condiment traditionally served with oysters.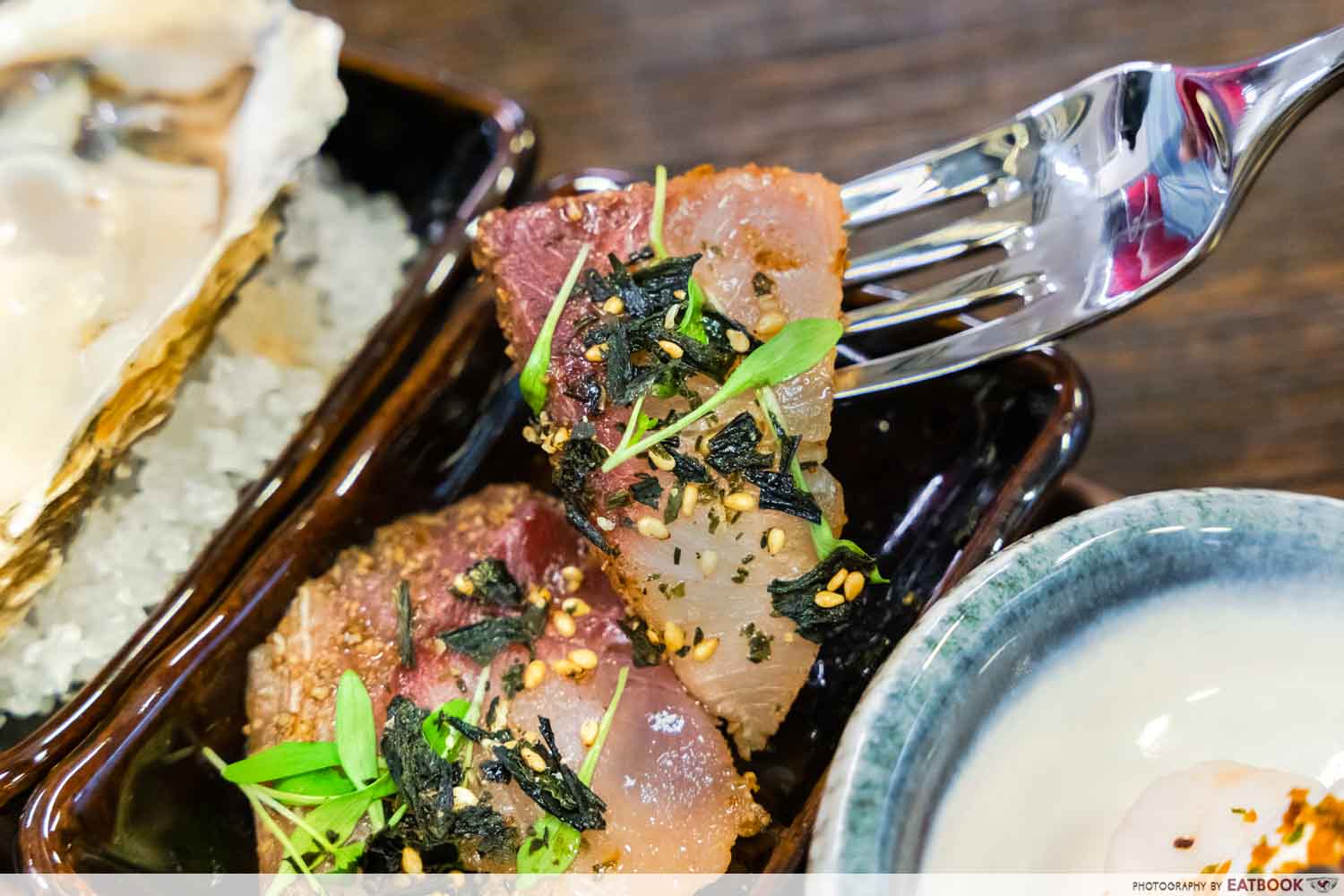 Contrasting the juiciness of the oyster are translucent slices of smoky cured amberjack, sprinkled over the top with sweet, crispy seaweed for added texture.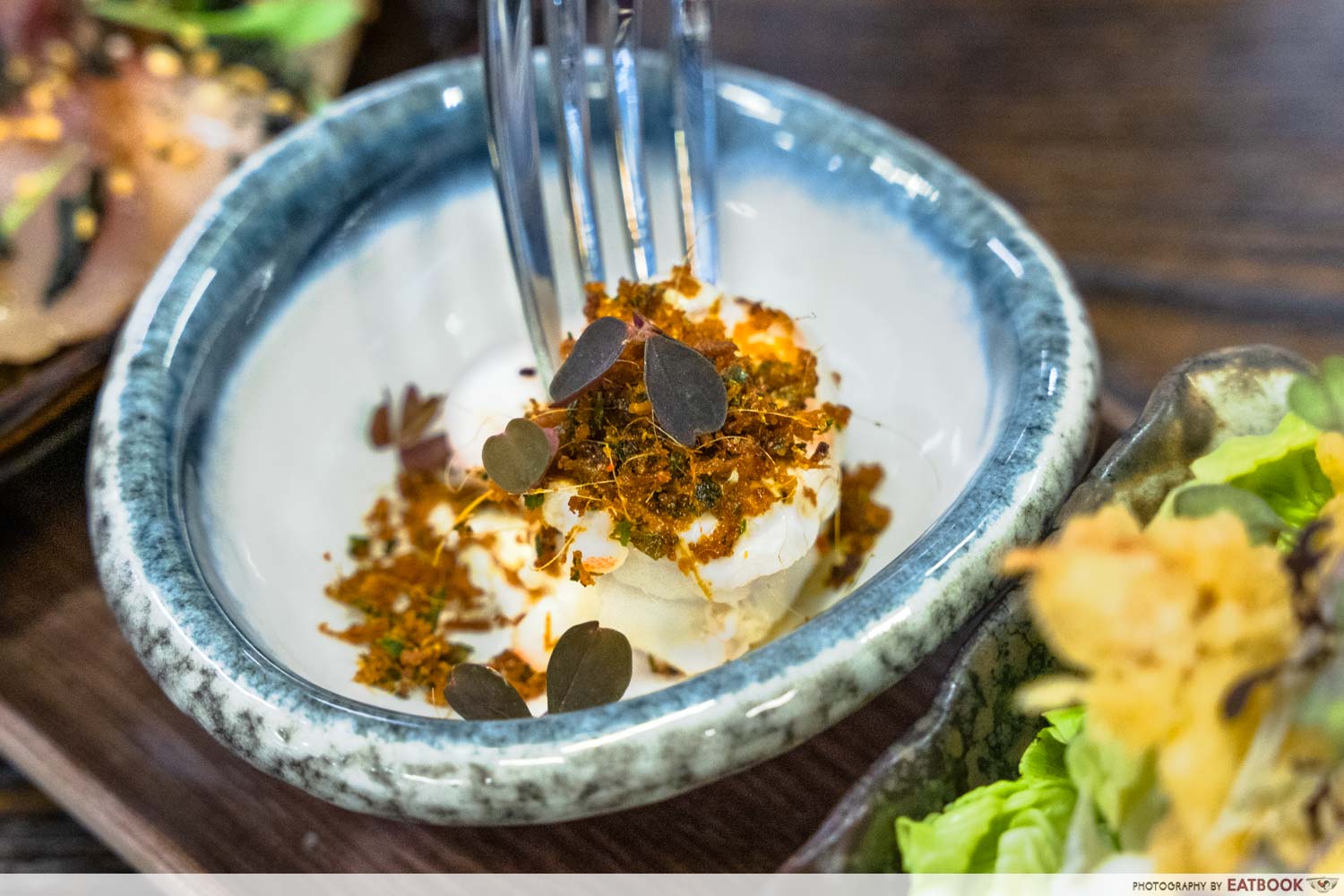 While introducing you to delicacies from all over the world, One Prawn & Co seeks to elevate these delicacies using familiar, local flavours as well. One of their goals is to make fine dining seem achingly familiar, whether it's with spices you can find in your kitchen or scents that vaguely remind you of your favourite hawker dish.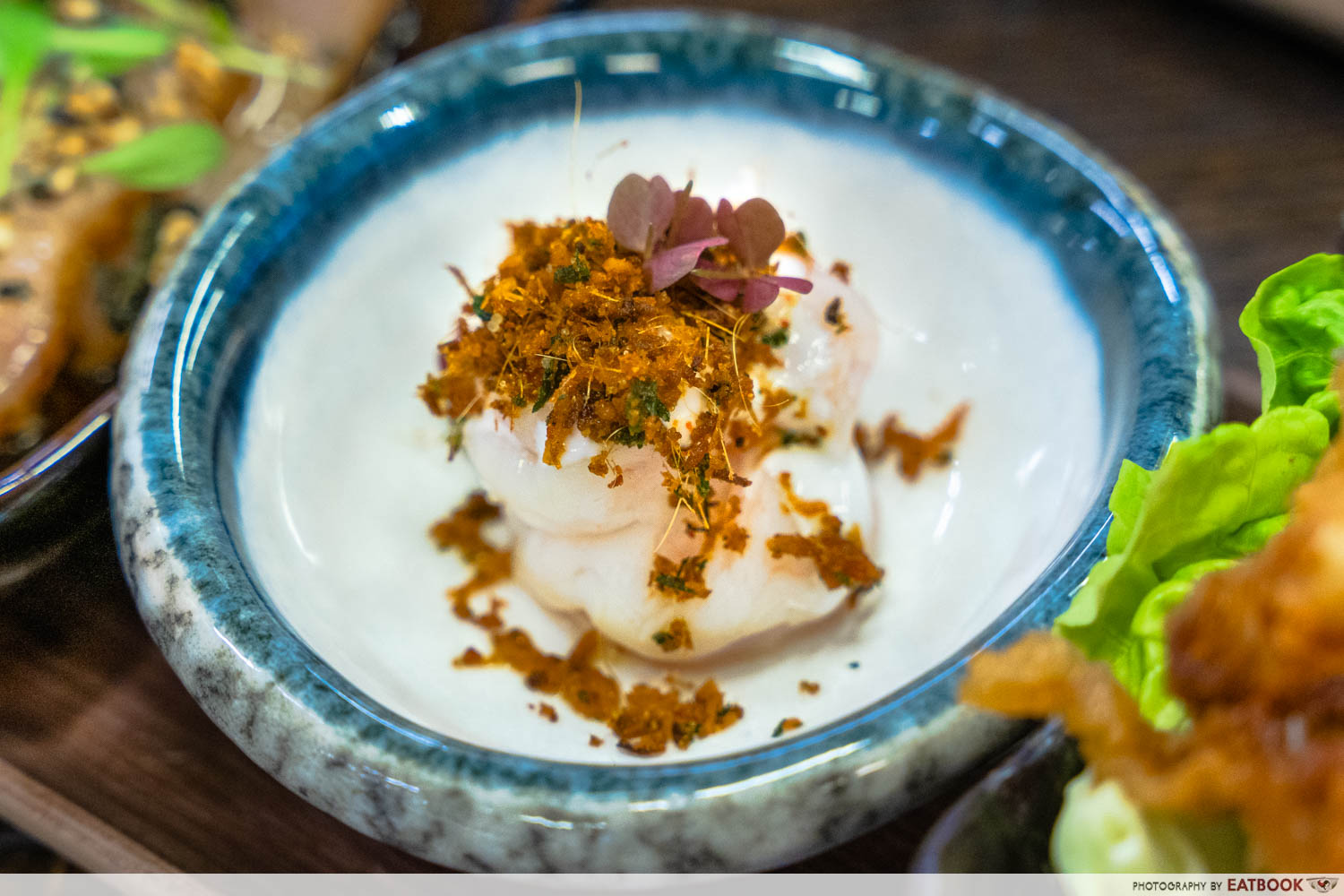 A simple poached prawn will have your party recalling the taste of curry, briyani, and other famous Indian dishes. After all, it's been sprinkled with garam masala, a spice blend vital to Indian cooking.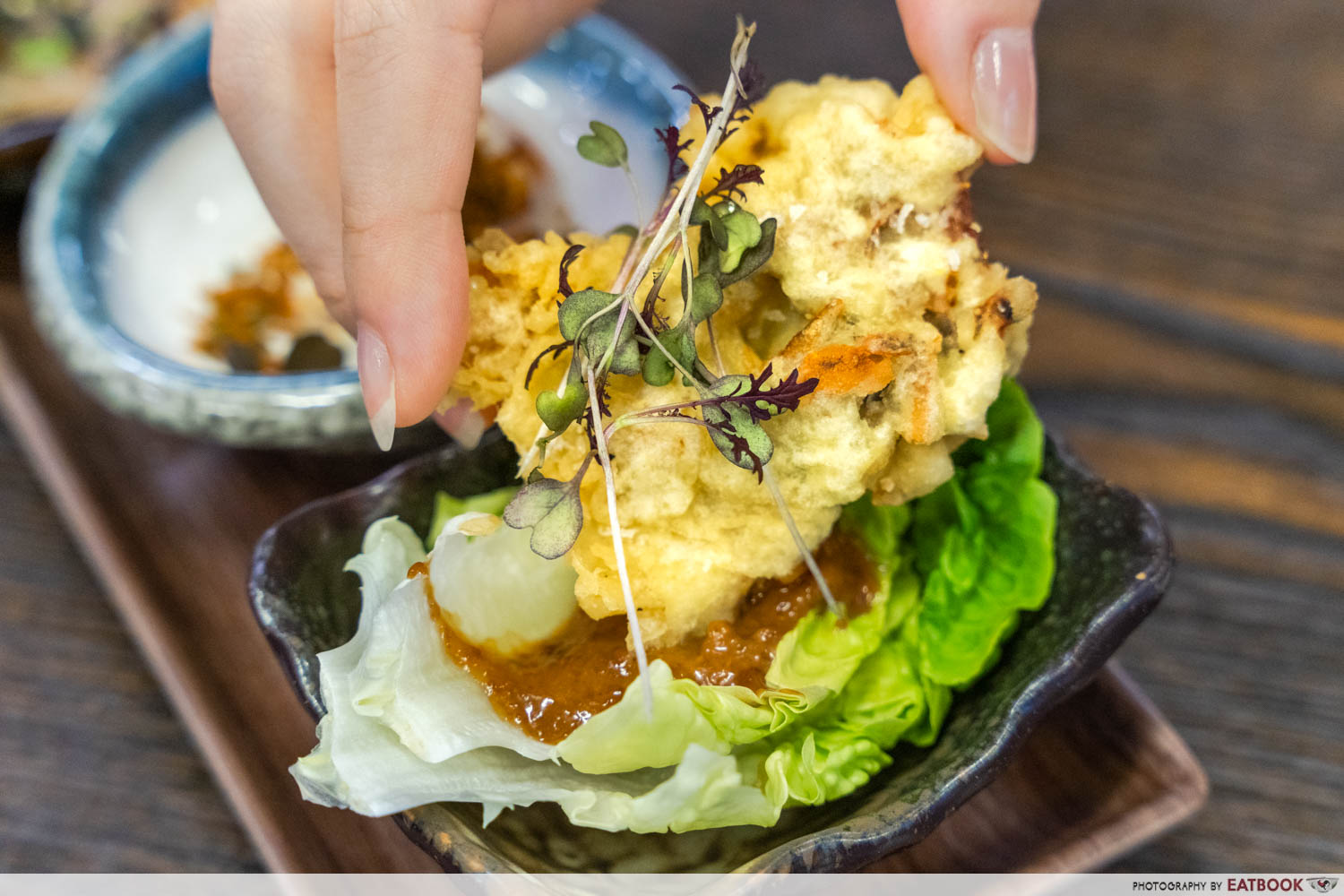 On its own, the crispy tempura crab with its meaty, tender inside is sure to be well loved by diners. Dipped in spicy sweet Indonesian kicap manis sauce and wrapped in fresh, baby gem lettuce, it was like having satay, tempura, and Korean lettuce wraps all in one bite!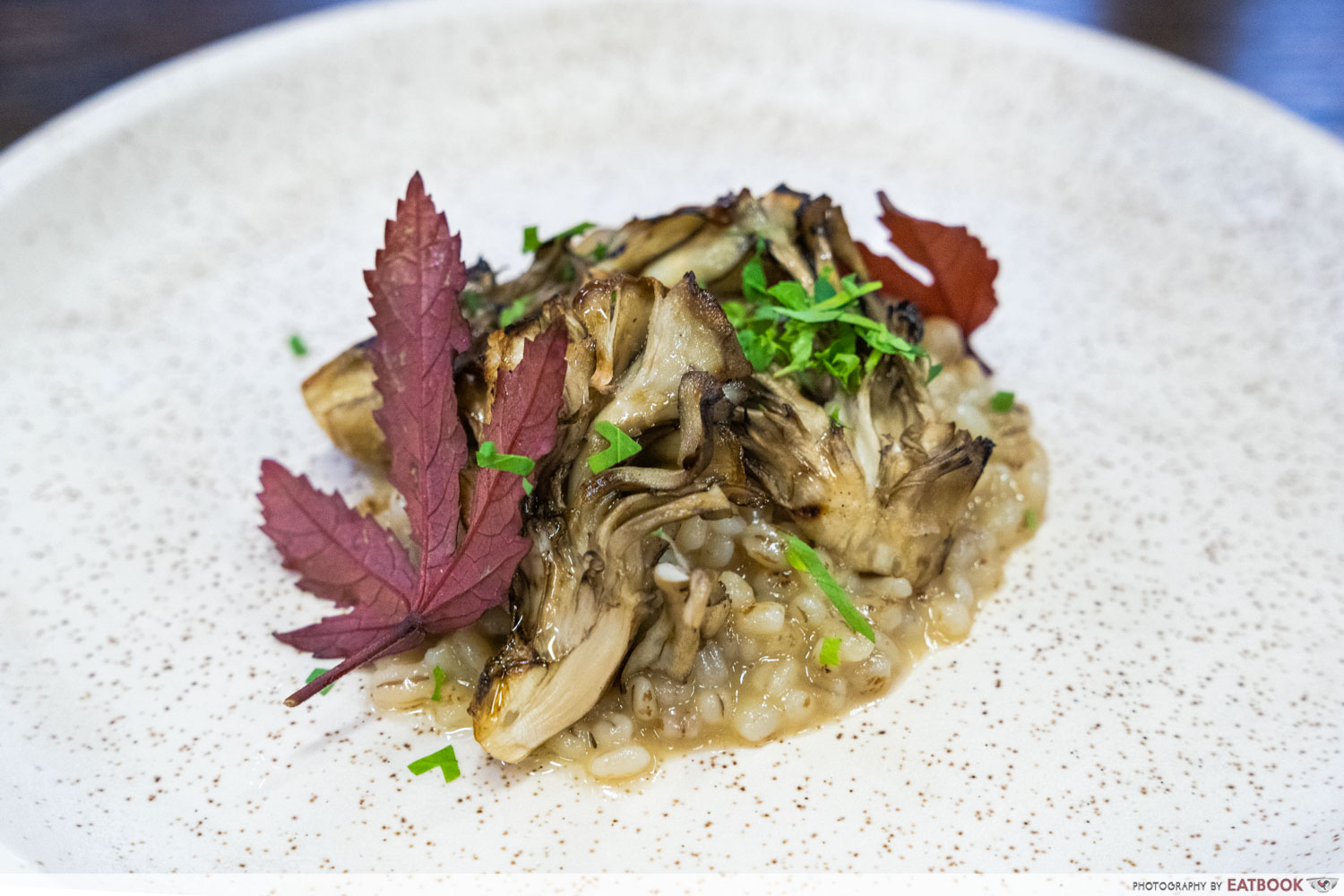 Taking a short break from all the seafood, the next dish of the night is a plate of Maitake Mushroom, grilled over charcoal and paired with a creamy risotto made from barley and rich chicken stock. 
Fun fact, maitake is nicknamed the dancing mushroom as the Japanese were said to have danced with joy upon finding it. It's an incredibly healthy superfood.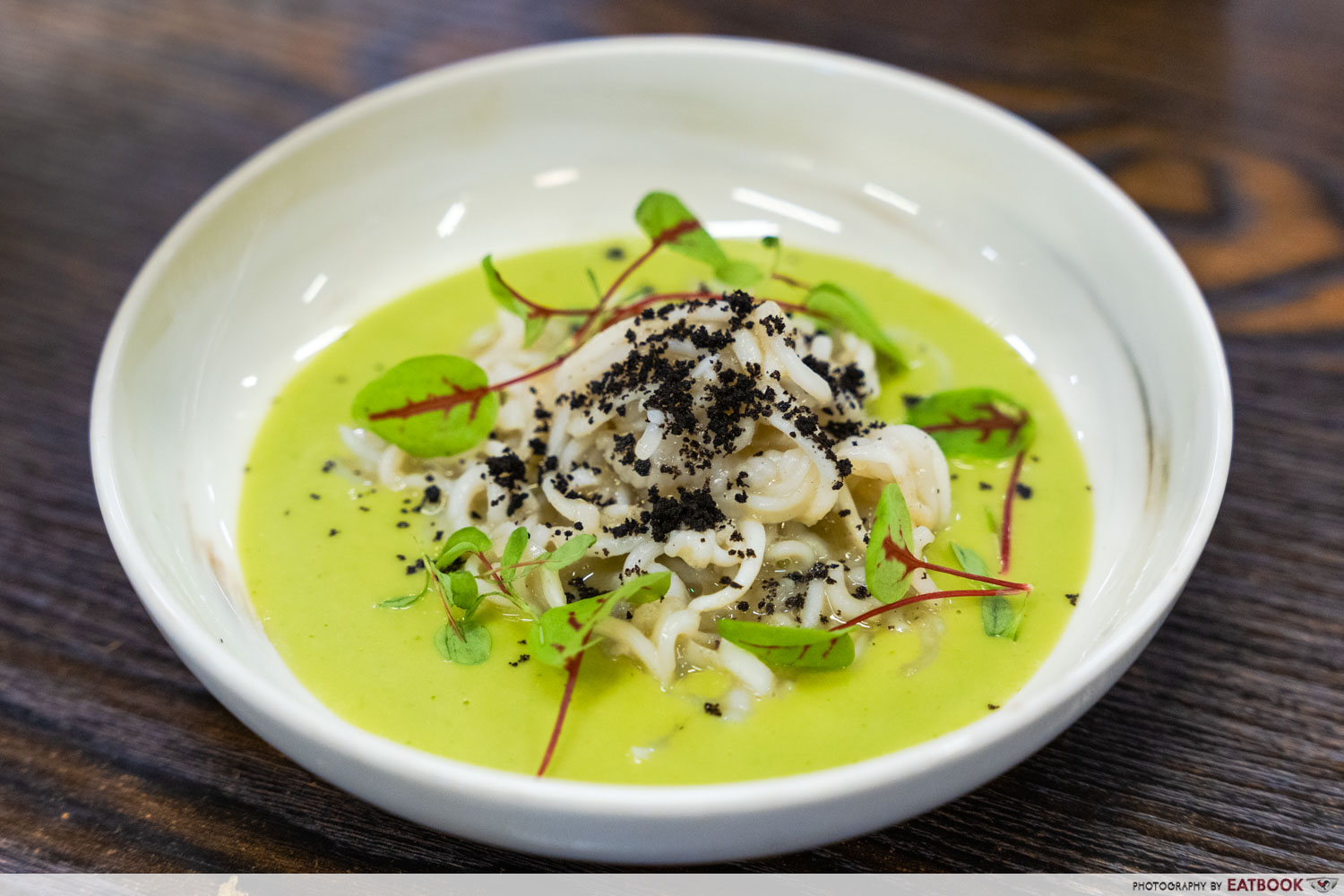 Moving on, coriander seems to be a food people either love or hate, but you'll struggle to find fault with the green, coriander-infused salsa verde that their Squid noodles are served in.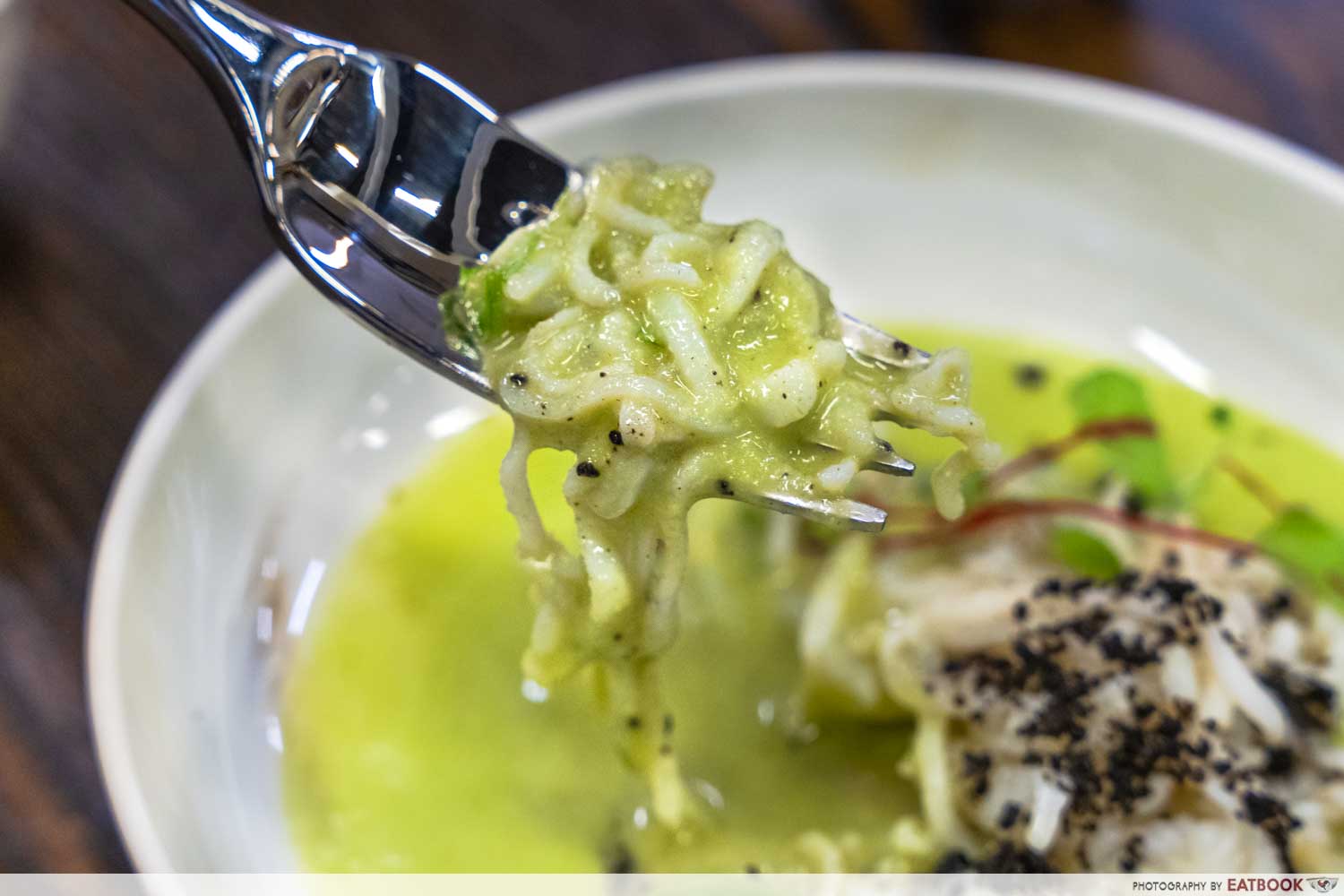 The squid is grilled for precisely 40 seconds, giving each noodle strand the intense aroma of an expertly done plate of Hokkien mee.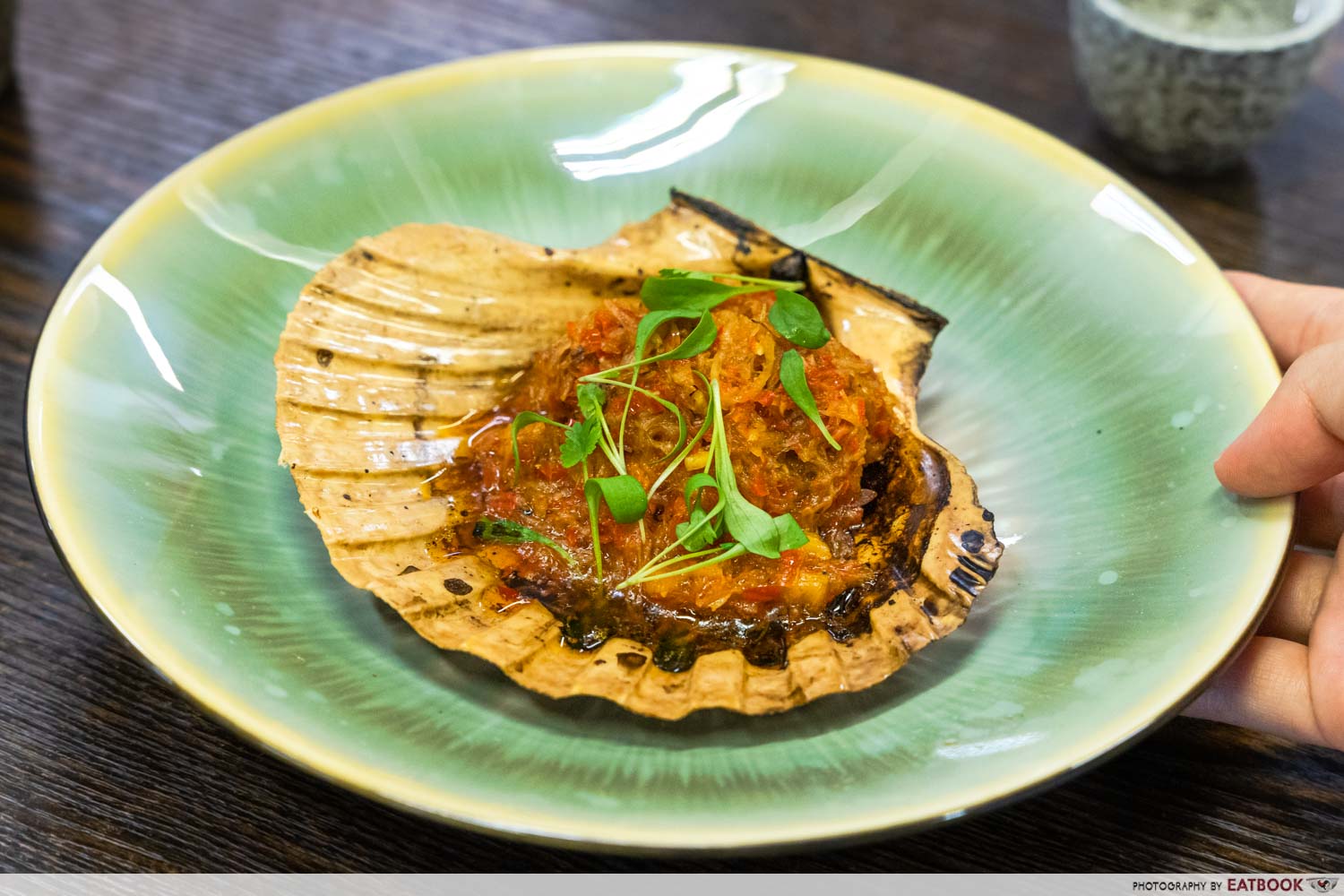 By the time the Scottish King Scallop makes its way onto your table, it's pretty clear that charcoal grilling is key to why many of the dishes come with an incredible amount of wok hei. Served fresh off the grill in its shell, the scallop is covered with a generous amount of XO chilli jam. 
18 Seafood Review: Unique Zi Char With XO Fried Mee Pok And Champagne Pork Ribs In Serangoon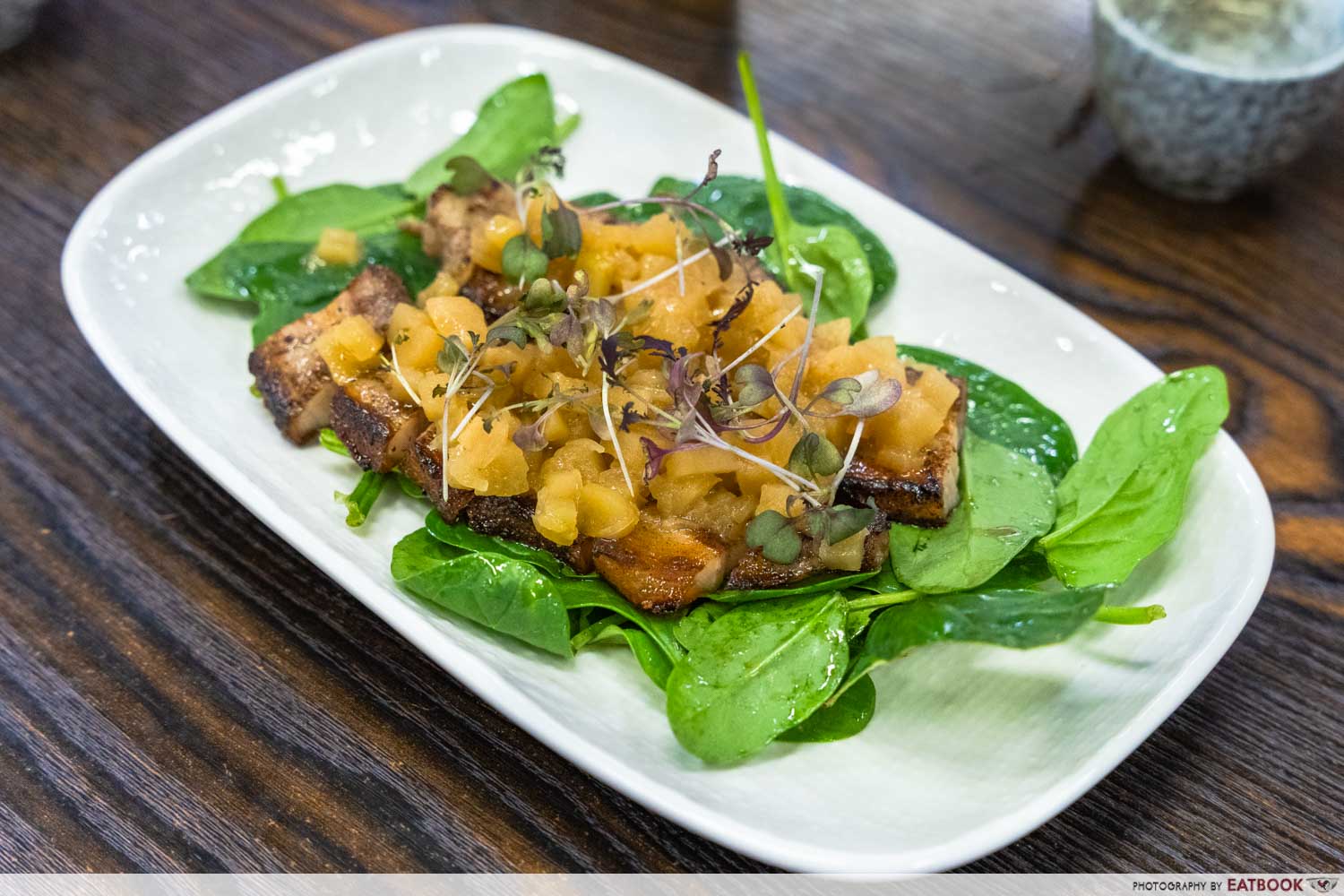 While the next menu item is a tender serving of Onglet, AKA hanger steak. Dietary restrictions meant that our table was given a juicy plate of thick, grilled pork belly with apple compote made using 10-year-old rum instead. 
One Prawn & Co can't promise that all their dishes have substitutes, but they'll do their best to make sure you won't be left hungry.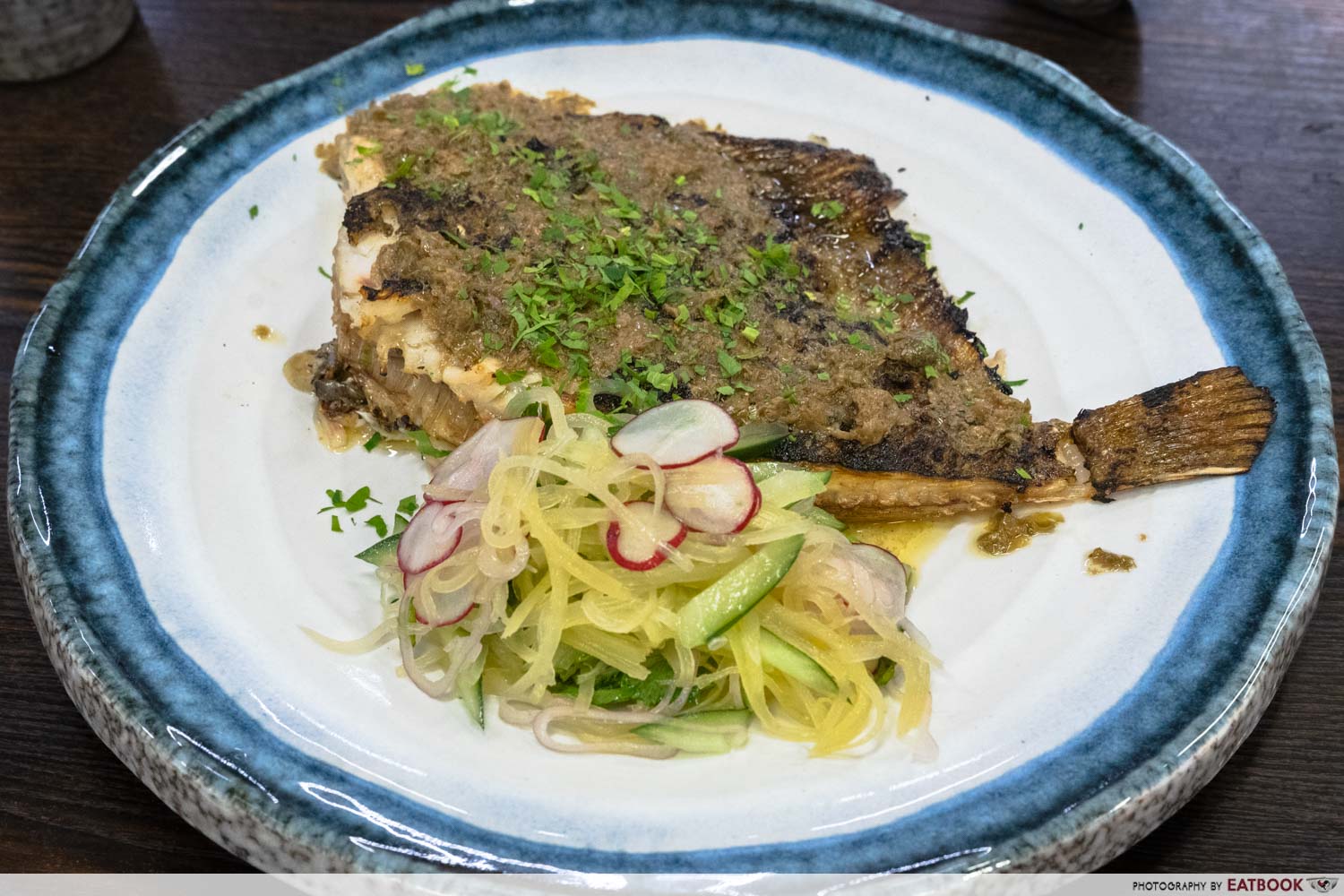 Although $128++ per person isn't the cheapest multicourse dinner around, premium items like the whole Danish Turbot makes the price pretty reasonable with its generous size and freshness.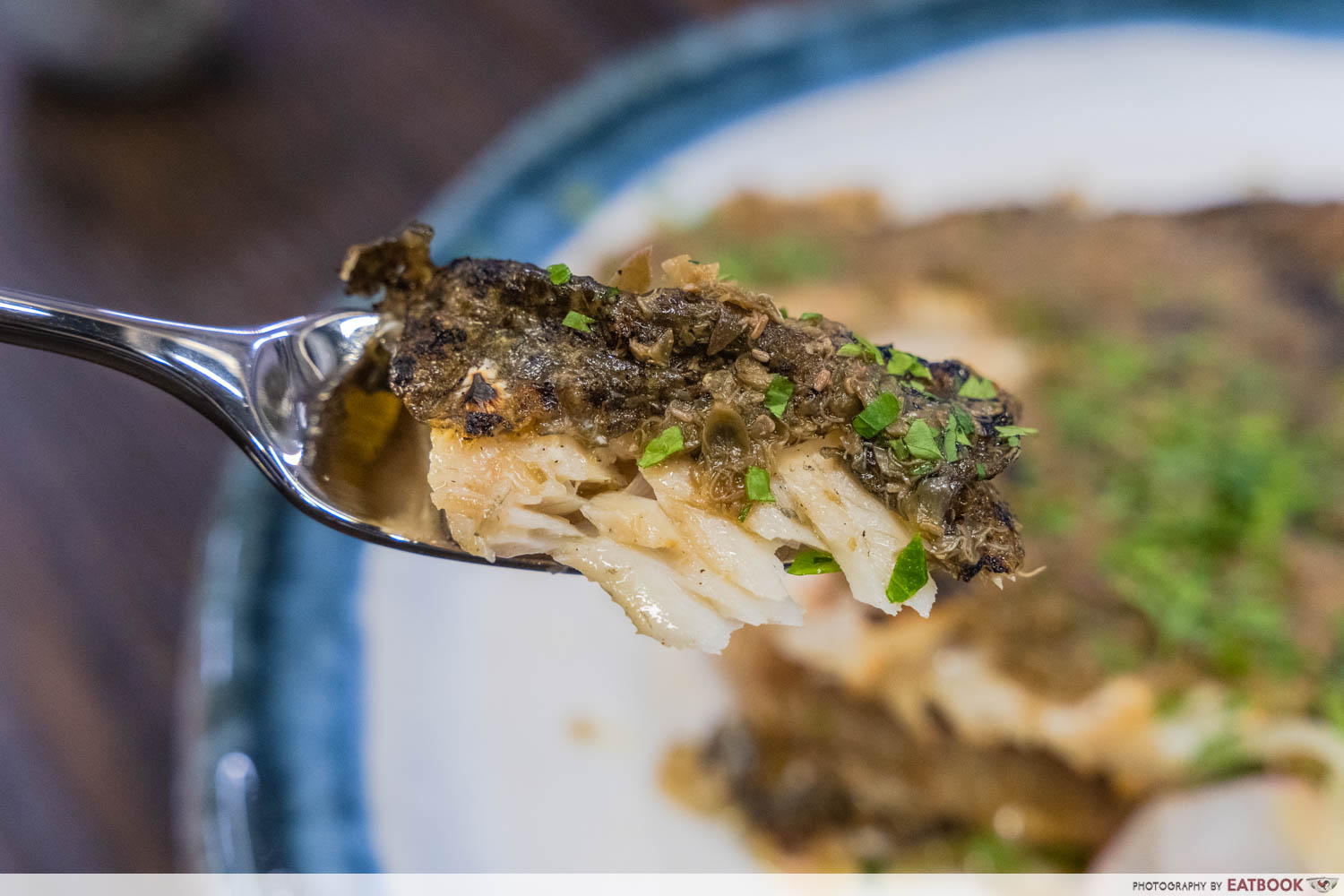 The salty, chye poh-like coating of garlic brown butter and capers on the grilled fish, along with the pickled papaya salad were definitely a high point of the meal.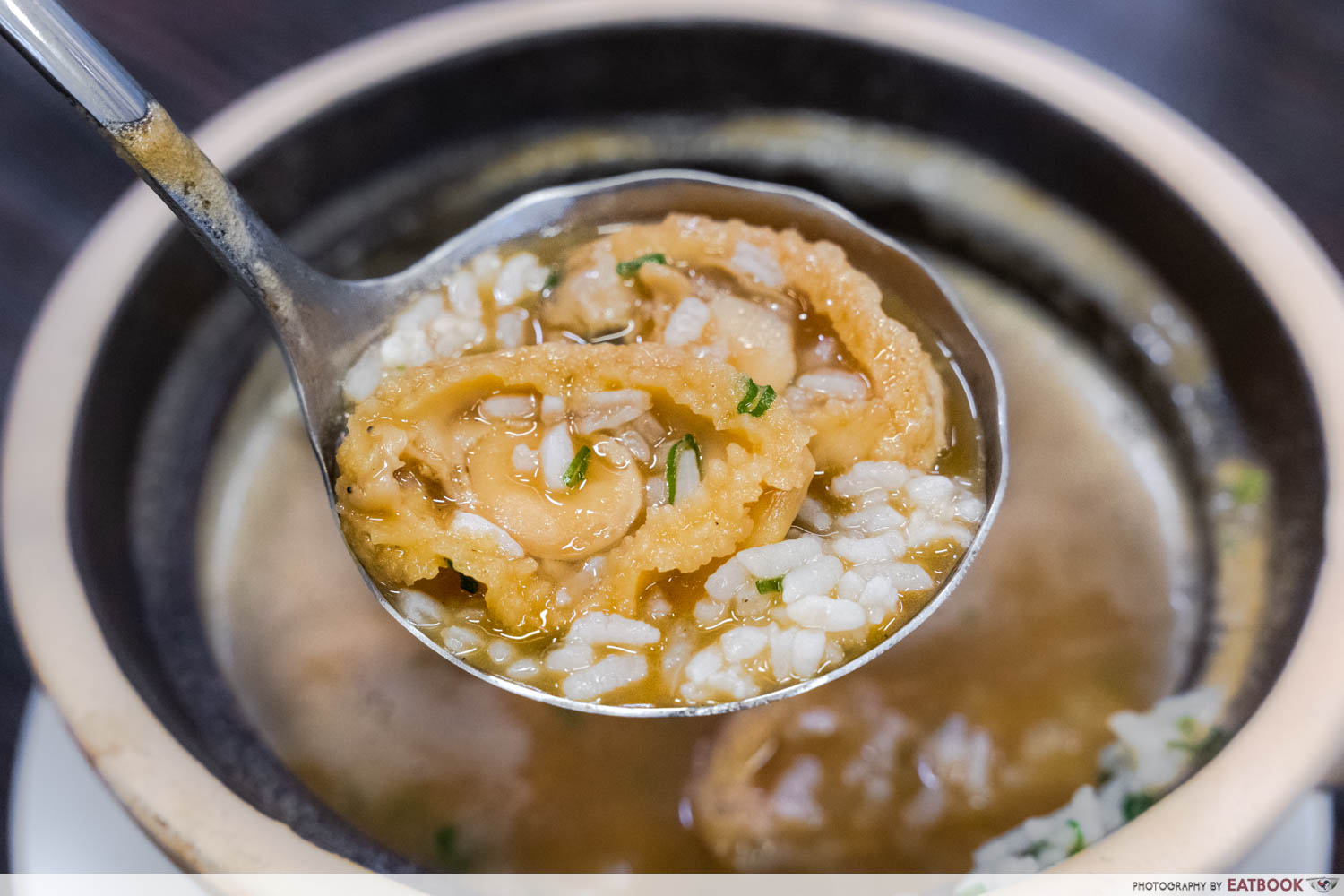 Be sure to leave room for the Abalone Poached Rice, which simmers baby abalone with their signature prawn broth in a charcoal-fired claypot.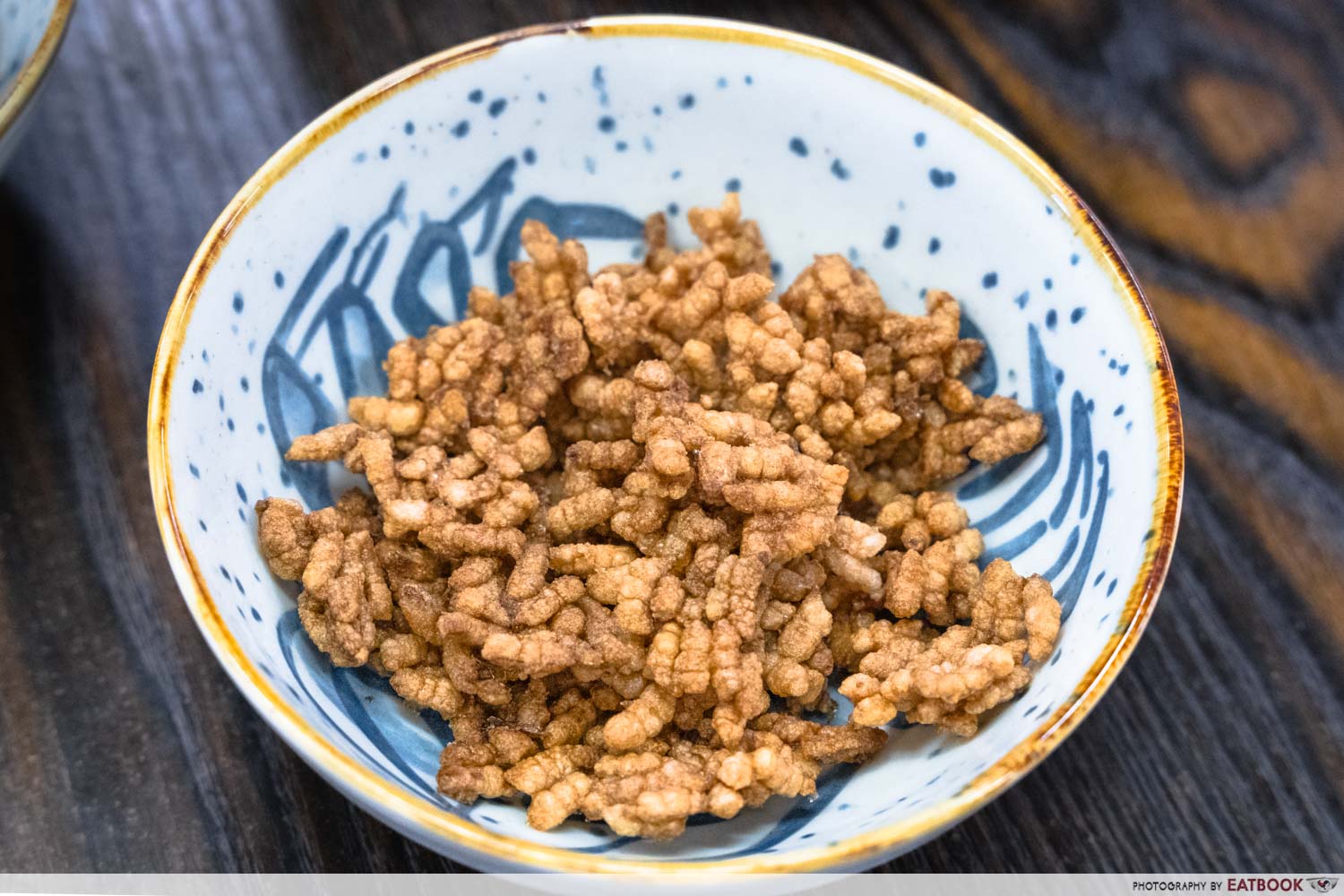 As a side, bowls of popped rice and egg floss are provided for you to add to your helping of pao fan.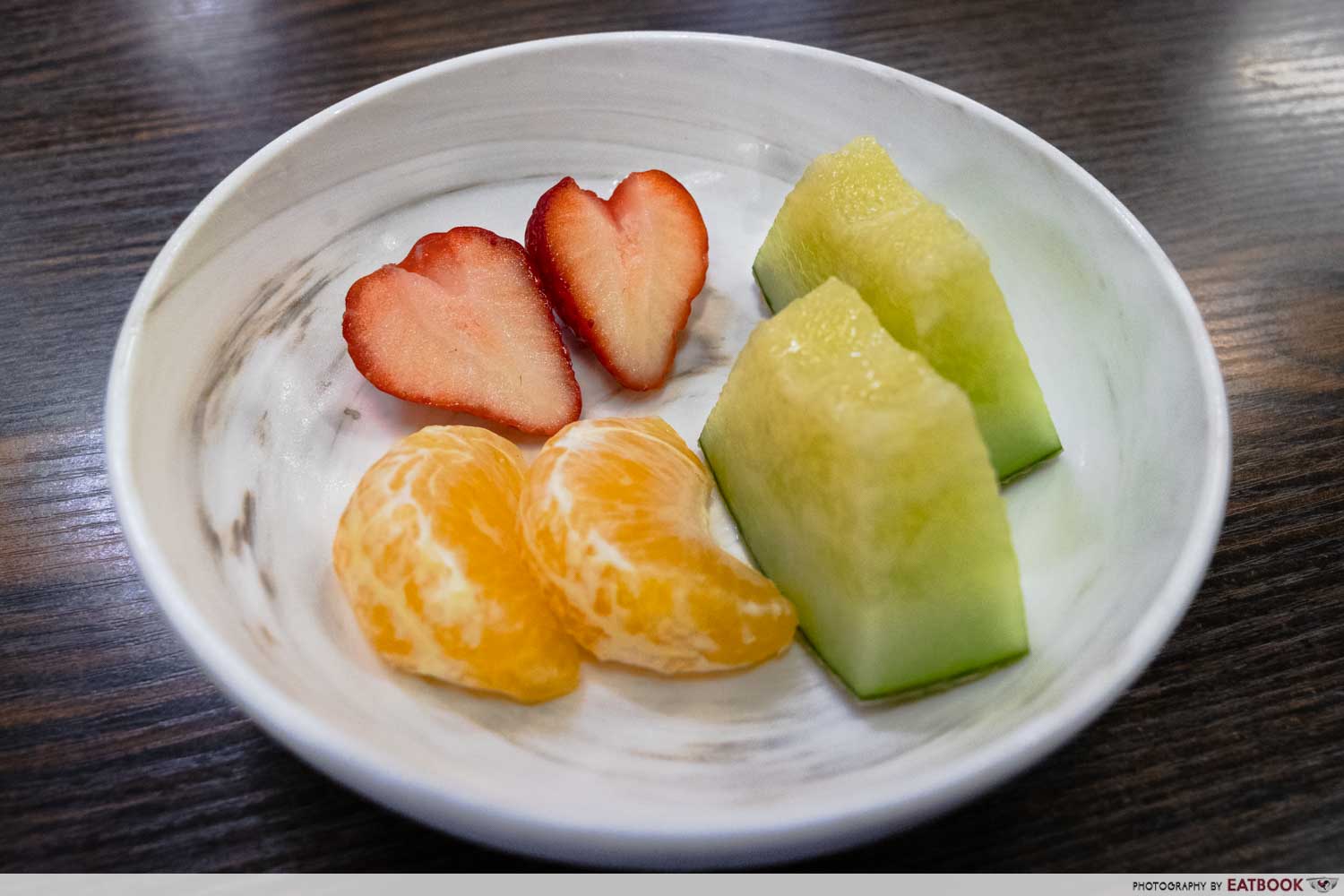 The dinner ends on a sweet note, with Seasonal Fruits such as strawberries, mandarin oranges, and Japanese honeydew for dessert.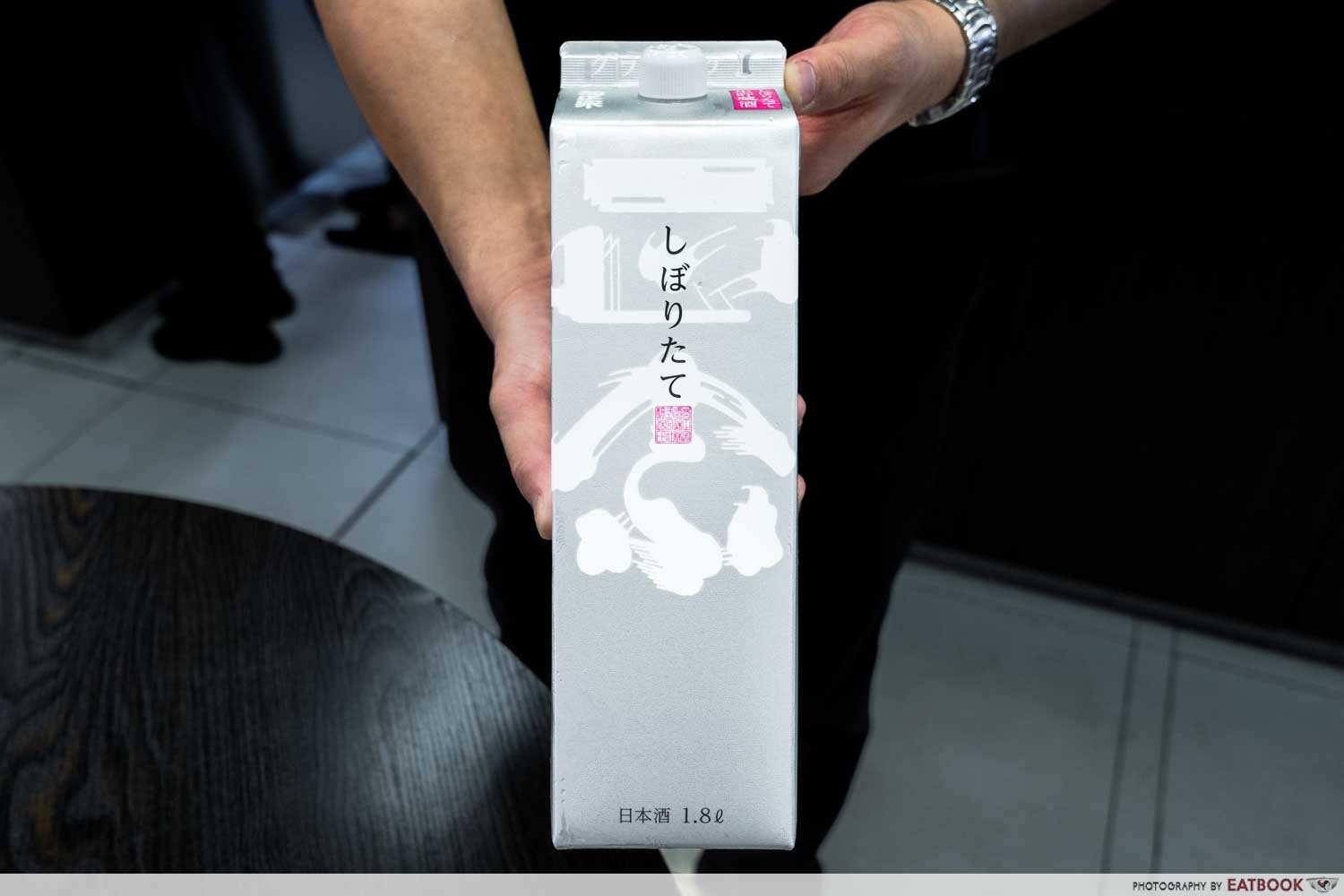 If you drink, add on free flow Sake (from $30++) to your dinner. Their range of seasonal sake has been specially selected to complement all the dinner courses. 
While their day-time operations seat 60 people, their dinner service is limited to 15 each day. Dining-in is reservation only, so be sure to do so via their website listed below!
For more amazing and unique seafood, read our review of 18 Seafood in Serangoon. Also, check out our date night guide for places to have a perfect night out on all budgets.
Address: 458 MacPherson Road, Singapore 368176
Opening hours: Tue-Sun 11am to 5pm, 6pm-11pm
Tel: 9878 8897
Website
One Prawn & Co is not a halal-certified eatery.
10 Date Night Restaurants With Beautiful Ambience For All Budgets
Photos taken by Tan Jia Hui.
This was a media tasting at One Prawn & Co.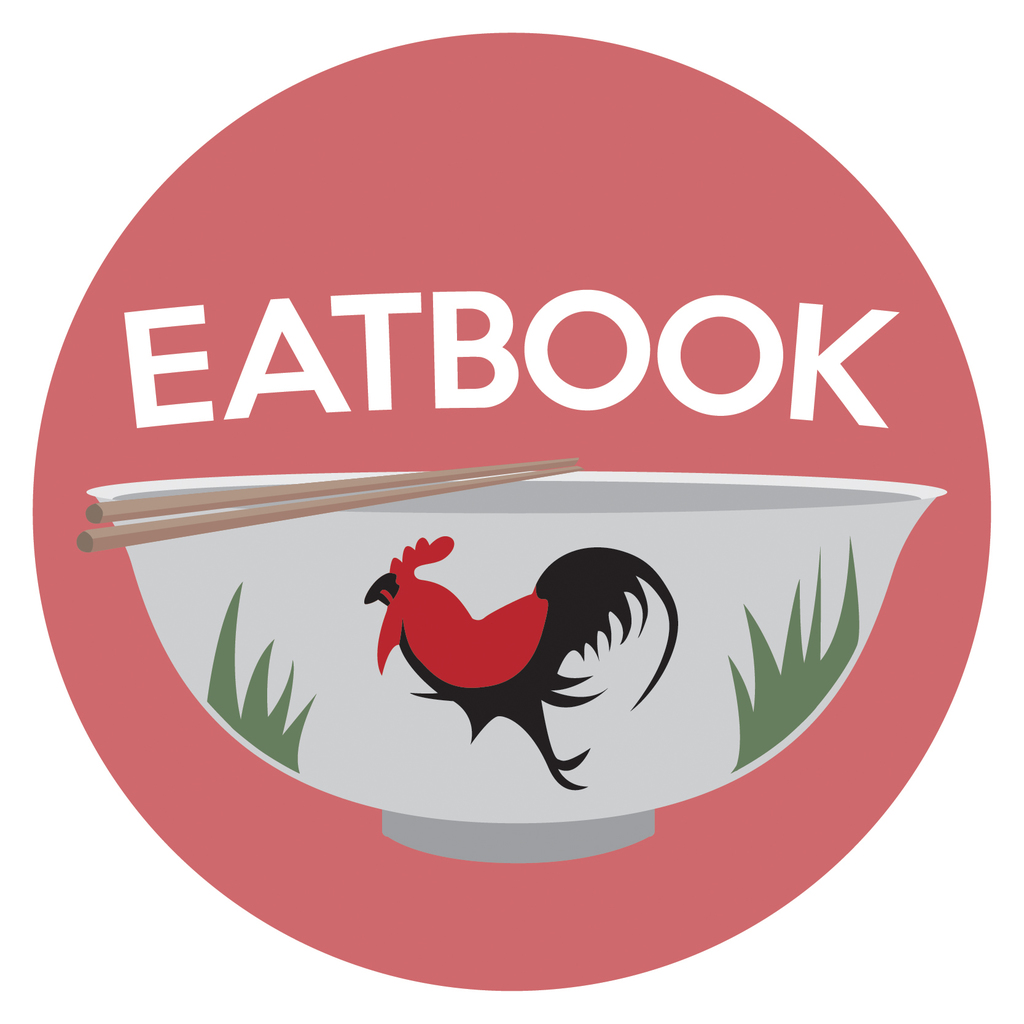 Drop us your email so you won't miss the latest news.