---
Where to eat in Clarke Quay
---
Clarke Quay is the de facto lifestyle spot in Singapore, and home to a legion of bars and restaurants that offer delicious food, as well as beverages, round the clock.
If you're looking for some Clarke Quay food options, we've got you covered.
---
1. SG Hawker
---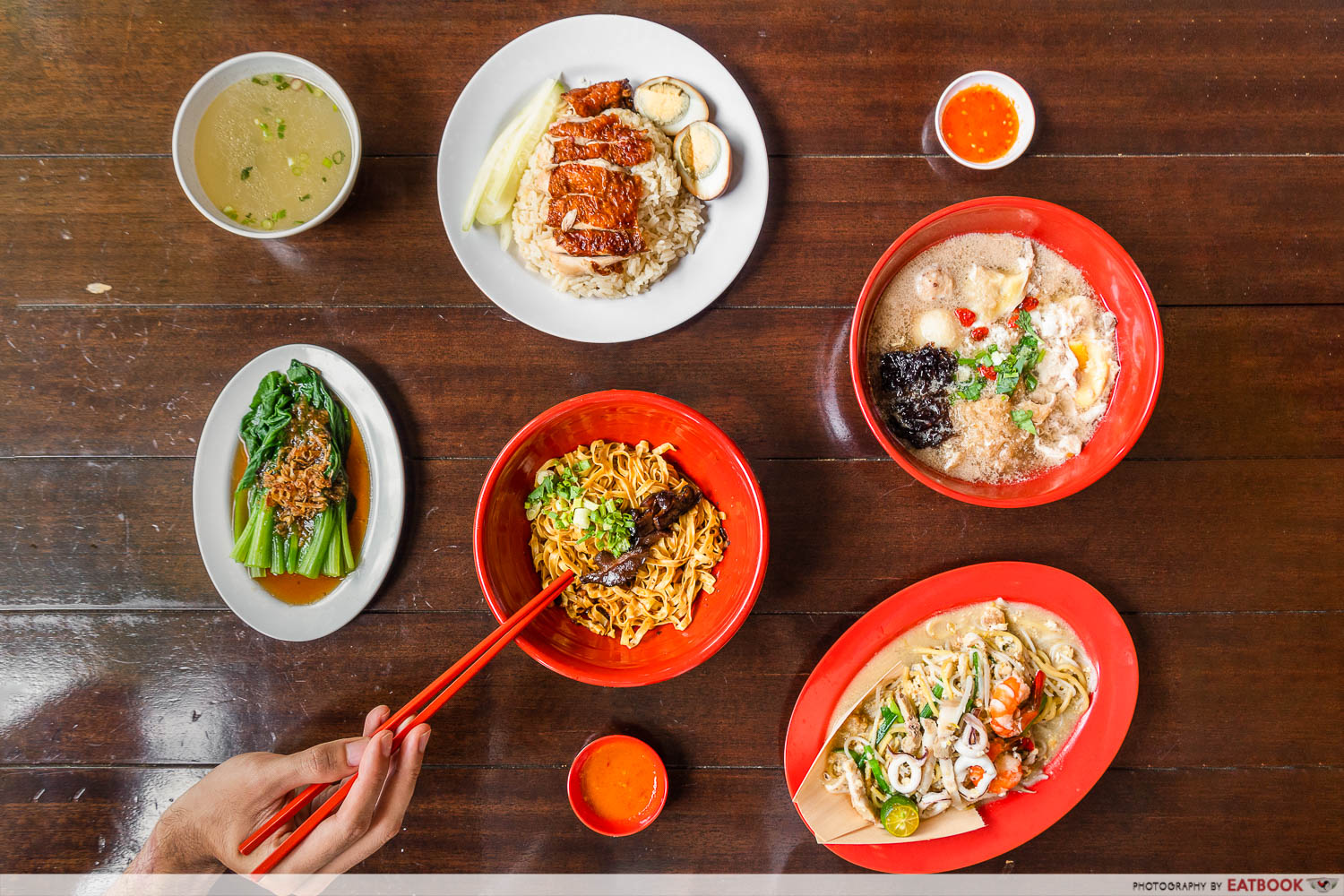 SG Hawker pays homage to our hawker scene's UNESCO status as an Intangible Cultural Heritage of Humanity by housing a variety of stalls with uniquely Singaporean dishes. Here's where you'll find hawker staples under $10, including our national signature, Hainanese Chicken Rice (from $4.50), featuring fluffy rice perfumed with ginger and moist slices of steamed or roasted chicken.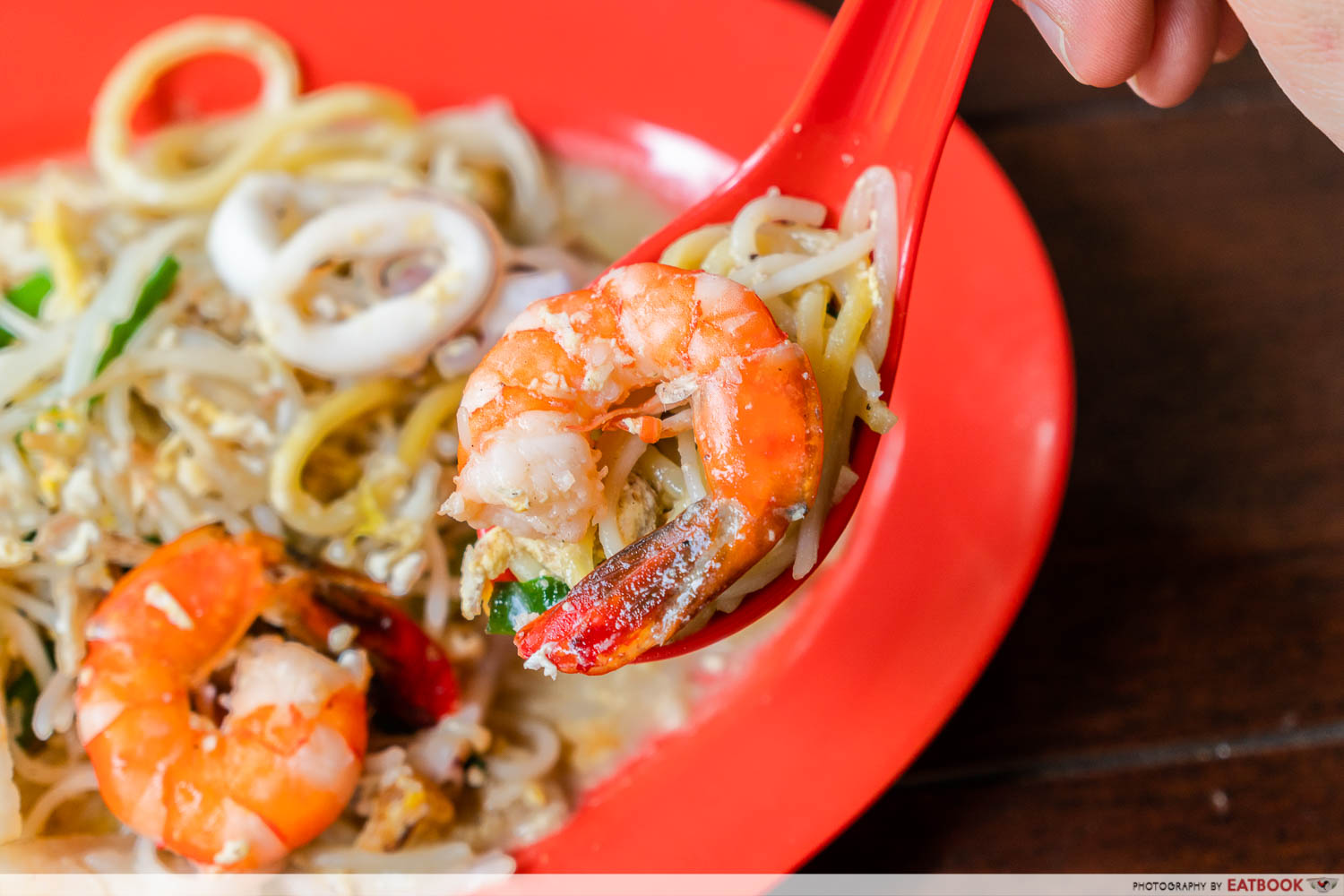 Other can't miss dishes include the wok hei-infused Hokkien Mee (from $5.50), fried in a rich prawn stock, and the Signature Mushroom Minced Meat Noodle ($5), AKA bak chor mee, with QQ noodles accompanied by a sweet-and-salty sauce. Don't forget to add chilli.
Unit number: Blk E, #01-08
Opening hours: Open 24 hours for selected stalls
Website
---
2. Zorba The Greek Taverna
---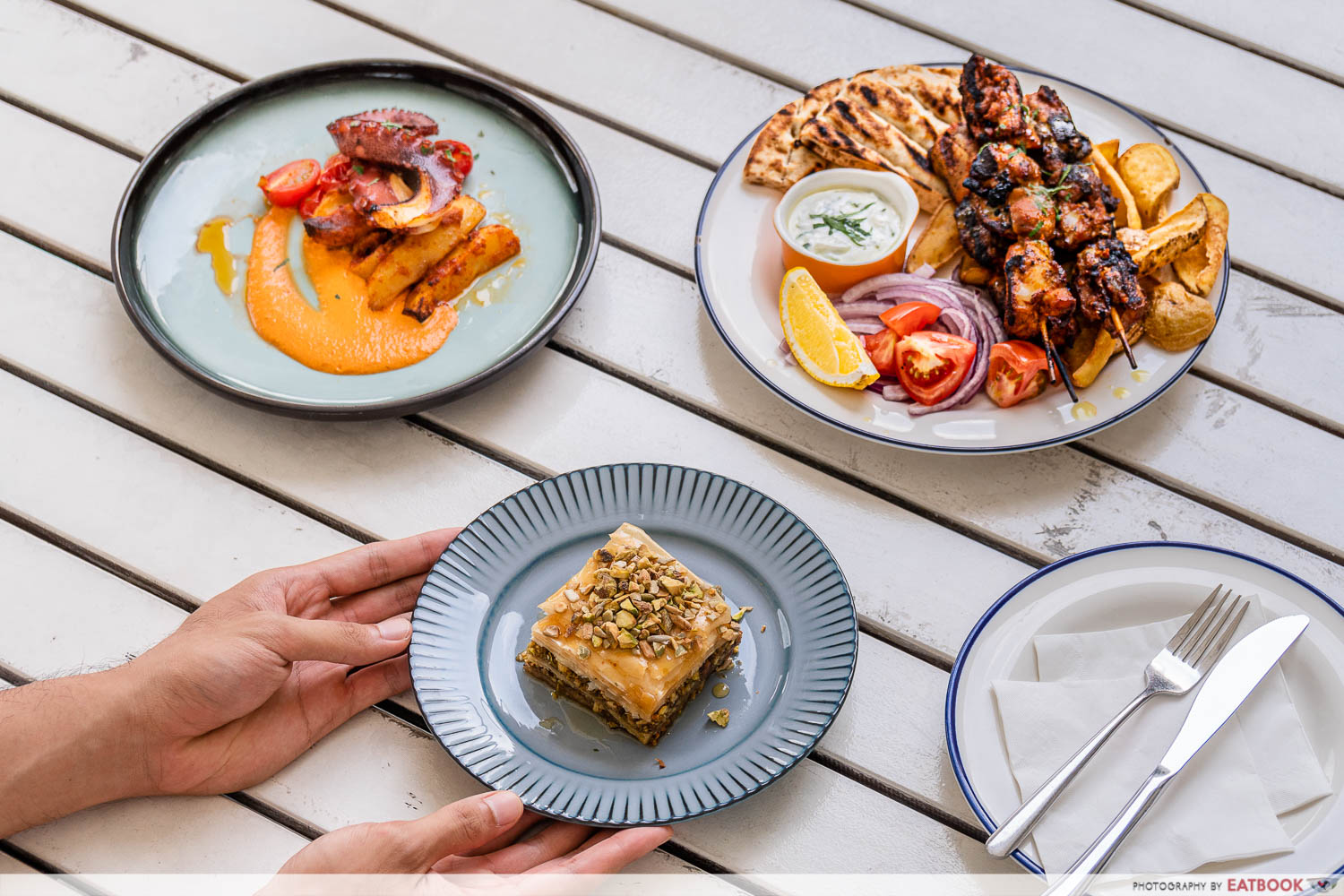 Zorba The Greek Taverna offers Mediterranean food with a riverside view, transporting you to a quick getaway in Santorini for the span of your meal.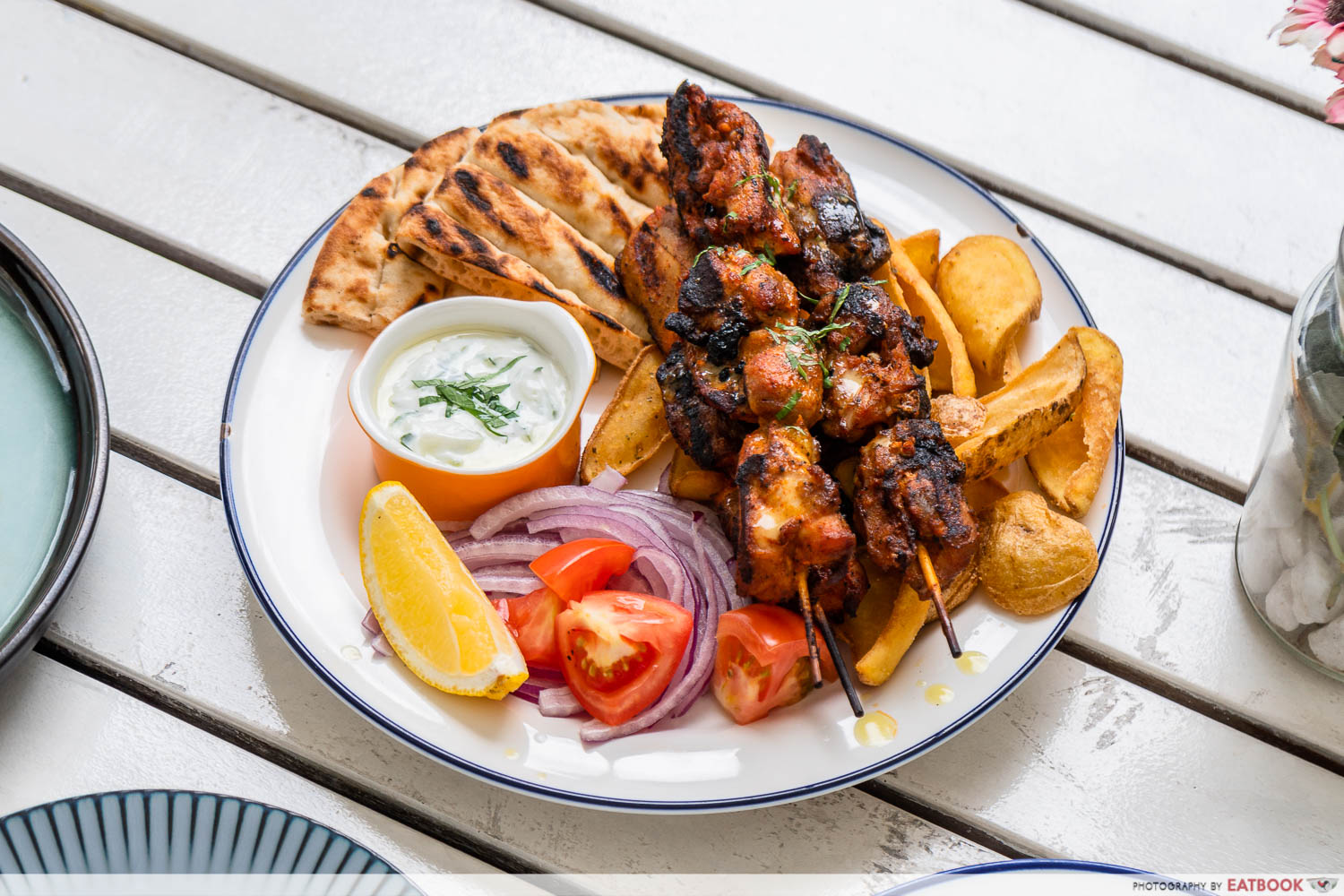 Their regular menu includes flavourful Grecian fare, including the Htapothi Sti Skhara ($26++), octopus slowly grilled over a low flame to ensure maximum tenderness, and a selection of souvlaki and kebabs. 
Unit number: Blk A,  #01-02
Opening hours: Tue-Fri 12pm to 10pm, Sat-Sun 9am to 10pm
Tel: 8879 0688
Website
---
3. Hooters Singapore 
---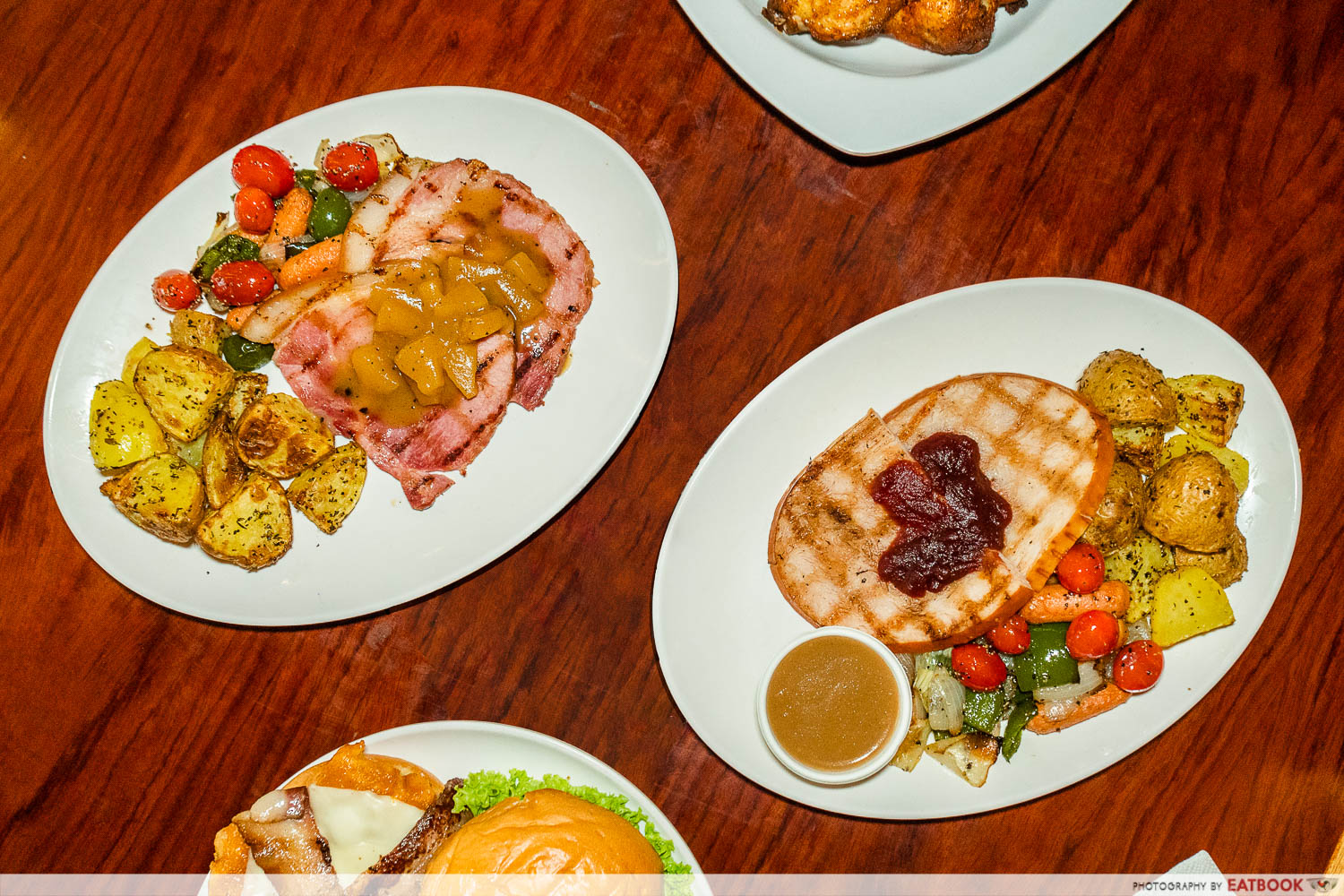 Hooters is known to most as a sports bar, but it is also a hidden gem for quality American-style grub all day long. Try their wide range of delectable burgers, fries, and other bar grub to go along with your cocktails.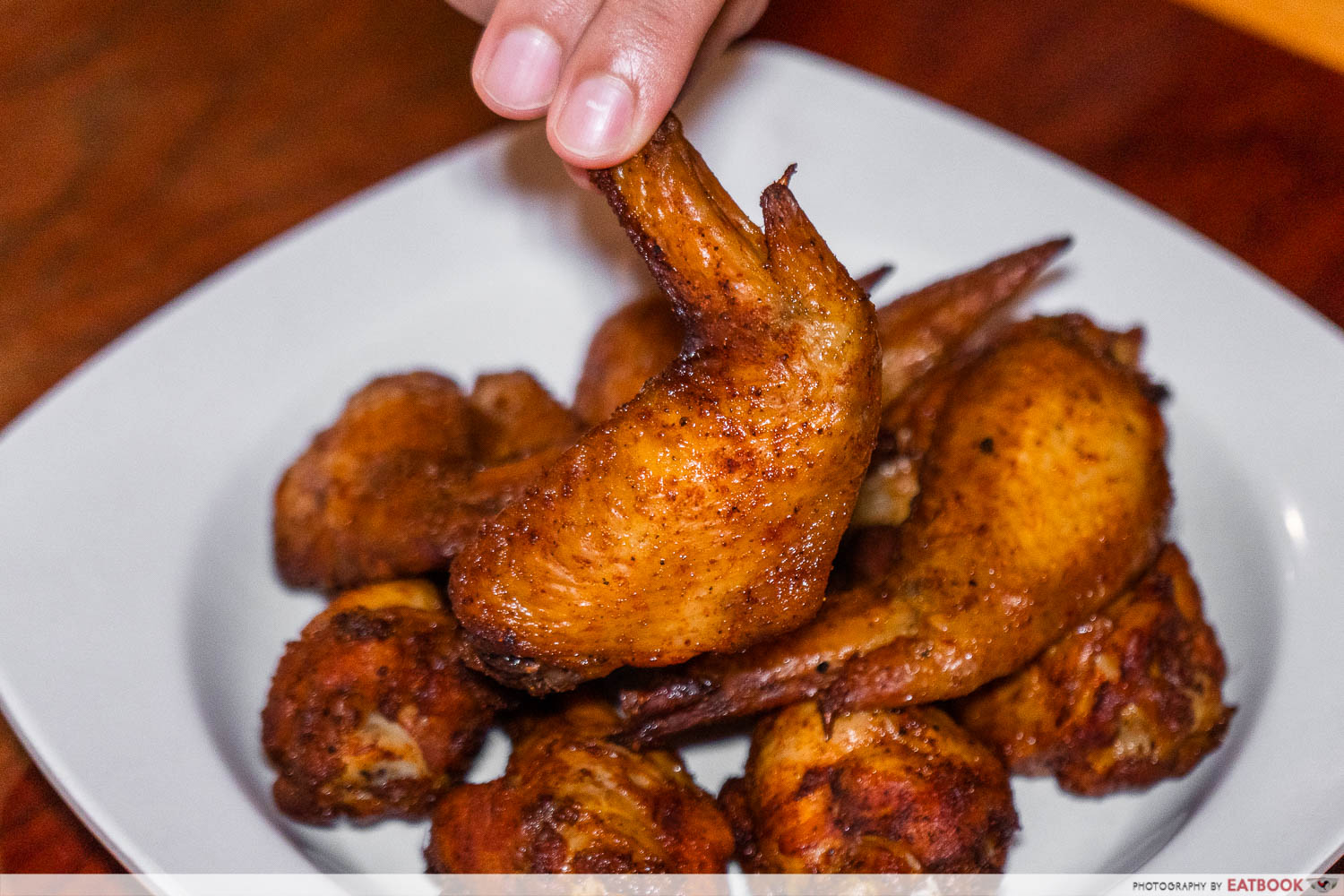 If you prefer to keep with their regular menu, then be sure to get yourself the Hooters Smoked Wings  ($14.90++). These wings are always made fresh, never frozen, and you can choose from five different rubs, including Texas BBQ and Caribbean Jerk.
Unit number: Blk D,  #01-03
Opening hours: Mon-Sun 12pm to 10pm
Tel: 6332 1090
Website
---
4. Cuba Libre Cafe & Bar
---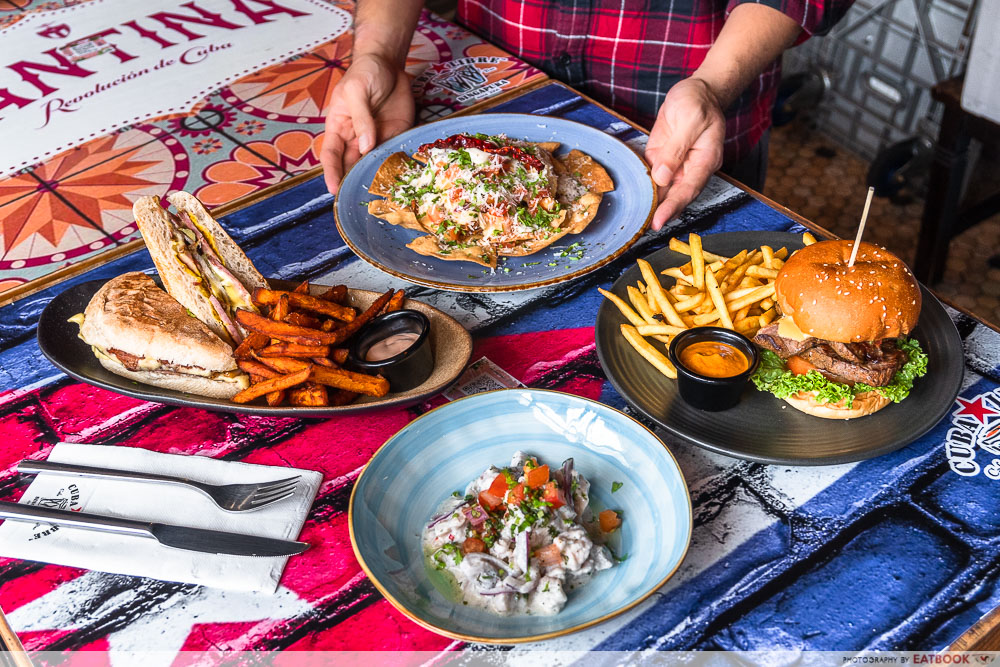 For the last 14 years, Cuba Libre Café & Bar has specialised in Latin American fare, as well as cocktails, making it a great option to unwind at after-work  Cuba Libre is known for their generous food portions and mojitos.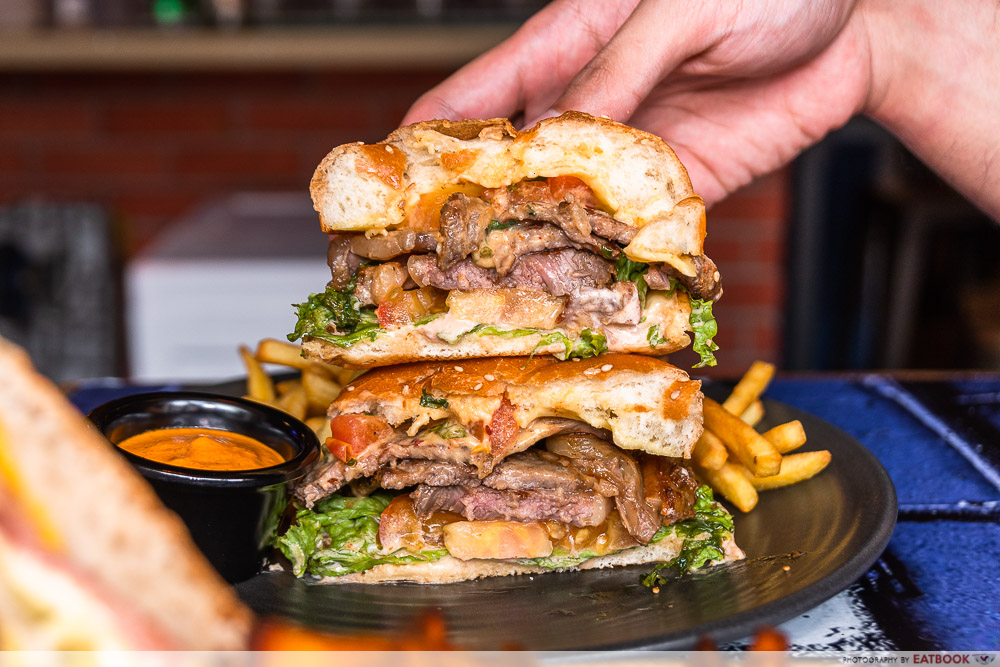 Order their signature Havana Burger ($18++), or smoky Sandwich Cubano ($18++), which both come with sides. What's even better is that the eatery is running a 1-for-1 deal on their burgers and sandwiches, on the CapitaStar app, making it a steal! 
Unit number: Blk B, #01-13
Opening hours: Daily 12pm to 10:30pm
Tel: 8418 0203
Website
---
5. HopHeads
---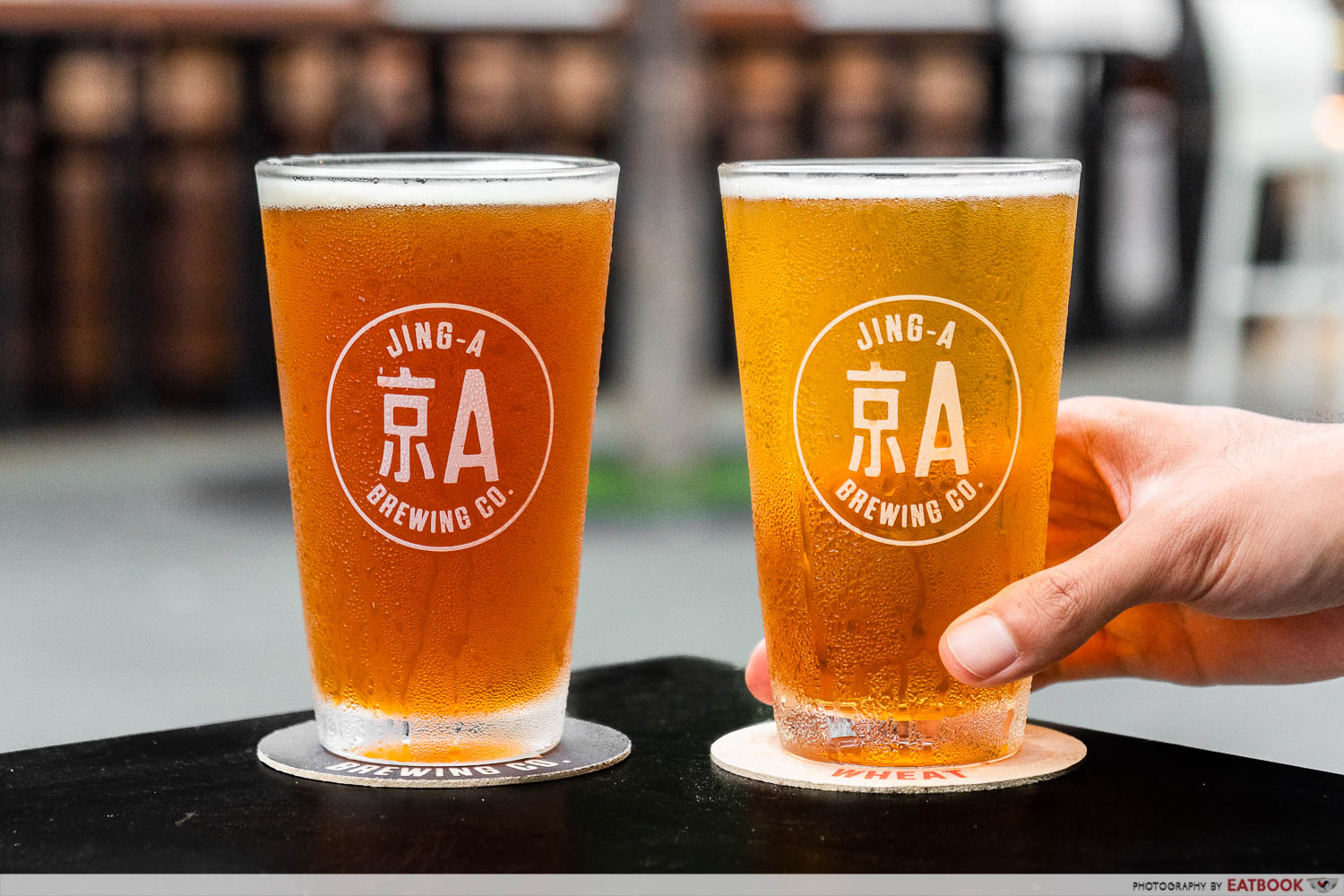 HopHeads is a fun bistro bar that specialises in beers, soju, and bar bites. Come here with friends and enjoy beers from breweries such as Jing-A from Beijing. Their Mandarin Wheat is a light, refreshing pint, while the Worker's Pale Ale is a hoppy, bodied pour, and a pint of either goes for just $9.90++.
On the food front, the Mentaiko Fries ($16.90++) is a sure crowd pleaser, with snackable thin-cut fries topped with the creamy, pink mayo we all know and love. Bangers & Mash ($16.90++) is another easy choice, as you get deliciously creamy mash and grilled sausages. Pizza, garlic bread, and popcorn chicken are also on the menu.
Unit number: Blk A #01-06
Opening hours: Wed-Sat  5pm to 10:30pm
Tel: 6904 4019
Website
---
6. Chorong Pocha
---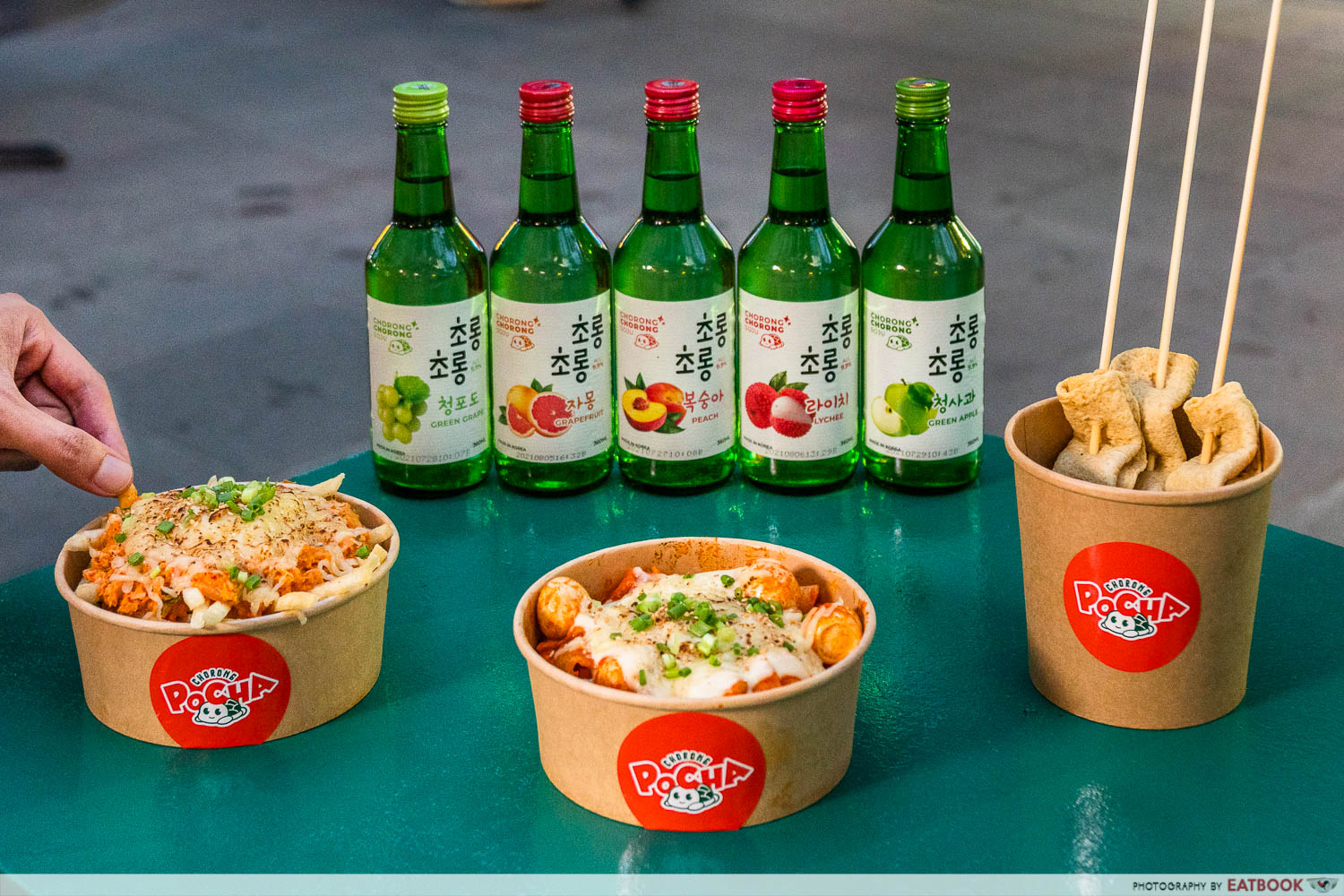 Visiting a pocha is a quintessential experience for anyone heading to Korea on a holiday. These streetside soju and street food tents are a great way to unwind after a long day, and now, you can recreate that experience in Clarke Quay, with Chorong Pocha. Get a bottle of soju for $15++, or three for just $40++. Flavours include Green Apple, Green Grape, Peach, Grapefruit, and Lychee.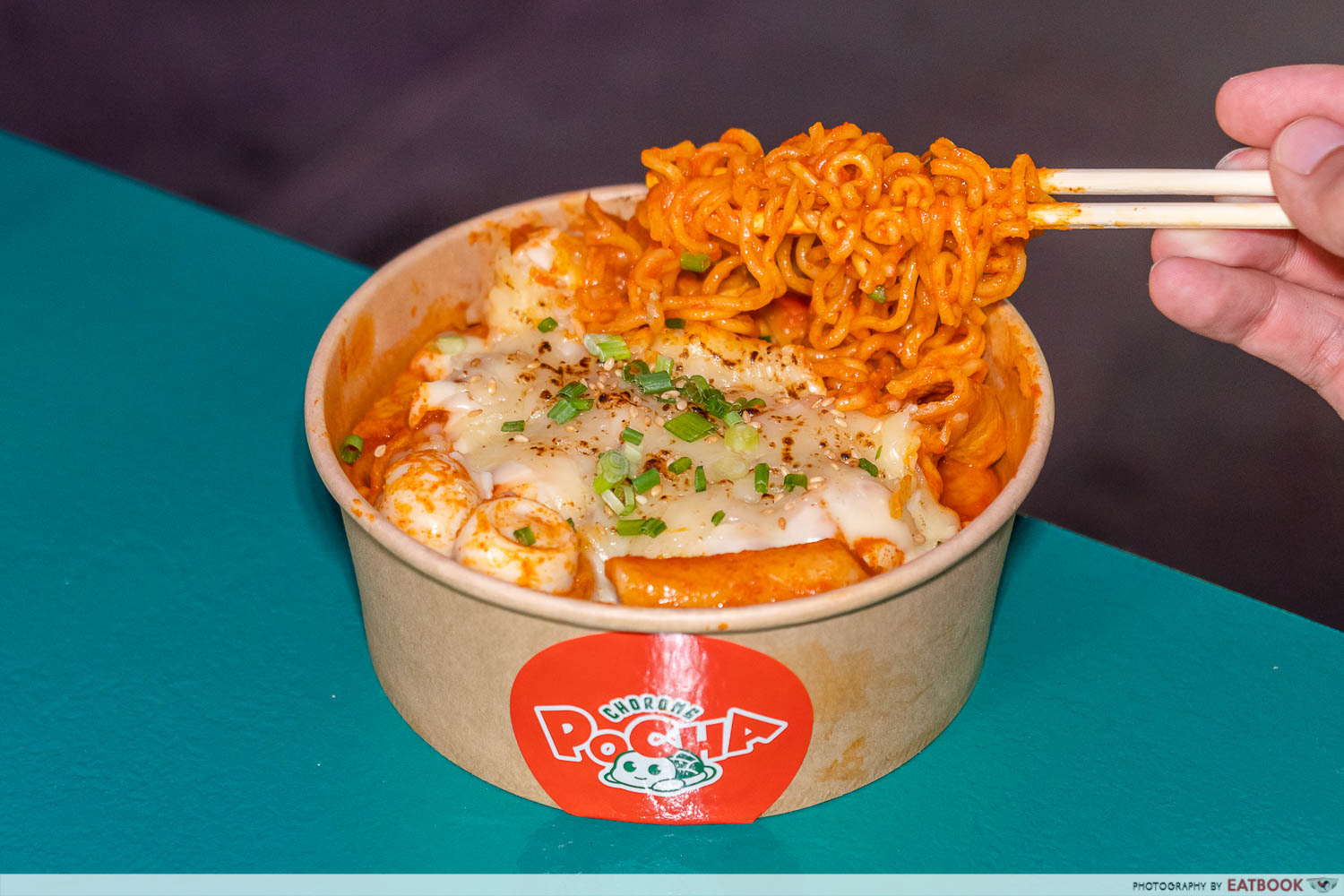 Cut the booze with bites that won't look amiss in a K-drama: Spicy Rice Cakes with Ramen ($15) offers you your rabokki fix, with comforting instant ramyun served with chewy rice cakes. Kimchi Cheese Fries ($15) is another to try, with a kimchi-spiced cheese sauce offering extra zing to go with the crisp fries. Additionally, you can get a 1-for-1 deal on their soju and Korean street snack combo, normally priced at $23++, on the CapitaStar app!
Unit number: Blk D, #01-13
Opening hours: Mon-Sat, 5pm to 10:30pm
Tel: 8200 0713
Website
---
7. Mimi Restaurant
---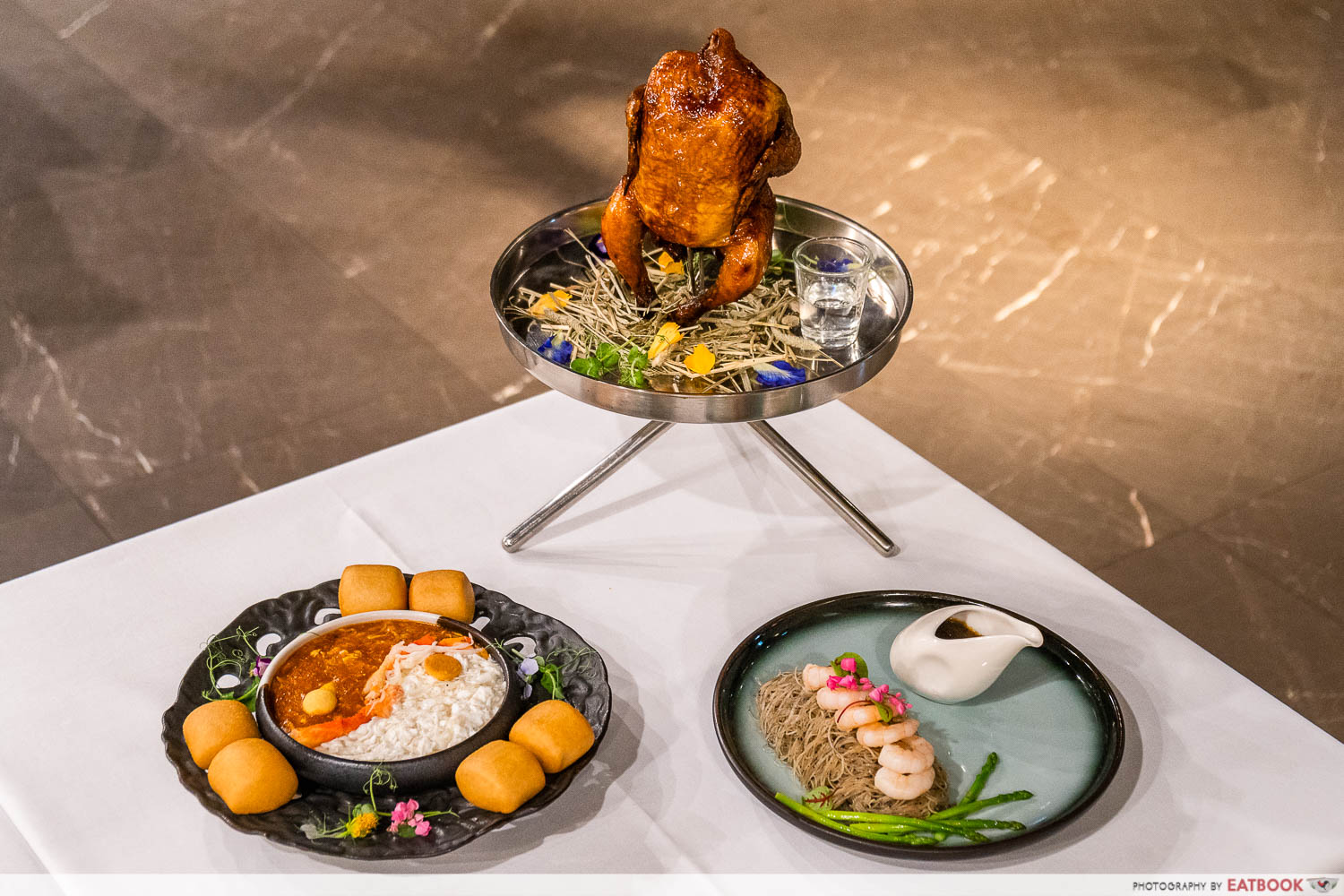 Mimi Restaurant is located in a 150-year old heritage mansion, one of the last of its kind remaining in Singapore. Along with its striking decor is a mod-Chinese menu that doubles as a great option if you're looking for a special occasion feast.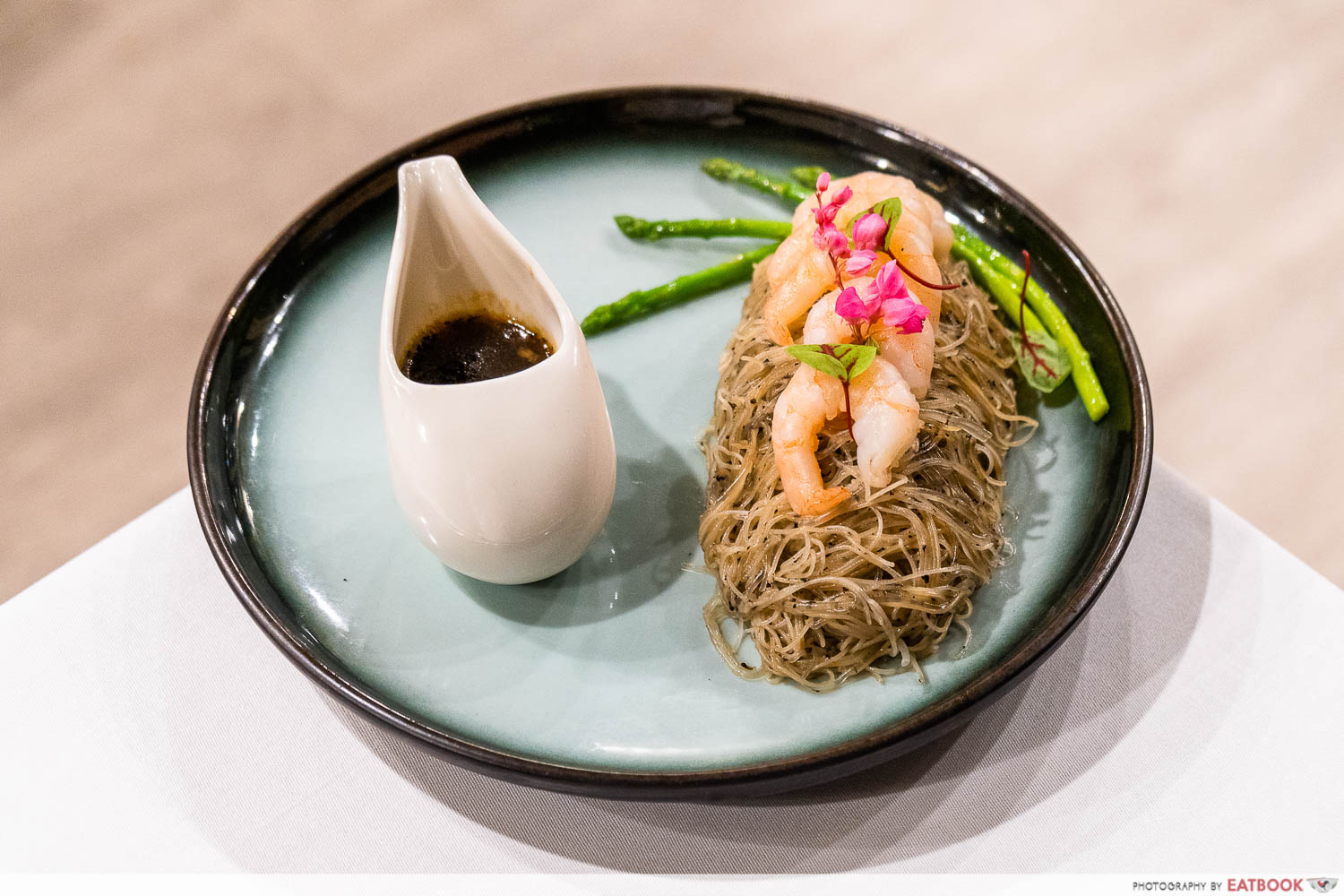 Expect striking, tasty dishes such as the Chicken On Fire ($28++), where a roasted spring chicken is flambeed on the table with rosé wine, or the Unsubtle Truffle Mein ($24++), where vermicelli is stir-fried in a special black truffle sauce that really packs a punch. 
Unit number: Blk A, #01-02
Opening hours: Tue-Fri 6pm to 10:30pm, Sat-Sun 11am to 3pm, 6pm to 10:30pm
Tel: 8879 0688
Website
---
8. Here Kitty Kitty
---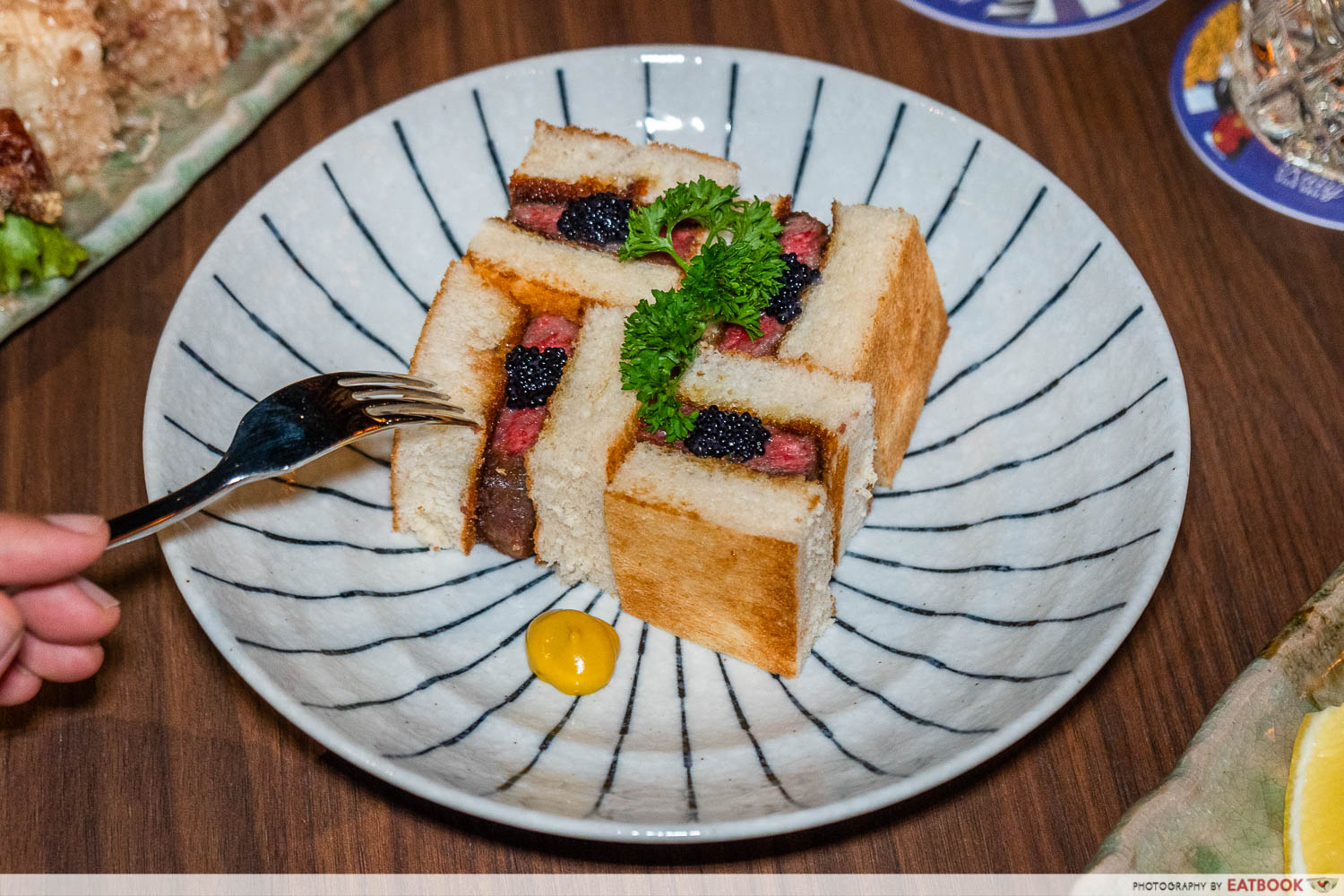 Take yourself to the streets of the Golden Gai in Shinjuku when you visit Here Kitty Kitty at Clarke Quay. The Japanese izakaya serves up small bites that are great to nibble on as you enjoy a couple of cocktails. Go big and try the Wagyu Sando ($68++), with marbled wagyu beef intensified by caramelized onions, and a lick of mustard.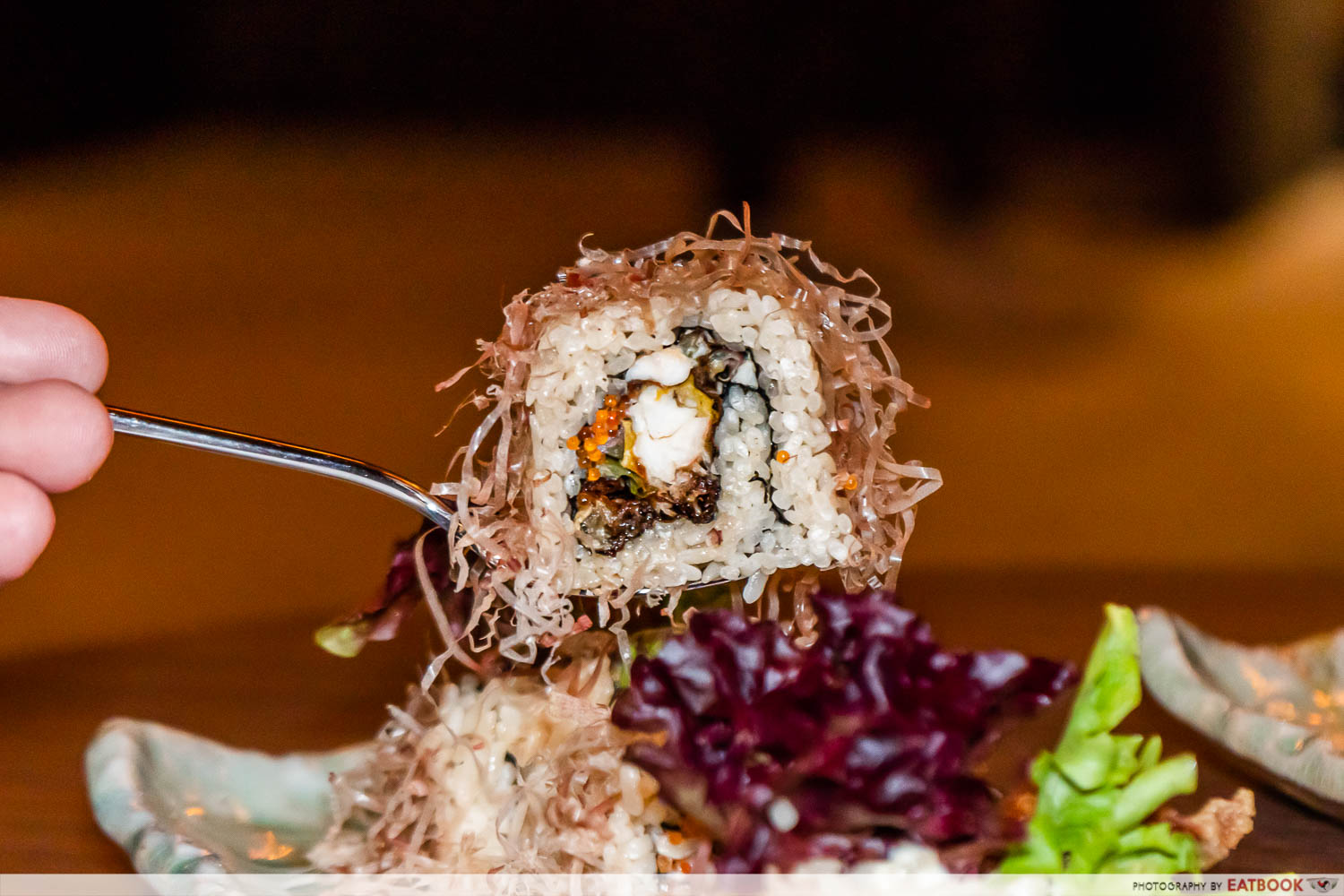 Otherwise, get the Here Kitty Kitty Signature Maki ($28++), a soft-shell crab roll that is briny and crunchy, dusted with bonito for more umami. Of course, drinks are a must here, so try their signature cocktails. The Here Kitty Kitty Highball ($28++) is a quenching blend of two whiskies with soda and lemon, while the Here Kitty Kitty Martini ($26++) uses Roku Gin and nori-infused vermouth for an elevated take on the classic.
Unit number: Blk E, #02-01
Opening hours: Tue-Sat 6pm to 11pm
Tel: 9489 8357
Website
---
9.  Hanjip Korean Grill House
---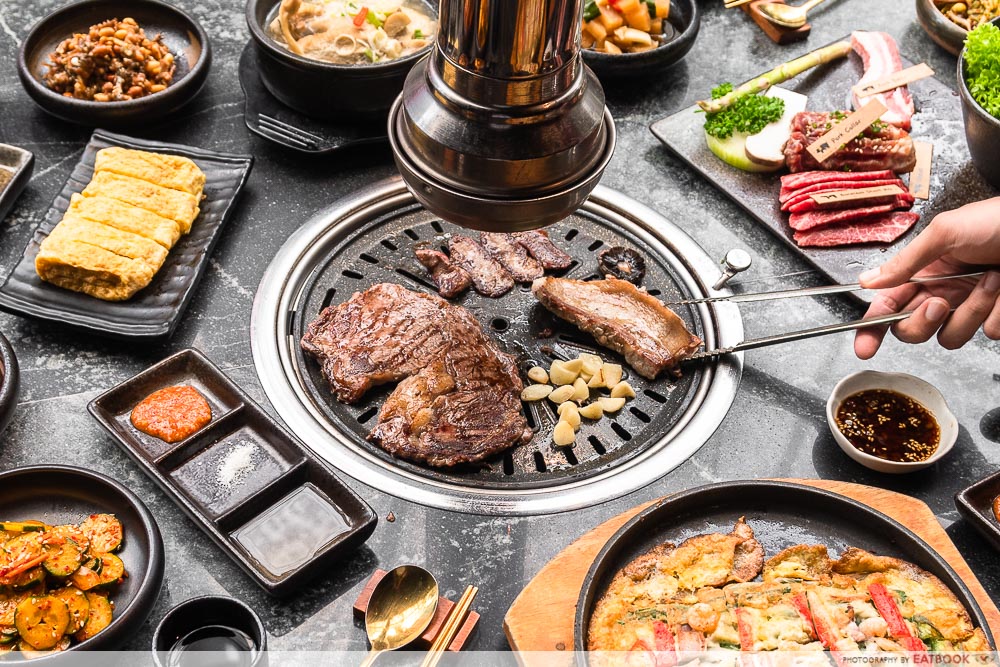 Hanjip Korean Grill House specialises in refined Korean barbeque, with options for premium ingredients. Take your pick from the likes of aged Australian Wagyu, USDA Prime Beef, and Kurobuta Berkshire Pork, and have fun grilling them alongside the restaurant's other selection of house-made Korean dishes, as well as banchan. We highly recommend their Seafood Pancake ($20++), served crisp with a medley of vegetables, and juicy prawns, and their Cheese Egg Roll ($15++), which upgrades the usual Korean omelette.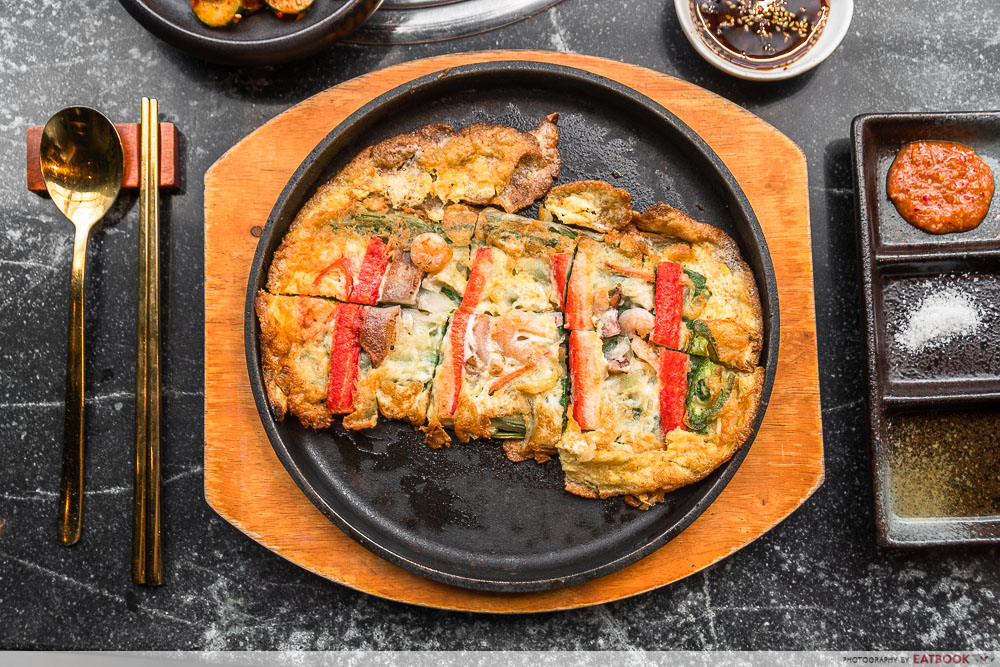 If you want to dine in privacy, the spacious K-BBQ eatery also has several private dining rooms available for booking.
Unit number: Blk C,  #01-11
Opening hours: Daily 11:30am to 2:30pm, 5pm to 11pm
Tel: 8882 9011
Website
---
10. Tomo Izakaya
---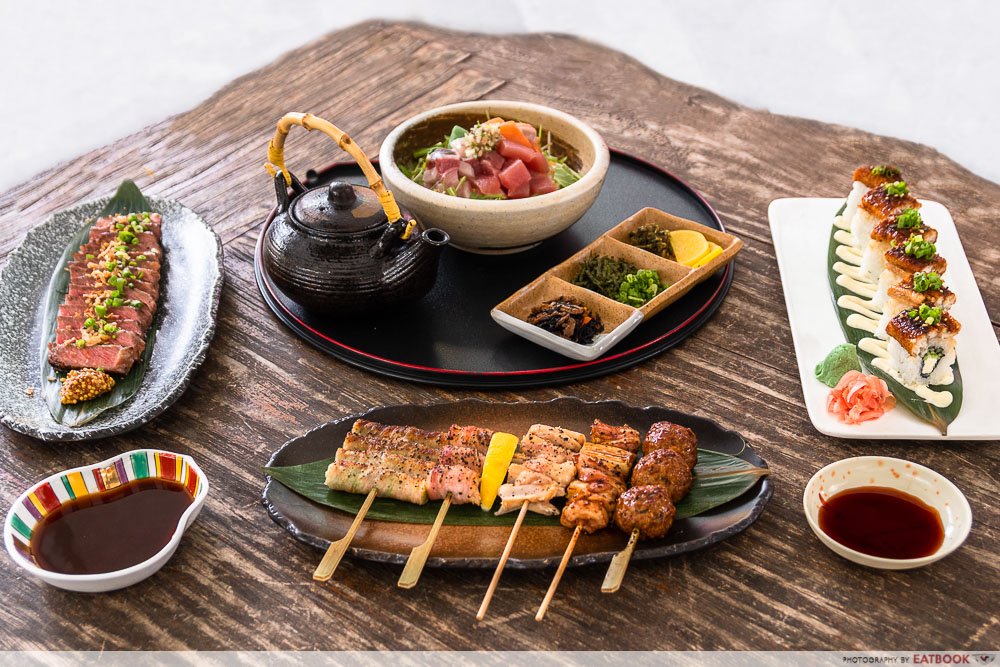 Tomo Izakaya transports you to Japan with their wide array of small plate Japanese dishes, prepared with the whole spectrum of Japanese cooking techniques. Start off your meal with their Kushi Mori ($24++), a platter of five skewers, all grilled over a charcoal fire. Pair that with a Unagi Cream Cheese Maki ($19++ ), a signature dish where maki rolls have a grilled unagi centre, cut by cream cheese.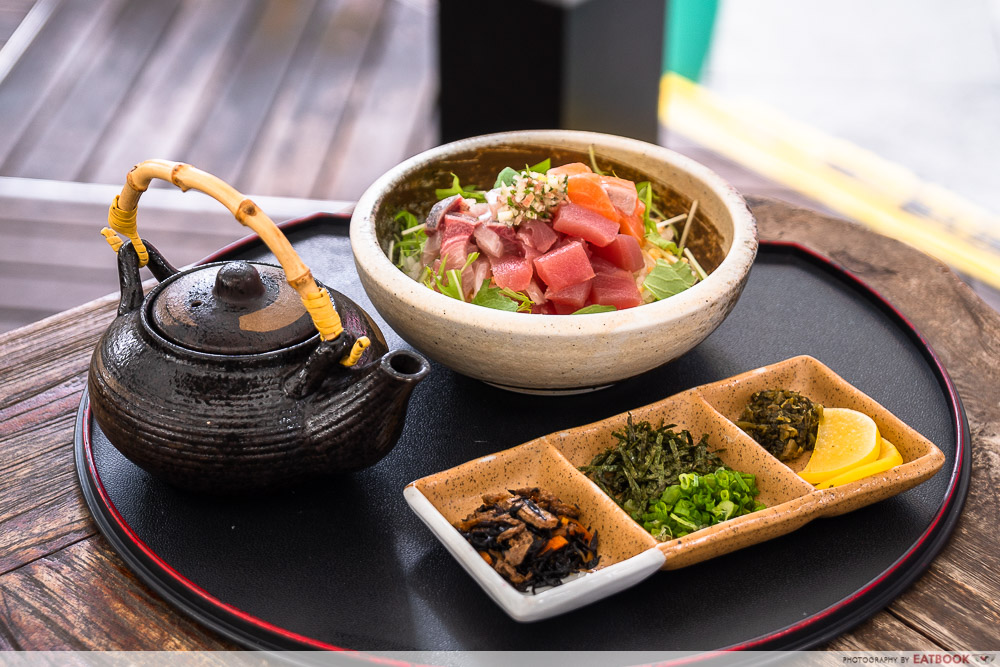 For mains, go for the Kaisen Chazuke ($26++ ). Chazuke is a Japanese soup and rice dish, and Tomo Izakaya's version remixes the combo with fresh sashimi cubes, and a light, flavourful dashi.
Unit number: Blk A, #01-04
Opening hours: Daily 12pm to 3pm, 5pm to 11pm
Website
---
11. Muchos
---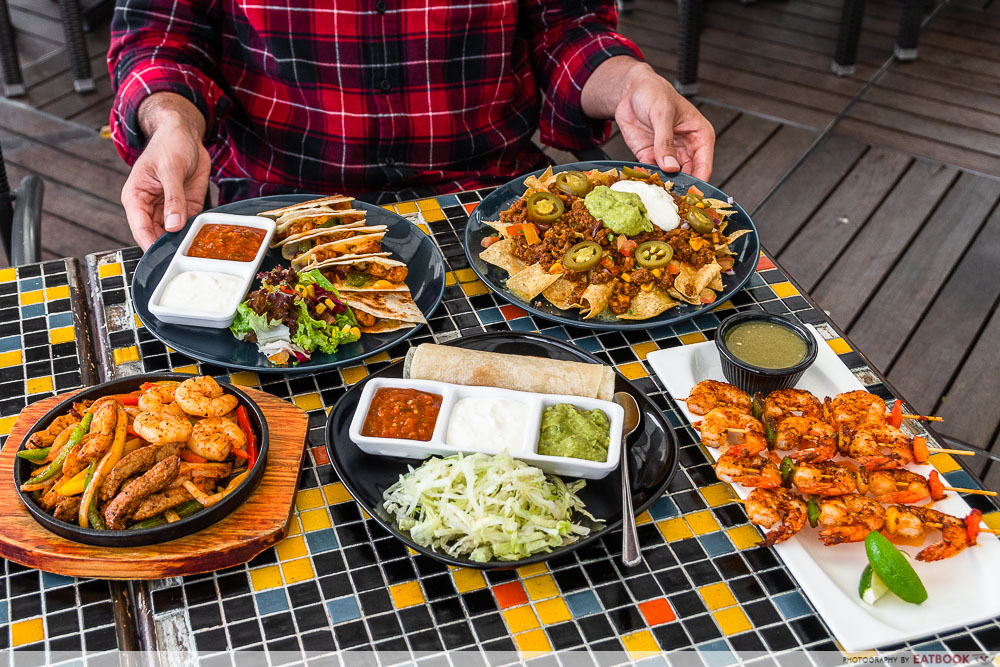 Head down to Muchos for Mexican cuisine and margaritas—a great way to unwind after hours. Expect substantial portions of classic Mexican dishes here, with signature dishes including the Fajitas Trio ($33++), loaded with all the delicious, spiced fillings one would expect of a fajita, alongside three different dips.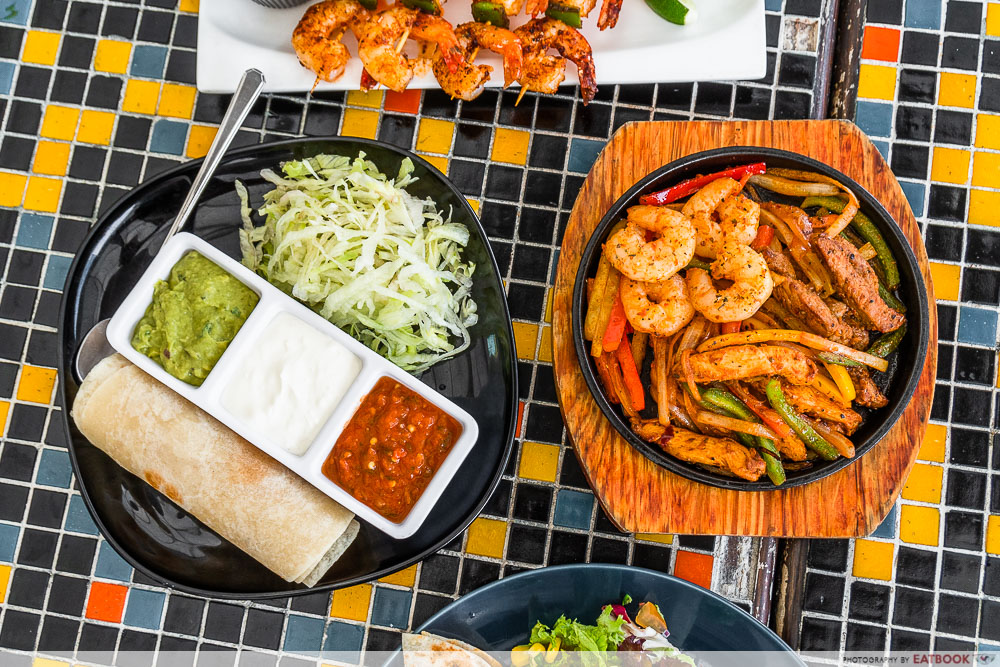 Order the Quesadillas (from $18++) or the Beef Nachos ($22++) to go along with your drinks—the former is a cheesy, filled tortilla, while the latter sees crunchy nacho chips topped with cheese and minced beef.
The restaurant is also located by the Singapore River, so there's a chance you can be seated outdoors for picturesque dining views.
Unit number: Blk D, #01-04
Opening hours: Daily 12pm to 3pm, 5pm to 11pm
Tel: 6338 4748
Website
---
12. Highlander Bar & Restaurant 
---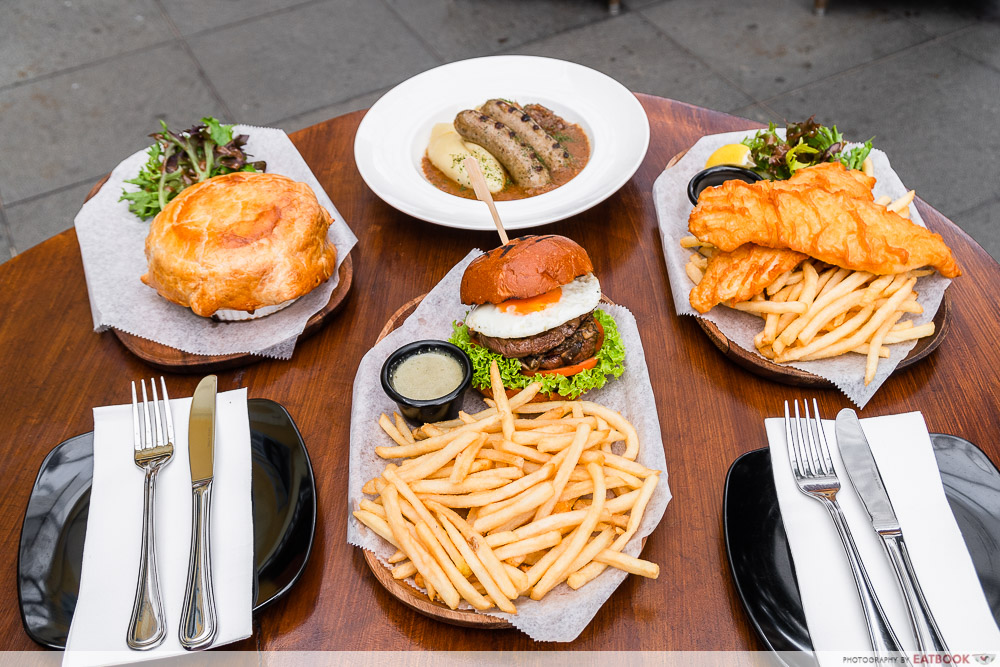 Get all the vibes of a Scottish pub but in Singapore at Highlander Bar & Restaurant. While the destination is best known for its eye-opening list of single malt whiskies, Scotch in particular, patrons can also expect hearty bar grub to go with the excellent drinks.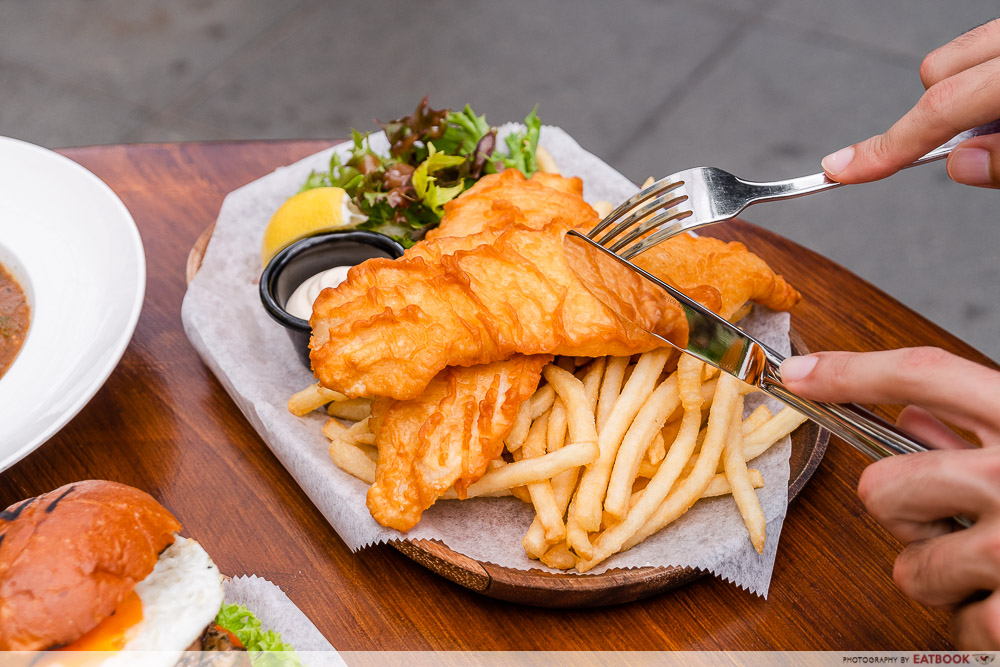 There's the Snapper Fish & Chips ($26++), where tender, flaky snapper is crumbed and fried till crisp, served along with shoestring fries. Another classic is their Pork Bangers & Mash ($26++), starring the unbeatable combo of juicy, charred sausages, and creamy mash. Finally, round out the comfort food parade with their Beef & Guinness Pie ($28++), or Highlander Tenderloin Double Steak Burger ($34++). Be warned that portions here are very generous.
Unit number: Blk B, #01-11
Opening hours: Daily 5pm to 10:30pm
Tel: 6235 9528
Website
---
13. Little Saigon 
---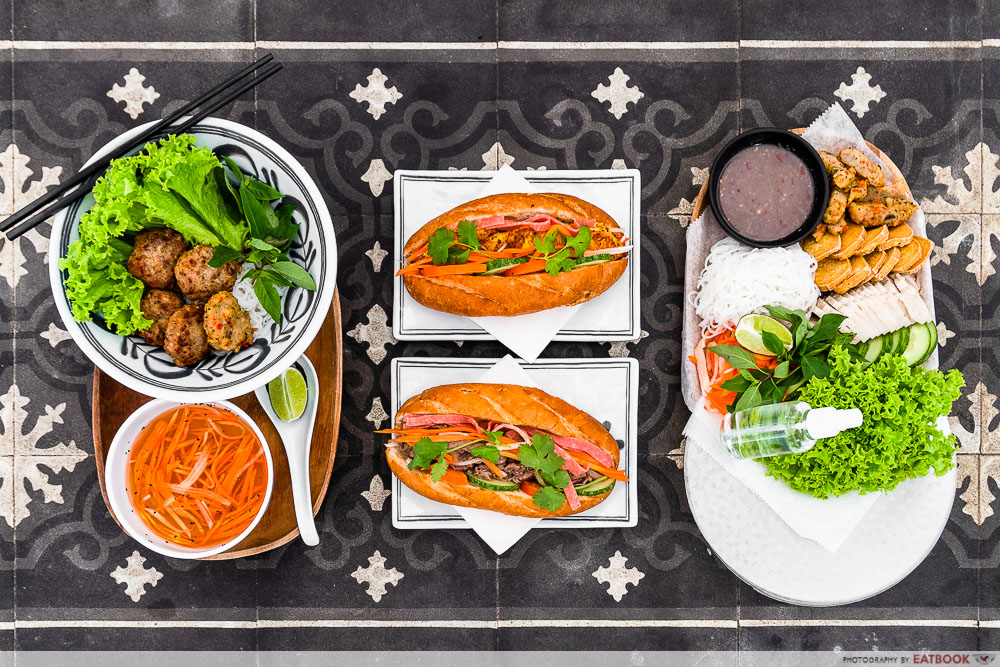 Little Saigon offers homely Vietnamese cuisine, all prepared by a native Vietnamese chef. No matter the time of day, you can expect generous portions of Vietnamese classics, like the Sauteed Beef or Red Snapper Banh Mi ($16++ each). Along with your choice of protein, each banh mi is served with crusty baguette bread, and fresh herbs, as well as picked greens. 
We also love the Bun Cha ($17++), a dry vermicelli dish served with a piquant dipping sauce, prawn cake and pork balls. Get the DIY Fresh Spring Roll Platter ($20++) to share with the table, and create your own tasty rice paper rolls with various fillings such as pork belly, homemade prawn cake, fried tofu, fresh herbs and other vegetables. 
Unit number: Blk E, #01-02
Opening hours: Mon to Fri 5pm to 10:30pm, Sat, Sun and PH, 3pm to 10:30pm
Tel: 6337 7862
Website
---
14. Octapas Spanish Bar
---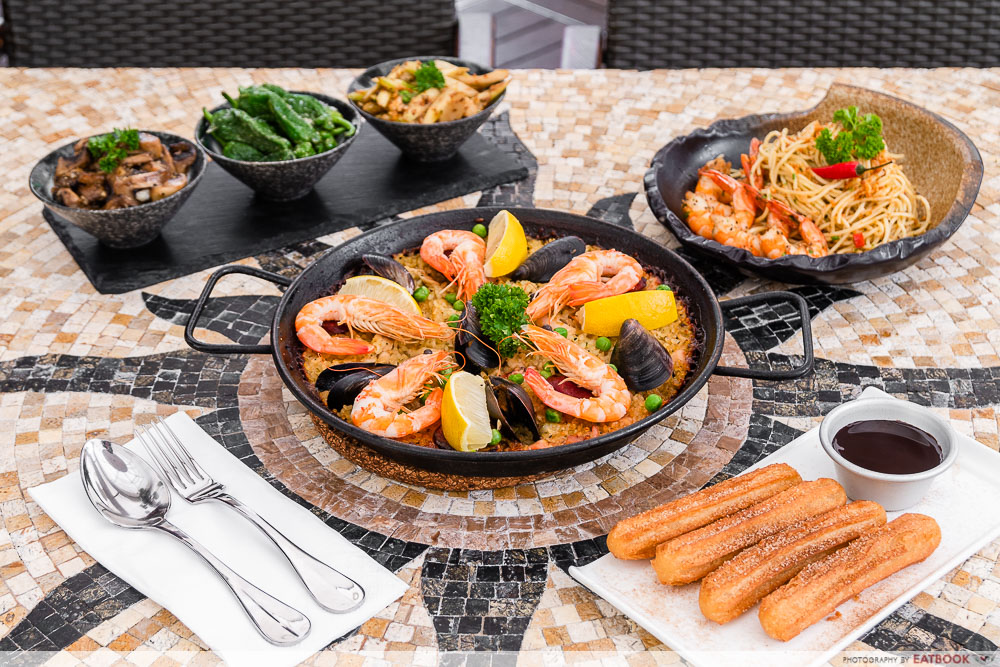 Octapas Spanish Bar has been a stalwart dining destination in Clarke Quay for years. They still manage to keep things fresh with their Spanish fare, all made to share. Do not miss the Paella Valenciana ($42++), served with all the fixings atop saffron rice. You get chorizo, chicken pieces, mussels, prawns, and fish, for a seafood and meat galore.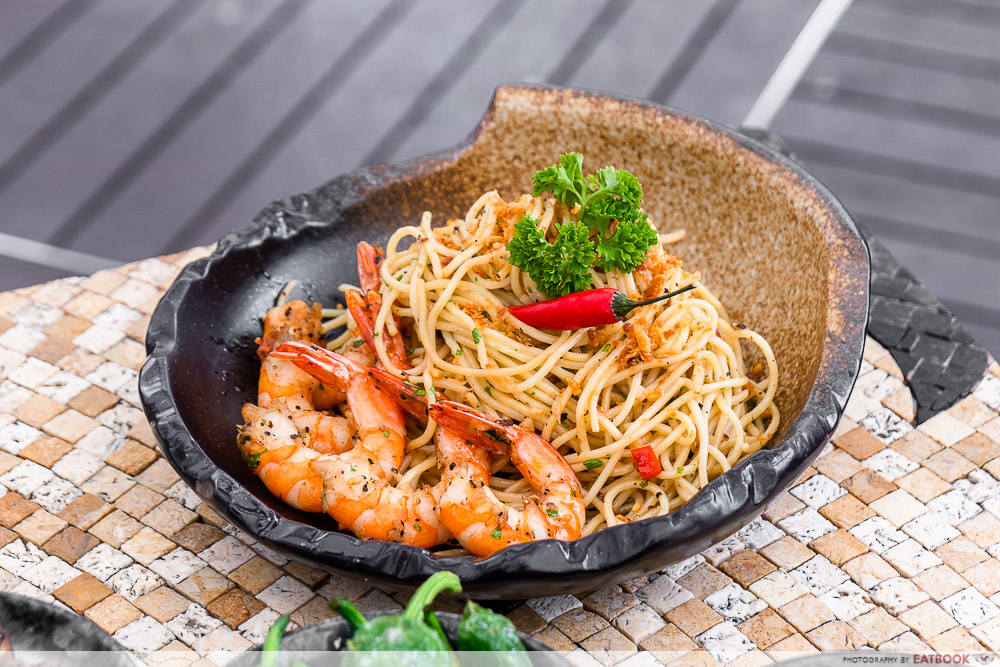 Pasta lovers can opt for the Gambas Pasta ($21++), the restaurant's riff on an aglio olio with sweet gambas prawns. Get some greens in your diet with the Combinacion ($28++), a mushroom medley with asparagus and peppers, before rounding off your meal with Churros Classico ($12++) for dessert, served along with housemade chocolate sauce.
Be sure to check out their sister restaurant, Thai Khun Bar and Street Foods at #01-14 on the same block if you're craving Thai street food.
Unit number: Blk D, #01-08
Opening hours: Daily 12pm to 10:30pm
Tel: 6837 2938
Website
---
Restaurants and bars in Clarke Quay
---
The next time you're in Clarke Quay and hungry for good food, or a good drink, try out these restaurants and bars. From riverside dining to special occasion restaurants, and casual bistros, there's an option no matter your preference.
Keep updated with Clarke Quay and their food offerings via Facebook and Instagram too!
Photos taken by Tan Zi Hui and Chew Yi En.
This post is brought to you by Clarke Quay.