---
Where to buy CNY goodies
---
To some, Chinese New Year is all about the reunion dinner feast, but personally, CNY goodies are where it's at. A table heaving with red-topped jars and metal tins of pineapple tarts, kuih bangkit, bak kwa and more are what my CNY dreams are made of. 
If you're hosting guests over CNY this 2021, or want to practise sharing is caring with your loved ones, snacks are a great way to go about it. For that, we've rounded up 10 CNY goodies stores in Singapore where you can get delicious tidbits guaranteed to wow.
---
1. Ding Bakery
---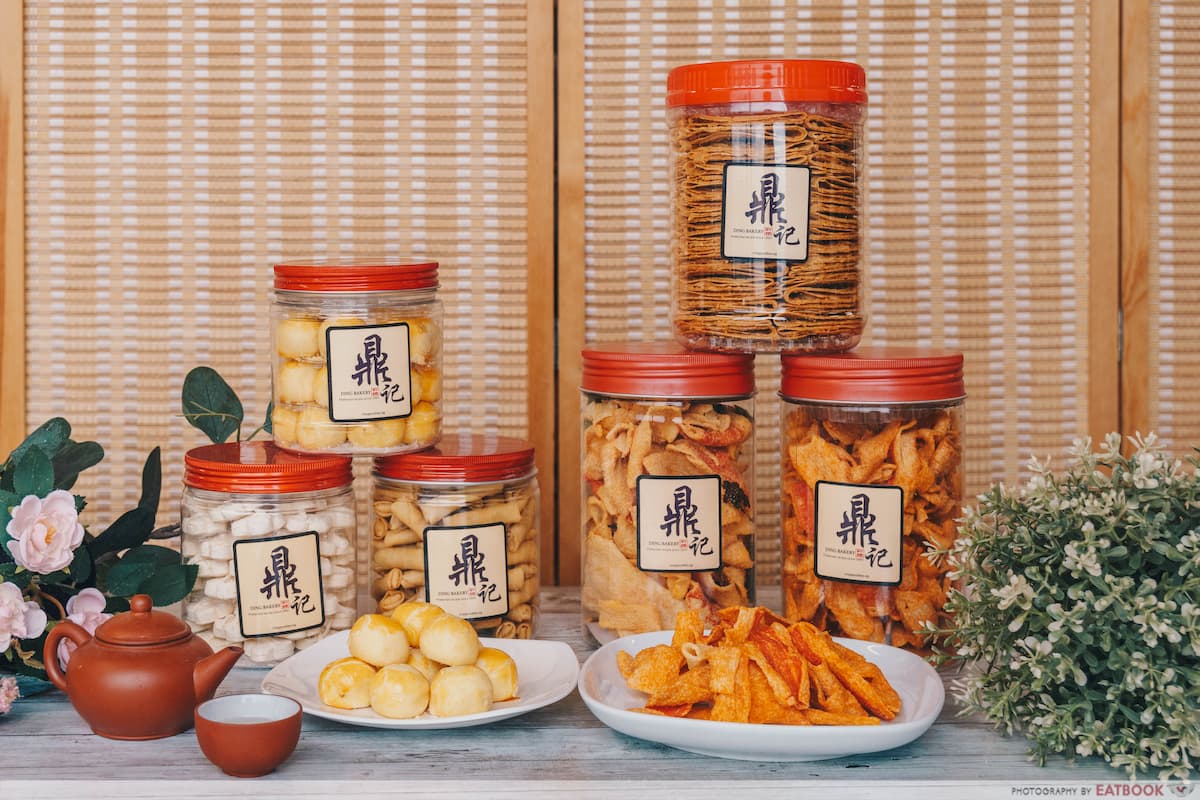 You know Ding Bakery's pineapple tarts are legit when over 50,000 Singaporeans have given it a vote of confidence. Freshly baked to order with premium ingredients, the signature tarts we'd recommend from Ding Bakery are the acclaimed Premium Melt-In-Your-Mouth Pineapple Balls ($22.90) and the Nyonya Pineapple Tarts ($19.90). The former features a buttery crust that literally melts when you bite into it, while the Nyonya Pineapple Tarts are open-faced, and crowned with a homemade pineapple jam that is not too sweet. 
Apart from the tarts, Ding Bakery also makes other CNY goodies. Opt for traditional bites with the Spicy Hae Bee Hiam Roll ($18.90) and Melting Kueh Bangkit ($21.90), or get trendy with the Salted Egg or Mala Crab Sticks ($19.90 each). Those looking for a fusion of east-meets-west can try their Peanut Butter Folded Love Letters ($24.90).
Delivery is free for orders above $100, and a flat $8 for orders under the price cap. An express 90-minute option is also available with a surcharge of $20. Order via their website below.
---
2. Pineappletart.com
---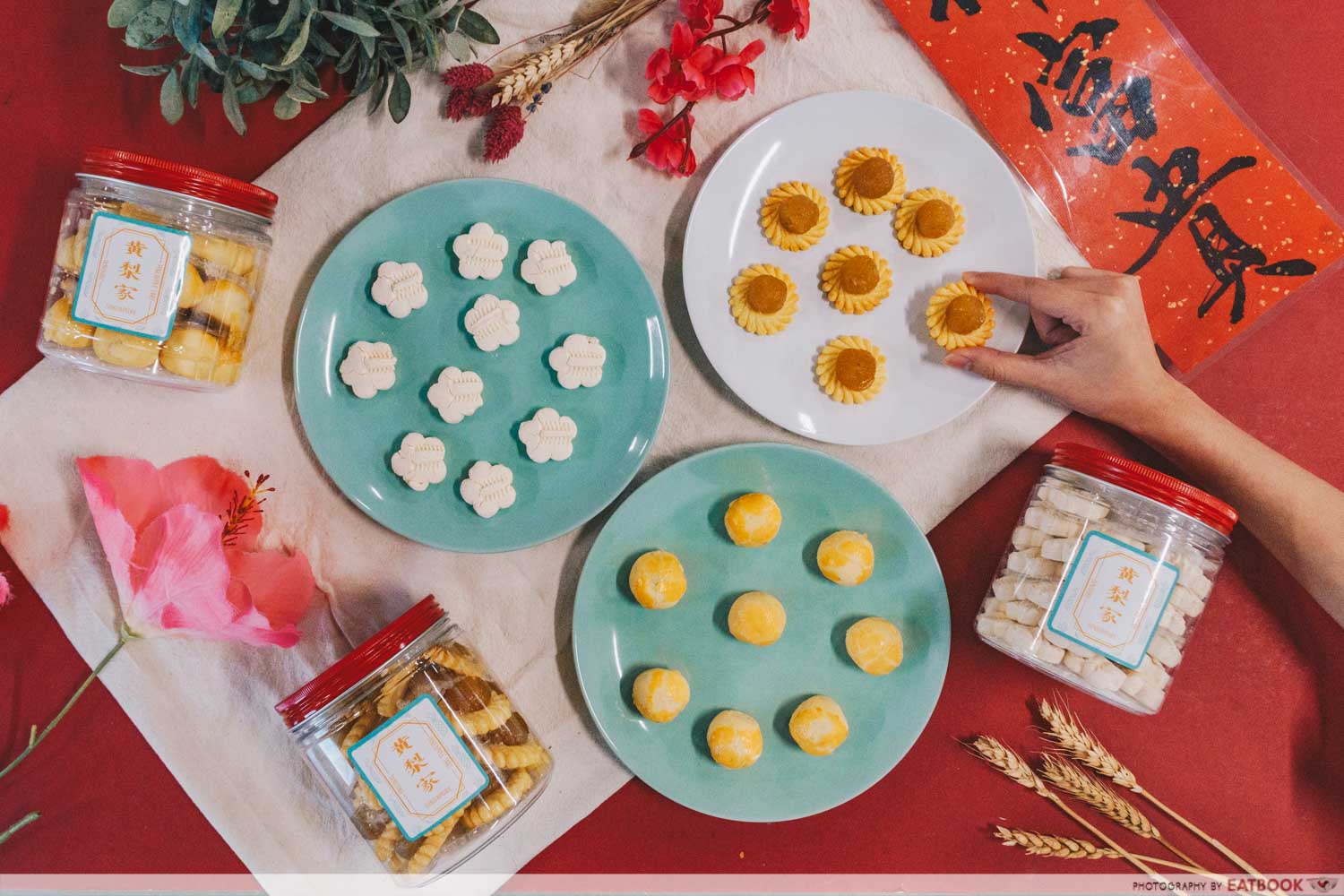 Pineappletart.com began as a home bakery business and has since grown into one of the most popular pineapple tart makers. Their signature items are available in two versions: the open-faced Premium Nyonya Pineapple Tart ($20.80) and the ball-shaped Pineapple Tarts ($23.80). Both are homemade with premium ingredients and zero preservatives, which is great if you're hosting elderly or kids.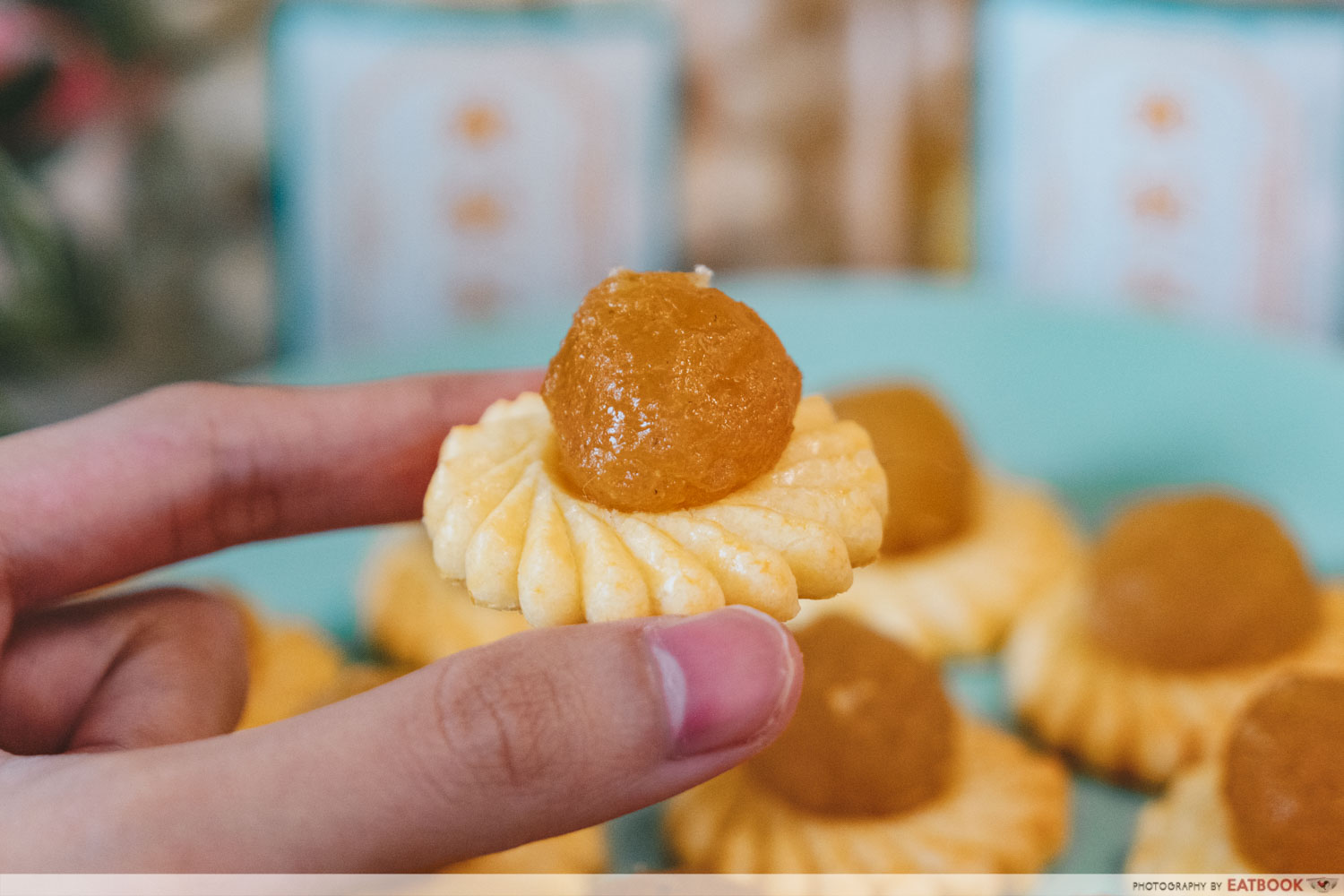 The Nyonya tarts star a flower-shaped crust that has a bit of bite, complementing the soft, sweet jam made from top-quality Brazillian pineapples. The pineapple balls, on the other hand, are so buttery they melt on the tongue upon the first bite, revealing a sweet and slightly acidic jam.
They also make it a point to continuously improve their recipes to keep up with current tastes, so their range of goodies also includes the likes of Mala Popiah Crackers ($19.80) and Cheese Pineapple Tarts ($16.80). Still, if you want a sure crowd-pleaser, their Kuih Bangkit ($16.80) is another must-order, apart from their pineapple tarts. 
Delivery is free for orders above $88, or a flat fee of $8 for those under the price cap. Order via their website below.
---
3. Baker's Brew
---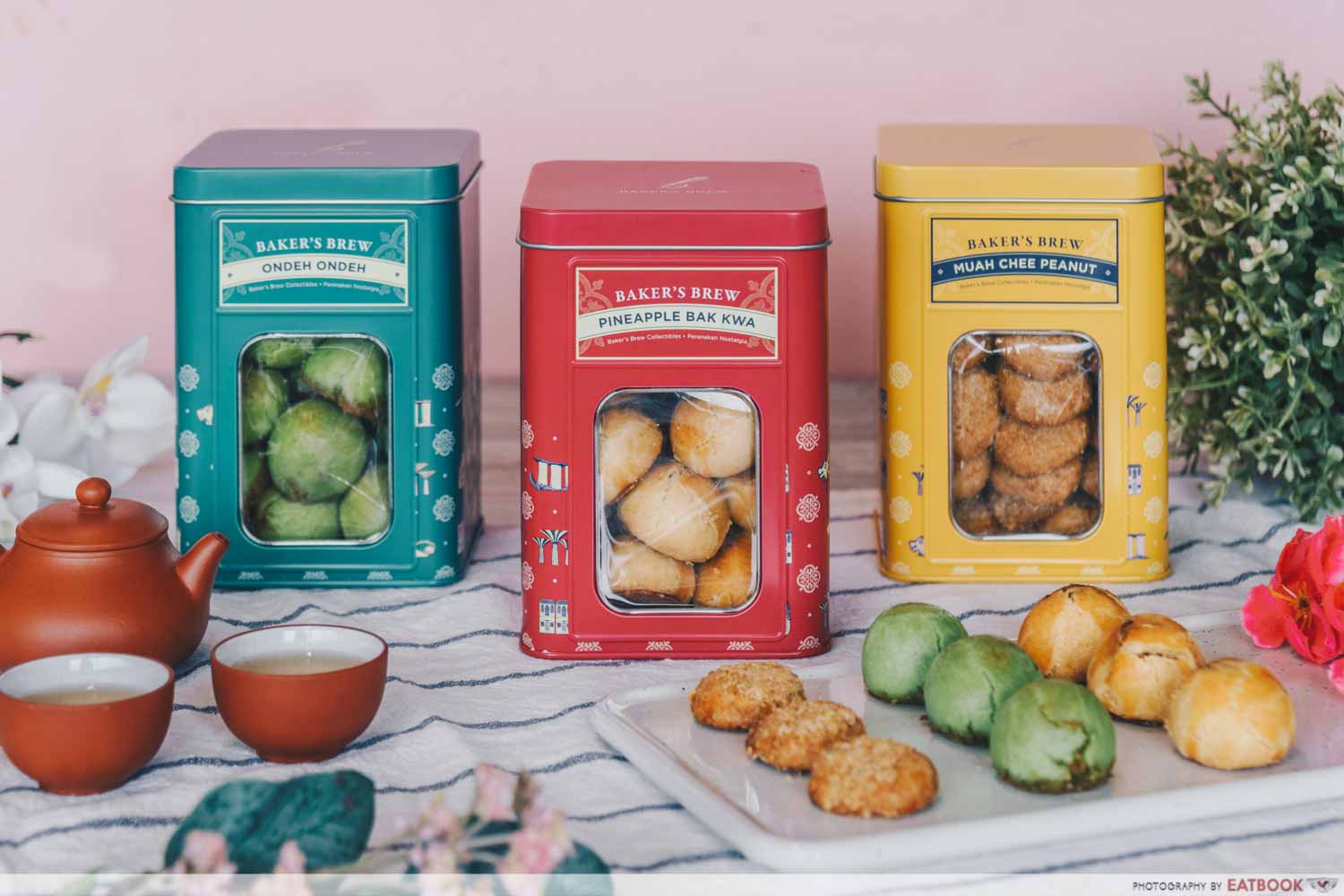 Baker's Brew is putting out three unique CNY cookies for the festive period, including two local spins on pineapple tarts. The first is the Ondeh-Ondeh Cookies ($27.80), a ball-shaped pineapple tart made with a fragrant pandan crust, and desiccated coconut sweetened with gula melaka. The adventurous can try the Pineapple Bak Kwa Cookies ($26.80), where the Thai pineapple jam in the middle is blended with bak kwa for a smoky sweetness.
Purchase these at the Baker's Brew outlets in Plaza Singapura, Paragon, Great World, Sembawang, or Upper Thomson. Alternatively, order via their website below for islandwide delivery with a minimum order of $15.
Website | Full list of locations
---
4. Mdm Ling Bakery 
---
Those looking to be spoilt for choice can look no further than Mdm Ling Bakery. This CNY, the bao-and-cookie specialists have over 25 different cookie flavours for you to choose from, all inspired by flavours from around the world. Choose from Molten Chocolate, Cranberry Florentines, Kopi Siew Dai cookies, and many more. Prices start from $8.90 for fun-sized 160g portions, or from $13.80 for 400g jars. 
Get them at Shell SELECT outlets islandwide, or order via their website below and receive your CNY goodies via delivery or store-pick up.
---
5. Old Seng Choong 
---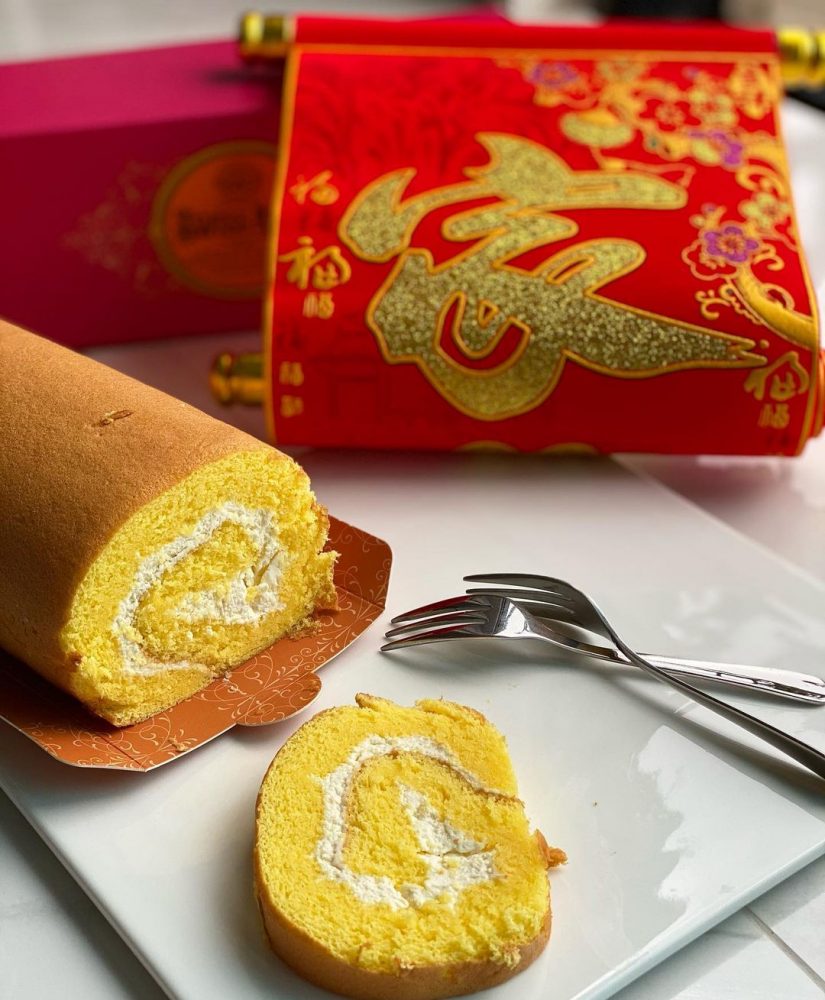 Image credit: @makeyourcaloriescount
Old Seng Choong has a series of inventive festive treats for CNY. If you're a hae bee hiam fan, try their less spicy Crispy Har Lok Cookies ($20.20), which uses fried dried shrimp for umami. Chicken floss fans can turn to their savoury and salty Marmite Chicken Floss Cookies ($20.20), while bak kwa lovers can try their Charred Gold Bak Kwa Pineapple Tart ($39). For a sure crowd-pleaser, try their Yuzu Swiss Roll ($27), with a pillowy, citrus-perfumed sponge and light cream. 
Get these at the Old Seng Choong outlets in Clarke Quay or The Shoppes at Marina Bay Sands, or on their online store via the website below. Delivery is a flat $10 fee, though it is free if you spend above $80.
Website
Full list of locations
---
6. Ah Mah Homemade Cakes 
---
Image credit: Ah Mah's Homemade Cakes
Ah Mah's Homemade Cakes may be known for their Castella cakes, but this CNY, they have released adorable Moo Moo Cookies ($15.80 per bottle) shaped like ox heads for snacking. These are actually pure butter pineapple tarts, and are sold with accompanying butter cookies shaped in clovers and hearts. 
Get these at Ah Mah's outlets in VivoCity and Paya Lebar Square, or online at their website below. Get free delivery if you purchase above $80!
Website | Full list of locations
---
7. The Marmalade Pantry 
---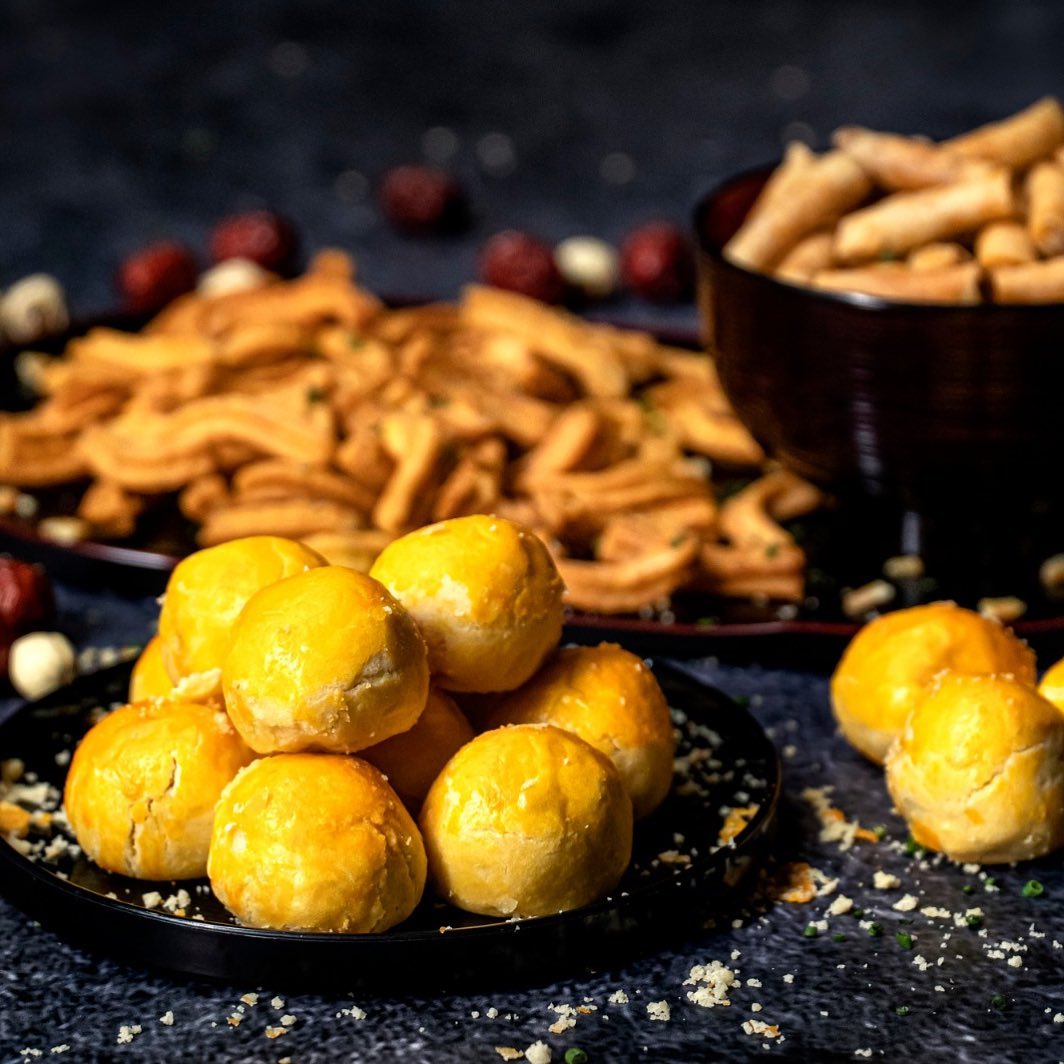 Image credit: @themarmaladepantry
Lazy entertainers, have no shame, as The Marmalade Pantry has you covered with their curated selection of CNY goodies, sold in sets that mix-and-match different treats. Stick to the staples with The Traditional Classics ($60+), which comes with a trio of Golden Pineapple Tarts, Sambal Shrimp Rolls, and Honey Mustard Roast Crackers in a gift bag. For a bigger range, get The Signature Collection ($80+), which includes their Traditional Petite Chicken Bak Kwa too.
Get them online or pre-order them for store pick-up. Do note that there's a delivery surcharge of $10 from 10 to 14 February, so you might want to order in advance via the website below.
Website
Full list of locations
---
8. Janice Wong 
---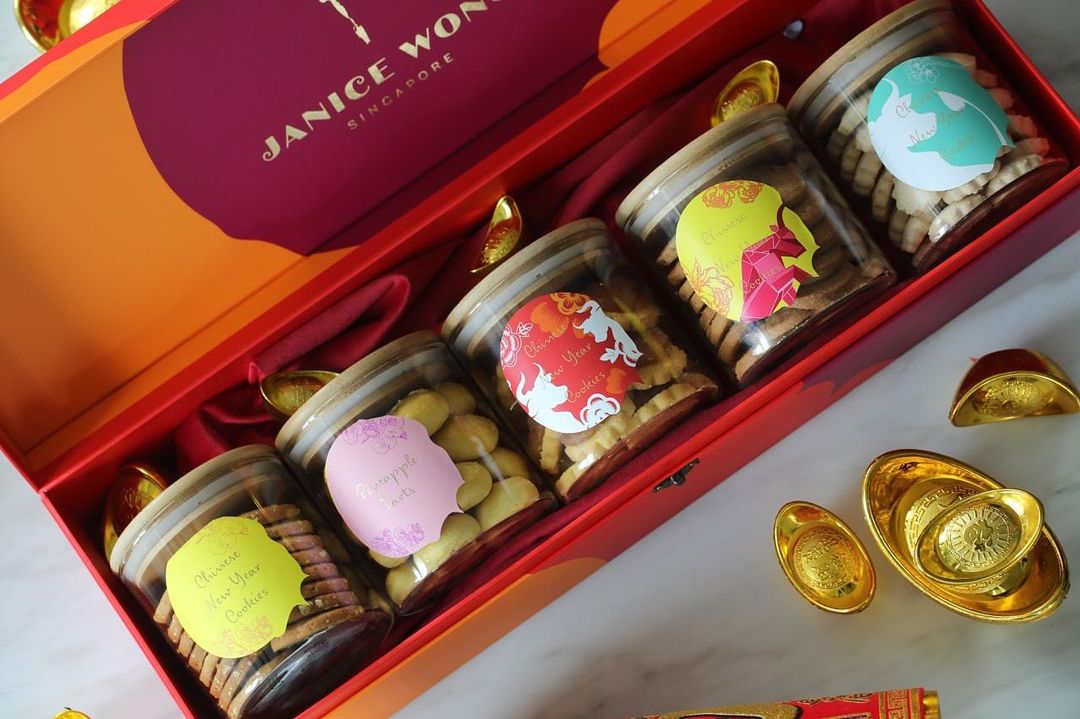 Image credit: @janicewongsg
Janice Wong has fancy twists on your favourite CNY goodies this year. Choose from bites like Love Letters & Hazelnut Dip ($35) featuring a creamy, housemade hazelnut sauce and Dark Chocolate Pineapple Tarts ($32) to satisfy your sweet tooth. Also, if you really want to impress your guests, get edible art in the form of her Chocolate Koi centrepieces. Prices start from $55 for three small fishes, which are made with premium dark chocolate covering a praline and candied orange core. 
Order via the website below before 12 February. Islandwide delivery is available for $10.70.
---
9. Bo Tart 
---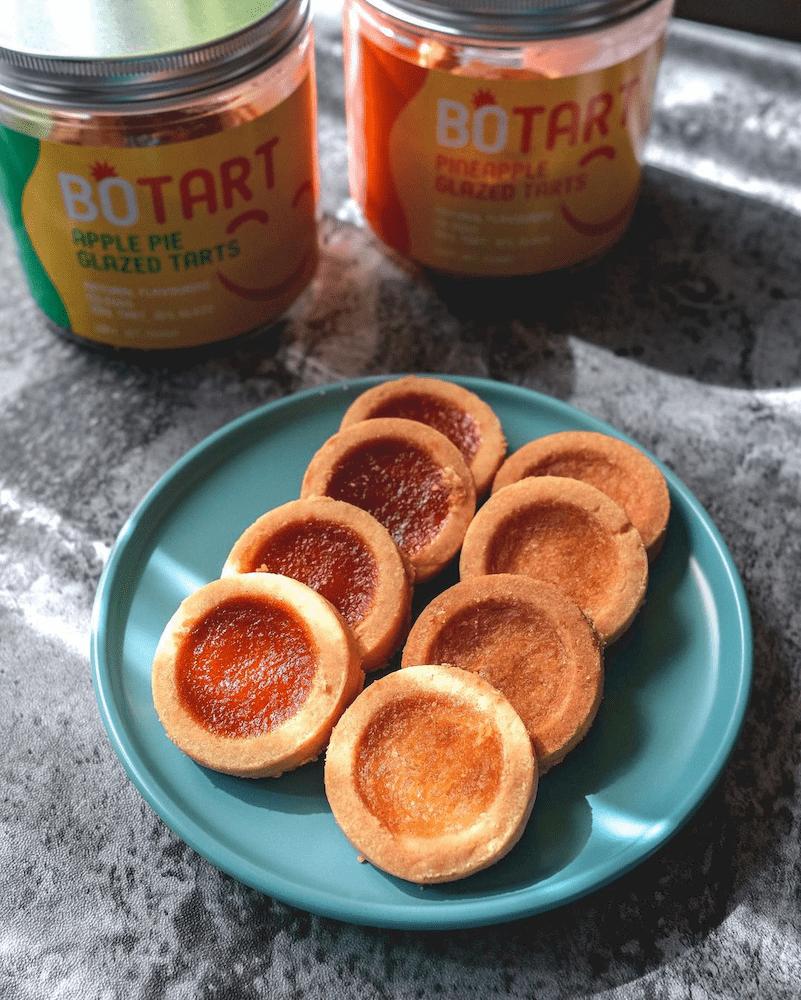 Image credit: @prettyflavorsonly
Shoutout to those who enjoy eating the buttery crust of a pineapple tart but not the jam. Bo Tart has got your back with their Pineapple Glazed Huatarts ($18.30), made of 10% pineapple jam, and 90% buttery crust. If you're truly extreme about your dislike of jam, they even have Pineapple-less Money Huatarts ($16.70), entirely plain, super buttery biscuits. 
Order via their website below, and get free delivery when you spend above $100. Alternatively, delivery starts at $8.
---
10. Kele
---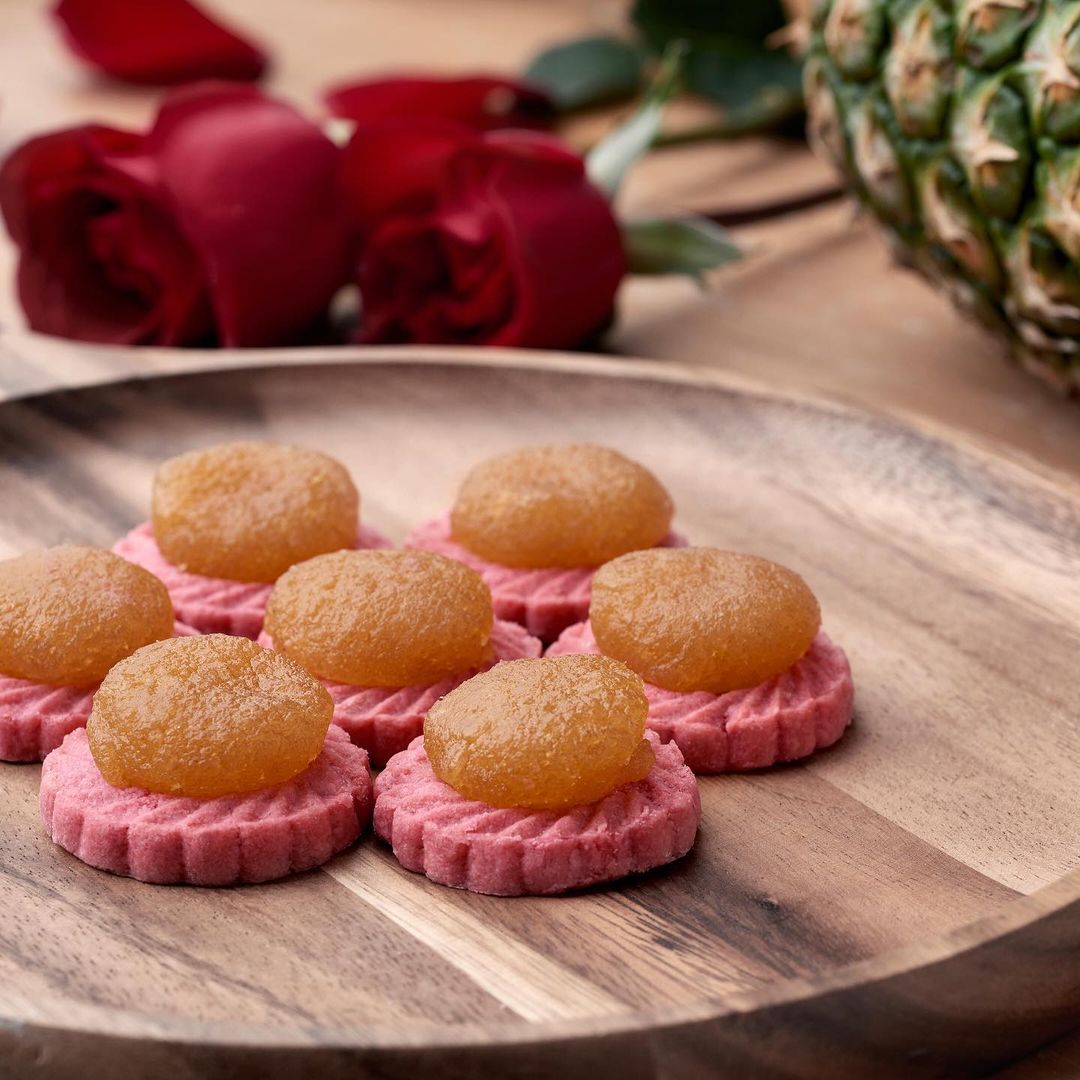 Image credit: @kele_sg
Impress your guests with flavoured XL pineapple tarts from Kele. These open-faced whoppers are found with Matcha, Rose, or Sweet Potato crusts for $32.80 per 700g tin, or as pineapple balls. The latter comes in Cheese ($32.80), Cocoa ($29.80), or Jade ($29.80)—a pandan-flavoured tart. Alternatively, Kele also sells traditional snacks such as hae bee hiam rolls, love letters, and more.
A minimum order of $100 is needed for delivery. You can also pick these up in-stores at any of Kele's outlets.
Website | Full list of locations
---
Where to get CNY goodies this 2021
---
From pineapple tarts in novel flavours to traditional biscuits, we've charted 10 places in Singapore to get your CNY goodies fix. For more CNY-related promotions, check out the Crystal Jade reunion dinner promotions, with up to 20% takeaways.
Crystal Jade Has CNY Deals Including Free Abalone And Up To 20% Off Reunion Dinner
This post is brought to you by Ding Bakery and Pineappletarts.com.
Photos taken by Chew Yi En, Nur Syamira, Lim An, and Muhammad Hafiq.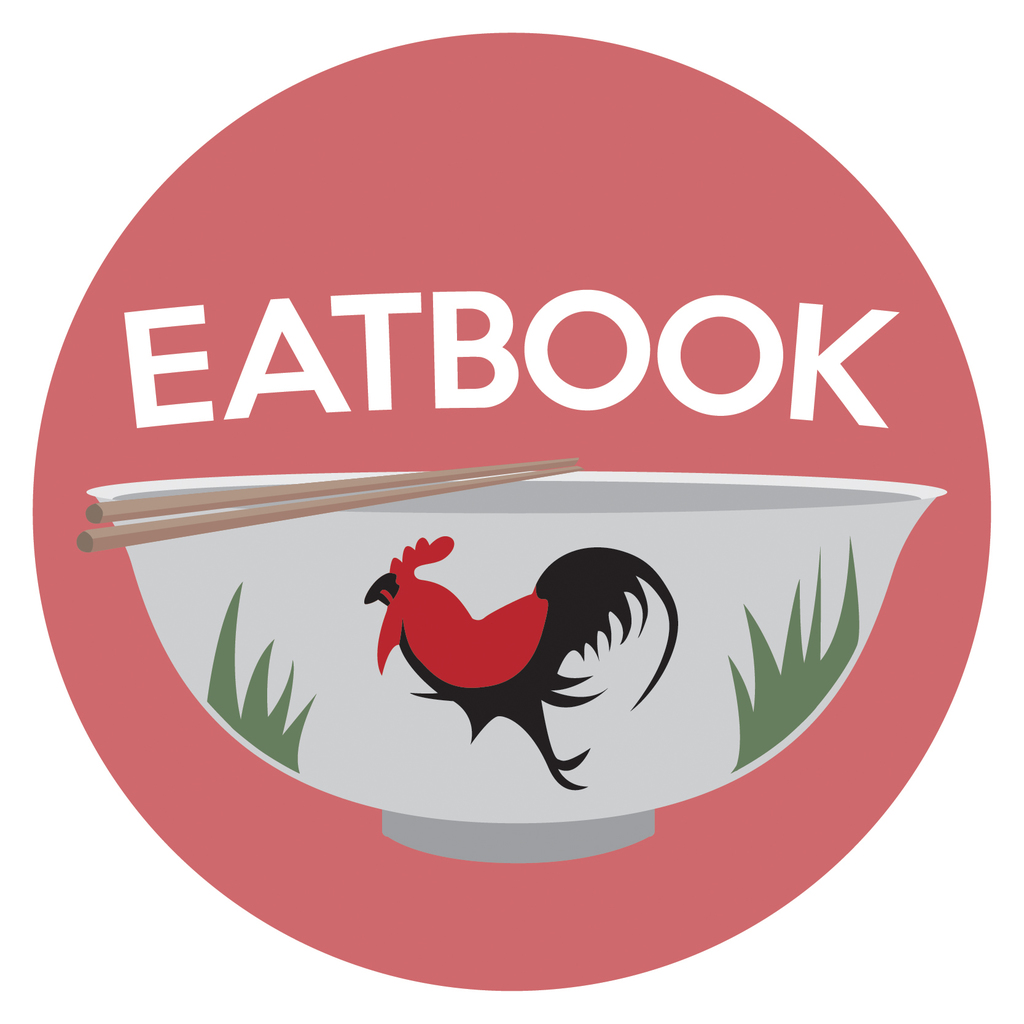 Drop us your email so you won't miss the latest news.