---
Chinese new year goodies and snacks 2022
---
Chinese New Year looms, and if you haven't yet got CNY snacks and goodies to tide you over the bai nian period, look no further than our guide. We've rounded up some of the best CNY snack shops around Singapore to get your hands on bites like kueh. bangkit, pineapple tarts, have bee hiam rolls, love letters and more!
---
1. Ding Bakery
---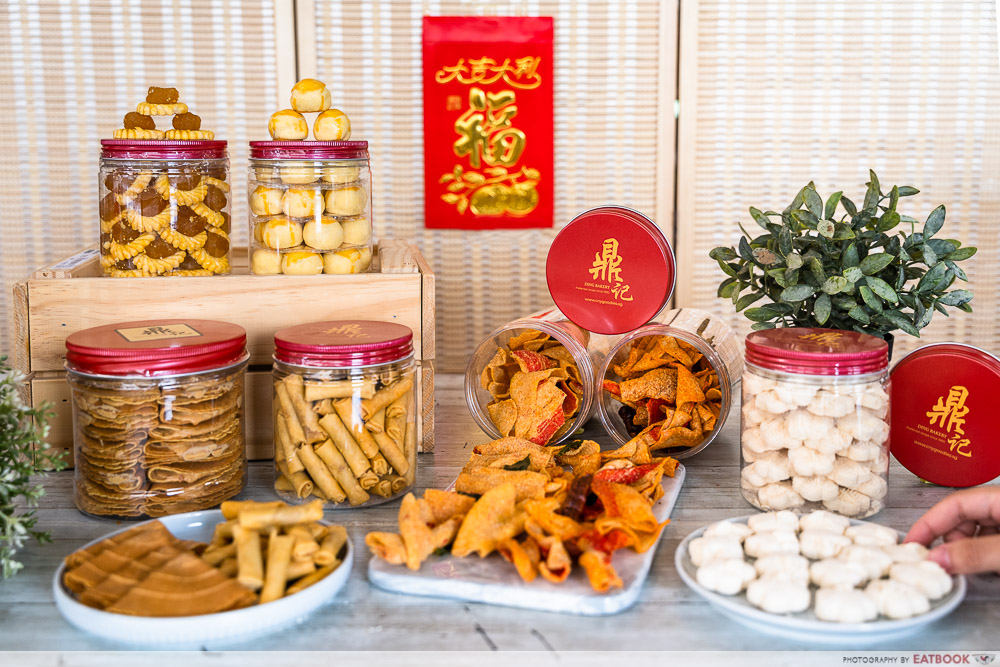 Ding Bakery offers a wide selection of CNY goodies that are all handmade, with zero preservatives. All their recipes have won awards too. Try their acclaimed Award-winning Melt-In-Your-Mouth Pineapple Balls ($22.90, U.P. 38.20), made with premium butter. Each delicious ball literally melts in your mouth with each bite, revealing the sweet, pineapple centre.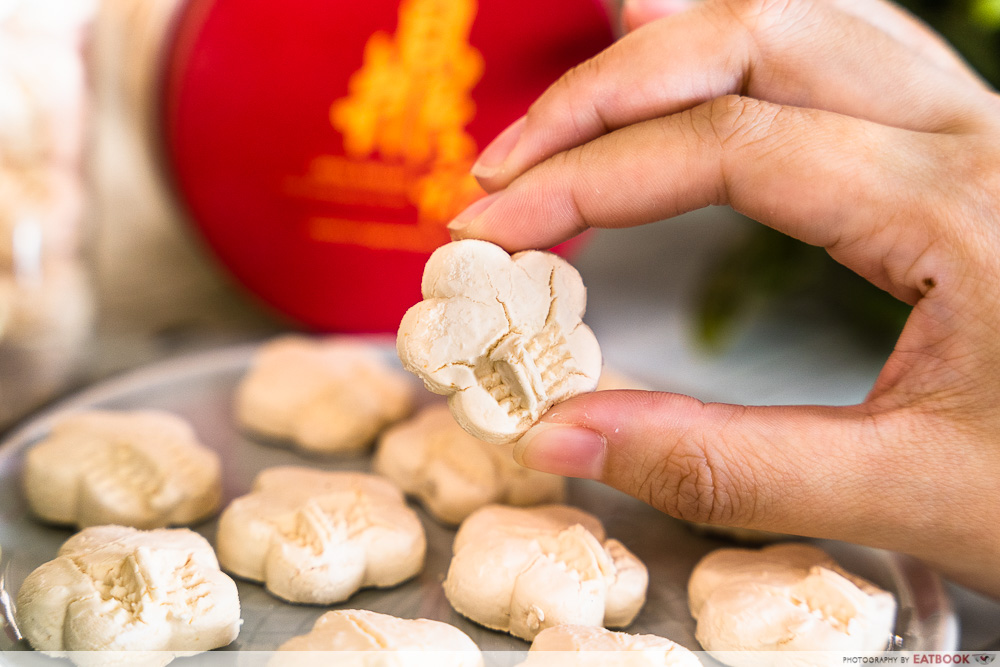 Apart from their delicious pineapple tarts, Ding Bakery has many other CNY snacks not to be missed as well. Each is handcrafted with utmost care, so you know you're getting the good stuff. Get their Award-winning Melt-In-Your-Mouth Kueh Bangkit ($18.90, U.P. $30.35), prepared with high quality coconut cream and tapioca flour. This is also available in flavours such as Pandan ($20.90, U.P. $35.35), and Gula Melaka ($19.90, U.P. $33.20). If you prefer something spicy, try their Premium Hae Bee Hiam Rolls ($17.90, U.P. $29.80). These are crunchy, with an addictive sambal and prawn paste middle—you can't stop at one!
Delivery is free over $100. Order via the Ding Bakery website.
---
2. Baker's Brew 
---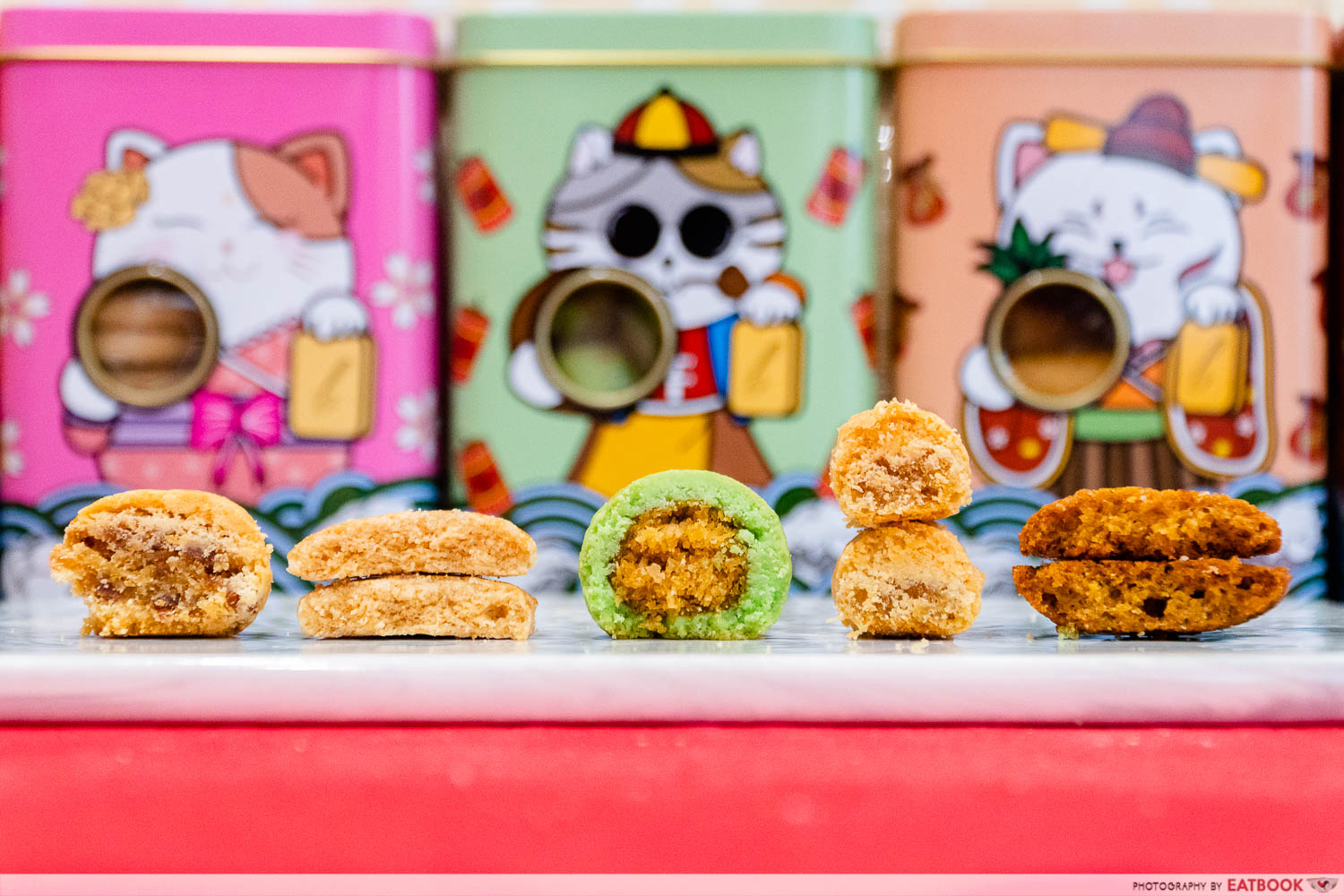 Baker's Brew has released a series of CNY snacks, both new and beloved, all housed in collectable tins with graphic Fortune Cat art. We're big fans of their Ondeh Ondeh Cookies ($27.80), which transforms the classic nyonya kueh into snackable biscuits, as well as their savoury-sweet Pineapple Bak Kwa Cookies ($27.80), 
Get your hands on their goods at any Baker's Brew outlet across Singapore or for delivery online.
---
3. Butter Studio 
---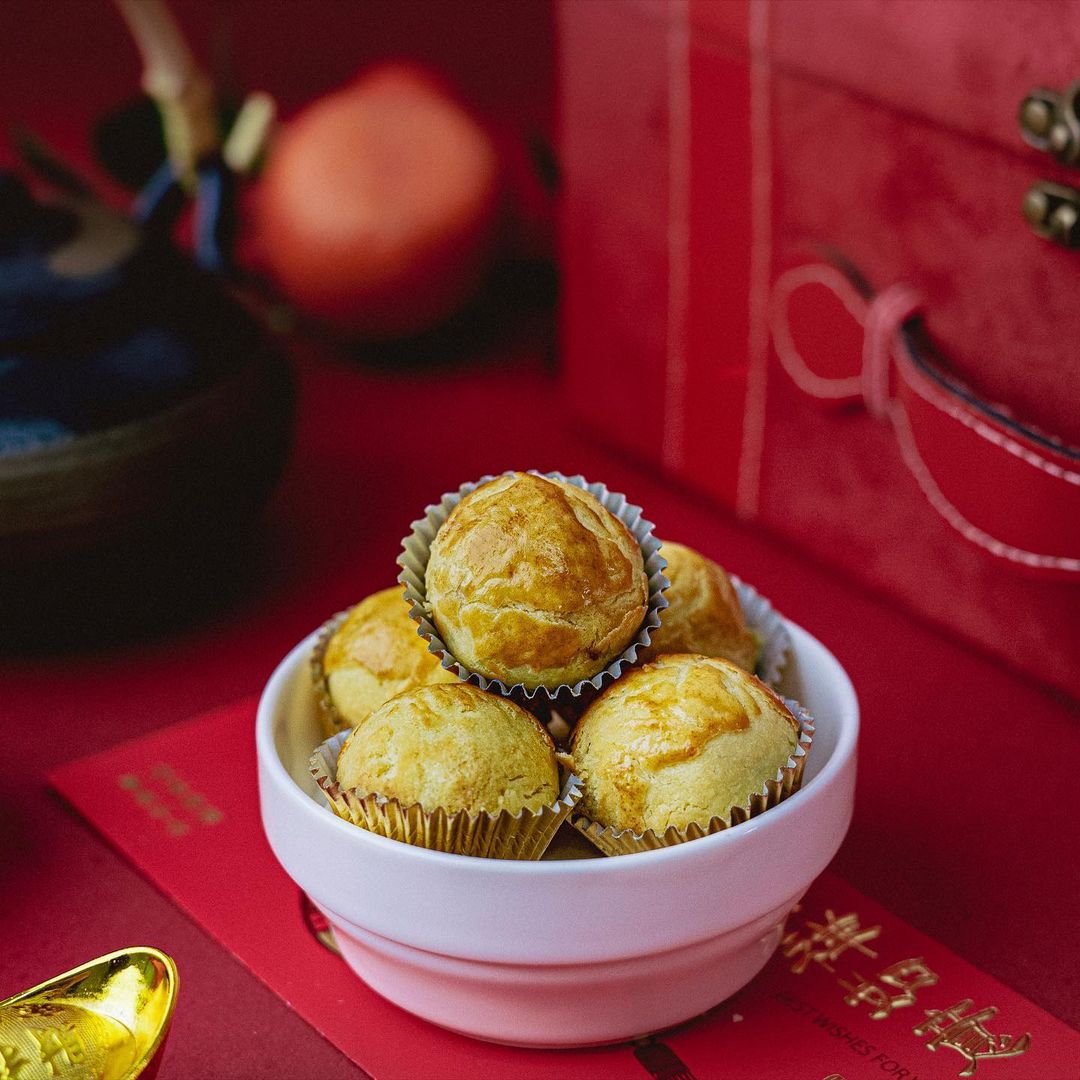 Image credit: @butterstudio
Butter Studio is more known for their halal-certified cupcakes, but the bakery also handmakes a bunch of CNY goodies worth looking out for. If you love pineapple tarts, try their Yuzu Pineapple Tarts ($24.80), made open-faced, with a tangy yuzu jam. For something buttery and savoury, try their Golden Salted Egg ($22.80), where butter cookies are topped with a glob of salted egg custard—think liu sha bao with a crunch.
They're also making cakes, cupcakes, and snack platters available for CNY as well if you can't pick just one thing. Order on their website or get your hands on the snacks at Butter Studio eateries islandwide.
---
4. Zee & Elle
---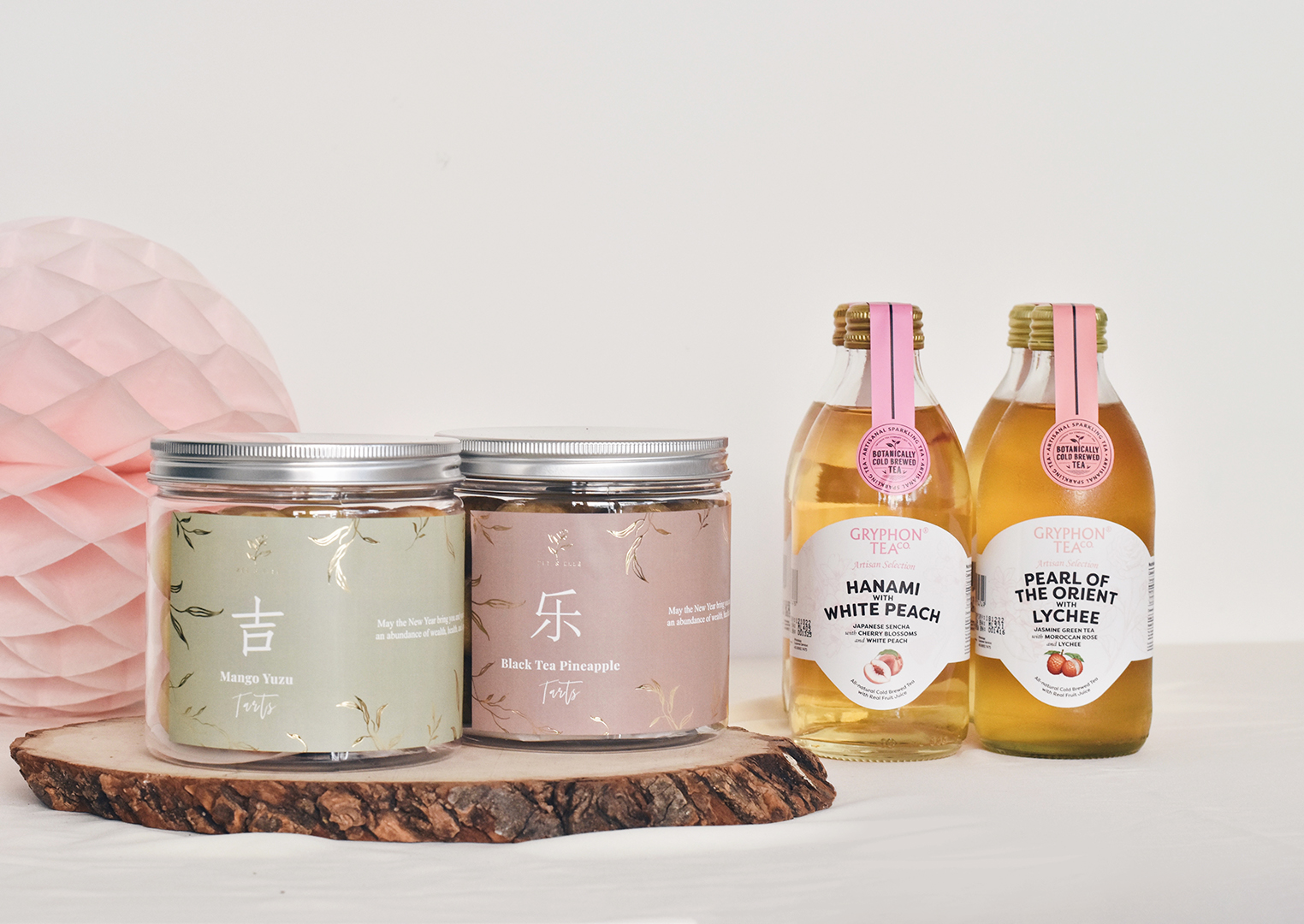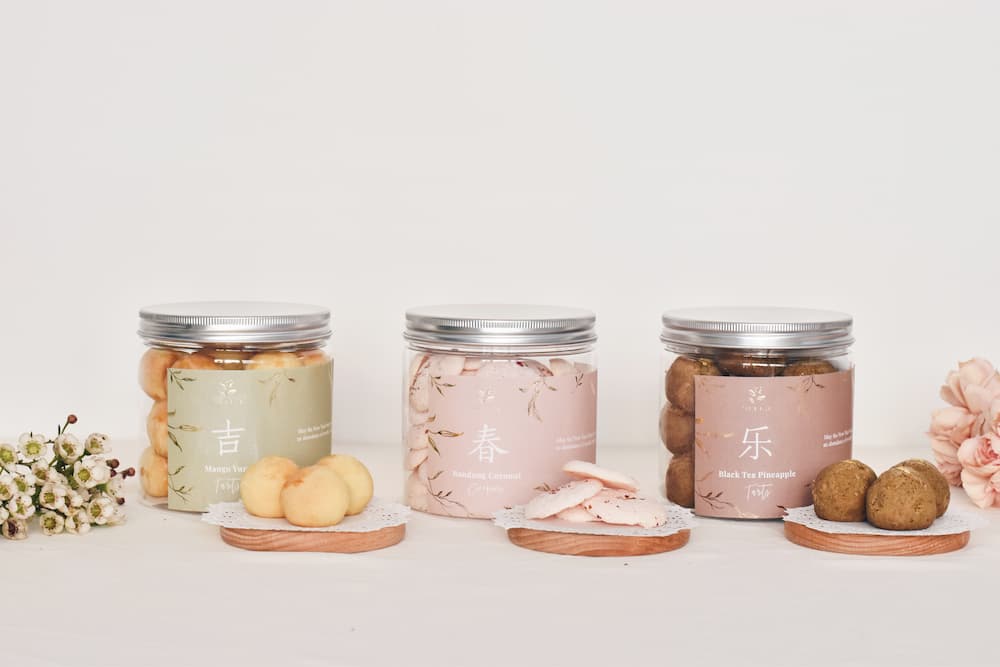 Image credit: Zee & Elle
Those on the hunt for unique CNY goodies that stand out from the crowd can turn to Zee & Elle. The leading online cakery in Singapore has branched out into handmade CNY goodies this festive season, launching bites with unique flavours sure to wow.
Pineapple tart lovers should try the Black Tea Pineapple Tarts ($32.90), a buttery soft tart made with an earl grey black tea-infused dough for a bit of smoky depth. Otherwise, change it up by trying the ultra tropical Mango Yuzu Tarts ($32.90), where handcrafted mango jam is made zingy thanks to the Japanese citrus. Fans of floral flavours can order the Bandung Coconut Cookies ($27.80), which literally melt in your mouth with every bite, revealing delicate undertones of rose.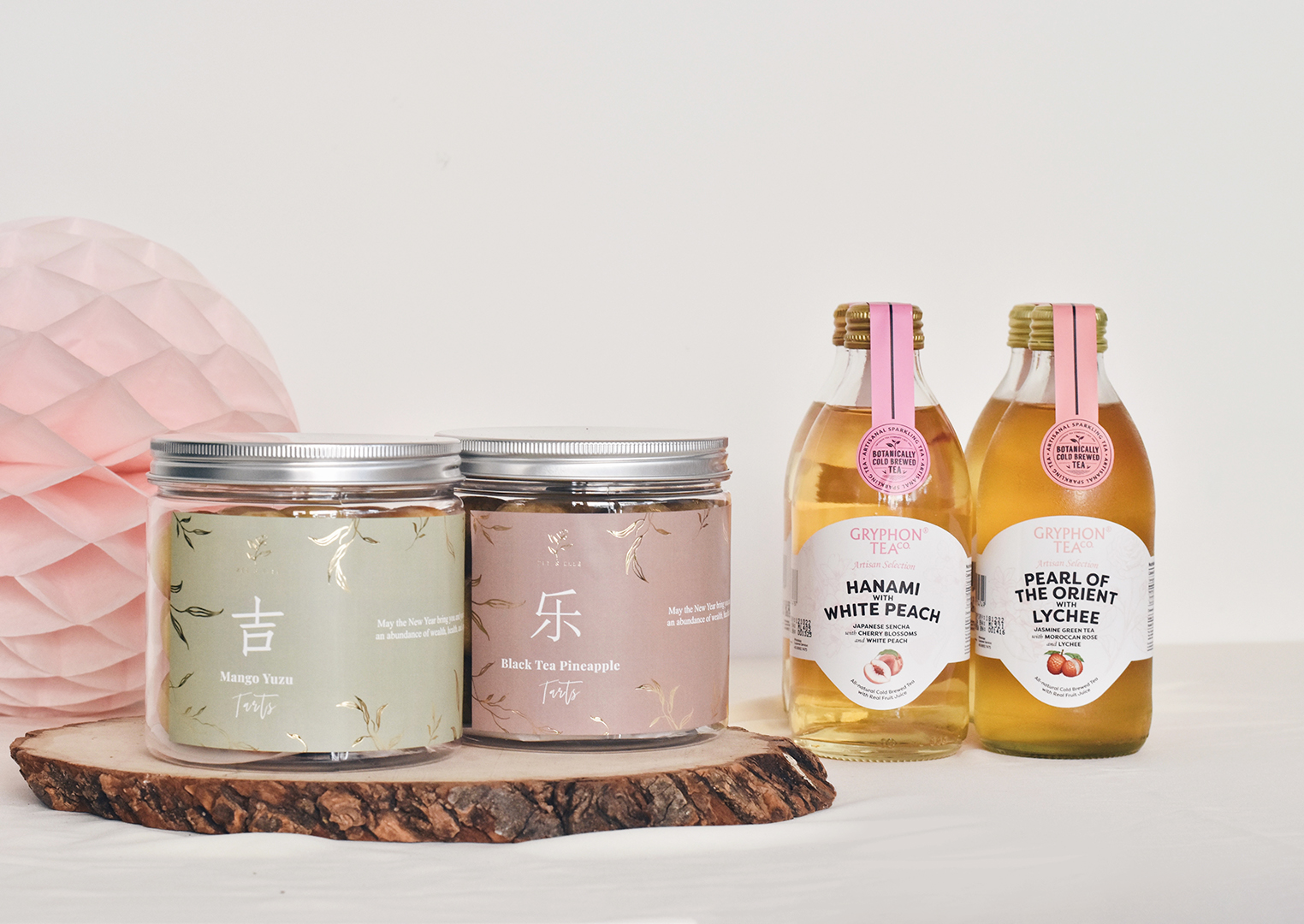 Image credit: Zee & Elle
No preservatives, pork, lard, or alcohol is used in their bakes too. For now, get 10% off when you purchase their Mango Yuzu & Black Tea Pineapple Tarts together with four Gryphon Tea Co. Botanically Cold Brewed Sparkling Tea bottles, usually priced at $89!
Order via their website below.
---
4. Kele 
---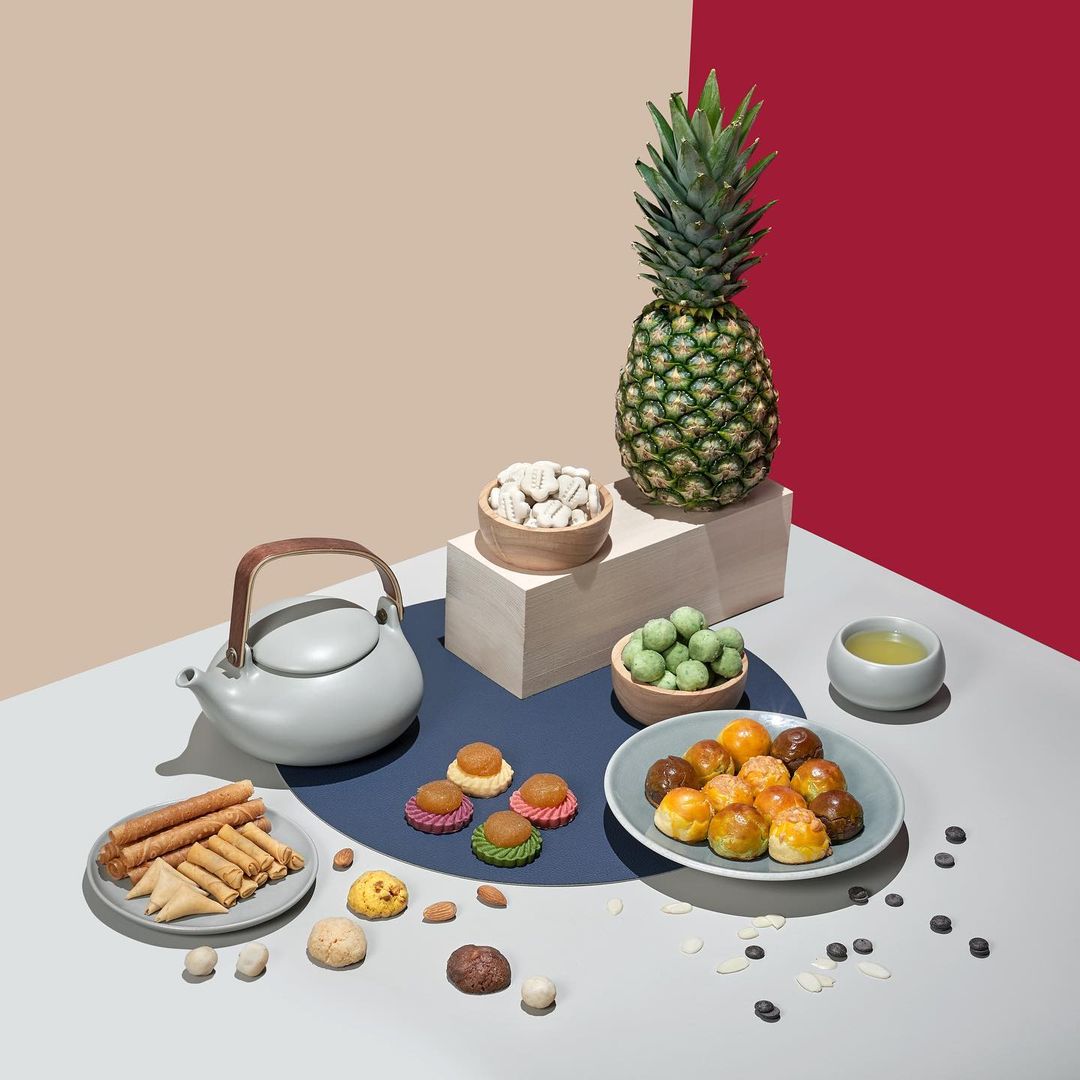 Image credit: @kele_sg
Kele's pineapple tarts sell out like hot cakes each Chinese New Year, but don't overlook their other CNY goodies too. They make tasty, snackable savouries and sweet cookies. Try the Shiitake Mushroom Chips ($38.80) dusted with a touch of salt—these are healthy and addictive to munch on. Another popular option is their Chicken Floss Rolls ($23.80), where love letter-style biscuits are folded over crisp chicken floss.
Place your orders via the Kele order form.
---
5. Seriously Keto
---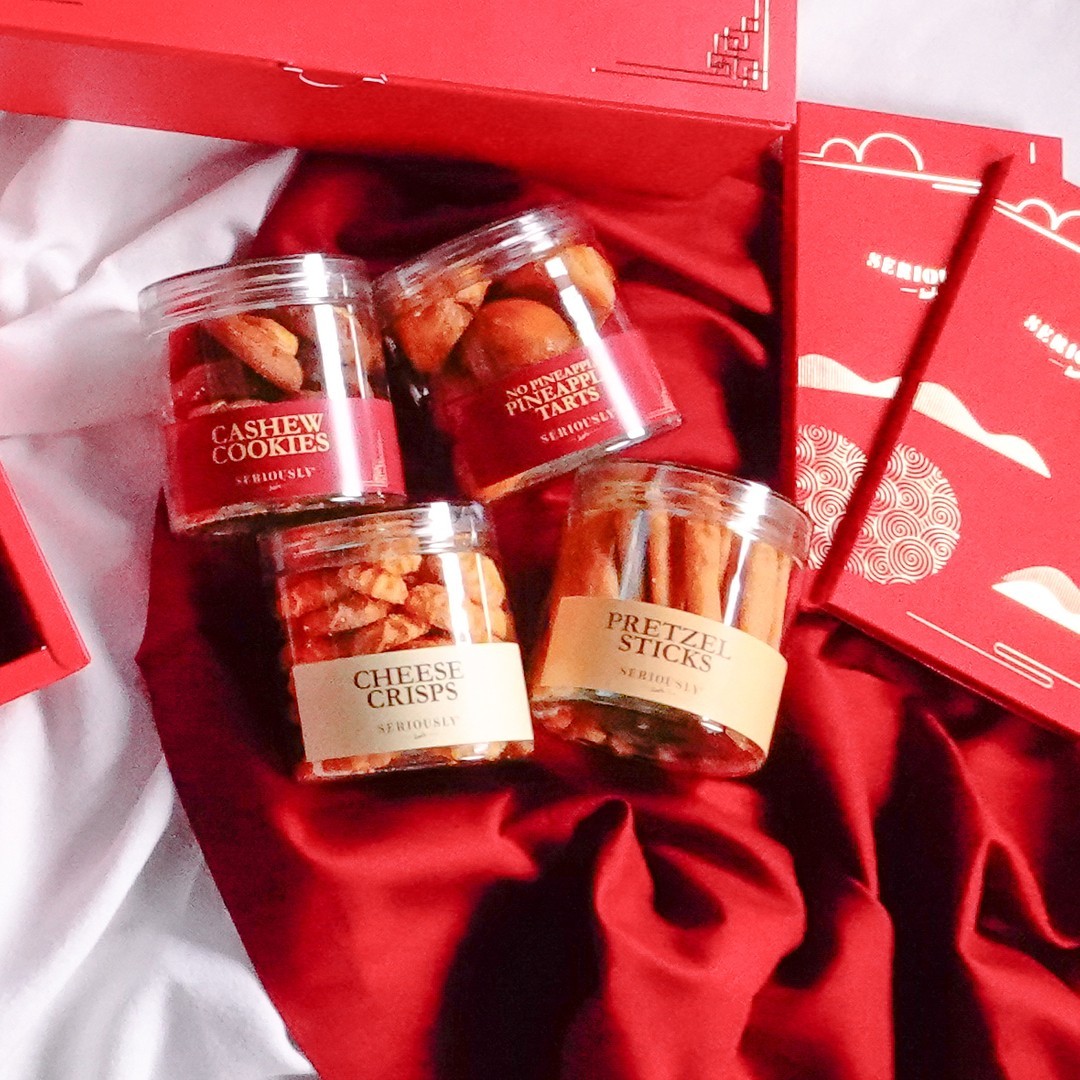 Image credit: @seriouslyketo
CNY goodies get a bad rep of being unhealthy, so if you're counting calories, get your snacks from Seriously Keto. The brand is offering a range of low card treats made with healthy ingredients, so look out for the likes of their moreish Cashew Cookies ($11.80), prepared with almond flour and roast cashews, or their No Pineapple Pineapple Tarts ($18.80), made with wintermelon filling. If that sounds sacrilegious to you, it's purported to taste the same as pineapple, albeit with lesser calories.
Place your orders on their website or head down to their outlet to get your snacks in person.
Address: 32 Seah Street, Singapore 188388
Opening hours: Daily 10:30am to 6:30pm
Website
---
6. Bread Garden 
---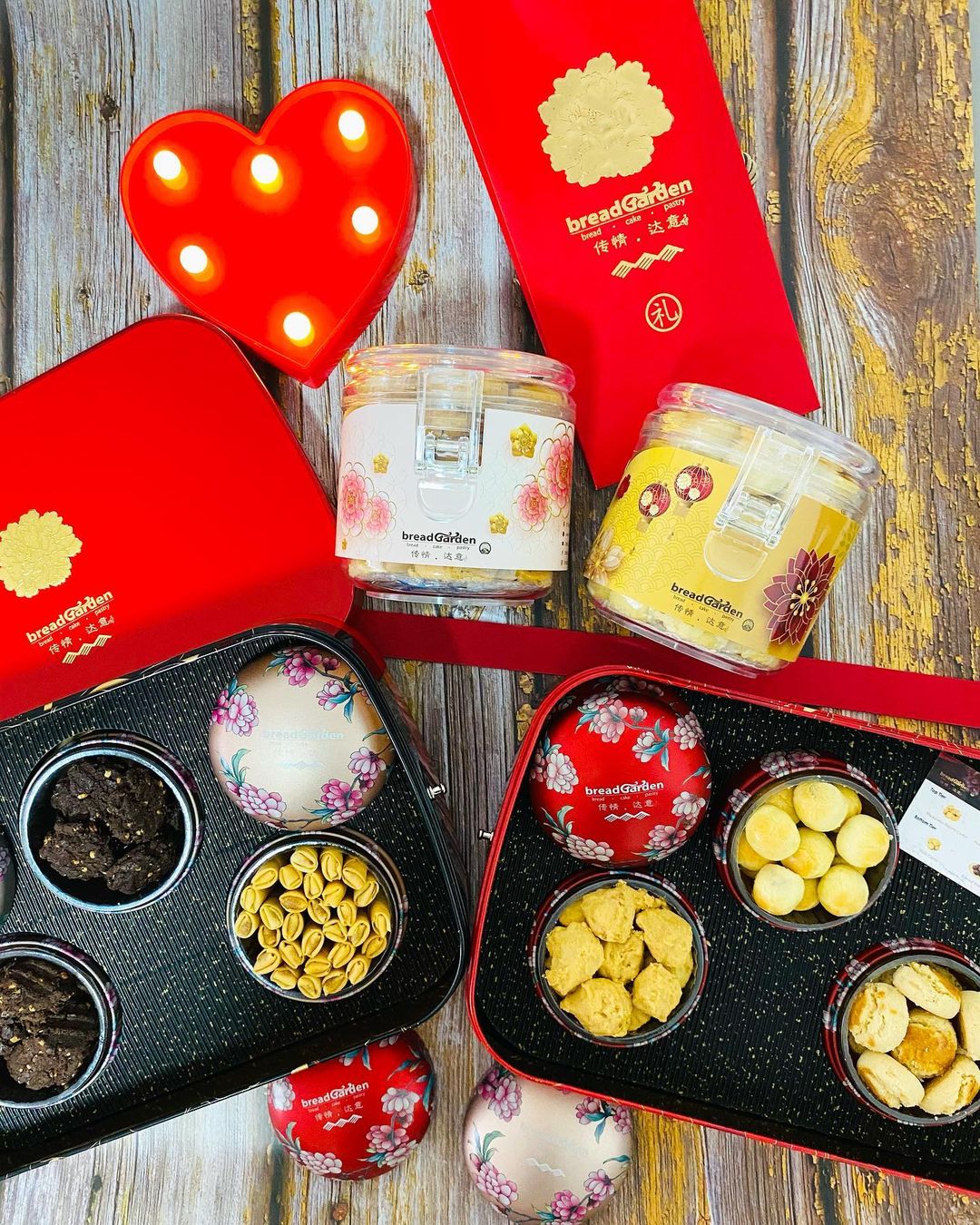 Image credit: @alyssachongyt
Bring your morning kopi to the bai nian table with Bread Garden's Kopi Gao Siew Dai ($22.80), which are like butter cookies with a pronounced whiff of robusta coffee. They also have plenty of other snacks to try, so keep an eye out for their addictive Spicy Crab Sticks ($19.80), which are handmade and fried to crispy ends, and their BBQ Rolls ($22.80), which are like rolled up potato chips fried and dusted with Cajun seasoning.
Place your orders online, or head down to their outlets to get the snacks. Do note Bread Garden is mostly located in the North.
---
7. Gin Thye 
---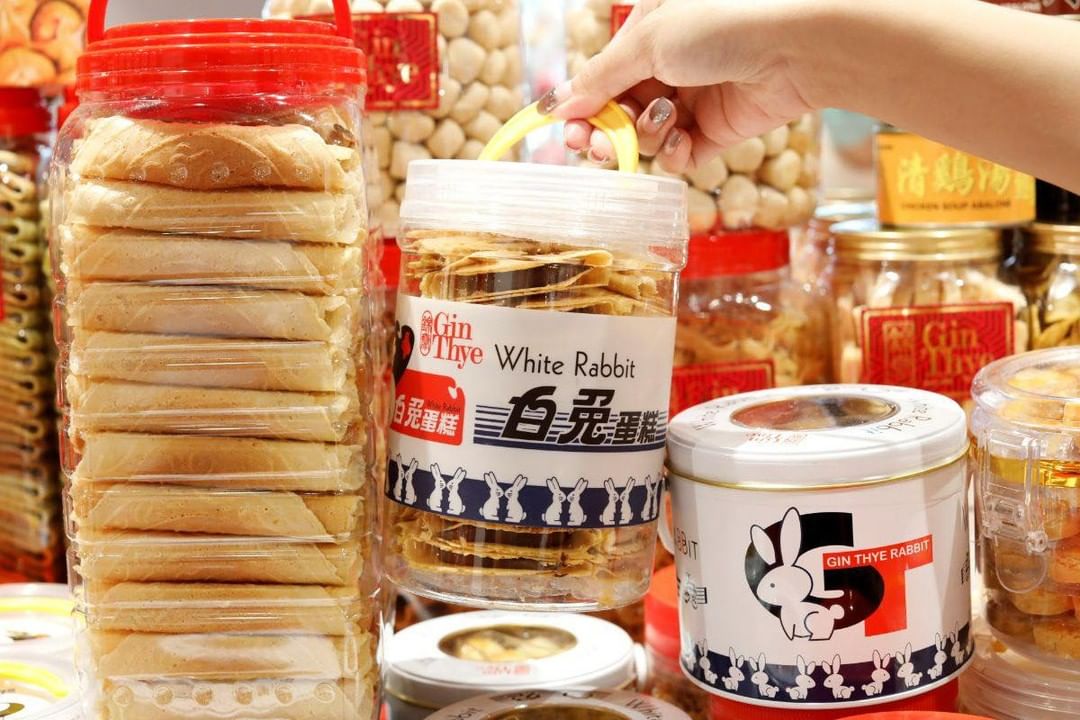 Image credit: @ginthyesg
Gin Thye offers a bunch of fairly unique Chinese New Year snacks, especially its White Rabbit series. This year, they're selling White Rabbit Mixed Nut Snacks from $15, where you get a healthy medley of almonds, cashews, walnuts, and peanuts, along with bits of creamy white rabbit candy. Also worth giving a try is their Pineapple Bak Kwa (from $13), available in original or spicy flavours. This snack offers all the smoky goodness of bak kwa, but with a honeyed, pineapple sweetness.
Get your hands on Gin Thye's bakes at select supermarkets or via their website below.
---
8. Golden Duck 
---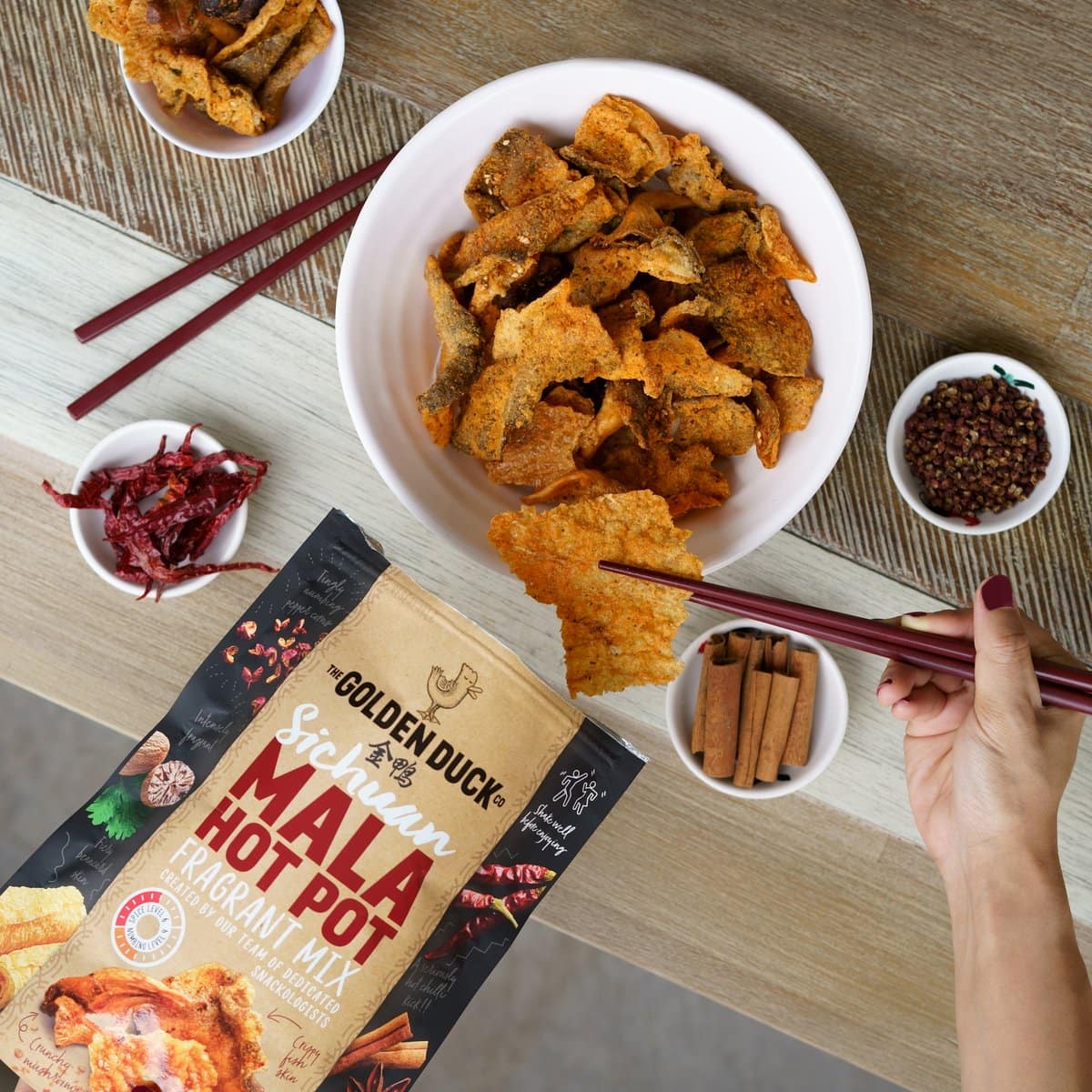 Image credit: @thegoldenduck.sg
Salted egg yolk snacks have become a staple on CNY tables, so turn to Golden Duck for your fix. They have snack boxes with a variety of salted egg goodies, from chips to fish skin, and even salted egg crab. Atop of this, they have collaborated with Paradise Group to create two new snacks inspired by the festive period, Yu Sheng Fish Skin Crisps and Sweet & Sour Fish Skin Crisps (price TBD). The former is a shoutout to people who only eat the golden crackers in yusheng, while the latter nods to sweet and sour pork. Get these while stocks last on their website!
---
9. Mdm Ling Bakery
---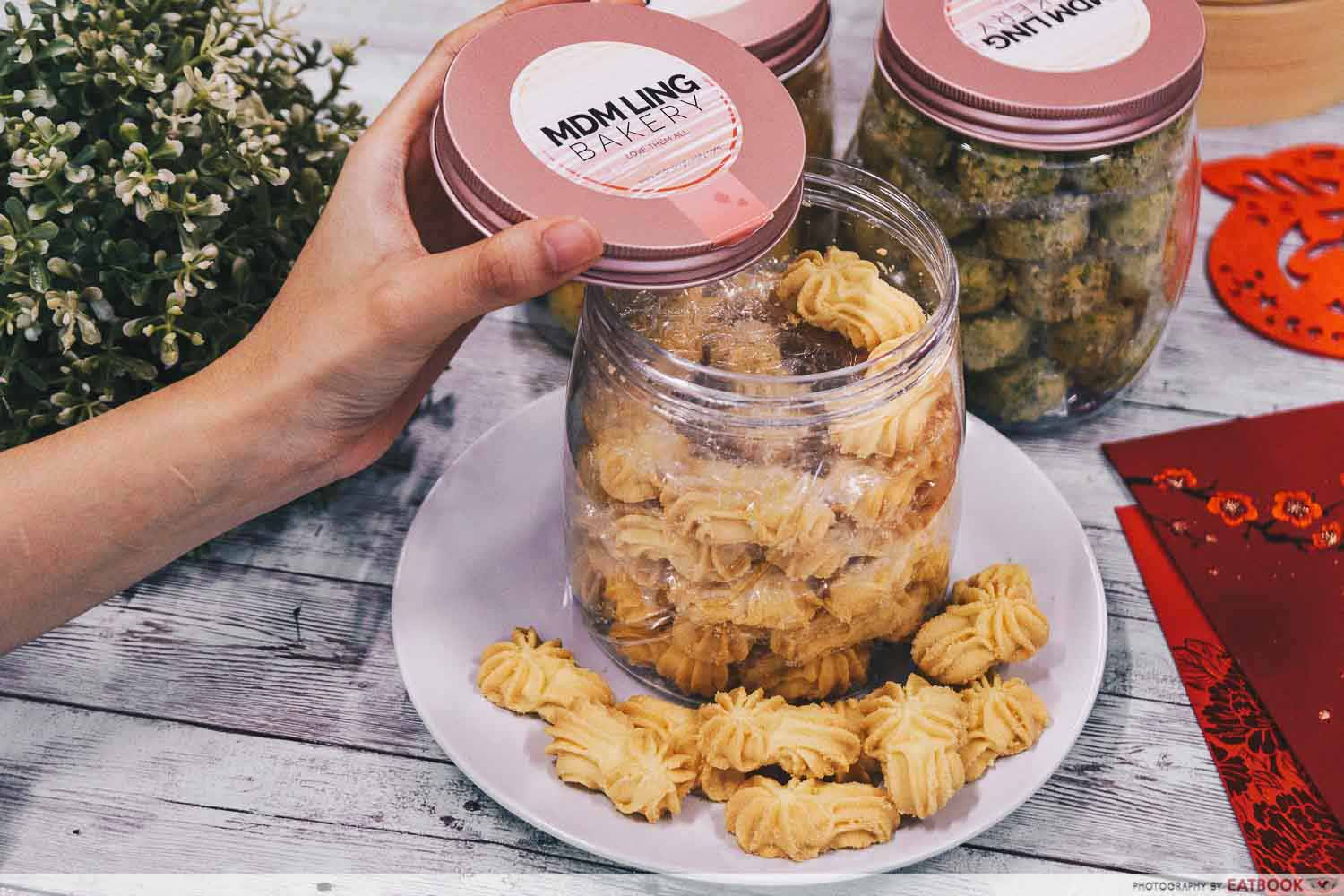 Mdm Ling Bakery is home to one of the largest varieties of CNY snacks there is. Their Pink Himalayan Sea Salt Chocolate Almond Cookies (from $8.90), along with their Red Velvet Cheese Cookies (from $7.90), and Purple Sweet Potato Cookies (from $8.90) all offer something different from the usual CNY array of small bites—great for kids and adults alike. All their goodies are also halal-certified! Spend $45 for free delivery, and get $21 off when you buy six standard-sized goodies via their website below.
---
10. Lek Lim Nyonya Cake
---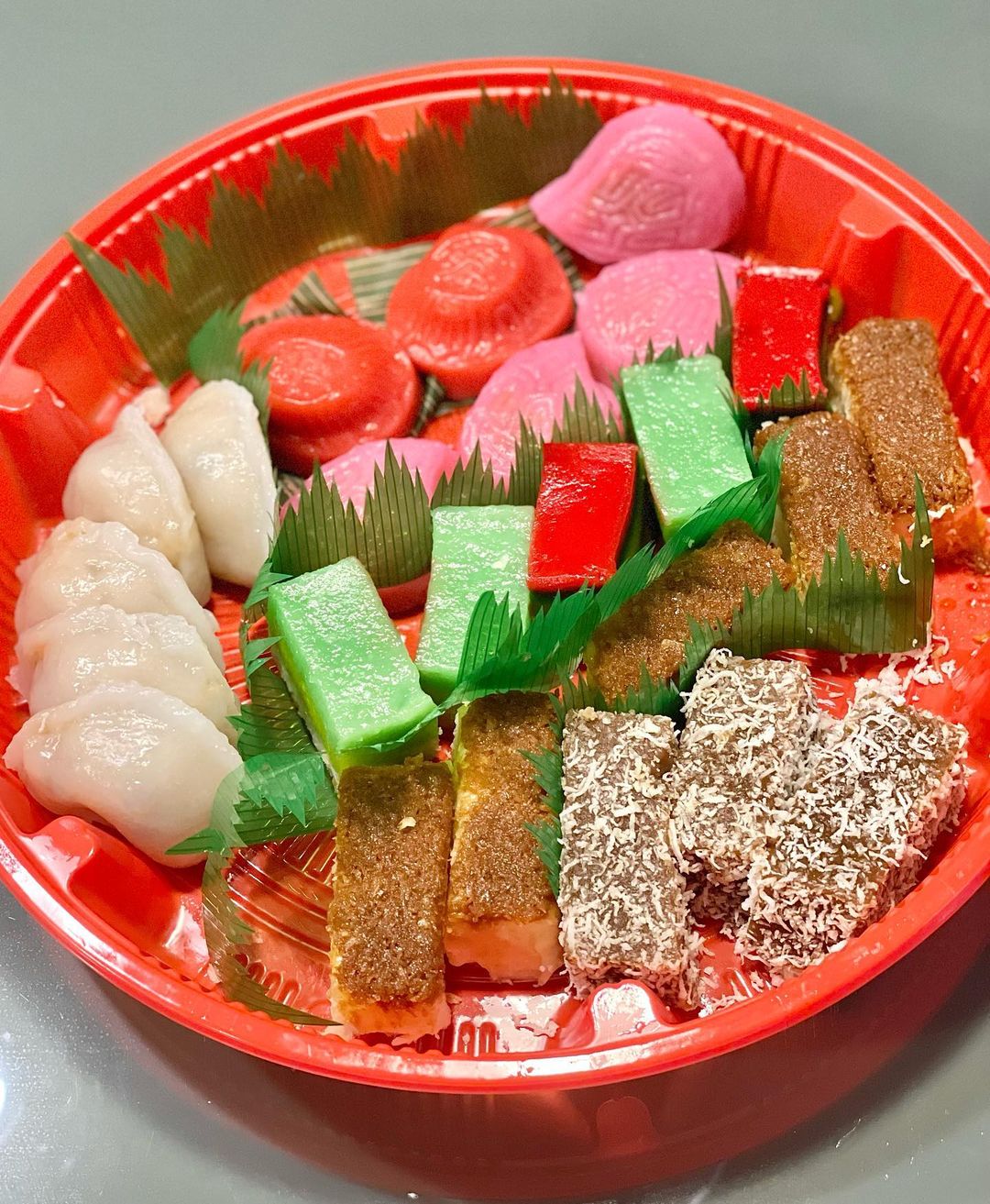 Image credit: @leklimnonyacake
Another halal-certified option for CNY goodies is Lek Lim Nyonya Cake. While most know them as a kueh producer, they also make a range of classic CNY snacks to order. We love their addictive Chiku Chips ($9), but for something sweet, do try their Handmade Love Letters ($15) well as their Kueh Boh Lu ($9). They also have cakes and kueh to order during the festive period if you feel like mixing it up. Order via their website below.
---
Best Chinese New Year goodies 2022 
---
Chinese New Year is the time to feast, and the Year of the Tiger is no exception. Get your hands on these delicious CNY goodies, and while you're at it, check out our guide to the best pineapple tarts in Singapore this year too.
Photos by Chew Yi En.
This post was brought to you by Ding Bakery.