---
Best CNY reunion dinner deals
---
Those who fall in the ang pow-giving, bai nian-hosting crowd for Chinese New Year will understand that the festive period can get a tad taxing for your bank account. As much as it's the season to be huat, you can also try to save money as you kickstart the Year Of The Ox, especially when it comes to CNY reunion dinners. With Citi Cards, there are plenty of discounts to use as you ready to dine with your chosen group of eight, be it at home or at a restaurant.
From 25% off takeaways to discounts on yusheng, here are 10 best CNY reunion dinner deals you can get with a Citi Card.
---
1. Soup Restaurant 
---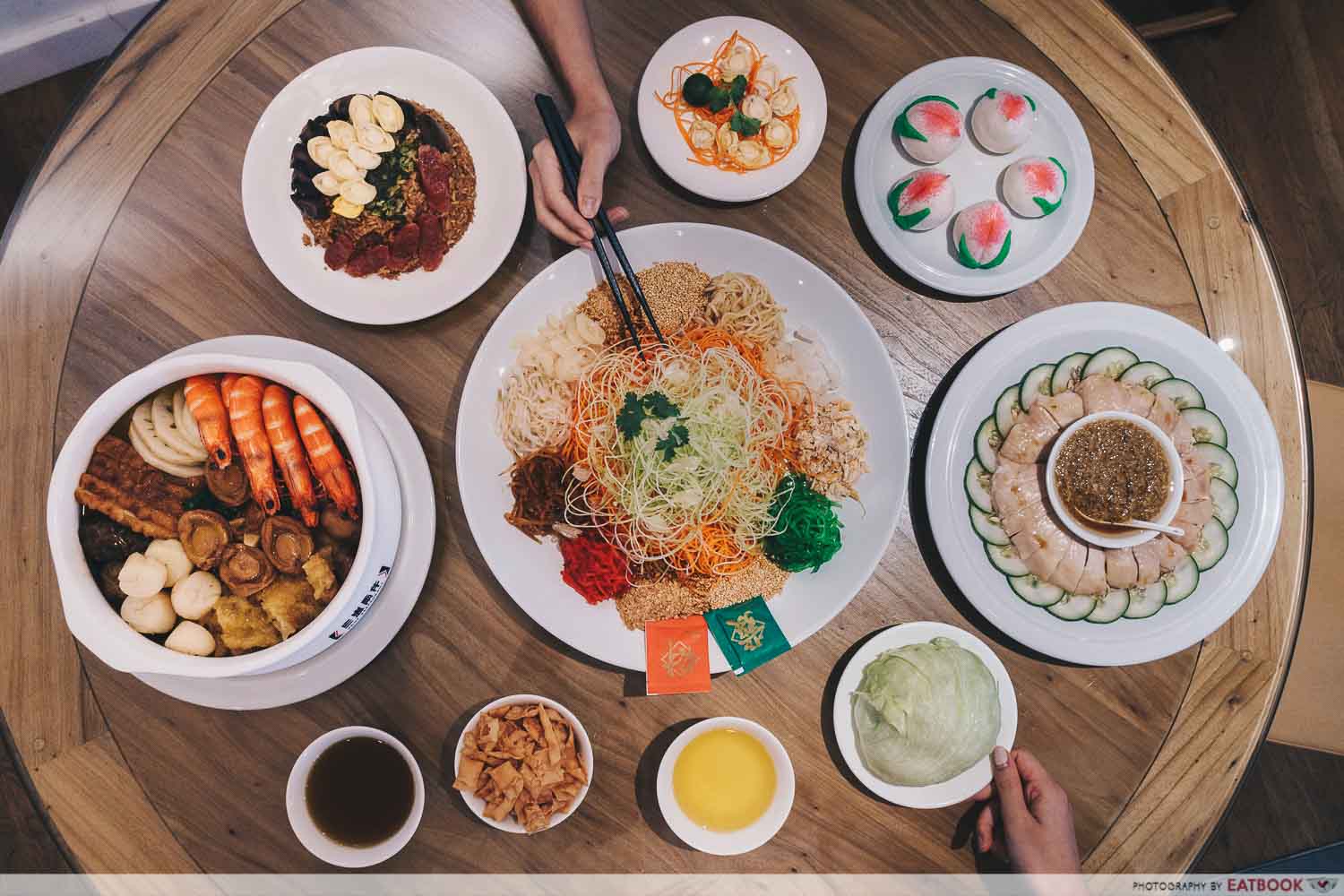 Soup Restaurant is a classic family-friendly dining destination for Chinese food. This CNY, they're offering Citi Cardmembers $20 off their Chinese New Year Set Menus (from $112 for two people). 
Start off your meal with the Baby Abalone Yusheng, served with housemade sauces. Then, dig into their classic Samsui Ginger Chicken, where cold chicken pieces are served with a tangy, fragrant ginger sauce. Get your pencai fix with the Golden Treasure Collagen Pot with Abalone, complete with juicy prawns, abalone, and more seafood.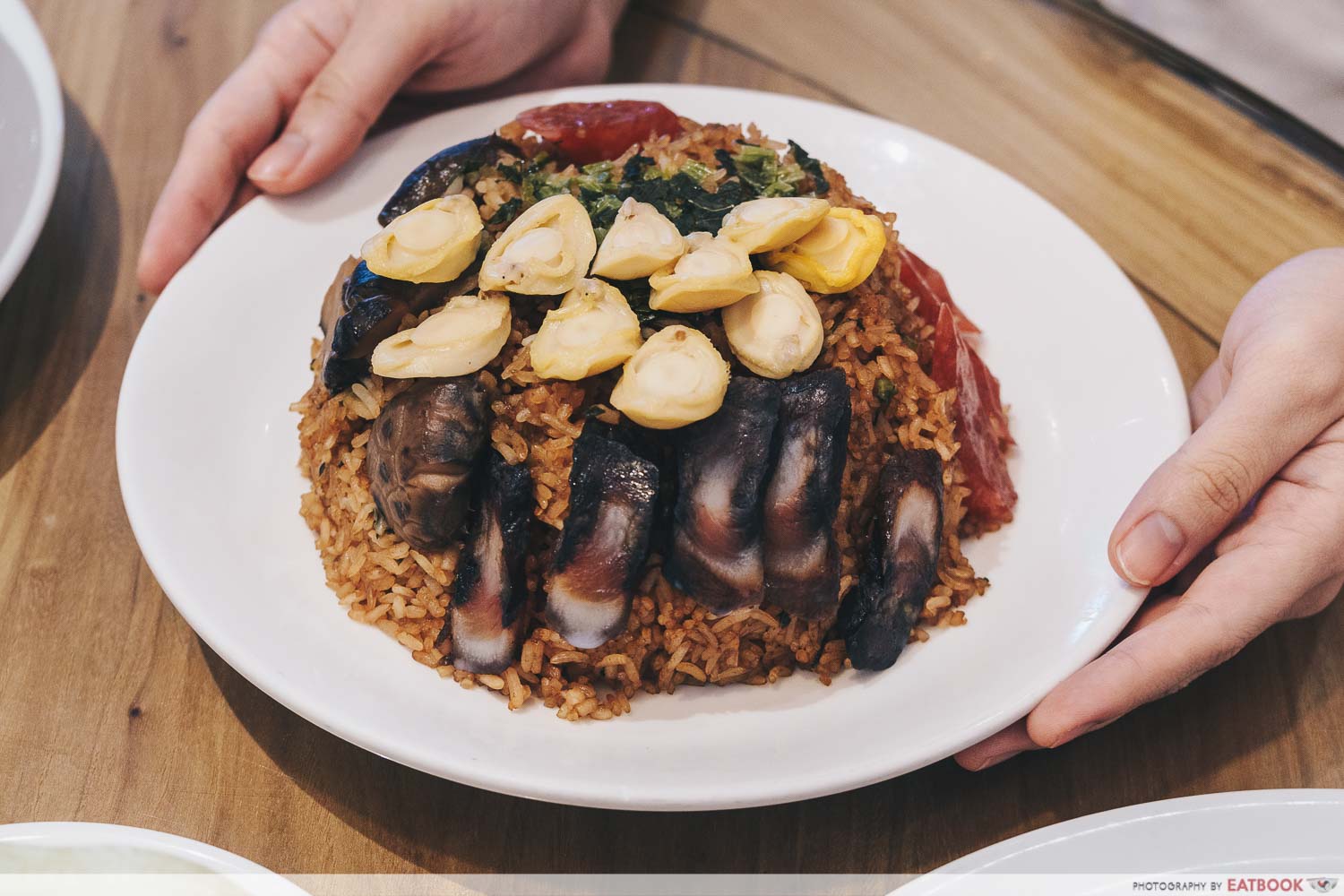 The Traditional Steamed Rice With Baby Abalone & Chinese Sausage is an indulgent take on hor yip fan, with slivers of briny abalone and sausage for texture. To close off the meal, enjoy the Handmade Mini Longevity Buns, filled with a homely lotus paste. Redeem this discount with the code 'CITI10' when you order on the Soup Restaurant online store.
Outside of this deal, Citi Cardmembers can get $10 off their total bill if they choose to dine-in for reunion dinner, with a minimum spend of $80. The $20 off Chinese New Year Set Menus promotion ends on 31 January 2021, and the $10 off total bill with minimum spend promotion ends on 31 March 2021.
Website | Full list of locations
---
2. Beach Road Kitchen
---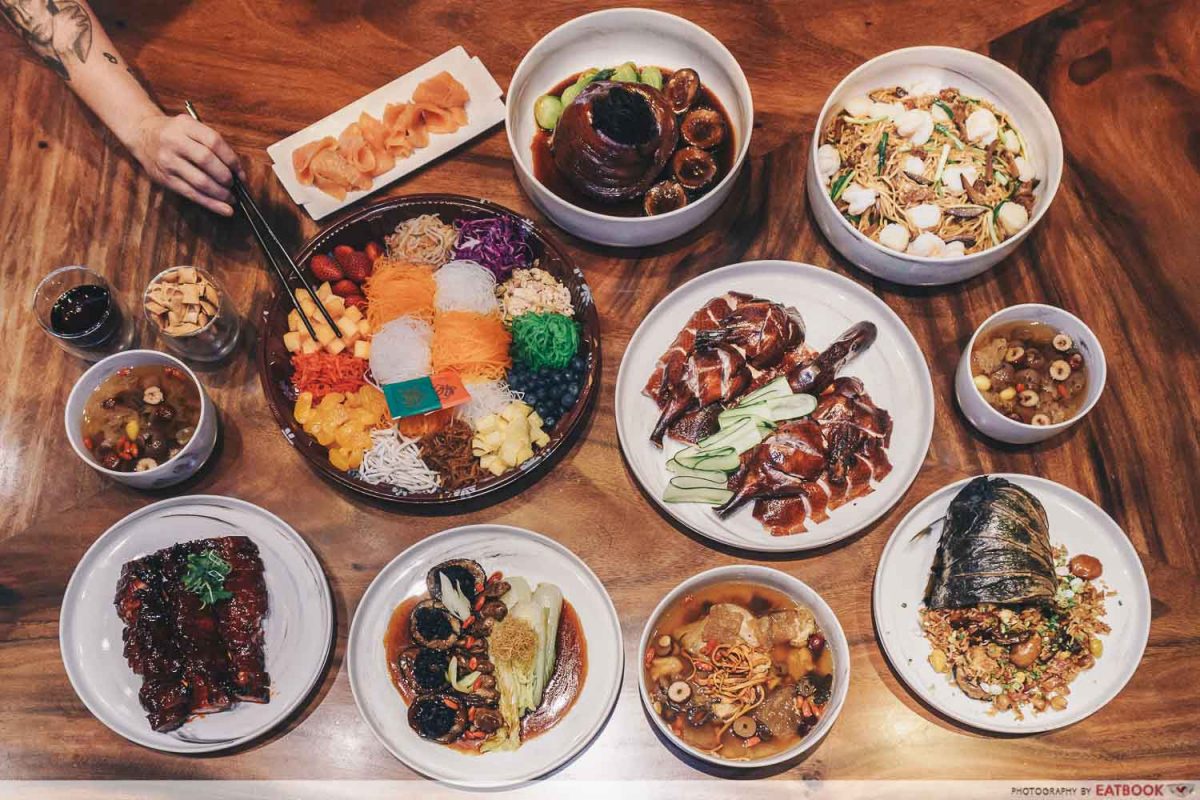 Beach Road Kitchen at JW Marriott Singapore South Beachhas a six-course Home Reunion Bundle Set available for takeaway if you want to impress your guests without cooking a feast from scratch. The menu starts off with a collagen-rich Double-Boiled Fish Maw Soup, enhanced with earthy cordyceps flower and mushrooms. For carbs, enjoy the Eight Treasures Glutinous Rice, loaded with ingredients like caramelised pork char siew, whole duck salted egg yolks, Taiwanese-style sausage, and even foie gras. If you're on #TeamNoodles, then the reunion dinner set also comes with Longevity Noodles, prepared with sweet, whole prawns and fresh chives.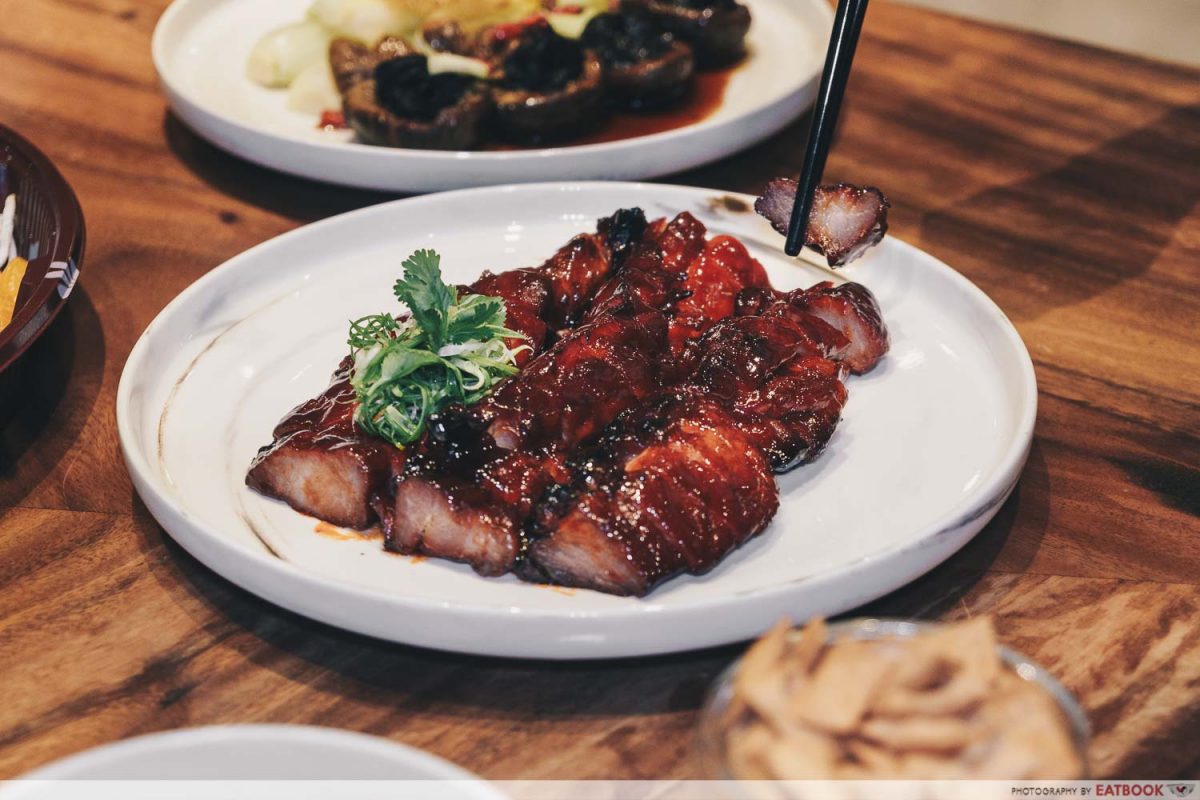 Our favourites off the menu were a toss-up between the Fatt Choy, an auspicious stew packed with creamy braised oysters, mushrooms, and tender napa cabbage, and the Roast Selection. Choose between Braised Kurobuta Pork Knuckle, Lychee Wood Roast Duck, or Iberico Pork Char Siew. Getting the Home Reunion Bundle with one type of roasted meat costs $212, two types of roasted meats cost $287, and three types of roasted meats cost $351.
Add on their Prosperity Yu Sheng with Smoked Salmon for $72.80—the salad comes with fresh fruits in addition to the usual toppings for extra sweetness.
Citi Cardmembers are entitled to 15% off takeaways and hampers from Beach Road Kitchen too!
Address: 30 Beach Road, JW Marriott Singapore South Beach, Singapore 189763
Opening hours: Mon 6:30am to 11am, Tues-Sun 6:30am to 11am, 12pm to 2:30pm, 6pm to 9pm
Tel: 6818 1913
Website
---
3. Paradise Group 
---
Enjoy a luxurious start to Chinese New Year with Paradise Group's festive takeaway offerings. Their Grandeur Treasure Pot is a pencai dish made with a house-made stock, topped with goodies like premium abalone, sea cucumber, fish maw, conpoy, dried oysters, black moss, and more. The collagen-rich broth really enhances the pencai, giving it a silken texture and a fatty, lip-smacking flavour. Prices start from $268 for the regular Grandeur Treasure Pot, which feeds up to five, and $398 for the large, which feeds up to 10.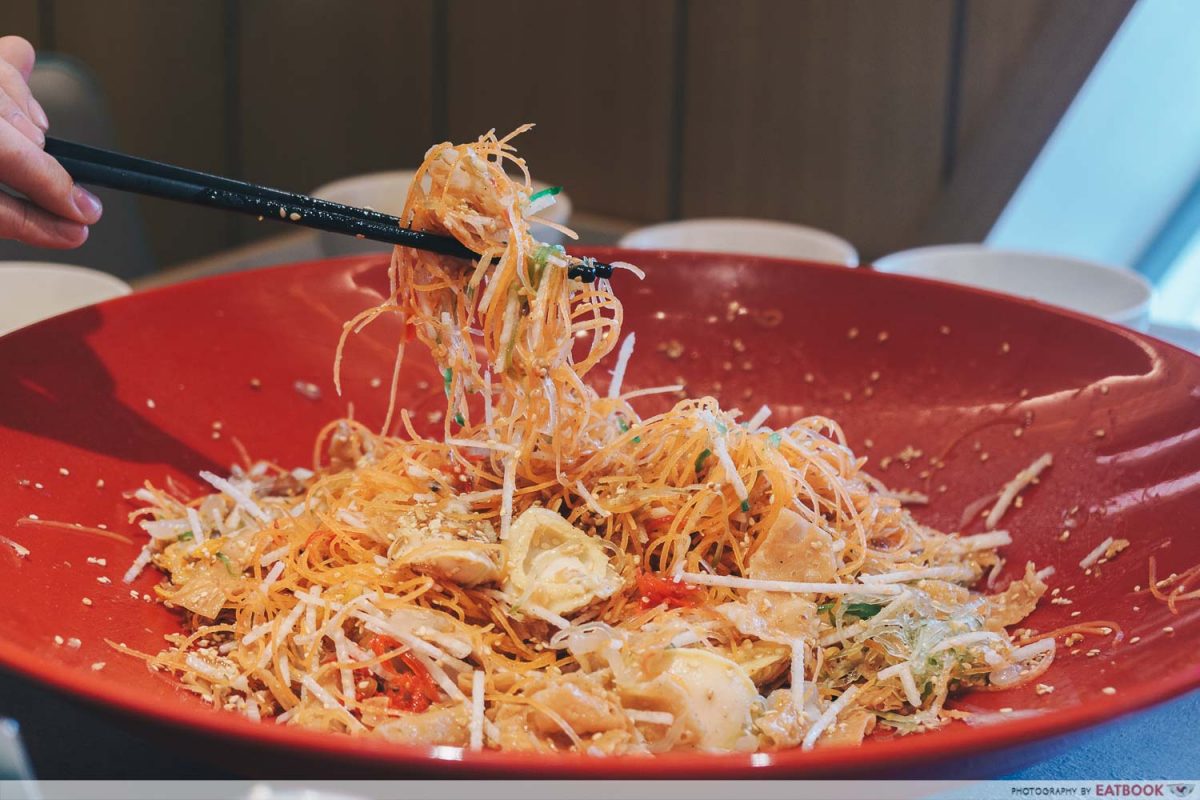 Also sold is their Prosperity Abalone Yu Sheng. You get all the classic components of yusheng, coupled with a tart house-made plum sauce as the dressing, and a generous tray of baby abalone rounds to top the salad. Prices start at $46.80 for the regular, with eight pieces of abalone, and $68.80 for the large, with 16 pieces of abalone. This is available for dine-in only.
Citi Cardmembers are entitled to 10% off festive takeaways, available until 28 February 2021. You can purchase the above at all participating Paradise Group restaurants.
Website
Full list of locations
---
4. Han's & Hanis Cafe
---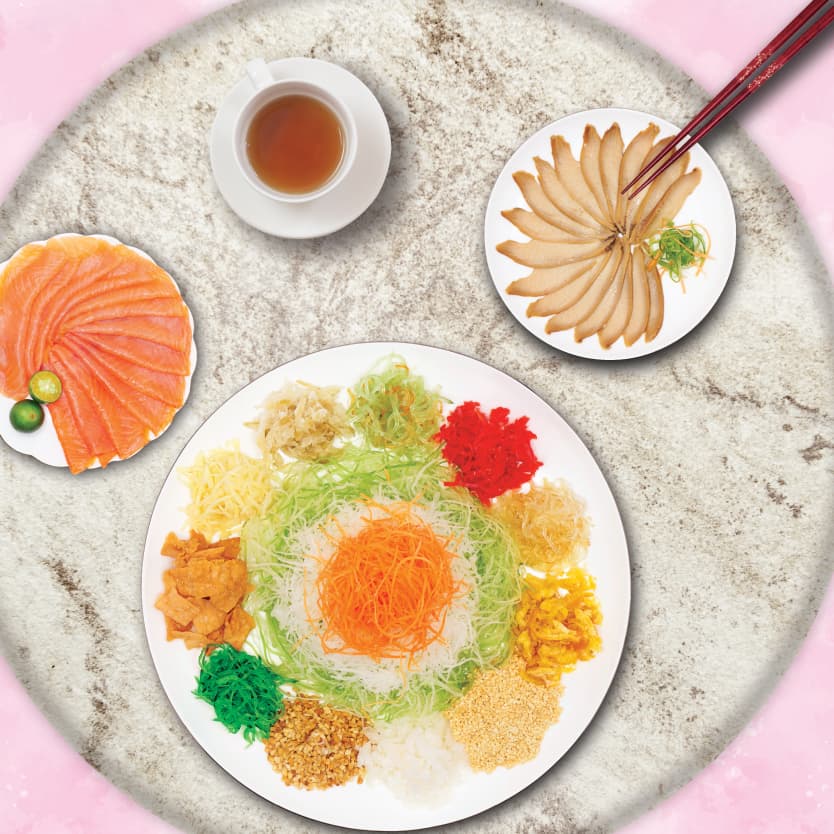 Image credit: Han's
Those looking for a simple, easily accessible yusheng fix can look to Han's & Hanis Cafe. With 24 outlets islandwide, their Smoked Salmon Yusheng is within reach even for the most impromptu CNY gatherings. Priced at $58 for a portion that feeds six to eight people, and $68 for a portion that feeds more than eight, expect the classic Chinese salad to come with briny smoked salmon instead of the usual fresh sashimi.
Citi Cardmembers are also entitled to 10% off for yusheng orders, valid till 26 February 2021.
Website | Full list of locations
---
5. Peach Garden
---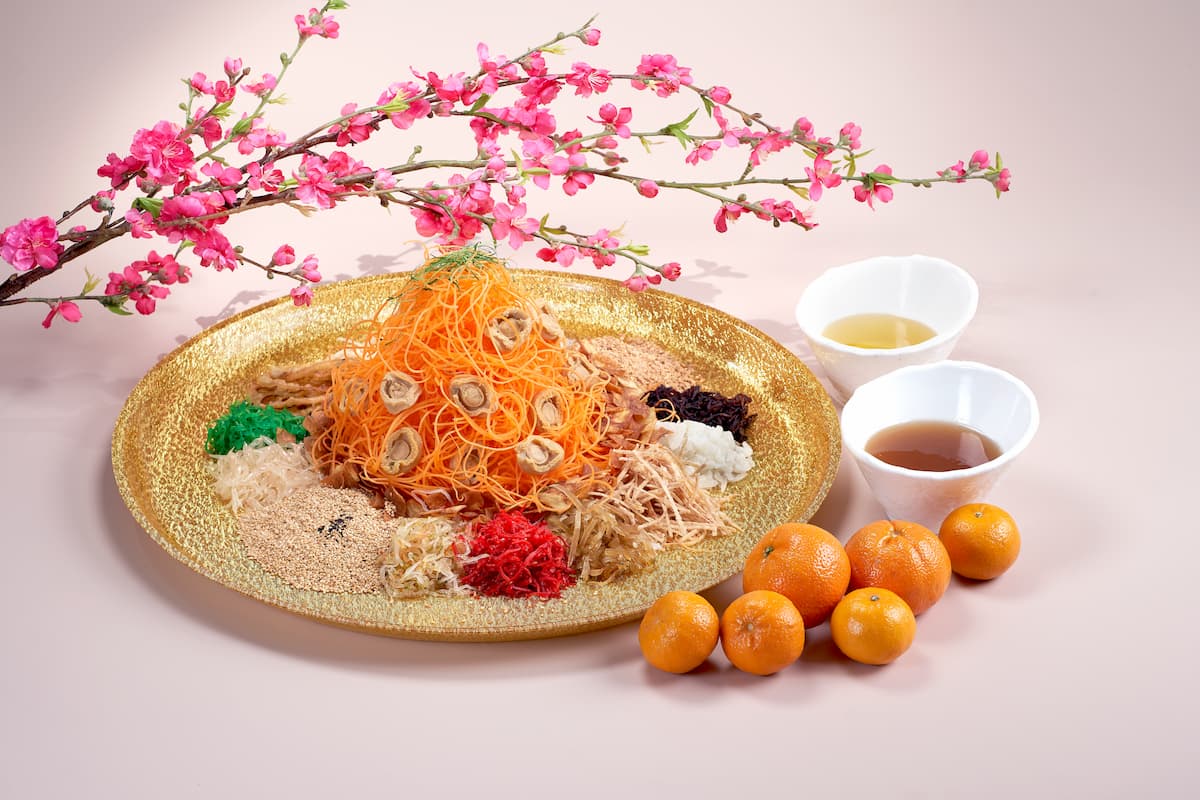 Image credit: Peach Garden
Kill two birds with one stone and get a free Petite Abalone Yusheng (Small) worth $88+ from Peach Garden with any purchase of any Peach Garden Pen Cai when you pay with your Citi Card. There are six different types of pen cai to choose from, appealing to all tastes.
If you're sticking to the classics, get the Deluxe Pen Cai ($468.66), made with the traditional combination of abalone, mushrooms, scallops, and prawns, which feeds eight to 10 people. For more contemporary options, try the Premium Mala Seafood Pencai ($457.96), which combines premium seafood, including lobster and scallops, with a mouth-wateringly spicy stock. This promotion is available from now till 26 February 2021. Order from Peach Garden's online store with the code 'CITI88' to redeem the free yusheng.
Website
Full list of locations
---
6. Red House Seafood
---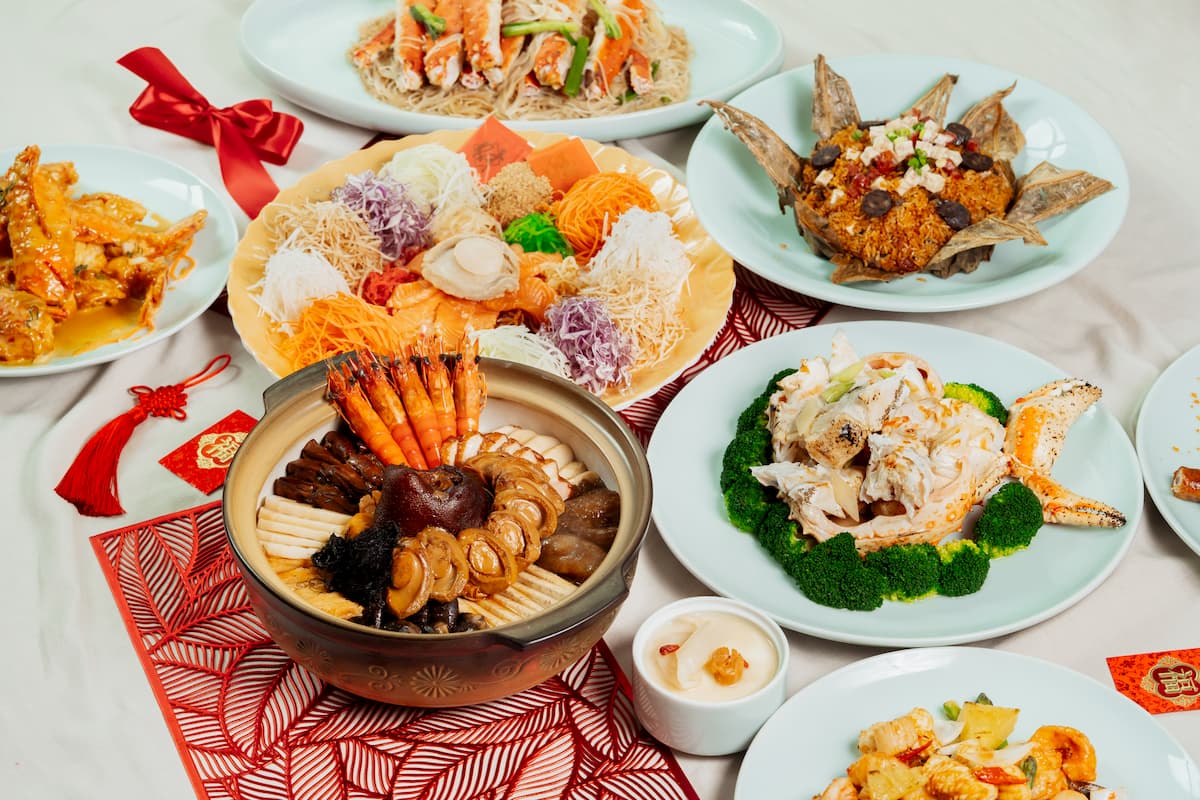 Image credit: Red House Seafood
Red House Seafood is one of Singapore's oldest seafood restaurants, and they pride themselves on their seafood dishes made with weekly shipments of live seafood, sourced from around the world. This Chinese New Year, bring those dishes to your home dining table, as Red House Seafood has a slew of festive takeaways for you to choose from. With a Citi Card, you are entitled to 12% off from now till 28 January 2021 when you quote 'Citi CNY' upon ordering.
Their Treasure Pot starts at $288++, packed with 13 delicacies including 8-head abalone,  and feeds four to six people. This also comes with a complimentary lotus leaf rice set. There is also the atas Fresh Alaskan King Crab Meat & Salmon Yu Sheng, served with tempura-battered crab meat, priced at $168++, which feeds five to eight people. They also have festive goodies, like Steamed Auspicious Nian Gao, priced at $26.80++ for 1.5kg. 
Website
Full list of locations
---
7. Marriott Tang Plaza Hotel
---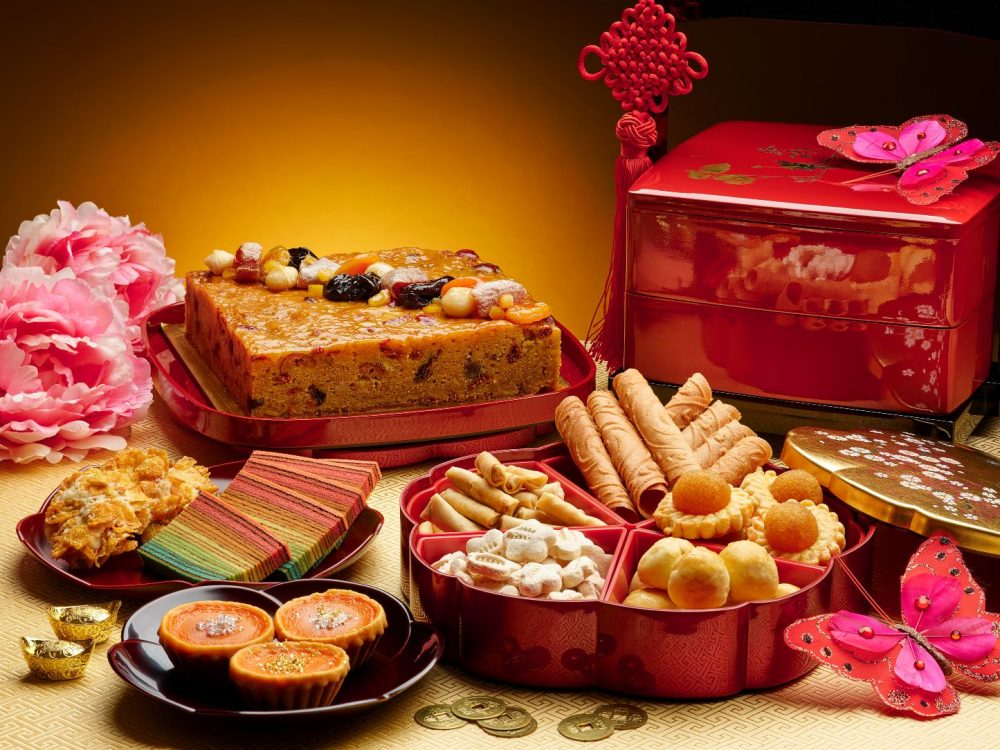 Image credit: Marriott Tang Plaza Hotel
Put a smile on your guests' face with Singapore Marriott Tang Plaza Hotel's selection of handcrafted Lunar New Year goodies. Choose from the likes of Golden Nian Gao Tarts with Purple Sweet Potato ($32 for eight), or Koi Fish Fresh Mango Pudding ($52). A Citi Card entitles you to 20% off these takeaways from now till 11 February 2021, so you save quite a fair bit with your purchase. To order, visit the Singapore Marriott Tang Plaza Hotel online store, or call 6831 4708.
Address: 320 Orchard Road, Singapore Marriott Tang Plaza Hotel, Singapore 239965
Opening hours: Daily 11am to 9pm
Tel: 6831 4708
Website
---
8. Man Fu Yuan 
---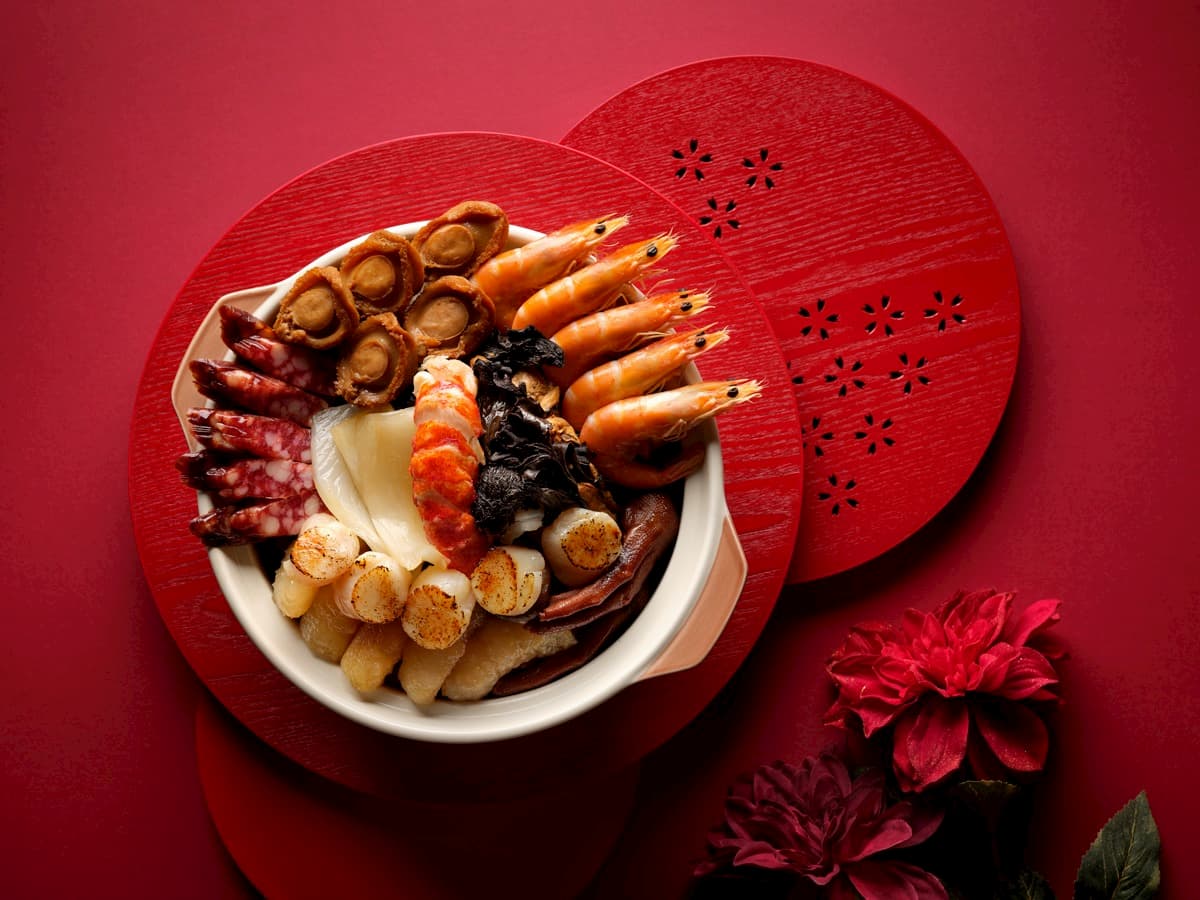 Image credit: Man Fu Yuan
Those who prefer to dine at a restaurant for reunion dinner ought to turn to Man Fu Yuan for reservations. Located in InterContinental Singapore, the restaurant has an indulgent menu of Chinese New Year dishes, of which Citi Cardholders are entitled to 15% off the total ala carte dinner bill till 26 February 2021.
Choose from dishes like Braised Three Head Abalone with Black Truffle ($138++ per guest), Deep-Fried Grouper Fillet with XO Sauce ($26++ per guest), Signature Smoked Duck With Truffle Sauce ($48++ for half, $88++ for whole), and much more.

Address: 80 Middle Road, InterContinental Hotel, Singapore 188966
Opening hours: Mon-Fri 12pm to 3pm, 6pm to 7:45pm, 8:15pm to 10pm, Sat-Sun 11:30am to 1pm, 1:30pm to 3pm,  6pm to 7:45pm, 8:15pm to 10pm
Tel: 6825 1131/6825 1008
Website
---
9. Li Bai Cantonese Restaurant 
---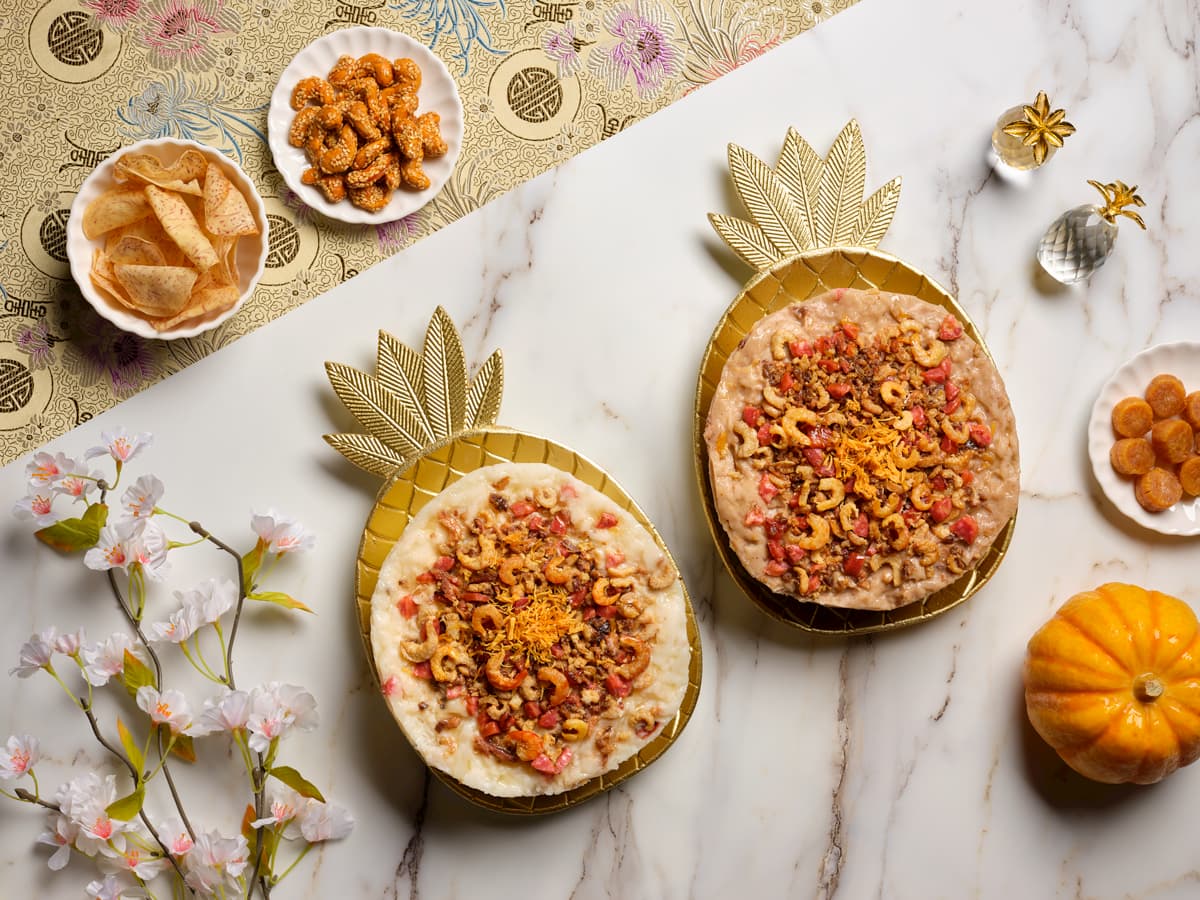 Image credit: Li Bai Cantonese Restaurant
Li Bai Cantonese Restaurant at Sheraton Towers is offering Citi Cardholders 15% off their festive takeaways for Chinese New Year. While these include staples like yusheng and pencai, they also have a full Barbecued Suckling Pig Stuffed with Glutinous Rice ($398) if you're looking for a delicious centrepiece for the dinner table. Also available are savoury cakes like Radish Cake with Conpoy and Preserved Meat, as well as Yam Cake with Pumpkin, Dried Shrimp and Preserved Meat. Both are priced at $62 per order.
Order on the Sheraton Towers online store and use the promo code 'CITICNY15'. This promotion is valid till 26 February 2021.
Address: 39 Scotts Road, Sheraton Towers, Singapore 228230
Opening hours: Mon-Sat 11:30am to 2:30pm, 6:30pm to 10:30pm, Sun 10:30am to 2:30pm, 6:30pm to 10:30pm
Tel: 6839 5623
Website
---
10. Grand Shanghai
---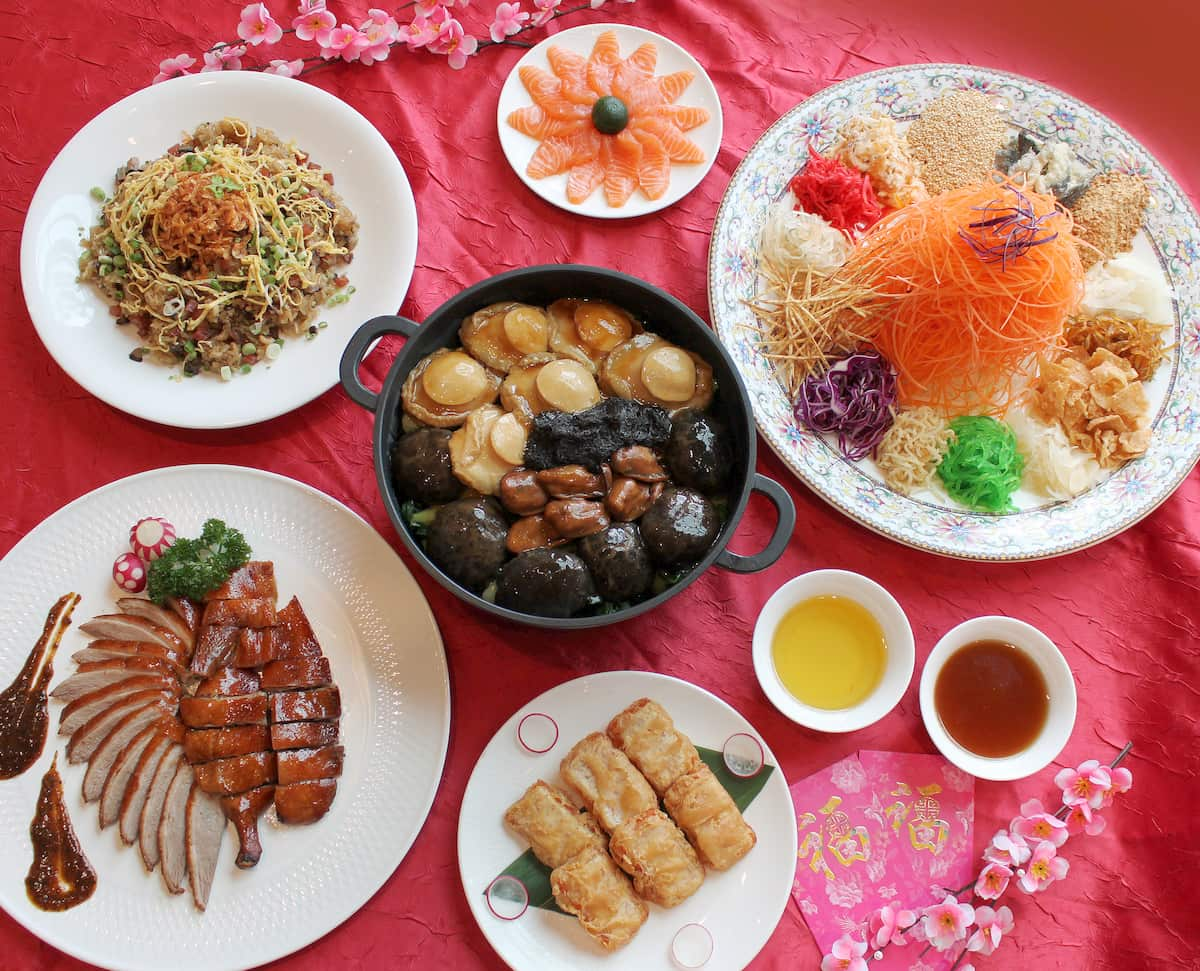 Image credit: Grand Shanghai
Early birds who want to order their CNY reunion dinner from now till 31 January 2021 can get 20% off with a Citi Card when purchasing festive goodies from Grand Shanghai. For a full feast, go for the Grand Shanghai Treasure Set, a five-course, value-for-money menu with Prosperity Yu Sheng, Braised 3-Head Abalone, Crispy Smoked Duck, Stir-fried Glutinous Rice, and Deep-fried Nian Gao, all for $388, which feeds four people, or $528, which feeds up to six people. 
If you miss the earlier discount window, then fret not, as Citi Cardholders still get 15% off the same items from 1 February to 26 February 2021.
Do note that opening hours differ in February, from Mon-Fri 11:30am to 2:30pm, 6pm to 10pm, Sat-Sun and PH 11am to 2:30pm, 6pm to 10pm.
Address: 390 Havelock Road, King's Centre, Level 1, Singapore 169662
Opening hours: Sun-Fri 11:30am to 2:30pm, 6pm to 10pm, Sat 6pm to 10pm
Tel: 6836 6866
Website
---
CNY reunion dinner dine-in and takeaway deals
---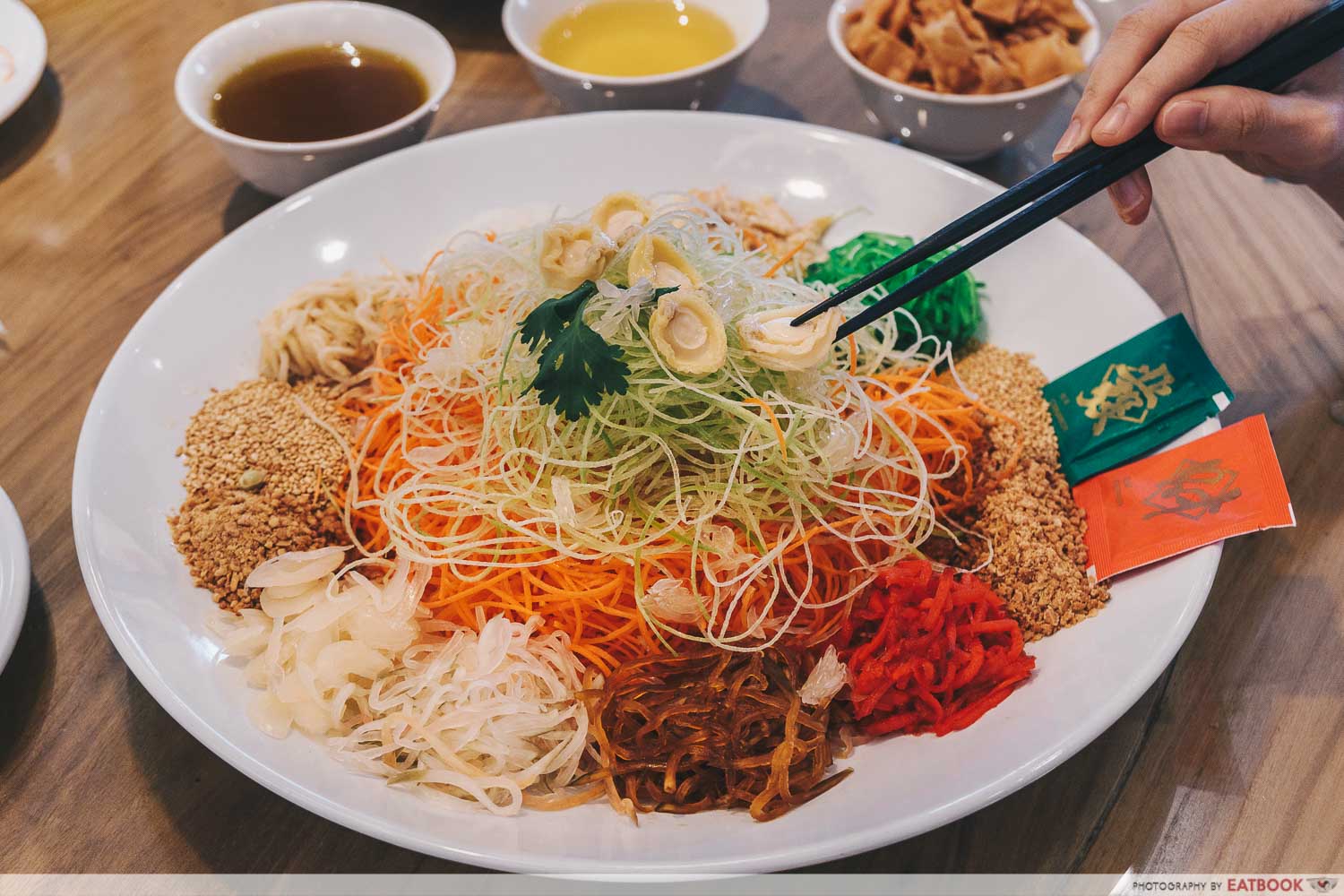 Let's be honest, CNY reunion dinners cost a fair bit, especially if you're playing host. To help you save, check out these Citi Card deals that give you plenty of bang for your buck for reunion dinner, whether you're dining in or for taking away. 
Apart from the 10 deals above, Citi Cards also has over 40 CNY dining deals for you to check out. For more information, click the link below.
Photos taken by Muhammad Hafiq.
This post is brought to you by Citibank Singapore Limited.