---
Group outings should always involve food
---
Eating in a group can be tricky at times. Getting individual portions feels kinda boring, but going for tapas can burn a hole in your wallet. Your best bet would be sharing dishes, but not everywhere has portions big enough to share, so we've found some places you go bring all your kakis to. These servings sizes are so big, eating them is almost like having your own personal buffet at your table!
---
1. Andong Zzimdakk
---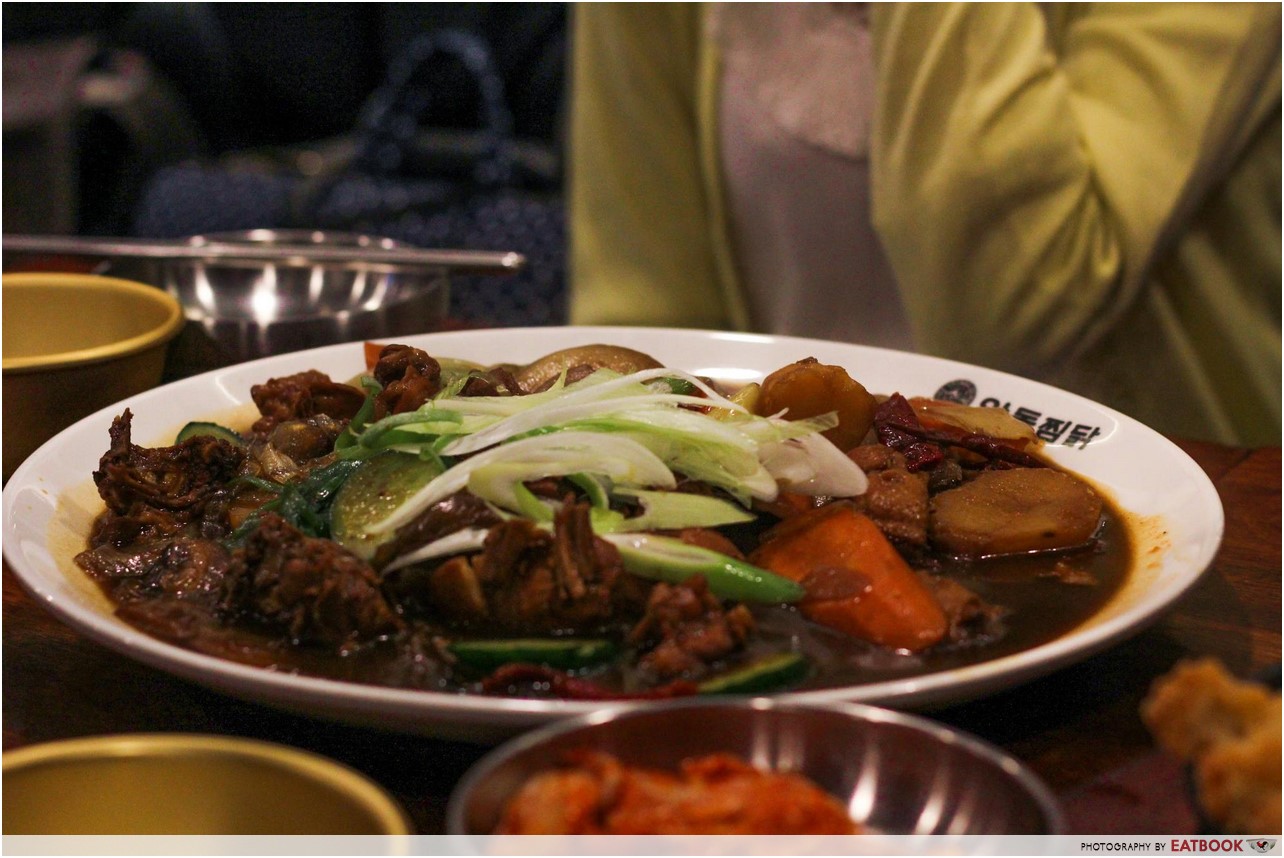 Huddle over a gigantic bowl of jjimdak (Korean-style braised chicken and vegetables) at Andong Zzimdakk. The smallest portion here is big enough for three to four people, or two very large eaters. Choose from four varieties: Original ($40.90++), Boneless Jjimdak ($45.90++), Seafood Jjimdak ($48.90++) and a spicy Mayak Jjimdak (42.90++). Finish the meal off with some Makgeolli (Korean rice wine) ($19.90++) that comes in a huge bottle for sharing!
Address: 252 North Bridge Road, #B1-44F, Raffles City Shopping Centre, Singapore 179103
Opening hours: Daily 11:30am to 10pm
Tel: 6533 3951
---
2. Spathe Public House
---
Spathe Public House screams communal dining all around. Almost nothing here is portioned for one person, and they've got mammoth signatures that serve four to six at once! Chill out with Beer and Chicks ($65++), which comes with a whole chicken baked on a can of beer. They also do a splendid Sous Vide Spanish Octopus Salad ($23++ for individual, $44++ for sharing portion) if you're feeling healthy, and a unique Spathe Mac & Cheese Burger ($24++) you'll find hard to get anywhere else.
Address: 8 Mohamed Sultan Road #01-01, Singapore 238958
Opening hours: Mon-Fri 12pm to 11pm, Sat-Sun 10am to 11pm
Tel: 6735 1035
Menu
---
3. Crab in da Bag
---
You may consider chilli crab your bae, but no harm trying some Louisiana-style seafood at Crab in da Bag either. Everything you order here comes in a bag – yes, even pastas – and remember to give that bag a good shake before pouring it over your table. The communal dining experience is made even better here since you have to tuck in with your hands. Come with three or four friends and share The Titanic Pot ($299+). It may sound a bit steep, but this bag is filled with a Boston lobster, two Sri Lankan crabs, Alaskan king crab legs, tiger prawns, clams, crayfish, mussels, sausages and loads of vegetables and potatoes.
Address: 902 East Coast Parkway, #01-25, Blk D, Big Splash, Singapore 449874
Opening hours: Tue-Fri 4pm to 11pm, Sat-Sun 12pm to 11pm
Tel: 6440 0083
Menu
Click here for more info on their Sports Hub outlet.
---
4. Peperoni Pizzeria
---
Pizza lovers, this is your dream come true. Peperoni Pizzeria's XXL Pizza ($55++) is big enough to cover the entire table, and can comfortably feed four to six people. With loads of different flavours and toppings, including parma ham and salmon, no one will be complaining about the lack of food here. These pizzas are cooked on wood-fire to the base a slightly smokey taste.
Address: 3 Temasek Boulevard, #B1-130, Suntec City, Singapore 038983
Opening hours: Mon-Fri 11am to 3pm, 5pm to 9:30pm, Sat-Sun 11am to 9:30am
Tel: 6884 7737
Menu
---
5. The Disgruntled Chef

---
The Disgruntled Chef serves modern European dishes in both big and small plates. The big plates might sound overwhelming, but they are where all the good stuff are at. Choose from a Roasted Whole Spring Chicken ($32++) that comes stuffed with foie gras mousse, Smoked Chargrilled Wagyu Beef ($128++) or Crackling Suckling Pig ($68++) with purple potatoes and apple puree.
Address: 26B Dempsey Road, Singapore 247693
Opening hours: Daily 12pm to 2:30pm, 6pm to 12am
Tel: 6476 5305
Menu
---
6. Don't Tell Mama
---
As The Da Bang cafe's sexier twin, Don't Tell Mama opens at night at the same location as the rustic cafe. Come to this Korean-Mexican bistro for some over-sized tipple, including a Beergarita ($10++) big enough to render you slightly wobbly. If your alcohol tolerance is through the roof, go for a Liquid Buffet ($28 for ladies, $35 for men) available from 6pm to 9pm daily. Drink sizes here are not to be underestimated, so accompany them with sides like Kimchi Fries ($18++).
Address: 52 Tanjong Pagar Road, Singapore 088473
Opening hours: Mon-Thur 5pm to 2am, Fri-Sat 5pm to 3am
Menu
Find out what are some other double identity cafes and bars here.
---
7. Artichoke
---
You can't go wrong with comfort food, and the modern Middle Eastern fare at Artichoke is sure to keep you coming back. Get down and dirty with Lambgasm ($220++), a 2.8kg hunk of lamb shoulder slow-roasted on the bone. It's big enough to feed four to six tummies, but make sure to give Artichoke at least 48 hours notice to prepare the dish.
Address: 161 Middle Road, Singapore 188978
Opening hours: Tue-Fri 6:30pm to 10pm, Sat 11:30am to 3:30pm, 6:30pm to 10:30pm, Sun 10:30am to 3:30pm
Tel: 6336 6949
Menu
---
8. Ambeng Cafe by Ummi Abdullah
---
Nasi ambeng is like a deconstructed nasi padang, but with a wider selection of dishes. Ambeng Cafe's signature Nasi Ambeng Sahan Set (from $24 for two) and Ambeng Classic Trio ($48) are good choices for families and friends who can never decide on what to order. Their ayam kalio (chicken rendang with gravy) is fragrant, and the gravy is incredibly aromatic and flavourful. If you're a chilli lover, add loads of sambal balacan, which delicately balances fragrance and fiery tastes. For those who are too lazy to travel all the way to the east, Ambeng Cafe also does islandwide delivery.
Address: 430 Upper Changi Road, #01-65, Singapore 487040
Opening hours: Tue-Thur, Sat-Sun 12pm to 9pm, Wed 3pm to 9pm
Tel: 6755 4225
Menu
---
9. Chops Grill & Sides
---
Time to enlist the help of your kampong to conquer Chops' XXL Size Meat Platter ($59.90). It comes with 3kg worth of meats like ribeye steak, ribs, pork collar PLUS 10 different sides including pastas and potatoes. The feeds about six to eight and is definitely bang for your buck. Here's a tip: go straight for the pork collar that's brimming with flavour.
Address: Blk 727 Ang Mo Kio Ave 6, Singapore 560727
Opening hours: Daily 11am to 10pm
Tel: 9188 8206
---
10. Senmi Sushi
---
Finishing up this list is a Giant Chirashi Don ($36++) from Senmi Sushi that comes with thick chunks of fish in eight different varieties. From swordfish to tuna and ikura bits, you'll be tempted to finish this whole bowl meant for two to three. Other hits here include Super Lobster Maki ($16.80++) as well as an indulgent Bluefin Tuna, Uni and Tobiko Bomb ($22++) sushi roll.
Address: 6 Raffles Boulevard, Marina Square, #01-18, Singapore 039594
Opening hours: Daily 11:30am to 10pm
Tel: 6812 2179
Menu
---
Sharing is caring
---
Few things in life can beat the satisfaction of a good meal, especially when eating is a favourite pastime on this tiny little island. While Singapore hasn't seen true communal dining where diners share tables and plates with total strangers,we're looking forward to the day it arrives! For now, you would have to make do with fighting with your friends for the last bite at these 10 places. Let us know if you have any recommendations for group outings in the comments!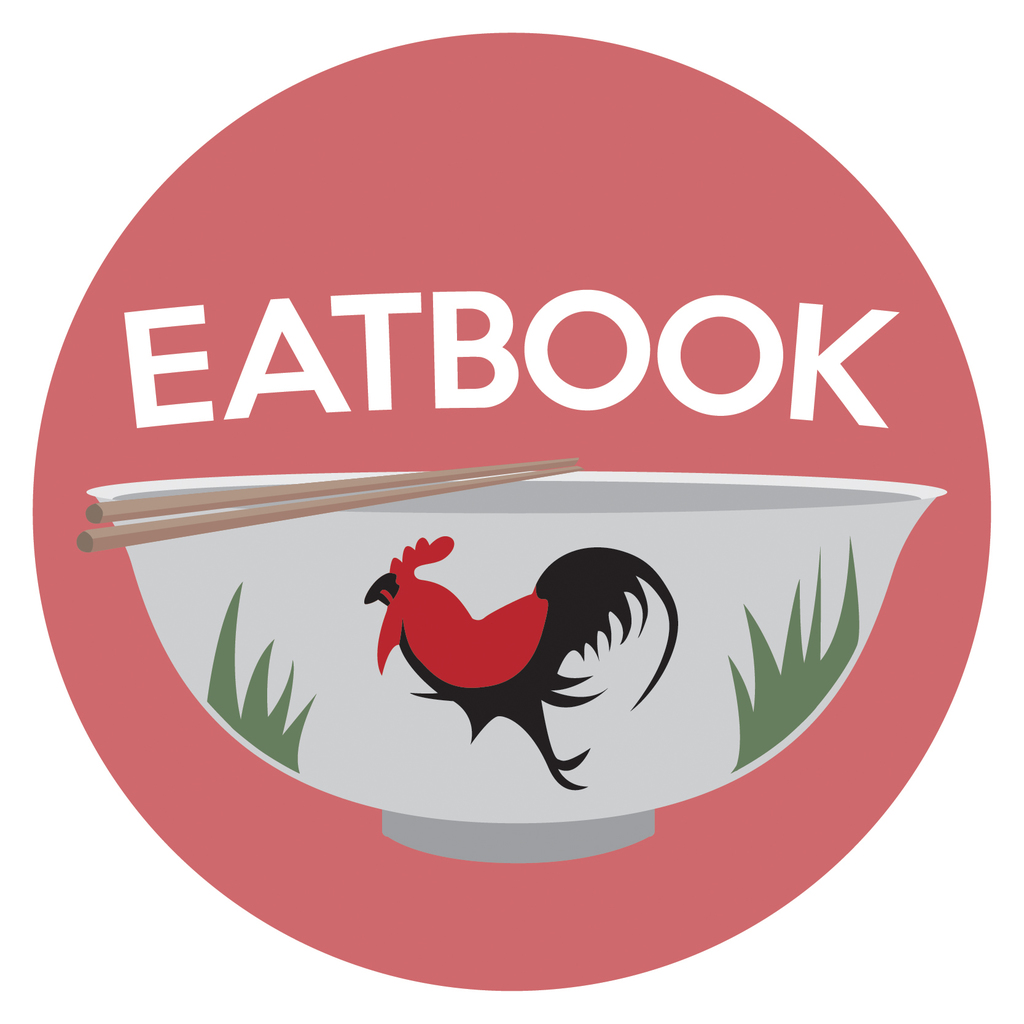 Drop us your email so you won't miss the latest news.