Daddy's On Madras is a Muslim-owned restaurant in Jalan Besar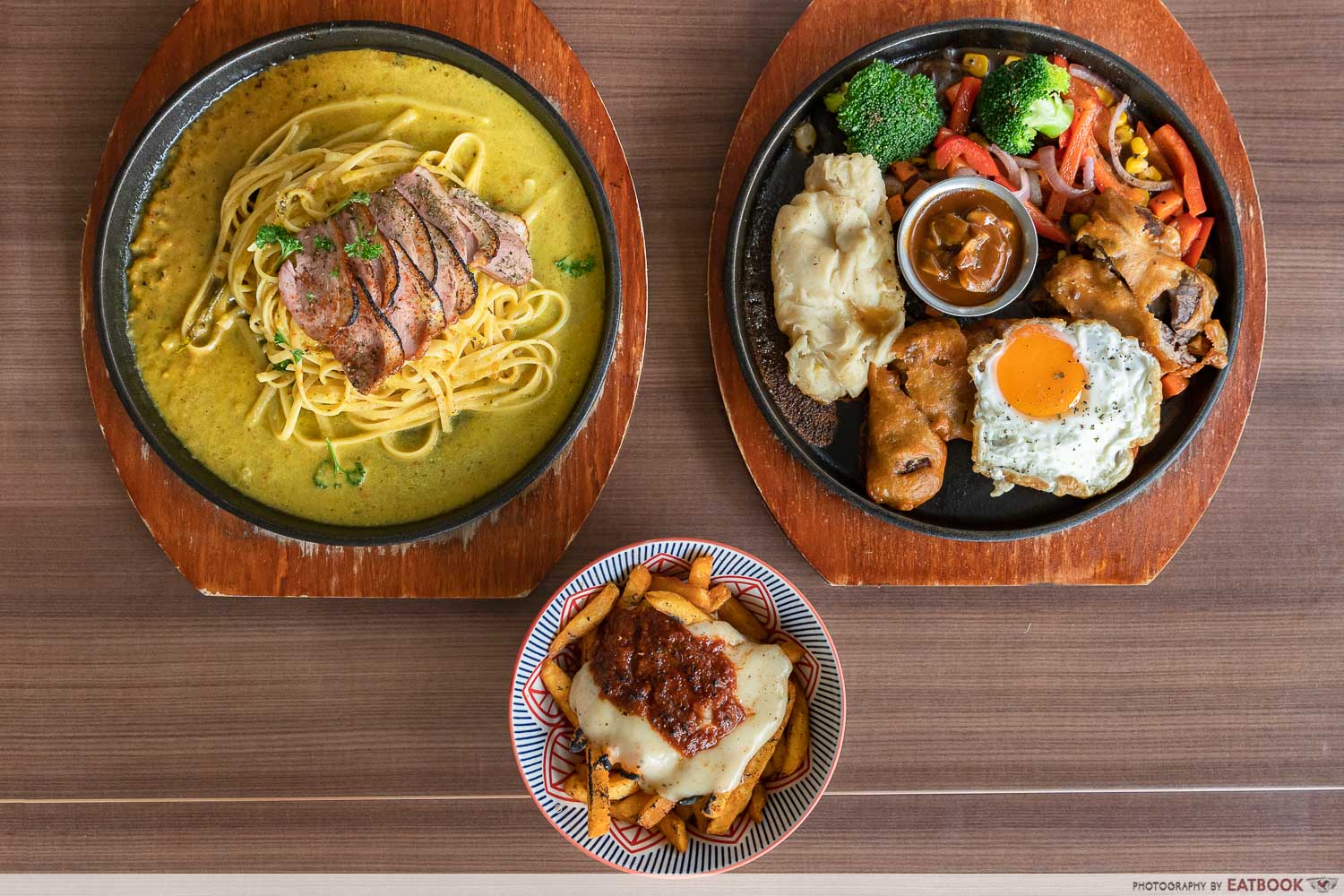 Before I dive right into the review, you might be as intrigued as I am by the name of this eatery: Daddy's On Madras. The restaurant specialises in Malay and Western fusion dishes, and 'Daddy,' in this case, means to be 'the greatest' and 'the most influential' restaurant around. 
To satisfy my curiosity, I immediately booked a lunchtime reservation for my colleague and I. 
Food at Daddy's On Madras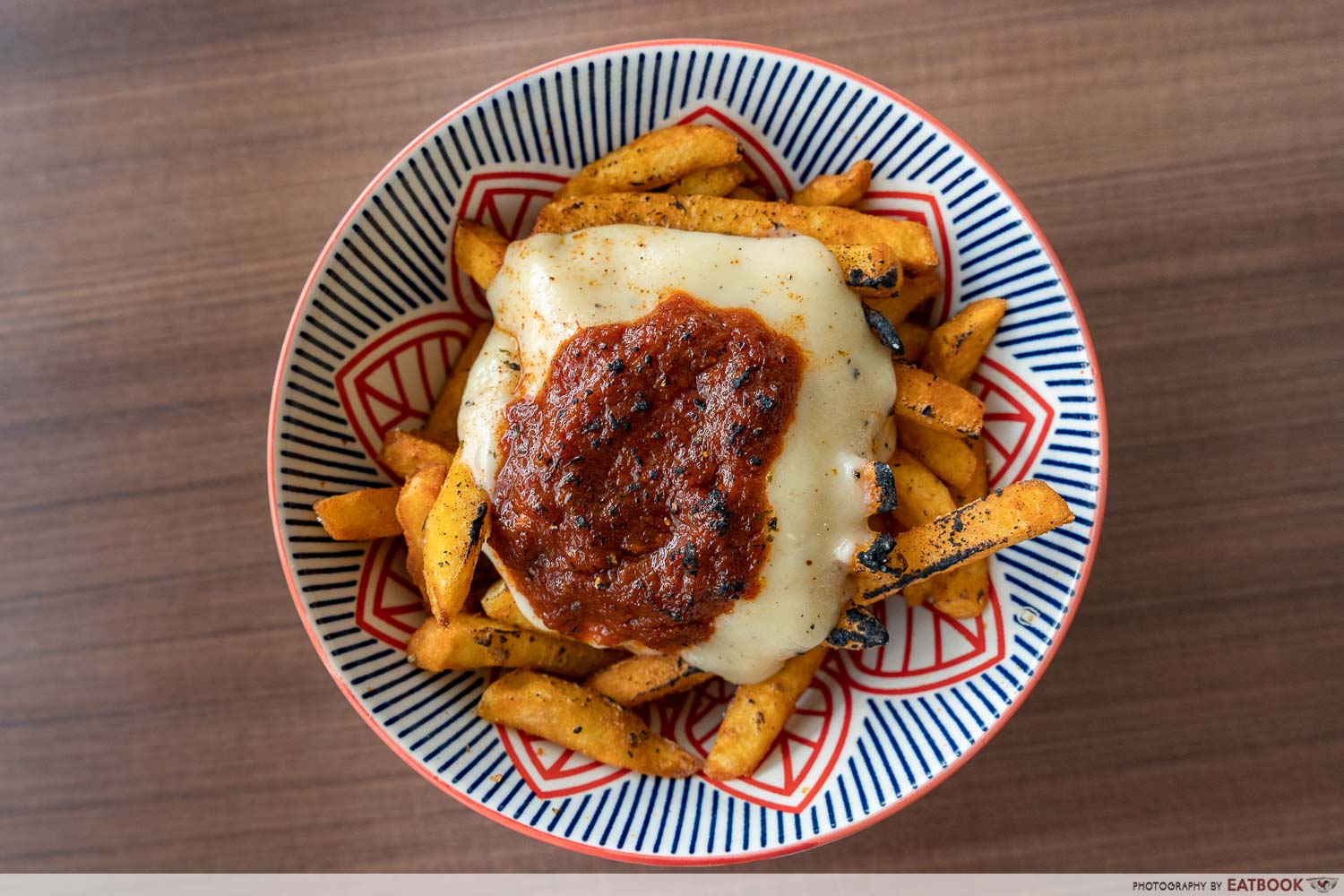 To kick things off, we got the regular Sambal Cheese Fries ($10.90+).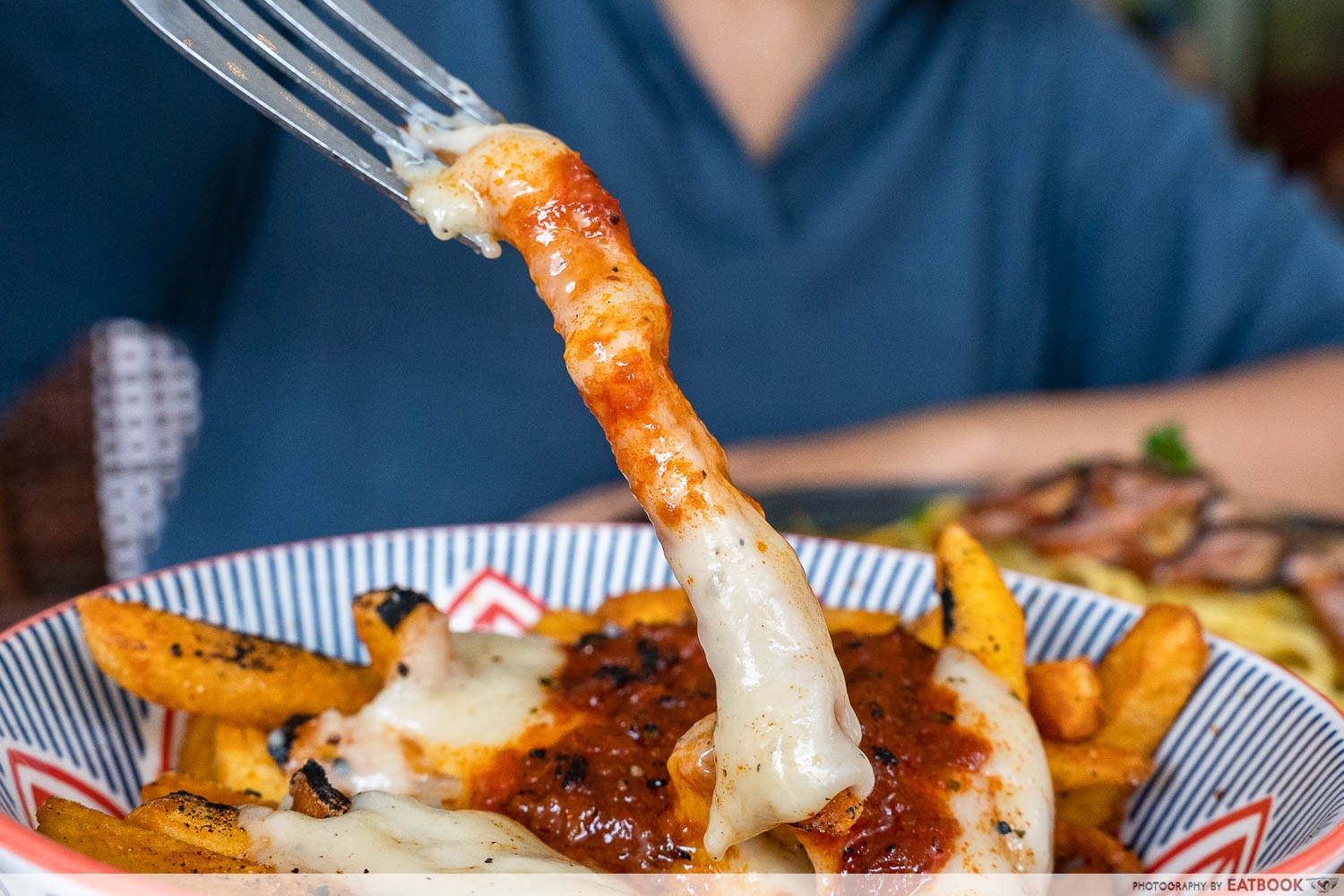 These simple fries exceeded my expectations. Each piece was neither too thick or thin, and had slightly charred bits on its skin that added a smoky flavour. The fries were made even better by the melted cheese and savoury sambal sauce that had hints of anchovy.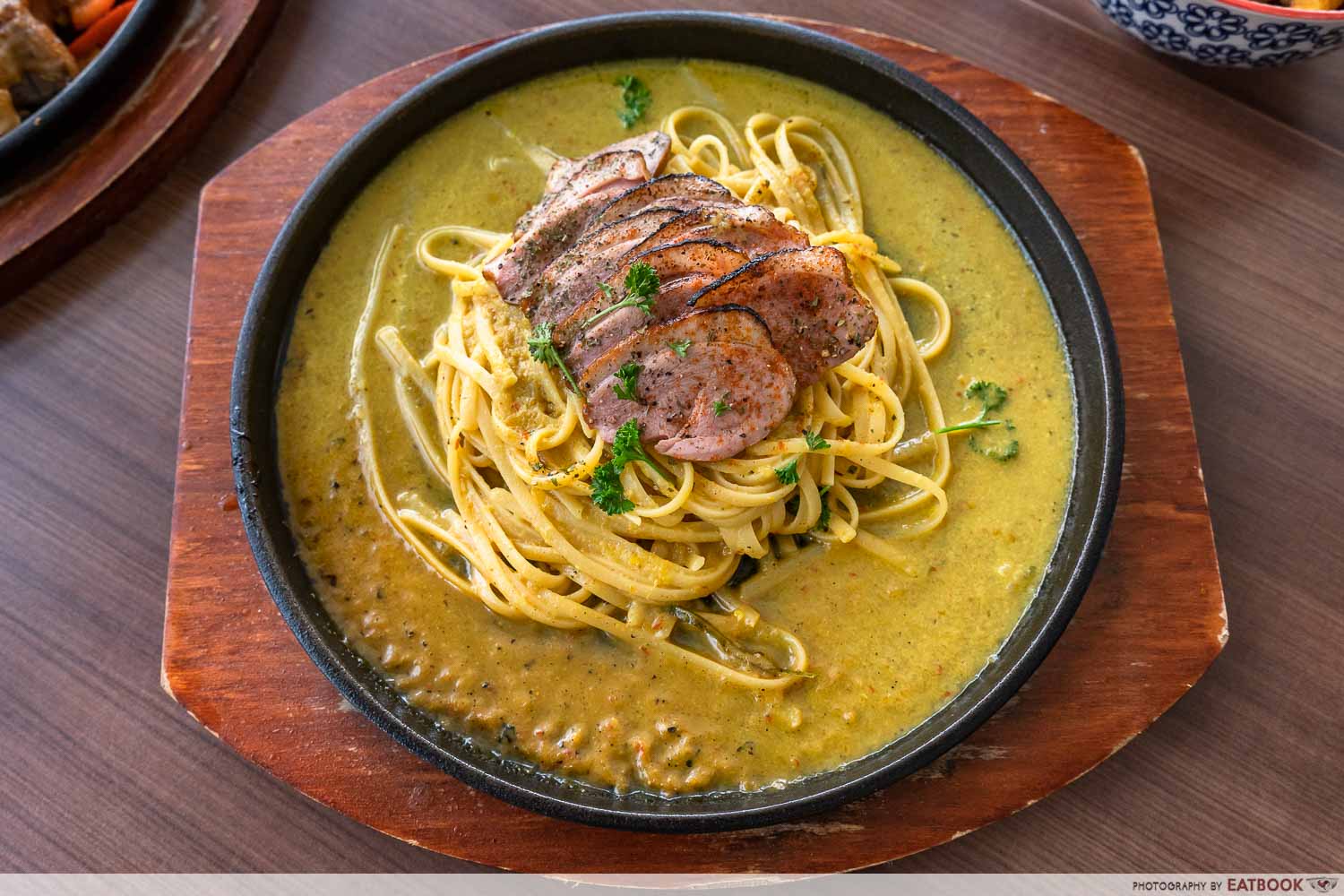 After starting our meal on a high, we went for the Ocean's Five Lemak Cili Api Linguine ($$21.90+) with smoked duck. It's a dish that's well-loved by plenty of the restaurant's customers so I had high hopes for it. 
Indeed, the dish's flavours were reminiscent of actual lemak cili api. For those unfamiliar, lemak cili api is a coconutty, spicy, and turmeric-infused curry dish with chicken.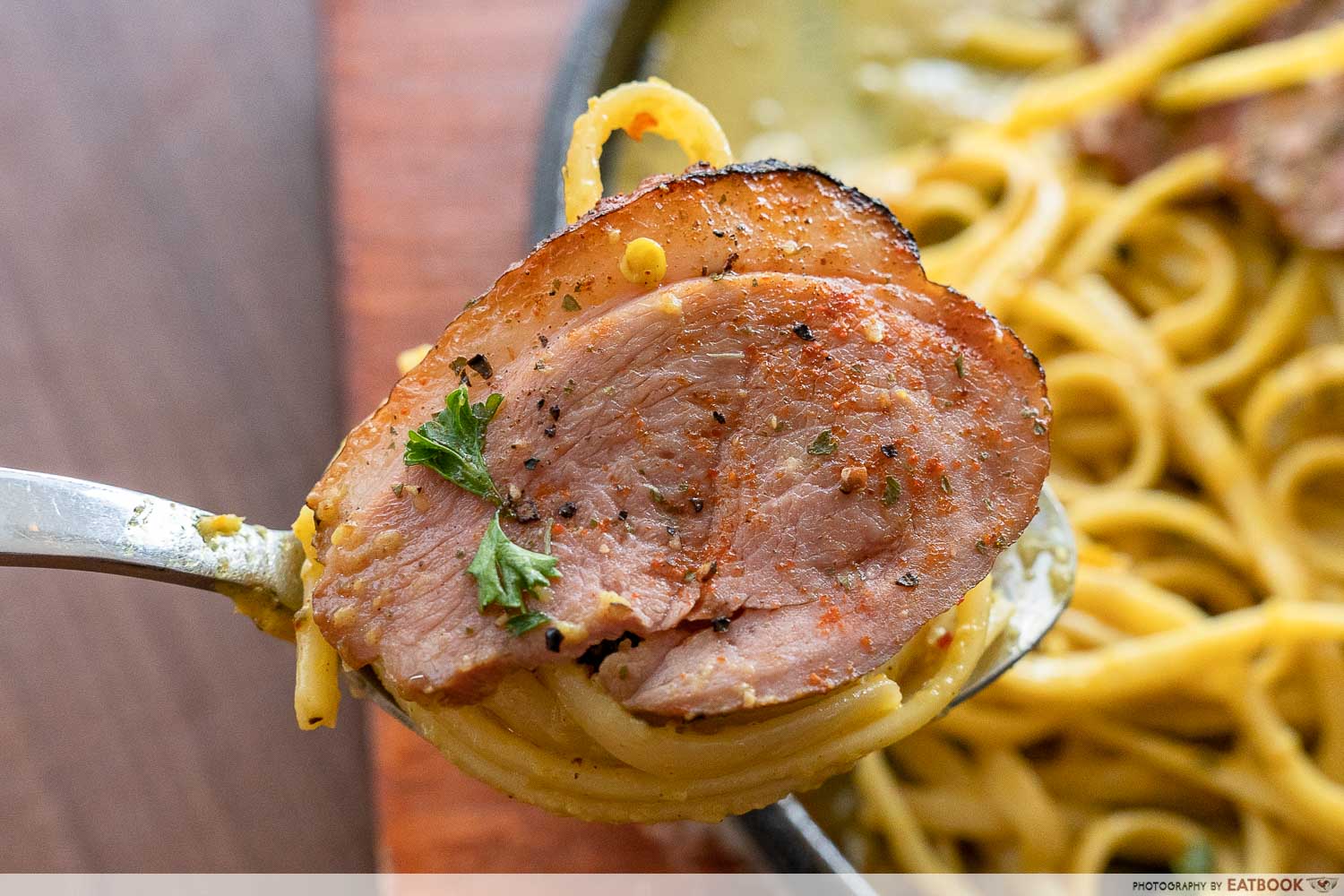 While tender and flavourful, I did wish that the slices of duck were thicker and more proportionate to the amount of pasta served. Perhaps extra vegetables would have also added some flare to the dish's texture profiles too.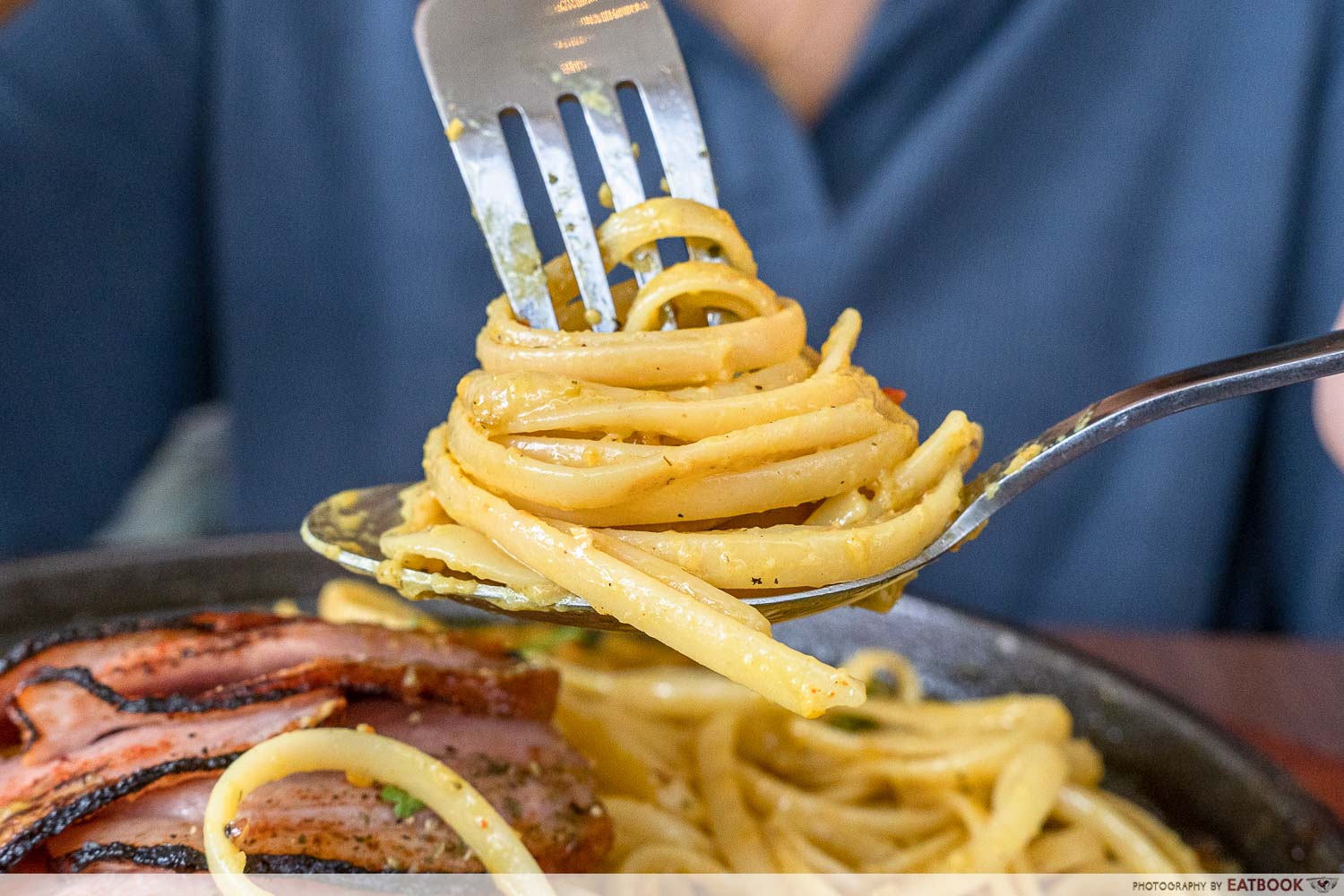 A plus point that I greatly enjoyed though, was that the pasta didn't lose its al dente texture—it did not become too soggy even though it was on a hot plate for some time.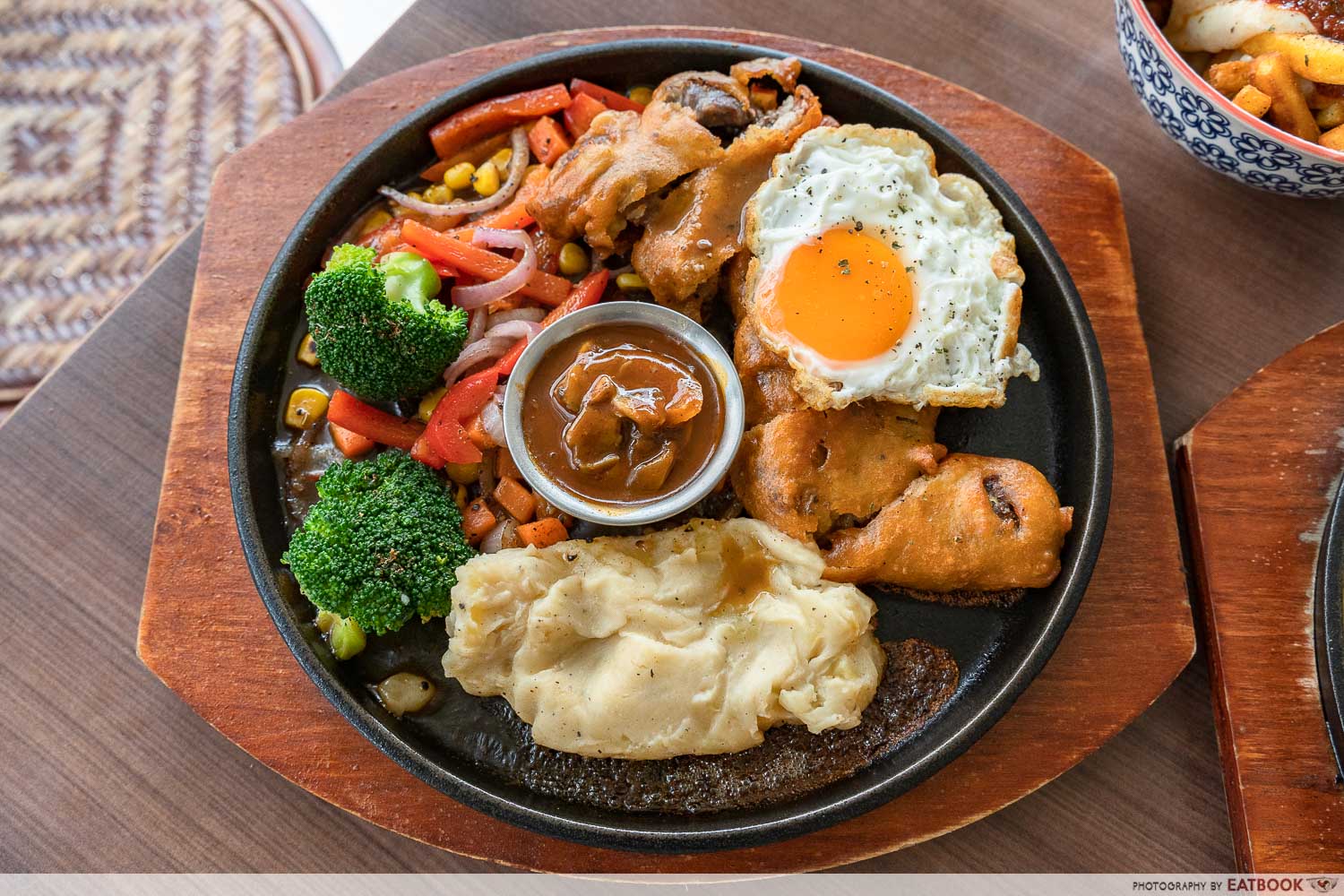 Our last dish was the Country Fried Steak ($27.90+), a dish I often saw on Western TV food shows. Unlike the previous dish, this one was huge, and came with a generous serving of each component: deep-fried steak, vegetables, mashed potatoes, and mushroom sauce. It's also topped with a sunny side up egg. 
We ordered our steak to be of medium doneness. Unfortunately, some parts of the steak were tougher than the rest, which could be because of the residual heat from the hot plate that further cooked the meat. The deep-fried batter that enveloped it was a little too salty for my liking, too.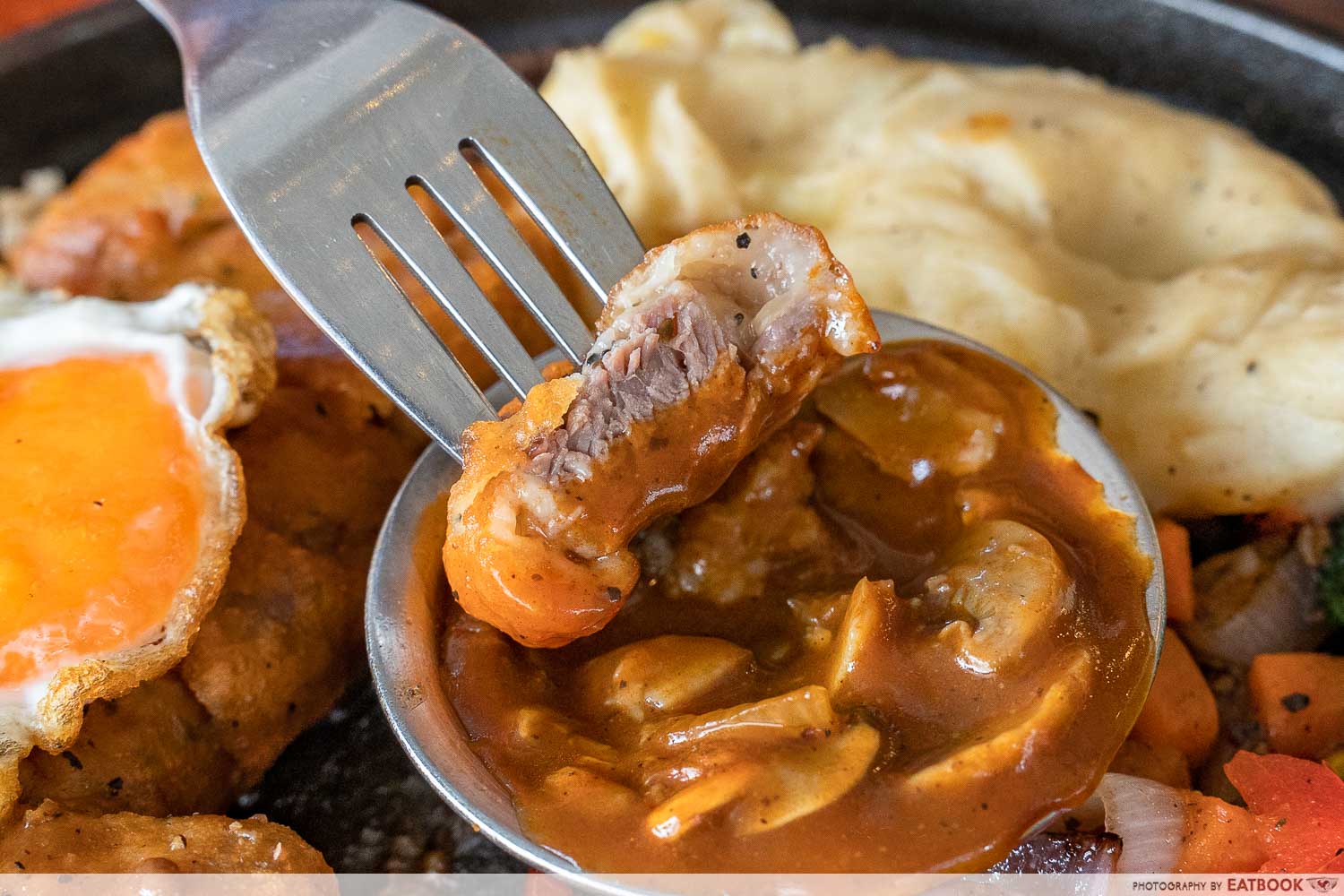 We also chose to have mushroom sauce to go with our steak, which contained plenty of sliced mushrooms. It had a unique sweet-savoury flavour and peppery taste that reminded me of a hybrid of mushroom and black pepper sauce. This definitely helped to offset the heavy flavours of the fried steak.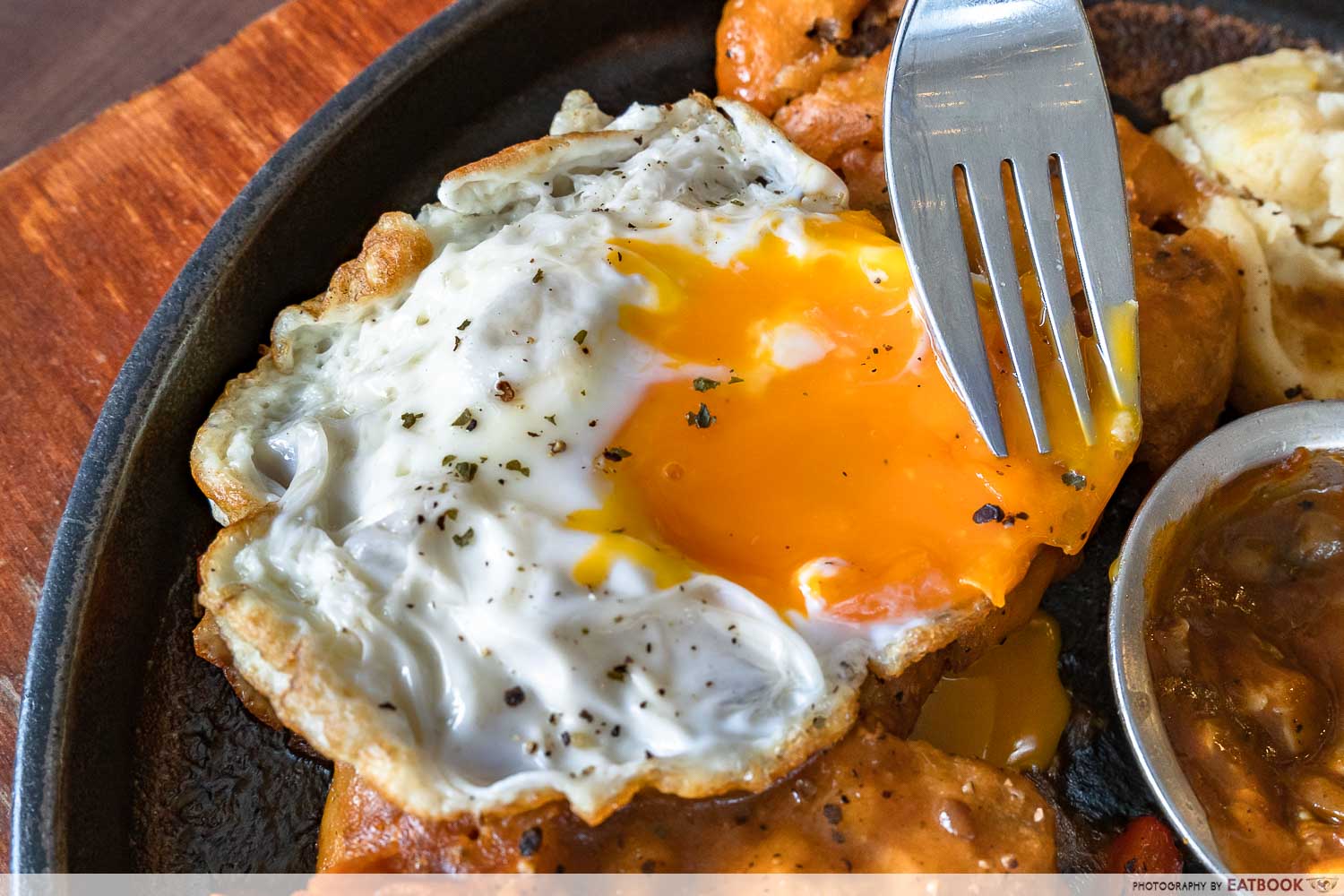 There was also a runny sunny-side up laid atop our steak, which I felt we could've done without—it made the dish a little too jelak for my liking. Perhaps it would have been better with other sides instead. 
I did, however, love the mashed potatoes here. It was incredibly creamy and chunky, adding texture to the dish.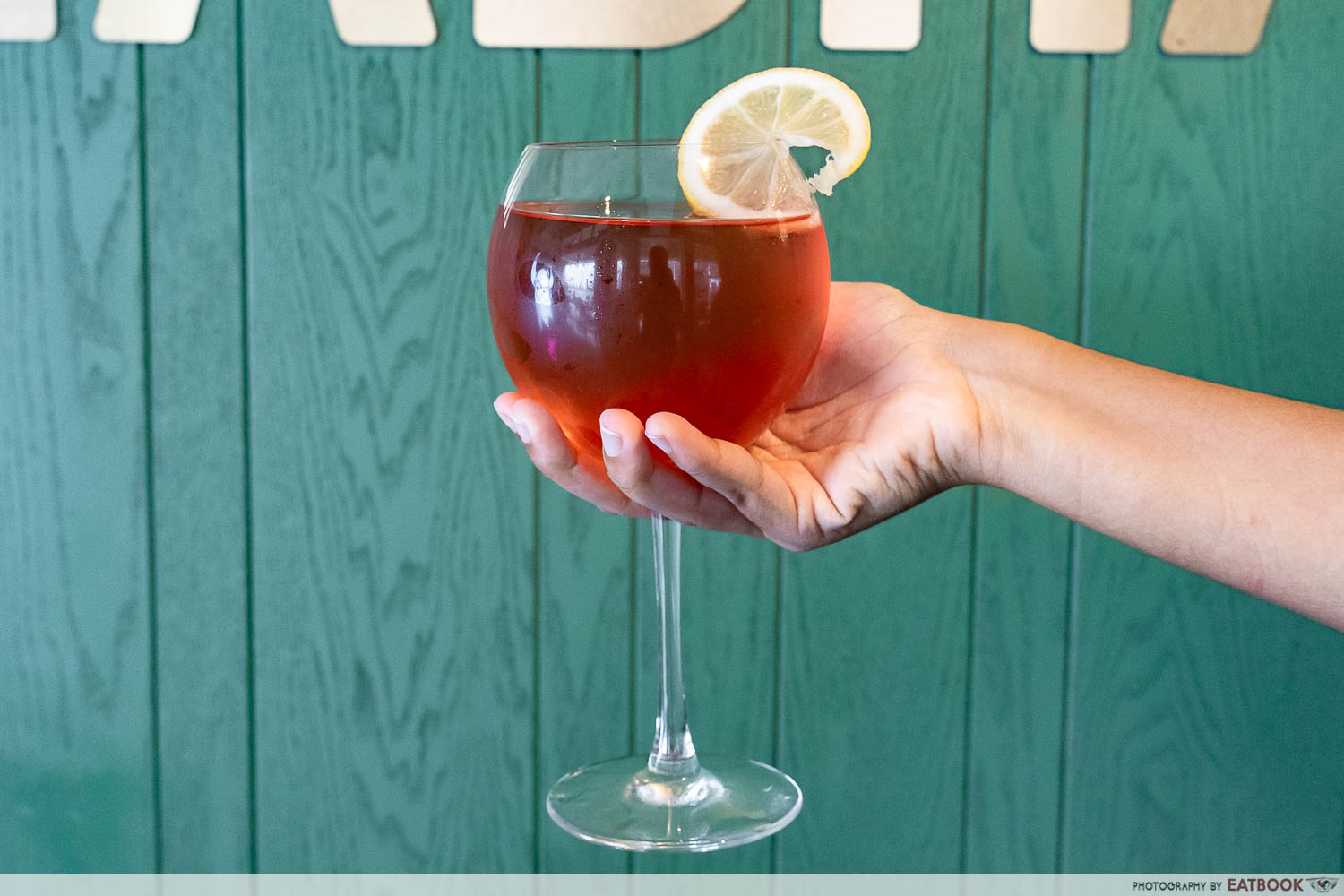 To wash it all down, we got the Elderflower Rose Spritzer ($6.90+), a carbonated drink with floral rose notes. While I have to admit that it isn't my cup of tea, it might be better suited for those who love floral-based drinks. It isn't overly sweet either, so it'll be a great ending to a rather heavy meal. 
Ambience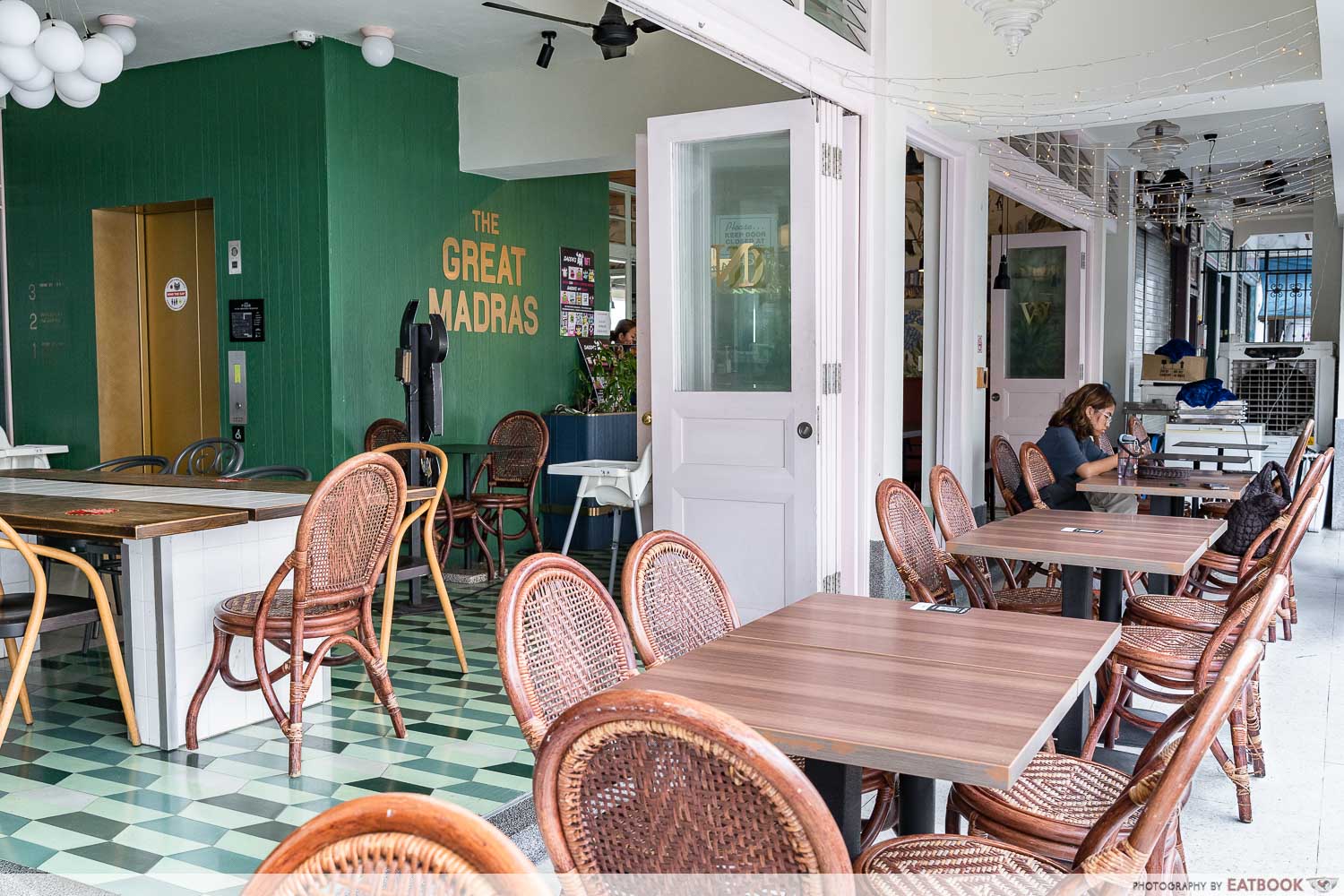 Daddy's On Madras is tucked away in an alley on Madras Street, and it's just a four-minute walk from Rochor MRT Station, or a five-minute walk from Jalan Besar MRT Station. Diners can expect an open dining concept, with most of their seats being located outdoors on the first floor of The Great Madras by Hotel Camo. The restaurant sports retro decor, made up of rattan chairs, wood tables, and green mosaic floor tiles that add a fun touch to the space. 
The verdict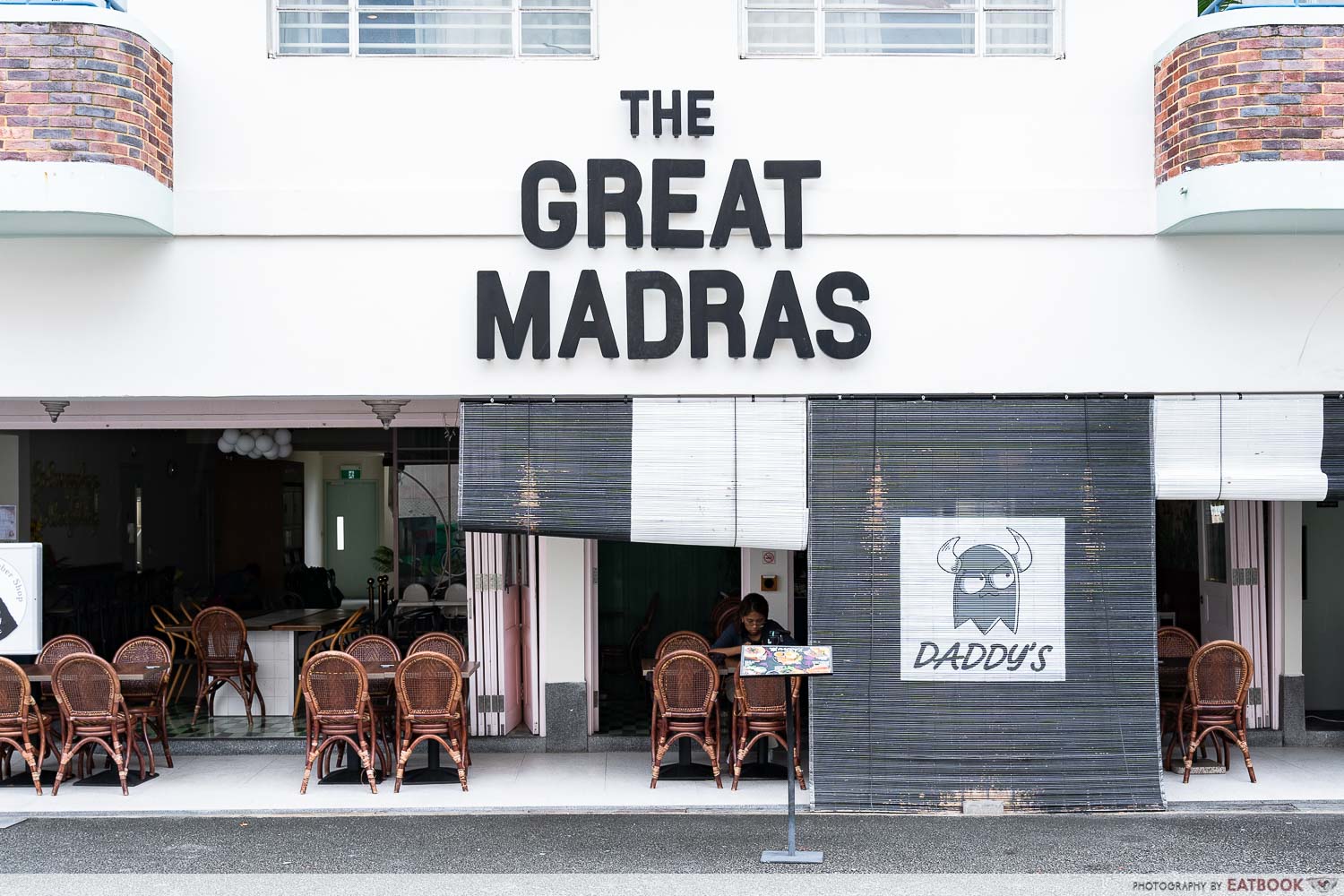 There were some hits and misses with the food at Daddy's On Madras. While the dishes  leaned towards the pricier side, I have to say that I greatly enjoyed the overall vibe and ambience of the place. Considering how they've got plenty of other dishes in store, and the fact that they're a Muslim-friendly restaurant, maybe I'll come back to give them another chance. 
For more halal-friendly eateries to check out, check out PerghChicks for delicious percik wings, volcano curry rice and more. Alternatively, head down to Wooly's Bagels, a Muslim-owned bagelwich spot with truffle egg, s'mores, and otah stuffed bagels! 
Address: 28 Madras Street, Singapore 208422
Opening hours: Tue-Fri 5pm to 10pm, Sat-Sun 12pm to 10pm
Website
Daddy's On Madras is a Muslim-owned eatery.
Wooly's Bagels Review: Loaded Otah And S'mores Bagel Sandwiches Near Farrer Park
Photos taken by Jasper Juay.
This was an independent visit by Eatbook.sg
Daddy's On Madras Review: Smoked Duck Pasta And Sambal Cheese Fries At This Muslim-Owned Restaurant
Daddy's On Madras Review: Smoked Duck Pasta And Sambal Cheese Fries At This Muslim-Owned Restaurant -

7/10
Summary
Pros:
– Sambal cheese fries were delicious
– Mashed potatoes were creamy and chunky
– Restaurant had a nice vibe 
Cons:
– Batter of the fried steak was a little salty
– Elderflower Rose Spritzer was bland
Recommended dishes: Sambal Cheese Fries ($10.90+), Ocean's Five Lemak Cili Api Linguine ($$21.90+)
Opening hours: Daily 11am to 9pm
Address: 28 Madras Street, Singapore 208422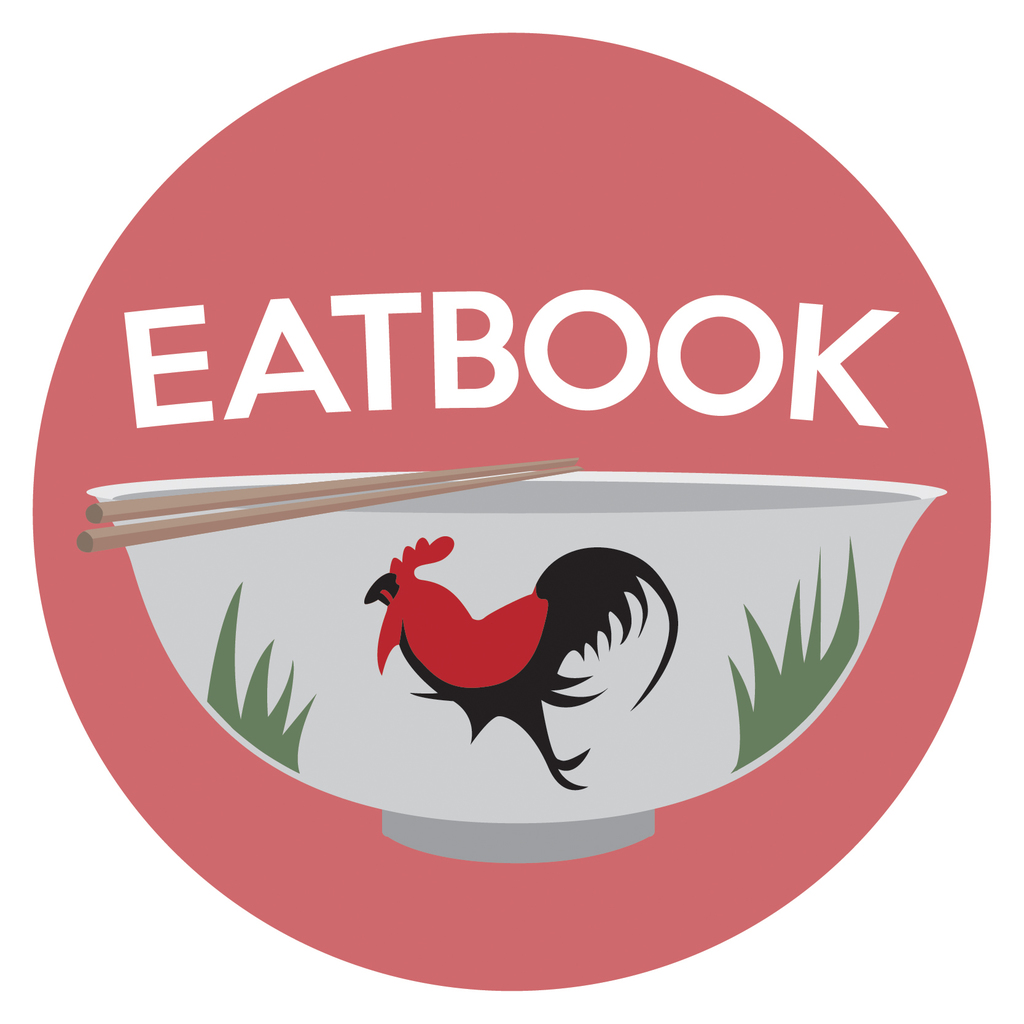 Drop us your email so you won't miss the latest news.