Danlao in Maxwell Food Centre has scrambled egg rice bowls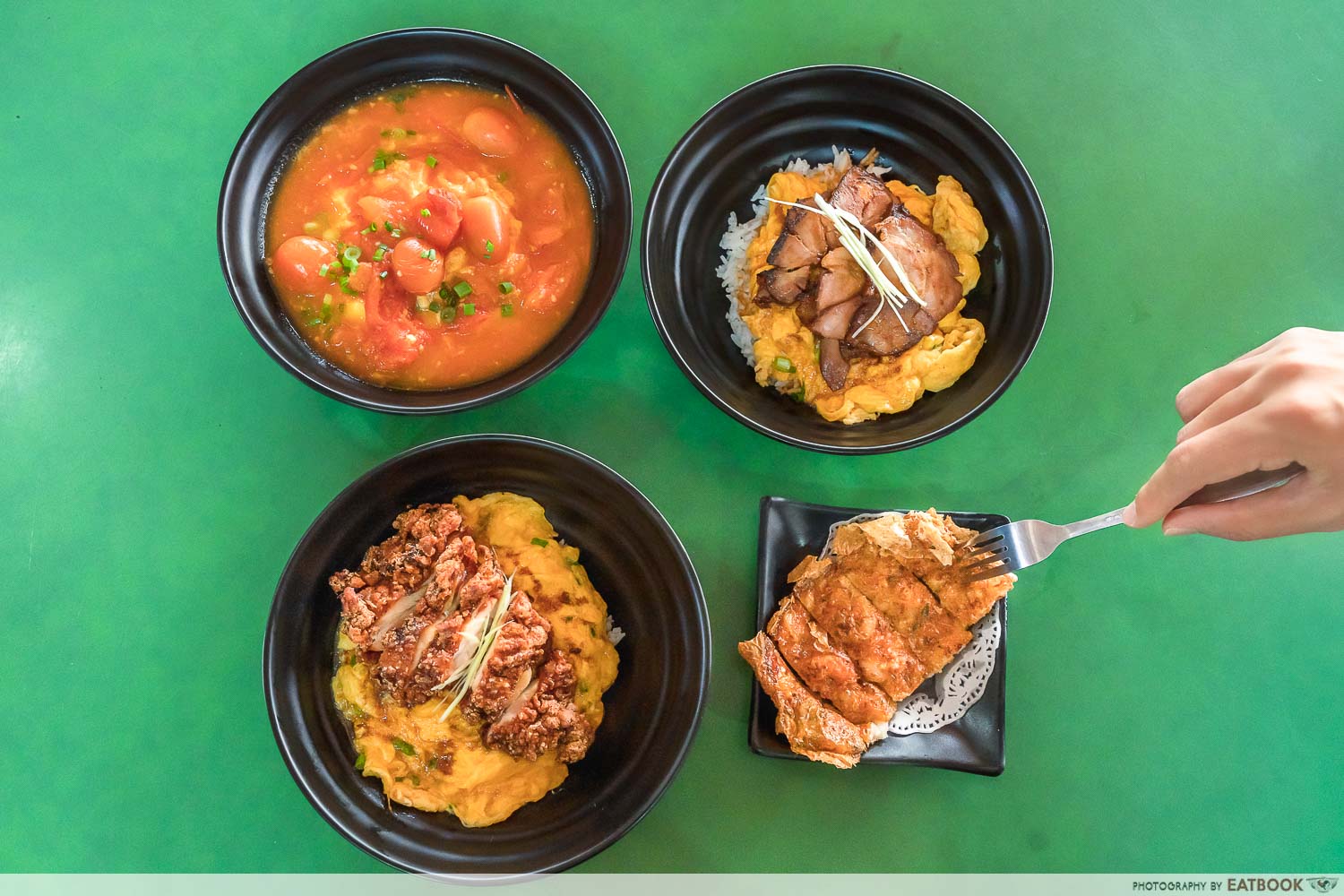 I must confess that I've always had a soft spot for eggs—scrambled eggs in particular. I've tried a couple of stalls selling scrambled eggs on rice over the years, but none has quite impressed me. Recently, when I heard about the opening of Danlao at Maxwell Food Centre, I had high expectations of what they had to offer.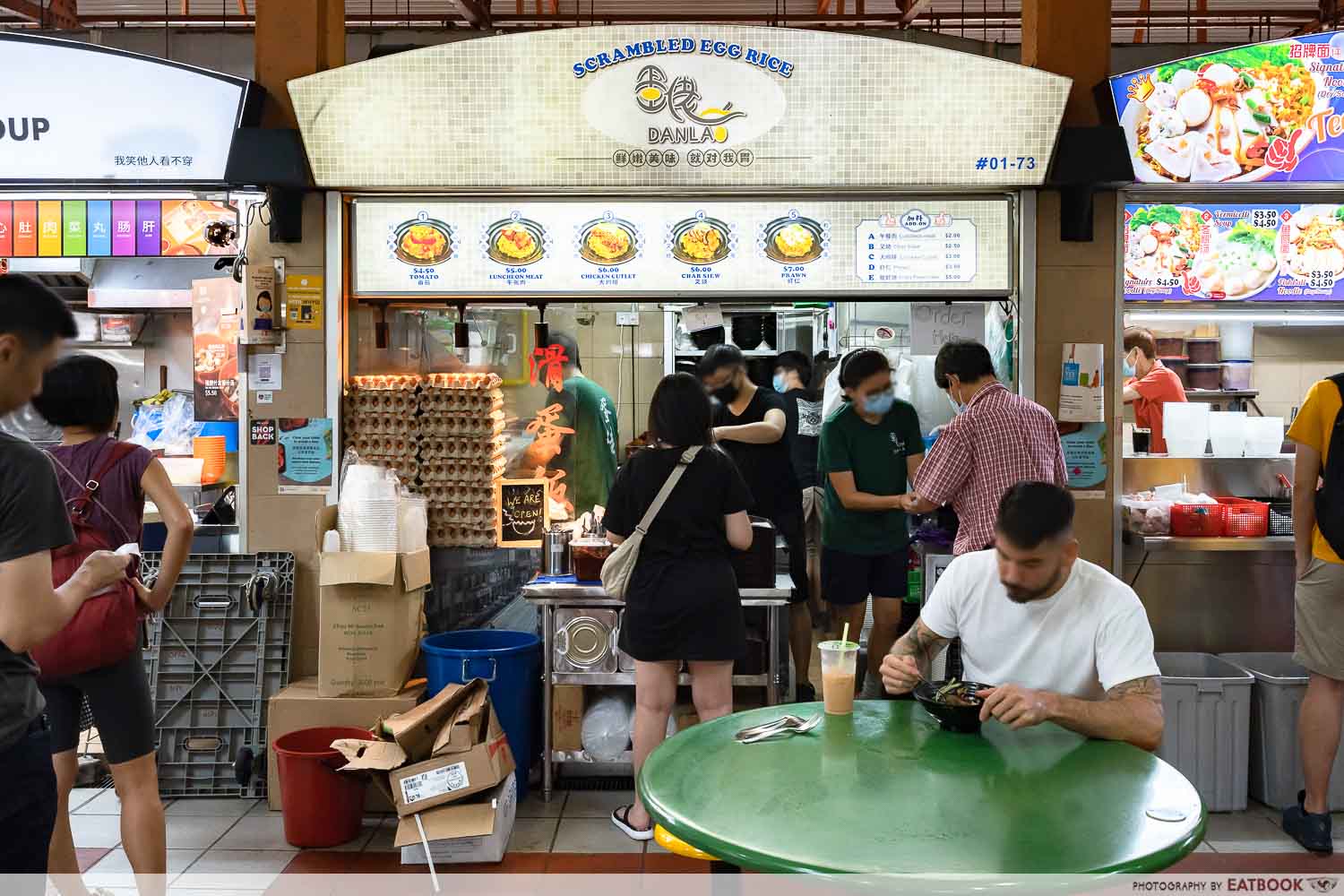 Danlao's scrambled egg rice bowls are said to replicate the taste of what you'd get in Hong Kong. When we spoke to the owners, we learnt that most of the ingredients used at Danlao are house-made, including their char siew and chicken cutlet. Everything here is cooked to order.
Food at Danlao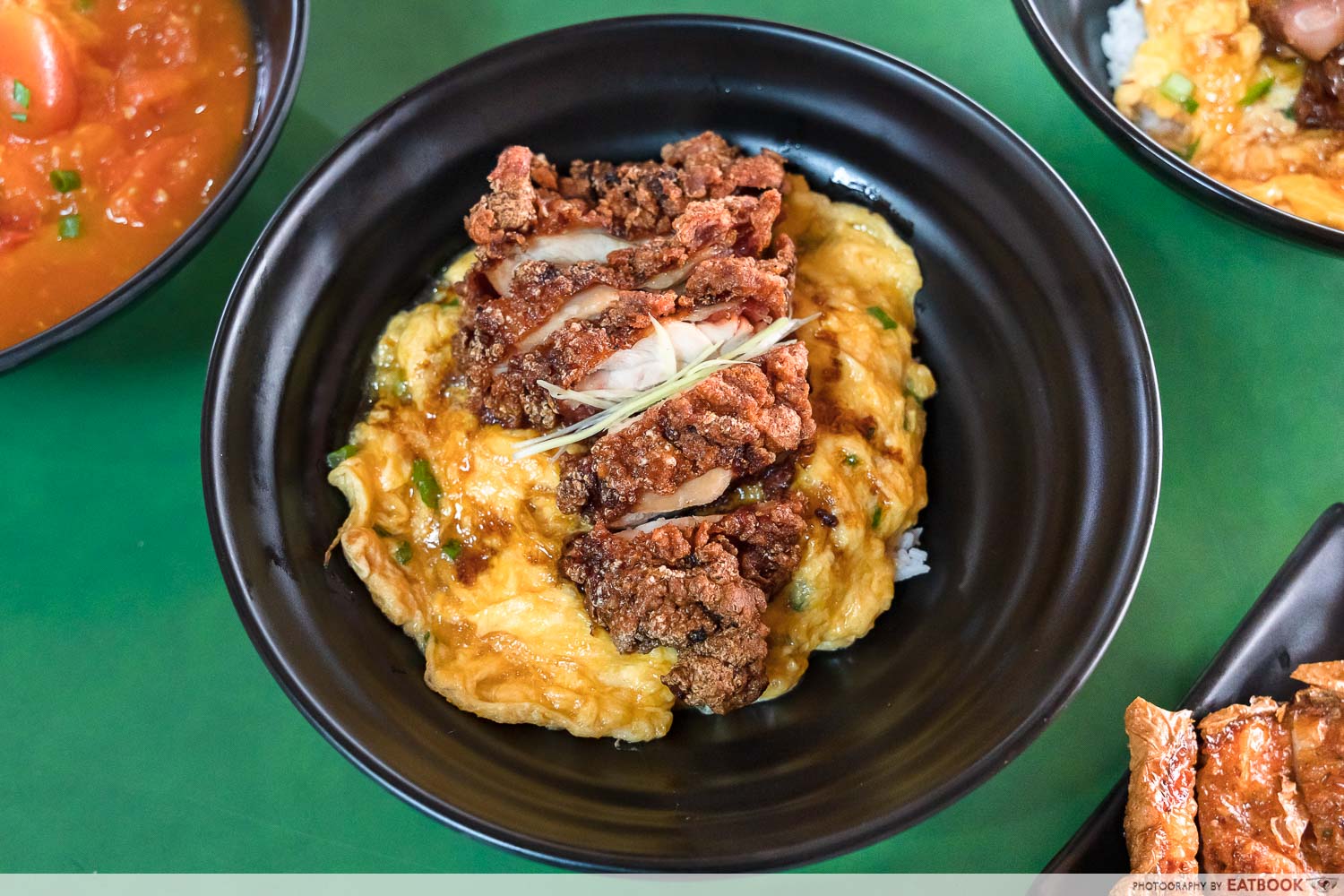 We started our meal with the Chicken Cutlet Scrambled Egg Rice ($6). "Chicken or egg first?" I teased my colleague with the age-old dilemma on what we should begin with.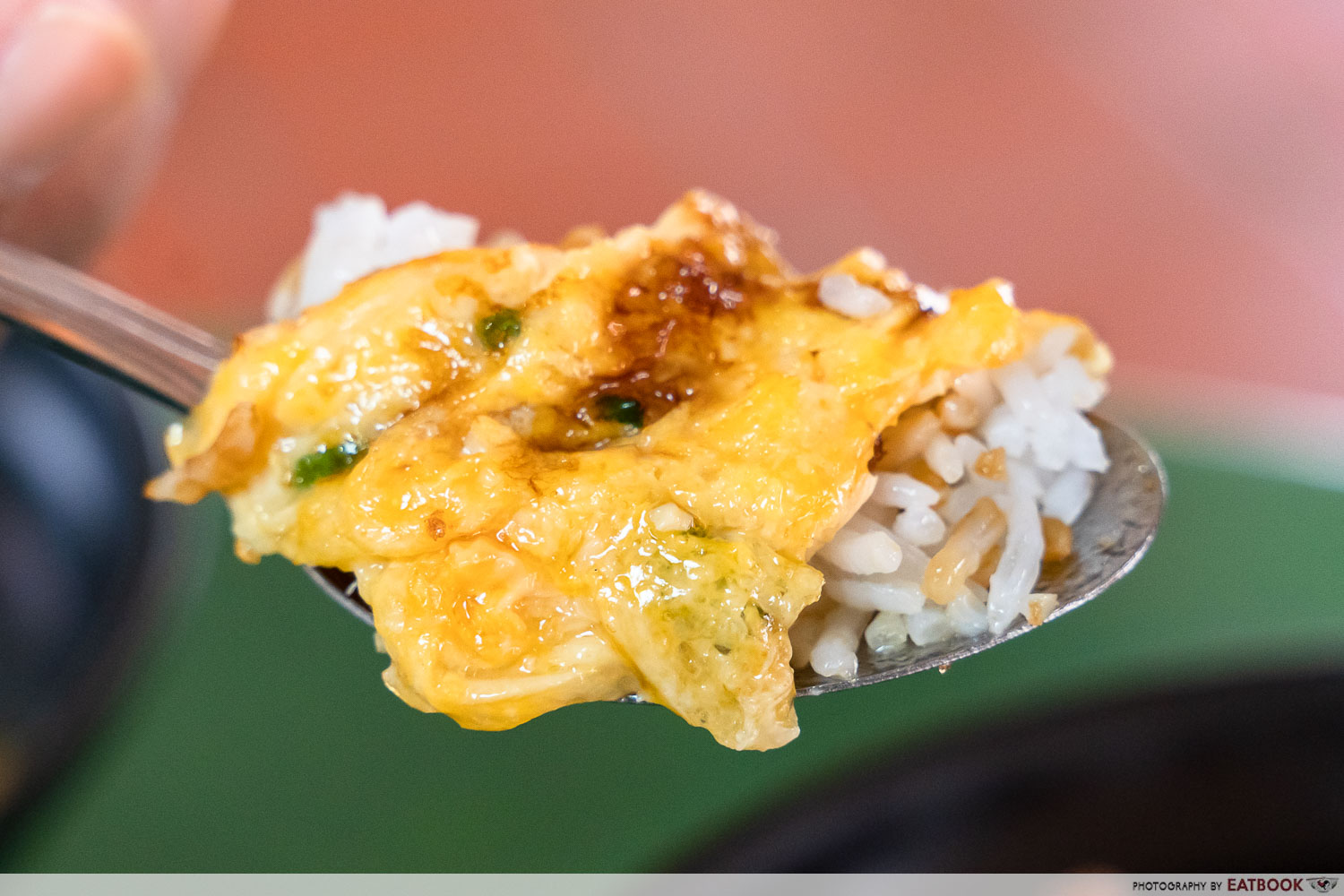 'Soft' and 'fluffy' were the first descriptors that popped up when I had my first bite of the scrambled egg. This really lived up to its claim of having a melt-in-the-mouth texture. The warm egg was also drizzled in light soya sauce, so each bite was savoury and addictive.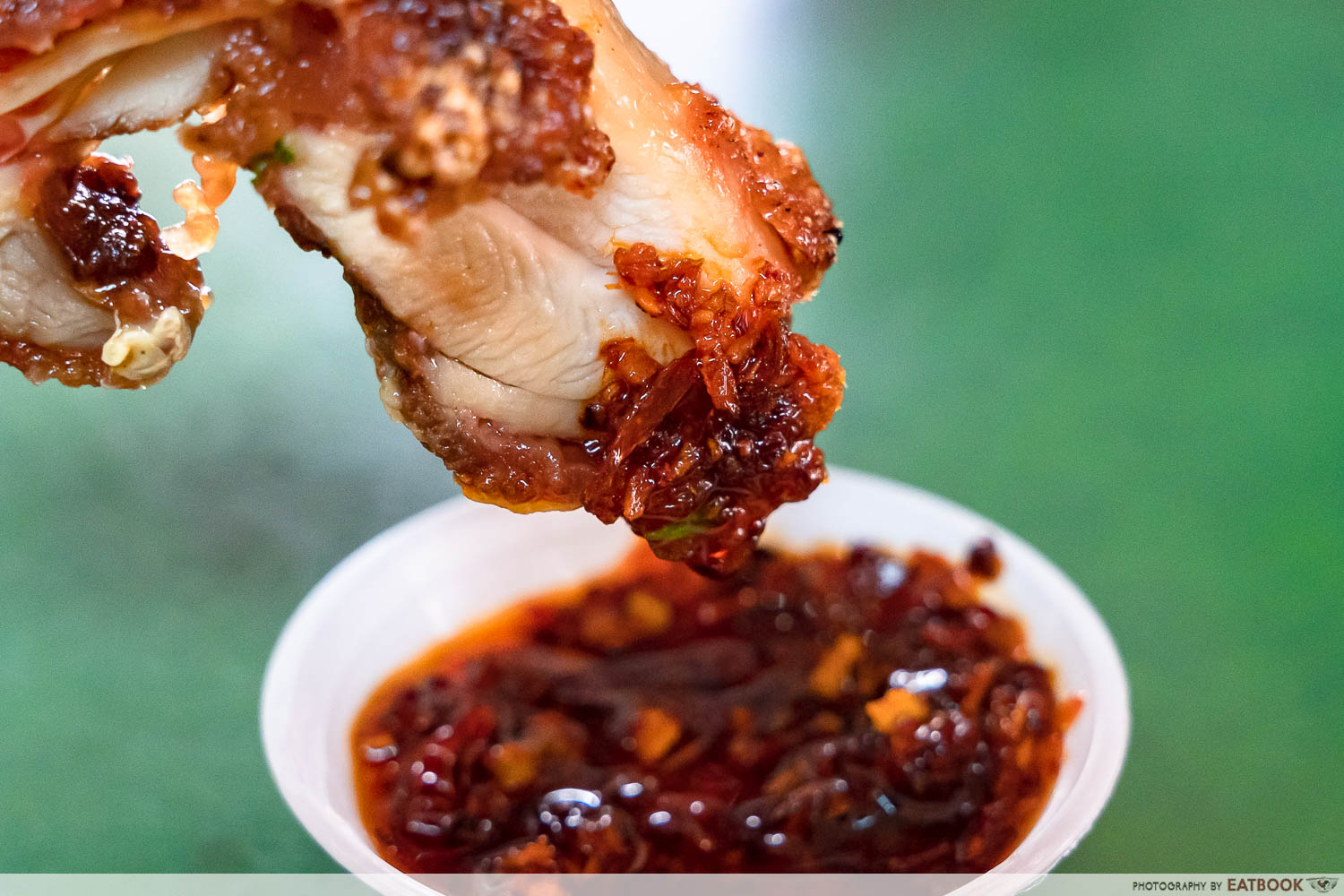 The deep-fried chicken cutlet was particularly enticing—juicy and tender thigh meat is held within a crispy batter. I thoroughly enjoyed its crispy crust, which gave every chicken slice a nice, crunchy bite. Dip each piece of chicken into their house-made chilli sauce for an extra spicy, tangy kick.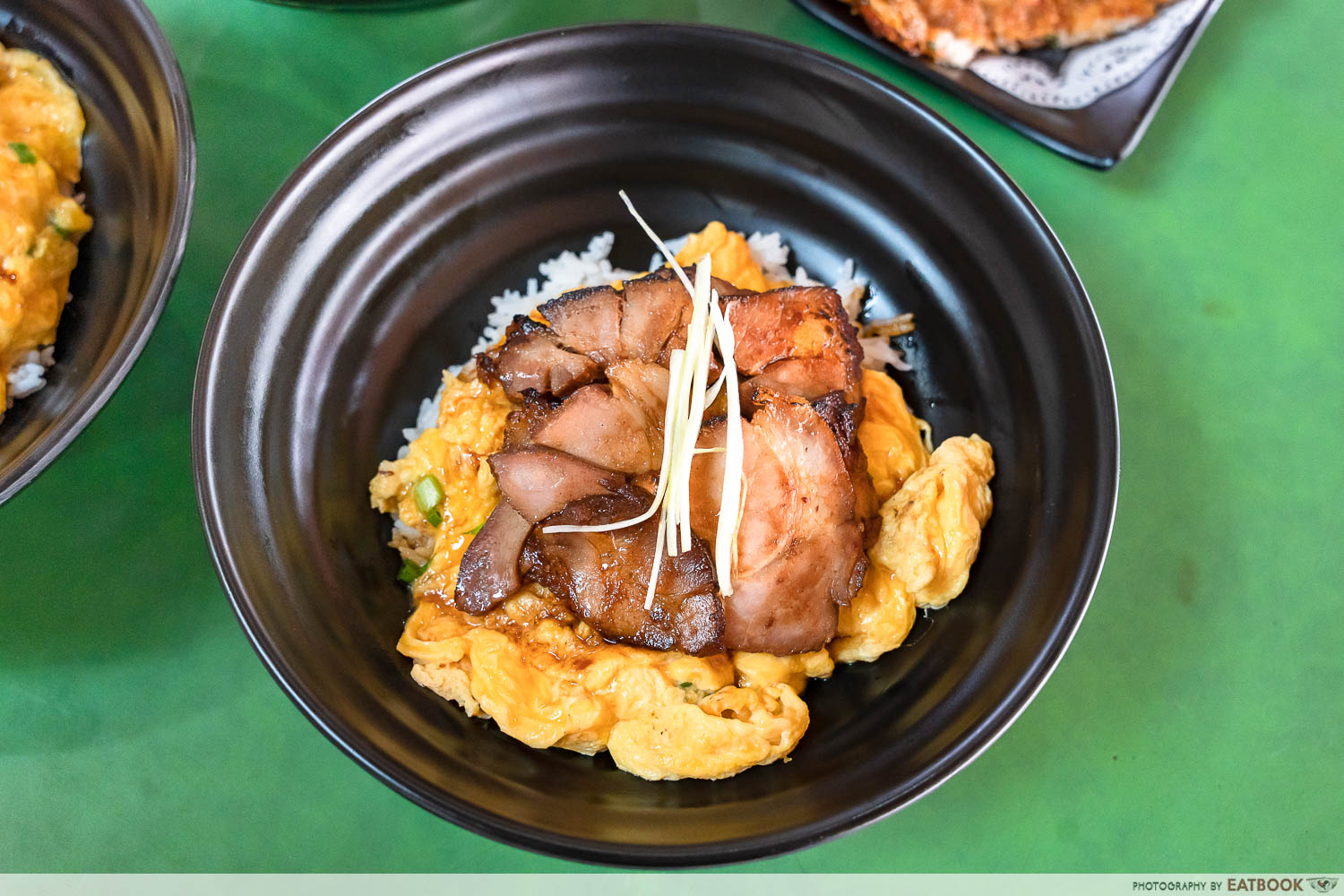 Next, we had the Char Siew Scrambled Egg Rice ($6). This dish was adorned with lean char siew slices, sitting atop the same silky scrambled eggs.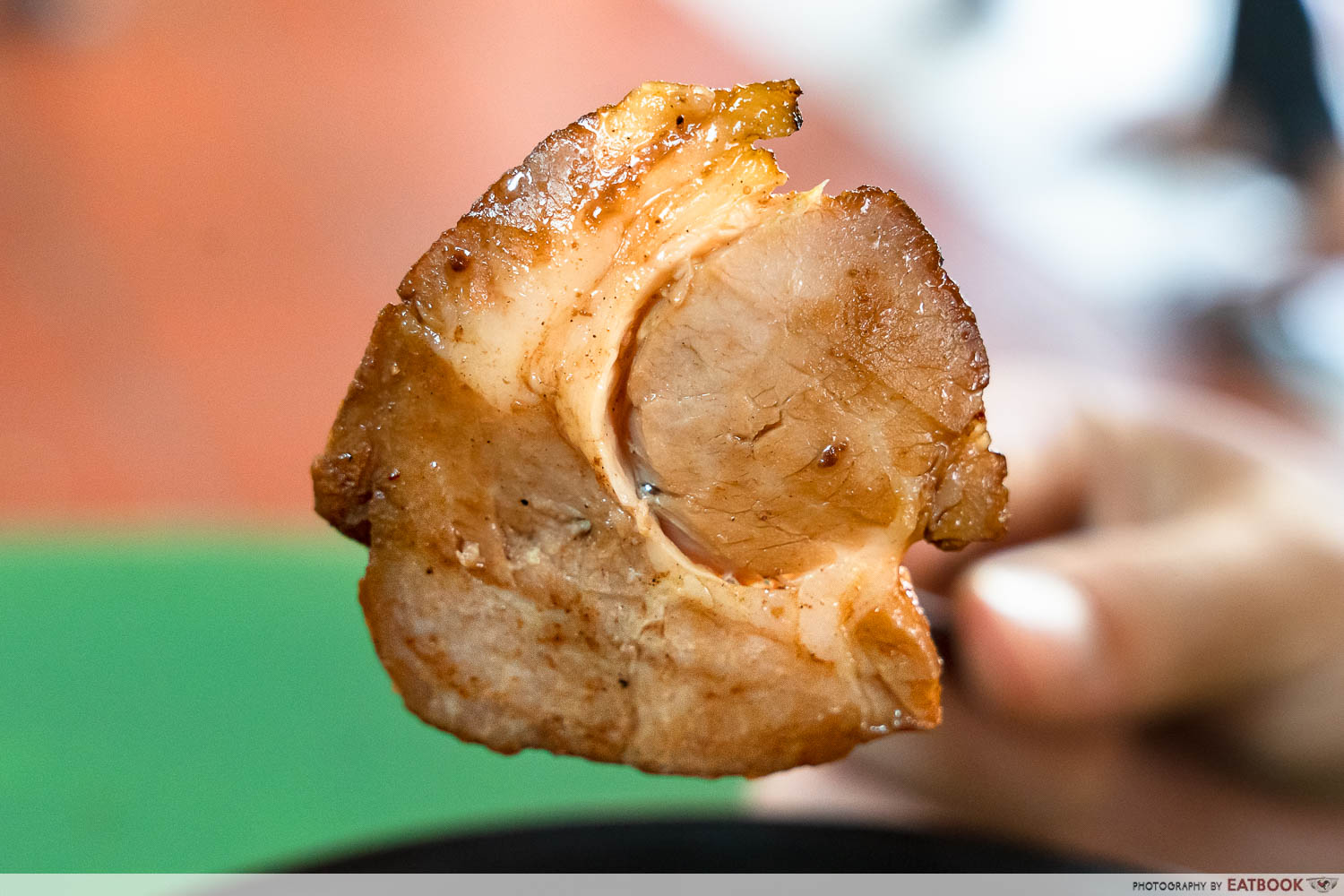 Though I wished the char siew slices were thicker and fattier, you do get a generous amount of tender meat in the bowl. Otherwise, the char siew had a deliciously smoky, charred aroma.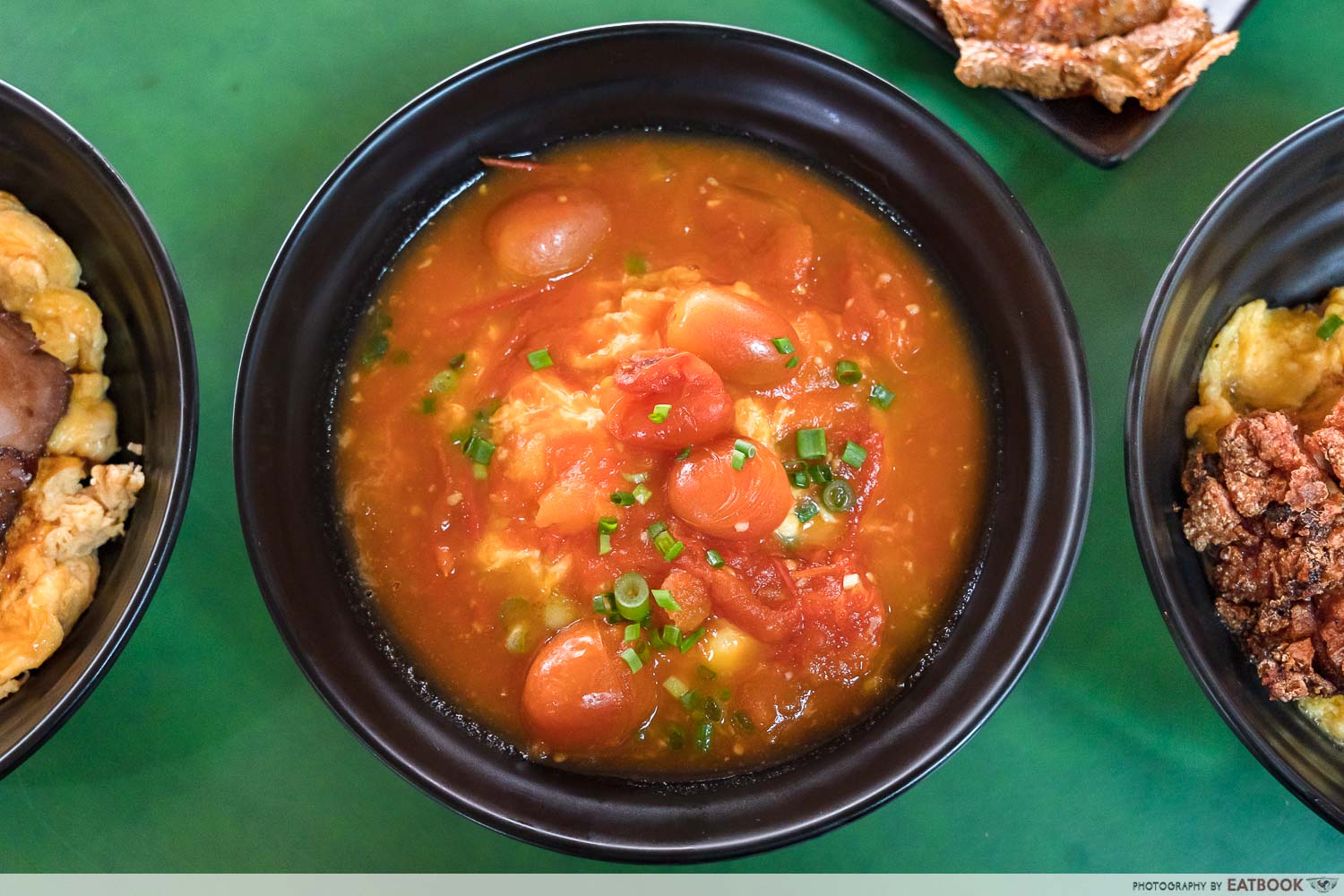 The last rice bowl we had was the Tomato Scrambled Egg Rice ($4.50). Unlike the previous two bowls, this dish had thick, moreish tomato gravy coating the scrambled eggs.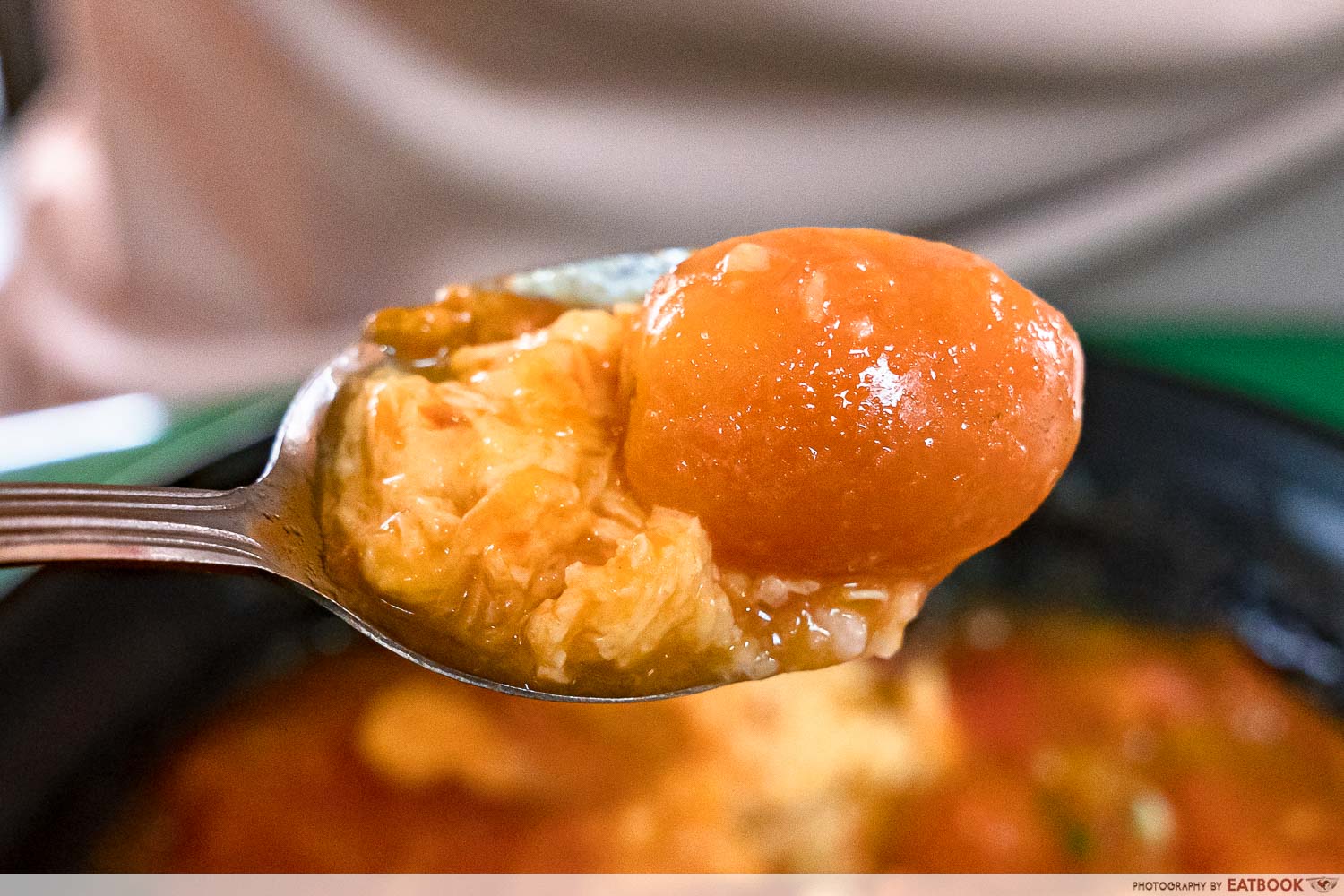 Personally, I felt that the tomato sauce was too sweet and heavy on the palate that it became a bit overpowering. However, I was impressed by how Danlao managed to offset the sweetness of the tomato broth with the addition of cherry tomato chunks, which were slightly tangy.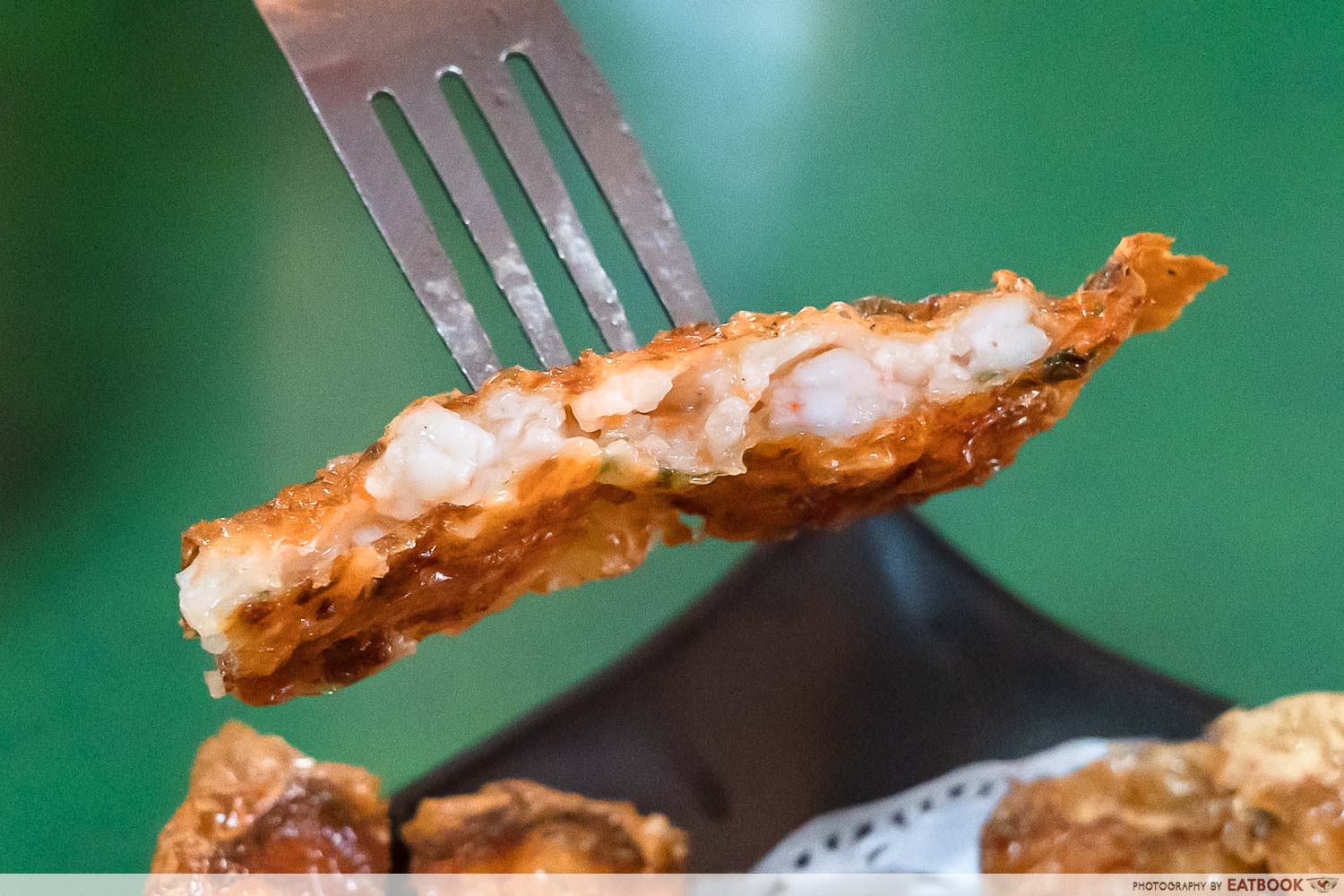 On the side, we had the Crispy Prawn Cake ($5), which reminded me of the ones served at Din Tai Fung. To my slight dismay, the size of the dish didn't quite match its price, as it came in a relatively small portion. Nonetheless, the prawn bits didn't let down as they were sweet and juicy, complementing the savoury scrambled eggs. 
Ambience at Danlao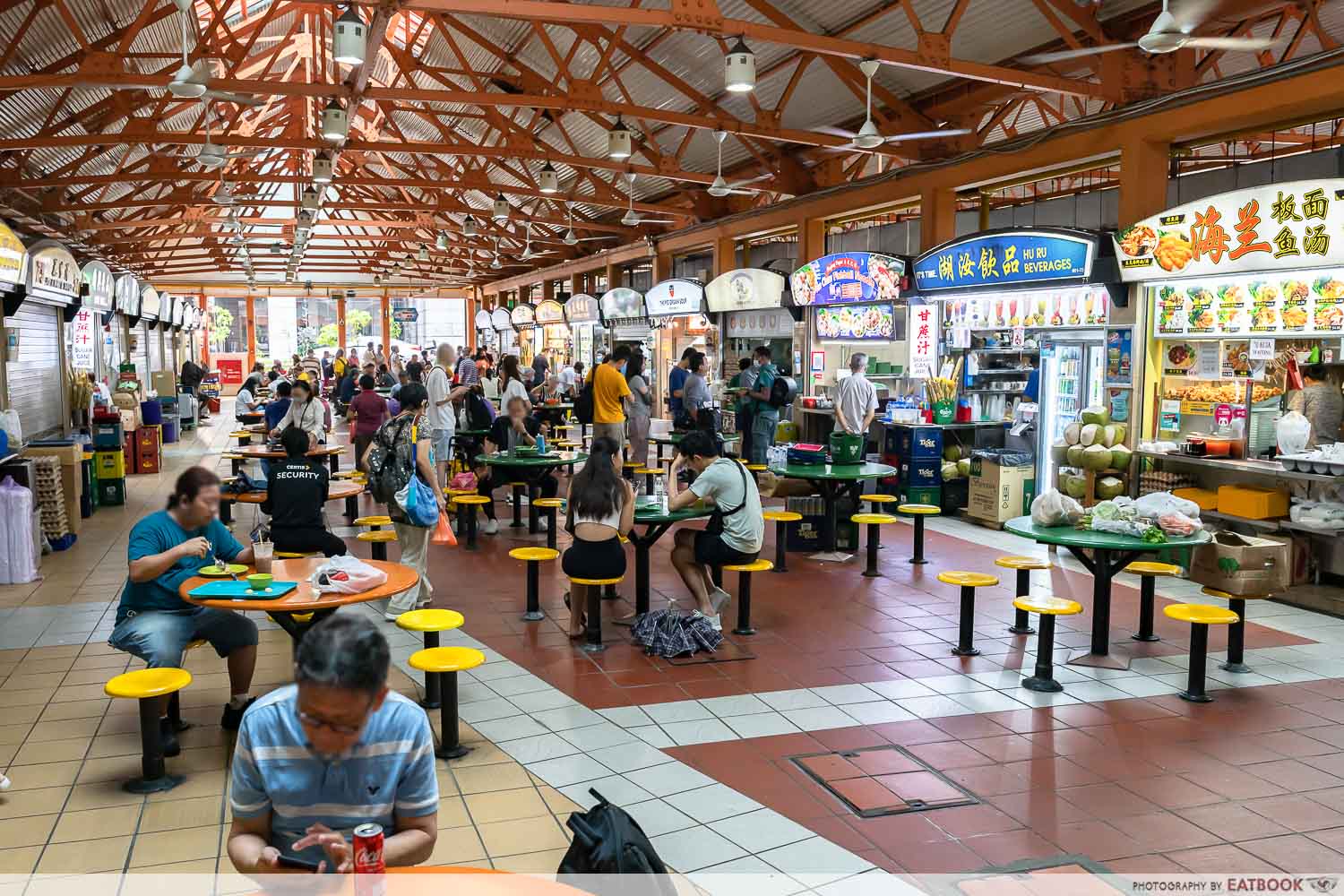 Danlao is located at Maxwell Food Centre, conveniently located next to Maxwell MRT Station. The walk is sheltered too, so you don't have to worry about adverse weather conditions while getting there. 
While the food centre is generally spacious with ample seats, it tends to get extremely packed during lunchtime, given that it is home to a multitude of great hawker finds. My colleague and I visited Danlao when they just opened for the day at 11am, so we didn't have to wait for long to get our food. However, we observed that the queue got longer approaching 12pm, so you might want to consider coming down earlier to skip the crowds.
The verdict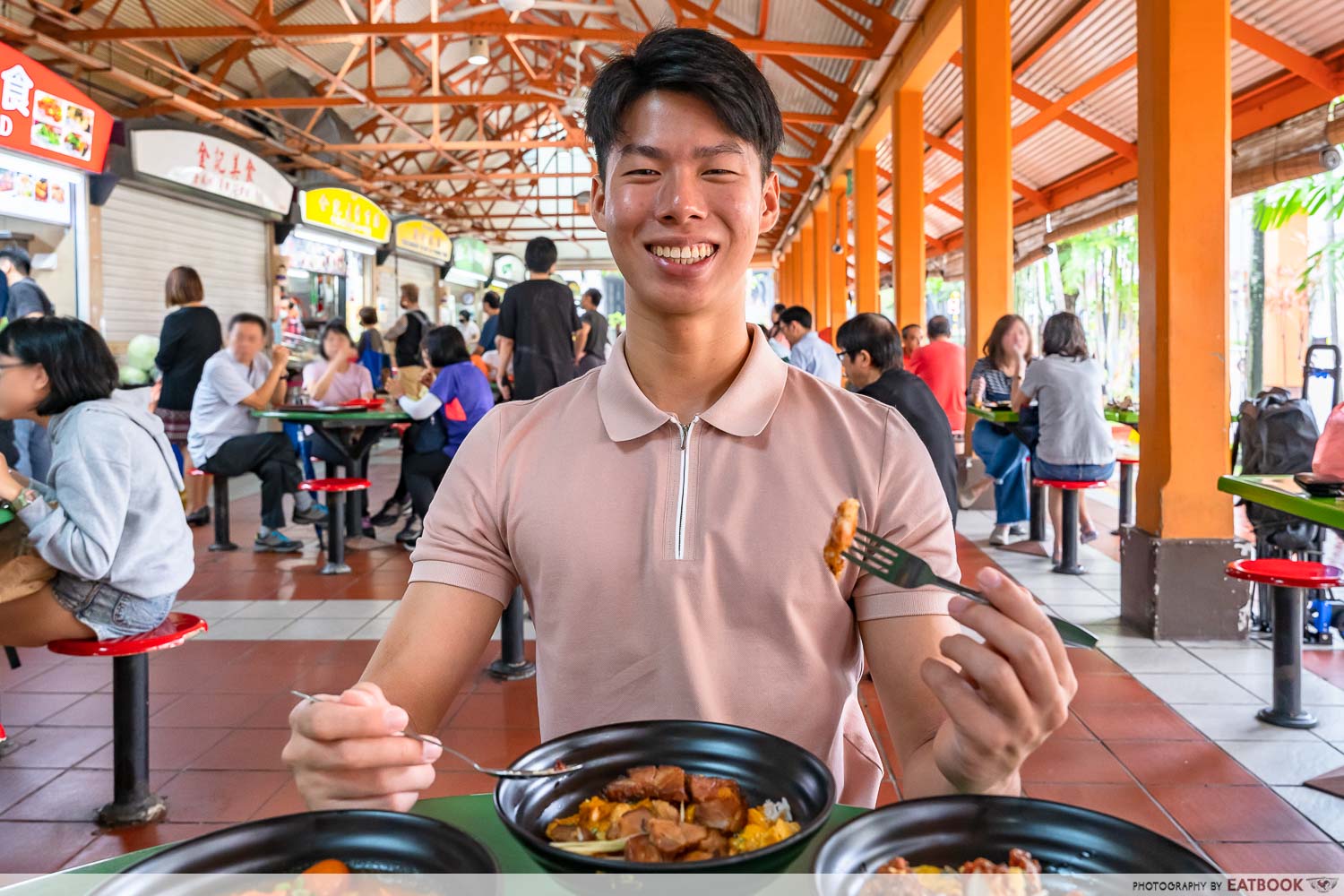 Danlao was definitely an egg-cellent lunch spot, with their affordable rice bowls and convenient location within the CBD. If you, like me, are a big egg lover, they're definitely worth the travel and waiting time, if any. I'm sure I'll be back at Danlao for a second visit very soon.
For more delicious grub at Maxwell Food Centre, check out our Maxwell Food Centre guide! Alternatively, if you'd like to try one of the best cai png in Singapore, take a look at our Fu Quan Mixed Vegetables Rice review!
Address: 1 Kadayanallur Street, #01-73, Maxwell Food Centre, Singapore 069184
Opening hours: Mon-Fri 11am to 8pm, Sat 11am to 3pm
Tel: 9337 7804
Website
Danlao is not a halal-certified eatery.
25 Maxwell Food Centre Stalls Including Green Chilli Chicken Rice And Famous Ondeh-Ondeh
Photos taken by Jasper Juay.
This was an independent visit by Eatbook.sg
Danlao Review: $4.50 Scrambled Eggs On Rice By Ex-Eggslut Chefs
Danlao Review: $4.50 Scrambled Eggs On Rice By Ex-Eggslut Chefs -

8/10
Summary
Pros
– The scrambled eggs were soft and savoury
– Short walking distance from Maxwell MRT Station
Cons
– The flavour of the Tomato Scrambled Egg Rice was too overpowering
– The portion of the Crispy Prawn Cake was too small
Recommended dishes: Chicken Cutlet Scrambled Egg Rice ($6), Char Siew Scrambled Egg Rice ($6)
Opening hours: Mon-Fri 11am to 8pm, Sat 11am to 3pm
Address: 1 Kadayanallur Street, #01-73, Maxwell Food Centre, Singapore 069184