Fu Quan Mixed Vegetables Rice has famous cai png at Bendemeer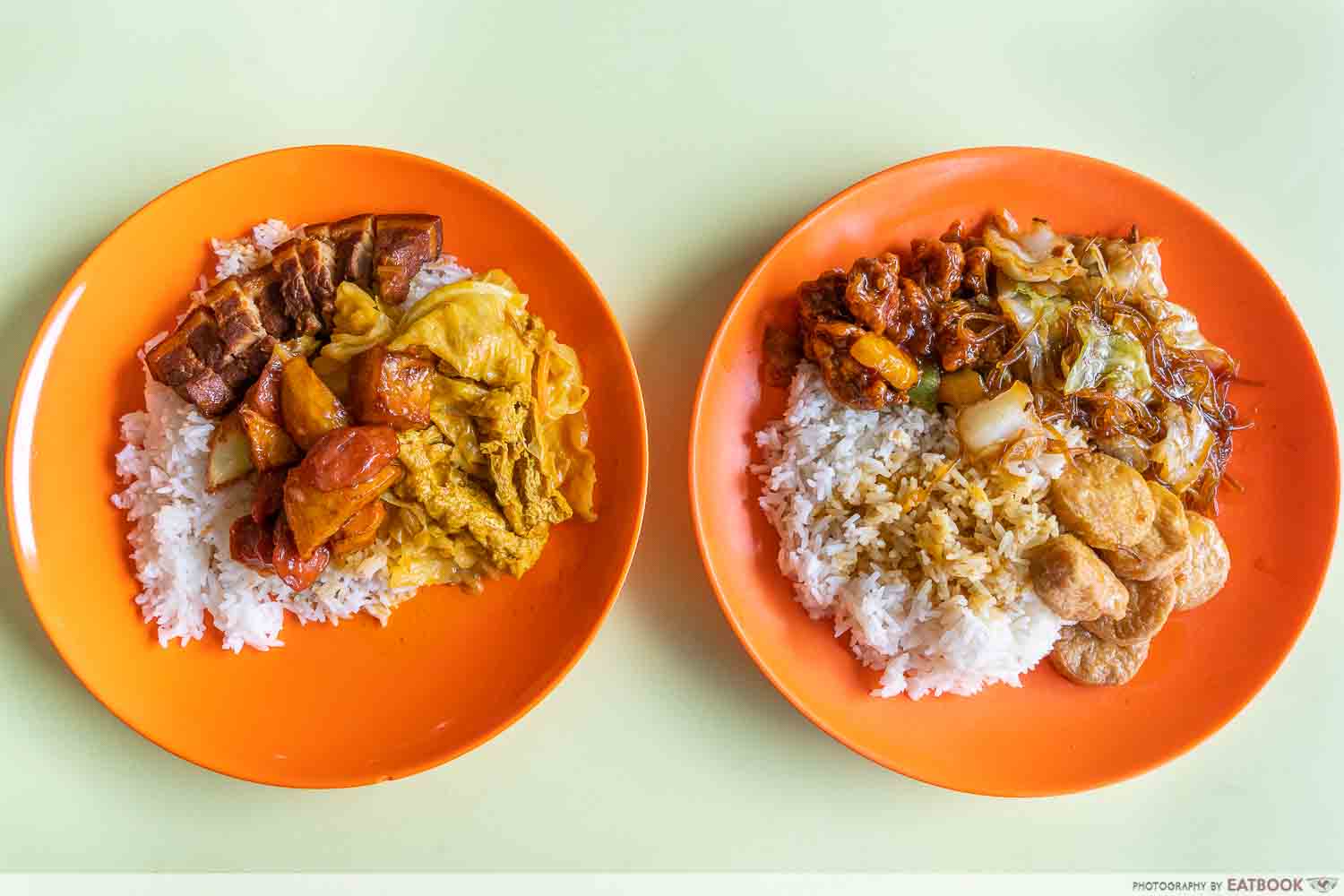 Thames, a former Eatbook.sg writer, always said that Fu Quan Mixed Vegetables Rice at Bendemeer Market & Food Centre serves the best cai png in the country. And despite my respect for the guy, I always found the claim a little strange: how could something as ordinary and ubiquitous as cai png have a "best" stall?
Don't get me wrong, I love cai png and all it represents, but I didn't think a plate of economy rice could be so delicious that I would label it the unequivocal "best". That is, until I gave Fu Quan a real shot.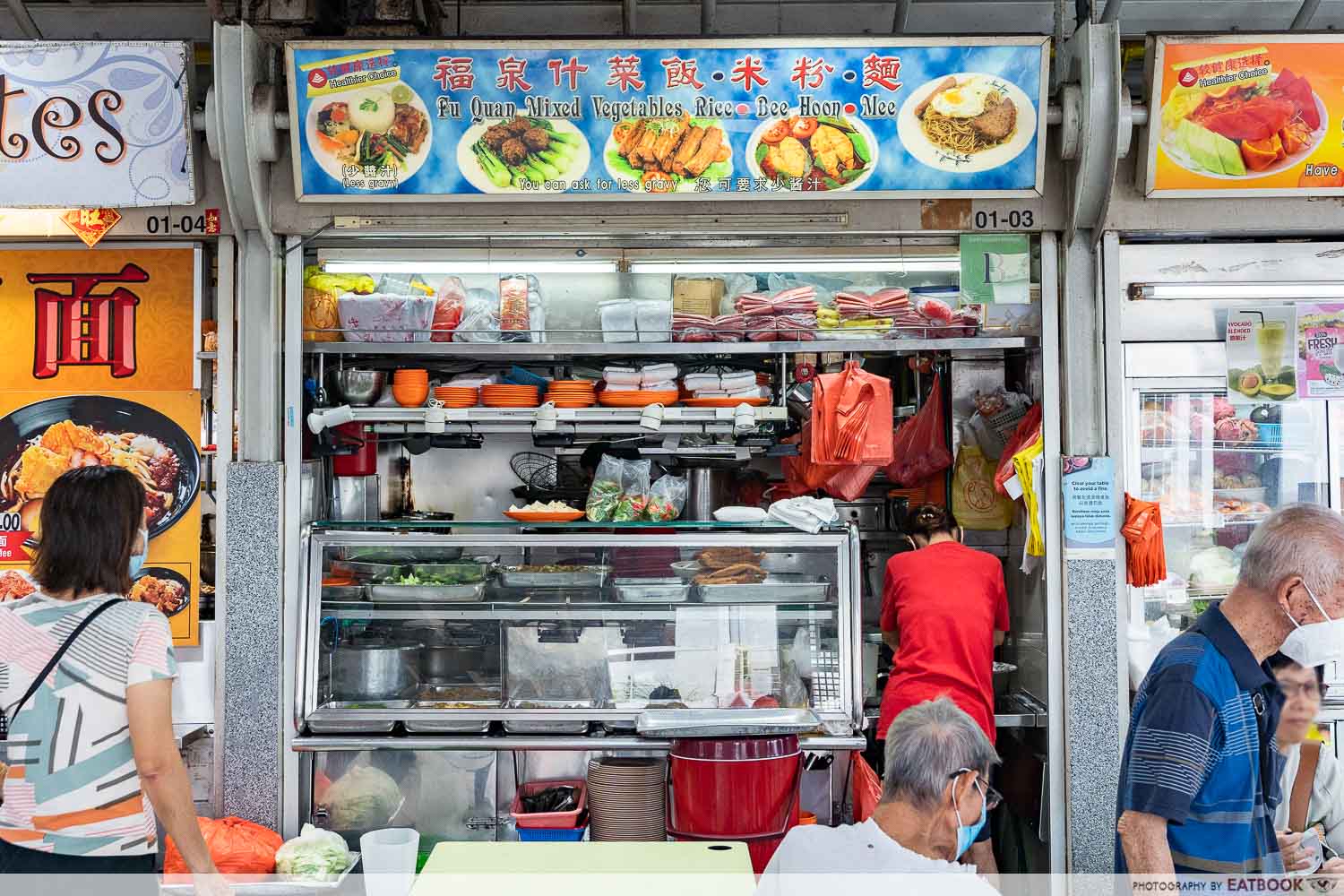 I'm not exaggerating when I say that Fu Quan is, when compared to other cai png stalls I've tried, simply better than the rest. And that's down to one reason: its affordable and homely dishes are just very, very well cooked.
Food at Fu Quan Mixed Vegetables Rice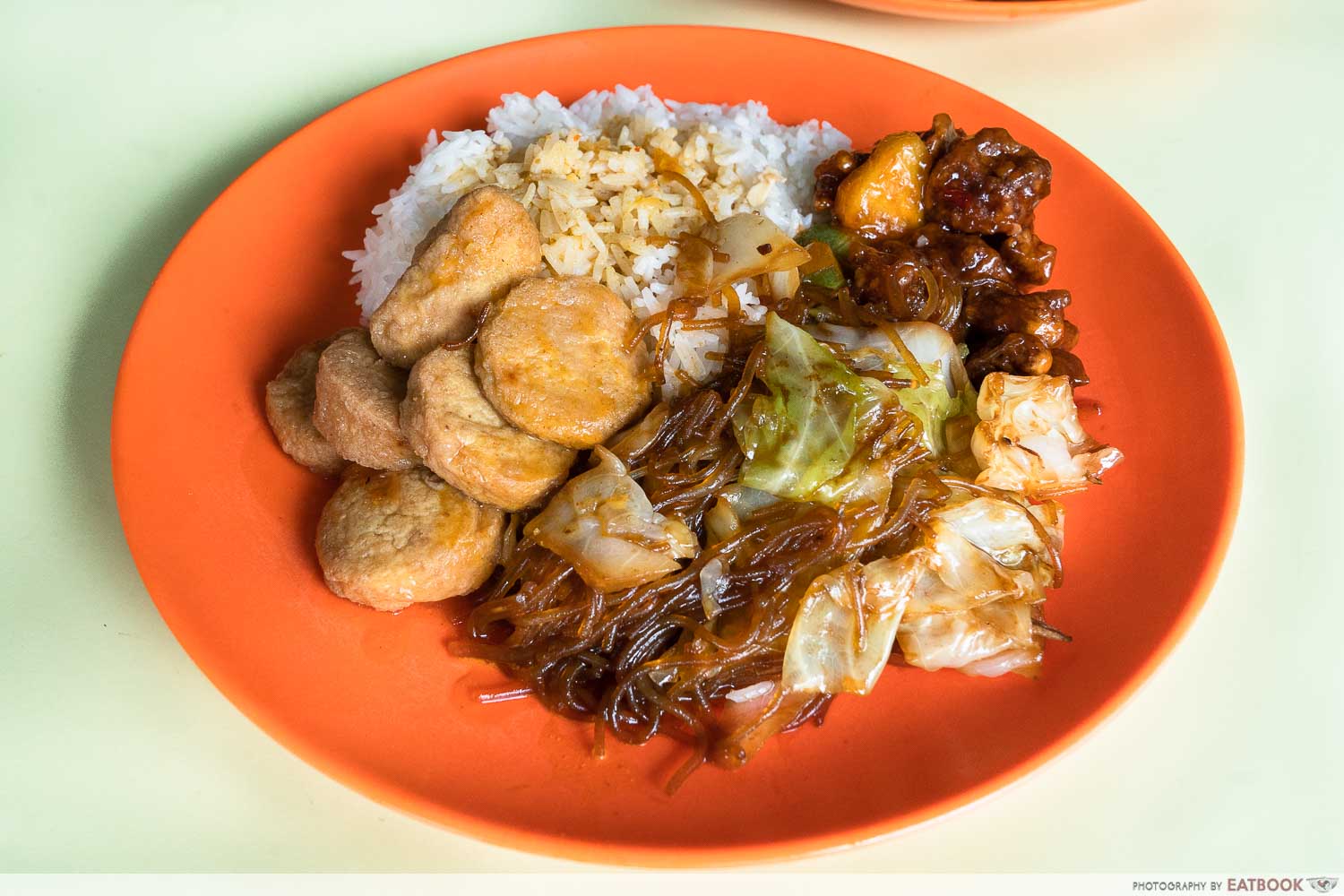 I visited Fu Quan with another colleague, so we ordered one plate of cai png each. I picked the Sweet and Sour Pork, Egg Tofu, and Cabbage with Tang Hoon—this cost me a mere $3.50.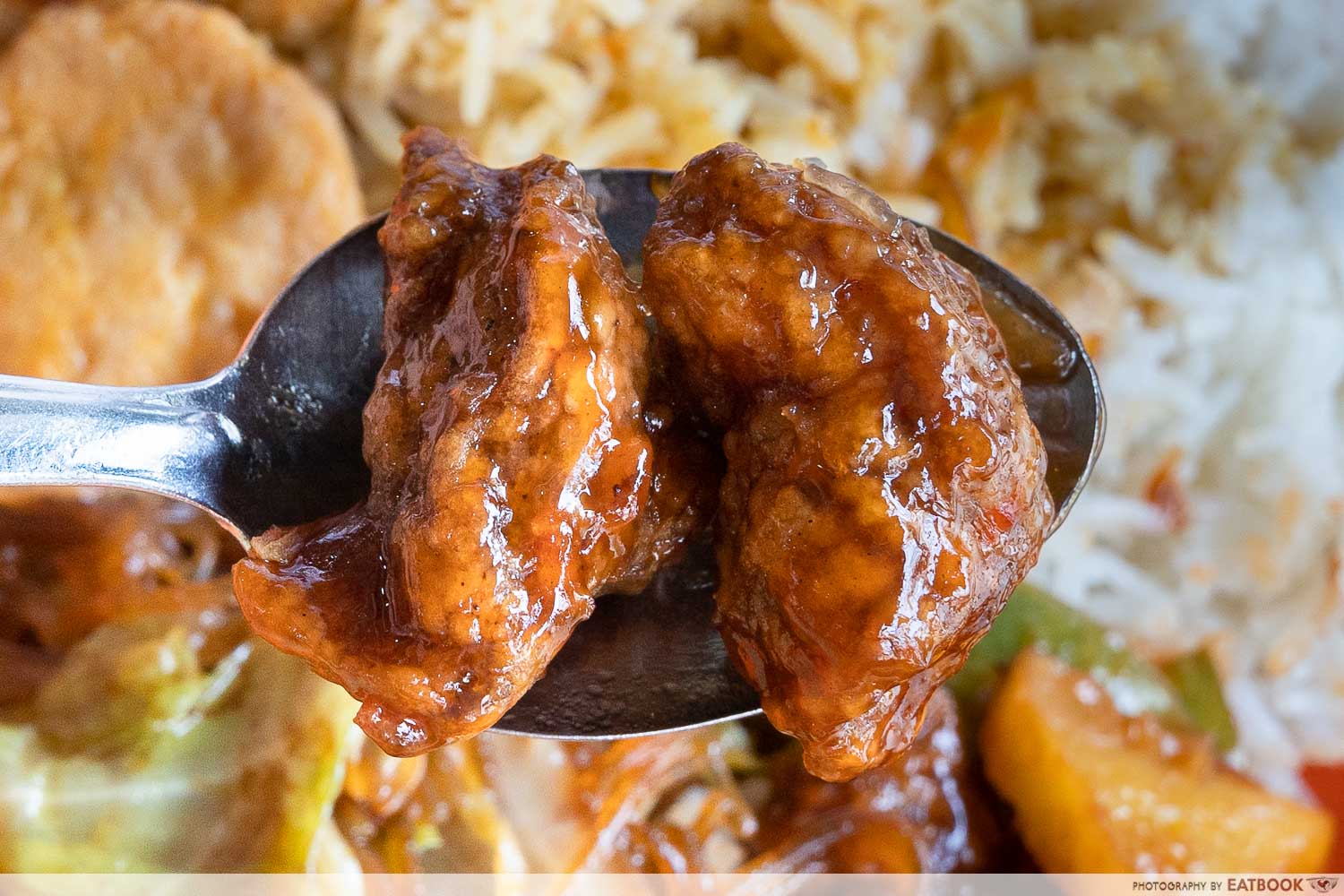 I'm pretty basic when it comes to cai png, so sweet and sour pork is included in most of my orders. And yet, even though I've tried so many different renditions of the dish at countless cai png stalls, the pork here just hits different. It had a depth of flavour that ensured all the sweet and sour notes stood out. The meat itself was tender, juicy, and covered with a wonderfully crispy outer layer.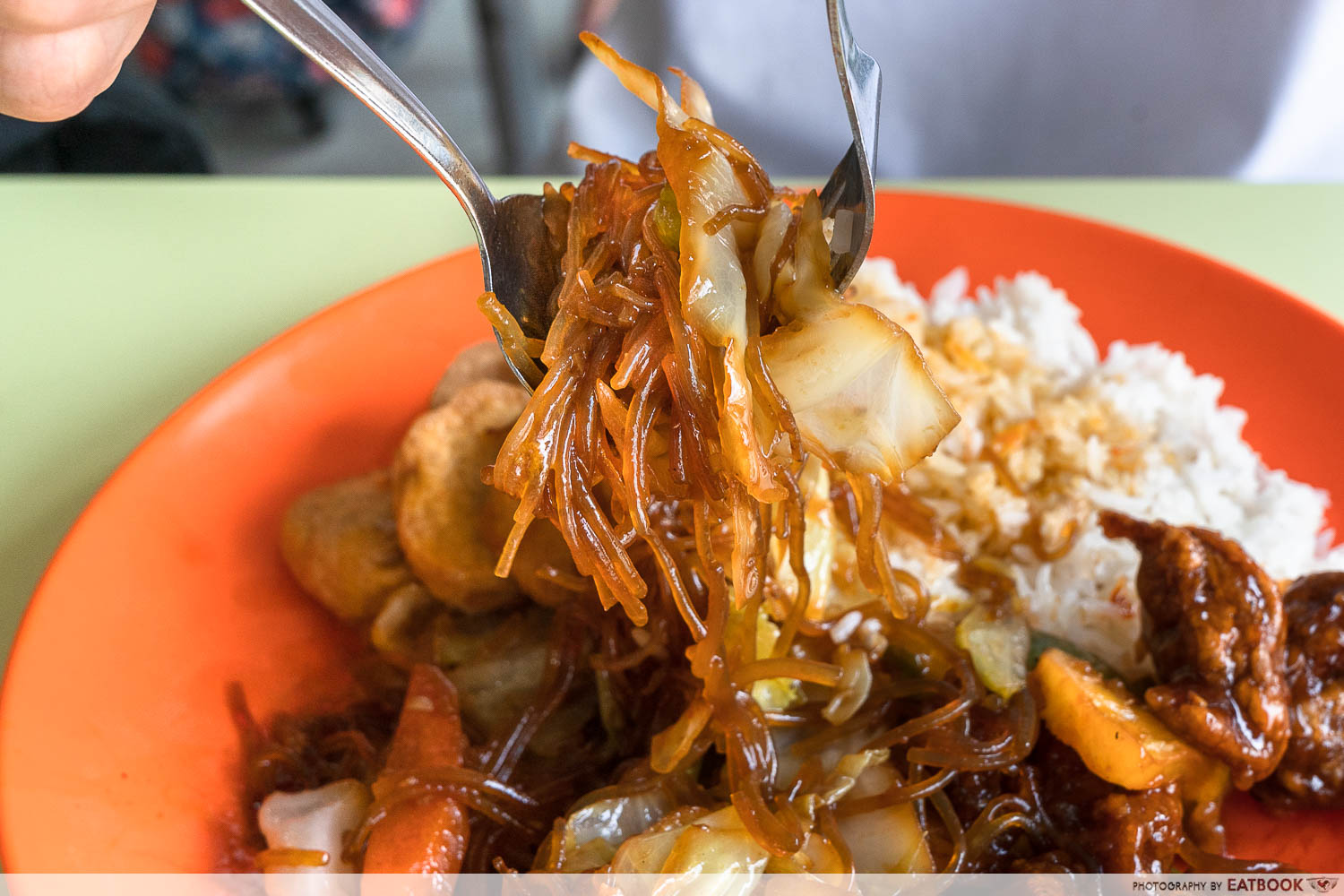 It's rare for the vegetable dish to be as good as the meat pick, but this was exactly how I felt about the cabbage and tang hoon mix. It was cooked in a fragrant oyster sauce, which lent the dish an addictive savoury flavour, while the natural sweetness of cabbage enhanced the dish's overall taste. The slightly chewy tang hoon contrasted with the crunchy cabbage leaves nicely, too.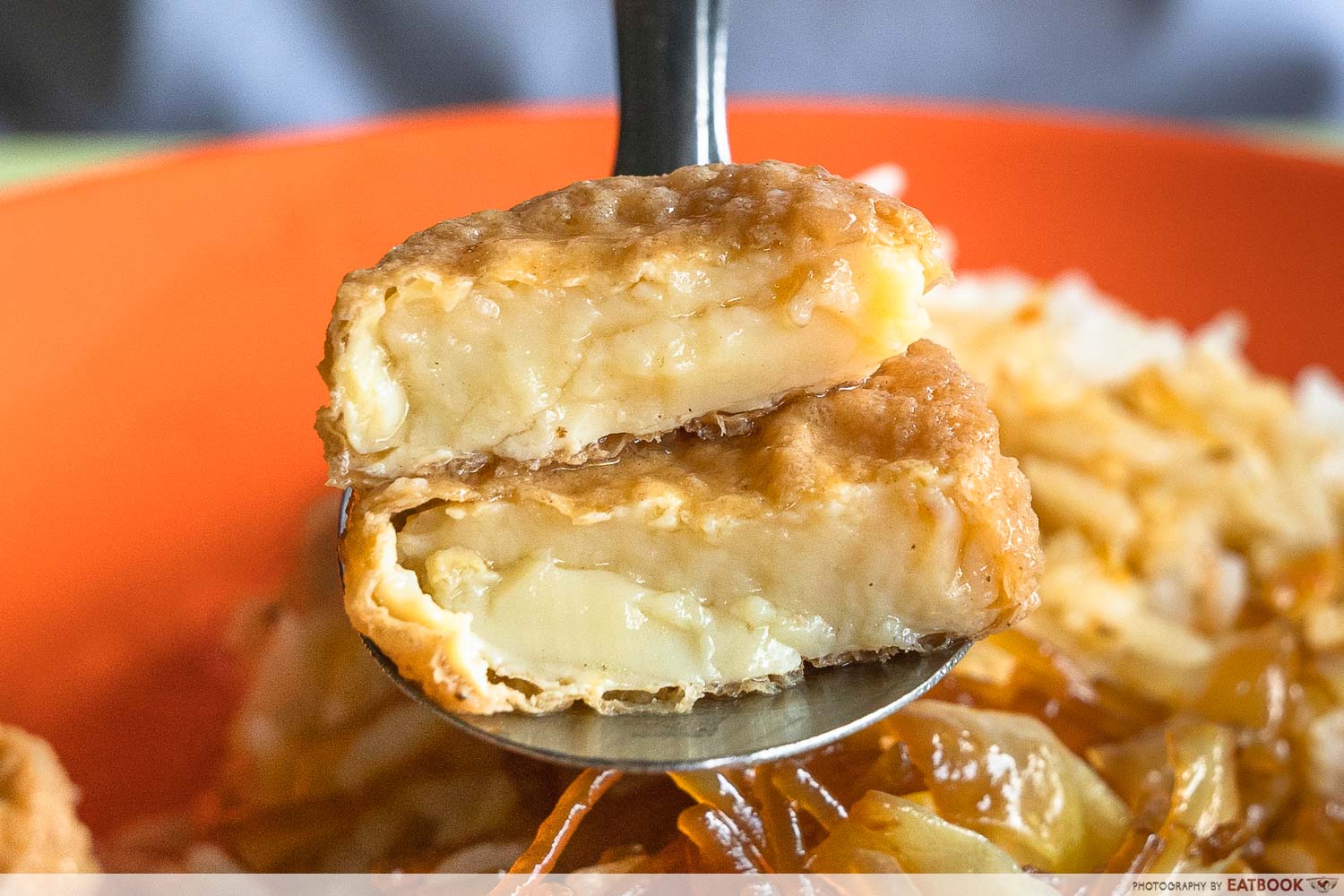 Perhaps it was because the previous two dishes were so good, but the egg tofu tasted lacklustre by comparison. It was even slightly too firm for my liking—which isn't ideal, as egg tofus should be silky soft. Still, this was a minor blip in a plate of cai png that really impressed me.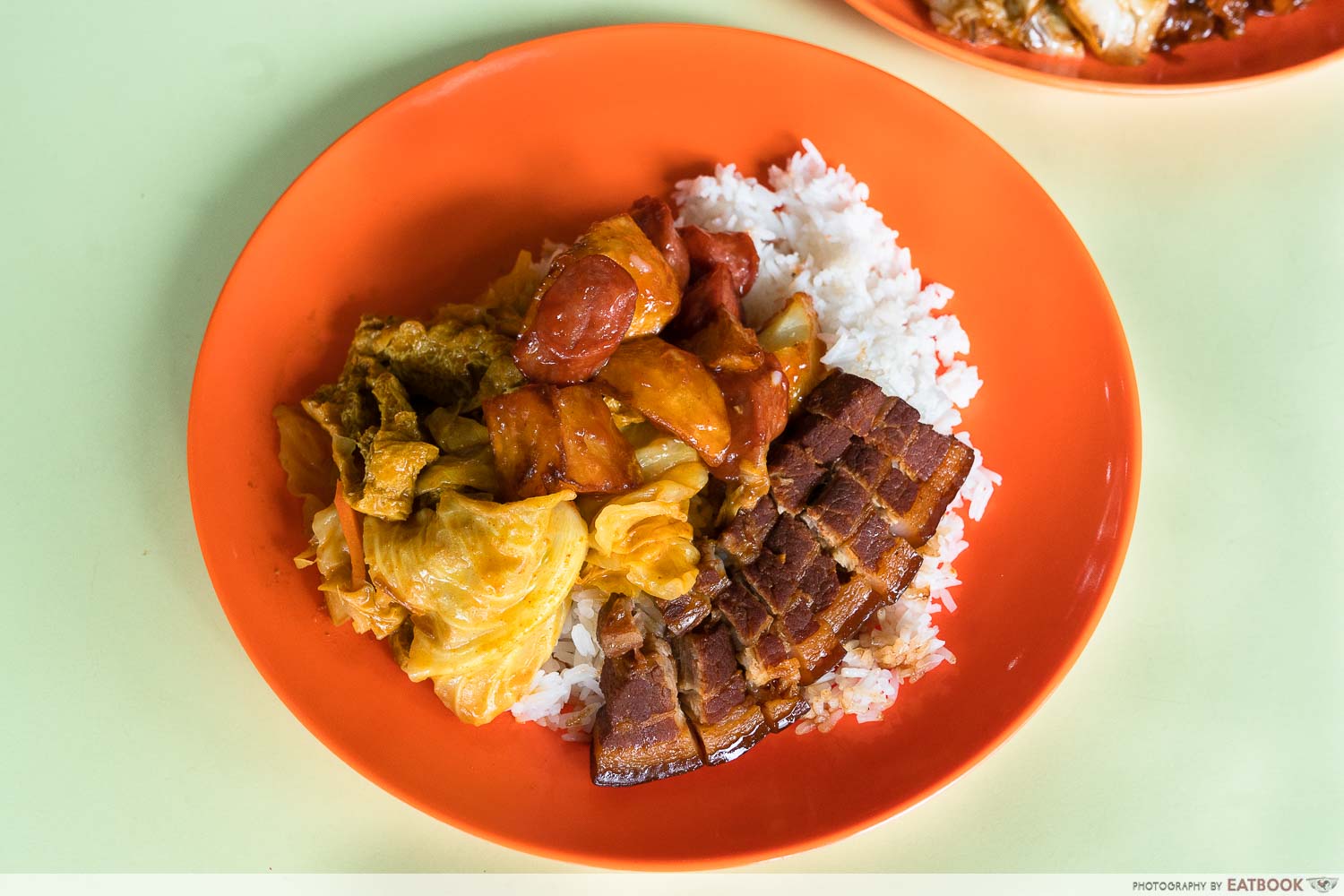 For his plate, my colleague selected Braised Pork Belly, Stir-fried Potatoes and Sausages, and Curry Cabbage—yes, another cabbage dish. This set him back $5.20.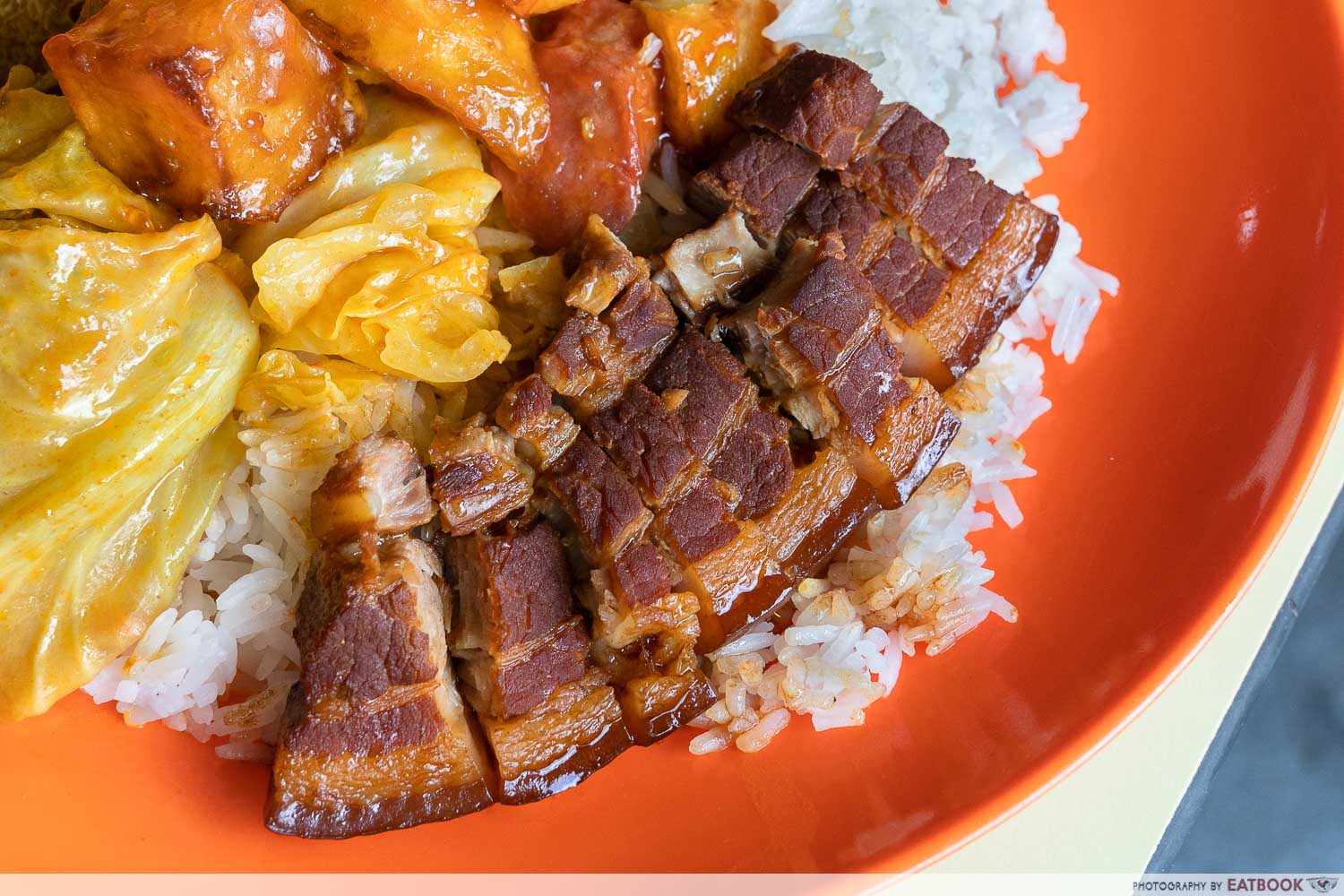 The thin cuts of braised pork weren't as exceptional as the sweet and sour pork, and I would even say they were on the tougher side of things. However, the braising imbued the pork with plenty of flavour, and that's testament to Fu Quan's ability to whip up dishes that taste great.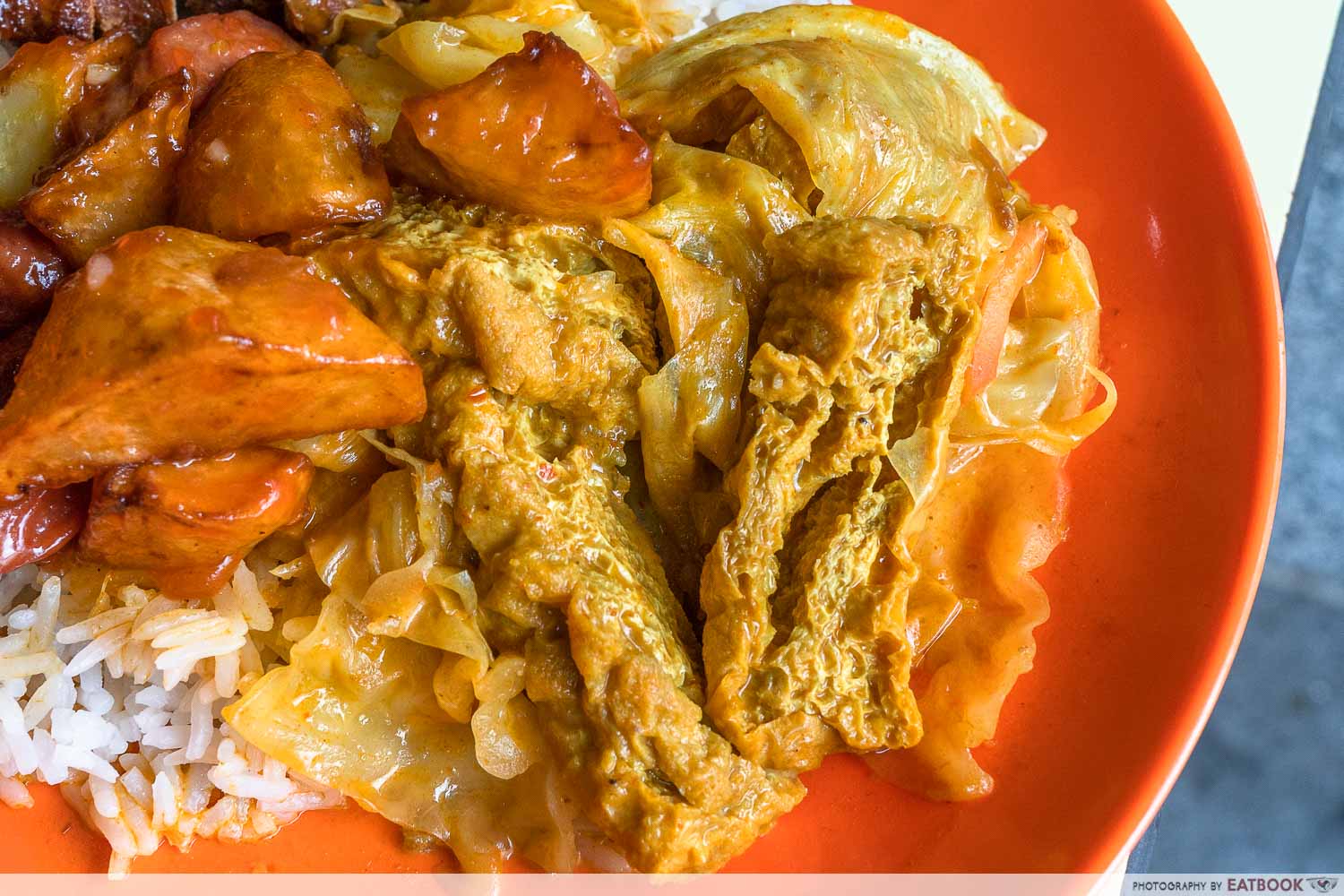 I had no complaints about the curry cabbage. The curry here was wonderfully aromatic—not the spiciest, but oh-so-piquant. Leave it to the soft tau kwa to soak up all that zhup, then explode in your mouth when you bite into it.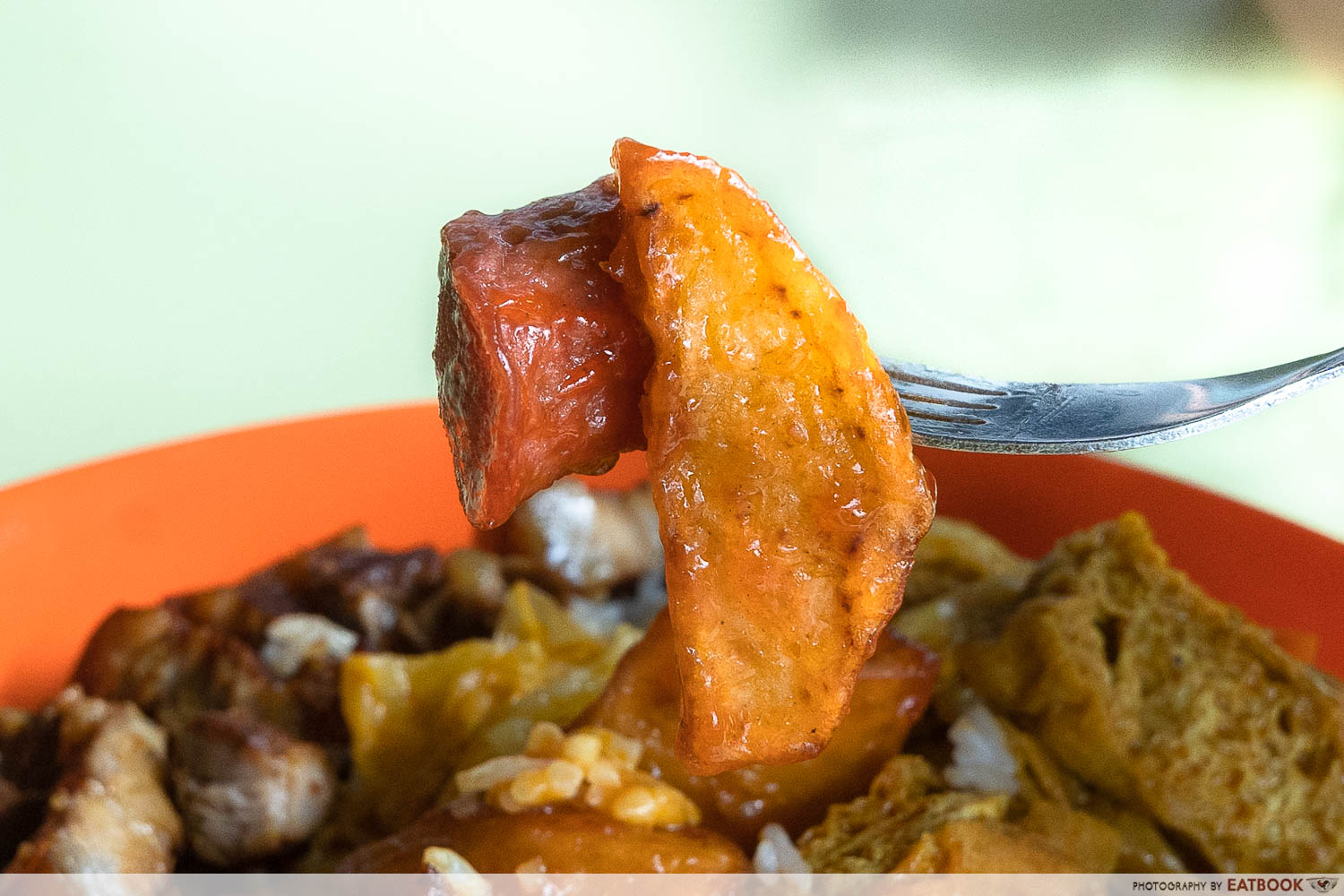 Even the simple stir-fried potatoes and sausages was superbly executed. The potato chunks were tender and fragrant, while the sausages—though of the frozen variety—added a meaty flavour to each spoonful. Both were covered in a ketchup-based sauce that leaned sweet and slightly tangy.
Ambience at Fu Quan Mixed Vegetables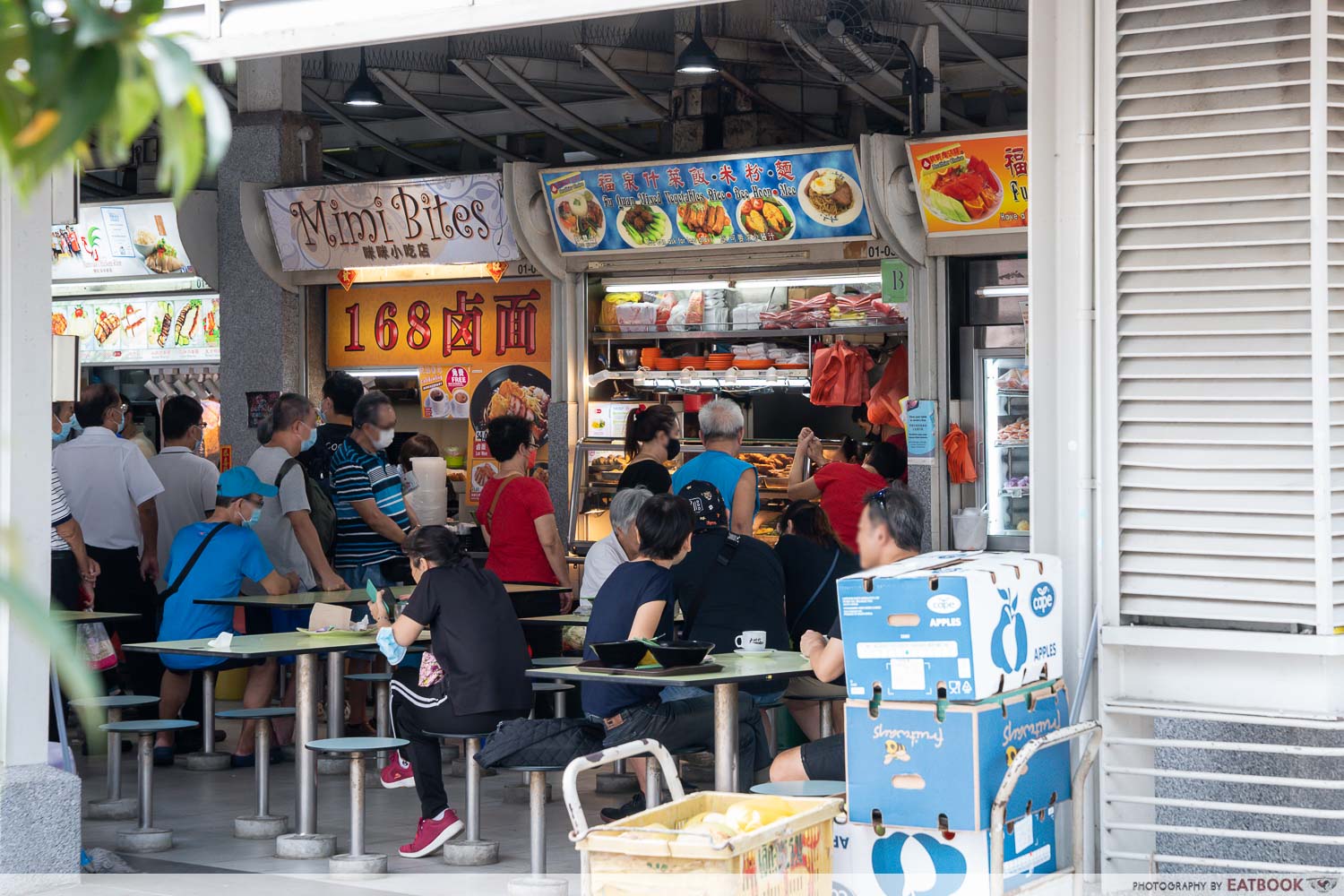 Fu Quan Mixed Vegetables is located in Bendemeer Market & Food Centre, home to a multitude of great hawker food. Fu Quan still manages to draw one of the longest queues in the place, so do go early if you want to get your cai png relatively quickly. Do note that Fu Quan regularly opens on Mondays and Tuesdays, but may or may not be open on the rest of the weekdays.
Bendemeer Market & Food Centre is a five-minute walk from Boon Keng MRT Station.
The verdict
A lot of the descriptions above depict food that's straightforward and ordinary. But that's precisely what makes Fu Quan so special: the stall whips up your average cai png dishes that are anything but average in terms of flavour. That is why I am willing to call it the best cai png stall I have tried thus far.
For another great stall to check out in Bendemeer, have a look at our Ah Fu & Co review. If Peranakan-style cai png sounds interesting to you, check out our Babas Peranakan review.
Address: 29 Bendemeer Road, Bendemeer Market & Food Centre, #01-03, Singapore 330029
Opening hours: Mon-Tue 11am to 8pm, Wed-Fri (TBC)
Fu Quan Mixed Vegetables Rice is not a halal-certified eatery.
Ah Fu & Co Review: Legit KL Hokkien Mee By 24-Year-Old Ex-Restaurant Chef
Photos taken by Jasper Juay.
This was an independent review by Eatbook.sg.
Fu Quan Mixed Vegetables Rice Review: Famous Cai Png Stall At Bendemeer
Fu Quan Mixed Vegetables Rice Review: Famous Cai Png Stall At Bendemeer -

8.5/10
Summary
Pros
– Affordable cai png
– Sweet and sour pork was the best I tried at a cai png stall
– Cabbage with tang hoon was surprisingly excellent
Cons
– Egg tofu was average
– Long queue during peak hours
Opening hours: Mon-Tue 11am to 8pm, Wed-Fri (TBC)
Address: 29 Bendemeer Road, Bendemeer Market & Food Centre, #01-03, Singapore 330029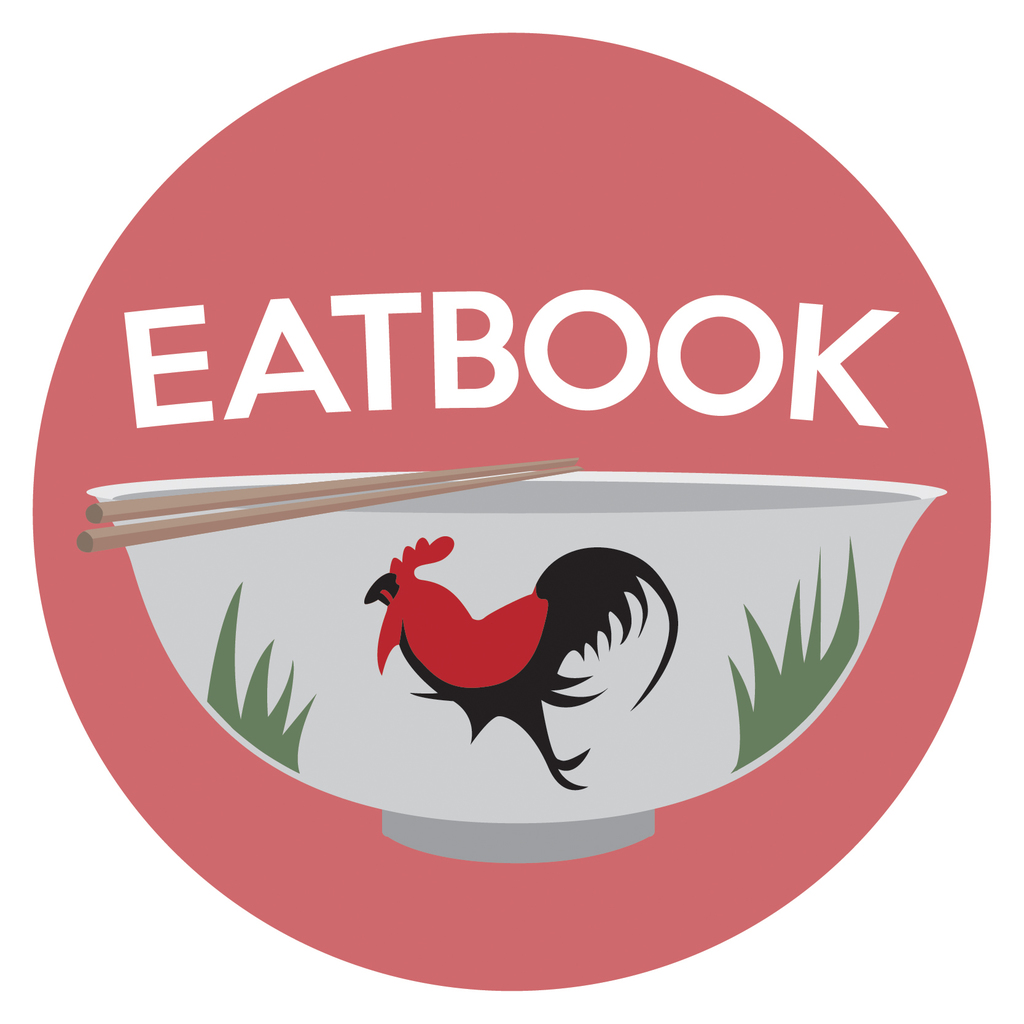 Drop us your email so you won't miss the latest news.