Chilli crab doesn't have to cost a bomb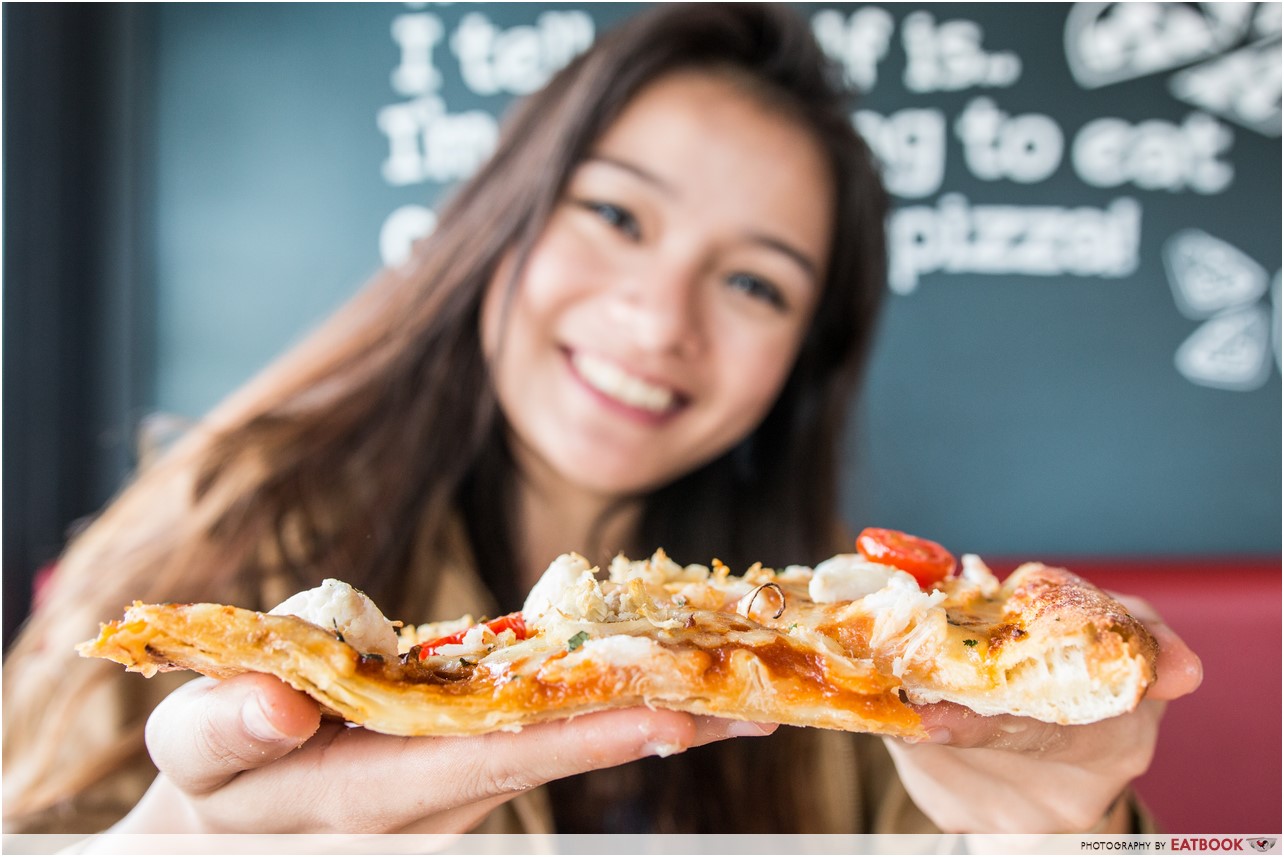 Pizza is bae and the best part about it is the endless possibilities when it comes to toppings. Even though pepperoni pizza is my main bae, one of my goals in life is to try as many different kinds of pizzas as I can. Domino's just added a new Chilli Crab Pizza on their menu, and my first reaction when I heard about it was, "#need".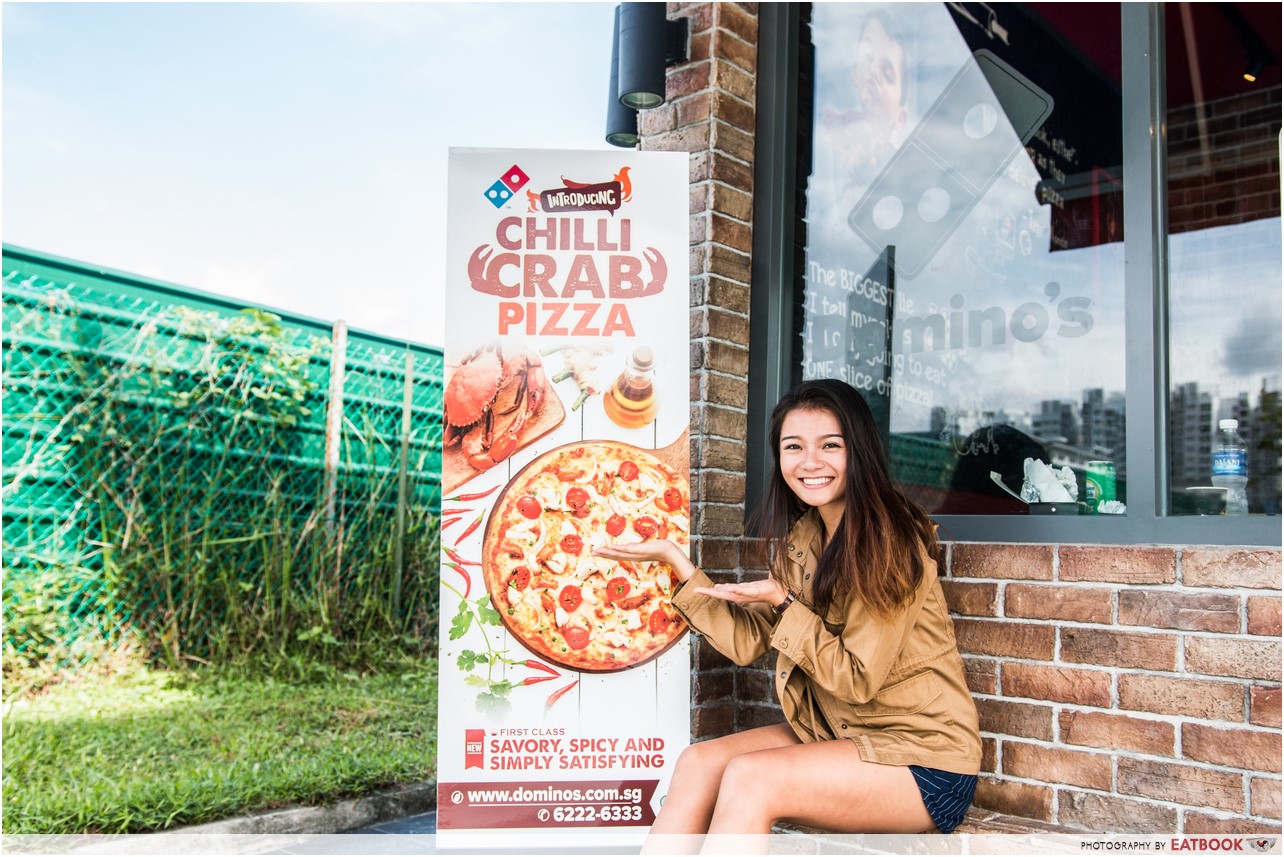 I wanted to have it fresh from the oven, so instead of calling for delivery, I decided to quit being a lazy bum and head down to an outlet at Punggol.
Chilli Crab Pizza at Domino's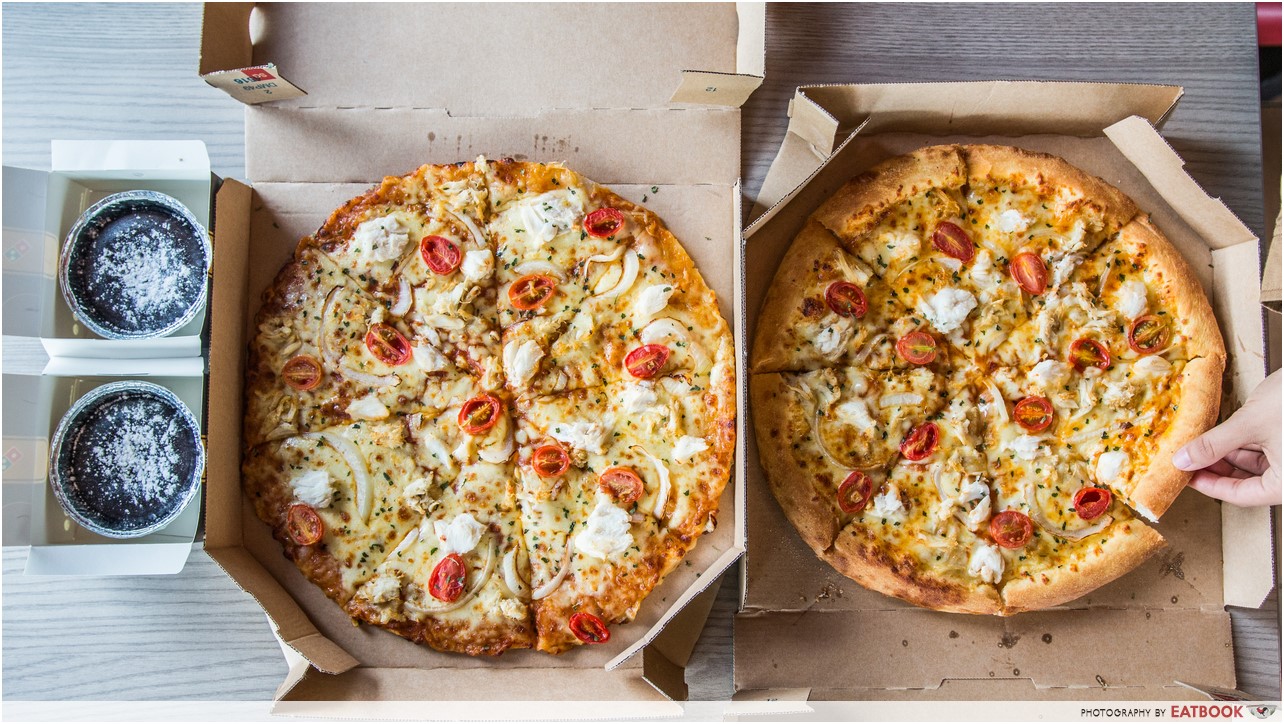 The staff at Domino's recommended Chilli Crab Pizza with Cheese Burst Crust. I didn't know how well chilli crab and cheese would get along but all I know is you should never doubt the experts. So we went with the recommendation and got one in large and another Chilli Crab Pizza with Classic Hand Tossed Crust.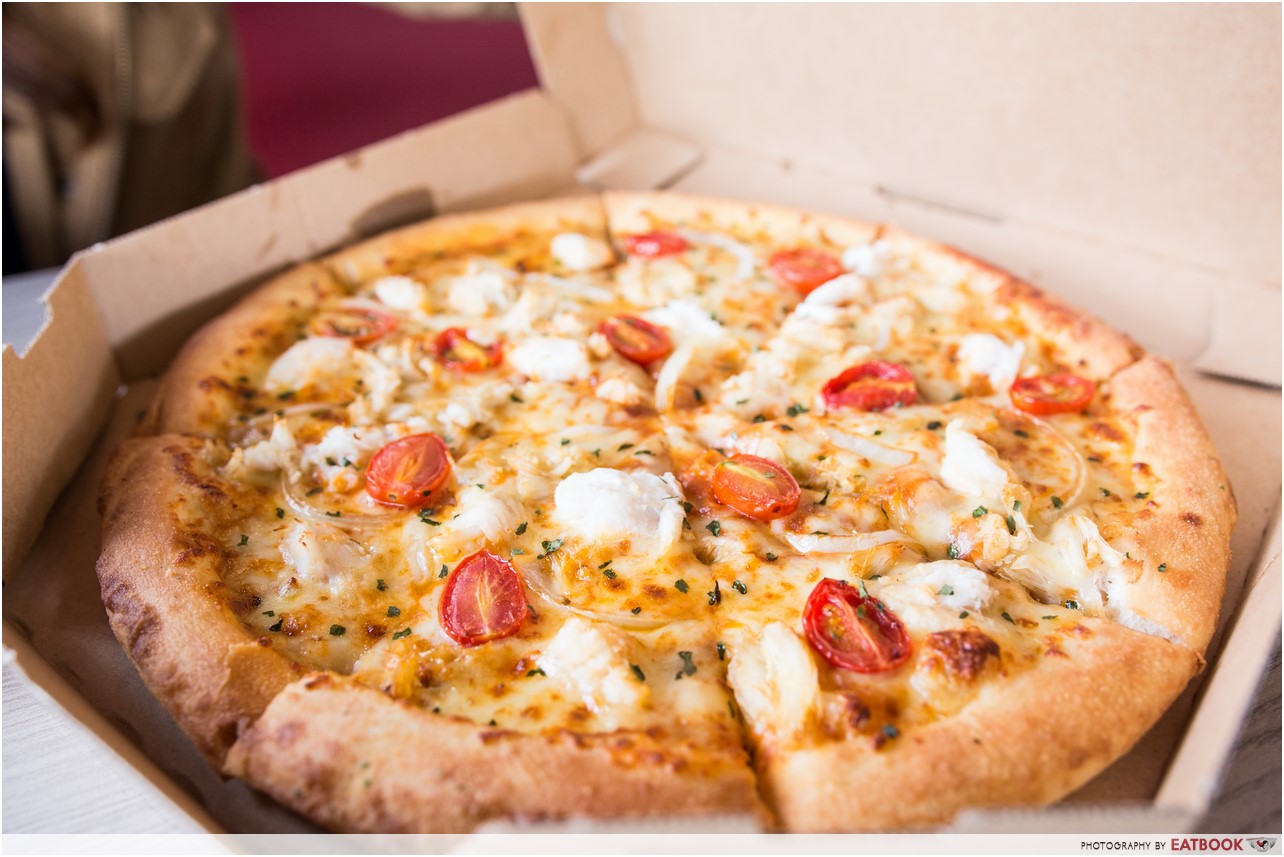 After 15 minutes of waiting, Chilli Crab Pizza with Classic Hand Tossed Crust came fresh out of the oven and had steam rising up when I opened the box. With generous chunks of actual crab meat, onions, cherry tomatoes on a fluffy base slathered with chilli crab zhap (sauce), I couldn't wait to tuck in.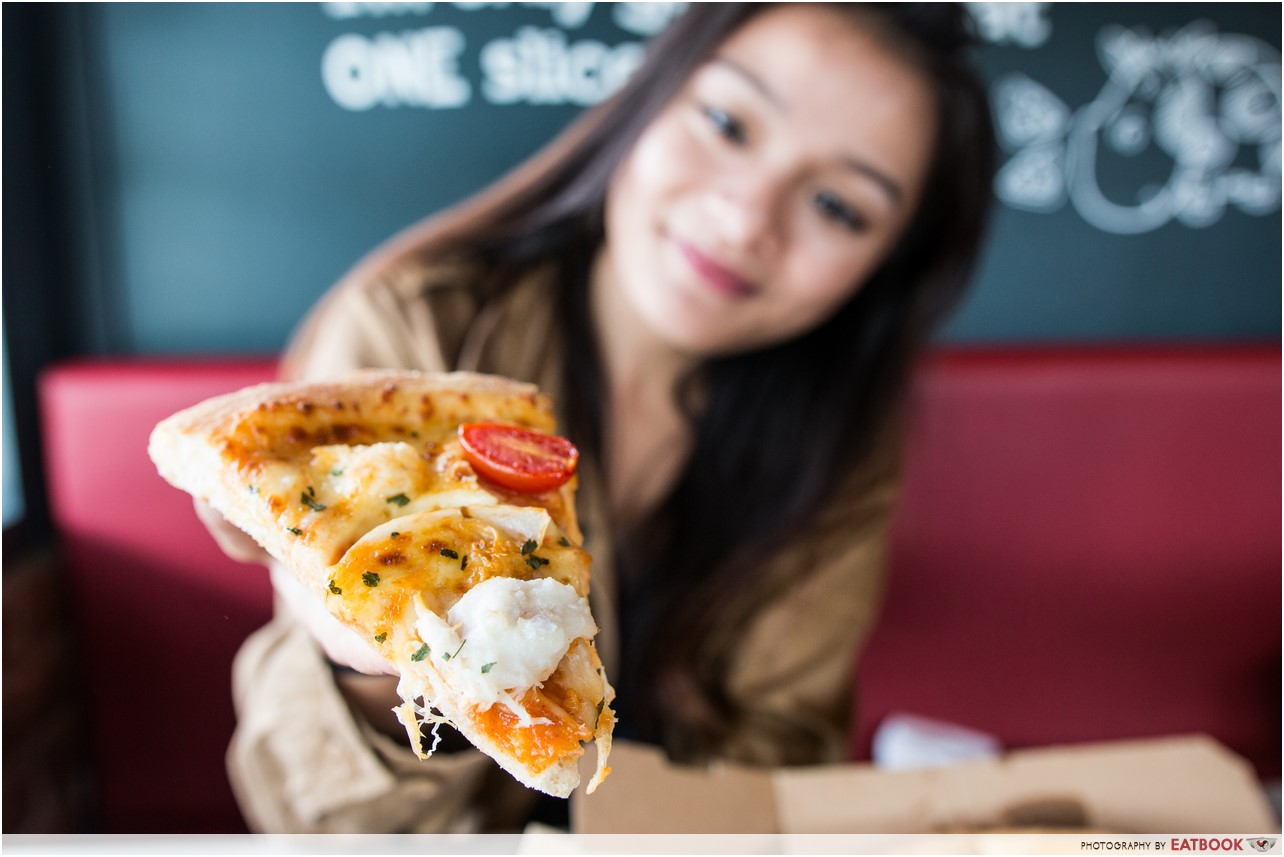 I was really impressed by how the familiar taste of chilli crab stood out in the pizza. Similar to chilli crab sauce you'd find at a zi char stall, it was rich, thick in texture and sweet with a subtle kick of spiciness.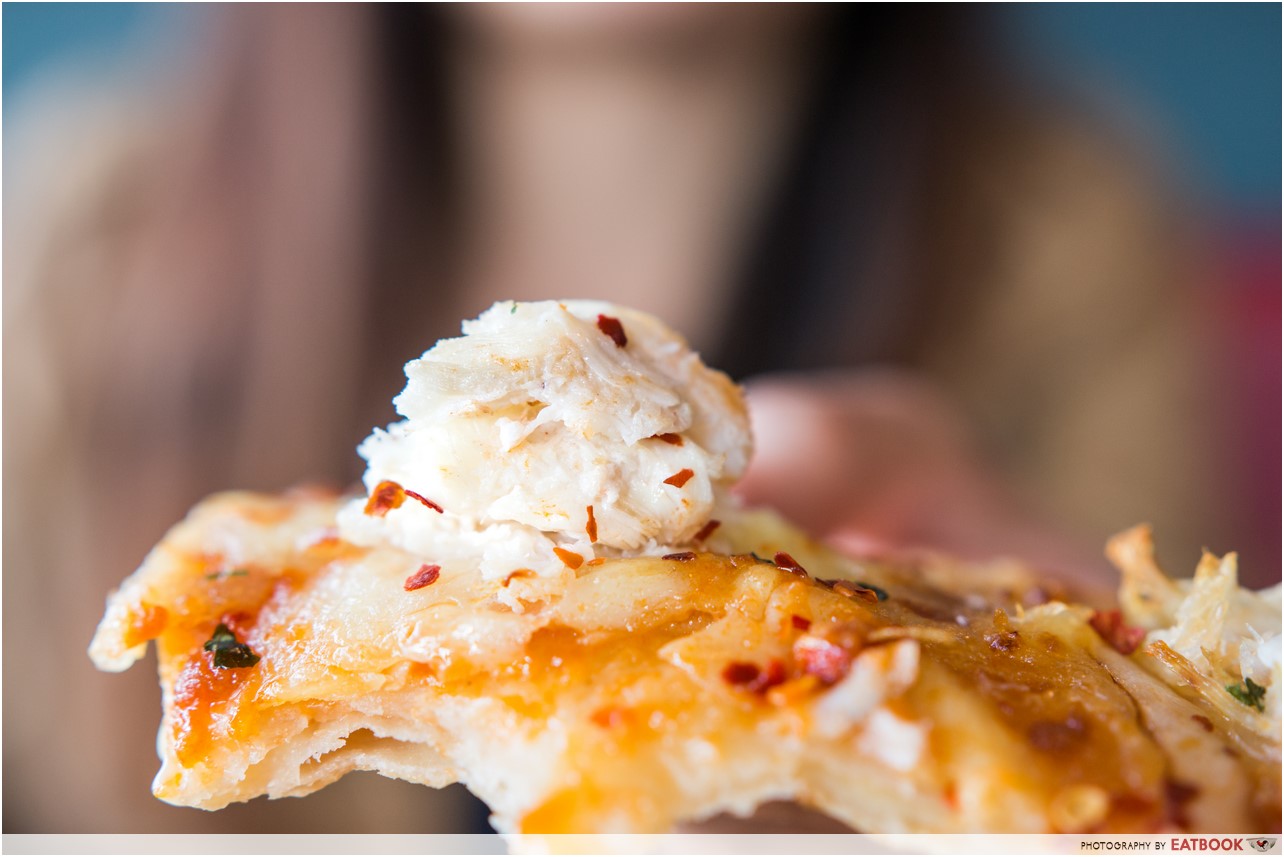 I loved how crab meat was scattered around the pizza in generous chunks because it was like eating chilli crab from a restaurant!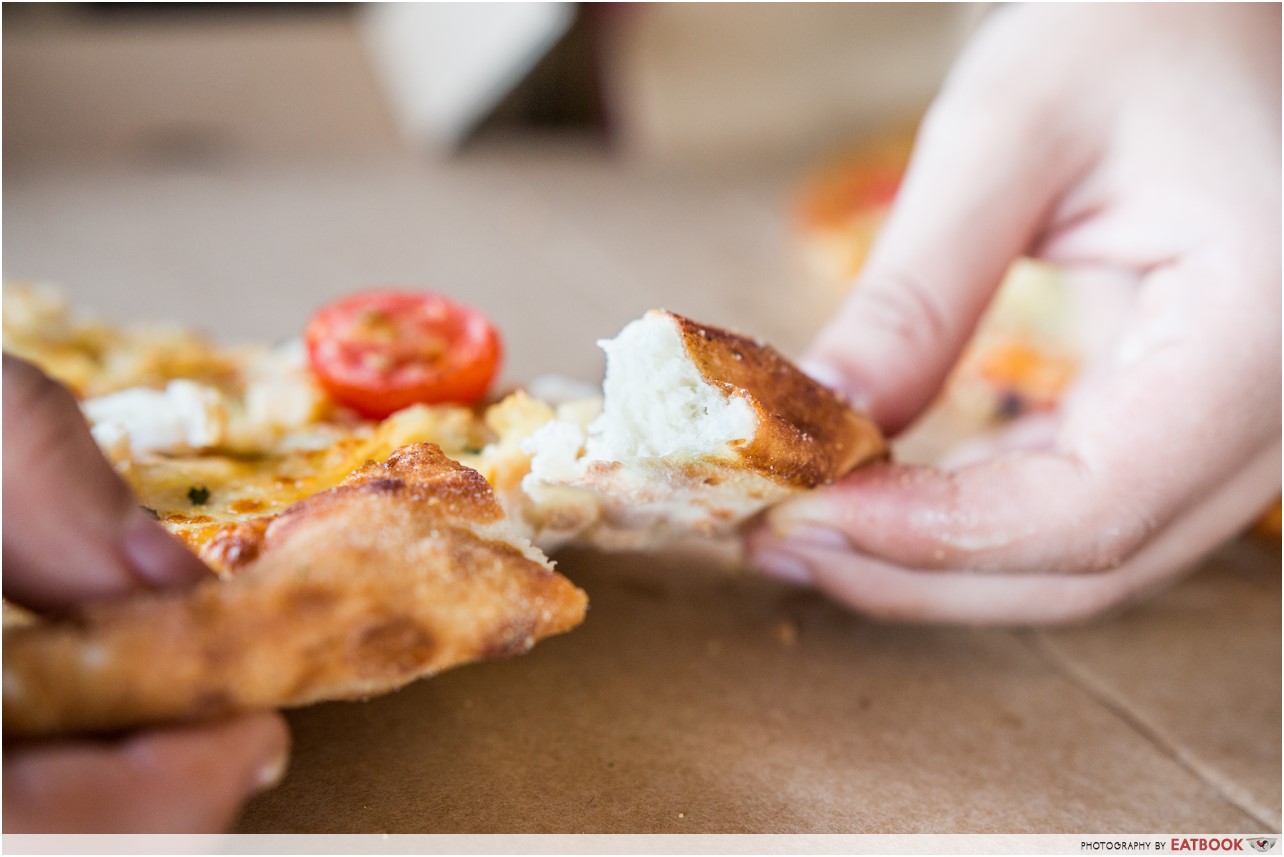 Brushed with buttery garlic-infused oil, the classic hand-tossed crust was fragrant and surprisingly not too greasy. It felt as if I was biting into a mantou dipped in chilli crab sauce!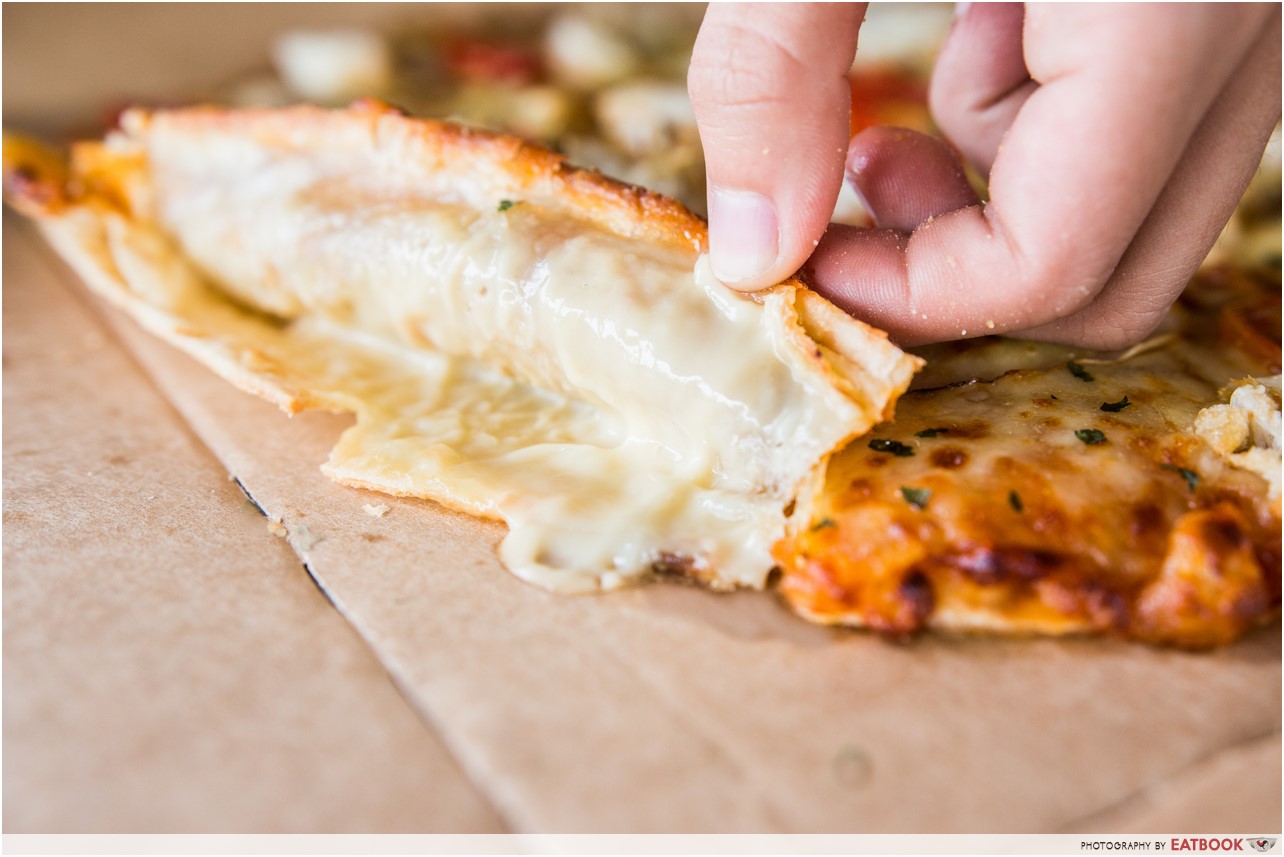 As compared to the thicker and fluffier classic hand-tossed crust, Domino's Cheese Burst Crust has two crunchy thin crusts with a layer of creamy cheddar cheese sauce in between.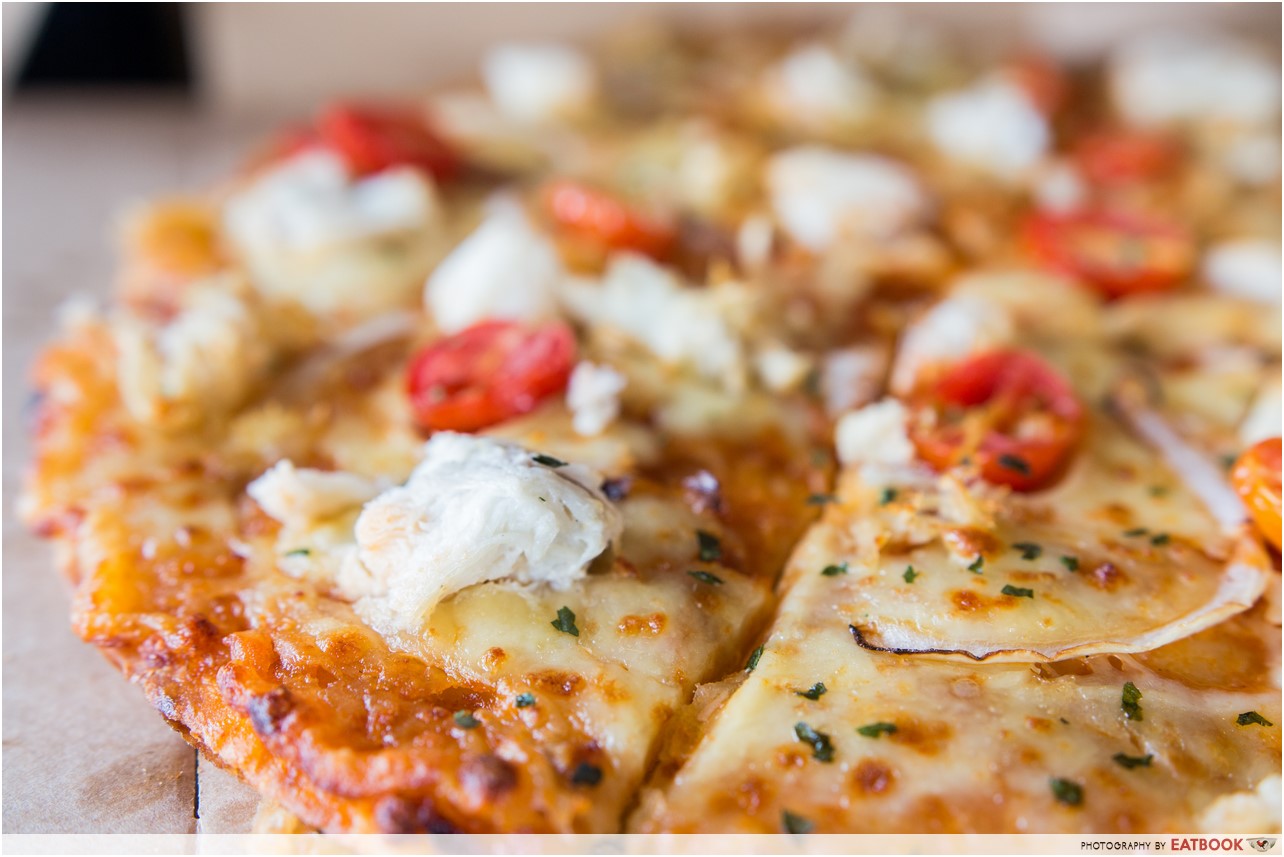 I thought I was gonna get my feelings cheated because with a crust so thin, the amount of cheese might be equally little.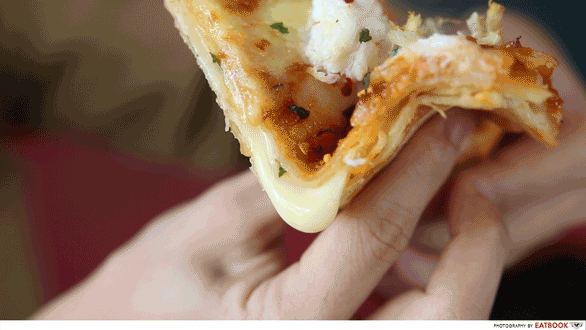 But with melted cheddar cheese tucked in between the crust, you'll see cheese bursting out of it at first bite – faith in pizza restored.
Lava cake at Domino's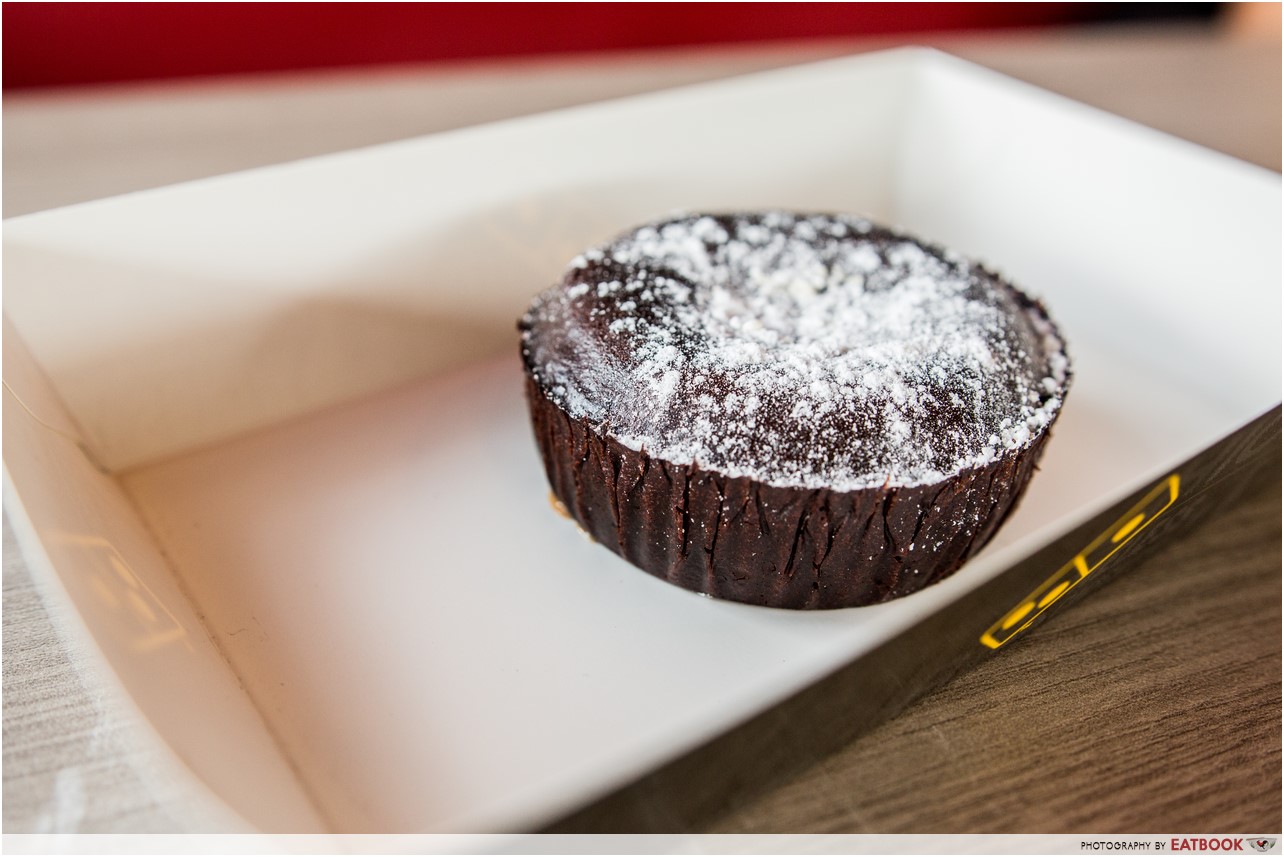 No meal is complete without desserts so we tried another newbie on the menu: Peanut Butter Choc Lava Cake ($6.80 each, $8.80 for two). Owning a set of rock hard abs would be an ultimate dream come true, but when this cake comes into picture, abs can wait.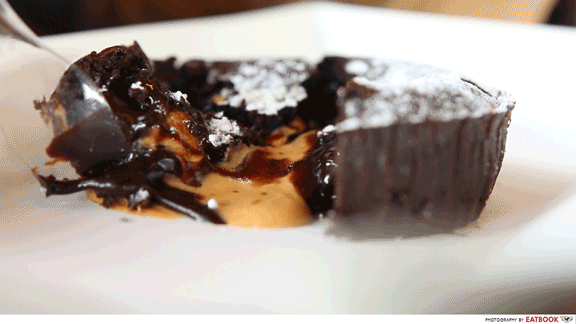 Warm and gooey chocolate lava cake is one of the most satisfying treats for me, and Domino's made it even better by adding a dollop of peanut butter within.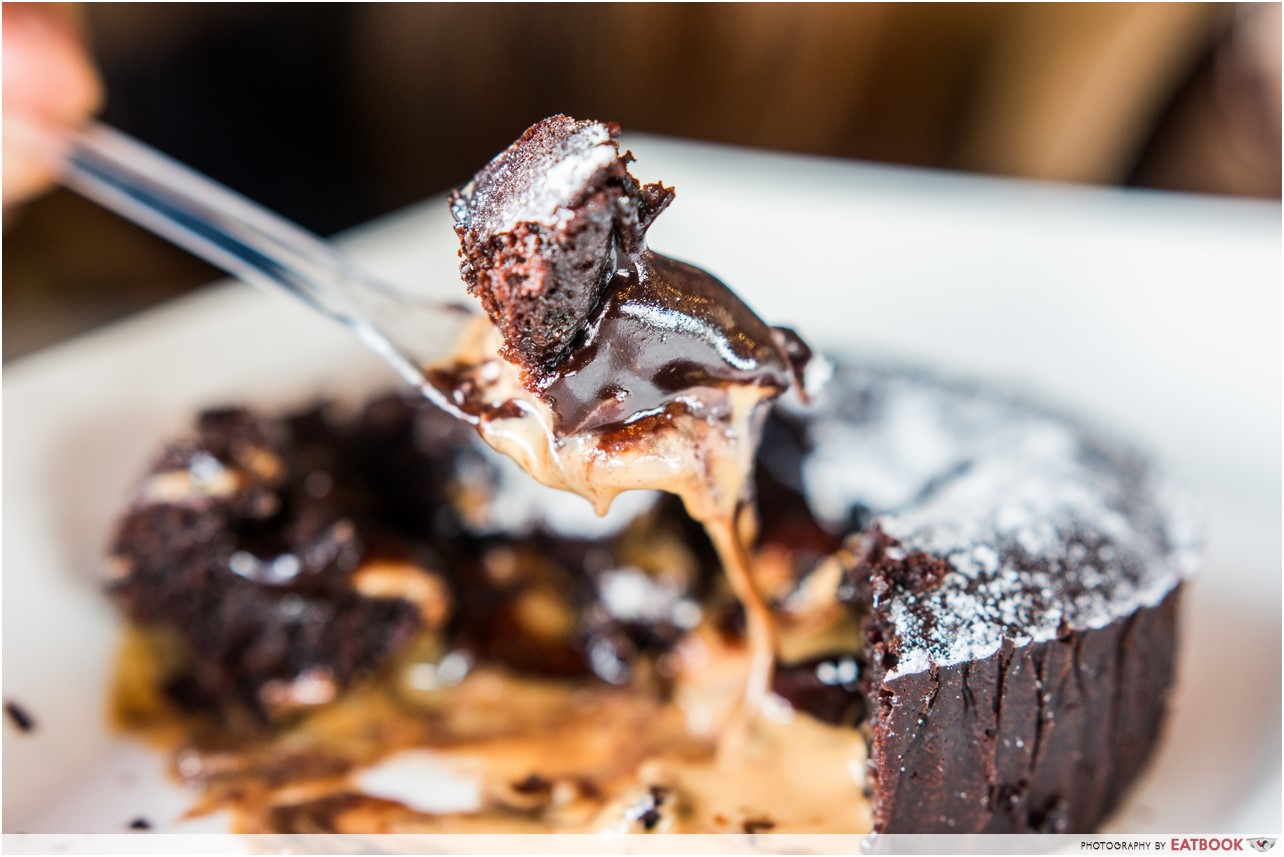 Encasing rich bittersweet chocolate and savoury peanut butter is a soft yet slightly crumbly chocolate cake. I LAVA YOU, period.
Ambience at Domino's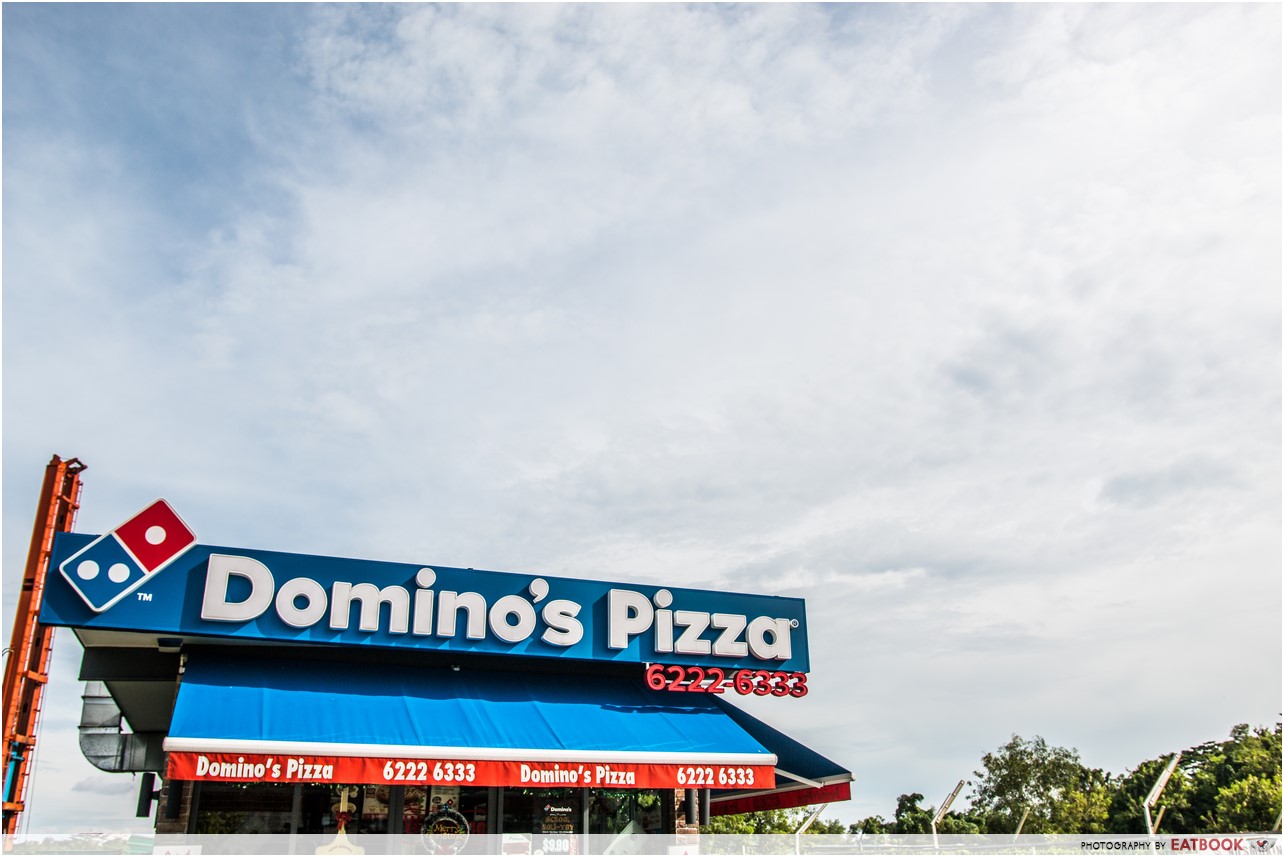 Domino's Punggol outlet is located near a golf range and can be a little far from town, but because of that it felt as if I was chilling outside of Singapore.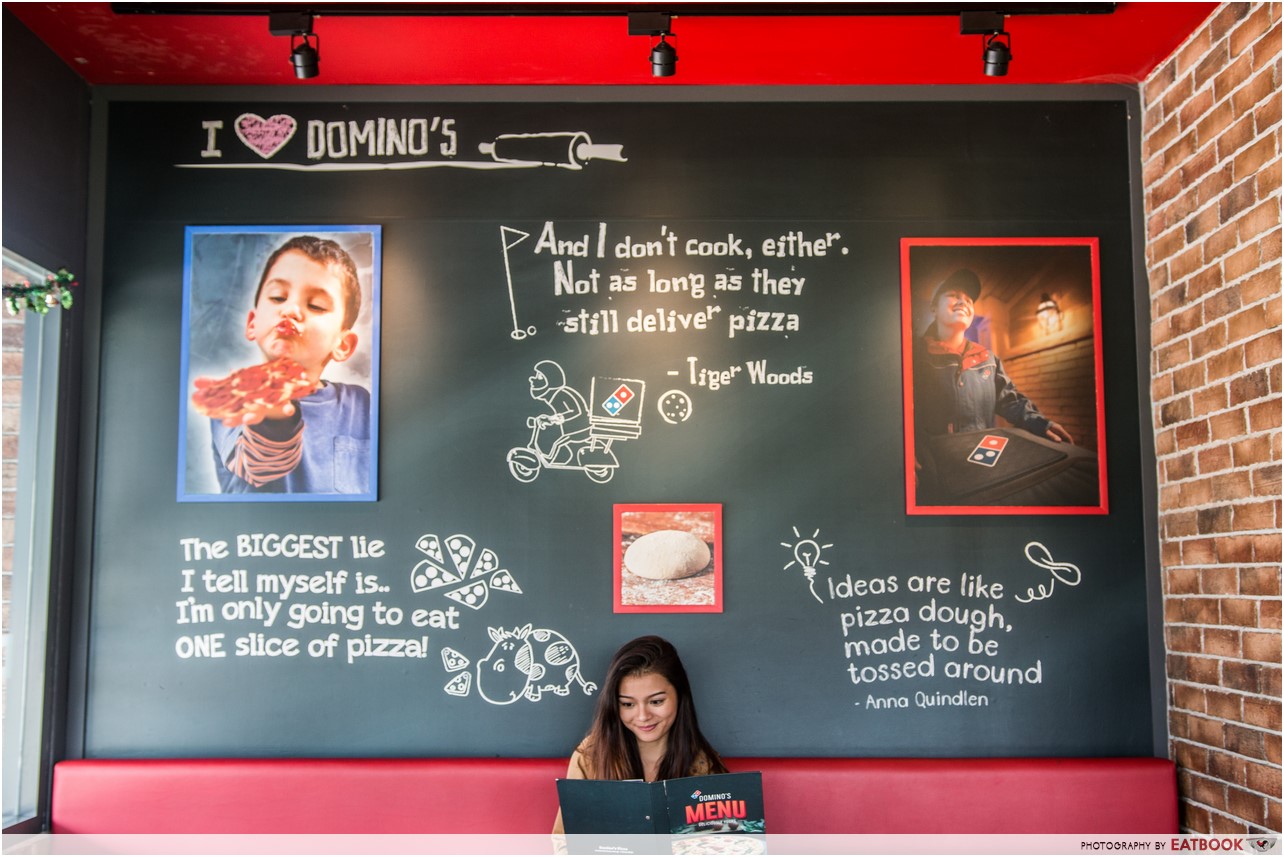 The best part about dining in is indulging in the smell of pizza and getting them served piping hot – YUM.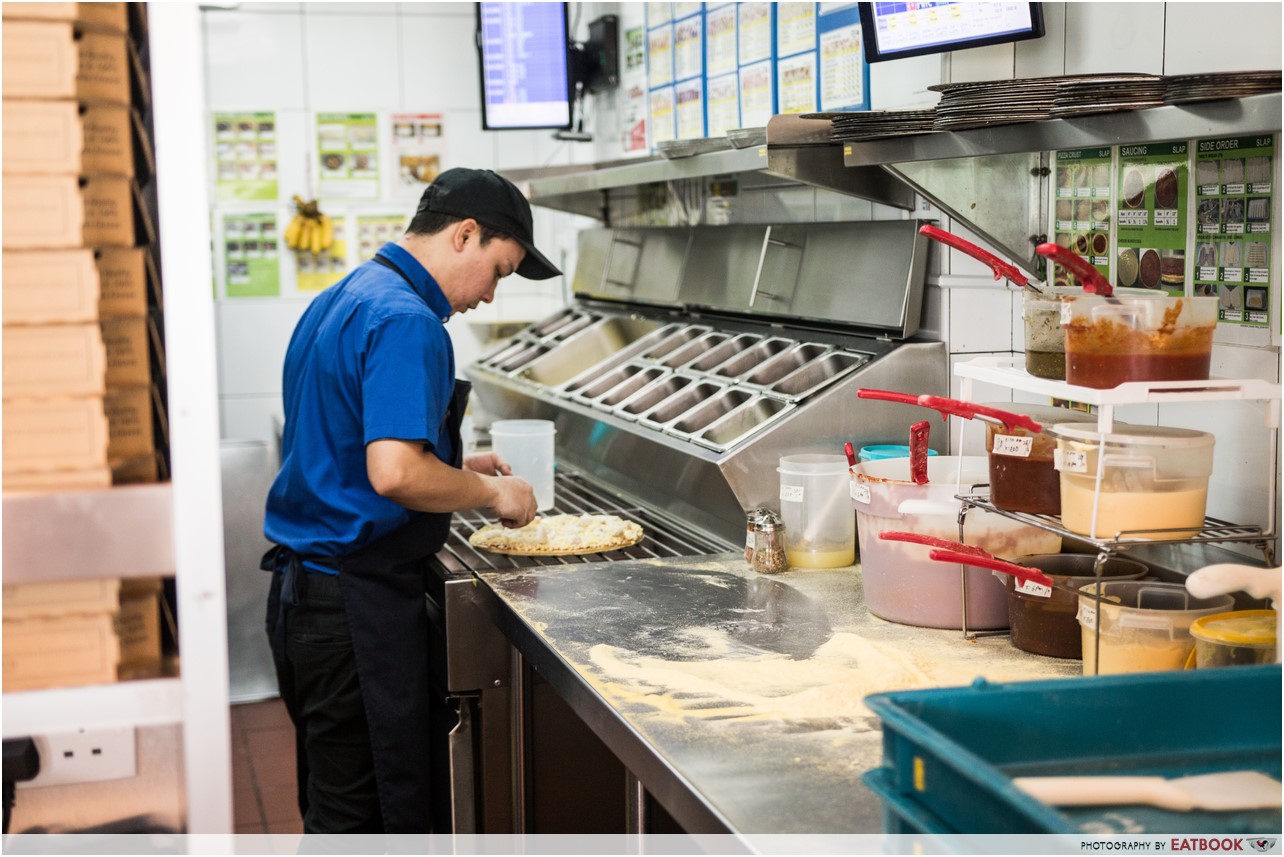 With a small kitchen behind the counter, you can watch your pizza being tossed and prepared!
The verdict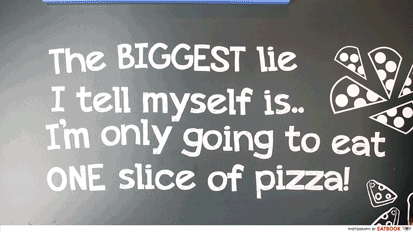 I love getting pizza when it comes to gatherings with friends and family because all you have to do is to call and wait for it to be delivered to your doorstep. Sharing a few pizzas in a big group also means you can get a piz-za EVERYTHING.

I'll definitely still need some classic pepperoni pizza in my life but chilli crab pizza is gonna be part of the long list of pizzas I call for as well. Domino's Chilli Crab Pizza is available for a limited time, so drop them a call soon if you wanna give it a try!  
This post is brought to you by Domino's.
Summary
Pros
– Affordable
– Short waiting time for dine-in
Cons
– Small dining area
Recommended Dishes: Chilli Crab Pizza with Classic Hand Tossed/Cheese Burst Crust (Prices differ depending on size, additional $7 for Cheese Burst Crust), Peanut Butter Choc Lava Cake ($8.80 for two)
Operating Hours:
Daily 10:30am to 11pm
Tel:
6222 6333
To know more about Domino's latest promotions, store locations and happenings, please click here.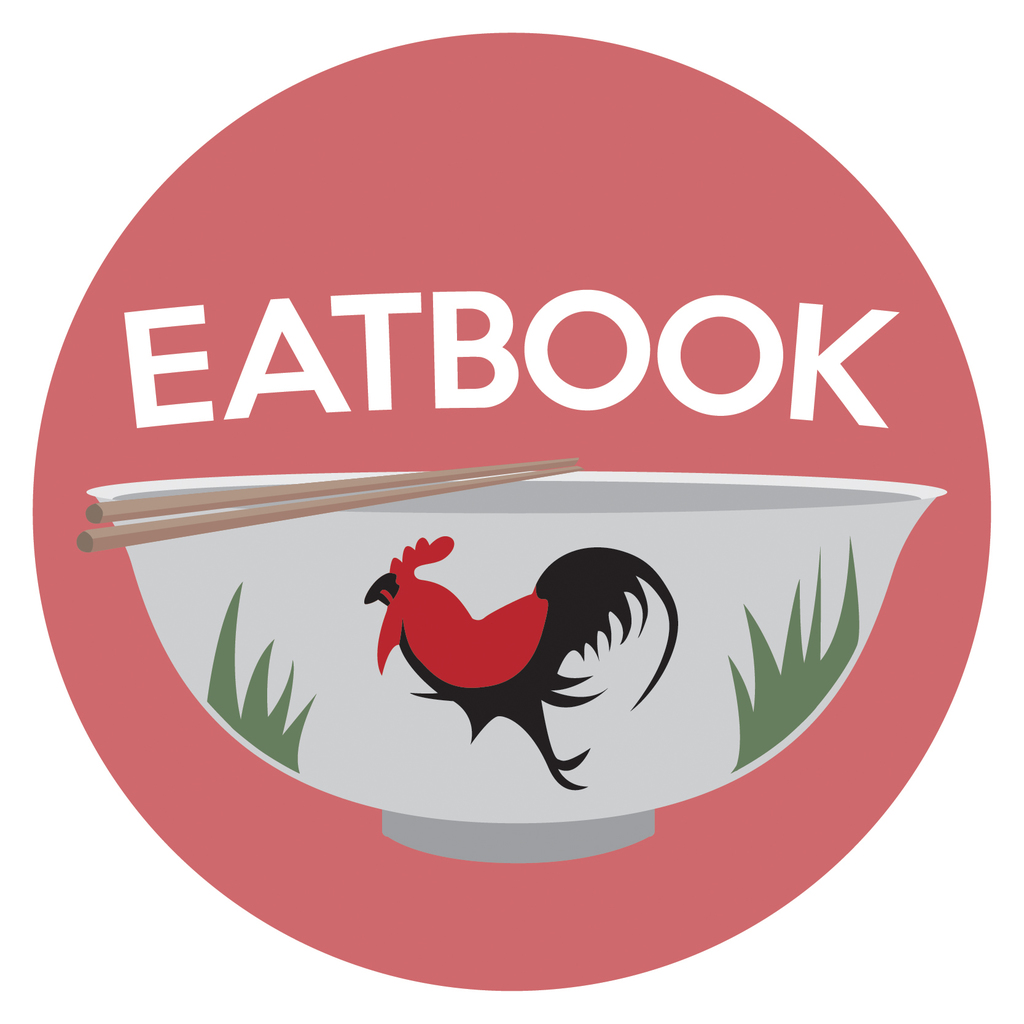 Drop us your email so you won't miss the latest news.