---
Affordable durian snacks to nibble on all year round
---
Love it or hate it, the King of Fruits has wrestled its way into everything from coffee, to pizza, and chee cheong fun. It's even been on TV in an episode of Fear Factor – though I personally don't get how it's so scary that it inspired multiple spin-offs. Its mushy guts have always been distinctly aromatic since my mum first offered me a yellow piece. Prepare for a myriad of hyper-creative ways to enjoy durian-flavoured food because here's a list of 10 places with affordable durian snacks to pleasure your taste buds.
---
1. Durian French Fries

---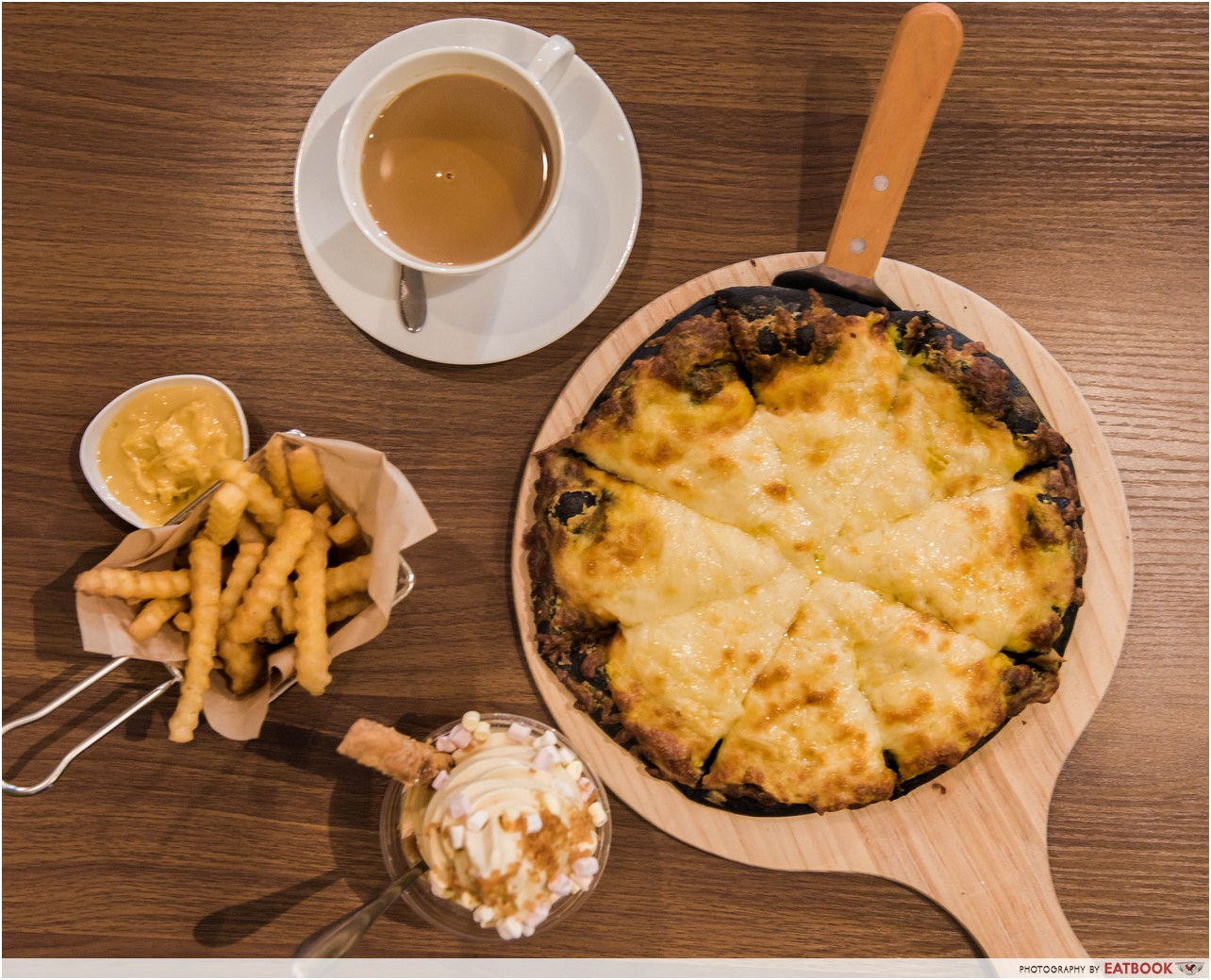 Ultimate durian fans gotta get Mao Shan Wang Cafe on their cafe-hopping list for an all-durian experience from coffee to desserts. Durian French Fries ($3.80) are your classic fries with a durian dip. Salty and slightly greasy, they are delicious even on their own, while the dip tastes like a sweetened version of the real fruit. Black Charcoal Mao Shan Wang Durian Pizza ($18.80) has a charcoal crust that holds together layers of cheese and durian, combining subtle sweetness with savoury flavours. The creative concept cafe in the heart of Chinatown is Singapore's first durian cafe so don't miss out on this.
Check out our full review of Mao Shan Wang Cafe!
Address: 49 Temple Street, Singapore 058594
Opening hours: Mon-Fri 1:30pm to 10pm, Sat 11am to 10pm
Website
---
2. Durian Chee Cheong Fun
---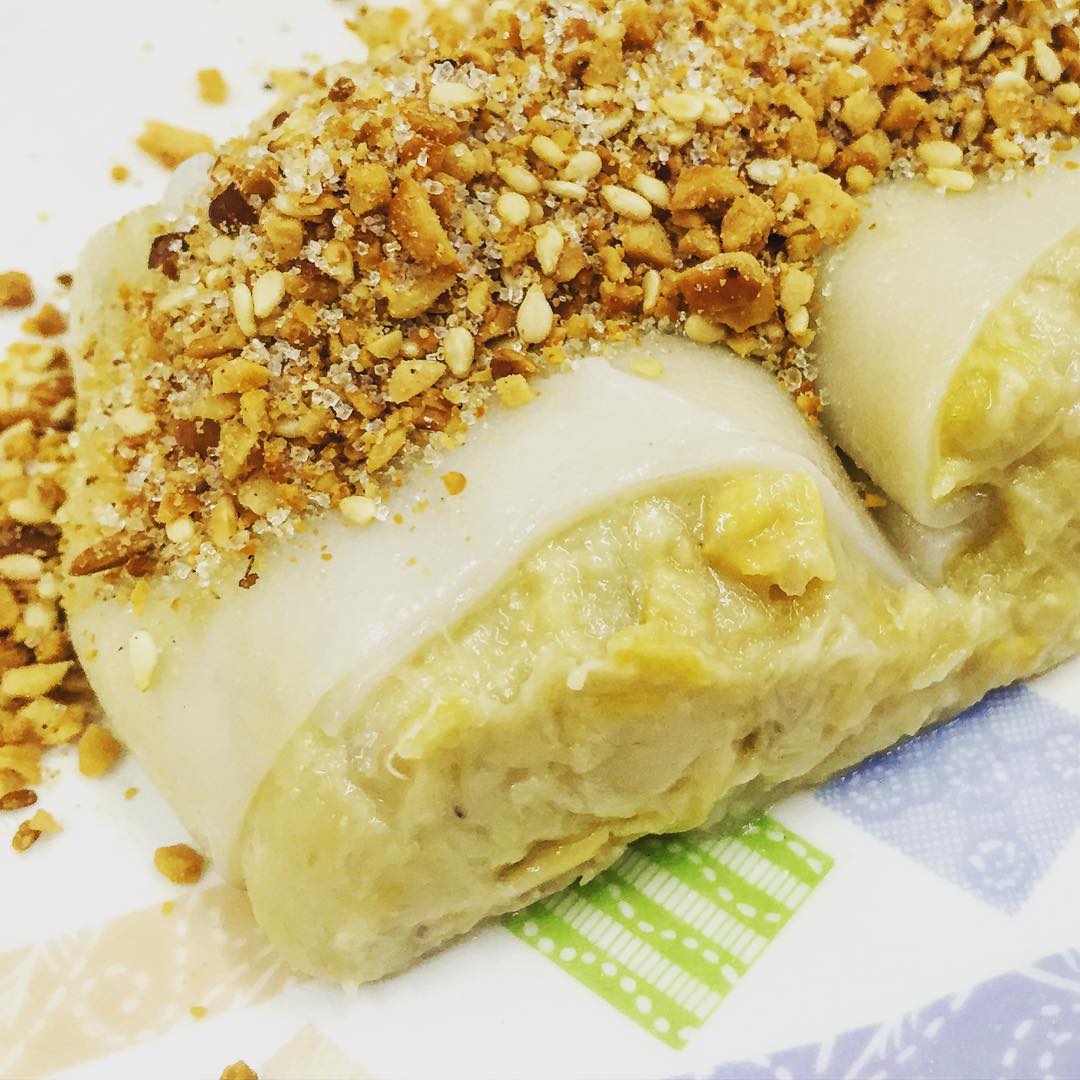 Image credit: @geza_eats
Durian Chee Cheong Fun ($5.90) sounds like an unlikely marriage but it's been popular since it appeared on the menu of House of Rice Roll and Porridge the last few years. This version of steamed rice rolls is stuffed with creamy Mao Shan Wang durian mousse that's so legit down to its fibers. Served cold, the thin and chewy rice roll reminds me of mochi with extra crunch from ground peanuts and sugar toppings. There're even apple, mango, and other fruit versions to try too.
Address: 89 Killiney Road, Singapore 239529
Opening hours: Mon-Fri 10:30am to 10pm, Sat-Sun 8:30am to 10pm
Tel: 6736 1355
---
3. Durian Balls
---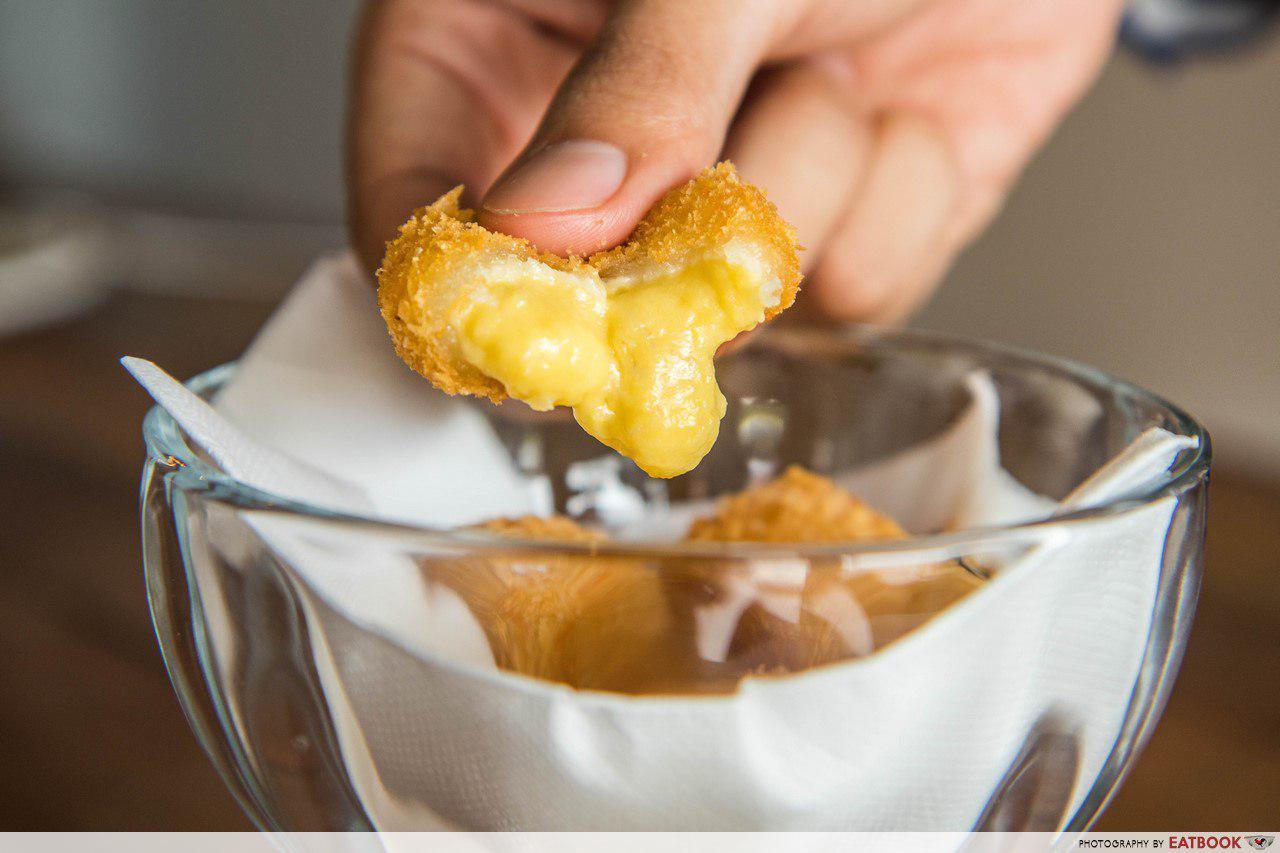 I haven't met a fried dessert I'd run away from and these Durian Balls ($8.90+) from Upeh Cafe didn't disappoint. Their golden-brown batter is deep-fried till crispy, yet each piece is chewy with mochi-like skin. The durian filling encased within has a creaminess that bursts out like molten goo when you bite down. Don't miss out on their Candy Teh Tarik ($5.90+) while you're there for its subtle sweetness of cotton candy.
Check out our full review of Upeh Cafe!
Address: 67 Kampong Bahru Road, Singapore 169371
Opening hours: Mon-Fri 11am to 9pm
Tel: 8748 4902
Website
---
4. Durian Bean Curd Tarts
---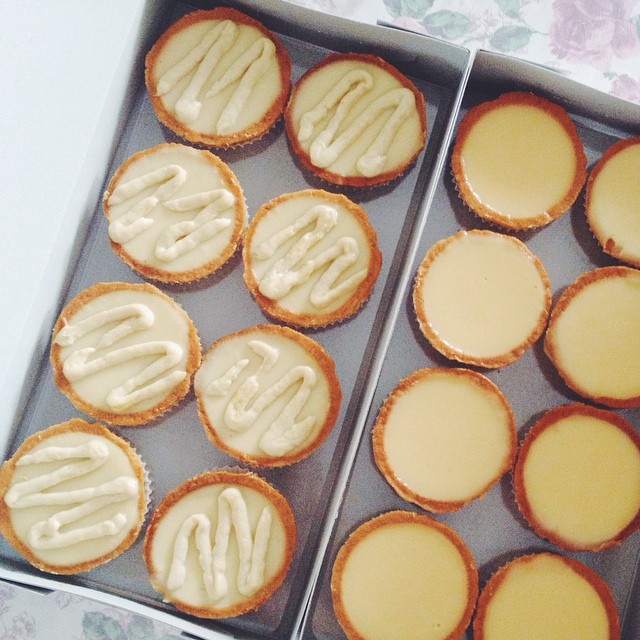 Image credit: @yvonneleecious
There are a number of places for decent durian egg tarts but only at Le Cafe Confectionery & Pastry can you get Durian Bean Curd Tarts ($12 for eight pieces). That makes that $1.50 a piece for silky smooth soya bean curd nestled in a buttery pastry with D24 Mao Shan Wang puree added on top. My advice is to have it chilled but think fast because it won't be available from 1 January to 1 March next year, till after Chinese New Year. Order online or call a day in advance to be extra safe.
Address: 264 Middle Road, David Elias Building, Singapore 188990
Opening hours: Mon-Sat 10:30am to 7pm, Sun 10:30am to 4pm
Bean Curd Tarts are available after 1pm
Tel: 6337 2417
Website
Full list of outlets
---
5. Durian Ang Ku Kueh

---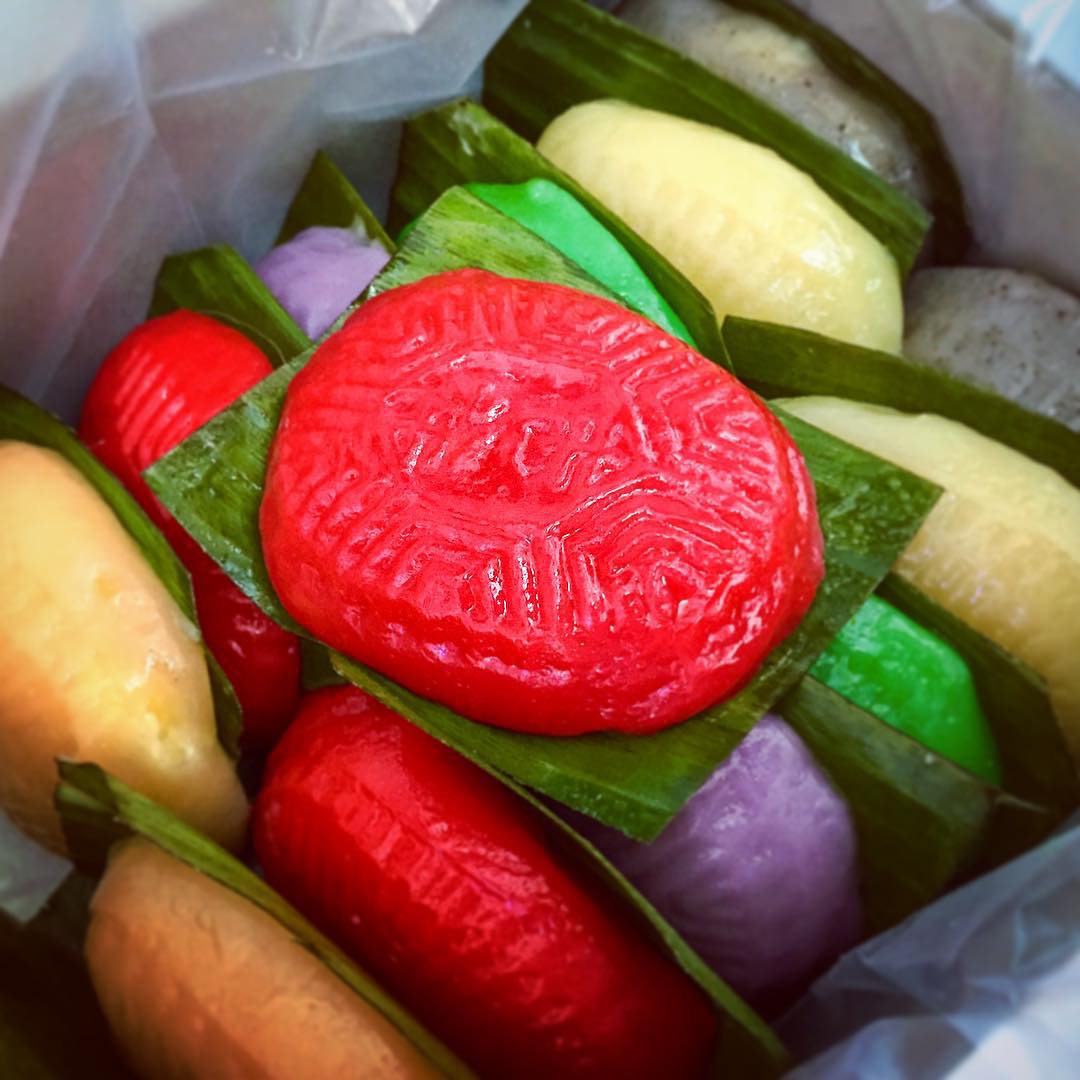 Image credit: @thomasteo_sg
Hand-crafted ang ku kueh are a rare find nowadays but Ji Xiang Confectionery has been soldiering on since 1988. They give you a taste of yesteryear, maintaining thin skins and generous mung bean fillings. Durian Ang Ku Kueh ($1.70) is a seasonal treat and its price largely depends on the market. Their other updated flavours are corn ($0.90) and coconut ($0.90) but if old is gold for you, there are sweet bean ($0.90), salted bean ($0.90), peanut ($0.90), and yam ($1) flavours to add to the colourful collection.
Address: 1 Everton Park, #01-33, Singapore 081001
Opening hours: Mon-Sat 8am to 5pm
Tel: 6223 1631
Website
---
6. Durian Sticky Rice Roll
---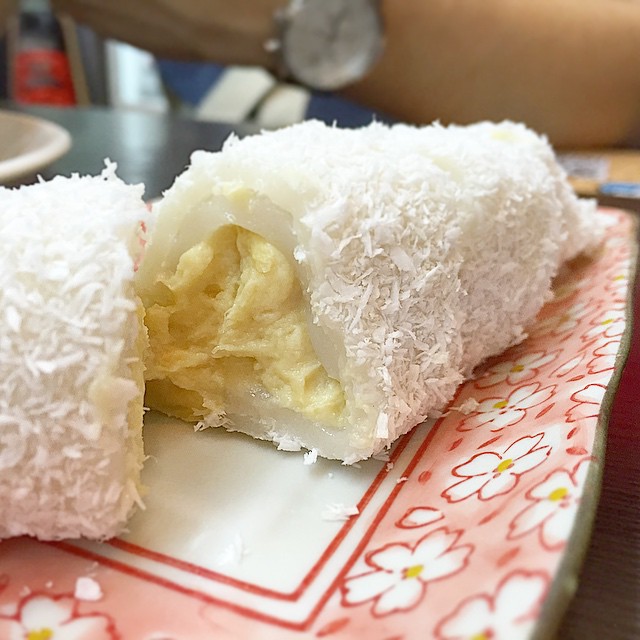 Image credit: @hateedumpty
The many outlets of Ji De Chi make durian feasting convenient. For a different durian treat, try their Durian Sticky Rice Roll ($6.90) which offers rich and creamy sweetness. Semi-frozen durian flesh is stuffed into a chewy glutinous rice flour roll that's covered in dessicated coconut. Their Durian Pomelo Sago ($7.90) is super popular, with durian paste that's thick like durian pengat mixed with sago and pomelo, then topped with a scoop of durian purée. Plus, there are still Durian Serradura ($5.90) and Durian Snowy Ice ($7.90) to complete your trip.
Address: 8 Liang Seah Street, #01-03, Liang Seah Court, Singapore 189029
Opening hours: Daily 10am to 11pm
Tel: 6339 9928
Website
Menu
Full list of outlets
---
7. Durian Tapioca Cake
---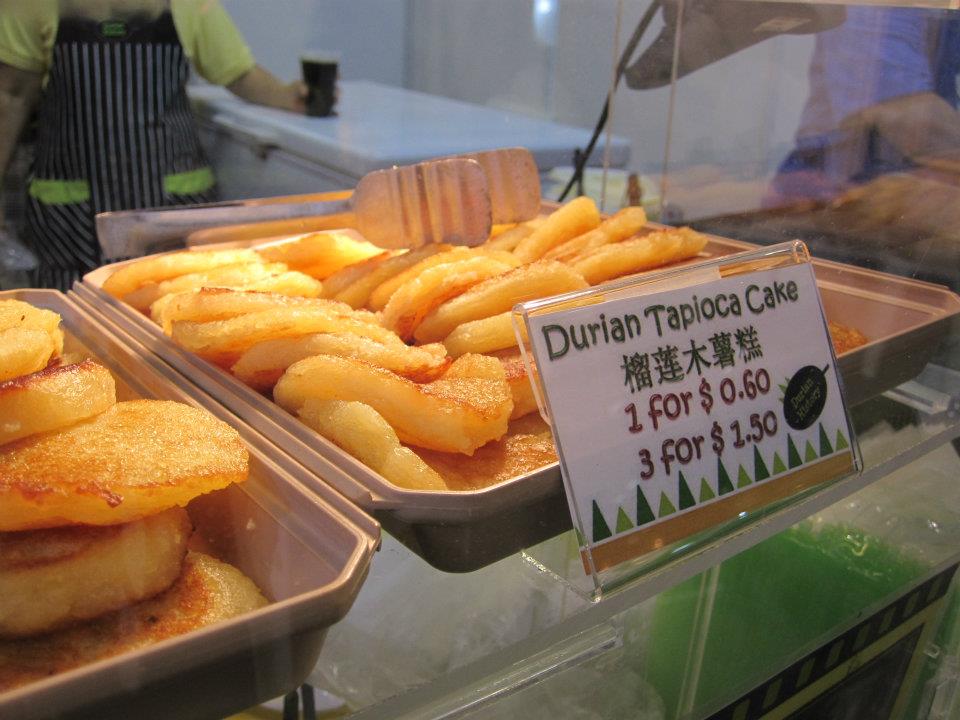 Image credit: Durian History's Facebook page
Spotted: fried durian cake. Chewy Durian Tapioca Cake ($0.80) is the cheapest on this list and sold daily at Durian History. It's usually hot and melts in your mouth so I understand if it's a struggle to stop at one, and besides, this corner stall in Chinatown also sells it at three for $2. But you might want to save space for their popular made-to-order Durian Pancake ($2.50/$2.80) which comes with a cool durian filling. If you've got tourist friends, this is one of the popular spots for them to get a taste of the King of Fruits.
Address: 1 Park Road, #01-28, Chinatown People's Park Complex, Singapore 059108
Opening hours: Daily 10am to 10pm
Website
---
8. Durian Shake with Durian Flesh
---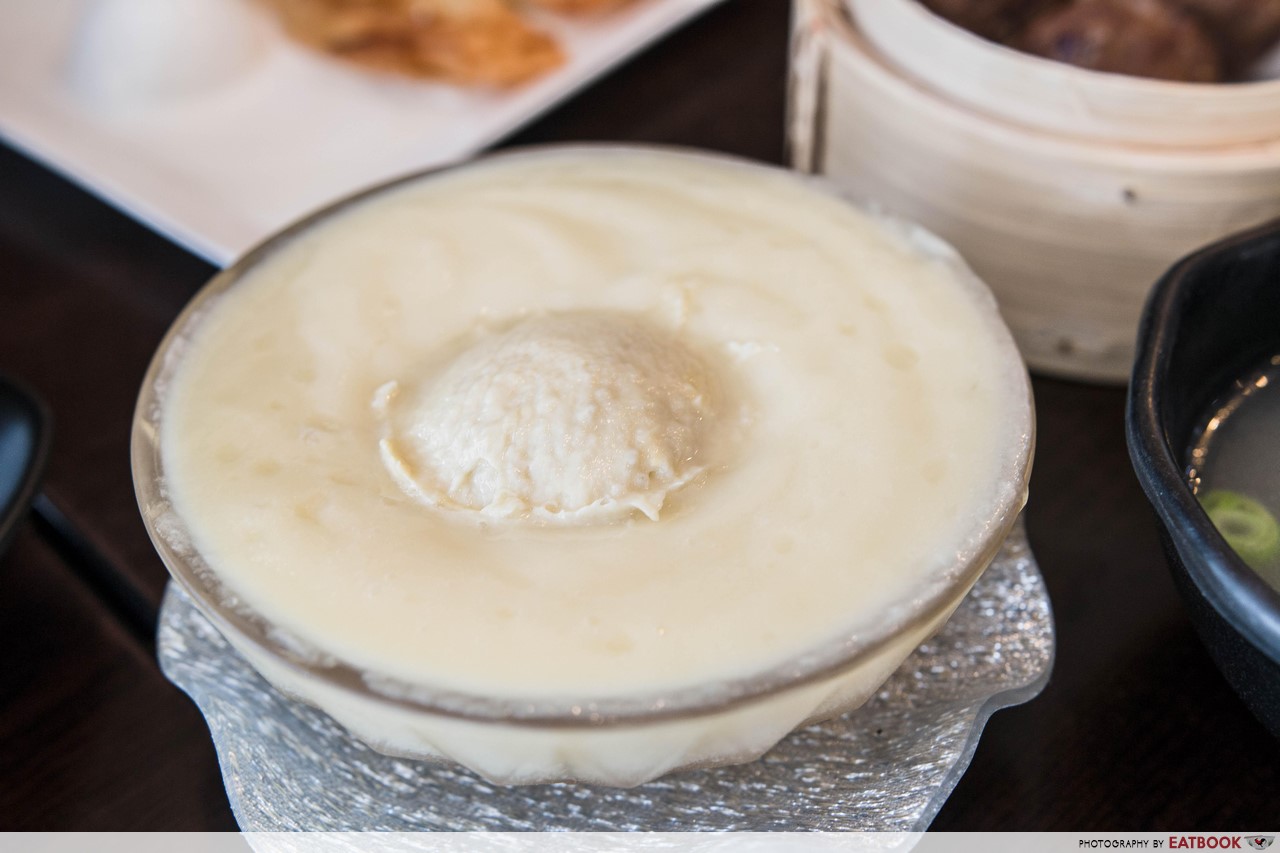 Cheat days can be done at Hong Kong Dessert with their Fried Durian Roll ($6.80) which features warm and rich durian paste encased by thin, flaky pastry. It's extra shiok because this comes with a scoop of vanilla ice-cream. Another durian dessert to try too is Durian Shake with Durian Flesh ($5.70), which has creamy durian mousse served with a scoop of durian pulp.
Address: 61 Ang Mo Kio Avenue 8, #01-02, Jubilee Square, Singapore 569814
Opening hours: Sun-Thur 11am to 11pm, Fri-Sat 11am to 11:30pm
Tel: 6457 1203
Website
Full list of outlets
---
9. Durian Pancake
---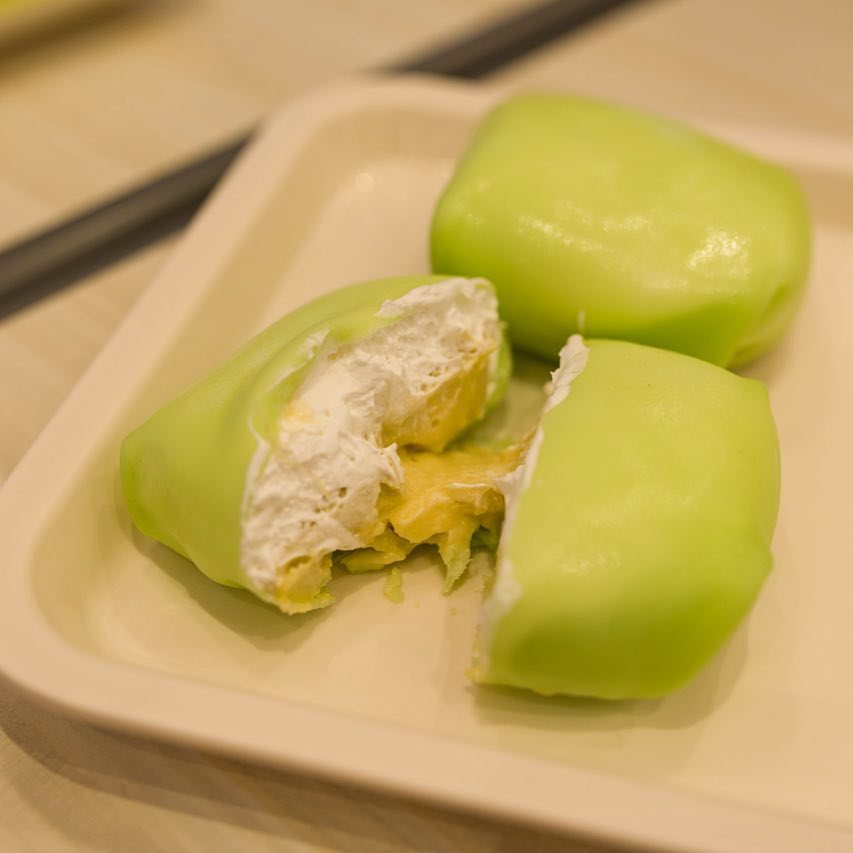 Image credit: @kennethong
Honeymoon Dessert is a Hong Kong dessert chain that does Durian Pancake ($5.10++) unlike how you'd expect. A thin green crepe neatly folds in a filling that's half light and fluffy low-fat whipped cream, and half legit durian chunks. Delicate, smooth, and delicious, it's little wonder why this is their signature amongst their over 100 desserts. The next time you're planning a catch-up, do it over this dish at one of their six outlets.
Address: 200 Victoria Street, #01-70, Singapore 188021
Opening hours: Daily 12pm to 10:30pm
Tel: 6834 0027
Website
Full list of outlets
---
10. Durian Smoothie
---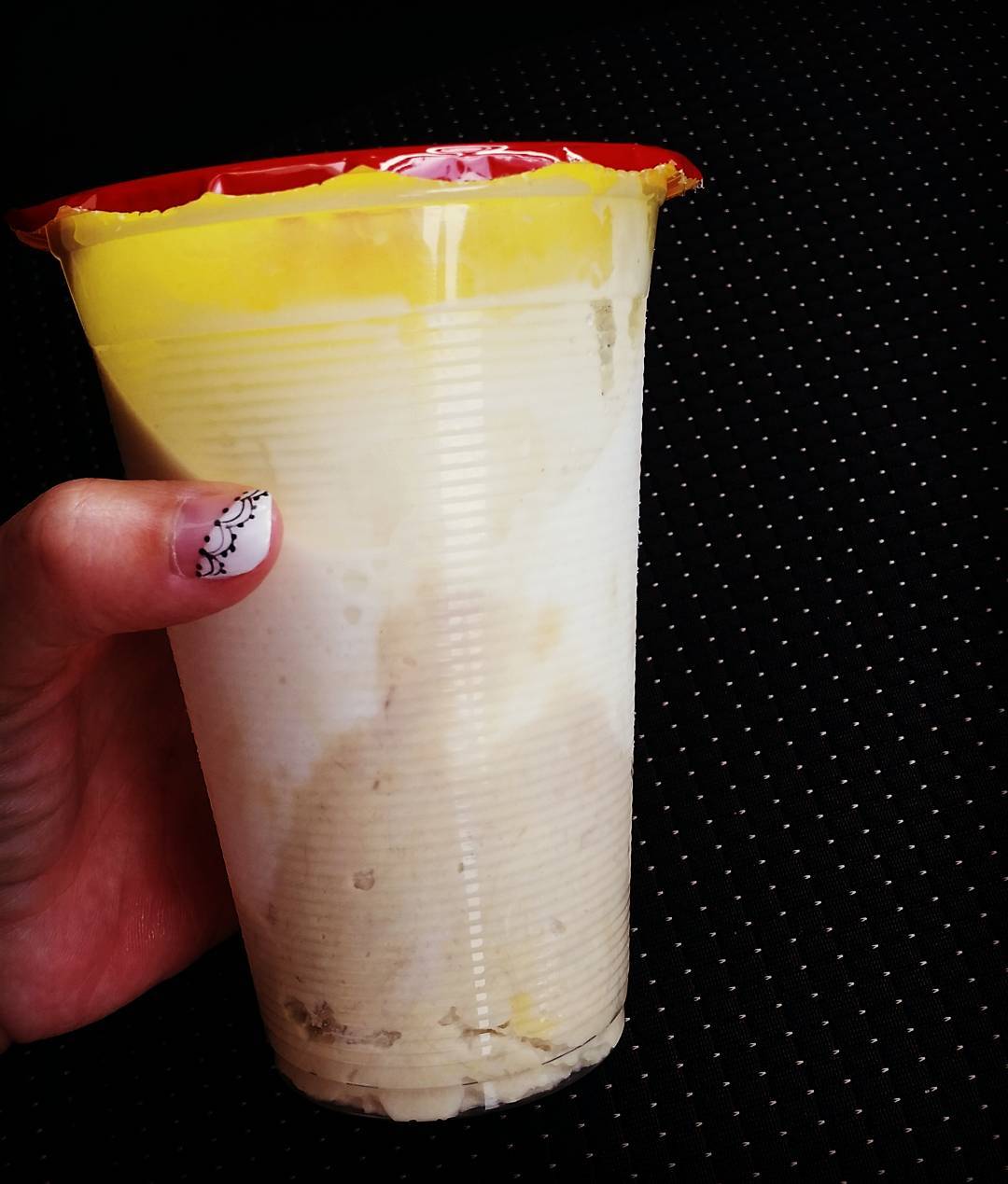 Image credit: @abigail.thefavoured1
Truth be told, when I explore a hawker centre, I keep an eye out for avocado juice and go about each juice stall looking out for the lowest-priced one. At Penang A1 Chendol though, Durian Smoothie ($4.50/$5) is the flavour to get, as it is delicious with D24 durian blended in instead. The chunks leave a distinct durian fragrance to savour after each sip. If you're with a friend, try their Mango Smoothie ($3.50/$4) which is their other top-seller. With the new Tampines West MRT Station running, be sure to put this on your Downtown Line to-do list.
Check out other Tampines West food haunts!
Address: 822 Tampines Street 81, #01-186, Singapore 520822
Opening hours: Mon-Fri 11:30am to 8pm, Sat-Sun 11:30am to 5pm
Tel: 9851 9477
---
Delish durian decadence!
---
Durian has been quite an enigma outside of the region but it takes the cake as the national fruit to introduce to friends visiting Singapore. The wacky creations vary in richness from dish to dish so maybe you'll have luck trying to get someone else to love durian the way you do.