Mao Shan Wang Cafe is Singapore's first durian cafe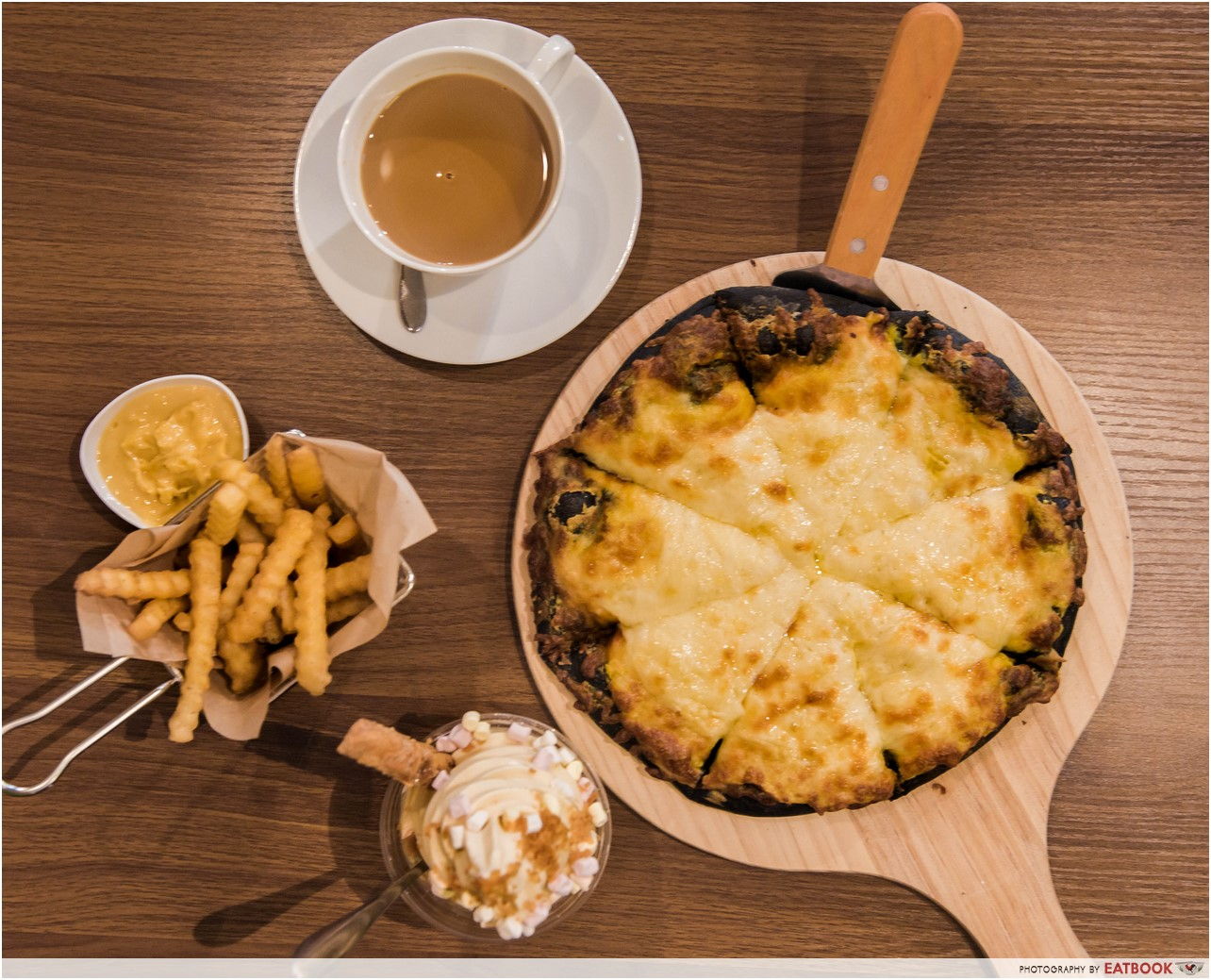 During an overseas exchange trip that I went for a few years back, my group and I were asked, "What is your favourite season?" Most of them talked about skiing in winter or suntanning during summer. As the only Singaporean in my group, the first reply I thought of was durian season.
Since I had my first durian as a child, I have been in love with it. However, satisfying my durian cravings may be difficult, especially when the fruit is not in season. And so when I heard about the newly opened Mao Shan Wang Cafe by Four Seasons Durian that serves both sweet and savoury dishes, I was more than excited to pay the cafe a visit.
Food at Mao Shan Wang Cafe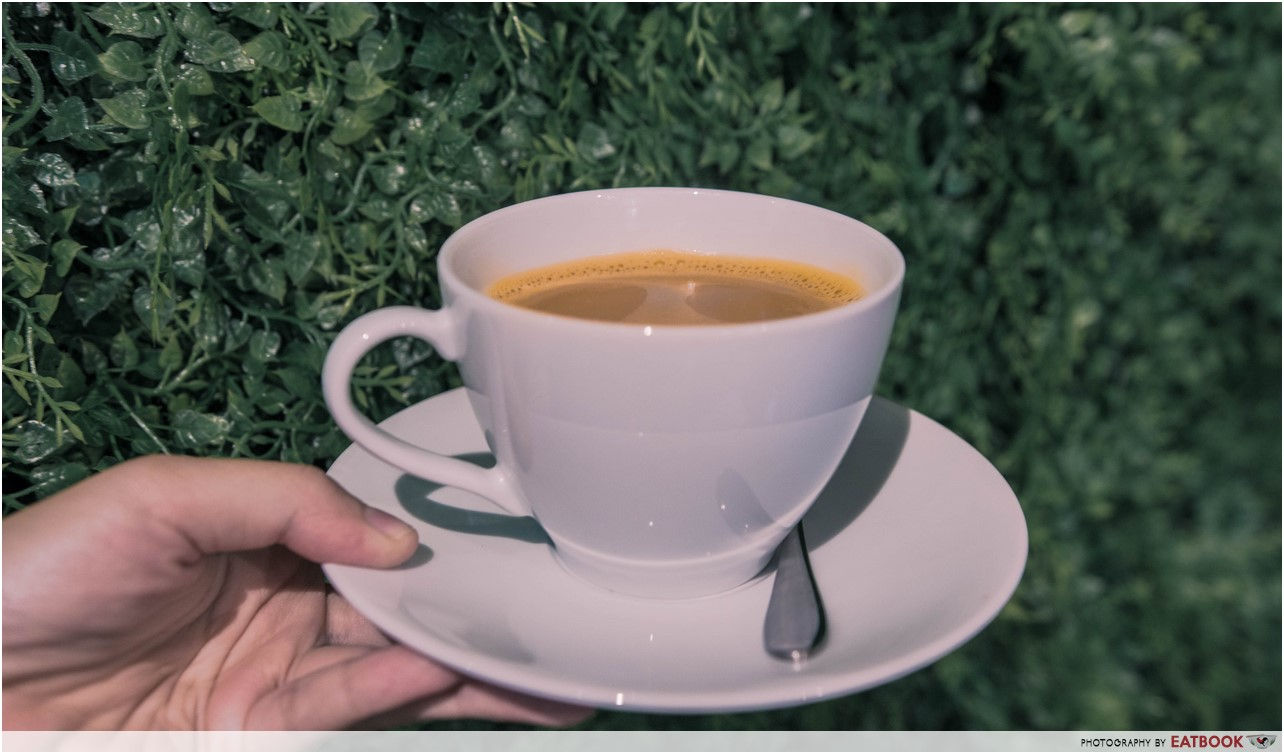 The first item that we tried was their Mao Shan Wang Coffee ($5). While I wasn't expecting to see heaps of durian puree in my coffee, I was still disappointed to see that the coffee looked just like an ordinary cup of instant coffee. Besides a light caramel smell, nothing about the drink hinted to me that it had coffee or durian in it.
As interesting as the combination of durian and coffee sounded, the taste did not sit well with me. Slightly tasteless at first, the aftertaste hit strong and reminded me of diluted instant coffee with melted durian candies inside. Though an interesting experience, I will give this drink a pass in the future.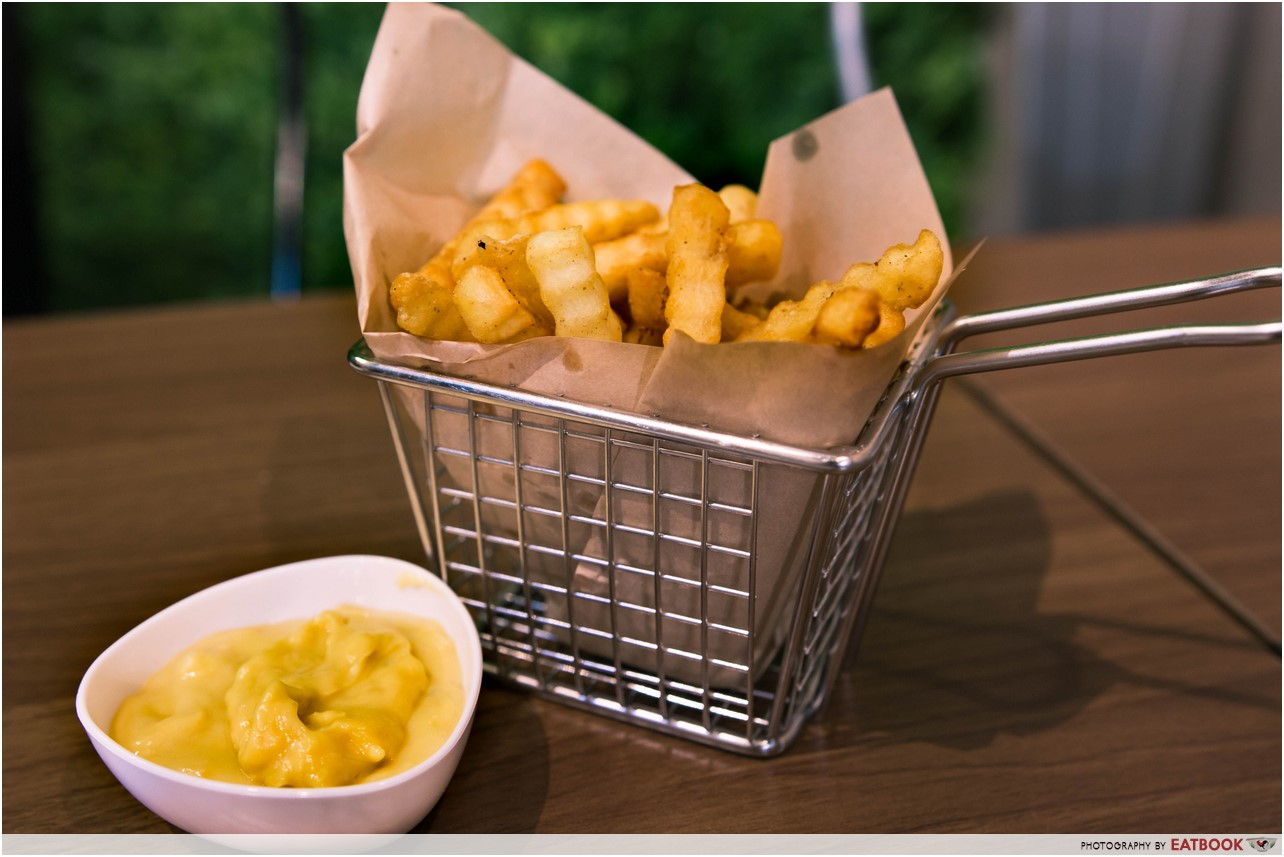 Intrigued by what we saw on the menu, we ordered their Durian French Fries ($3.80). This was classic fries served with a durian dip. For a shop specialising in durian, I was not expecting much from the french fries. However, I was taken aback by how tasty and well-fried they were.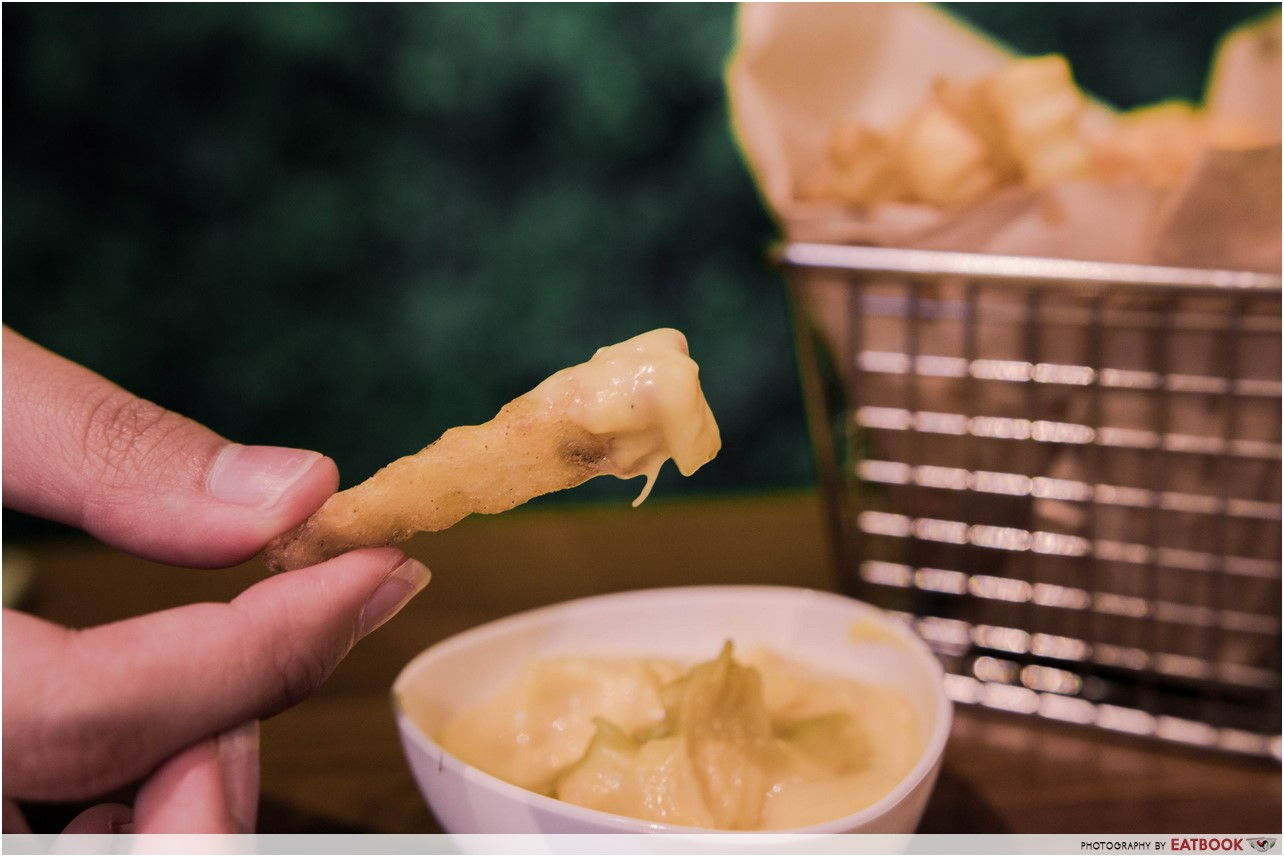 The fries were slightly salty and not greasy. As for the durian dip, it tasted like a sweetened version of the real fruit. Individually, the fries and the durian dip were delicious, but having them together wasn't the best combination. The sweet durian dip overpowered the fries and I found myself enjoying the fries a lot more on their own.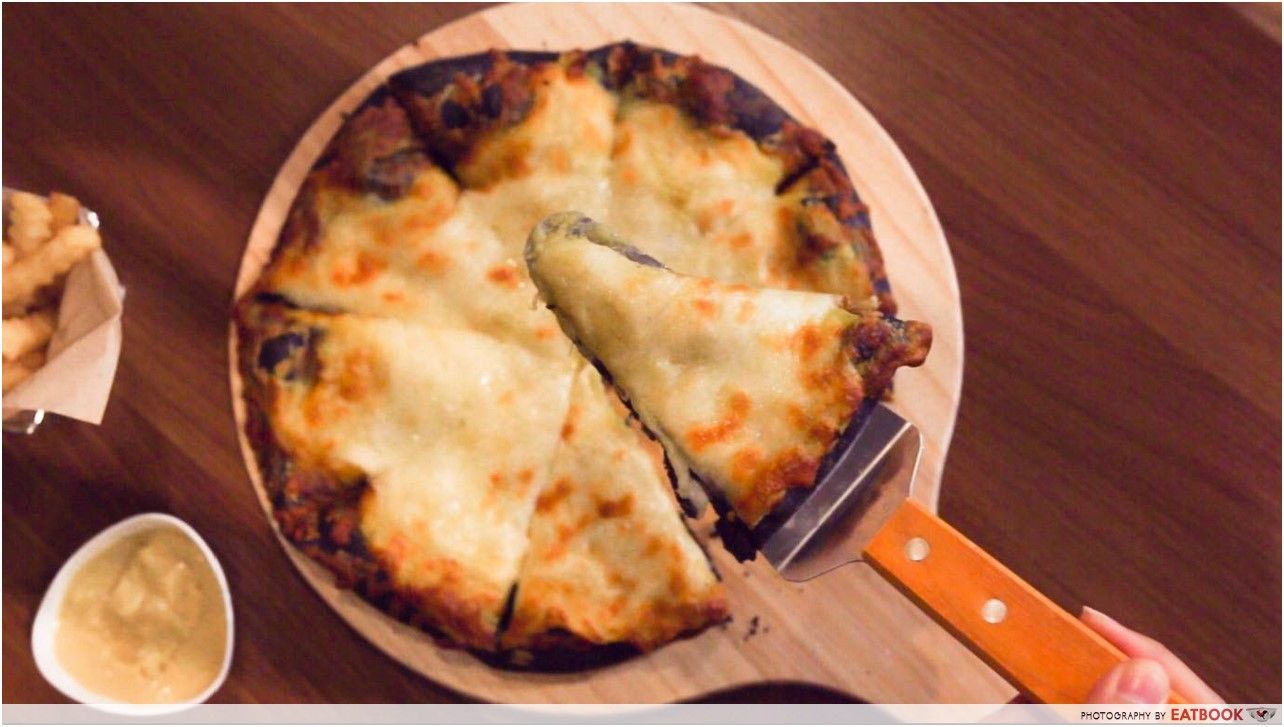 Having heard much about the hype, we could not resist trying their Black Charcoal Mao Shan Wang Durian Pizza ($18.80). However, we had to wait for about 20 minutes before it was served as we were told that the durian flesh has to be removed from the fruit on the spot.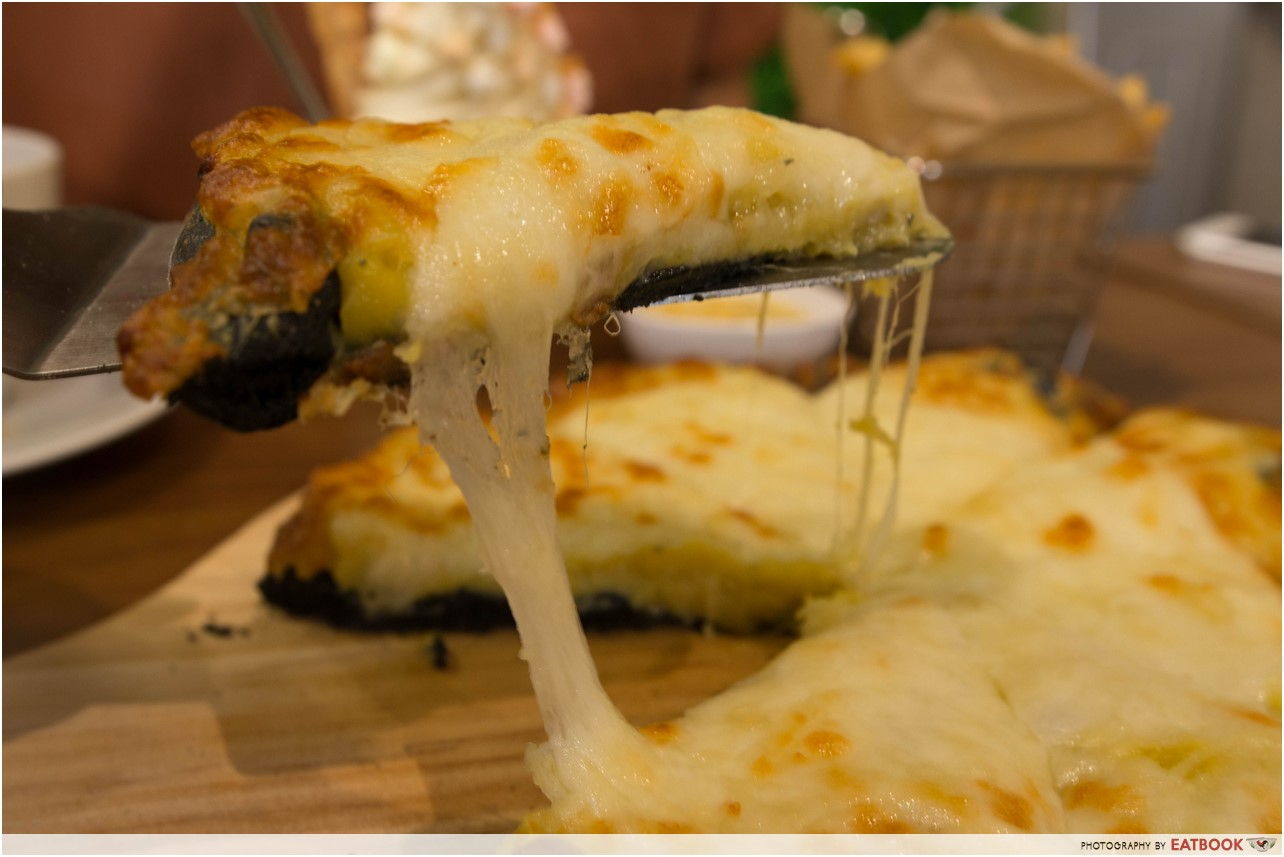 When the pizza finally came, the first thing that struck me was the aroma of the cheese. With a thick layer of charcoal crust at the bottom, it held the layers of cheese and durian together, making it easy to eat.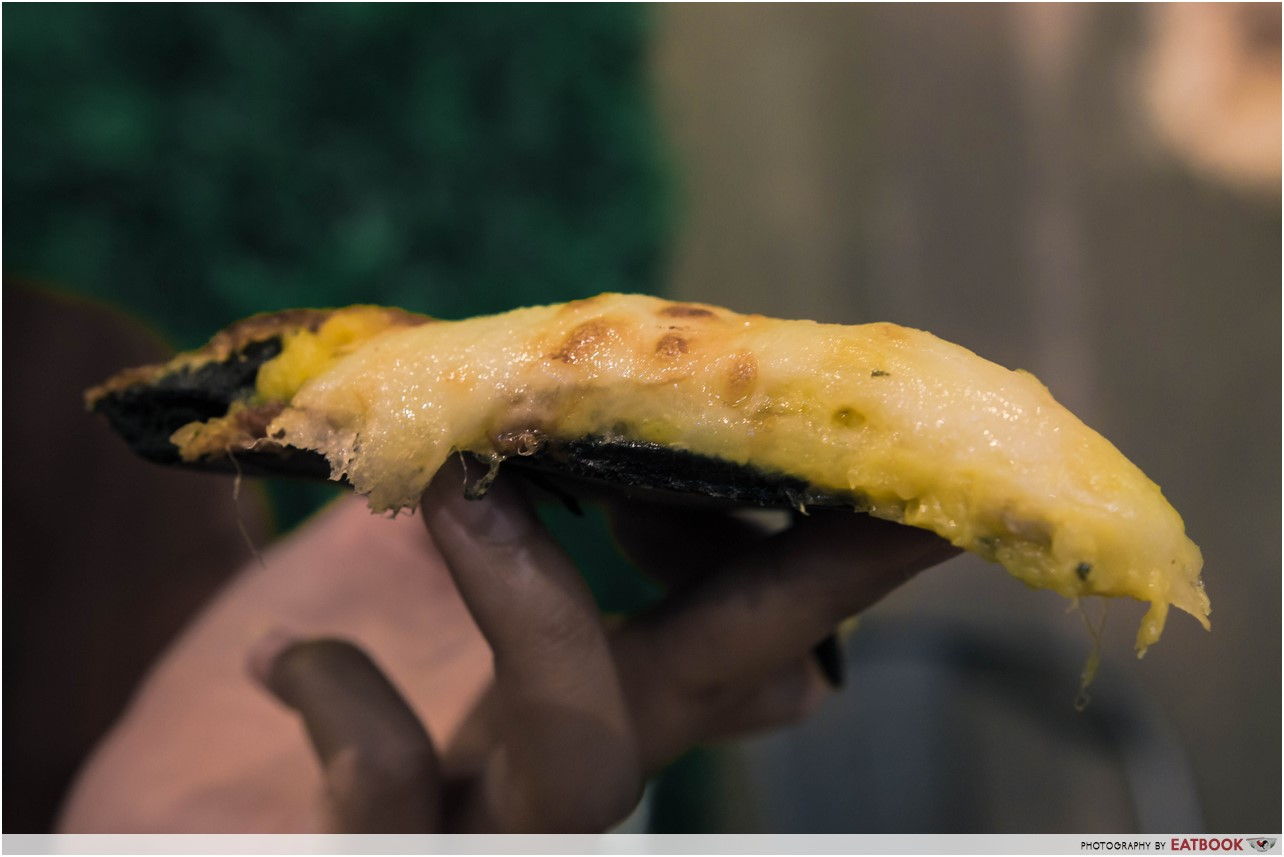 With two strongly flavoured ingredients put together, the first bite was slightly confusing. However, I grew increasingly fond of it after a while, and was impressed by how well the subtle sweetness of the durian combined with the savoury cheese. Although I was expecting a slightly stronger durian taste, the cheese gave my palate a much-welcomed break. Overall, the dish can get pretty overwhelming and I couldn't do more than one slice.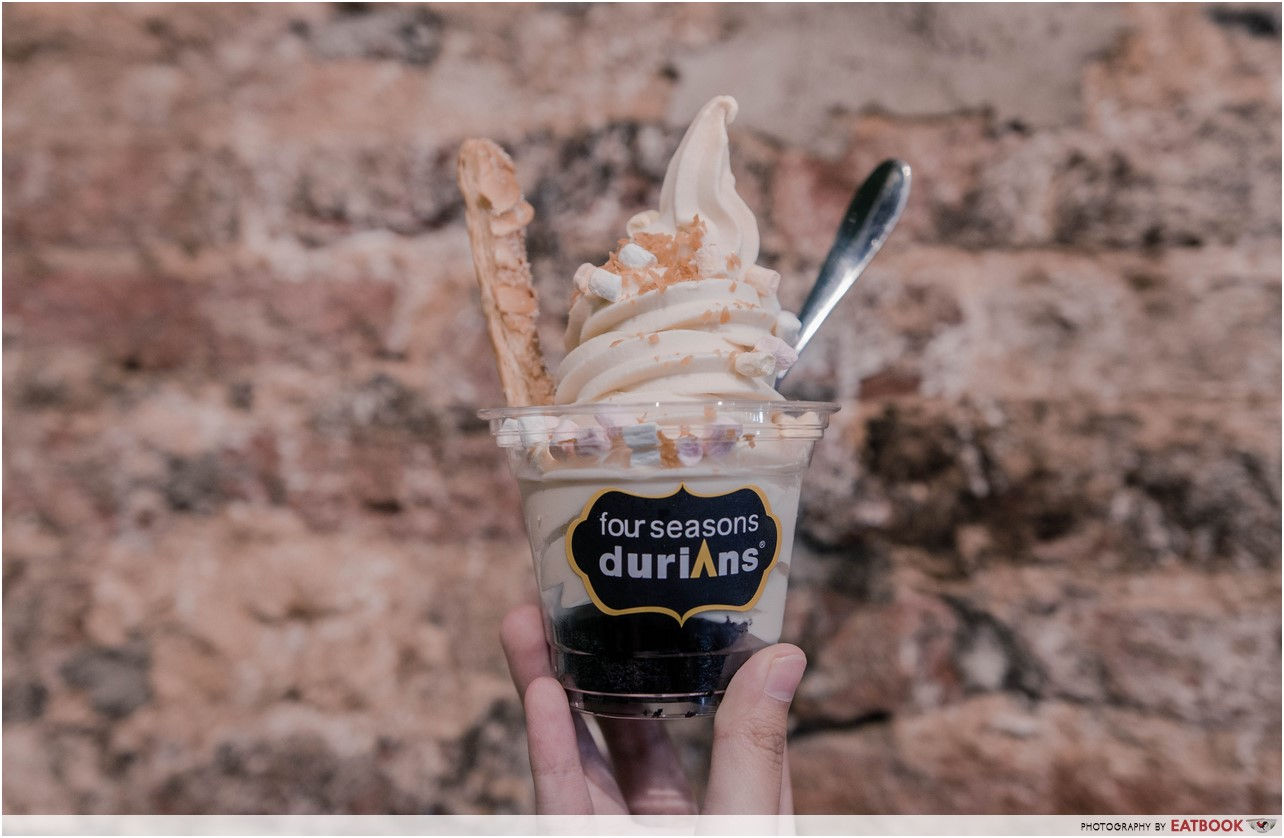 Lastly, we also had their Mao Shan Wang Takeaway Cup ($6.80), which is a smaller version of their Mao Shan Wang Delight ($15.80). Served in a plastic cup, the dessert is made of durian ice-cream topped with coconut flakes, mini marshmallows, and a sugar almond roll on the side. A generous amount of brownie chunks was also hidden at the bottom of the soft serve!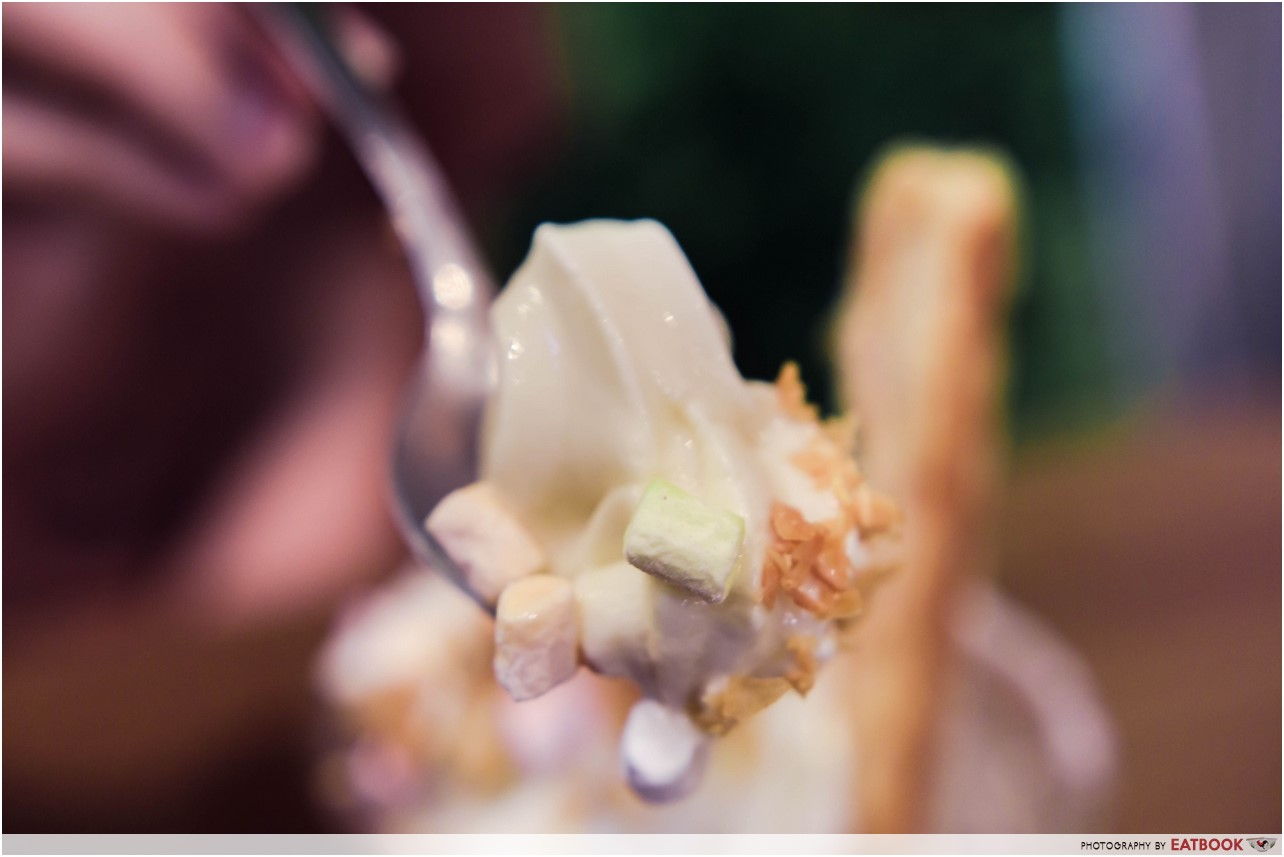 Having tried many versions of durian ice-cream from other desserts shops, this dish was not spectacular in terms of novelty. Taste-wise, I can't say this was exceptional either. Some features that stood out however, was the softness and creaminess of the ice-cream and I also liked that it was not too sweet.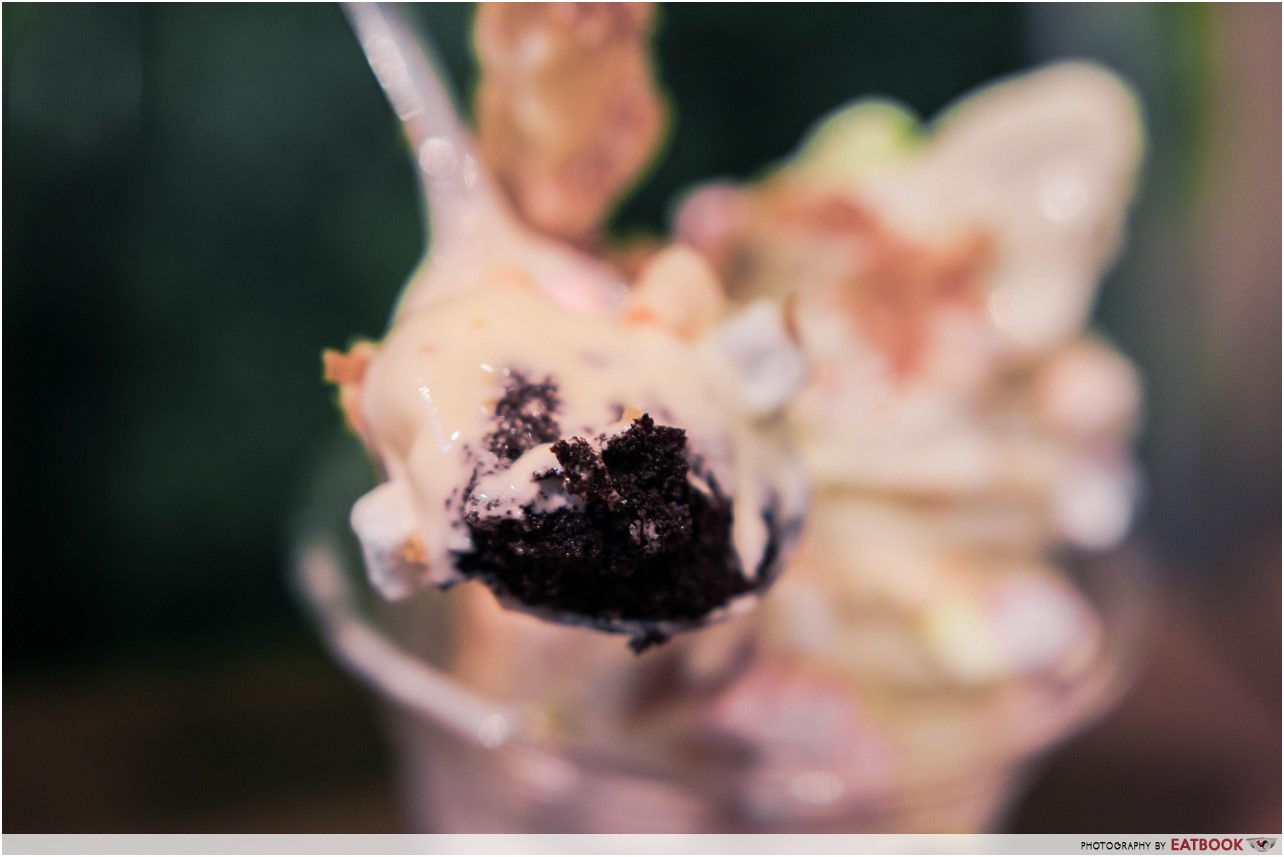 The brownie chunks buried at the bottom of the cup were plus points as they not only added texture to the dessert, but the slight bitterness of the chocolate also complemented the ice-cream. As a whole, the ice-cream, marshmallows, coconut flakes, and brownies all had distinct tastes but came together surprisingly well!
Ambience at Mao Shan Wang Cafe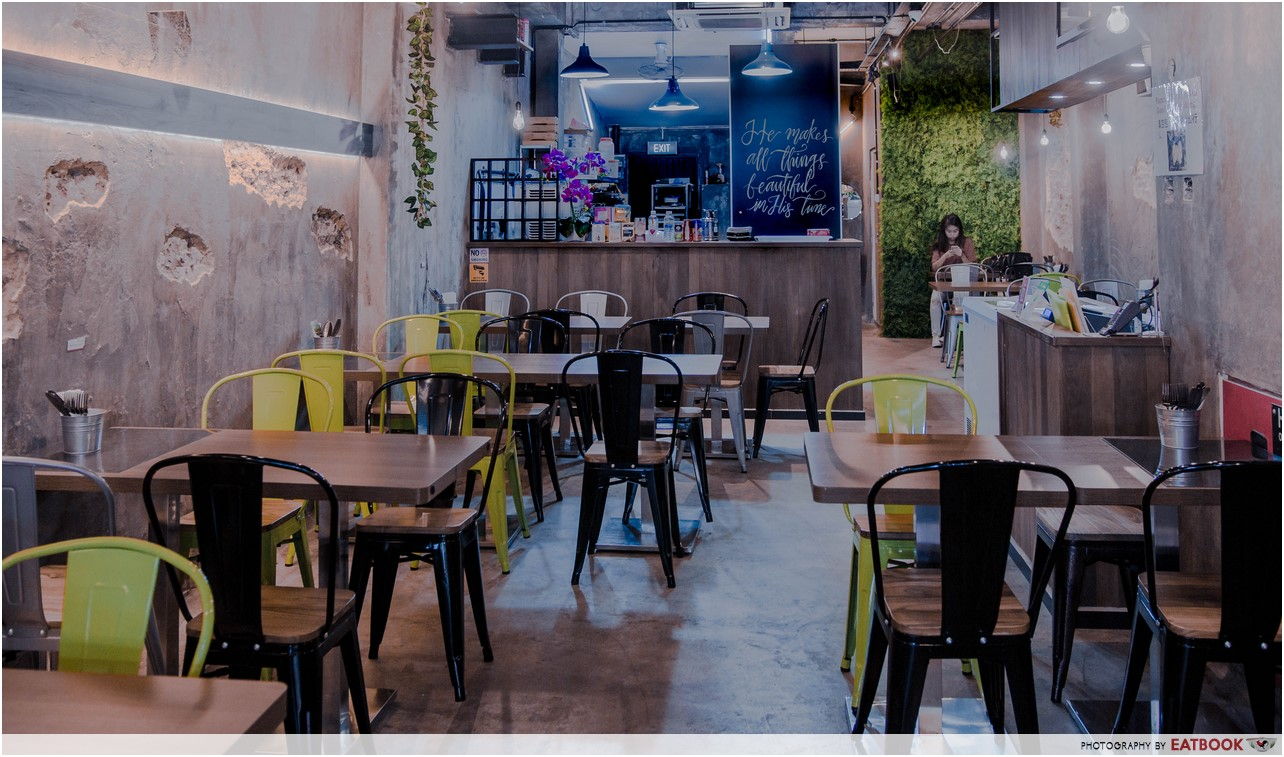 Mao Shan Wang Cafe is about a two-minute walk from Chinatown MRT Station (Exit A) and with the little mountain of durians stacked outside the shop, it is a cafe that is hard to miss. Although I feel durians are best enjoyed at street-side stalls, I was glad for the fans and aircons in the cafe that spared me from having to brave the afternoon heat. With that, it also means that the air in the cafe was filled with an intense durian smell that stuck to my clothes even after I left. For those who are not major fans of durians, the smell may be overwhelming.
The verdict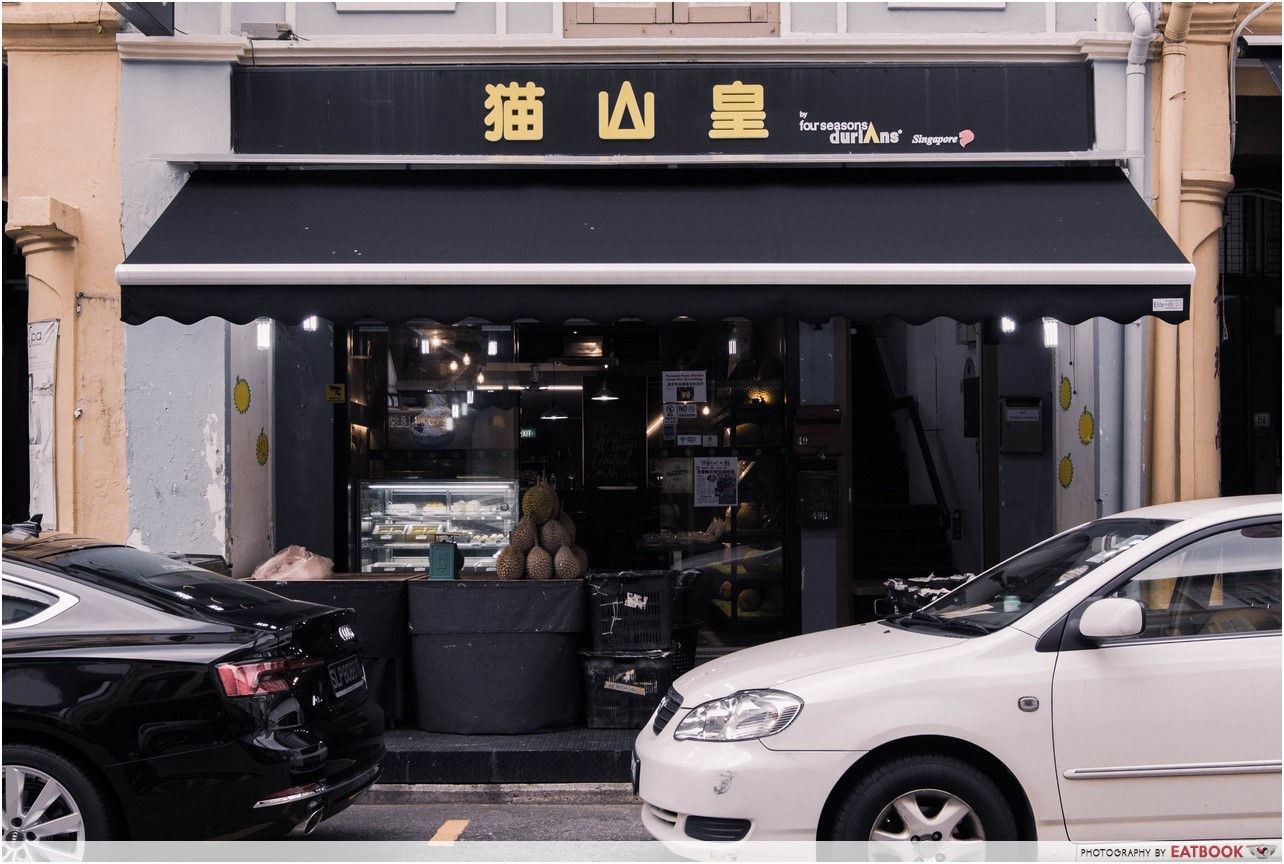 Although nothing beats the goodness of the real fruit, it was interesting to find a cafe in Singapore that specialises in durian. Overall, I was pleasantly surprised by the quality of the food served at Mao Shan Wang Cafe. If I happen to be in Chinatown, I will definitely pop by to grab their durian takeaway cup and enjoy it on the go. For more durian places, check out these durian desserts! 
Address: 49 Temple Street, Singapore 058594
Opening hours: Mon-Fri 1:30pm to 10pm, Sat 11am to 10pm
Website
Mao Shan Wang Cafe is not a halal-certified restaurant.
This is an independent review by Eatbook.sg.
Summary
Pros
– Convenient location
– Unique durian creations
– No service charge or GST
– Friendly staff
Cons
– Limited seats
– Expensive
– Pungent durian smell sticks to your clothes
Recommended Dishes: Mao Shan Wang Takeaway Cup ($6.80), Black Charcoal Mao Shan Wang Durian Pizza ($18.80)
Operating Hours:
Mon-Fri 1:30pm to 10pm, Sat 11am to 10pm
Address: 49 Temple Street, Singapore 058594