---
Easy chocolate dessert recipes
---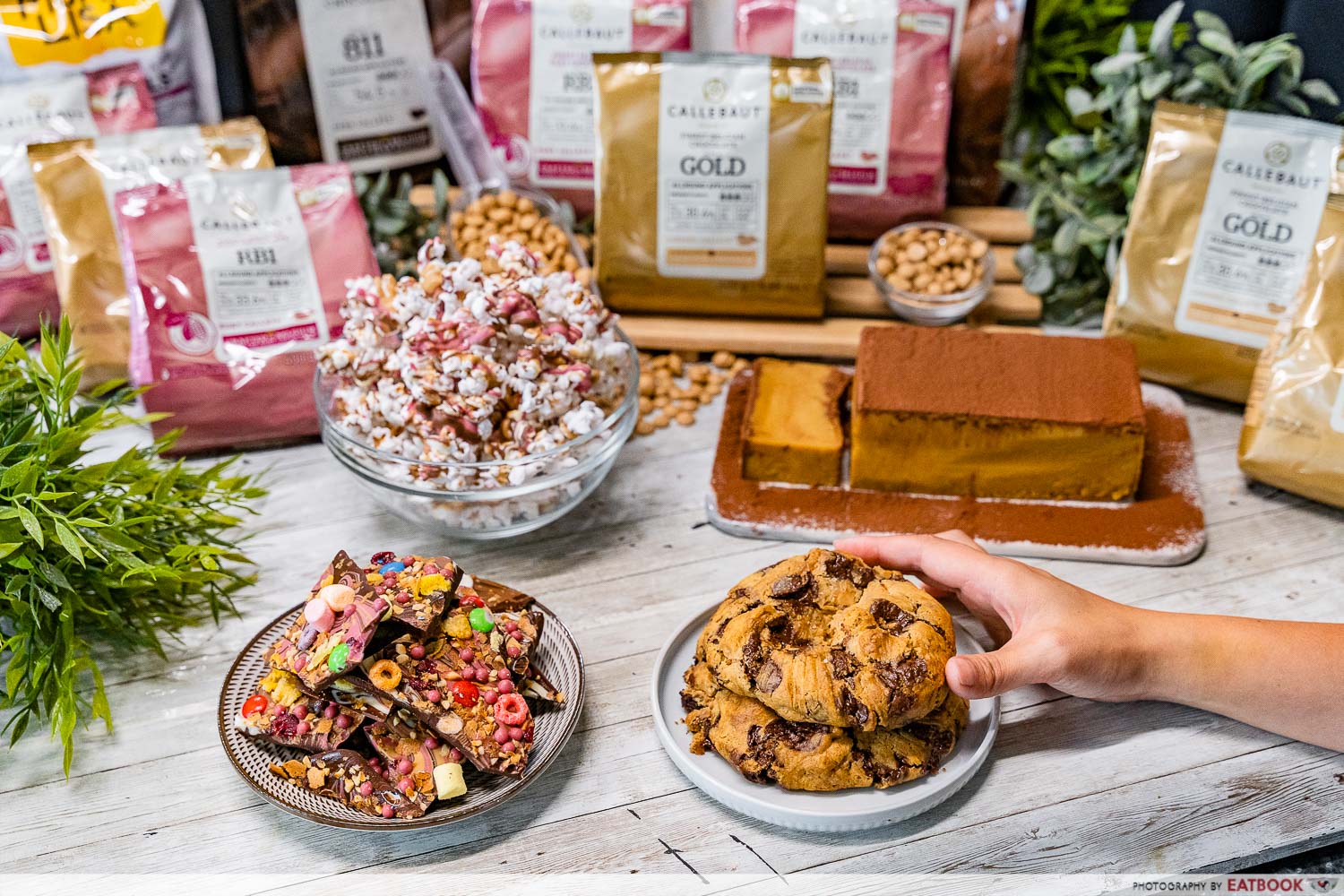 Chocolate is happiness you can eat, and nothing makes this point more so than couverture chocolate. If you've tried some, you'll know it's a point of no going back to regular, confectioner's chocolate. Lucky for us, high quality chocolate isn't hard to get our hands on, nor sold at exorbitant prices you couldn't bear to pay. Resist the temptation to eat them as is, and transform them with our recipes for 4 easy chocolate desserts to make!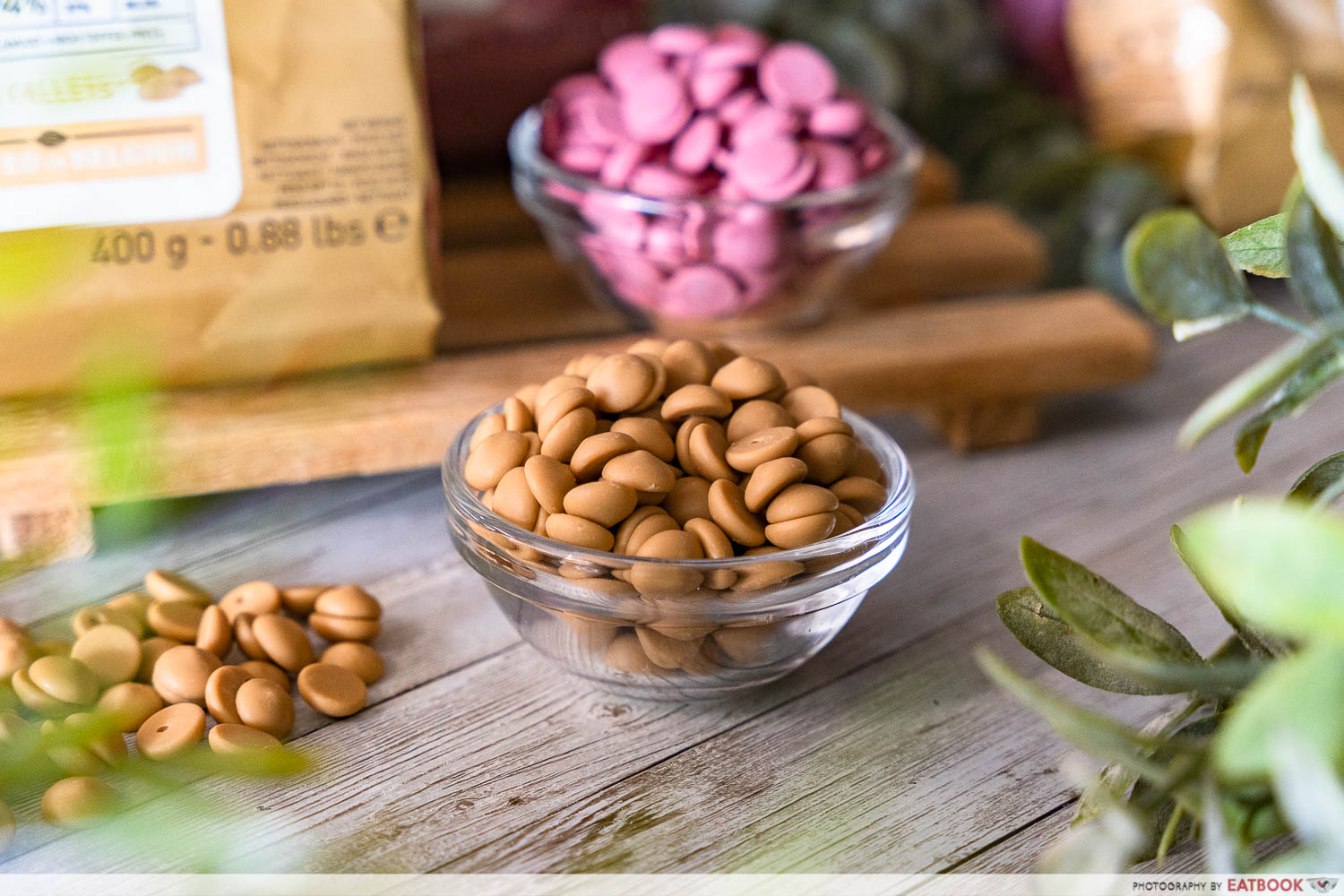 Making its appearance across all the recipes is Callebaut Gold, a chocolate made with caramelised sugar and milk, giving it rich, toffee-like notes and a warm tan hue. On the other hand, you have Callebaut Ruby RB1, a naturally-pink chocolate derived from the ruby cocoa bean, that carries a fruity zing in taste, without the use of any added flavourings.
---
1. Chocolate Bark
---
Whether you're looking for a child-friendly kitchen activity, wanting to package some handmade goodies as gifts, or an easy, show stopping dessert centrepiece, this chocolate bark recipe is for you━you won't even need to use the stove!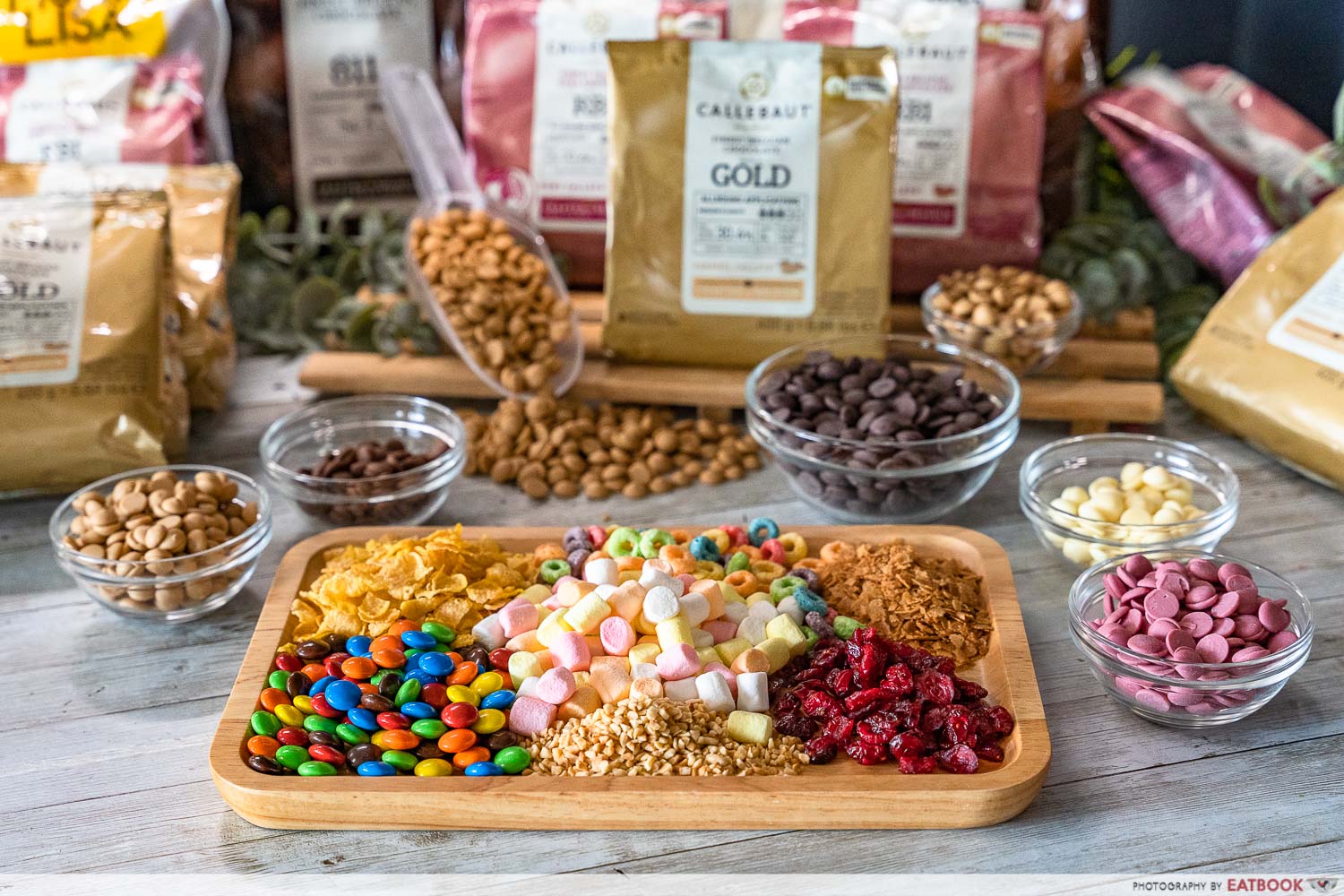 The possibilities for toppings on your chocolate bark are endless. For something more festive, you could even crush candy cane for a jolly, minty twist.
By simply popping a microwave-safe bowl of Callebaut callets into the microwave, and stirring after each 30s increment, you'll get glossy, liquid chocolate ready for use.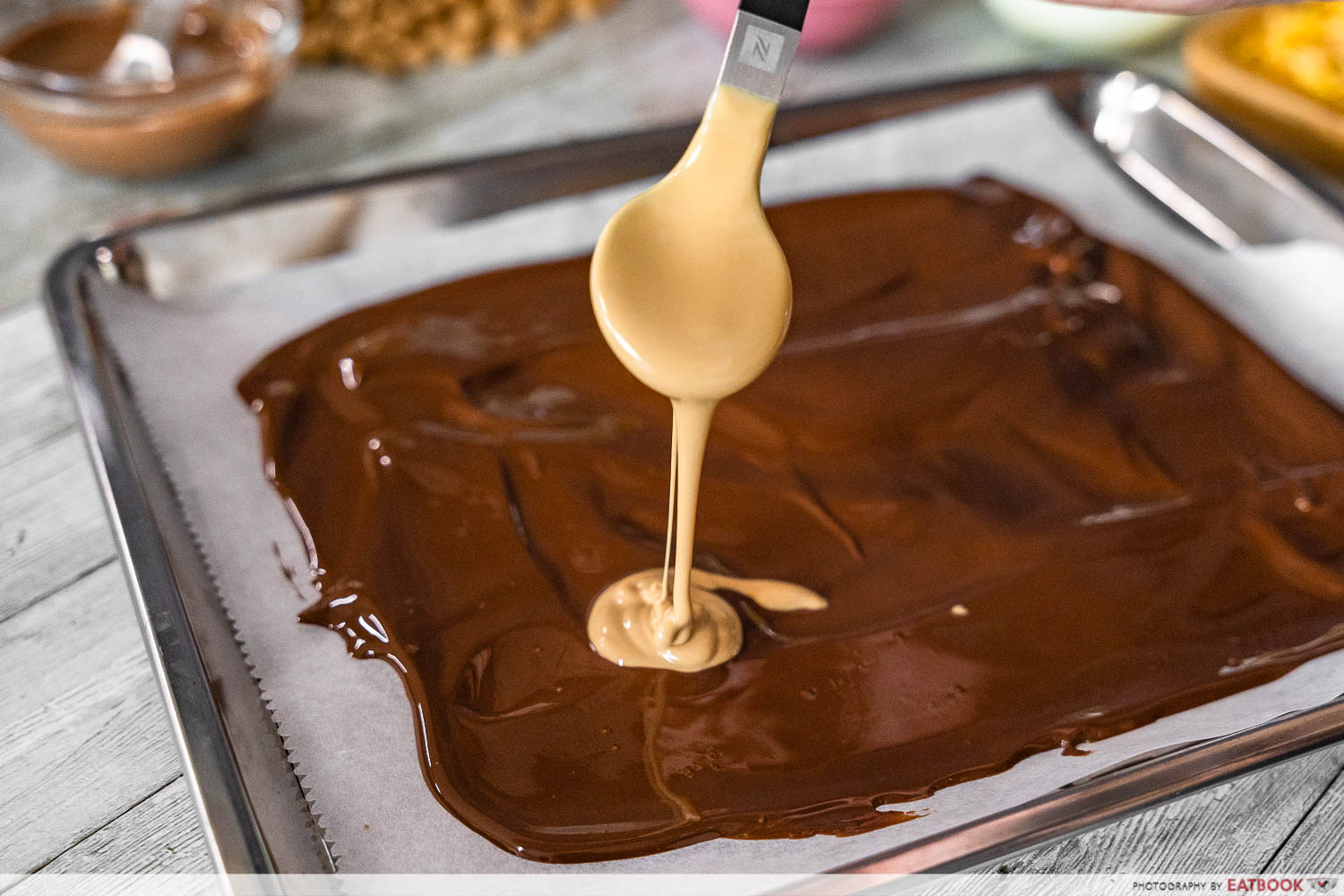 I went with a base of Callebaut Dark Chocolate 811, mainly because I find the bitterness a pleasant contrast to the taste of the other chocolates, especially the butterscotch flavours of Callebaut Gold.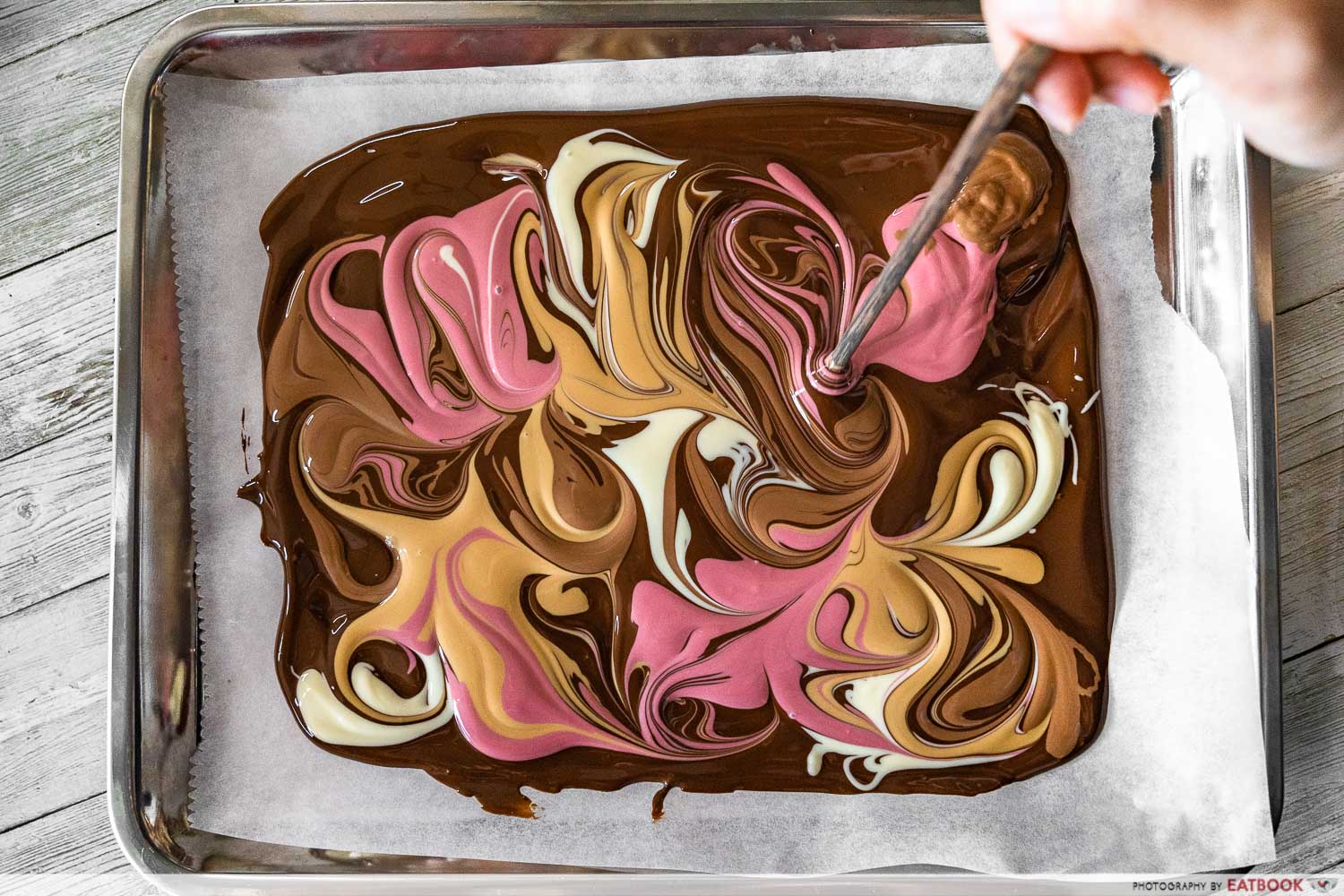 Simply spoon your secondary choice of chocolate randomly, and have fun swirling it through with a fork, satay stick, toothpick, or chopstick.
As with the toppings, you can have as many, or as few, chocolates in your chocolate bark. I went over the top with four, making for a medley of flavours in the mouth, and a visually stunning slab, but you can dial this down.
Plenty of pantry essentials can double up as toppings on the chocolate bark. Here, we zhng it up with Mona Lisa Ruby Crispearls━toasted biscuit balls coated in Callebaut Ruby, that lend a fruity crunch to each bite. 
Yield: 4 servings
Cooking time: 10 minutes
Ingredients:
150g Callebaut Gold Chocolate
400g Callebaut Dark Chocolate 811
100g Callebaut White, Milk or Ruby Chocolate
Topping ideas: 
Mona Lisa Ruby Crispearls
Callebaut pailleté feuilletine
Breakfast cereal
Cookies, crushed
Candy cane, crushed
Pistachios, crushed
Almonds, crushed
Salted pretzels, crushed
Unsweetened coconut flakes
Dried cranberries
Popcorn
M&M's
Marshmallows
Sea salt flakes
Directions:
In large, microwave-safe bowls, melt the chocolate chips separately in 30s intervals, stirring in between, until completely melted.

Line a large baking tray with parchment paper, and spread the melted chocolate over it, smoothing the surface with a spatula. 

If you're doing a marbled chocolate bark, dollop your choice of chocolates over the top, and swirl with a toothpick or fork.

Sprinkle prepared toppings of choice, let it set for an hour in the fridge, then break into pieces.
---
2. Golden Lava Levain Cookie
---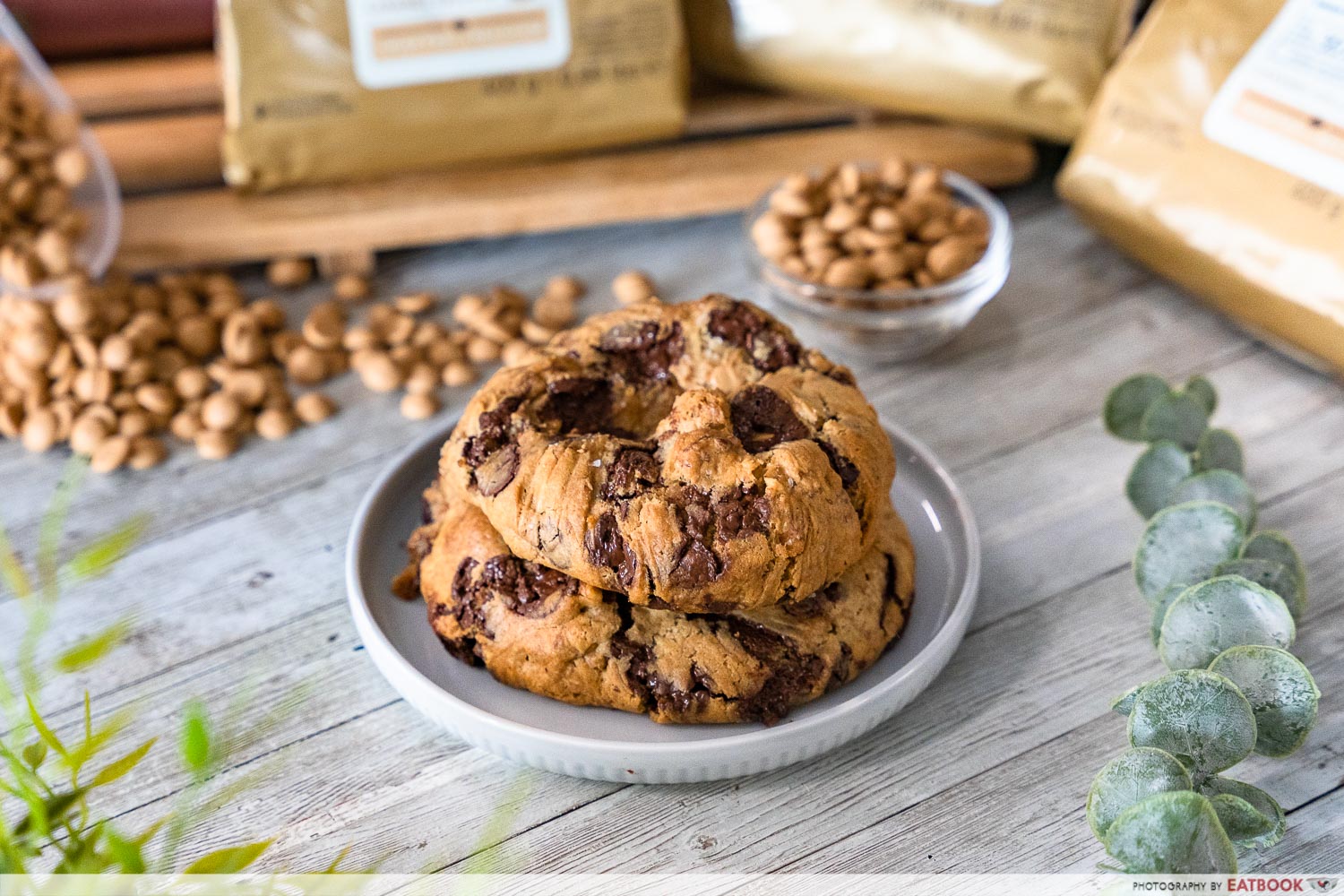 Levain cookies are all the rage, with these XXL cookies popping up over and again on our IG feeds. Make them at home, and make them extra, with a molten, golden lava centre, using pantry staples and premium, Callebaut Finest Belgian chocolate.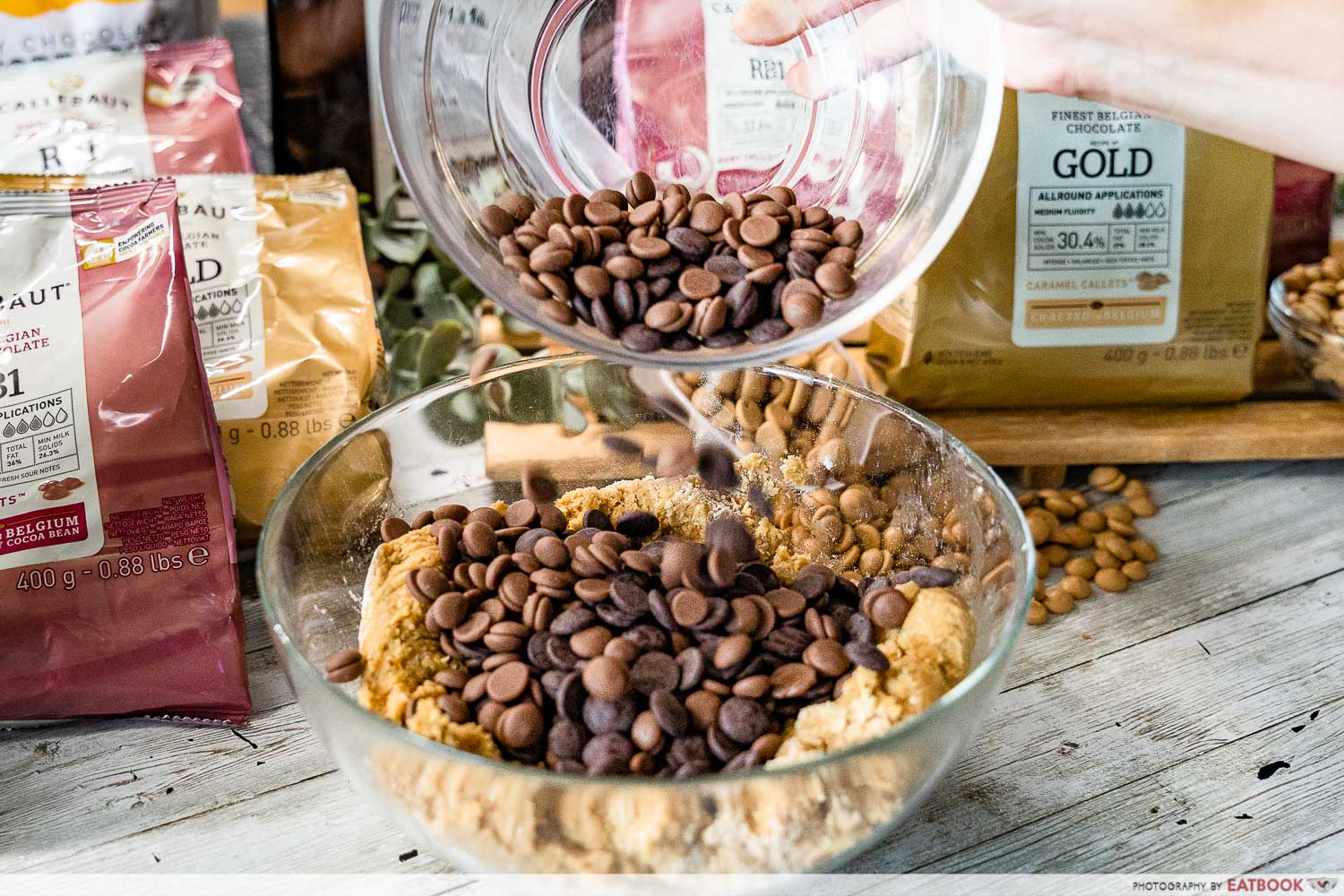 This cookie contains a ton of chocolate. The recipe below uses only Callebaut Dark Chocolate 811 in the cookie dough to balance out the caramel notes in Callebaut Gold, but you can opt to have a custom mix of Callebaut Milk and Dark Chocolates in whatever ratio you'd prefer.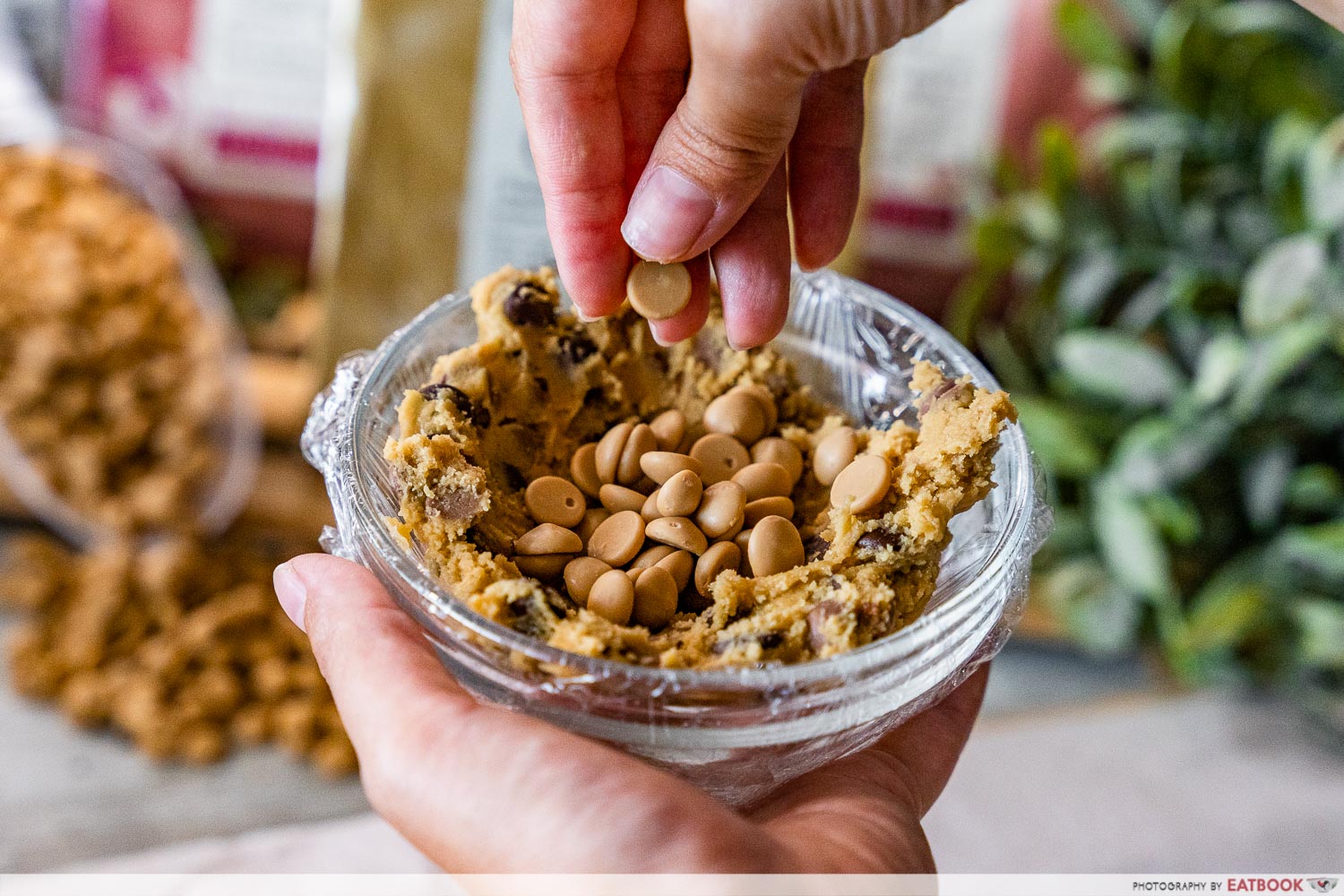 To achieve the chocolate lava effect, you need to pack 50g of callets, at the very least, into the centre of each cookie. I find using a small bowl makes this process easier.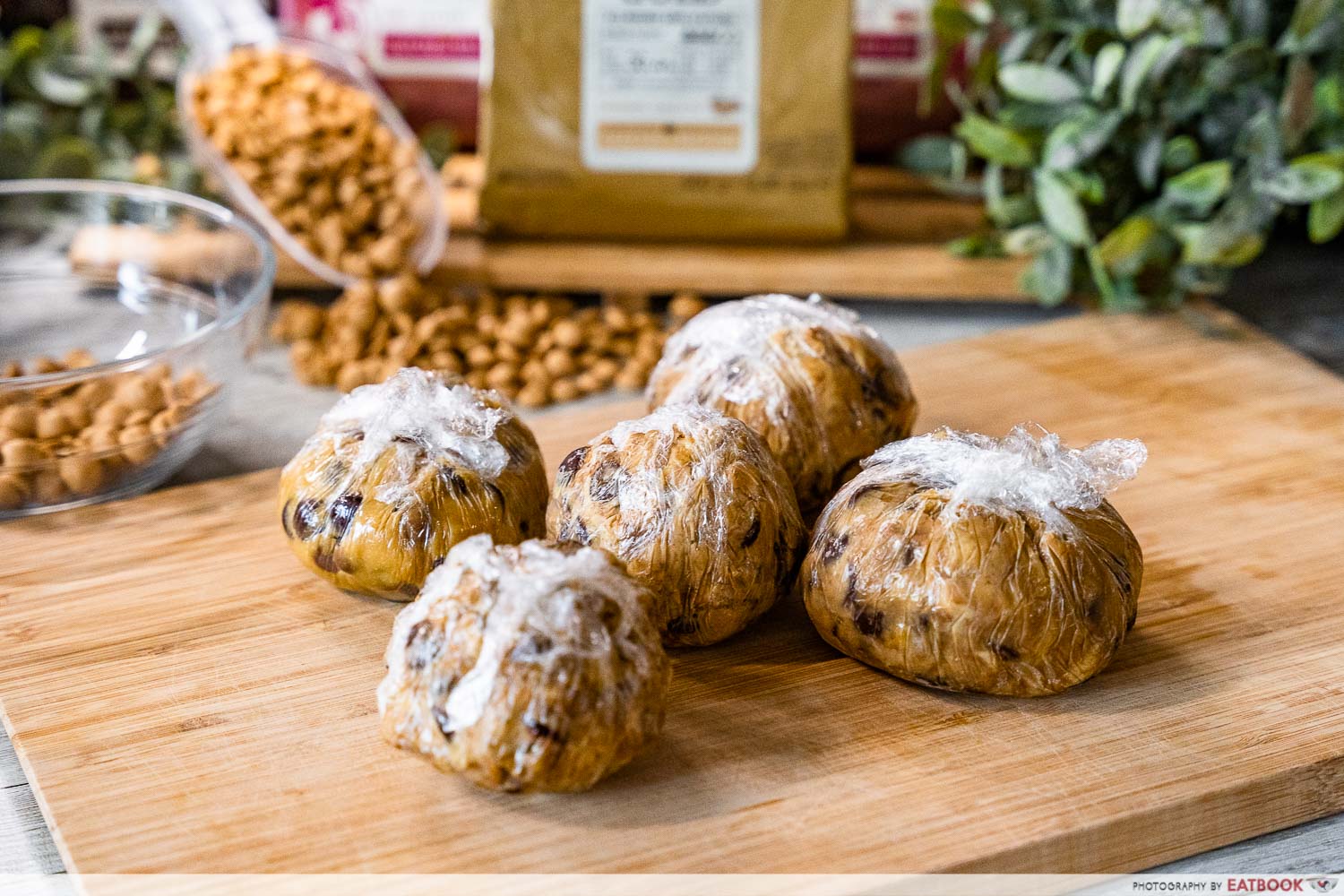 Because of the composition of this cookie dough, you simply cannot skip the step of letting it sit overnight in the fridge. More than the texture, it also allows the flavours of the cookie to develop better.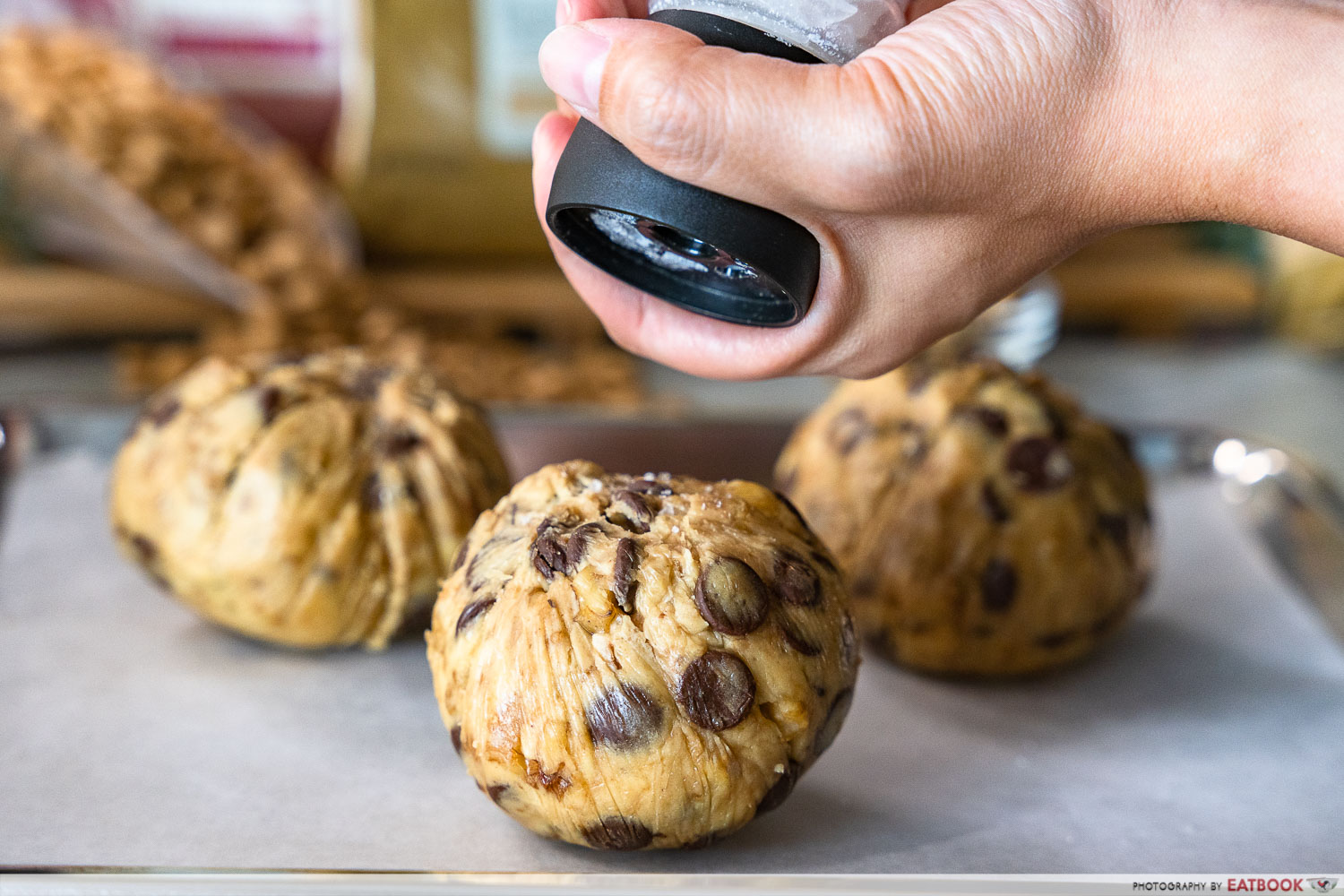 If you're looking for the roughed-up tops that give Levain cookies their signature look, avoid rolling the balls of dough till they're smooth all around. Arrange the balls of dough on a tray and pop them into the freezer for 10 minutes before wrapping them up if so.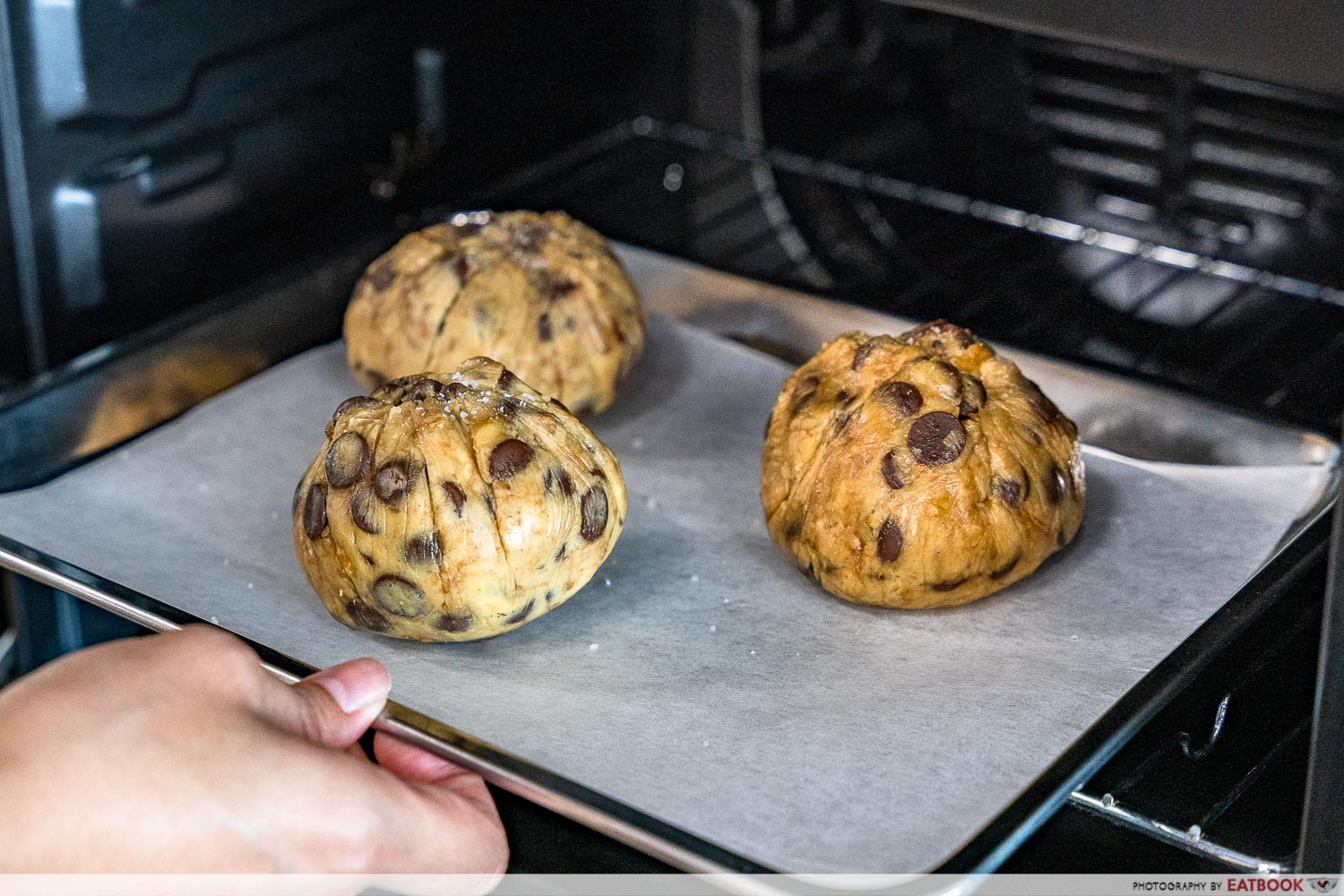 The cookies will spread. Be sure to leave ample space between them when you pop them into the oven for baking.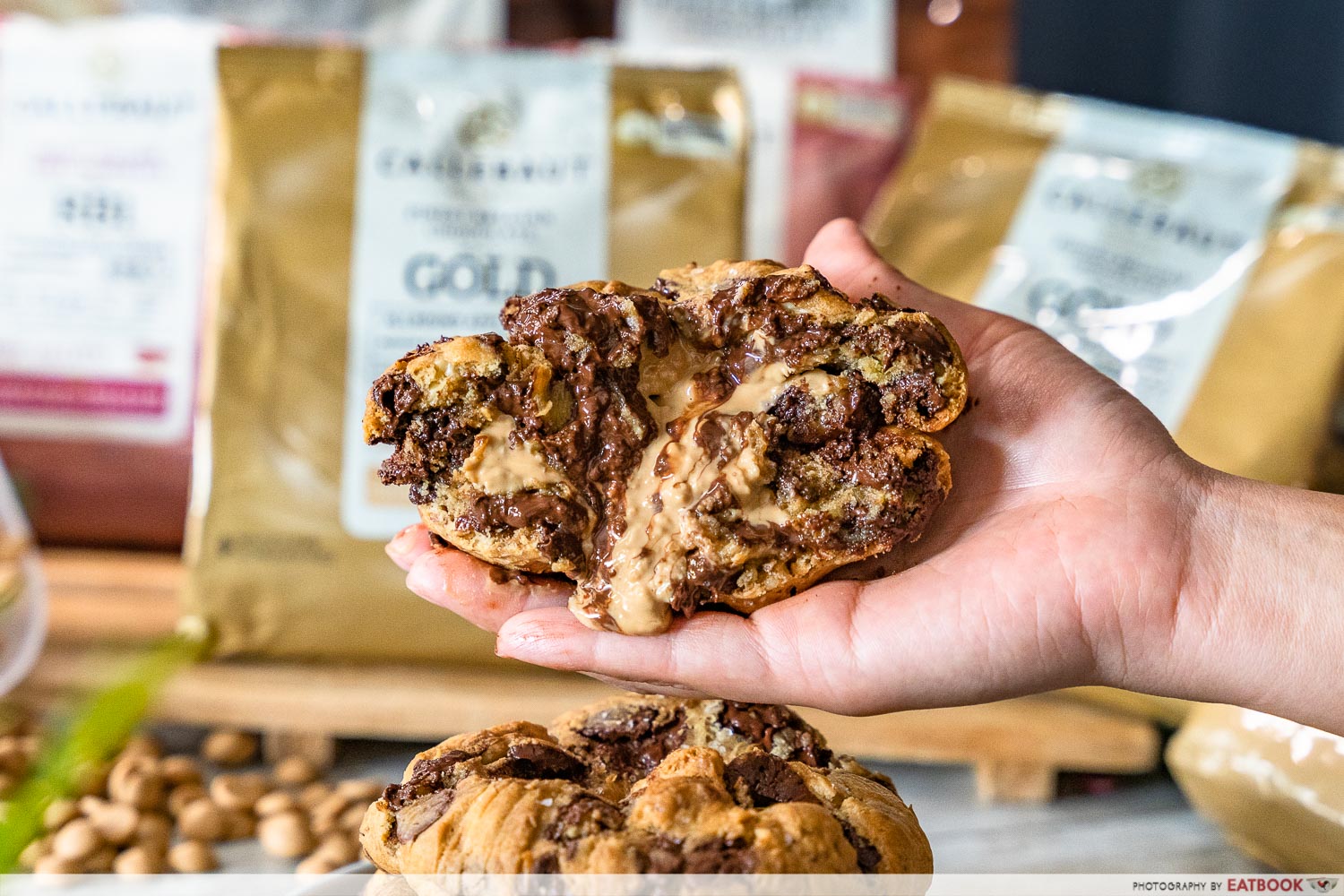 Allowing the cookies to cool for 10 minutes after baking also gives them time to set, so don't rush into eating them!
Yield: 8 big cookies
Cooking time: 30 minutes
Ingredients:
113g unsalted butter, slightly softened
113g light brown sugar
10g caster sugar
2 eggs, cold
15g vanilla extract
283g all purpose flour, sifted
1¾ tsp baking powder
1 tsp baking soda
8g salt, plus more for sprinkling
300g Callebaut Dark Chocolate 811
400g Callebaut Gold Chocolate
125g walnuts, roughly chopped
1 pinch of nutmeg (optional)
Directions:
Combine butter, sugars, vanilla extract, salt, baking powder, baking soda, and nutmeg if using, in a bowl. Mix on low with the paddle attachment, then increase speed to medium until pale and fluffy, about eight minutes, scraping down the bowl midway.

Add eggs one at a time, allowing each egg to fully incorporate before adding the next.

On low speed, add the flour and mix till combined, then add nuts and dark chocolate. 

Divide batter into six balls, about 170g each. Flatten each ball into a disc, and wrap 50g of Gold Chocolate in each ball's centre. Wrap with cling wrap, and refrigerate for at least 12 hours.

Preheat oven to 180°C, and arrange the balls of batter on a lined baking tray with the craggy side up. Make sure they're well spaced out. Bake for 22 minutes till golden brown. Allow to cool for 10 minutes, and enjoy while warm.
Recipe adapted from Serious Eat's post.
---
3. Triple Chocolate Popcorn
---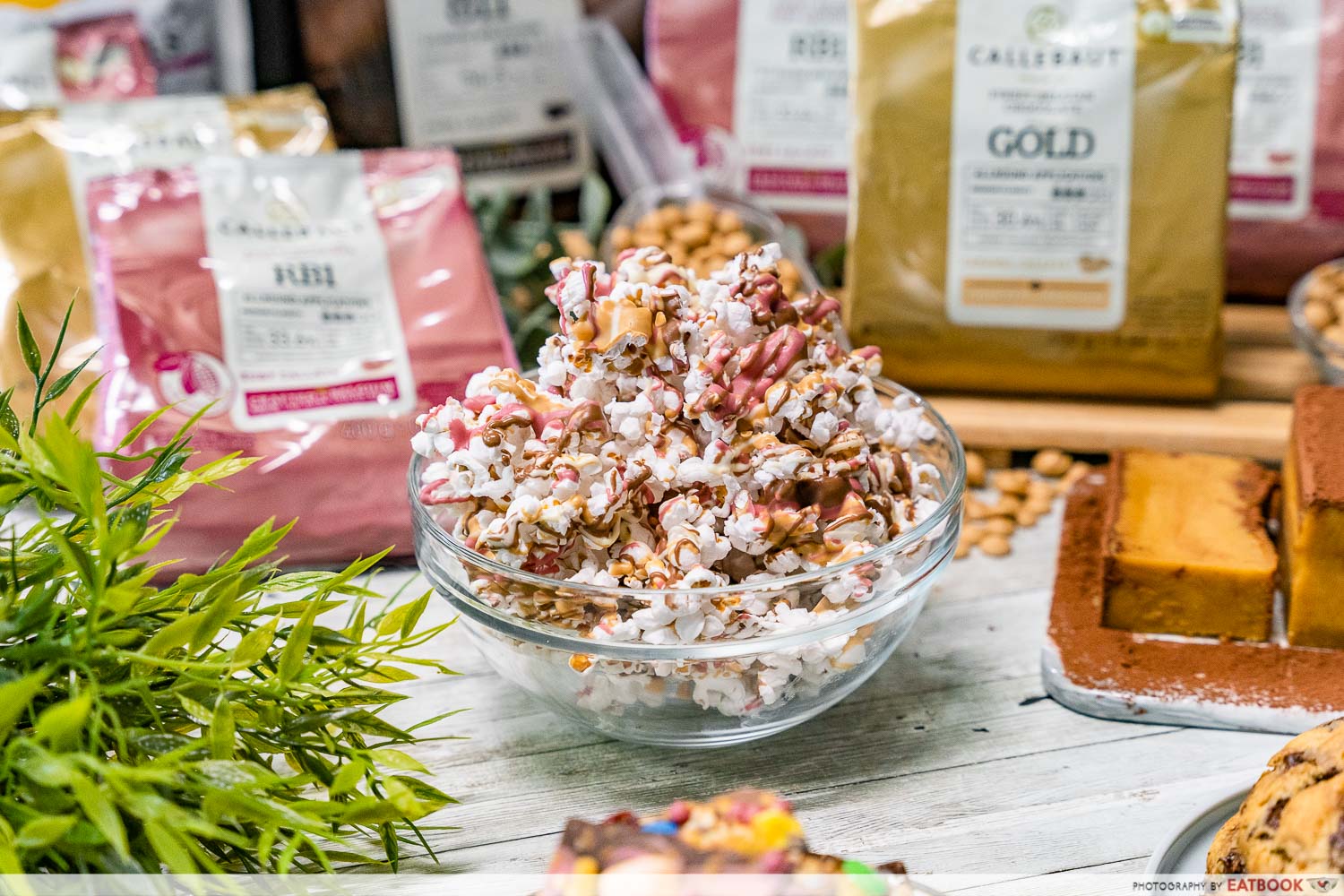 The same microwave hack from before sets the stage for this Triple Chocolate Popcorn, where we drizzle freshly popped popcorn with lashings of melted chocolate for a seriously decadent treat.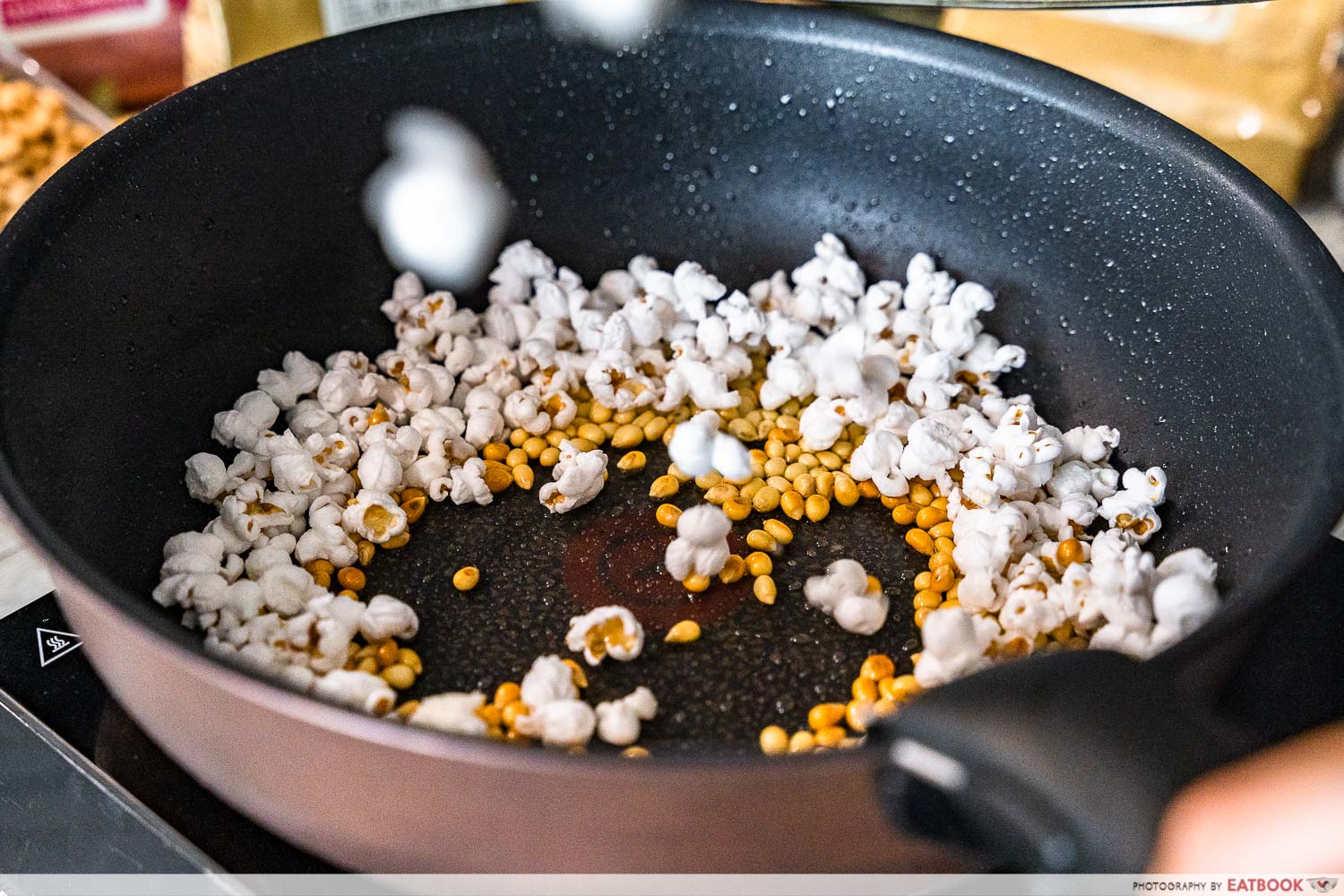 Leave the lid on, with the tiniest of gaps for moisture to get out, and give the pan a good shake every so often, to prevent your kernels and popcorn from burning.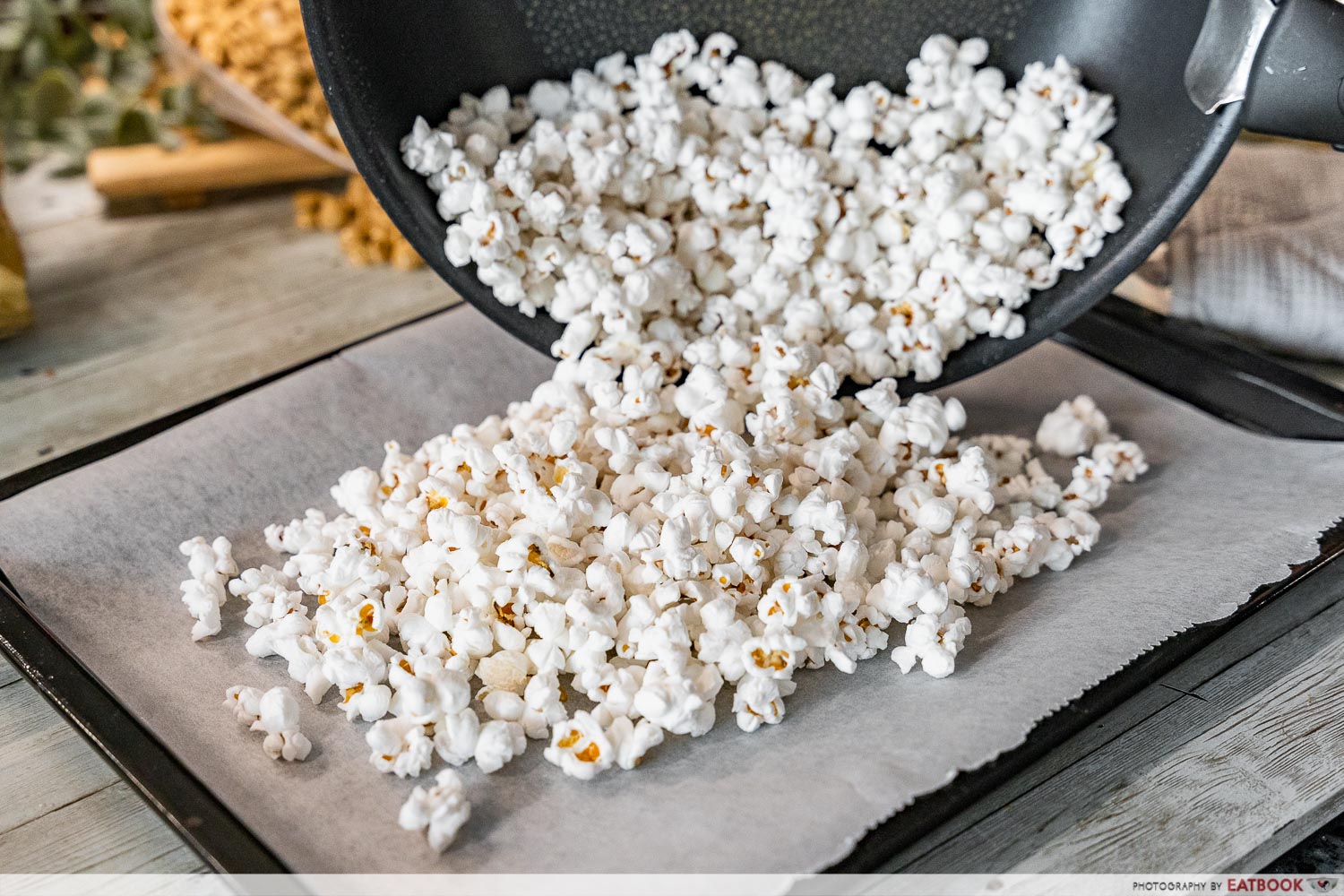 To make cleaning up a breeze, lay your tray with parchment paper, or you'll have to scrape bits of hardened chocolate off afterwards.
If caramel popcorn is your go-to at the movies, go heavy on the melted Callebaut Gold, and maybe even forget about the triple chocolate. Stop the recipe at this point, dust it with some sea salt flakes for a fancy finish, and chill for a snap before heading to the couch.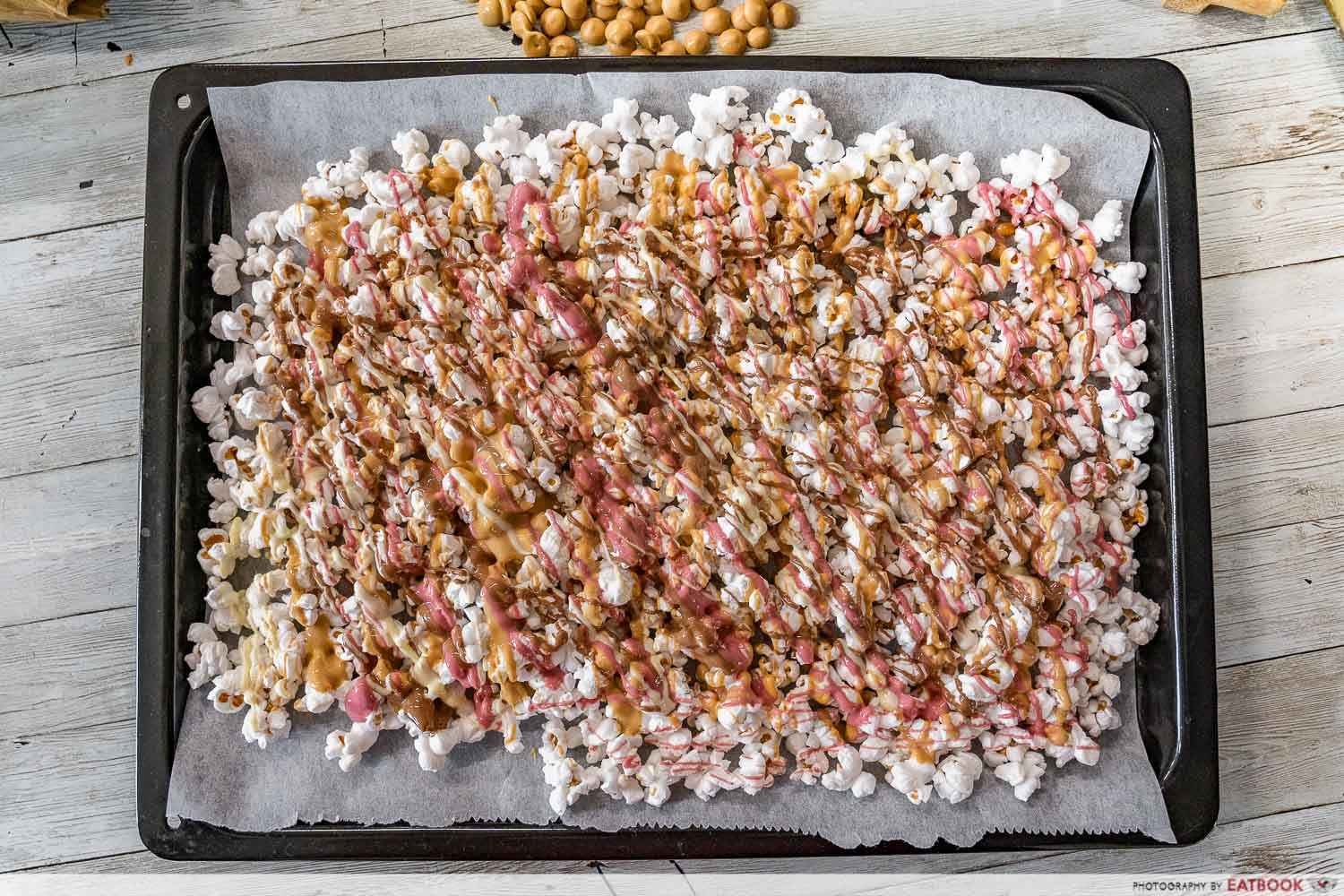 Of course, if variety is the name of your game, use as many chocolates as you like.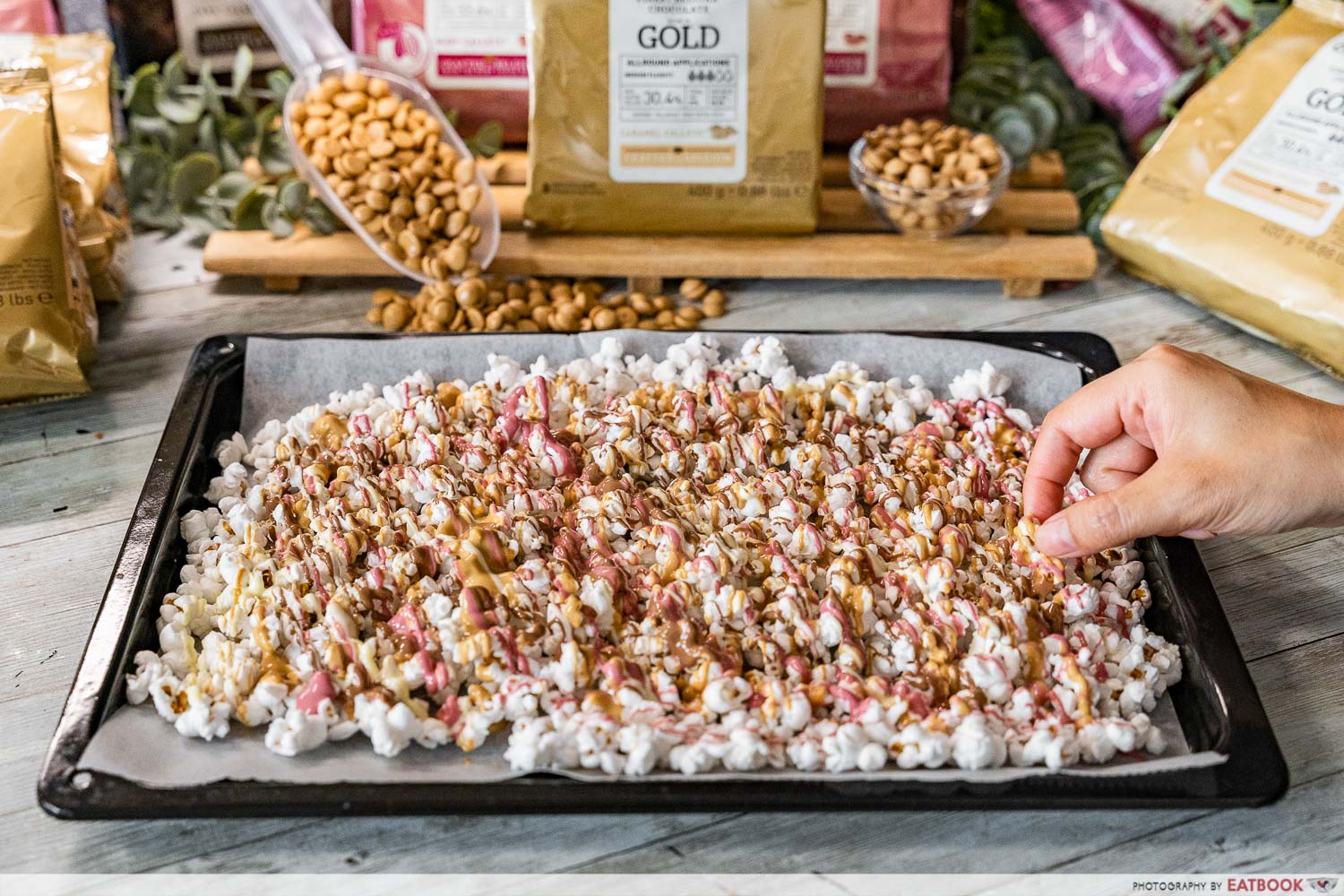 Pop the whole tray into the freezer or fridge just to let the chocolate drizzles set, and serve.
Yield: 4 servings
Cooking time: 10 minutes
Ingredients:
2 tbsp peanut or canola oil
⅓ cup popcorn kernels
100g Callebaut Gold, Ruby and Dark Chocolate 811
¾ tsp sea salt flakes (optional)
Directions:
Line a baking tray with parchment and set aside.

Heat the oil and popcorn kernels in a large pan on medium heat, stirring to coat the popcorn with the oil. Put the lid on, leaving a small gap, and wait for the popcorn to pop. Give the pot a good shake occasionally.

Melt the chocolate chips in separate, microwave-safe bowls by popping each bowl into the microwave for 30s, removing to stir, and repeating the process till completely melted.

Lay the popcorn on the prepared baking tray. Pour the melted chocolate over, and toss to coat. Sprinkle with salt if desired.

Place the tray in the fridge or freezer until the chocolate has hardened.
---
4. Caramel Chocolate Terrine
---
Another trend that's been making waves on the 'gram are terrine cakes, with fudgy, just-set centres. We've seen matcha, dark chocolate, and even goma ones, but here's a recipe for a terrine cake made entirely of Callebaut Gold, for an extravagant treat.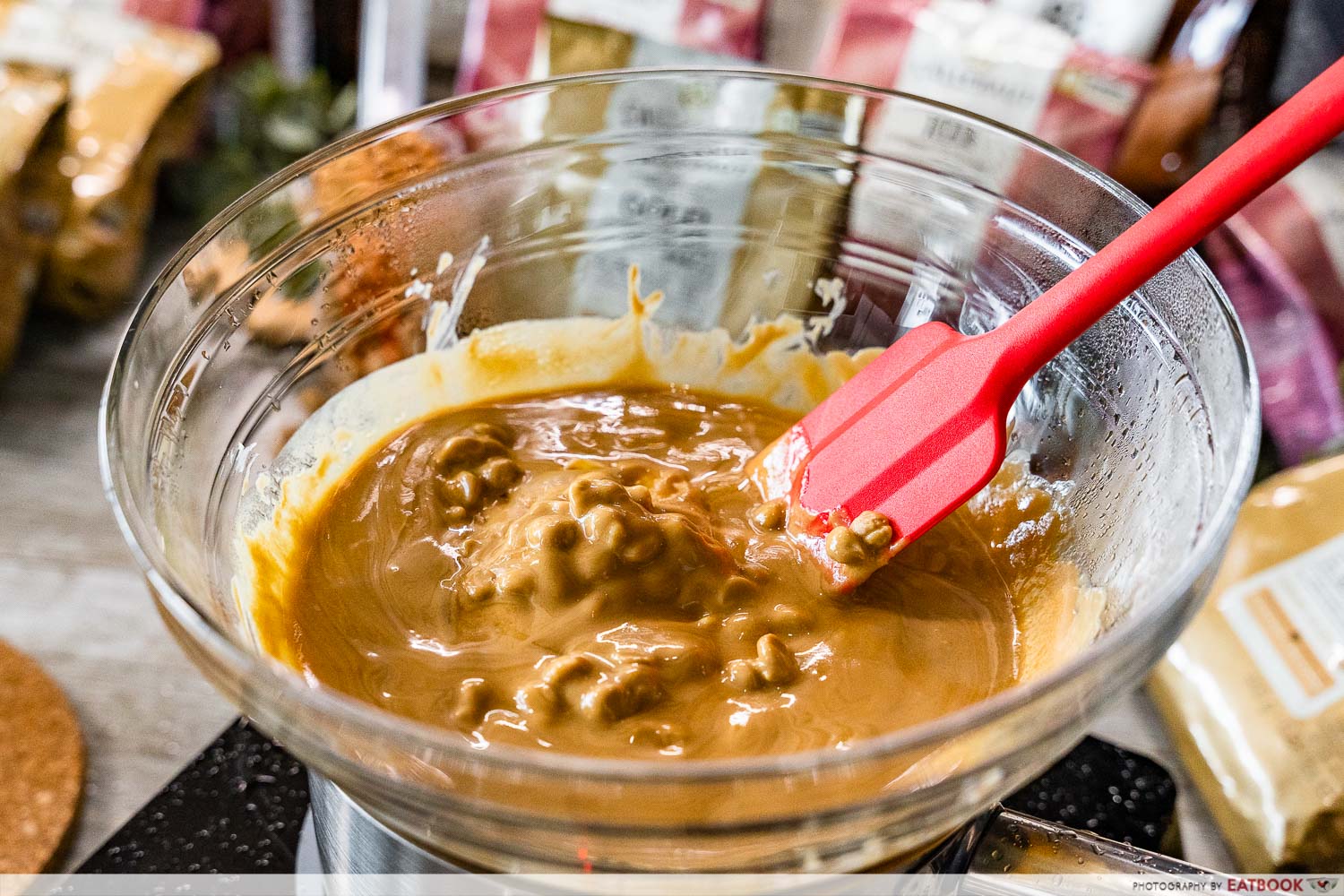 Melting chocolate over a pot of simmering water ensures that it doesn't burn. Ensure that the butter-chocolate mixture is glossy and completely smooth before moving on.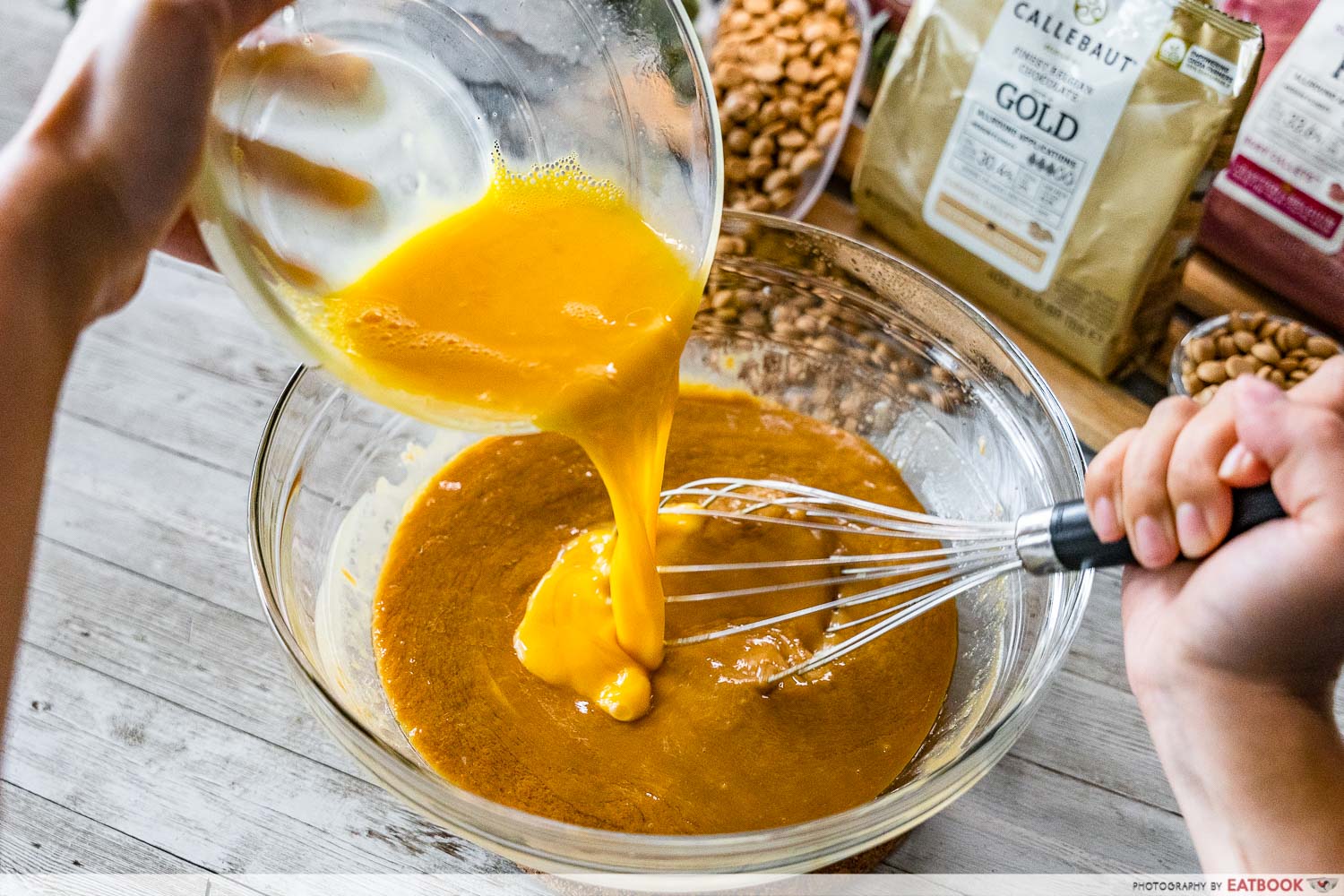 The bowl should be removed from the heat, but don't allow the mixture to cool! Continually whisk it as you add the beaten eggs and cream.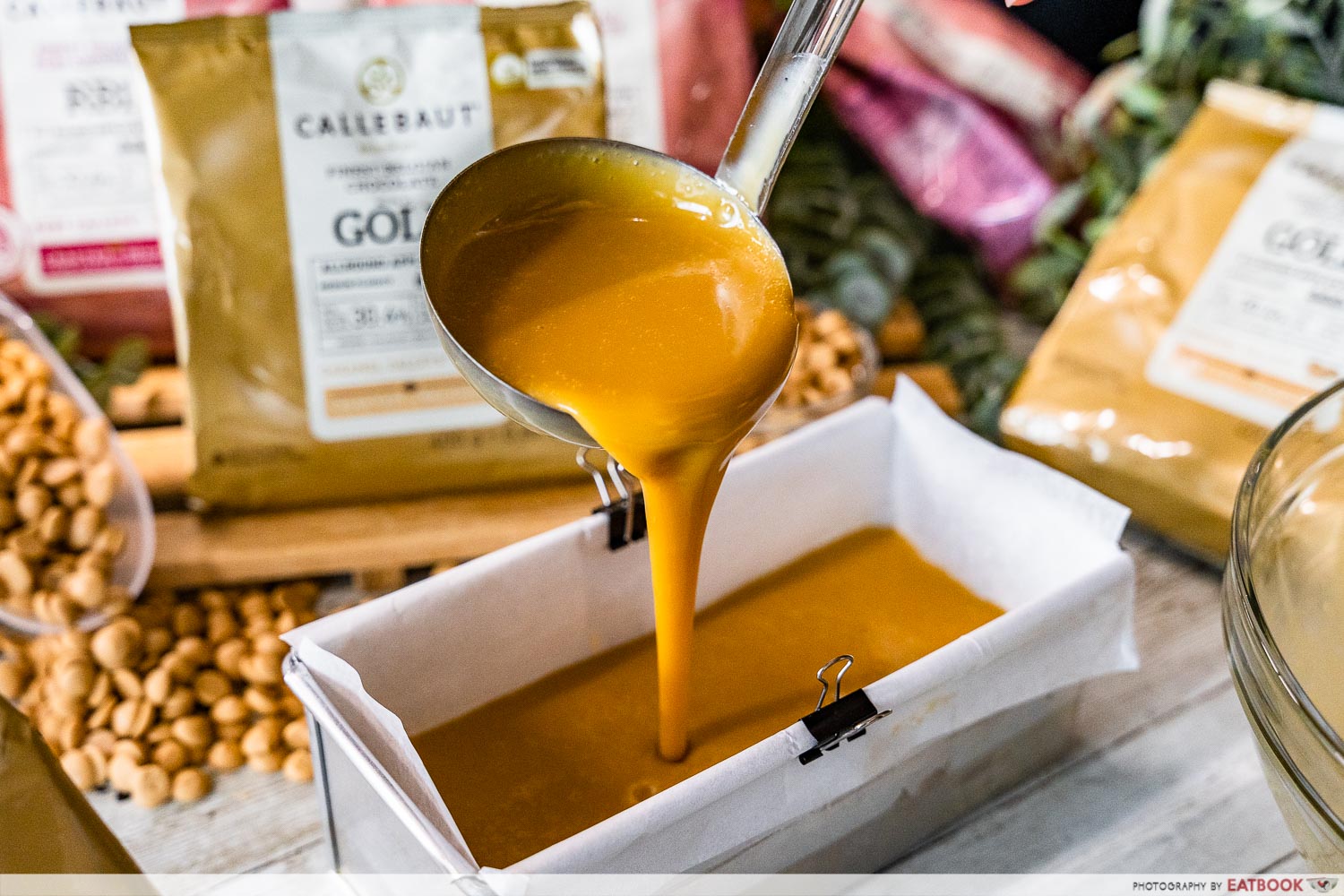 I use crocodile clips to pin the baking paper down, so that it's cleaner when the batter is ladled in. It should be velvety smooth, and lusciously glossy. The cake should be wobbly like jelly when you remove it from the oven━adjust the baking time down if you'd like a more fudgy centre.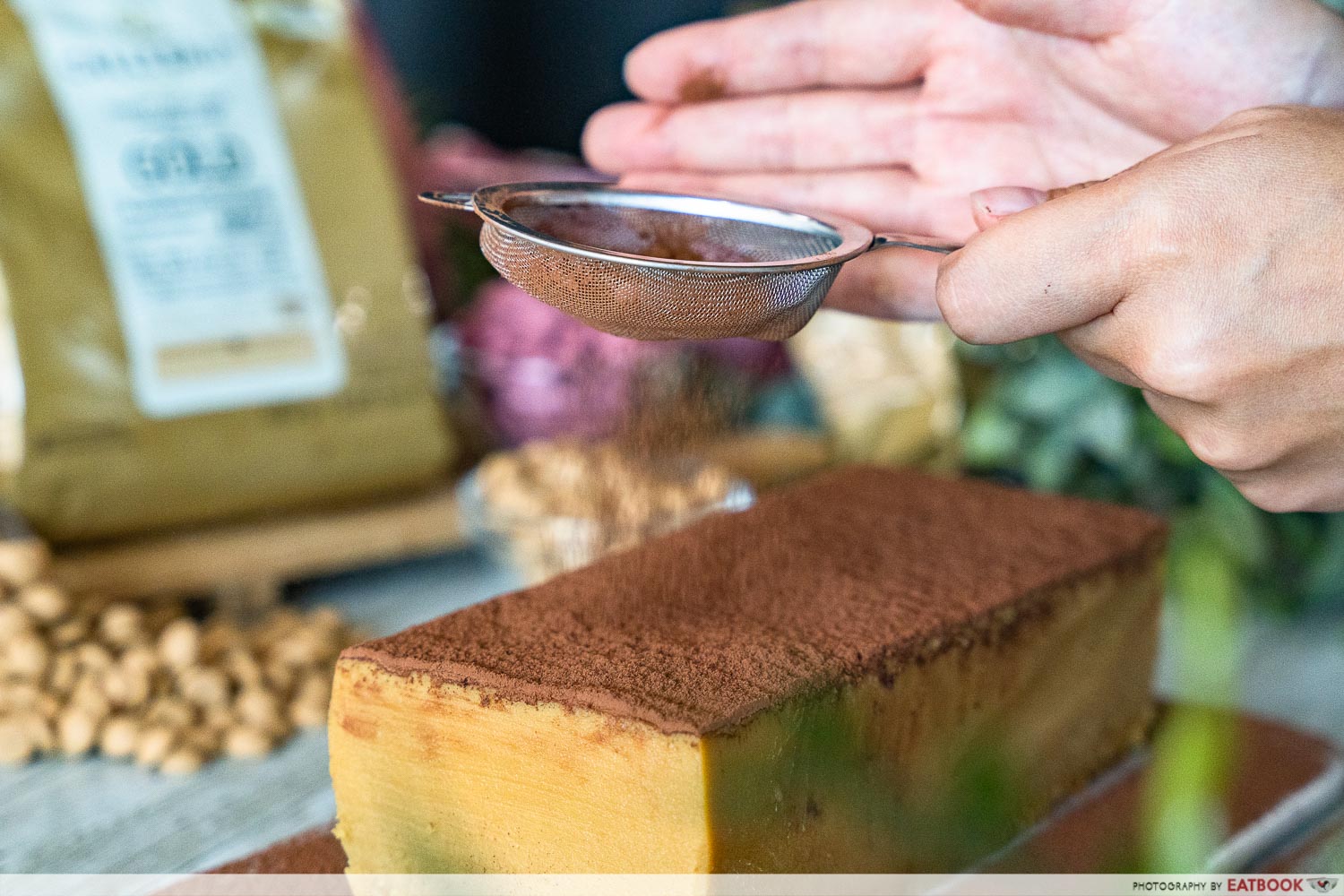 As an alternative to dusting cocoa powder on the terrine, consider sprinkling brown sugar and torching it for a crackling, brûléed finish. Otherwise, consider tempering the caramel sweetness of the terrine with a mix of cocoa and coffee powder!
Yield: 9 thick slices
Cooking time: 55 minutes
Ingredients:
340g Callebaut Gold
200g unsalted butter, at room temperature
6 eggs
90g thickened cream
Callebaut Cocoa Powder
Directions:
Preheat oven to 170°C. Line your baking tin (9"x4"x3") with parchment paper. Prepare a larger tray for the water bath, placing a folded paper towel on the bottom so that the bottom of the tin does not come into contact with the water tray.

Add chocolate and butter to a heat-proof bowl, and melt together until smooth over a pot of simmering water.

Beat the eggs and sugar till smooth.

Drizzle egg mixture into chocolate a little at a time, whisking in between till smooth.

Add cream gradually, mixing till well incorporated.

Immediately transfer to the prepared baking tin, and give it a few firm taps on the counter to release any air bubbles. Place it in the prepared water bath tin, and allow to cool for five minutes.

Add boiling water to the water bath till it comes up to half the baking tin, or ⅔ the height of the batter. 

Place into oven and bake for 40 minutes.

Remove the tray from the oven, and let it sit for five minutes. Transfer the baking tin to a wire rack and allow it to fully cool. Cover with cling wrap and refrigerate overnight.

Unmould the cake, dust with cocoa powder if using, and slice to serve.
Recipe adapted from Senchasou's post.
---
Chocolate desserts with minimal fuss
---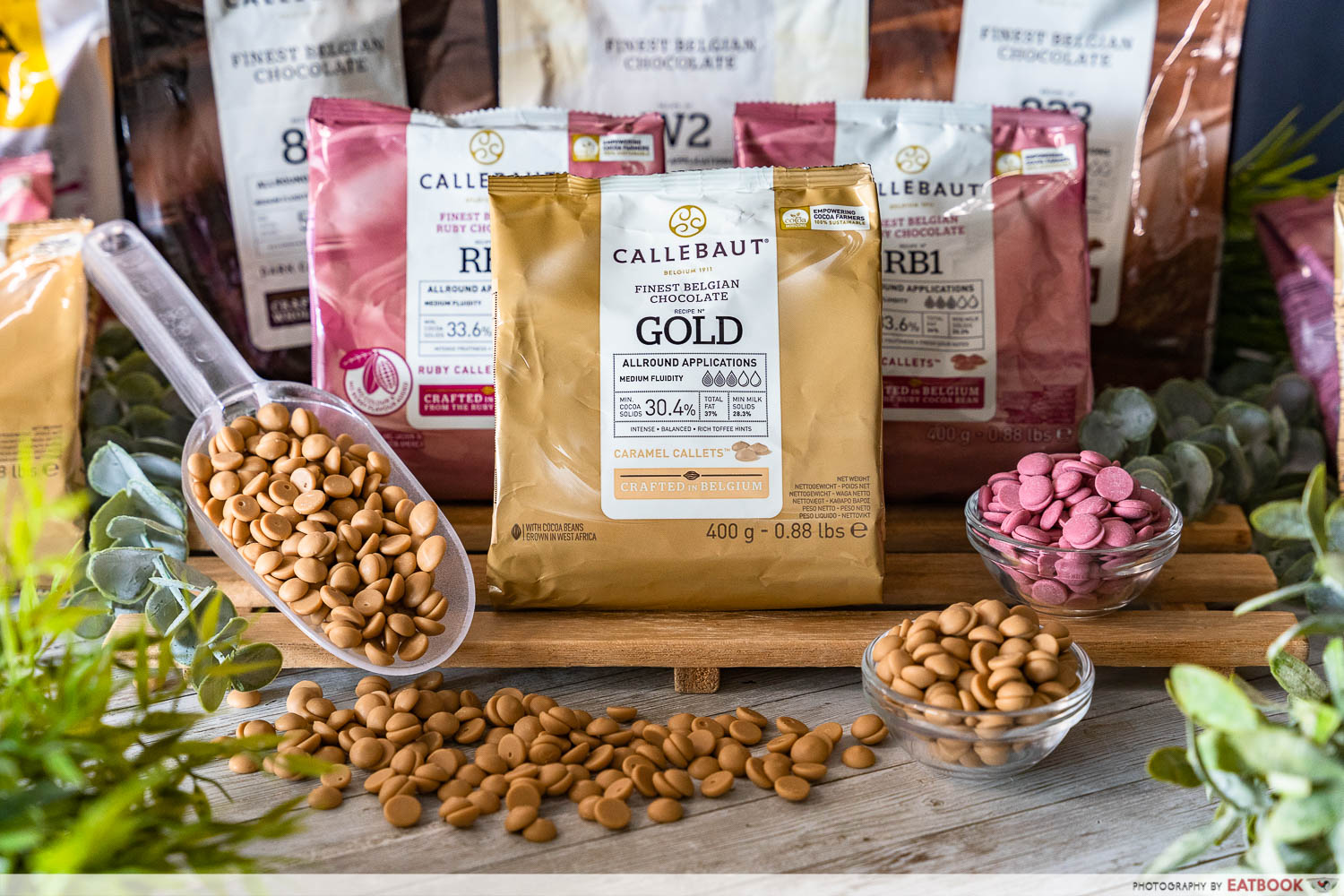 Making chocolate desserts can't get any easier than these recipes. Most of these ingredients are pantry staples which transform into IG-worthy ideas for dinner parties, gifting, and more. They're also a great way to get your little kitchen helpers busy this holiday season!
Taste the difference that Callebaut's range of couverture chocolates make to your desserts. In addition, Callebaut's chocolates are 100% sustainably sourced! The brand supports the development of young farmers, and a part of every sale goes back to the cocoa farmers and their communities.
Head to your nearest Phoon Huat, or RedMan by Phoon Huat, to add these chocolates to your list of pantry essentials. Otherwise, you can also get them with your next grocery delivery on Redmart.
Photos taken by John Lery Villanueva.
This post was brought to you by Callebaut, the Finest Belgian Chocolate.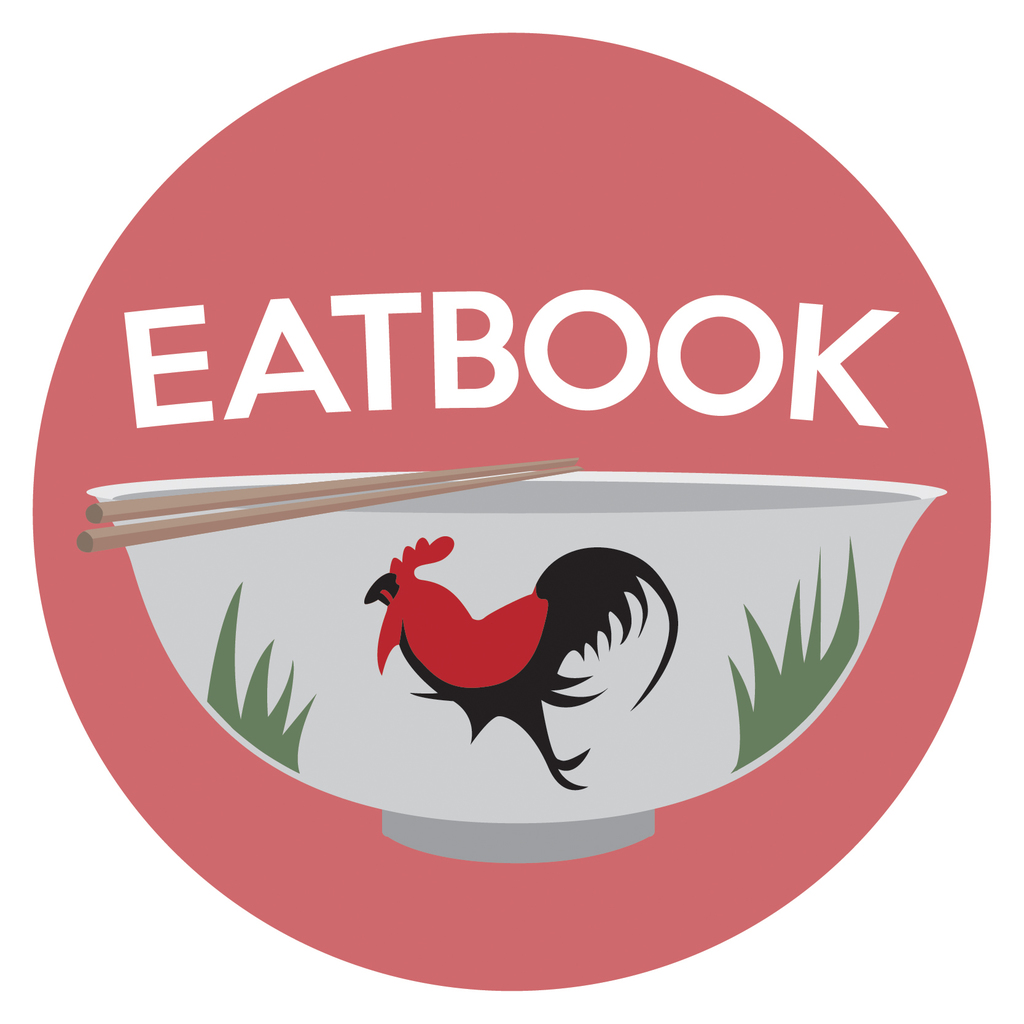 Drop us your email so you won't miss the latest news.