Empress Porridge serves food for the soul, from the heart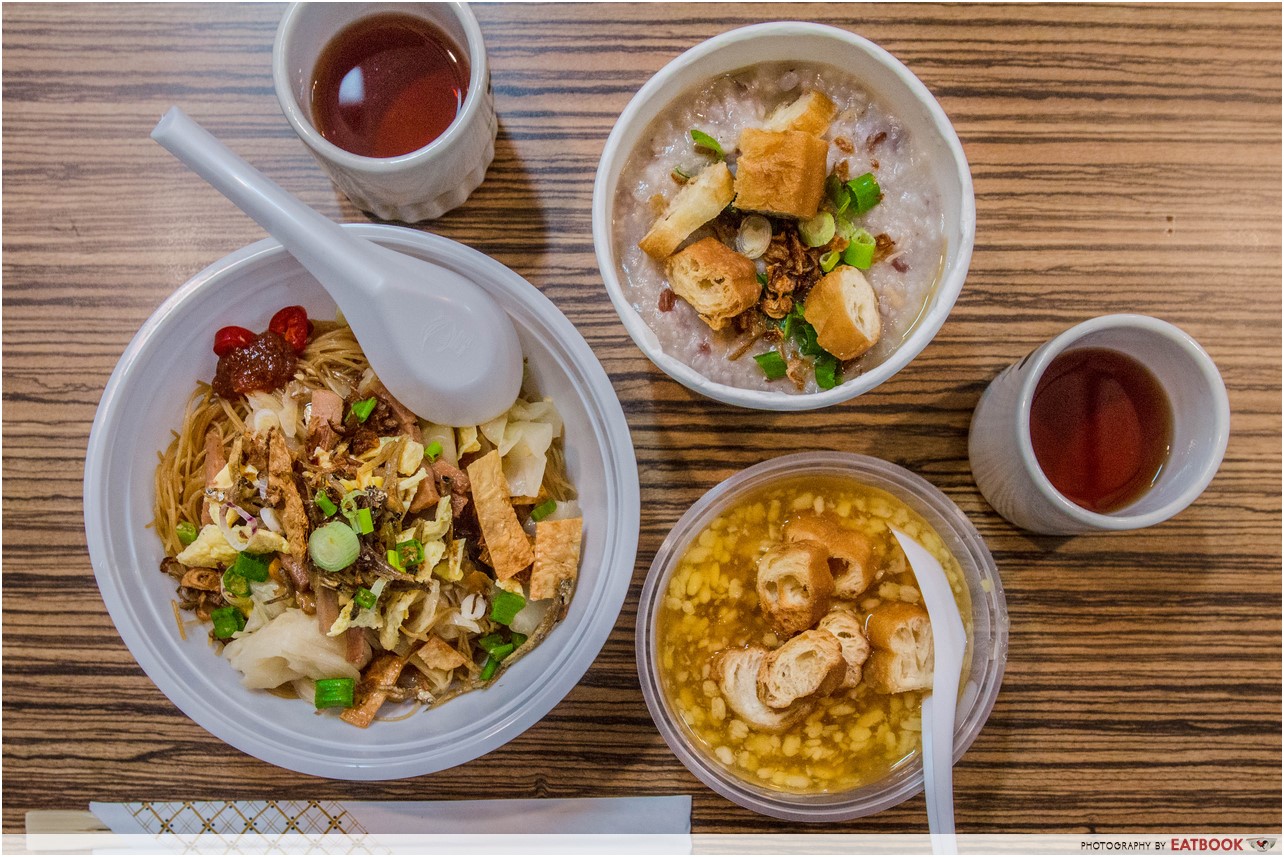 Healthy food always gets a bad rep for being boring or unappetising. As a foodie, there has been countless of times I've mumbled, "Why do things that are bad for you taste so good?" under my breath. It is often easier to reach for that glistening dark plate of char kway teow than a plain ol' bowl of sliced fish soup. However, the people behind Empress Porridge have changed my perception of nutritious, "home-cooked" food. Hiding in an unassuming section of the NUH Medical Centre, this family-owned eatery has piqued my interest in simple and wholesome food.
Food at Empress Porridge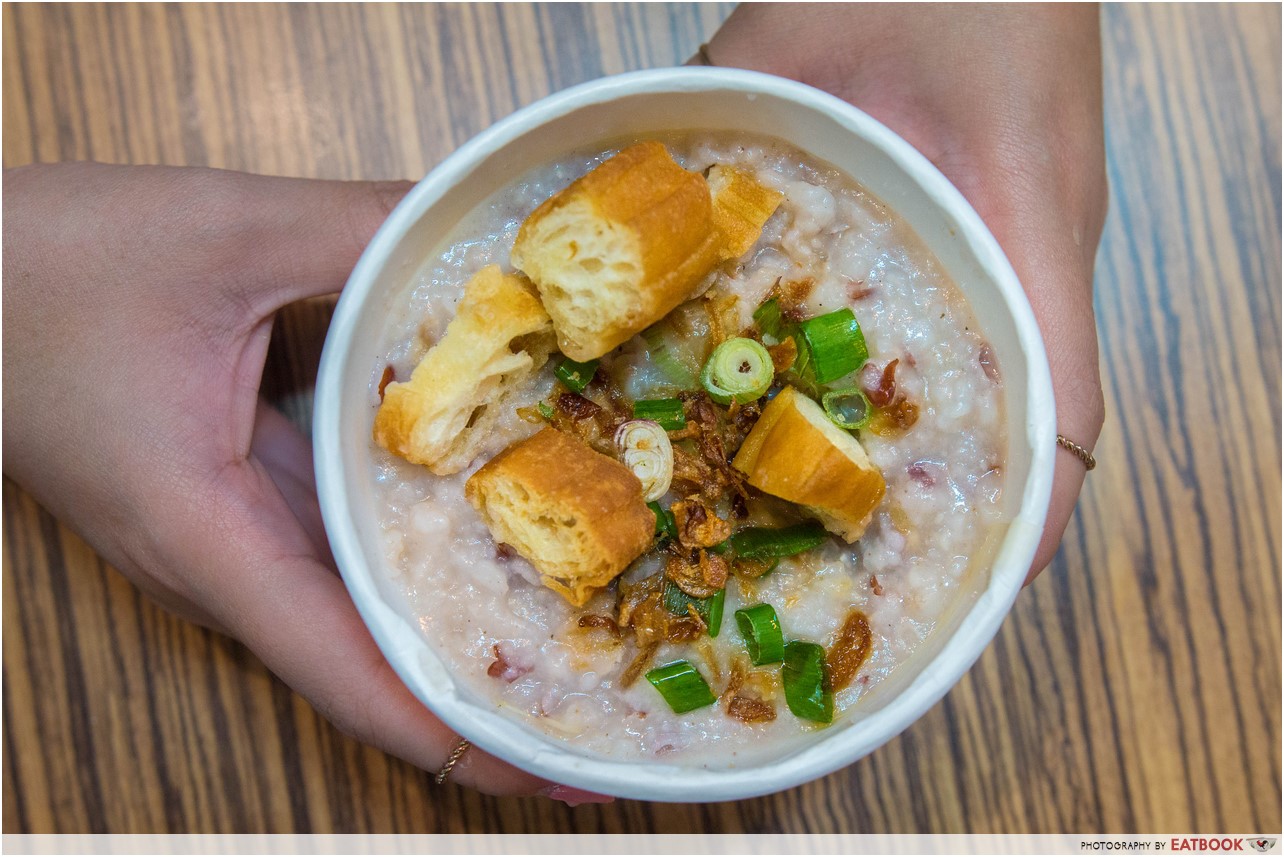 Empress Porridge ($4) is the only fixed item on the menu. My colleague and I were already anticipating this dish from the very beginning. We were pleasantly welcomed by its divine aroma when we arrived at the stall.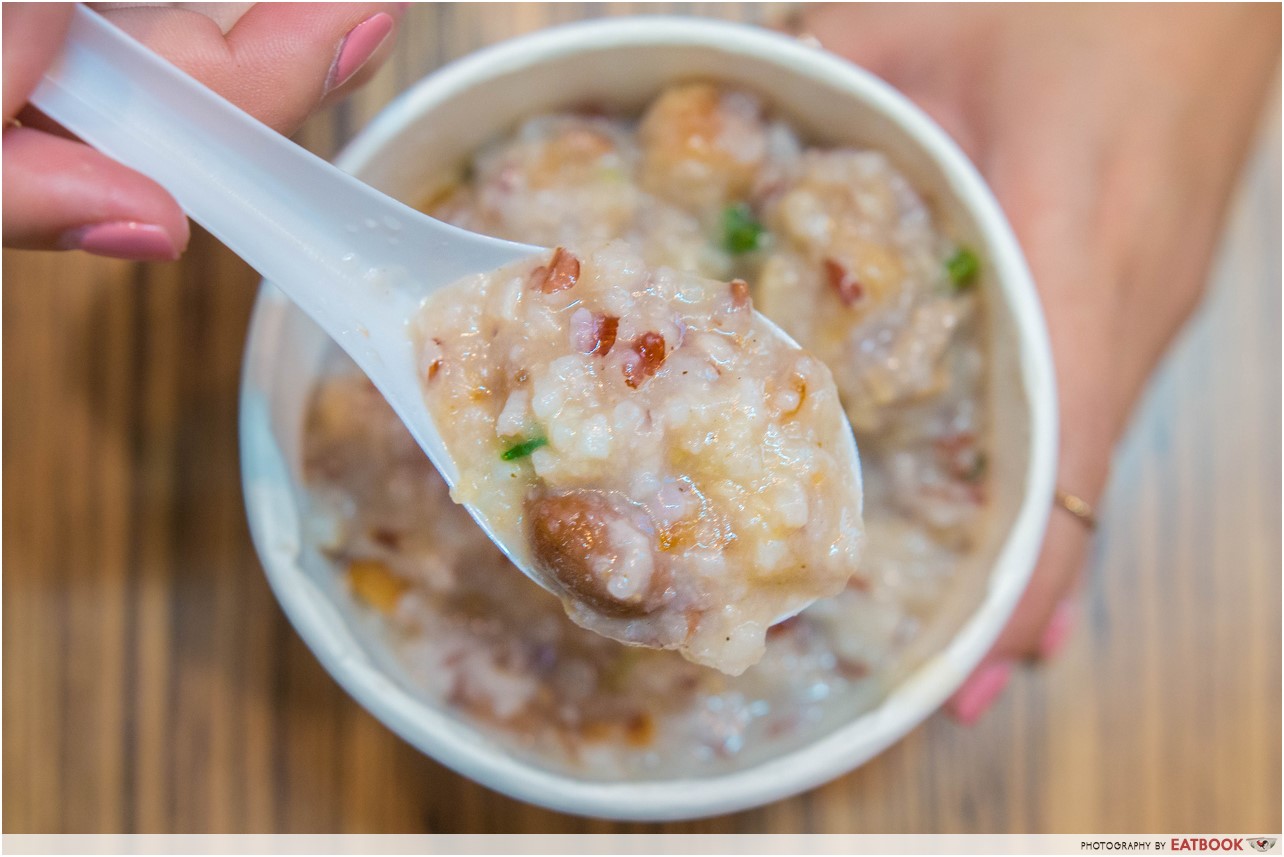 They have taken this humble bowl of gruel to new heights. This 'designer' porridge is a mixture of brown and white rice, cooked with dried scallops, cuttlefish, dried shrimp, braised peanuts and pork slivers. The cook, Ah Bao, comes in fervently at 4am every morning to make sure it cooks right down to a rich, savoury porridge before the stall opens at 7:30am.
The porridge is thick and has a chunky consistency from the generous amount of ingredients in it. We thoroughly enjoyed the Empress Porridge. It is worthy of its name and tasted as good as it smelled. Each spoonful was savoury and the deep flavours gave an air of Chinese imperial decadence. The sweetness of the dried scallops seems to carry its aroma and delicate flavour, and when mixed with the tender slivers of pork, becomes a great marriage.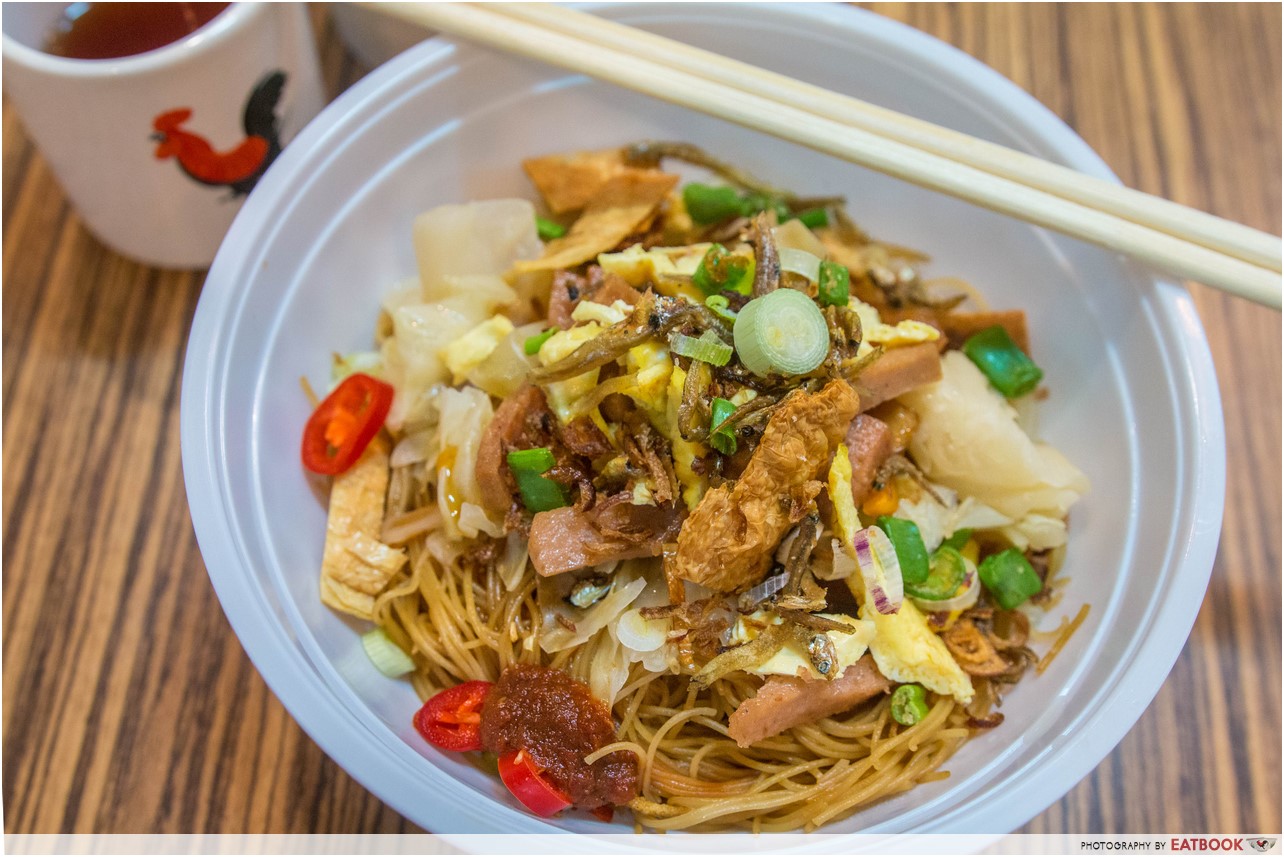 Consort Bee Hoon ($4) was the next item that was served. It was a feast for the eyes from the colours of all the condiments. In a huge pile atop the bee hoon, there were slices of luncheon meat, soft boiled cabbage, eggs, fried beancurd skin, ikan billis, freshly cut spring onions, and a dollop of sambal chilli.
The myriad of toppings complemented the simple bee hoon, giving every mouthful different bursts of flavours.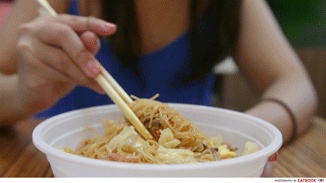 It is practically a must to ask for more of their house-made sambal chilli and mix it in before savouring the dish. The chilli isn't overly spicy, to the point where it overpowers the other elements of the dish. Instead, it is garlicky-sweet and brings the ingredients together, providing a more intensified taste.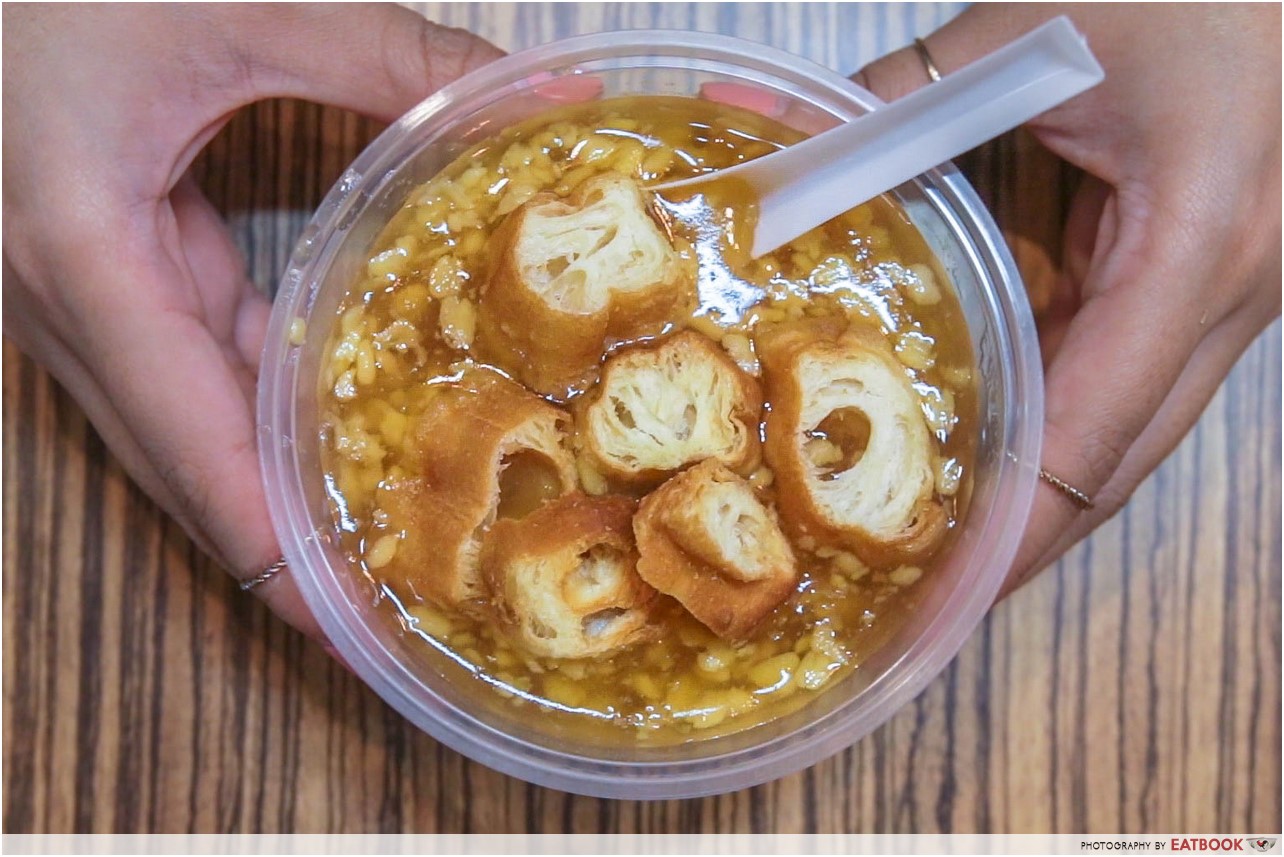 We had old-school Tau Suan ($1.50) for dessert. When I was a kid, tau suan was my number one go-to dessert at the hawker centre for a very long time. However, as I grew up and became more financially able, I strayed from it as there were countless of more dazzling and more IG-worthy desserts out there.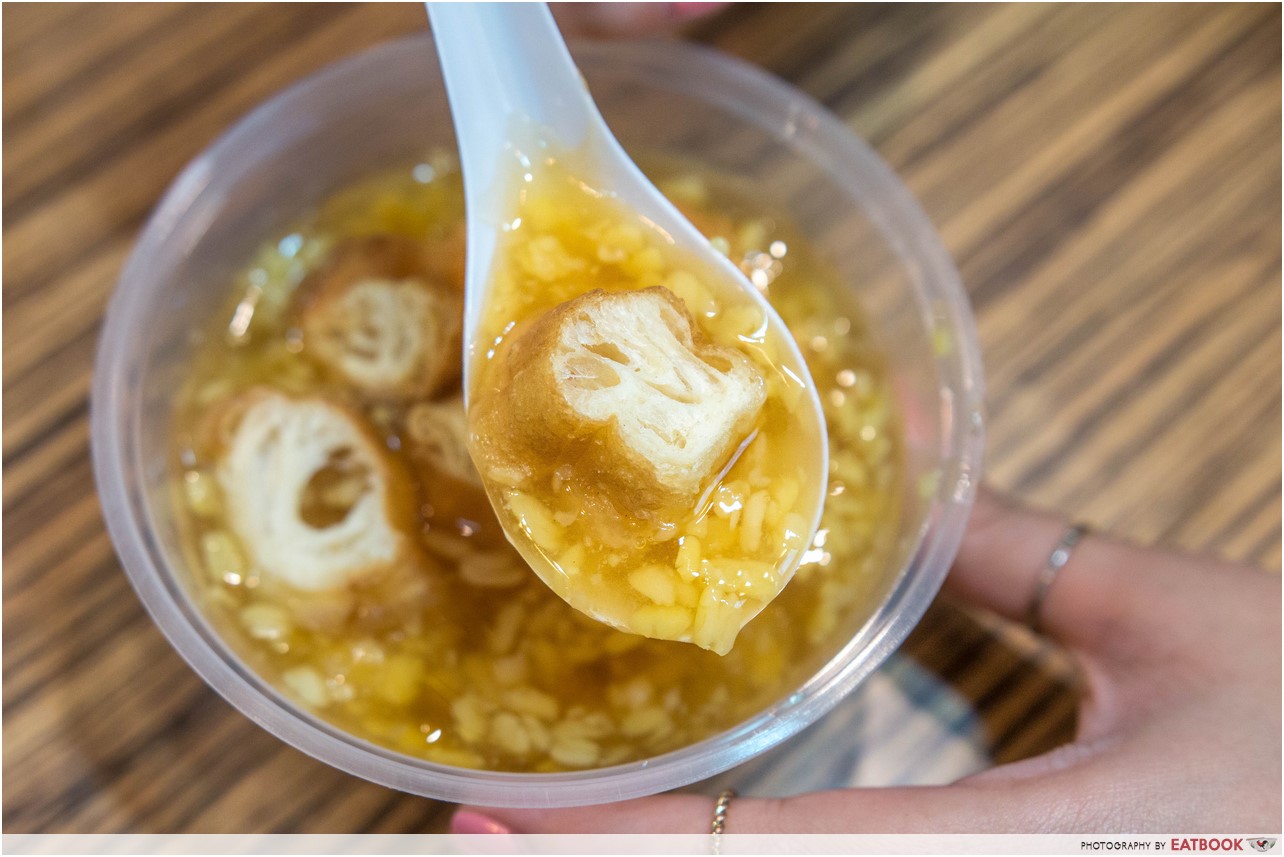 This brought back much nostalgia and again introduced appreciation back to this simple but hearty dessert. The slightly salty and fragrant you tiao juxtaposed nicely with the sweet and gooey liquid. The mung beans still held a slight bite, adding in more texture to the delicious concoction.
Ambience at Empress Porridge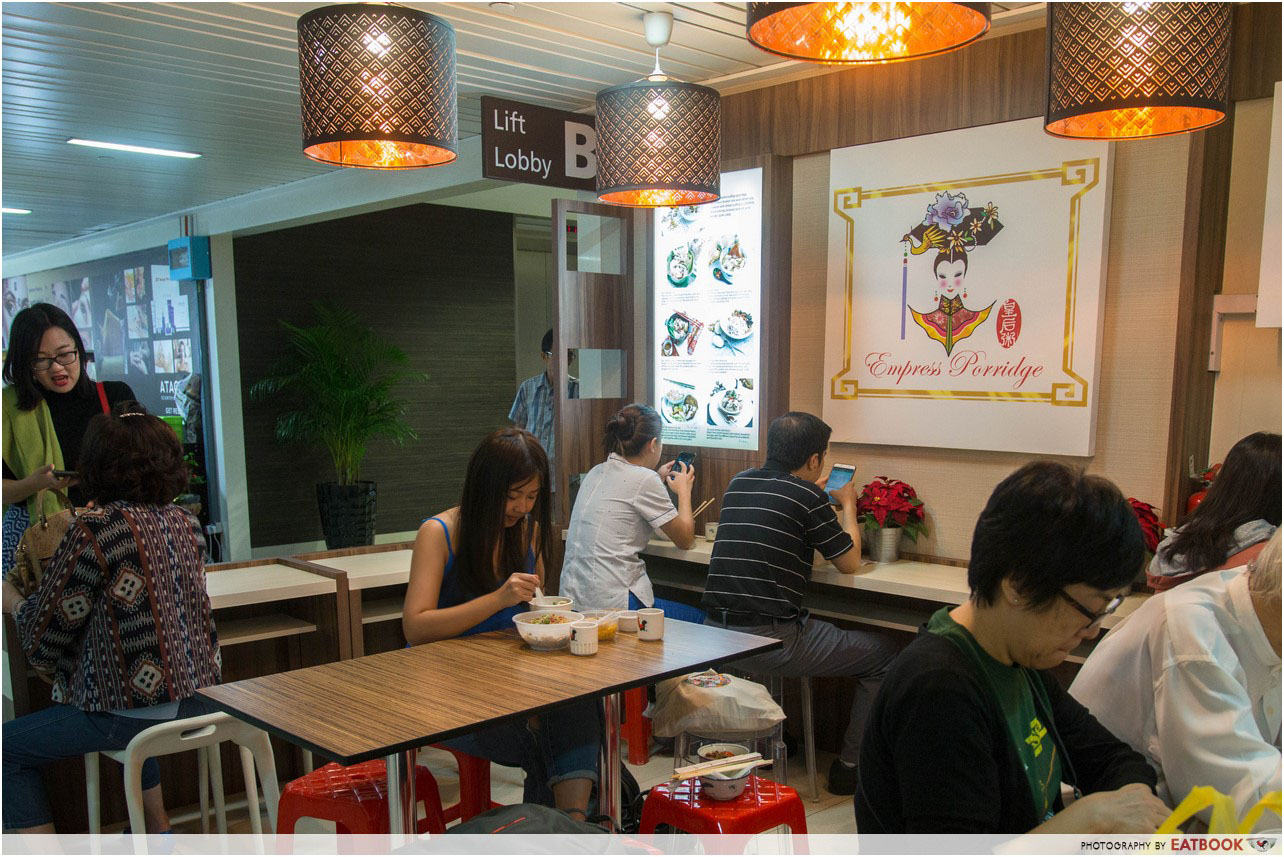 Scrape the perception you have in your head about travelling down to a hospital just for food. Empress Porridge is very accessible from Kent Ridge MRT Station. It is located on the right side of the station's exit A, and the best thing is that you don't even have to brave the sweltering heat to get to it. The seating area is separated from the stall itself and there is a limited number of seats. I would suggest getting a takeout during lunch or peak hour.
The verdict
I certainly did not expect such sumptuous food to come out from the humble shop space operated by Mrs Goh and her team of quick and friendly crew. The price point is also relatively low, seeing the quantity of quality ingredients used. Exhibit A: The porridge. It gave such a soothing and warm satisfaction – something I would crave for when I am feeling under the weather. Sensorial descriptions aside, the proof of the pudding is always in the eating.
Empress Porridge is definitely worth a visit. I would be heading back down myself, to try the elusive Png Kueh in Fish Maw Soup which is prepared from scratch by Mrs Goh only when she has the luxury of time. The menu here is different every day, and this is what makes it fun. You can check out their website for the daily menu, and their Facebook page for updates on any special items. If you are studying in NUS or working in the medical centre, head on down for 50 cents off the porridge! However, if you are with a big group of people, these other food places around NUS might be a more convenient option.
Address: 1 Lower Kent Ridge Road, #01-04, NUH Medical Centre, Singapore 119082
Opening hours: Mon-Fri 7:30am to 7:30pm, Sat 11am to 10pm
Website
Empress Porridge is not a halal eatery.
This is an independent review by Eatbook.sg.
Summary
Pros
– Quality ingredients
– Interesting menu
– Value-for-money dishes
– Great service
Cons
– Crowded during lunch time
– Have to check Facebook page for menu updates
Recommended Dishes: Empress Porridge ($4) and Consort Bee Hoon ($4)
Operating Hours:
Mon-Fri 7:30am to 7:30pm and Sat 11am to 10pm
Address: 1 Lower Kent Ridge Road, NUH Medical Centre, #01-04, Singapore 119082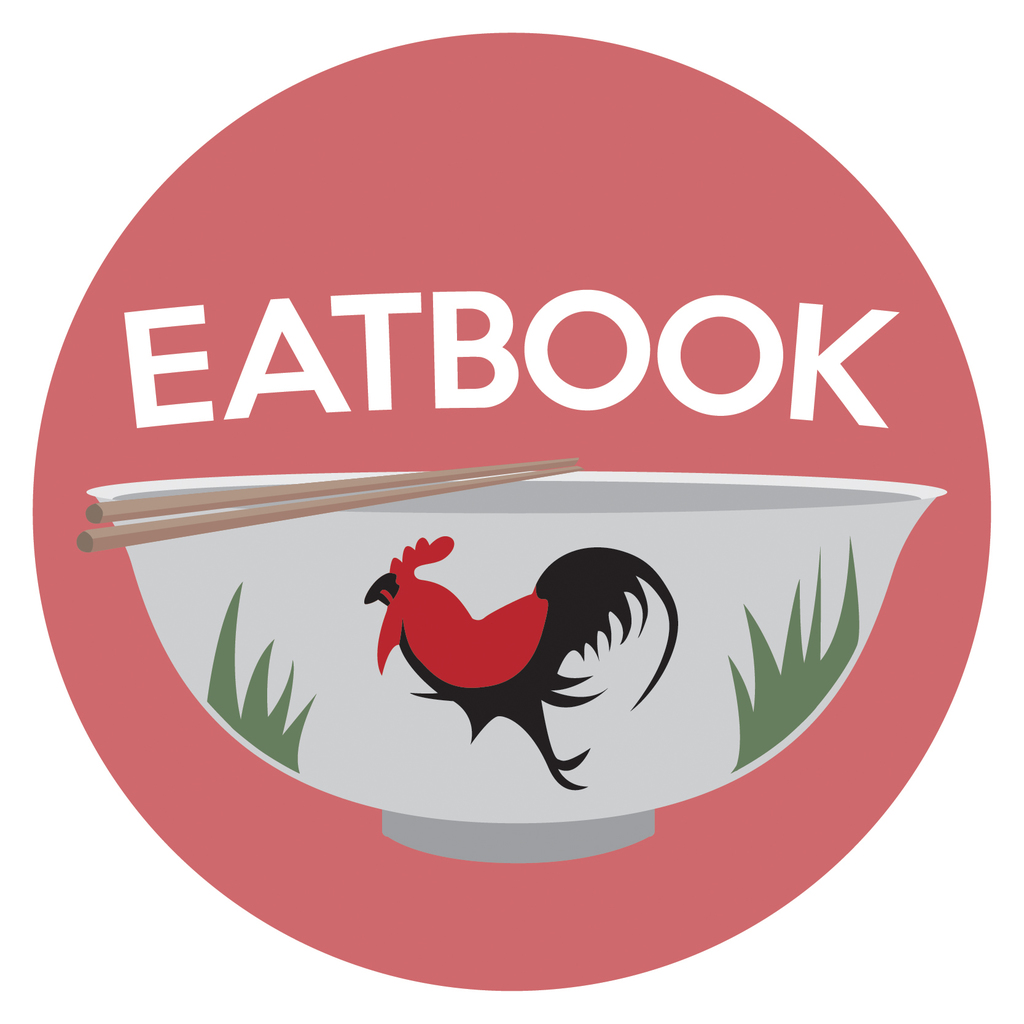 Drop us your email so you won't miss the latest news.