---
Famous eateries to order delivery from
---
Singaporeans love queuing up for food. And as a true blue Singaporean, I too relish in waiting in line for my favourite food. But I've always wondered if there's a better way; a way where I can enjoy my favourite food from the best stores, minus the wait. Here are 10 famous eateries with snaking long lines you can order from GrabFood without lifting a finger.
---
1. Arnold's
---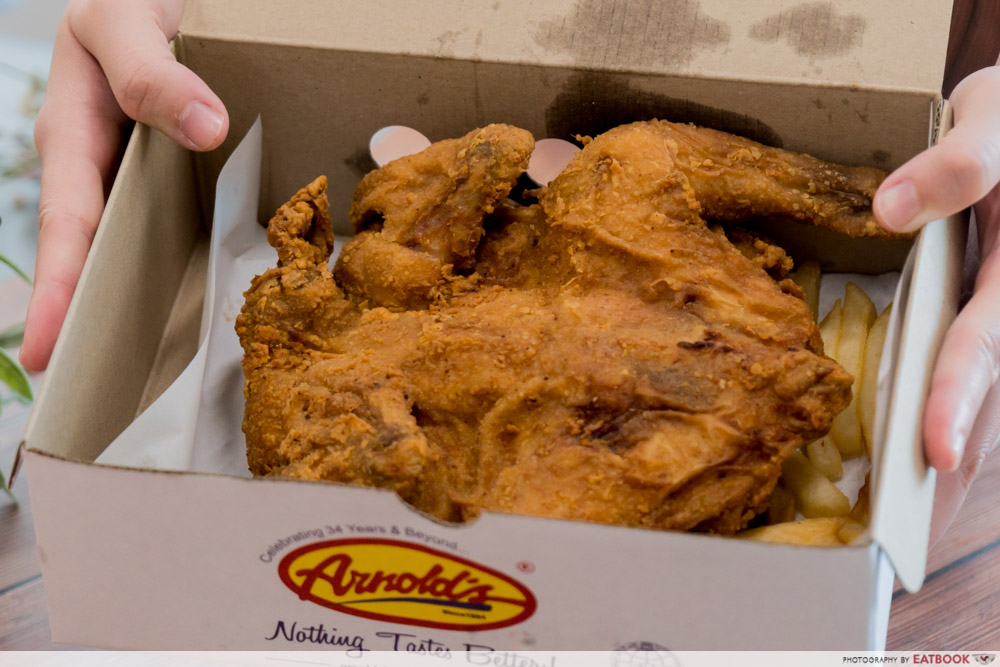 You can't get any fried chicken in Singapore that's better than Arnold's. This halal-certified store serves up juicy and crispy fried chicken that ought to satisfy any fried chicken cravings. Expect to wait for sometime during busy periods, as they fry the chicken only when the order is placed. Go for the Spring Chicken Meal ($14.10) that comes with fries and a side of coleslaw.
Address: 810 Geylang Road, #02-99, City Plaza, Singapore 409286
Opening hours: Daily 11am to 9:45pm
Tel: 6746 2372
Website | Full list of outlets
---
2. Victor's Kitchen
---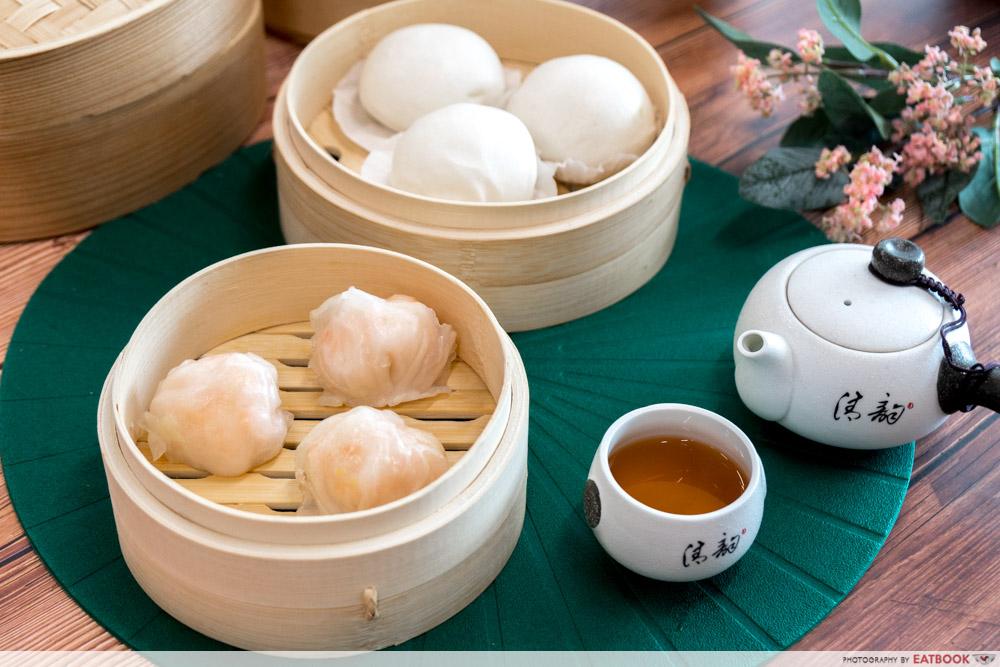 Victor's Kitchen is known for their authentic Hong Kong-style dim sum that has captured the hearts of many NAFA and LASALLE students. While you might have to share a table with others during peak hours, you can also get their signature Golden Egg Yolk Lava Bun ($5.80 for three pieces) delivered straight to you in the comforts of your own home. The gooey and creamy combination of salted egg and sweet custard flows out beautifully when split apart – just make sure to not get them on the couch.
Address: 91 Bencoolen Street, #01-49, Sunshine Plaza, Singapore 189652
Opening hours: Mon-Thur 10:30am to 8pm, Fri-Sat 10:30am to 9pm, Sun 10:30am to 8pm
Website
---
3. Ah Chew Dessert
---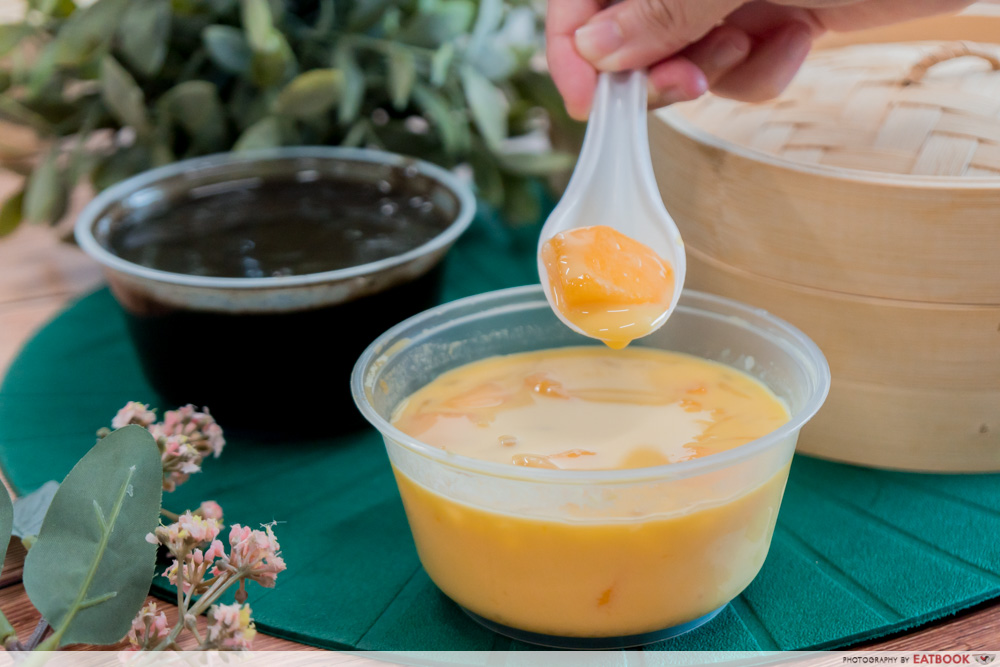 Recognised by many as one of the best places for traditional local desserts, Ah Chew Dessert has always drawn in a crowd thanks to its unpretentious and quality desserts. The Mango Sago with Pomelo ($4.50) is a favourite when it comes to beating the heat. I like how the mango comes in thick chunks, going well with the refreshing pomelo pulps that add a nice crunch.
Address: 181 Thomson Road, Goldhill Shopping Centre, Singapore 307627
Opening hours: Mon-Fri 12pm to 12am, Sat-Sun 12:30pm to 12am
Tel: 66254 8198
Website | Menu
---
4. Hai Kee Soy Sauce Chicken
---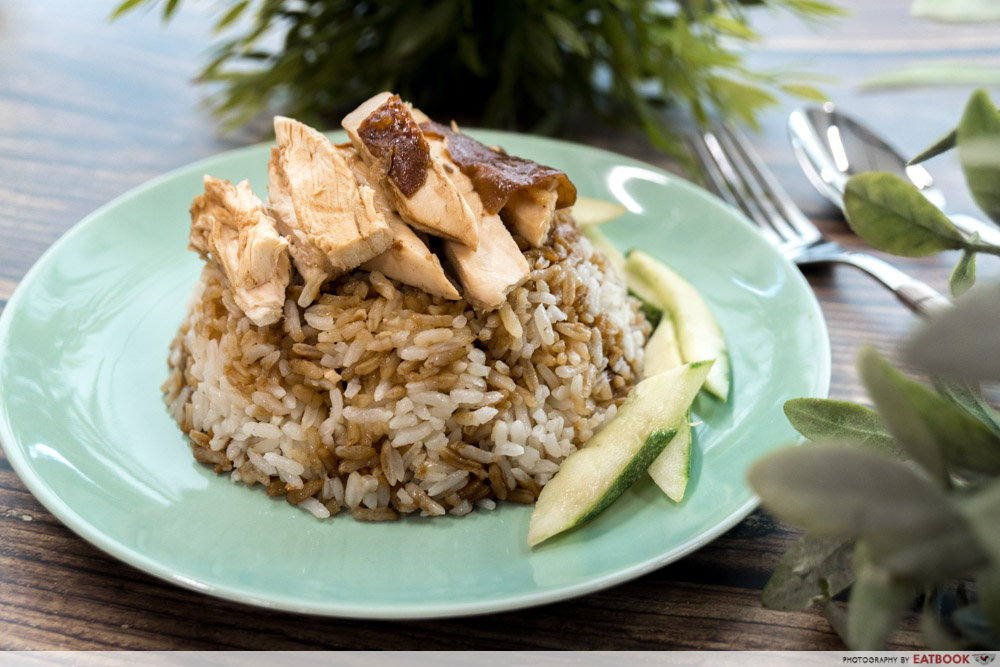 Opened in the 50s, Hai Kee Soy Sauce Chicken is widely known for their soy sauce chicken. While it's not as internationally famous as Hawker Chan, the store has gained a loyal following over the years. The classic dish of Sauce Chicken Rice ($5) is plated with rice and generous servings of chicken that is then drizzled with the store's signature soy sauce. The sauce gave the dish a slightly nutty aroma which went well with the moist and tender chicken.
Address: 324T Changi Road, Kim San Leng Coffeeshop, Singapore 419799
Opening hours: Mon-Thur 9am to 6:30pm, Sat-Sun 9am to 6:30pm
Website | Full list of outlets
---
5. Selegie Soya Bean
---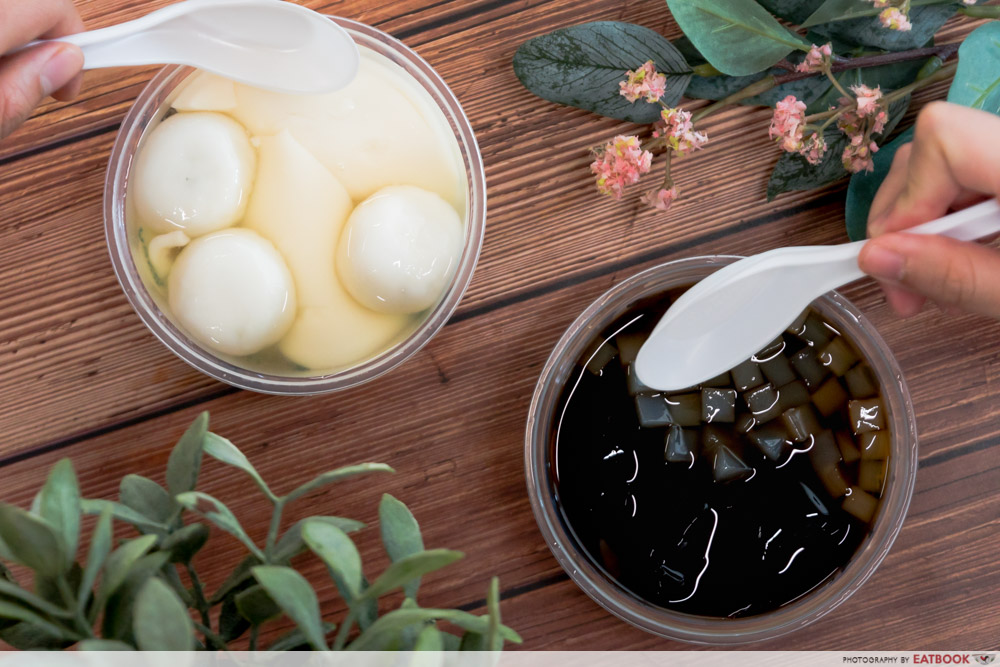 Mention soya beancurd to any local and Selegie Soya Bean will probably come to mind. Known for its silky smooth and lightly sweetened beancurd, this store is a popular joint for tasty desserts at affordable prices. Zhng up your beancurd and order the Beancurd with Black Sesame Glutinous Rice Ball ($2.50). The QQ balls are filled with generous portions of rich and fragrant black sesame, and makes for a beautiful combination of all the right flavours put together.
Address: 1002 Upper Serangoon Road, Singapore 534740
Opening hours: Sun-Thur 7:30am to 12am, Fri-Sat, 7:30am to 1am
Website | Full list of outlets
---
6. Founder's Bak Kut Teh
---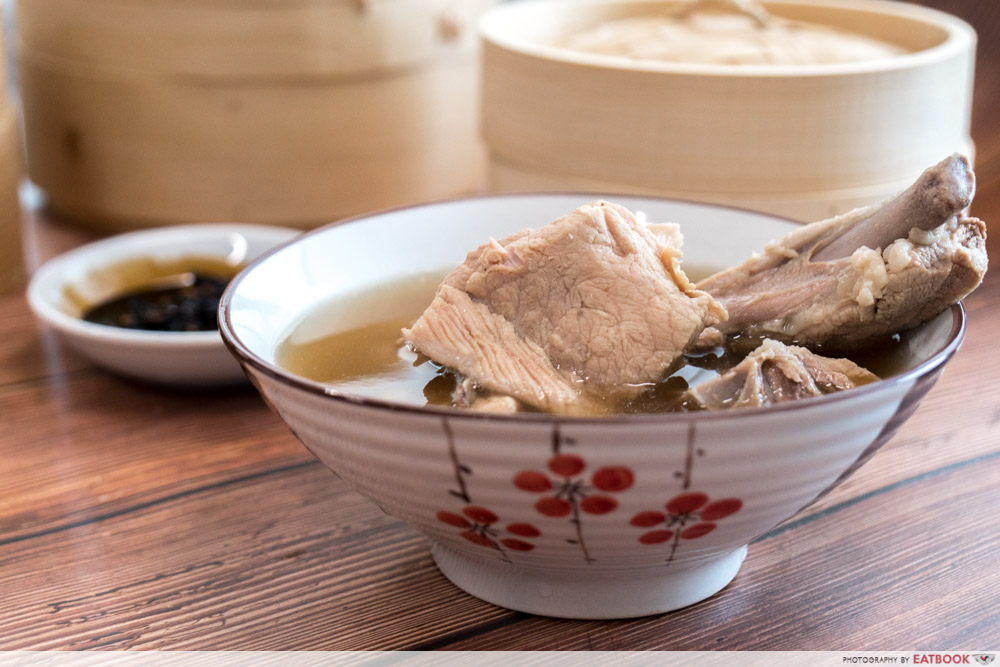 A popular choice among fans of bak kut teh in Singapore, Founder's Bak Kut Teh has been in the business for close to 40 years. In fact, they now have five outlets since its humble beginnings in Balestier. The broth in the Founder Bak Kut Teh ($10.49) has an intense rich pepperiness with just the right amount of spices. The ribs are also well-cooked, coming in with lots of flavours and falling off the bone with just a slight nudge.
Address: 347 Balestier Road, Singapore 329777
Opening hours: Mon 12pm to 2:30pm, 6pm to 2am, Wed-Sun 12pm to 2:30pm, 6pm to 2am
Website | Full list of outlets
---
7. Blackball
---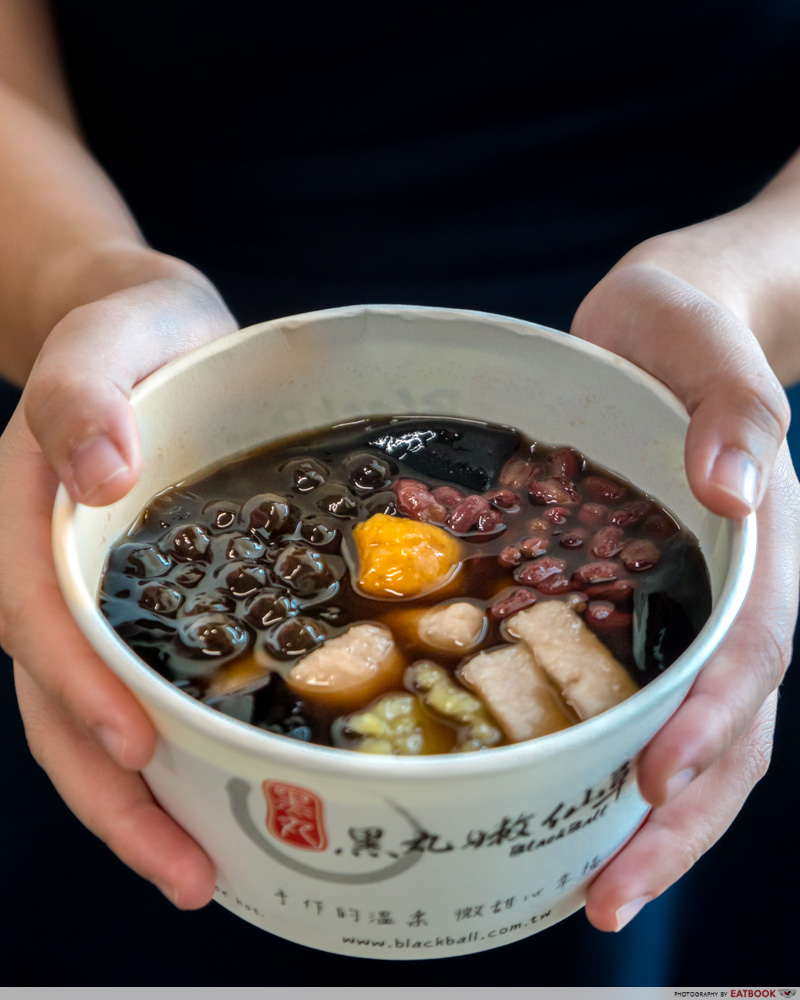 Hailing from Taipei, this popular Taiwanese dessert chain has attracted many with its refreshing grass jelly desserts. While there are quite a few options to choose from, we recommend trying their Cold 101 Blackball Signature Dessert ($6.50) that is served with generous amounts of soft grass jelly, red bean, pearls, and other chewy toppings. A single serving is large enough to share for two hungry people, so be sure to not over order!  
Address: 2 Jurong East Street 21, #01-101A, IMM, Singapore 609601
Opening hours: Daily 11:30am to 10pm
Website | Full list of outlets
---
8. Tanuki Raw
---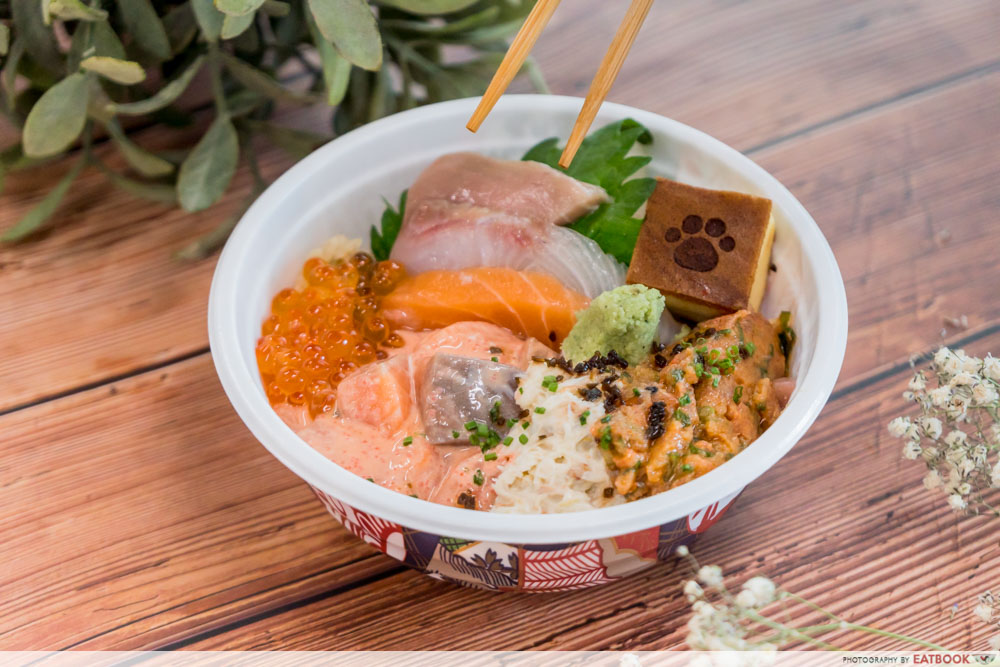 A date night favourite, Tanuki Raw serves up Japanese-inspired rice bowls along with a variety of western-influenced dishes. Skip the queue and spend some quality time at home with bae instead, by chowing down on the Chirashi NDC ($25.68) over Netflix. You'll find seven types of sashimi, including tuna, snow crab, along with tamago and fresh wasabi.
Address: 111 Middle Road, #01-05, National Design Centre, Singapore 188969
Opening hours: Daily 11:30am to 9:30pm
Website | Full list of outlets
---
9. Casuarina Curry
---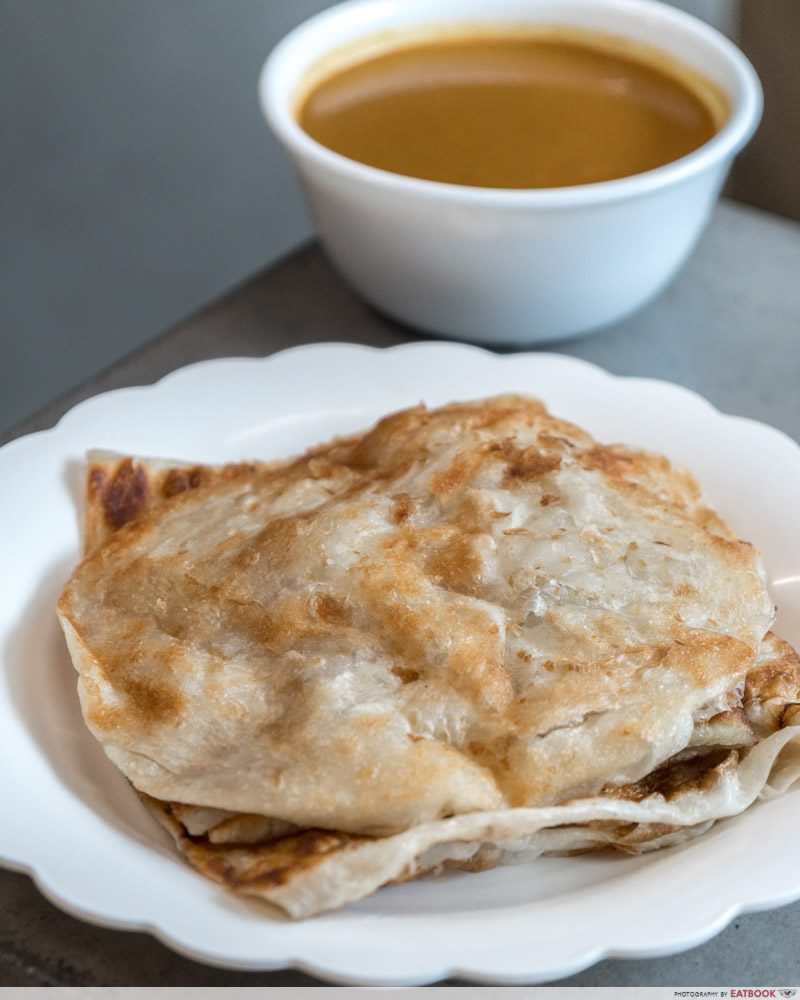 Widely known as one of the best places for roti prata, Casuarina Curry has gained a cult following over the years thanks to its crispy yet chewy prata. While they offer many interesting versions of prata such as Chocolate ($3.96) and Chilli ($2.46), I'm a purist myself and ordered the Plain ($1.50) and Egg ($2.35). The egg was particularly extra fluffy, while the accompanying curry was thick and creamy and had a nice mild spice to it.
Address: 187 Macpherson Road, Singapore 348545
Opening hours: Daily 7am to 12am
Website
---
10. Mackenzie Rex Restaurant
---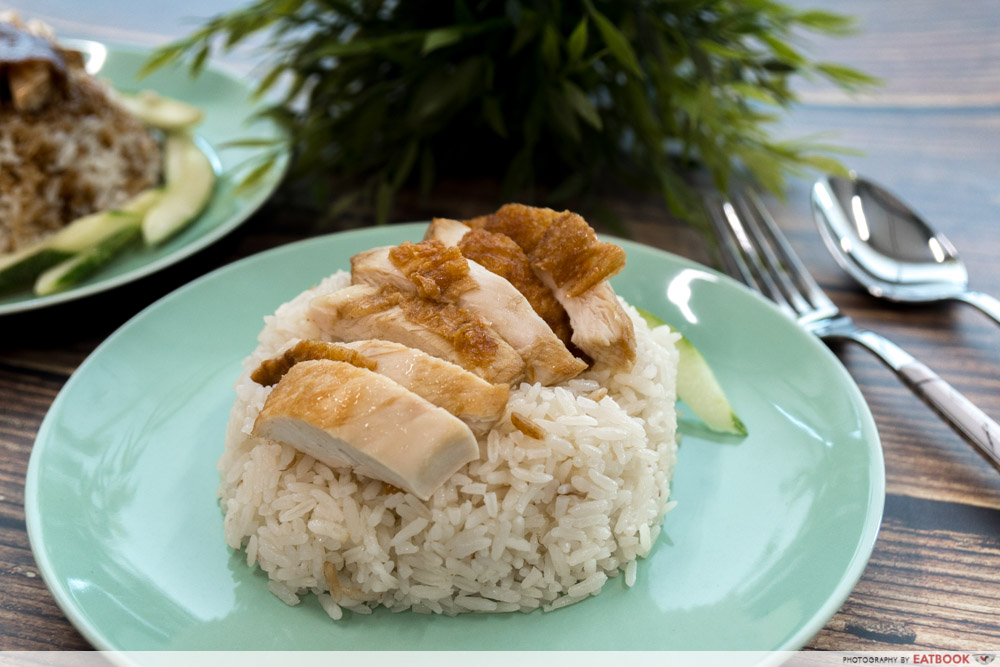 Established in 1966, halal-certified restaurant Mackenzie Rex Restaurant has been pushing out quality roasted chicken rice for over five decades. You won't find any special sauce or gravy poured over the Chicken with Rice ($5.90). Instead, the dish is simply served plain to preserve the juicy and succulent meat. I liked how the rice packed in loads of flavour while retaining its fluffiness.
Address: 66 Prinsep Street, #01-01, Singapore 188668
Opening hours: Daily 11:30am to 10pm
Website
---
Beat the queue with GrabFood
---
Gone are the days where you have to wait for hours just to enjoy your favourite food. With GrabFood, you can enjoy tasty fare from these famous eateries while waiting in the comfort of your own home.
The most important thing about food delivery is that food reaches our hungry belly fast, and Grabfood delivery timing is one to be reckoned with. We were able to order and enjoy our food within our 1-hour lunch break, so for those who hate standing in line, this option may be good for you.
From now till 31 December 2018, get $8 off your first two GrabFood order by hitting "EATBOOK" in the promo code section.
Photos taken by Tan Wen Lin.
This post is brought to you by GrabFood.