Famous Pao Fan In Lavender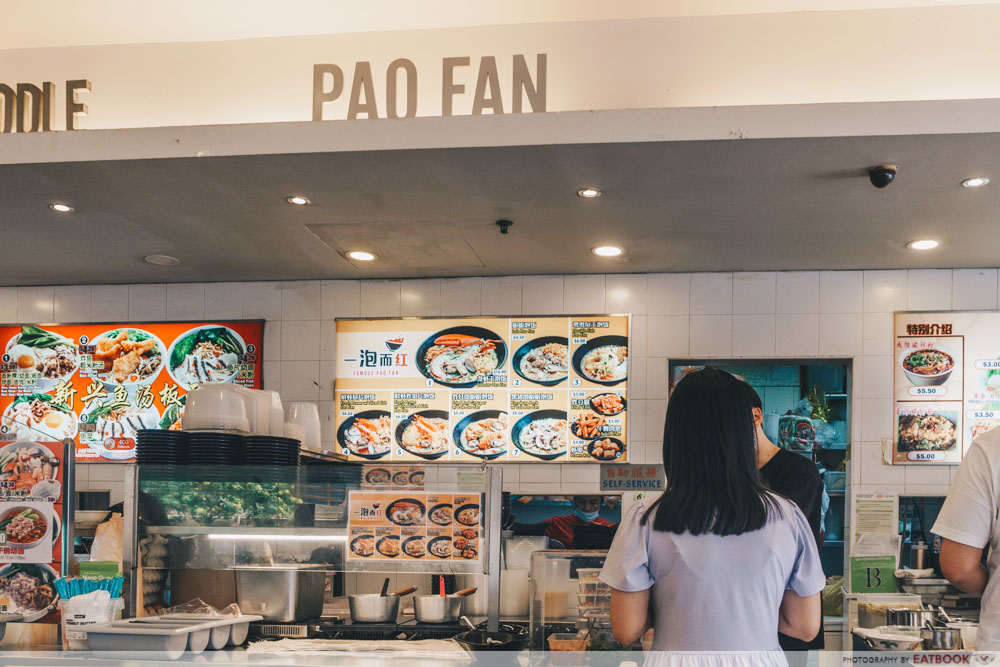 Pao fan is quite the rage in the current hawker scene, as various ex-hotel chefs have brought this restaurant dish to our hawker centres, priced for the masses. Joining the leagues is actor Chew Chor Meng, who recently opened Famous Pao Fan at Lavender. This is his third F&B venture, alongside two porridge stalls and a mookata chain. While I imagine this dish to be perfect in rainy weather, my colleague and I visited the store on a hot afternoon, ready to brave the heat for a piping bowl of pao fan.
7 Cheap Pao Fan In Singapore, Including Lobster And Ginseng Chicken Pao Fan
Food at Famous Pao Fan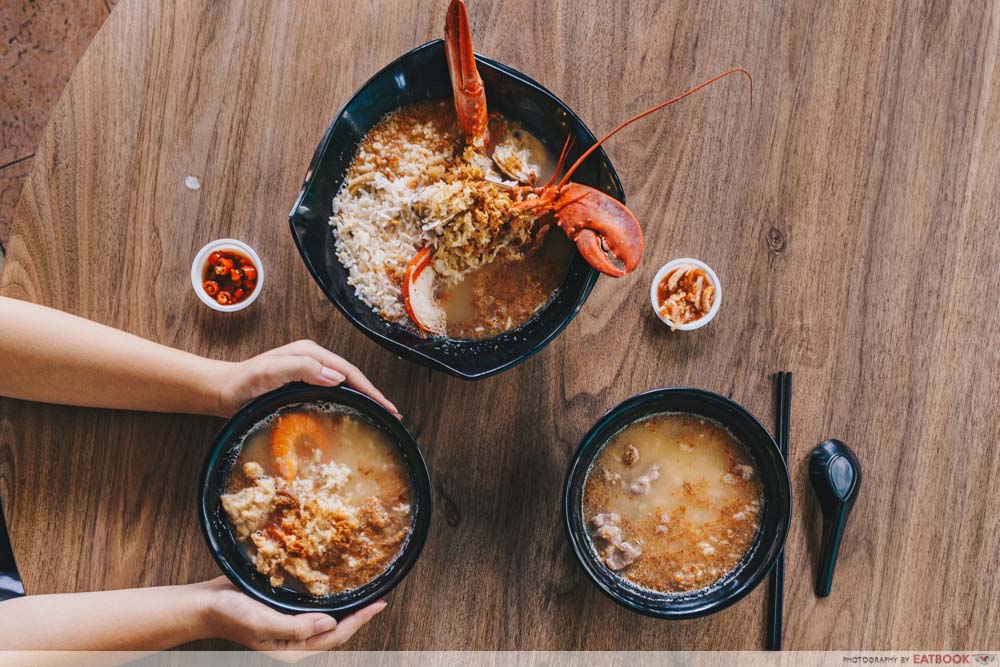 The menu at Famous Pao Fan features various pao fan selections, with sides that include Spam Fries ($3) and Fried Tofu ($3) to go along with your meal.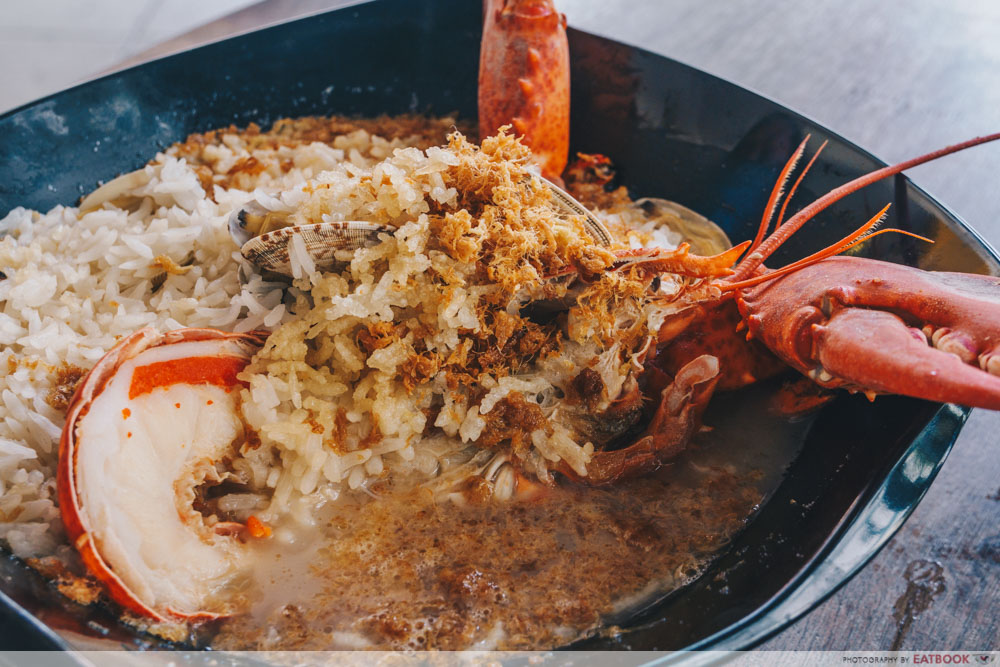 Go big or go home. That's what I thought when I ordered the Lobster Pao Fan ($16), which we started our meal with. This massive bowl came with a whole lobster, swimming in broth with cooked rice, and topped with egg floss and rice puffs.
The staff explained that they begin cooking the broth from 7am in the morning, and that it continues simmering throughout the day. As a result, the broth is umami and deep-flavoured, with a distinct sweetness from pork bones and prawn heads. Famous Pao Fan features this same broth in all their pao fan selections.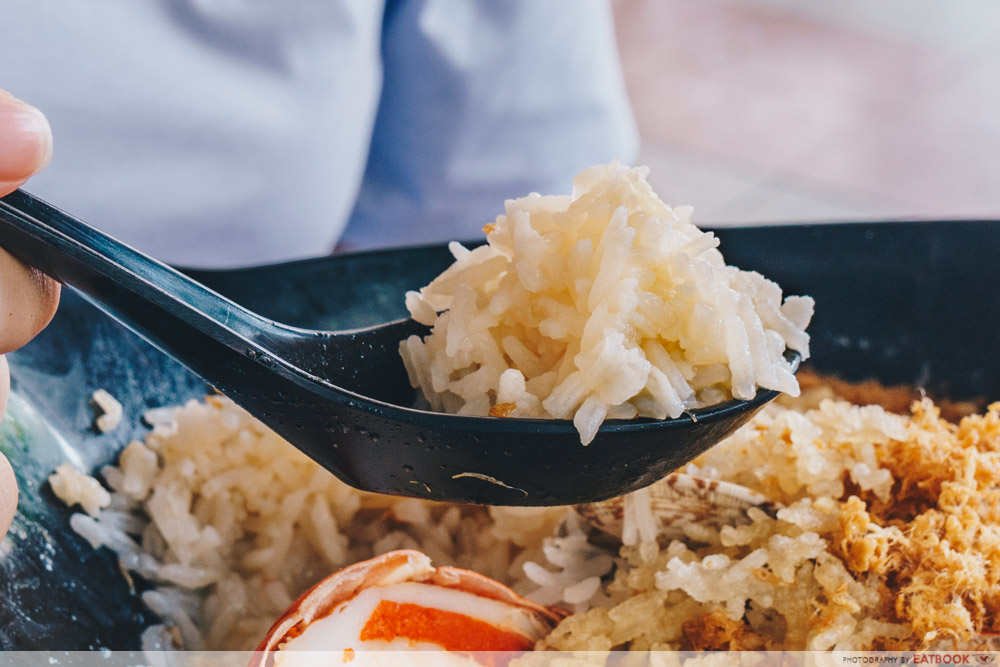 I liked how the rice grains remained distinct, despite soaking up the broth. That being said, they diluted the flavour of the soup, and the broth tasted less flavourful as the meal progressed. 
Commonly seen in fried fish soup dishes, I especially loved the egg floss, which elevated the dish with its fluffiness and savoury-sweet taste. Meanwhile, the rice puffs were also great additions, with a delightful crispness that provided textural variation. As the rice puffs sank and dissolved into the soup, I wished that they had given more.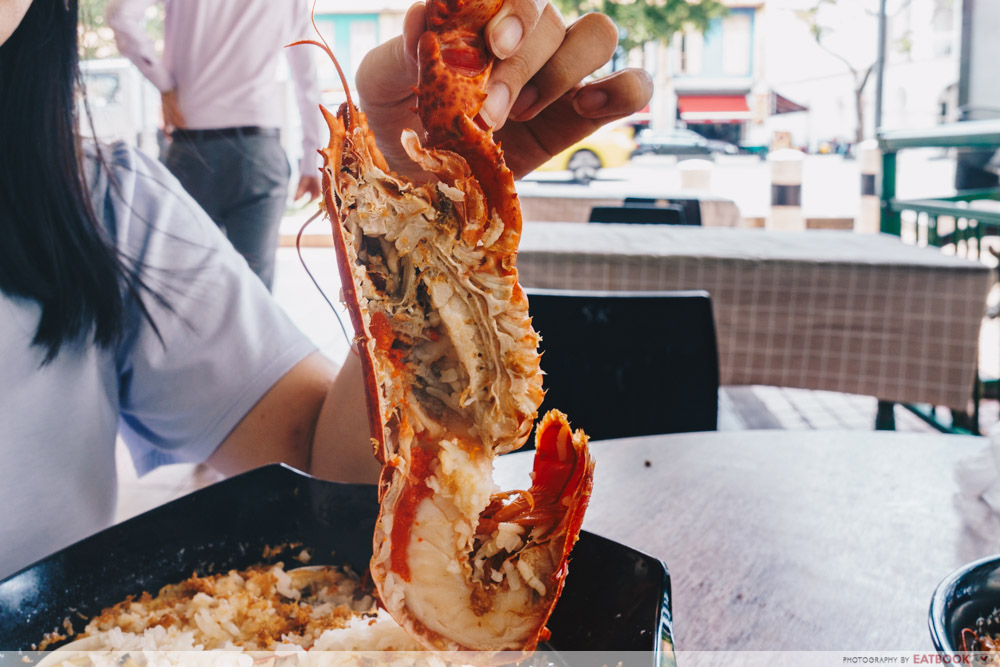 The lobster was generously portioned for the price, especially because most pao fan places serve only half a lobster. It wasn't difficult to pick out the lobster meat, which was fleshy and firm, with juices that cooked into the broth for a deeper seafood flavour.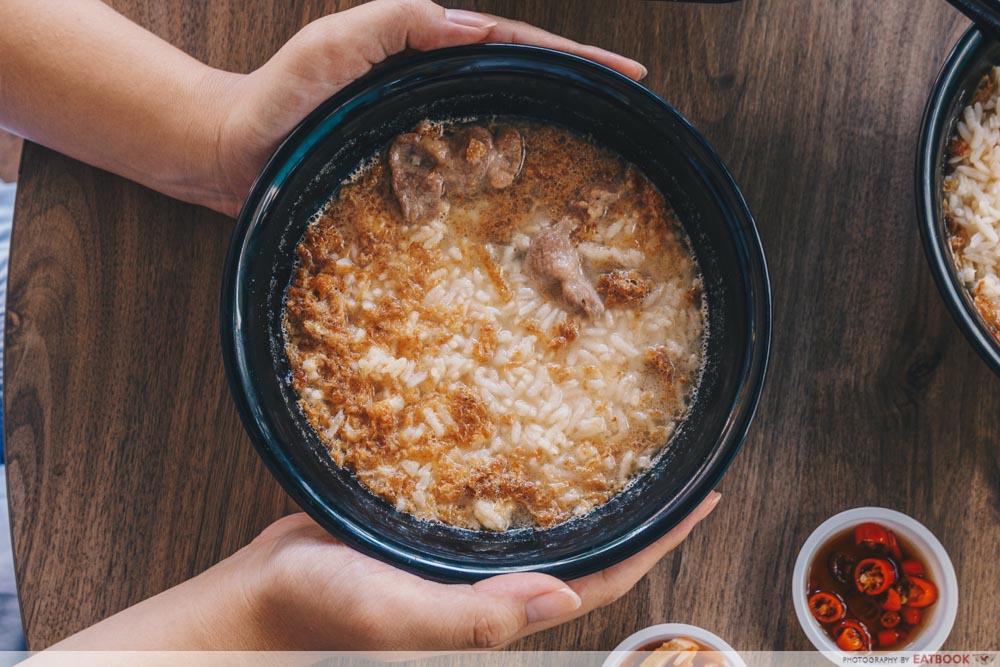 We moved on to the Kurobuta Pork With Lala Pao Fan ($8), which saw Kurobuta pork slices and clams within, dressed with the same toppings.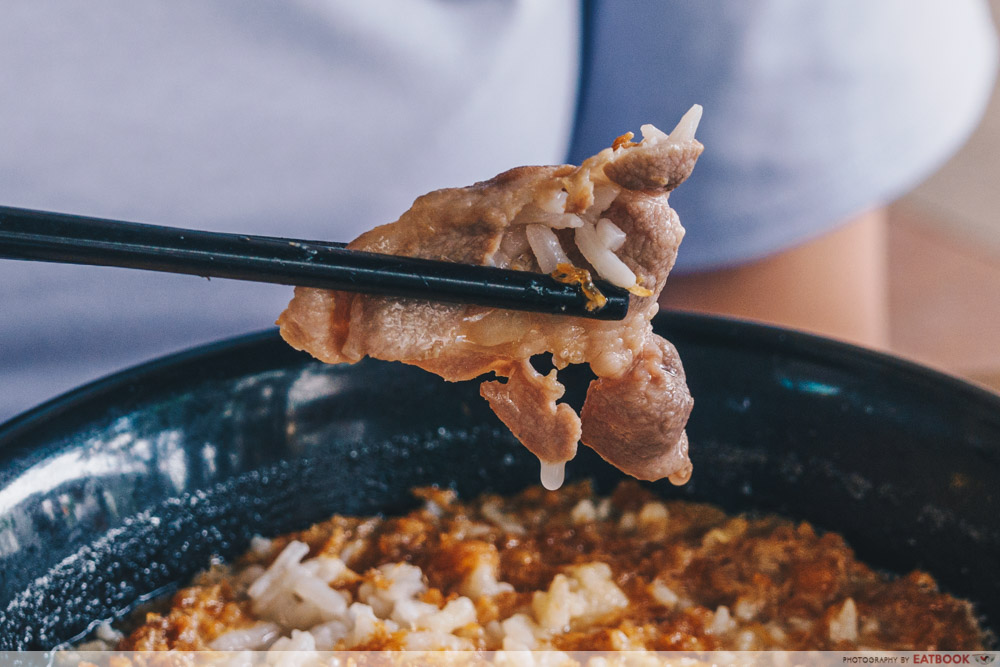 Kurobuta pork comes from Berkshire pigs, and is famed as the wagyu of pork. Manage your expectations here, as I found the pork slices a touch overcooked. Still, they were sufficiently flavourful, without much need for seasoning.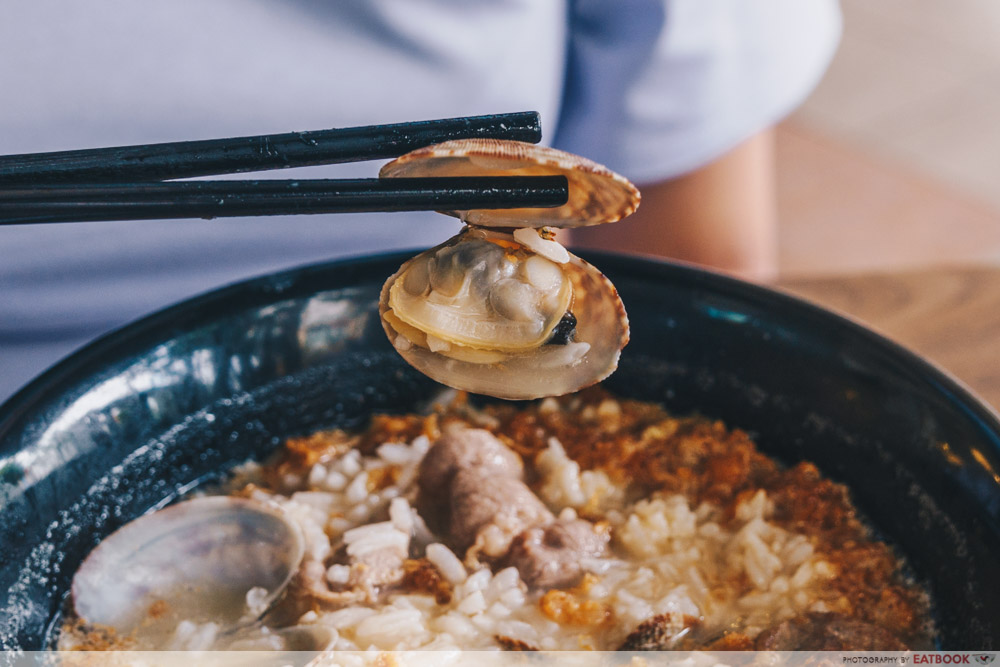 Meanwhile, the clams were plump and sported a briny sweetness. However, it was unfortunate that some of them were only empty shells.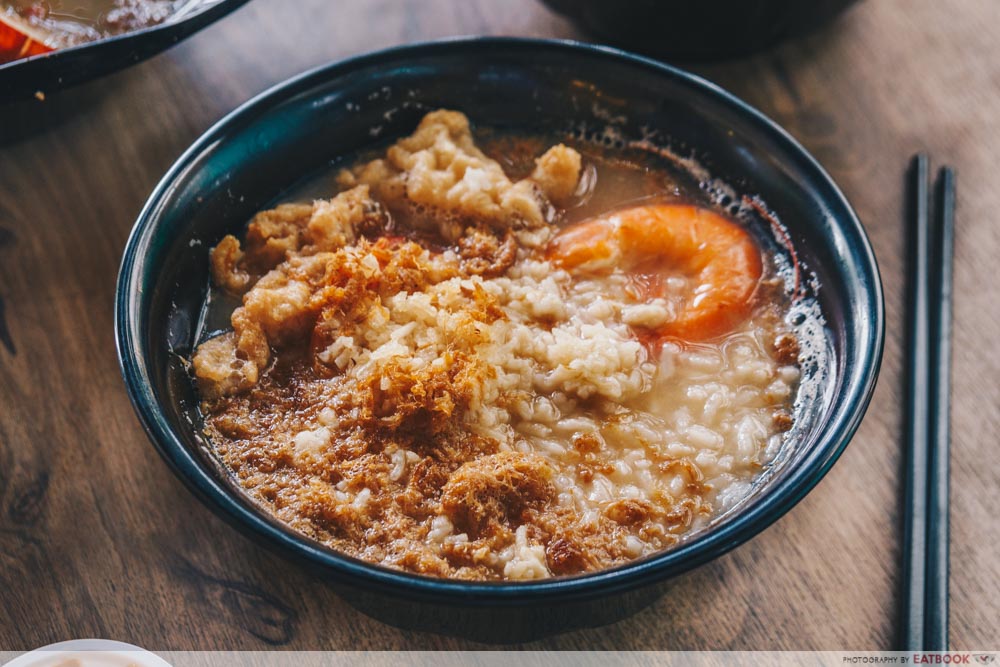 We rounded off the meal with the Fresh Prawn With Fried Sliced Fish Pao Fan, more affordably priced at $6. This came with two prawns and two deep-fried fish slices.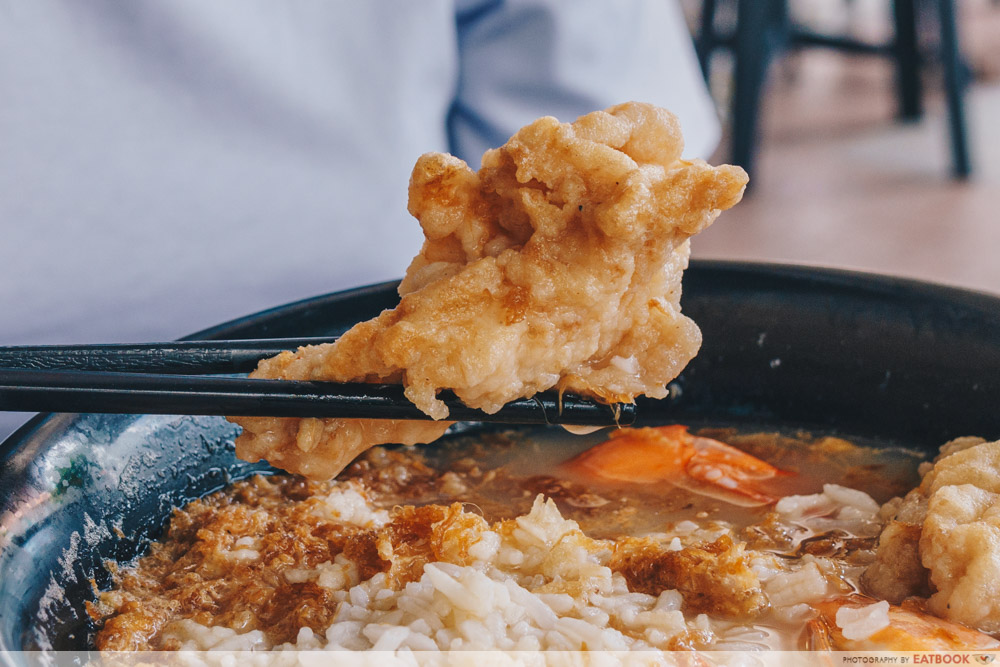 It's not surprising that the fish slices turned soggy, despite our efforts to eat them quickly. Taste-wise, they were also nothing to shout about.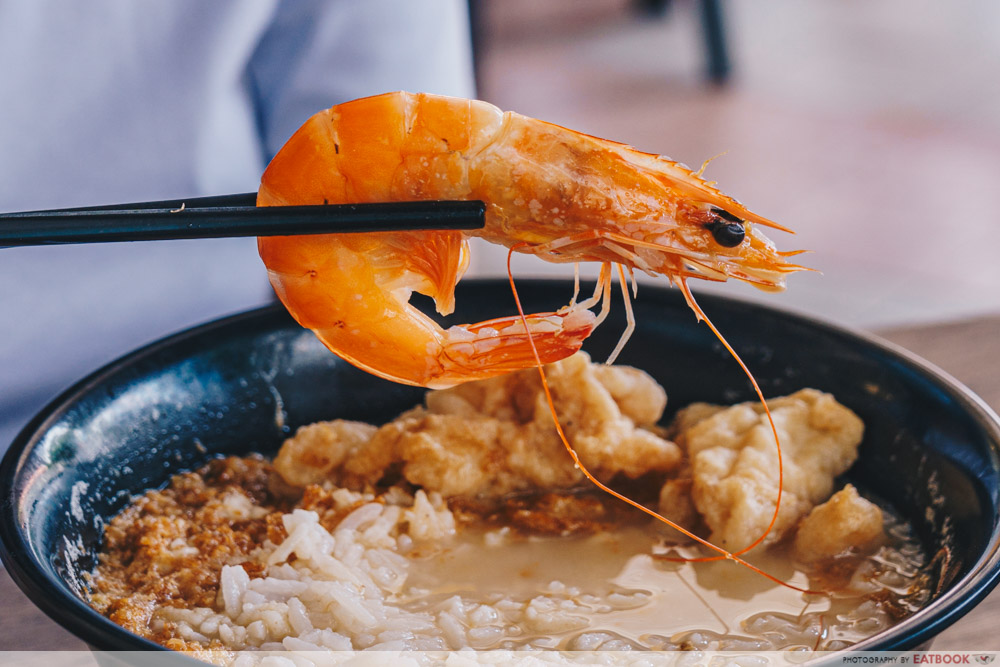 Thankfully, the prawns were fresh and succulent, which made up for the disappointing fish slices.
Ambience at Famous Pao Fan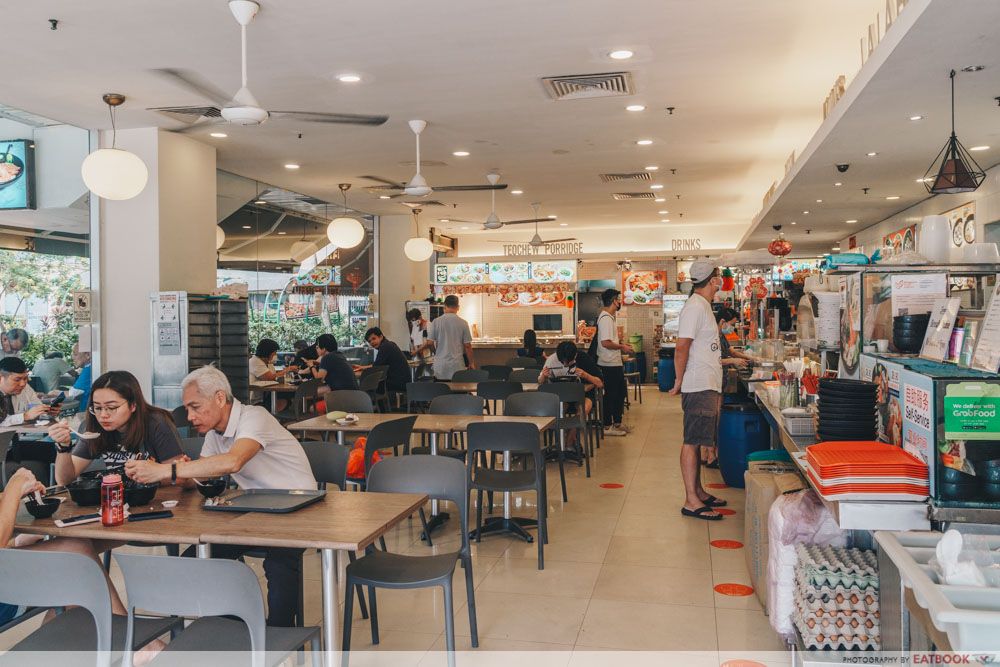 Famous Pao Fan is located in a food court within Sultan Plaza, accessible via a 10-minute bus ride from Lavender MRT Station. The space was cramped and stuffy, despite being air-conditioned. We recommend avoiding the lunch hour as it gets very crowded, with queues that snake between tables, further cluttering the area. However, there are outdoor seats that alleviate this situation.
The verdict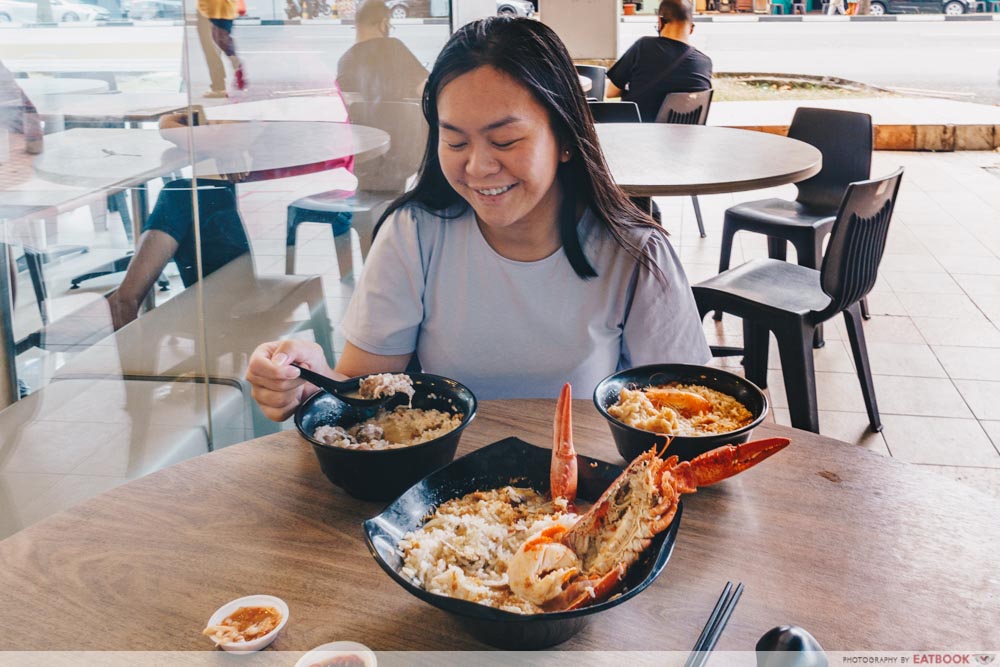 It's easy to be gimmicky with trendy food, even more when it's sold by a celebrity. However, I truly enjoyed Famous Pao Fan, especially their rendition with lobster. Where the other menu items can be a hit or miss, the dish still ties together nicely, with the broth, rice, egg floss, and rice puffs. It's safe to say that I'll definitely return for another bowl of scrumptious pao fan.
For more pao fan goodness, check out our Mun's Seafood Pao Fan review for affordable pao fan cooked by an ex-hotel chef, or our pao fan guide for cheap pao fan in Singapore.
Address: 100 Jalan Sultan, #01-06/07, Sultan's Kitchen Food Court, Singapore 199001
Opening hours: Daily 10:30am to 8:30pm
Website
Famous Pao Fan is not a halal-certified eatery.
Mun's Seafood Pao Fan Review: Ex-Hotel Chef Serves Affordable Pao Fan At Ghim Moh
Photos taken by Syamira Rohaizad.
This is an independent review by Eatbook.sg.
Famous Pao Fan Review: Lobster Fan At Lavender By Actor Chew Chor Meng
Summary
Pros
– Tasty broth
– Great flavour and texture from egg floss and rice puffs
– Generous portion of lobster
Cons
– Fish was soggy
– Pork was overcooked
Recommended dishes: Lobster Pao Fan ($16)
Opening hours: Daily 10:30am to 8:30pm
Address: 100 Jalan Sultan, #01-06/07, Sultan's Kitchen Food Court, Singapore 199001