Fish Joy has fish soup with collagen broth
in
Toa Payoh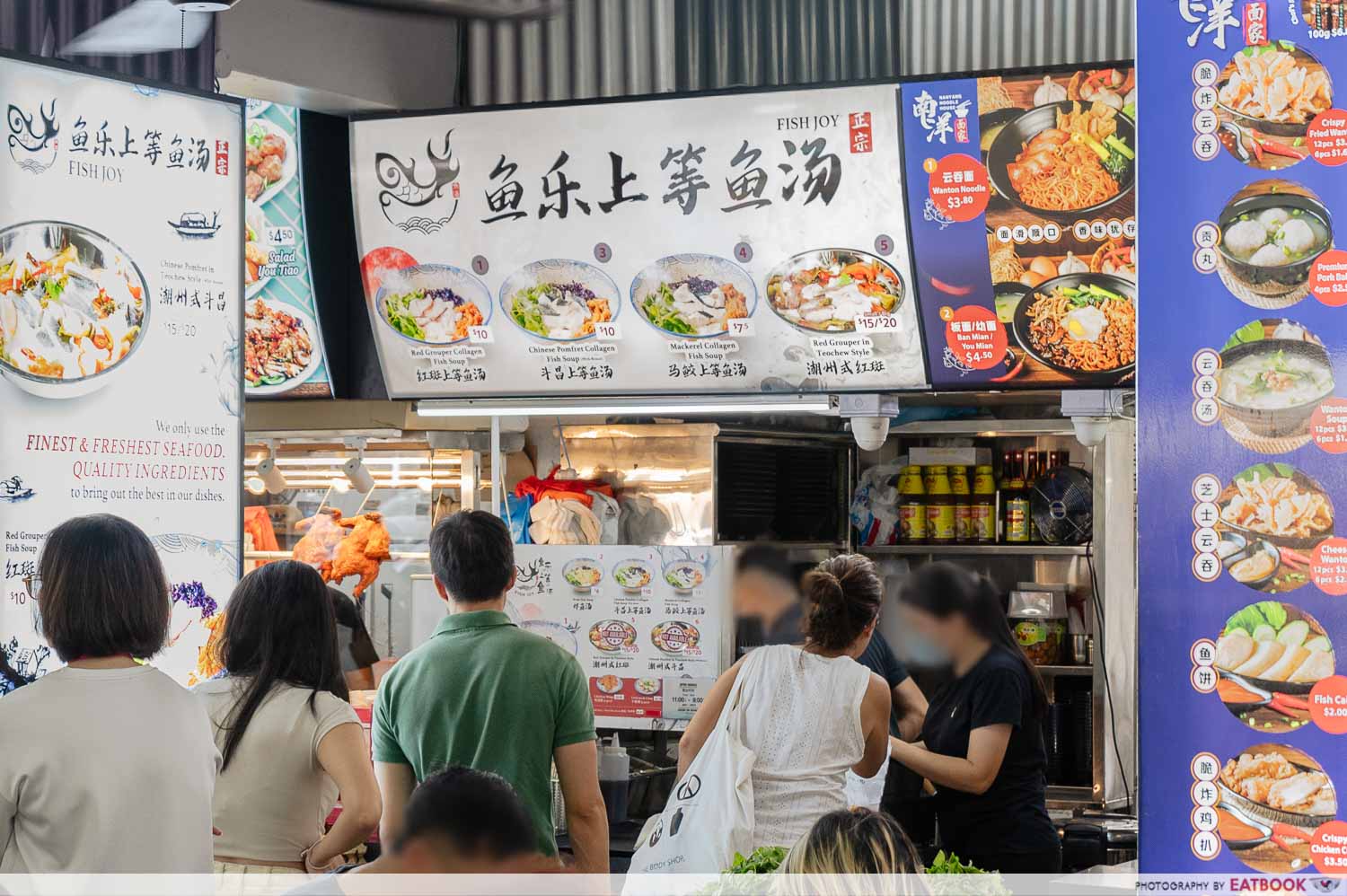 While waiting in line to order my fish soup at Fish Joy, an amiable auntie standing in front of me struck up a conversation by saying that this stall is relatively new in the area. Indeed, Fish Joy recently opened its doors in June 2023 in a Toa Payoh coffeeshop, garnering the interest of many residents ever since. I, too, was thrilled to give the food here a shot, especially since fish soup used to be my go-to meal as a student.
At 11:45am, my colleague and I arrived at Fish Joy only to see that there were already about 15 customers ahead of us. Pleasantly surprised by the stall's popularity, we waited for close to 40 minutes before finally placing our orders.
Hot Spot Cafe Restaurant Review: Popular Fish Soup Stall In Rochor With Tom Yum Broth And Mee Hoon Kueh
Food at Fish Joy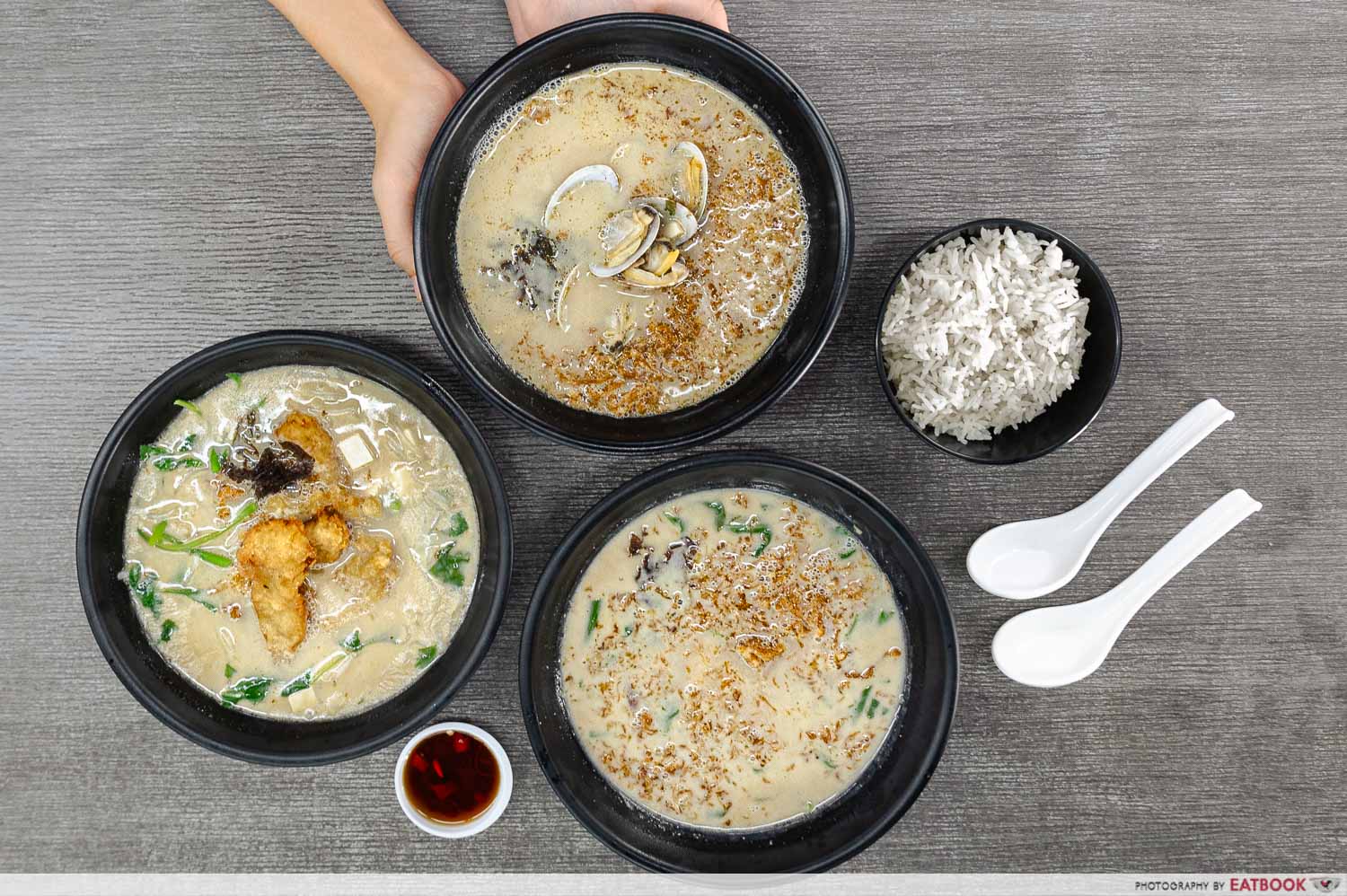 We settled on their signature Red Grouper Collagen Fish Soup ($10) with rice ($0.50), Fried Fish Soup ($6) with thick bee hoon ($0.50), and a bowl of Littleneck Clam Soup ($8).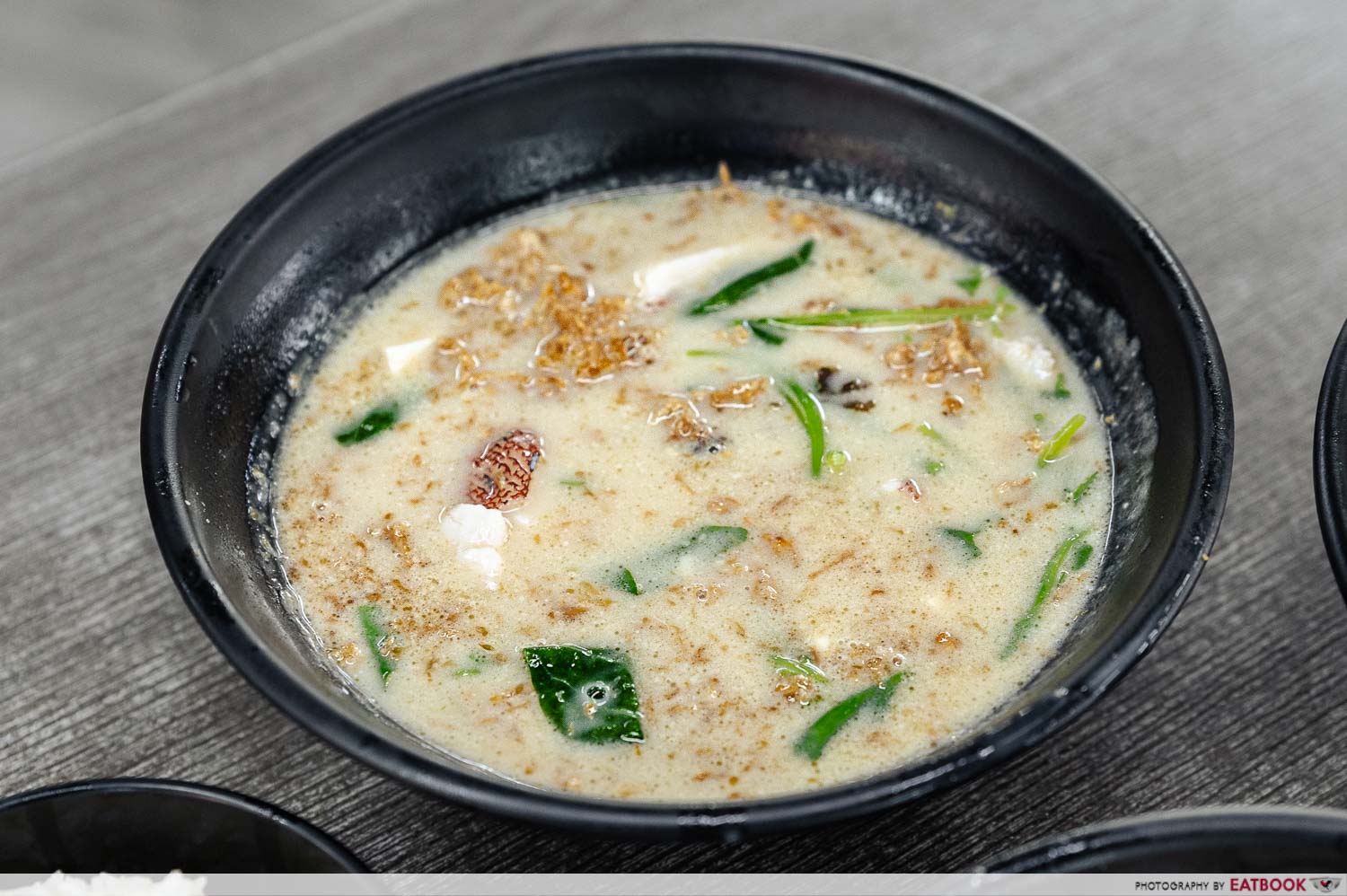 Their signature Red Grouper Collagen Fish Soup comprises a collagen broth topped with slices of red grouper, a handful of vegetables and dried seaweed, tiny cubes of silken tofu, and a generous amount of fried egg floss.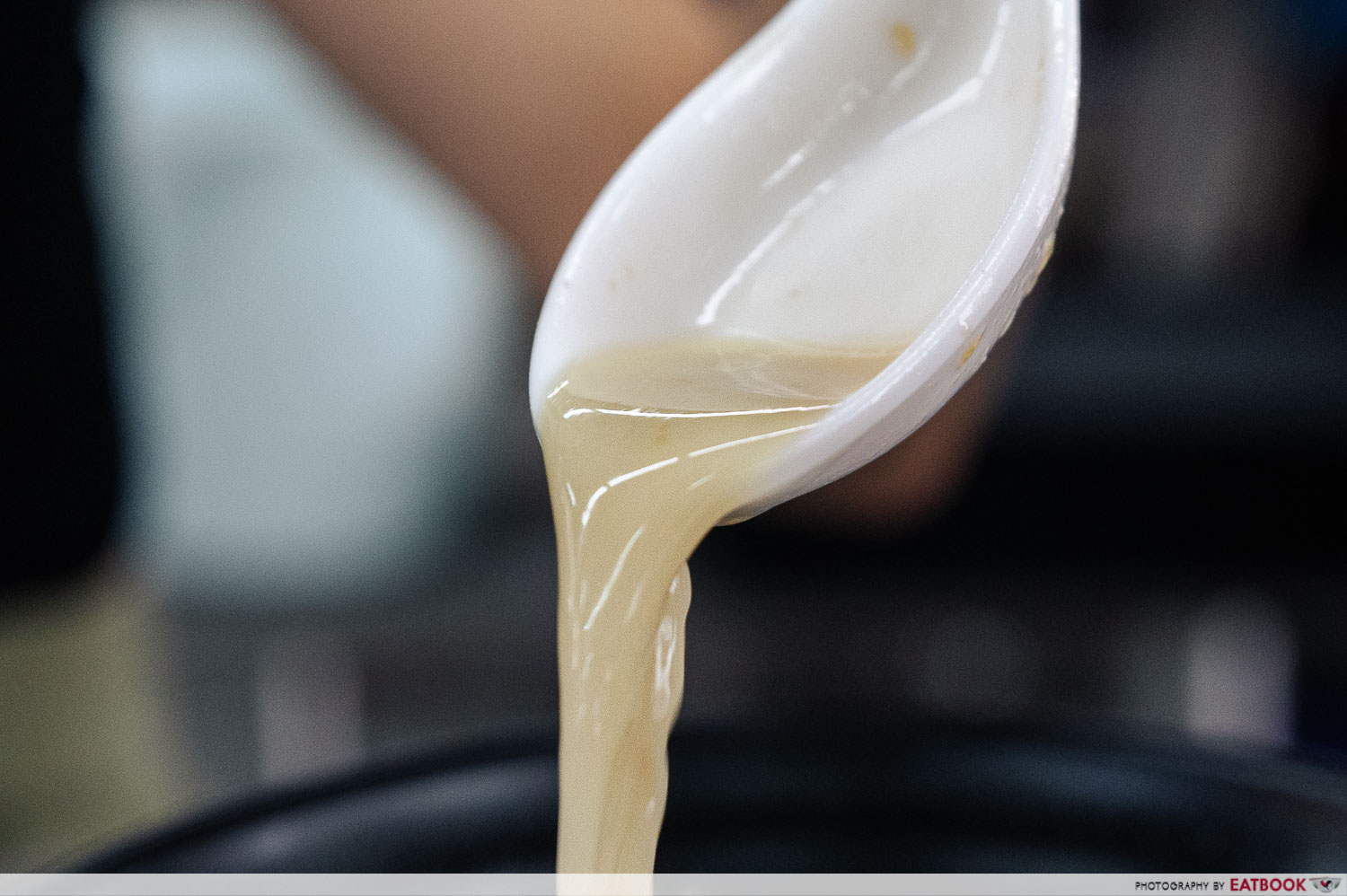 At first blush, the collagen broth resembled a bowl of your regular fish soup with milky broth. But upon taking my first sip, I could tell that the broth at Fish Joy was distinctly different from the evaporated milk-infused fish soup most of us are familiar with. Simmered for eight hours using fish bone and pork, the collagen broth was very flavourful, rich, and almost creamy.
When the soup is left unstirred for a while, you may notice jelly-like bits floating on top. But not to worry, as these bits simply indicate the soup's high collagen content.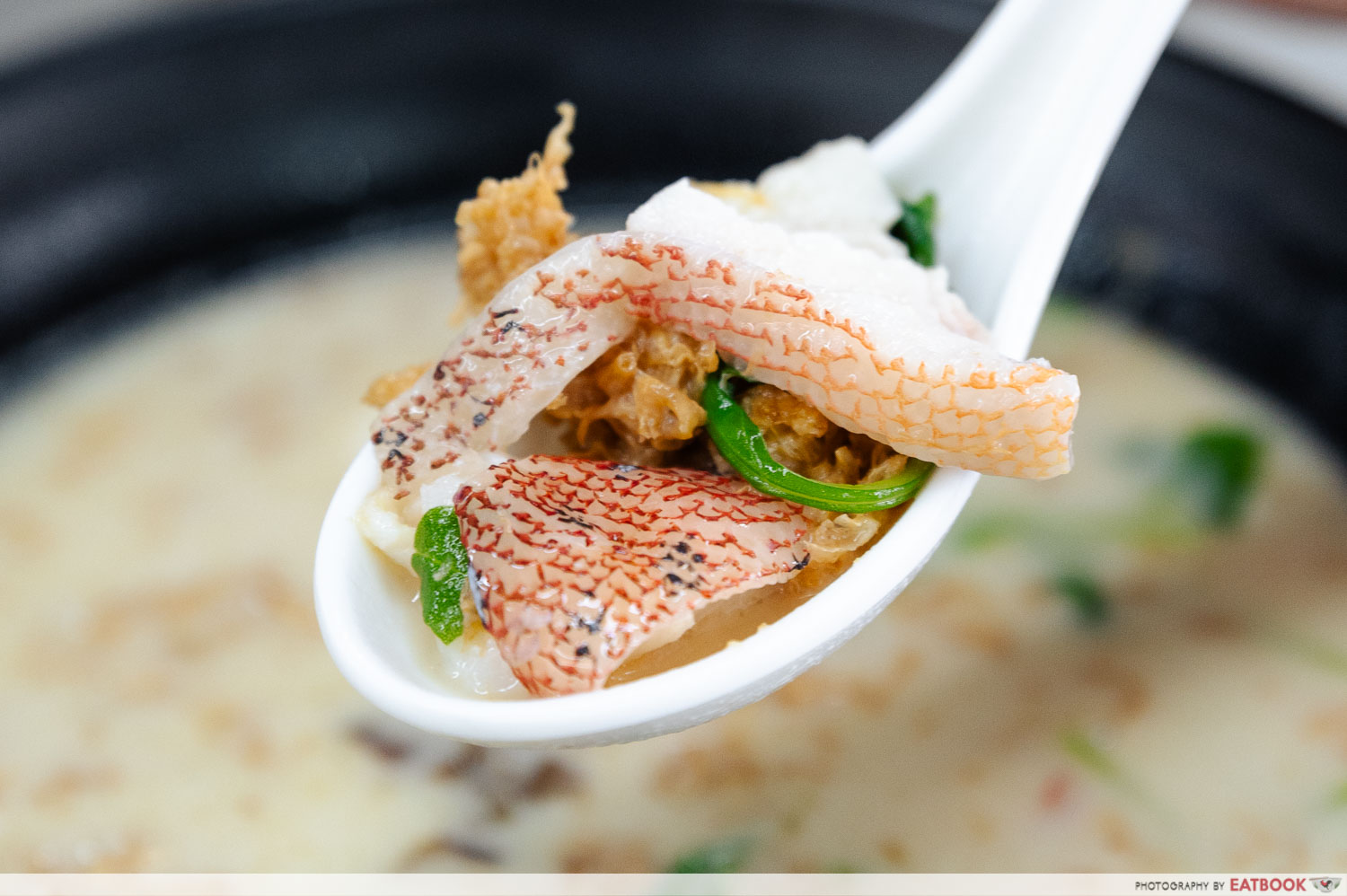 Red grouper took centrestage in this dish, and it's served in thin slices here. Though not exactly generous in quantity, the quality made up for it as the fish tasted fresh without any potentially off-putting fishy smell. Also, I personally found the rice to be a good pairing with the fish soup as the soup-soaked rice reminded me of pao fan—just without the crispy bits.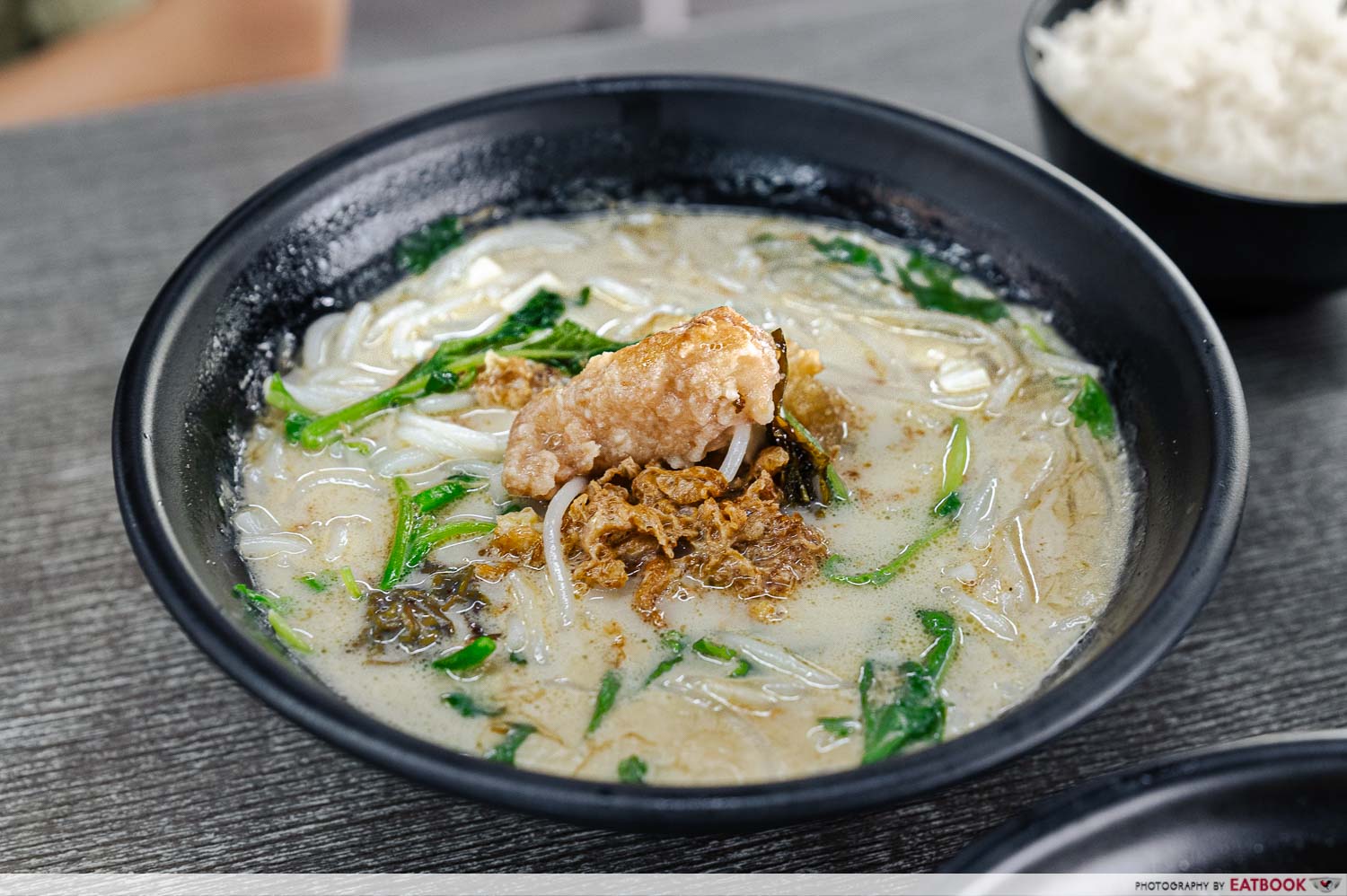 Next, we tried their Fried Fish Soup with thick bee hoon. The soup was the same as the Red Grouper Collagen Fish soup, with the ingredients similar to the ones featured in the aforementioned dish, but with fried fish slices seen here instead.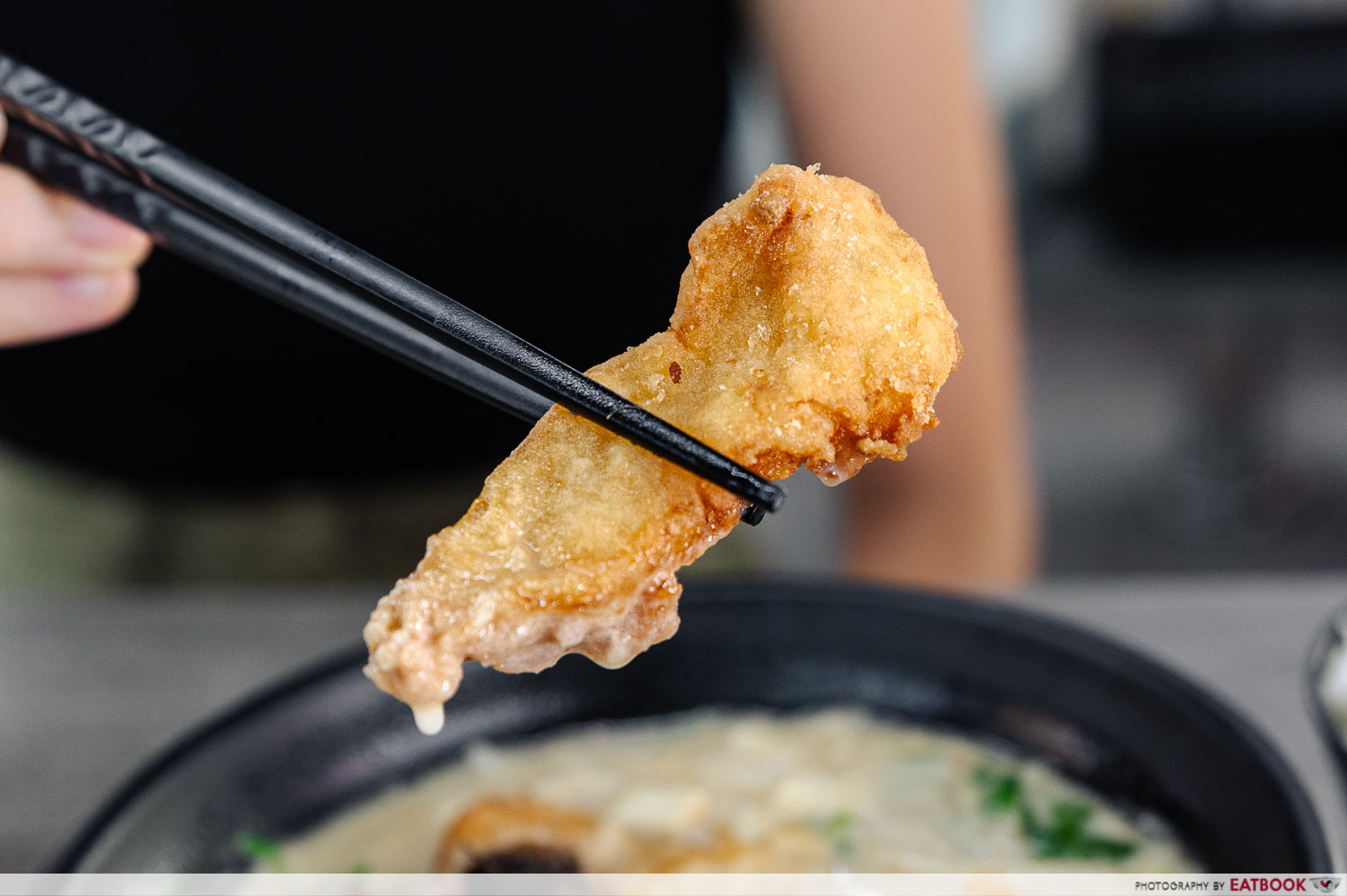 When eaten on its own, the fried fish pieces were a tad salty for my liking. However, the fish-to-batter ratio struck a good balance—let's be real, there's nothing worse than being deceived into thinking there's a substantial amount of fish meat, when in actuality, it's all batter.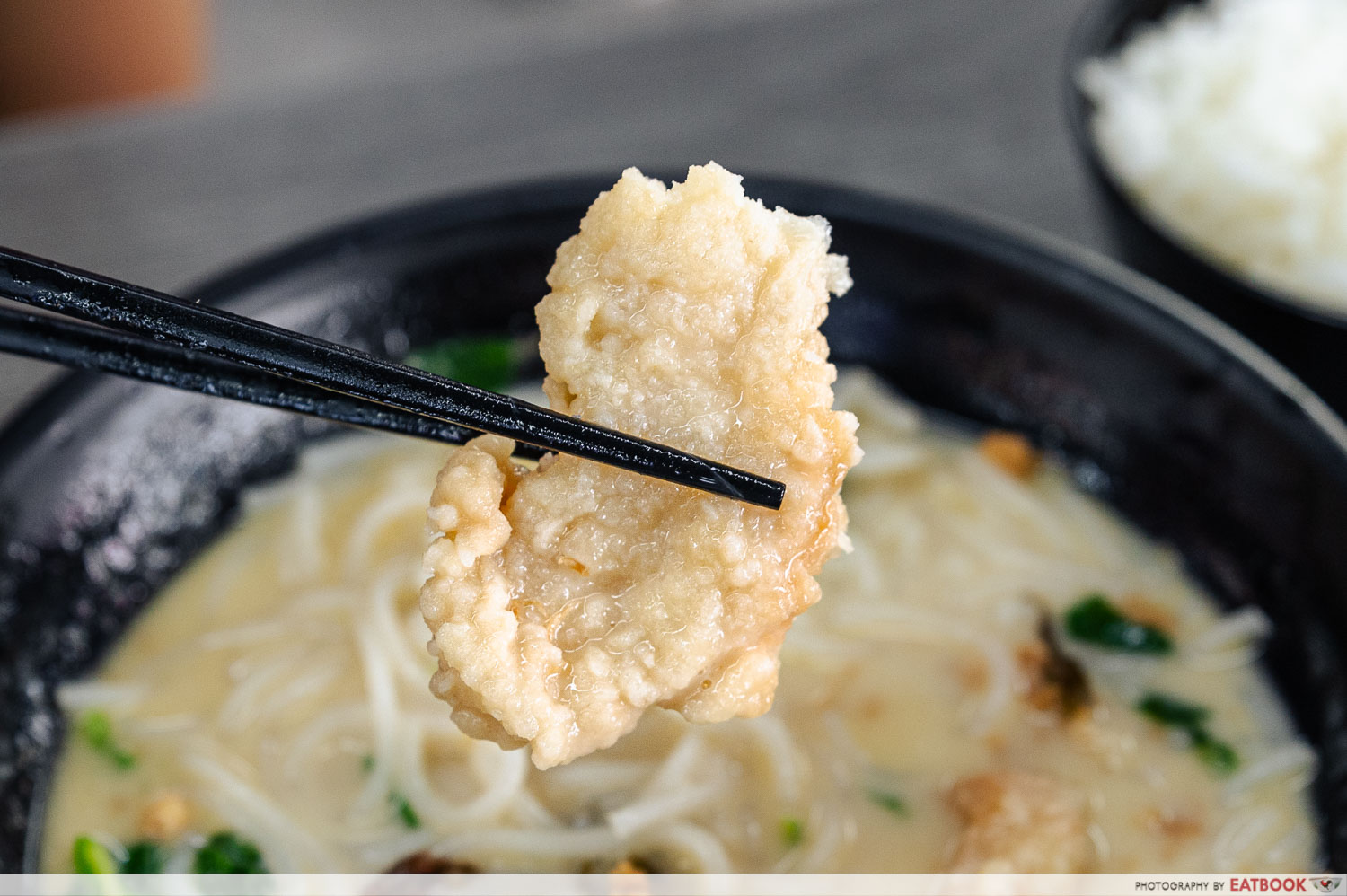 The trick with this dish is to leave the fried fish completely soaked in the collagen broth. This way, the unami-filled flavour of the broth will help to temper the saltiness of the fried fish, and you won't find yourself feeling too thirsty after every bite.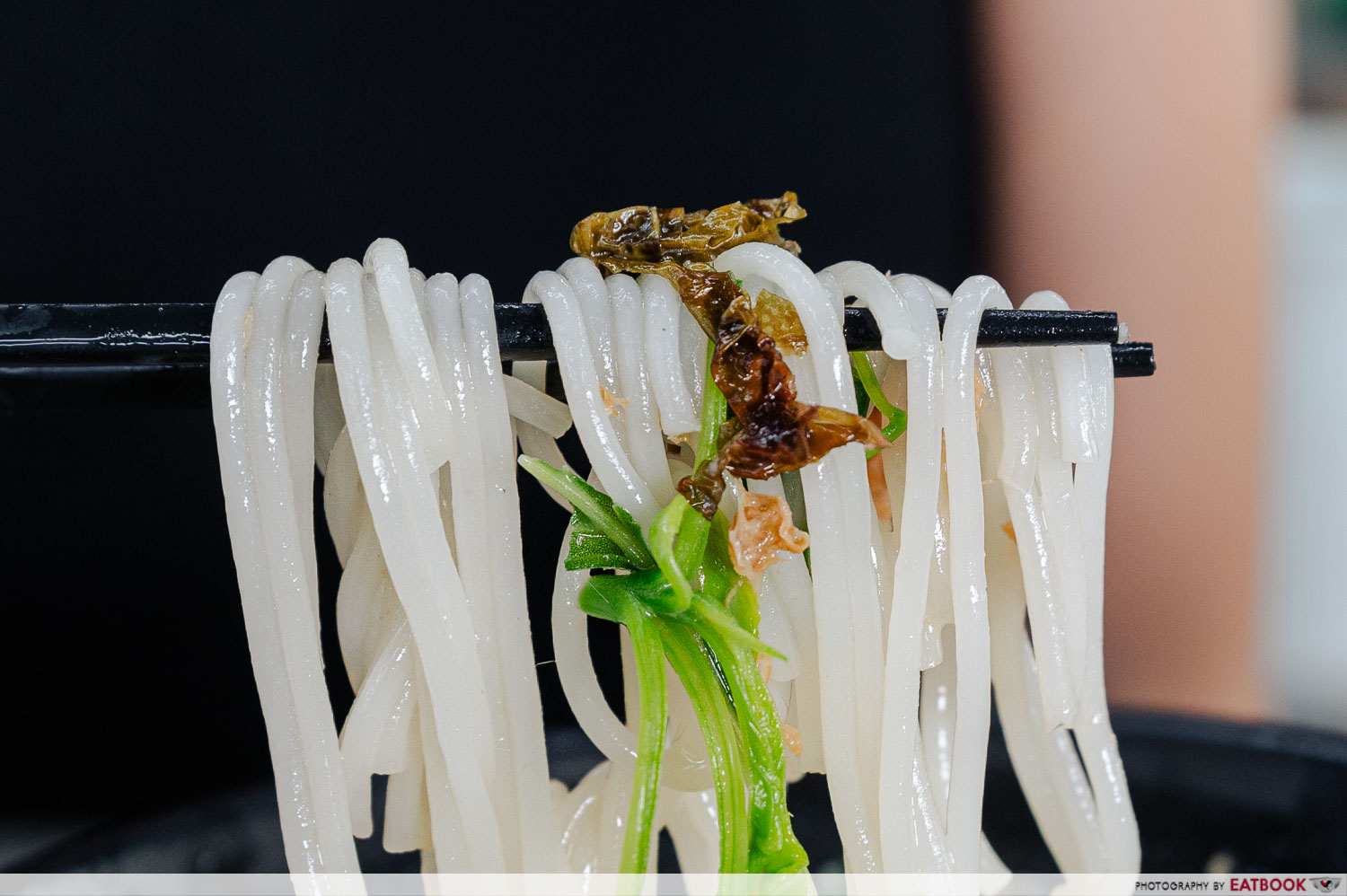 In contrast to the rich and dense broth, the thick bee hoon was light and went down smoothly. Plus, since the noodles didn't soak up too much broth, they held their shape well, making each spoonful a slurp-worthy one.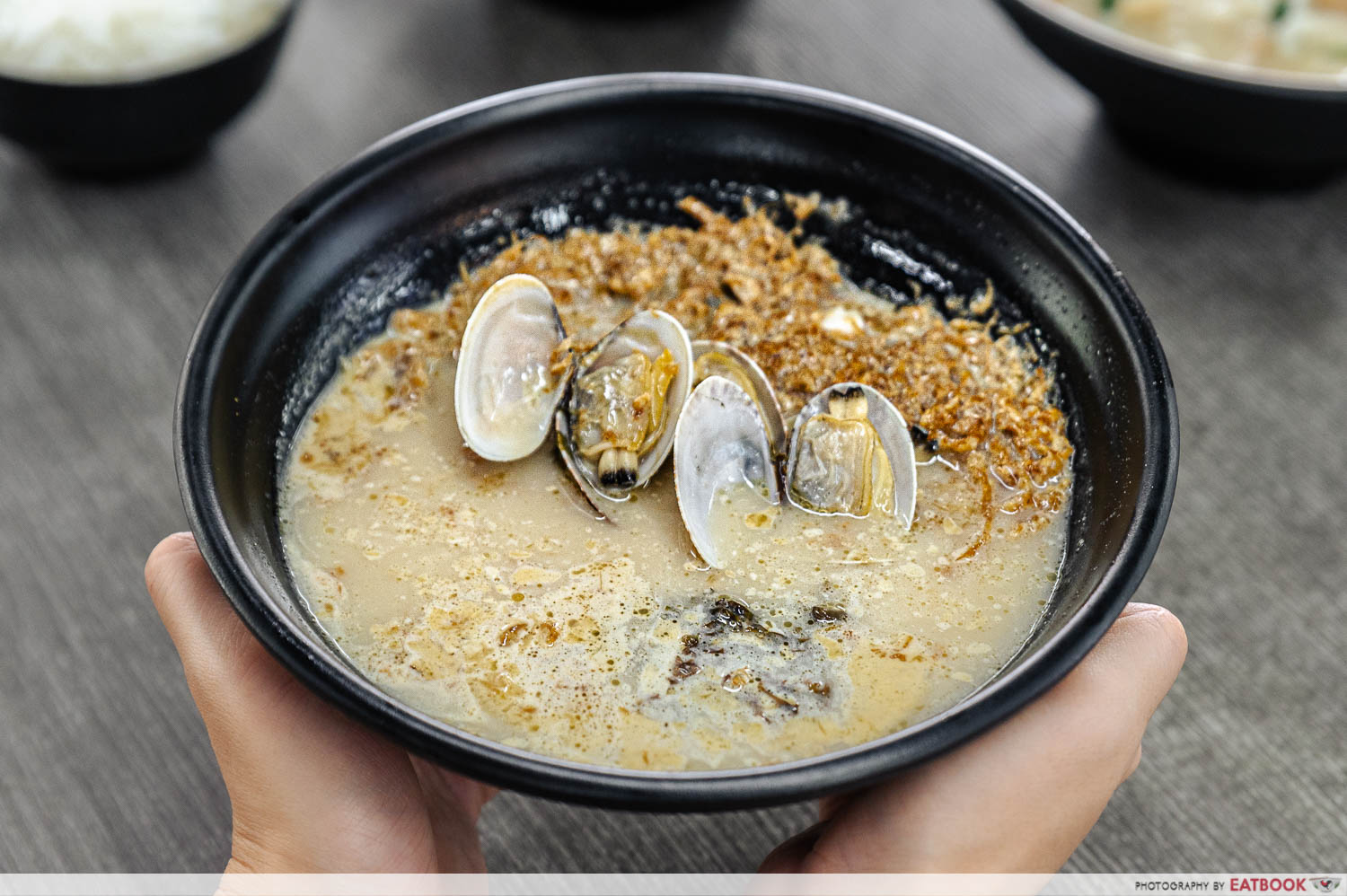 Their Littleneck Clam Soup was my colleague's personal favourite among the three dishes. I'd like to think of this dish as the hidden gem as it's not explicitly shown on the menu—we only got to know of it after conversing with the staff. The broth tasted a little different from the ones we'd previously tried, thanks to the addition of littleneck clams. I really enjoyed this dish, as there was an inexplicably smoky flavour that complemented the collagen broth really well.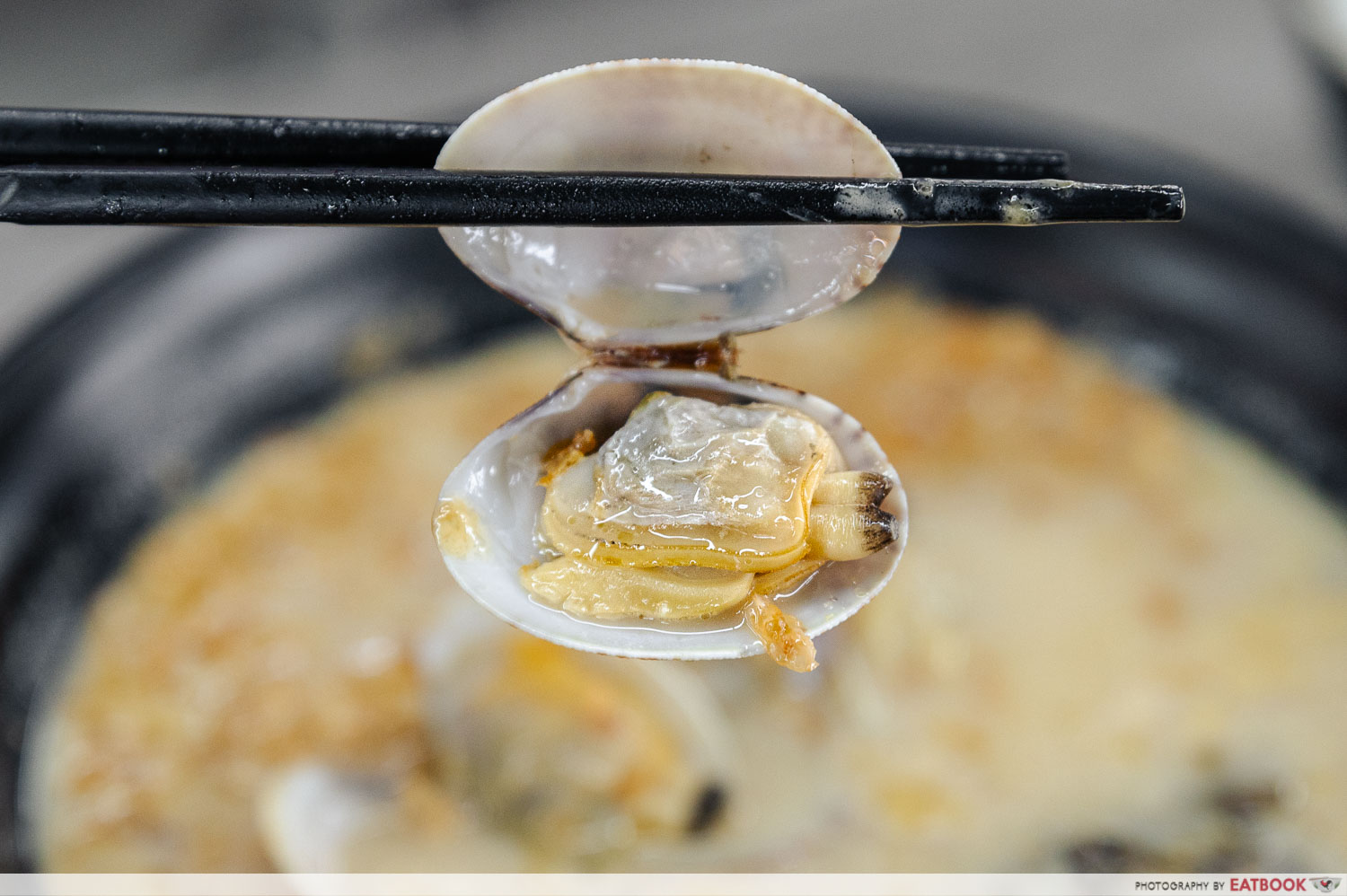 Aside from the standard ingredients such as seaweed, tofu, and fried egg floss, there was a generous amount of fresh clams in our bowl. I took it as a good sign that there weren't any closed shells, which is often an indication of stale clams. Also, we didn't get any sandiness in our clams, which hints that the shellfish was meticulously washed and cleaned beforehand. 
You&Me Teochew Fish Soup Review: Muslim-Owned Stall With Fish Soup And Saba Fish Sets In Pasir Panjang
Ambience at Fish Joy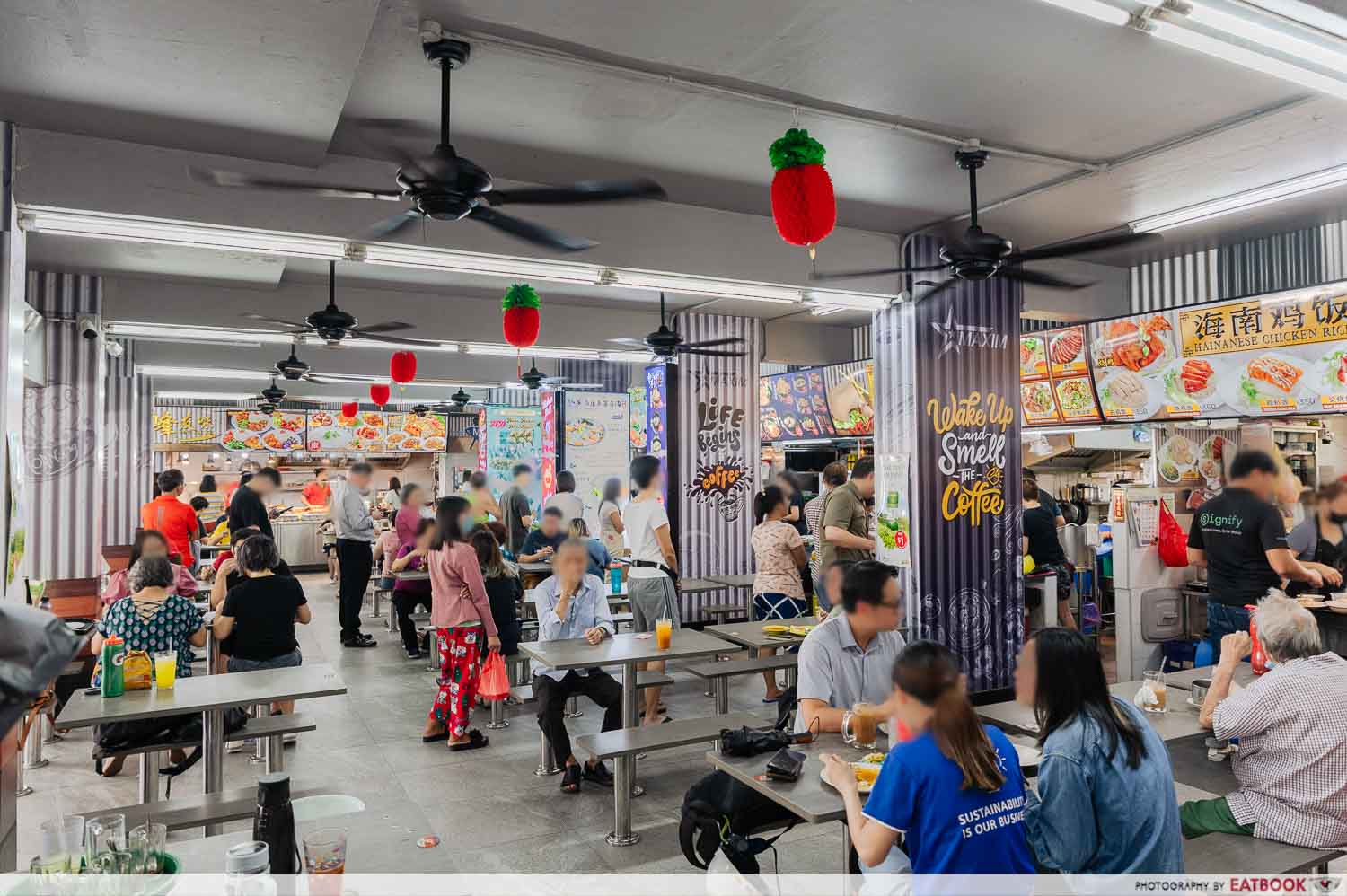 Fish Joy is the latest addition to Maxim Stars Coffee Shop, a six-minute walk from Toa Payoh MRT Station. It's easy to spot the stall as you'll most likely be greeted with a queue, which remains snakingly long even when it's past lunchtime. Be sure to come down before the lunch crowd thickens!
The verdict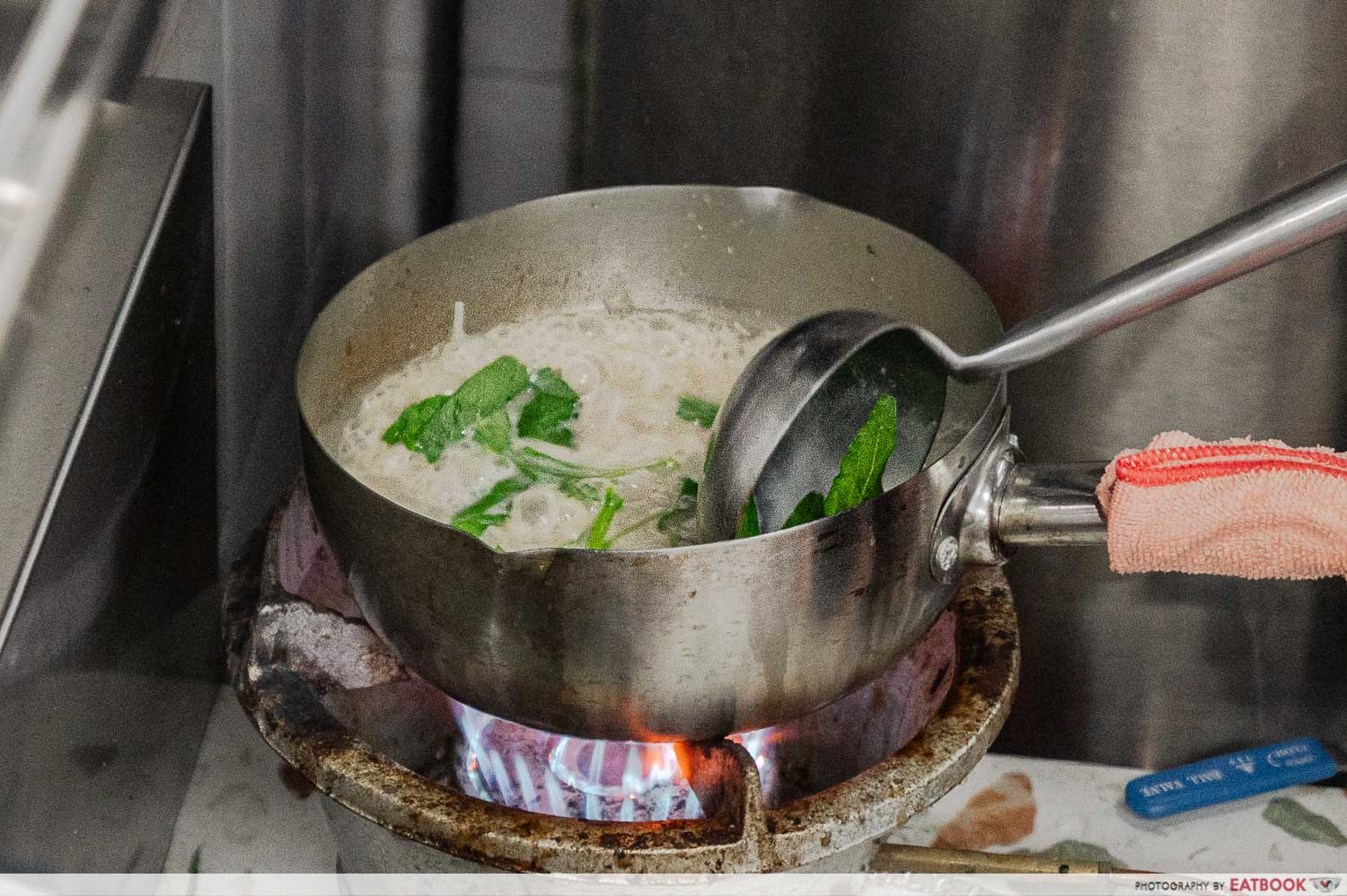 Fish Joy's collagen broth was truly a different take on the usual fish soup I was used to. Their robust mixture of fresh ingredients and rich broth kept me going back for more! While their fish soup is rather expensive for a hawker stall, I'd like to think that it's still reasonably priced considering the quality of the ingredients used. 
Find out the best fish soup in Singapore, including Michelin-approved stalls and a 63-year-old recipe. Otherwise, check out Traditional Rui Ji Chicken Rice & Curry Chicken Noodle, a famous chicken rice stall in Toa Payoh.
Address: 168 Lorong 1 Toa Payoh, Maxim Stars Coffee Shop, Singapore 310168
Opening hours: Tue-Sun 11am to 9pm
Fish Joy is not a halal-certified eatery. 
10 Best Fish Soup In Singapore Ranked, Including Michelin-Approved Stalls And A 63-Year-Old Recipe
Photos by Ke-ian Leong.
This was an independent visit by Eatbook.sg.
Fish Joy Review: Collagen Fish Broth, Clam Soup And More At This New Toa Payoh Stall
Fish Joy Review: Collagen Fish Broth, Clam Soup And More At This New Toa Payoh Stall -

7.5/10
Summary
Pros:
– Rich and flavourful broth
– Fresh ingredients 
Cons:
– Lunch crowd may get overwhelming
– On the pricey end for a bowl of fish soup 
Recommended dishes: Red Grouper Collagen Fish Soup with rice ($10.50) and Littleneck Clam Soup ($8) 
Address: 168 Lorong 1 Toa Payoh, Maxim Stars Coffee Shop, Singapore 310168
Opening hours: Tue-Sun 11am to 9pm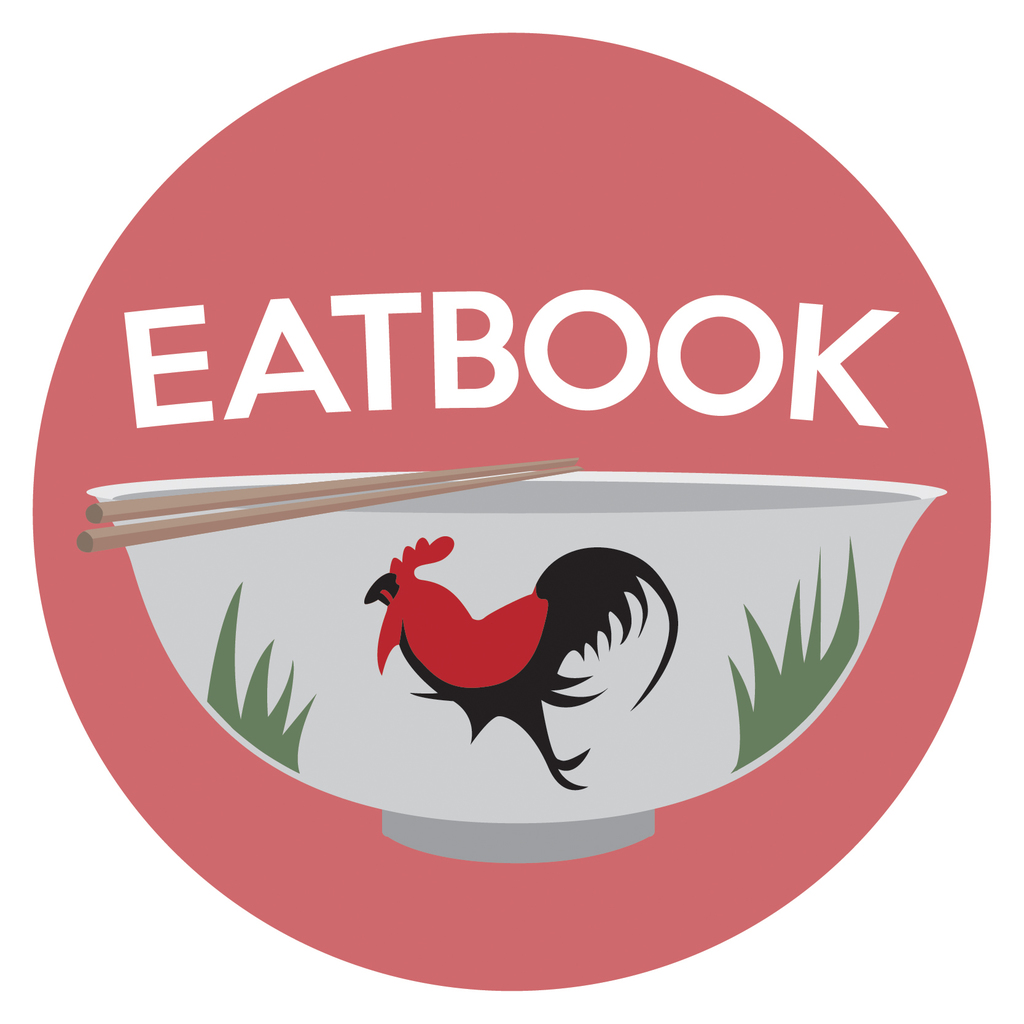 Drop us your email so you won't miss the latest news.