Gangsta Ramen at Tanjong Pagar
Update: Gangsta Ramen has permanently closed.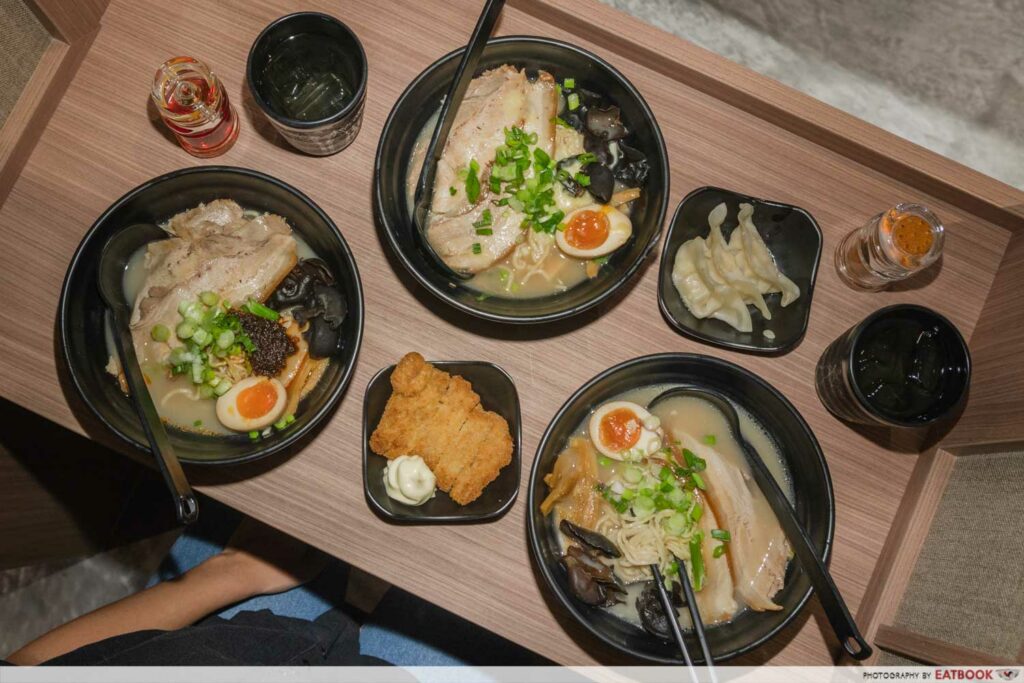 99.9% of those who have been to Tokyo would have visited Ichiran Ramen. The ramen chain is famous for its delectable ramen and, of course, private ramen booths. Singapore is quick in picking up trends, so I always wondered why no one has opened a restaurant with private ramen booths in our Lion City, especially since it's what drove Ichiran to international fame.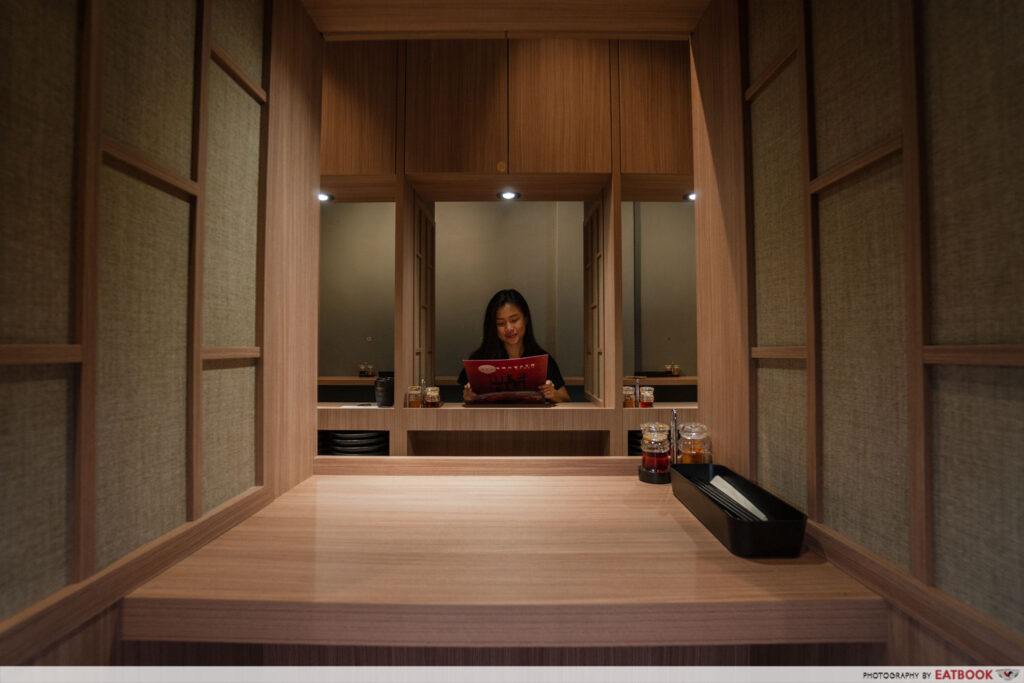 Well, I no longer have to wonder, as the people behind Gangsta Ramen have stepped up to open a quaint store in Tanjong Pagar Plaza, with 12 private cubbies for folks who prefer to dine alone.  
We were their very first customers as we popped by during their soft launch. As such, the front dividers weren't set up yet. If you really want to isolate yourself while savouring their ramen, you will need to come after 10 October 2019 instead. Then, you will dine face to face with a black curtain.
Food at Gangsta Ramen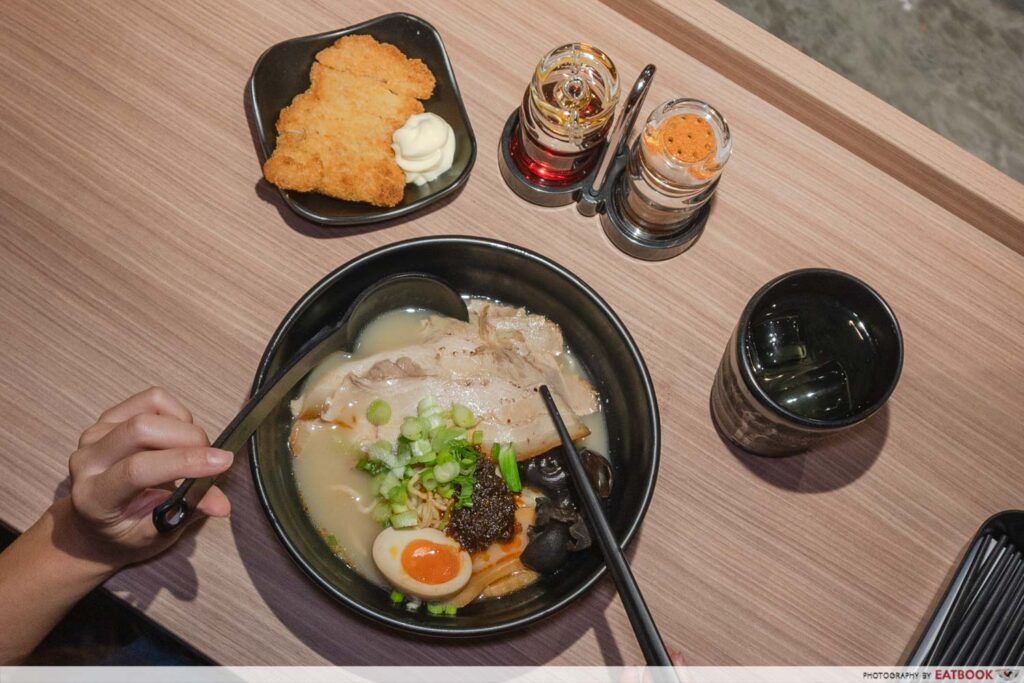 The menu is lean, with only five types of ramen and four sides. Just like most ramen restaurants, you will need to mark your orders on a sheet of paper before passing it to the waitstaff. 
To cater to the CBD crowd, prices are kept affordable at $10 for their Original Ramen. The most expensive bowl is their Black Truffle Ramen ($16).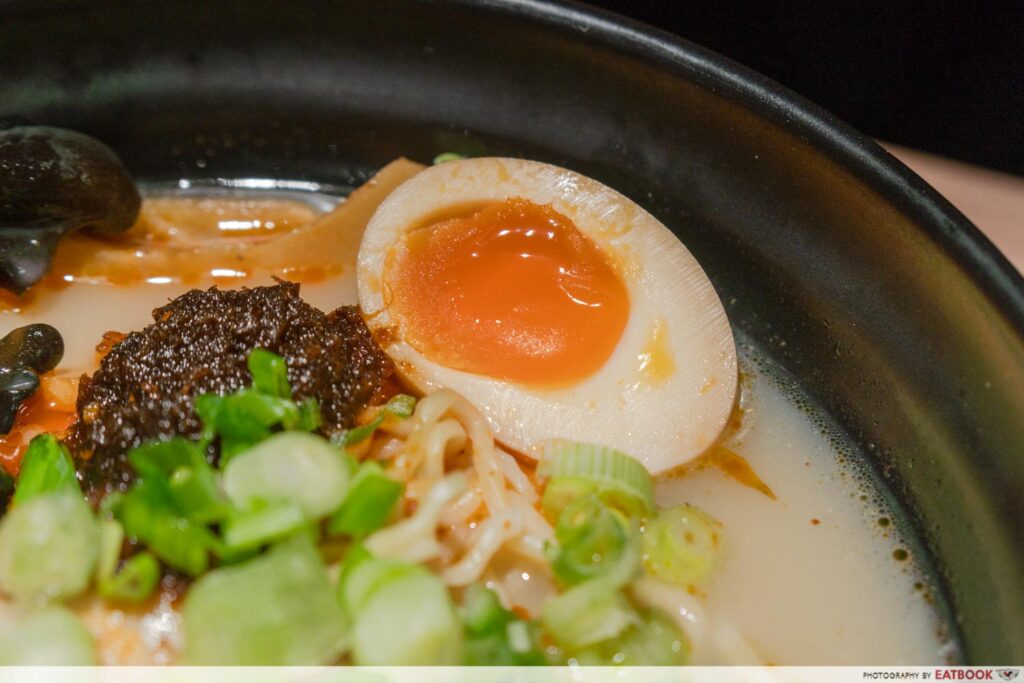 Each bowl of ramen comes with two long pieces of fatty pork belly, half a hanjuku egg, bamboo shoots, and black fungus. The hanjuku egg was nice and soft, with a runny centre—just the way I like it.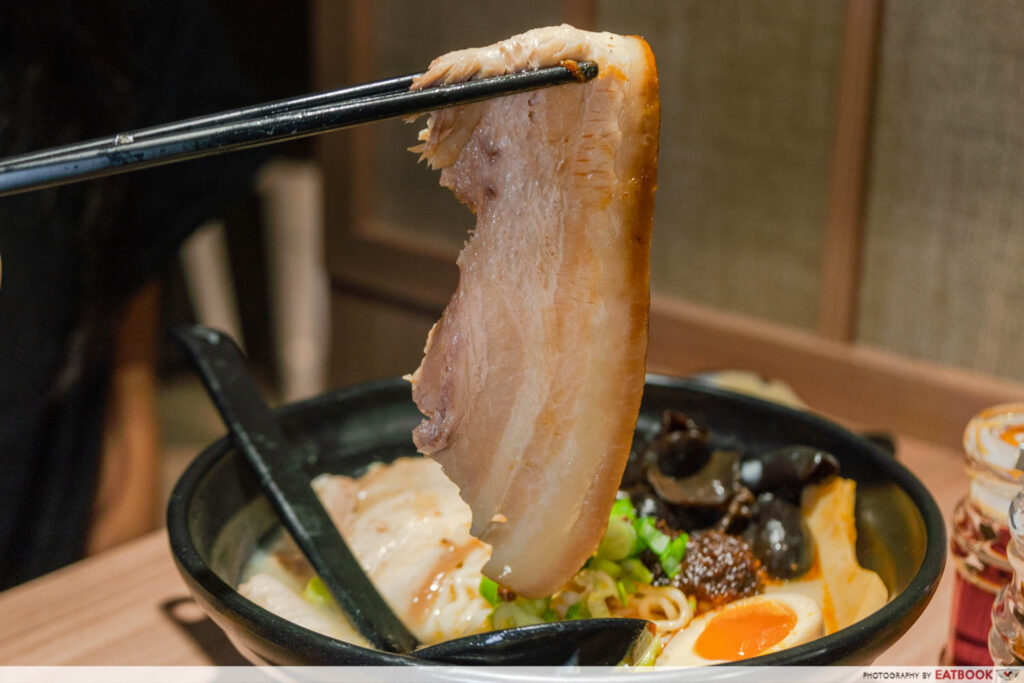 The pork belly is massive, and has a nice balance of fattiness and leanness. There's none of that gamey taste too, which is a big plus in my books.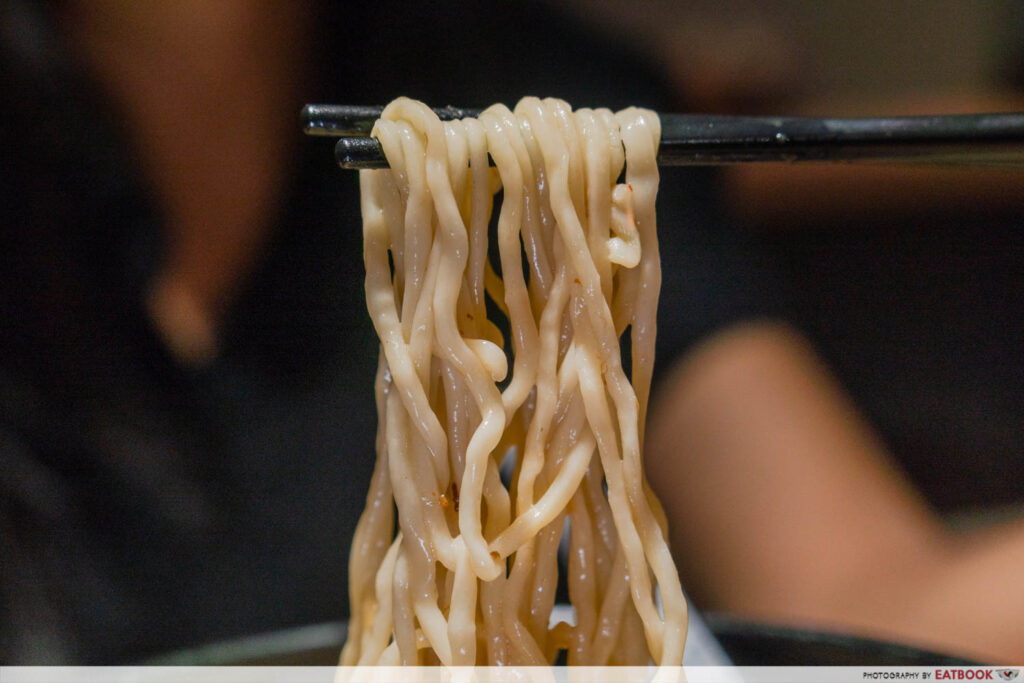 Their alkaline noodles were a little firm, and I would have preferred if they were slightly softer. We did inform the owner about this, so hopefully they will allow diners to adjust the firmness of their noodles in the future! 
All ramen dishes feature their tonkotsu broth that's prepared by simmering pork bones and fat for a minimum of six hours. The flavour is comforting and not too rich, so you can easily finish the entire bowl of soup.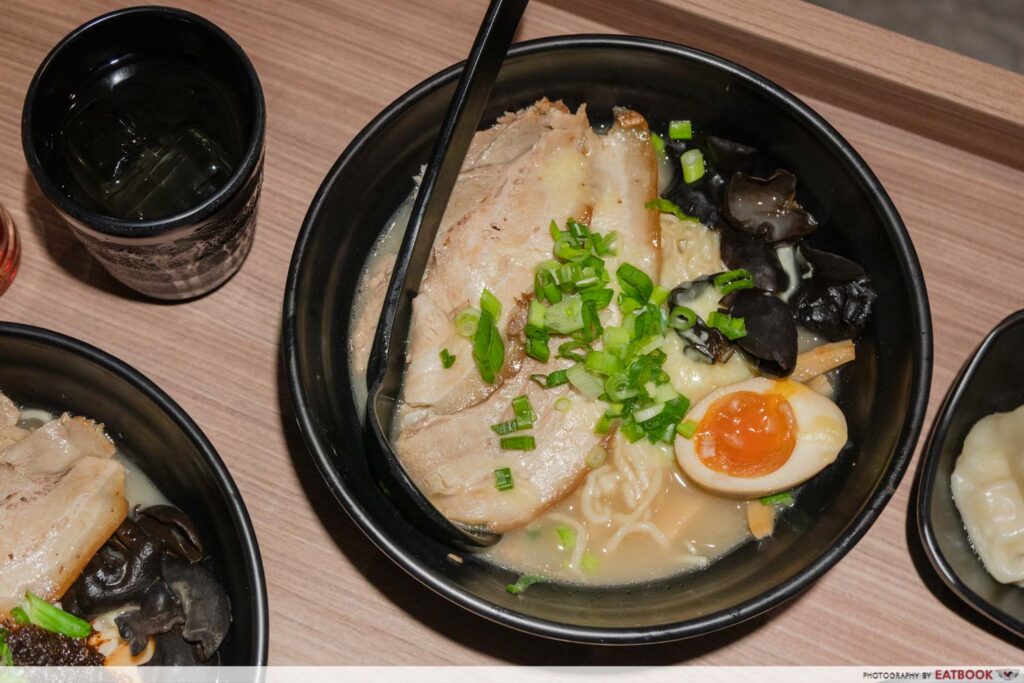 If you're a hardcore cheese fan, get their Signature Ramen with Cheese ($12). Topped with parmesan and cheddar, the broth has an added richness thanks to the cheese.
It also lends the noodles a creamier texture, making it smoother and easier to slurp up. Be warned, it can get quite jelak after a few mouthfuls.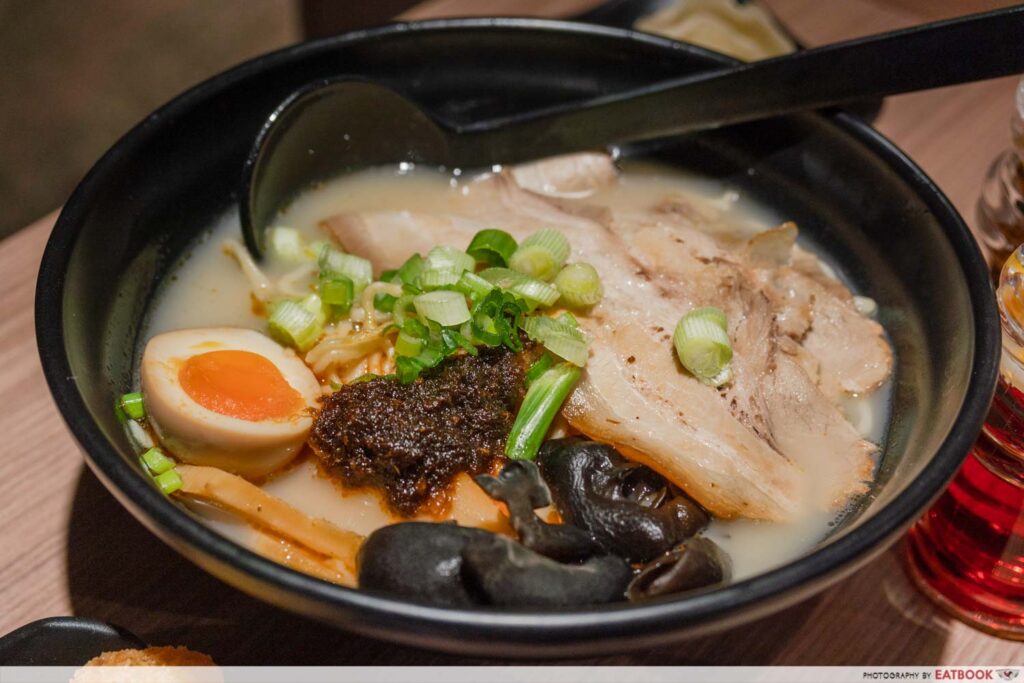 Their Spicy Ramen ($12) is different from those served in other Japanese restaurants. This is because their house-made blend adds hae bee to the mix, giving it a more localised flavour. As you mix the dollop of sambal into the warm broth, you will be greeted by a slightly pungent aroma.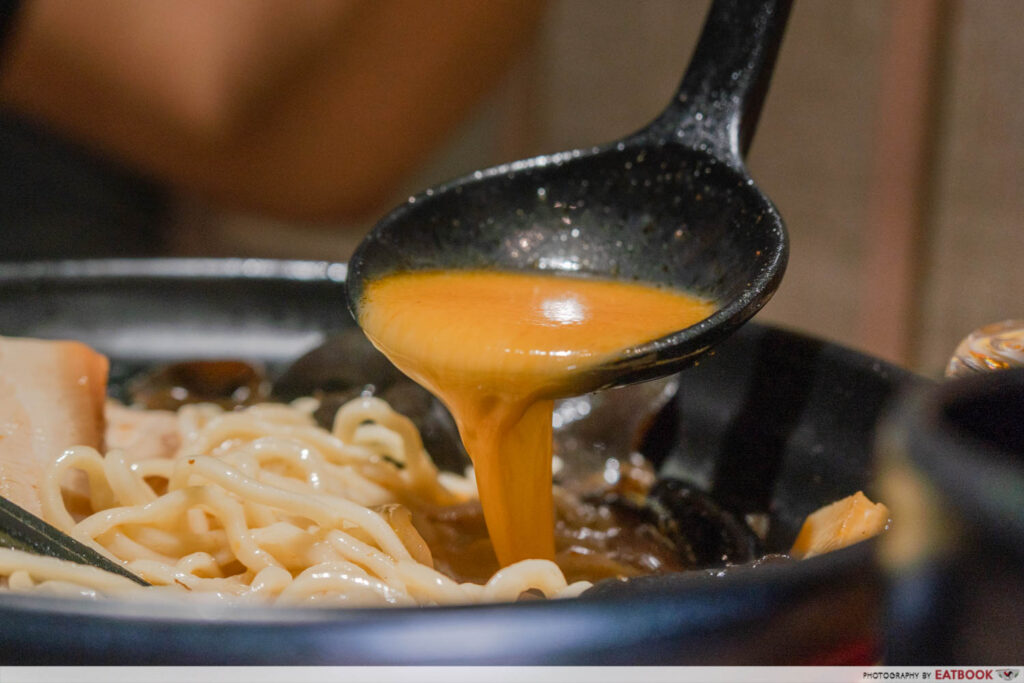 This pungency is injected into the broth, and you can taste the distinct umami tang from the dried shrimps. Drinking the soup brings forth a sharp kick of spice at the back of the throat, though it doesn't linger. In fact, I would say the spice level is rather mild, and even those who eat xiao la can enjoy this option.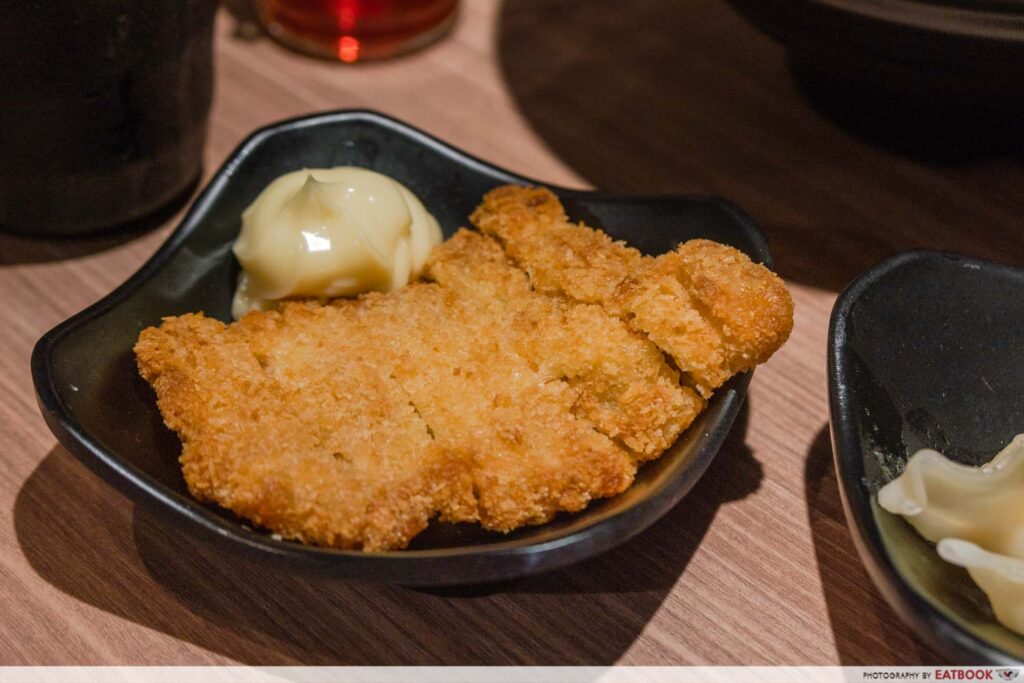 Portions are huge, but if you're a really, really big eater, I would recommend topping up $3 to get one side dish and a drink. Sides include chicken wings, chicken cutlet, smoked duck, and gyoza. 
They aren't anything to shout about, but I wouldn't say they are bad. The chicken cutlet managed to stay crispy despite being out for an hour, while the gyoza was filled with prawns, instead of just minced meat alone. 
Ambience at Gangsta Ramen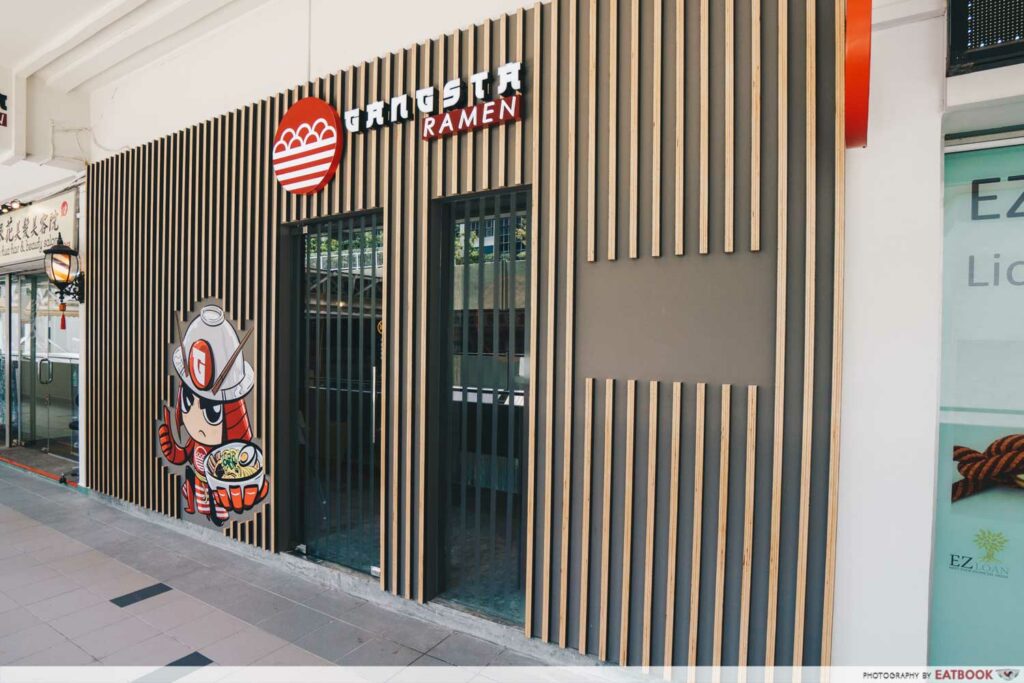 Located on the second floor of Tanjong Pagar Plaza, Gangsta Ramen will be tough to locate if you've never been in the area before. However, once you're up on the second floor, you can easily spot it from their wooden panel storefront that's marked by a cute painting of a samurai.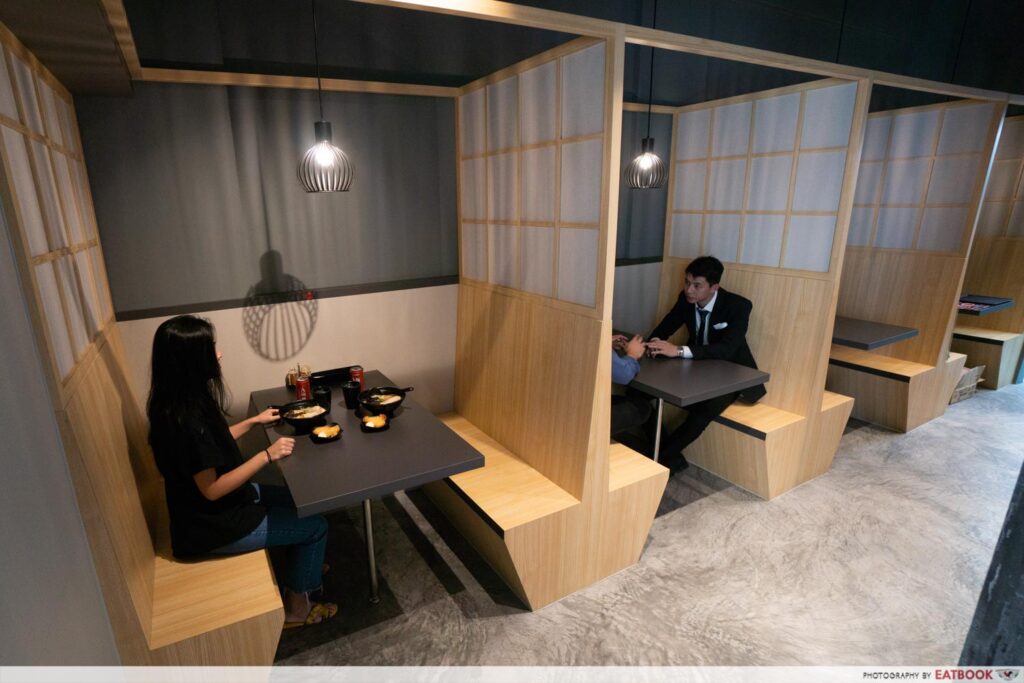 Aside from private ramen booths, there are also sharing tables if you prefer dining with friends. This makes the restaurant inclusive to both extroverts and introverts.
Do note that they don't have a credit card terminal set up yet, so you can only pay in cash for now!
The verdict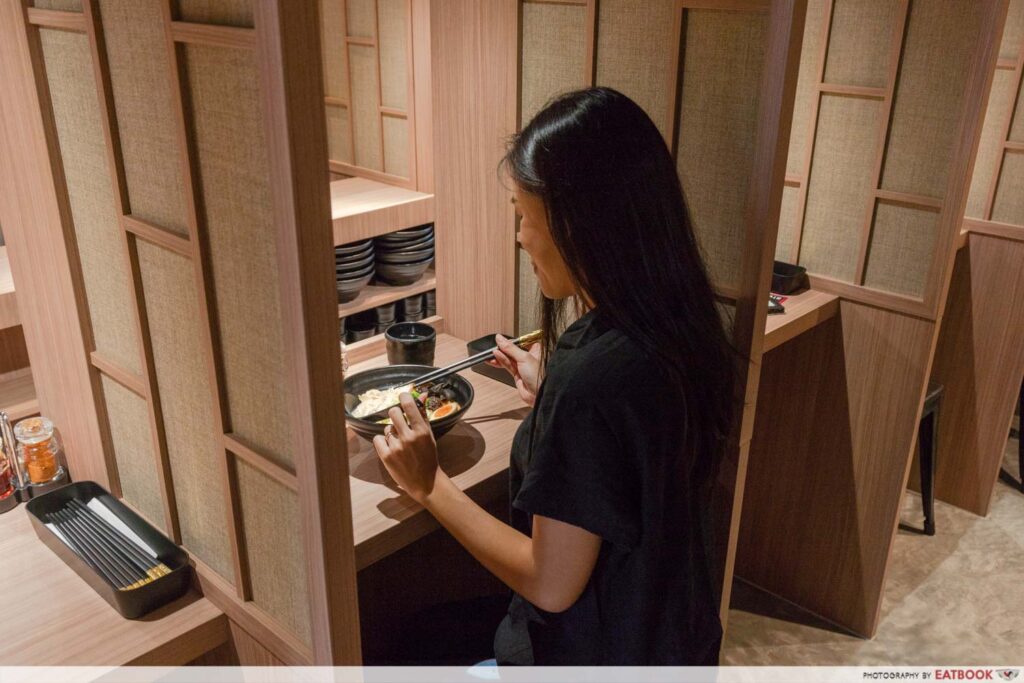 As an ISTP, I'm highly introverted. So lunching alone is truly a blessing for me, as it gives me time to recharge. Even though Gangsta Ramen is not the best ramen I've ever had, the opportunity to dine in pure isolation is amazing.
As we went during their soft launch, there were still some teething issues. However, the crew is very keen on improving themselves and were asking for feedback from every customer who came in. As such, we can only expect better things to come from Gangsta Ramen. 
For more good eats around the area, check out Lobster & Ice-Cream V2.0!
Address: 1 Tanjong Pagar Plaza, #02-10, Singapore 082001
Opening hours: Mon-Fri 11:30am to 8:30pm, Sat 11:30am to 2:30pm
Website
Gangsta Ramen Review: Singapore's First Private Ramen Booth Restaurant At Tanjong Pagar
Summary
Pros
– Private ramen booth
– Affordable prices
– Big portions
Cons
– Can only pay in cash
Recommended dish: Original Ramen ($10)
Opening hours: Mon-Fri 11:30am to 8:30pm, Sat 11:30am to 2:30pm
Address: 1 Tanjong Pagar Plaza, #02-10, Singapore 082001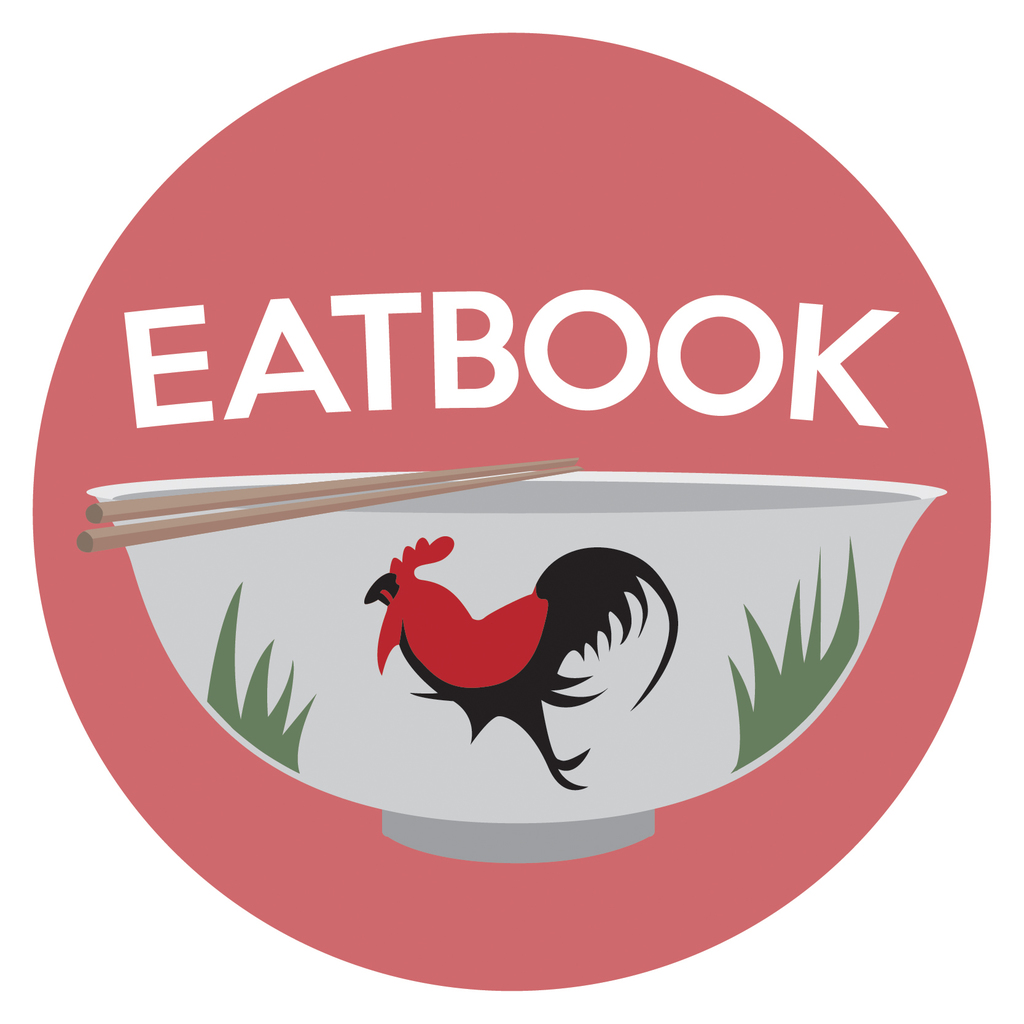 Drop us your email so you won't miss the latest news.