---
Geylang Serai Ramadan Bazaar 2019
---
The Geylang Serai Ramadan Bazaar is back from now till 5 June 2019. As someone who's been there on opening day almost every year, I feel like this year's rendition gives cause for celebration. After all, it's the first time in a long time that every food stall is 100% halal-certified or Muslim-owned.
Traditionalists will also be glad to know that 60% of the stalls serve traditional Malay food. 'Gram chasers, fret not as you'll find plenty of #aesthetic food abound. If you want the best of both worlds, check out this list for the likes of ma la beef cubes, lobster rolls and Oreo you tiao.
---
1. BURP Live Station Catering
---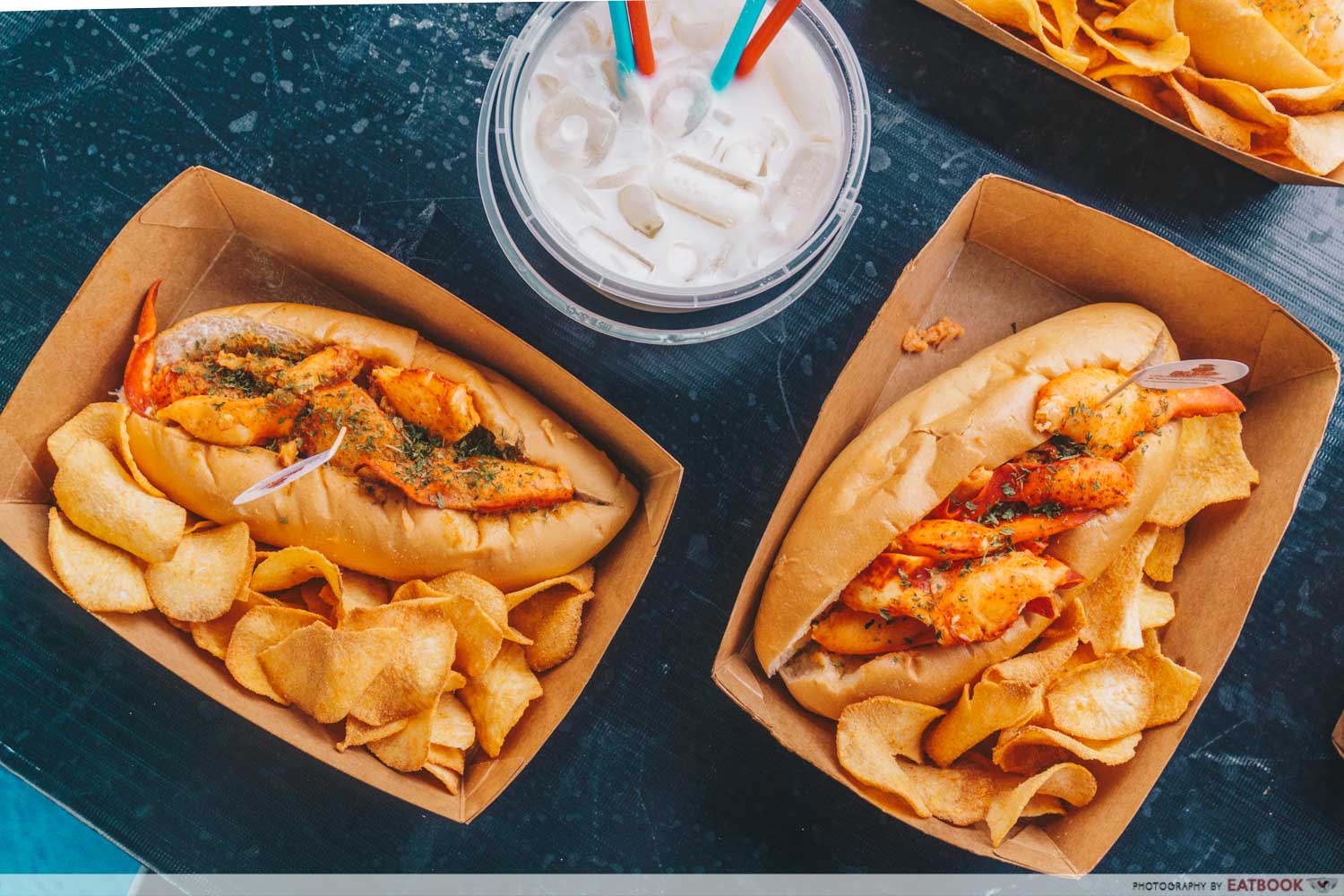 BURP Live Station Catering made waves even before the bazaar started, thanks to the news of their London Lobster Rolls (from $12). The rolls contain copious chunks of succulent lobster meat cooked in lemon butter sauce, and are served with cassava chips. To maximise the indulgence, cap off your meal with their White Rabbit Drink Bucket ($8) that's uber rich and creamy.
Stall number: WGS G359
---
2. Fooditude
---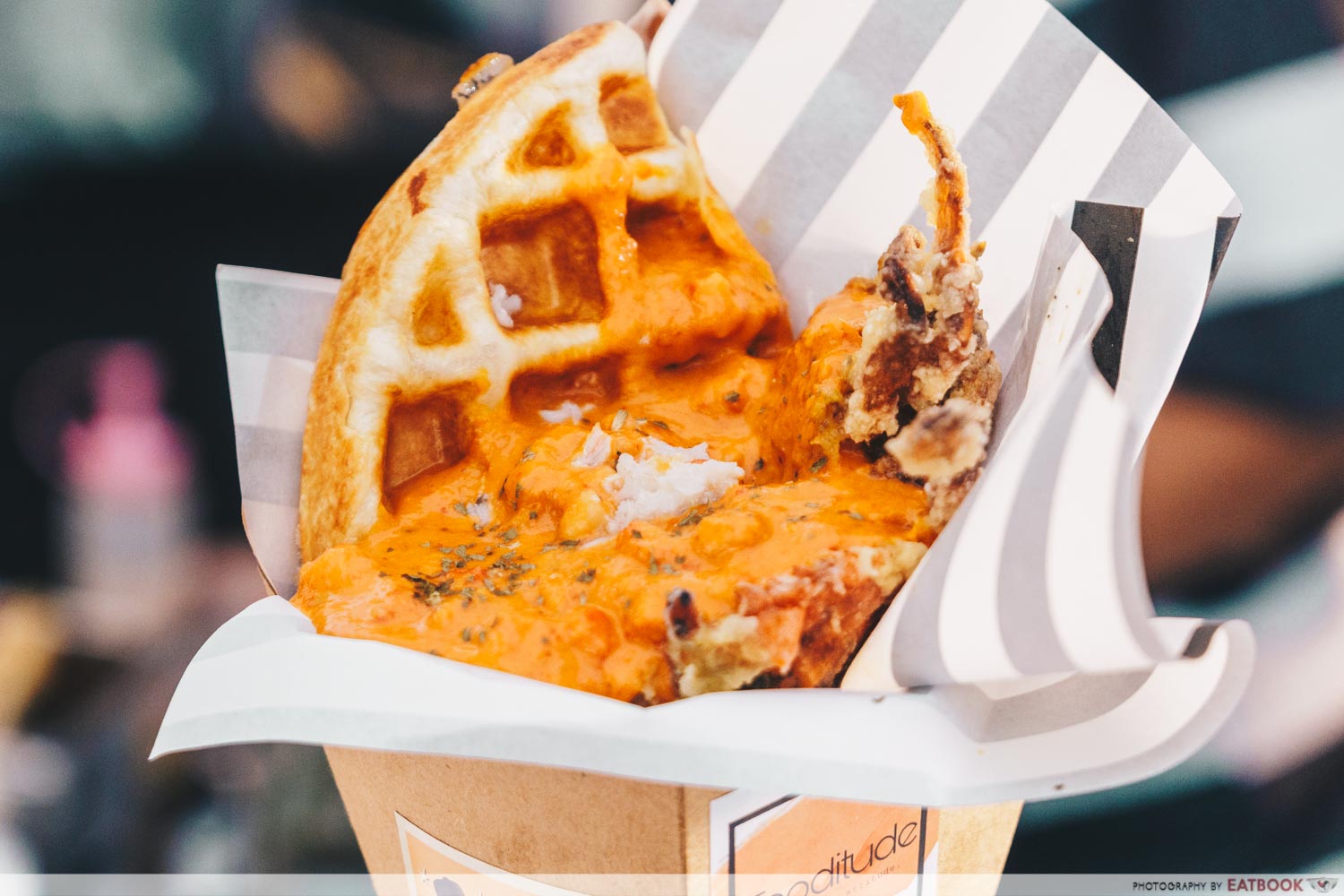 The love child of prata and waffles, Fooditude's Praffles is set to be the doughmakers of this year's bazaar. Just like its parents, the snack can be enjoyed in both sweet and savoury forms. The Truffle Cheese Praffles ($10.90) will delight cheese pull lovers with its dense mozzarella filling and pool of truffle cheese sauce. For those on Team Sweet Tooth, the Rainbow Praffles ($8.90) will strike your fancy with its mix of rainbow ice-cream, fairy floss and Rice Krispies.
If you're feelin' ballin', spring for the Chilli Crab Praffles ($15.90) that's served with delectable soft shell crab, crab meat and chilli crab sauce.
Stall number: WGS G342
---
3. Beef Bro
---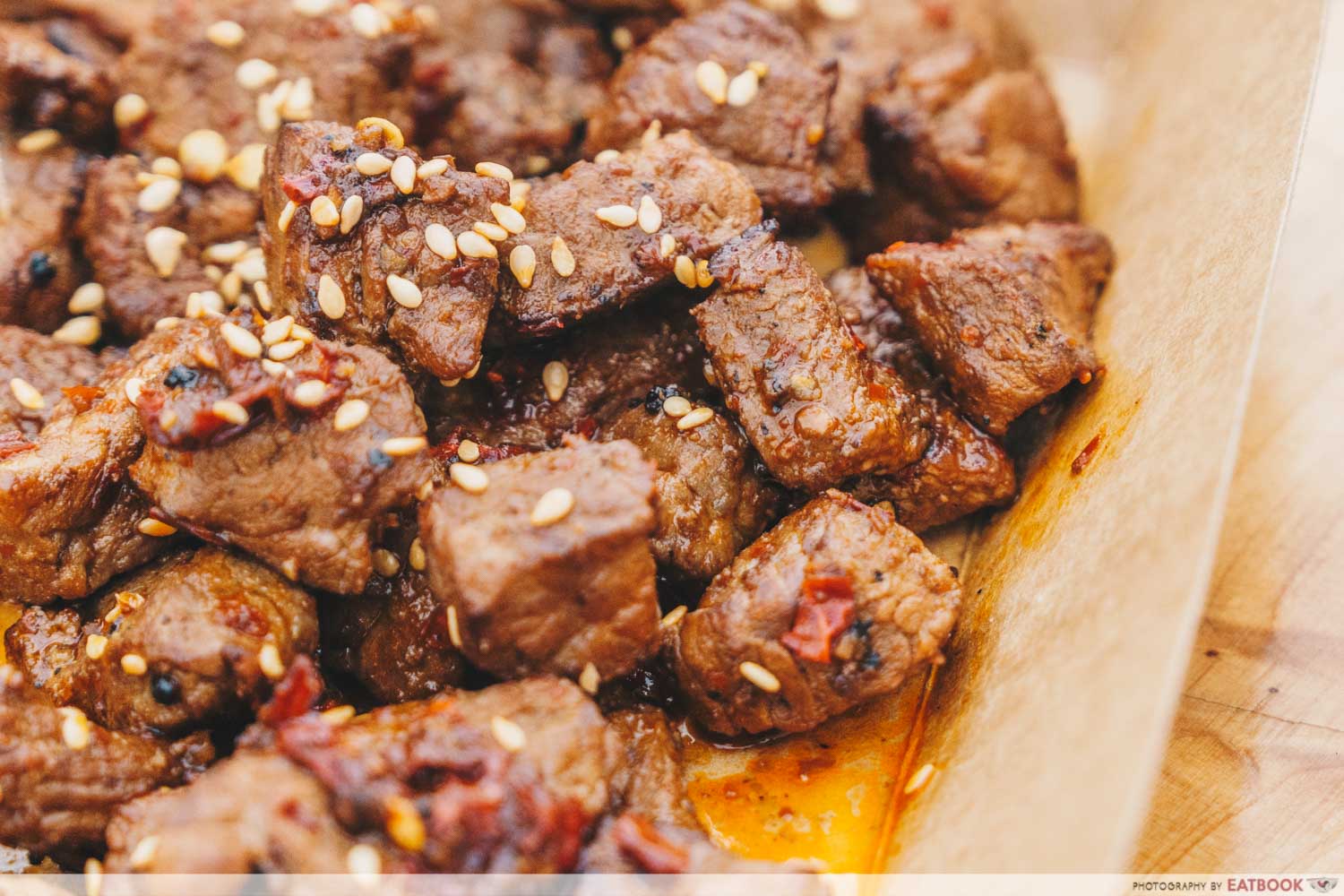 By now, Beef Bro has solidified themselves as the go-to place for halal beef cubes. If you've yet to try these morsels of delight, now's a good time to start with their new Mala Beef Cubes ($14.90). Stir-fried in a wok, the cubes are then mixed with peppercorn, giving them a numbing mouthfeel.
Stall number: WGS G306
Beef Bro Review: Halal Flame-Grilled Beef Cubes With Mentaiko And Cheese At Tampines
---
4. Masakan Shaik Sabri
---
At just $6.90, Masakan Shaik Sabri's Briyani Dam Set was by far the most value-for-money item during our visit. The set comprises a box of fragrant mutton biryani, a bowl of porridge and two pieces of muffin. The mutton was so big that it took up half the box!
So if you and bae are looking for a traditional and filling meal to fuel up on, head here during your visit!
Stall number: WGS G287
---
5. The Mala Stop
---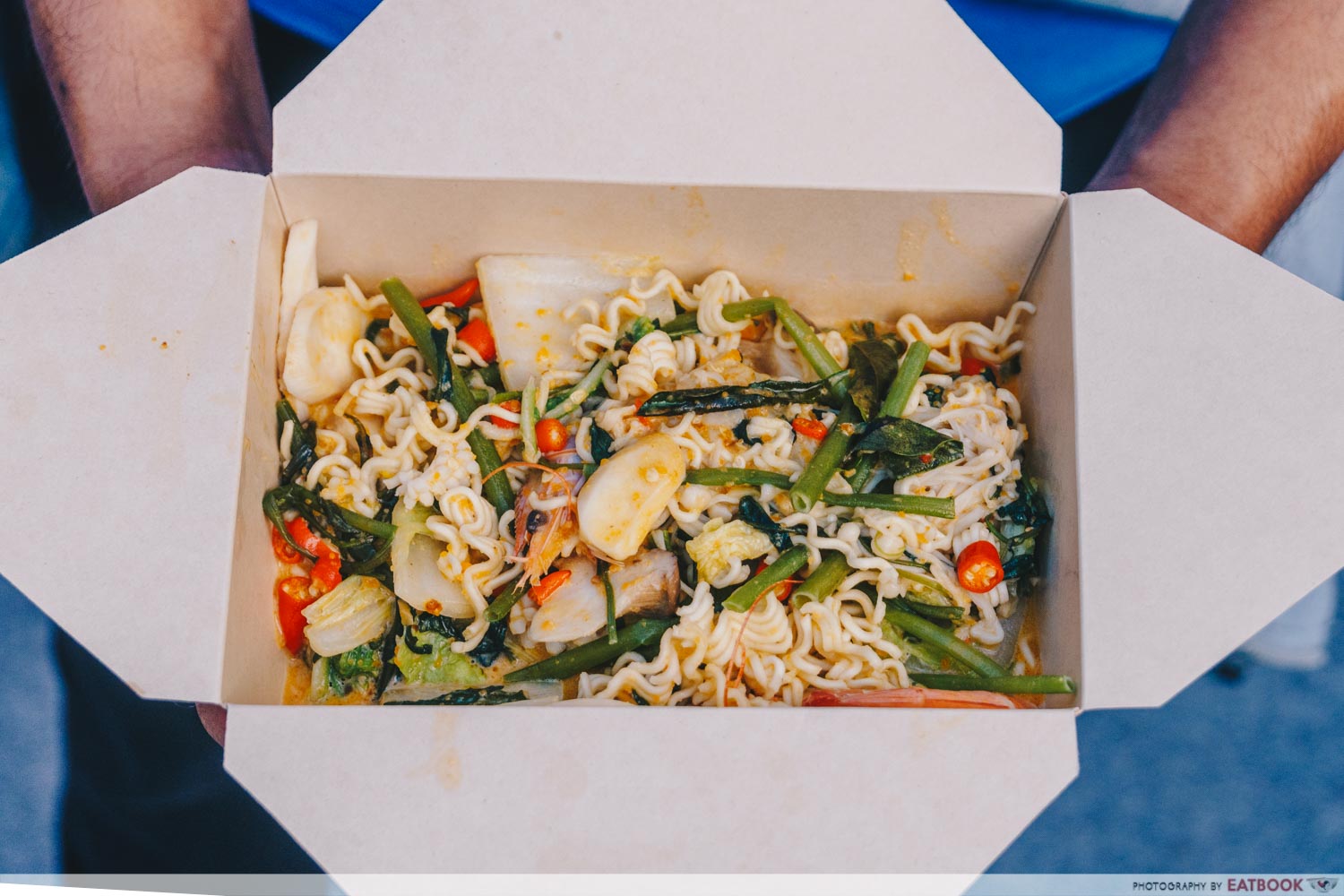 The Mala Stop has managed to combine two of Singaporeans' greatest loves – salted egg yolk and ma la – into one hearty dish. The See-food Mala in Salted Egg ($14.90) is laden with juicy prawns and glorious SEY. If you're looking for something heavy to break your fast with, this is the dish to get.
Stall number: GSB 038
---
6. Alley
---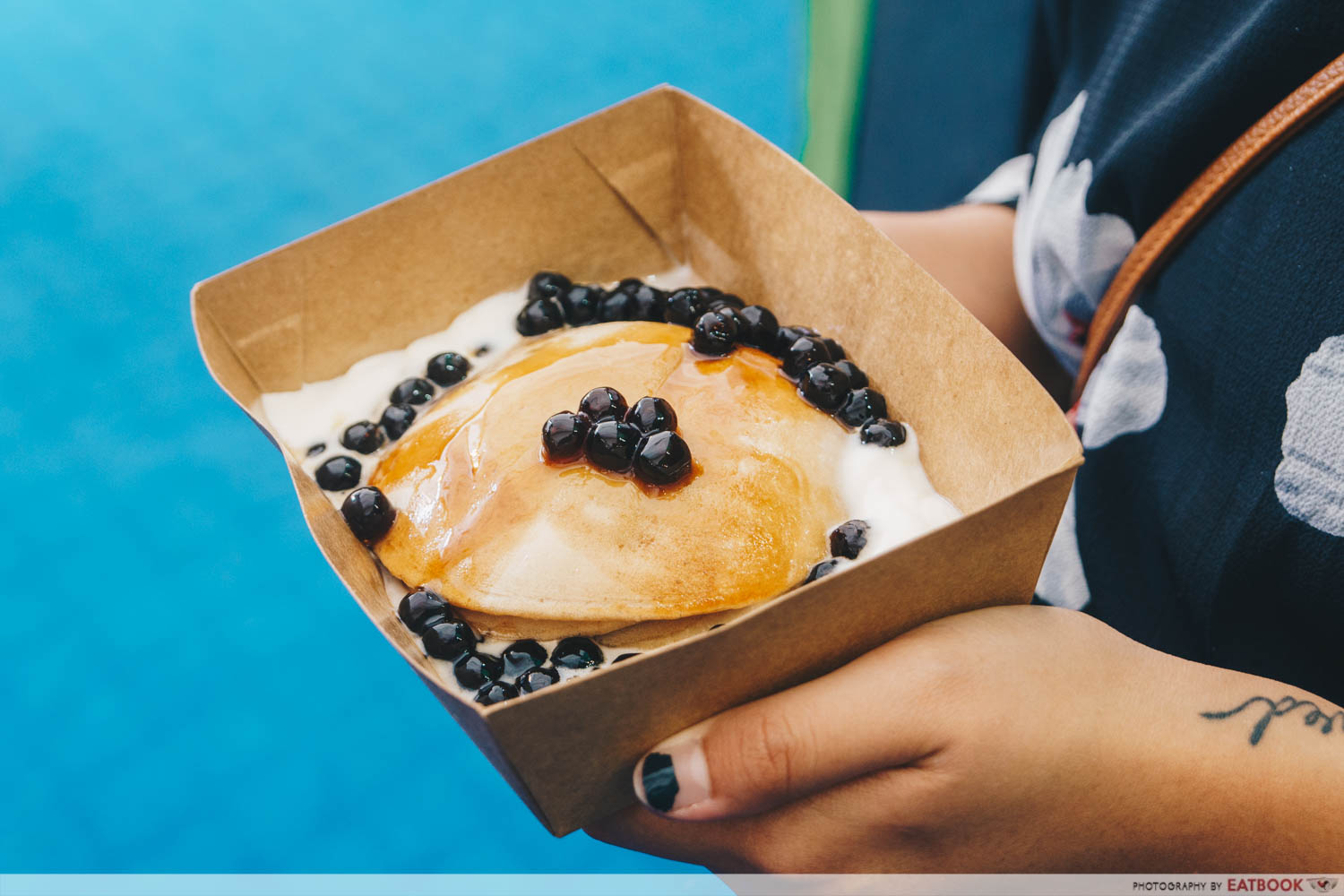 Not to be mistaken for Taiwanese bubble tea brand The Alley, the homegrown Alley has streamlined their menu to feature exclusively boba tea and we're digging it. This is especially considering how it's given us the drool-inducing Boba Pancake Stack ($9.90). It consists of three tea-infused pancakes that are drenched in whipped cream and then drowned in a sea of brown sugar boba. The pearls are made fresh daily and you can tell by how warm and chewy they are.
Stall number: WGS G360
---
7. Rainbow Works
---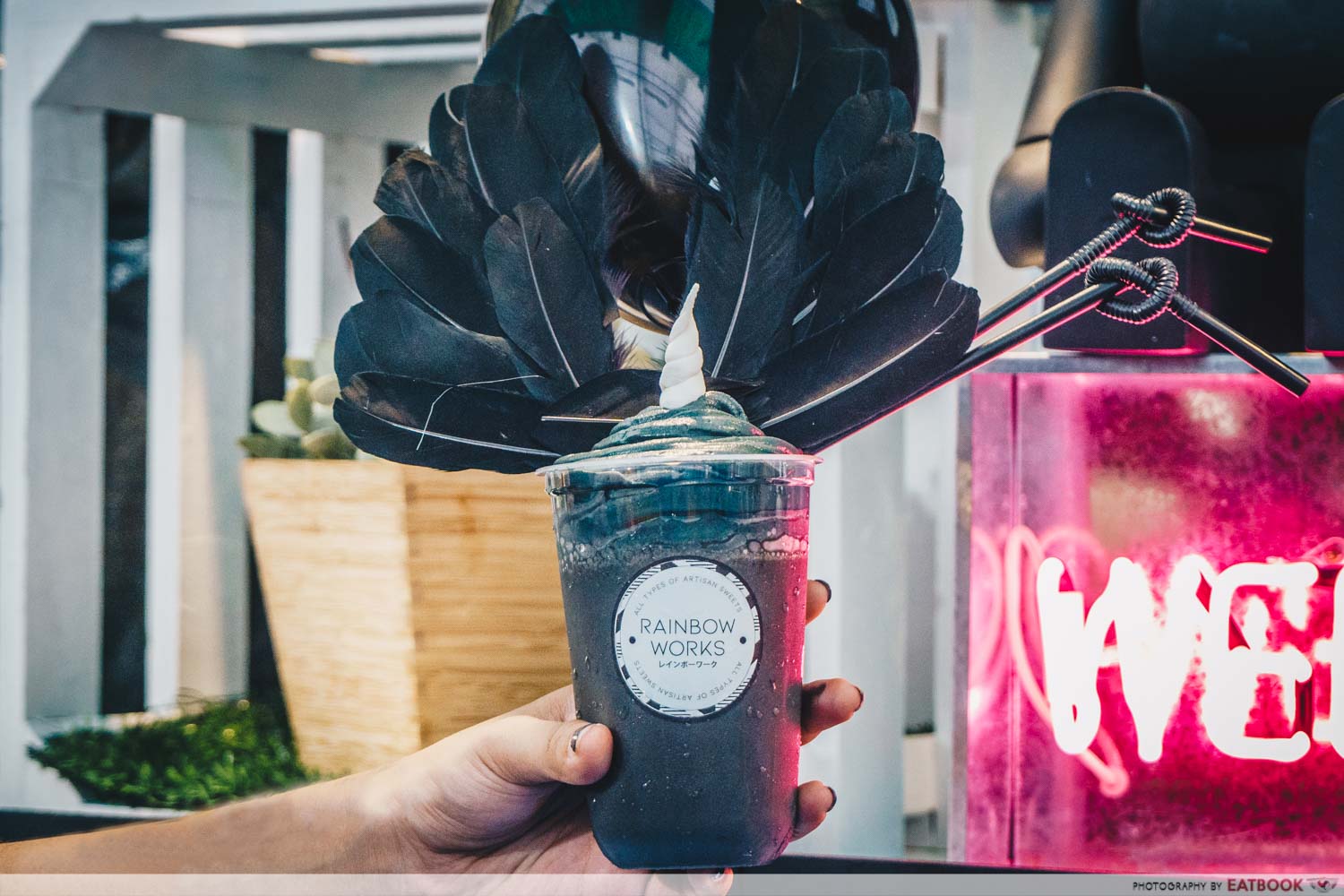 No bazaar is complete without an ostentatious drink and this year, Rainbow Works has taken the crown with their Black Swan-esque concoction, Skydancer ($9.90). Looking like a member of the Black Parade, the dessert is actually a Milo milkshake that's blended with chocolate and black colouring. It's then decorated with two black wings and a black balloon for that dramatic #monochrome effect.
Stall number: WGS G343
---
8. Lobster Bro
---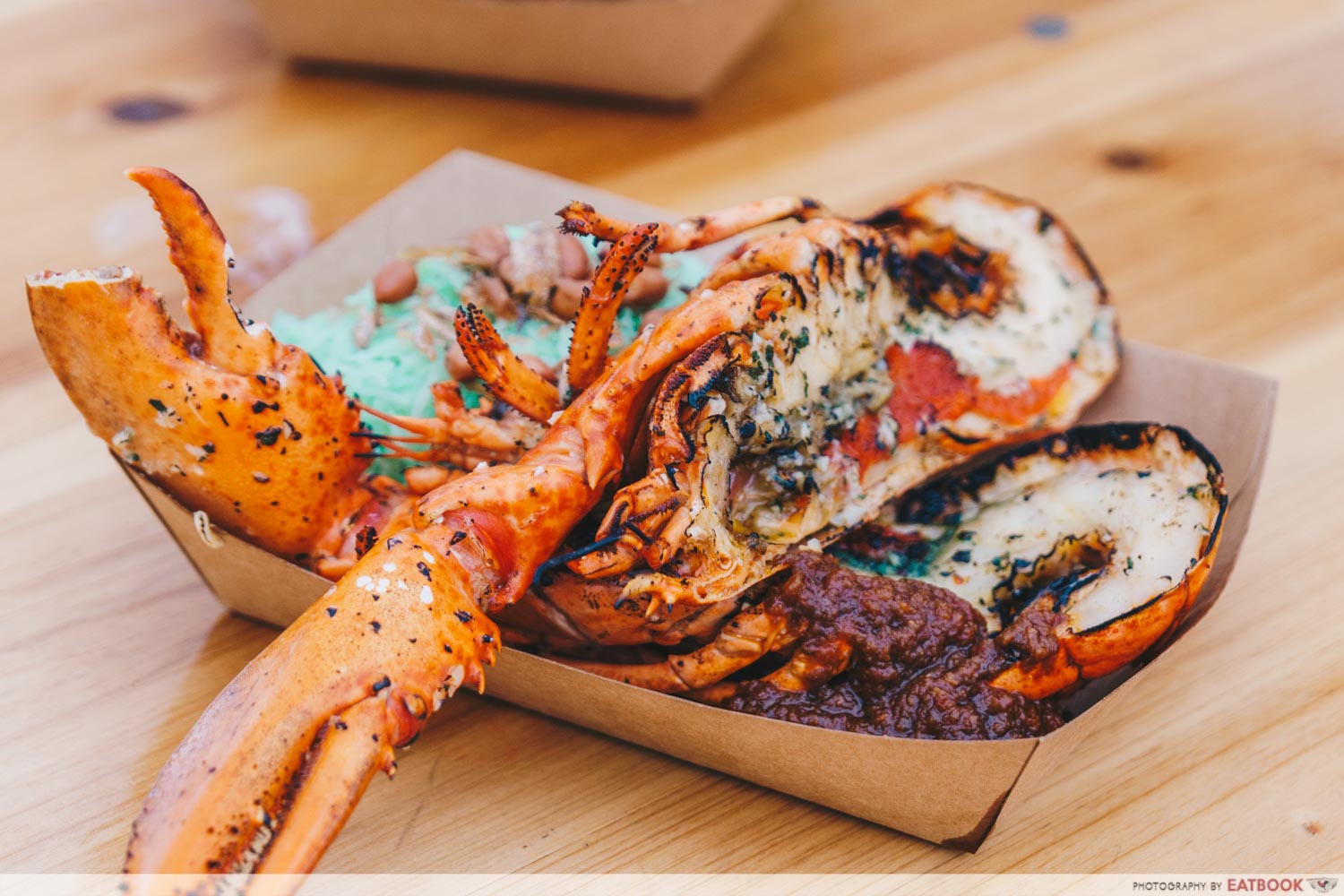 Located right next to Beef Bro, Lobster Bro is the place to be if you wanna flex your cash. With most of its items starting at the $20 range, it'll def' take up a huge part of your bazaar budget. That being said, we absolutely loved their Lobster Nasi Lemak ($22.90) that comes with a humongous and juicy lobster, and piquant sambal. The portion is pretty big so you can definitely steng it with a friend and share the cost.
Stall number: WGS G306
---
9. Chix Monster
---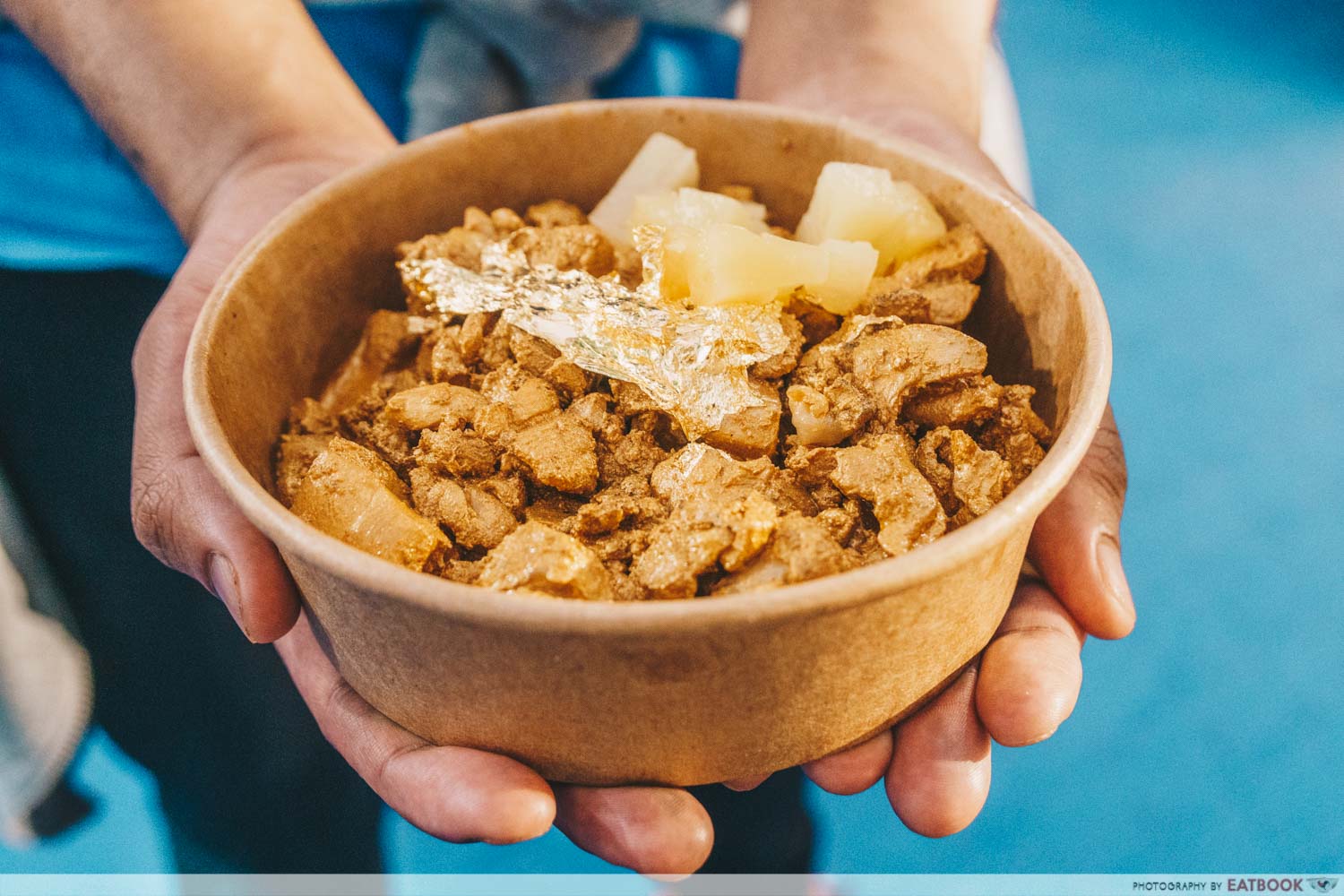 24 karat magic is in the air at Chix Monster, thanks to their Signature New York City 24K Gold Chicken ($19.90). Many steps are required to achieve the beautiful sheen you see including repeatedly blowtorching and grilling the chicken cubes. An edible gold sheet is then placed onto the dish where it'll melt instantly, giving off that luxe vibes. Other atas items you can get here include their Signature Caviar Chicken ($18.90) and Signature Truffle Chicken (from $14.90).
Stall number: WGS G348
---
10. Char Koi
---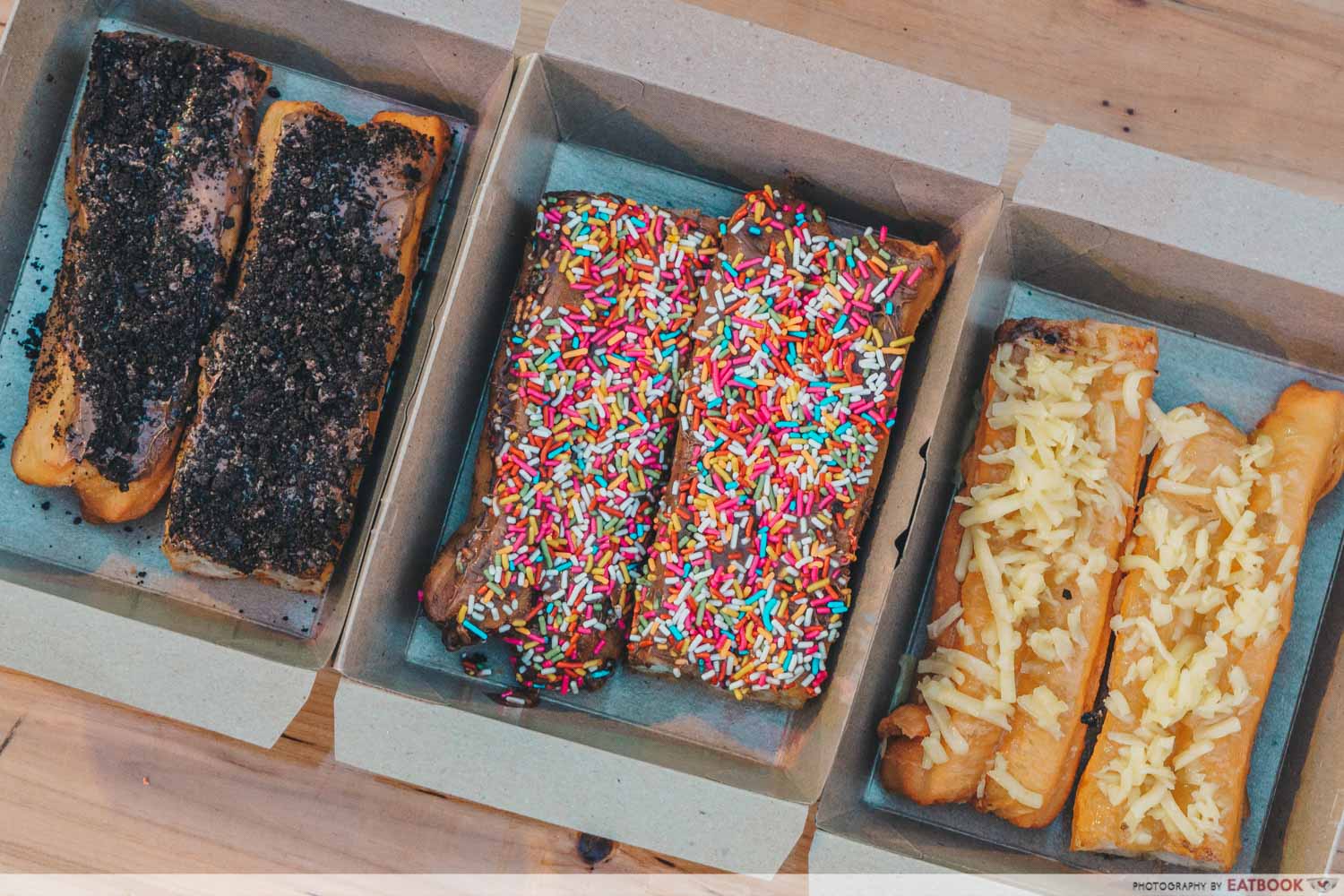 Located away from the bustling crowds, Char Koi serves fusion you tiao in both savoury and sweet variations. We got a Premium Set ($10 for three boxes), which comprises sweet flavours such as Peanut Oreo, Milk Cheese and Rainbow Nutella. Texture-wise, the you tiao had the right balance of crispiness and fluffiness. Out of the three, we recommend getting the Peanut Oreo thanks to the generous coating of Oreo powder.
Stall number: WGS G294
---
11. Shang Thè
---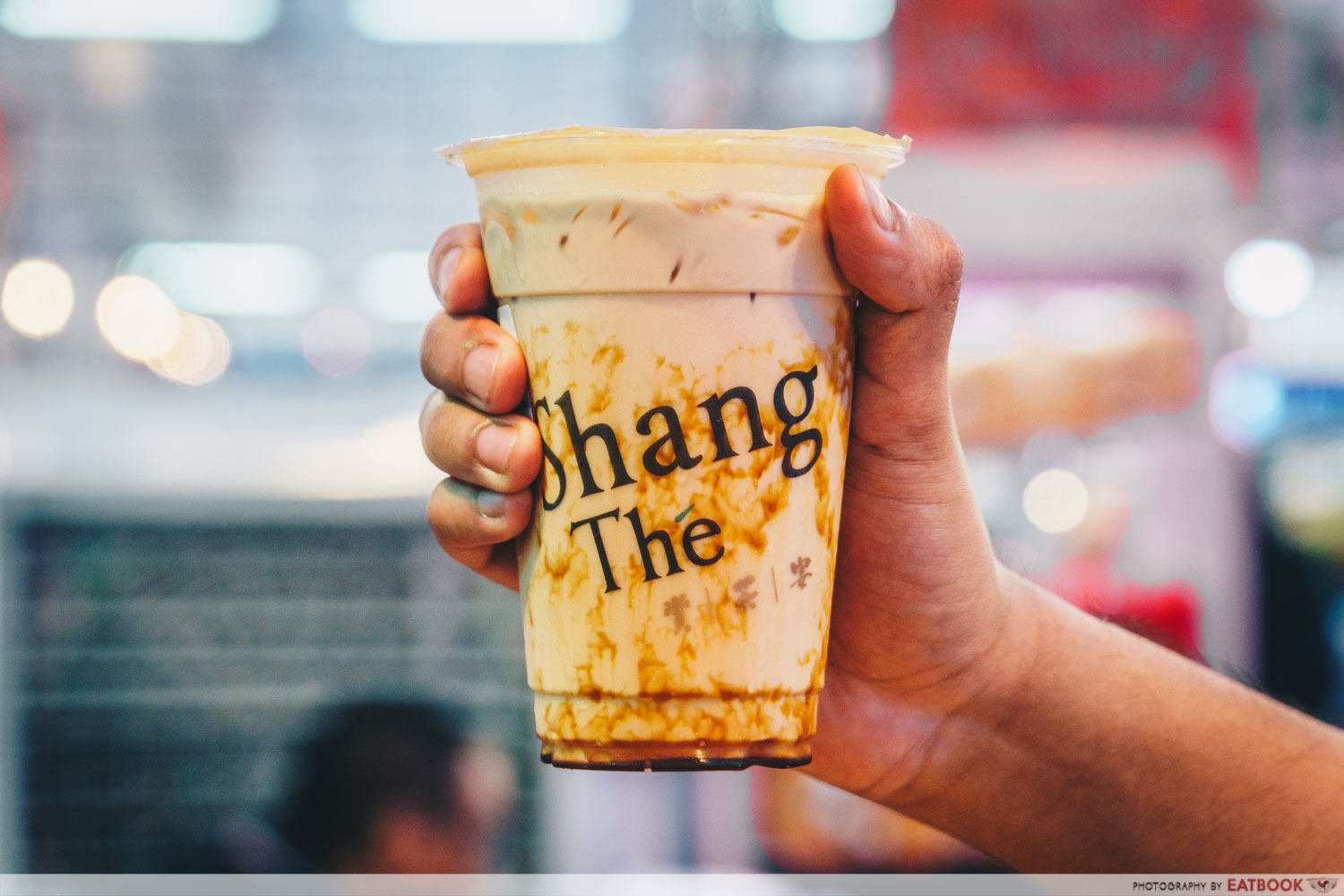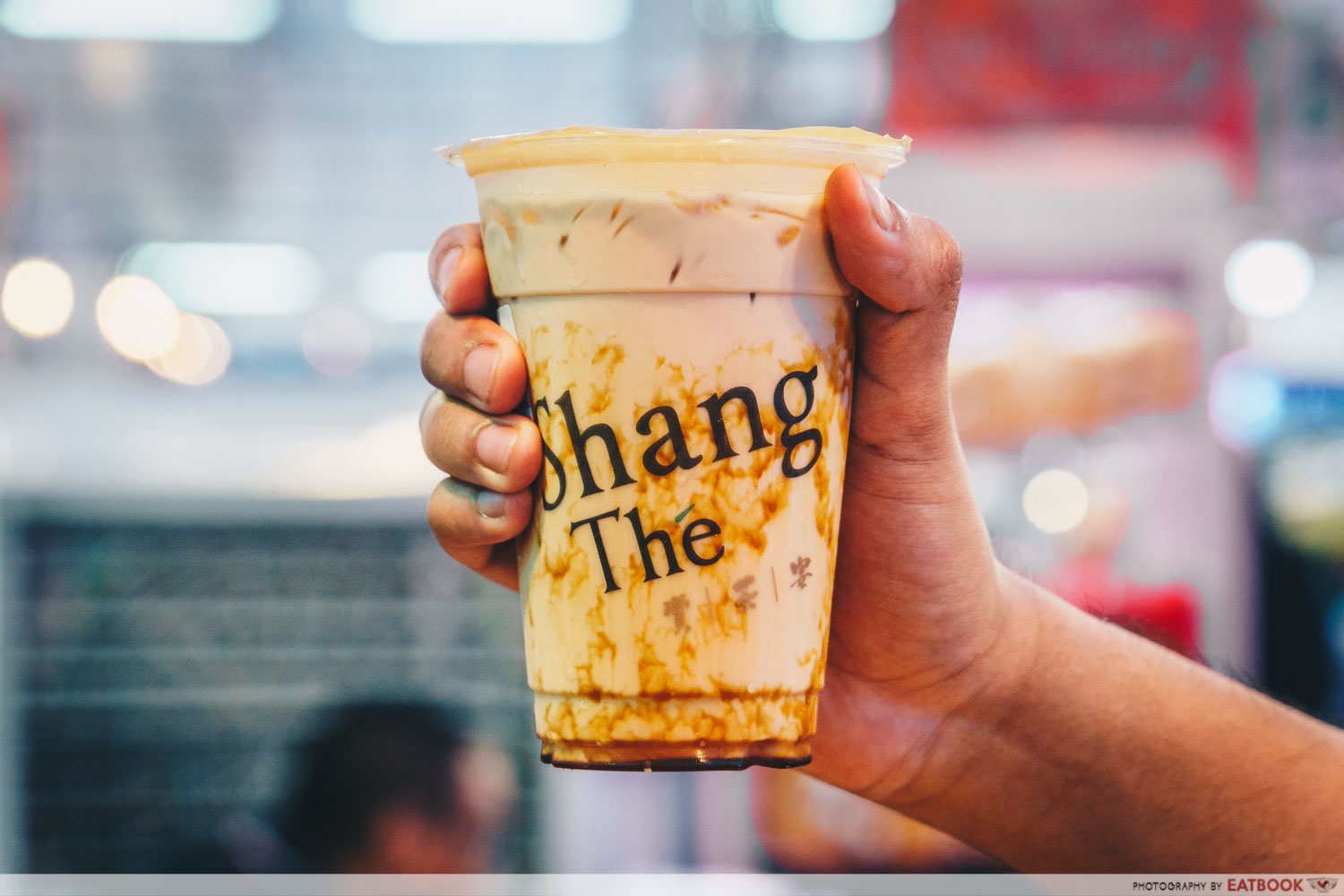 In a sea of pricey drink stalls, Shang Thè stands out with ridiculously cheap BBT. We're talking prices that can't even be found in standard bubble tea stalls. We got their Black Sugar Milk Tea at just $3! And that's not even their cheapest item. Their regular Milk Tea costs just $2.50 with additional toppings going at $0.50. So if you're gunning for a BBT fix without breaking the bank, this is the place to be!
Stall number: WGS G297
---
Food at Geylang Serai Ramadan Bazaar 2019
---
From evergreen Ramly burgers to elaborate black milkshakes, this year's Geylang Serai Ramadan Bazaar has something for every eater. Besides food, the event will also have special deals on baju kurung, kueh and even furniture! So make a date here from now till 5 June 2019 to soak in the festivities.
Photos taken by Leong Kit Shan.