Gourmetz Catering has Asian-fusion Christmas menus with bespoke decor
Christmas is upon us, which means plenty of occasions for feasting. Festive food can get quite routine, though, so if you're playing host, spice things up a little by turning to halal-certified Gourmetz Catering's fusion menus to make your Christmas meals one to remember.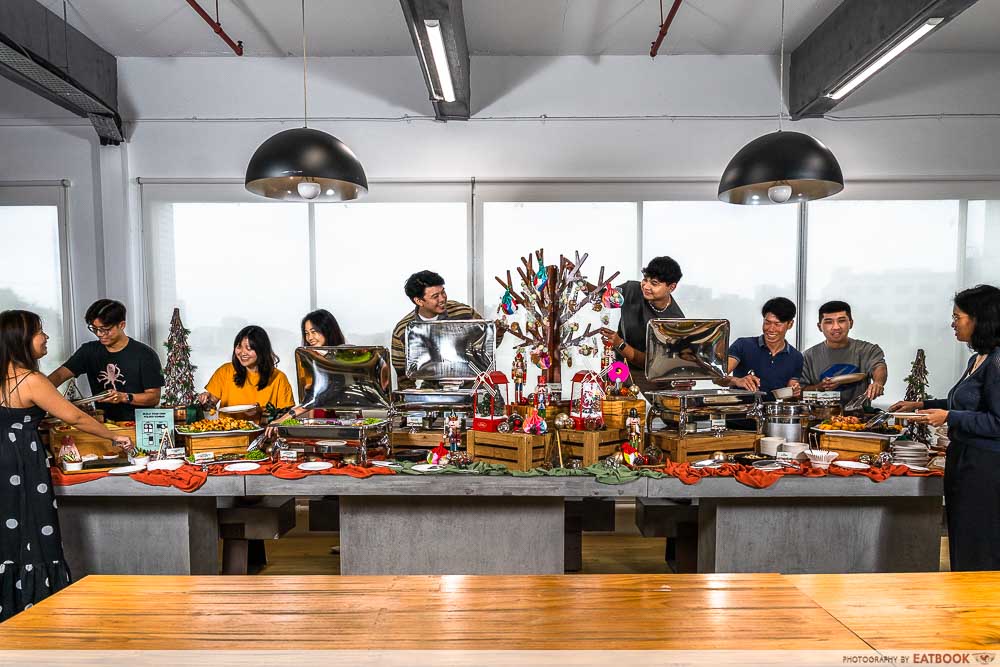 The catering company has recently launched this Claus for Celebration menu, priced at $38.90++ per person, with a minimum order for 30 people. The halal 11-course menu has Asian-inspired yuletide dishes, as well as a couple of distinctly Korean bites, bringing variety to the usual offerings of turkey and ham.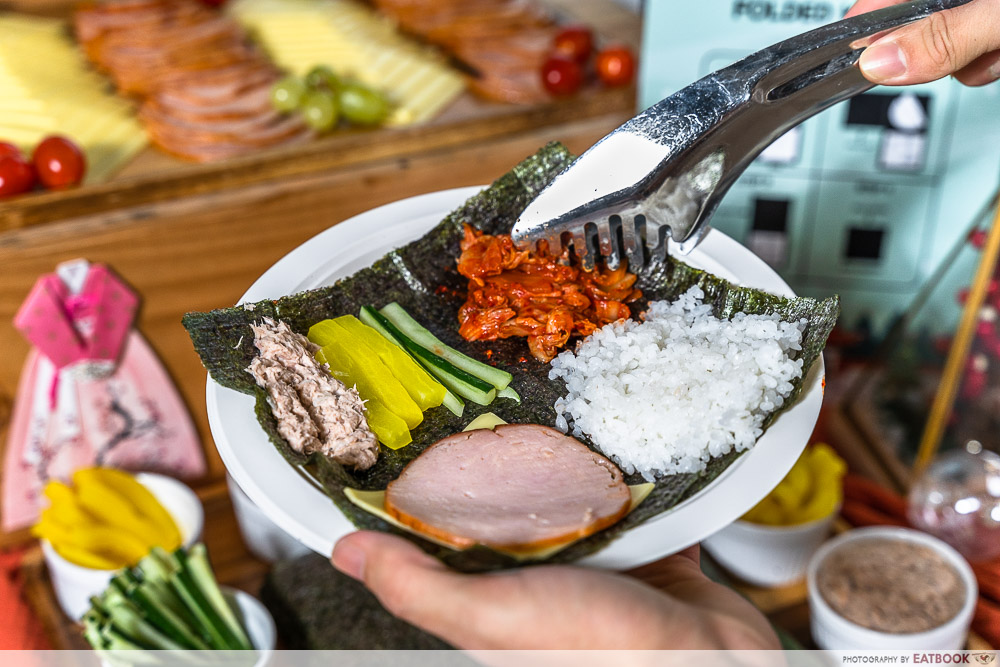 The meal starts off in an interactive fashion, with a DIY Sandwich Kimbap station where you can build your own folded kimbap, a la the TikTok food trend.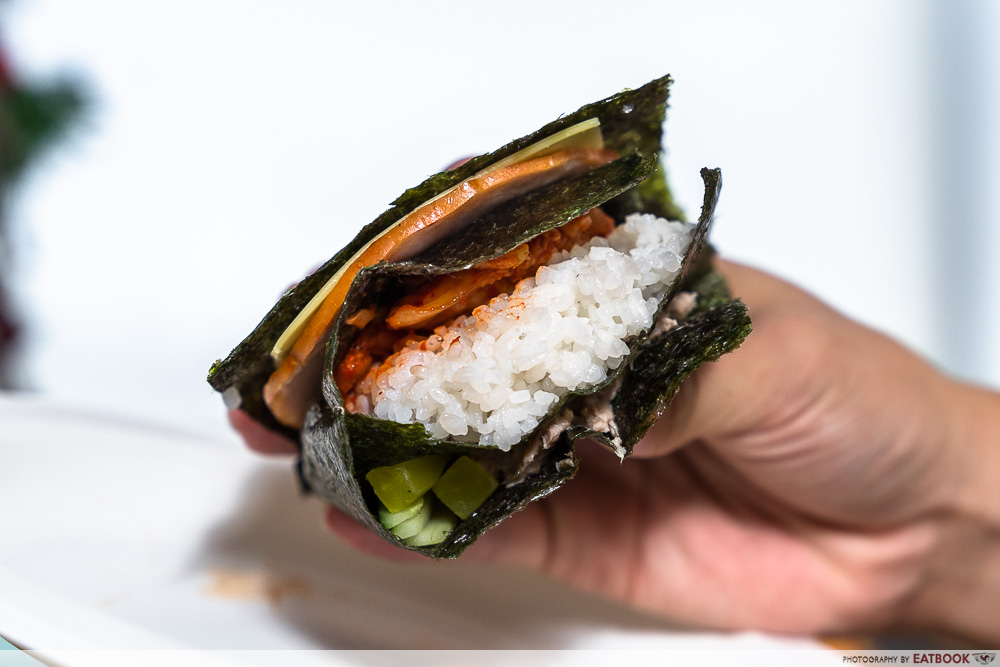 Diners can mix and match their kimbap with ingredients such as home-style kimchi, Korean rice, sliced ham, tuna mayo, cheese, and pickled yellow radish. If you've never made a sandwich kimbap before, don't sweat it, as Gourmetz Catering will provide a handy placard with all the instructions your diners require, placed at the station.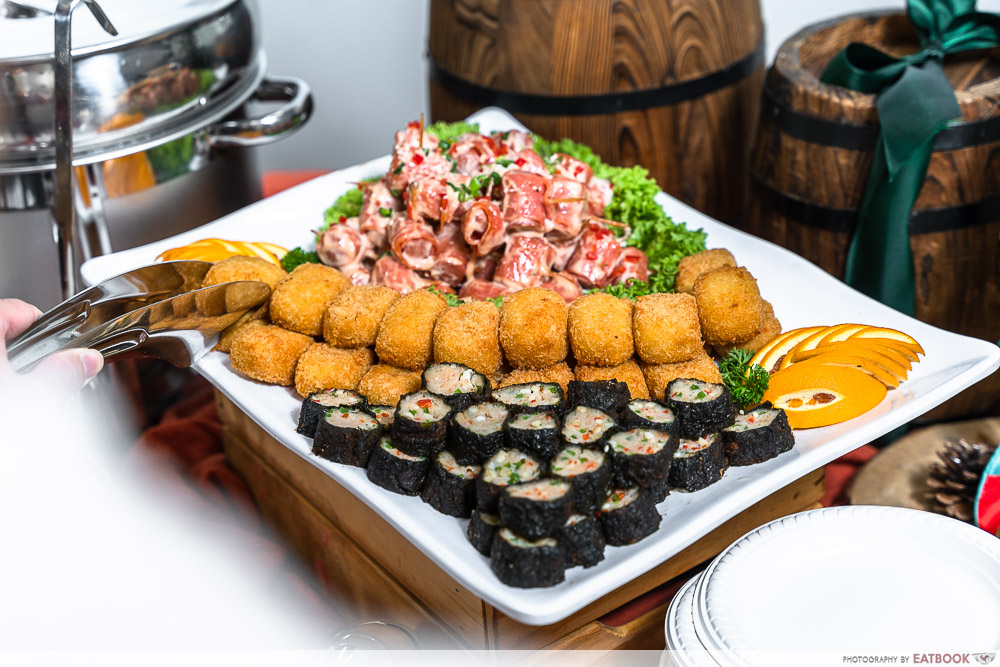 For entrées, the menu features Santa's Daebak Platter, with small bites. 
The Crispy Potato Pillow is a fried croquette packed with holiday stuffing for a flavourful surprise in every bite.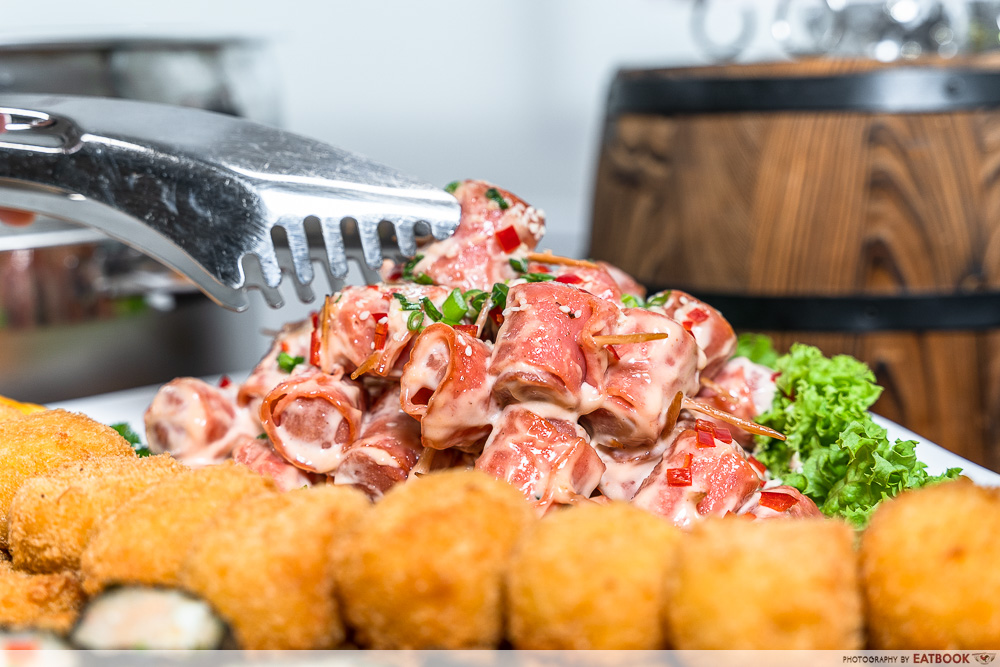 Nibble on the Mini Bangers, a riff on the classic British bangers and mash, where sausages are wrapped with country ham and dressed in a sauce. 
Finally, tuck into the Seafood Roulade, where a seafood paste roll is wrapped with crispy seaweed.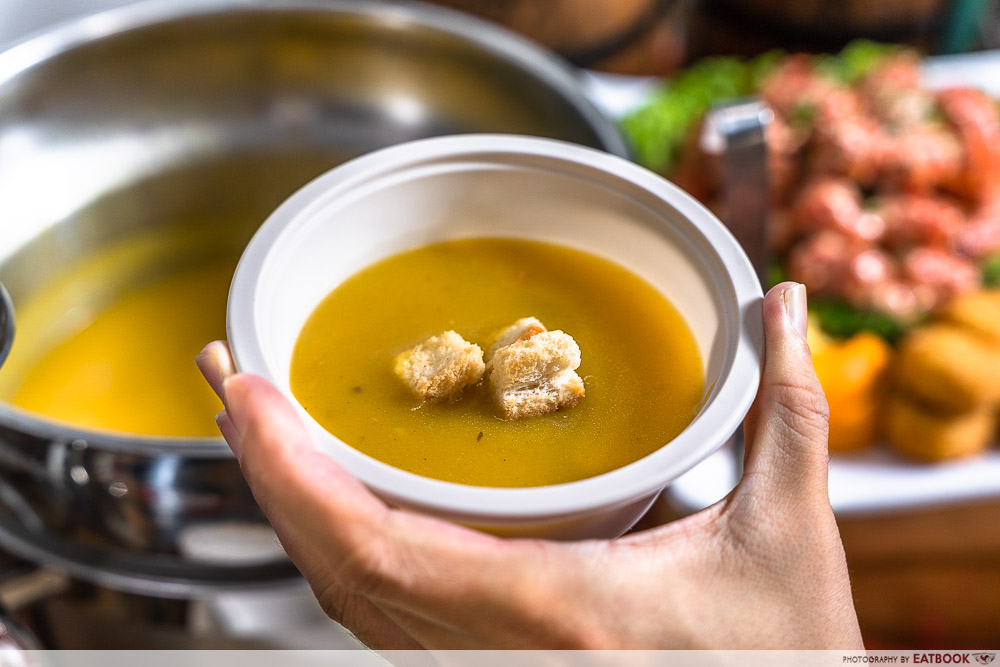 No catered buffet is complete without soup, and Gourmetz's Winter Pumpkin Soup with Croutons is a sweet, comforting medley that's right on theme.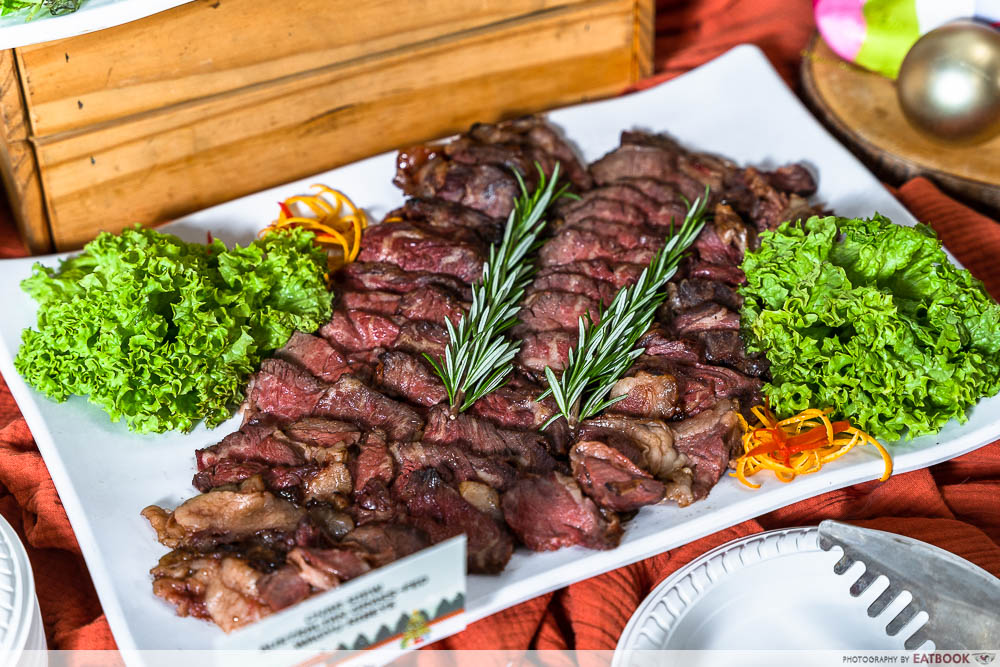 For mains, diners get to feast their way through four dishes. The main attraction is the Char Siew Australian Grass-Fed Wagyu Ribeye, where premium, fatty marbled beef is glazed with a smoky-sweet char siew marinade, and then slow-roasted.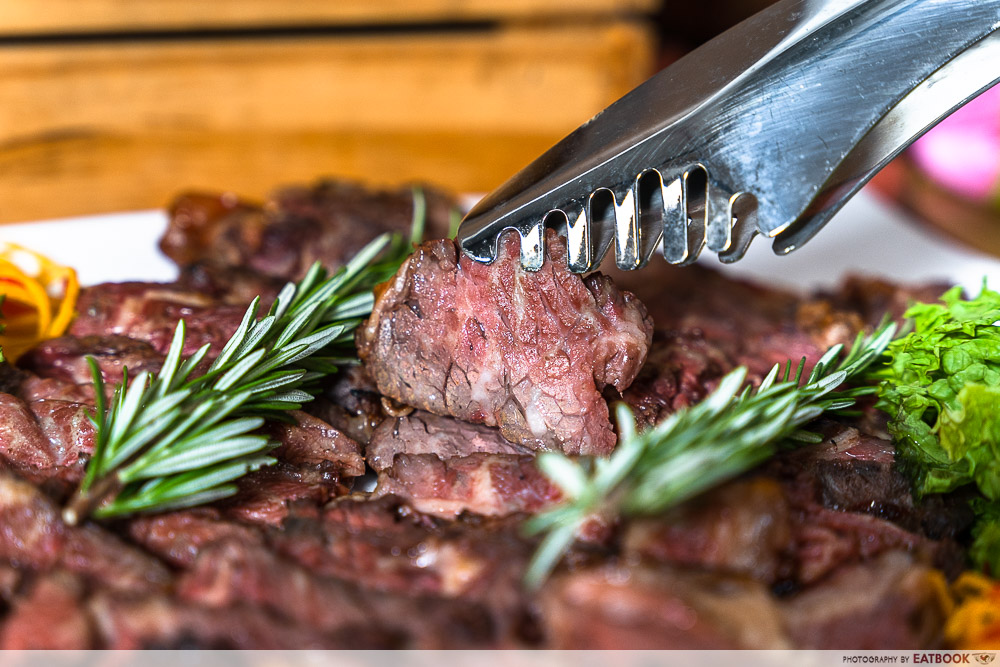 The marinade used is an heirloom family recipe from Gourmetz Catering's executive chef, so you won't find a taste like this anywhere else.
Each Claus for Celebration set comes with an 800g to 1kg serve of Wagyu, so there's plenty to go around.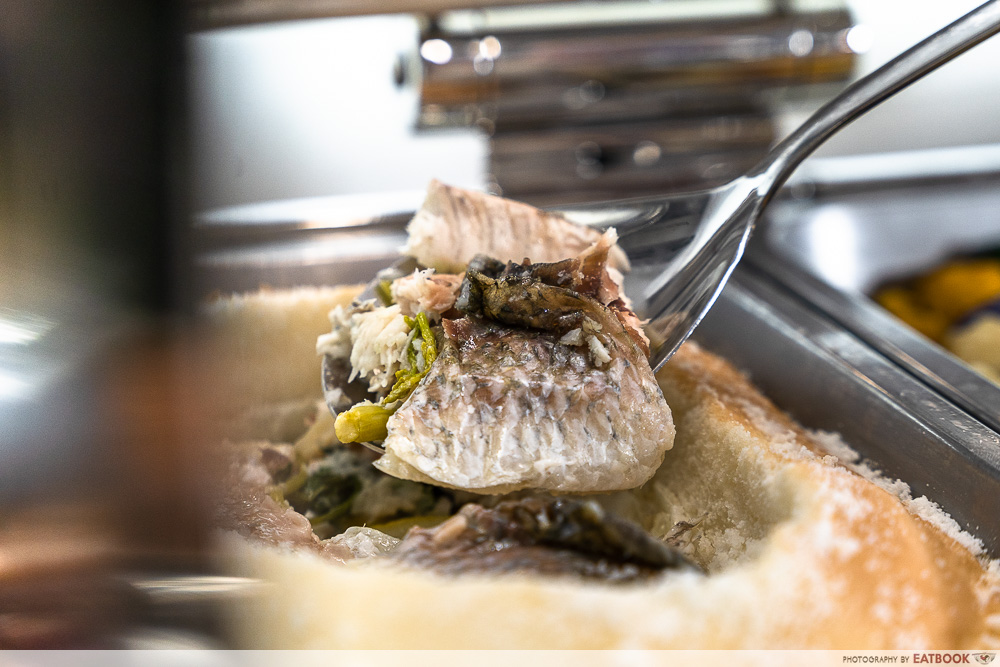 The Sea Salt Baked Seabass is another star. The whole dish is served still in its salt-baked shell, for visual impact. The fish is discernibly fresh and tender, enlivened by a black pepper sauce you can add as a pairing.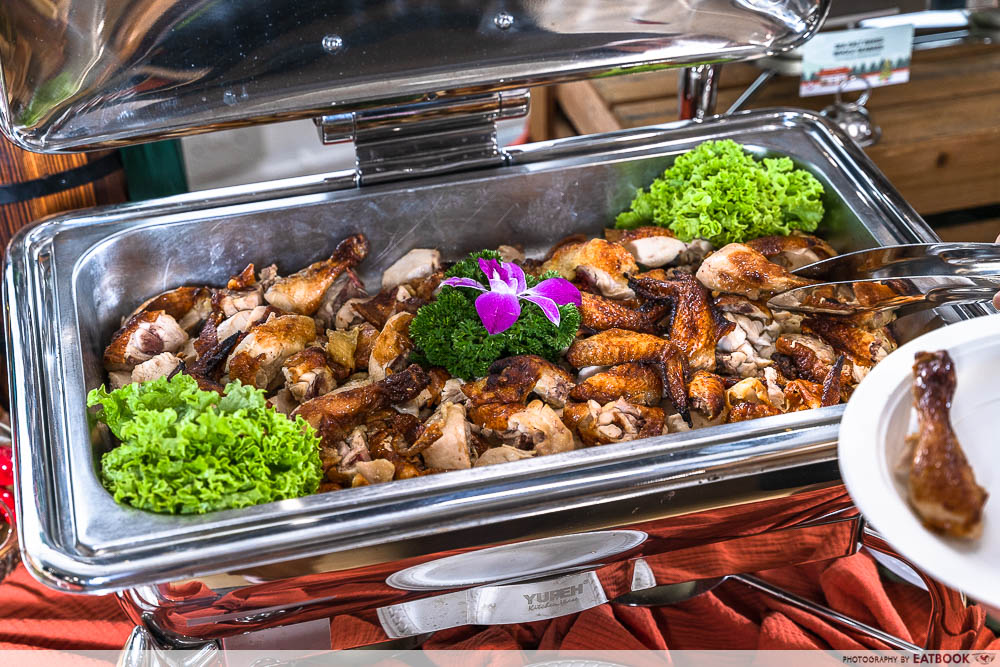 As a nod to traditional roasts, there is the Holiday Herb Rotisserie Chicken. This fragrant whole chicken cooked with an aromatic spice rub, till the skin is crisp, but the meat remains juicy.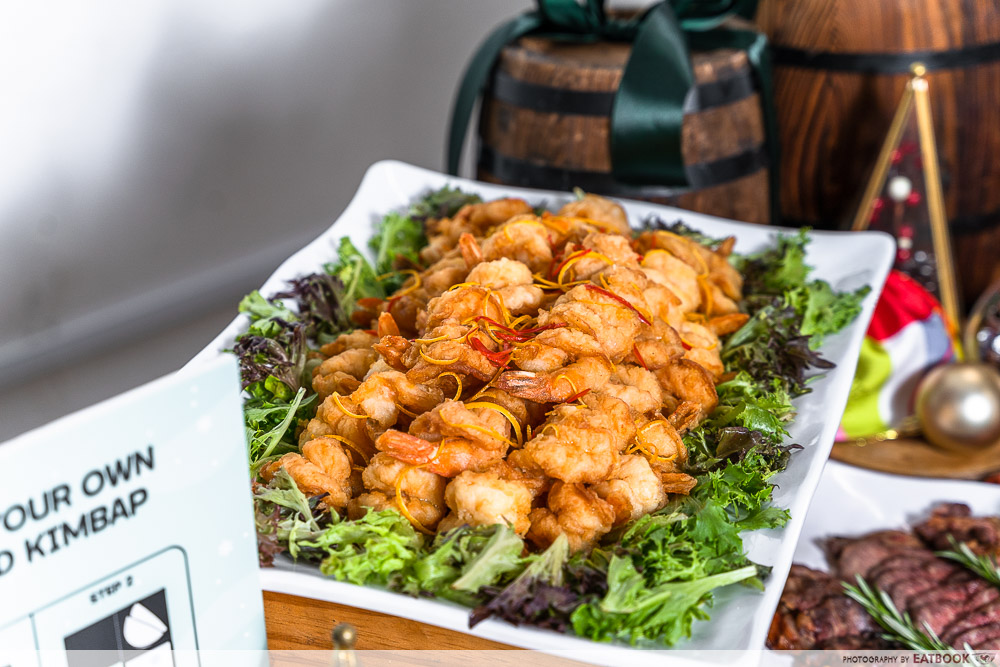 Seafood lovers can zone in on the Jeju Tangerine Prawns, where fresh shrimps are marinated in sweet Jeju tangerines, and then batter-fried.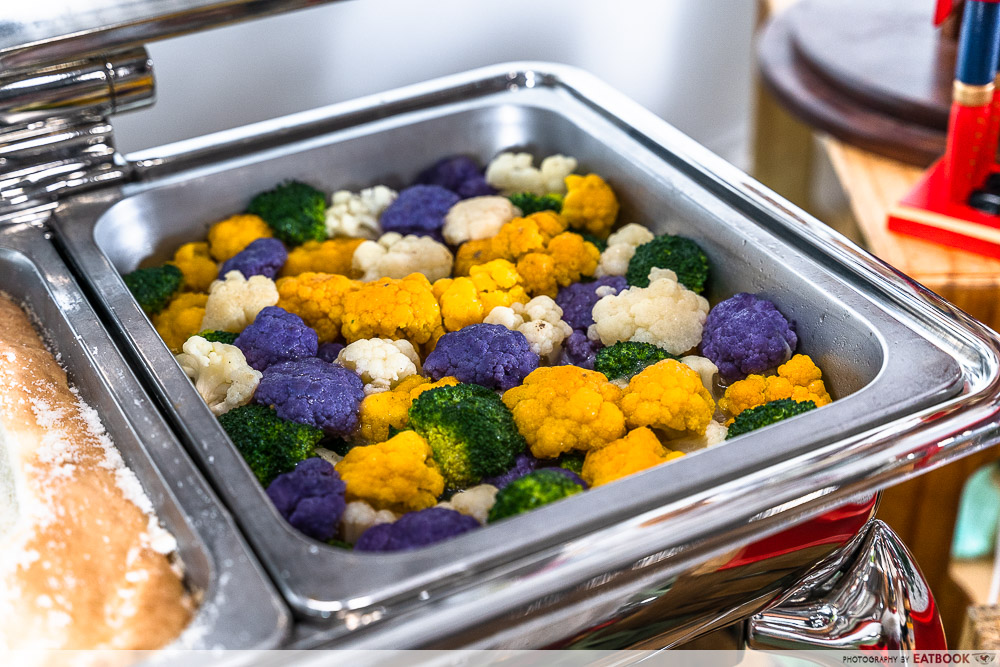 Get your veggies in with their simple but moreish Sautéed Tri-Colour Cauliflower Medley, featuring white, yellow, and purple cauliflower, with green broccoli for more pops of colour.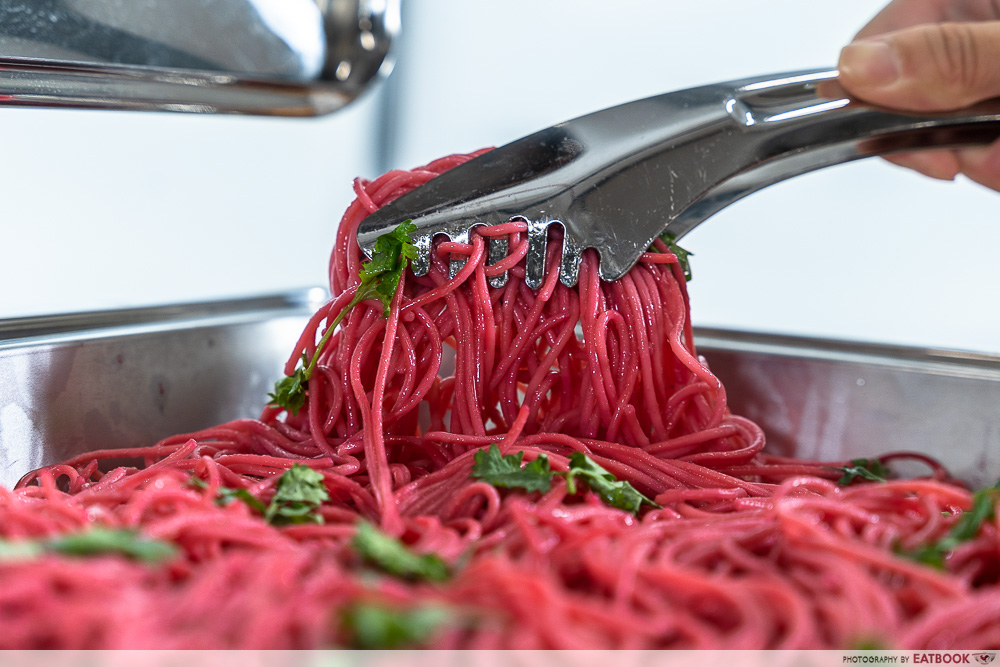 Round off the meal with a striking pink serving of Beetroot Spaghetti, with a hue that brings in all the festive cheer.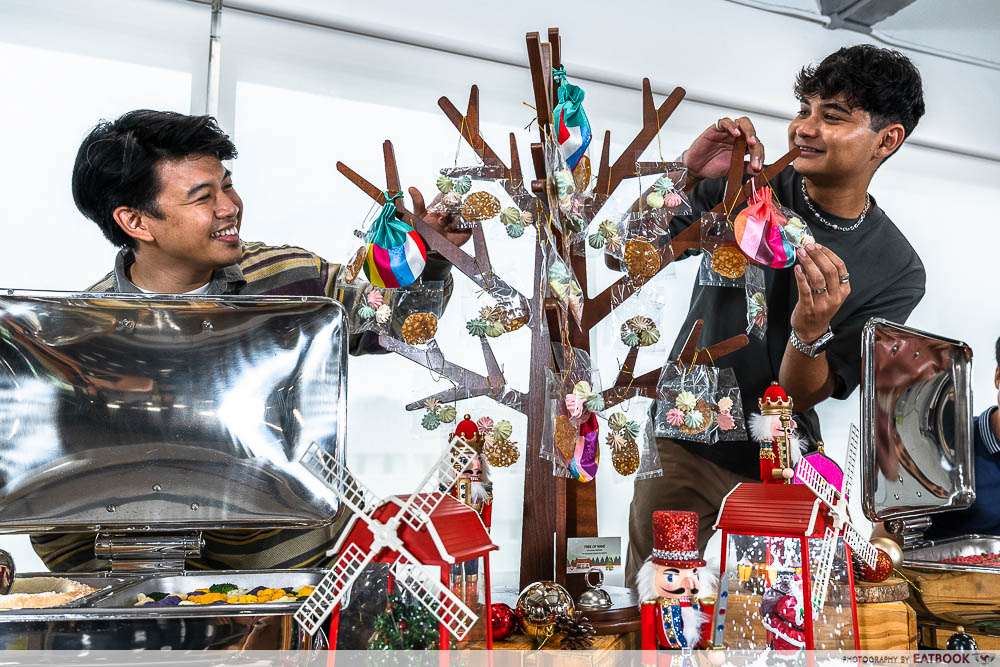 For dessert, eat your fill from the beautiful The Tree of Nami.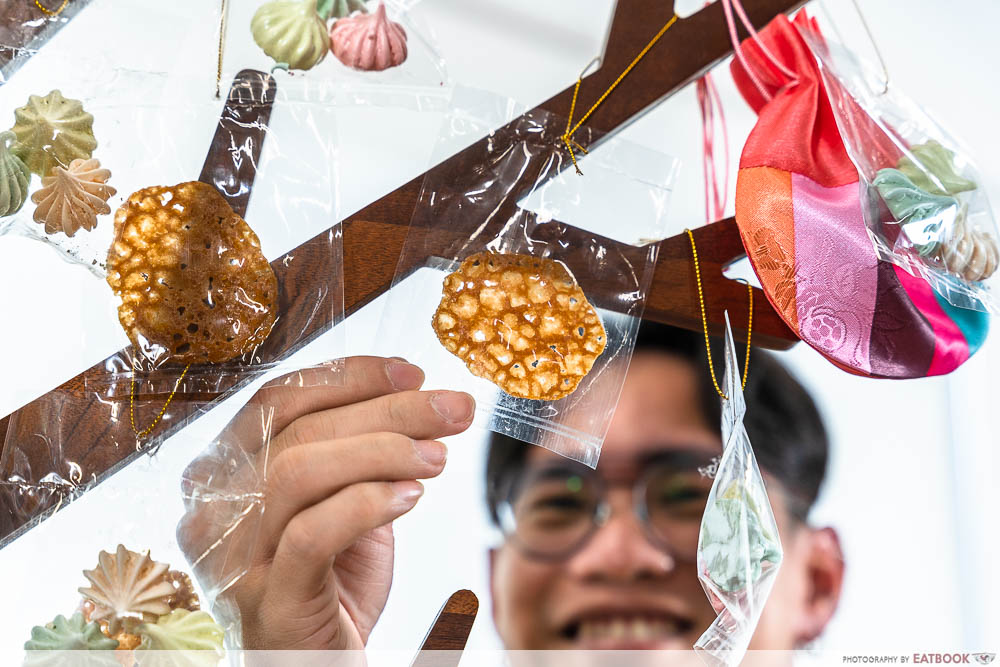 Grab bags of the caramelly Dalgona Cookies, as well as colourful Tri-colour Meringue Drops, from the branches of the centrepiece.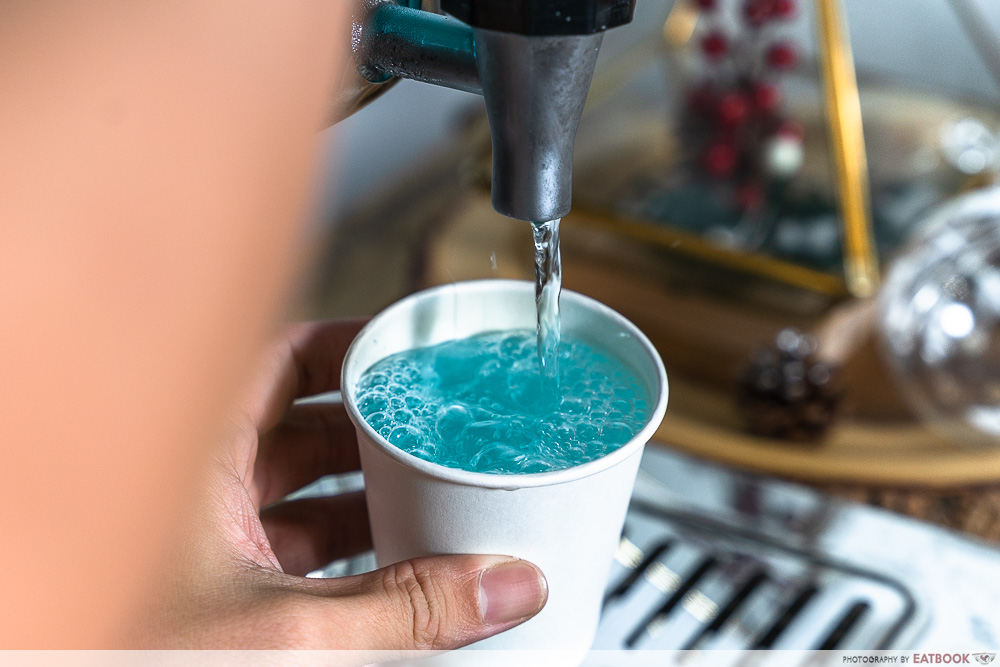 The spread also comes with a festive mocktail to wash the meal down.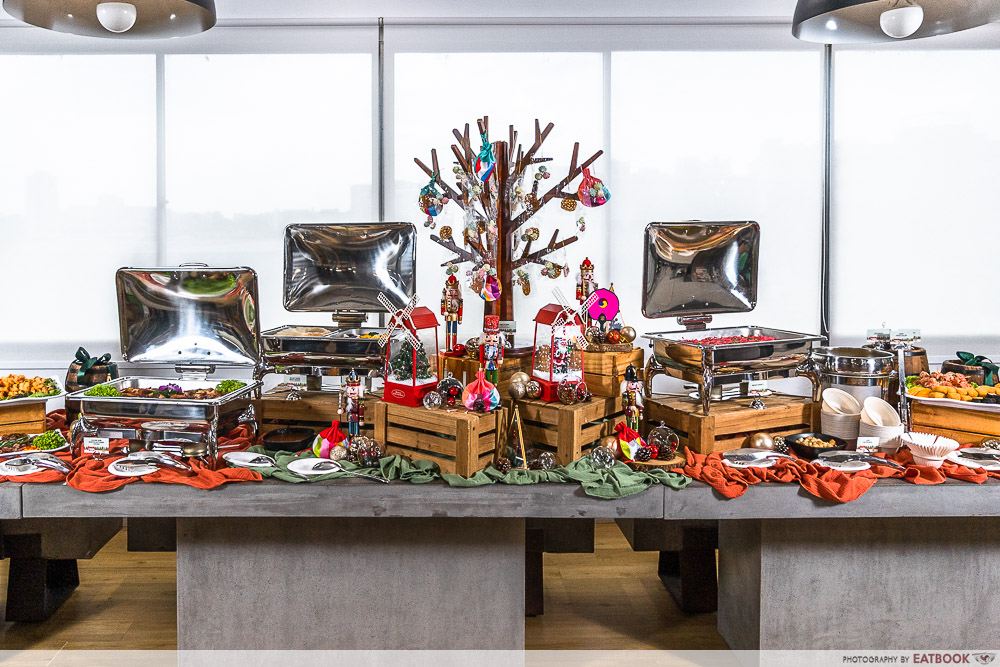 Another thing that sets Gourmetz Catering apart from your average catering company is their decor options. Catering set-ups don't have to look boring and one-dimensional; in fact, the brand is able to decorate your buffet table in accordance with the dining theme, making your home or dining space look all the more festive and photogenic too!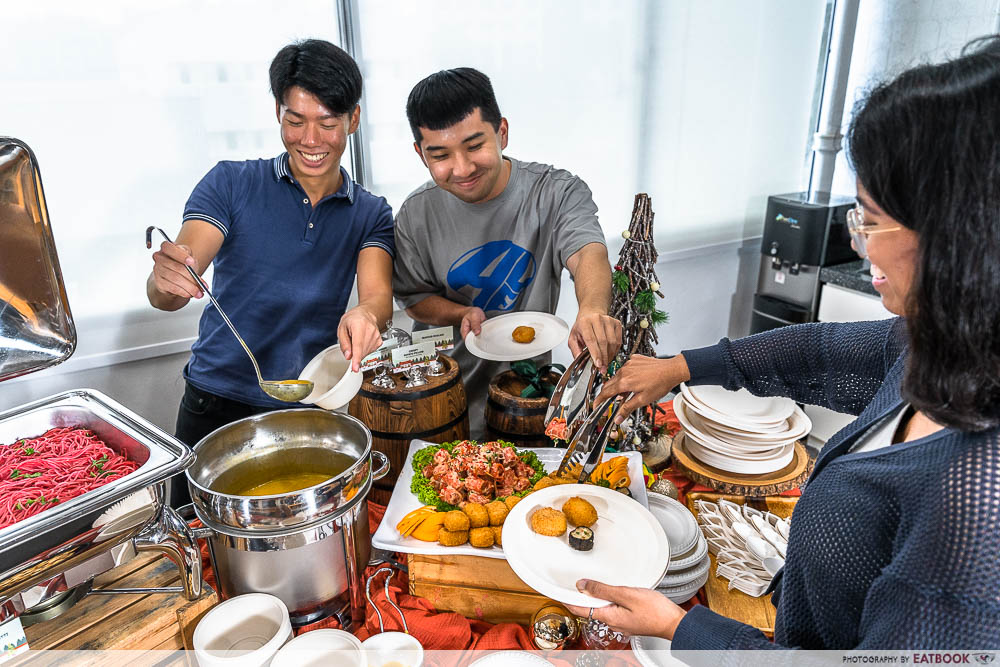 Gourmetz Catering is also endorsed as a Healthier Choice Caterer by the Health Promotion Board, under the Healthier Dining Programme, so you can feel less guilt while indulging. 
If you're thinking of getting an Asian-fusion spread for Christmas with decor to boot, use the code 'LETSBECHINGU' when you order on the Gourmetz Catering website for 10% off. Otherwise, keep your eyes peeled for their upcoming CNY menu that's launching real soon!  
Photos taken by Chew Yi En.
This post was brought to you by Gourmetz Catering.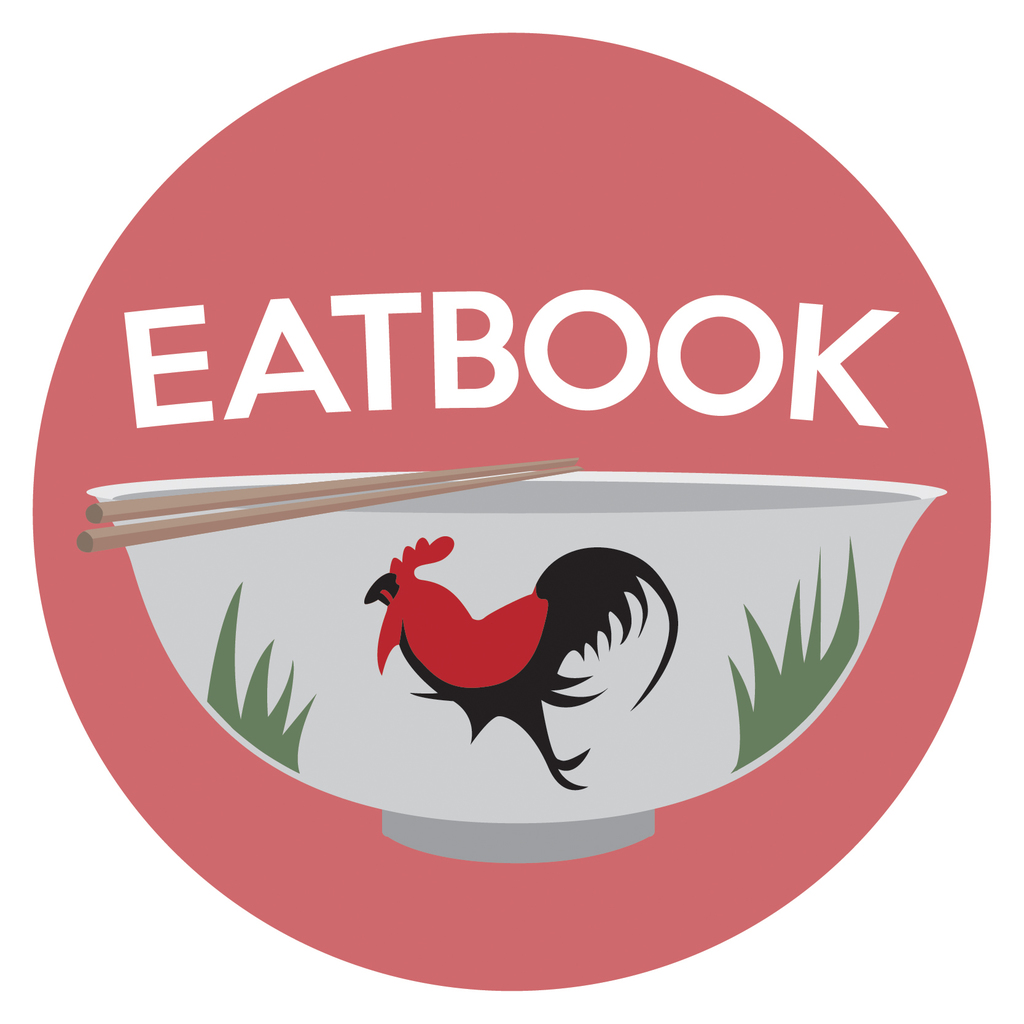 Drop us your email so you won't miss the latest news.