Grill Werkz at Dover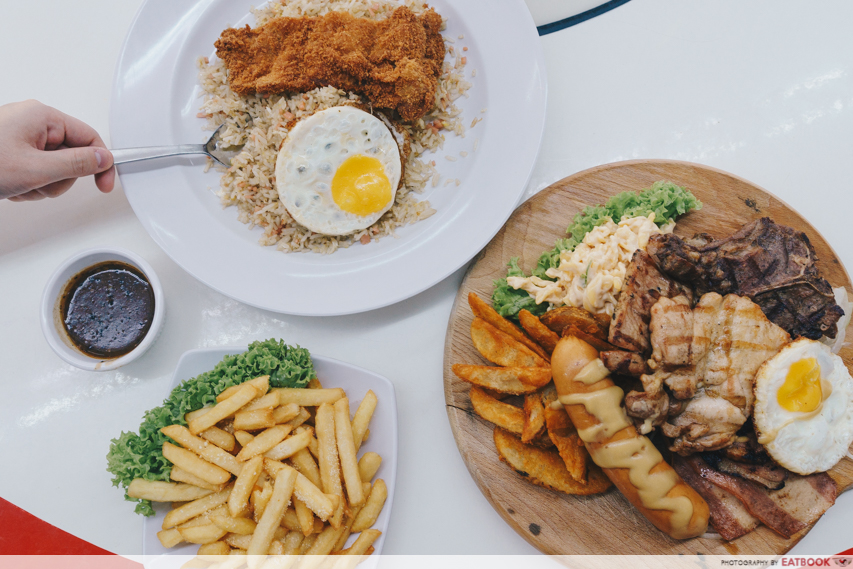 Having spent 10 years of my student life at Dover, that area used to be my hood. Dover houses more than just famous XO fish head bee hoon and Wakon Ramen. Although I know quite a number of good eateries in the area, a friend recently told me to check out Grill Werkz, an unassuming hawker Western stall that opened only after I graduated.
Food at Grill Werkz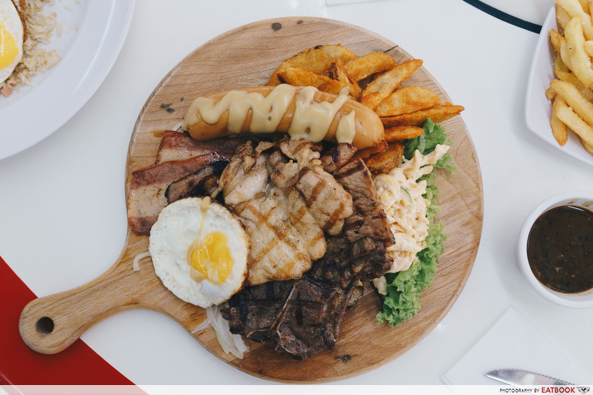 As I approached the stall, I was struck by a large and long menu plastered on the wall. It took me a while to read everything before ordering a platter, fried rice with chicken cutlet, and truffle fries. 
The dishes were served at the same time and with no hesitation, I went straight for the Combo Mixed Grill ($15.80), which was served on a wooden board. I spun the dish a few times to check out all the meats and sides included.
The mountain of food is made up of pork chop, lamb chop, chicken chop, smoked duck, a sausage, bacon, potato wedges, and a sunny side up. And not to forget, mac and cheese and mashed potatoes that I picked as my free sides.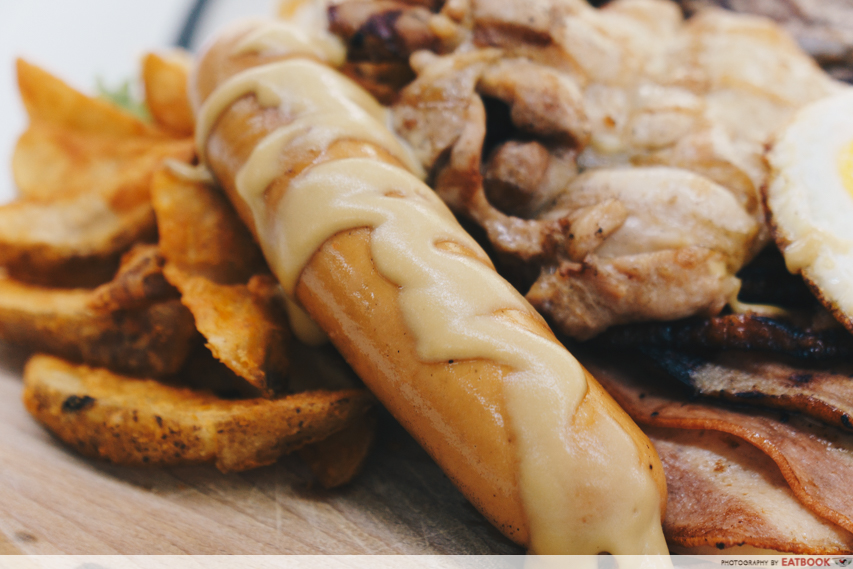 Because of its gigantic size, the sausage that was drizzled with mustard sauce was what caught my attention out of all the other ingredients. What I liked about it was the stark difference in texture between its exterior and interior – the outside had a good crunch while the inside was soft.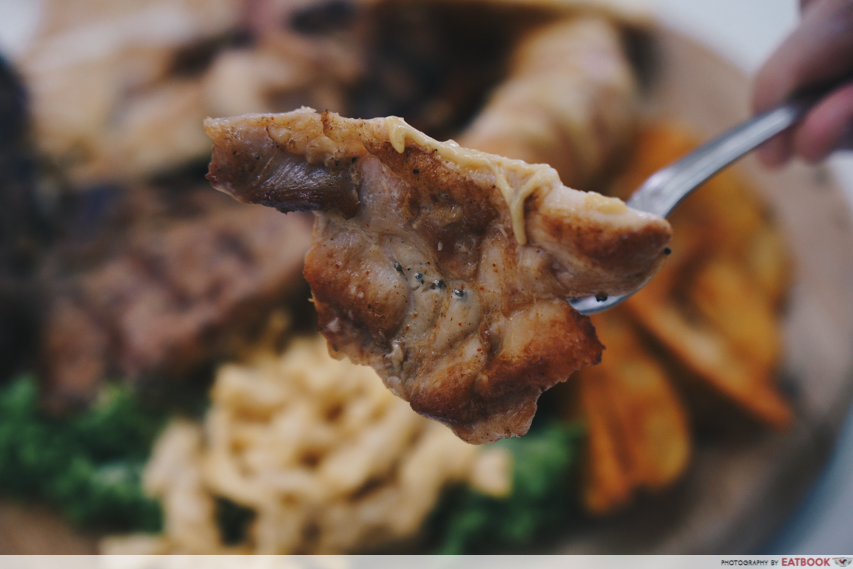 The first meat I tried was the chicken, and the first two things I noticed were its prominent grill marks and how thin it was. The chicken had a smoky flavour but was pretty dry.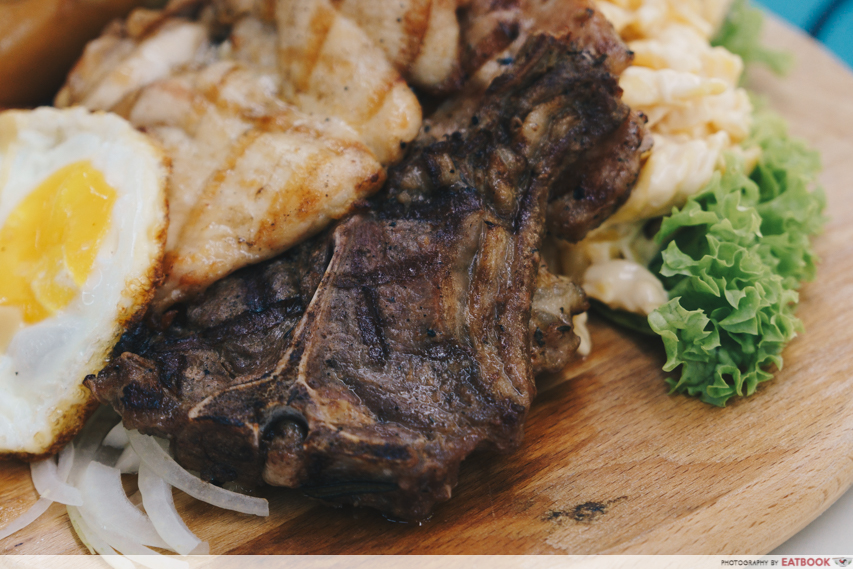 I then moved on to the lamb and pork. Just like the chicken, both leaned towards the dry and bland side. I had to dip them into the black pepper sauce provided for a better mouthfeel and flavour. Though the black pepper sauce was not a huge game changer, it definitely did make the meats more palatable.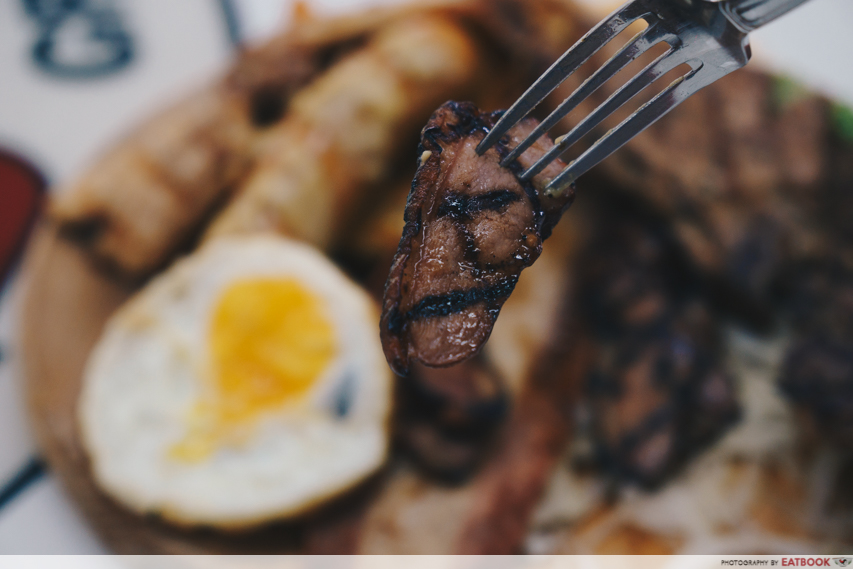 A meat that surprised me was the smoked duck, which was hidden underneath the other meats. Each slice had a good sear to it, while the inside remained slightly pink. Even though it was really salty, it was still better than the other meats.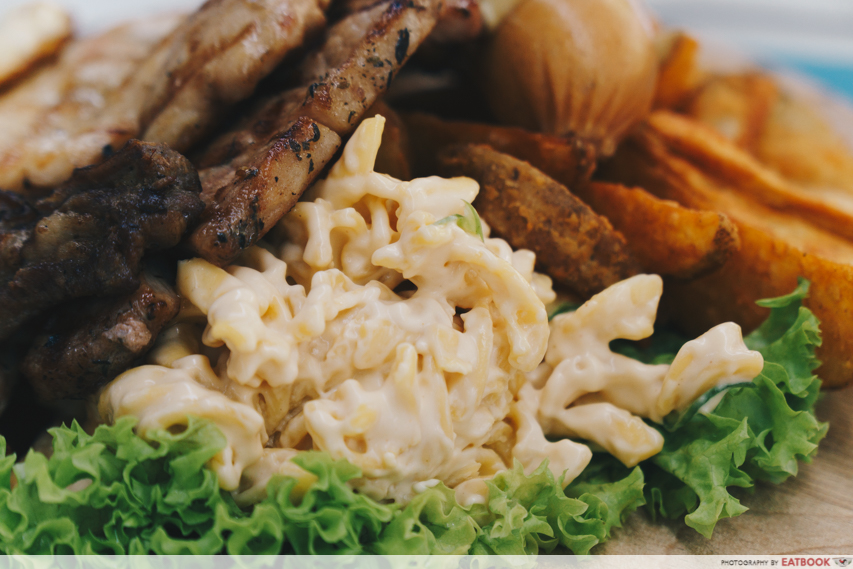 The mashed potato was average, and the mac and cheese tasted like it was tossed in coleslaw dressing rather than cheese.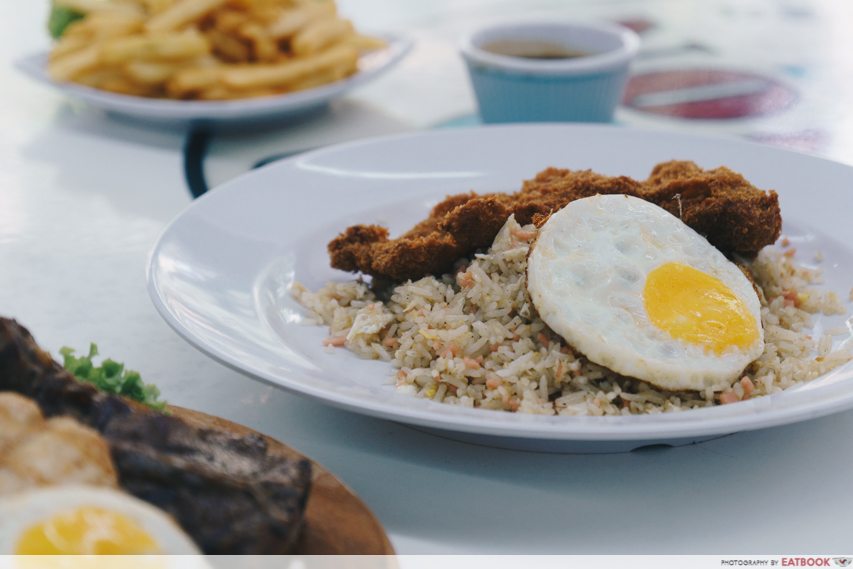 After the disappointing platter, we moved on to the Fried Rice with Chicken Cutlet ($5.80). Half a chicken cutlet sat on top of fried rice.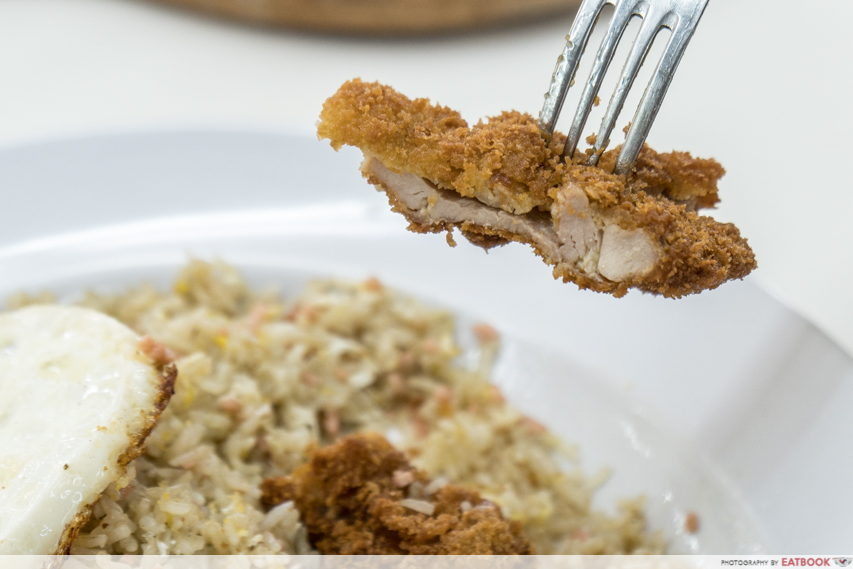 In terms of appearance, the chicken cutlet looked really crispy. I cut into it, producing a crisp and clear sound. However, it was not the best cutlet I've had. It wasn't as succulent as some other cutlets I've tried, and not as well-marinated too.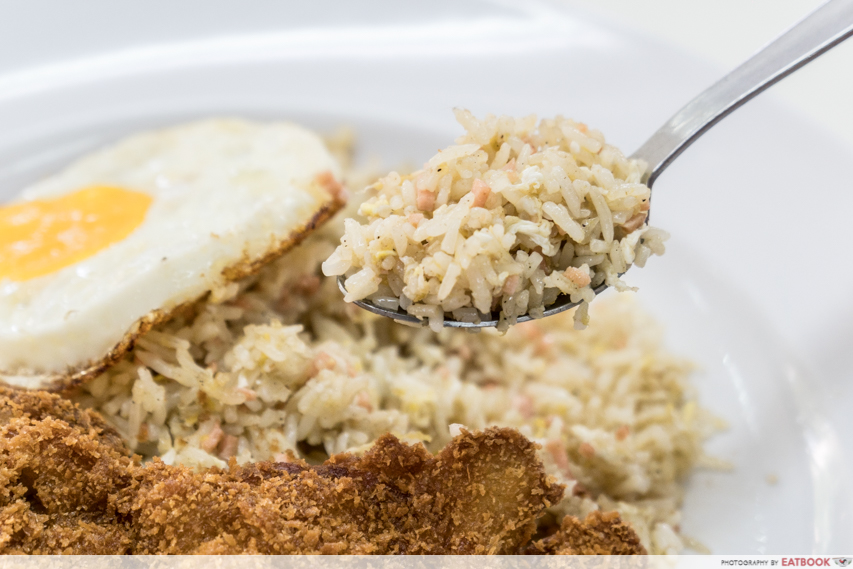 The rice was fried with egg and ham. While the rice wasn't greasy, it was rather bland.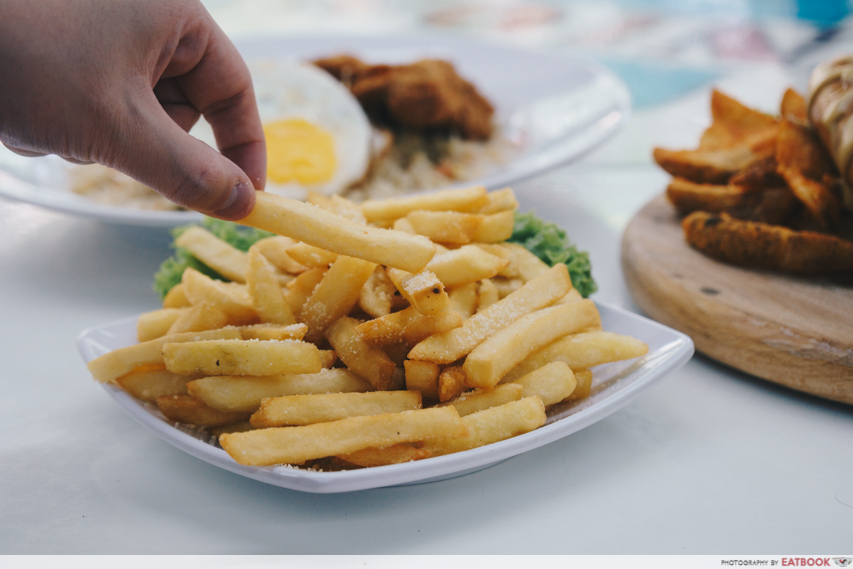 Last but not least, Truffle Fries ($5.50). While truffle fries are usually quite pricey, the ones at Grill Werkz were less than $10. I popped a fry in my mouth and got a little confused as I could barely taste any truffle. I got my colleagues to try it and they agreed. It would be better to name the truffle fries just "fries" instead.
Ambience at Grill Werkz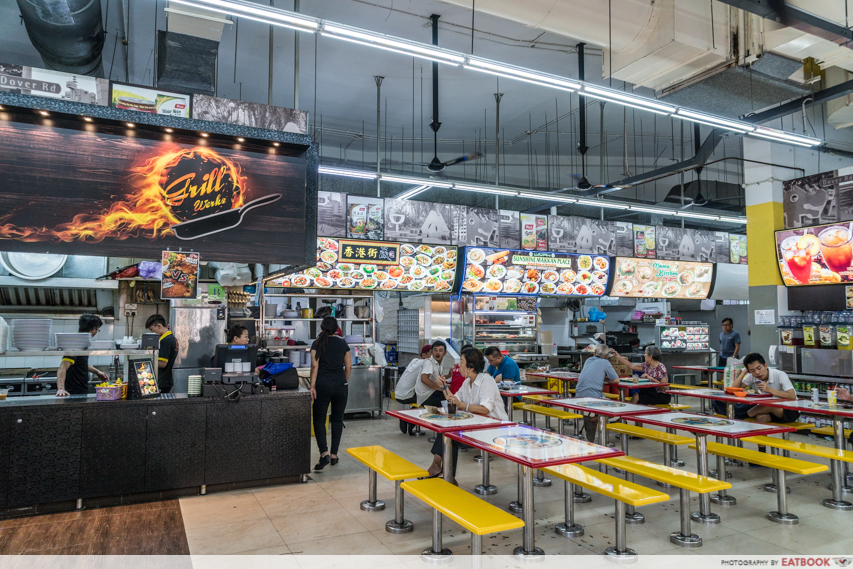 Those who stay or studied in Dover would know of the air-conditioned food court, Broadway. That has since been replaced by 7 Stars Coffeeshop, which is where Grill Werkz is situated at currently. The storefront of Grill Werkz is outstanding enough for you to notice it right away.
The verdict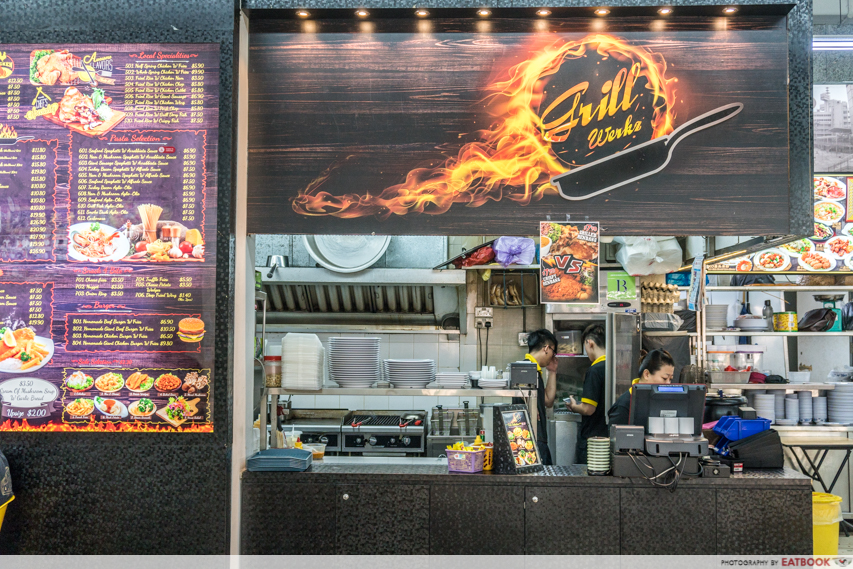 I was disappointed by the dishes from Grill Werkz. To be fair, the staff members were really busy on the day my colleagues and I went down, as they were swamped with orders from customers before us. I might give them another shot, when they're less stretched, to see if the food is better. For more affordable Western food places, check out our list of western food stalls with huge portions under $7!
8 Western Food Stalls At Kopitiams Or Hawker Centres With Huge Portions Under $7
Address: 28 Dover Crescent, 7 Stars Coffeeshop, Singapore 130028
Opening hours: Daily 11:30am to 10:30pm
Website
Grill Werkz is not a halal eatery.
This is an independent review by Eatbook.sg
Summary
Pros
– Value for money
Cons
– Meats were dry
– Fried rice was bland
– Truffle fries lacked in truffle flavour
Operating hours: Daily 11:30am to 10:30pm
Address: 28 Dover Crescent, 7 Stars Coffeeshop, Singapore 130028