GudSht at Orchard Cineleisure
We're in no lack of great drinking spots in Singapore, especially when it comes to areas as central as Orchard. Tucked in a corner of Orchard Cineleisure is GudSht, a hidden gem offering an endless selection of wallet-friendly booze, and delicious Japanese-inspired bites.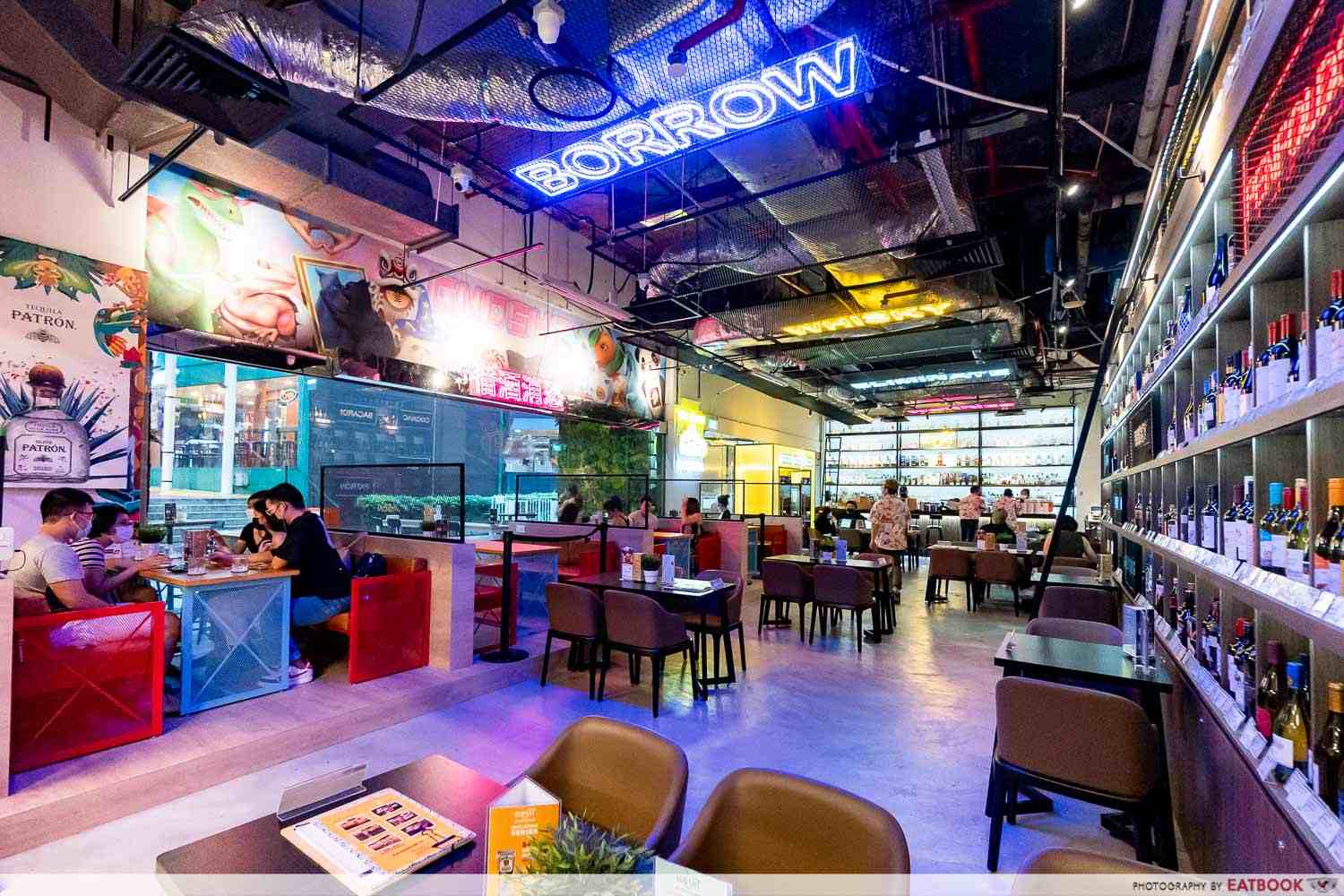 With neon lights and graffiti-like art murals dotted throughout the space for a Shinjuku-esque vibe, GudSht ticks all the right boxes for a fun night out with friends, or a much-needed lunch break in between work. There's ample seating across the spacious setting, along with a hip yet laid-back atmosphere to complete the 'Out of Office' mood.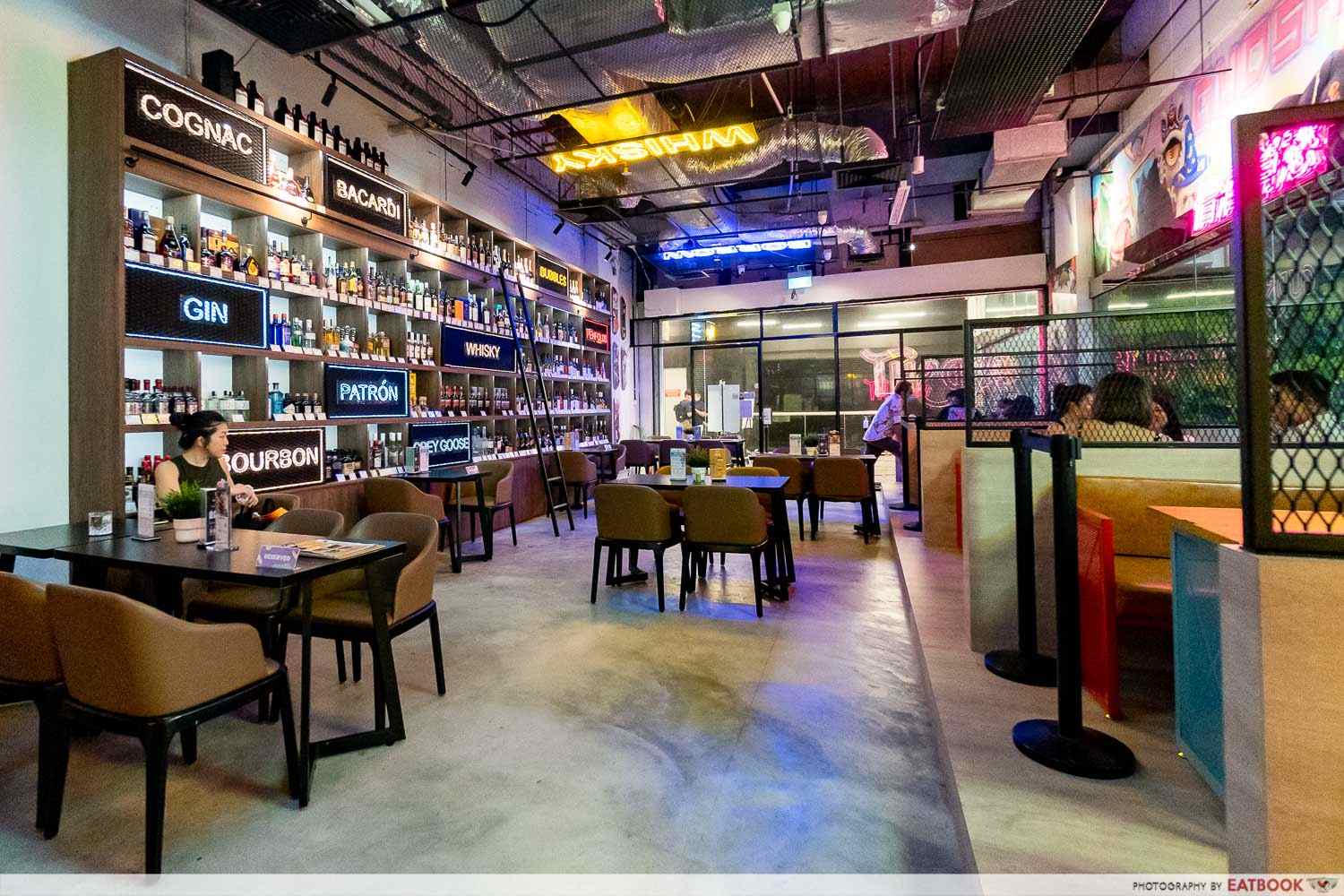 Food at Gudsht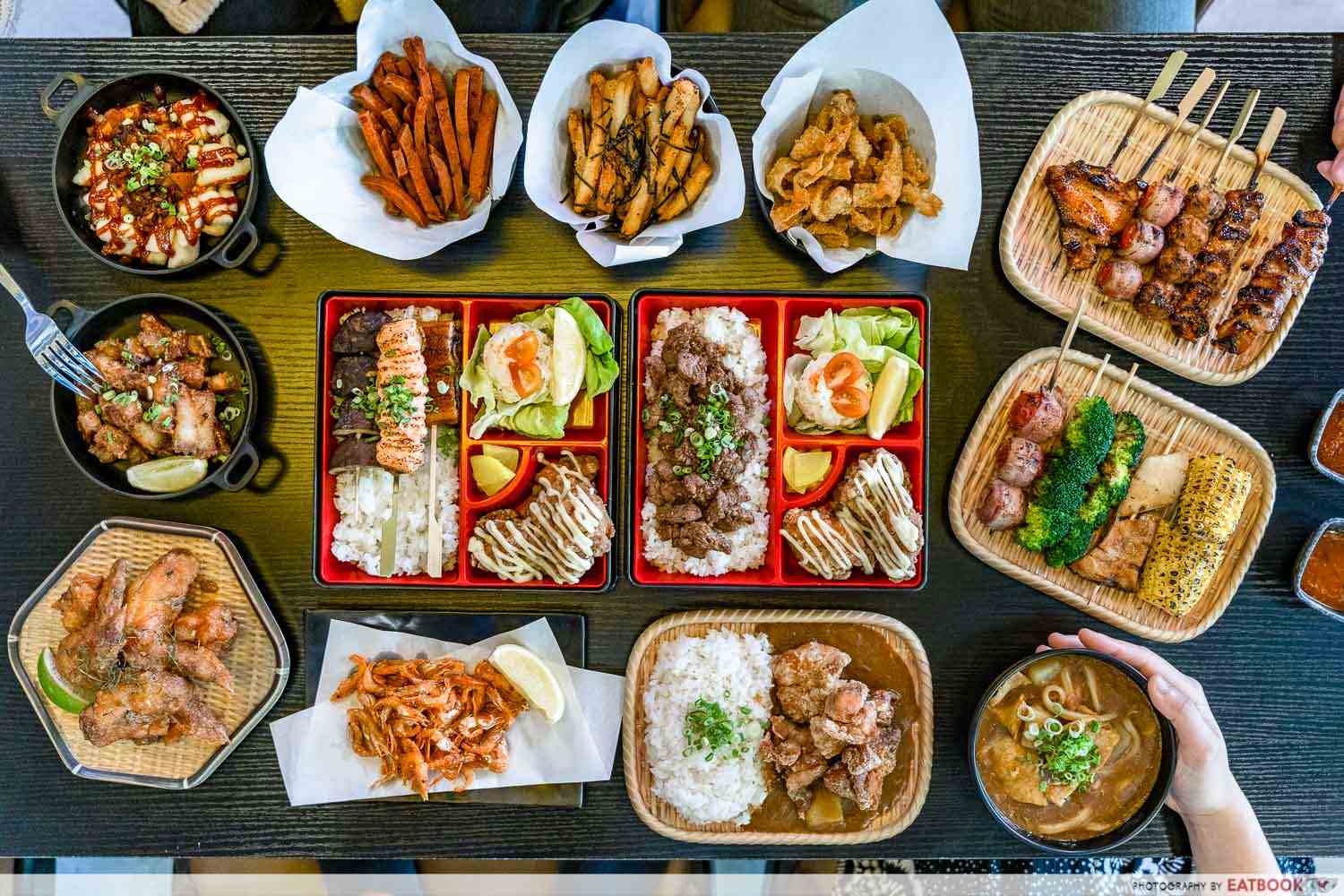 Arrive hungry, as the Japanese-influenced food menu boasts an impressive array of dishes that extend beyond the usual bar grub. Here you'll find items ranging from bentos for quick lunches, to a wide variety of grilled skewers that go excellently well with a pint of fresh draught beer.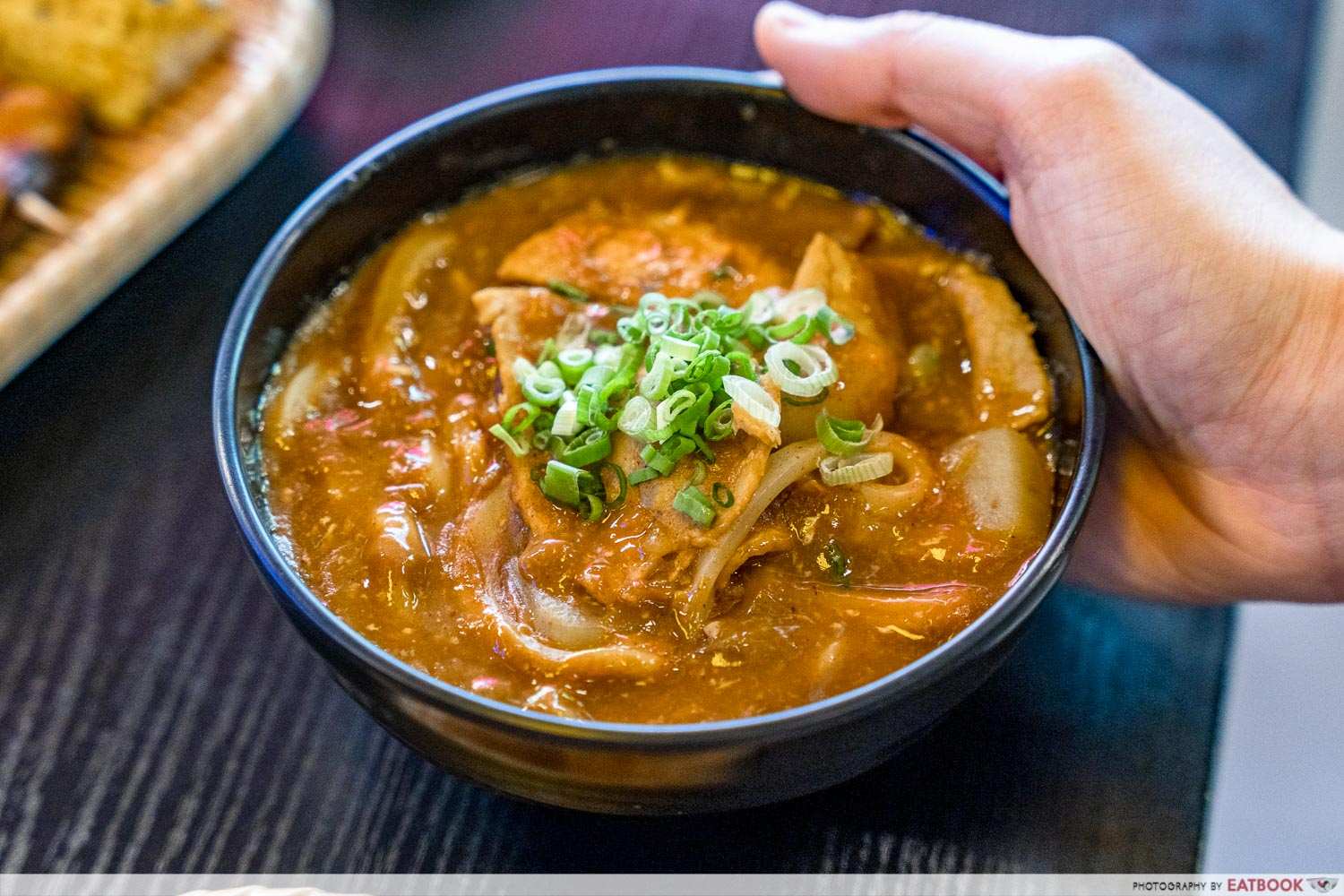 The latest additions to their food menu are the Curry Karaage Don ($10.90+) or Udon ($11.90+), and the Curry Buta Don ($10.90+), which is also available in Udon ($11.90+) form. You get to choose from three levels of spiciness: mild, spicy, and hell.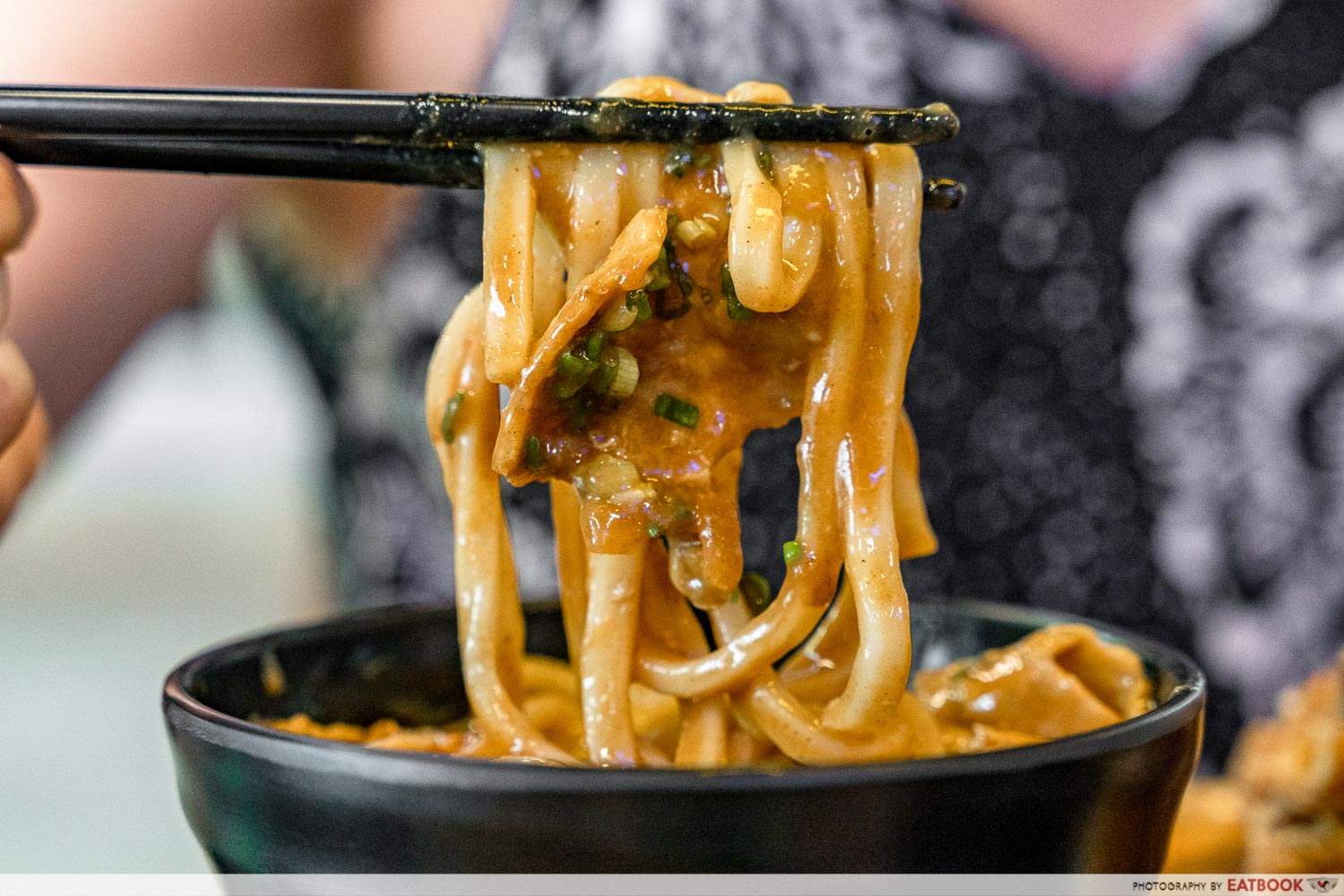 The mild version of the Curry Buta Udon was flavourful despite the lack of a spicy kick; think thick udon noodles cooked to a firm bite, coated with savoury Japanese curry gravy, and tender pork slices.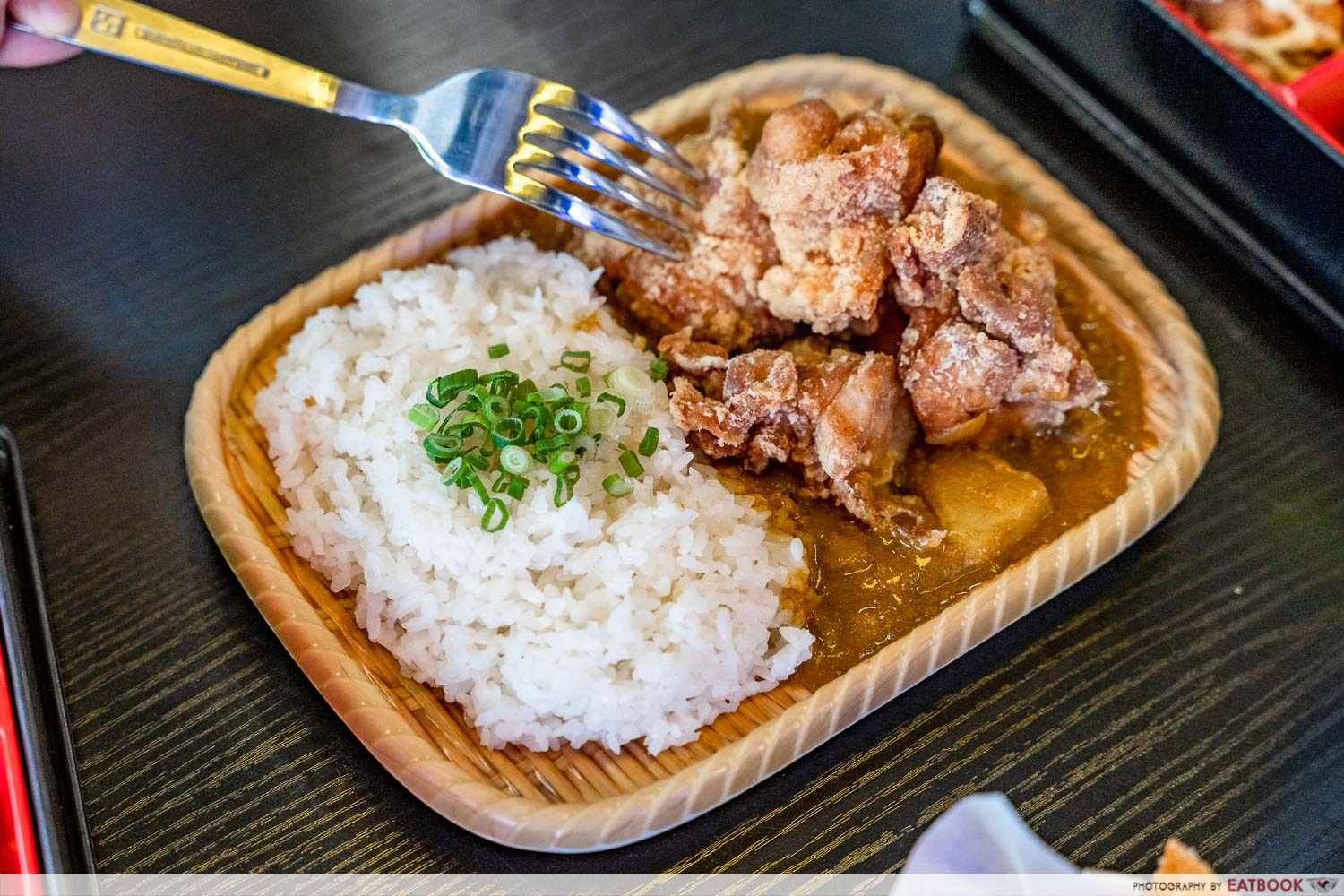 For those who prefer rice, go for the Curry Karaage Don, which includes steamed short grain rice with lightly battered fried chicken chunks, sitting atop a bed of Japanese curry with carrots and potatoes. It's the ultimate comfort dish for your next lunch or dinner!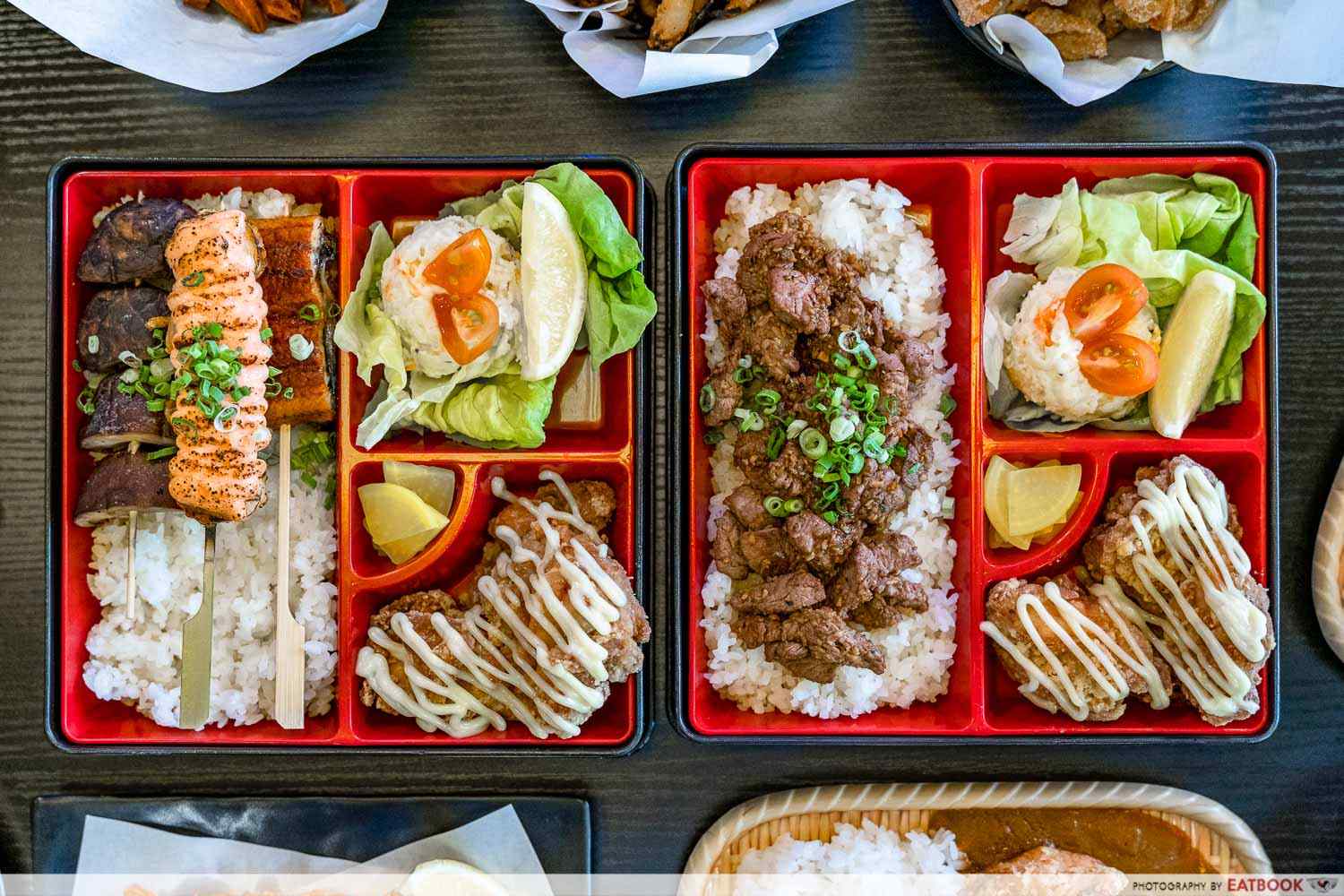 If you want something more filling, the bentos come in substantial portions, and include a good mix of components. The Premium Bento ($18.90+) includes your choice of two premium meat skewers and one vegetable skewer, served on fluffy Japanese rice, alongside potato salad, and karaage.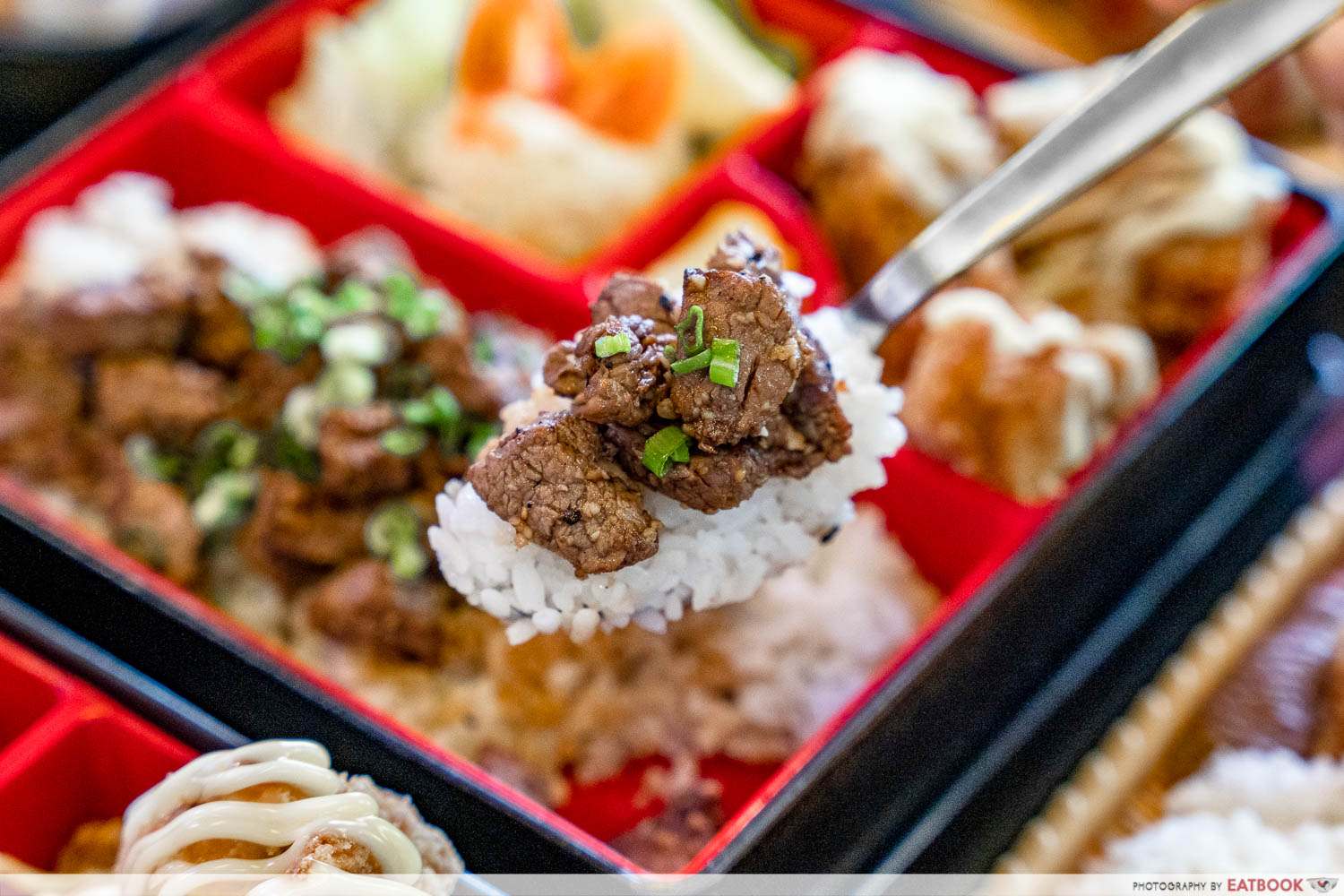 I was impressed with the Yakiniku Beef Bento ($21.90+), which features the restaurant's famous flamed tenderloin beef with aged yakiniku sauce. The generous serving of uber tender beef cubes, paired with the sweetness of the short grain rice, made this a highlight of my meal. If you're out to splurge, you won't be disappointed with this meaty pick!
GudSht is also known for their skewers, which come in a variety of meat, seafood, and veggie options. If you're visiting with friends, go for their Set of 10 Classic Skewers ($25+) to share. Must-tries include the King Oyster Mushroom, Tsukune Ball, and Chicken Thigh, glazed with a special tare sauce for a sweet finish, and grilled to a beautiful char.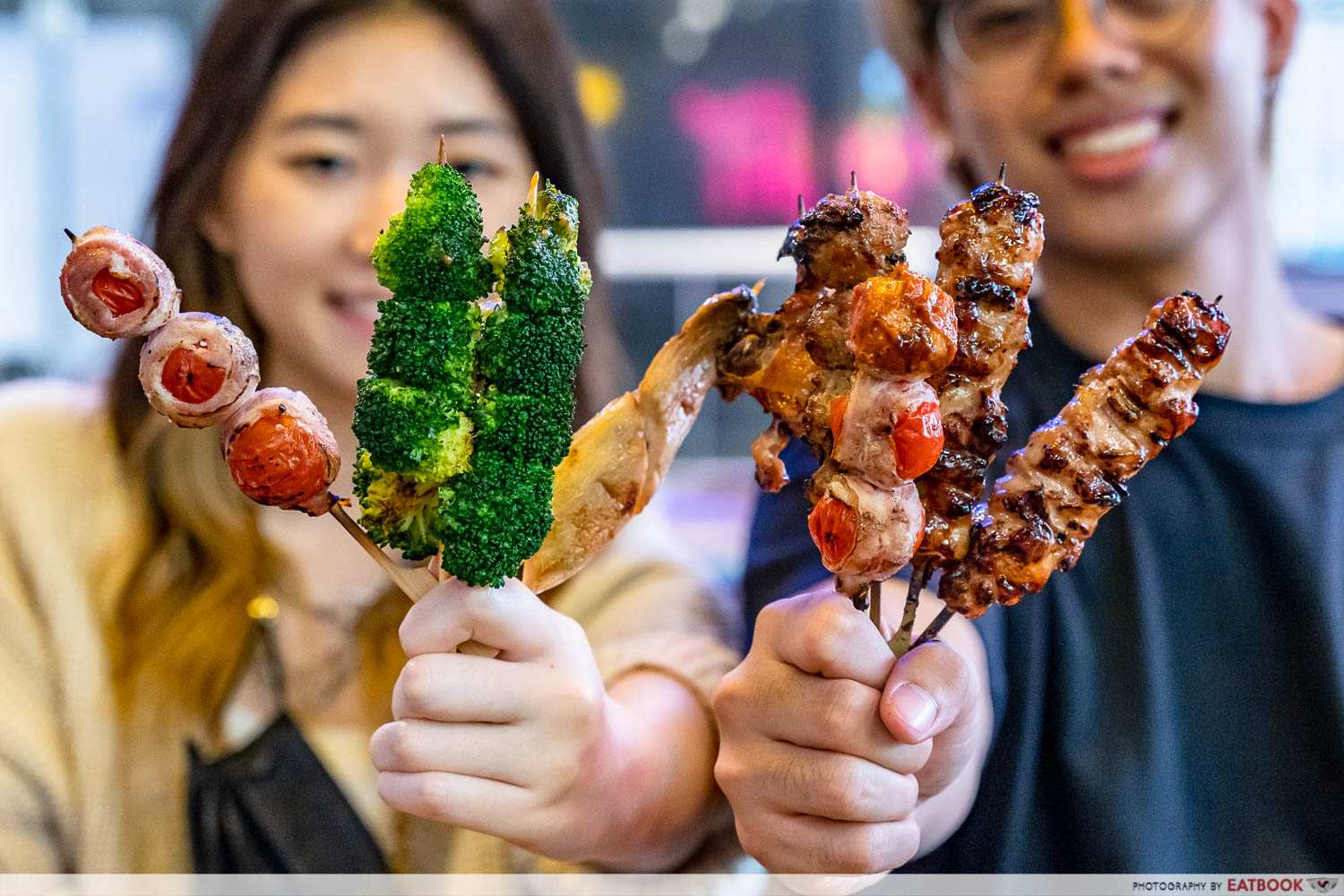 Premium skewers are also available, with options such as Grilled Japanese Scallop with Mentaiko Mayo ($5+), and Duck and Leek ($5+), which sees sous vide and grilled duck breast with Japanese leek glazed with a special miso sauce.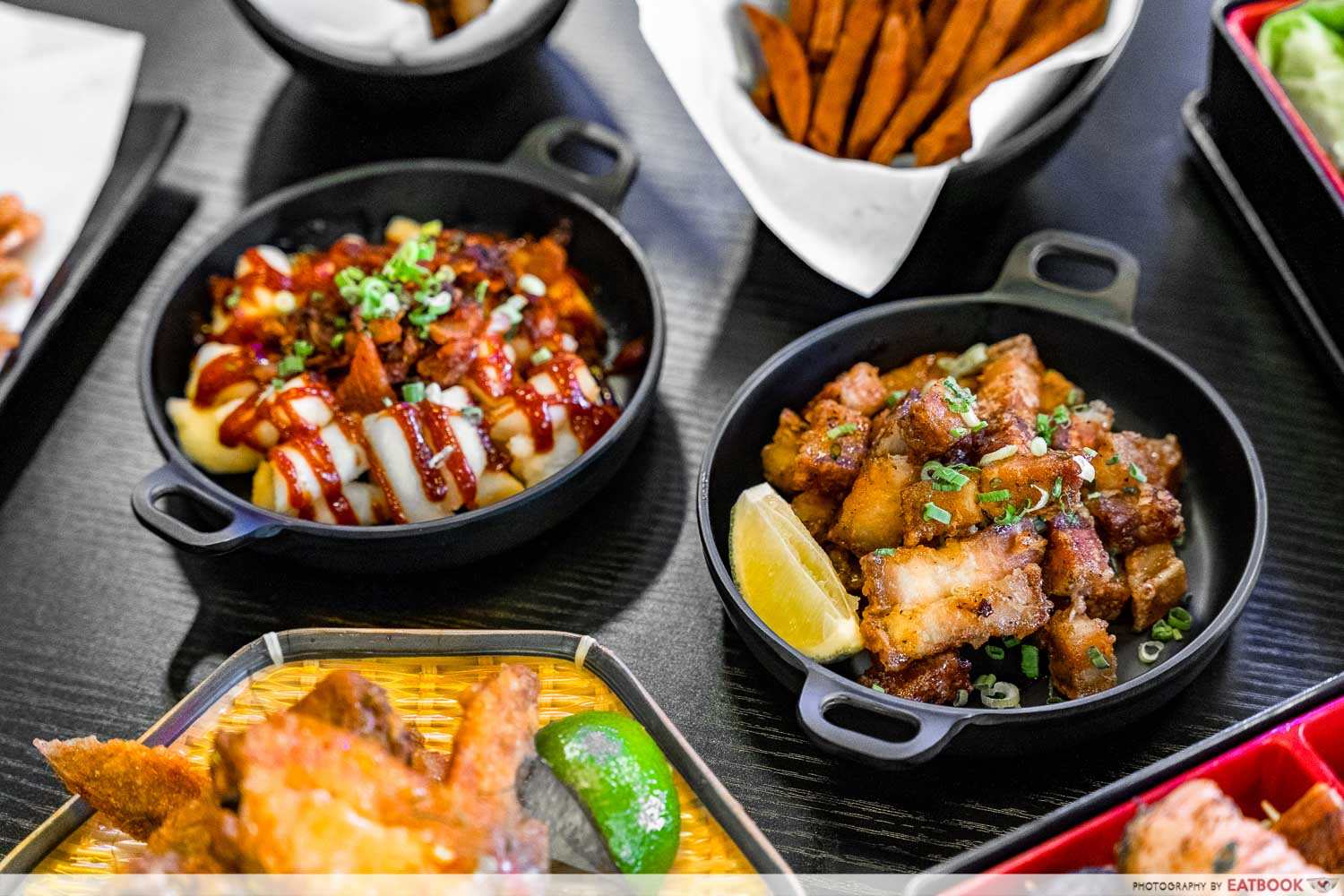 Another noteworthy mention from the bar grub menu is the Rice Cake Poppers ($10+): crispy Korean-style rice cakes with gochujang sauce and roasted kimchi. Sweet and savoury with an addictive, chewy texture, this snack served as the perfect accompaniment to the varied lineup of booze on offer.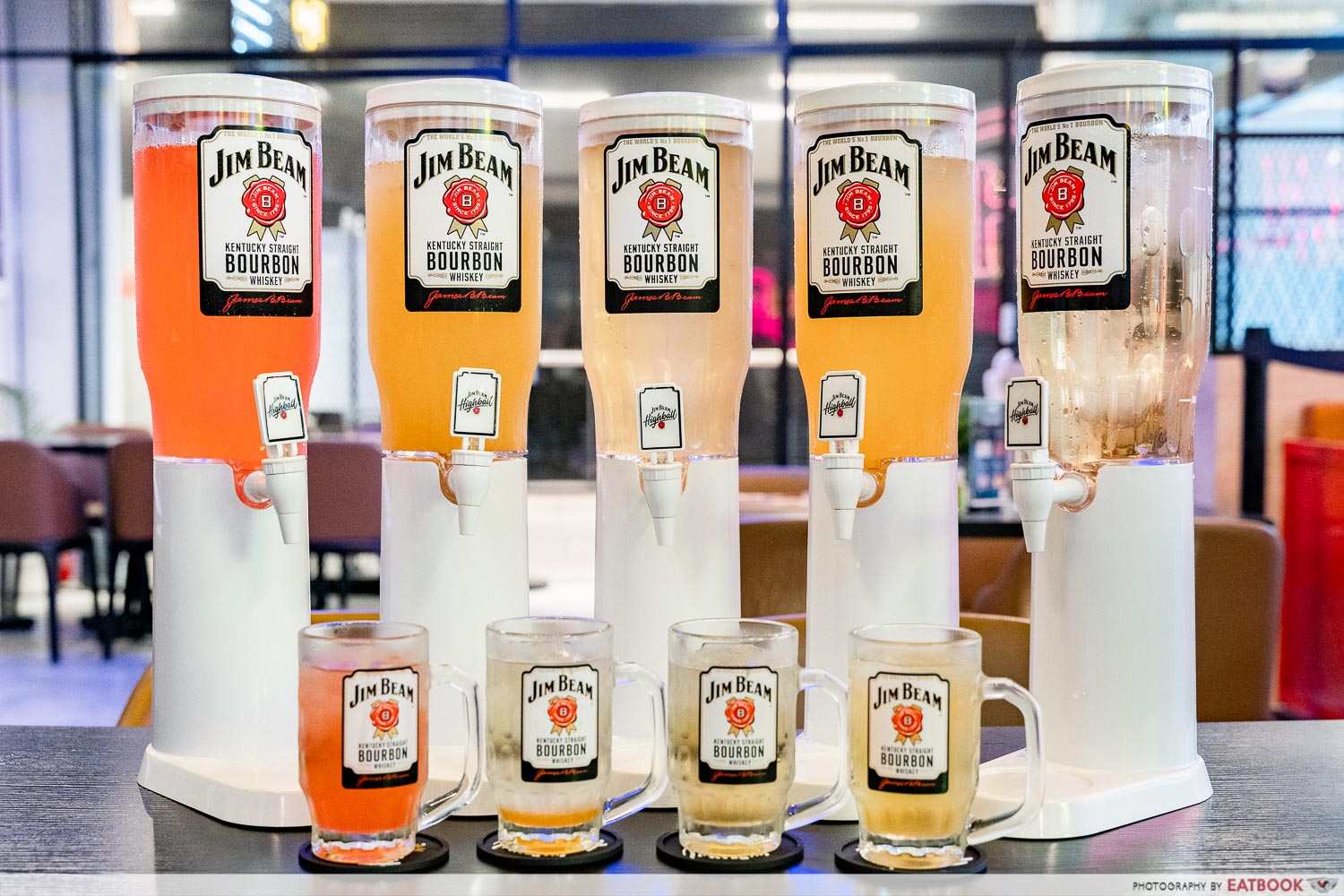 GudSht has two outlets across the island, both of which offer Jim Beam Highballs served in a tower ($49+), or by the glass ($8+). Exclusive to the Cineleisure outlet are two highball flavours: Honey Lemon, and Sour Plum. The lineup includes three other flavours—Classic, Yuzu, and Pink Grapefruit—so you can try a variety of highballs through the course of the evening. My favourite of the lot is the Sour Plum Highball as it's light and tangy, with a slightly salty note to offset the sweetness. 
The next time I return, I'm definitely going for the two-hour free-flow Jim Beam Highball promotion, which runs from 11am until 10pm. Priced at just $25+ per person, this deal gets you unlimited servings of highballs for two full hours—a value-for-money option especially for the prime location.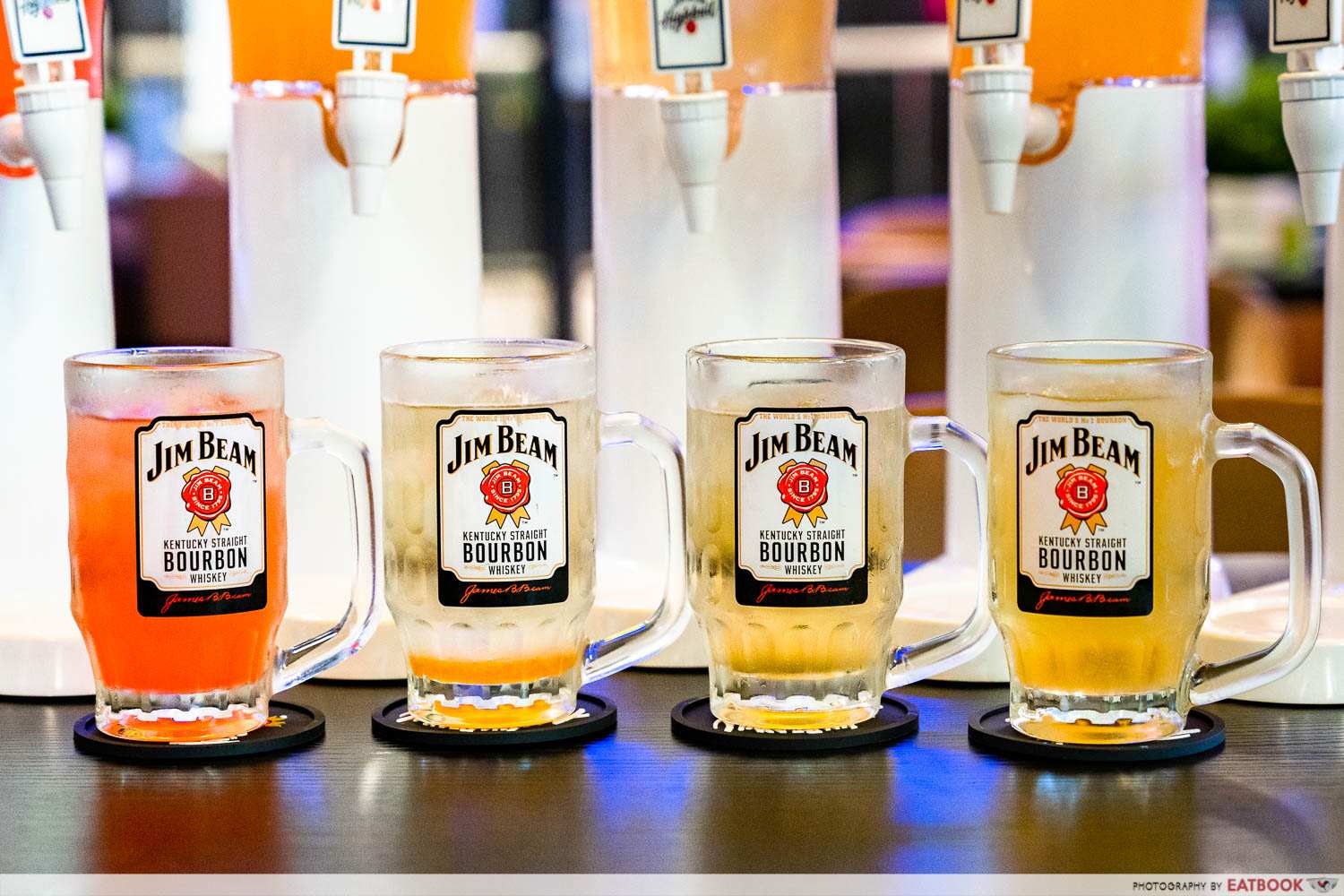 Alternatively, enjoy happy hour deals from 3pm to 8pm daily, with options including $12+ for two highballs (U.P. $16+), $18++ for two pints of Suntory Pilsner or Black (U.P. $24+), and $18+ for two bottles of Soju (U.P. $20+). A highball tower goes at $39+ during happy hour too, so grab your drinking kakis and head down early to enjoy the drinking deals!
Originally a label born in the midst of the COVID-19 pandemic, GudSht is said to be the first in Singapore to launch and popularise the bottled cocktail programme. More than 10 cocktails are available, and each is handcrafted fresh upon order.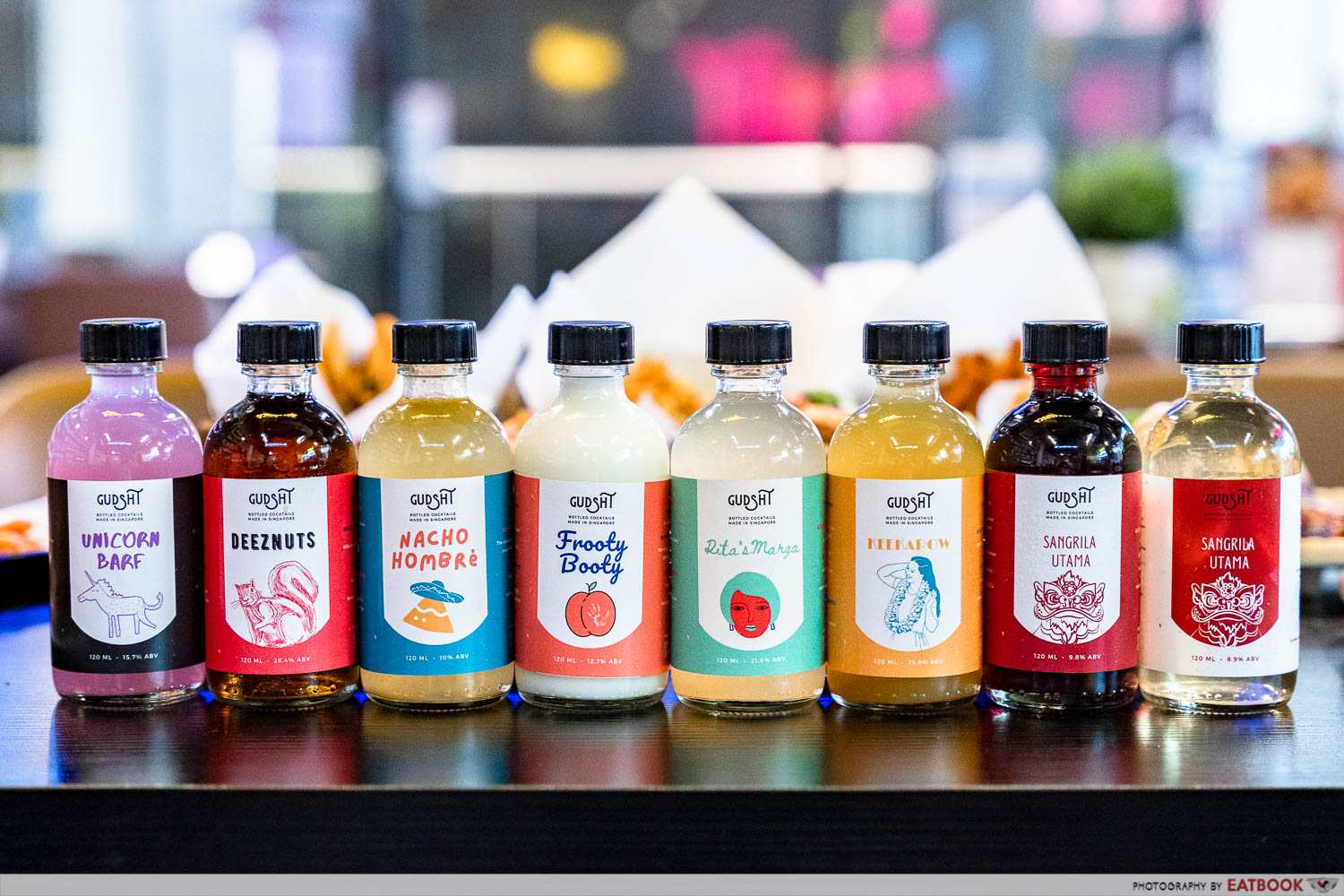 My favourite of the lot is Rita's Marga (from $15+), a strong yet refreshing Margarita-inspired drink comprising tequila, Grand Marnier, agave for sweetness, and freshly squeezed lime juice for its bright, citrusy notes. Poured over a chilled glass rimmed with fine salt, this for me serves as the perfect mid-week sundowner on a busy working day.
For an IG-worthy pick, get the Unicorn Barf (from $15+): a purple, glittery concoction of Roku Gin, Campari, housemade yuzu rose infusion, butterfly pea syrup, fresh honey, and bitters. Other unique flavours include the Cheng Tng Gao (from $15+), which incorporates Cognac, Amaretto, and freshly boiled Cheng Tng, and Mao Cha (from $20+), a whisky-spiked version of Thai milk tea.
Although the drinks here pack a punch, they tend to lean towards the sweeter end. I'd recommend pouring out your bottled cocktail to a full glass of ice if you're enjoying it at home, or putting in a request for the bartender to dial down on the syrup. 
Ambience at GudSht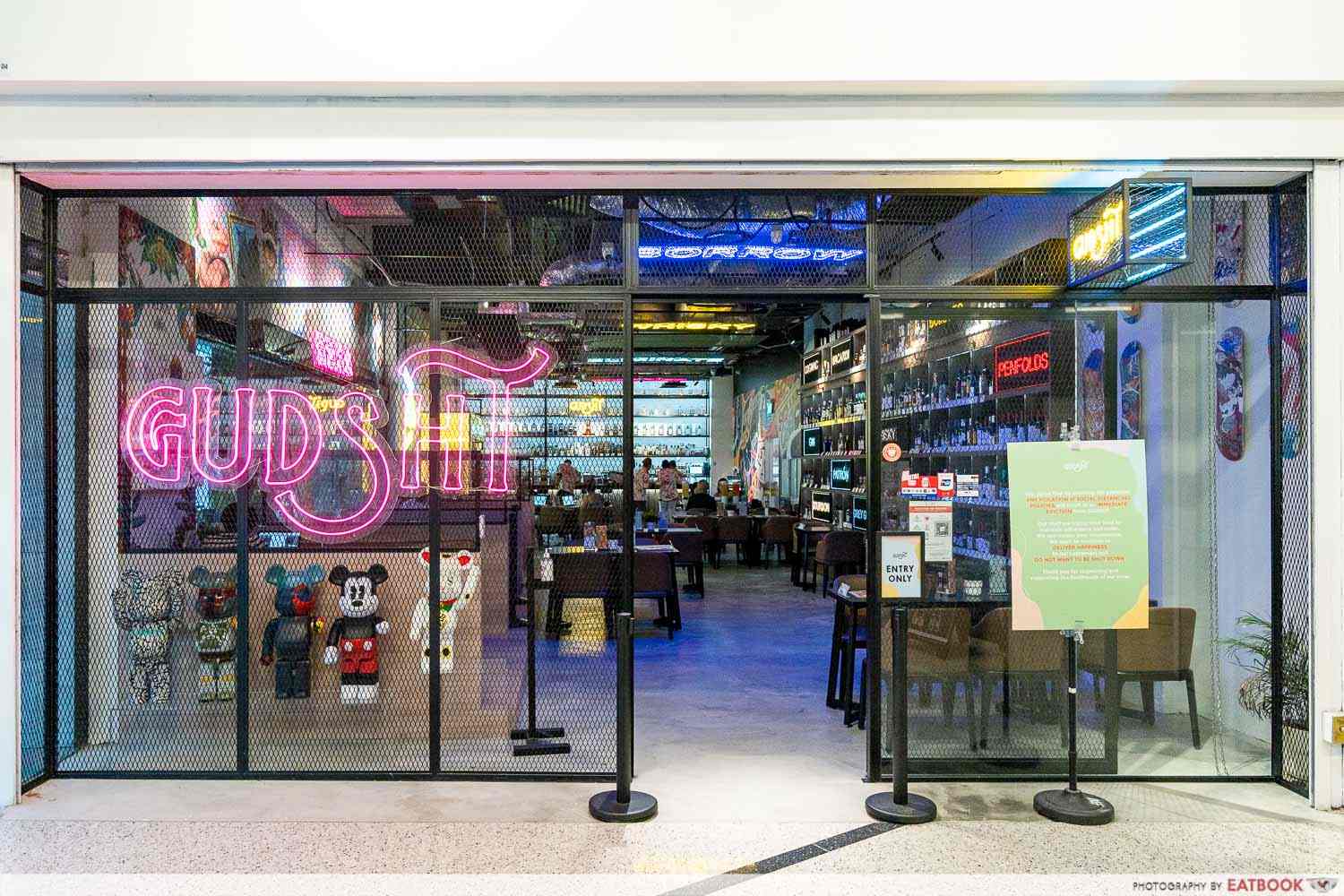 GudSht is conveniently located in Cineleisure Orchard, which is an easy five-minute walk from Somerset MRT Station. It's on the ground floor of the mall, and offers both indoor and outdoor seating. While the bar is situated in the bustling shopping district, it's tucked away at the side of the mall, which is relatively quiet—a bonus for those looking for a break from the busy streets of Orchard. 
The verdict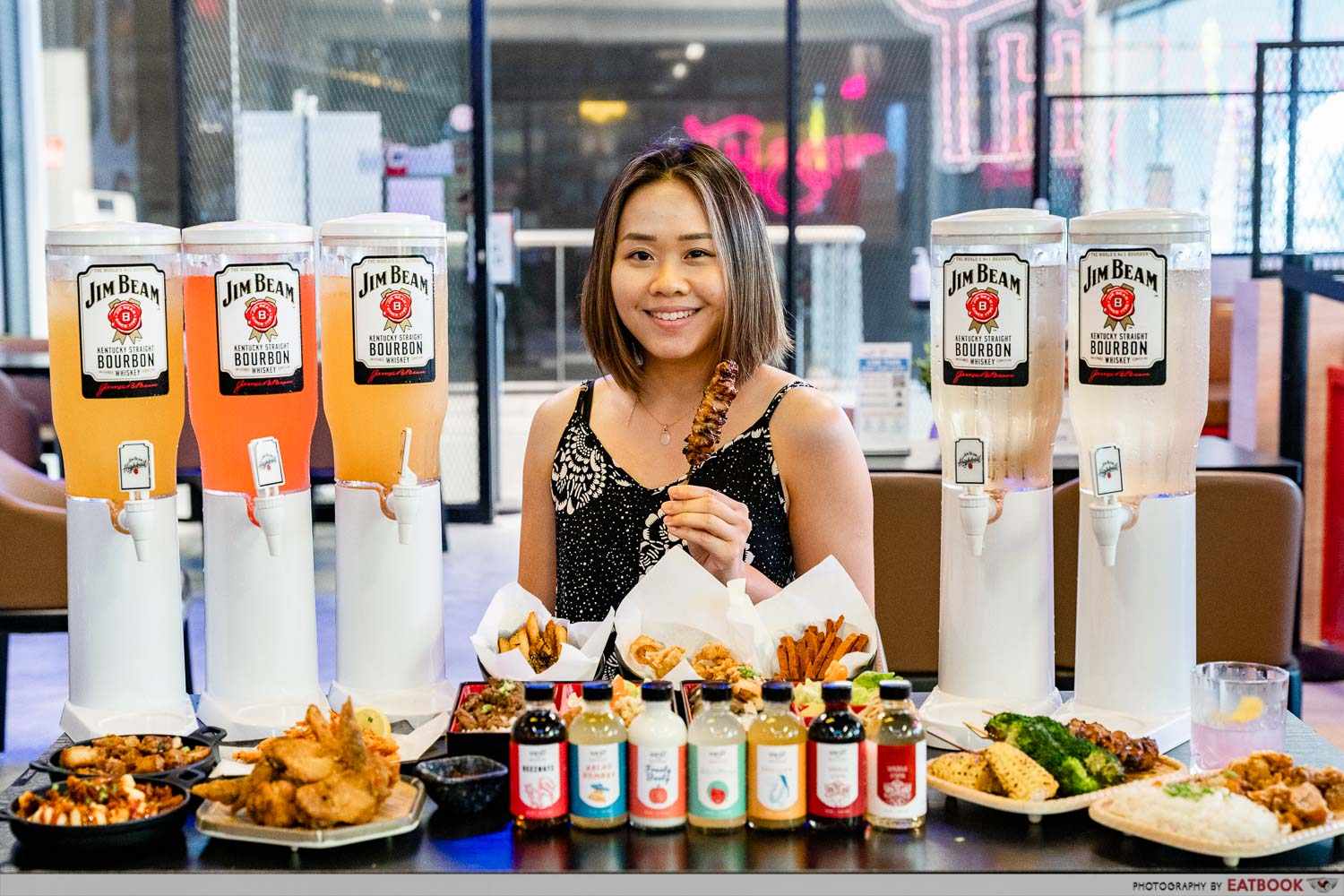 It's hard to come by a bar this central that doesn't charge a premium on its offerings. Whether it's a quick catch-up with friends, or post-work drinks with your colleagues, GudSht's relaxed ambience and central location make it an ideal hangout spot for all occasions. The extensive food and drink menus offer something for everyone—even the pickiest eater won't be left out here!
Address: 8 Grange Rd, #01-04, Orchard Cineleisure, Singapore 239695
Opening hours: Daily 11am to 10:30pm
Tel: 8683 3052
Website
GudSht is not a halal-certified eatery.
Photos taken by John Lery Villaneuva.
This post is brought to you by GudSht.
GudSht Review: Neon-Lit Bar In Orchard With Shinjuku Vibes Has Jim Beam Highball Towers And Curry Dons
GudSht Review: Neon-Lit Bar In Orchard With Shinjuku Vibes Has Jim Beam Highball Towers And Curry Dons -

7.5/10
Summary
Pros
– Affordable drink prices
– Wide range of dishes
– Convenient location
Cons
– Drinks are on the sweeter end
– Pricey bentos
Recommended dishes: Rice Cake Poppers ($10+), Yakiniku Beef Bento ($21.90+), Rita's Marga (from $15+)
Opening hours: Daily 11am to 10:30pm

Address: 8 Grange Rd, #01-04, Orchard Cineleisure, Singapore 239695