Hans Im Gluck in Orchard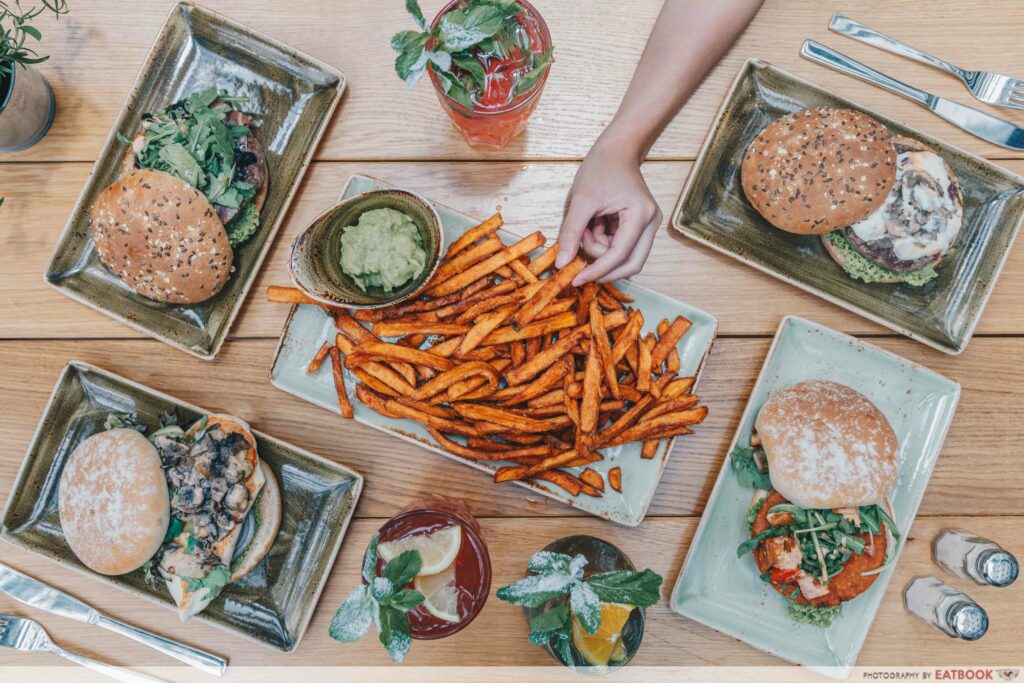 Singapore is a great place to be when you're a foodie. Even though we are just a tiny red dot, many overseas restaurants choose our country as the place to set up their first Asian outlet – #blessed. And one of these restaurants is Hans Im Gluck. Now, if you've been to Germany, you might have seen outlets of this burger grill and bar peppered across the country – they have 49 outlets there! So putting my passport away, I went down to the restaurant in Orchard Road to see what all the fuss is about.
Food at Hans Im Gluck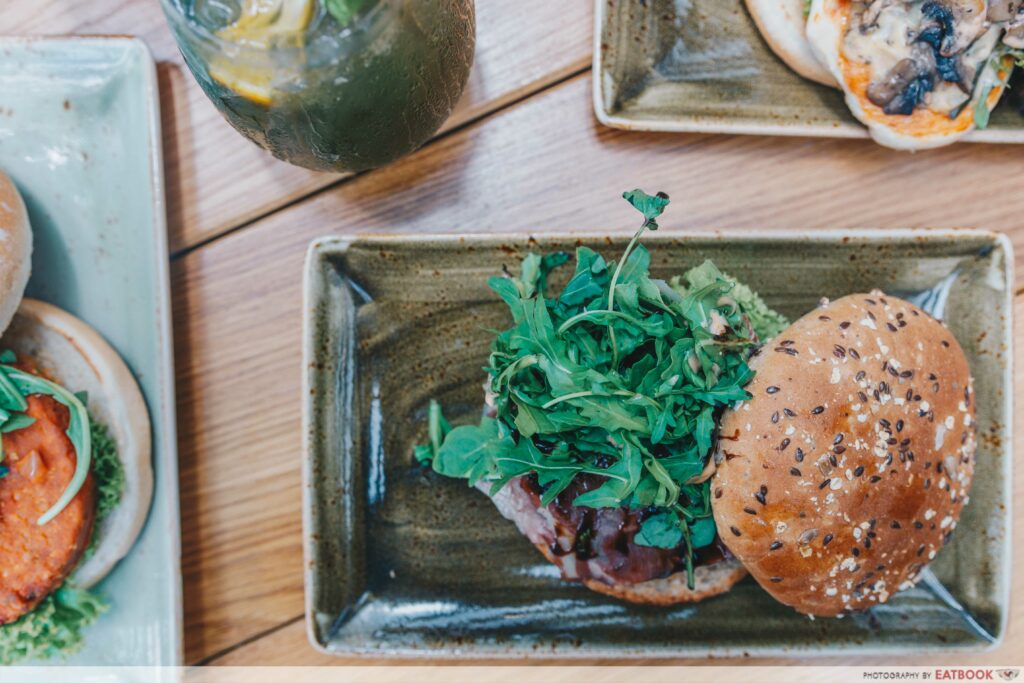 A burger named after the restaurant itself, their Hans Im Gluck ($17++) was an obvious choice. Sandwiched between two multigrain buns and hidden underneath a heaping of rocket leaves, was a juicy grass-fed beef patty, shavings of Parmesan cheese and Parma ham. If you like prosciutto pizza, you will love this.
Using just my fork, I could easily cut through the tender beef patty, which revealed a pink – not brown – hue, indicating its doneness. The cheese was a pleasant addition, as it gave a nutty accent to the slight bitterness of the rocket leaves. The balsamic dressing also helped uplift the heaviness of the burger, as well as cut through the saltiness of the cured meat. I could see the careful harmonisation between ingredients, where not one item overpowered the flavour of the other.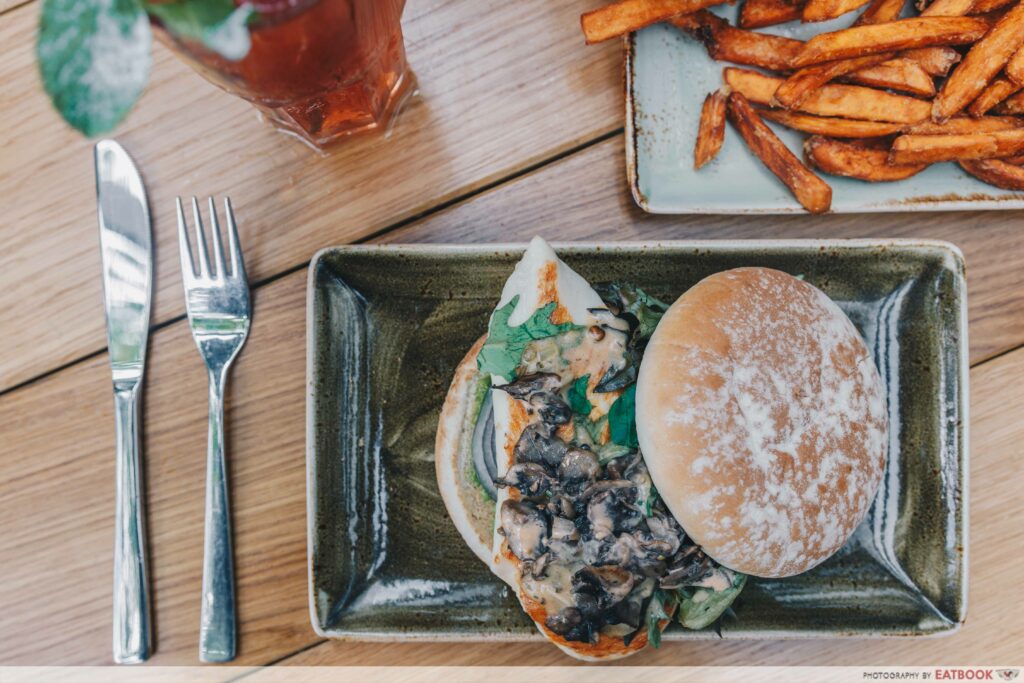 Disclaimer: I hate chicken breast. So when our host was waxing lyrical about the restaurant's chicken burger, I could not understand why. Not even when the Zehnt ($15++) arrived at our table, with its massive chicken breast nestled in-between two sourdough buns.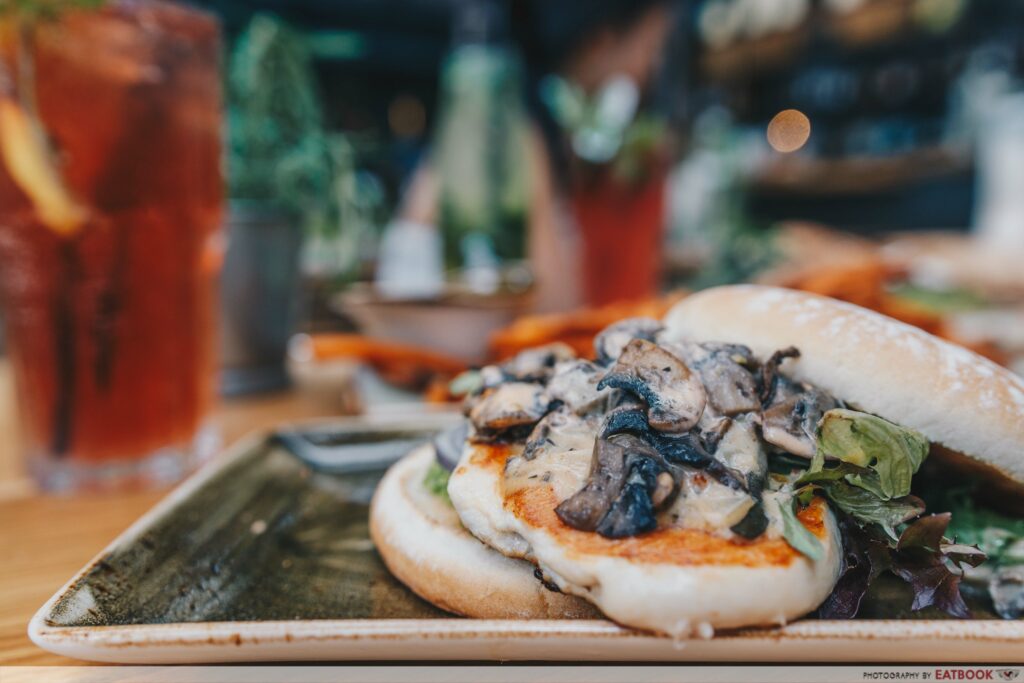 As I took a bite of the burger, my biased expectations of the patty being bland and dry was thrown out the window. The grilled white slab retained its moisture well, and complementing it were sliced mushrooms cooked in a scrumptious three-pepper sauce. The buns – in fact, all the burgers I tried – were also slathered in the restaurant's house-made sauce comprising vegan mayo, wasabi and fresh tomato paste. The wasabi flavour was very pronounced in this burger, giving it a sharp bite.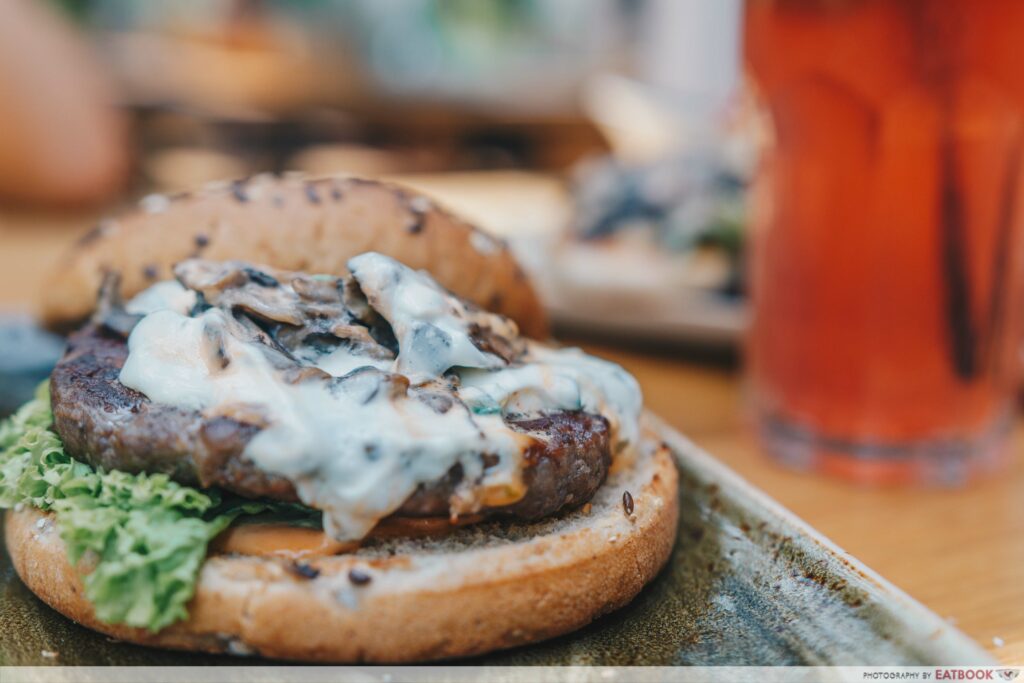 We also had the beef version of the Zehnt, the Scharfrichter ($17++). It was much heartier, and I felt that the distinctive, natural taste of the beef was bolder than the pungent wasabi mayo. But in terms of which burger was more interesting, I would definitely pick the chicken version, as your taste buds can really detect each of the individual flavours.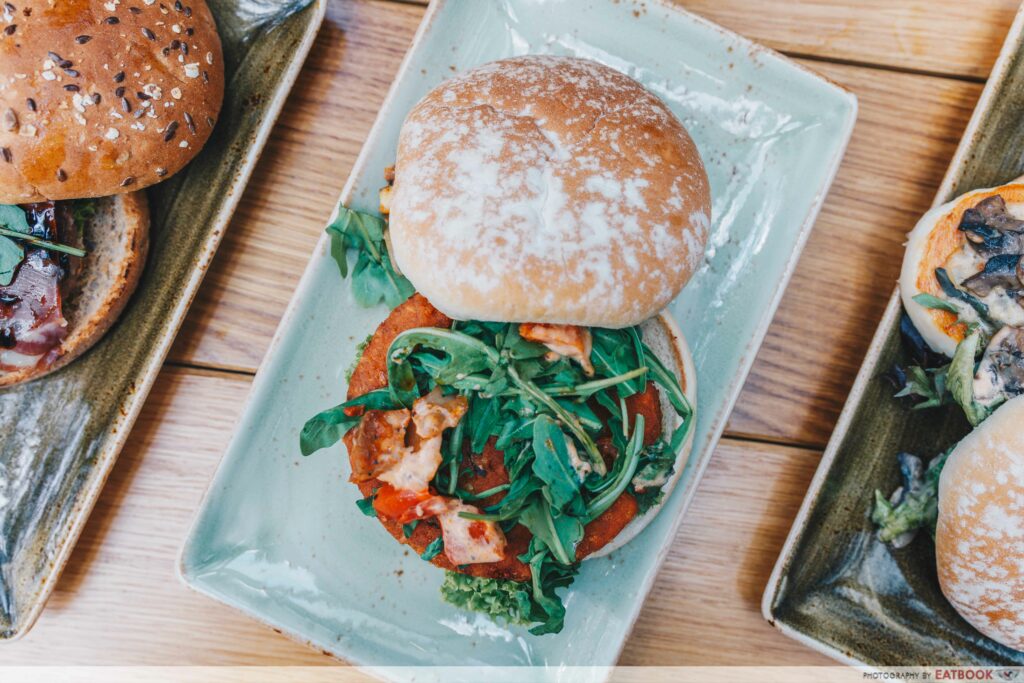 At Hans Im Gluck, they have an array of vegan and vegetarian patties too, including wheat, olive, spinach and cheese, walnut as well as the spicy, which is featured in this vegan burger, Kutscher ($15++).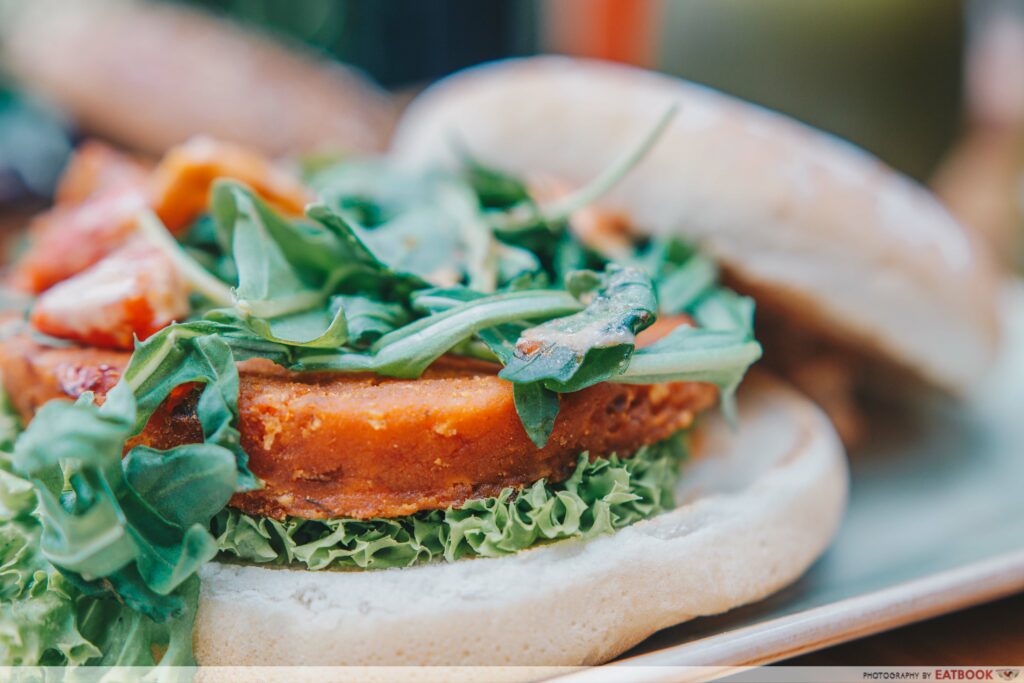 Made up of corn, red bell pepper, carrot, potato starch and jalapenos, I appreciated how the vegetables weren't fully processed to hide its existence or mimic a ground meat patty like most veggie burgers. The taste was refreshing; the crisp, sweet taste of the capsicum was strong, while the green chilli pepper lent a spicy, smoky element to the burger.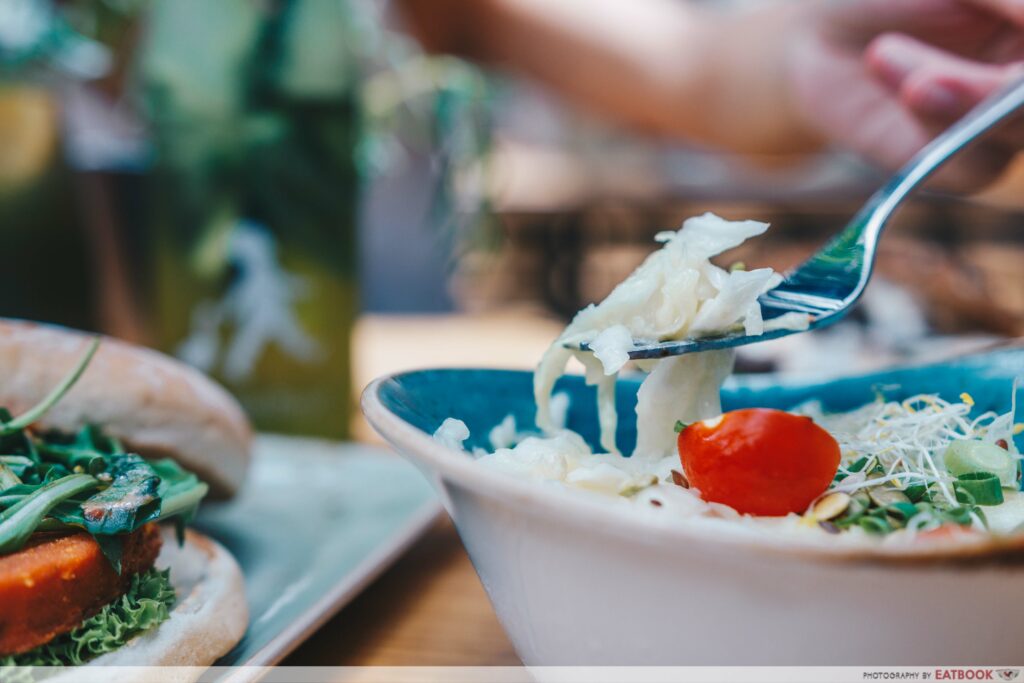 Make your money's worth and come before 5pm, where an extra $5++ will give you a side order of your choice, as well as a drink such as their Ice Tea ($6++), which has flavours such as fruit salad-mint, cucumber-basil and mango-ginger. The sides we tried were the Susskartoffel-fritten ($6++), which is sweet potato fries, as well as the Krautknolle ($6++). The latter is a traditional German white cabbage salad with potato dressing that reminded me of coleslaw.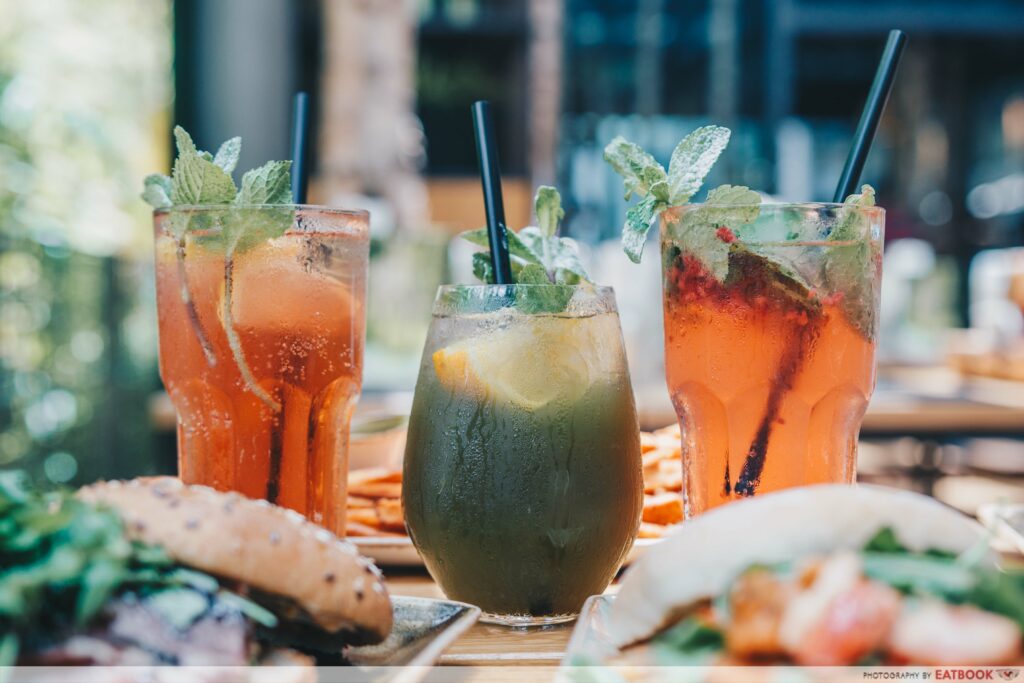 If you can only come down during dinner time, you can also top up $15++ for a side and cocktail! Their tipples are pleasantly light and incorporate tons of fruit juices and herbs. We tried their Razzed Up Rum selection, and our favourite was the Tropik Razz ($14++) – it's the green drink – which was bursting with the sweetness of passion fruit.
Ambience at Hans Im Gluck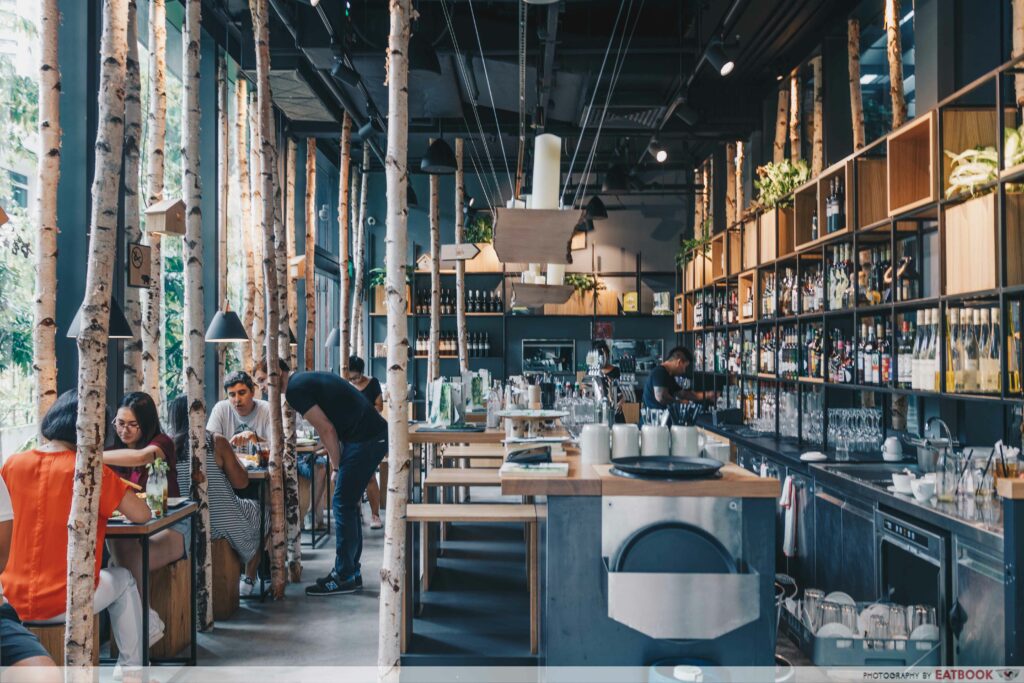 If you're a sucker for ambience like I am, you will fall in love with Hans Im Gluck. There are two al fresco seating areas – one that faces the main shopping stretch and the other that's located at the back – as well as two indoor spaces for those who hate basking in the sun. All these four spaces have floor-to-ceiling birch tree trunks erected, giving it a whimsical, forest vibe.
The verdict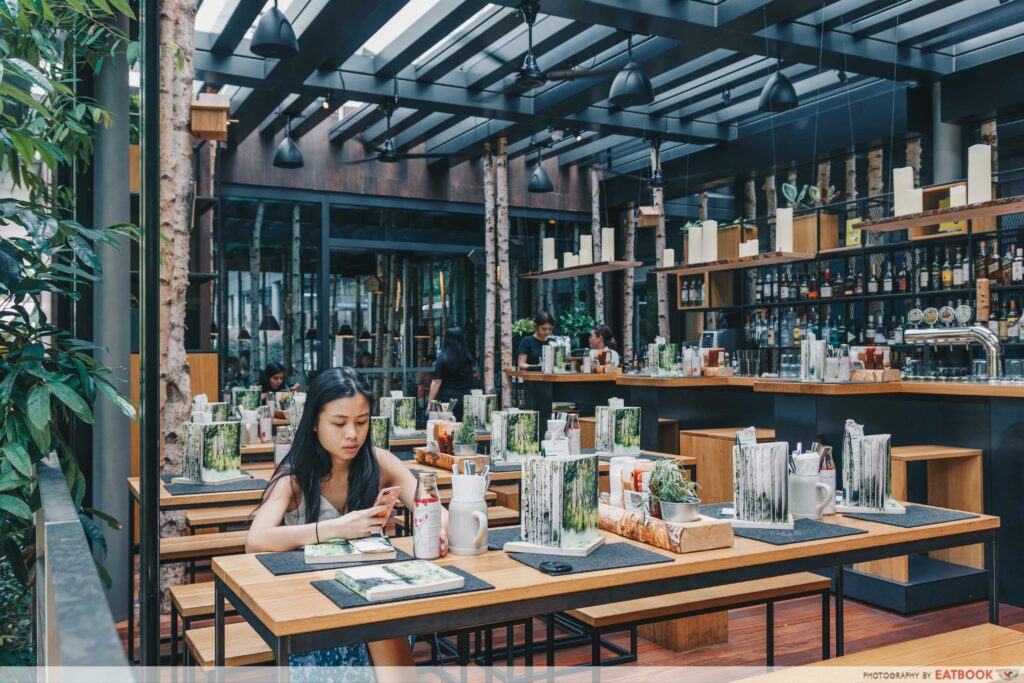 These aren't your cheapest burgers in Singapore; $15++ doesn't even include fries or salad! And while the burgers were delicious, it did not make that much of an impression or left me hankering for more. That being said, I will definitely come back here just for the relaxed atmosphere and refreshing cocktails. I can totally see myself seeking solace in this garden-like restaurant when I'm feeling too overwhelmed by the busy streets and crazy human traffic in Orchard Road.
For more burgers in Singapore, check out Burgernomics and these affordable burgers under $10!
Address: 362 Orchard Road, International Building, Singapore 238887
Opening hours: Sun-Thur 11am to 12am, Fri-Sat 11am to 1am
Tel: 9750 1488
Website
Summary
Pros
– Great ambience
– Quality ingredients used
Cons
– Burgers used the same sauce, making it repetitive
– Expensive
Recommended dishes: Kutscher ($15++) and Zehnt ($15++)
Opening hours: Sun-Thur 11am to 12am, Fri-Sat 11am to 1am
Address: 362 Orchard Road, International Building, Singapore 238887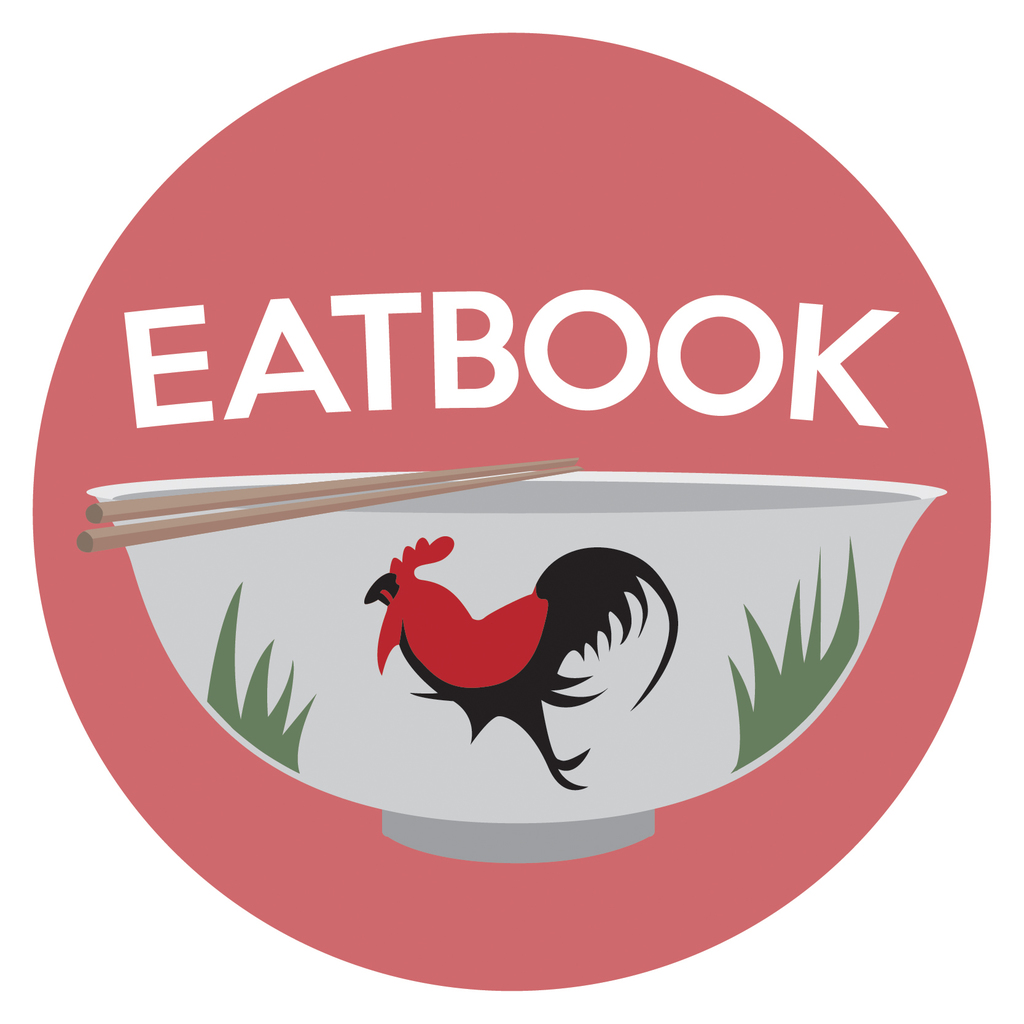 Drop us your email so you won't miss the latest news.