---
Healthy snack delivery in Singapore
---
We all know how challenging it is to stay healthy when junk food is just that much easier to reach for, especially when the midday munchies hit. Healthy snacks also have a reputation for being less tasty and appealing than their processed counterparts, so nine times out of 10, the potato chips stay winning. Thankfully, there are a handful of healthy snack delivery services in Singapore that are stepping in to set us on the right path with tasty, wallet-friendly options delivered to your doorstep. 
No more convenience store runs in the sweltering hot sun, or impulse buy decisions at the supermarket—these healthy snack delivery companies in Singapore are offering curated selections for all your snacking needs. Plus, many of these brands offer subscriptions or gift box options, if you're thinking of sharing them with your loved ones.
---
1. Plucked.sg
---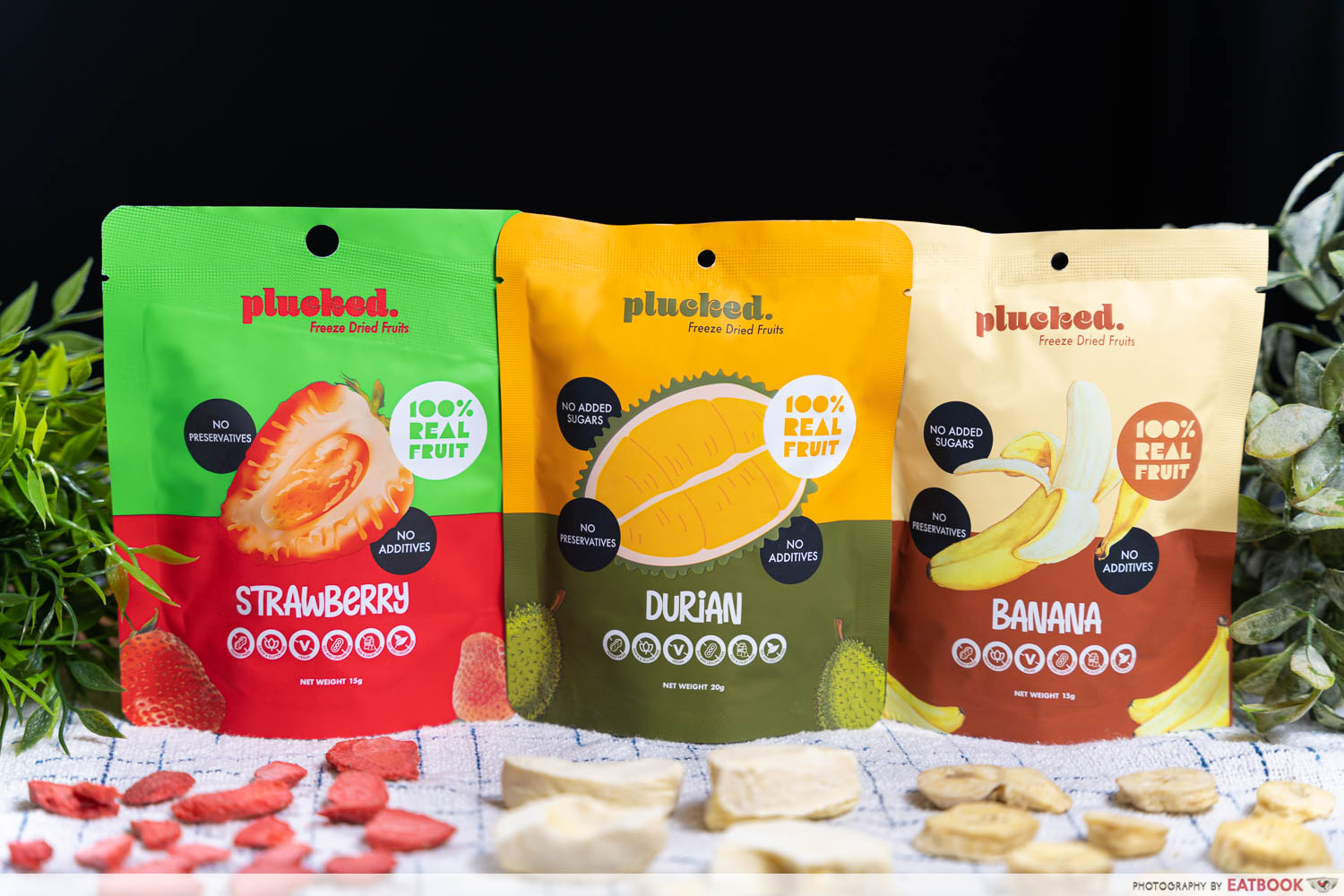 Satisfy your sweet tooth with Plucked.sg's range of freeze-dried fruits. The local snack start-up offers a selection of different freeze-dried fruits, from strawberries to apples, and even durian. They're super convenient—no more having to store your fresh fruit in the crowded office fridge, or deal with sticky fingers after snacking. Plucked.sg's range comes in handy, resealable packets, so you can keep them at your desk.
The special freeze-drying technology used by Plucked.sg ensures that all the nutrients from the fruits are locked in, but it also imparts a crunch to each piece that's super addictive. All flavours are vegan, gluten-free, preservative-free and soy-free, so they're great for everyone, even for folks with special dietary needs. 
A pack typically costs $4 for 15g, but we recommend buying in bulk because you get free delivery when you spend above $20. They also sell snack boxes you can keep or gift, where you get six of a particular flavour, or a mix of different flavours, from $30.60. 
Order from the Plucked.sg website.
Plucked Has Affordable Freeze-Dried Fruit Snacks, A Healthier Option For Your Midday Treat
---
2. Munchees
---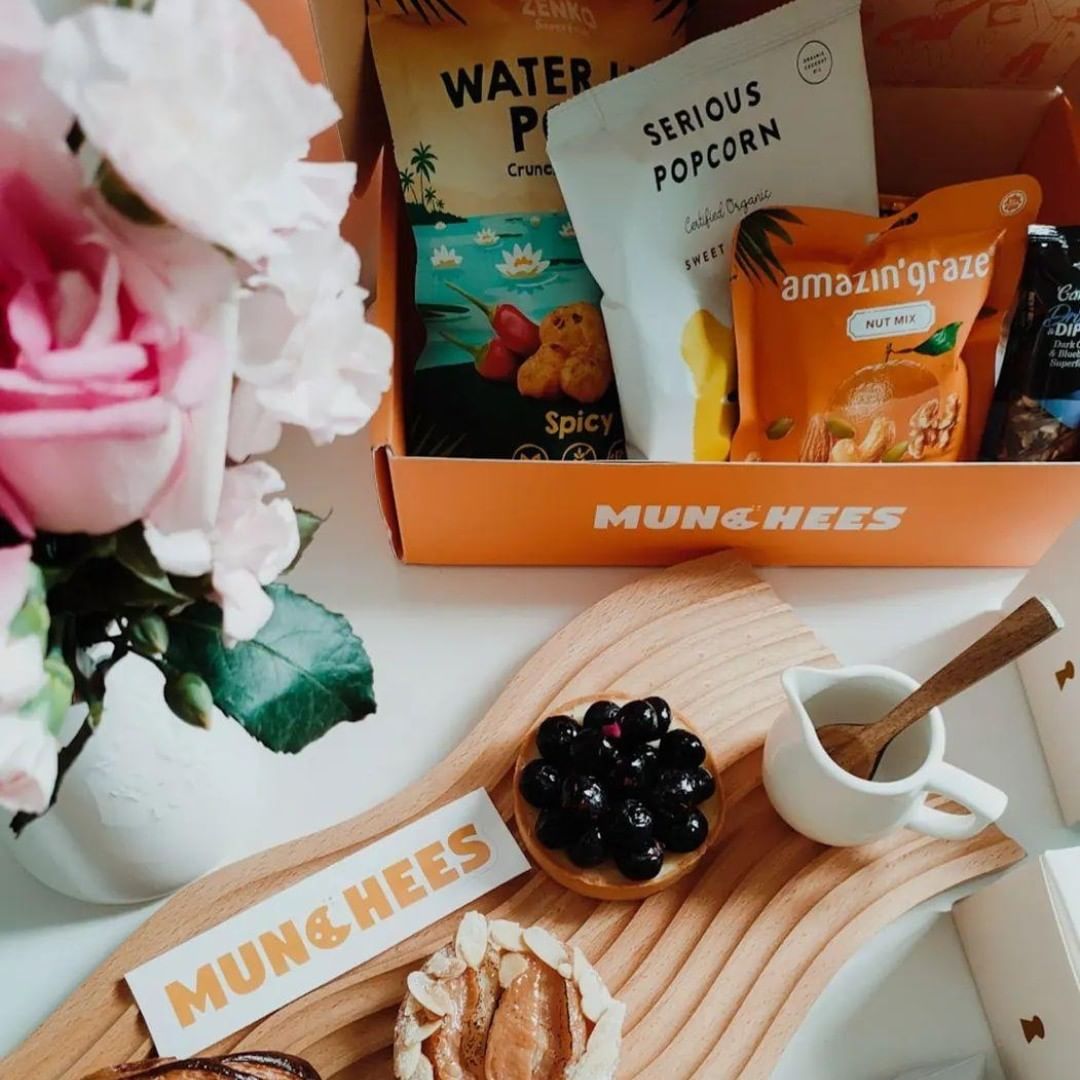 Image credit: @travel_loot
Munchees is primarily an office snack company, but they also offer personal boxes that you can order. The Personal Balanced Box ($28.50) is a popular pick, as it offers both healthy snacks, and old-school childhood snacks when you're feeling a bit naughty. Each box comes with 12 items, ranging from trail mix and flavoured nuts to Hello Panda. Halal-certified and vegan options are available too. Delivery is free for orders over $50.
Order from the Munchees website.
---
3. Snack Right
---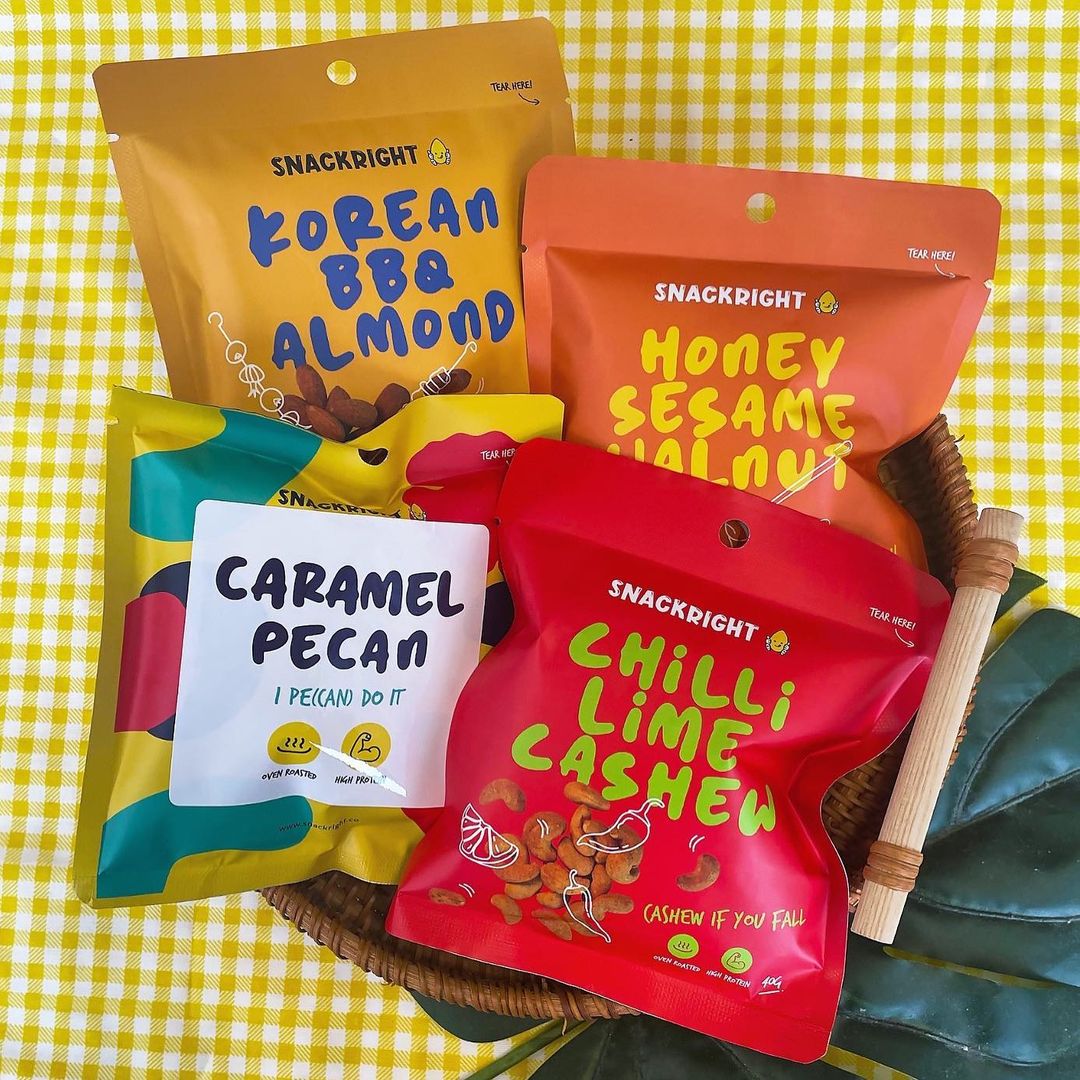 Image credit: @snackrightsg
Nuts are a go-to healthy snack, but sometimes, their flavours can be a tad too boring. Enter Snack Right, a local company that offers freshly roasted gourmet nuts in Asian flavours, ranging from Chilli Lime Cashews (from $6.20) to Korean BBQ Almonds ($6.20). If you can't pick just one, opt for their bundles instead. The Starter Bundle ($17.70) offers a sampler of the aforementioned flavours, as well as a sweeter Honey Sesame Walnut that tastes similar to traditional walnut candy. Delivery is free with a minimum spend of $25.
Order from the Snack Right website.
---
4. Boxgreen
---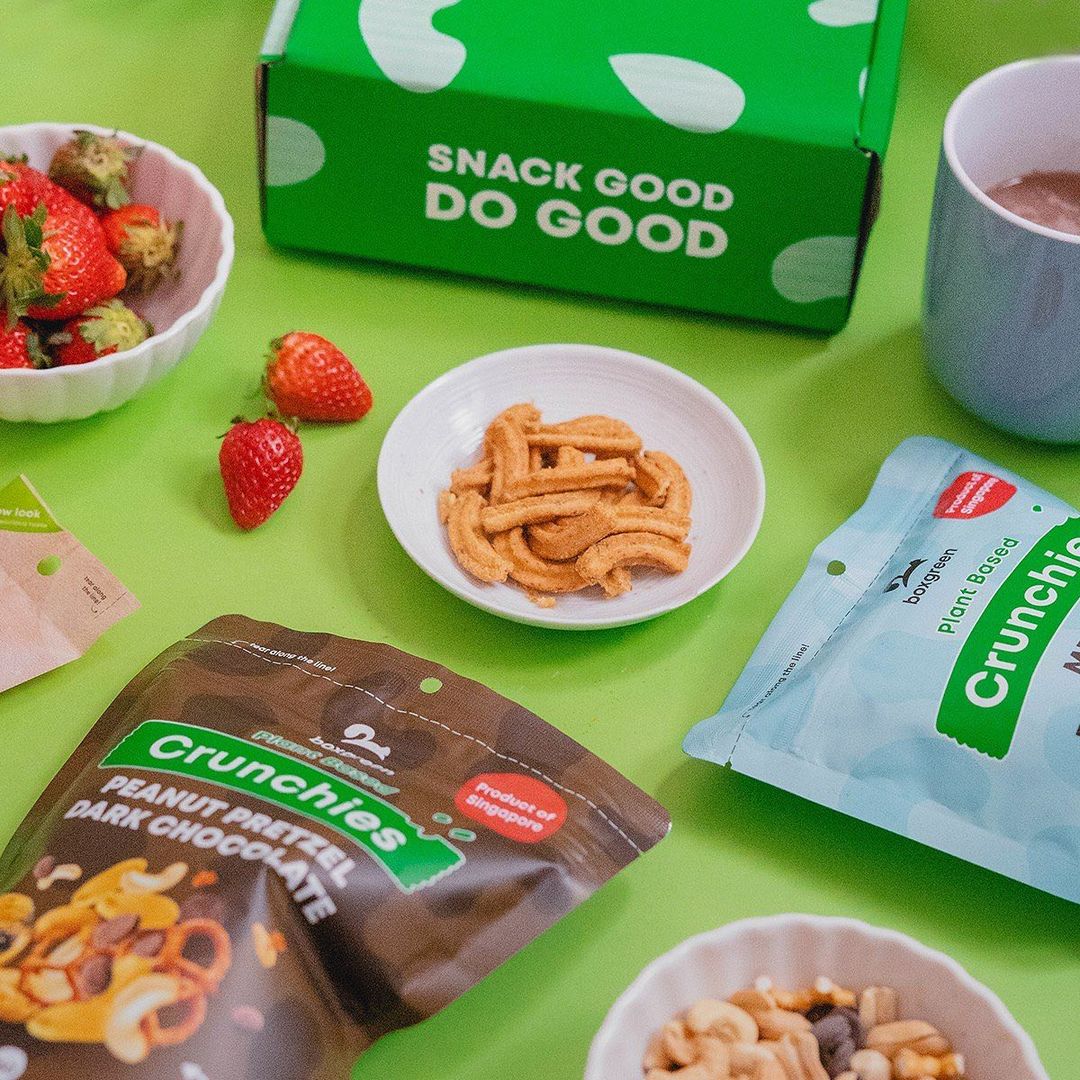 Image credit: @boxgreenco
Boxgreen is an OG snack box company in Singapore. They offer an expansive variety of snacks that are nutritionist approved, and tailored to your dietary needs. We recommend their Build Your Own Box option, which starts at $9.90 for a weekly subscription. You get to pick from a variety of 40-odd different nuts, crackers, chips and other nutritious bites—all so you can snack guilt-free. Boxgreen fans praise the weekly delivery option, so they never have to worry about stocking their pantries anymore. Delivery is free for the subscription boxes, but if you're ordering other items off the site, a minimum order of $30 is needed for free delivery.
Order from the Boxgreen website.
---
5. Amazin' Graze
---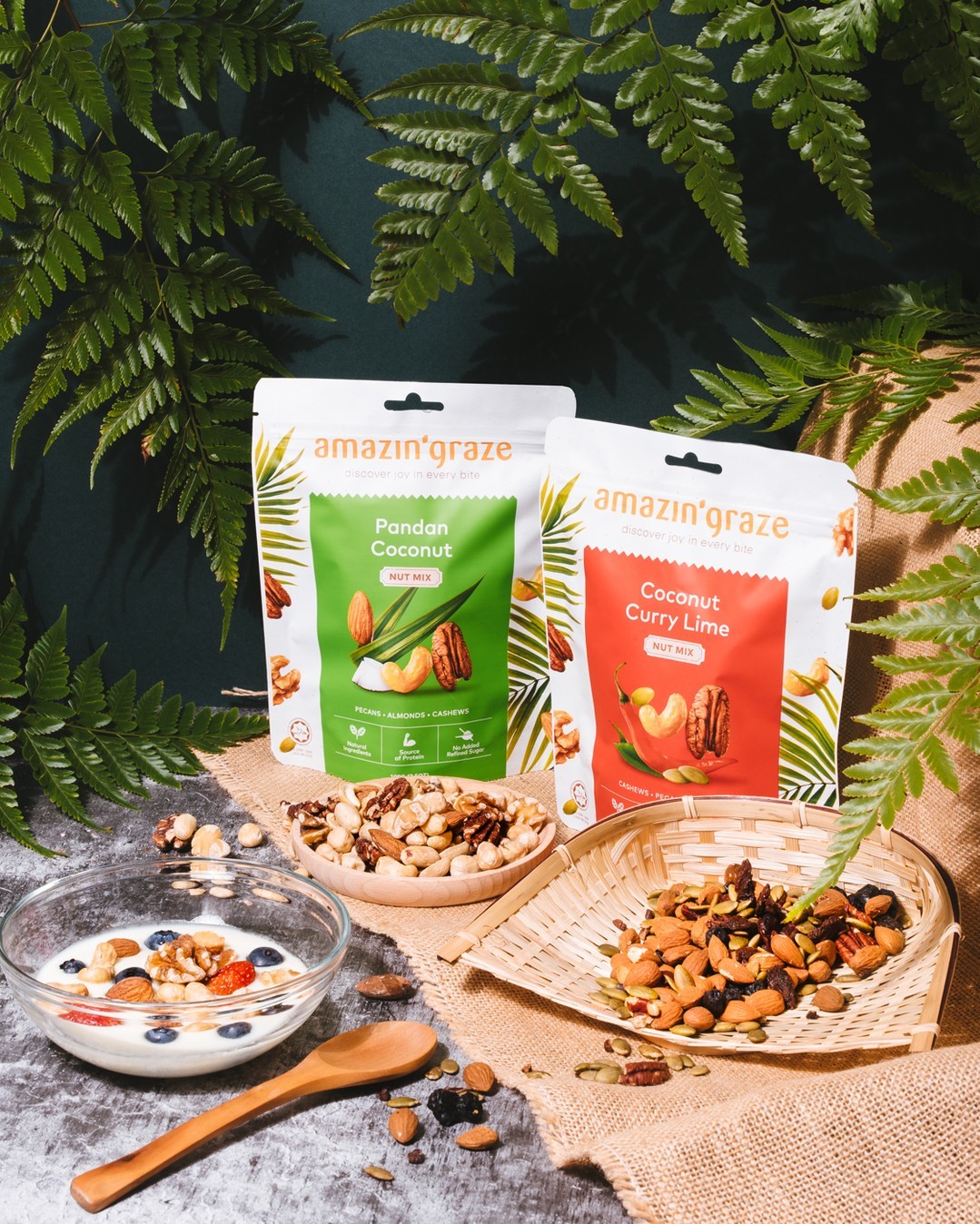 Image credit: @amazingrazesg
You may have seen the homegrown label Amazin' Graze on your supermarket shelves, but FYI: they also sell their granola, spreads, and other healthy snacks online, with home delivery available. You can get packs of their nut mixes, which are great for nibbling on, or their popular trail mixes if you're team salty and sweet. If, like us, you love chocolate brownies but want a healthier alternative, try their Brownie Chips (from $6.90). These come in a variety of flavours, are high in fibre, and have no added refined sugar. They are also made with antioxidant-rich dark chocolate and are topped with superfoods. They're halal-certified too! Delivery is free above $20.
Order from the Amazin' Graze website.
---
6. Snack Guru
---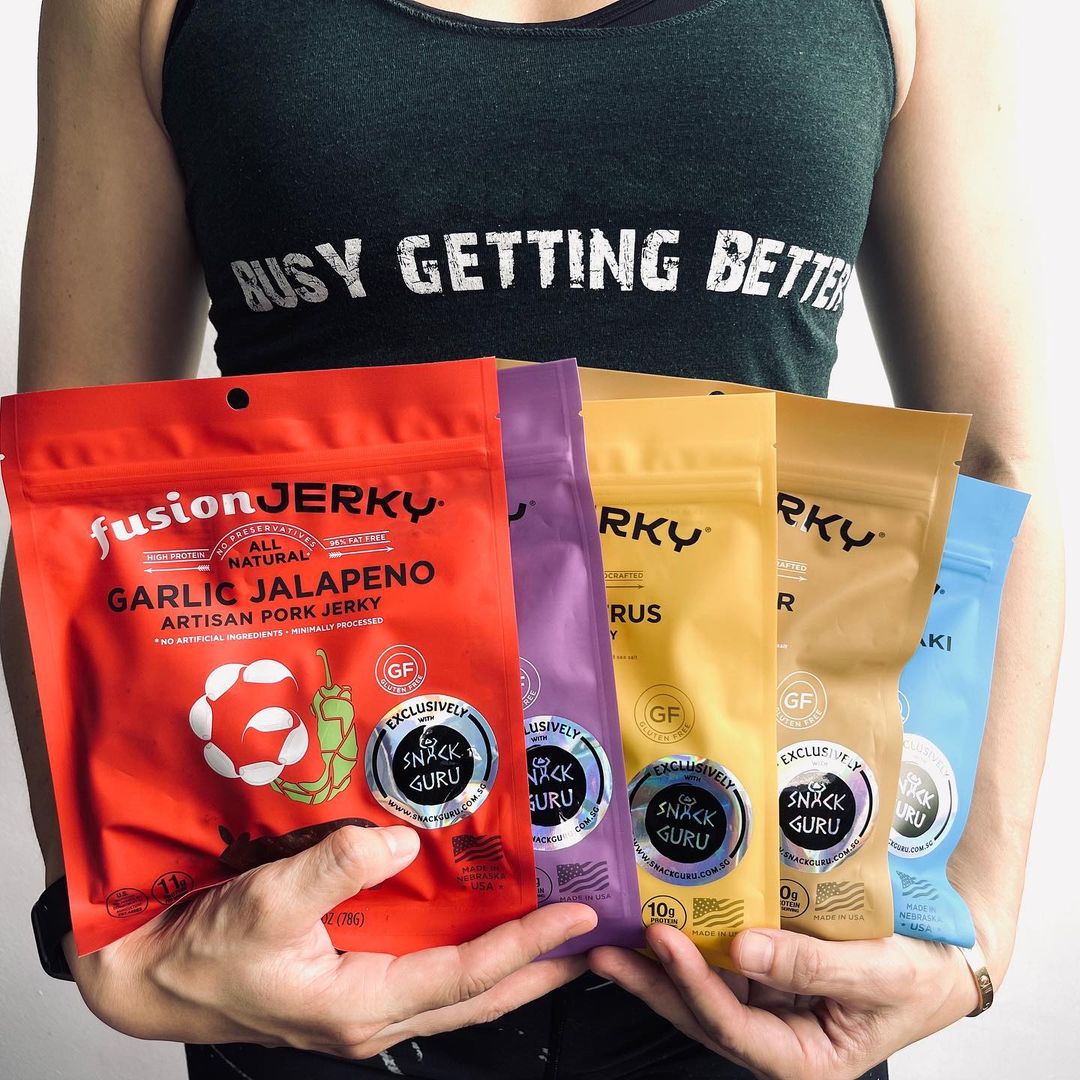 Image credit: @thesnackguru
Gymgoers looking for high-protein snacks can turn to Snack Guru for their fix. Founded in 2015, they're best known for stocking a variety of artisan Fusion Jerky, made in the US. These come in Asian-fusion flavours such as Japanese BBQ Beef Jerky (from $5.90), Chilli Basil Turkey Jerky (from $9.50) and plenty more. Aside from their savouries, Snack Guru also has a range of sweet baked treats, including Goodness (from $6.90), loaf cakes that are dairy-, gluten-, refined sugar-, yeast-, gum-, and grain-free. Shipping is free for jerky orders over $10.
Order from the Snack Guru website.
---
7. The Edible Co
---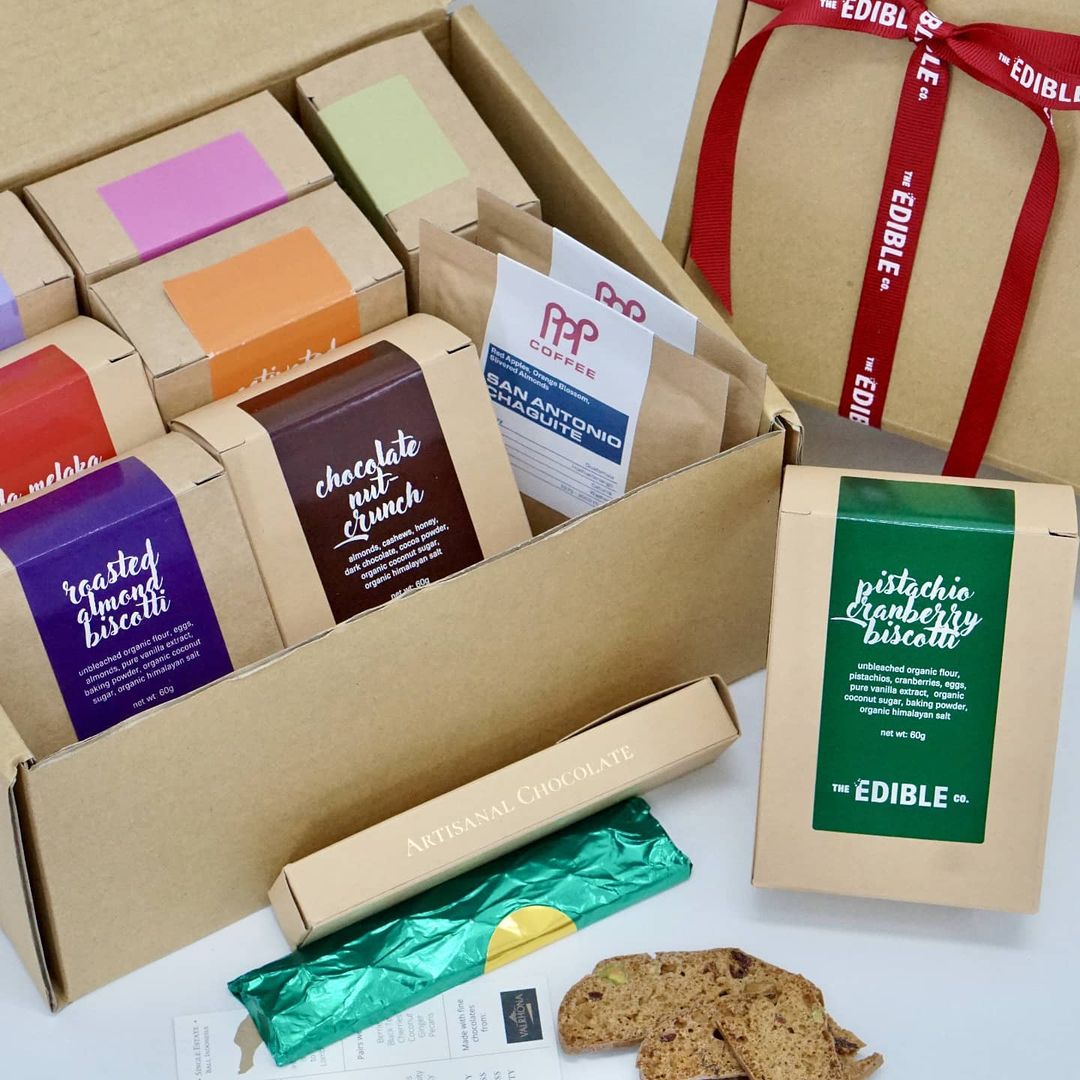 Image credit: @theedibleco
If biscuits and granola are your go-to healthy snacks, then The Edible Co. is a brand you might want to consider ordering from. They're known for their superfood-rich granola offerings, but also have snack bundles that comprise all-natural baked bites. The 4 Snack Pack ($25) for example, comes with a Gula Melaka Granola Crunch, Chocolate Cranberry Cookies, Pistachio Cranberry Biscotti, and Gula Melaka Almonds. Each box comes packed with a ribbon, if you're opting to gift them. Free delivery is available when you spend $80. 
Order from The Edible Co. website
---
8. Chip Thrill
---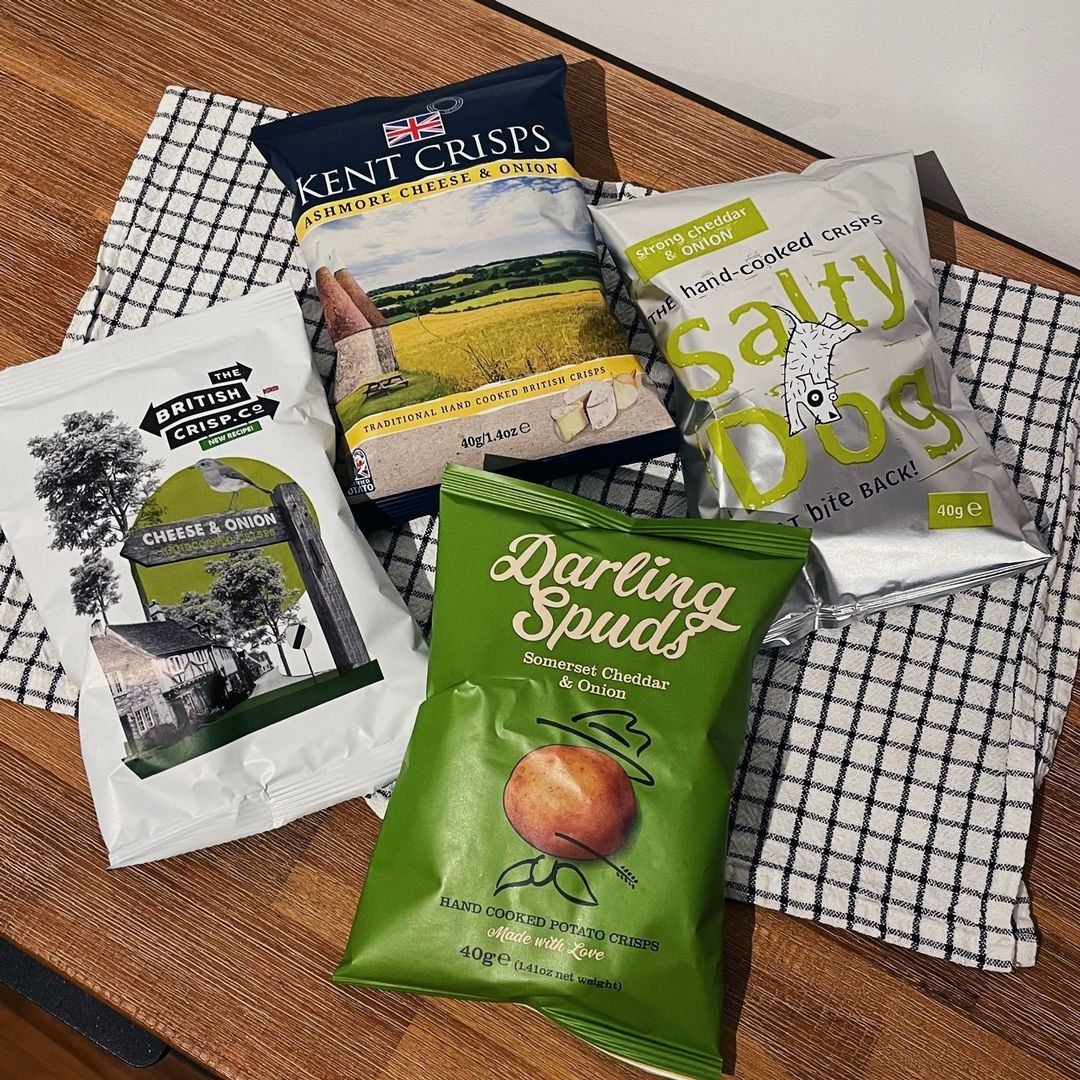 Image credit: @chip.thrill
Potato chips can be healthy too! At least, when they come from local healthy snack company, Chip Thrill. The online store curates a wide selection of good-for-you crisps from a selection of small-batch brands, ranging from low-cal Pea Pops to Arva Premium Tempe Truffle Chips. Pick and mix your selection, or opt for their curated gift boxes. There are themed boxes for birthdays or thank-you gifts, or to feed a whole party. Prices start from $46, and boxes come with chopsticks so you can munch without getting your fingers dirty.
Order from the Chip Thrill website.
---
Healthy snacks in Singapore
---
Here is our guide to some of the best healthy snack delivery services in Singapore. If you prefer to DIY your own nutritious nibbles, we've got recipes for easy snacks you can make with dried fruit. 
4 Easy Dried Fruit Recipes—Microwave Mochi, Cheese Foam Lattes And More
Featured image adapted from @amazingrazesg, @boxgreenco, and @theedibleco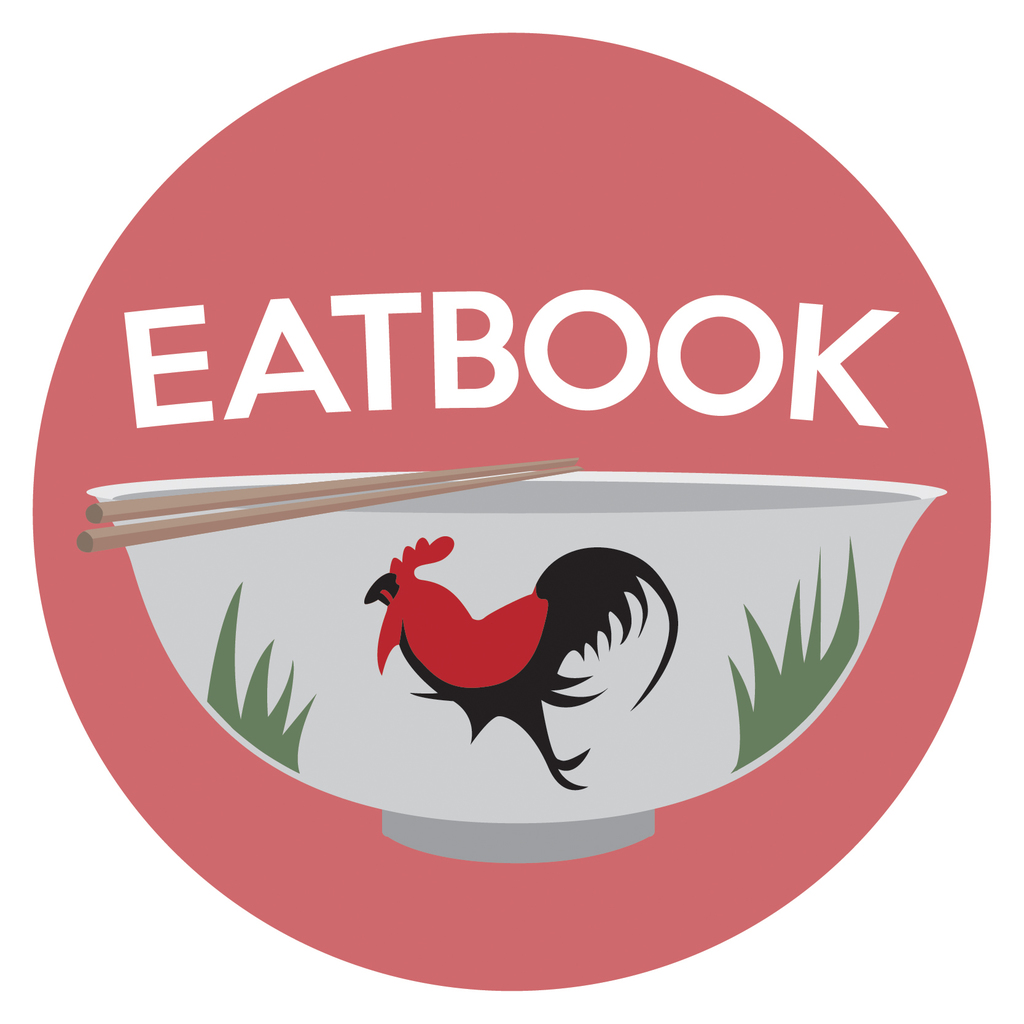 Drop us your email so you won't miss the latest news.