---
Hidden gem heartland eateries
---
Over 81% of Singapore lives in a HDB, which means we spend most of our time in the heartlands, and more importantly, eating our way through the variety of food options found in our neighbourhoods. While most of us are familiar with the hawker stalls located in the kopitiam nearest to us, heartland areas offer plenty more hidden gems, from unique bubble tea to craft beer bars, for eager foodies to explore.
Whether you live in the North, South, East, West, or Central, here are 10 hidden heartland food gems for you to discover.
---
1. Yung Yung
---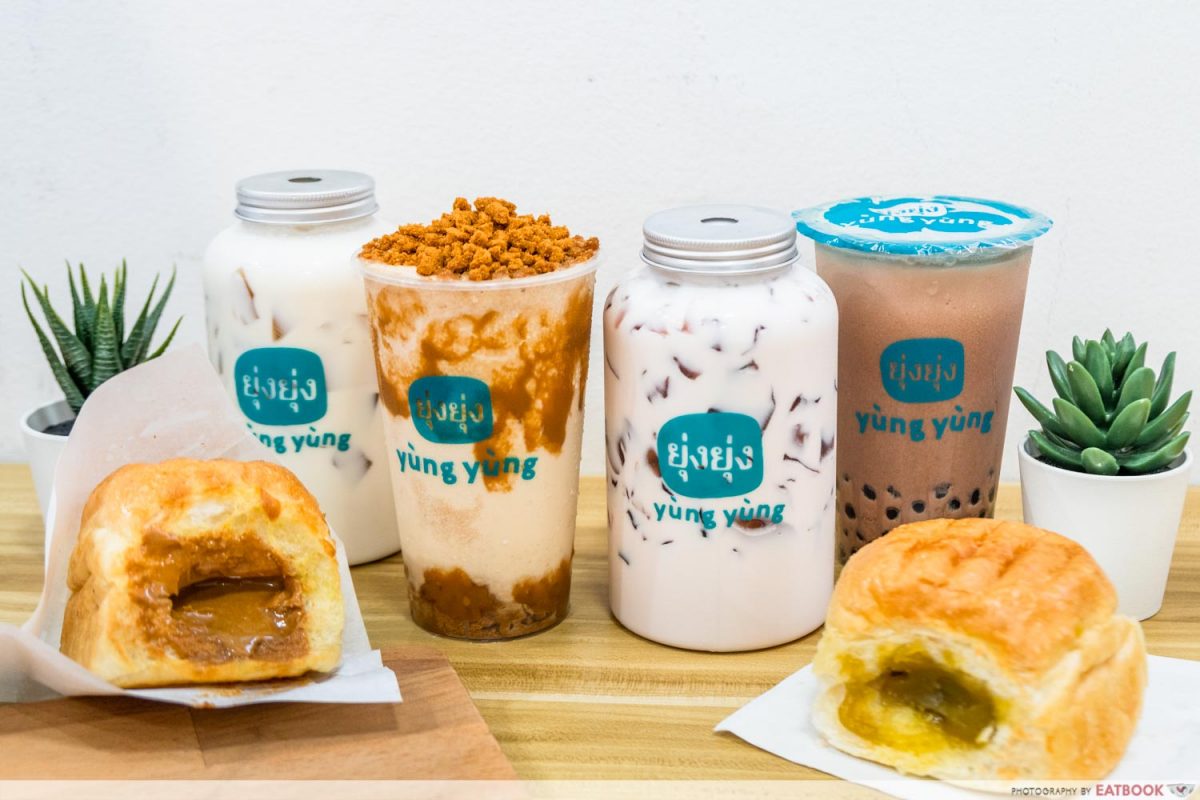 Situated in a housing estate amidst the Bishan sprawl is Yung Yung, a unique drinks and snacks kiosk that serves both bubble tea with house-made jellies and Thai-style Yaowarat buns, loaded with fillings. First-time patrons should try their signature Lotus Biscoff Smoothie, priced at just $4.80. This gao beverage is almost a milkshake, enriched with Lotus Biscoff spread, and further topped with Lotus biscuit crumbs. Accompany your drink with their fluffy Yaowarat buns, toasted on site. Flavours include Pandan Kaya ($2.80), and Lotus Biscoff ($2.90).
Read our Yung Yung review.
Address: Block 509 Bishan Street 11, #01-380, Singapore 570509
Opening hours: Daily 11.30am to 9.30pm
Tel: 8820 8292
Website
Yung Yung Review: IG-Worthy Lotus Biscoff Smoothies, Flavoured Jelly Milk Teas And More At Bishan
---
2. Ela
---
Bukit Batok is a neighbourhood with tons of history, but amongst its populated avenues are modern dining gems waiting to be discovered. One such jewel is Ela, located across the street from a HDB estate in Bukit Batok. Ela is a Greek restaurant that transports you to Santorini via its Mediterranean decor and delicious menu. All dishes are made with halal ingredients too, and the menu has no pork or lard.
Start your meal with their Dip Party Platter ($18.90+), which includes four different house-made dips, from tzatziki to taramasalata. For mains, choose from a variety of kebabs, or seafood dishes, including a tender grilled Octopus ($26.90+).
Address: 2 Bukit Batok West Ave 7, HomeTeamNS Bukit Batok, #01-07 A/B, Singapore 659003
Opening hours: Daily 12pm to 10pm
Tel: 8816 9418
Website
---
3. Leaf Corner
---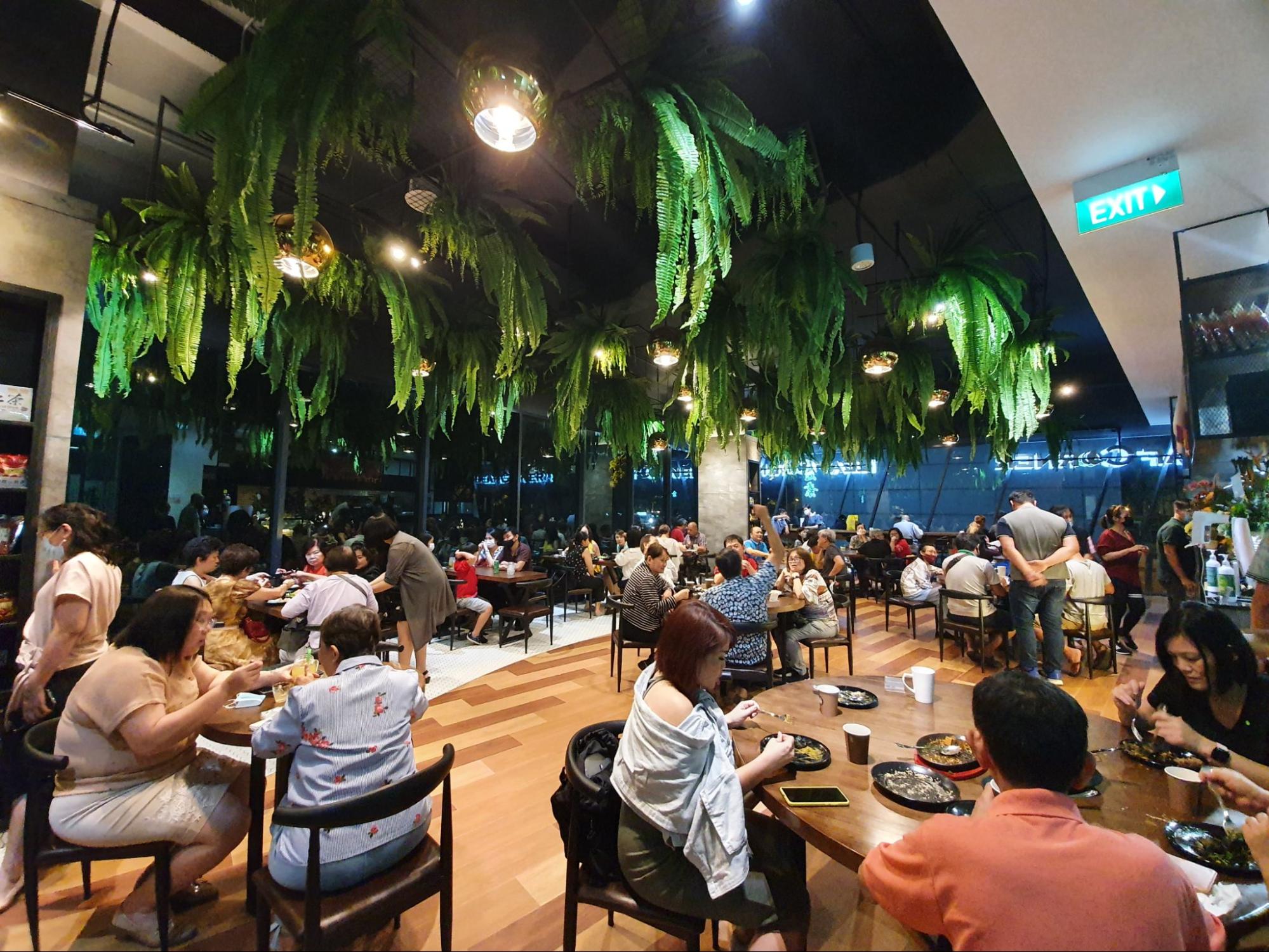 Image credit: Leaf Corner
Vegetarians living or working in the Central-East can expand their dining repertoire to Leaf Corner, located a short walk from Tai Seng MRT Station. This cafe has a medley of vegetarian-friendly dining options, from remakes of claypot and zi char fare, to hawker favourites, and even bento boxes for convenient meals. To top it off, they have also recently launched an array of vegetarian bakes, from classic Japanese cheesecake, to a unique array of mille crepe cakes in flavours that include taro, tiramisu, and Oreo.
Try out their Penang Char Kway Teow ($5.50), packed with wok hei and QQ noodles. There is also their moreish Ginger Egg Mee Sua Soup ($6.50) for a unique interpretation of this Taiwanese classic.
Tai Seng
Address: 11 Irving Place, #02-01, Singapore 369551
Opening hours: Daily 10am to 9pm
Tel: 6931 8869
Canberra
Address: 5 Jalan Legundi, Singapore 759269
Opening hours: Daily 9am to 10pm
Tel: 6219 0898
Website
---
4. Mama Don
---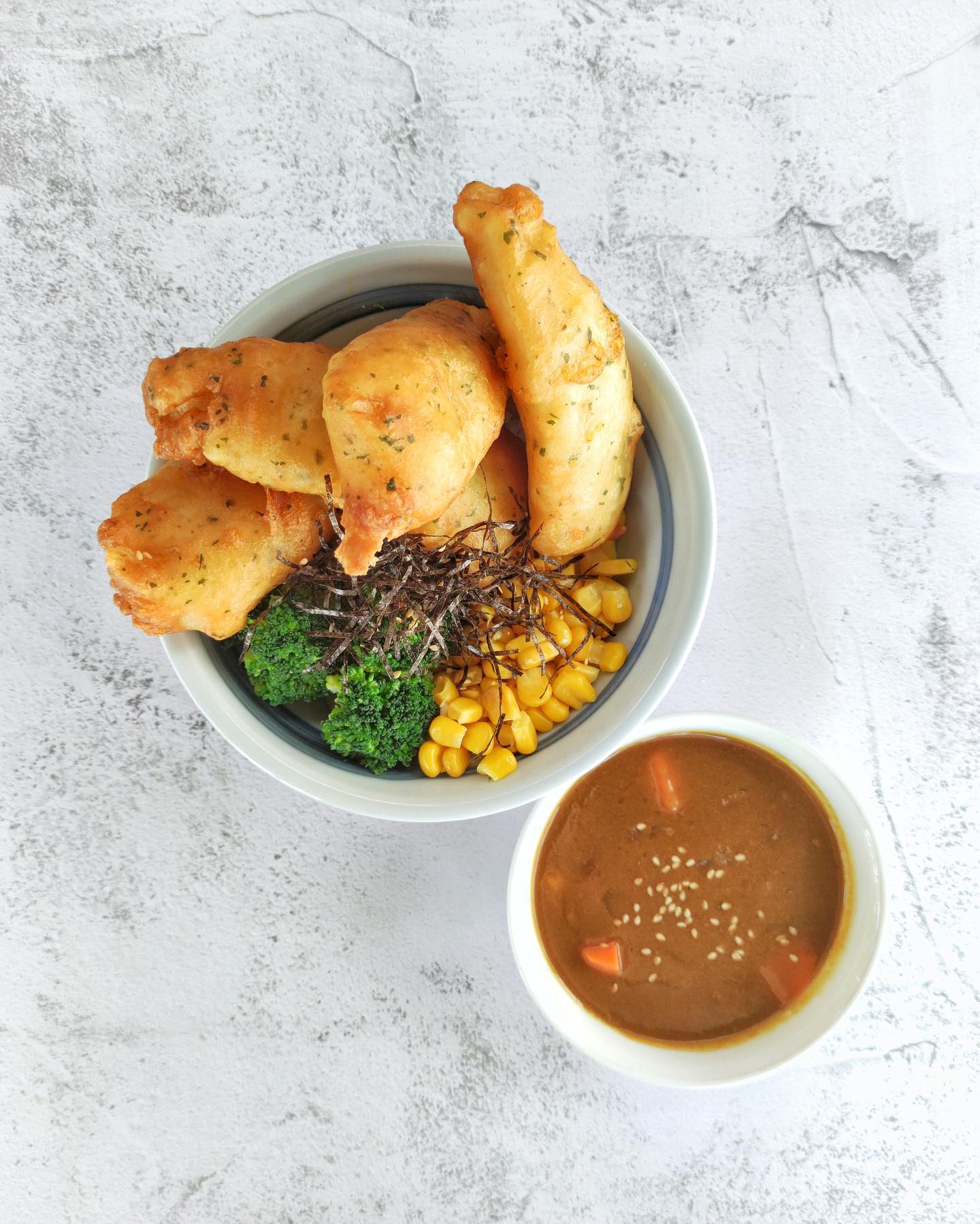 Image credit: Mama Don
Eastsiders don't have to rely on food delivery platforms to get their healthy food fix. Instead, head down to Mama Don, a salad and don bowl bar in the Tampines heartlands. They're all about high protein, delicious dishes that will keep you feeling full. Try their Chicken Katsu Don ($9), which comes with an onsen egg, corn, broccoli, as well as steamed rice, or their Striploin Beef Don ($19) if you're someone who prefers beef. Plus point: they're halal-certified!
Address: 820 Tampines Street 81, #01-526, Singapore 520820
Opening hours: Daily 11:30am to 10pm
Tel: 6592 8561
Website
---
5. Biscuit Shop 
---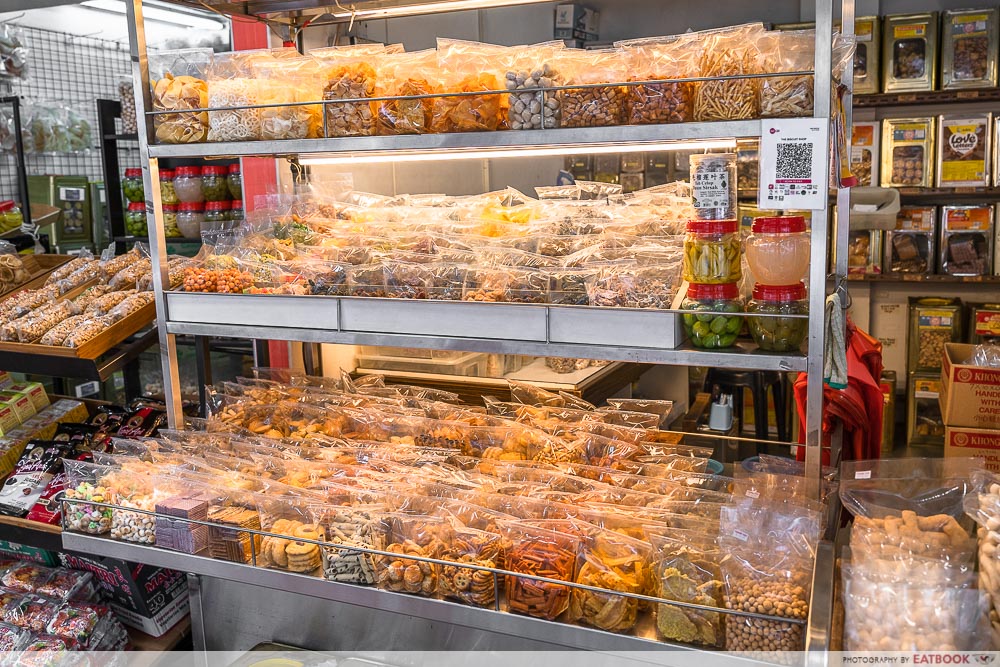 The aptly-named Biscuit Shop is the place to go for old-school biscuits sold out of giant golden tins in the Tanjong Pagar heartlands. They sell a whole list of nostalgic biscuits, as well as some new-school snack options. From wafers to finger biscuits, love letters to soda biscuits, there's plenty to choose from, and you can even mix and match. We recommend trying their Cashew Cookies, reminiscent of Chinese New Year snacks, and their Five Spice Biscuit, swirled with chilli powder for a kick. Prices differ according to the volume you purchase, and no pork or lard is used in making these snacks.
Address: Blk 6 Tanjong Pagar Plaza, #01-08/09, Singapore 081006
Opening hours: Mon-Sat 11am to 5pm
Website  
---
6. Old Auntea
---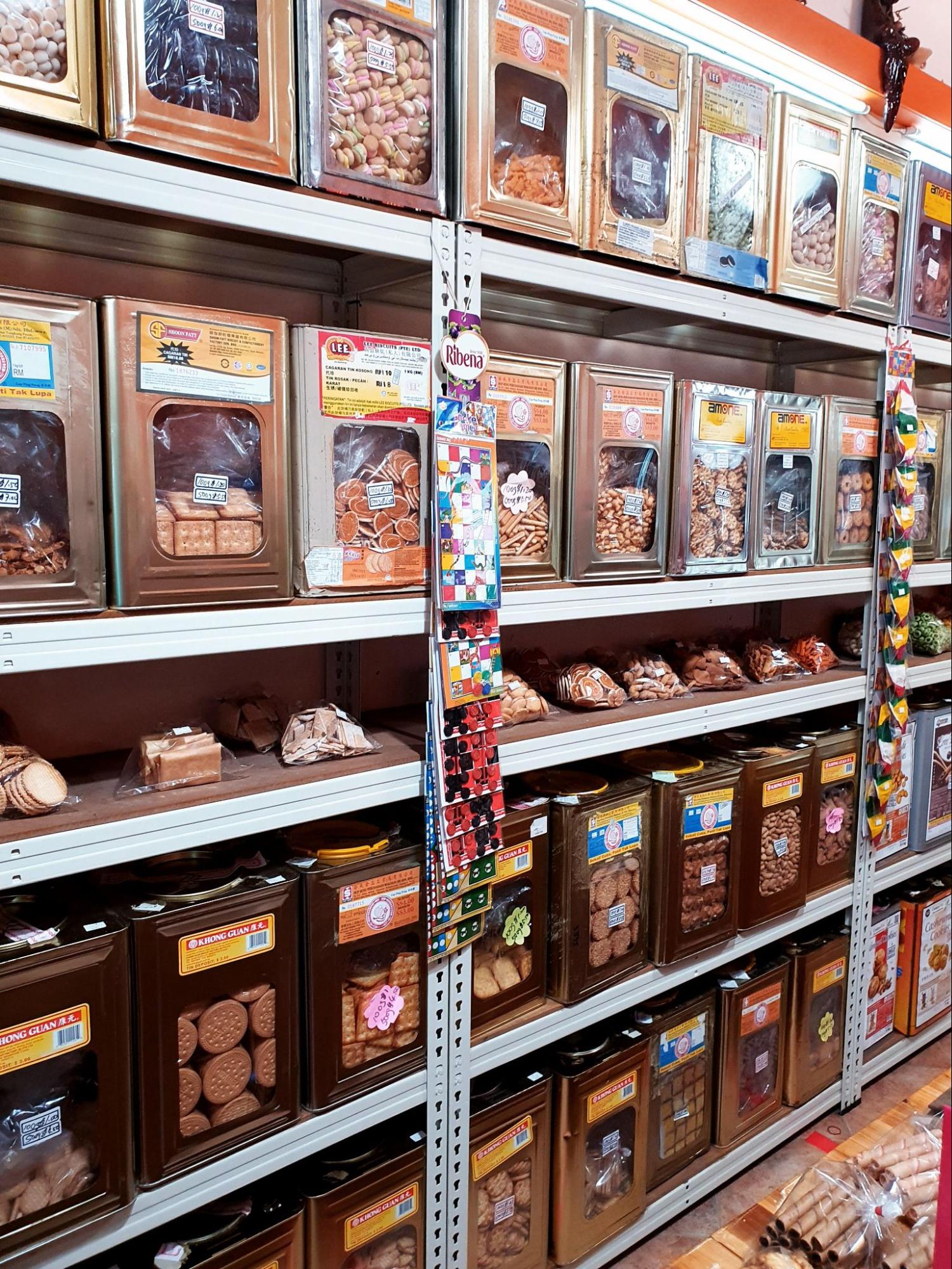 Image credit: ICanEatTheWholeSea
Enter a time capsule at old-school snack shop, Old Auntea. Nestled in a HDB estate in Yishun near Chong Pang Nasi Lemak, this store sells a medley of childhood treats. Here, you can find Tasty biscuit sticks, sour plum candies, Mamee noodle snack, the iconic chocolate-covered candies sold in an 8-ring, and row after row of biscuits sold out of gold tins. Fans of this heartland store also praise the friendly shop owner for making them feel welcome while browsing, as well as the affordable prices.
Address: 732 Yishun Ave 5, #01-384, Singapore 760732
Opening hours: Mon-Sat 10:30am to 8:30pm
---
7. 2Six Cafe
---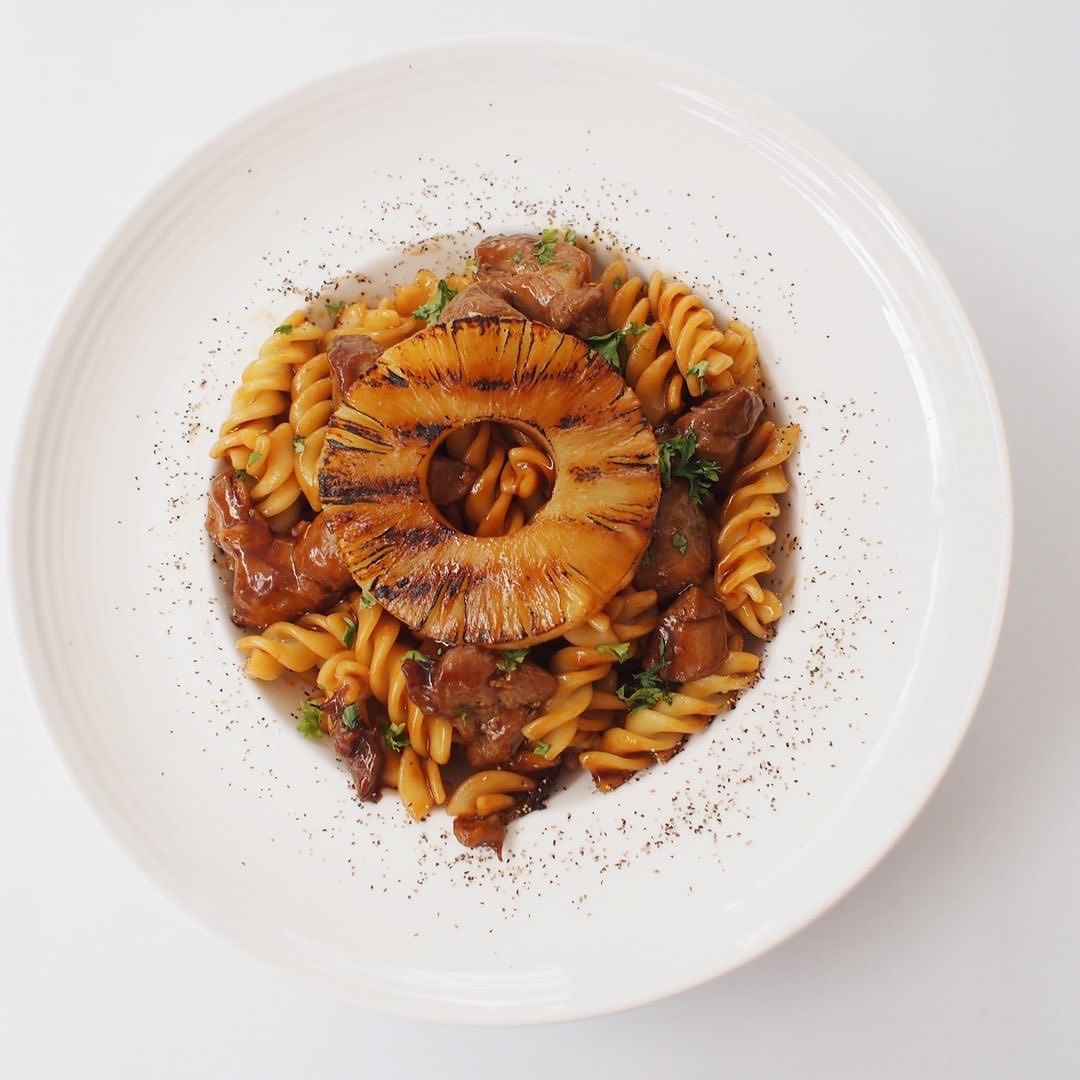 Image credit: @just.dabao
2Six Cafe offers affordable brunch fare for those living in the East. They have two outlets, one in Katong Square, and a newly opened one in Tampines CC, both within the vicinity of HDB estates. Both share the same brunch-style and Japanese-inspired menu, at wallet-friendly prices. Try their Bacon-Ham-Egg Sandwich ($13.90++) for a satisfying sando dressed up with crispy, salty bacon if you're there early in the day. Otherwise, order their popular Gyu Don ($15.90++) for lunch, which comes served with a slab of marinated beef, grilled to a smoky char atop pearl grain rice.
Address: 88 East Coast Rd, #01-10, Katong Square, Singapore 423371
Opening hours: Daily 9am to 10pm
Tel: 6247 7548
Website
---
8. Burp Kitchen And Bar 
---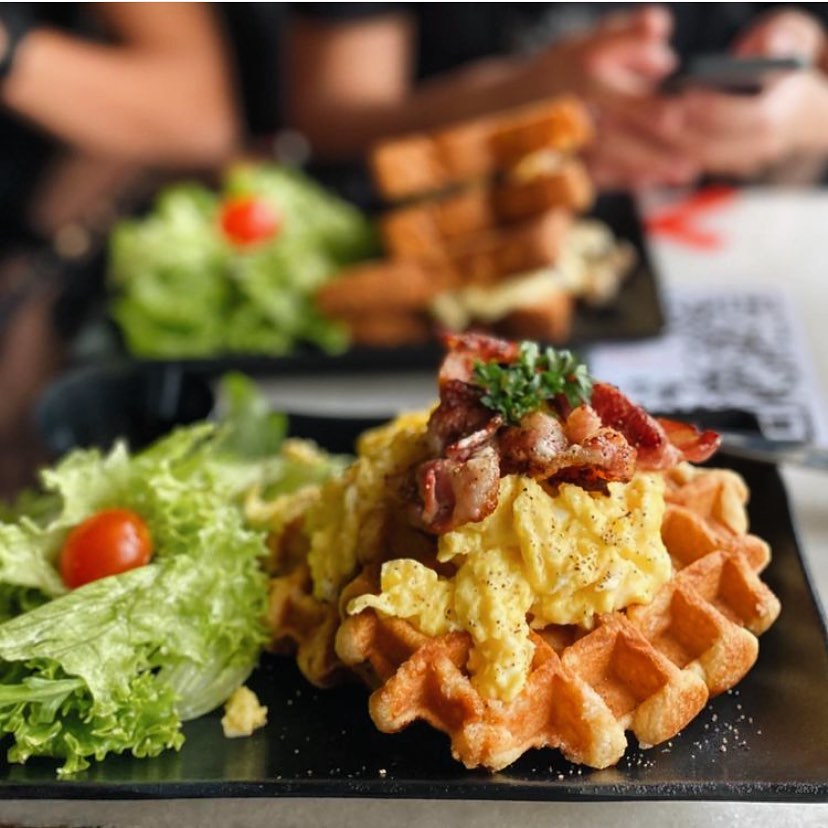 Image @burp.bedokrsv
You don't always have to unwind after hours in the city centre, especially if you stay in Bedok. Burp Kitchen & Bar, a heartlands-based gastro-bar, offers American-fusion fare all day, as well as beers, cocktails, and other alcoholic beverages. Brunch is available daily till 4pm, with the likes of Breakfast Rosti ($19+), and Chicken & Waffles (from $12+) on the menu. Otherwise, try their array of unique bar bites to go with your drink order, including their signature Grilled Unagi Cups ($12+)—a Japanese spin on kueh pie tee.
Address: 740 Bedok Reservoir Road, #01-3165, Singapore 470740
Opening hours: Mon-Fri 11am to 10:15pm, Sat-Sun 10am to 10:15pm
Tel: 8428 4722
Website
---
9. Hodunamu 
---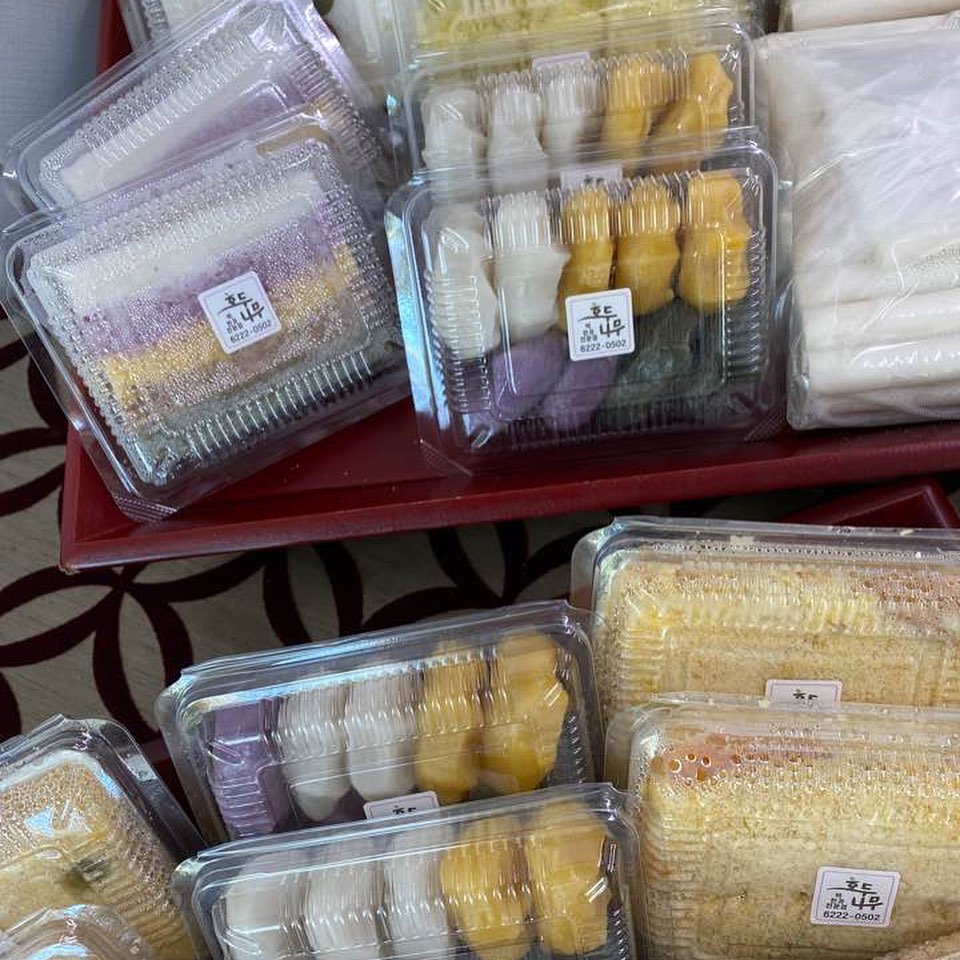 Image credit: @veronicas_sgdiary
The Everton Park neighbourhood is home to many cool hidden gems, including Hodunamu, a shop specialising in traditional Korean rice cake snacks, AKA tteok. You can get handmade Ggulddeok ($5.50) here, i.e. steamed glutinous rice balls filled with honey syrup, as well as Songpyeon ($6.50), half-moon-shaped rice cakes filled with sesame seed sugar, typically eaten during the Korean autumn festival, Chuseok. Other traditional options are Baekseolgi ($5.50), a rice cake lined with honey, with a flavour akin to zhi ce gor, or Teochew snow cake snacks, as well as Mujigae-tteok ($5.50), a multi-coloured rainbow rice cake typically eaten during special occasions.
Address: 2 Everton Park, #01-55, Singapore 081002
Opening hours: Mon-Tue, Thurs-Sat 10am to 5pm, Sun 10am to 3pm
Tel: 8180 2462
Website
---
10. Shing Mei Confectionery
---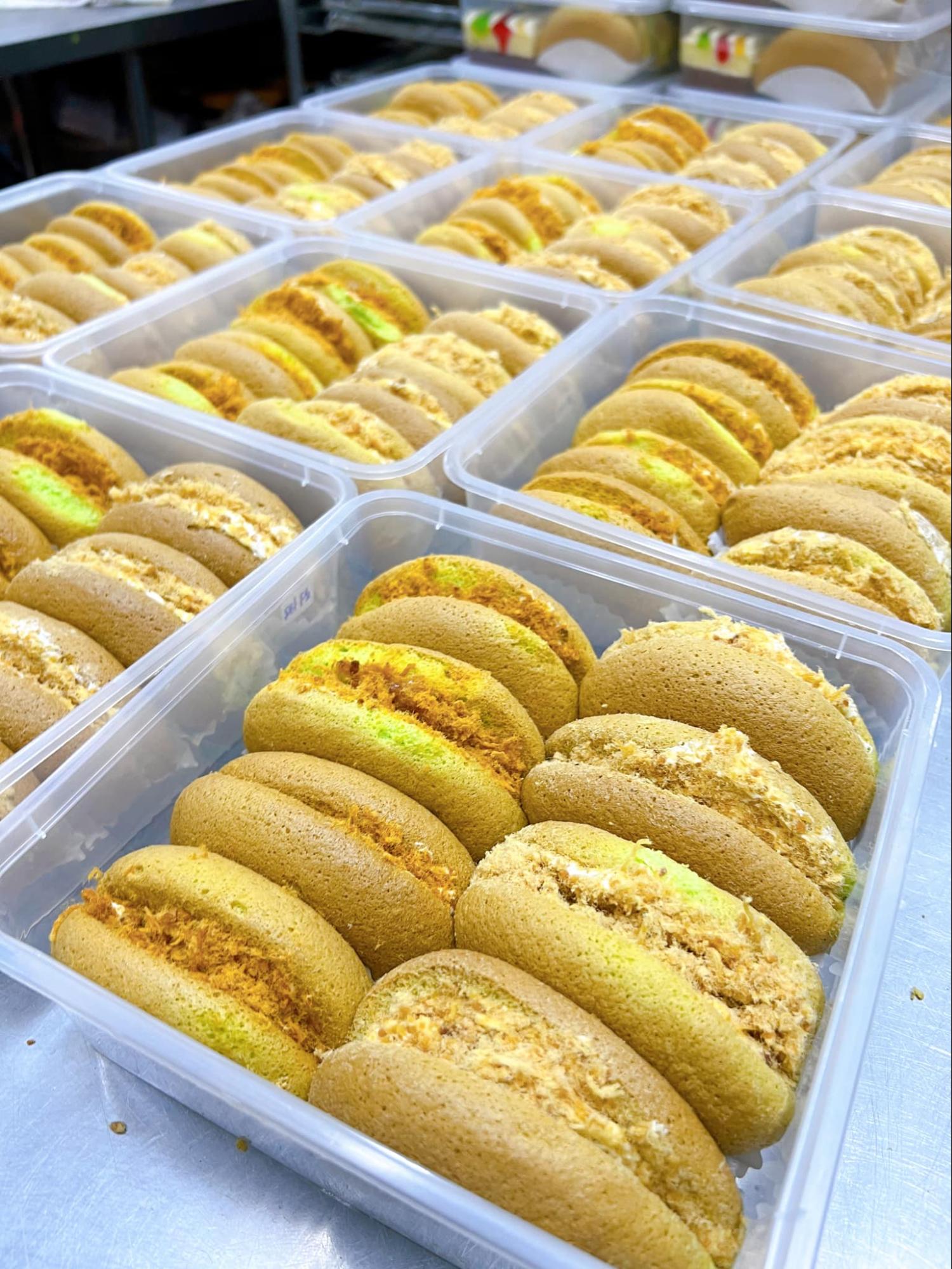 Image credit: Shing Mei Confectionery
Shing Mei Confectionery has been around since 1998, serving up comforting, nostalgic baked goods prepared fresh daily. While they do sell the typical array of cakes and buns found at most neighbourhood bakeries, this Pasir Ris heartland jewel also has a side brand known as Mama Woo's Goodies, where they sell unique treats such as Oreo, Ondeh Ondeh and Matcha swiss rolls, and fluffy UFO cake buns filled with chicken floss. They also have a social media web store to shop from too.
Address: 442 Pasir Ris Drive 6, Singapore 510442
Opening hours: Daily 9am to 9:30pm
Website
---
Heartland food places around Singapore
---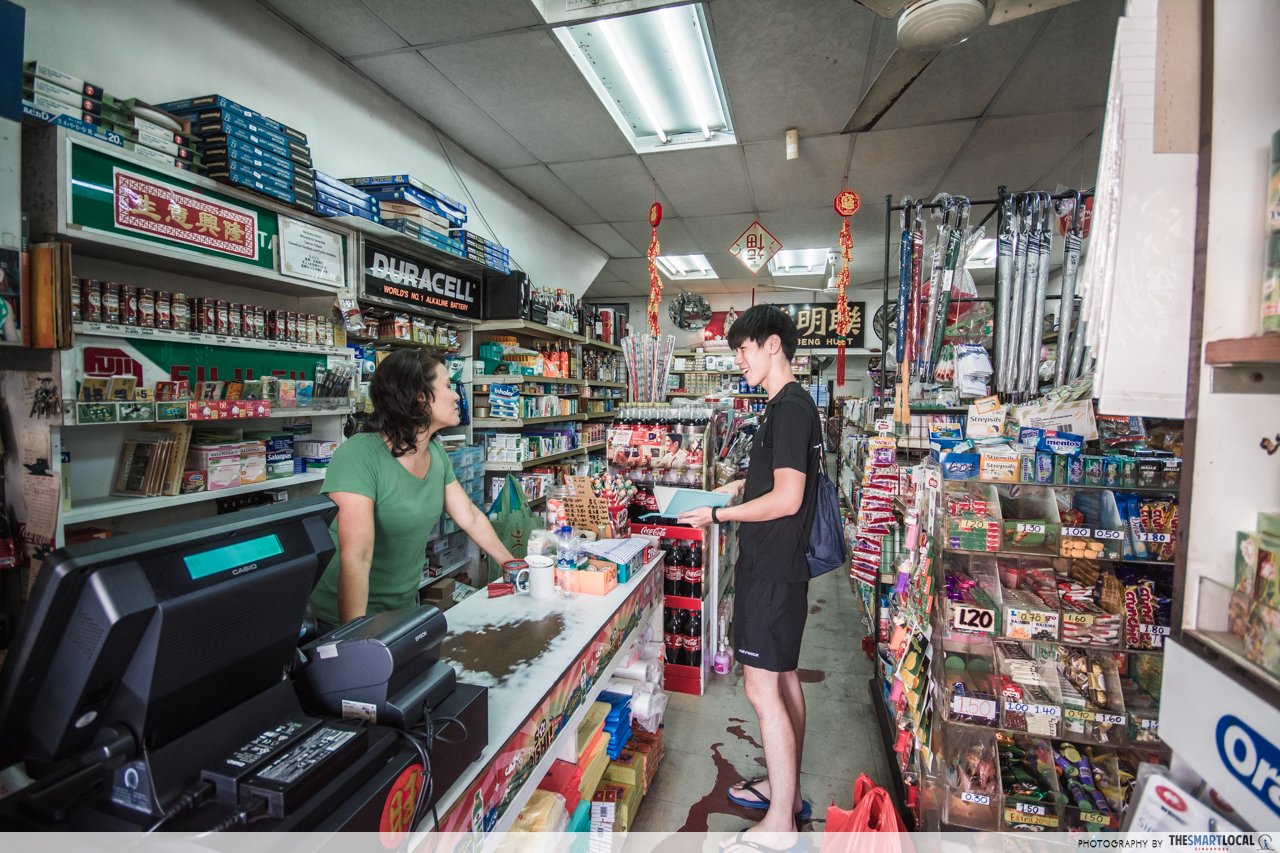 HDB estates are more than just the bedrock of where we live; the heartlands also offer plenty of opportunities for eager foodies to source out dining gems. Celebrate your 'hood by taking part in the Heartlands Festival, an inaugural initiative by the Heartland Enterprise Centre Singapore, that takes place from 28 November 2021 to 18 February 2022.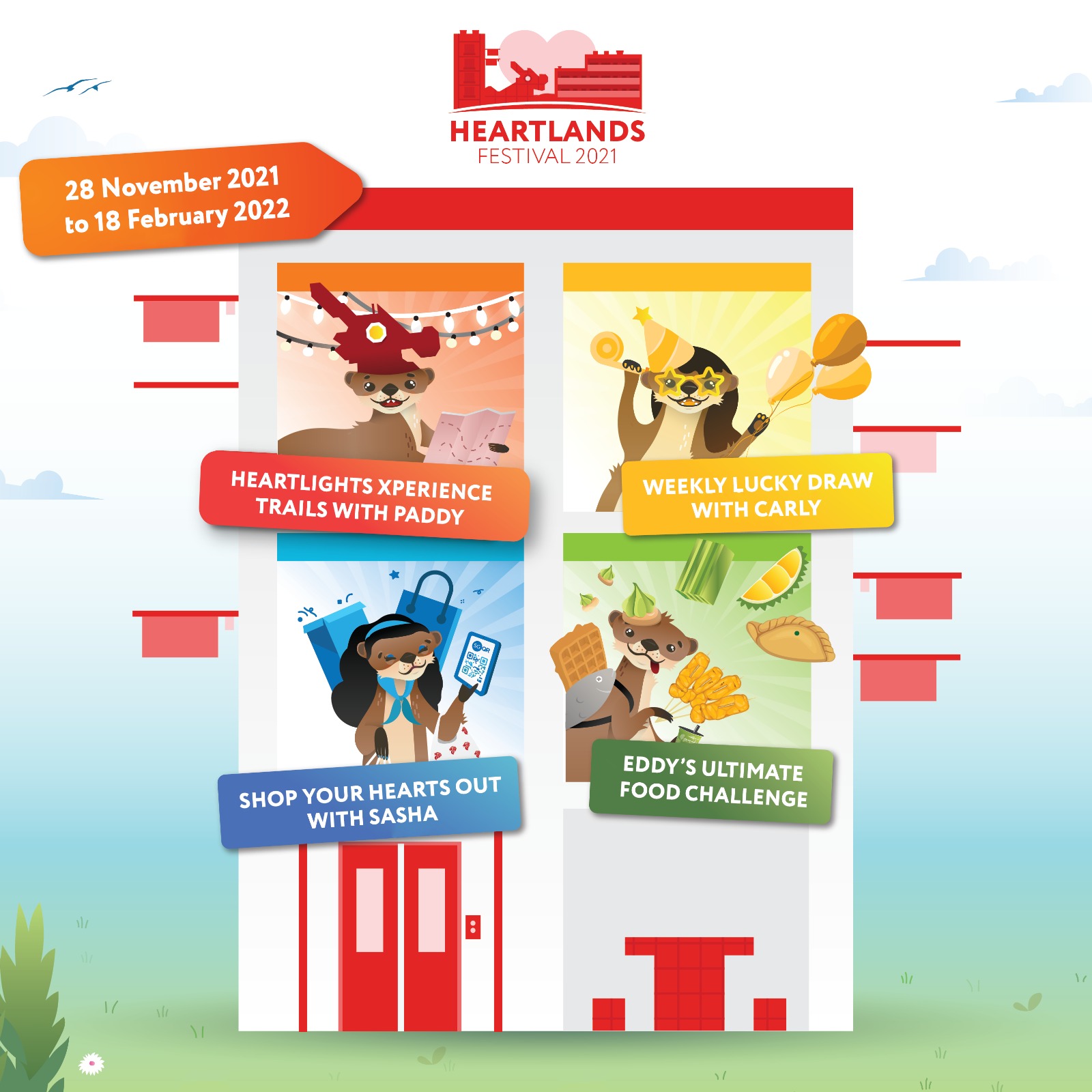 Image credit: Heartlands Festival 2021
Rediscover your heartlands with physical and virtual activities happening islandwide. Follow the otter mascots and discover more heartland enterprises as you celebrate, eat, shop, and play. Keep a lookout for activities such as 'Shop Your Hearts Out with Sasha' as contestants scour heartland shop aisles to purchase items with a budget of $50. Participate in the Ultimate Food Challenge as finalists challenge local competitive eater Zermatt Neo, to finish a Hawker Food Platter in the shortest amount of time.
Shoppers also stand a chance to win $388 worth of prizes in the weekly draws, and up to $3,388 worth of cash and prizes in the Grand Draw. Simply spend at least $10 at any shop or food stall located within the heartlands, excluding all shopping malls, and submit a photo of the physical receipt or a screenshot of the digital transaction onto the festival website. Shoppers will receive one lucky draw chance with every $10 spent, and an additional chance if they complete their purchase using e-Payment.
You can also follow @heyheartlands to stay updated.
This post is brought to you by Heartlands Festival.