Heng Huat Boon Lay Boneless Duck Noodles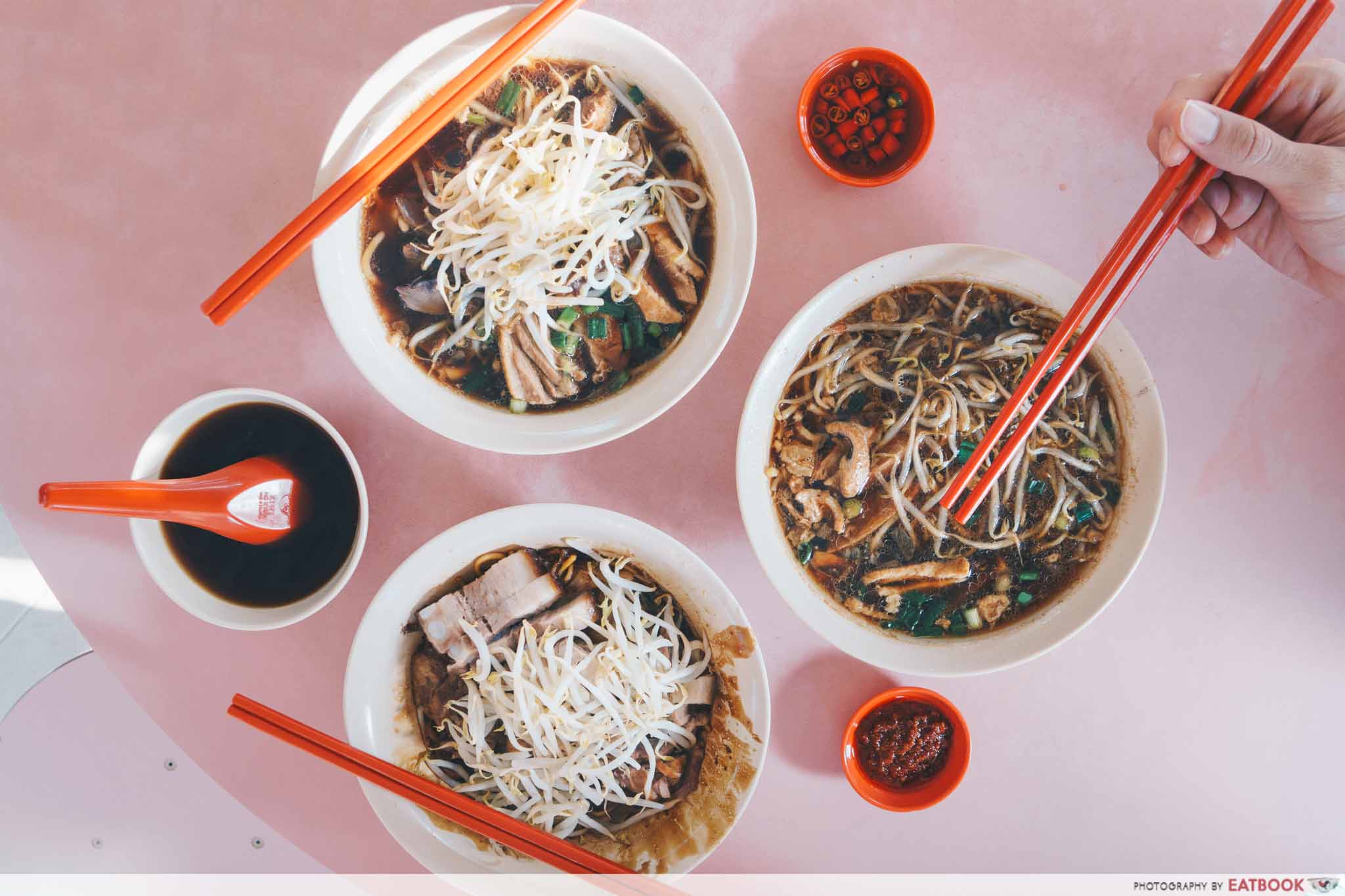 Like many Singaporeans, I used to associate Boon Lay Food Village with the birthplace of Boon Lay Power Nasi Lemak. The other stalls in this neighbourhood food village have been in the shadows of this powerhouse of a nasi lemak stall for more than 10 years, and only a few have managed to step out of its shadow. Heng Huat Boneless Duck Noodles is one of them.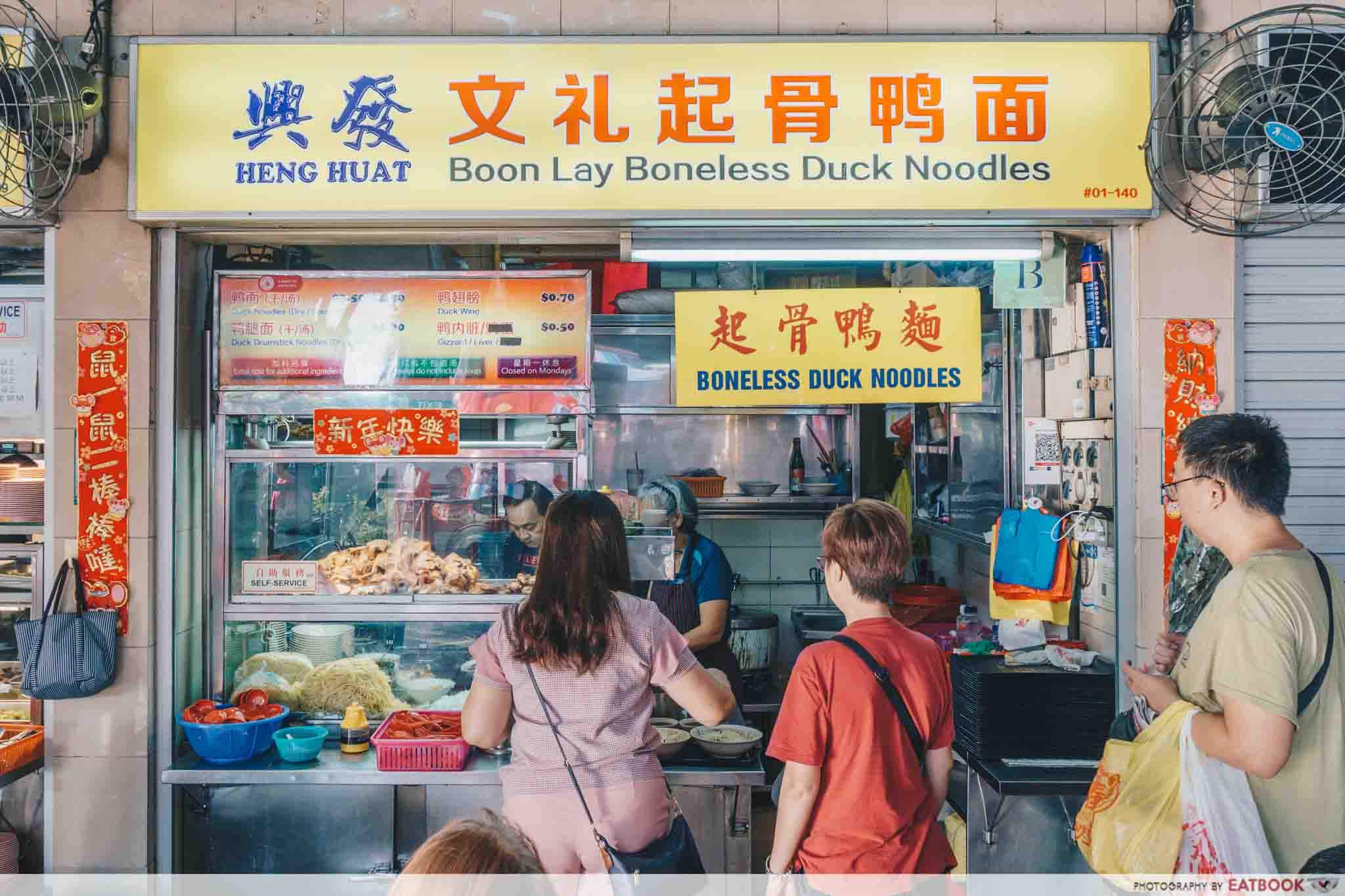 The stall is helmed by the youthful Richard Foo, who seems to be the most energetic person in the early morning. Awaited by tons of customers, he constantly shouts for orders and pushes out bowls of duck noodles in a timely fashion. Outside the kitchen, Richard is a humble man who is slightly camera shy, and prefers to let his food do the talking.
The family-run stall opened in 1994, and Richard chose to name it after his beloved father as he was the one responsible for igniting his love for cooking. Richard's wife and their children can be spotted giving him a hand at times, especially when business gets hectic.
Despite arriving at 7am, I was surprised to spot a snaking long queue in front of the stall. Aside from the large words "Boneless Duck Noodles", the stall has a modest storefront.
Food at Heng Huat Boon Lay Boneless Duck Noodles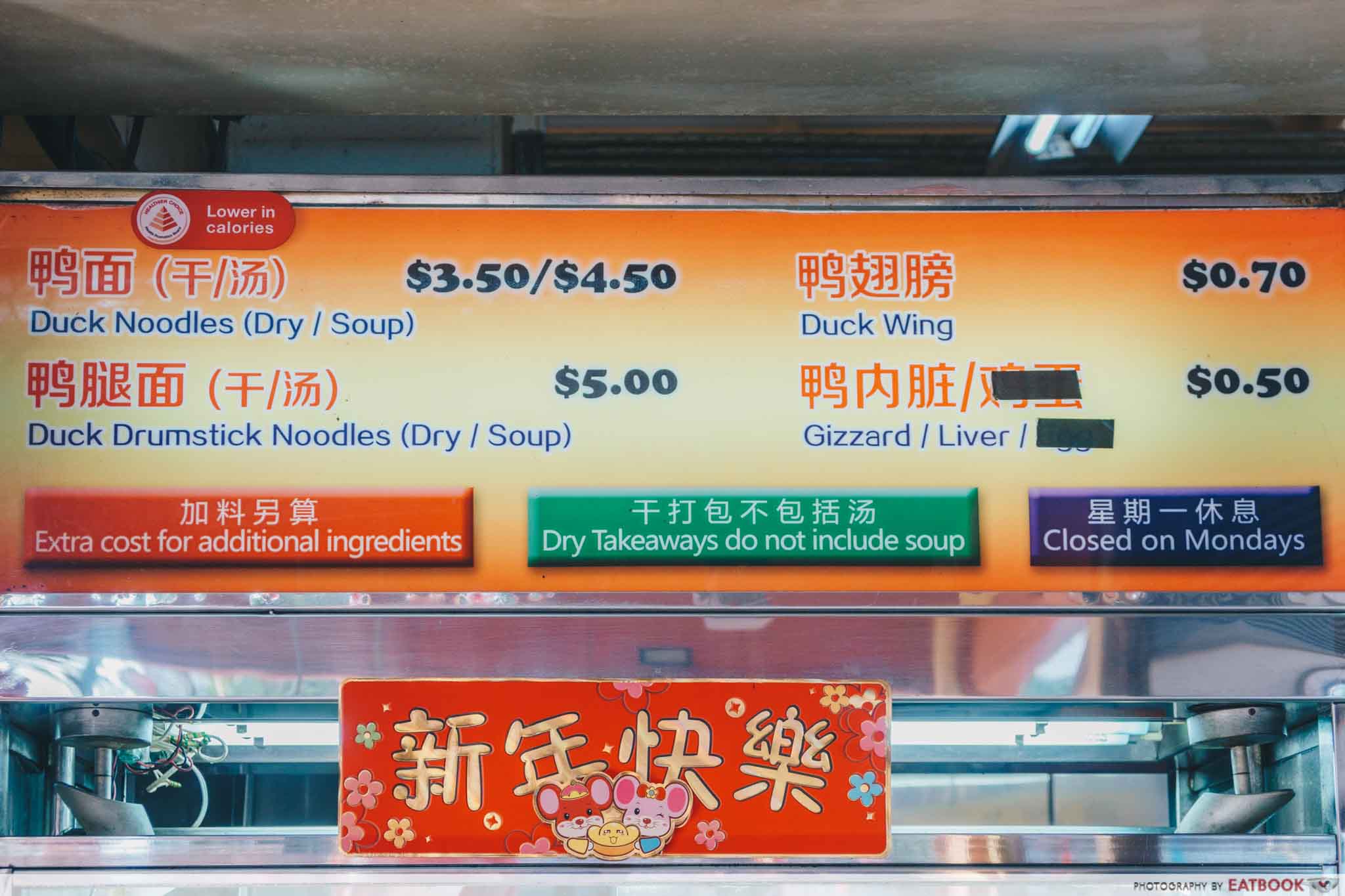 Heng Huat's menu is fairly simple, selling either dry or soup variations of their boneless duck noodles and duck drumstick noodles. There's also an option to add a couple of tasty sides too, such as duck wings, gizzards, and on some days, roasted pork.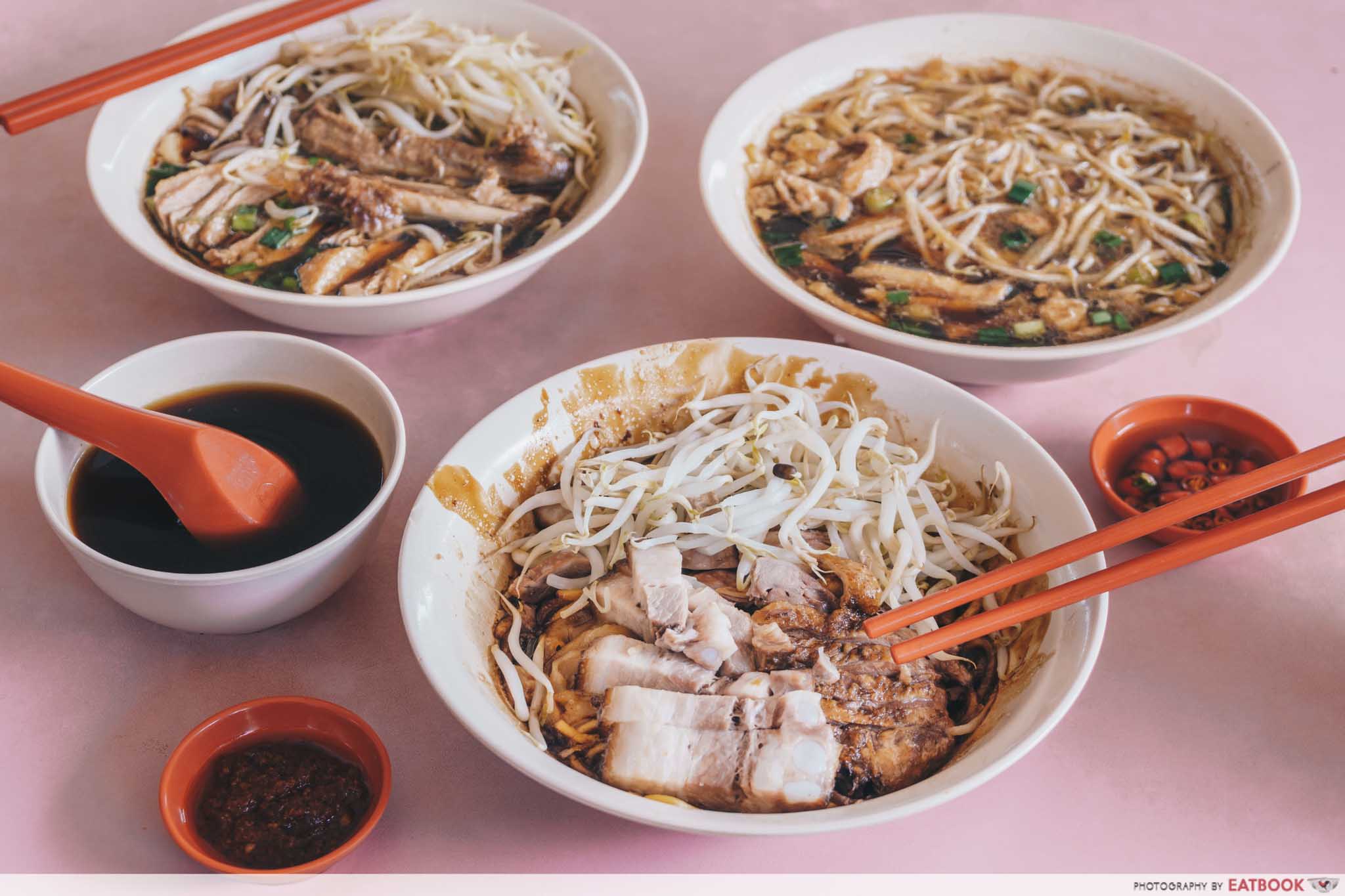 The presentation of each bowl of noodles is as honest as it gets. Generous noodle portions were covered with numerous slices of duck and heaps of bean sprouts. The only difference is that the dry variation comes with a bowl of herbal soup.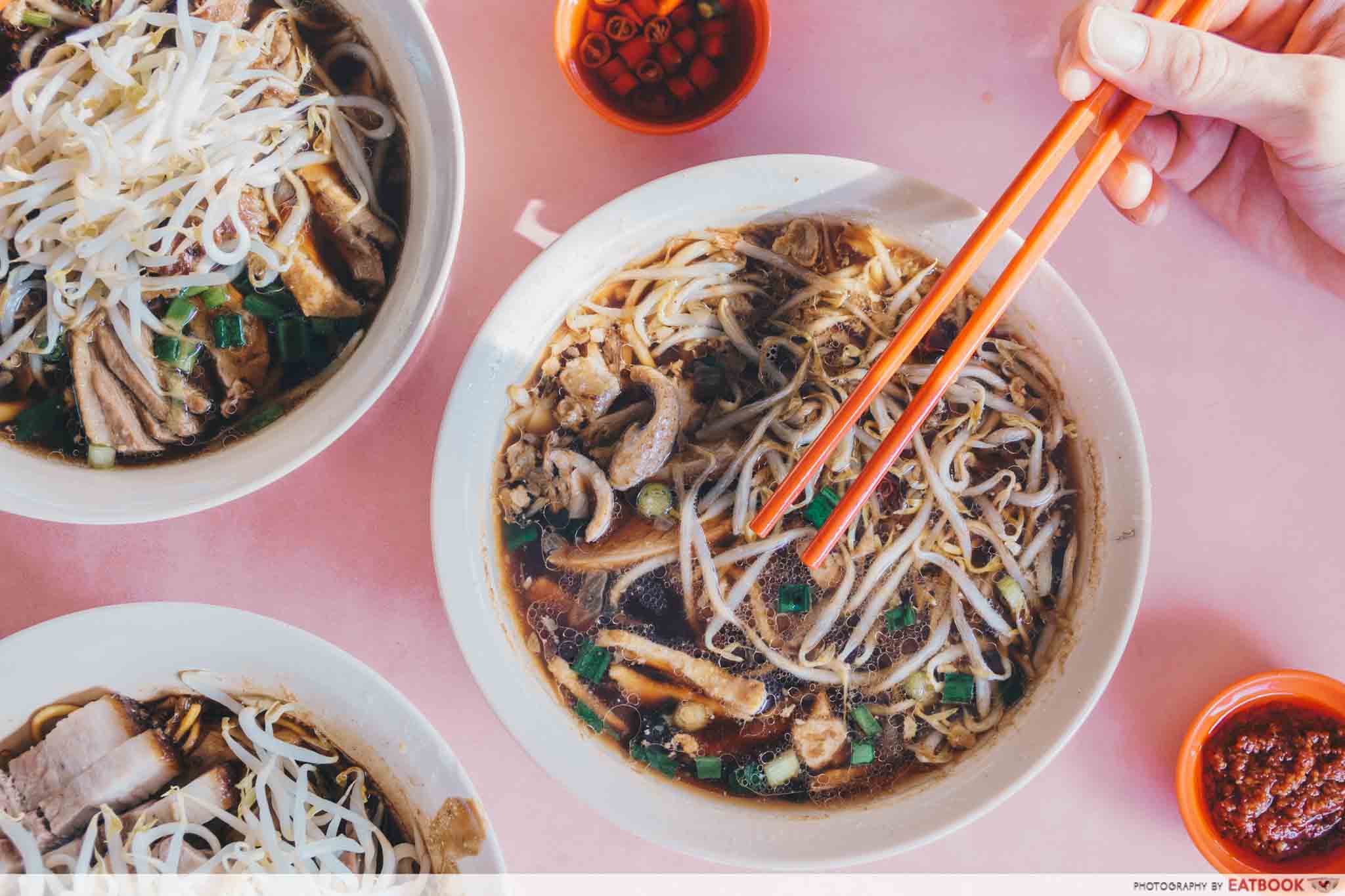 They say the simplest dishes can differentiate the best of chefs, so I started with Richard's classic Duck Noodles with Soup ($3.50).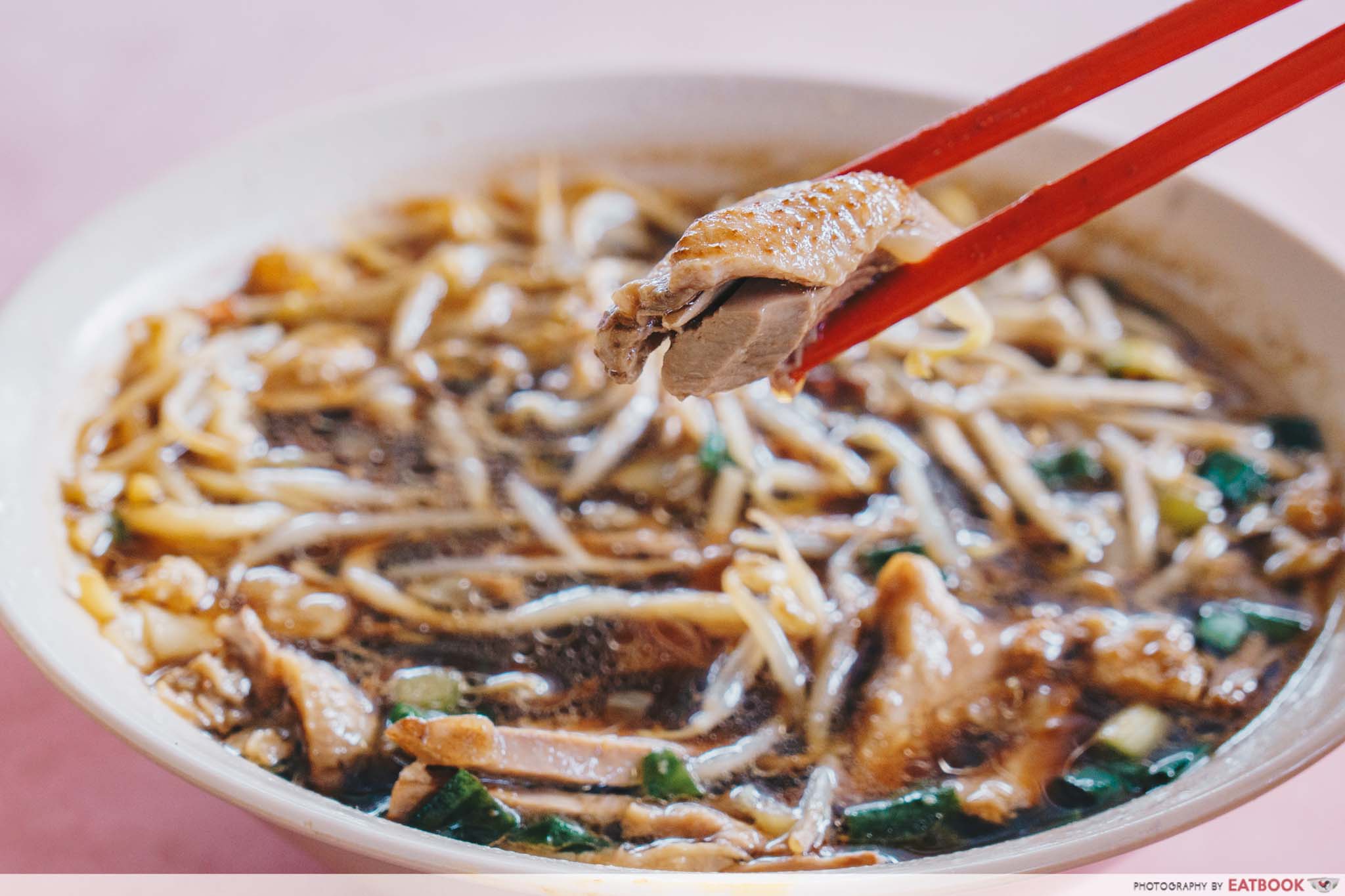 The duck slices in all the bowls of noodles are of the same variety: plump yet small. Each piece of meat was moist and tender, and the fatty duck skin was satisfyingly soft and chewy. 
The duck didn't have much depth in flavour, perhaps due to the lack of sauce in the soup variation. Being a big eater, I would have preferred slightly larger slices.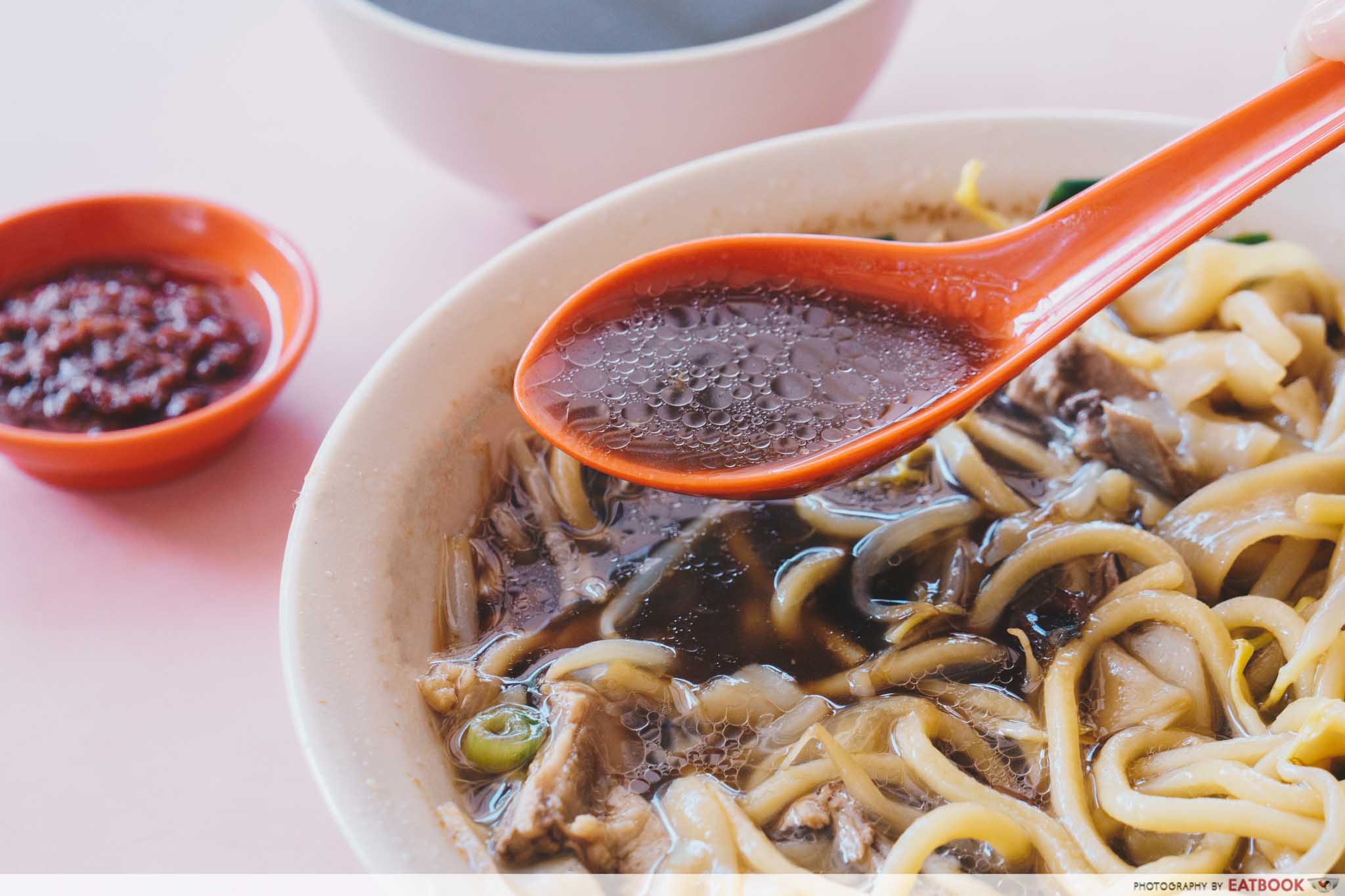 The herbal soup tasted surprisingly refreshing. Each spoonful was slightly sweet, with a nice balance of saltiness and herby bitterness. Its earthy flavours managed to complement the meaty duck, and I liked that I didn't feel too full after drinking many spoonfuls. When I drank it warm, it reminded me of the comforting hot soups my mother would boil for my family on cold rainy days.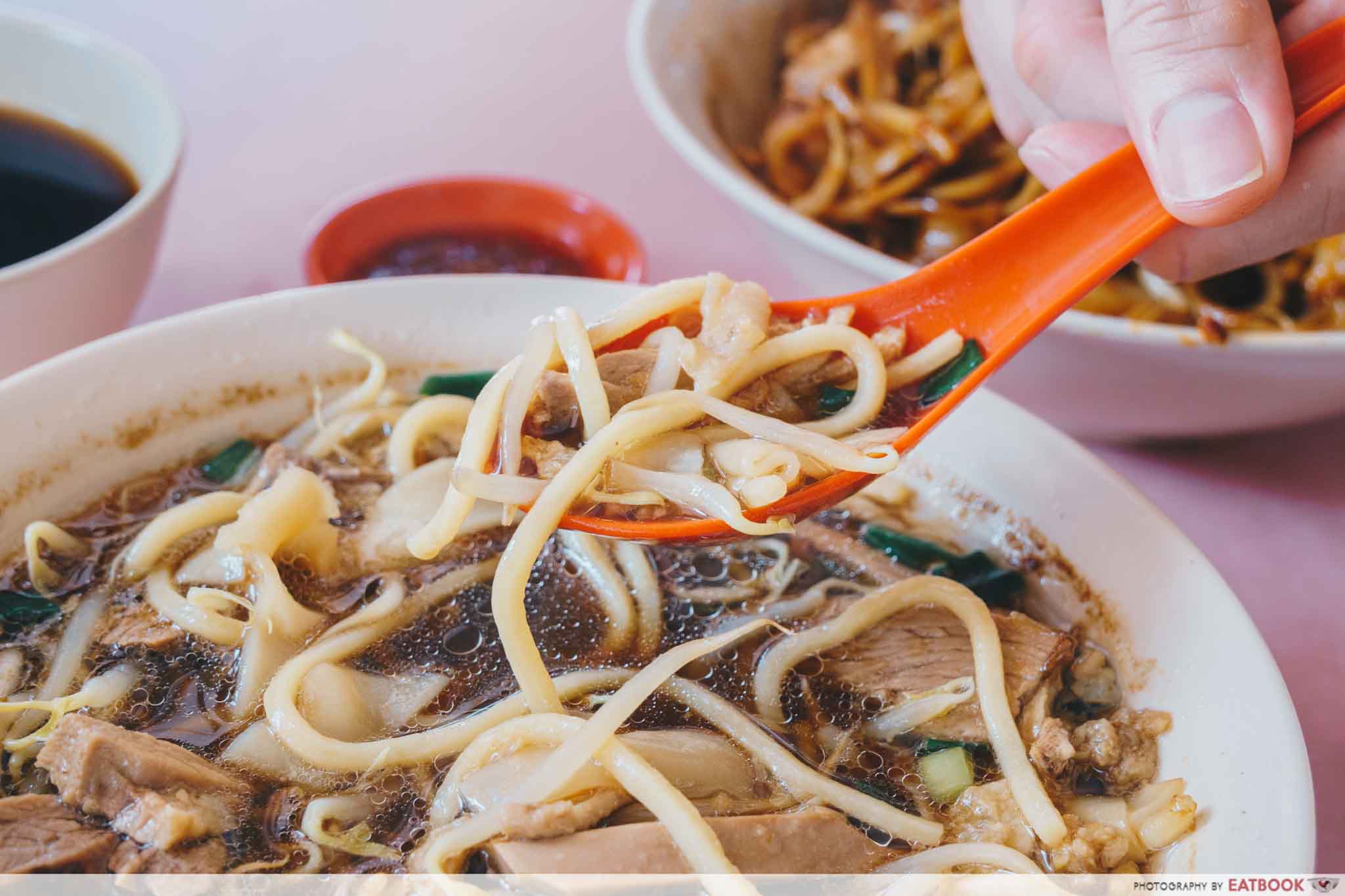 I'm not a fan of yellow noodles that have an overwhelming alkaline taste, so I went for a mixture of kway teow and yellow noodles. I was happy to know that the yellow noodles tasted only slightly alkaline while still retaining the herbal flavour of the soup. The kway teow was smooth, and slurping up the mixture of noodles was very satisfying.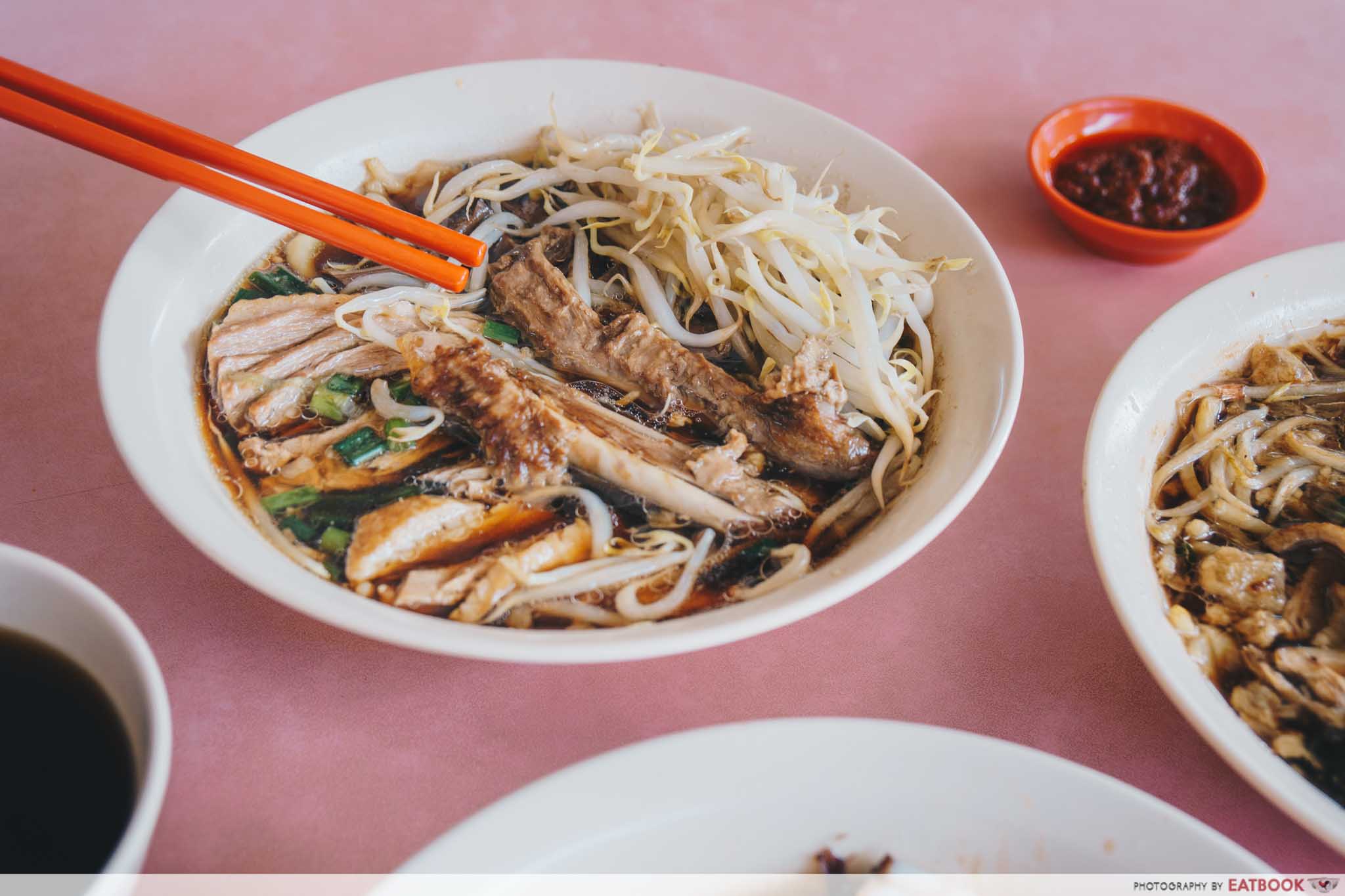 I wanted to get a taste of their add-ons, so I ordered the Gizzard ($0.50) and Duck Wing ($0.70).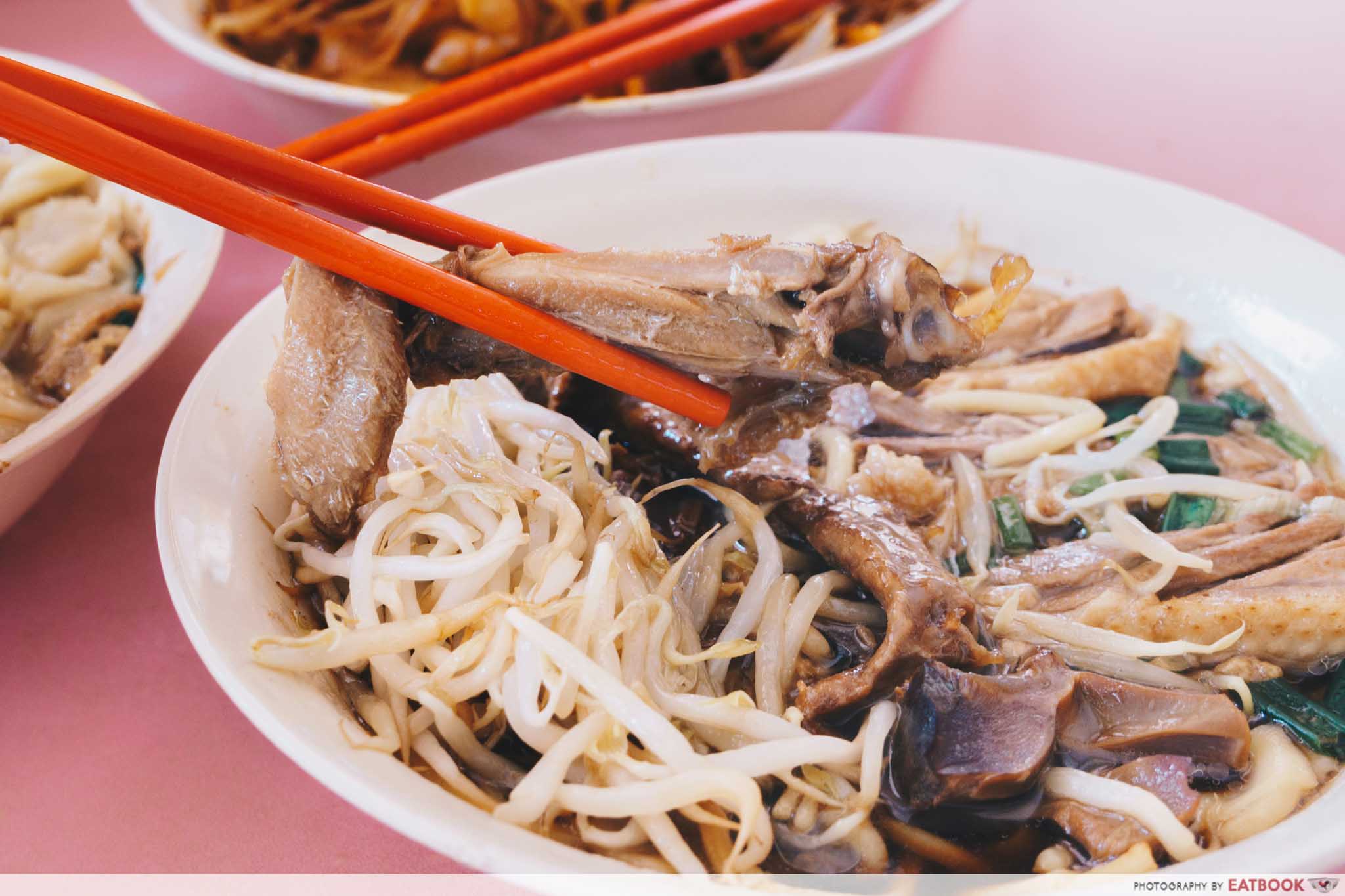 At first glance, the duck wing looked rather pathetic, as only a few chunks of meat clung fervently onto the bones. "Must have been a pretty skinny duck," my colleague remarked.
That being said, I expected the meat from the duck wings to be more tender and flavourful than the duck meat, and I was right. Comparatively, they were not as tough and significantly juicier. Another plus point was that the duck wing was slathered with a tasty braising sauce, which made the meats and herbal soup a tad sweeter, and hence more appetising.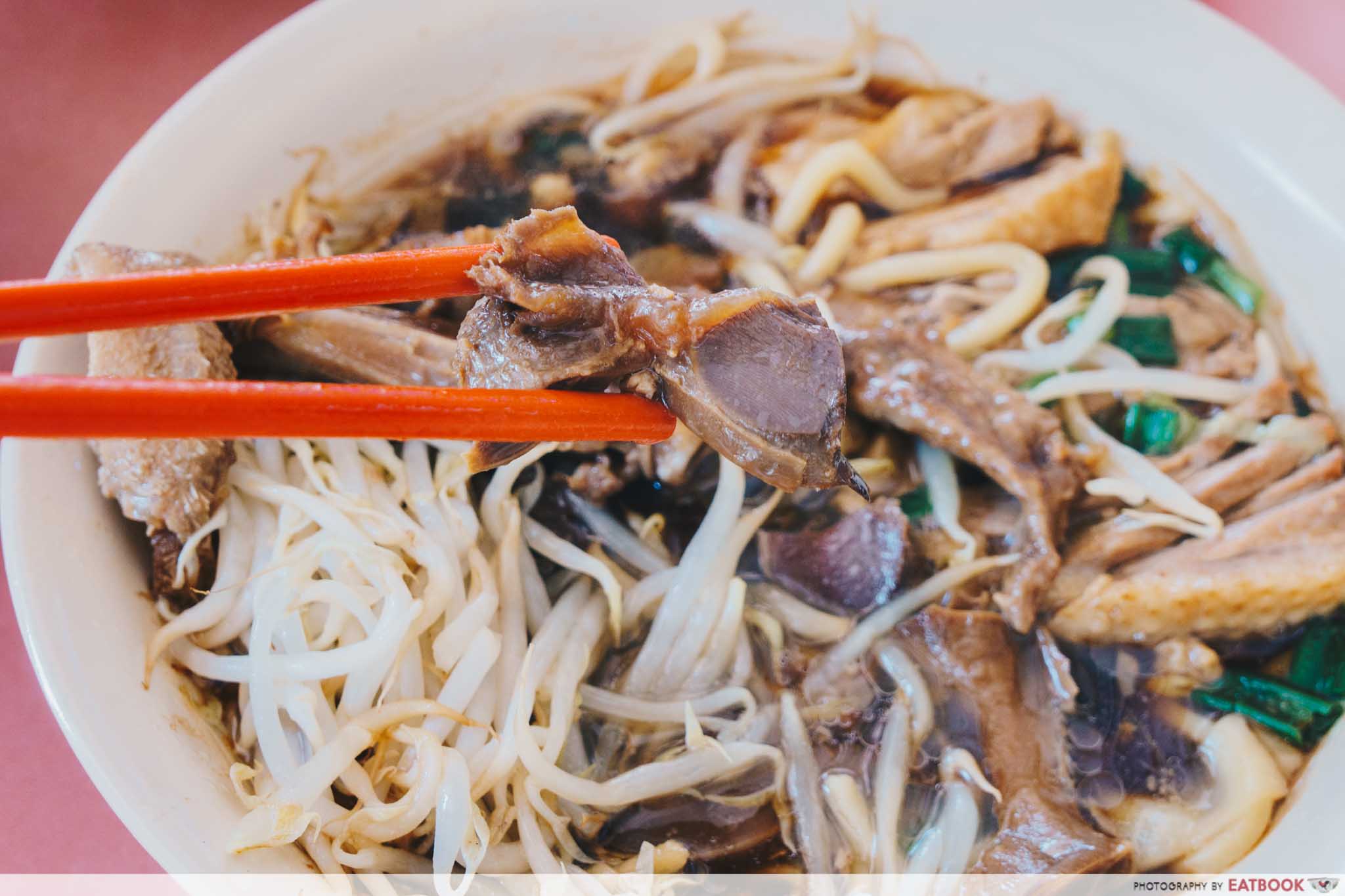 For the adventurous ones, you would be glad to know that Heng Huat's gizzards were tasty. Though I would admit innards are an acquired taste, they have a deeper flavour profile than most meats. This gizzard was flavourful, chewy, and thankfully not too gamey.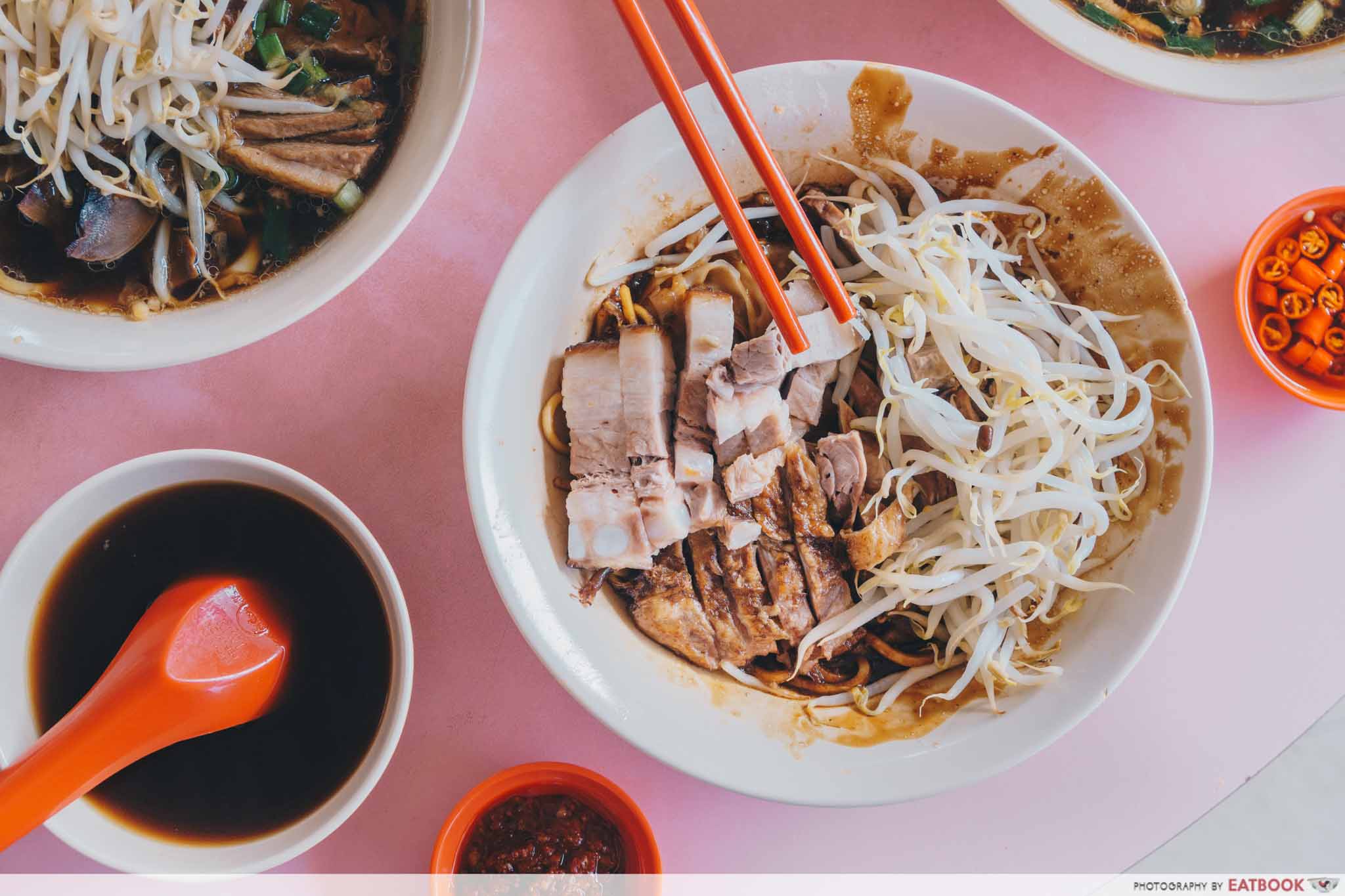 I usually prefer duck drumsticks over duck breast, so we also got their Duck Drumstick Noodles with Roasted Pork ($5.50). We ordered the dry version as we heard about their yummy signature braising sauce that's mixed with their noodles.
The duck drumstick did not taste very different as compared to the duck breast, and it was hard to discern between the two as they were both equally succulent. The only difference was that it was easier to chew on the drumstick meat.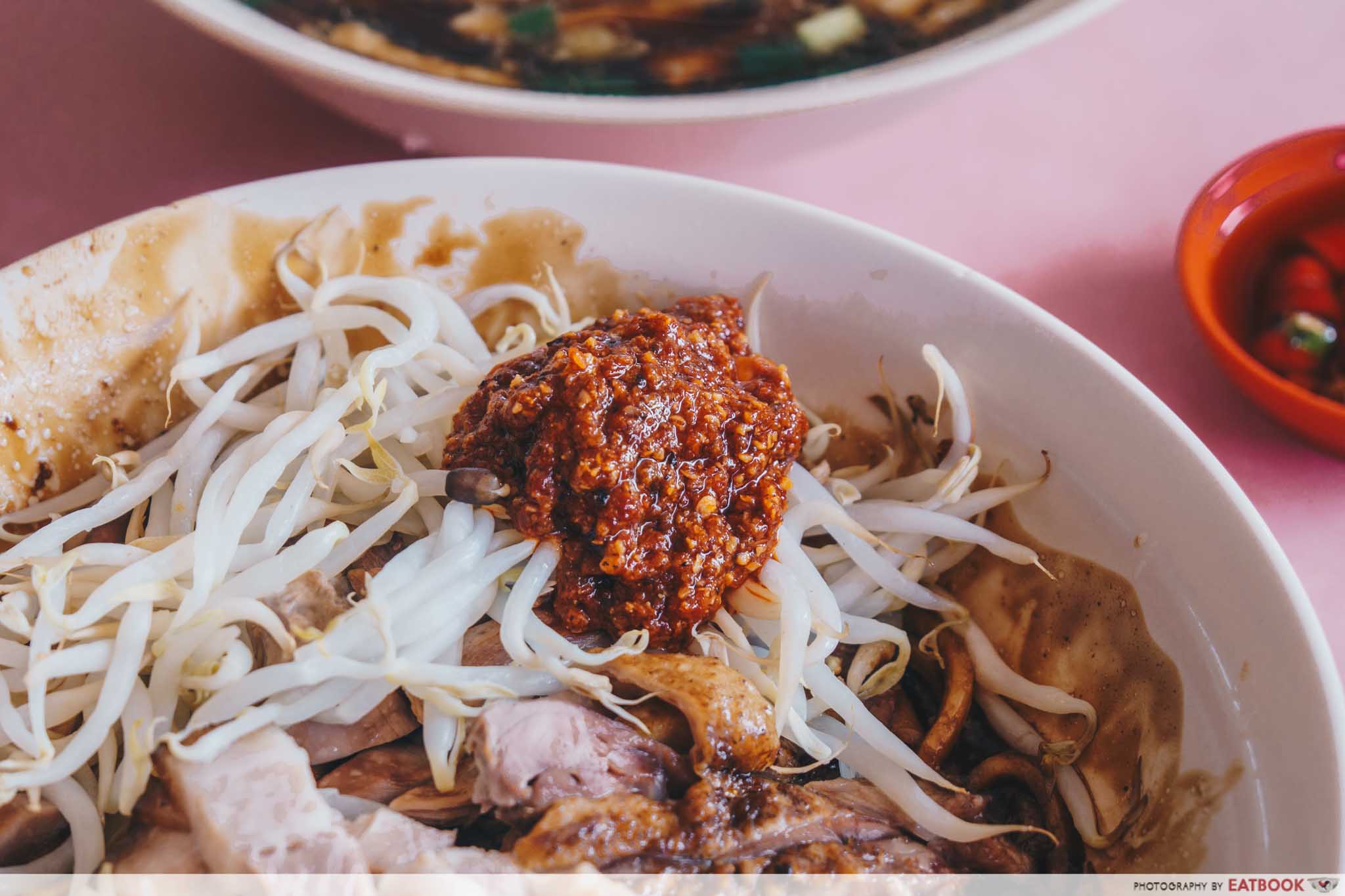 Many have raved about Heng Huat's sambal chilli, so we had to try it for ourselves. The sambal chilli is available at the front of the stall, and one can scoop as much as they want on their noodles. Being a spicy food amateur, I gingerly placed a dollop of sambal on a bed of bean sprouts, before mixing the chilli with the noodles.
The fiery red colour of the sambal proved to be deceiving, as the kick of spiciness, though intense, was only short lived. The zesty sweetness of the chilli was a welcome addition to the bowl, and its spiciness offered a breath of fresh air.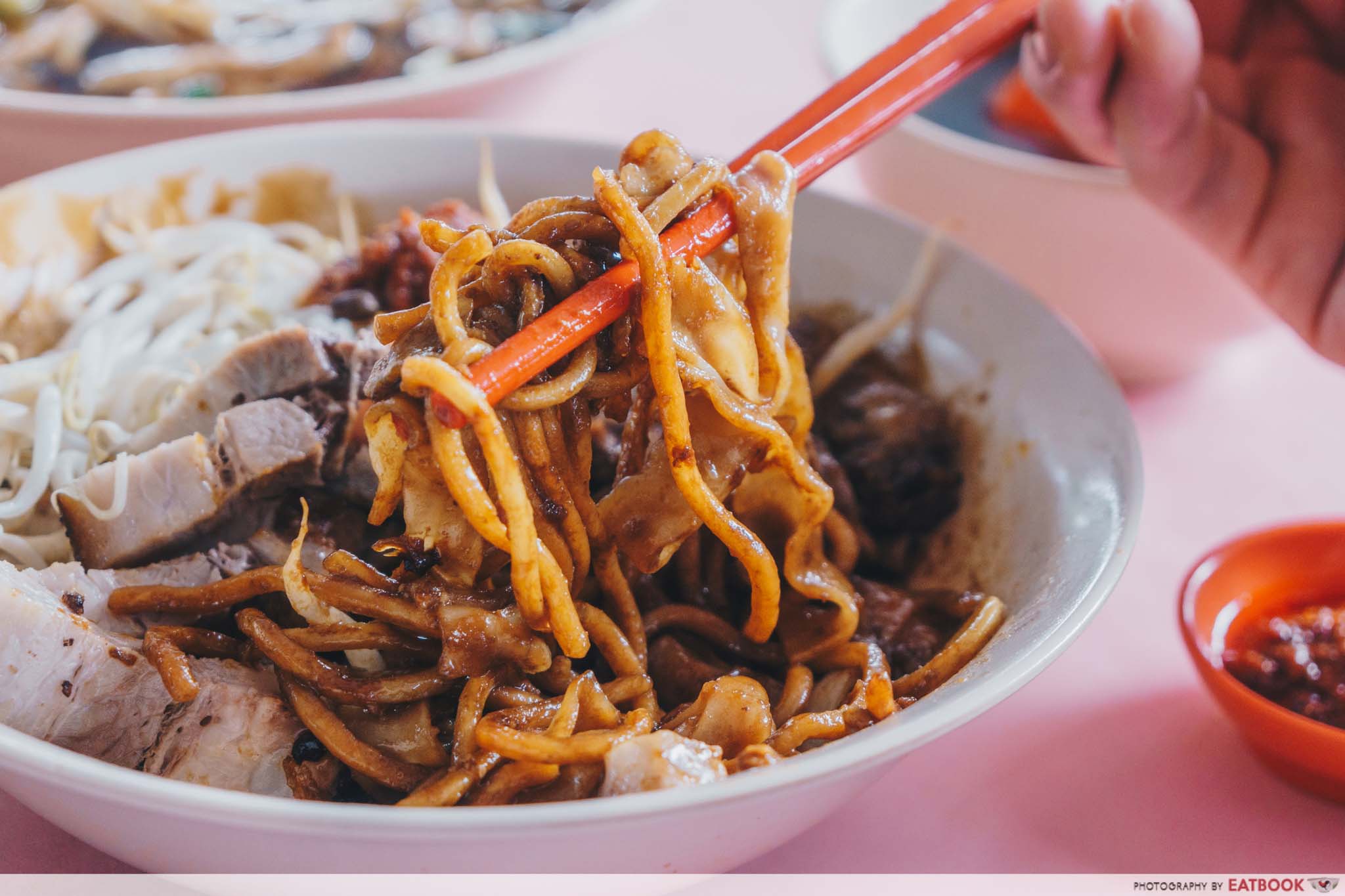 The yellow noodle and kway teow mix were tossed in a delightful braising sauce that gave the noodles a slightly smoky taste. Biting into generous pieces of crispy pork lard provided a welcome crunch, followed by bursts of umami oils, making for a sinful yet tasty mouthful.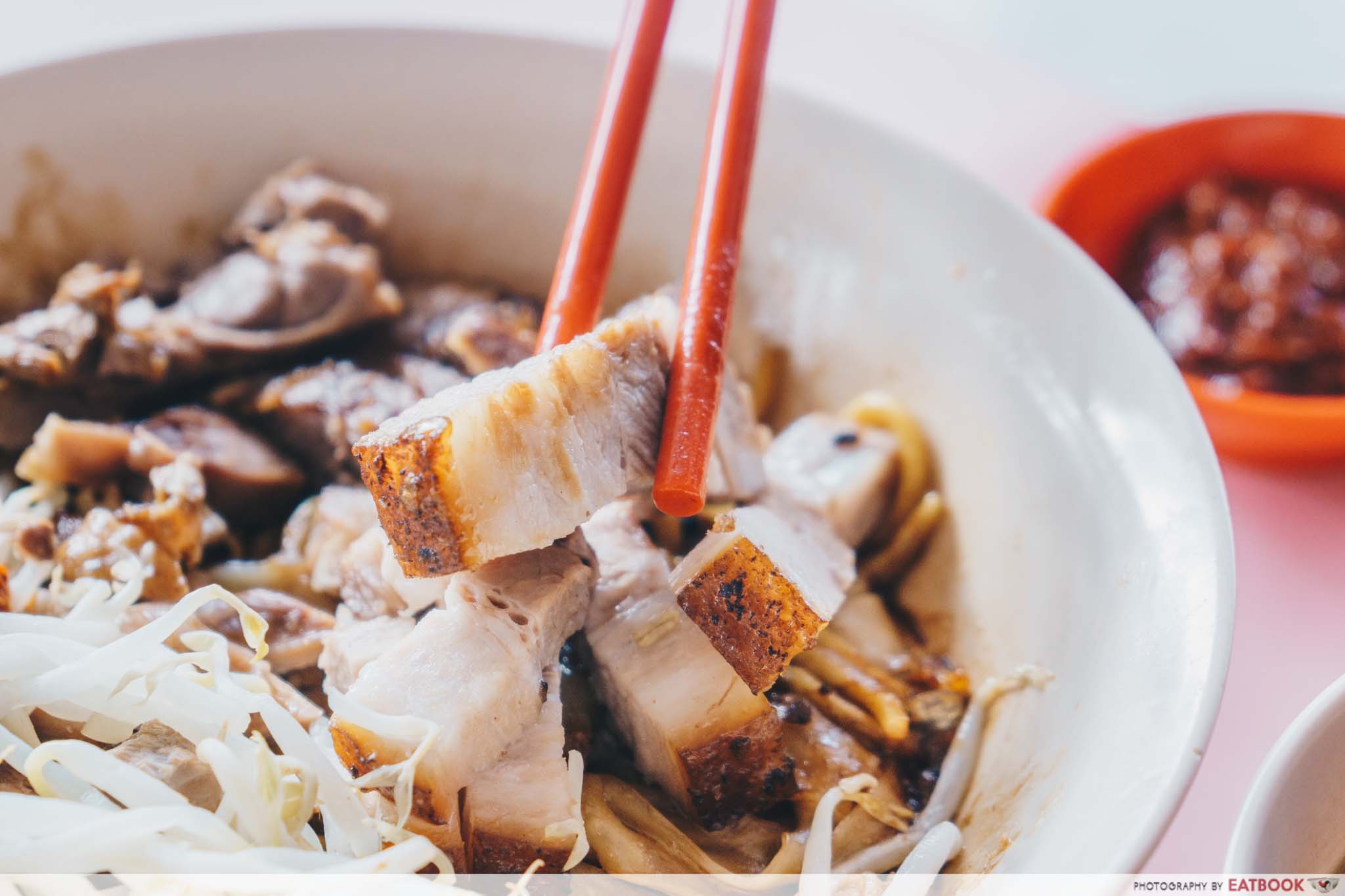 After hearing from Richard that the elusive Roasted Pork ($1) was available as an add-on, I confidently asked for it. These decadent pieces were too good to resist. The luscious portion of creamy fat was sandwiched by soft tender pork and a crisp crackling. The roasted pork was truly an indulgence, and it provided a mouth-watering finish to this delectable bowl of noodles.
Ambience at Heng Huat Boon Lay Boneless Duck Noodles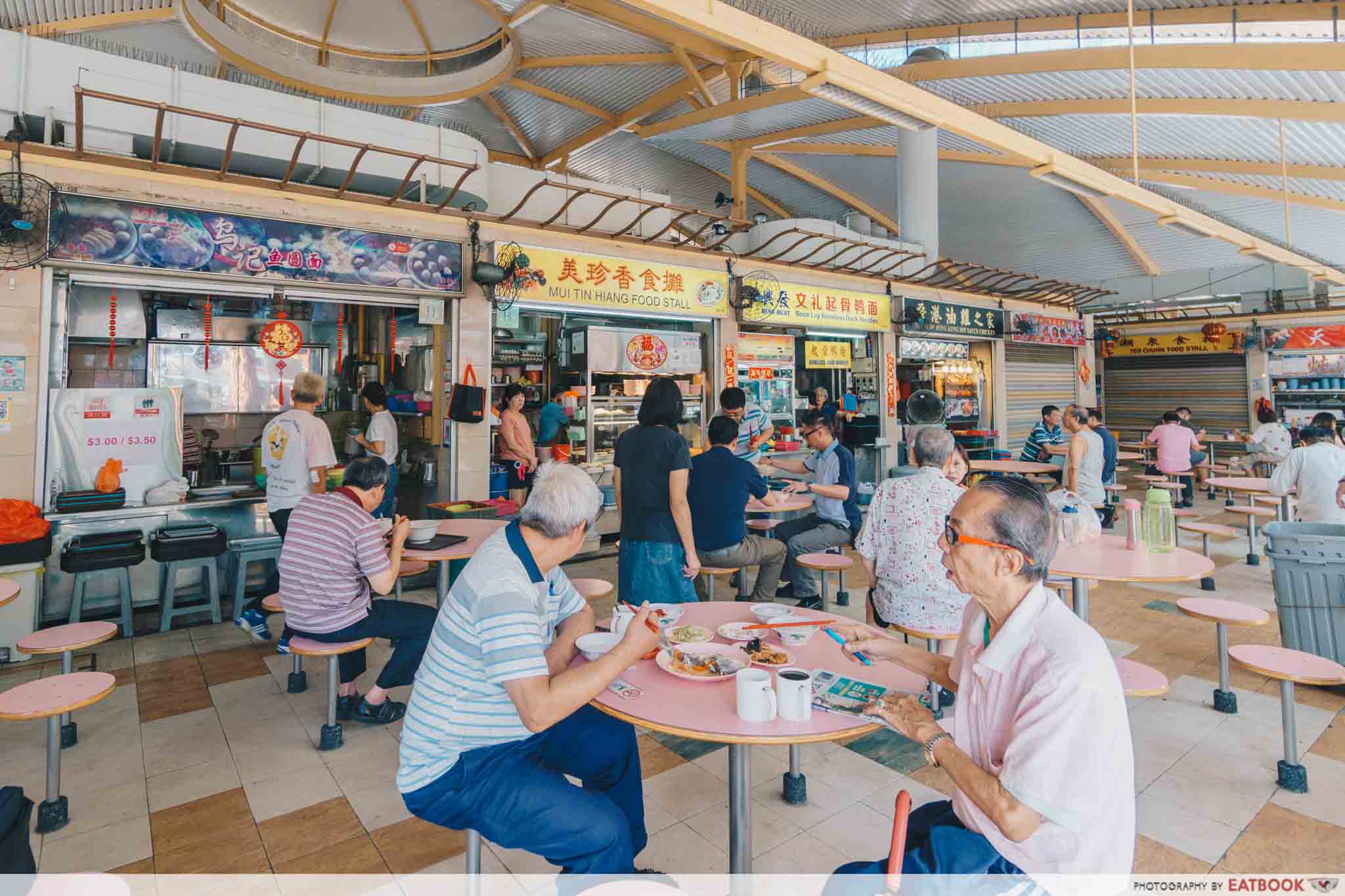 Boon Lay Food Village has a very chill and laid-back atmosphere, and many elderly folks were spotted having their meals at a leisurely pace. Some were having a light-hearted catch-up with their buddies over a cup of hot kopi. The seats at the fringes of the food centre might get slightly more sun during the lunch hours, so avoid those areas if you can.
The verdict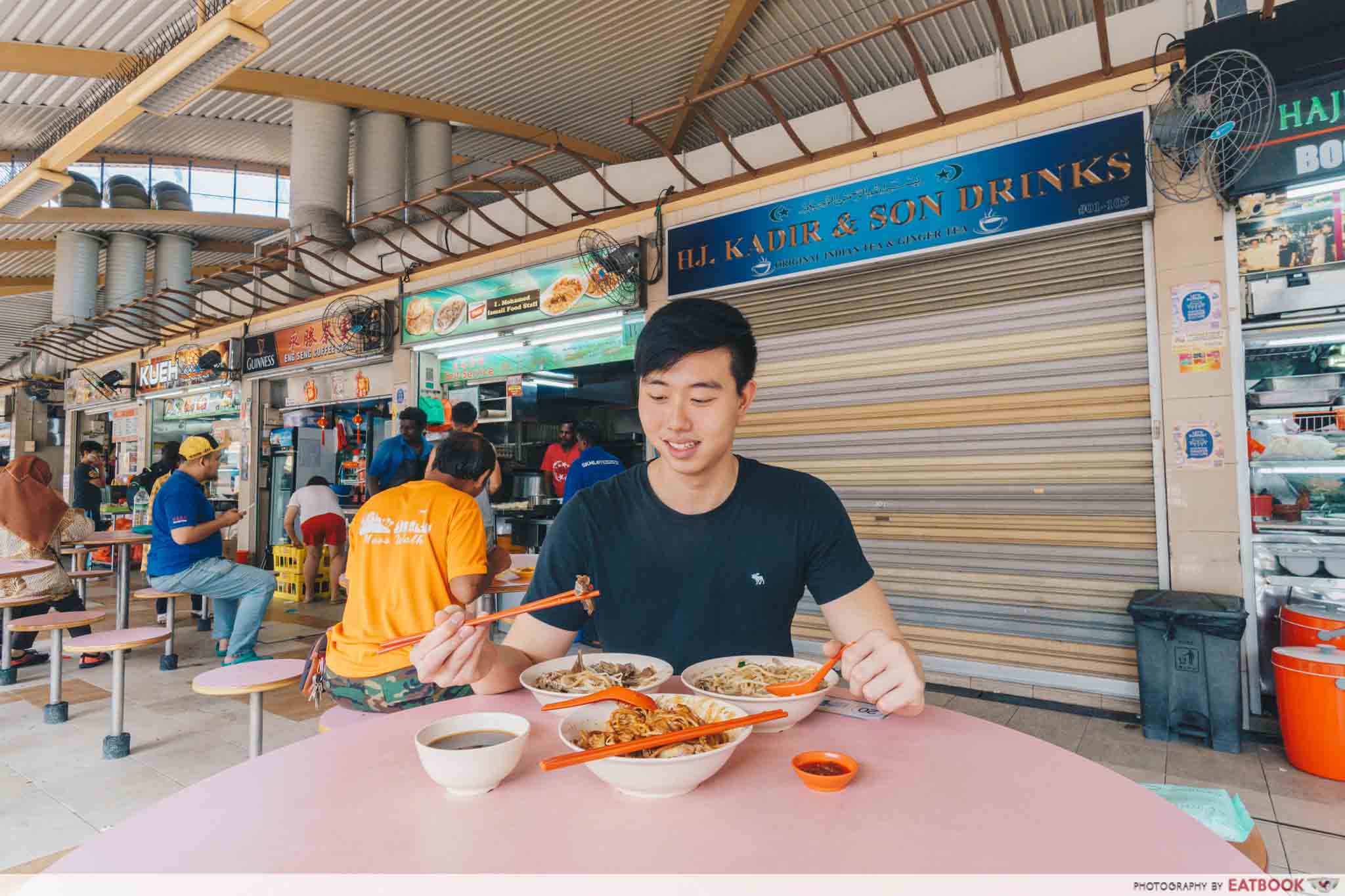 Heng Huat Boneless Duck Noodles rightfully holds its ground as one of the best stalls at Boon Lay Food Village. The stall is popular among the breakfast crowd, so you might want to arrive early as they sell out pretty fast. I would return for their tasty and comforting bowls of noodles.
Address: 221B Boon Lay Place, #01-140, Boon Lay Place Food Village, Singapore 642221
Opening hours: Tue-Sat 5:45am to 10am, 4.45pm to 7pm, Sun 5:45am to 10am
Heng Huat Boon Lay Boneless Duck Noodles is not a halal-certified eatery.
Photos taken by Shi Nengyi.
This is an independent review by Eatbook.sg.
Summary
Pros
– Juicy, tender duck meat
– Flavourful noodles
– Value for money
Cons
– Skinny duck wings
Recommended dishes: Dry Duck Drumstick Noodles ($5), Duck Noodles with Soup ($3.50 for regular), Duck Wing ($0.70), Roasted Pork ($1)
Opening hours: Tue-Sat 5:45am to 10am, 4.45pm to 7pm, Sun 5:45am to-10am
Address: 221B Boon Lay Place, #01-140, Boon Lay Place Food Village, Singapore 642221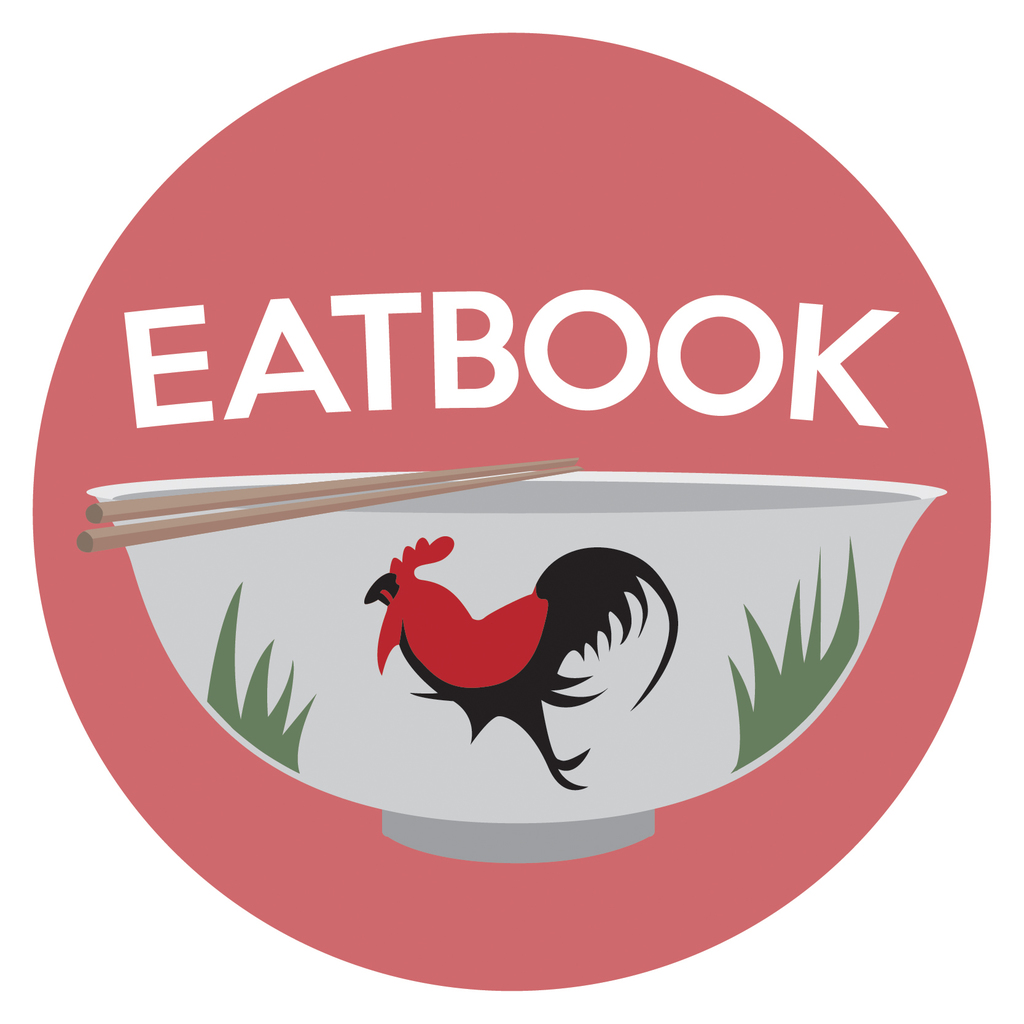 Drop us your email so you won't miss the latest news.