Hunger's Kitchen by Arome at Shaw Towers
Update: Hunger's Kitchen by Arome has permanently closed.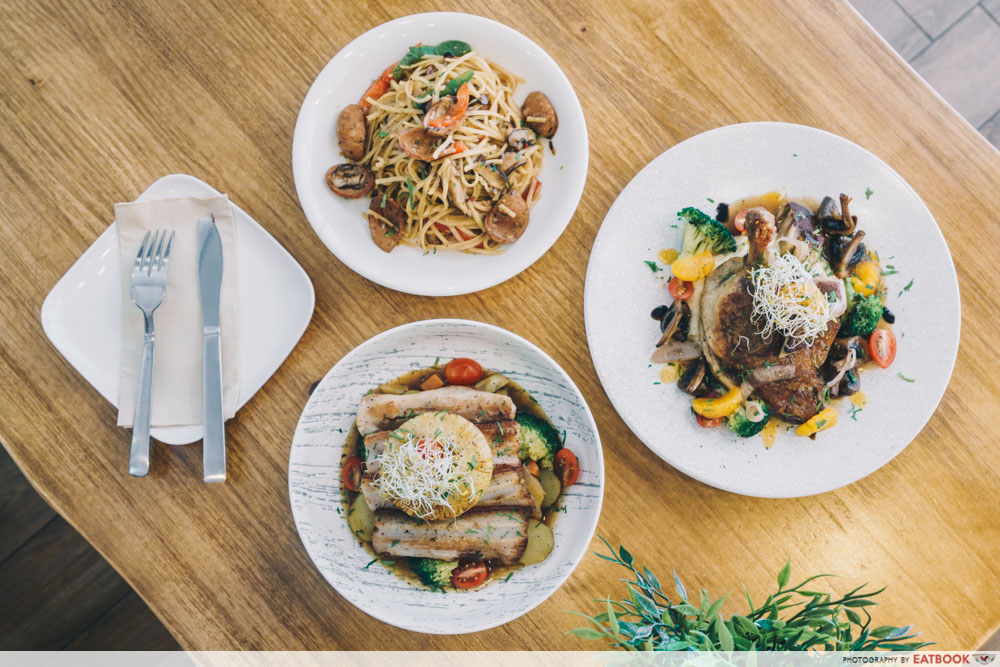 I used to think that French cuisine in Singapore was confined to stifling restaurants enthroned in posh hotels. Eateries like Saveur and Garçons have clearly dismissed that notion with classic French fare at affordable prices. Joining their ranks is Hunger's Kitchen by Arome, a restaurant in Shaw Towers.
This casual French eatery was opened by chef Andy, who had worked in the likes of Raffles Hotel and Marina Bay Sands. The influence of his culinary training is evident here, with classical French dishes such as duck confit gracing the menu.
That said, you'll also spot dishes with local influence such as Mussel & Prawn Laksa Pasta ($15.90+) and Teriyaki Salmon Aglio OIl ($12.90+) amidst his otherwise conventional menu.
Food at Hunger's Kitchen by Arome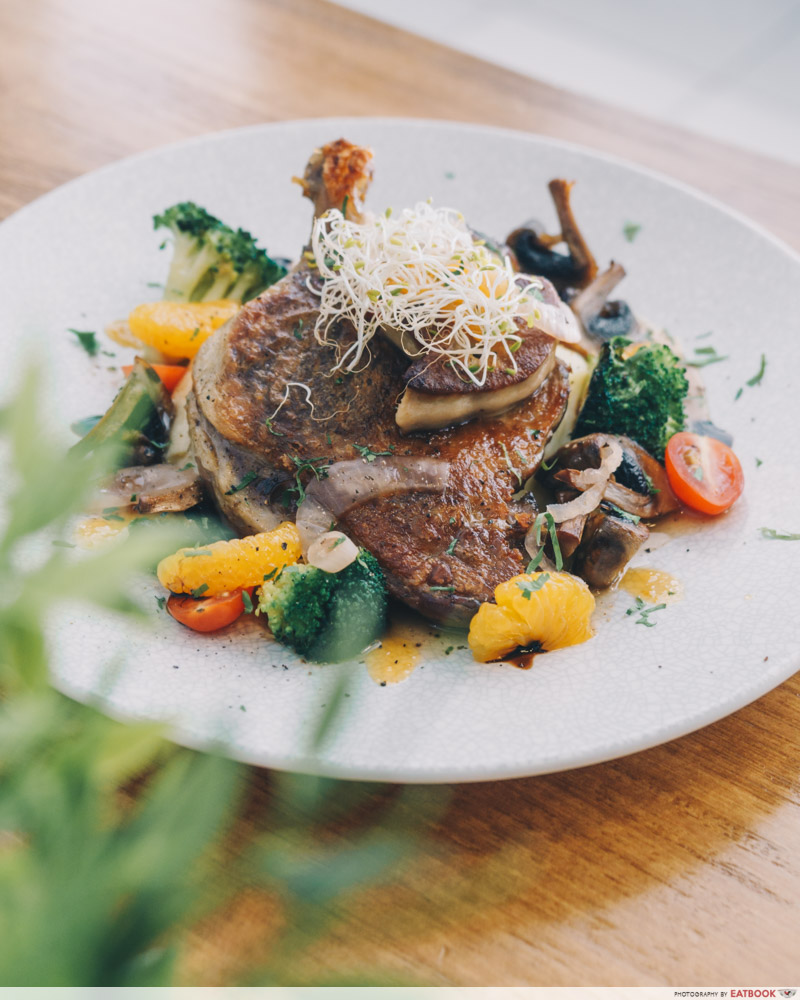 Like a Monet painting, the Duck Confit with Foie Gras ($24.90+) was splashed with specks of colours. A symphony of orange, green and red decorates the plate, finished with an assemble of mandarin oranges and a balsamic reduction.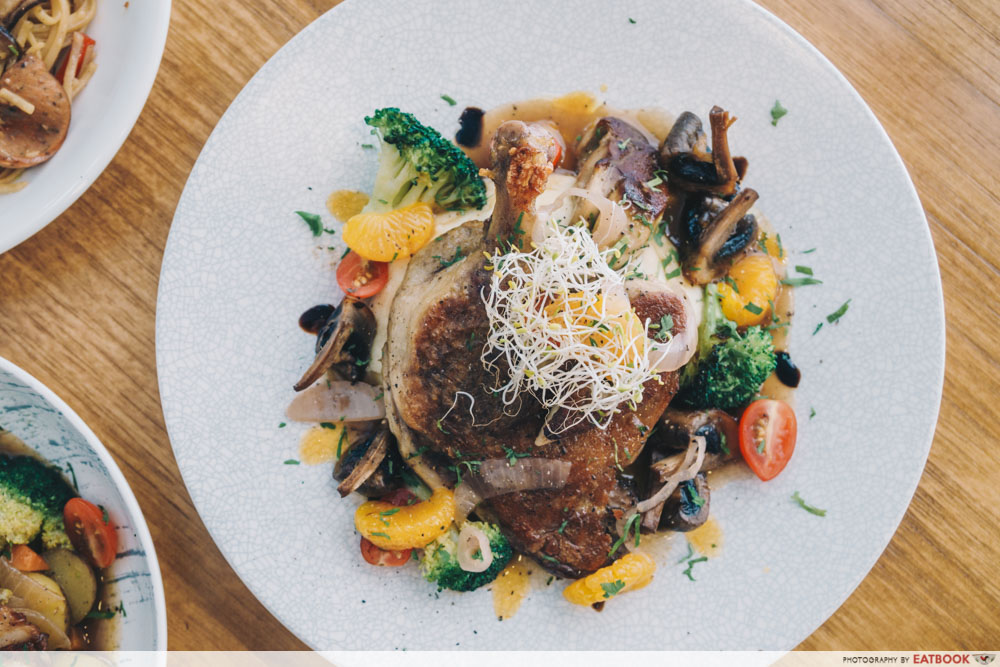 The dish also comes with a side of truffle mashed potatoes that are mellowed by a sweet perfume of orange reduction. The light and fluffy texture also soaked up the meaty duck jus nicely.
I felt that the accompaniment of aromas was clearly thought out and well executed.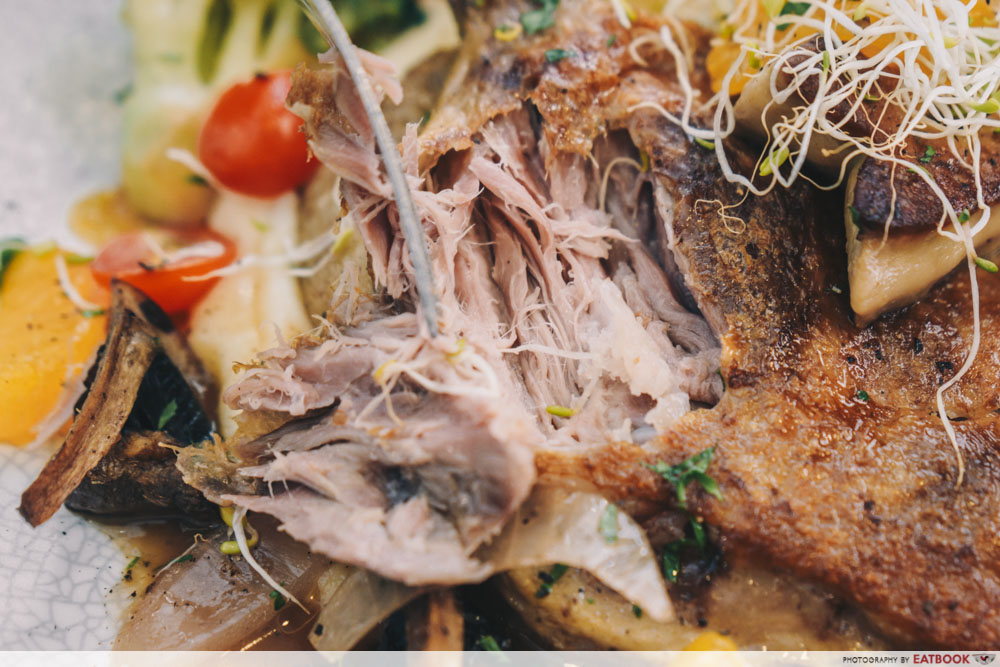 Tearing the duck leg apart, its skin crackled, yielding into shreds of meat that fell right off the bone.
I loved how luscious it tasted—saturated with beautiful duck flavour that's accentuated with nutty oils. Every mouthful of the skilfully prepared protein gushed with a harmonious balance of savoury gaminess and herbaceous freshness.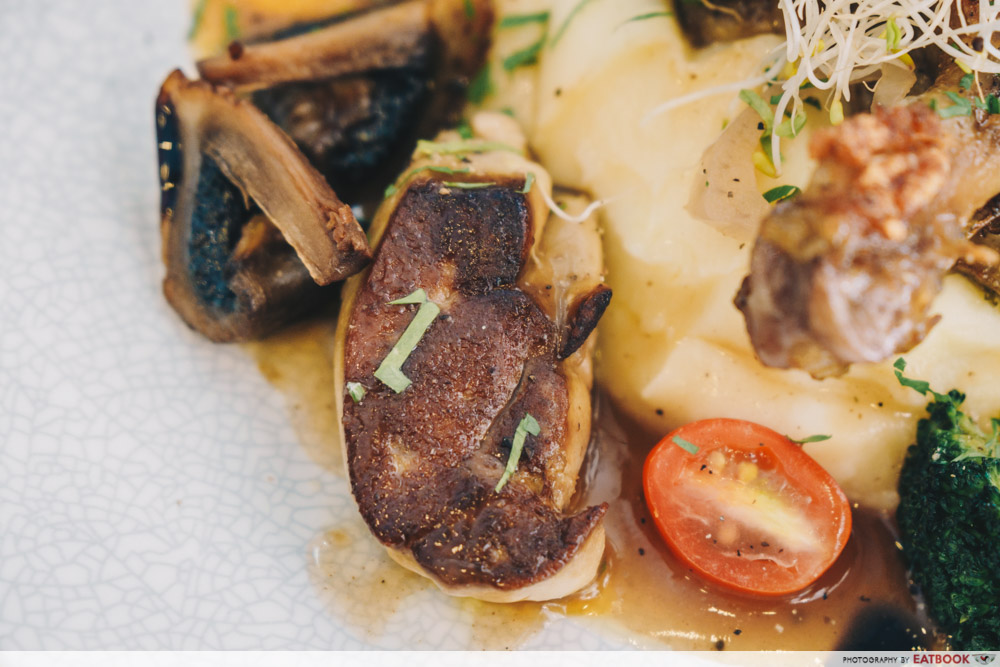 The hallmark of a good pan-seared foie gras was embodied here. Its crusty caramelised sear sliced apart to show a creamy and decadent centre.
Plus points for portion size here. Two pieces of livery goodness were plated majestically on the duck confit. It's worth noting that most similarly priced competitors are less generous.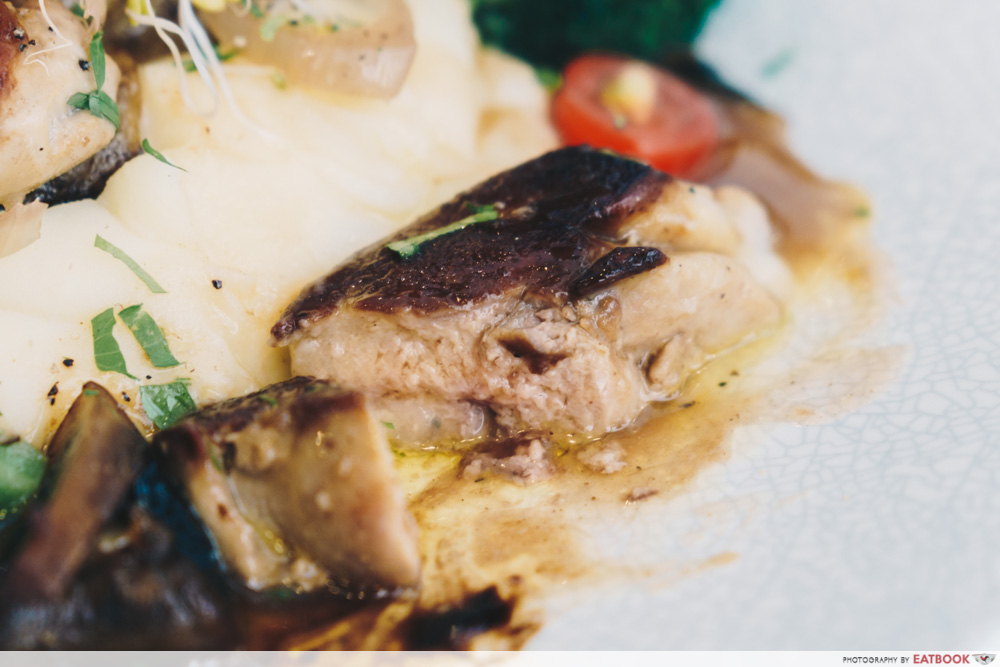 On every bite, its squidgy, pillowy centre melted in the mouth with a luxe velvetiness. Think buttery textures saturated with gaminess, mellowed into a slight funk. I loved everything about it.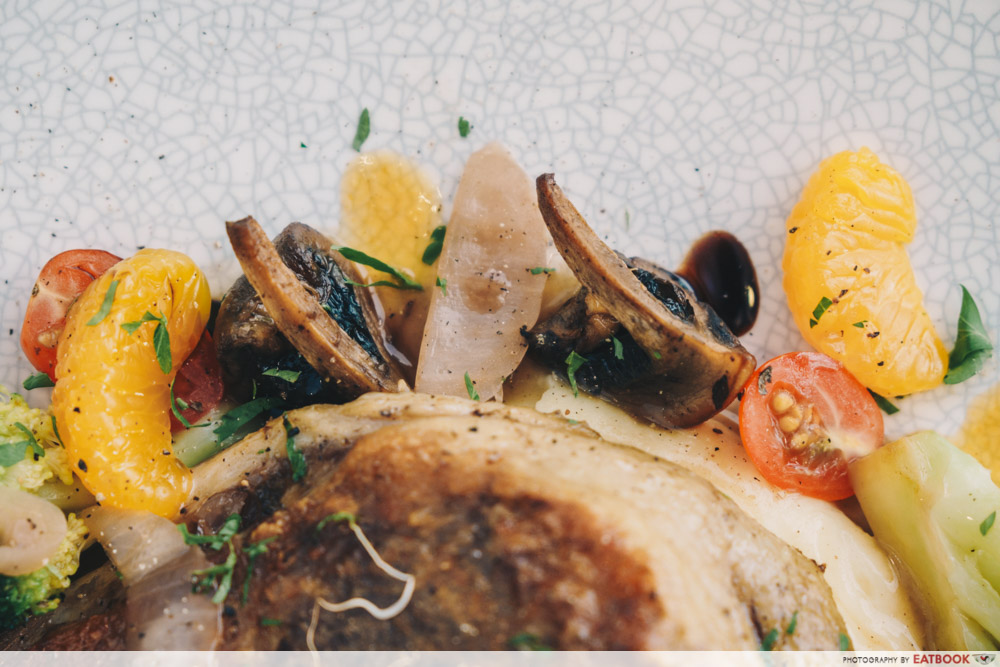 It's remarkable how everything plated here was intentional. Every bit of garnish complements the duck.
For something so intricately produced, this dish was truly worth it.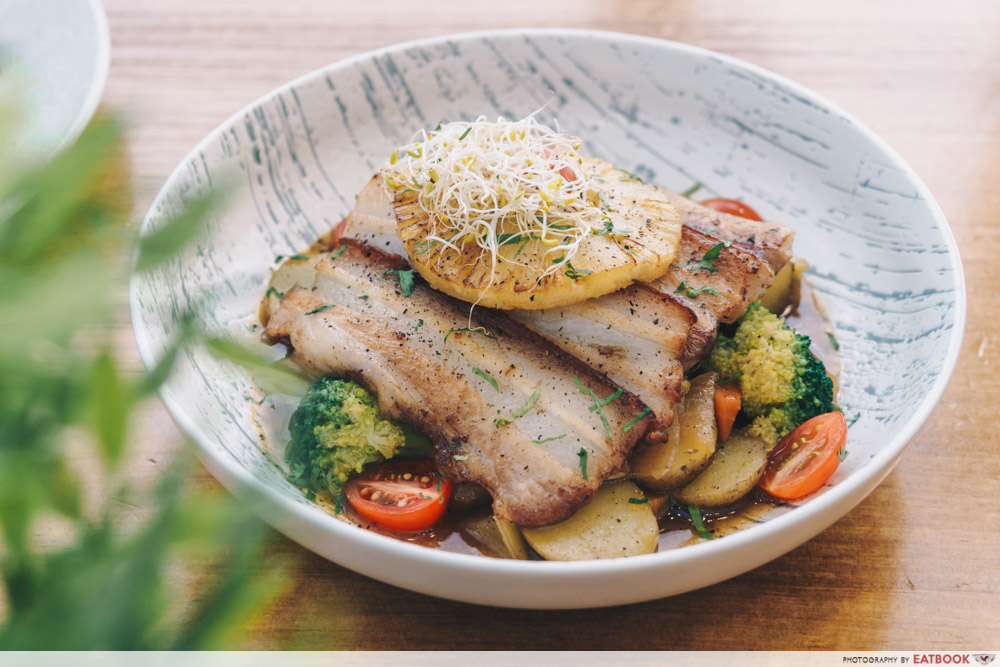 Pork belly is sous vide then seared to create the 36 Hour Pork Belly ($14.90+). Slabs of fatty meat were laid on a bed of vegetable stew, then topped with a slice of seared pineapple and micro greens.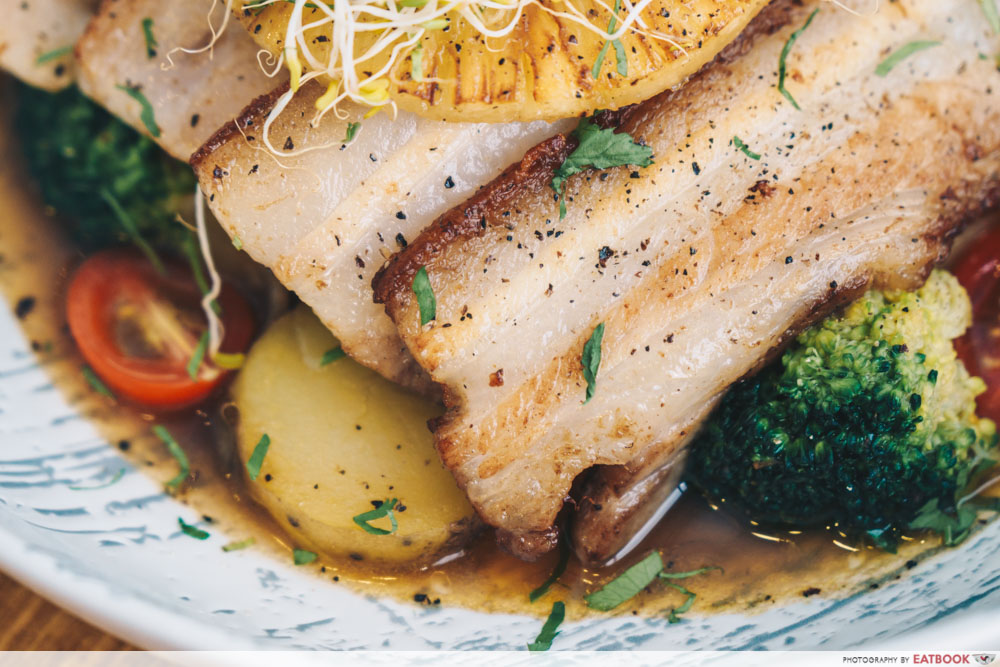 The pork fat had been rendered to a gelatinous texture, with an almost translucent sheen.
Tearing it apart was effortless, with the meat separating along the ridges of fat.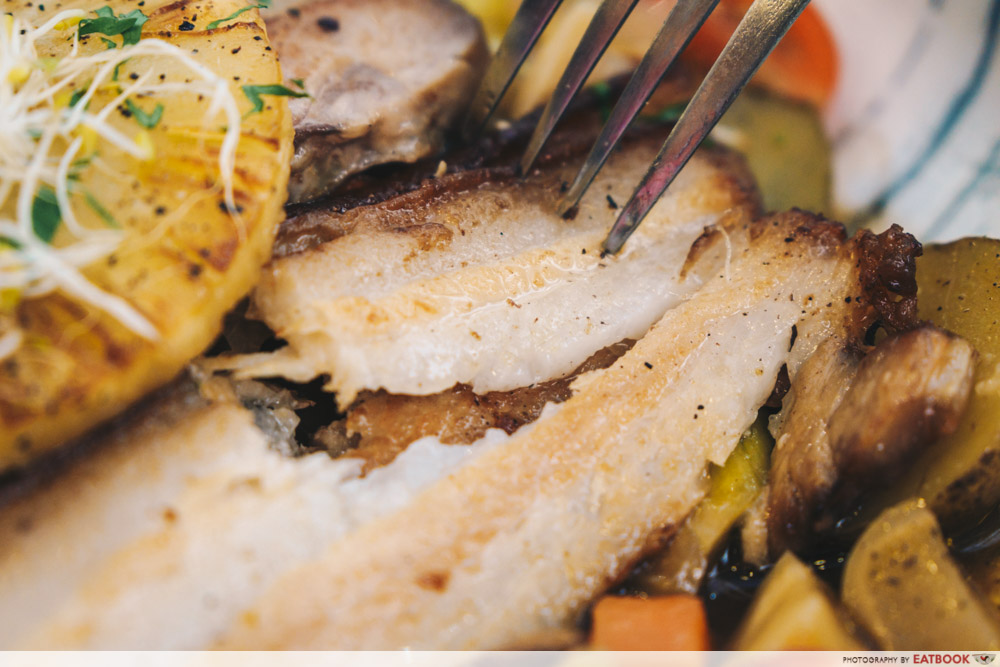 In my mouth, the lard dissolved into a creamy film, leaving a firm albeit tender strip of meat.
I would compare the experience to eating char siew, as it had a good balance of pork and fat, and was charred to a caramelised sear for a crusty exterior.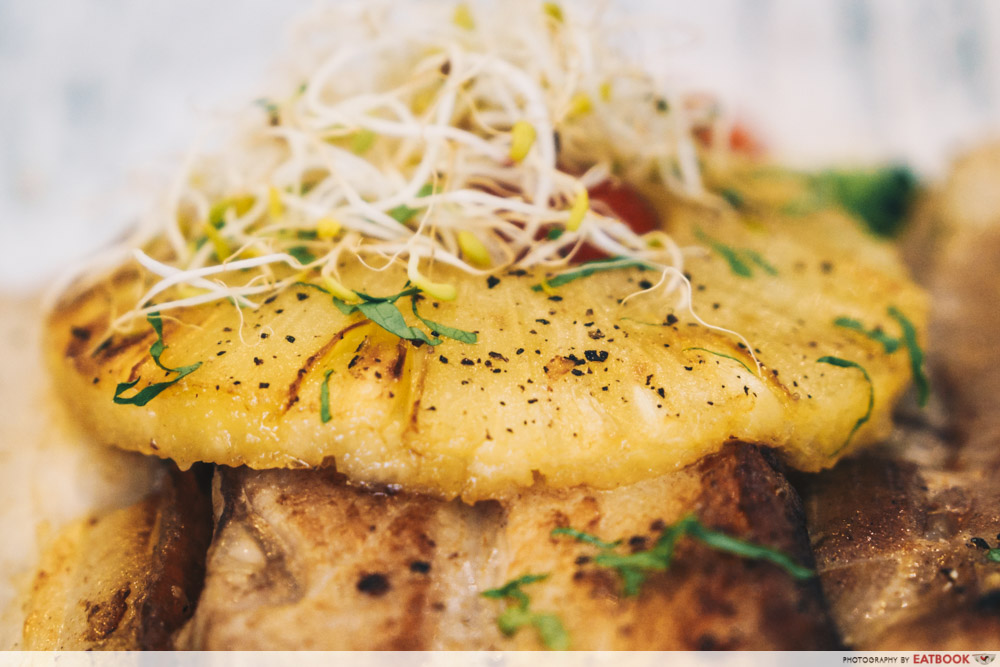 The pineapple felt like it came from a tin. Gorgeously symmetrical, it had a sharp sweetness that was evidence of its sugar syrup concoction.  
What kept it from feeling artificial and processed was the charred surface. It added a tinge of caramelised flavour that's reminiscent of the pineapples served at the Brazilian restaurant, Carnivore.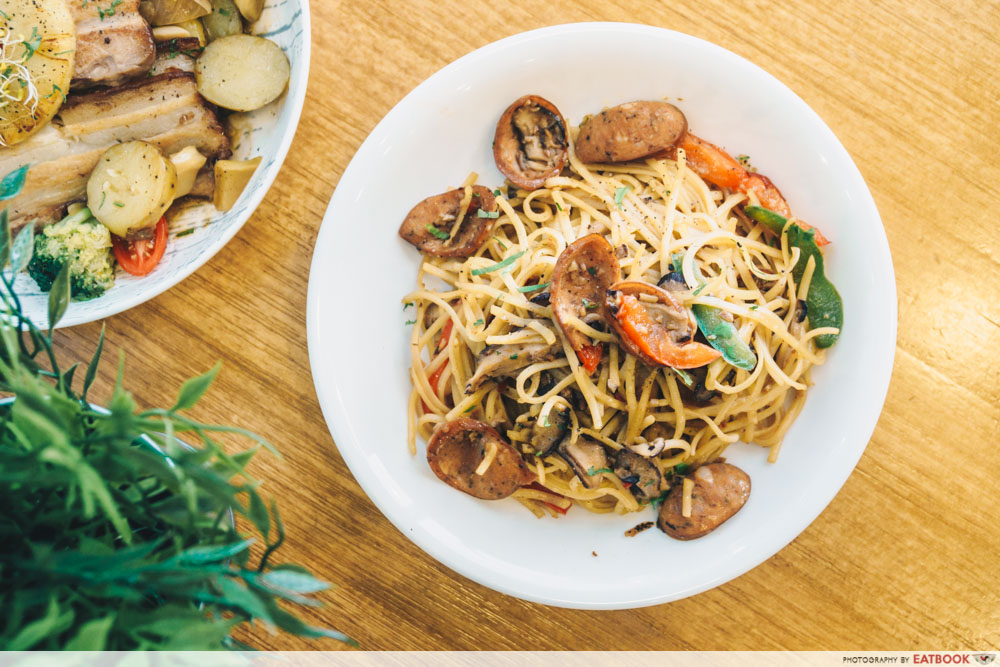 The Chorizo Aglio Olio ($11.90+) was less impressive. While loaded with chorizo, peppers and mushrooms, the flavours were rather mellow.
Perhaps Chef Andy wanted to allow those deep flavours of garlic to shine through, giving it a more classic aglio e olio vibe.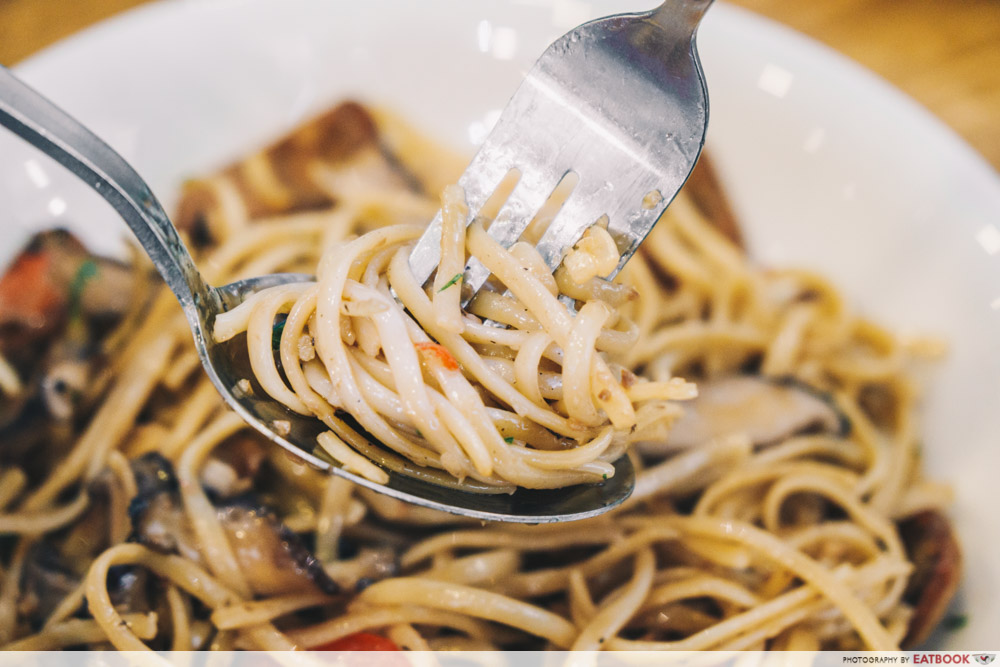 However, I did like how various herbs were strewn in to freshen up the dish. Despite not having bold flavours, the dish did not give that cloying queasiness you'd get from some other oil-based pasta dishes.
Ambience at Hunger's Kitchen by Arome
It's no pretty Tiong Bahru cafe nor Asia's top restaurant Odette, but this restaurant boasts its own rustic vibes. Black metal chairs paired with wooden top tables were displayed amidst the dim-lit dingy interior of Shaw Tower.
It's nothing regal; nothing posh; nothing truly special at first glance here. But give it a chance and you'll be surprised as to what they can offer.
The verdict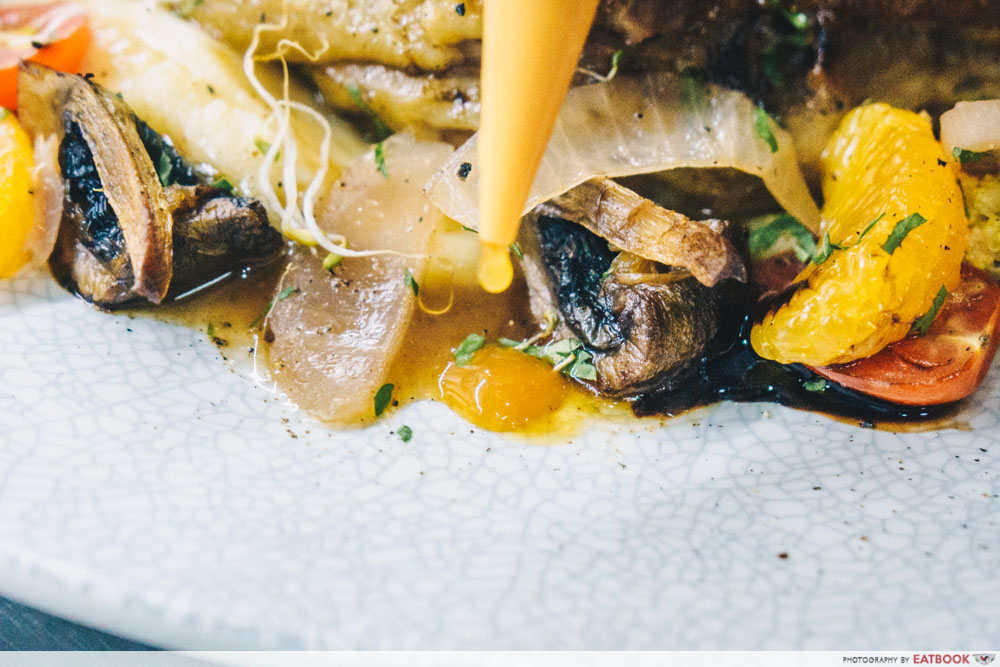 As I peered into the service counter, the passion of Chef Andy was poured into the dish as he plated and prepared every element with a deadpan expression. This untainted zeal for food culminated in the kitchen's deafening silence—less the clanking of kitchenware and occasional "okays" that have replaced "yes chefs". His kitchen looked like a scene out of Netflix's Chef Table.
Every component on the plate was calculated and arduously prepared. The duck confit alone had more than 10 elements—orange reduction, balsamic reduction, shallots, sauteed mushrooms, cherry tomatoes, broccoli, duck jus, microgreens, truffle mashed potatoes, foie gras, and, of course, the duck confit. It really is affordable for the amount of effort that went in.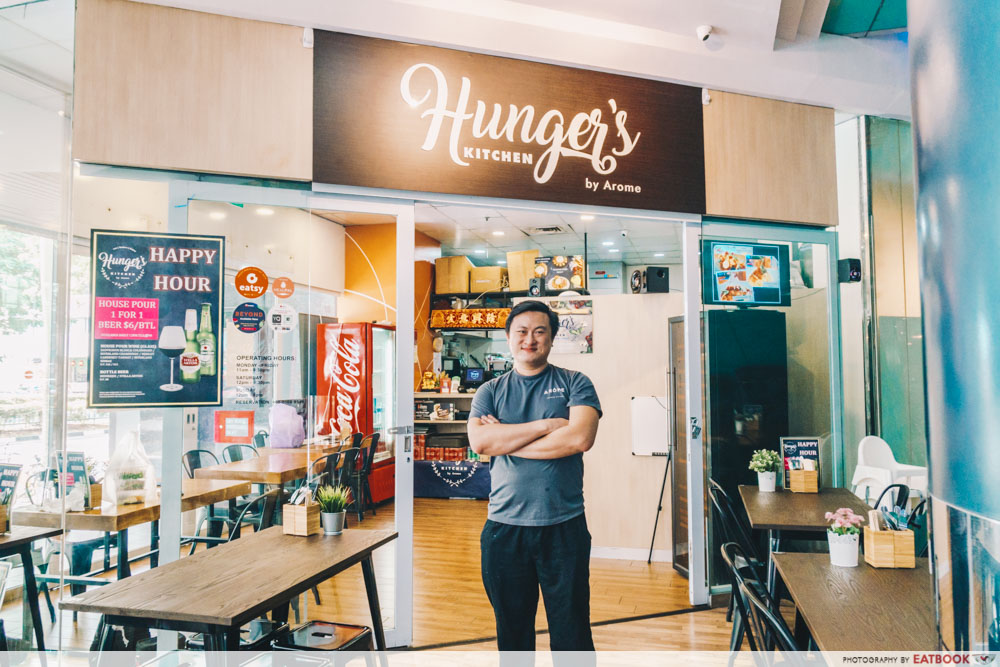 Chef Andy started Arome as a food court stall in Wild Market, expanding slowly into a full-fledged restaurant. It's truly his love for food and sheer determination that has propelled him this far.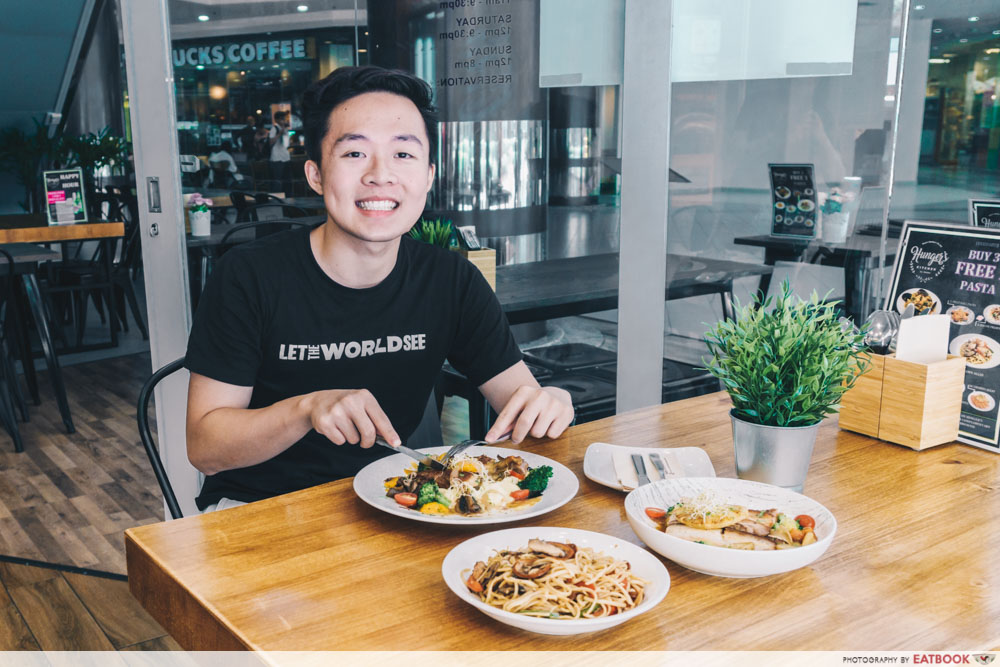 This restaurant, though amazing, doesn't beckon you to don a suit and tie nor rehearse the French pronunciation of "foie gras" or "sous vide" at home before ordering.
I'm starting to rethink if my upcoming dinner plans at JAAN will be worth it.
Address: 100 Beach Road, #01-01, Shaw Towers, Singapore 189702
Opening hours: Mon-Fri 11am to 9:30pm, Sat 12pm to 9:30pm, Sun 11am to 8pm
Tel: 8168 9549
Website
Hunger's Kitchen by Arome is not a halal-certified eatery.
Photos taken by Sharlene Lau.
This is an independent review by Eatbook.sg.
Summary
Pros
– Great quality of food
– Affordable for French food
Cons
– Dingy interior
Recommended dishes:  Duck Confit with Foie Gras ($24.90+), 36 Hour Pork Belly ($14.90+)
Opening hours: Mon-Fri 11am to 9:30pm, Sat 12pm to 9:30pm, Sun 11am to 8pm
Address: 100 Beach Road, #01-01, Shaw Towers,Singapore 189702