---
Hawaiian pizza doesn't count
---
If you think hawaiian pizza and greek-style yogurt sum up the Hawaiian and Greek dishes you can get in Singapore, then it's time to think again, my friend. Just like all the unknown Pokemons in your Pokedex, Singapore has many hidden restaurants that serve cuisines from all over the world. Here is a list of 10 international cuisines nested in our little island to let you take a break from all the Magikarps of the food scene and chow down on a Snorlax equivalent. Who knows, you might just catch an actual Snorlax at one of these places – good luck!
---
1. Egyptian
---
Yes, Egyptian food exists in Singapore. Egyptians' diet is relatively simple; it relies heavily on legumes and vegetables rather than meats, and is relatively light on spices as compared to their Middle Eastern neighbours.
Baladi bread is a flat wholemeal bread that is so crucial to their diet, it is government-subsidised and has even been the cause of nationwide riots. Ful medames is similarly essential. This dish of mashed fava beans is typically served with vegetable oil, cumin and a variety of sides such as tahini, eggs or pastrami.
Try Egyptian cuisine at:
Altazzag Egyptian Restaurant
Address: 2 Jiak Chuan Road, Singapore 089260
Opening hours: Tue to Fri 5pm to 12am, Sat 3pm to 12am
Tel: 6222 3130
---
2. Cajun
---
Cajun is more than a cayenne pepper rub, you guys. Cajun cooking also features the 'Cajun holy trinity' of capscicums, onions and celery. Due to their location near the Gulf of Mexico, cajun cuisine primarily consists of seafood – which explains why alligator meat, shrimp étouffée (seafood stew over rice) and po' boy sandwiches stuffed with fried seafood are some of their iconic dishes.
Try Cajun cuisine at:
Dancing Crab
Address: 181 Orchard Road, #07-14/15, Orchard Central, Singapore 238896
Opening hours: Mon-Sun 11am to 3pm, 5pm to 10pm
Tel: 6509 1878
Menu

The Boiler
Address: 18 Howard Road, #01-06, Novelty Bizcentre, Singapore 369585
Opening hours: Tue-Thur 11:30am to 2:30pm, 5pm to 10:30pm, Fri 11:30am to 2:30pm, 5pm to 11pm, Sat 5pm to 11pm, Sun 5pm to 10:30pm
Tel: 6635 1285
Menu
---
3. Iranian
---
If you like rich, creamy dishes, then Iranian dishes are right up your alley. When it comes to classic Iranian seasonings, saffron, cinnamon, dried lime and parsley are must-haves. These flavour their unique plates of fesenjoon (pomegranate walnut stew), kebabs and tadeeg (burnt saffron rice). Iranians also mix yogurt into nearly everything savory, or opt for a whole glass of it with mint to make a popular drink called doogh.
Try Iranian cuisine at:
Shabestan
Address: 80 Mohamed Sultan Road, #01-13, The Pier @ Robertson, Singapore 239013
Opening hours: Mon-Sun 12pm to 11:30pm
Tel: 6836 1270
Menu
Shiraz
Address: 3A River Valley Road, #01-06, Clarke Quay, Singapore 179020
Opening hours: Mon-Thur 6:30pm to 11pm, Fri-Sat 12pm to 3pm, 6:30pm to 2:30am, Sun 6:30pm to 2:30am
Tel: 6334 2282
Menu
---
4. Argentine
---
If you love meat, you will definitely love Argentine asados. These Argentine BBQs grill up blood sausages, spiced sausage sandwiches and all cuts of beef. Their national dish is locro, a hearty stew made of white corn, vegetables and beef or pork. For sweets, Argentines puts dulce de leche in and on everything, including alfajores (cornstarch cookies) and ice-cream. I love the sound of this already.
Try Argentine cuisine at:
BoCHINche
Address: 115 Amoy Street, #01-02, Singapore 069935
Opening hours: Mon-Thur 12pm to 2:30pm, 6pm to 10:30pm, Fri 12pm to 2:30pm, 6pm to 11pm, Sat 11am to 3pm, 6pm to 11pm, Sun 11am to 3pm
Tel: 6235 4990
Menu
---
5. Russian

---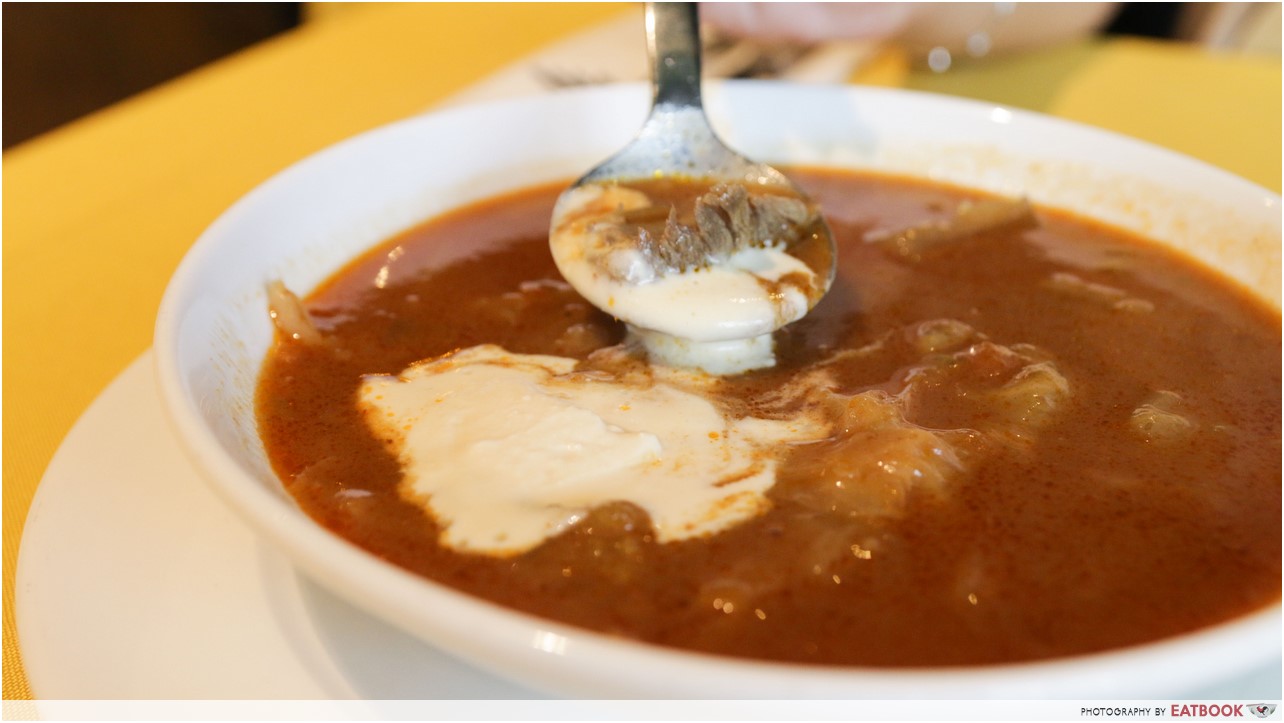 More than vodka and caviar, Russian cooking includes unique soups, meats, porridges and pancakes. Must-try dishes include borsch (red beet and cabbage soup), shashlik (shish kebab), and flavour-packed pelmeni (minced meat, fish or mushroom dumplings).
Wash your meal down with a glass of medovukha, which is a type of honey-based alcohol. For desserts, medovik is a multi-layered honey sponge cake with sweetened sour cream, topped with crushed sponge or nuts.
Try Russian cuisine at:
Shashlik
Address: 545 Orchard Road, #06-19, Far East Shopping Centre, Singapore 238882
Opening hours: Tues-Sun 12pm to 2:15pm, 6pm to 9:15pm
Tel: 6732 6401
Read our full review of Shashlik here.
---
6. Danish
---
For those whose first thought of Danish food is a round blue metal tin of cookies, please know that Danish cuisine goes way beyond that. Danish chefs are known for using fresh, local and seasonal produce, so it's no surprise that Denmark has the most Michelin starred restaurants in Scandinavia.
Danish cuisine rests on a variety of rye bread sandwiches, pork and potatoes. Their diet includes small meats like frikadeller (fried meatballs) to larger cuts like stegt flæsk (roast pork strips in parsley sauce, pronounced "state flay-st") and millionbøf (beef pieces served with mashed potatoes, pasta or rice, pronounced "me-yon-bou").
Try Danish cuisine at:
Smør
Address: One Raffles Place, #B1-23, Singapore 048616
Opening hours: Mon-Sat 8am to 4pm
Tel: 9430 1500
GÆST
Address: 21 McCallum Street, #01-01, The Clift, Singapore 069047
Opening hours: Mon-Sun 8:30am to 3:30pm
Tel: 6634 0922
Menu
---
7. Hawaiian
---
Believe or not, char siew pau is one of Hawaii's iconic snacks. Called manapua, this steamed barbeque pork bun tends to have a thicker layer of dough than the ones we're used to. Hawaiian food is a fusion of cuisines from immigrants in the past century, particularly China, Korea, Japan, Philippines and Portugal. This is why other common Hawaiian dishes like ahi poké (raw yellowfin tuna salad) and plate lunch (white rice, macaroni salad and meat) may look familiar too.
Try Hawaiian cuisine at:
Aloha Poké
Address: 92 Amoy Street, Singapore 069911
Opening hours: Mon-Sat 11:30am to 2:30pm, 5:30pm to 11pm
Tel: 6221 6165
Menu
A Poke Theory
Address: 27 Boon Tat Street, Singapore 069623
Opening hours: Mon-Fri 11am to 6pm, Sat 10am to 4pm
Menu
Katto
Address: 1 Fusionopolis Place, #01/21-22, Galaxis Building, Singapore 138522
Opening hours: Mon-Fri 11am to 8pm, Sat 11am to 2pm
---
8. Cuban
---
Cuba's food is more than cuban sandwich. Moros y cristianos, or black beans stewed with white rice, is a typical meal for many, and they've got their version of chicken rice called arroz con pollo. Of course, Cuba is also known for cocktails, and a classic cocktail like cuba libre, an atas version of rum coke, should not be missed.
Try Cuban cuisine at:
Cuba Libre
Address: 3B River Valley Road, #01-13, Clarke Quay, Singapore 179021
Opening hours: Sun-Thur 6pm to 2am, Fri-Sat 6pm to 3am
Tel: 6338 8982
Menu
Vasco
Address: 42 Hong Kong Street, Singapore 059681
Opening hours: Mon-Sat 5pm to 1am
Tel: 8799 7085
Menu
---
9. Carribean
---
You don't need Google to know that Caribbean cuisine is often associated with seafood like flying fishes, groupers and various shellfishes. Aside from seafood, their national dish is a warm, clove-scented goat stew.
For vegetables, callaloo is a staple in the Jamaica and Dominica diets. This is a hearty stew of boiled leafy greens and can include ingredients like capsicum, coconut milk, okra and meats or seafood.
Try Carribean cuisine at:
Lime House
Address: 2 Jiak Chuan Road, Singapore 089260
Opening hours: Tue-Fri 5pm to 12am, Sat 3pm to 12am
Tel: 6222 3130
Menu
---
10. Greek
---
With olives, cheeses and grilled meats as mainstays, it's no wonder Greek gods and goddesses look so relaxed all the time. Some iconic Greek dishes include gyro (spit-roasted meat in a pita bread wrap), moussaka (baked eggplant in minced meat sauce), and dolmathakia (grape leaves stuffed with rice, pine nuts and fresh herbs).
Their desserts are equally indulgent. Think loukoumades (fried donut balls in honey) and the ever-popular baklava (filo pastry layered with honey and ground nuts).
Try Greek cuisine at:
Aryaa
Address: 7500E Beach Road, #01-201, Diners Building, Singapore 199595
Opening hours: Mon-Fri 12pm to 3pm, 6pm to 11pm, Sat 6pm to 11pm
Contact: 6291 6009
Menu
Blu Kouzina
Address: 10 Dempsey Road, #01-21, Dempsey Hill, Singapore 247700
Opening hours: Mon-Thur 6pm to 10pm, Fri-Sun 12pm to 2:30pm, 6pm to 10pm
Tel: 6875 0872
Menu
Mykonos On The Bay
Address: 31 Ocean Way, #01-10, Quayside Isle, Sentosa Cove, Singapore 098375
Opening hours: Mon-Wed 6pm to 10:30pm, Thur-Fri 12pm to 2:30pm, 6pm to 10:30pm, Sat-Sun 12pm to 10:30pm
Tel: 6334 3818
Menu
---
The world is your buffet
---
We can't give you a teleportation device to take you across continents, but this list of different cuisines in Singapore is close enough for those who have "eat the world" on their bucket list. Drop by all the restaurants for a bite and you'll find yourself sampling flavours from all over the world faster than you can pronounce stegt flæsk.