---
International dishes in Singapore
---
Unfortunately for those who love to travel, the current pandemic has left the majority of us stuck in Singapore. To fulfil that wanderlust, take a culinary tour around the city to explore unique international dishes we may not be familiar with. From Russian food, to fusion dishes and flame-grilled steaks, Singapore is a hotbed for foodies when it comes to global cuisines and international dishes if you know where to look.
---
1. Dumplings.ru
---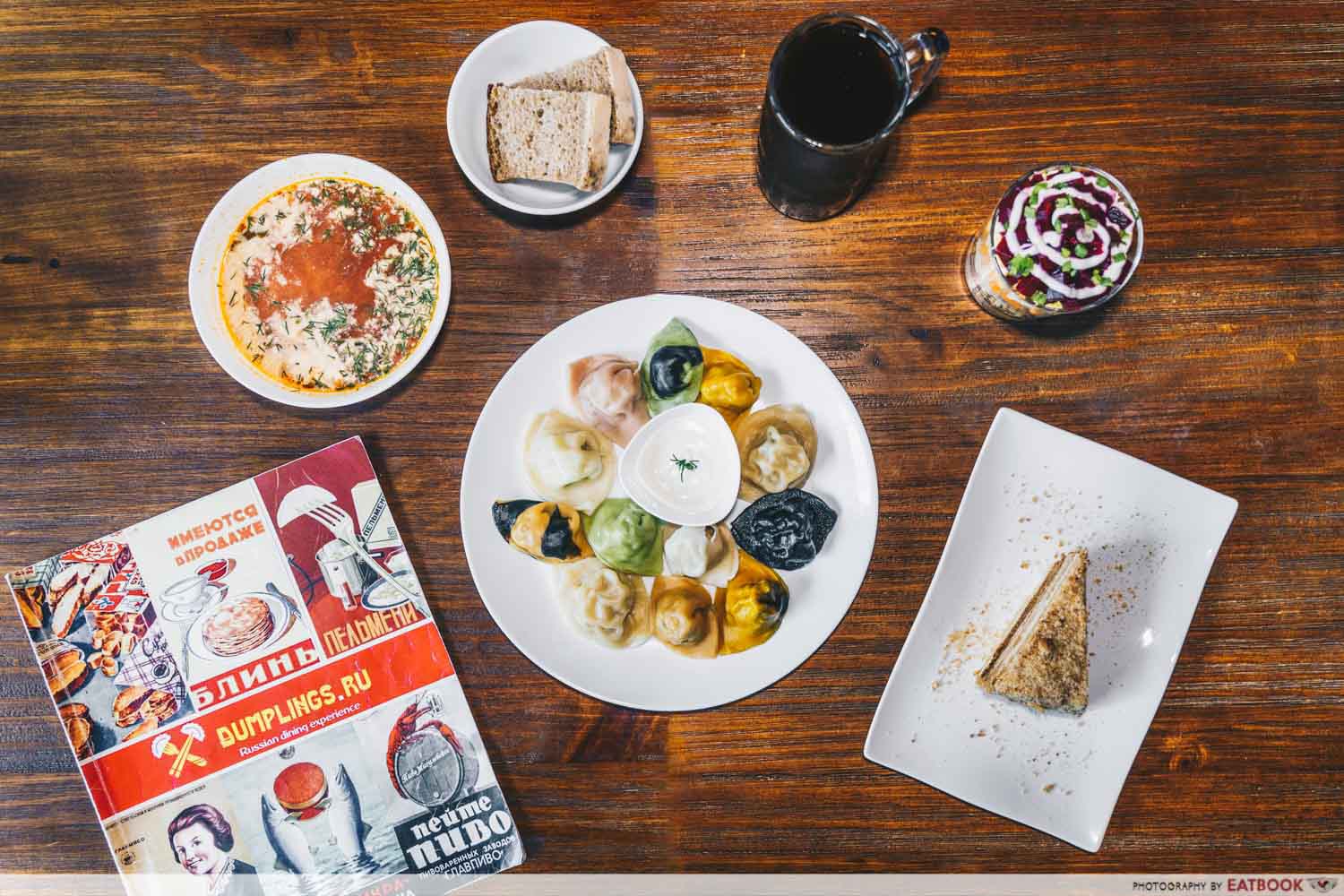 Operated by Russians, Dumplings.ru brings authentic Russian and Ukrainian comfort food to our little red dot. Start with a hearty bowl of Ukrainian Borscht Soup ($9.50), served piping hot and filled with chunks of pork, beetroot and more.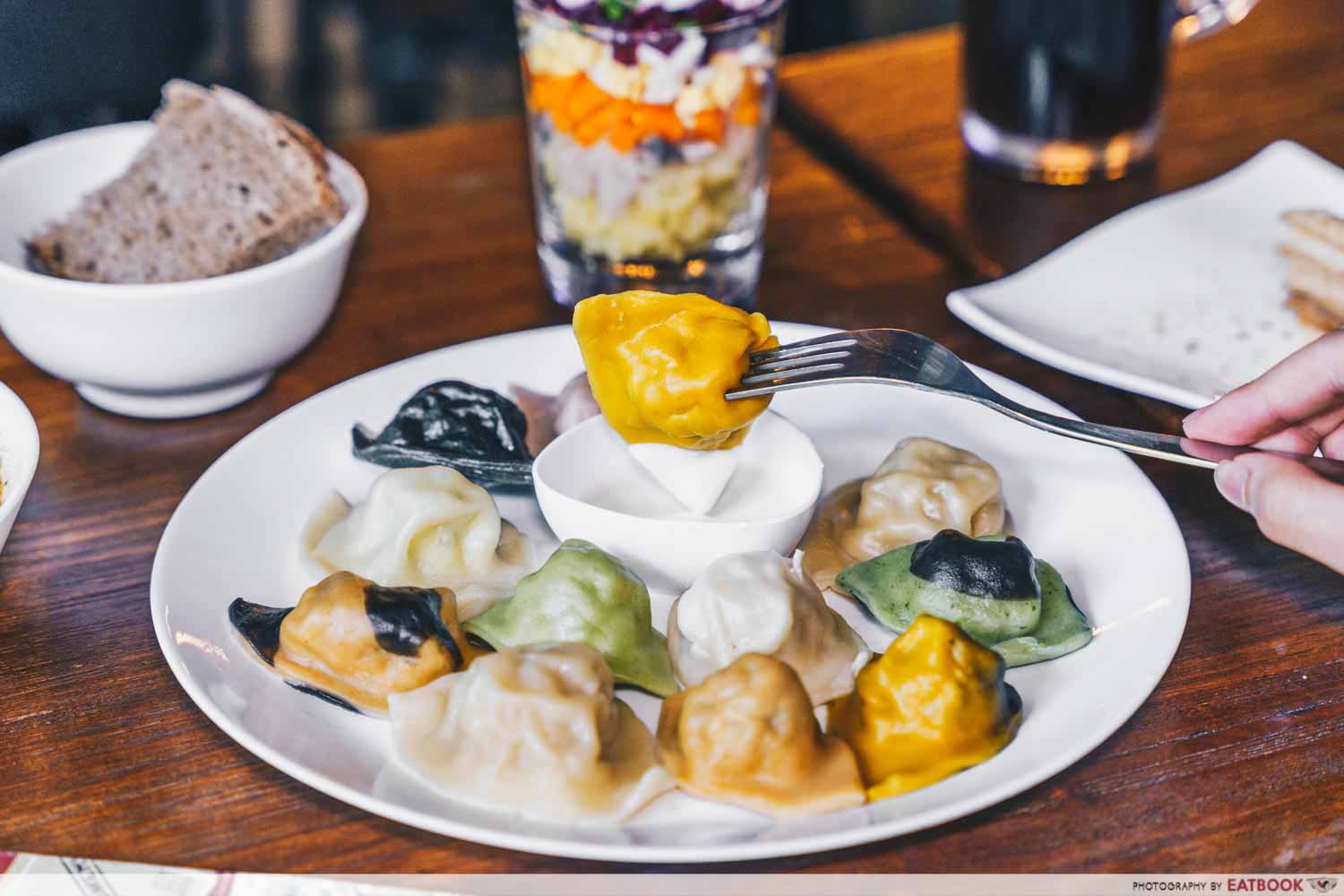 They are best known for their colourful Dumplings Combo Platter ($19.90). While we are more familiar with dumplings like gyoza and guo tie, Dumplings.ru's version isn't quite the same. Expect chewier skin and bolder flavours, such as the green-hued Minty Ram, stuffed with chewy shreds of lamb and aromatic mint leaves.
For something refreshing, try the Salted Herring Salad ($9.90), a typical salad, except with small wedges of beetroot and soft salted herring. We also loved the Medovik ($7.90), a crumbly, biscuit-like Slavic honey cake. Wash all these down with some malty Kvass ($5.90), a beverage made from rye bread, quite unlike any other drink most Singaporeans are familiar with.
Address: 32 Maxwell Road, #01-05, Maxwell Chambers, Singapore 069115
Opening hours: Mon 5:30pm to 10:30pm, Tues-Sun 12pm to 2:30pm, 5:30pm to 10:30pm
Tel: 8875 7033
Website
---
2. Enjoy Eating House & Bar
---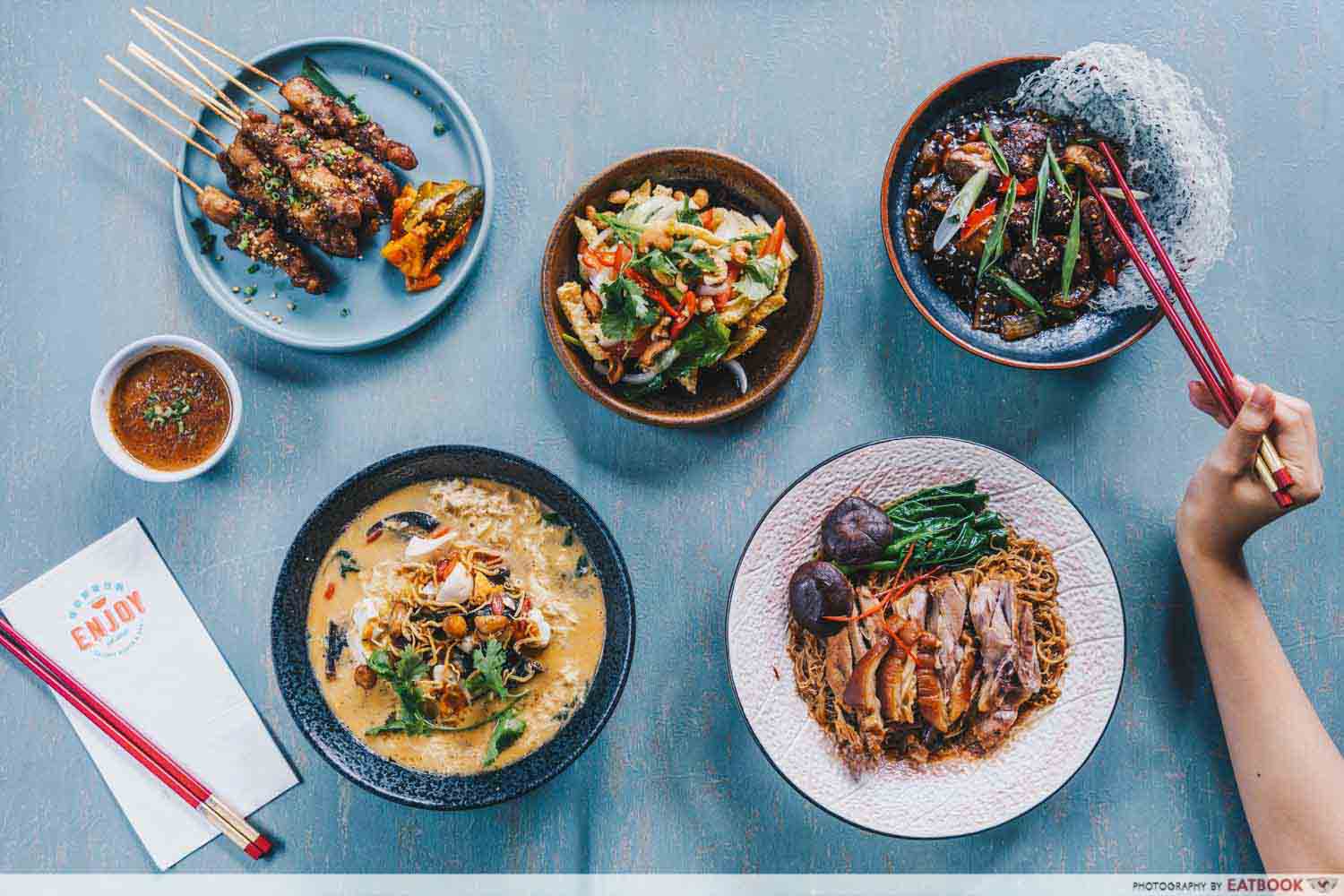 Enjoy Eating House & Bar serves zhng-ed up versions of zi char and Asian-inspired dishes. The Black Pepper Angus Beef Tenderloin Cubes with Foie Gras ($24.80++) adds rich, buttery chunks of foie gras to wok-fried chunks of beef for a seriously indulgent main.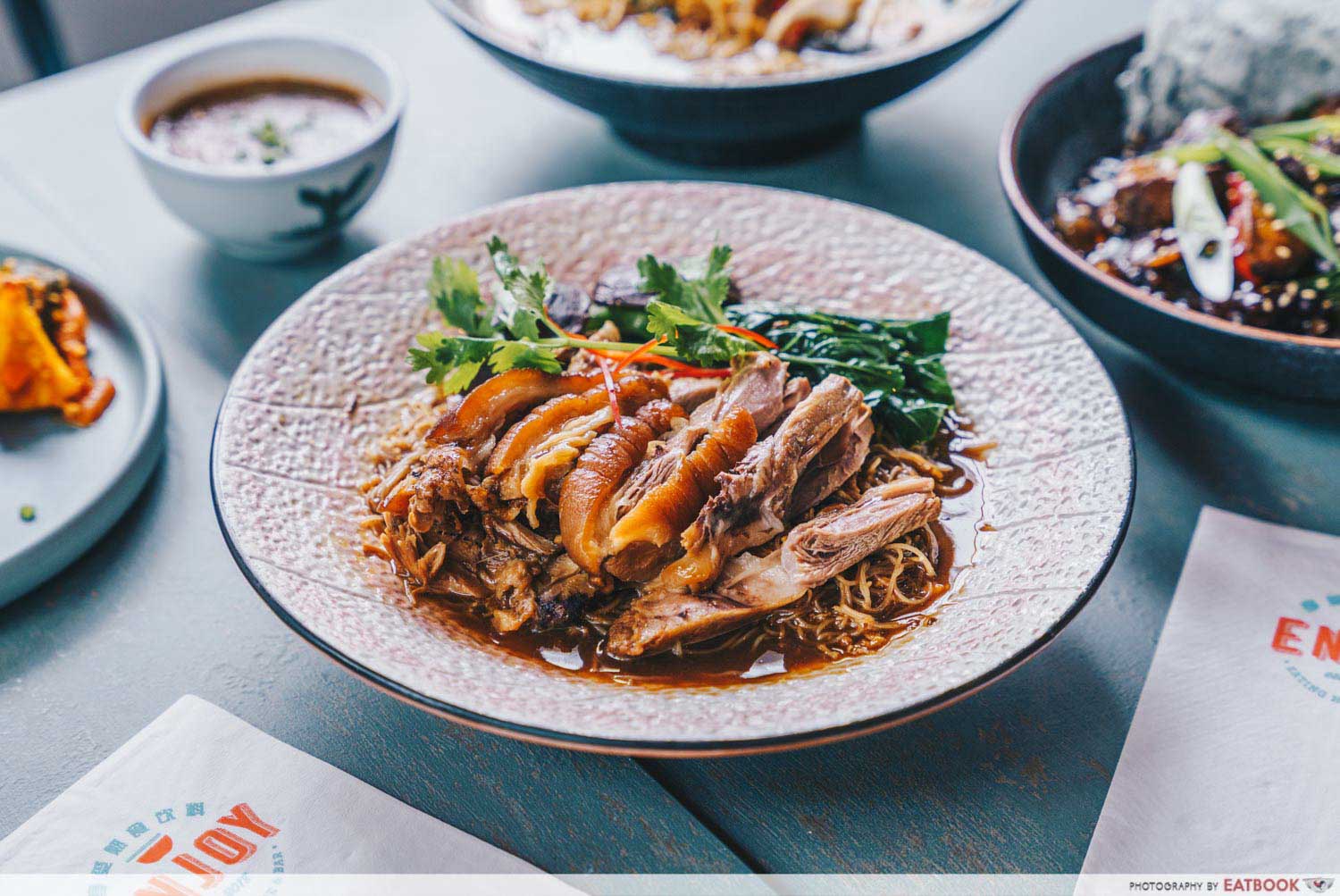 Also look out for Grandma's "Te Kah" Bee Hoon (from $12.80++) which features juicy chunks of braised pork leg atop fried bee hoon. Thai food lovers can also try the Crispy Fish Maw Salad ($10.80++), a piquant side starring collagen-rich fish maw, well-fried to a crisp. If you seek something comforting, the Three-Egg Spinach ($12.80++) comprises light broth and soft spinach alongside a trio of fresh, salted, and century egg. If Jalan Besar is out of the way for you, Enjoy Eating House will also be opening a new outlet come late December 2020 at Mercure Hotel at Stevens Road.
Address: 383 Jalan Besar, Kam Leng Hotel, Singapore 209001
Opening hours: Daily 11am to 11pm
Tel: 9299 1601
Website
---
3. PIPES by Hattendo
---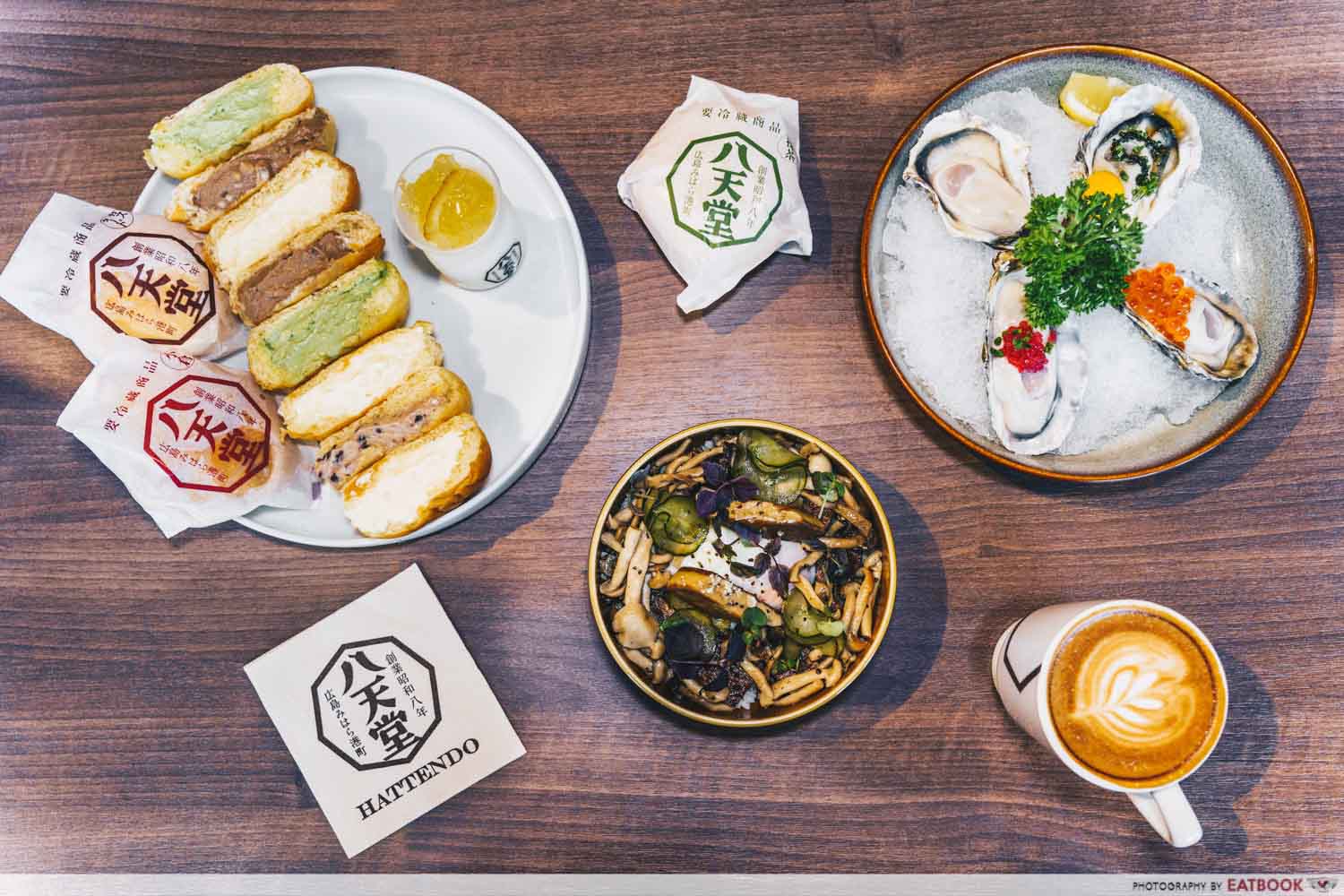 Hailing from Hiroshima, PIPES by Hattendo is home to coffee, cream buns, burgers, and even an artificial intelligence (AI) coffee roasting machine. Start off your visit with a cup of coffee by picking from specialty coffee beans sourced from around the world, including their house-blended Anti Matter Dark Roast and Sanctuary Light Roast, before choosing your brewing type.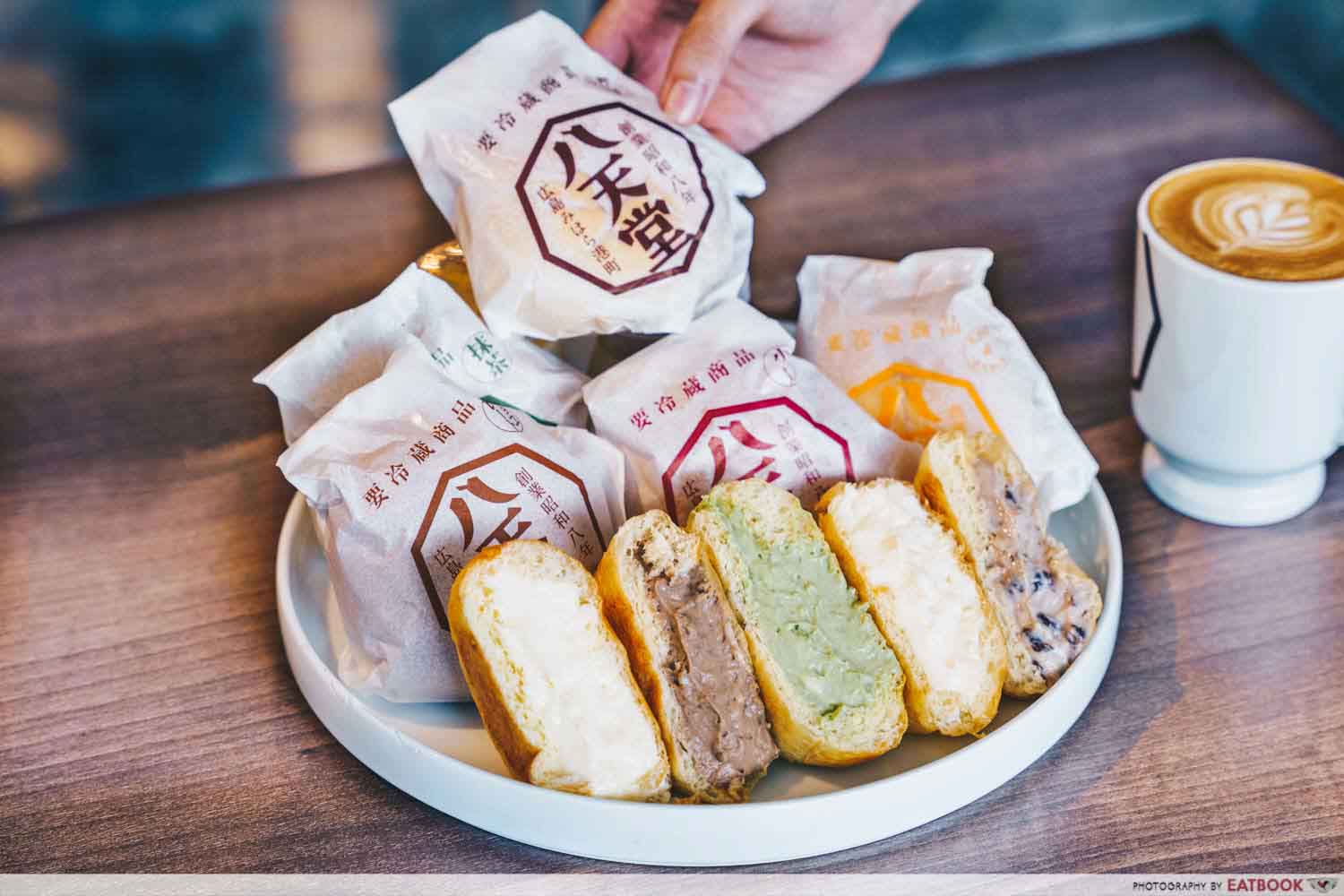 The cafe bar is also famous for their handmade Japanese cream buns. We especially loved the pillowy soft Classic Cream Buns ($2.70 each), available in silky Custard, feathery Whipped Cream, nutty Matcha, indulgent Chocolate, and—our favourite—mildly sweet Azuki. If cream buns aren't enough, get yourself the seasonal Kochi Yuzu Panna Cotta ($5), which is tangy and velvety.
Fill your stomach with the Friends W Benefits ($21.90), a grain bowl packed with shimeji mushrooms, grilled wagyu beef, foie gras and more. Else, creamy Hiroshima Oysters (from $5 each) are up for grabs as well.
Address: 331 New Bridge Road, #01-02, Dorsett Residences, Singapore 088764
Opening hours: Tues-Sun 11am to 9pm
Tel: 8113 6096
Website
---
4. The Wine & Gourmet Friends
---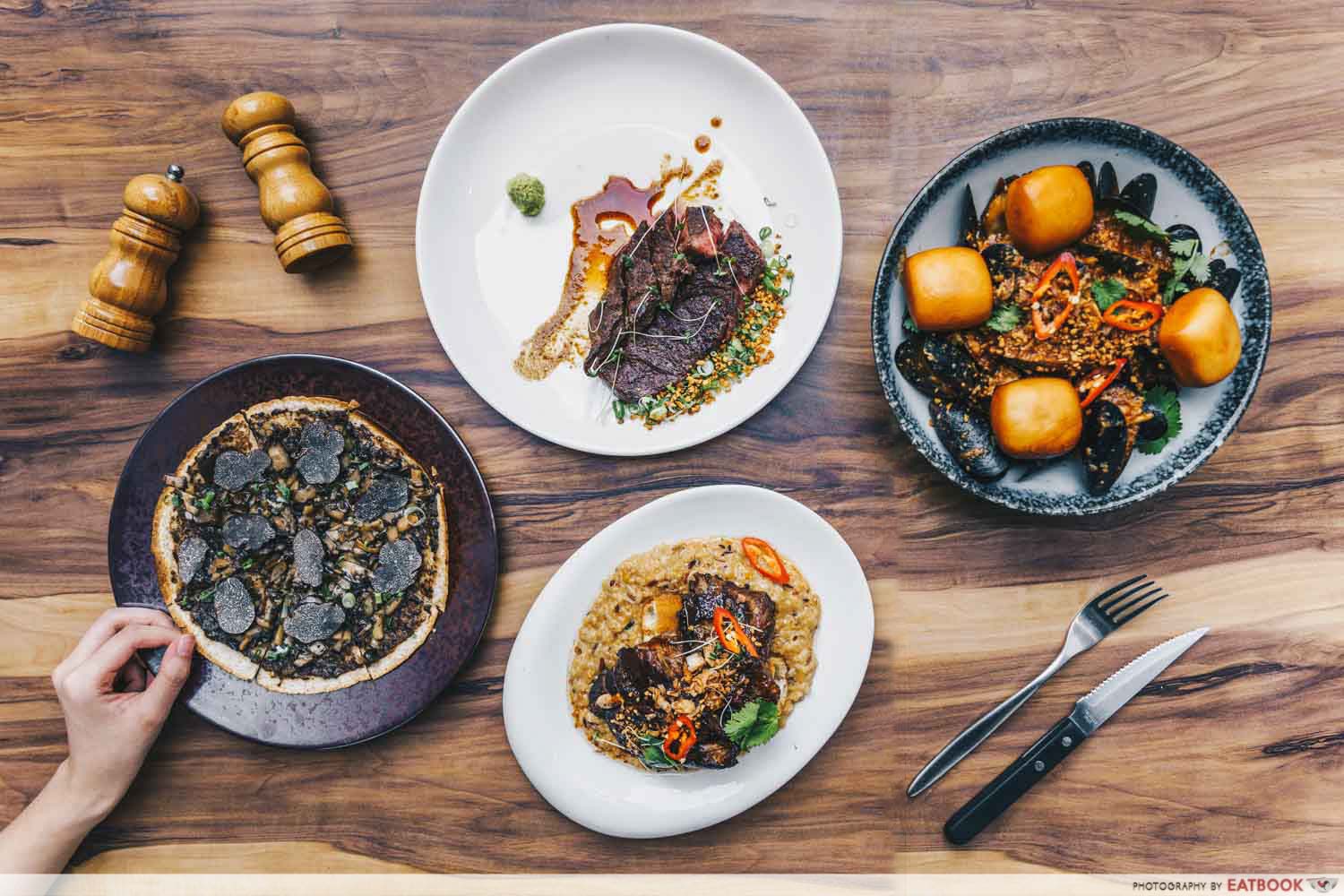 East meets West at The Wine & Gourmet Friends, where the restaurant's philosophy is to reinvent Western dishes with a familiar, local twist.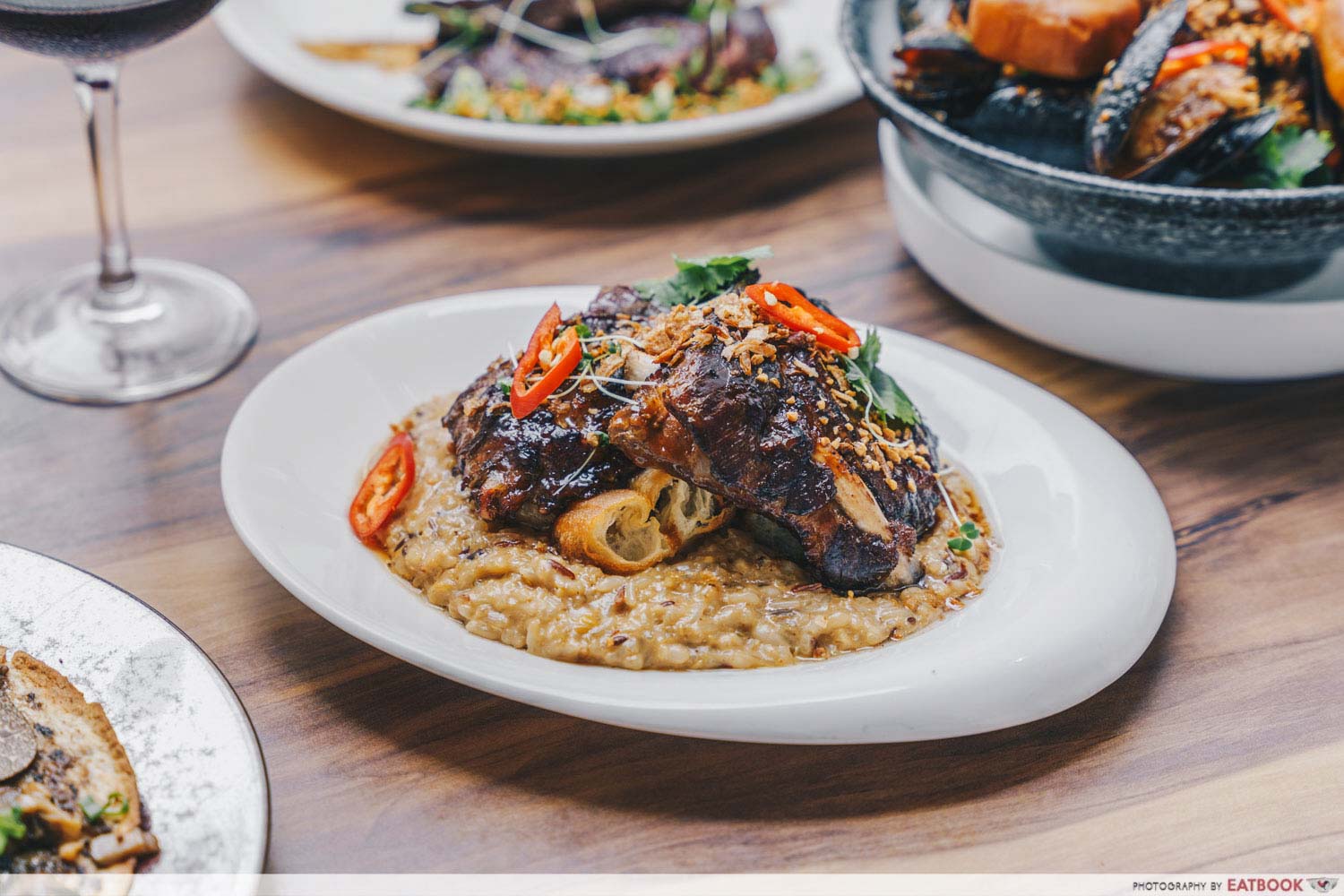 Youtiao is not something you'll expect to find in your risotto, yet the restaurant gives just that with their Iberico "Bak Kut Teh" Risotto ($24++), complete with tender pork ribs topped with a splash of bak kut teh broth.
Also, treat yourself to the Truffle Flatbread "Pizza" ($18++) topped with roasted mushrooms and musky slices of shaved truffles. We especially loved their Chilean Mussels ($24++), served with a sweet and spicy chilli crab sauce along with a few fried mantous. If you're one for steak, indulge yourself in some melt-in-the-mouth wagyu with the Oyster Blade MS 9+ ($30++ for 100g).
Also an affordable wine bar, The Wine & Gourmet Friends serves wine which goes from $6++ per glass, as well as bottles from $35++.
Address: 48 Bukit Pasoh Road, Singapore 089859
Opening hours: Daily 12pm to 11pm
Tel: 6224 1982
Website
---
5. Shukuu Japanese Izakaya and Sake Bar
---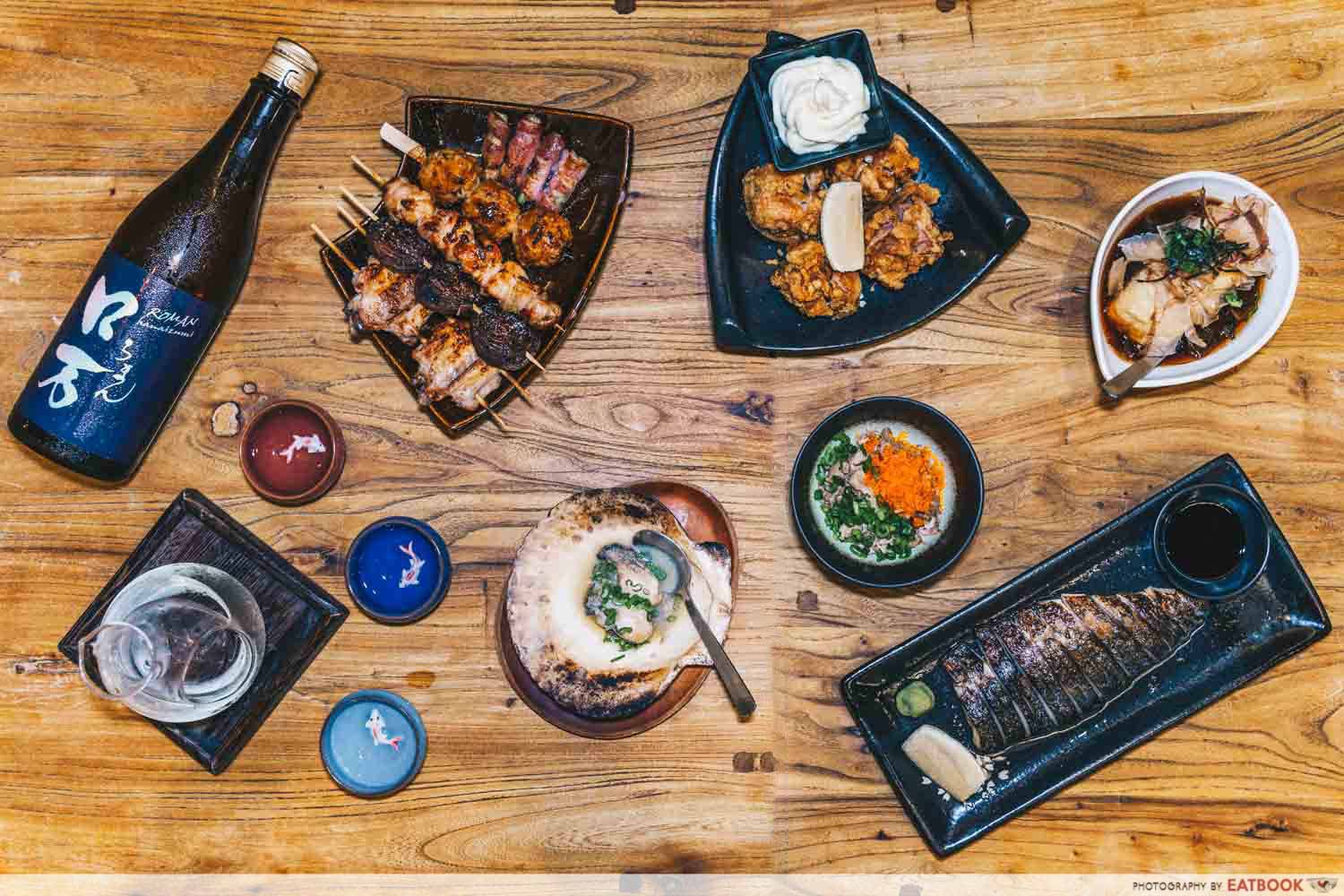 If you've travelled to Japan, you may have had the experience of huddling over glasses of sake and small plates of dishes with a bunch of friends at an izakaya. Get those vibes on home ground at Shukuu Japanese Izakaya and Sake Bar, which brings us straight to Japan with its cosy ambience and high-quality sake. Those visiting with a companion can go for Shukuu's Experience Platter For 2 ($80), which comes with a 180ml bottle of the Sake Of The Week carefully curated by their five certified and experienced in-house sommeliers.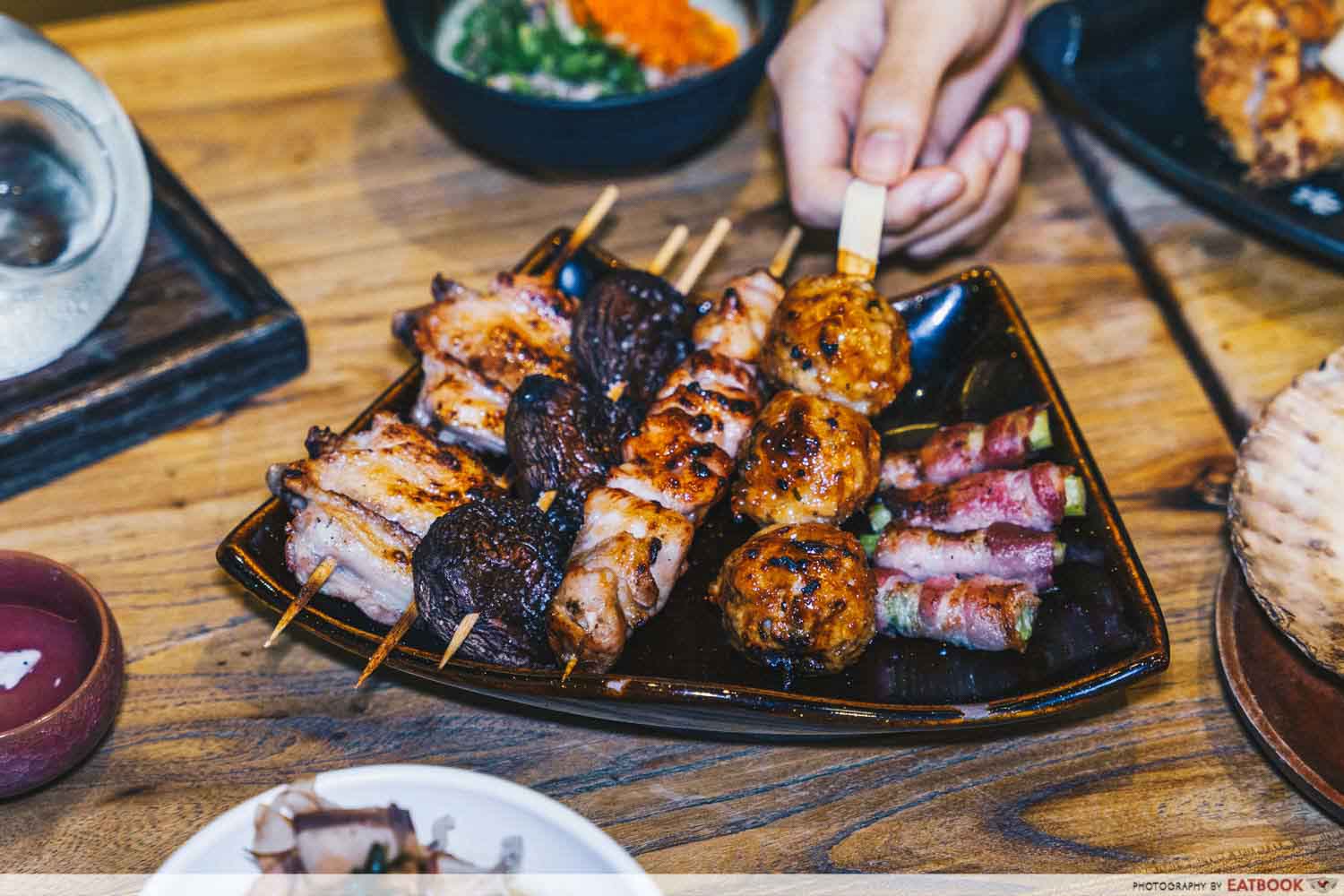 The Experience Platter comes with six plates of dishes, typical of an izakaya. This includes an assortment of Kushiyaki grilled over binchotan sawdust charcoal. It comprises the Chef's Selection of five skewers, including housemade chicken meatballs, bacon asparagus, chicken thigh, chicken wings, and shiitake.
Also look out for the Aburi Shimesaba, a flame-seared boneless saba, tart from being marinated in vinegar. Additionally, relish the tender slices of beef from the citrusy Gyu Ponzu.
Address: 8 Stanley Street, Singapore 068727
Opening hours: Daily 5:30pm to 10:30pm
Tel: 6327 9240
Website
---
6. Casa Bom Vento Express
---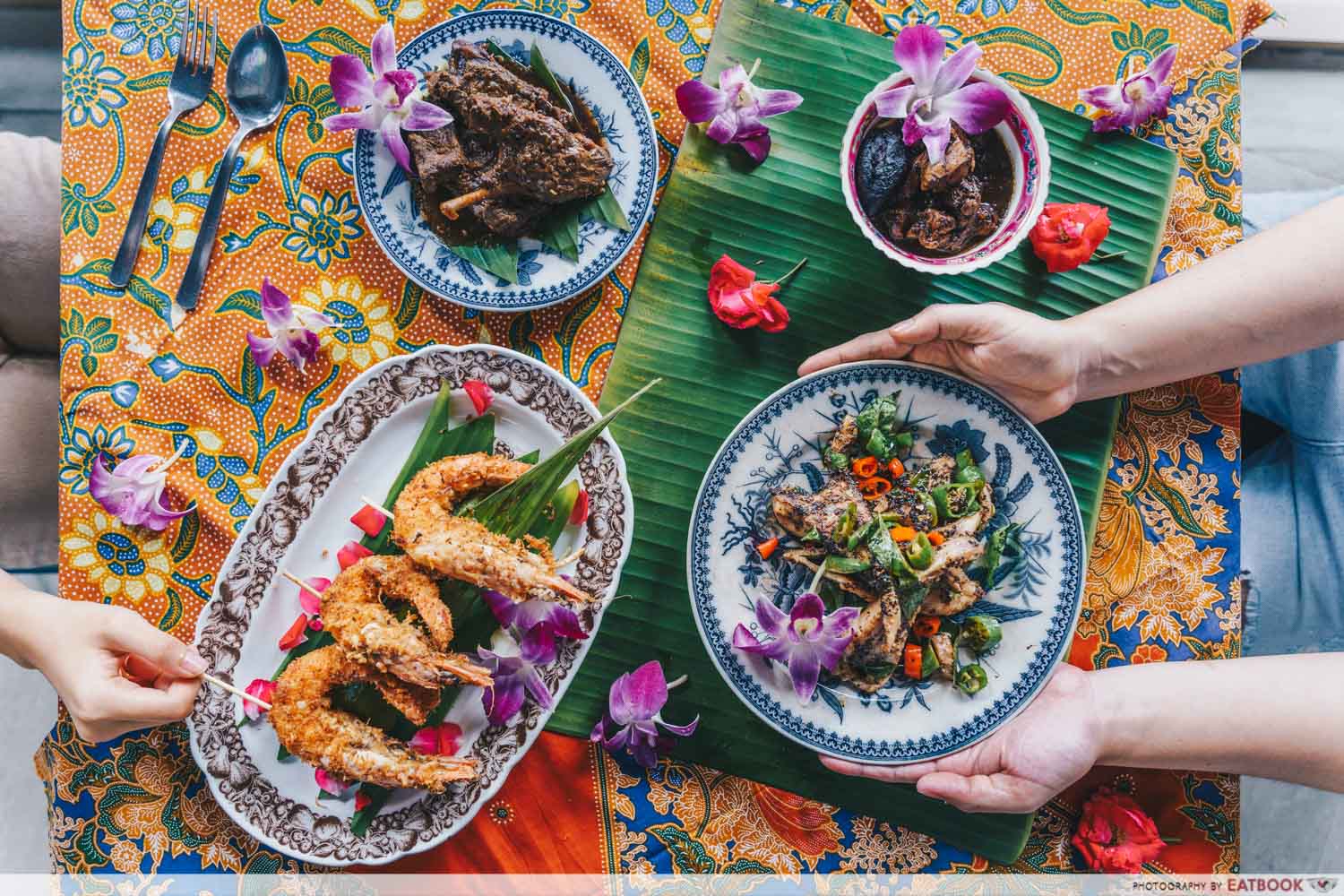 Many may know Casa Bom Vento Express for their Peranakan food stall in Rochor, but they also have a private dining experience not known by many. Run by Executive Chef Lionel Chee, the experience brings Peranakan dishes to your home. Chef Lionel has served his food to many notable individuals, including Singaporean presidents and ministers.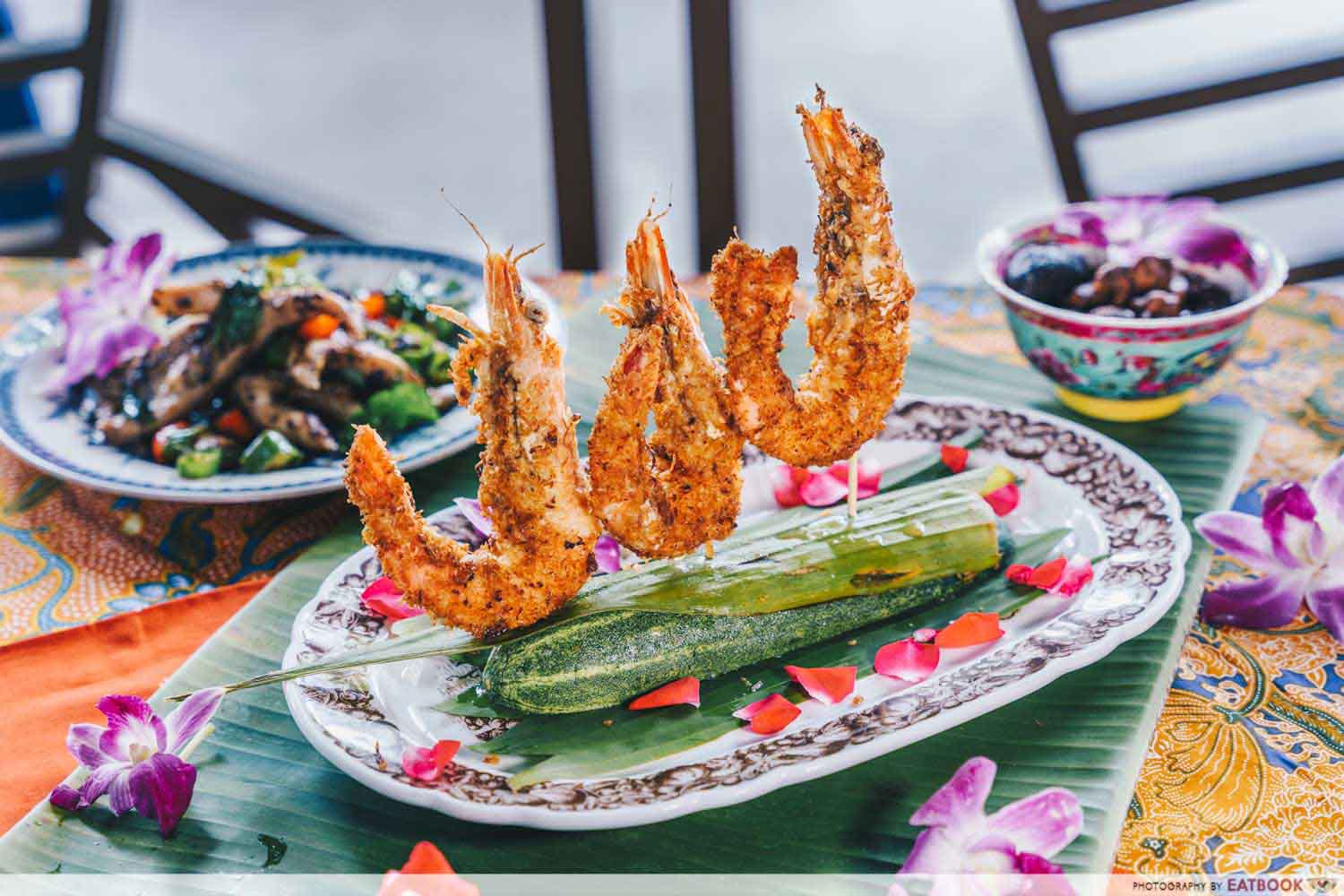 Their Prawns In Coconut Jacket, comes with large, succulent prawns. This dish was initially created during the launch of Racial Harmony Day, and comprises offerings from the main races in Singapore—the use of desiccated coconut found in Malay cuisine, the frying of fritters often seen in Chinese and Indian food, and the use of sambal chinchalok lime from Malay and Peranakan cuisine.
For those who like all things spicy, the Peppercorn Stingray with Curry Leaf, a dish created by Chef Lionel's late mother, packs some peppery heat and is pan-fried, unlike the common barbecued sambal stingray.
These exclusive dishes are only available through their private dining services which start from $80 per person. However, others such as the Buah Keluak Fried Rice with Egg ($8.50) are available at their stall in the Xin Tekka Food Court as well.
Address: 2 Serangoon Road, #01-55, Tekka Place Annex Building, Singapore 218227
Opening hours: Tues-Sun 11am to 7pm
Tel: 8882 6828
Website
---
7. Kucina Italian Restaurant
---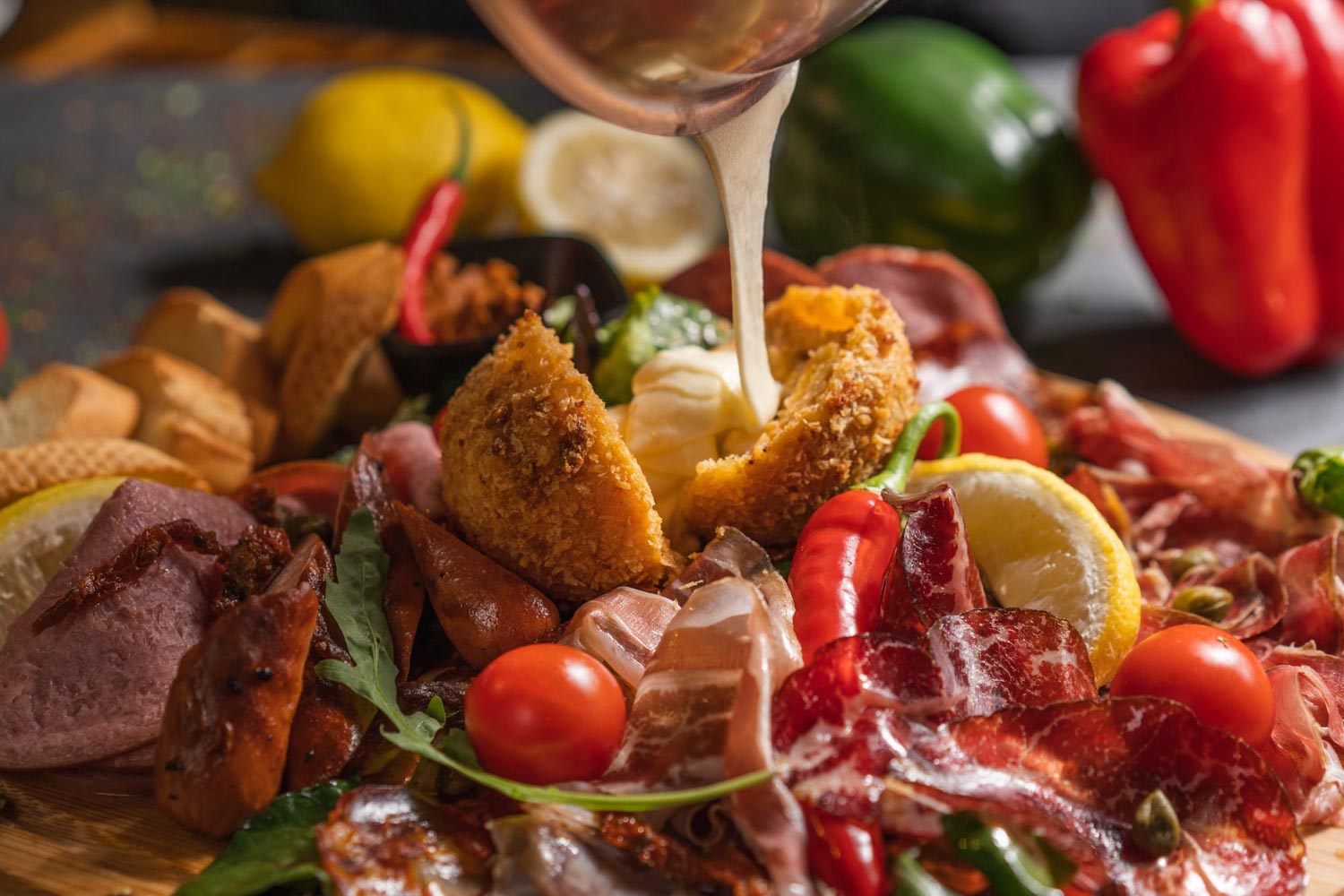 Image credit: Kucina Italian Restaurant
Foodies looking for more Muslim-friendly Italian fare can seek out the highly raved about Kucina Italian Restaurant, the first halal Italian restaurant in Singapore.The restaurant is helmed by Chef Omar, an Italian-Muslim revert, who possesses over 30 years of experience in Italian cuisine.
Start with some fritta and go for their Arancini Siciliani ($11.90++) which comprises breaded rice balls generously filled with beef ragu and cheese, fried to give a crunchy exterior. Fresh pasta is another Italian food staple and the Tortellini Di Manzo ($23.90++) stars handmade pasta generously stuffed with turkey ham and beef doused in creamy mushroom sauce.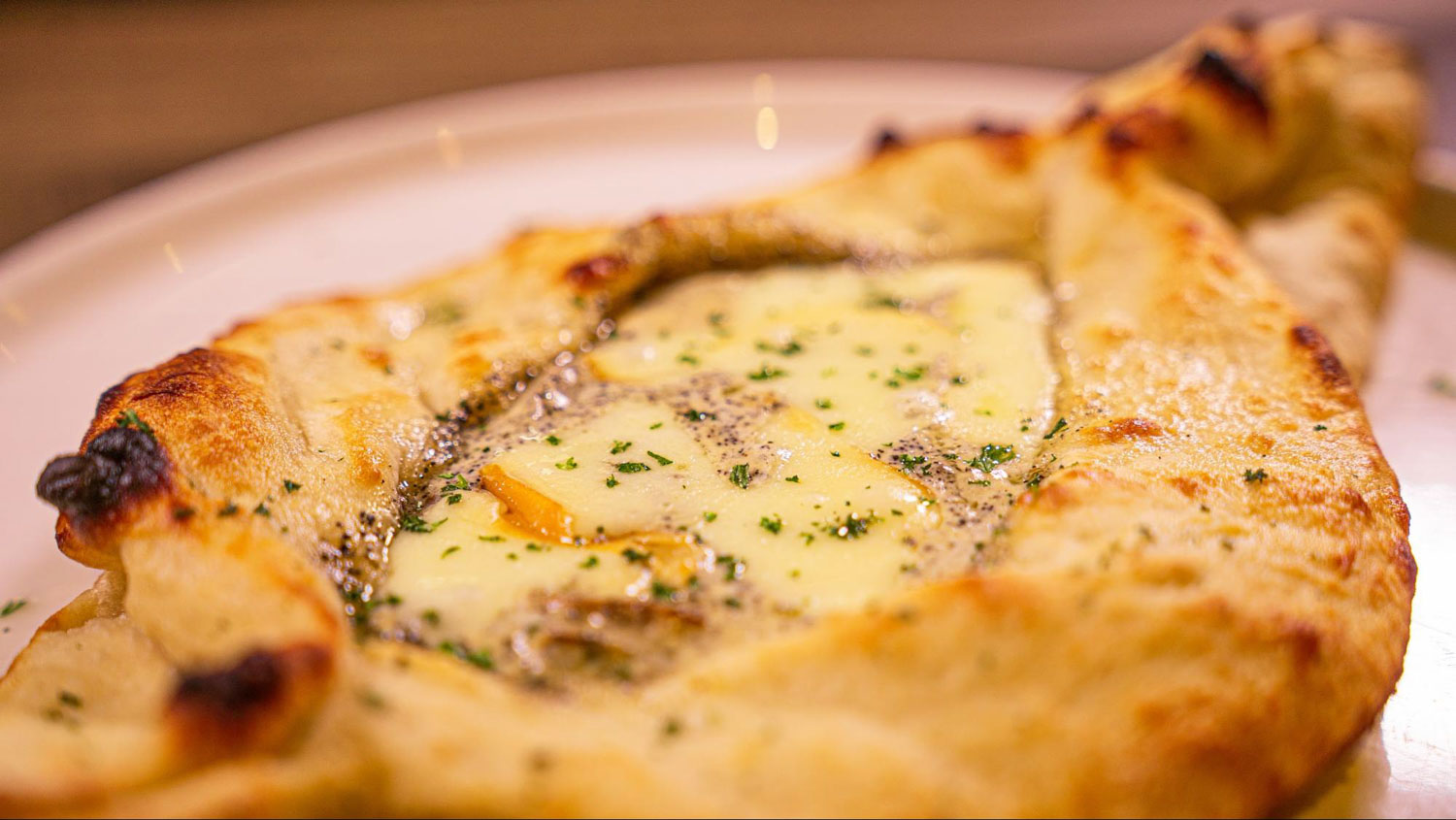 Image credit: Kucina Italian Restaurant
Other main options include the La Barca Funghi E Tartufo ($27.90++), a Sicilian speciality unique to the restaurant. The dish features truffle pate and cheese paired with mushroom sauce and truffle oil.
Address: 11 Tanjong Katong Road, #B1-09/10, KINEX, Singapore 437157
Opening hours: Daily 11:30am to 10pm
Tel: 6493 2154
Website
---
8. Meat n' Chill
---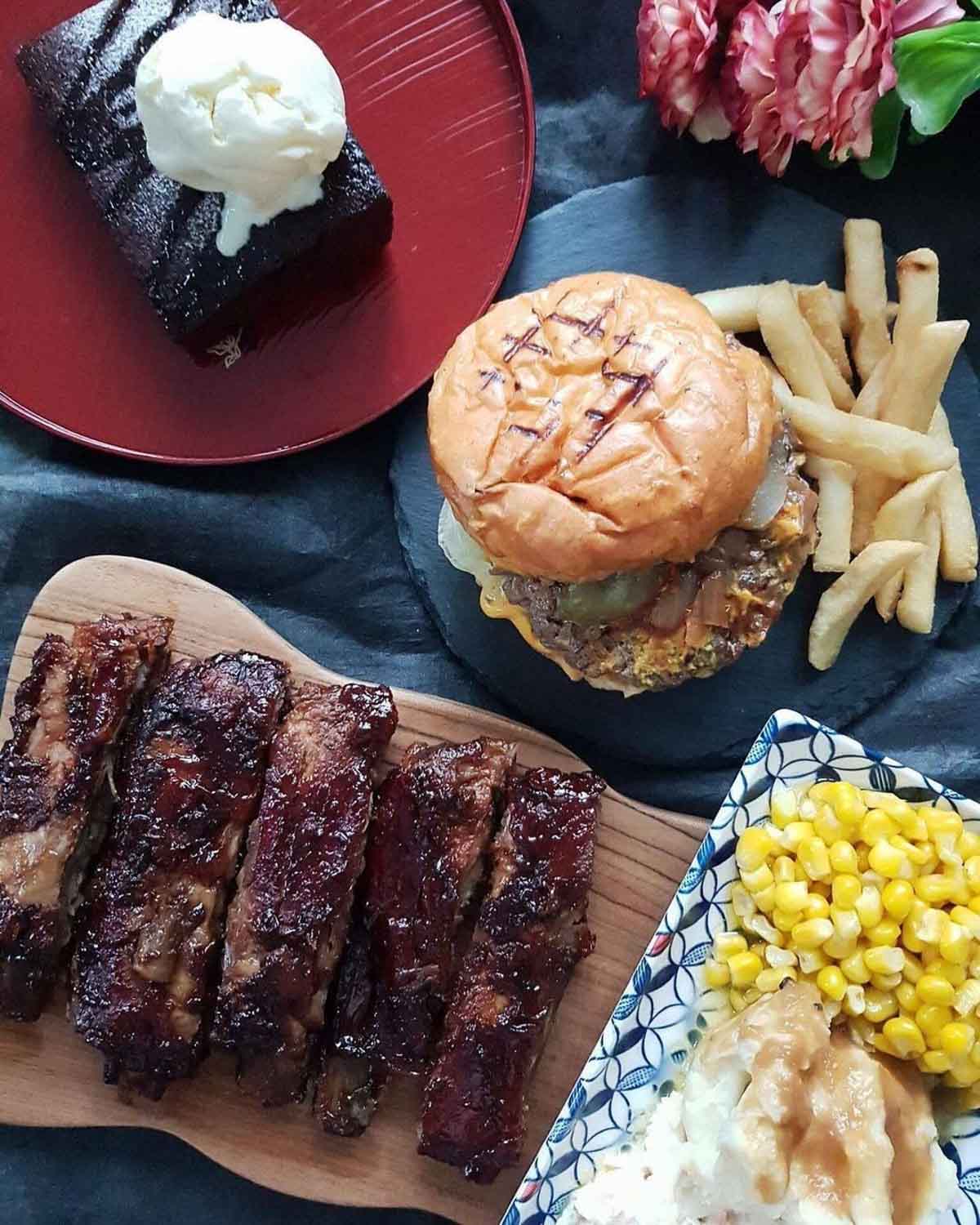 Image credit: @whatthefeasts
Take a tour through America's best grilled meats and dishes from Meat n' Chill. Burgers, heaps of steak, and pork ribs are available on their extensive menu.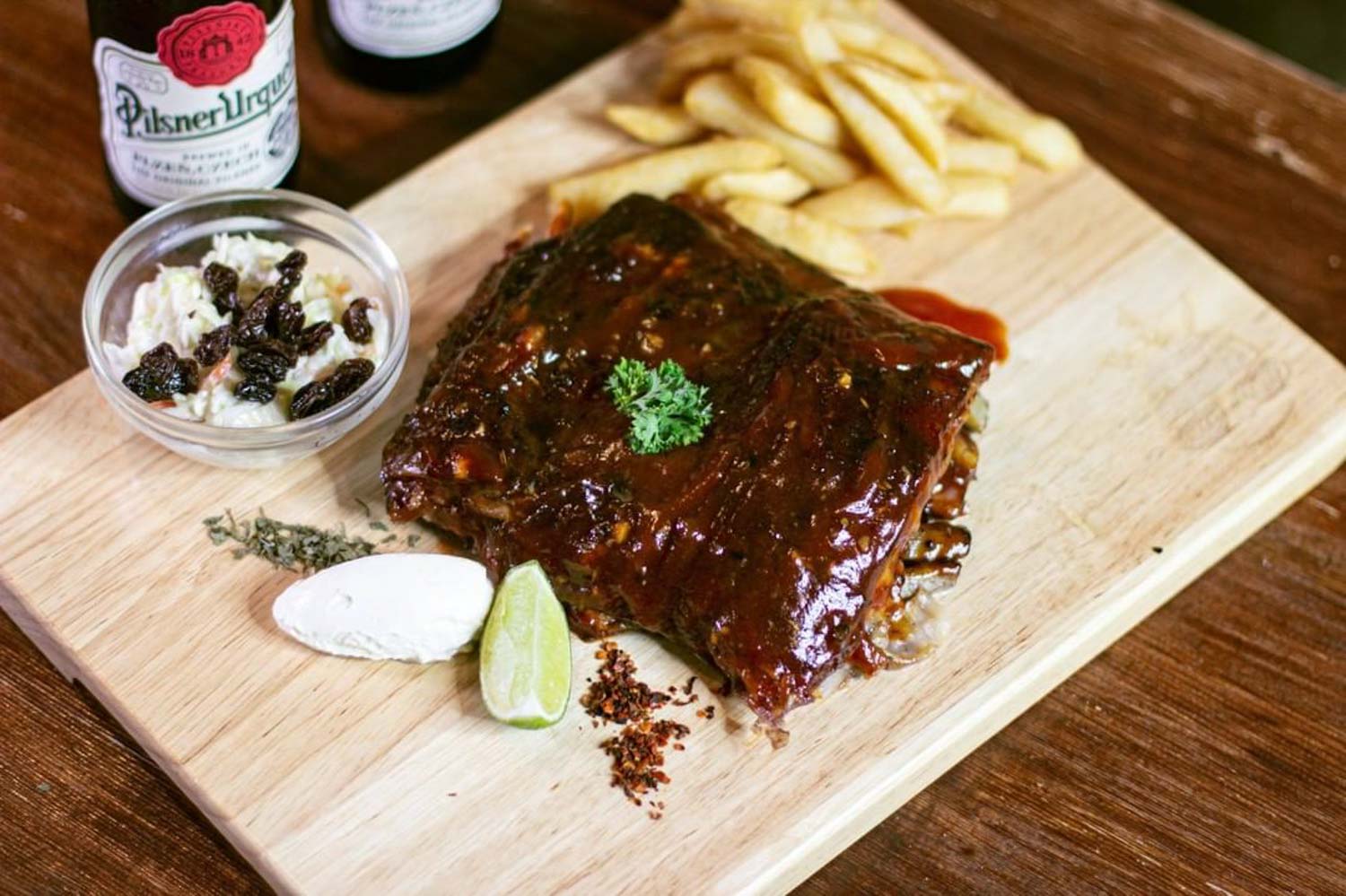 Image credit: Meat n' Chill
Meat lovers can get their Signature Pork Ribs ($22++), marinated for over 24 hours before being slow-cooked and smoked. Their pork ribs come in Spicy, Bourbon and other variations alongside your choice of two sides. Choose from 13 different sides including corn bread and cajun rice.
You can also switch up your protein choice with their Flame-Grilled Steaks, hand cut from barley and grain-fed Australian beef. Here, you can pick your preferred cut, from the New York Strip ($19++), to the Angus Ribeye ($36++) and more. If you're a burger person, give their Angus Cheeseburger ($21++) a shot. This one's piled thick with a juicy 200g angus beef patty sandwiched between fluffy brioche buns.
Address: 805 Bukit Timah Road, #01-04, Sixth Avenue Centre, Singapore 279883
Opening hours: Tues to Sun 11:30am to 2:30pm, 5pm to 9pm
Tel: 8812 4455
Website
---
9. Tachinomiya Japanese Izakaya & Bar
---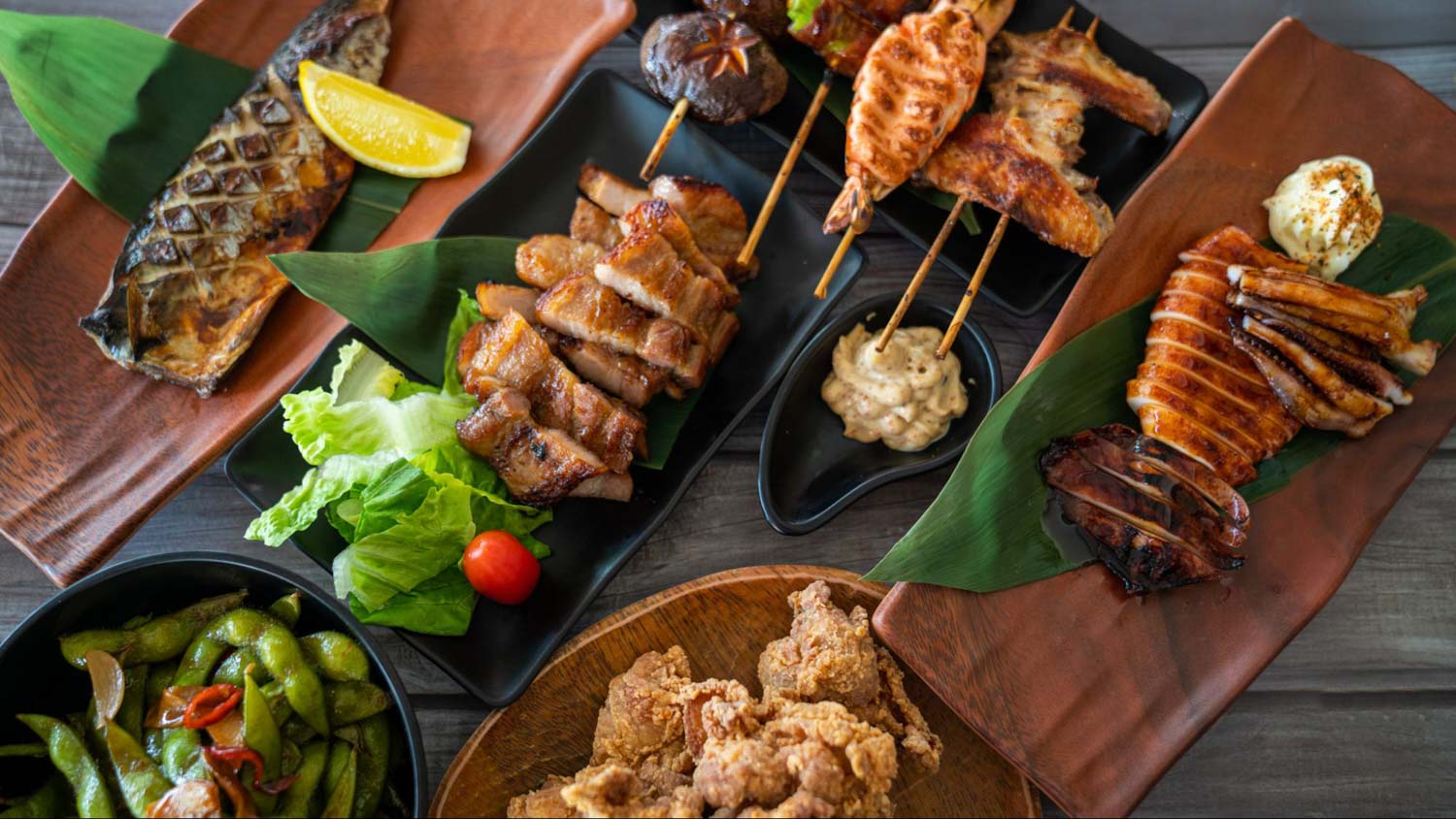 Image credit: Tachinomiya Japanese Izakaya & Bar
Most izakayas in Singapore are situated somewhere near town or the CBD. If you're looking for something in the heartlands, Tachinomiya Japanese Izakaya & Bar is the first Japanese izakaya to open near residential areas. For some good old skewer action, their Asparagus + Bacon goes at $2.50 a stick.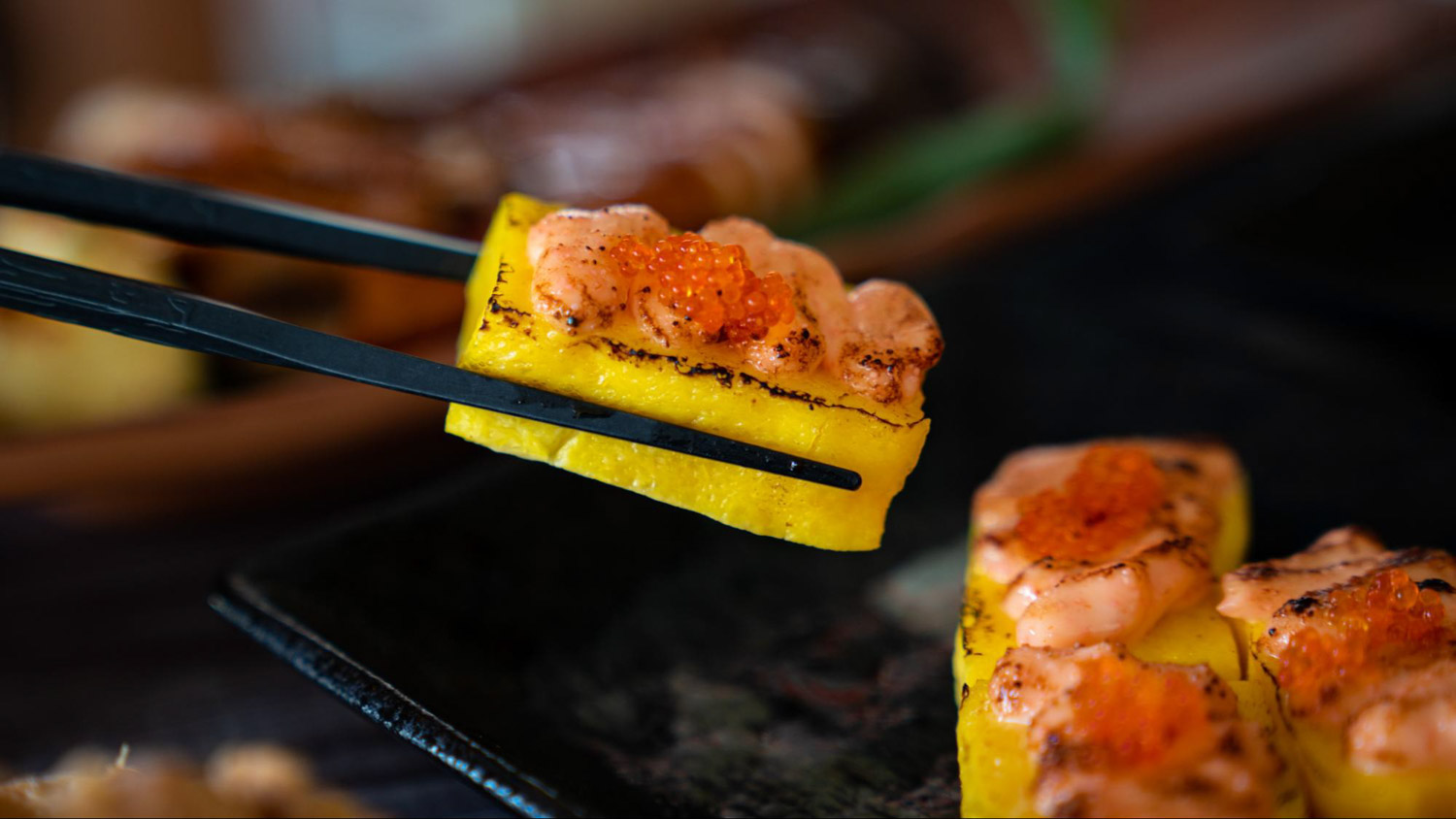 Image credit: Tachinomiya Japanese Izakaya & Bar
Alternatively, their Tamago Mentai ($11) comes with torched mentaiko sauce atop chunks of sweet omelette. Their Spicy Edamame ($6) also gives the usually refreshing green peas a punch of heat. For more proteins, the neighbourhood izakaya also has Grilled Garlic Pork Belly ($8) up for grabs. Otherwise, the izakaya is home to an extensive selection of different sides to pair with your choice of sake.
Address: 211 Hougang Street 21, #01-285, Singapore 530211
Opening hours: Daily 11:30am 10:30pm
Tel: 6286 0738
Website
---
10. EagleWings Loft
---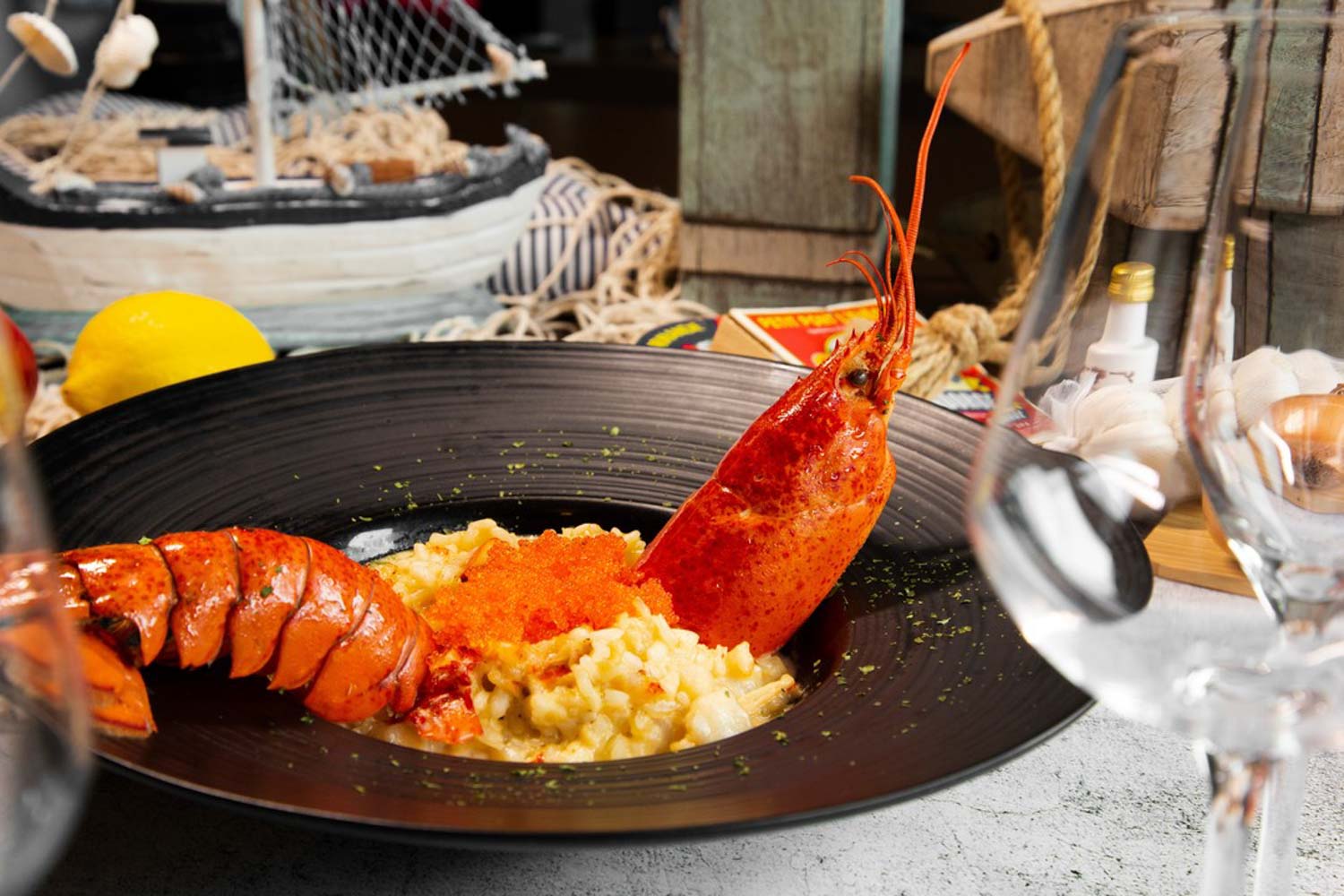 Image credit: EagleWings Loft
For more casual dining, EagleWings Loft is a nautical-themed bistro with a menu comprising Asian, Italian, and fusion dishes. Look out for their Lobster Risotto ($38) served with liberal chunks of lobster meat and a cream-based risotto.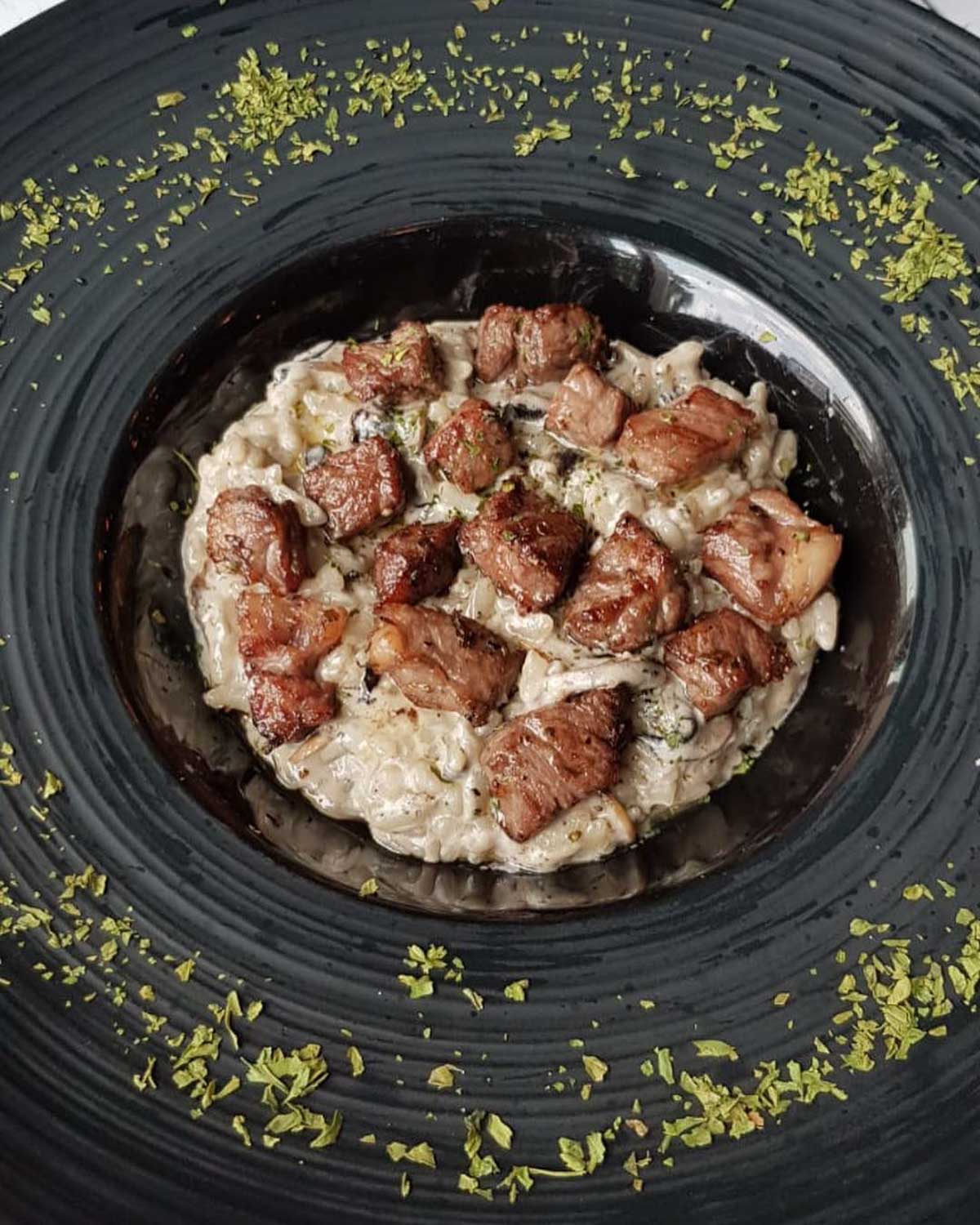 Image credit: EagleWings Loft
If you aren't quite a seafood kind of person, the Wagyu Risotto ($32++) is topped with grilled chunks of decadent wagyu beef. The Foie Gras Wagyu Burger ($24++) is another option for beef lovers, featuring a succulent beef patty. Other offerings include the piquant Sambal Duck Pasta ($18++) which gives regular pasta a spicy local twist.
Address: 9 King Albert Park, #01-33/34/56/57, King Albert Park Residences Mall, Singapore 598332
Opening hours: Mon-Thur 10am to 10:30pm, Fri 10am to 11pm, Sat-Sun 8:30am to 11pm
Tel: 6264 7787
Website
---
Unique international dishes in Singapore
---
Being unable to travel doesn't stop us from continuing to explore international dishes here in Singapore, whether it is authentic global fare or fusion dishes with a local twist. With such a variety of restaurants providing different dining experiences with international dishes, it's never been easier to have our very own food adventures while travelling around Singapore.
Photos taken by Hay Thi.
This post is brought to you by Protegie F&B Marketing and Branding Consultancy