Creamy salted egg goodness at Jia Yuen Eating House

Nestled among a row of shophouses, Jia Yuen Eating House is a rare find. If the name rings a bell, you've probably heard of their delectable salted egg and buttermilk rice. Thanks to their generous portions and capacity to deliver islandwide, their salted egg zi char dishes are a huge hit among NS boys.
It's no surprise that this traditional family business has been in operation for a whopping 25 years. In a bid to attract more customers and to get close to army camps in the vicinity, the family decided to shift from their previous outlet in Paya Lebar to their current Crane Road outlet five years ago.
Food at Jia Yuen Eating House

The main selling point is their creamy salted egg sauce, so we tried their Creamy Salted Egg Pork Ribs ($12) first. They were considerably generous with the pork ribs and rice, justifying the slightly expensive price for a zi char dish. 
The pork ribs were doused in creamy salted egg sauce, and the rice was topped with a wonderfully cooked sunny side up. With generous portions and cooked with heart, it reminded me of the comforting dishes that my mum would prepare for me after school in the past.
The subtle sweetness of the pork ribs blended beautifully with the creamy sauce, creating a mouth-watering combo that had me craving for more. I also liked how the pork managed to soak up just the right amount of the sauce, creating sweet and savoury explosions in my mouth. 

Evaporated milk is used in the salted egg sauce, making it rich yet smooth at the same time. It was also mildly spicy, adding a nice touch to the dish's already complex flavour profile.
The rich nature of the saucy pork ribs made it rather jelak, but combining the rice with a dollop of sauce provided the right balance to my palate.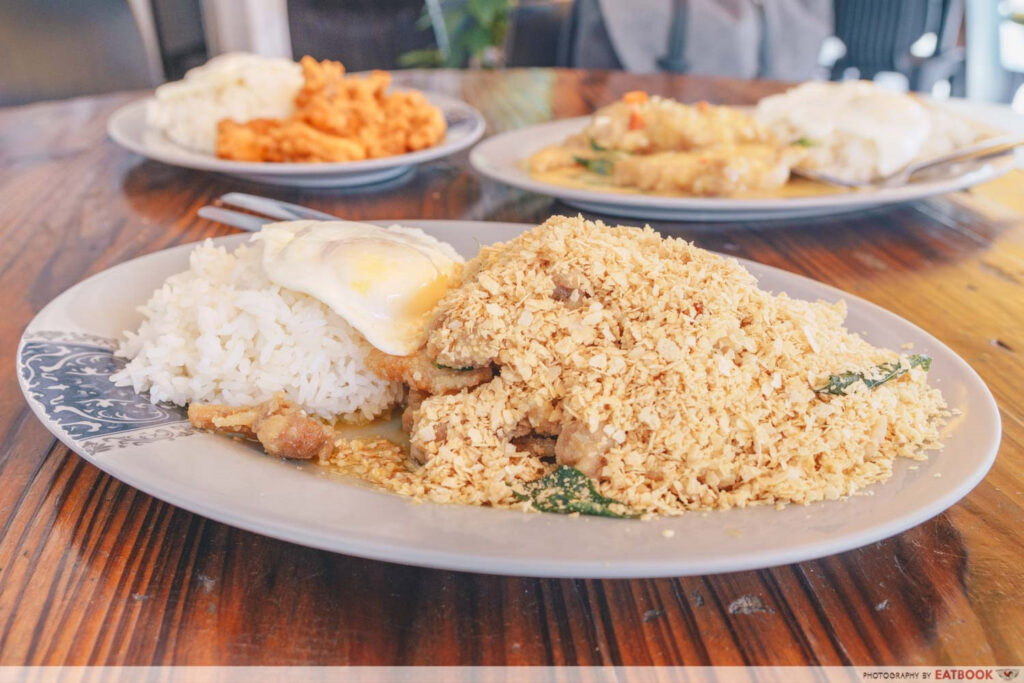 Next, we opted for their Salted Egg Chicken ($8) and we topped up an additional $2 for some Cereal as we felt they might complement each other. And we were right! The fragrant smell of toasted cereal permeated through the air even before the dish was brought out of the kitchen. 
The salted egg chicken's crisp exterior shattered easily when we first sunk our teeth into them. Unlike the first dish, the creaminess of the evaporated milk was absent, resulting in the chicken's dry texture. 

The cereal was the icing on the cake as it provided an additional crunch to the chicken. I felt like I was eating a salted egg snack. This was truly a formidable combination. Warning: Strong winds will blow away some of the delicate pieces of cereal. 

Being a har cheong gai fanatic, I had to order the Shrimp Paste Chicken ($8). To my delight, it did not disappoint. Each piece of chicken was coated by a thin and crisp outer layer and shone with a gorgeous orange hue. It helped that the chicken came in bite-sized pieces so we could keep popping them into our mouths. 
10 Famous Har Cheong Gai That Can Take Out Your Fried Chicken Cravings

Upon biting into the shrimp paste chicken, I noticed that it was juicier than the salted egg chicken. The prawn-paste-laden exterior was marinated well and it was full of umami flavour. I could taste a slight sweetness which could only have come from the shrimp paste that was infused seamlessly with the crust. Crispy on the outside and succulent on the inside, the har cheong gai chicken here is a force to be reckoned with.
Ambience at Jia Yuen Eating House

Jia Yuen Eating House is a 10-minute walk from the nearest bus stop and a 20-minute walk from Eunos MRT Station. Be prepared to walk a fair bit unless you make your way down by car.
The coffee shop is considerably well ventilated, as many fans could be seen on the walls, making it a cool setting to have your lunch. Not many people dine in as the bulk of their orders are from deliveries, so you can enjoy some peace and quiet while having your meal.
The verdict

Admittedly, I first heard of Jia Yuen Eating House when I was serving the nation. Their delicious rice dishes were a source of respite for me and also many NS boys after a long day out training in the field. This is why the store has almost become a legacy within army camps. With generous portions and outstanding food, I couldn't ask for more.
To satisfy your salted egg yolk cravings, check out these unique salted egg yolk dishes. 
10 Salted Egg Yolk Dishes Including Salted Egg Ma La Xiang Guo And Tonkotsu Ramen
Address: 15 Crane Road, Singapore 429359
Opening hours: Daily 12pm to 10pm
Tel: 9712 0259
Website
Jia Yuen Eating House is not a halal-certified eatery.
Photos taken by Chng Jia Yan.
This is an independent review by Eatbook.
Jia Yuen Eating House Review: Luscious Salted Egg and Buttermilk Chicken Rice In A Quiet Joo Chiat Coffeeshop
Summary
Pros
– Creamy delicious sauce
– Flavourful meat crust
– Affordable prices
– Generous portions
Cons
– Inaccessible location
– Salted egg chicken with cereal was dry
Recommended dishes: Creamy Salted Egg Pork Ribs ($12), Shrimp Paste Chicken ($8)
Opening hours: Daily 12pm to 10pm
Address: 15 Crane Road, Singapore 429359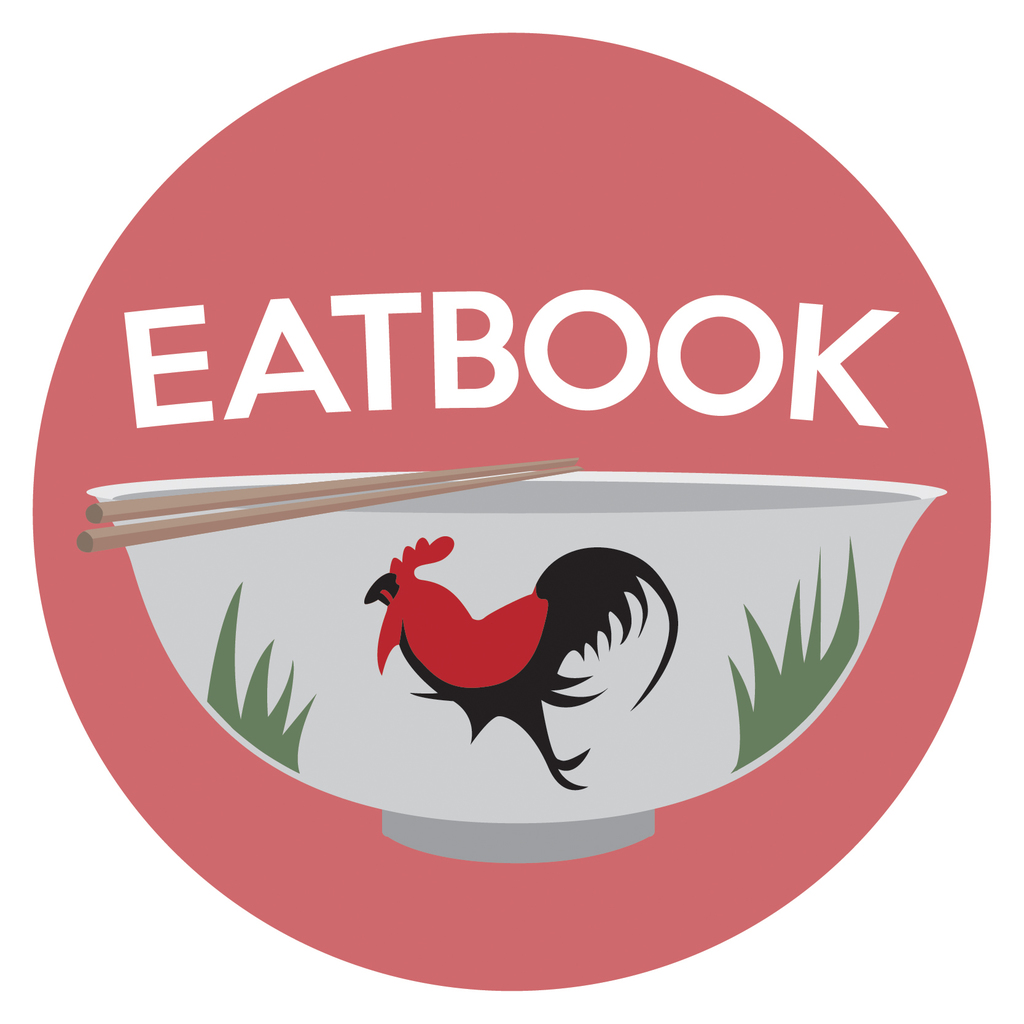 Drop us your email so you won't miss the latest news.