Alcoholic bubble tea and more at Orchard Plaza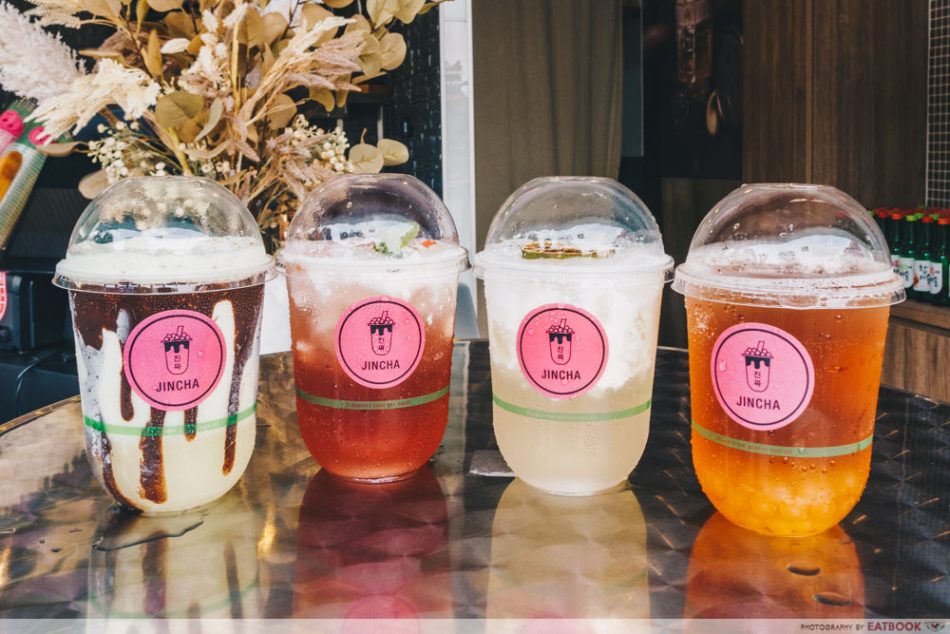 If there's one thing we've gathered about the Korean wave in Singapore is that we really love all things Korean, especially soju. Combining this obsession and the local love for bubble tea, Jincha has made a name for itself as the first Korean-themed tea shop in Singapore.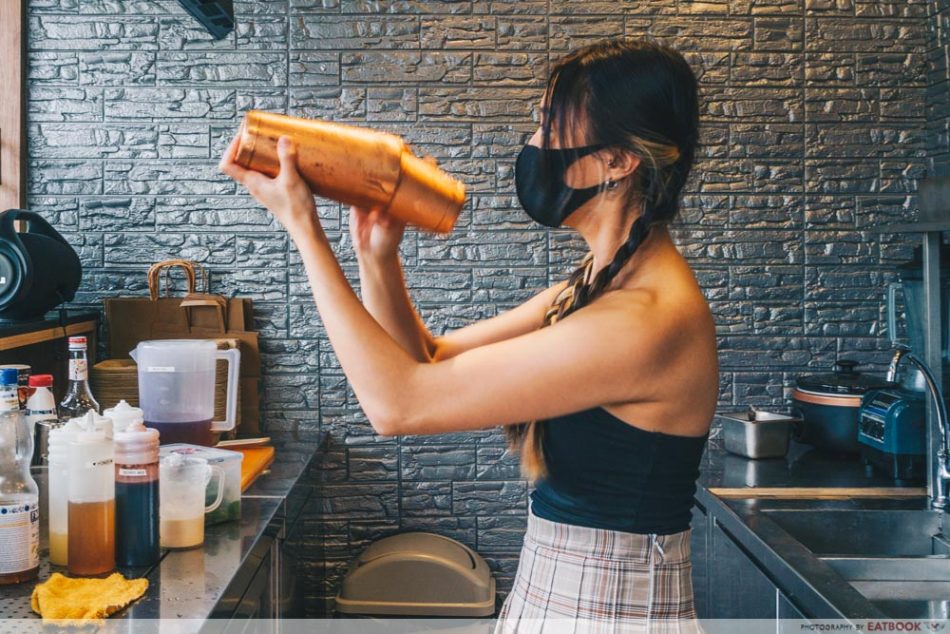 Opened in December 2020, they sell soju-infused bubble teas and non-alcoholic milk or flavoured teas, out of their sole branch at Orchard Plaza.
The shop is also the brainchild of the owners behind the The3Peas bar in Robertson Quay. Their bartending experience led the owners to create a number of unique soju concoctions available at Jincha, all of which are the result of countless hours of R&D by their team.
My unrequited love for soju made it compulsory to pay them a visit, together with a drinking companion.
Drinks at Jincha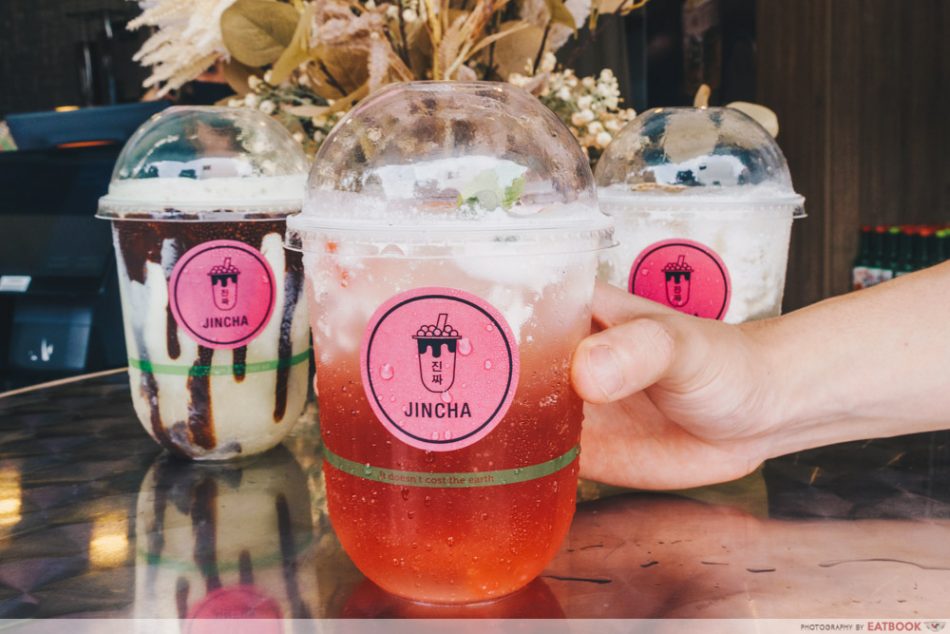 I knew I had to dive right into their specialty alcoholic concoctions, starting with the Secret Crush With Strawberry Boba ($10.30). The drink is made with Jinro strawberry soju, a dash of elderflower, and a hint of lemon citrus, with a light pinkish appearance as a result of the mix. It has a profound citrusy taste and is slightly sweet, with the right amount of floral notes. 
It's also worth noting that every cup of their alcoholic drinks come with about 150ml of soju mixed into it.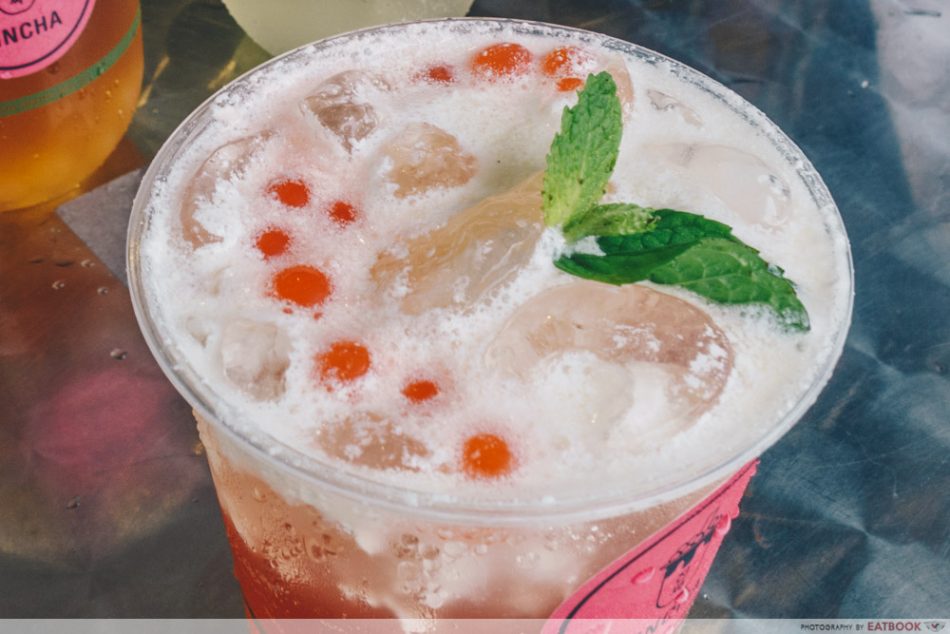 Sold separately, the strawberry popping boba added texture and intensified the taste of berries. I especially enjoyed the burst of sugary strawberry flavour in my mouth, reminiscent of those served in my primary school tuckshop. But, I felt like the drink's fruitiness could sometimes be overpowering, diluting the alcoholic kick of the soju. Nevertheless, I think they've managed to create a refreshing combination.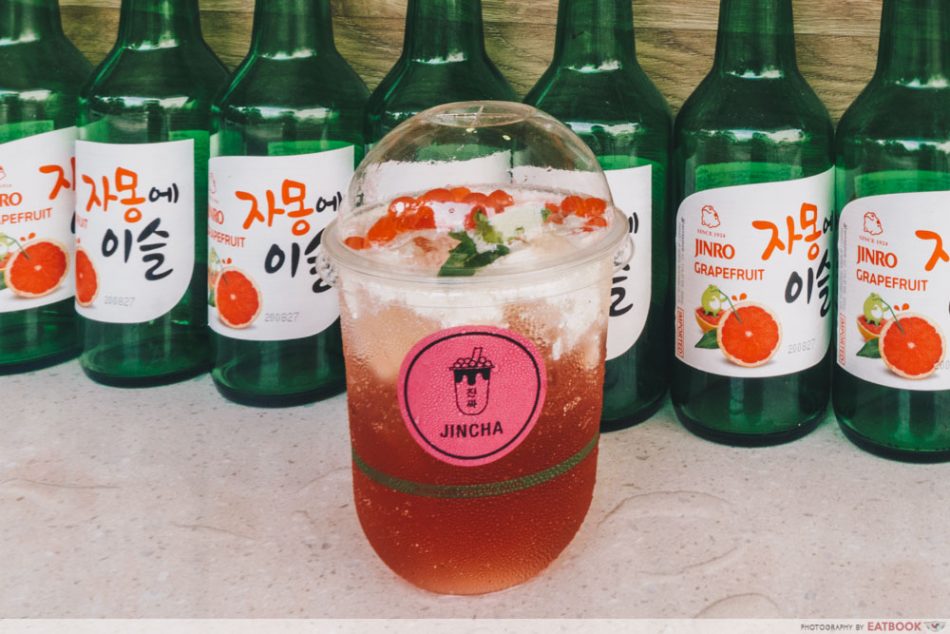 A potential crowd favourite is the Trophy Bae ($9.80), made with the well-loved green grape Jinro soju, infused with poire pear and lemon citrus. This drink had a predominant yuzu taste, with a subtle tartness from the calamansi too.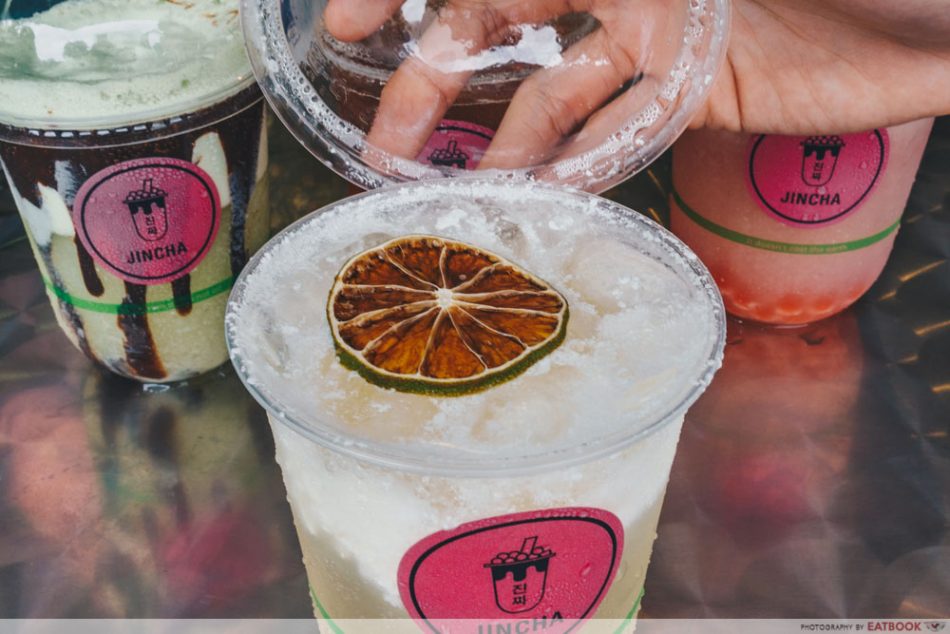 The bitterness from the soju was more distinct in this drink, but not overwhelming, perhaps due to the absence of pearls. I could definitely "feel the alcohol" more in this particular bubble tea flavour.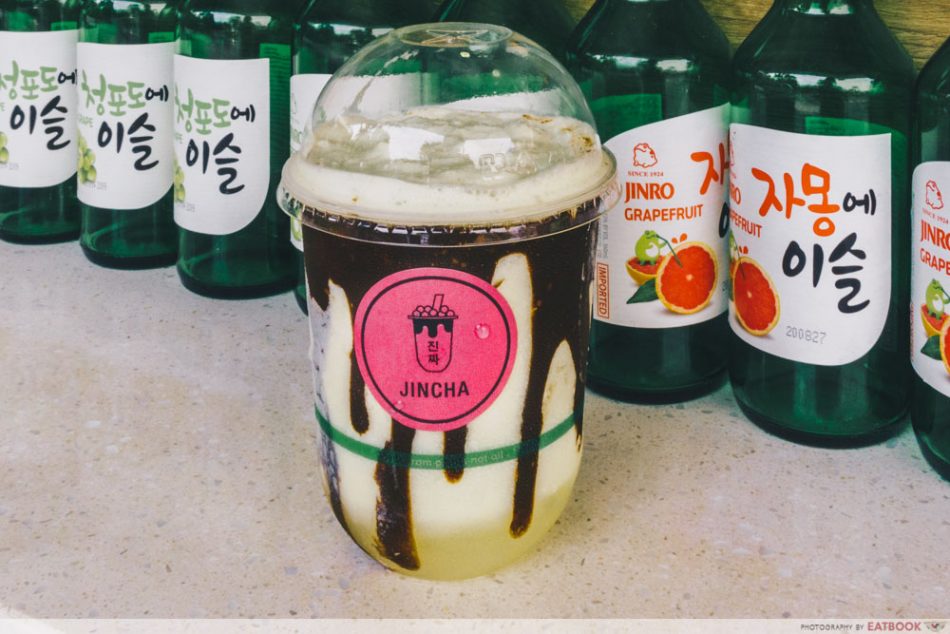 A more child-friendly option is the Once In A Melon ($5.80), a drink that latches on to Korea's never-ending love for fruit-flavoured milk.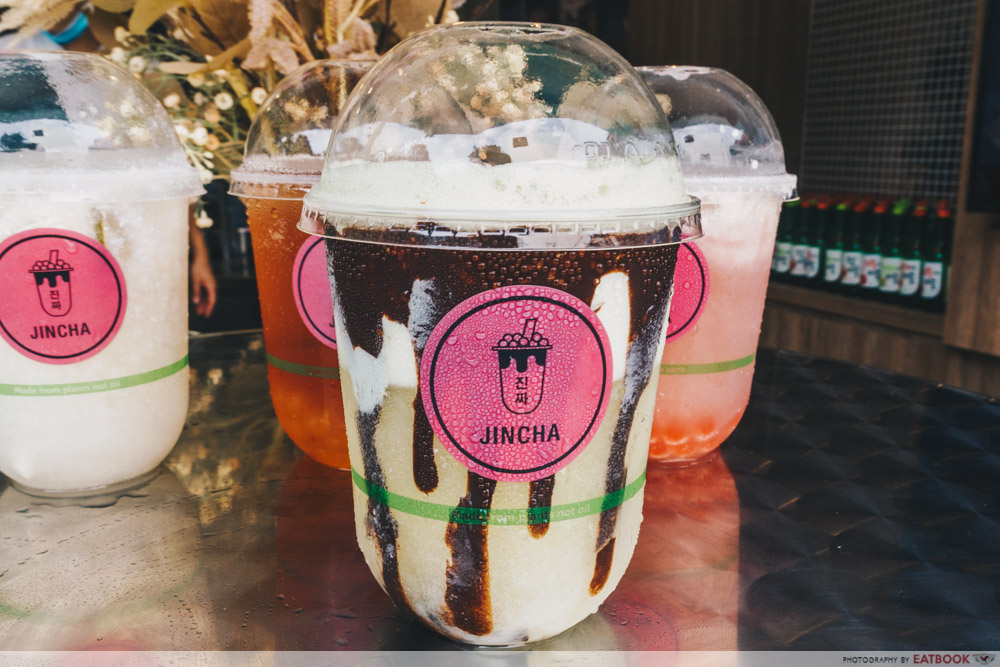 A unique combination of melon milk, green apples, honey, and yoghurt, the drink also has a visible layer of chocolate, reminding me of a McDonald's chocolate sundae. The beverage is creamy yet surprisingly light on the palate, taking away the jelak-ness that's quite common among bubble teas. 
Another fun fact is that they provide dairy, soy, nuts, and vegan-friendly options for their milk-based beverages, so there's a cuppa for pretty much anyone here!
It's also not overly sweet either, as the yoghurt creates balance with a tinge of sourness. But, I was a little disappointed at not being able to taste the chocolate sauce at all, as it seemed to have hardened and stuck to the sides of the cup, making it almost impossible to slurp it up with my straw.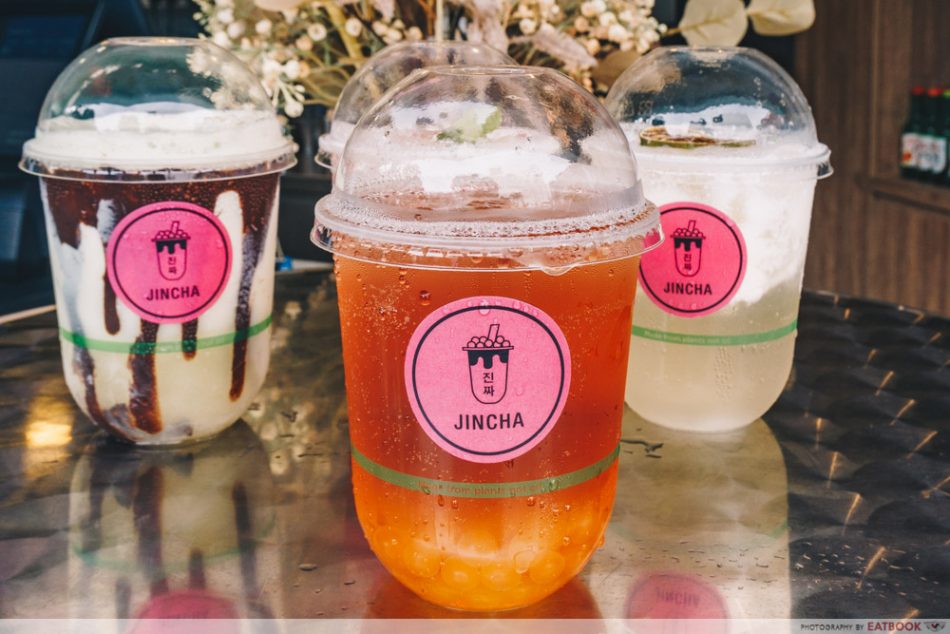 For those unfamiliar with native Korean ingredients, the omija in their Omija Flavoured Tea With Passionfruit Boba ($4.30) would probably be unheard of. Omija actually refers to the five-flavoured berries found in the southeast Korean region, and these find a place in the  drink. You get to customise the tea according to the sugar level you prefer, and we decided to go for 50%.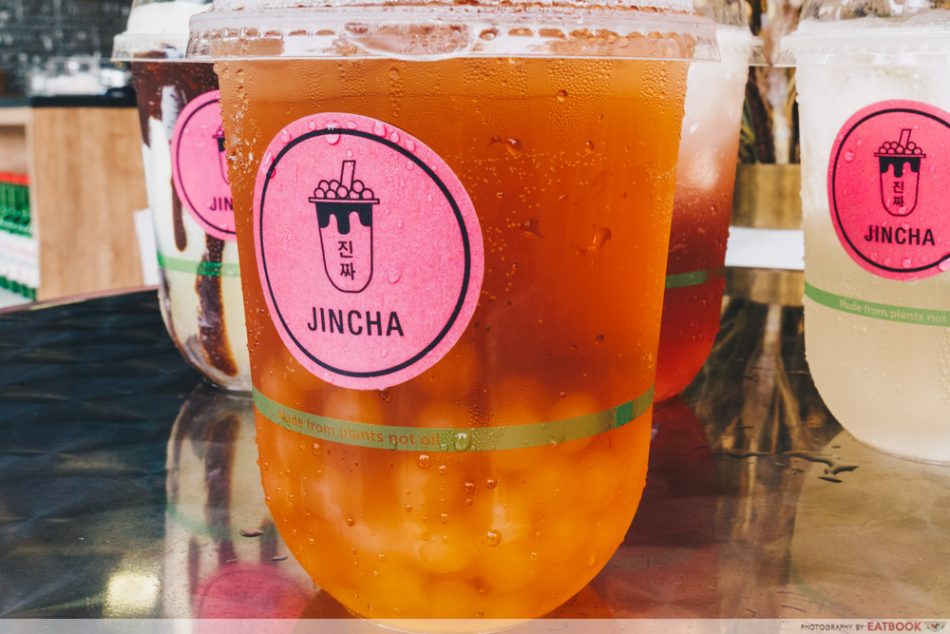 Honestly, it tasted more like a sweeter version of herbal tea, with a mildly bitter aftertaste that wasn't unpleasant. I liked how the passionfruit pearls injected a slight sourness, adding more depth of flavour. Unfortunately, the drink's herbal taste can be off-putting to some, though I feel it's at least worth a try.
Ambience at Jincha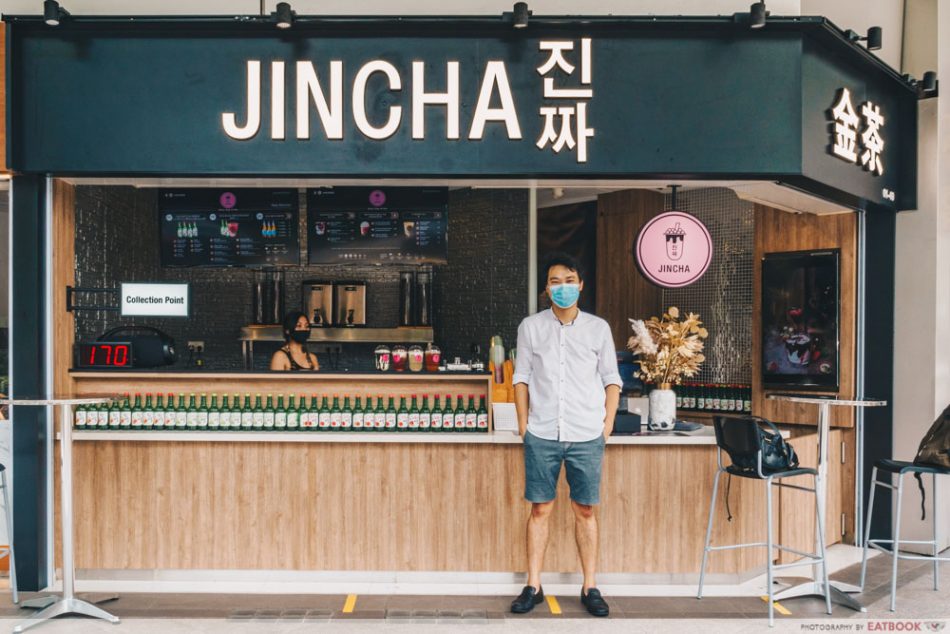 Jincha is situated on the first floor of Orchard Plaza facing the main road, a short five-minute walk from Somerset MRT Station. The owners actually happened to stumble upon this empty shop space that was formerly owned by a competitor, Partea. They then saw an opportunity to capitalise on such an accessible location to cater to the office crowd around the area. 
A downside would be the lack of seats, as the shop only had two high tables to accommodate a maximum of four customers for the time being. The owners do have plans to expand their capacity, eventually hoping to have a bar counter together with a few more tables to go along with.
The verdict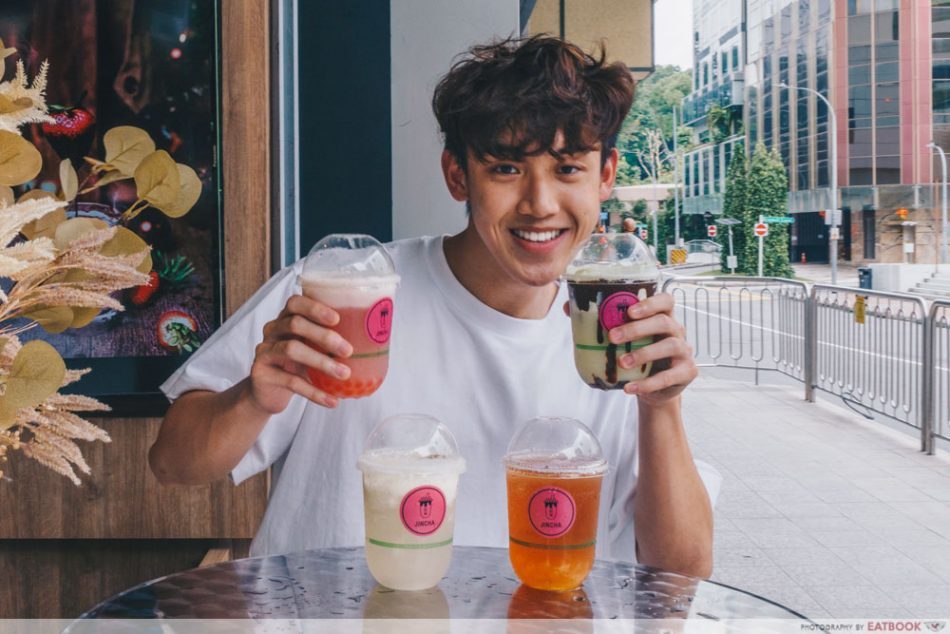 Initially, I was really skeptical of how well bubble tea would go with alcohol, being a bubble tea purist myself. But, Jincha surprised me in terms of how bubble tea could still be refreshing and easy to drink even after adding soju. After all, the shop is a manifestation of the bartender owner's hard work, through his unique concoctions that he affectionately calls his "bar-ble tea".
What also sets them apart from others are their Korean-inspired flavours like their Omija flavoured tea and Once In A Melon, which are uncommonly found in Singapore. Conveniently located near the Orchard and Somerset area, it is an ideal place to stop by for a breather before going about your shopping or hanging out with friends over a few drinks.
If you're looking for more food options around Somerset, check out our Tempura Tendon Tenya review for affordable tempura dons in Orchard Central or our Menbaka Fire Ramen review for famous Kyoto ramen set on fire right in front of you at Orchard Cineleisure.
Address: 150 Orchard Road, #01-49, Orchard Plaza, Singapore 238841
Opening hours: Mon-Tue 1pm to 8pm, Wed-Thur 1pm to 9pm, Fri-Sat 11am to 10:30pm, Sun 11am to 8pm
Website
Jincha is not a halal-certified drink stall.
Photos taken by Nur Syamira.
This is an independent review by Eatbook.sg.
Jincha Review: New Stall Has Korean Soju Bubble Tea And Macchiato Milk Teas Near Somerset
Jincha Review: New Stall Has Korean Soju Bubble Tea And Macchiato Milk Teas Around Somerset -

7.5/10
Summary
Pros
– Soju bubble tea flavours are refreshing
– Omija flavoured tea is unique
Cons
– Chocolatey taste in Once In A Melon is missing
– Lack of seating options
Recommended drinks: Secret Crush With Strawberry Boba ($10.30+)
Opening hours: Sun-Tue 12pm to 9pm, Wed-Thurs 12pm to 10pm, Fri-Sat 12pm to 10.30pm
Address: 150 Orchard Road, #01-49, Orchard Plaza, Singapore 238841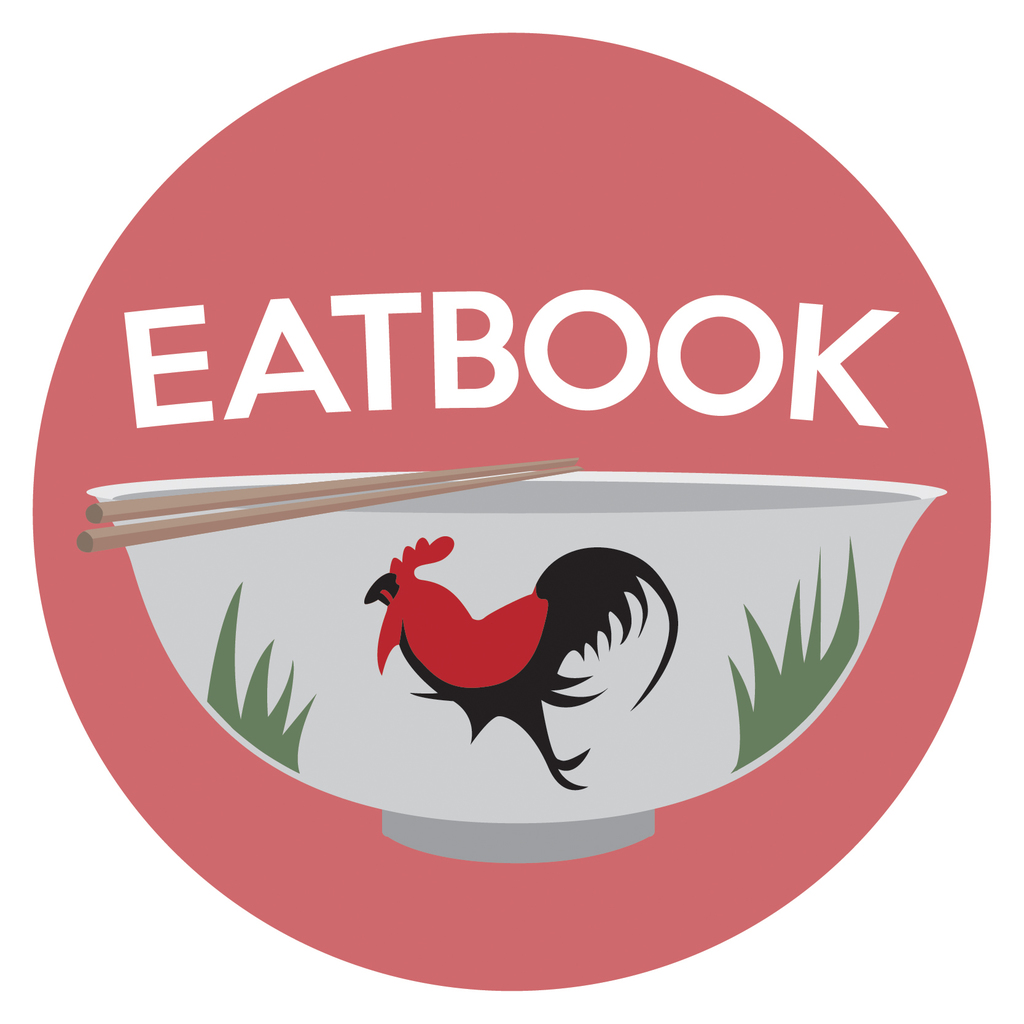 Drop us your email so you won't miss the latest news.