Kele in Takashimaya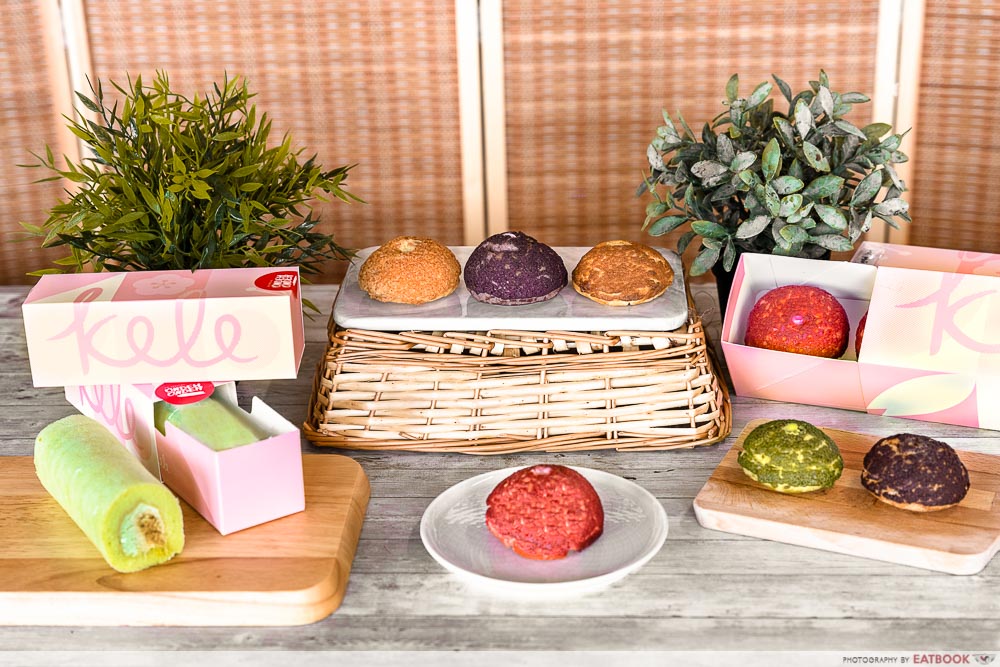 Many of us know Kele for their signature Pineapple Tarts every Chinese New Year, but the 38-year-old brand has just breathed new life into their offerings with all-new cream puffs, exclusively available at their latest concept store in Takashimaya's Food Hall, at Basement Two of Ngee Ann City.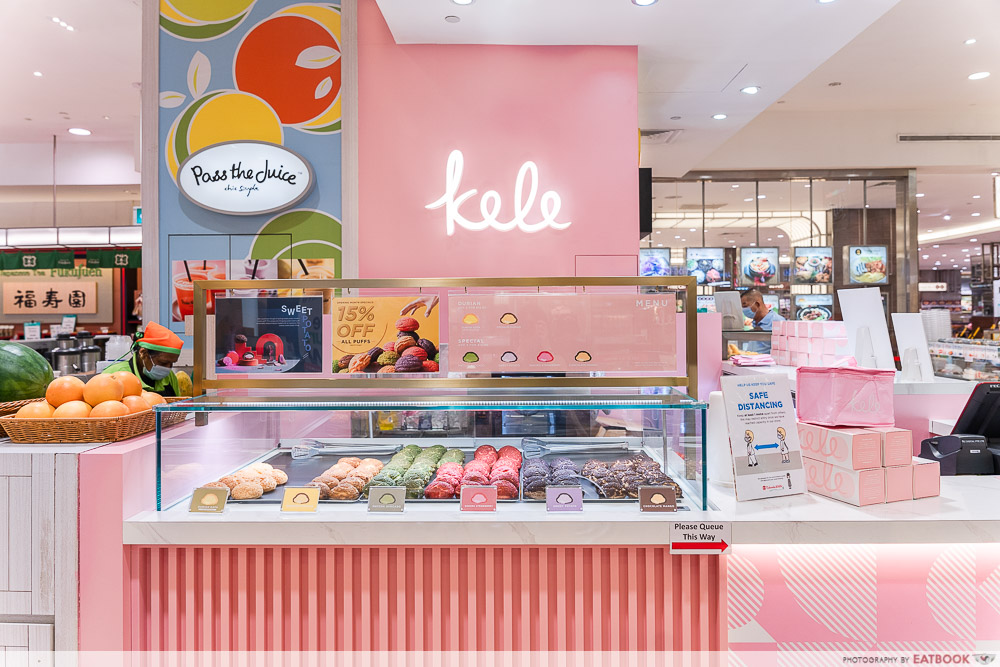 You can't miss the store when you walk into the Food Hall; it stands out with its recognisable logo set against a background of dreamy millennial pink━especially apt for the hip, craquelin-topped puffs and Japanese-inspired roll cakes that herald a new era for the brand.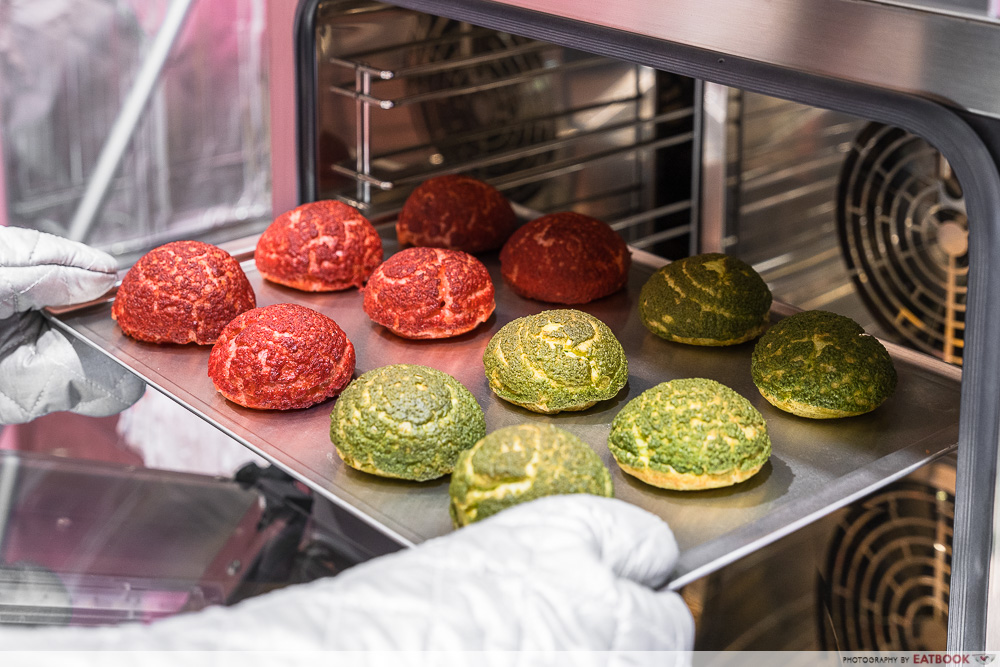 The puffs are baked in store daily in small batches, to ensure freshness and quality.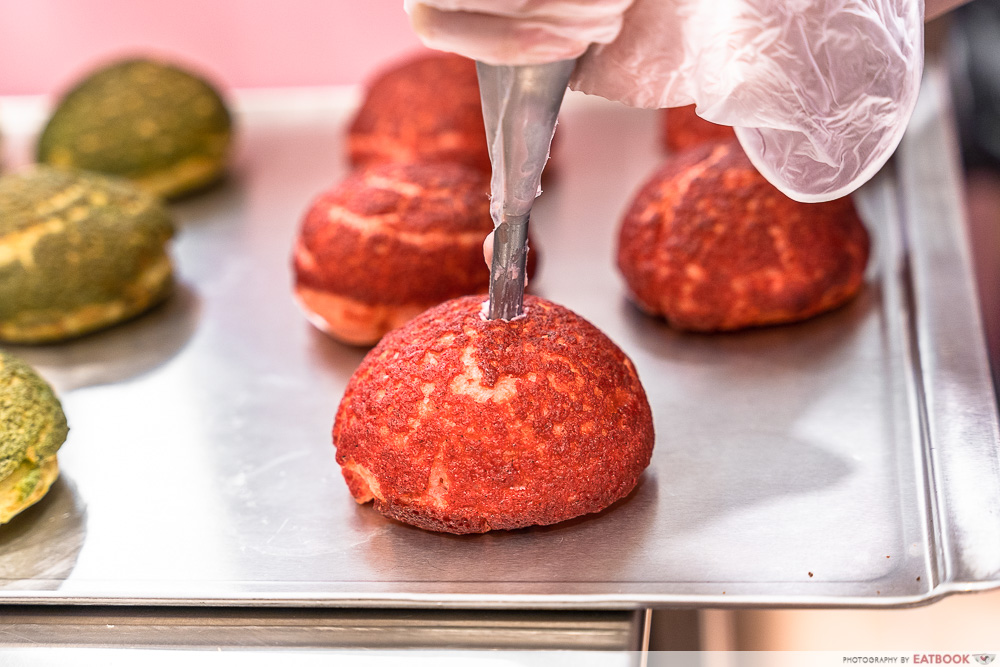 Out of the oven, the cream puffs are kept on a heated counter within the glass display shelf, and piped to order with cold cream. It's recommended that you have them ASAP to fully enjoy the contrast of the warm, crackly puff against the smooth, cold, cream. Otherwise, it's best to consume them on the same day.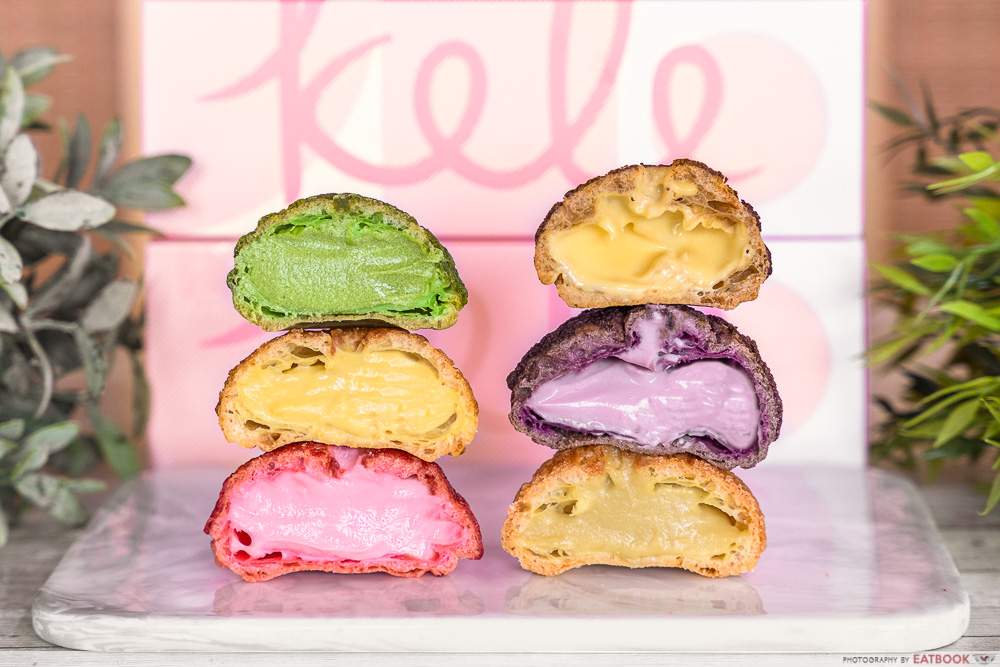 Choose from six different flavours of cream puff, all of which come in boxes of three. The flavours are Premium Durian ($14.90), Durian Kaya ($14.90), Matcha Avocado ($12.90), Sakura Strawberry ($12.90), Sweet Potato ($12.90), and Chocolate Mango ($12.90). 
While you are able to select a mix of flavours, do note that each box can only contain either durian puffs, or non-durian puffs. This precautionary measure ensures that the unquestionably strong durian smell doesn't leach into the milder flavoured puffs.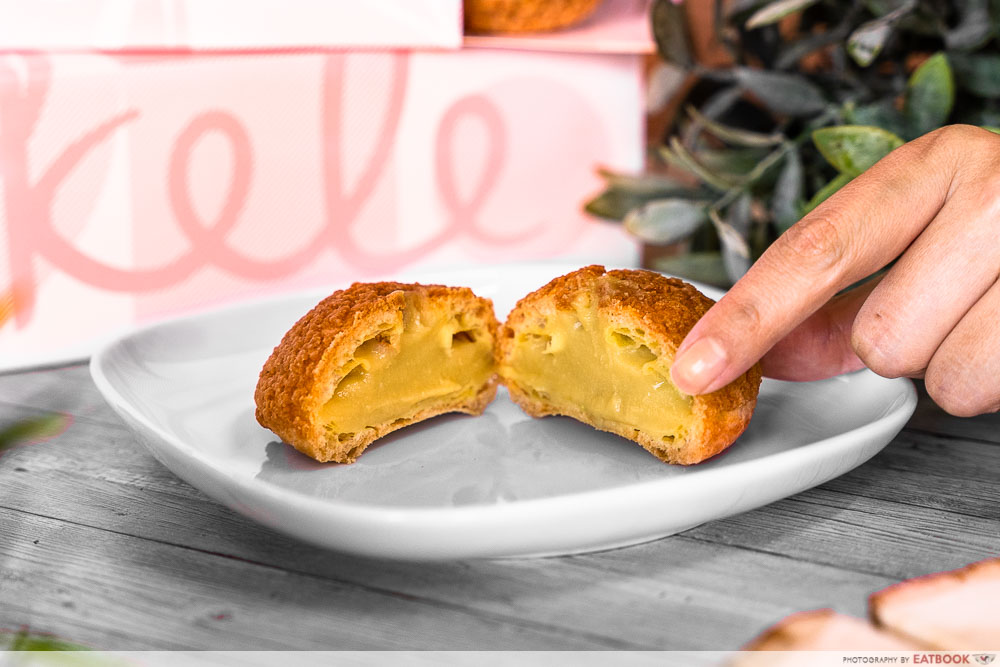 At present, the kiosk at Takashimaya is the only Kele outlet where you'll be able to get your hands on these cream puffs━of these, the Durian Kaya will only ever be sold here. 
It's lusciously creamy with a slight green, jade-like hue that's characteristic of the pandan custard.The taste of the durian is rather strong, but each bite finishes with the coconut notes of kaya, which somehow rounds out the sharp durian flavour.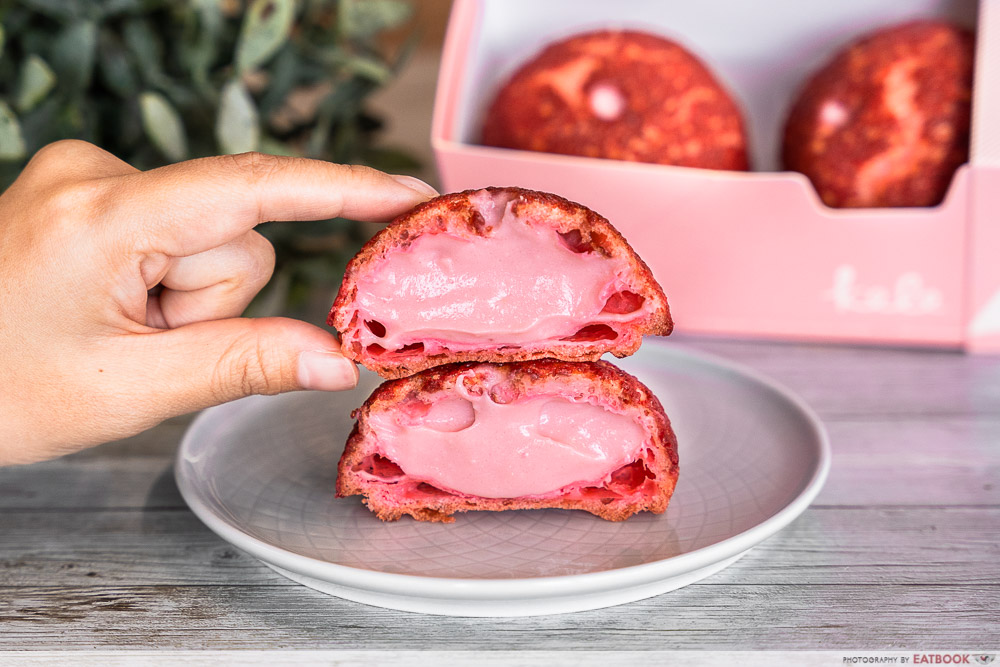 Some of the other cream puffs are inspired by Japanese flavours━great for those of us missing Japan, since we've had to put aside our Frequent Flyer hats for a while now. Pretty in pink, the Sakura Strawberry is delicately flavoured, with a cream that's reminiscent of strawberry-flavoured Hokkaido Hidaka Milk. In case you were wondering, these puffs are all coloured with naturally derived ingredients!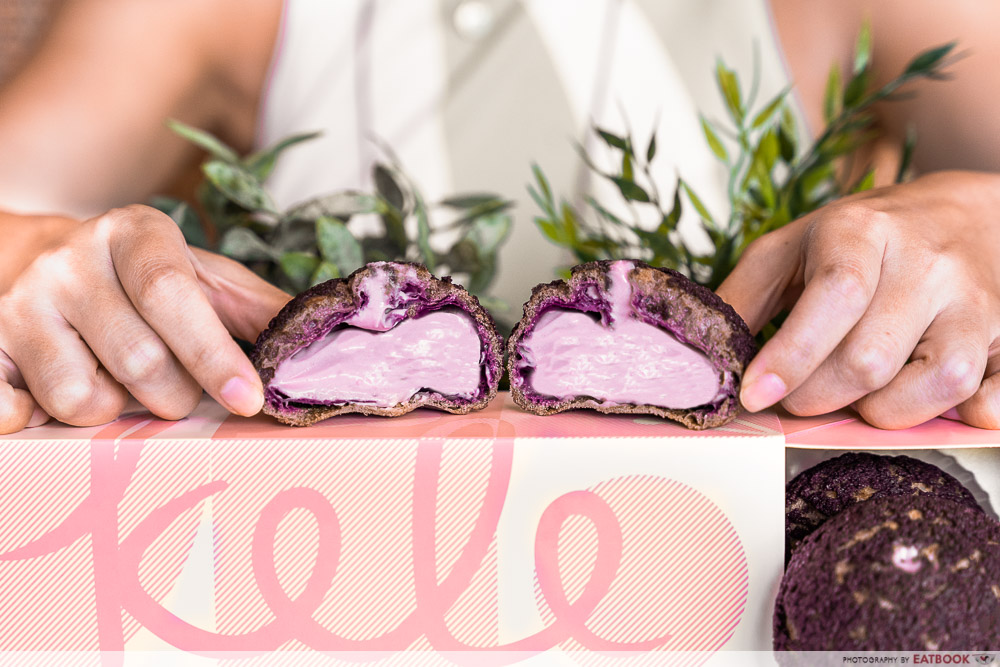 Cutting into the dark purple craquelin top of the Sweet Potato puff reveals a pastel violet cream centre. I'd say this flavour was the yin to the yang of the purple sweet potato Mont Blanc I recently had at Cafe Kuriko. Light and dainty, the cream was just the right counter to the earthy notes of sweet potato.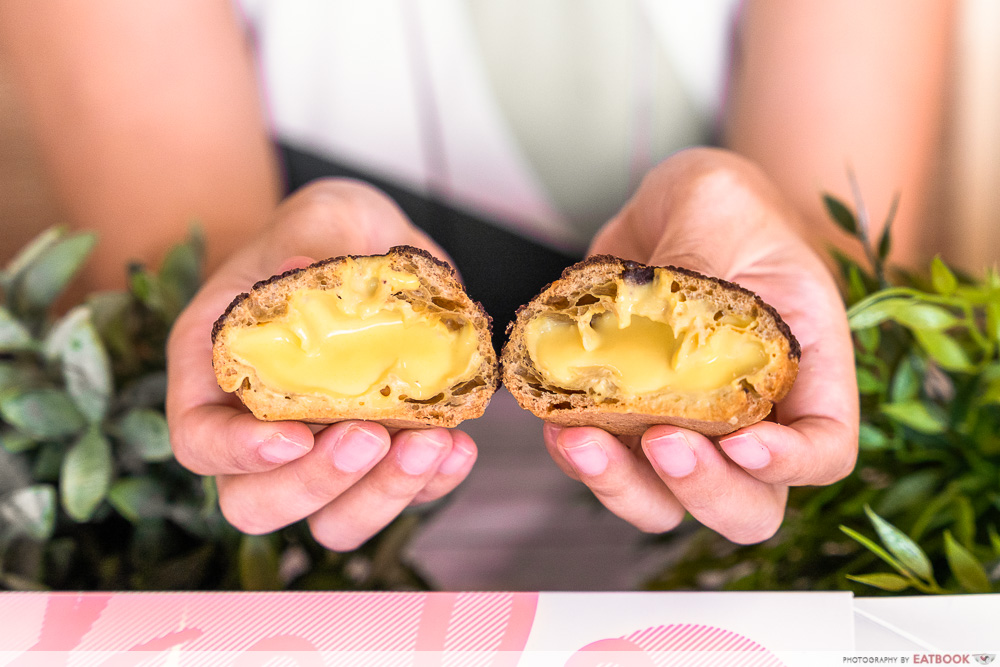 Of all the puffs, the Chocolate Mango has the ooziest centre, so be careful when you bite into this. Mango-flavoured products are oftentimes overwhelming in taste, but that wasn't what I experienced here. Instead, the cream centre is nuanced with a citrusy mango bouquet, and balanced out with the chocolate crust.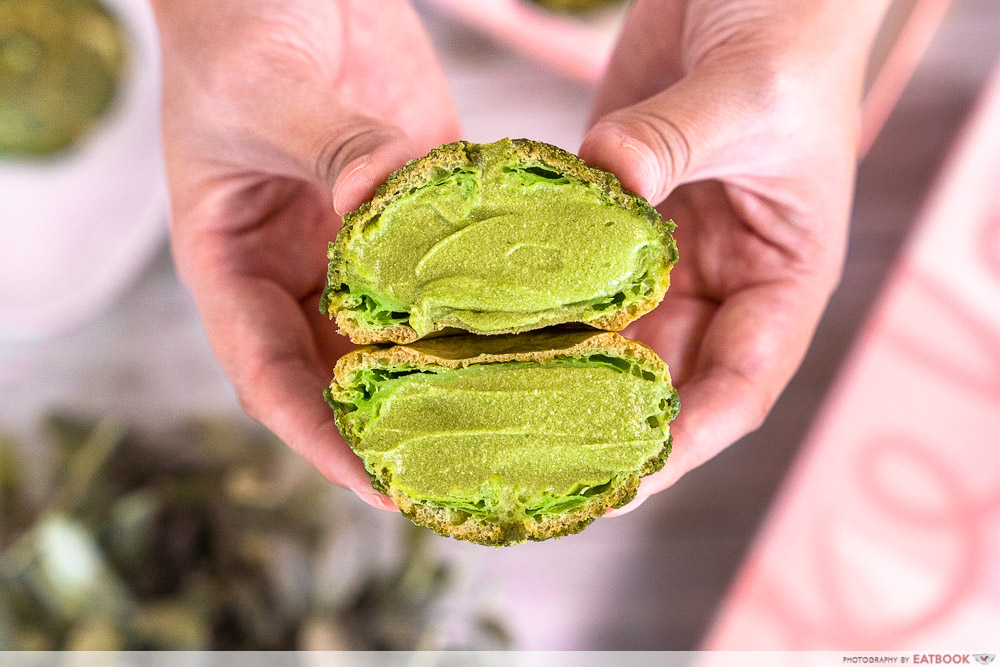 For a more punchy flavour, get the Matcha Avocado, piped with a velvet centre of mashed avocado and cream.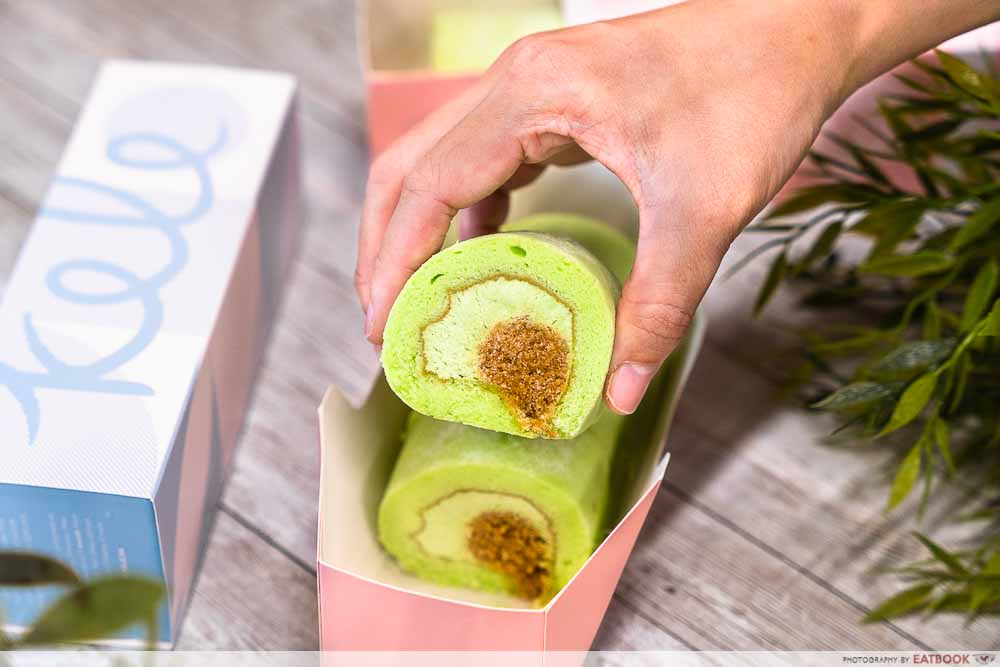 Another new item at Kele is the Ondeh Ondeh Roll Cake ($12.90), which was launched this month in line with National Day. Made with premium Japanese flour, this rendition marries our local kueh with Japanese roru-keiki, or roll cake, to indulgent ends. 
If you've tried Kele's other roll cakes, the pandan chiffon here has the same moist, fine crumb, enwrapping an airy gula melaka cream, and fresh coconut flakes that have been mixed in with gula melaka.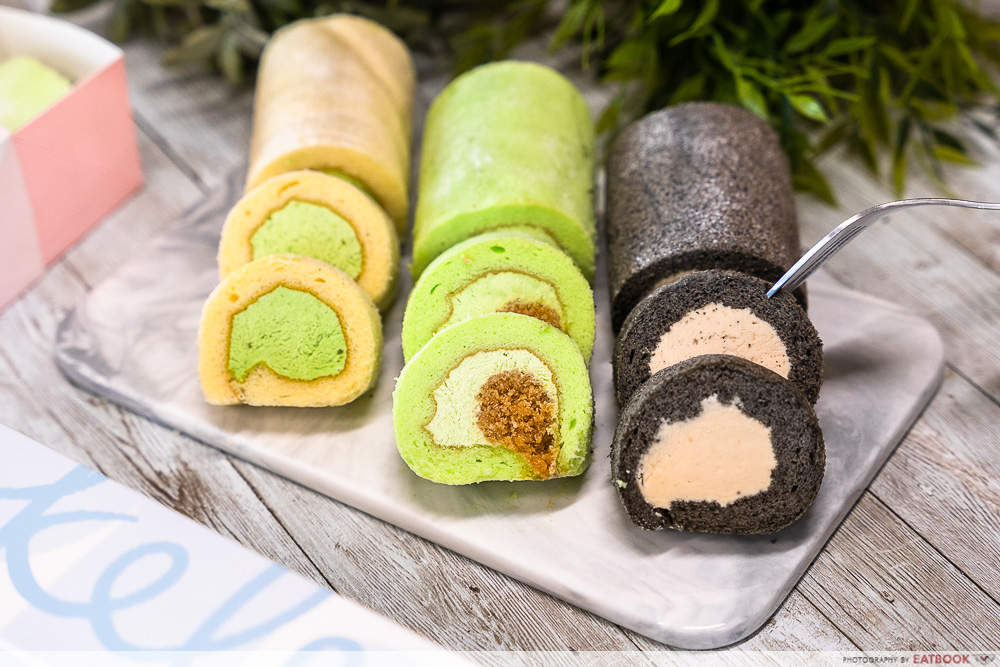 It joins 12 other mainstays on the roll cake menu, including bestsellers such as the Avocado Gula Melaka ($10.90), and Black Sesame Peanut ($10.90). They don't come pre-sliced, but they're wrapped in a plastic sheet that's conveniently marked, so you can slice them to your preferred thickness or the recommended five generous slices.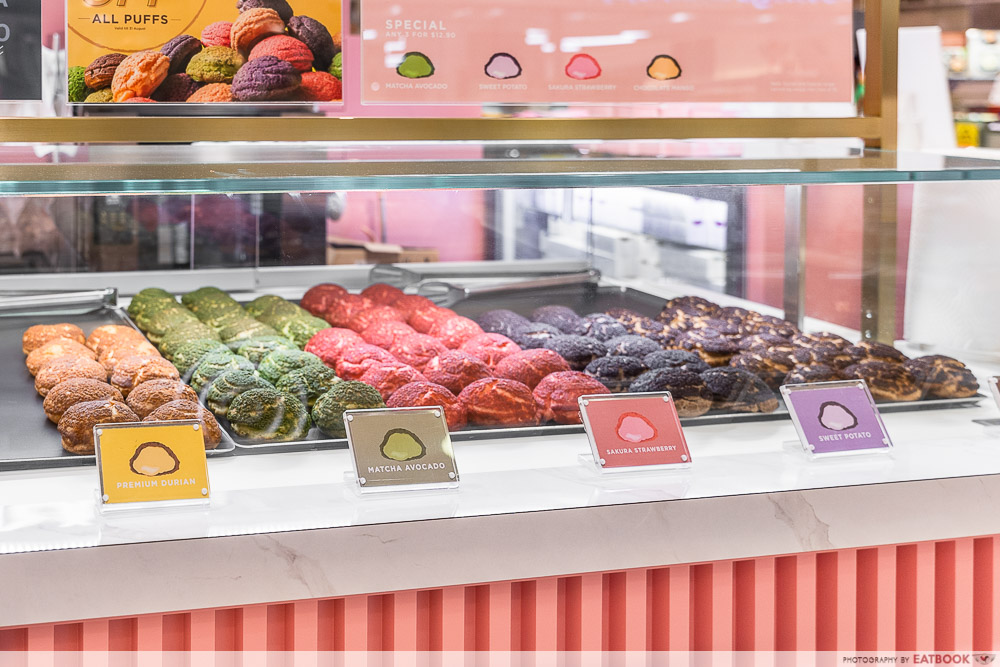 From now till 31 August, the Ondeh Ondeh Roll Cake will be sold at a discounted price of $8.90. In celebration of its launch, Kele is also running a promotion for 15% off all puffs until the end of August!
Address: 391 Orchard Road, #B207-3-2, Takashimaya Food Hall, Ngee Ann City, Singapore 238872
Opening hours: Daily 10am to 9:30pm
Website
Photos taken by Chew Yi En.
This post was brought to you by Kele.