Kobashi Bakery for sourdough donuts and focaccia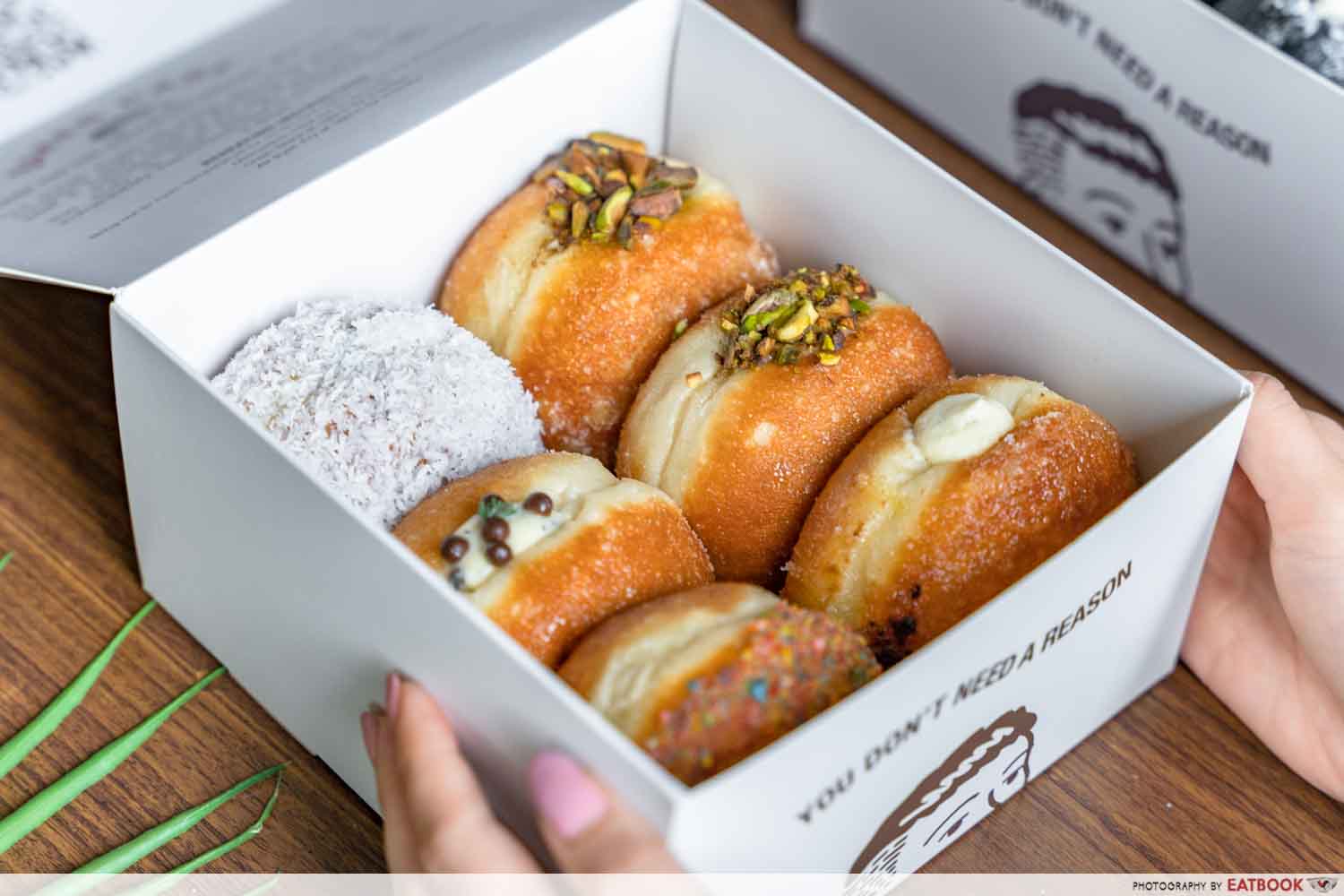 In 2019, two aspiring bakers met at the Culinary Institute of America and became friends. When Covid-19 struck in the following year, they spent their time in lockdown figuring out how sourdough could be made at home, and a few months later, Kobashi Bakery was born. The home-based bakery operates primarily online, and is known for their sourdough doughnuts, which they call "sourdo'nuts", with unique flavours such as white chrysanthemum and durian.
Food at Kobashi Bakery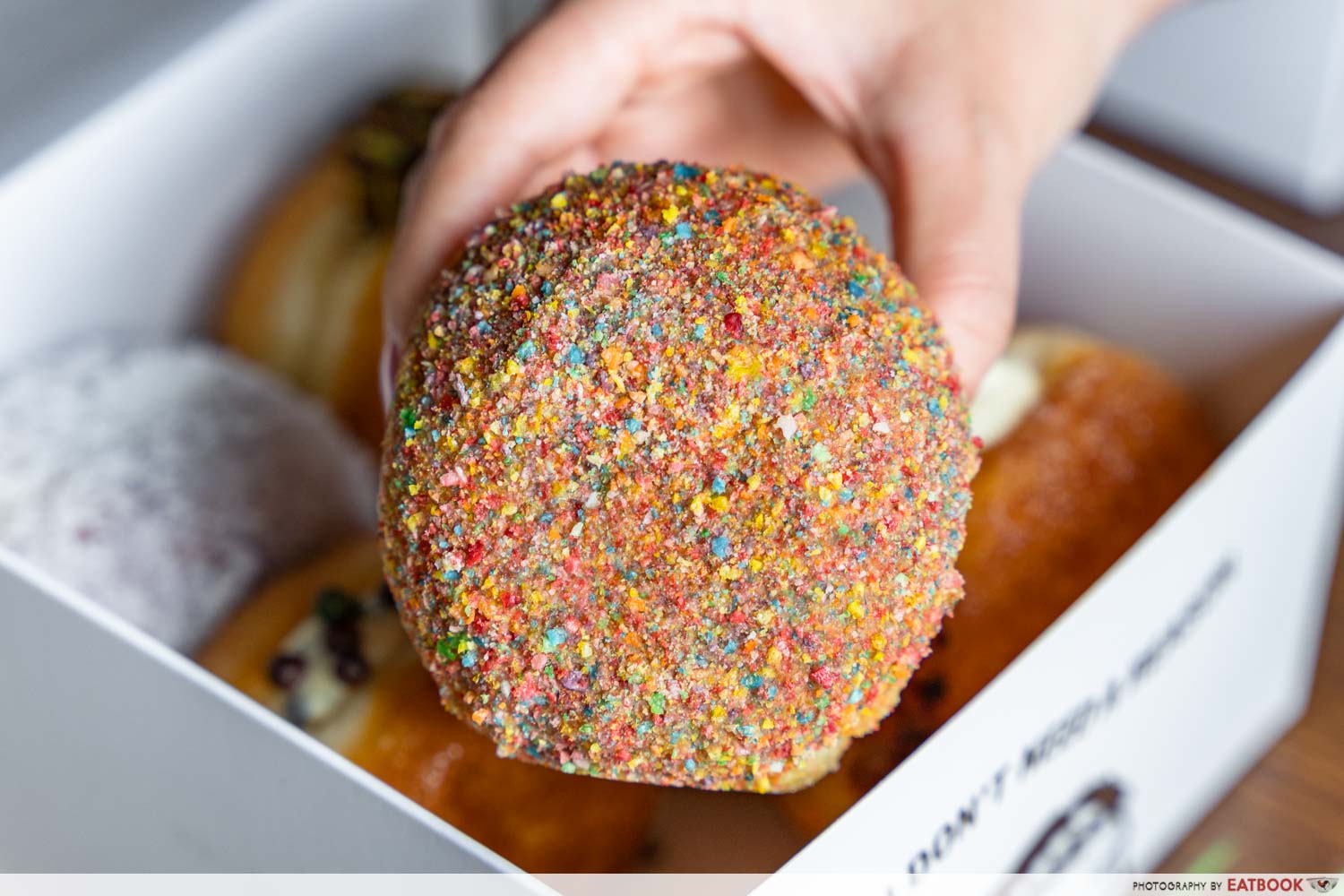 A box of four sourdo'nuts sells for $19, while a box of six goes for $29. I was drawn to the Cereal Milk Glaze, one of Kobashi's original sourdo'nut flavours. The colourful doughnut was sprinkled with crushed Fruity Pebbles and smeared in a sugar glaze that wasn't too sweet, thereby allowing me to taste the sourdough's subtle tang. The doughnut was quite heavy as it was completely stuffed with filling, but thankfully, it had a texture that was chewy and fluffy on its own.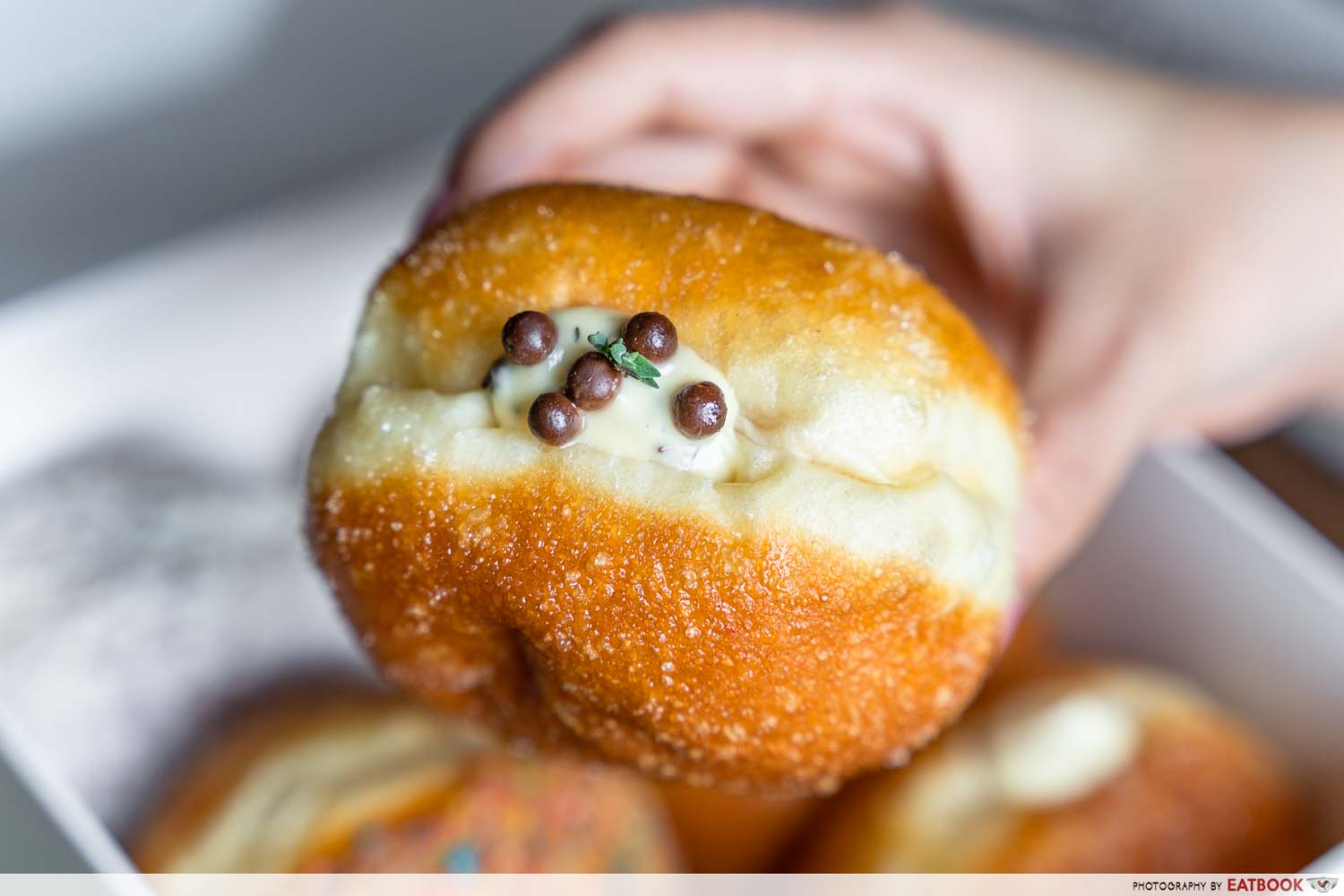 While I usually don't like chrysanthemum-flavoured desserts, I found myself enjoying the White Chrysanthemum Thyme, which was filled with white chrysanthemum cream, fresh thyme, and cacao nibs. It was also topped with sweet Belgian chocolate crispearls.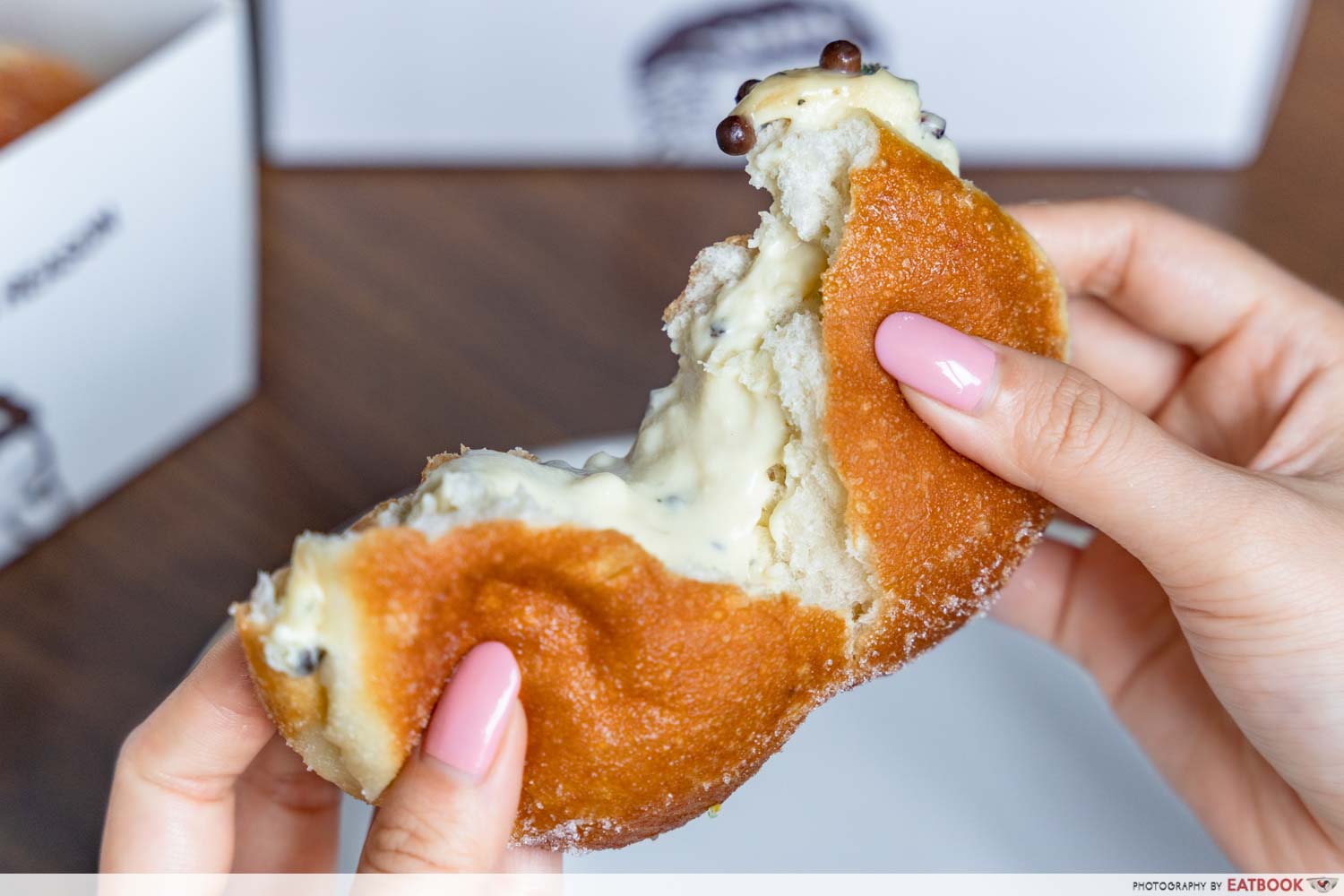 The chrysanthemum filling had an earthy flavour and light floral notes. I personally liked how the doughnut wasn't too sweet and had the cacao nibs for extra crunch. One of my colleagues also mentioned that the cream had a minty taste, which she found refreshing.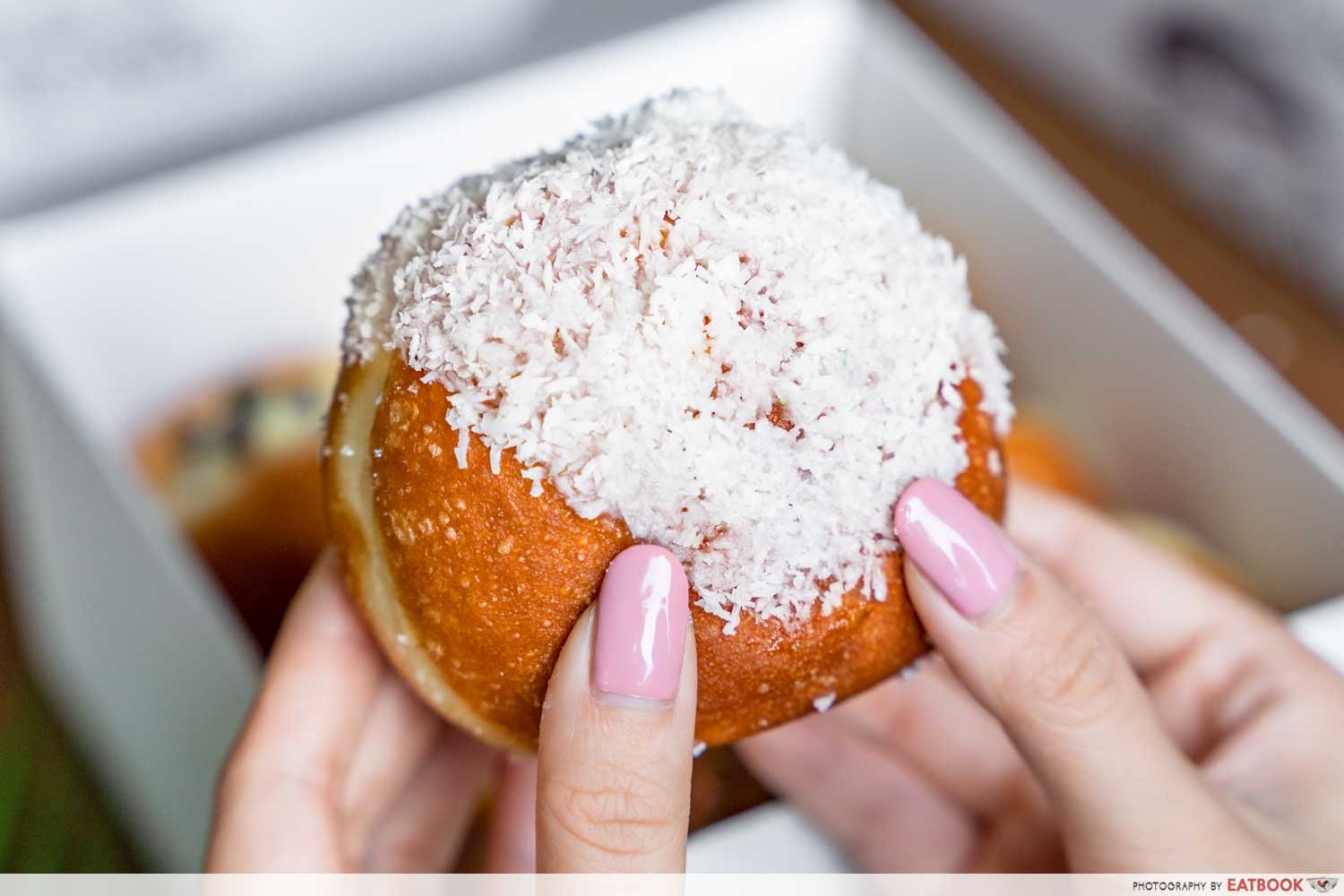 Another one of Kobashi's most popular flavours is the Taro Coconut Cream, consisting of taro puree and coconut filling with desiccated coconut flakes sprinkled on top. The coconut flavour was more pronounced compared to the taro, which was mildly sweet and had hints of vanilla.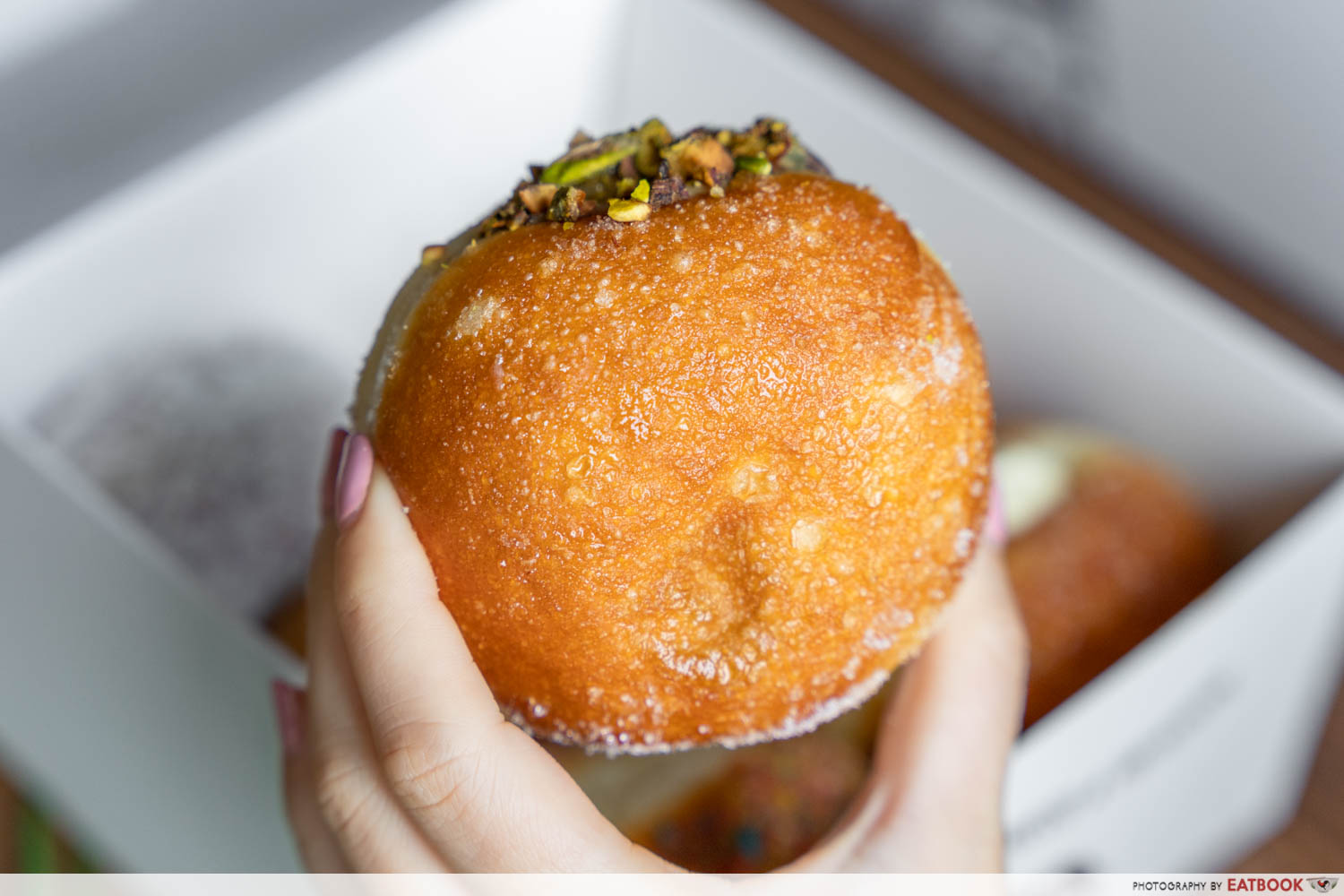 I was most excited to try the Pistachio Dulce Cream, a doughnut filled with pastry cream and pistachio butter. The creamy pistachio filling was layered with caramelised milk jam for a mellow, butterscotch-like flavour, but without the bitterness commonly associated with burned sugar. It was also topped with crushed pistachio nuts, which had a toasty, nutty taste.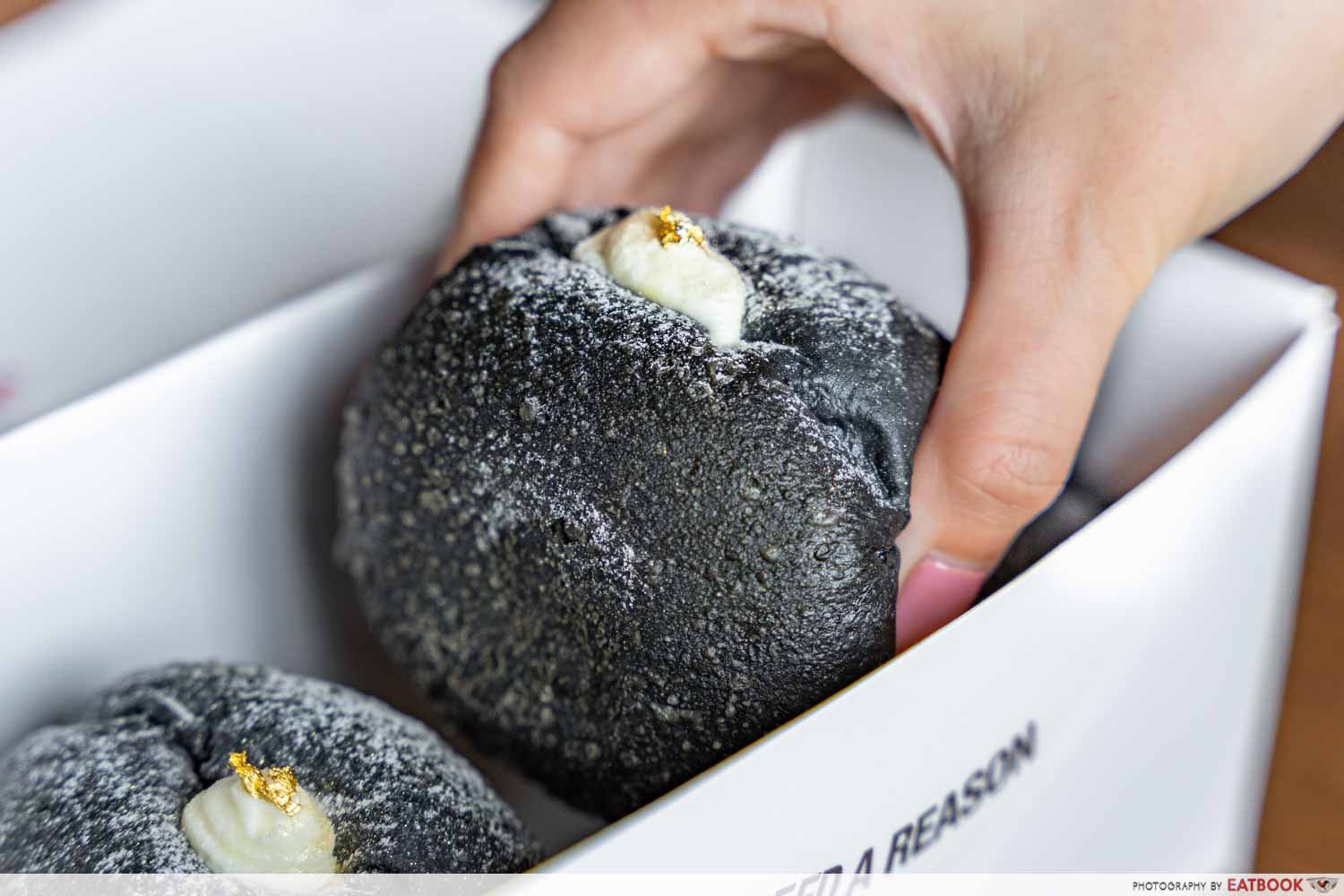 Durian lovers would enjoy the MSW Charcoal, an all-black doughnut filled with mao shan wang durian mousse, avocado cream, and gula melaka. This is also one of the bakery's premium seasonal flavours.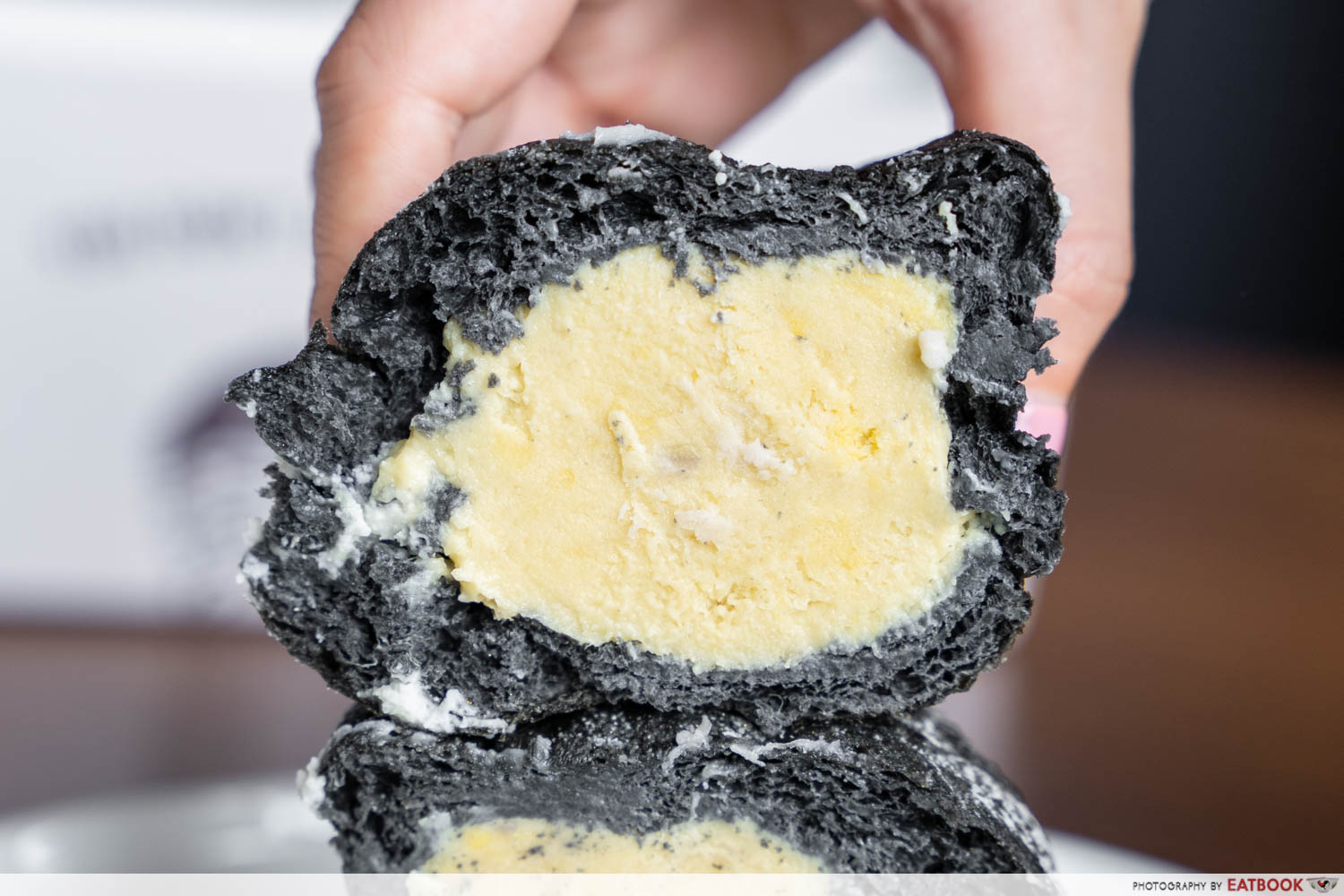 I subconsciously held my breath as I sliced into the donut, only to be surprised at how mild the durian fragrance was. It also had a texture that reminded me of durian ice cream, and a sweet flavour that was not overpowering. Impressively, the durian filling managed to remain creamy despite being refrigerated overnight before our shoot.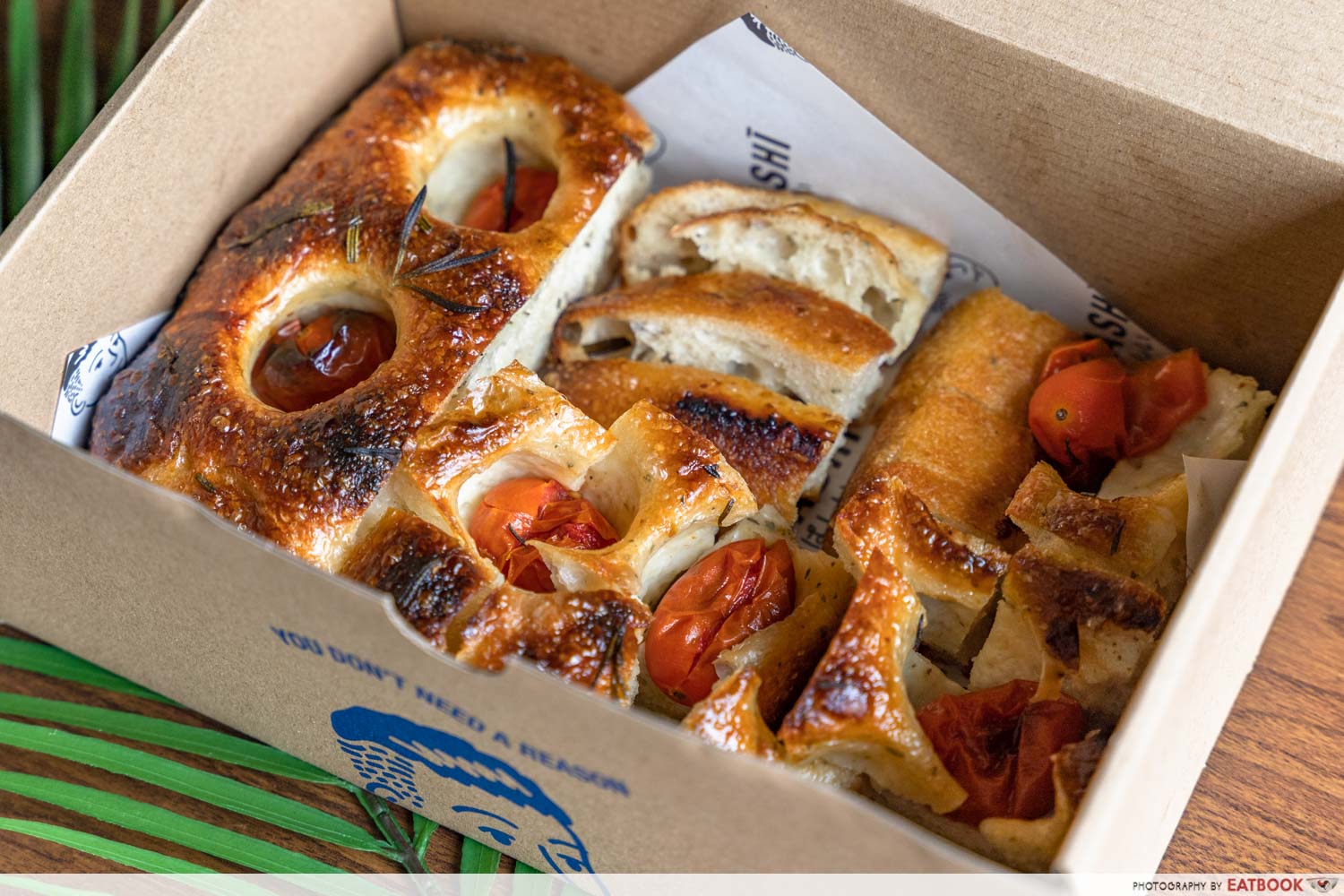 Aside from sourdo'nuts, Kobashi bakes sourdough focaccia in flavours such as Rosemary Cherry Tomatoes ($25) and Roasted Garlic ($23). The tomato focaccia was dense and on the sour side, possibly due to the cherry tomatoes. The bread was a little soggy on the inside—especially the parts where the tomatoes were—but I didn't mind since the tomato juices gave the bread some chewiness.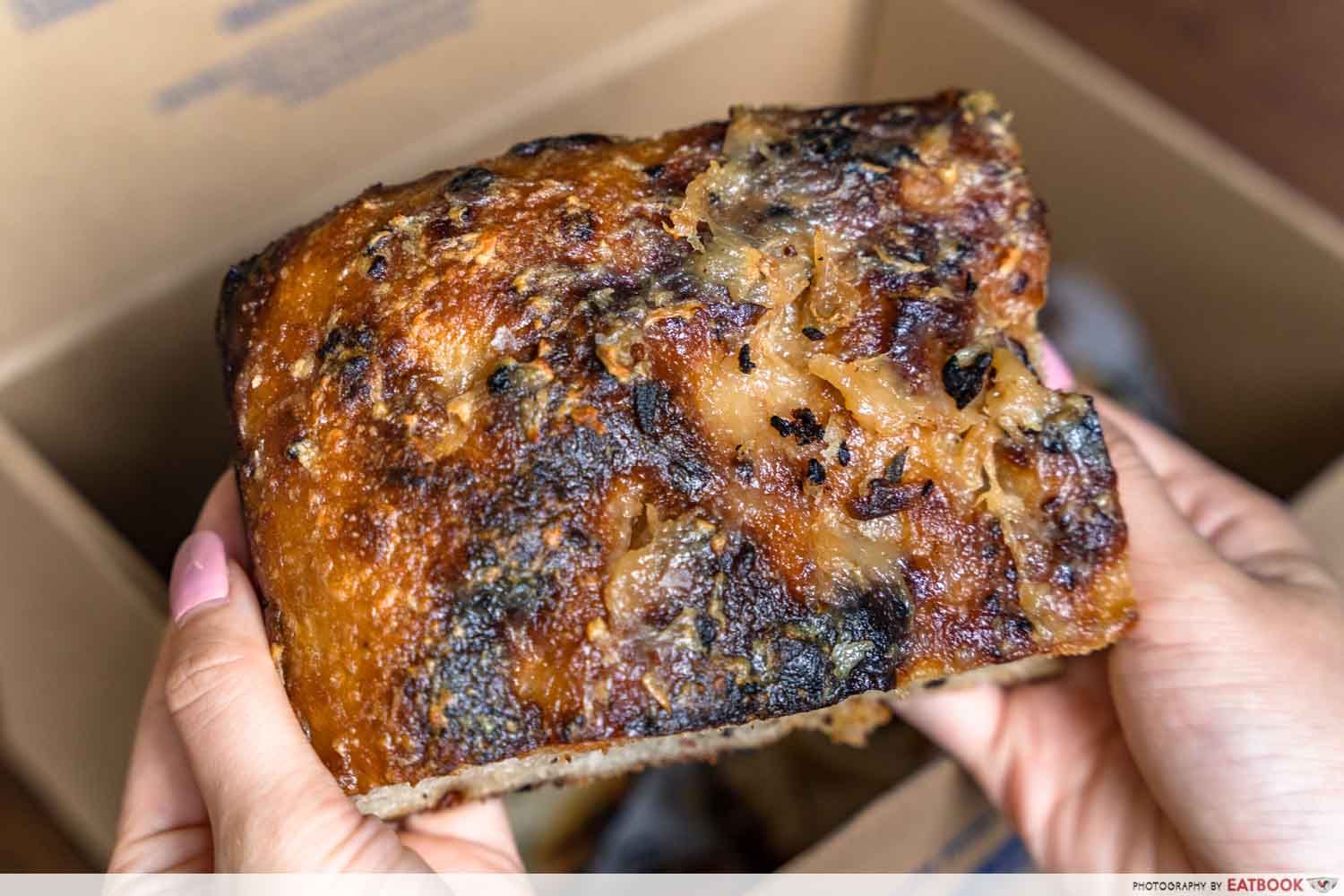 I preferred the garlic focaccia with its distinct, garlicky taste. The layer of cheese on the crust also gave the bread a savoury and charred flavour. I thought the bread was sufficient to eat on its own, but you can add a touch of butter for an extra oomph, if you'd prefer.
Pilcrow Review: Dessert Bar With Sourdough Pizza And Plated Desserts In Boat Quay
Ambience at Kobashi Bakery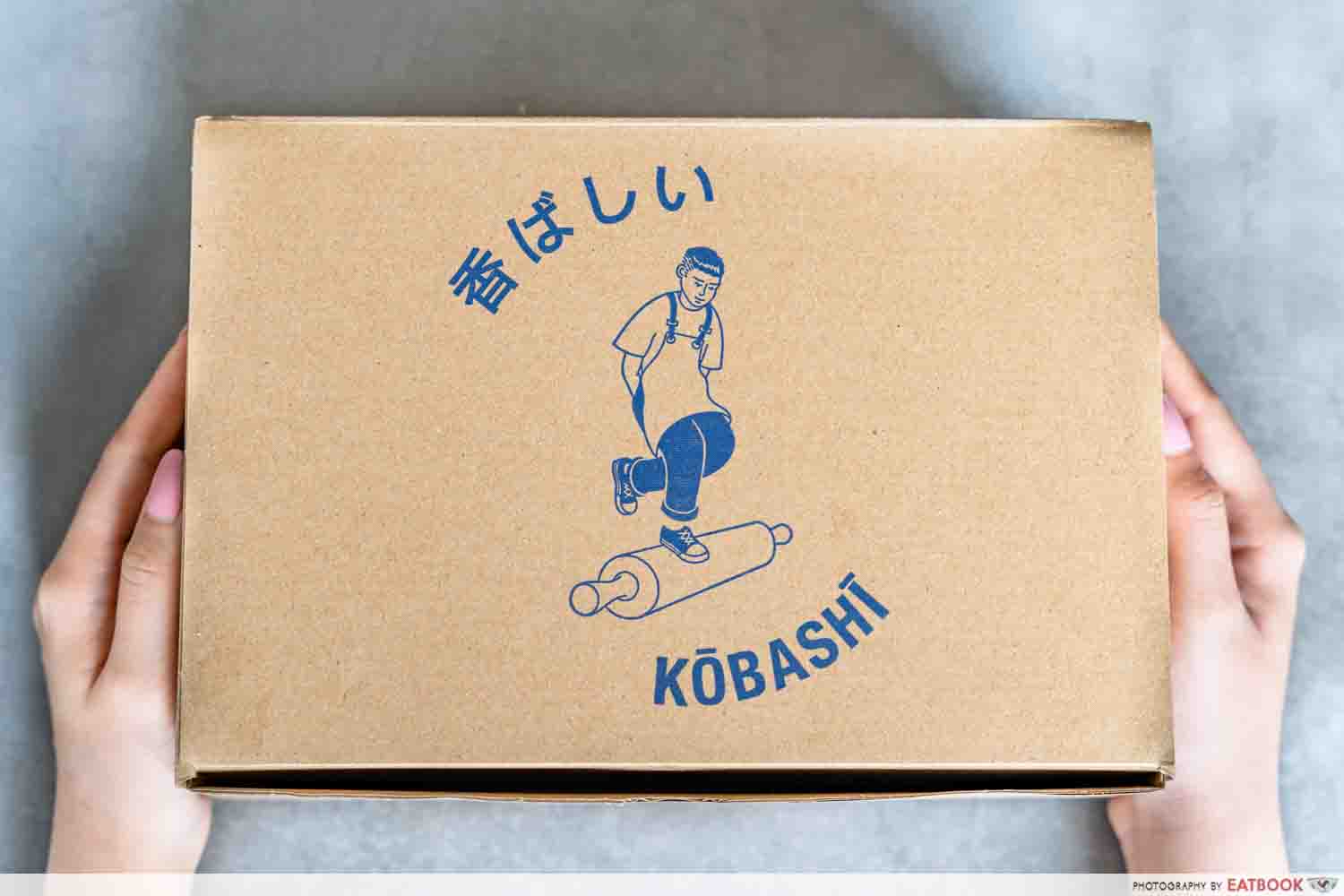 Kobashi's delicious bakes are only available for pre-order, and you can opt for delivery or pick-up from their address at Tamarind Road between 2pm to 6pm daily. The sourdo'nuts usually come packed in these minimalist brown boxes with Kobashi's logo printed on top. While the bakes are best enjoyed on the day of purchase, you can keep them at room temperature for two days, or up to a week if refrigerated.
The verdict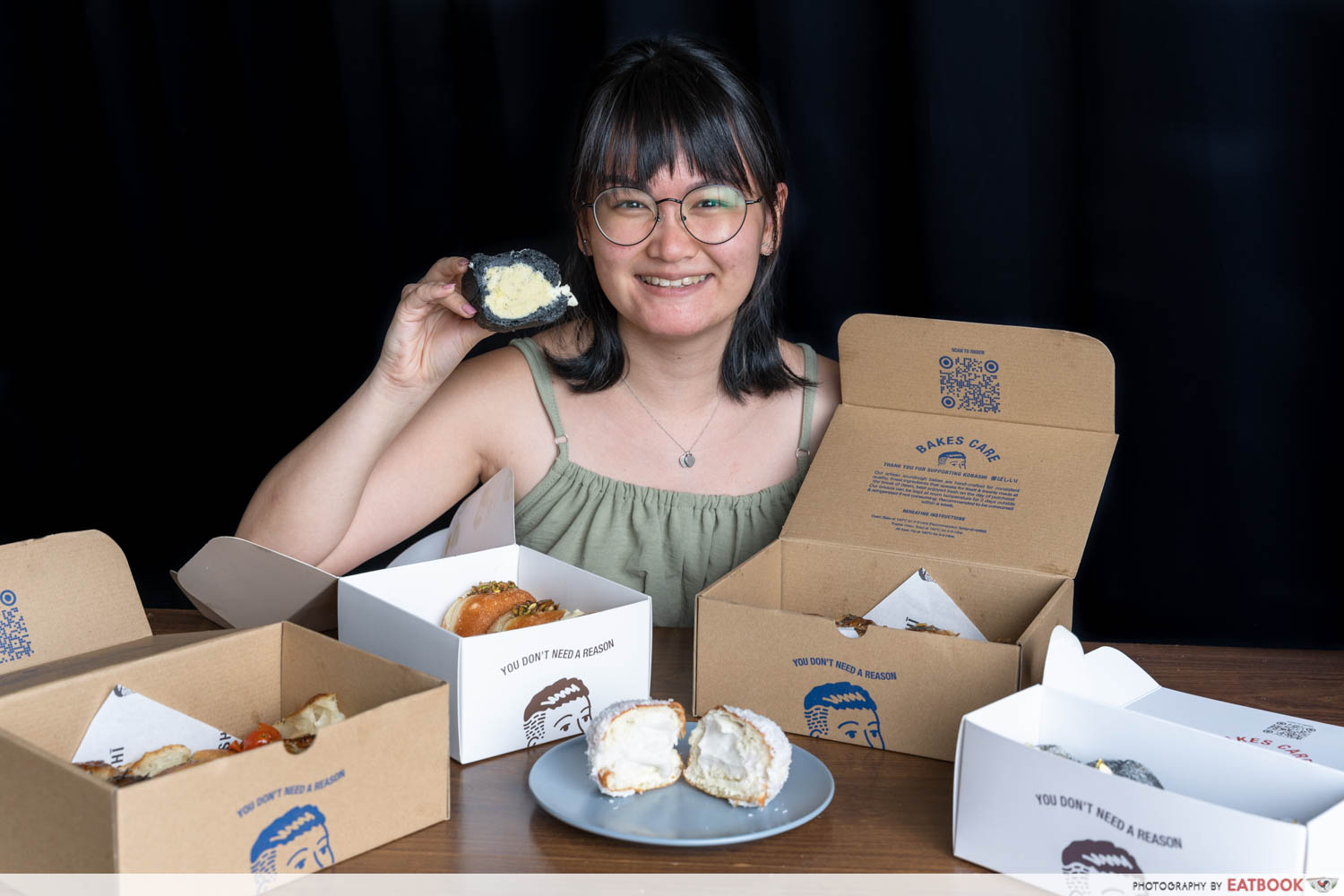 Kobashi Bakery has some of the most delicious cream-filled doughnuts I've had in a while, and I enjoyed them so much that I brought them home for my family and friends to try. Some of my friends ended up ordering the sourdo'nuts the next day after trying them—I believe that's more than enough to convince you how good they are!
For more good bakes by home-based businesses, read our Orko Bakehouse review. Otherwise, check out our list of five best breads from Gokoku Japanese Bakery.
Address: 157C Tamarind Road, Singapore 806107
Telephone: 8893 4814
Website
Kobashi Bakery is not a halal-certified eatery.
Photos taken by Hui Hui Lau.
This was a media tasting at Kobashi.
Kobashi Bakery Review: Home-Based Bakery With Sourdough Doughnuts In White Chrysanthemum And Durian Flavours
Kobashi Bakery Review: Home-Based Bakery With Sourdough Doughnuts In Pistachio And Durian Flavours -

8.5/10
Summary
Pros
– Unique sourdo'nuts with flavours such as pistachio and durian
– Delicious sourdough focaccia with cherry tomatoes and garlic flavours
Cons
– Limited quantities available for each item
Recommended dishes: Box of four sourdo'nuts ($19) and Roasted Garlic Focaccia ($23)
Address: 157C Tamarind Road, Singapore 806107