Kogane Yama serves customisable tempura sets
If sounds could be sexy, the sizzling of food frying in bubbling hot oil or the glorious tap tap echo from picking up crisp, battered food takes the cake in my books. Kogane Yama's tempura bowls play to my weaknesses. For days that call for a plate of fried food, the tempura here unquestionably delivers.
Food at Kogane Yama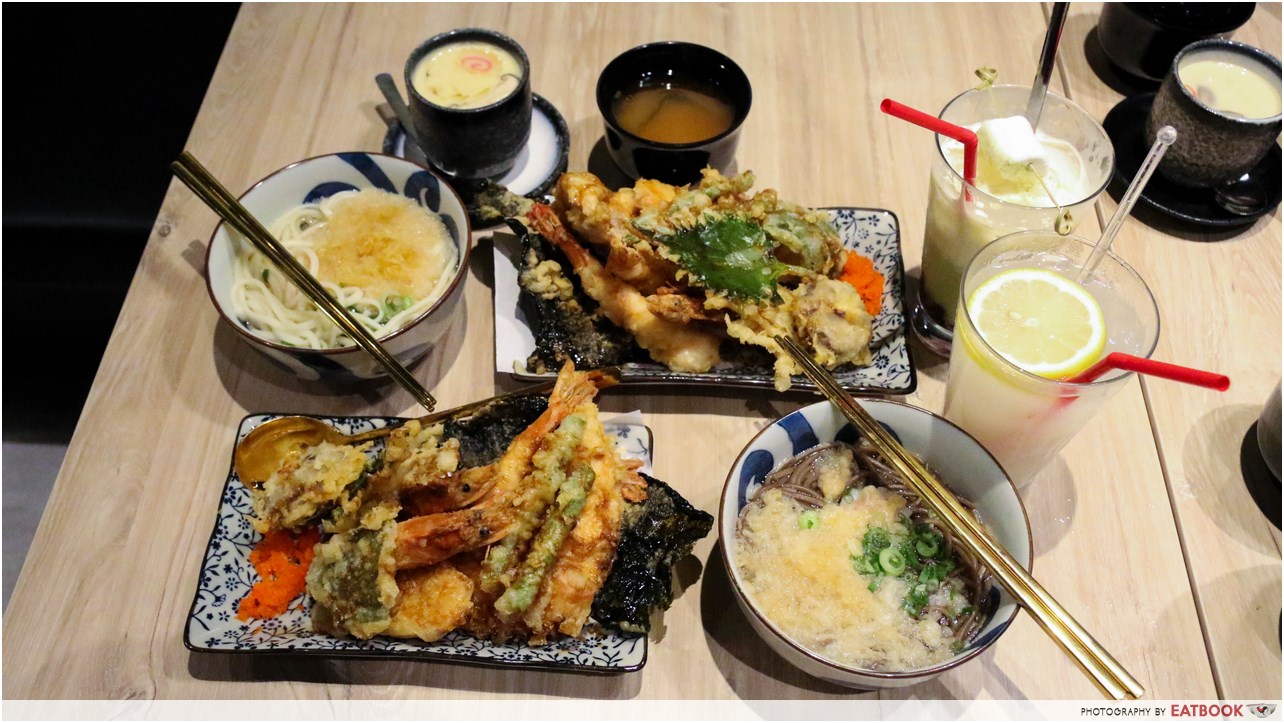 Kogane Yama is a tempura speciality restaurant so that's what you'll find on the menu, though you do get more customisable options here compared to other joints. First, choose the type of tempura you'd like from Chicken Bowl ($13.80++), Prawn Bowl ($13.80++), Vegetable Bowl ($11.80++) and – to spare people like me who take forever to decide – a Mixed Bowl ($15.80++). Both the chicken bowl and prawn bowl come with vegetable tempura.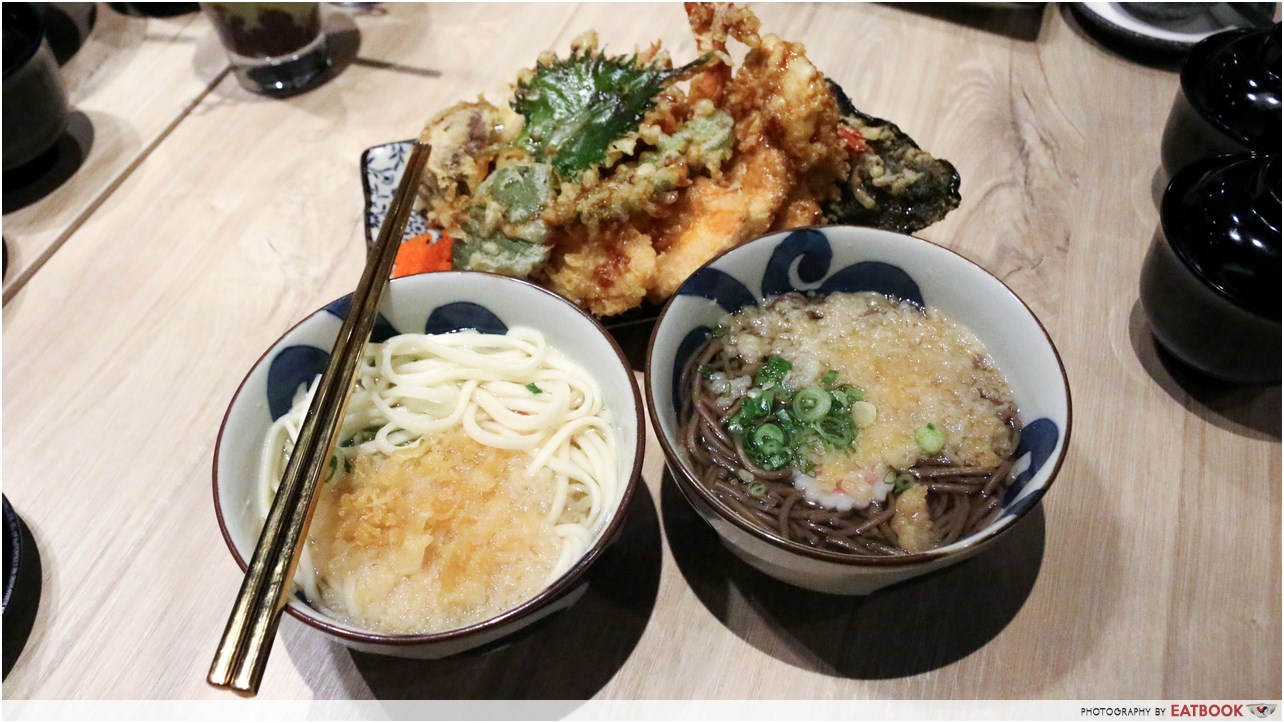 Next, pick your base. Japanese short-grain rice is served by default and you can upgrade to either soba or udon for $1++. Both noodle dishes are served hot in a light dashi broth.
Finally, choose a level of spiciness for the tentsuyu sauce; there's non-spicy and levels one to three. Top-up $2 to make it a set, which comes with a bowl of chawanmushi and either miso soup or green tea.
The original, non-spicy sauce is a blend of shoyu (soya sauce), sesame oil, and garlic. That being said, the sauce was pretty salty and flat, and it lacked any distinct fragrance of sesame oil and garlic. The spicy sauces really had a kick to them from the bird's eye chilli and chilli pepper sauce used, so stick to either level one or two if you still want to appreciate the tempura's flavours. Even the level one sauce had a surprising punch to it, as I tried it expecting only mild heat.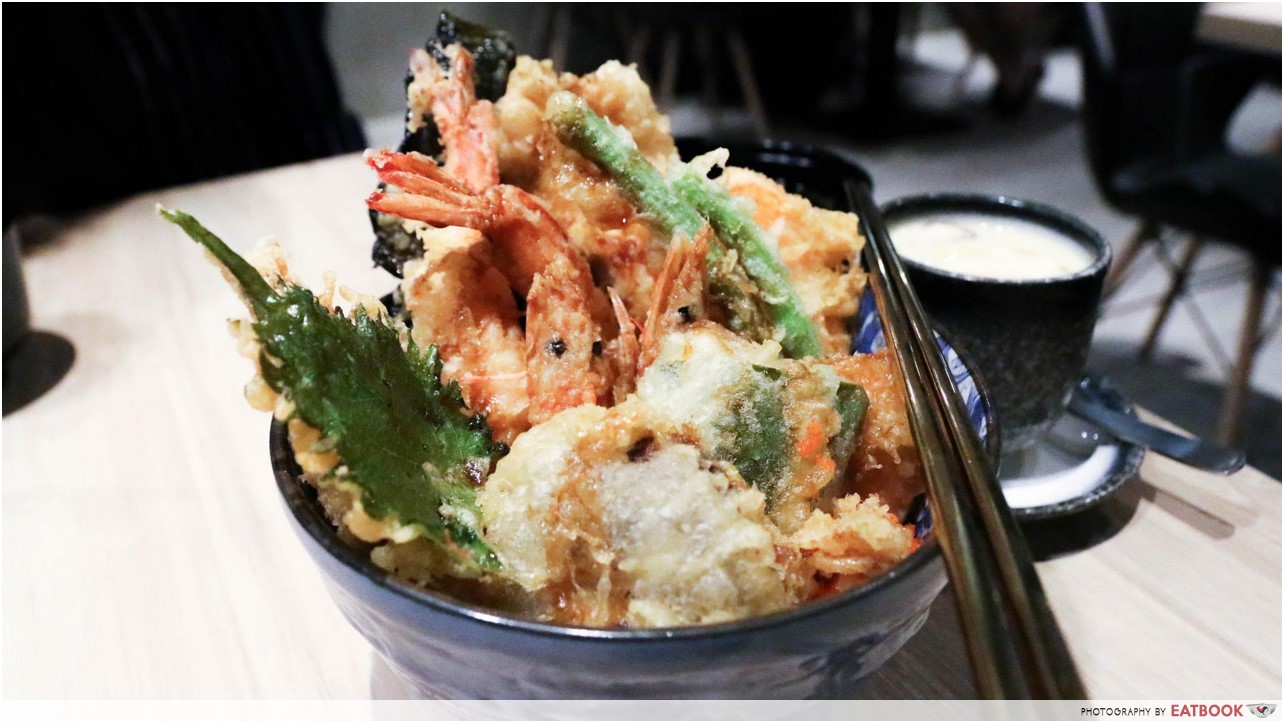 We ordered mixed tempura to get a taste of everything. In addition to typical suspects such as ebi tempura and sweet potato, Kogane Yama puts its own spin on tendon with additions such as tempura shiso leaf, which is also known as Japanese basil, as well as tempura prawn head and seaweed tempura.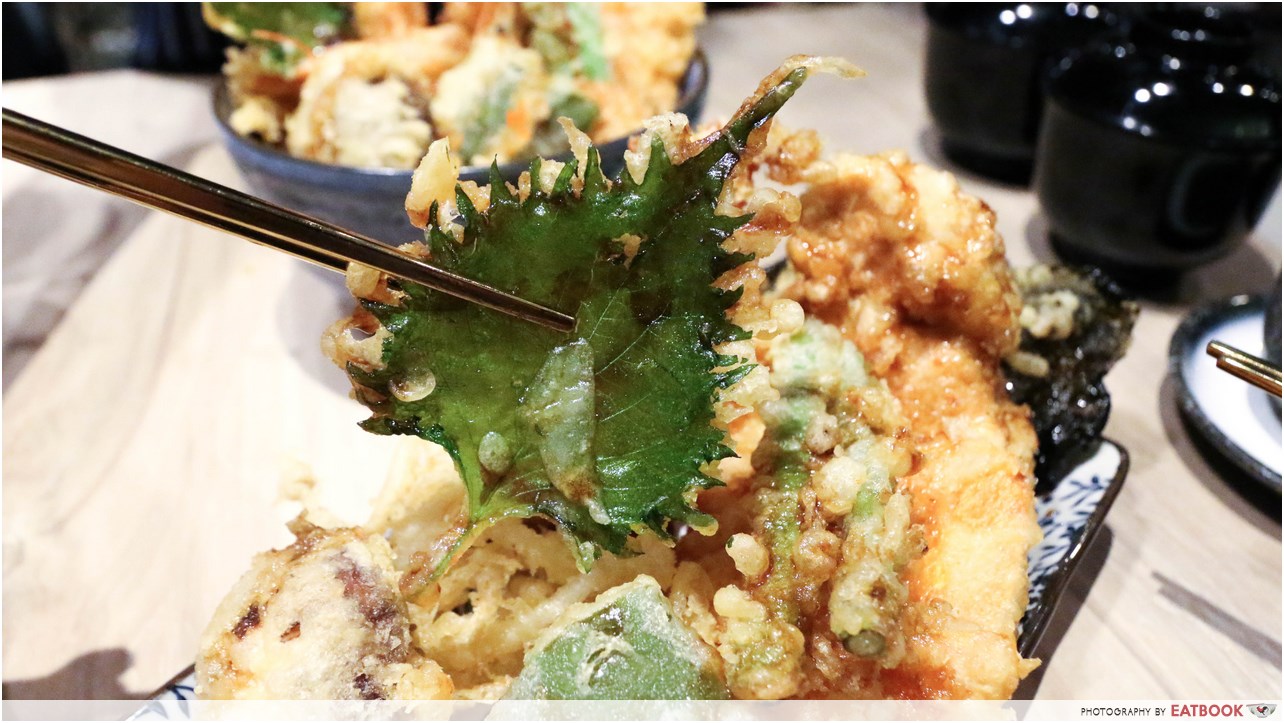 The shiso leaf tempura broke apart with the crunchiness of fish skin crackers – in embarrassingly loud bites. While the frying process did overwhelm the herb's natural taste, I'm not complaining because its crispiness was immensely satisfying.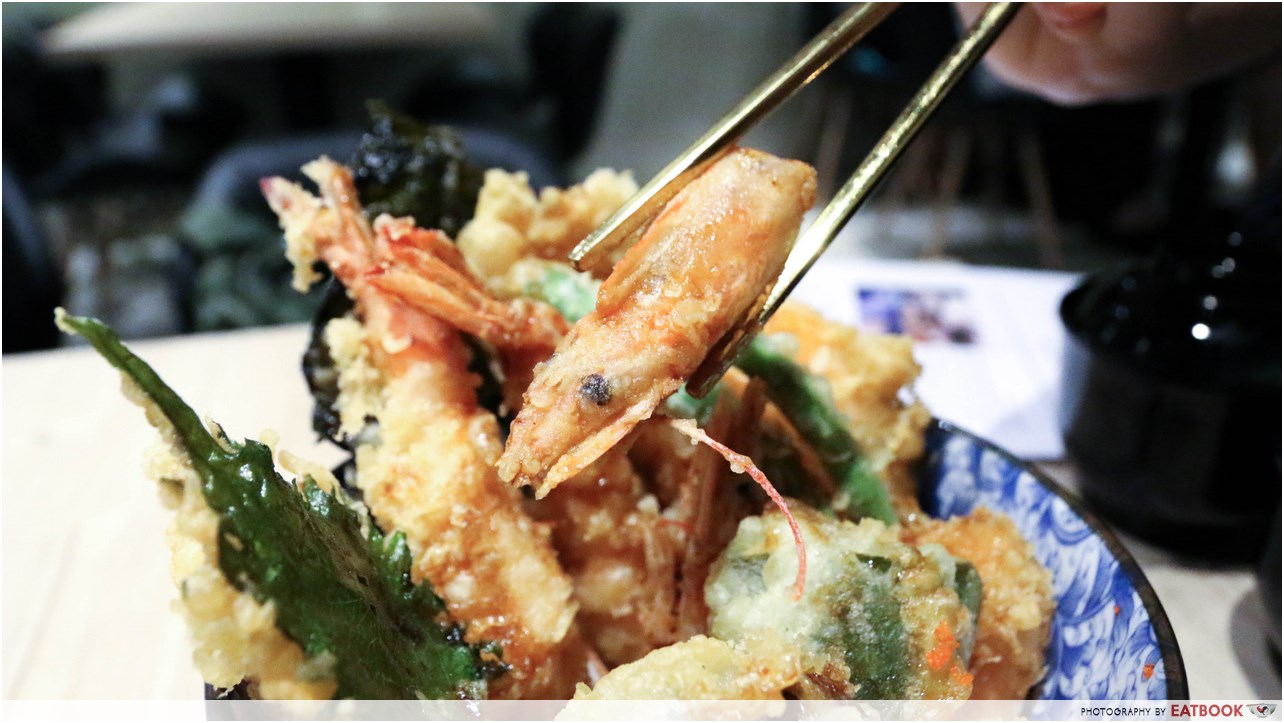 I never knew prawn head tempura was a thing until my visit here. It's a love-it-or-leave-it ingredient; if you like prawn heads, you'll definitely enjoy this. I'm not a fan of the briny juices they contain and deep-frying didn't do much to enhance its flavour, so no surprise this wasn't one of my favourites.
On a whole, the ingredients were fresh and tasty, but the food was not outstanding. I enjoyed the vegetable tempura pieces more than the meat options as the former were juicier and sweeter, so I'd probably order the Vegetable Bowl on my next visit.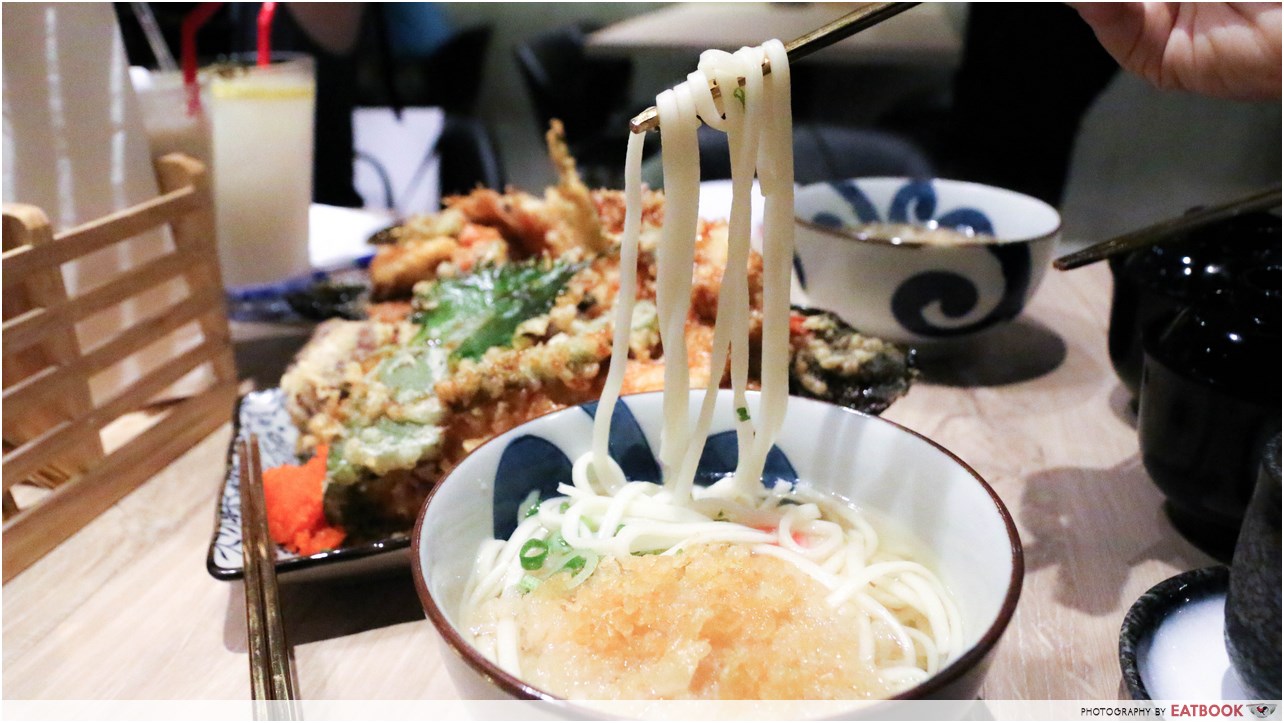 We also tried their soba and udon. The light, clean flavour of dashi broth was a welcomed palate cleanser between mouthfuls of tempura. Unlike thick, cylindrical udon you'd typically find elsewhere, the noodles served here are thinner and flatter, which I enjoyed.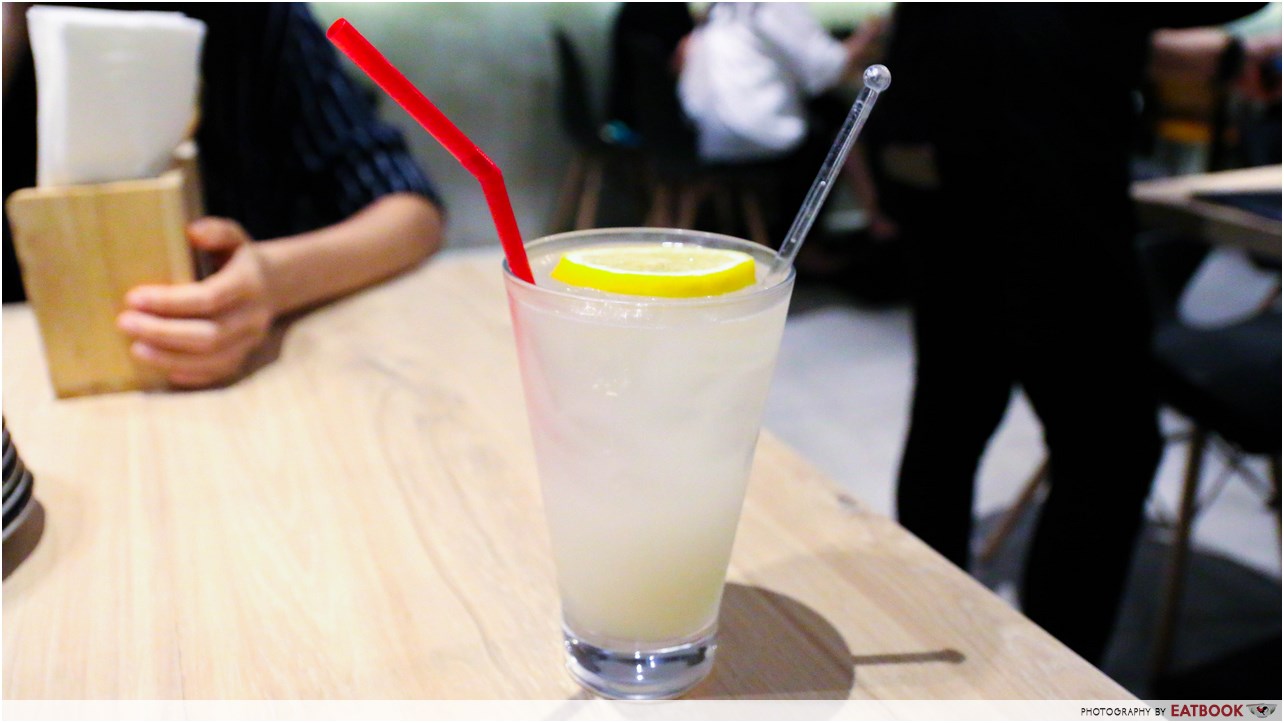 Having a couple of drinks to sip on definitely helped us get through the large meal. We ordered Calpis Soda ($5.50++) and layered Azuki Matcha Latte ($6.80++). Calpis soda is a mix of vanilla-flavoured yogurt and fizzy soda, and had hints of fruitiness. This tangy, bubbly drink is the more refreshing option between the two.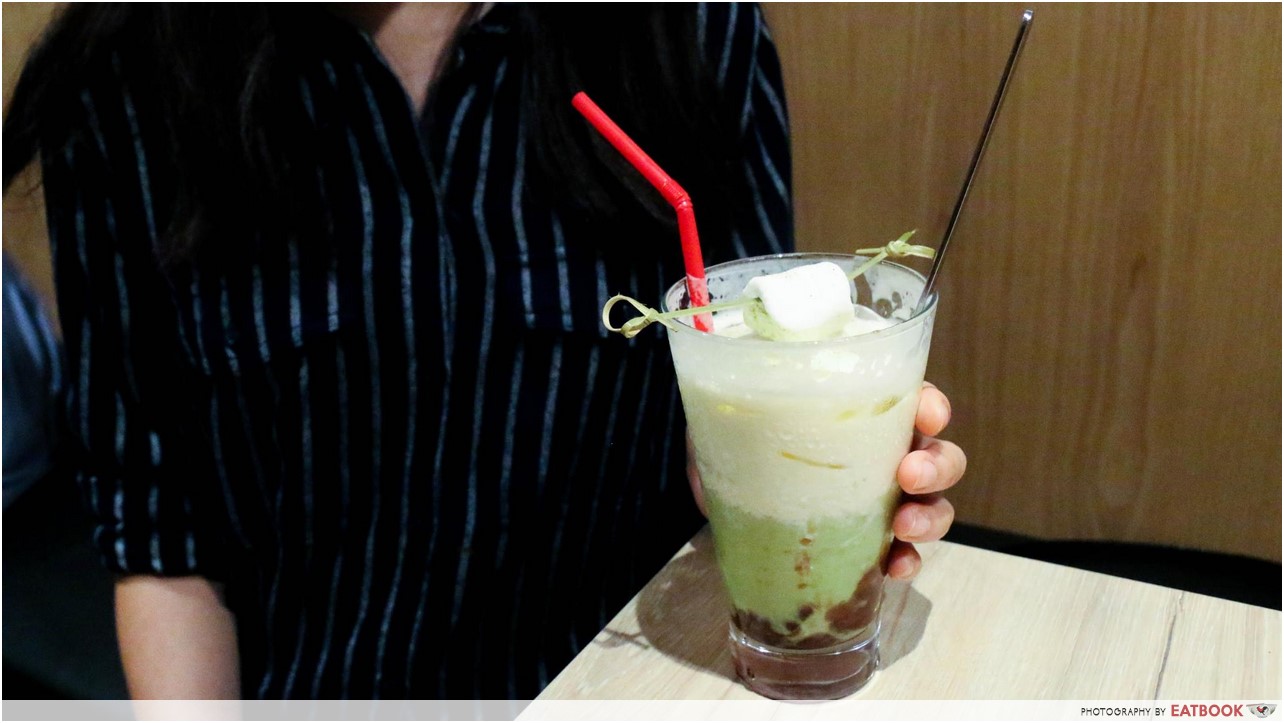 If you prefer creamier, sweeter drinks then the matcha latte will be right up your alley. Besides the azuki version, there's Original ($4.80++) and Chocolate ($5.80++) too. It's not too sweet so you can gulp down a cup on your own. It's great as a dessert, but I'm not sure I'll have it with tendon again as the milkiness contributed to the jelak feeling from the fried tempura.
Ambience at Kogane Yama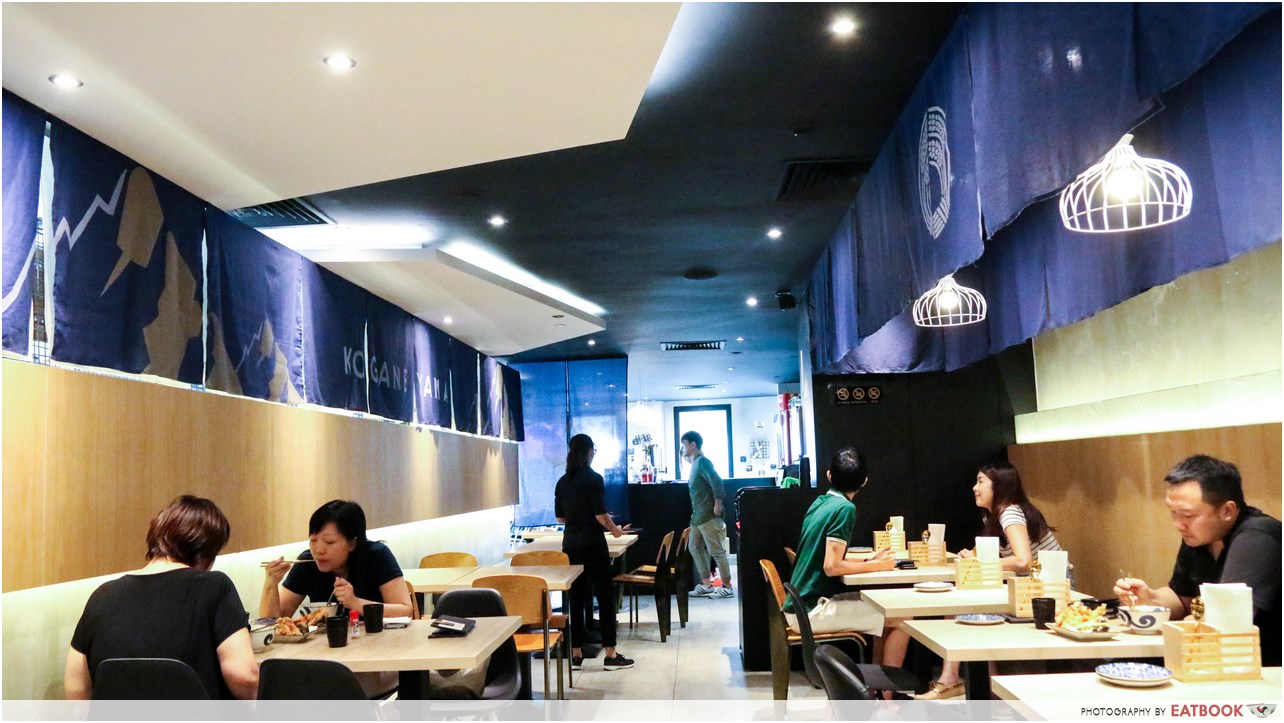 Kogane Yama is minimally decorated with Japanese-inspired elements such as the short, royal blue curtains that were hung along the walls and light wooden tables. The space is brightly lit and rather spacious, and somewhere I'd recommend for casual outings.
The verdict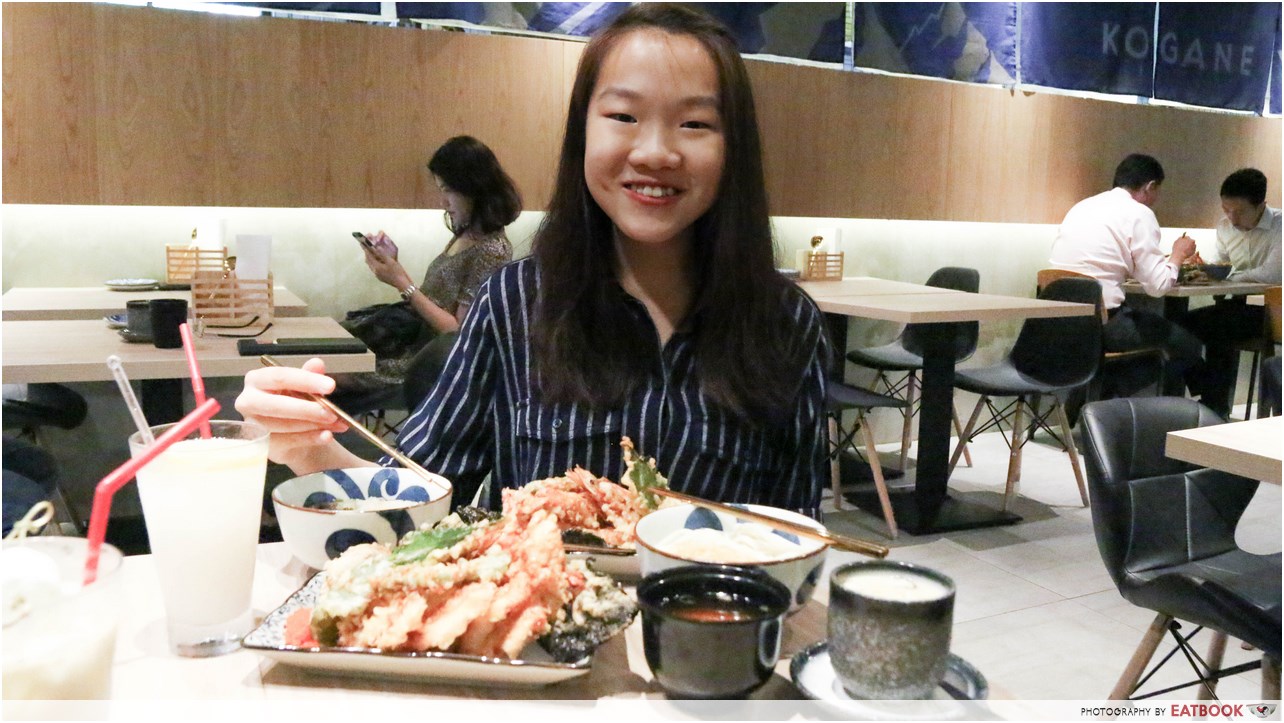 What makes Kogane Yama stand out from other tendon restaurants is the many options available to customise your tempura set. Servings are also pretty large and value-for-money, so those with smaller appetites may prefer to share a set as it can get quite overwhelming working through the mountain of fried food. This place is worth a visit, especially because there's no hour-long queue to brave through unlike at more established tendon places.
Address: 200 Victoria Street, #02-50, Bugis Junction, Singapore 188021
Opening hours: Sun-Thur 11am to 10pm (last order at 9:30pm), Fri-Sat 11am to 11pm (last order at 10:30pm)
Website
This is not a halal-certified restaurant.
This was a media tasting at Kogane Yama.  
Summary
Pros
– Customisable options
– Convenient location
– Value for money
Cons
– Heap of fried tempura can get jelak
– Expensive
Recommended Dishes: Mixed Bowl ($15.80++), Vegetable Bowl ($11.80++), Udon (+$1++), Calpis Soda ($5.50++)
Operating Hours:
Sunday – Thursday 11am to 10pm
Friday – Saturday 11am to 11pm
Address:
200 Victoria Street, #02-50, Bugis Junction, Singapore 188021